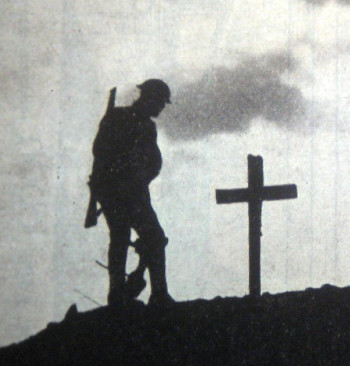 Richard Michael Beatty
Sapper 61st Motor Air Line Section Royal Engineers 172123
Died: 26-09-1918 age 29
Richard was the son of James and Mary Beatty nee McAndrew of Chester who were married at the old Catholic Chapel in Queen Street, Chester, on 20 October 1869. Richard was born on 29 September 1888 and baptised on 14 October 1888 at St Werburgh's. He was also confirmed here in 1899.
Richard was brought up in the Boughton area of Chester, with his eleven siblings. The Beatty family were one of the most loyal and active families in the parish of St Werburgh's. As time went on different members of the family and their spouses took an active part in all parish activities, organisations and societies. The family lived originally at 43 Parry's Entry, Foregate, but by 1901 had moved to 29 Victor Street.
In the 1911 census Richard is working as a gardener/nurseryman in Solihull and lodging in The Square. By 1914 Richard had returned to Chester and now ran his own successful florist, fruit and vegetable business in Frodsham Street. He advertised regularly in the monthly St Werburgh's Parish Magazine. He married Catherine Hogan here at St Werburgh's on 29 January 1915. Their son Edward Vincent was baptised at St Francis in 1916 and their daughter Mary Winifred at St Werburgh's in 1917. The family lived in Beaconsfield Street, Boughton.
Richard's enlistment papers have not survived, so little is known of his military service. However we do know that Richard apparently died of a disease contracted on a middle-east battle front. He was one of three brothers who died whilst on active service during WW1. Because of this particularly tragic loss, his mother, Mary, was chosen to participate in the ceremony to unveil the War Memorial on the green of Chester Cathedral, on 24 May 1922. Mrs J. Sheriff Roberts, who had similarly lost three sons, also participated in this unveiling ceremony.
Mary Beatty died a year later age 72. She apparently never reconciled herself to the fact that another son, James, who had died in 1916, whilst doing munitions related word, never got the official recognition which came to his three brothers. Their father, James, died a few months after his wife in December 1923.
Catherine Beatty nee Hogan brought up her family in Chester. Both children attended St Werburgh's Schools, Mary later gaining entry to Dee House Convent School.
Richard Beatty was buried in Ramleh War Cemetery, Israel and Palestine, Grave D40. His name is also listed, together with those of his two brothers, on the memorials in Chester Town Hall and St Werburgh's Church.
Richard was entitled to the British War Medal and the Allied Victory Medal.