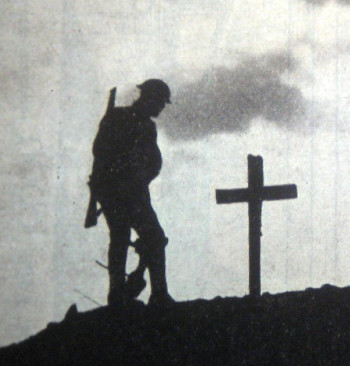 James Butler
Pte Labour Corps 200597
Died: 20-03-1918 age 41
James was the third of nine children born to James and Catherine Butler nee Cain. His parents had been married in St Werburgh's in 1871 and James and all his siblings were baptised here. James was born on 10 October and baptised on 22 October 1876. The family mainly lived in Swan Court, Foregate. James' sister Margaret died young and his mother, Catherine, died in 1898. His brother Patrick died at the beginning of 1909. All had their requiem masses celebrated at St Werburgh's and they were buried in Overleigh Cemetery.
In the 1901 census the family, without Margaret or their mother, still lived together in Swan Court but, in the 1911 census, the depleted family living there consisted only of James Snr, John, James Jnr and Joseph. The two elder sons were nurserymen, like their father, but the youngest, Joseph, was an apprentice tailor. Sometime later the family moved to 23 Canal Side.
It is probable that John, James, Thomas, Raphael and Joseph Butler all enlisted in the army around 1915, though only Raphael is mentioned specifically in St Werburgh's Parish Magazine. James' enlistment papers have not survived, so details of his army career are sparse. It appears that for whatever reason, probably illness, he was sent home at some time in 1918 and died there on 20 March. His requiem mass was at St Werburgh's and he was buried in Overleigh Cemetery, grave 992. His brothers appear to have survived the war but their father James died in 1919. His requiem mass was at St Werburgh's and he too was buried in Overleigh Cemetery.
James' medal roll card states that he was entitled to the British War Medal and the Allied Victory Medal. This implies that though he died at home, he had served abroad at some time.