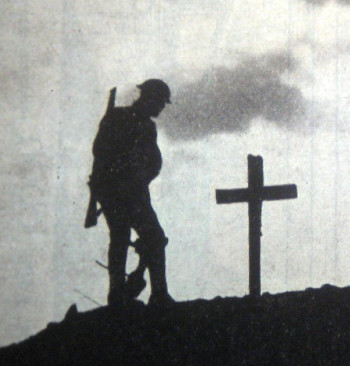 Edward Connell
Pte 1st Btn Cheshire Regiment 25229
Died: 05-09-1916 age 30
Edward was born on 11 December 1885 to Sgt Terence John Connell, 1st Btn Cheshire Regiment and his wife Norah nee Healey, at the 22nd Regimental Barracks, Chester. Terence John Connell had been born in Guildford, Surrey and Norah had been born in Cork, Ireland. Edward was the second youngest of six siblings, the others being Richard, Mary Ellen, William, Herbert Charles and Ada Catherine. The children were born in different towns, presumably according to their father's postings.
Sgt Terence John Connell took part in the Chin Lushai expedition, in a region which  is now part of Burma, in 1889-90. He was serving with the 1st Btn Cheshire Regiment, Madras Presidency, Military No. 1276 and he received the India General Service Medal 1854, Chin-Lushai Clasp. In the 1891 census the siblings Richard, Mary Ellen, William, Herbert, and Edward were resident in the workhouse in Guildford and in December 1892 Ada Catherine was born at Elstead near Guildford.
The family later moved back to Chester and Ada Catherine was baptised in October 1894 at St Werburgh's, Chester. In 1897 Terence John Connell died in Mullingar, Ireland. 1899 sees Edward (13) being confirmed at St Werburgh's and his sister Mary Ellen marrying William Griffiths. On 12 August 1900 their child Mary Ellen was born and baptised at St Francis' Chester. Edward and Ada were living with their sister Mary Ellen, brother in law William Griffiths and baby niece Mary, at 1 Greggs Court, Lower Bridge Street, in the 1901 census. On 21 August 1902 their son William was baptised at St Francis'. On 20 January 1903 William Griffiths started working for London and North Western Railways at Crewe. Edward joined him on 21 March 1903, with a reference from Mr Thornhill, a wine and spirits merchant, at Lamb Stores, 2 Lower Bridge Street, Chester. In the 1911 census the Griffiths family with their four children, Edward and elder brother Richard are all living at 62 Naylor Street, Crewe. Edward is working as a porter for the London and North Western Railways. His brother-in-law William Griffiths is also still working for LNWR. At some stage, Mrs Norah Connell also moved to Crewe, living at 43 Naylor Street.
Soon after war broke out in 1914 Edward must have enlisted with the Cheshire Regiment. His name was on the Roll of Honour in St Werburgh's Parish Magazine in April 1915. Edward's enlistment papers do not appear to have survived but his medal roll card states that he entered France on 13 May 1915. Sadly he was killed in action on 5 September 1916. Family members believe that this took place during the Battle for Guillemont, a particularly fiercely fought stage in the greater Battle of the Somme. Edward's name is listed on the Thiepval Memorial - Pier and Face 3C and 4A. It is also listed on the Memorial Board in Chester Town Hall. Edward's next of kin was eligible to receive his 1914-15 Star, the British War Medal and the Allied Victory Medal.