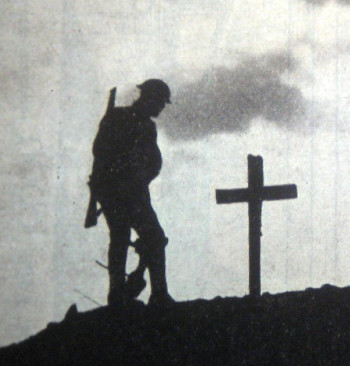 George William Hughes
Pte 12th Btn Cheshire Regiment 9035
Died: 20-10-1918 age 29
George William Hughes was the son of John and Mary Hughes of Boughton, Chester. He had an elder sister, Ada, and younger siblings, John, Ann, Martha, Kate, and Albert. The family lived at 45 Seaville Street, and later in Back Brook Street. George was confirmed at St Werburgh's in 1905. He enlisted with the Cheshires on 17 June 1908 when he was 18 years 7 months.
George's pre-war service was at home and in India, where he spent four years. When war broke out the Cheshires were recalled from India, George with them, and then sent onwards to France on 16 January 1916. George was at home during the latter part of 1915 through to 14 September 1916, when he embarked for Salonica. He was reported missing on 15 April 1918 and proved to have been taken prisoner of war. In a repatriation process after the Bulgarian capitulation in September 1918, George was later sent to a British Military Hospital at Philippopolis, where he was treated for pneumonia but sadly died. He was buried in grave A.5. Plovdiv General Cemetery, Sofia, Bulgaria.
The Commonwealth servicemen buried at Plovdiv Central Cemetery died either as prisoners of war or while serving with the occupying forces following the Bulgarian capitulation in September 1918. It was formerly called Philippopolis (St Archangel) Cemetery and was formed after the Armistice by the concentration of graves from the following sites: Philippopolis Protestant Cemetery; Philippopolis Roman Catholic Cemetery; Karagatch Protestant Cemetery; Kostenecbanja British Cemetery; Kurtova Konare Civil Cemetery; Mustafa Pasha British Cemetery and Tatar Pazardzik Protestant Cemetery. The cemetery now contains 55 Commonwealth burials of the First World War.
George was eligible to receive the 1914-15 Star, the British War Medal and the Allied Victory Medal.