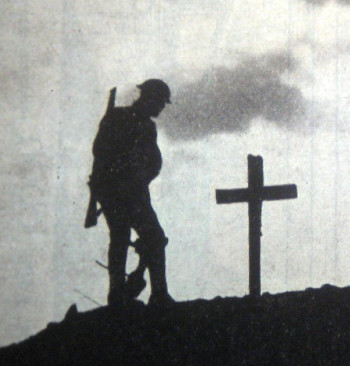 Peter Joinson
Pte 2nd Btn Cheshire Regiment 9291
Died: 02-03-1915 age 24
Peter was the youngest child of Peter and Elizabeth Joinson nee Jones, who had married at St John's Parish Church, Chester, in 1880. Peter Snr was a blacksmith. Their family consisted of Alice, who sadly died age three, Hugh Henry, Nellie, Annie and Peter Jnr. Peter Snr was a Catholic and his wife Elizabeth was Anglican. All the children were baptised soon after their births, in Anglican Churches in Chester. However, Peter Snr appears to have taken at least three of the children, Henry, Annie and Peter, to St Francis Catholic Church when they were somewhat older, also to be baptised there. St Francis was the church where he himself had been baptised as a baby. Peter Jnr had been baptised in St Bridget's with St Martin's Anglican Church on 29 October 1890, and afterwards baptised at St Francis Catholic Church, Chester, on 29 May 1896. Peter was later confirmed at St Werburgh's in 1900.
The family appears to have lived reasonably well by the standards of the time, until 1900 when Peter Snr died aged only 39. Thereafter in the 1901 census, Elizabeth Joinson is living in Chester Workhouse with her two youngest children, Annie and Peter. Henry appears to have joined the Manchester Regiment (under age) and Nellie is living with Elizabeth's sister in Hanley, Staffordshire, and working as a painter of pottery. The family was able to pull through this difficult time and later Hugh Henry married Louisa Shaw in Hanley, Staffordshire, in 1903. The couple set up home there. Elizabeth was received into the Catholic Church at St werburgh's in 1907. Later Elizabeth went to live at Vernon House in Bolton, remaining there until the end of March 1915, when she went to Hanley to live with her daughter Nellie, at 25 High Street.
Peter had joined the 3rd Battalion of the Cheshire Regiment and was sent to Special Reserve on 21 June 1908 at Chester. He was allegedly 18 years and nine months at this time and was working as a farm labourer. On 27 July 1909 he joined the regular Army with the 2nd Battalion of the Cheshires. From 23 October 1909 until 5 December 1910 he was in Belfast. On 6 December 1910 he was posted to India and stayed there until 18 November 1914. During his time there he was hospitalised twice for an illness with malaria like symptoms. His battalion then returned home and Peter was in hospital in Winchester from 4 to 8 January 1915, again with malaria.
On 16 January 1915 Peter arrived in France. Back in Chester, on 2 February 1915, Mrs M. A. Jones (a member of Elizabeth's family) wrote from her home at Canal Side, Chester, to Peter's commanding officer asking for news of him, because he had made no contact since he left England and the family was very worried about him. The worries were not unfounded.  On 1 March, Nos 2 and 3 companies took their place in the firing line trenches. On 2 March 1915 Peter was killed in action.
Peter was buried in Grave 1.A.25 of Wulverghem - Lindenhoek Road Military Cemetery, West Vlaanderen, Belgium. He had gained the 1914-15 Star, the British War Medal and the Allied Victory Medal. His mother Elizabeth, who was now living with her elder son Henry, in Hanley, Staffordshire, received these medals in 1919.