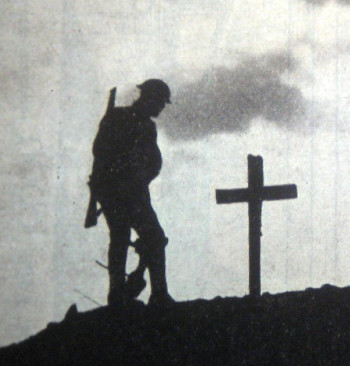 Patrick Kavanagh
Lance Cpl 1st Btn Irish Guards 10329
Died: 03-05-1918 age 36
Patrick Kavanagh was born in Liverpool, the son of Bernard Kavanagh, but his parents possibly died before the Great War started. Patrick may have had a brother, James, who was a baker and lived with his wife Margaret at 23 Henry Street, Chester. Perhaps he visited them and so met his future wife Elizabeth Mooney, daughter of James Mooney of 30 Water Tower View, Chester. The couple were married at St Werburgh's on 8 August 1914 and started their married life at 26 Water Tower View. Their daughter Patricia was born in May 1915 and baptised at St Werburgh's.
Patrick enlisted with the Irish Guards at Liverpool, on 16 November 1915. At that time he and his family were living at 9 Tollemache Street in Chester and Patrick was working as a fireman. Patrick was posted to the Guards Depot. He served in this country until 16 March 1917. On 17 March he embarked at Southampton, as part of the British Expeditionary Force to France, disembarking at Le Havre the following day. On 3 July 1917 he was promoted to Lance Corporal and on 17 July sent on a signalling course at Luytpenne. On 24 August 1917, Patrick qualified as a 1st Class Signaller and received a certificate to that effect. On 28 August 1917 he was posted to field duties and on 12 September 1917 Patrick was wounded in action. He suffered shrapnel and gunshot wounds to the left hip and two days later he received a severe gunshot wound to the left thigh. This necessitated his being transported to England via 'Newhaven' on 25 September 1917. Patrick received hospital treatment in this country, and must also have undertaken some course of study, because on 17 December 1917 he was awarded a third class education certificate. He remained in this country until 30 March 1918.
On 1 April 1918 Patrick re-joined the British Expeditionary Force to France, embarking at Folkestone. He disembarked at Calais the same day and re-joined his Battalion on 6 April 1918. On 5 May Patrick was wounded in action in the field. He received a gunshot wound to the head and died of this injury.
Patrick was buried in Grave I.A. 31 in Bagneux British Cemetery, Gezaincourt. He was eligible to receive the British War Medal and the Allied Victory Medal. These would have been sent to his wife Elizabeth who was then living at 19 Flinders Street, Commercial Road, Liverpool.