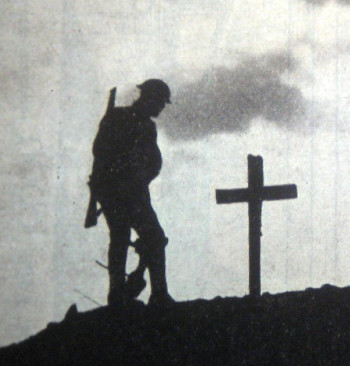 James Herbert Roach
Pte "E" Training Battalion Machine Gun Corps 178386
Died: 20-01-1919 age 29
James was the only child of John and Catherine Roach of Chester, who had both died before James enlisted. James married Elizabeth Campbell at St Werburgh's before the start of the Great War and their three children, James Stanley, Elizabeth and Eleanor were also baptised there. James was employed by the London and North Western Railway, in Chester.
James' army records have survived and so we can piece together the complex moves of his military career. James enlisted on 19 June 1914, for four years with the Territorial Force in the UK. His number was 1040. On his enlistment form James states that he had spent four years with the Cheshire Brigade of the Royal Field Artillery.  On 24 March 1915 James was posted to the reserves. He was then discharged 10 May 1915 as being medically unfit.
James then enlisted on 18 October 1915 with 3rd Battalion West Lancs. Kings Own Brigade No. 1924 at Edge Lane in Liverpool. On 14 June 1916 he was scheduled for Home Service only, due to his frequent attacks of asthma.
At some date, not shown, James was then attached to The Royal Field Artillery TF 343 Brigade, Number 695447. He was declared medically unfit 22 June 1917 due to chronic asthma, and discharged 22 June 1917.
James was recalled to service, 4 November 1918 (695447) and died at the Military Hospital Cannock, 20 January 1919, from an abscess. He was brought back to Chester, where he was buried in Overleigh Cemetery Grave 282. As he did not serve abroad he would not have been entitled to any campaign medals. His name is on the Memorial Board in Chester Town Hall.