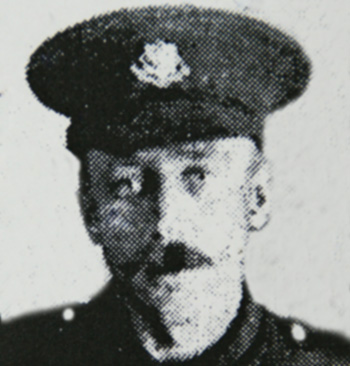 William Henry Whitley
Pte 12th Btn Cheshire Regiment 13606
Died: Salonica, Serbia 25-04-1917 age 30
William was born in Chester in 1887, the son of William and Elizabeth Ann Whitley nee Coppack, and grew up with his ten siblings, at 11 Parkgate Road. By 1911 his father had died, as had three of his siblings, and three other siblings had left home. The family at Parkgate Road then consisted of his mother, his elder brother Thomas with his wife Maria, and his three younger siblings, Robert Charles, Florence Mary and Edith Amelia. William himself, age 23, was working as a general labourer. In 1913 he married Catherine Gerraghty, first in a civil ceremony and afterwards at St Werburgh's. The couple's daughter, Margaret Mary, was born on 06 September 1914 and baptised shortly afterwards at St Werburgh's.
William had already enlisted at Chester on 31 August 1914, and was posted on 5 September 1914 for military training near Aldershot. William Henry Whitley was received into the Catholic Church at St Werburgh's on 26 August 1915. He then received his posting to France, sailing on 6 September 1915 from Folkestone to join the British Expeditionary Force. Scarcely had he arrived, than on 28 October 1915 he embarked at Marseille as part of the Mediterranean Expeditionary Force in the Balkans. William would have joined the British Forces confronting the Bulgarians along the Doiran Front. This was a stretch of trenches and fortifications along the valley of the River Vardar and bordering Lake Doiran.
There was a British attack along this front in August 1916. This had been surprisingly well resisted by the Bulgarians and thereafter the military situation was not especially active until April of 1917. The British then advanced upon Bulgarian lines in order to rationalise the trench positions on the sections around Kidney and Horseshoe Hills. In April 1917 William would have been with the 12th Cheshires at Kidney Hill. On 23 April 1917, the 12th Cheshires moved to Horseshoe Hill to support the 13th Btn Manchester Regiment. The Manchester Regiment had achieved all its objectives by 25 April, supported throughout by artillery bombardment from the 12th Battalion Cheshires. However, the whole of this Sector was heavily shelled by the enemy during this day, especially during a counter attack at 1200 hours. It is probable that William was killed by this shellfire, on 25 April 1917. The British withdrew to their initial positions on 27 April 1917. Further military action occurred in May 1917. These engagements are referred to as the Battles of Doiran or the Vardar.
The death of Pte William Whitley was recorded in the June 1917 issue of St Werburgh's Parish Magazine and at the end of 1917 his widow Catherine was awarded 18 shillings and ninepence per week on which to support herself and her child. The family were living in Seaville Street, Chester at this time. However, Catherine died in 1918. Because of this, it was Mrs Margaret Hodson, of Steam Mill Street, who received William's medals etc. on behalf of her niece, Margaret Mary Whitley, age six. The medals consisted of 1914-15 Star, British War Medal and Allied Victory Medal.
William is buried in grave F.1412, Karasouli Military Cemetery, Greece. His name is listed on the WW1 memorial in the Town Hall and also in St Werburgh's Church, Chester.