Daily updates 10th - 16th May
Saturday 16th May 2020
They always say that crises bring the best out in people – and sometimes the worst. The spirit of initiative in this Parish since lockdown began has been little short of miraculous. The Burger Bar is now world-famous judging from the messages of support – and outright envy – I have been receiving. Strange email from someone who only gave their initials – HMCR or something like that. Mean anything to anyone? Henry Mark Christopher R?? Ringing any bells? Didn't really understand what they were going on about, something about was our Burger Bar BAT registered, or CAT or VAT or something. Meant nothing to me. Anyone any ideas?
Finding masks difficult to obtain? You don't need to, as they are so easy to improvise, as a very proud Mrs Trellis from North Wales wants us to see: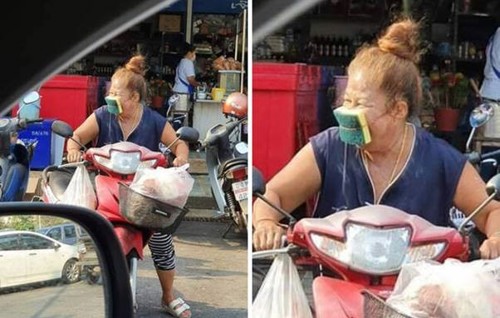 And then, apparently, when she gets home after having done the shopping, it comes in handy for the washing up. Well done, Mrs Trellis!
Harper from Waverton – well, Malpas, actually, but we won't go into that, just so pleased to have the Landed Gentry as part of our humble flock – has been concerned about his Parish Priest. According to Harper, the old boy likes to think he's a dab hand with remembering people's names and where they come from, but actually a shadow of his former self and increasingly senile. As you know, we have many American friends in our Parish, each proudly representing their Home State – Delaware (we have half of the whole state here), Kansas, Hawaii, Michigan and Maryland, to name just ten. Harper's point is that many of them go to the 6.00 pm Saturday Evening Mass at Rowton, and he fears that the rapidly declining PP might have difficulty remembering who's who, and where they come from, after all this time. He's come up with a brilliant idea: that all the Yanks should wear sweatshirts prominently displaying their Home States, as a clue to the auld eejit. He's proudly modelling his own allegiance in this lovely photo: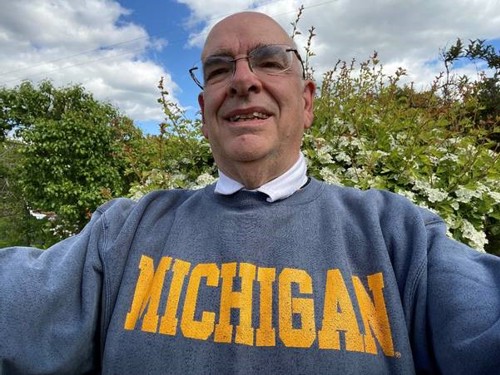 Brilliant! Do they come in smaller sizes for the two Maryland Monsters? Hawaii Horrors? Nebraska Nightmares?
Lots of you commented on the pictures of St Peter's being deep-cleansed, and what a mammoth task it must be in a church of that size. As you probably know, the brief given to Michelangelo by Pope Julius II was to build the biggest church in Christendom but without the vulgarities of size. Quite a challenge! Michelangelo met it brilliantly, by a whole series of perspectival tricks that make you think the building is actually smaller than it is. I do a fascinating guided tour of St Peter's – please stop those mock-yawns, Choir, there's no need to be sarcastic – and I show wizziters two of his "tricks". The first are the words around the cupola – "You are Peter, and on this rock…" (in Latin). As we stand below, I ask them to guess the size of the lettering. They usually suggest two to three feet tall. Then we climb up to the Cupola, and discover the lettering is over ten feet tall.
 The second trick is as we enter the Basilica, and people can see the Holy Water Stoup ahead of them, with the memorial to Pope Benedict XIII above. Again, how big do they think those cherubs are? Most go for a couple of feet. Then we start walking towards them, and walk, and walk, and realise how far away they are. When we eventually get there, they appreciate how enormous the cherubs have become. Here they are, coming in for a spot of deep cleansing themselves: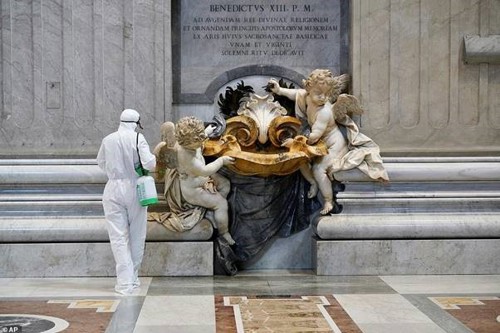 Let's stay in Italy for the final picture today: we commended Mrs Trellis earlier for her imaginative use of her washing-up pads. Why not dig out that old snorkel from last year's diving holiday and put it to equally good use?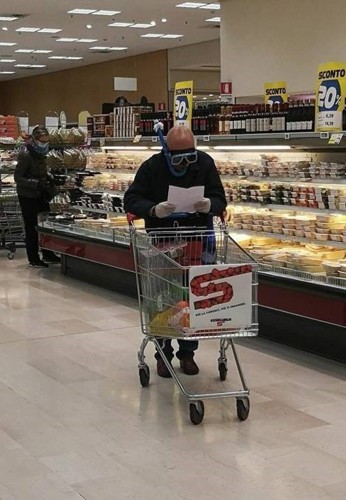 Even if it does mean reading the Shopping list is a little challenging?
 May God bless you all,
 Fr Paul
---
Friday 15th May 2020

Call-out last night, and at night, the only way into the Hospital, logically enough, is through the single A&E Entrance. It was completely quiet and empty, in a way I've never seen before at the Countess. Traditionally, Friday nights and Saturday nights are the busiest, and often Casualty is heaving at 2.00 or 3.00 in the morning. Last night, not a patient to be seen in the Waiting Area, though some were receiving treatment inside the Unit. My patient was upstairs on the Stroke Ward, only fifty-six but things not looking good. Very few beds were occupied on this Ward, underlining worries the NHS has had for a little while now that people suffering from other illnesses, not Covid-19, might be deliberately staying away for fear of over-burdening the Hospital system. I'm not surprised they are worried about this perception: the Wards are coping with the Virus, I sense, extraordinarily well, though stretched, and there's no reason at all for other people with serious illnesses to stay away. Incidentally, my patient was not a Catholic, but his wife was: "Can he still have a Blessing, Father?" she asked. Of course, he can, with great joy. In my Clatterbridge days, I always operated the policy of "Responsible for the Catholics, available to everyone". Fifty-six is far too young for a life-ending Stroke: please keep him, his lovely wife and their two sons in your prayers. He may well have reached Journey's End as I write, 4.00 o'clock on Friday afternoon.

Today's Funeral – they're every day at the moment – was another Graveside Service, and yes, before you ask, they also found my two-hour talk on Victorian Burial Customs fascinating. It's just you lot who are bitter and twisted on the subject. Mo was another of the great Melia clan, a Werbie through and through. Of her two children, the daughter was on lockdown in France, devastated at being unable to attend her own mother's Funeral, as was her brother, in Spain. At the age of 37, back in 1984, a large Brain Tumour had been diagnosed, leading to huge Surgery over at Walton Hospital. The Priest had been summoned to give her the Last Rites, to which her brother had replied, "You do realise this one is a toughie, don't you, Father?" And so she proved, born in the City Hospital here in Chester in the coldest winter of the last century, 1947, catching and surviving Pneumonia then, and going on to have two children and six grandchildren of her own. May she rest in peace.

Lots of reaction still coming in to the Dear Leader's statement last Monday and the classification of Churches with Hairdressers and Pubs as part of the "Leisure Industry". The four Archbishops, who've been heading the Catholic Church's interaction with the Government throughout (Westminster, Southwark, Liverpool and Cardiff) issued a rather miffed statement afterwards:

The Catholic Bishops' Conference of England and Wales has responded to the government's document released today, Monday 11th May, titled 'Our plan to rebuild: The UK Government's COVID-19 recovery strategy'.
Statement: The timing and the manner of the opening of churches touches profound sensitivities and spiritual needs. The Government's document and statements fail to recognise this. The Government's position, established today, includes these steps aimed at opening churches as soon as possible: the establishment of a task force for places of worship, to work closely with 'stakeholders' in ensuring that premises are COVID-19 secure; and heeding the experience of other countries in which churches are already open for worship. In dialogue with the Government, the Catholic Church will continue its engagement in this process and has already submitted a detailed plan, in full accordance with public health guidelines, for churches to be opened for private prayer. The Church is ready to play its full part in the task force, understanding that this includes the possible earlier use of churches for private prayer, as a first safe step towards their use for public worship.

A taskforce has been set up, then, of all the church leaders and government reps to hammer out the next step, with its first meeting today, Friday. Tricky one: Church Unity is a precious gift, but not all churches work on the same lines. I was very struck by these statements from the Muslim and Jewish leaders about the situation with their particular faiths:

The Mosques and Imams National Advisory Board (MINAB) has issued "strong advice" that mosques and Islamic centres should remain closed on Eid al-Fitr, the festival that follows the holy month of Ramadan, which ends next Saturday. "Places of worship including our mosques are potentially at high risk of spreading coronavirus due to people coming together … MINAB urges the Muslim community should celebrate Eid at home with family by following the social distancing measures," its statement said.

Synagogues would not fully reopen for "a long time", the Chief Rabbi warned this week. Writing in the Jewish Chronicle, he said: "Our greatest strength as a community has become our greatest weakness … In our shuls [synagogues], we pray and sing in close proximity to one another. We greet friends and family, we schmooze and chat with people of all ages and health backgrounds. We learn together and, of course, we eat together. Tragically, everything we know and love about shul facilitates the spread of Covid-19."

Both Faiths, in other words, seek to emphasise their togetherness, their connection with one another, when they worship. In Islam, this is sometimes thousands of worshippers together, in a Synagogue it will probably be a more intimate, family gathering. As Catholics, we totally get this, and understand the Chief Rabbi's point on how this togetherness is at opposite poles from the safe distancing we need to get on top of this virus. But equally, we get that we, as Catholics, love – indeed positively need – our times of quiet prayer before the Blessed Sacrament. And that could be allowed with total respect for safe-distancing?

The poor Cardinal was wheeled out on yesterday's Radio 4 Today programme for a spot of damage limitation. Here's the transcript for those who'd like to see exactly what he said:
Cardinal Vincent Nichols spoke to presenter Justin Webb on BBC Radio 4's Today programme on Thursday 14th May about how Catholic Churches can be safely re-opened for private prayer as the UK government eases its lockdown restrictions to combat the spread of COVID-19.

Justin Webb: Is it right that you can go to a garden centre or to the council tip, but not to church? Faith leaders are meeting ministers on Friday to try and change this. Cardinal Vincent Nichols, the Archbishop of Westminster and President of the Catholic Bishops' Conference of England and Wales.

Cardinal Nichols: What we want to say (to ministers) is that the issue of how people are able to practise their faith are profound and are sensitive and we would like a bit more sensitivity from the government. And we would like to remind them that the Catholic Church certainly has put forward already detailed protocols, agreed with Public Health England about how we can start the process, step by step, of making churches available for people.
We want to do this for a couple of reasons, one is because they offer a private, quiet space for individual prayer and that helps people's inner stability, and also because the faiths are a terrific motivator for aspects of the service that are given in society today. Within a mile of here there are two Catholic institutions that feed 300 people every day and that is motivated, in a good part, by their faith. Now, in these last weeks, we've been creative, we've been faithful. Mass has been celebrated every single day in Catholic churches. People have joined in online but there's something, a big, big feeling in the religious communities, of wanting to get back to a fuller practice of their faith, as long as we can do it safely.

Justin Webb: What would it involve in practical terms?

Cardinal Nichols: Well, to begin with, I would like churches available for people to go and kneel and say their prayers, privately, individually. It would mean a routine of supervision; a routine of social distancing; a routine of cleansing. And all of that we believe we can do. There's another thing it needs. It needs an understanding of what goes on in places of worship is quite different from one to another. So, a personal, individual prayer in a Catholic church is not something that is much done in Pentecostal churches, which tend to concentrate on big gatherings, and it's not what's done in mosques where people pray side by side. So, we need a bit of differentiated thinking. If I could use the analogy of sport… At the moment, it's okay to play tennis with your family, in a bit it will be okay to have a kick around with your mates in the park. It'll be quite a time before we can go to formal football matches. It's all sport, but we need to differentiate. We are talking about the practice of faith, but we also need to differentiate to make things safe – step by step.

Justin Webb: You can see, can't you, why the government is so ill-equipped to do that in a sense. They don't want to get involved in one faith being allowed to do something that another isn't. But you are saying, if you are going to be literate about religion, you have to grasp the nettle, if I can mix up all sorts of metaphors.
Cardinal Nichols: Yes, and probably be stung a bit as well.

Justin Webb: Well, that's the point isn't it?

Cardinal Nichols: This is why the taskforce that meets will bring together these perceptions and the religious literacy that is needed to take this forward. But I think it can be done. We have to do it in a very co-operative way, reflecting Lord Blunkett's comments. But we've got plans; we've got preparation and we know the depth of peoples' feeling and their need, so that they can live their faith well and safely. That's what we are looking for.

Justin Webb: It was that last point I was going to finish with if we may. What have you heard from people about the need that they feel in themselves physically to be in Catholic churches?

Cardinal Nichols: The Catholic faith has a particular structure and pattern which is built around sacraments and sacraments are explicit moments in which we are contact with the Lord. People have been distanced from their sacraments. They have been able to follow Mass every day and hundreds of thousands of people have joined in online. But every single one of them wants to be able to receive Holy Communion. It's a fast for us - it's quite a painful fast – and that's true for other faiths. I was talking to four Imams yesterday and they would say the same. Think of the patterns of Ramadan and the sacrifice of the Muslim community is making by never meeting outside their families during Ramadan, and at the end of the big feast.
So there is a great deal of deep spiritual sacrifice being made and, okay, we're willing, but we want to know that we are appreciated and the sensitivities are recognised and that we have these opportunities to open up – safely, step by step.

Justin Webb: Cardinal Vincent Nichols thank you very much for speaking to us.

This has all been a bit serious tonight, hasn't it? "Bring on the Banter! We want more pics of the Burger Bar!" they all shout. Quiet, my children, quiet. All in good time. First of all, a pictorial answer to your insistent question why I don't live-stream from the Werbies myself. The Parish Council did look into this about four years ago, and, to be honest, were put off by the cost, the initial equipment and then the yearly rental. As you know, the Church of England has closed all its churches and forbidden its clergy from going into them to broadcast services. Some, being good old CofE, have ignored the ban, and here's one Anglican Vicar preparing for the cameras to roll: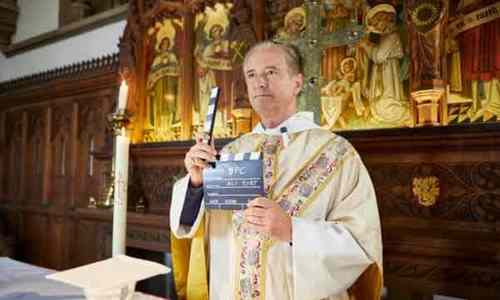 No, I'm sorry, I'm just not doing it. I will do a lot for you as your spiritual pastor (eh??) but "Lights, Action, Music, Take One!" is not one of them. Sorry. Apart from anything else, you'd probably dolly in on my bad side…

A couple of lovely photos to finish with. First of all, St Peter's in Rome being deep-cleansed prior to re-opening. What would Michelangelo think? Actually, he'd fully understand, the fifteenth and sixteenth centuries well versed in plagues and quarantines: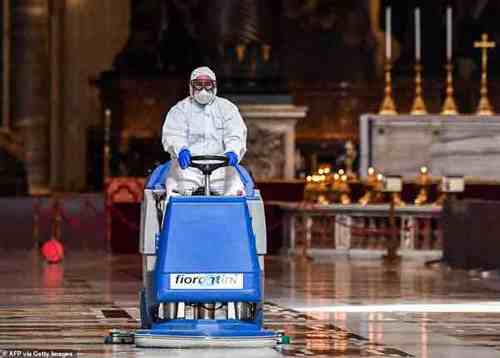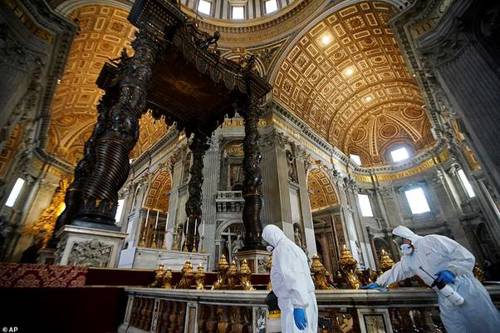 The Vatican also revealed it is planning to check the temperatures of the faithful before they enter its basilicas for Sunday Mass in new hygiene measures. Pictured, a floor cleaning machine is used in St Peter's Basilica

The hygiene measures were announced on Thursday ahead of liturgical celebrations restarting and applies to the Vatican's four Roman basilicas - including St. Peter's Basilica in Vatican City

And no prizes for the headline over these pics? Yes, "Let us Spray" it has to be!! (You're getting the hang of these tabloid headlines now, aren't you? But no more "Bonking Boffins", please: that story has gone completely cold).

Now the really good news. Well, for me, anyway. After a ridiculously long lay-off, your Parish Priest has got himself out there running again. Starting slowly but building up. Richard Curtis 10k for CAFOD? Richard WHO? In the old Rome days, I was out at 5.00 am every morning, running round the Porticos in front of St Peter's, to the incredulous gaze of the bored Carabinieri on duty there. Incredibly easy to get out of the habit, fairly painful getting back into it. But every day easier, mes braves! (as they say in German).

I thought this picture from Monday Morning, the day limits on outside exercise were lifted, would give you a very good impression of FP's new early morning regime: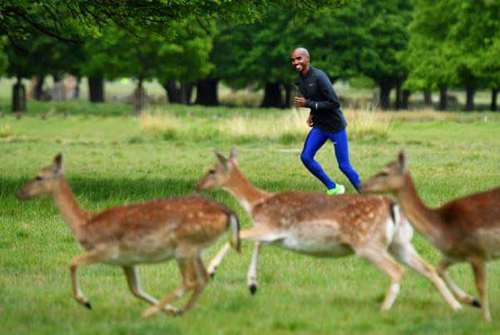 Can't you just see me? In the RUNNER, not the deer, you fools. Oh, I just give up.

God bless you all,

Fr Paul
---
Thursday 14th May 2020

More callouts today: my half of the rota is Thursday, Saturday, Sunday and Monday. To add to the elegance of mask, gown and gloves, I now have to wear a vizor. And NO, there are NO photographs, you horrible people. Not never.

Right! That's it then! As we are now officially classed by our Dear Leader as part of the Leisure Industry, we might as well embrace our new identity. Sadly, the Burger Bar had to move on – the neighbours in Bath Street were starting to complain. But not lost for ever. Oh no. Far too nice a little earner for that. We've moved it for the time being to "a high street somewhere in Cheshire". Sorry we can't be more specific, but there is a war on, you know. Careless talk costs lives. Lots of you have been asking if there's a picture – that's all you ever want, isn't it? - and, only in the interests of the historical archive, I'm willing to share one with you, but only one. You've all heard of Greasy Joe's Burger Bar. Well here is Greasy Bernicey's: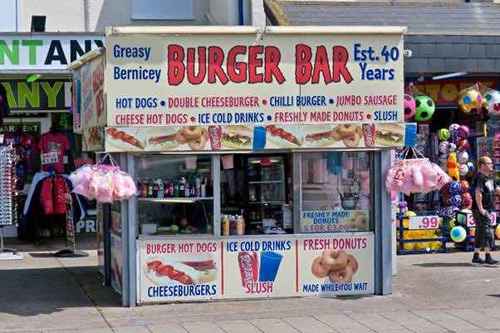 I'm telling you, those Chilli Burgers are to die for. Monday also saw some relaxation on fixed-site fast food outlets opening up, and it's so good to see our wonderful Bath Street team being quick to take advantage: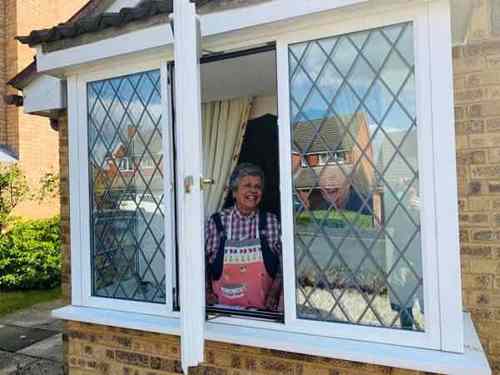 Pete puts the relish on. As a Parish, we cannot thank them enough for this contribution to our Income Stream without which we would certainly have gone under.

The same spirit motivated our lovely friend Richard from St Teresa's and St Columba's to do his 10k run for CAFOD, all charities having seen their donations fall off a cliff. Thanks for all the sponsorship money that's come in, and we'll be announcing a final closing date soon. Thanks, Rich!

4th July it is for re-opening – Church, not the burger bar, Choir. Do you never think of anything but food?? Or looks like being, according to our Dear Leader's document on Monday. I'm not holding my breath, are you? Put it another way, I can't see it being before 4th July, but could well be after, if the figures don't start going down a lot quicker than they are at present. It's tempting to look at other countries, and I'm sure there'll be dozens of comparative studies when this is all over. South Korea has clearly been a leader in infection control: but then, at the weekend, one chap went out on the town in Seoul, to a number of clubs, and there's been a whole new surge. It really brings home to us the need for everyone to keep to the rules? For everyone's sake?

Today's Funeral was Annie Langford's out at Vale Royal Crematorium in Northwich. With every Crematorium working at maximum capacity, into the evening and all-day Saturday, families are having to go way beyond Blacon for their Services. Annie was a delightful lady who lived in the retirement bungalows opposite the Primary School in Cherry Grove. At one level, she had had extraordinary sadness in her life, having buried no less than seven of her ten children. At times, this sadness overwhelmed her, but a visit down to her bungalow was always a joyful occasion, talking about her childhood in Scotty Road in Liverpool. Born in 1930, she was evacuated to Beaumaris during the war, the whole family having to be split up, but, for Annie, a particularly happy time that she always looked back on with the fondest of memories. Her three surviving children were there. We could have had two hundred family members. Sadly, only ten allowed. May she rest in peace.

This lockdown and the need to resort to Zoom and Skype and other such horrors has spawned a whole new interest in "Zoom Backgrounds". Archbishop Justin's kitchen is now famous. But what's Meltdown Matt after with a background like this? A knighthood?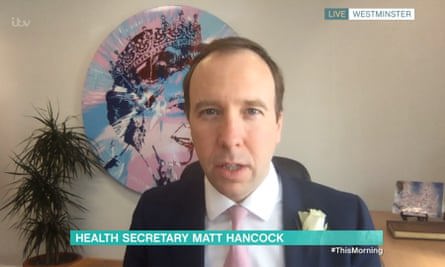 Matt Hancock, one arresting arty image – would a gallery wall work better?

The other phenomenon it seems to have spawned, on this Blog anyway, is a tendency for some of you, the more facetious wing of the Parish, to treat every photo and picture posted as an invitation to a Caption Competition. Yes, very funny, most side-splitting. I think the favourite so far has been the Policeman breaking up the String Quartet and, according to "Werbie Wag of Waverton", saying, "I'm afraid I'm going to have to stop you right there, Sir. You just played an A flat in Bar 17, and it's an A natural…" Can't imagine who that one came from!

Two photos from around the world to finish with. The first is a stunning piece of street art in Melbourne, a Doctor as the Saviour of the World. Next to a little chap who's enjoying being back surfing…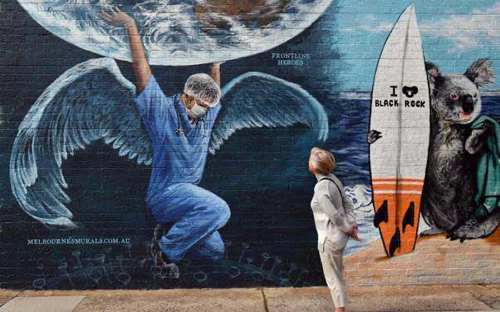 The second is Ramadan in Teheran: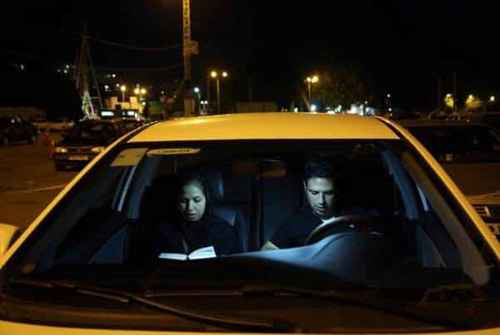 May God bless you all,

Fr Paul
---
Wednesday 13th May 2020

Funerals on a daily basis these days, but at least we're not trying to juggle them with a host of other commitments. Today's was a Graveside Service for Pat Parsonage, who'd been a resident at Stonehouse Care Home and then Oak Grange out at Mollington. Married here in the Werbies in 1962, brought up her three boys with her husband Micky in Myrica Grove in Hoole, the three boys all going to our Primary School and the Catholic High – Stephen, David and Andrew – before marrying and bringing up their own families. Must be well known to many of you of that vintage? Her father was a professional Rugby League player, 'professional' meaning you were paid, but certainly not enough to live on. Pat was born in Bradford when he was playing for Bradford Northern, then St Helens and ending his playing days at Warrington, where Pat was brought up, in St Benedict's Parish, Orford. Anyone know St Benedict's? (Christine? Matt??) Does this face ring any bells?



Graveside Services work excellently, providing the weather is kind, as it was today. The grave is blessed, the coffin lowered, the Funeral Directors withdraw and the service proceeds, exactly as it would in church. I was telling the family how Graveside Services were the norm in Victorian Britain, for example in the pages of Dickens. I know, I know, you're all fed up to the back teeth with hearing about Dickens, but the Parsonage family found my two-hour presentation this afternoon riveting, I can assure you. I'm just wasted on you lot.

Incidentally, once again they had one of those mini sound systems, little speaker operated from a mobile phone – I know, I know, they've got a proper name, I just don't know it (phonograph?) - and the quality is amazing.

Not sure the quality was amazing on the Dear Leader's full 48-page detailed document on coming out of lockdown, unveiled yesterday, Monday. First of all, you have to find it. Googling "Government document/ Covid-19 / coronavirus / lockdown" gets you nowhere. You have to know what it's called, and apparently that's "Our Plan to Rebuild". Then you have to find any references to churches, for which you will definitely need a microscope. Let me save you the bother. There's only one reference, and that's well hidden:
Our Plan to Rebuild: The UK Government's COVID-19 Recovery Strategy.

The next step will also take place when the assessment of risk warrants further adjustments to the remaining measures. The Government's current planning assumption is that this step will be no earlier than 4th July, subject to the five tests justifying some or all of the measures below, and further detailed scientific advice, provided closer to the time, on how far we can go. The ambition at this step is to open at least some of the remaining businesses and premises that have been required to close, including personal care (such as hairdressers and beauty salons) hospitality (such as food service providers, pubs and accommodation), public places (such as places of worship) and leisure facilities (like cinemas), and public places as the data and information at the time allows.

Well, there we are, chaps – we are now officially classed with hairdressing salons, pubs and cinemas. Churches are part of the Leisure Industry. Gee thanks, Dear Leader. I know some have been critical of church leaders for not taking a more robust line with the Government – The Times was scathing on the Church of England a couple of days ago, but the relationship between those two institutions has a very chequered history over the best part of 200 years, and I don't particularly want to intrude on private grief or comment on a "domestic", as the police would call it. Easy in Italy: the Prime Minster talks to the President of the Italian Bishops Conference, Cardinal Bassetti of Perugia, and tutto va bene (as they say in German). Here, the Dear Leader has to talk to a variety of Church Leaders, and we know from the outset that the Catholic Church and the Church of England have not approached this in the same way. The Anglicans have declared all their churches closed. We haven't. Mind you, I wonder how they would stop the PP of the Werbies going into his Church given that Presbytery and Church are all one building.

Tutto va bene! Well not if I don't get my fortnight in Italy this August, and it's looking like I might not. But… For the linguists amongst us, fascinating article today saying that the Académie Française (fifteen minutes only for those accents, Rónán – I'm getting better!) has now officially pronounced that Covid-19 is FEMININE. La Covid, mes enfants, pas le Covid. Gender utterly stumps students when they start either a Modern Language (French, Italian, German) or an Ancient one (Latin, Greek), as English does not have gender. When new words in those languages come along, they somehow mysteriously acquire a gender, as you must put "le" or "la" in front of them to use them at all. But nothing left to chance in France, where the august and venerable Académie pronounces on such matters.

The Académie Française, guardians of the French language, have said a big non to le covid. Not the actual disease, but the use of the masculine definitive article "le". While many in France have been referring to "le Covid", the so-called "Immortals" who make up the academy have ruled otherwise. Covid, they insist is most definitely feminine.

Now for their reasoning…
"Covid is the acronym for coronavirus disease and acronyms have the genus of the name that forms the core of the phrase of which they are an abbreviation," the academy ruled in a statement on its website. For example, it continued, the national rail company SNCF (Société Nationale des Chemins de Fer) is "la" because the nucleus of this group is "society", which is feminine in French. However, the IOC (International Olympic Committee) is "le" because the nucleus "committee" is masculine. It said: "When this syntagm is composed of foreign words, the same principle applies. We can distinguish the FBI, Federal Bureau of Investigation, from the CIA, Central Intelligence Agency, since in one case the core word is translated by a masculine noun, bureau, and in the other by a feminine noun, agency."

And that is not all. Pas du tout: the AF is still not grammatically done with Covid-19, which it regrets is not referred to as "corona virus morbus" (presumably Covim for short). "Coronavirus disease – it should be noted that one might have preferred the Latin name morbus, which has the same meaning and is more universal – means 'disease caused by the crown-shaped virus'." And it concluded: "We should therefore say La Covid-19 since the nucleus is an equivalent of the French feminine noun maladie … The use of the feminine gender would be preferable, and it may not be too late to return the acronym to its proper gender." Finally, when you take your car to pick up your takeaway because the restaurants are closed, do not say "drive", which is le verbe anglais but "point de retrait automobile" or more concisely "point de retrait".

I know this risks reigniting the whole Brexit debate, but I guess that your reaction to that decision by the Académie will probably indicate which way you voted: if you love it for its precision and elegance, you're probably a Remainer. If you have been reduced to rage and fury by its pernicketyness, you're probably a died-in-the wool Leaver.

Footnote (I find these things fascinating!): French decided Brexit was masculine (Le Brexit), but Italy was convinced it was feminine (La Brexit). If I don't get to Italy this summer, I shall not be nice to know. (I didn't hear that, Choir).

Some pleasant news: when he isn't in his kitchen, Archbishop Justin is helping out as Chaplain at the nearby St Thomas's Hospital. Dr Sam, if he comes on your Ward, ICU, give him love from the Werbies! If you recognise him under all that PPE…

Some restrictions have been lifted this week, as you know, and I loved this picture from Morecambe of two safe-spaced fishermen: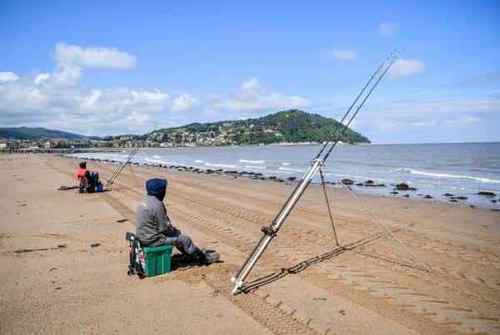 I hope they catch something! Golf and fishing allowed again. Plenty of jokes about the former, and whether we have to play Golf only in our existing shared-house communities. "Does it mean I have to play with my mother-in-law? It'll end in murder - her short-putting is TERRIBLE!" (Golf and mother-in-law in the same joke – impressed?)

Morecambe Bay I like. Not so sure about the first day back on the Tube in London yesterday: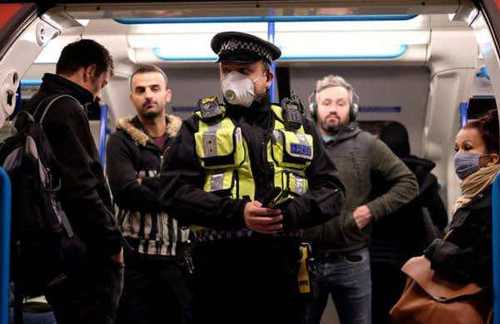 I'm London born and bred but wouldn't go back for all the tea in China.

May God bless you all,

Fr Paul 
---
Tuesday 12th May 2020

Many thanks for all your comments on the "follow the science" mantra of the government in this lockdown. There's a general appreciation from everyone for how much scientific information has been shared, data, tables, graphs, pie charts, the lot. Some of you have complained of being overwhelmed by it. And that's my first point: that "follow the science" might suggest that the scientists come up with one clear message. They don't. They come up with a number of ideas and theories. They disagree among themselves. Some of you find this confusing where I and others find it reassuring. For me, it shows that science, whatever branch, is a lovely and engaging conversation, never a dead orthodoxy. If I have one quarrel with the Climate Change debate, it's that "debate" is so often discouraged, and anyone who disagrees with the mainstream argument is hauled off to be burnt at the stake. Or some other more carbon-neutral fate.

And that's my second point: because science is always equivocal, never univocal – it speaks with many voices, not one – it doesn't let politicians off the hook when it comes to making decisions. Politicians have to survey the scientific evidence, the data, the theories, the graphs, and then make decisions about the best way forward. The 5.00 pm daily News Conference has seen the Politico regularly flanked by a couple of Boffins. But the nature of the relationship between the two authorities has been insufficiently explained by the ones who have the ultimate responsibility, the Politicos. I would have liked to have seen a much more open debate on this relationship, how it works in both theory and practice.

Time to say goodbye – no, please not, not Andrea Bocelli again, see how you can't get a tune out of your head? – to our Tommy Bromwich this afternoon. Thanks, everyone, for respecting the "ten max" rule, as I know so many friends from the Catholic Club and Parish would have loved to have been present. And sincere thanks to John and all the gang at the Club for how they befriended Tommy and helped look after him in recent years. You always kept an eye out for him, and that is hugely appreciated. Do you remember, John, how whenever it was the Funeral of a Club Member, we always said at the end of the Service, "Drinks on Tommy Bromwich, everyone!"? He was never entirely sure if it was a joke or not…

He was both a very gregarious and a very private man. He loved visiting family and friends, especially towards the end of their lives when they were more housebound or in Care Homes. Even in hospital spells in recent years, he'd be out of his bed and chatting to all the other patients in the bay. He never married, of course, and after his parents died in Fosbrook Street, he moved to Thackeray Towers, where he lived for the next fifty years. Extraordinarily devout, he had his routine of lighting candles at every statue in church after Sunday Mass, whatever Baptism might be going on at the time! He was meticulous about not receiving Holy Communion if he hadn't been to Confession beforehand. And he never did quite manage the "new" translation of the Mass that was introduced nine years ago, in 2011. That was when the opening greeting was changed from "The Lord be with you!" – "And also with you" to "The Lord be with you" – "And with your spirit". Tommy could never master that change, and every time, almost to his dying day and his last time here in St Werburgh's, he'd lustily bellow out "And also with you!"

Our other abiding memory of Tommy was his Holy Souls List. Every year, he'd hand in pages and pages of handwritten names. You needed a qualification in Egyptian Hieroglyphics to decipher them. Poor Syd, who types up the list, wrestled with them every year, knowing the Parish Priest was a swine for not having mistakes in the Holy Souls Book. Syd would go back to Tommy as often as he dared to seek clarification. And then divine inspiration! He sneakily compiled on the computer a separate "Tommy List", typed and confirmed with the man himself, so that each year, when the usual sheaves of paper came in, Syd could just compare them with the Key to All Mysteries. The names rarely changed, and we could be sure we'd got them right in the final Book. Tommy, YOUR NAME is amongst them now!

Here's a lovely picture from the national press of our own celebration of VE Day in Chester, down in Cambrian Road. I meant to ask, were my sandwiches and cakes OK, Geoff? Another two o'clock on the morning start for me, but, in honour of Her Majesty, how could I refuse?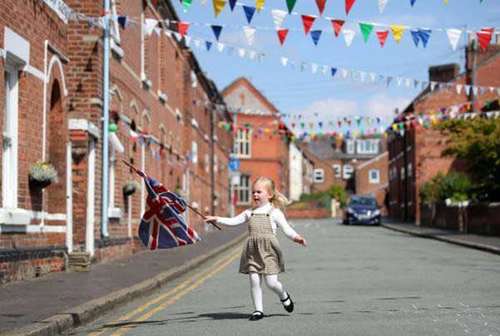 And lots of you have been asking if, now that the VE Day Commemorative stamps have all been posted on this blog, am I moving on to the 60th Anniversary of "Coronation Street" ones. NO, I AM NOT! There have to be some standards on this blog. [Really? We haven't noticed. Ed] The problem is, wizziters, that we have a dedicated cadre (good, eh?) of Vintage Soaps fans in this parish. Any reference in Sermons to "Crossroads" or Jason's marriage to Kylie definitely wakes them up and makes them all eagle-eyed and sharp-eared. And that doesn't happen very often in Werbies Sermons, let me tell you. We have our annual Parish Social down in the Club, the nearest Friday to St Werburgh's Day, and it has to feature the mind-numbing annual FP Quiz. Every year, half the parish demand a "Vintage Soaps" Round, the other half threatening to boycott the social if there is one. They ask me every time if the Quiz is to be "Gerrycentric" or not. Haven't a clue what they mean.

So, you will have to get your "Corrie at 60" stamps elsewhere.

Oh, all right, you can have just ONE. Only because I so agree with Norris, and make it a point of principle never to gossip myself…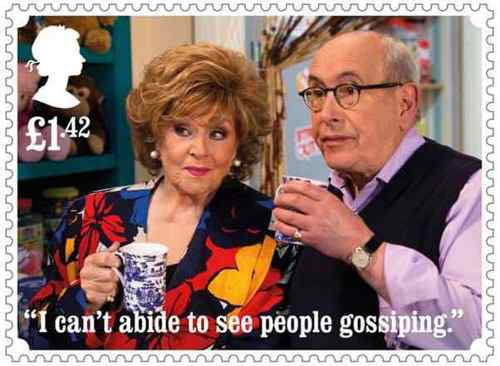 Last word goes to Brucie…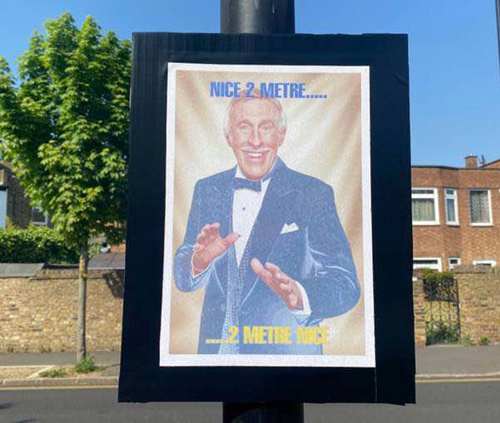 Good game, good game!

May God bless you all,

Fr Paul
---
Monday 11th May 2020

Ping! 8.30 pm last night and the internet comes back on. Actually, it didn't even go "ping". The internet hub – right? – had been glowing fiery red since Saturday lunchtime, and now turned to a radiant sapphire, the blue of an Italian dawn [oh, do get on with it, you long-winded old idiot. Ed] and normal access resumed. I hadn't done anything myself. Well, I'd done lots of things – changed cables, switched it on and off again a dozen time, sworn at it – but none had produced any results. So, it comes on again on its own accord. Magic!

Magic? Or is it science? Our government has always said its Covid-19 policy is to "follow the science", but I've long wondered what that means. Presumably, there was a "scientific" reason why my internet was down, and someone scientifically knowledgeable enough could have found that reason and made the necessary repairs. But then it's the weekend, in the middle of a national lockdown. Ever tried ringing the BT helpline at the best of times? You lose the will to live. And then it rights itself, thirty-six hours later. Some things – most things? everything? sort themselves out if you leave them long enough. I'm truly lucky in not having had to bother doctors much in my life. I did come down with a hacking cough a few months after I'd moved to Birkenhead from Bradford in September 1980. The famous old Dr Brace up in the town centre slapped the old stethoscope onto my manly chest (just use your imaginations, for heaven's sake), and asked "First winter on Merseyside, is it?" followed by a short lecture on how that part of the world possibly had the most unhealthy air on the planet. "You'll soon get acclimatised!" she reassured me. Did I want any medicine? Reluctant, I asked her how long the cough would take to clear up if I took the stuff. "A week" was the confident answer. And if I don't take it? "Oh, in that case, about seven days". My sort of doctor!

None of which is to knock science. How could anybody? But a number of you have been writing in with very interesting comments on how the politicians and the scientists have been interacting during this lockdown, and it would be good to share a few thoughts with the rest of you on this debate. We'll start tomorrow.

Nothing definite from the Dear Leader last night on churches reopening. (The person who said, "nothing definite on anything" leave the room immediately!) Been chatting to more of our marriage couples on the phone today. I know I've said it before, but they've all shown the most amazing calmness and stoicism. No queenie fits, no hysterics, no Bridezillas. And that was just me. Superb to catch up with Ed Black this morning, hoping to marry the lovely Bobbie-Leigh in June, but now accepting it's most unlikely to happen, and wanting to pencil in some dates for later on. Postponing a marriage must be quite traumatic, but they're not letting it show. My first memory of Ed is playing his guitar in the Music Group at Sunday Mass with Sam Farr, a delightful couple of young teenagers, Sam, if I remember it right, in his black shirt, off after Mass to work in BHS. And now, fourteen years later, Ed's a professional musician in London preparing for his wedding, and Sam's at home, from the University of Bath, writing up his PhD on Chemical Engineering. Blimey! Where do those years go to? I asked Ed how a professional musician copes with lockdown, and he was telling me it hasn't been too bad, doing more teaching to compensate for less performing, and enjoying the experience of teaching on-line. Ed and Sam, what a couple of smashers – good luck to you two! They come from two smashing families: Sam's mum Paula was up on Sunday morning, to inspect the slippers in person – thanks, Paula! Ed sadly lost his grandfather Kevin just as the lockdown was beginning. I would have been with his mum Consilia and them all in Coventry for Kevin's funeral otherwise; and his other grandfather, Paul, a former Professor of Science at London University, is still in our prayers, none too well down in Cambridge.

Smashing families make smashing children: it's not rocket science! You saw that one coming, didn't you? [Yes, you predictable old bore. Ed]

Mass Intentions for the week ahead:
Sunday 10th May: Morning: Alex Barnes
Evening: Bob Delap (3rd Anniversary)
Monday 11th May: Fr Joe Weston (L.D., St Benedict's Wigan)
Tuesday 12th May: Intentions of Andrew's Family
Wednesday 13th May: Patrick Scanlan (L.D.)
Thursday 14th May: Harry Teague (6th Anniversary)
Friday 15th May: Brian Boardman (4th Anniversary)
Saturday 16th May: Cathal Brady (L.D., Co Cavan)
Sunday 17th May: Morning: Richard Spencer (Birthday Remembrance)
Evening: Daphne Taylor (3rd Anniversary)

Remember, you can keep those Mass Intentions coming in, and I will always sign a Card for you in that Sunday Morning "outside church" slot, 10.00–11.00 am.

Another call-out this afternoon to the Hospital. I told you last time's hilarious little funny fell flat as a pancake – "Do you have a mask for extra-outsize mouth, nurse?" – "No, they're all the same size.". Another epic failure this afternoon. "You'll have to put a mask on, Father." "But sister, that will hide my animal good looks". "I'm sorry, what did you say? I didn't hear you." Kenneth Williams never had these difficulties. Ooh, Matron!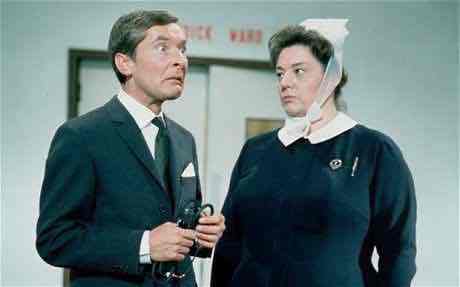 Do you think I should give up trying to make them roll in the aisles? [We do wish you would. Ed]

How about some photos to finish with tonight? This was yesterday morning, Sunday, a lone nun contemplating an empty St Peter's Square. Don't worry, Sister – it will all still be there. Plus, Il Papa for the noon Blessing when this lockdown is over. Plus, a large gelato misto in a café afterwards!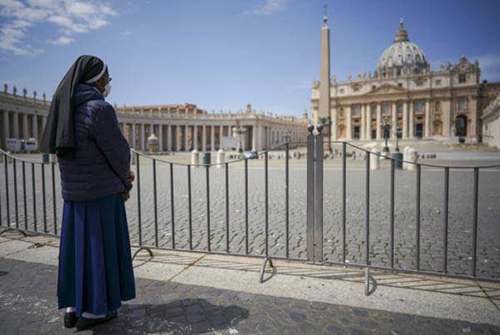 I've said before, if any Priest wants to halve his congregation, just say something nasty about cats. I personally wouldn't dare. But I've always been more of a dog person myself. This one is irresistible. If ever a dog said, "You looking at me, mate?" It's Just William's Jumble, isn't it?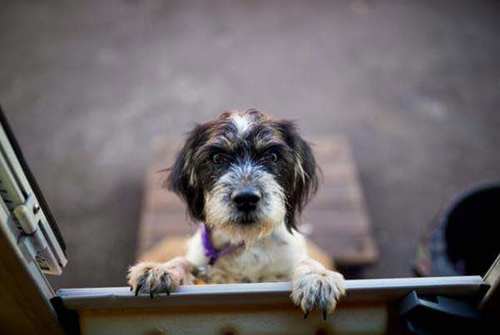 And the mother of this adorable litter of puppies was handed in to a Rescue Centre two days before she gave birth: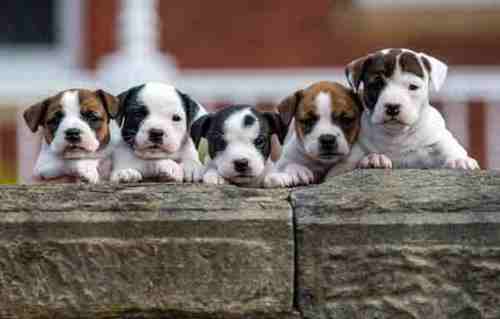 No, you can't adopt any of them, I've taken the lot! You will shortly see them around the Werbies, getting up to mischief. Wondered what to call them, significance of "five" in the Catholic Tradition, and all that. Settled on the Pentateuch, the first five Books of the Bible, So, Genesis, Exodus, Leviticus, Numbers, and Deuteronomy they are. What do you think? Catchy?

Better than Elon Musk calling his new-born son X Æ A-12.

May God bless you all,

Fr Paul

PS: X Æ A-12. It's pronounced Gladys.
---
Sunday 10th May 2020
No internet connection here, as of Saturday lunchtime, and nothing really to be done to sort it till tomorrow morning at the earliest, I'd guess. Hard to say where it comes on the scales of "Great Pains in the History of the World". One minor side-effect of this Covid-19 pandemic, and the 75th Anniversary of VE Day this week, is that it's put our own lives horribly in perspective, what matters and what doesn't. Not having internet connection is irritating and time-consuming, but not exactly life threatening or disastrous. Snowflake tendencies shall be firmly resisted!
Actually, I have a theory. Having outed our two tekkies the other day, in response to your overwhelming demands for a picture – well, two of you asked - I think they've taken the hump, their confidentiality breached, their anonymity busted, and one of them has pulled a plug out in the Website Control Room deep in the Presbytery basement. I'd go down to investigate, but they have the steps booby-trapped to keep me out.
So, with no internet access, it means taking the blog manually to the nearest uploading point – oh, I've got all the jargon! – and that means a cleft stick. If you don't know Evelyn Waugh's Scoop, it's one of his funniest laugh-aloud novels. It's the usual early Waugh, a farce of mistaken identity, the wrong man getting sent as a cub reporter into the African jungle to report the latest uprising. He's kitted out before he goes, including the compulsory cleft stick, for bringing messages back to HQ. By the end of the novel, he still hasn't fathomed how cleft sticks work, where the message goes, what they're for and how they help. Who knows? If you want a genuinely funny novel, that's a sure-fire FP recommendation.
Glad to hear so many of you were able to tune in to Carmel Kimpton's Funeral Service from the Crematorium last week, taken by her nephew, Steve, a Deacon in Wrexham Diocese. Thank you very much for doing that, Steve, and I know how many Werbies appreciated being able to follow the service online.
Good to see lots of you outside church for the "Open Hour" this morning, and every Sunday Morning, 10.00-11.00 am. Really appreciate how many of you are able to bring up your Offertory Envelopes at that time, as it is definitely helping to keep us afloat. Don't worry if you have a back-log of four or five envelopes, as they all get paid in eventually, and recorded against the relevant weeks. And many thanks too for those of you using the Diocesan Online Giving System. The technology defeats me, but clearly doesn't beat many of you, and we're really grateful for that. I'm more of a cleft stick man myself.
Didn't the Queen, yet again, strike the right note in her televised address on Friday night? The emphasis on family was unmistakeable, with a prominent photograph of her father, King George VI, and part of his own VE Day address. I always value listening and watching him and reflecting on that serious stutter he overcame when he became King in 1937. If you listen carefully, you can just detect the techniques he was taught to "block the block" in his speech impediment.
The Queen conveyed in her broadcast the strong sense that she was "merely" carrying on the tradition of her father. Her remark about the streets not being empty but "filled with love" struck a chord with so many of us. The way you've all been contacting each other by phone, email or safe-distanced visit, has been astonishing, and I know from my phone calls to you, how much that support has been appreciated. So, who have you phoned today?
The Dear Leader is to address us all tonight – sorry, that's naughty Private Eye again, the way you have to refer to the boss in North Korea – and we don't know what to hope for. Earlier in the week, there was a strong sense that a number of restrictions were to be lifted, as from tomorrow, Since then, the figures have continued to come in worryingly high, with the prospect that we could end up with the worst result in Europe, and there's a sense of rowing back from that earlier optimism. Certainly, the leaders of the Devolved Nations seem less keen on any relaxation at this stage. Let's wait and see. Having our churches open again for Private Prayer would be a wonderful step forward, but, as I said last night, the situation in this country is very different from Italy, where the Government just has to negotiate with a single body, the Catholic Church. Here, there are many different denominations, and we've seen that the Church of England has taken a different line on Church Openings from, for example, the Catholics.
Because I've got no internet access, there are no pictures tonight. I know, I know, it all most of you log on for. I'm supposed to have no feelings at all, am I?
Let's hope for normal service to be resumed tomorrow. Meanwhile, where's my cleft stick?
May God bless you all,
Fr Paul