Daily updates 12th - 18th April 2020
Saturday 18th April 2020

Well, it's nice to know you're all enjoying this Blog so much. Some of you positively looking forward to it every night, you tell me. Especially the Sarky Brigade, who are having a ball. "Oh, Father, good to see you have this hidden talent as a popular writer… We feel sure there's a book in you… 'My Friend the Duke' perhaps? Or 'Life Among the Aristocrats'? Something along those lines? Bound to be a best-seller. In fact, why not start straight away? Heaven-sent opportunity with this lockdown…" I know, I know – you're just trying to stop me writing this Blog, aren't you? So obvious at times. In fact, as I said to the Marquis of Cholmondeley only the other day, "I've never really been appreciated in that Parish".

And thanks for the dozens of suggestions as to how we can build on the Dancing Priests video. Clearly, it's answered the question of entertainment for our Parish Social next February. I'm more than happy to polish up my tap-dancing. Now, it's just a question of teaching Fr Neill the steps for the Irish Jig. After four, one, two, three…

And did you notice the Pope himself needed a teeny-weeny bit of help with the Good Friday Prostration at the start of the Service?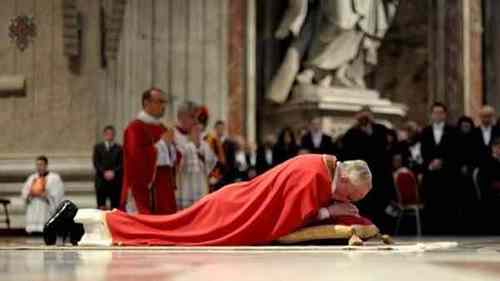 So less of the cheek for poor Fr Neill, please. I should never have mentioned PPE and Hospital Equipment. It's set some of you off rotten: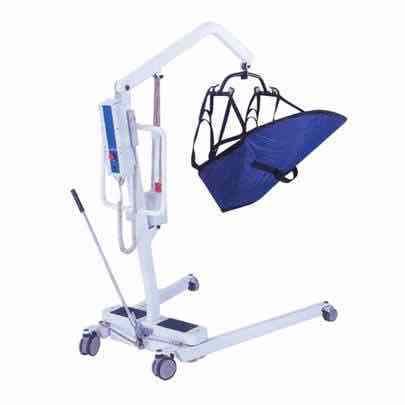 If you missed the Dancing Priests, here it is. If this link won't open directly for you, you can always cut and paste it into your browser. (Oh, I've got all the lingo!)

https://youtu.be/pex5vVEFcQ8

A number of you have been asking for addresses and phone numbers so you can get in touch with each other: I'm so sorry but we just can't do this, Data Protection and all that. But I will happily pass on a message and hope you can get in touch with each other that way.

And just a reminder that I'll be at the front of church tomorrow morning, 10.00 to 11.00 am, if any of you would like to pick up a Catholic Paper or Mag while you are on your Morning Walk.

Glad to hear that many of you had been past the Church last week in the evening, and saw the lights on, for Maundy Thursday and the Easter Vigil especially.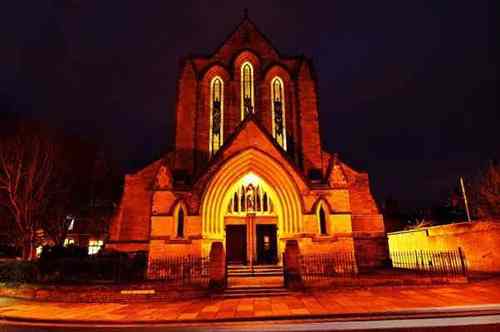 I wanted to leave them on for that very reason, so you should know that we – that's me and the Big Bopper – are here, and thinking of all of you, as I know you are of us. (Getting back to "Me and My Best Friend the Duke", are we? Oh, what it is to have friends in High Places. You're just pig sick jealous, admit it).

Surreal experience at lunchtime today. Getting my sandwich and milk – you wanna talk healthy eating? - ready, I stuck on the News Quiz, Radio 4, 12.30 pm. It was about halfway through, and I wasn't giving it my full attention. Cheese sandwiches don't make themselves, you know. Suddenly aware that the four comics were working incredibly hard. Build up to the punch line, and – total silence. Ever told a joke in public that's fallen completely flat? It's never happened to me, of course, but it seemed to be afflicting the poor performers today. Then it hit me: there was no studio audience, lockdown and the rest, and the wretched devils were having to tell jokes to each other. And the others having to pretend they found them uproariously funny. Never thought I'd feel sorry for a Stand-Up Comedian. Always a first.

Tonight, it's Penne Gorgonzola. Cinch. The standard White Sauce – Bechamel, if you're posh – but instead of cheddar, put four ounces (look, I'm old, OK?) of Stilton or any blue cheese. Totally delish. Then add the penne UNCOOKED into the sauce, allowing for the sauce to be a little runnier than usual, and cook the pasta in the sauce, really low heat, stirring every minute. Just as we did (I do hope you're all following these recipes? You are? That's good) last week with the Cauliflower Cheese.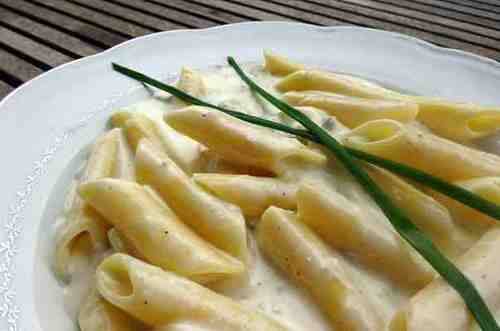 Only one thing missing? Yep, a glass of red wine. Off now to my Priesty Prayers, aka the Divine Office of the Church, then let me at it…

God bless you all,

Fr Paul
---
Friday 17th April 2020
We were hoping a week ago today – Good Friday – that that might have been the peak, and that by this stage, a definite decline in numbers would be obvious. Alas, not the case, with 847 deaths today. Someone was asking me what the average daily death rate is in this country, before this Coronavirus outbreak started. The annual death rate in the UK is roughly half a million: 541,589 in 2018-19 for those who don't like "roughly"! This translates to roughly (sorry, perfectionists!) 1,350 a day or 60 an hour. In other words, without this Coronavirus, one soul meets the Lord face to face every minute in this country, and I've always found that a sobering statistic, reflecting on those who would have been so ready, and those so unready. Now, in terms of the figures, this is where we have to be cautious, because not all of those 847 Coronavirus deaths in the last 24 hours can be classed as "new" deaths, as some of them would have been very poorly folk who would have died anyway. But the vast majority of that 847 are "new". What all this means is that the death rate is roughly half as much again as it would normally be, and that's a huge increase.
Well, you did ask. Not all bad news, as so many of you are finding beneficial ways to pass the time. My fitness videos have been flying off the shelf here – Bums and Tums tonight, everyone (sorry, Choir) – and one good lady has sent me in a superb video clip of her husband exercising. Tremendous! Obviously, there are sensitivities and confidentialities here, and you know it is one of my cardinal rules as a Priest never to embarrass anyone in public. So, can I just say, "Keep it up, Lord of the Jog!"
Not my job to become involved in the politics of all this, but many of you have been interested in the analogy I drew with war-time and the need to create a Ministry of Supply that gets the flaming gear to the right place at the right time, whether it's Tanks or Face Masks. And in both wars, the politicians realised that the best people to do this were not politicians, not even Civil Servants but industrialists. Get Branson or Sugar or whoever to be in charge of PPE, tell them they've got all the powers they need, and let them deliver! Great to see Airbus here in Broughton working on Ventilators, for example, and just itching to get going and knock them out in their thousands. Or other firms with protective clothing in their millions. Or accurate test kits. We have the industry ready and willing to do this vital work, we just need the leadership to make it happen. Agreed? This is a picture of the ventilator Airbus have been working on. Good on you, lads!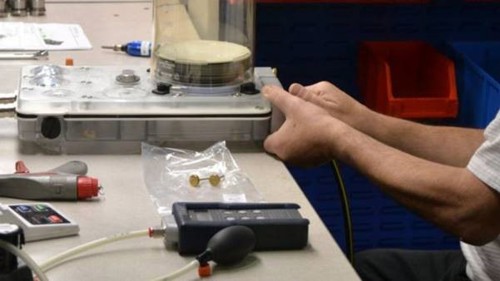 Of course, the politics of all this is absorbing, and especially the position of Deputy PM, which we've never really had in this country. In America, it's a mantra that the Veep is only a heartbeat away from the Presidency, as the world saw, of course, in November 1963, when John Kennedy was assassinated. It's all been a bit more informal this side of the pond. William Whitelaw filled the role perfectly for many years for Margaret Thatcher, leading to her famous comment that "Every Prime Minister needs a Willie." Yes, we know what you meant, Prime Minister. Just might have been phrased a little better.
Major quality needed for a Deputy Prime Minister? A total lack of ambition. Sadly, for Asquith, this was not one of Lloyd George's more conspicuous virtues, demonstrated to perfection when he knifed his boss in the back in December 1916, and marched into No 10 himself. Churchill was much more fortunate with Atlee in the Second War, an extraordinary man whose modesty was only matched by his ability. Against the odds, he won the General Election at the end of the War in 1945 and led one of the most remarkable reforming Ministries of the twentieth century.
So, good luck, Mr Raab! Every time I see him, I see that Oxford Boxing Blue photo, and just hope he doesn't hit any of those reporters gathered like vultures for the 5.00 pm daily Downing Street press conference. If he did, it would probably hurt in the morning…
They are continuing to deliver Catholic Papers and Mags, so this coming Sunday Morning, I'll be outside church between 10.00 and 11.00 if any of you, on your daily walks, would like to stop by and pick yours up.
So glad you all enjoyed the Dancing Priests. It went viral: and my definition of "viral" in this case is when it came back to me, as a new "suggested must see" this morning. Look, I sent it out to you in the first place! Obviously, it is doing the rounds. I'd love more information on its "provenance" (Good, eh?) Clearly young Priests or top-year Seminarians, and definitely American, so I'm plumping for the North American College in Rome. In my day, they had an enormous map in the entrance foyer, showing all the States, with flag pins in for each state with the name of that particular student. Lots of New Yorkers, Texans, Californians, as you can imagine. A solitary pin for Nevada, bearing the message "You must be joking". Poor old Nevada? Not many Catholics there? (Not many people there??)
Another super morning hitting the phones and checking up on as many of you as I can. Someone asked me why they hadn't been called, and what was my batting order. Well, I'm beginning with the frail and elderly, so that's obviously the Choir, and then working down. If you are in your twenties, I should get to you by May. May 2021, that is.
Talking of the Choir, great to hear that Tom and Helena's house move is going ahead, from one posh part of Handbridge to an even posher one. Give me strength. And lovely to have this picture of Bailey and Buttons, who will soon need to get used to their new home: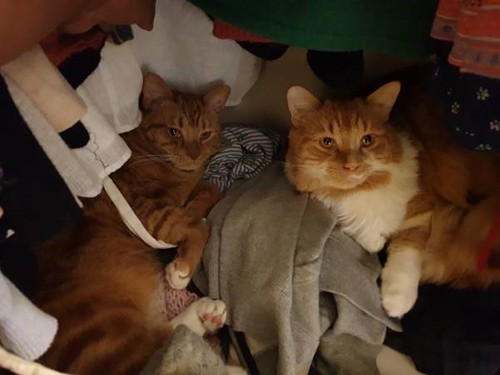 Look at the intelligence in those little eyes! Well, a lot more than in Tom's at least… (Ever the hard word, Tom, ever the hard world.)
My good friend Fr Bernard Forshaw from New Ferry and Rock Ferry up on the Wirral sent me on a lovely picture of the Poor Clares, from their new home in Nottingham: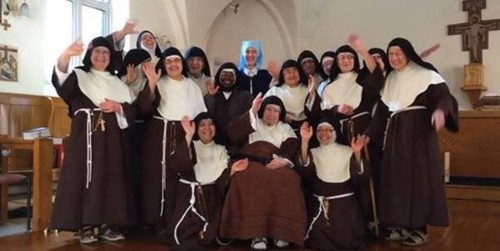 We miss them, don't we! And I miss my Tuesday Morning early Masses out at Hawarden. I know, I know, they only wish they could say the same…
Nottingham? What some people will do to get away from Papa P.
God bless you all,
Fr Paul
---
Thursday 16th April 2020
Some of you can be a very sharp at times, you know. And I mean a sharp tongue, not mentally acute. Just because I said I'd met the Duke on a couple of occasions, it really brought the poison pen out in some of you. Social Climbing? Moi? Name-dropping? As I said to Cardinal Nicholls only last week, I just can't stand people who name-drop.
Some sad news this morning, Carmel Kimpton going Home to the Lord in the Hospital. She'd been in for two weeks, and when I saw her last, in the Nursing Home, she was so tired and finding it difficult to keep her eyes open. One of our greatest parishioners, of course, with a wonderful family: one of the four McLoughlin sisters: Carmel, Kathleen Wilbraham, Helen Thomas and Mary, whom I didn't know. I hope I've got that right: Kathleen would be the first to put me right, ever go gently, as her memory of family history and parish history was superb. One of my great regrets that I never took a tape recorder down to get some of her extraordinary memories of St Werburgh's for posterity. Carmel's Funeral Service will need to be the very small, private affair that all funerals are at present under these restrictions, and delighted to know that her nephew Steve, Margaret's husband, a Deacon in the Diocese of Wrexham, will be taking her Service. Thanks, Steve!
Our other "Promoted to Glory" this week, to use the Salvation Any's resonant and beautiful expression, is dear Jim Catterson, who always sat at the top at 10.45 Mass, in a wheelchair, with his devoted wife Margaret. Jim has been poorly for some time, as you know, and reached journey's end while in the Countess, at the weekend. A fine Royal Navy Officer, Lt. Commander Catterson by the end, no less. Carmel and Jim, may you both Rest in the Peace and Light of the Risen Lord Jesus. Full Requiem Masses for both just as soon as our church doors are open again.
Another good hour this morning on the phone, checking up with some of you, and again being amazed at your resilience, cheerfulness and patience. Looking at tonight's Deaths Figure – 861 – we are going to need that patience for some little time longer. Extraordinary how so many of you seem to find silver linings. Anne was telling me this morning that she loves going out into the garden to say her prayers, and that she's found herself spending a lot longer in prayer since this lockdown started. I'd share a quick one of my own: the chance to read all the nine Readings for the Easter Vigil last Saturday night, quietly to myself, the Psalms between each one, with long spaces in between. It's not that I don't want you all back in church, of course, but…
One of you phoned me Saturday morning, just for a change. One of our dads, plus mum and three young children. "Where are you phoning from?" – "Queue outside Tesco's. Been here forty-five minutes and still not at the front of the queue." – "That must be dreadful." – "Dreadful? It's been the best bit of the weekend so far." I didn't think that was very nice, did you?
Good to hear from Anne-Marie, our wonderful Head of RE at the Catholic High School, and acting School Chaplain this year. Still no sign of when schools will re-open, of course, and what sort of Summer Term it's going to be when they do, with the exam years (11 and 13) already knowing their exams are not going to take place. I have all the Leaving Masses in my Diary, and it would be so good to think they will take pace, and that this year's Pupils won't be denied one of the most precious events in their time at the High School, the Leavers' Mass: to give God thanks for all they've achieved at school and to ask His blessings on the next stage of their lives. Emotional? I'm a blubbering wreck by the end, I tell you. Especially when they play the slide sequence of them all in Year Seven as eleven-year-olds. Not a dry eye in the house.
Talking of dry eyes, Bernice has been playing a blinder on that Burger Bar in Bath Street, round the block after Drive-Through Confessions in the lay-by outside the hotel. But she's had enough of peeling onions, she tells me, eyes streaming all the time. And I have to admit the smell of frying onions comes right in my bedroom window, on that side of the house. Her dedication to duty has been second to none, and a few hundred quid raised for Parish Finances as well. What a player!
May God bless you all,
Fr Paul
---
Wednesday 15th April 2020
You send some wonderful stuff over but this, from Bill Sweeney, has to top the lot. I INSIST that you watch it. Where on earth did you find it, Bill? It's a couple of Priests letting their hair down. Unless I'm very much mistaken, it's the North American College in Rome, the United States Seminary. I had so many wonderful friends there in the old days, great lads, a long way from home and with an amazing sense of fun. There are a couple of cardinals in the audience, as you'll notice, and I guess it's come sort of Festa or entertainment in the College. How many of those I remember so vividly! I promise you, you'll watch it again and again!
 Pete, one of our two brilliant tekkies, who, together with Brian does the internet side of this blog, was reminded yesterday of going to the Angelicum University in Rome for a Conference on Alcohol Abuse. Angelicum? Dominicans? Teetotalism? Pete, you've been on lockdown for far too long, your mind is wandering…
 Irony upon irony, Classic FM revealed the results yesterday of their "Hall of Fame" voting over the Easter period. What was this year's rave fave, for the umpteenth year running? Yep, Lark Ascending! Great to hear from our good friend Kate down at St Clare's, who runs the music there, and so much else besides, wanting to know if we included hymns, and, if so, could she please nominate Lord of the Dance? Kate! How could you! She'd found a lovely live streamed Mass from Pimlico the other day, Fr Pat Brown presiding – he's also Chaplain at the Houses of Parliament, and a good friend of our own Samanta who often serves Mass there. All going well until the final hymn. Lord of the Doodah. I hesitate to mention it, but it happens, at the Werbies, to be Redcliffe's favourite. You can't please everyone.
They always say we catch America's weather some time afterwards, and we were indebted to Steve from Michigan for the actual evidence that Drive-By Confessions are up and running (in a manner of speaking), in Massachusetts at least. Texas has gone one stage further, with Drive-By Funerals. You don't have to get out of your car, you watch everything on a big screen, and honk your car horn in unison as you leave to show your solidarity with the Dearly Departed. Honestly. If you are easily shocked, please look away now.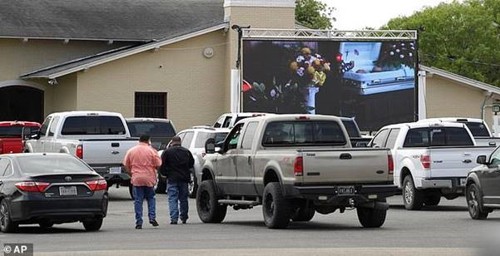 The Cheshire Funerals Contingency Plan came out today, a very good policy document driven forward by Rev Mike Gilbertson, the Anglican Archdeacon, a good friend of ours. The two authorities - CWAC and Cheshire East – have a combined funeral capacity of 500 per week, across all cemeteries and Crematoria. Please God we won't reach that limit, but it's good to have contingency planning in place in case we do. As ever, no good addressing the question when it's staring us in the face. National numbers in the last few days have been marginally more encouraging, haven't they? Not exactly a peak, but a sort of levelling off at the top. Good Friday was the worst – 953 deaths. Saturday was 917, Sunday 710, Monday 717 and yesterday 778. Today's 761 is nothing to celebrate or cheer about, needless to say. But a sense of plateauing, which, if maintained, might allow the authorities to start thinking about easing off the lockdown? We all hope so, I know, and don't envy them in the decisions they have to make in the coming days and weeks. Whatever they decide, they could so easily get it wrong.
Thank you for everything you send over. I can't share it all, as I do have, as your Parish Priest, to exercise some minimum standards of good taste and discretion. (I know, I know: given some of the stuff he does share, what the heck must the stuff he doesn't share look like? When this is all over, dearly beloved, I may put some of it on the Notice Boards at the back of church. Or I may not.) But for now, decorum and propriety must be the order of the day…
The garden outside the office window is a riot of colour, and I love watching the sequence: the yellow daffodils come first, then the white narcissi, quickly followed by the blue of the forget-me-nots, and now the bluebells are about to burst. Here are some bluebell woods to cheer us all up: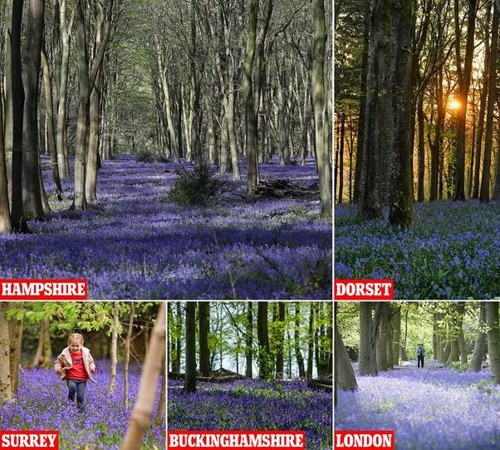 And finally, the Duke of Westminster donates 12.5 million to the NHS! That's an incredible donation and is a mark of how much charitable work the Family and Foundation do, not just in our part of the world in Chester, where they live. Thank you! I've only met the present Duke twice. Here he is, at the young age of 29. And the answer to your question, is he as nice as he looks? A huge YES!!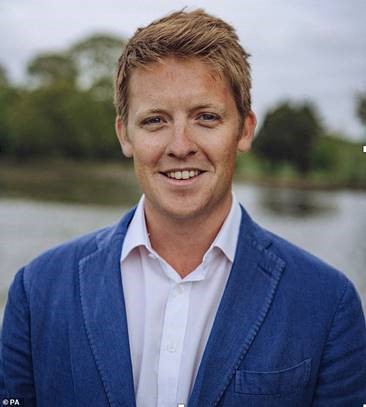 God bless you all,
 Fr Paul
---
Tuesday 14th April 2020

How can one day's blog offend so many people? The number of you who have already made your Funeral Arrangements is amazing, coming in to Lark Ascending, going out to Andrea Bocelli, time to say goodbye to such a wounding Parish Priest, my two favourite pieces of music, Father, transferring immediately to a proper parish and a respectful Priest, a parish with a CAR PARK.

They used to maintain the sure and certain way to a full postbag of outrage was to say rude things about cats; clearly Andrea comes a pretty close second. Emily sent me this link with her "Disgusted of Hoole" email:

https://www.youtube.com/watch?v=huTUOek4LgU

Beautiful aerial shots of Milan, Emily. Lovely video. Especially if you turn the sound down. (Low blow, low blow!)
Heard from David, who's been organising our Welsh Railway Trip, scheduled for 6th May. All of us delighted this is a sell-out, and all of nervously watching the lockdown news. David writes:
Like everything else at the moment, there is just huge uncertainty hanging in the air. The railway was building up to the start of the daily service when the whole situation started to become far more serious and hasn't run a train for three-and-a-half weeks now. All staff have been furloughed apart from a couple of emergency on-call staff. Re-opening will be a function of when the Government start to relax current arrangements and let's face it, that is completely out of our control.
The tourist industry, like everything else, has been hit for six by this lockdown, and they must be hoping, as we all are, it isn't going to be for too much longer.
Geoff Taylor takes some stunning shots of the church, at all different times of day. This was early yesterday, Bank Holiday Monday: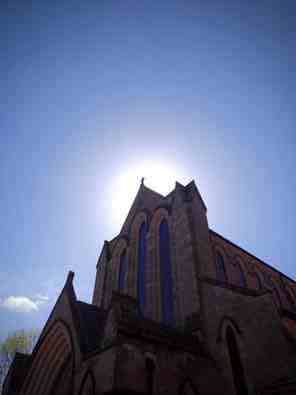 Not quite sure how he got that amazing effect of the bright light behind the church, but I know it involved Jill up a tall ladder somewhere nearby holding one of those big silver shiny circles that all professional photographers seem to have, their equivalent of the Magician's Assistant. Thanks, both!

References to Tim Brooke-Taylor and I'm Sorry I'll Read That Again brought back memories for lots of you. Plus, the successor programme, I'm Sorry I Haven't a Clue. Definition of Romantic? An Italian Flea. Final Late Arrival at the Glue-Makers' Ball – Mrs Tite, closely followed by her husband, Harold. And so many requests to have the rules of Mornington Crescent explained. For pity's sake, it's obvious, isn't it? Enough already!

Always a pleasure to hear from Brother Augustine at Belmont this afternoon, though straight from a Funeral of one of the elderly monks who'd sadly succumbed to Covid-19. The masked and gowned Funeral Directors had to place the coffin in the vault in the Abbey Crypt, and then the Abbot and Community were allowed to stand round for the Funeral Service and Committal. It just brings home to us the seriousness of the situation, if we were ever in danger of forgetting. Augustine is waiting for the date of his Priesthood Ordination, on hold like everything else. No chance of going back to Rome for his final term at the Dominican university there, the Angelicum. All his final exams will have to be done remotely, via skype. As the central moment of Ordination is the Laying on of Hands by the Bishop, there's absolutely no chance of a Remote or Virtual Ordination! This was taken yesterday as he prepared to Deacon at Community Mass: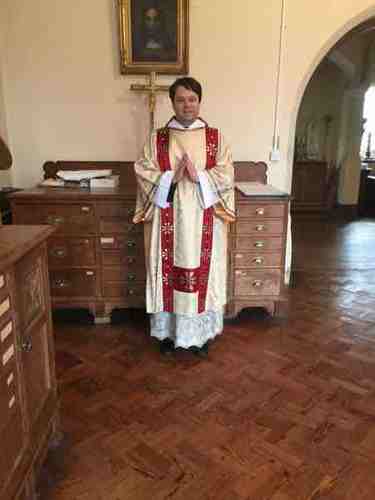 That's his virtuous look: he's not a bit like that really!

God bless you all,

Fr Paul
---
Monday 13th April 2020
Naively, I think many of us thought that it would all peak at Easter and then a steady drop-down in numbers, normal life resuming in a week or two. It may yet happen, of course, with three days on the row of declining numbers of deaths. But with Easter out the way now, I suspect a long slog lies ahead before we can begin to talk of "normal".
Beautifully sunny day today, but much warmer in a south-facing window than actually being outside in fairly cool wind. Probably a blessing in terms of keeping everyone safely at home. Spain starting to ease restrictions, Italy looking to be over the worst. I suppose everyone's nightmare is easing up too quickly and finding a second surge happening.
Confession: if I never heard Andrea Bocelli's Time to Say Goodbye ever again, it wouldn't be a day too soon. Nasty or what? It's just too many Funerals at Blacon, too many duets with Katherine Jenkins, too much slipping from cheesy Italian into cheesy English and back again… You can see that Gin and Tonic last night hasn't yet mellowed your PP completely. I'm sure we all have our list of "Pieces of Music We Hope Never to Hear Again". What's on yours? Lark Ascending? 1812 Overture? Swan Lake? Somewhere, over the…? Do send them in. Knowing how bitter and twisted you lot can be, this section of the Blog could run and run.
But I couldn't miss this picture of Andrea standing outside the Cathedral in Milan, ready for the Concert last night, his solitariness in the face of that magnificent building. So many memories of last August in Milan. If this flaming virus hasn't packed its bags by August of this year, I shall not be nice to know.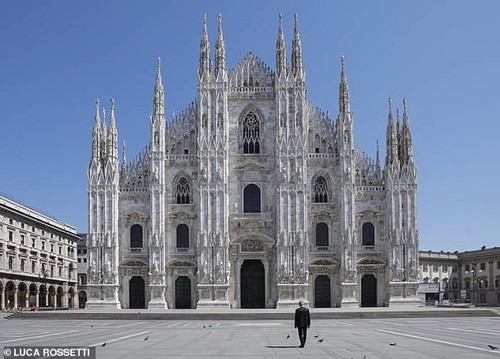 Technology has revolutionised the way we have all experienced this world-wide lockdown and produced some unforgettable images. Here we have the Pope as we've generally not seen him before, but as we are becomingly increasingly used to see him, through the lens of a camcorder.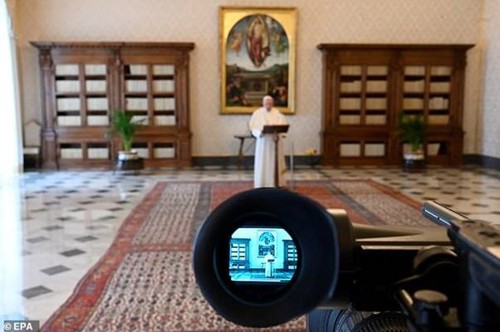 No man is an island, and every death reduces me by that individual amount. Tim Brooke-Taylor's was a poignant realisation of just how many years he'd been making me laugh. All started with I'm Sorry I'll Read That Again, the radio show that ran from 1964 till 1970, with a brief revival in 1973. The title was taken from the stock BBC on-air apology if a News Reader or Continuity Announcer ever made a fluff. Perish the thought, it would have had Lord Reith spinning in his grave. It was the breeding ground for Monty Python's Circus, the bridge between the Cambridge Footlights Review, where so many of these comics cut their teeth [a few too many mixed metaphors here? Ed] and Python immortality. Tim Brooke-Taylor and John Cleese were the mainstays of the Radio programme, but Tim didn't make it to the Television version, the role of the nice guy going to Michael Palin instead. TV's loss was Radio's gain, and the spinoff from ISIRTA, I'm Sorry I Haven't a Clue. Remember the Uxbridge English Dictionary? Cardiology: the study of knitting. Monogamy: spending New Year's Eve on your own in Edinburgh. Haywain: Essex Greeting. Homophobe: someone who doesn't like the Simpsons.
Or the Late Arrivals at the Ball? Who can ever forget the late arrivals at the Nudists' Ball, Mr and Mrs Gleebits, and their son Dan? (Sorry, Choir). Or the very late arrival at the Criminals' Ball, the Greek Folk Singer with violent tendencies, Grivas Bo Diddley Hum? And if you don't know how to play Mornington Crescent, with Tim's departure, it's too late now. How many more times do we have to explain that, if Kravit's Law applies, you can't go from the District Line to the Bakerloo if the Station has an M in the title. Isn't it obvious? (Unless it's a Bank Holiday, of course).
No, as Terry Wogan often used to say, they're not all locked up yet. Matthew Robinson was a fellow addict in my early years here, the first Parishioner who invited me to his home for a meal after I arrived in September 2006. I've never forgotten that. And I remember Matthew at every Midnight Mass, Easter and Christmas. In the Sixth Form at school, ISIRTA was compulsory listening, at least for Steve and me. The following morning, we'd walk round the Cloisters at our Grammar School in London – sounds posh but wasn't – regaling each other with the best bits. We went to University Interview together, a freezing December 1968, driving up in his battered Morris Minor, the ice thick on the College ponds. Somehow, we both scraped in, different colleges, me for English, Steve for Spanish and Portuguese. And stupidly lost touch after that. But hear Tim Brooke Taylor's Lady Constance de Coverlet, and fifty years have slipped away.
Second confession: I never found Python that funny. On radio, that anarchic, surreal humour had me helpless. On television, I always thought they found themselves a bit too funny, a bit of self-love creeping in, always fatal to comedy. (Oh, get him another gin, someone, and get him out of this post-Easter grump).
God bless you all,
Fr Paul
---
Sunday 12th April 2020
Am I in trouble! Missing out not just Hoole from the Werbies Sing-a-long this evening, but Handbridge as well… How to lose friends and influence people. But nice to know both areas are keen, whatever Huntington and Vicar's Cross may say. I shall be standing on the doorstep here at 7.05, tuning fork in hand, ready to give the note. "Me-me-me-me-me." There's a joke there somewhere.
8.30 last night, and I opened the front door and stood on that doorstep for a few moments, picturing the front garden full of folk all ready for the Easter Vigil, fire blazing, Gerry and the Altar Servers in position, Choir at the ready, tapers distributed. I only saw an empty garden, but you were there in spirit, I know.
No fire, but the Blessing of the Paschal Candle. Last year – totally my fault – they delivered the wrong size, and I didn't notice till Holy Saturday afternoon, when it was time to put on the transfer for the year, 2019. Far too late then, of course, to do anything about it. It was the right height, but too thin. Fortunately, I could do something with bubble-wrap and cardboard (who said I wasn't a liturgist?), where if it had been too thick, we would definitely have had a problem, Houston.
How I wish I could sing! But I can't, and there's an end of it. So, I read aloud the beautiful Exsultet, and then placed the Candle in the Stand with a very satisfyingly tight fit. And there it will stay for the next twelve months, please God, lit every day during Eastertide, and for Baptisms and Funerals thereafter.
I treated myself to all the Easter Vigil Readings rather than our usual selection – well, I did have only myself to please! – trying to keep a silence of five minutes or so after each one to allow it to speak to me. No Holy Water to bless – that will come once our churches are open again – but the Baptismal Promises to renew myself, on behalf of us all. The third always resonates with me: all Satan's "empty promises". Lent began with those, the three empty promises Satan made to Christ in the Temptation in the Wilderness, and it's entirely appropriate to end Lent on the same note.
And then the first Eucharist of Easter, with an hour and half or so of quietness before Midnight Mass, which, this year, was celebrated at… Guess when!
Good to see some of you on the doorstep at 8.00 o'clock this morning, collecting your Newsletters for both yourselves and other Werbies who live near you. Hearty thanks to all of you who have put Collection Envelopes through the letter-box here. Enormously appreciated, as we battle to stay afloat financially. As I said on the Newsletter, normally your Easter Offering is a personal gift to the Parish Priest: this year, please, can we make it a donation to the Parish instead? The Parish Finances will be eternally grateful if you can be as generous as you always are at this time of the year.
Easter Sunday Morning Mass today, but without the Asperges. This was underlined in the official instructions for today: "Mass of Easter Day. All priests should endeavour to celebrate Mass for their people on Easter Sunday. The Mass should be as prescribed in the Roman Missal but without the sprinkling of water as part of the Renewal of Baptismal Promises." No sprinkling? Utter spoilsports! – that's one of the best parts of Easter Sunday. One of the main reasons I became a Priest.
I put next week's Mass Intentions on the Newsletter, but I know some of you appreciate seeing them here as well:
Mass Intentions This Week
Easter Sunday Morning: Ken Lawley and Kathleen Hargreaves
Easter Sunday Evening: Private Intention (JA)
Monday 13th April: Alex Barnes
Tuesday 14th April: Ann Snowling (6th Anniversary)
Wednesday 15th April: Rachael Andrews
Thursday 16th April: Gerry Cummins (Birthday Remembrance)
Friday 17th April: Mary Rogers (100th Birthday Remembrance)
Saturday 18th April: Shaun Williams (L.D., Malawi)
Sunday 19th April Morning: Sheila Norman (Birthday Remembrance)
Sunday 19th April (Evening): Tineke Robertson (L.D., Netherlands)
This photo caught my eye this morning, seeing how a Mass is live streamed with the camera discreetly facing the altar. Isn't technology amazing! I just wish I understood it better.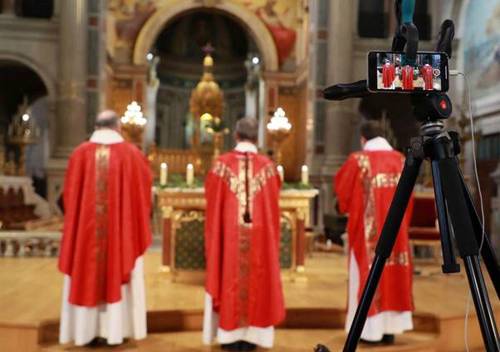 A smartphone records a catholic priest celebrating the palm mass in the empty Saint Francois-Xavier church, which will be broadcast on social networks.
And did you all see the Archbishop of Canterbury celebrating Easter Sunday morning from his kitchen?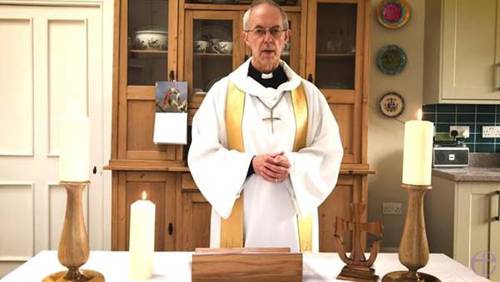 The Archbishop of Canterbury Justin Welby urged crematoriums and local authorities not to treat coronavirus victims 'like cattle' and give them a dignified burial.
The only snag with such scenes of domestic bliss is that inevitably you become more fascinated with what's in the background than with what His Grace is saying. "Oh, so that's the breakfast cereal he eats, is it? Surprised he only has Tesco's Instant Coffee…" Or perhaps that's just me, and you are all much more serious, attentively concentrating people. Never managed that trick myself.
One of you suggested I should have done the same myself, Midnight Mass from our Kitchen: but it would have meant tidying up the kitchen first, and I came over all faint at the prospect, and had to sit down quickly. [You were sitting down already, you old idiot, writing this. Ed.]
Another question someone sent in: as Lent has been so disrupted this year, and St Werburgh's, for example, has not been able to have all its Friday Evening Stations of the Cross, should the Bishops arrange for Lent to be held all over again once this lockdown is over?
Lent again? After this is all over? If they do, I'll become a Methodist. And that's a promise.
7.05 pm now, so, if you don't mind, I won't stay any longer penning this inspirational prose usual load of old rubbish, as duty calls. Where's my tuning fork? And then…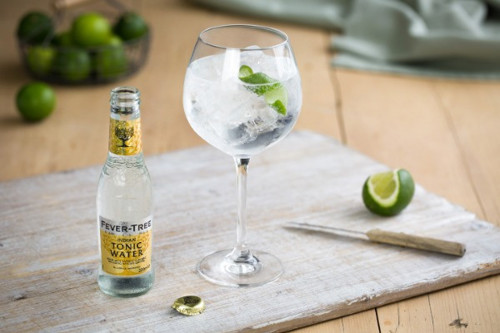 Happy Easter, everybody!
Fr Paul