Daily Updates 12th - 18th July
Saturday 18th July 2020
A real sense of excitement at tea-time today as we put the final touches to Reopening for Mass tomorrow morning. It's been a military operation, and I can't thank the Taskforce enough for brainstorming all the eventualities and coming up with practicable solutions, and all our 22 Stewards for wolunteering to make it all possible. We won't get everything right first off, of course, and tomorrow is an experiment. But we think it's the best experiment we could have put together under the circumstances. We will learn a lot from it, and make whatever changes are necessary when we sit down together on Monday Morning.
The big imponderable is numbers: just how many are going to turn up? If we get this wildly wrong, we will certainly go for a Booking System. Our super Tekkies are working on some ideas as I write. But, in the interests of simplicity, we wanted to see if we could make it work without. Tomorrow will tell. Safe capacity for church with six-foot social distancing is sixty. We will have four Masses, at 9.00, 10.00, 11.00 and 12.00, giving a total capacity for the morning of 240. Our normal Sunday Morning mass attendance is 400, so we are assuming a maximum of 60% of the norm will turn up tomorrow. Experiences of other churches who have Reopened for Mass is that that is generous, most reporting between 25% and 50% coming along, many people being understandably cautious in the early days.
I'm loving my evening walks around Chester, as you know, and usually end up coming back along Westgate and Foregate, taking the temperature of the City. Heaving last Saturday evening, and then dead quiet until last night, Friday, when once again it was busy. Mainly young people and their age-range pubs and clubs. Lots of restaurants and the more middle-aged pubs yet to reopen. I can remember reflecting some weeks ago that I was dying for a pint: but strangely haven't been in a pub since reopening. I'm leaving that to my trusty Research Assistants, Hugh of Handbridge, Harry of Hare Lane, and the absolutely indefatigable Maudie of Mouldsworth, who's now offering to cover the whole of Shropshire as well, bless her. Somebody cynically asked the other day if Maudie from Mouldsworth actually existed. What a question! Oh, ye of little faith. Yes, she does, and here's a photo to prove it: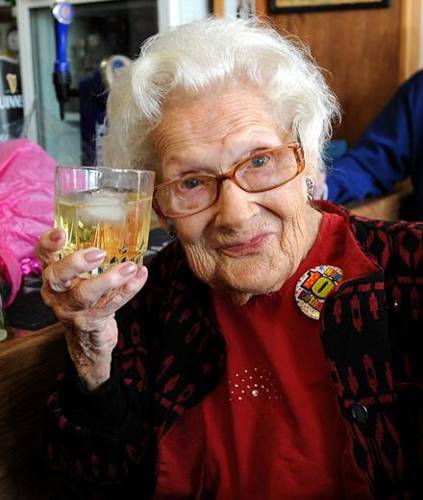 Into her third decade and still working tirelessly for the church. If there were Bene Merenti medals to give…
Fascinating Photo of the Week sent in by Frances and on today's Newsletter, showing the links between the Abbeys of Normandy and those of England in the eleventh and twelfth centuries, most of the latter founded by William the Conqueror when he came over from Normandy in 1066. If any of you need a translation from the German, I do hope you wouldn't be too proud to ask: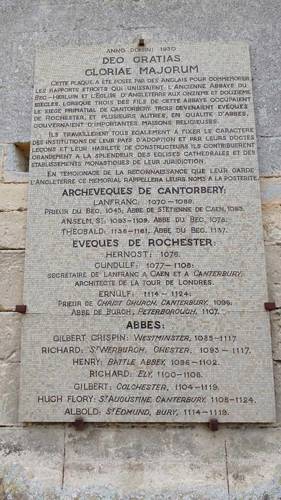 You'll see "Richard, Abbot of St Werburgh, Chester: 1093-1117". That, of course, was the Benedictine Abbey that was taken over at the Reformation and turned into the present-day Cathedral.
Two new arrivals at Chester Zoo were given their first public outing this week, Patcha and Mateo, Andean bear twin cubs, born in January, and here being shoved around by their proud mother, Lima. As Mums do. You might guess from her name that this is the breed that inspired Paddington Bear from Peru.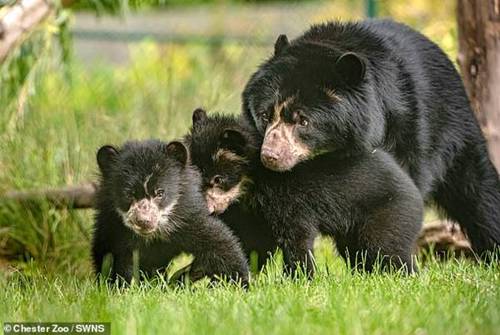 This week, there's been a pair of swans under the Suspension Bridge jealously guarding their cygnet. I'm fascinated watching them, never more than a yard away from Junior, apparently indifferent until some silly duck gets a bit too close, when Mum and Dad gives any intruder that fierce hiss that drives them back to a safe distance. Social distancing in the animal world, always at least six feet! Expect some good hisses from the Stewards if you get too close to anyone else tomorrow.
Happy news, sad news of Werbies today. Happy news from my lovely Frodsham family, the Cunniffes. James, ex-Catholic High, elder son and heir (well, elder son anyway) has gained his Membership of the Institute of Chartered Engineers. He left the Catholic High in 2010, graduated from Bath University in 2014, and has been working for a big firm of Engineers in Manchester ever since. This is now his Professional Qualification, membership of the professional body, and means he will be earning even more money to keep his parents in their old age. And they won't be cheap, James, they really won't. Mind you, he did have a good boss at work, and a super Mentor for these exams, A certain Mrs Gladys Baggs, who has featured in this Blog on more than one occasion…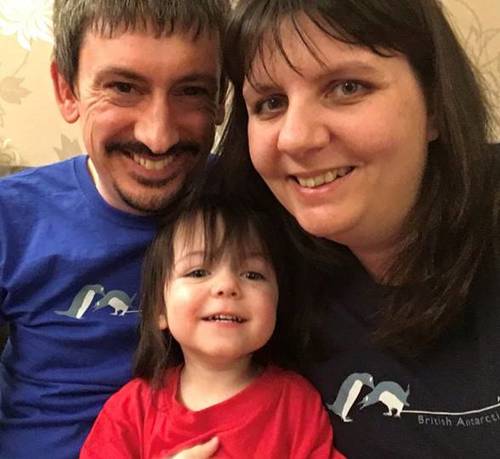 Well done, Gladdy Baggs! (Actually, it was Anwen that did most of the coaching, but let's keep that a secret).
Sad news? Well, for us in the Werbies, though great news for them: Janet and Harper have at long last exchanged contracts on their lovely home down at Tilston and will be heading off to their new life down under far too soon. Janet comes from Australia as you know, Harper from Maryland, so a real marriage of the old colonies! Their two sons are both in Australia, so little really to keep them in England. But what wonderful parishioners they've been since the close of Farndon, Tattenhall and Malpas Mass Centres, and their joining us in St Werburgh's six or seven years ago. Harper is always at the 6.00 pm Rowton Mass, where the brains of Maryland are pitted against the Brains of Michigan [shome mishtake shurely? Ed] Hence Harper's recent offer to help wizziters to Rowton work out who's who by wearing identifying sweatshirts: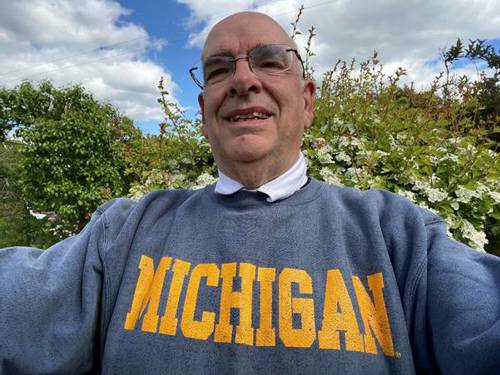 We're going to miss that wonderful impish sense of humour, Harper! Honestly, at 80 you'd have thought he'd have grown out of it. The real Michigan – him with the saintly wife and monster kids – thinks he's now going to get a straight run at all the questions. Fat chance! I'm sure there will be an opportunity for us all to gather together, safe distanced, to wish Harper and Janet all love and success in this new chapter. We will miss them enormously.
And let's not forget Gerry and Jen, Michael, Gavin, Garrett and Megs, half the state of Delaware, another of our smashing American families. I thought of them today as I saw this photo of an election rally in Wilmington, the State Capital, the poor reporters necessarily safe-distanced. Joe Biden, of course is from Delaware, making this autumn's American Elections particularly absorbing:
Stay in those circles, lads!
Say a prayer for tomorrow morning, everyone.
May God bless you all,
Fr Paul
---
Friday 17th July 2020
Another Funeral in church today, Dorothy McCormick's, followed by one at Sacred Heart in Hawarden, so good to be able to see how our churches are coming back to Public Worship once again. Dorothy's was a real test of discipline for the poor family, having ten children and thirty grandchildren. Selecting thirty was always going to be a challenge, but well done to the family to rising to it, giving us all the names in advance as a Track and Trace mechanism.
With a family that size, as you can imagine, they were now all over the world. They broadcast the service via a live stream, and included pre-recorded contributions from Costa Rica, Denmark and Taiwan, as well as from members in England who, because of the thirty limit, were not able to be present personally. Dorothy and her husband, David, who sadly died many years ago, first met in the Halifax Light Opera Society, rather like our couple on Wednesday. I once trod the boards in LULOS: standing for? And can I have just sensible suggestions this time, please?
Straight up to Sacred Heart Hawarden afterwards, reminding myself of what a pleasant little town that is, and how much I enjoyed my weekly visits to the Poor Clares there. I know, I know – they only wish they could say the same. We started off in Sacred Heart Church, the Vocationist Fathers from Holywell looking after it these days. It was good to meet two of their parishioners who came along to take care of us, and clean round afterwards, just as two Werbies Stewards had been on duty here for the earlier service. Like us, they've been open for private prayer, and are hoping to open for Mass the weekend after next. Good luck, Hawarden! Here's a fine picture of their celebrating their golden jubilee in 2016, with some familiar faces in the front row!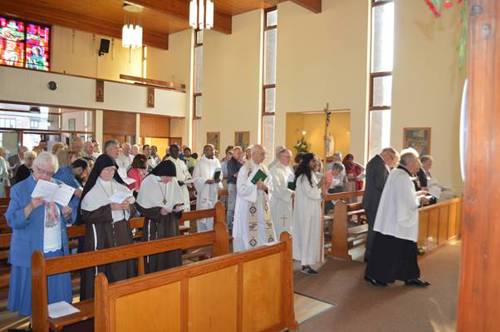 We were there to celebrate the life of Lana Preston-Heyes. Her daughter Amanda was on the staff of St John Plessington, the huge Catholic Comprehensive up in Birkenhead when I was Chaplain there, twenty-five years ago. I helped out at her wedding to Jason (St Jason, as I always call him) and we've remained in touch ever since, Amanda often here at Mass. She and her daughter Ellie are two of our new Stewards for Reopening, so a privilege and a pleasure to be asked to take her mother's Funeral. Lana had been seriously unwell since January, and her three daughters, Amanda, Sharon and Laura, made the decision to move in with her when lockdown began, and stay there for however long was necessary. What an amazing thing to do! It meant that Lana never had to leave home and was able to Go Home to the Lord there, her abiding wish.
Her three daughters. The three sisters. As I said today, I don't know why, but every time I meet them, I always think of Macbeth…
Hawarden Cemetery afterwards was bathed in warm sunshine, with those incredible views out to the Dee Estuary, the only blot on the landscape being the Shotton Steel Works. Would they be built there today, I wonder?
Two of our intrepid parishioners went up the Cathedral Tower here in Chester this week. One of them balanced on the end of a plank while the other held on tight, going out as far on the plank as they dared, holding on by one hand, in order to take this photo of St Werburgh's. What some people will do in the cause of art! I'm proud of you both. And so relieved you made it back safely. If you'd fallen off, you could have smashed the camera, and then we wouldn't have had this breath-taking view of our church: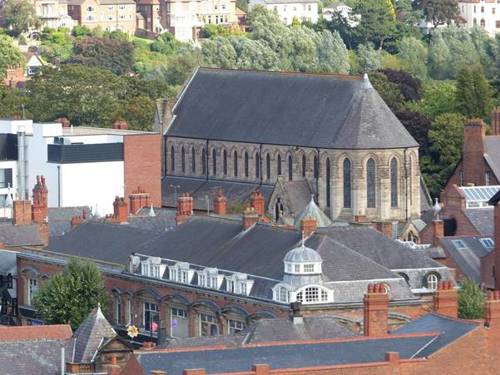 Don't forget the arrangements for Sunday: four Masses at 9.00, 10.00, 11.00 and 12.00, sixty maximum at each, please queue up outside the church, and each Mass strictly thirty minutes. Please hand-sanitise on the way in, and sit where directed by the Stewards. Face coverings strongly recommended, but not compulsory. I hope to see as many of you as possible then!
May God bless you all,
Fr Paul
---
Thursday 16th July 2020
Excellent training session last night for all our stewards – 22 of them in total! – old and new, preparing now for the new phase of their work, Reopening for Mass. In addition to our twelve existing ones, we welcomed ten newcomers, and were delighted to see them. You'll be pleased to hear that the Parish Priest is absolutely out of all this, all his time taken up with preparing the Chalice, Paten, Ciborium, Hosts, Water and Wine for each Mass. Because of the dangers of cross-infection, only he can touch the Sacred Vessels, before, during and after Mass, and that makes perfect sense. They all have to be fully disinfected and washed between each Mass.
So, the auld eejit will have to do what he's often accused (unfairly!) of not being very good at: DELEGATING! Three members of the Taskforce therefore will head up the three key areas: Brian Burns will be in charge of Stewards inside the church, seating people when they come in and directing them as they leave. Syd Jones will be looking after the queue outside, taking details for Track and Trace, ensuring people are six feet apart, and counting just sixty to come in for each Mass. And then his long-suffering wife who only ever made one mistake in her life, Denise, will be in charge of the army of Cleaners, who will descend on every seat and bench, once everyone has left church and disinfect the lot. In record short time. Ready for the next horde to come in. Phew!
We went through all this last night, answered a host of excellent questions, and did a practice run-through for Sunday. Denise did a perfect demonstration of how to disinfect the sides of the pews: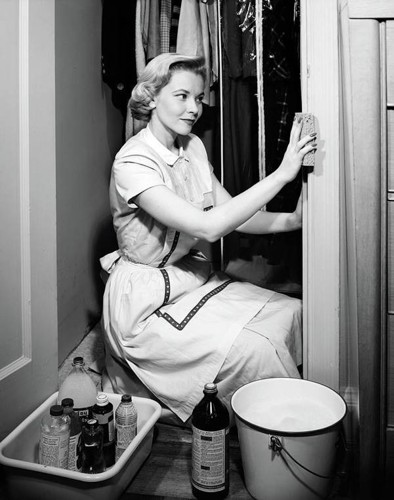 The thorny issue has arisen about how these three Supervisors should be dressed, to distinguish them from the rabble of the other Stewards. Syd has come up with this suggestion for his role in looking after the queue: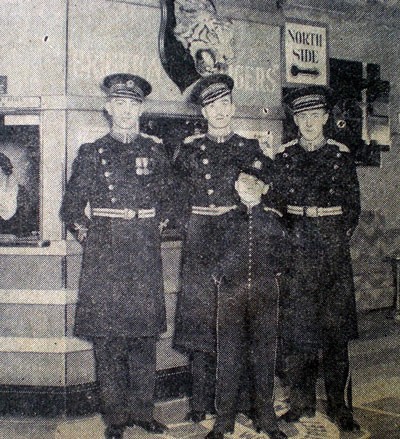 What do the rest of you think? And one of the new wolunteer cleaners actually came in her own PPE, which showed real initiative and imagination. Takes you back, doesn't it?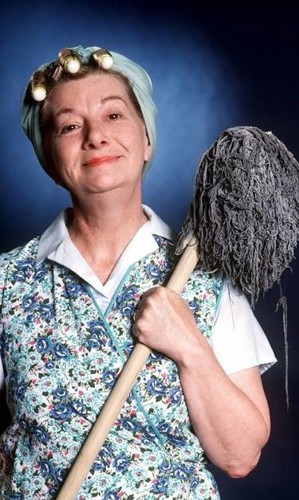 Don't forget, everyone: four Masses on Sunday, at 9.00, 10.00, 11.00 and 12.00. Sixty maximum at each. Each Mass strictly half an hour. Please queue up outside church along the pavement towards the baths. Face coverings strongly recommended. If the Mass you have come to is full, you can put your name down for one of the others, go away and come back again without needing to queue again.
It's a big experiment on Sunday, and if parts of our arrangements need changing or can be improved on, believe me we will do just that when we sit down for our Review Meeting on Monday morning.
This morning, another visit into the Hospital to see a lady who's come up from one of the Nursing Homes in Malpas. My dear, dear friend Pat Cummins alerted me to her being in the Hospital. This so reminded me of her wonderful husband, Gerry, when they were both living in Malpas. Because Confirmation Preparation was a little hit and miss in that part of the Diocese, youngsters often not sure exactly which Parish they belonged to or when the Confirmation programme was, Gerry would round up any eligible candidates and personally drive them up to St Werburgh's for the Classes, sitting patiently for an hour and half at the back of church, saying his prayers, and then drive them back again. I can't tell you how many youngsters would not have been confirmed if it hadn't been for the wonderful care and attention of Gerry Cummins. A Saint in Heaven.
I arrive at the Ward, find my lady, but the curtains are drawn round. Nurse comes out, and I ask her if I should wait. We decide it's probably best for me to come back later, but I'm half-way out of the Ward when Sister comes running after me. "Fr Paul! Fr Paul! Don't go – can you just hang on for a second?" I go back and establish that my lady has taken a sudden turn for the worse. They let me in, and I wonder if she's gone, no signs of life at all. But the monitors tell a different story, and the Crash Team of doctors is sent for, there in a few seconds, and they do their work. Twenty minutes later, she's sitting up in bed, right as rain, beaming broadly and saying, "How nice to see you, Father – thank you so much for coming". Blimey! Aren't these doctors and nurses miracle-workers at times? Actually, all the time.
May God bless you all,
Fr Paul
---
Wednesday 15th July 2020
Sad news last night of the sudden death of David Clewes, Norah's husband, on Monday night. They'd had a normal day together, out for a walk, David complaining of feeling a few "aches and pains" and went upstairs for a hot bath to soothe them away. Norah goes upstairs to see how he was, and he'd gone, Called Home to the Lord. David, as you probably know, was a keen member at St Thomas's church on Parkgate Road, opposite the University. But he'd always supported Norah as a Werbie, and only last week, he was here with her, and they both came in for Private Prayer. He was looking on good form, and I was teasing him about the length of his hair and was he auditioning for King Lear. He was 83, and he and Norah been married for 54 years. We send our deepest sympathies to Norah and the two boys, Peter and Timothy.
Real feeling of exhilaration as we opened our Church for the first time in four months for Public Worship today, the funeral of my lovely lady from Helsby. It was all sorts of little things – switching the microphones on again, finding the right candles for the Altar, standing at the Altar and in the Pulpit and talking to real people not empty benches. (Boy, have those benches suffered some awful sermons in the past four months!)
All the restrictions fully in place, numbers limited strictly to thirty, all safe spaced apart, hand sanitiser on the way in, full list of those attending submitted in advance. At one level this was unwelcome: at another level it was a tiny price to pay for the unspeakable joy of being back in our church and celebrating as a family. Today, we were celebrating this extraordinary lady's long and good life. She and her husband met in Helsby Players in 1956, both appearing in "Something to Declare", a murder mystery. He played the detective, she played the maid. Oh, you have to know these fifties plays to realise how pivotal the maid was. She always opens the play, curtain rising on her languidly dusting the ornaments in the lounge when – guess what! – the phone rings. "Hello! Yes, this is the residence of the well-known writer Sir Peregrine Smoothichops", she answers, brightly. "Yes, he has been in Spain for the past month but is expected back this afternoon. His wife? Oh no, Lady Penelope didn't go with him, as she needed to go down to her ailing father, Colonel Gussett, in his country home, Gussett Towers. Yes, that's right, their eldest daughter, Maud, is home from the South of France, with her fianc鬠Alf [Hint to audience: probably not going to work out?] and Master Rupert is home from Eton tomorrow…" And so on and on, for several pages, while the audience lose the will to live. It's called scene-setting, my dear people, and if you want to see it sent up rotten, just catch Michael Frayn's brilliant back-to-front farce Noises Off.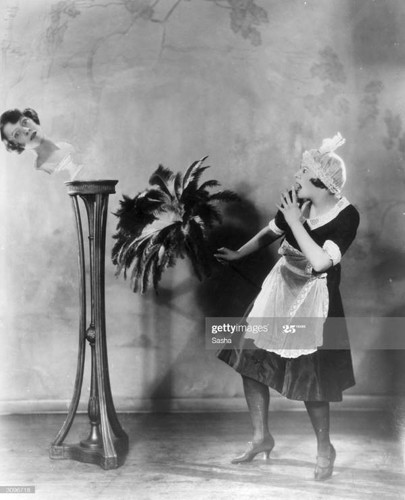 They went on to have a wonderful marriage, two children, four grandchildren, a great grandchild. One of the granddaughters delivered a superb Tribute to her Grandmother: having had the best granny in the world herself, she was nervous, she told us, when she herself had her first child to see how her own mother would be in the role. "Actually, she's been superb – but then she did have a very good teacher!" A lovely line from a lovely family.
Lunchtime was a chance to catch up with M&A, who've just been through that horrible experience of a miscarriage. Not sure I had any wisdom to impart [Do you ever? Ed] but I think they found it valuable just talking about the whole experience from start to finish with someone not immediately involved, and not family. Smashing couple, so do please keep them in your prayers.
Getting ready now for Stewards' Training at 6.00 pm, with a grand total of 22 good men and true – 22 good women and true?? – to assist with Reopening for Mass on Sunday. I say "assist", but the whole reopening would be impossible without them.
Finally, this photo caught my eye this morning, a Seminary in Madrid in 1960. Sixty years ago. How many of them went on to be Ordained? How many are still with us today? And did he save that goal or not?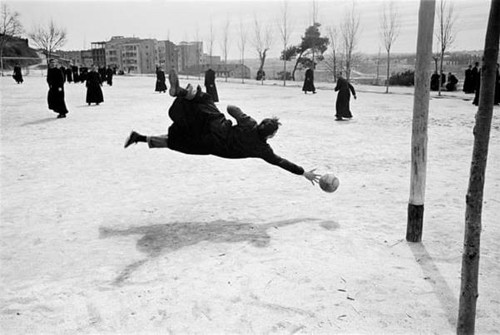 May God bless you all,
Fr Paul
---
Tuesday 14th July 2020
Into the Hospital this morning to help with Fr James' induction onto the Hospital On-Call Rota. Fr James and Fr William, as you know, are the two Spiritans who are looking after St Columba's and St Theresa's, living down at St Theresa's. Today, I gave Fr James a guided tour of the Hospital, the main wards, what's "over the bridge", where Maternity is, how to get in at night (through A&E), where Intensive Care can be found, and finally over to Bowmere and the psychiatric Wards. After all these years, I still nominate the Countess as the Hospital with the most confusingly numbered wards I've ever encountered! Come out of the Chapel area, and you find some wards in the early 50's – go right round the hospital to the opposite extreme, and you find the rest of the 50's. I told him not to waste time trying to follow any logical pattern or consult Maps – just grab any passing nurse (not literally, dear Father) and ask her. It'll save an enormous amount of time!
Then over to see one of the families for a forthcoming Funeral, finding the face-to-face meeting so much easier than the hour on the telephone. Over to Liverpool afterwards, to pick up a new Statue from Carrara's, the wonderful Statue Workshop in Kensington. I say "new" but actually it's extremely old – and was good for nothing but the scrap yard when I saw it six months ago in their basement. Our Lady of Walsingham, a statue I have always wanted for our church, and Carrara's have done their usual fabulous job of restoration. I'll have a photo of it taken when it's in place in church, but if you don't know this particular icon, here's another example of it: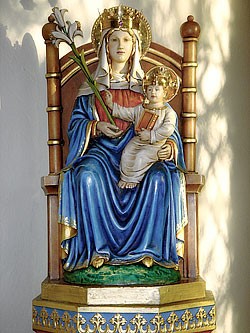 And finally, a thousand thanks to my wonderful friend Pat from Pulford for sending over this lovely snap of the Cummins family with Big Jack, Jackie Charlton, over in Ireland where he was the proud – and very successful – manager of the National Side for ten years, 1986-96. Let Pat tell the story:
"The summer before my beloved Gerry died, 2013, you may remember Mike and Julie took us to Ireland as we knew it would be Gerry's last time. We met Jack Charlton one Sunday Morning in Mount Falcon Hotel Ballina. We had to rush off to Mass then and Jack said, "Remember me to the Bishop". Apparently, the Bishop allowed Jack to park his car in Cathedral car park, and they would see each other on the golf course." On the Golf Course, notice – not in the Cathedral! I did tell you Jack wasn't a particularly religious man! In the picture you can see, left to right, Julie (their daughter-in-law), Gerry, Pat, Mike (their son) and Jackie. The two grandchildren are at the front. Thanks, Pat!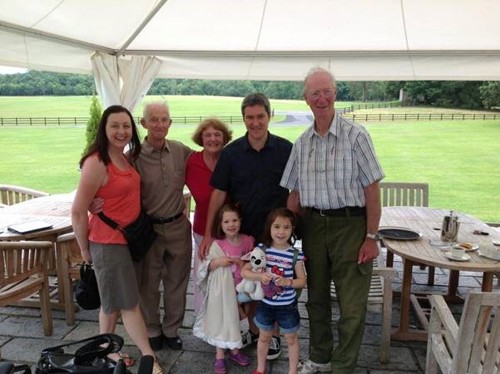 May God bless you all,
Fr Paul
---
Monday 13th July 2020
Half of me is dreading this lockdown ending – the half that's been out on such fabulous evening walks over the last few weeks, discovering parts of Chester I never knew existed. I've always loved strolling canals and riverbanks for the simple reason it's impossible to get lost. Go one way along our canal, and you could end up on the Shropshire border and on and on to Wolverhampton. Go the other way, out past Blacon and you walk on to Ellesmere Port and the River Mersey. Two nights ago, I set myself the challenge of seeing how far you can walk along both riverbanks from the Grosvenor Bridge, designed by Thomas Harrison and opened by Princess Victoria of Saxe-Coburg-Saalfeld on 17th October 1832. (Whatever became of her?)
Imagine you are standing on the middle of this bridge looking downstream – on the pavement, you fools, not in the middle of the road. You've got Handbridge and the Groves behind you. How far can you go on the left-hand bank? The answer is not very far: the track soon peters out into woodland. I followed a sort of track, and it went into darker and denser undergrowth. Suddenly, there was a little clearing, with three or four tents pitched there, completely hidden from view. Deciding discretion was the better part of valour, I beat a hasty retreat. Not wanting to get my throat cut and body buried in the words. Like any of you lot would have missed me.
How about the right-hand side? There's a clearly marked pathway here, as you can see at the foot of this photo. Wonder where it leads? A very long way indeed, initially past the Racecourse, then on to Saltney Ferry and eventually out to the sea just beyond Connah's Quay Power Station. I got almost as far as the Ferry last night, where it would have been possible to cross the river and come back through Saltney to Hough Green and the City Centre, but decided that was a bit much for one night and worthy exploring in the future.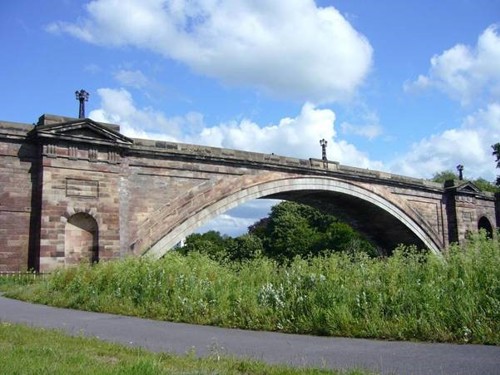 When lockdown ends, will it be Parish Meetings once again every night of the week and evening strolls only a distant memory? Any appetite for a Parish Walking Group, not the earnest sort who set off at crack of sparrow-something with their cagoules and rucksacks, yomp up Snowdon and back in time for tea. More those who like just a decent hour's walk, of an early evening? Let me know.
Apart from anything else, it might get Mavis from Mouldsworth out of her local pubs. I wouldn't mind but I had the Landlord of the White Lion at Alvanley on the phone at 11.00 pm the other night, asking if I could come and collect her. Apparently, she was slumped in a corner muttering something about "fasktorce" or "rewerbying the opens", with a bundle of our Newsletters clutched in one hand and the remains of a double gin and tonic in the other. I know I asked you to research how other institutions were coming out of lockdown, but there is such a thing as too much devotion to duty.
Hugh of Handbridge: how are you getting on with the licensed premises of Queen's Park? Bit concerned, not having heard from him for a few days, ever since he asked if we paid expenses for this research, and I may have been a bit abrupt with him with my answer.
Early morning Funeral today, Sheila having married Eric here in 1952, Canon Welch doing the honours. Sheila was a Conboy, one of that amazing family who did so much for St Werburgh's when it was built and in the years after, at the turn of the Century. I believe one of our Stained-Glass Windows was donated by them but need to check. Many Conboy graves over in Overleigh that I like to bless every November, in thanksgiving what that remarkable family have given to us. 
Back at 10.00 am for the Taskforce (say it, Mavis) Meeting at 10.00 am. Have we prepared as well as we might for the Reopening for Masses on Sunday? So many imponderables, especially how many will turn up; but I sensed we all felt we were as prepared as we could be, plenty of Stewards and Cleaners on duty, and all ready to sit down, same time, same place next Monday morning, to assess how it's gone and see what we need to change, if anything, for the following week.
I've been doing so much more reading during lockdown, and so much more bashing of the piano. My piano-playing is strictly for my ears only: I would never wish it on my worst enemy. But it does give me tremendous pleasure. I had a wonderful teacher for whom I will always be grateful. A great concert pianist himself, we managed to stay in touch after I'd left home. At one point, he asked me to call him by his first name, but I simply couldn't. "Les" just sounded so wrong. Sadly, no longer with us, but every time I tickle the ivories, I think fondly of how much he taught me, and say a silent "Thank you, Mr Dawson".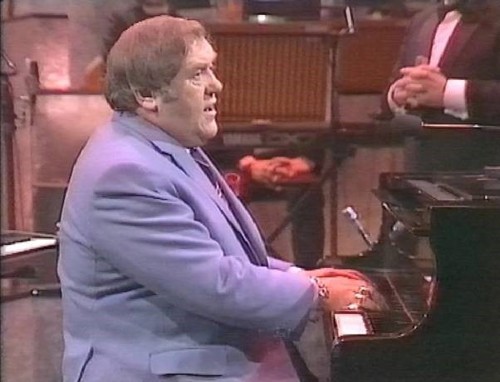 May God bless you all,
Fr Paul
---
Sunday 12th July 2020
Final "Opening for Private Prayer" this morning, which is both sad and joyful, as it means "Opening for Mass" is only a week away! Good turn-out today, slightly down on last Sunday, which is probably due to the fine weather and the imminence of Mass starting up again so soon. Stewards and Cleaners, we really have got it off to a fine art, haven't we? Pity we're going to have to learn a whole new set of tricks for next Sunday but learn them we will.
Some of you have contacted with questions about next Sunday: four Masses, 9.00, 10.00, 11.00 and 12.00, half-an-hour each, sixty (maximum) in the church for each Mass, first come, first served. Louise asks why we do not have a Booking System, as some other churches do. We've looked at this long and hard, Louise, and decided to try it first off without. The reason is that we have so many elderly Werbies who don't have access to computers and wouldn't get their heads round online booking. But if you turn up next Sunday morning and there are already sixty folk in the queue for that Mass, it will be possible for you to put your name down with the Stewards for one of the later Masses. You can go away, have a coffee, a walk round the park, and come back for your Mass without having to queue all over again.
Next Sunday, in other words, is a huge experiment. We think we've looked at every eventuality and risk and managed them: but there will some things we don't get right next Sunday. So, next Monday morning, as they have done for the past six or seven weeks and will do again tomorrow, the Reopening Taskforce – Syd, Denise, Brian, John, Marian and myself – will sit down for a thorough-going review of the First Sunday, and make any changes necessary to ensure it runs even more smoothly for Week Two.
As soon as Sunday Masses are running smoothly, we will introduce Weekday Masses and then finally, Saturday and/or Sunday Evening Masses. Watch this space, everyone!
Mass Intentions for Next Week
Sunday 12th July: Morning: Paul Lawton (15th Anniversary)
Evening: Minnie and Horace Taylor
Monday 13th July: Baby Hanorah (L.D., Limerick) and family
Tuesday 14th July: Private Intention
Wednesday 15th July: Paul Lawton (15th Anniversary)
Thursday 16th July: Janet Newman (L.D.) – Pam O'Regan's Sister
Friday 17th July: Intentions of the Valeny Family
Saturday 18th July: John Molloy (L.D.)
Sunday 19th July: 9.00 am: Thanksgiving for Resumption of Public Masses
10.00 am: Paddy Scanlan (L.D.)
11.00 am: Denise Franchetti (L.D.)
12.00: Golden Wedding Thanksgiving – Christie and Geraldine Kerin
End of an era yesterday with news of the death of Jack Charlton, another of the legendary 1966 World Cup Squad. I never met him myself but did have the pleasure of a morning once with Bobbie, his brother. I gather from those who knew them that they were chalk and cheese. Bobbie was a charming, very intelligent and shrewd person to talk to. I invited him to come and give a talk to the Sixth Formers in the school where I was teaching, and he had them eating out of his hand. His theme? "You lads have never known literal hunger. And I'm glad you haven't. I was hungry as a boy, and it's hunger that drives you and makes you decide what you really want out of life. So, although I hope you never will be physically hungry, you've got to hunger for your goals in life or you'll never attain them". An inspirational message from a real gentleman.
Back to Jackie. I was in Rome in 1990 when he took the Irish team to the Quarter Finals of the World Cup. The Pope offered them a special Audience as such a famous Catholic Nation. Jackie was initially unimpressed, not being a particularly religious man himself. "The Pope? What does he know about football? What position did he ever play in?" When someone told him "Goalie!" and explained Pope John Paul's passion for the game and many years of playing it, Jackie is said to have shouted "Well, what are we waiting for? Get in the beep-beep coach, you useless bunch of idiots, and let's get over there!" And off they went.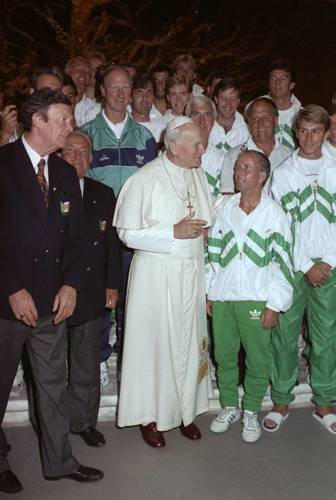 Quiz Question – and this is Brian Flack's solo: in those Quarter-Finals, Ireland were beaten by Italy in Rome 1-0. Italy then lost to Argentina on penalties in the semis, as England did to West Germany in the other semi. In that match, it was 1-1 aet. Who scored England's goal? Clue: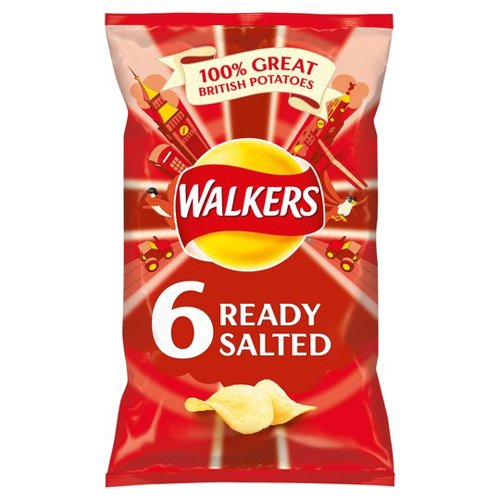 And finally, a great action shot of Jackie, playing for Leeds in the 1968 League Cup Final versus Arsenal. Recognize Big Frank McLintock getting stuck in? It's what Eddie Waring, the legendary Rugby League commentator, would have called "A l'il bit of argie-bargie in the goal-mouth. Aargh, but they're all good friends in the bath!"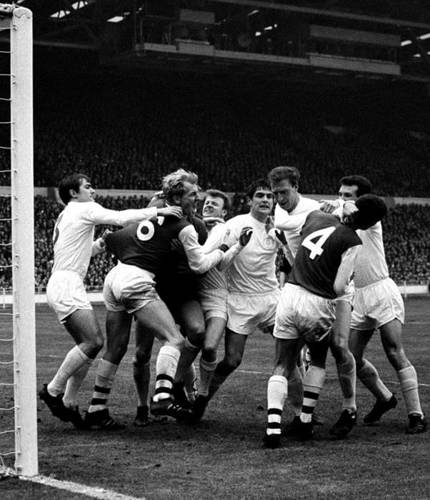 May God bless you all,
Fr Paul