Daily Updates 14th-20th June
Saturday 20th June 2020: Four Days to Reopening!
Wednesday's the day, and I know how much we are all looking forward to it. The church is ready, the Stewards are signed up, so do please come along, 6.00 to 7.30 pm, for a time of private prayer, perhaps a time of thanksgiving that in all this ghastly pandemic, for the most part we have stayed safe, and that in this country at least, the worst seems to be over.
Mass Intentions for the week ahead:
Sunday 21st June:           Morning: Alex Barnes
                                     Evening: Thanksgiving for Fr Neill's 50 Years of Ministry
Monday 22nd June:           Valentina Velikanova (L.D. Ukraine)
Tuesday 23rd June:           Joan Feeney and Ted Wilson (Anniversaries)
Wednesday 24th June:      Danny
Thursday 25th June:         Wedding Anniversary Intentions – Syd and Denise
Friday 26th June:              Elizabeth (Louie) O'Toole (L.D., Liverpool)
Saturday 27th June:          Intentions of Len and Angela
Sunday 28th June:            Morning: Denis Hickey (13th Anniversary)
                                        Evening: Anne Teague (L.D.)
 So good last night to sit in on Lyn's Zoom Prayer Meeting, organised from her home. What a super initiative! For an hour, a dozen of us were led in prayer by Lyn, Sunday's Mass Readings to assist us. There was a time of silence, a time for our own petitions and prayers, and just a great feeling of being together. Technology really has played a major part in this time, hasn't it? Thanks so much for organising this, Lyn. As you can imagine, before the formal session began, the main point of interest was the PP's new lockdown prison-style haircut. They wanted me to give them a whirl, and thanks to my revolving office chair, that was exactly what I was able to give them. As I span round, I was just able to catch this back view to show you all: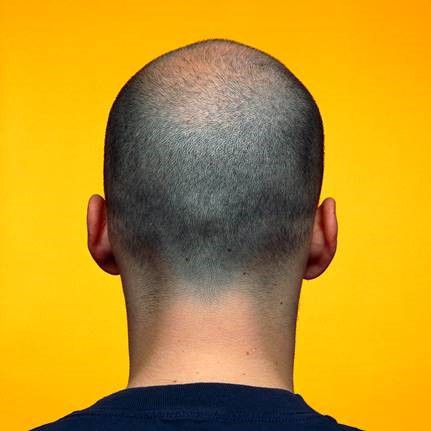 The front view? Trust me, you wouldn't want to see it…
Two photos from today's papers caught my eye. Here's the first passenger to travel through Palma de Mallorca airport: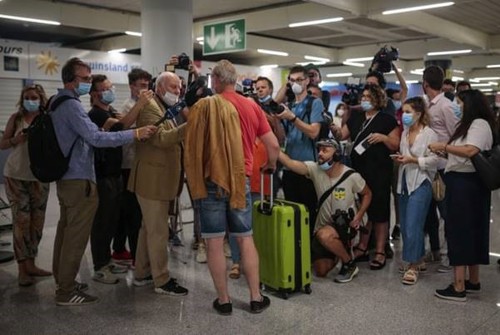 Bit of a slow news day is it, ladies and gentlemen of the press? And a lovely reminder from an autobahn in Germany, that actually we do share this planet with other animals, and sometimes they need to get from A to B too?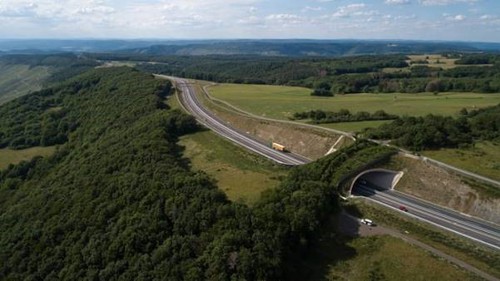 May God bless you all, wherever you're coming from, wherever you're going to, two legs or four,
 Fr Paul
---
Friday 19th June 2020
Habemus Papam!! Well, not exactly. Actually, Habemus Novum Werbium!! We have a NEW WERBIE!!! Huge congratulations to Ruth and Dan on the safe arrival of Cillian Joseph on Tuesday, 16th June, weighing in at a healthy 7st 1lb. I'm biased, but I think he looks absolutely gorgeous: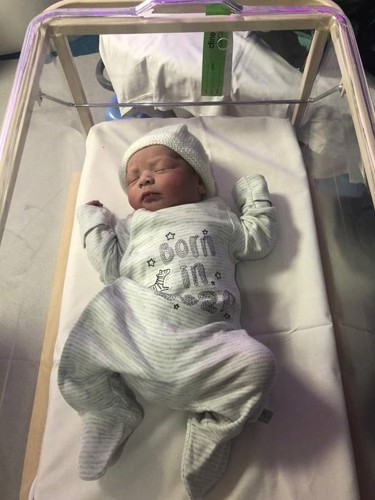 I'd have six, tied up in a box with blue ribbon. Ruth and Dan have been great parishioners of ours for years, and last year, Dan was on the Catholic Enquiry Course and decided at the end of it - the fool! – to come into Full Communion with the Catholic Church. On the good old principle of "If you can't beat'em, join'em". Always lovely to welcome Ruth's parents when they are wizziters in our church, over from Norn Ireland. Proud grandparents once again! Cillian's older brother, Ciaran, is one of our great Altar Servers, and his younger brother, Ruari, will, I hope, follow in his footsteps in due course. Here are the two boys with their new baby brother: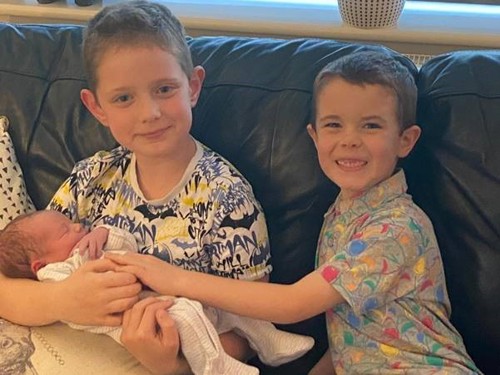 Got him his football boots yet, lads?
Cheerful news from Bishop Mark this evening, that more and more churches in our Diocese are opening up or, like us, just about to do so. Also, that the next stage will be Mini-Baptisms, Mini-Weddings and Mini-Funerals, with the same number of people as presently allowed as at the Crem or the Graveside for a funeral – ten or twelve maximum – and always safe-spaced. The first stage, Bishop Mark tells us, will be Funerals. Again, we're not there yet, but that's the next event we need to plan for. Meanwhile, we can't wait for next Wednesday Evening, 6.00 pm, and our first re-opening since March, 88 long days ago. Here's Bishop Mark's message tonight:
THE RE-OPENING OF THE CHURCHES

"I know that it has required much energy and generosity to enable the re-opening of churches across the Diocese. I am very happy to report that at the end of this week 46 churches will have re-opened. Many messages of appreciation have been received and reports of the happy and emotional moments when the closed doors of our churches finally re-opened. Most important of all, a steady stream of people have been able to pray before the Blessed Sacrament."

FUNERAL SERVICES IN CHURCH

"I always want you to be fully aware of national guidance made available to us. Most recently I wanted you to have sight of the guidance provided for funeral services held in church. I am also aware of the significant practical issues involved and would want you to know there is no expectation that you should make this provision. I would very much leave this as a local, pastoral decision as to whether it is possible or appropriate to celebrate these services in church."
Always good to know there are people reading our Blog from beyond the Parish and City of Chester. Good to hear from Rose this morning:
Hi! As a former parishioner of many years ago, I was reading your Blog and was surprised and delighted to see Fr. Peter Robbo. I remember him fondly from the Lourdes pilgrimage. He was a lovely man and is so missed.
So true, Rose – a lovely man, and very much missed.
I don't know why I keep posting these pictures of Italy coming out of lockdown – it will only make it worse when I'm not able to be there this August! Here's the iconic St Mark's Square in the lovely June sunshine: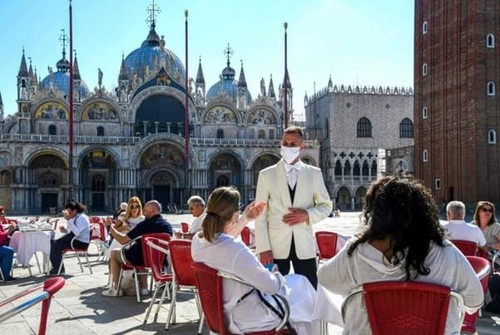 Just a word of warning: do NOT stop for a coffee or ice cream at any caf頩n the Square, so close to the Cathedral, without being prepared to take out a second mortgage. Good to see the Square dry after more floods in Venice recently. Not that we are in any position to talk after the rain we've had this week: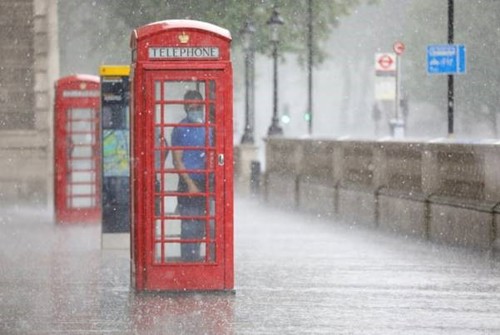 Good thing they've left some of those red telephone boxes standing, isn't it?
May God bless you all,
Fr Paul
---
Thursday 18th June 2020: Six Days to Re-Opening!!
Marian led an excellent Stewards Training session yesterday evening, 6.00-7.30 pm, with all our twelve prospective Stewards coming along. We listened to our instructions, asked loads of first-rate questions, and practised with the PPE. Then we role-played our first batch of wizziters, queueing up outside, entering the Church in batches of ten, taking their seats, saying their prayers, and leaving afterwards, always six feet safe-distanced apart. Finally, the key business of disinfecting each chair afterwards thoroughly but quickly, to allow the next batch of ten to come in.
We were more than satisfied that we were complying with all the Government and Bishops' Guidelines. We'll be monitoring carefully how it works in practice, starting next Wednesday evening, 24th June. Our Reopening Taskforce will continue to meet every Monday Morning, and if we need to make changes to our arrangements here in St Werburgh's, that we will certainly do. The big imponderable is numbers: how many will turn up? If it's more than we anticipate, we will have to look at extra sessions; if it's fewer, then we can look at extending the time slots from fifteen minutes to possibly twenty or half an hour. But that risks people having to wait longer outside. All up in the air, folks! But I know we're ready for our first opening, Wednesday, 24th June, 6.00 – 7.30 pm. With ten at a time, in fifteen-minute slots, that means we can accommodate a maximum of 60 people in that hour-and-a-half. It would be lovely to think there could be sixty of you next Wednesday who'd like to make your first visit here to St Werburgh's since lockdown began, way back in March. Eighty-seven longs days ago.
Do you remember Tommy from Tarporley? He's the one who likes surfing the net for good Live-Streamed Masses. He gives the poor Priest thirty seconds, and if he hasn't grabbed Tommy's attention by then, it's a cruel click of the mouse, and he's off, away to a different church. In a different continent. He's usually found one by 10.30 on Sunday evening, he tells me. Having started at 9.30 in the morning, but it keeps him out of the good lady wife's hair, and that's the main thing. Last time, he ended up in St Joseph's church, Fergus
St Joseph Fergus

This coming Sunday (21st) is the first day that churches etc will be opened to people. Restrictions apply; Max of 30% capacity (in our case 150 persons), family members may sit together, others must keep 6ft apart. No hymnals, missals etc unless you bring your own. Ushers will lead you to your seat and all will leave row by row as directed. No get-togethers afterwards. Masks to be worn, communion in hand only no wine. Music will consist of an instrumentalist and one cantor and that's me this week, singing all hymns, psalm and Mass parts. We shall have a few choir members, but they must keep the 6ft rule. The church must be sanitized after each Mass. I understand that 9am (2pm UK time) will be live streamed on YouTube. St Joseph Fergus - youtube should get you there if you wish to watch. David.
Thanks, David – and good luck with all that singing! In case you're not sure exactly where St Joseph's Fergus is, their website gives very helpful directions: "We're located just north of Downtown Fergus, past the Home Hardware and across the street from Walmart." Gee, thanks, chaps. Er, any clue as to which Walmart? I'll put you out of your misery: it's Hamilton, Ontario, in beautiful Canada. Here it is: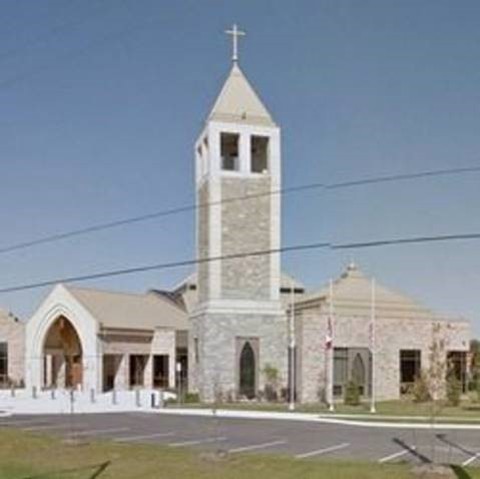 And inside: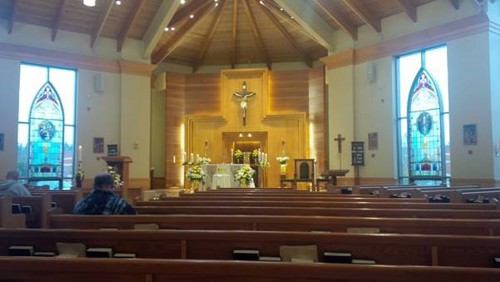 Looks lovely, doesn't it? I hope you realise, St Joseph's, we're fast establishing an unofficial twinning with the Werbies…
This world-wide lockdown and now, in many countries, gradual re-emergence into "normal" life, has presented us with real challenges. And I love seeing the incredibly imaginative ways different organizations have started to meet those challenges. I know all of you can't wait to get down to the gym, especially the Choir, so how about this innovative solution?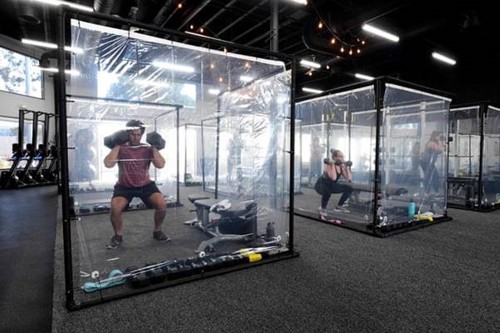 And as for barbers and hairdressers, this is one barbershop getting back to business in Bangladesh: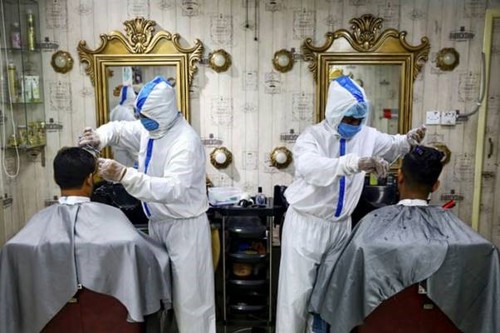 Not that I personally am ever going to set foot in a Barbers' Shop ever again. Not a chance. Not now I've got my trusty electric clippers which did the bizz last week. Obviously, I couldn't shave my head and take a picture at the same time, but this gives you some idea of the scene up in my bathroom Wednesday of last week:
May God bless you all,
Fr Paul
---
Wednesday 17th June 2020
Typing this at 4.00 pm, ready for the 6.00 pm Stewards' Meeting, a huge step forward in the long road of getting our church open again. Our dilemma is paperwork: we've almost drowned in the flood of communications from Government, Bishops' Conference and Diocese, and I can't say how grateful I've been to our super Reopening Taskforce, who've been five extra pairs of eyes. Now, when we meet, it's a relative quick matter of asking "Anything new in the latest documents, chaps?" and the answer is usually a gratifying "Not much!" Last night we had a set of "Guidelines for Stewards" from the Diocese, and good to read this through and realise we've anticipated virtually everything in it. But it has been a lot of work!
One of our major challenges is to draw up a list of Do's and Don'ts that manages to be comprehensive without being intimidating, clear without being bossy. Not easy! We've batted it back and forth for a couple of weeks now and are fairly happy with our "Final Twelve" checklist of instructions. They'll be on a flyer and distributed to everyone as they arrive, or when they are in the queue for coming into church.
Coming into St Werburgh's for Private Prayer: June 2020
It is wonderful to be able to welcome you into St Werburgh's after all this time, for a short period of private prayer. Inevitably there are some guidelines that must be followed.
At present we are not able to allow any of the following to come into the church:
• Children under 8 years old, other than babies in arm
• Anyone who has been directed by the authorities to be 'shielding'
• Anyone exhibiting flu-like symptoms, especially coughing, sneezing and running a temperature
Our stewards are here to assist you:
1. Please queue along the pavement towards the hotel, at 2m (six feet) distance from others
2. You may not bring any bags, other than a handbag, nor umbrellas into the church. They must be left in the porch
3. On entry to the church please use hand gel provided
4. You are strongly encouraged to wear a face covering during your visit
5. Move as quickly as you can to a chair, as directed by a steward
6. Sit (or kneel if you wish) for the time you are in church
7. Do not move the chair from its marked spot, to maintain correct distancing
8. Please avoid unnecessarily touching anything other than your chair
9. Unfortunately, none of the rest of the church is accessible
10. Please depart the church as quickly as you can when the bell rings to signal the slot is over, again as directed by a steward, and keeping six feet apart
11. Use hand gel again as you leave the church
12. If you want to chat, at a safe distance, to anyone else, please do so outside the church
Meanwhile, the rest of the world is starting to get back to normal, or the "new normal" as we're learning to call it. Events in New Zealand concentrate the mind, don't they? After a good number of days without a single case, two visitors from UK flew in, for whatever reasons weren't tested, weren't properly isolated, and one has now tested positive. Jacinta is not happy! Apparently, there are 320 contacts of the two that now need to be chased and tested, presumably including their fellow passengers on the flight from UK. One "small" mistake can have disastrous consequences in this fight against Coronavirus.
On a happier note, Royal Ascot has now started. Without the crowds. Without the Queen (never missed in 68 years). Without the HATS. Not that that is stopping these two lovely ladies, mother and daughter, both going this year for a Disinfecting Theme…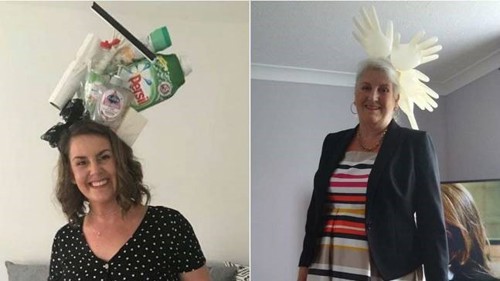 Churches, shops, zoos – so many parts of our society starting to open up again. Schools are causing a big headache and argument in this country. But good to see how other countries are managing it – like this Reception Year class in Bangkok, in Thailand. They look as if they're having fun, don't they?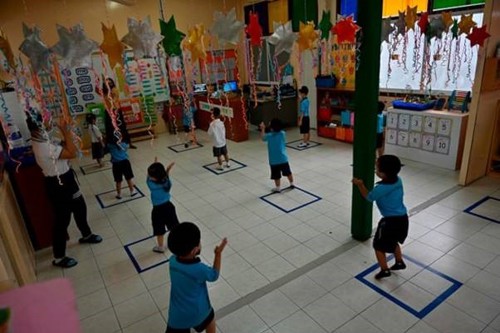 May God bless you all,
Fr Paul
---
Tuesday 16th June 2020

Call into Intensive Care this morning at the Countess. The most stringent precautions necessary, as you can imagine. In fact, Sister told me, my patient had already had a visit from a Chaplain this morning. Oh, fine – on the London Bus principle, you can wait for ever and then two… Wonder who that was? Sister didn't catch a name, but a lady, long cream dress, elegant top. "Oh," says FP, "Not a Catholic Priest, then?" "I don't know, said Sister, "I didn't get her name". No, it would have been a bit cheeky, I guess.

My call had come from a Parish in Warrington, where the patient lives, and good to know the communication is working as well as it is, in these difficult times with so many Chaplaincy Staff self-isolating. From the Hospital to my gentlemen in the Garden Quarter. Down several notches from last week, and now definitely on his journey to the Lord. Not easy to catch what he was saying, but it sounded like "Can I have a beer?" After 81 days of the Pubs shut, I could well be hearing things, but, blow me, I wasn't. That's what he wanted. Told his wife, who dutifully went and got a bottle out of the fridge, and my privilege and pleasure to help him have a jolly good guzzle. I'm not saying he'll arrive at the Pearly Gates half cut, but it's something that the female half of my readers just won't understand – when a chap needs a beer, he NEEDS A BEER. End of.

Never sure whether you'd class George Eliot as a Feminist or not. She was far too intelligent for those broad-brush classifications. Having just finished, thanks to the lockdown, not one but two Biographies of the Great Woman, and re-read Middlemarch for the umpteenth time, as bowled over by it as ever, I was delighted to see this picture in today's papers, the good citizens of Nuneaton turning out to protect her statue. Don't you love some of the comments afterwards!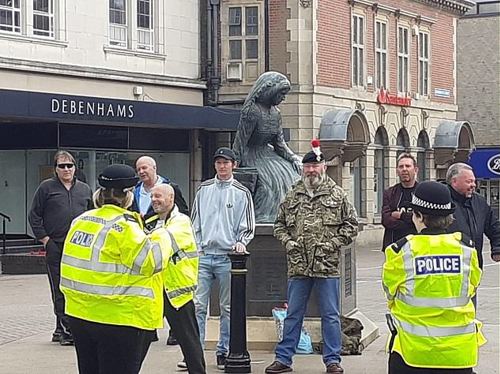 Today's Funeral is the last of this immensely long series over recent months. I can't quite believe it either, but I don't have a single funeral now in the Diary. It won't last, of course, but just for today, a slightly hysterical air surrounds the old fool as he bashes these keys. Michael, whose life we gave thanks for today, had not had the easiest of lives, but his greatest joy – and achievement – were his two beautiful children, Danielle and Sam. They gave him such joy. And when Danielle (with a tiny bit of help from Tadeusz) produced Olivia, his cup ranneth over. A new birth is always a sign of the future, promising that, whatever yesterday may or may not have contained, this tiny, fragile new life can bring a better tomorrow. For her tribute to her dad, Danielle read one of her favourite passages from Shakespeare. And mine. And millions of others. Especially the Old Nuisance. We kids grew up to the sound of this being declaimed in the kitchen, slaving over a hot stove. Prospero's (and Shakespeare's) farewell speech to the world from his last play, "The Tempest":

"Our revels now are ended"

Our revels now are ended. These our actors,
As I foretold you, were all spirits and
Are melted into air, into thin air:
And, like the baseless fabric of this vision,
The cloud-capp'd towers, the gorgeous palaces,
The solemn temples, the great globe itself,
Yea, all which it inherit, shall dissolve
And, like this insubstantial pageant faded,
Leave not a rack behind. We are such stuff
As dreams are made on, and our little life
Is rounded with a sleep.


May God bless you all,

Fr Paul
---
Monday 15th June 2020
First day of official Churches Re-Opening today, but I guess the vast majority, like us, are going to need another week or so to be finally ready. Two interesting photos in today's papers, in and amongst yards and yards of Primark, Sports Direct and John Lewis. Here's our own Westminster Cathedral – notice the way they've cleverly re-configured their chairs to maintain the six-foot safe distancing: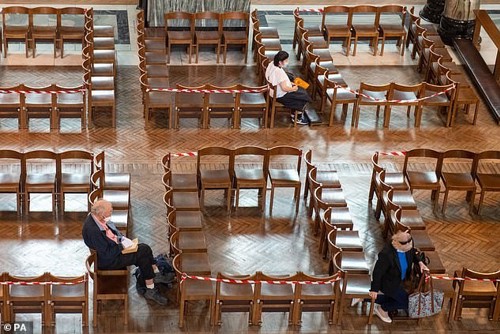 And now one from the Anglicans, from Salisbury Cathedral, where the Dean is leading a Private Prayer Service: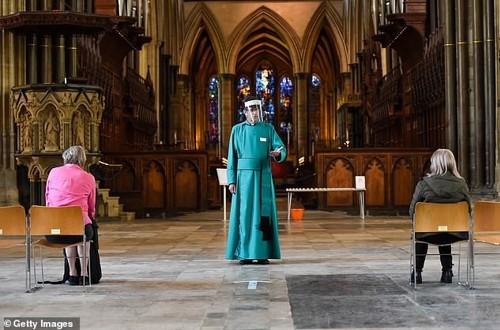 Now if you want me to wear either that blue? grey? mauve? (you know how colour blind I am) cassock or that rather fetching full-face vizier, I will do it. Just for you.
Mass Intentions for the week ahead:
Sunday 7th June: Morning: Ken Jones (26th Anniversary
Peter Brennan (41st Anniversary)
Monday 8th June: Fr James Kenny (Frodsham) – 40th Ordination Anniversary
Tuesday 9th June: Ted Herlihy (L.D., Dublin)
Wednesday 10th June: Fr John McCormack (L.D., Breaffy, Castlebar)
Thursday 11th June: Brian & Jean Boardman: Wedding Anniv Remembrance
Friday 12th June: Pat & Gerry Cummins: 54th Wedding Anniv Remembrance
Saturday 13th June: Austin Tighe (L.D., Halifax)
Sunday 14th June: Morning: Alex Barnes
Evening: Thanksgiving for Fr Neill's 50 Years of Ministry
Our Reopening Taskforce met for the fourth time this morning, to congratulate Brian again on his very successful Risk Assessment, and to hear Marian's plans for Stewards Training on Wednesday evening, 6.00 – 7.30 pm. She's put together a highly informative and lively session, and I'm sure it will answer all our Stewards' questions and equip them for the vital job they have to do in allowing St Werburgh's to be open again, safely, after all this time.
Churches all over the world are facing the same challenges as they move towards reopening. I saw these two very moving pictures from Lima, in Peru, the Archbishop blessing photos of all those who have died in this Covid-19 pandemic in his city: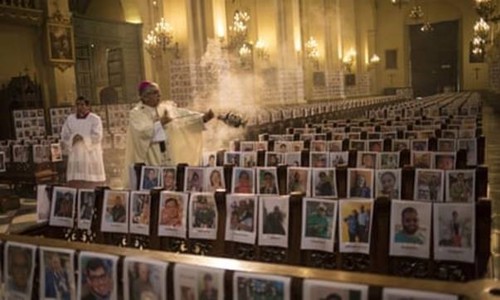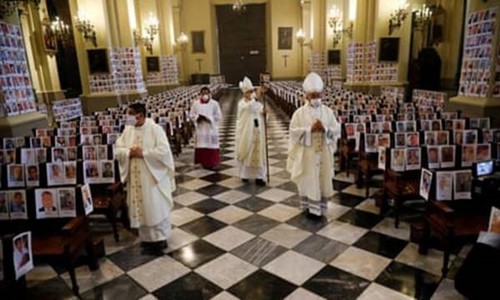 Even in that large space, with just four of them, they are very sensibly wearing face masks. They are not compulsory yet in this country, except on public transport, but we are strongly recommending people to wear some form of face covering when they come into St Werburgh's, or any other public enclosed space.
I enjoyed started working this afternoon with one of our Chester High Schools, and their three Year 12 students who are planning to have a crack at Oxbridge this autumn. It's a daunting prospect, the ratio of applicants to places being 5:1. And the other four are ALL GOOD, a home truth I have to keep bashing into them. No three-legged horses in this particular Gold Cup. First of all, they have to get through to the Interview stage, which brings the ratio down to 3:1 – three candidates interviewed for every place on offer. But, in the immortal words of Aristotle, you have to be "innit to winnit" – he had a gift with language – and I'm amazed how every year some of our very best Sixth Formers do want to give it a go, and more power to their elbow.
The three I met for the first time this afternoon are a prospective Lawyer, Economist and Musician. Good luck, one and all! There are strict limits to how far you can prepare anyone for interviews at this level, but you do need to have mugged up on some relevant material in case the chance comes to draw on it. Each of them was set a "choose three" task for next week: choose three current law cases you are going to follow through the courts from now till Christmas, choose your three favourite composers, and choose three economic issues or economists you'd feel confident talking about. "Could I possibly choose Karl Marx?" the economist girl asked. (I was glad that question came from the economist - I'd have been a bit concerned if the musician had asked it! Though Marx was a dab hand at playing the spoons). Of course, you can: have you read any Marx? Not yet, she said. Right – we've got six months to start reading some, and you'll be surprised how readable he is.
I told her my father was a committed – and deeply knowledgeable - Marxist. He wouldn't have hesitated for one second if you'd asked him for his three favourite composers – Beethoven, Beethoven and Beethoven: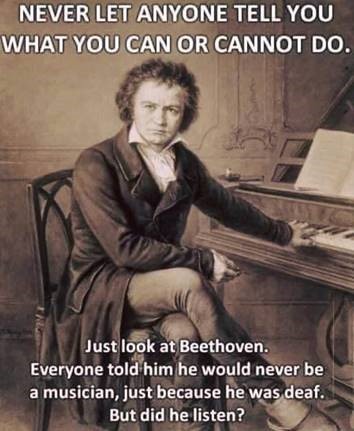 May God bless you all,
Fr Paul
---
Sunday 14th June 2020
Good to see parishioners from other parishes and hear how they are going on. Carmen and Carwyn from St Car Parks were on the doorstep yesterday, with a very kind gift of Holy Water. Unable to get to Lourdes this summer, they'd been out to Holywell to fill a few bottles from the healing waters there. Most kind. They married here in St Werburgh's a month after I arrived, 7th October 2006. They chose Fr Peter, my predecessor, to do the honours, on the grounds that they knew nothing about this new chap. Wise choice. Had they known anything about him, they would certainly have chosen Fr Peter. Thanks for the Holy Water, both!
Thoughts today for our First Holy Communion Children who would have been celebrating their Thanksgiving Mass all together this morning at 10.45. Hang on in there, kids! It will happen, before too much longer. In the years to come, you will be able to be very superior, when all your friends say they made their FHC in May. "May?" you'll be able to say, with great snootiness. "May? I made mine in September!" Talk about coming it!
Tomorrow, Monday 15th June, is the day that Churches can officially open for Private Prayer. News from the Diocese is that five of our churches will be so doing, with another fifty having plans for re-opening very soon. For us, as you know, it's Wednesday 24th June at 6.00 pm and the following Sunday, 28th, at 11.00 pm. All our preparations are going full steam ahead, another meeting of our splendid Taskforce tomorrow morning. We'll be looking at the Stewards Training for this coming Wednesday evening, and starting to work on signage for the outside and inside of church.
Our Lady on the Bicycle joined us once again outside church this morning, except without the bicycle. She doesn't want to be type-cast, she tells me. No, I don't understand it either. Plus, our lovely ecumenical lady from the URC, and lots of jolly parishioners, telling us how the week has gone, and looking forward to some easing in the restrictions in the weeks ahead. My favourite family from Frodsham also came along, John, Shirley and James (Andy was still in bed). James has taken over the dining room, so he can work from home, making up for it by cooking supper tonight, an exotic salmon dish with new potatoes and green beans. I'll be round!
Loved this photo from the Philippines of a man who's made his own face mask out of discarded plastic bottles: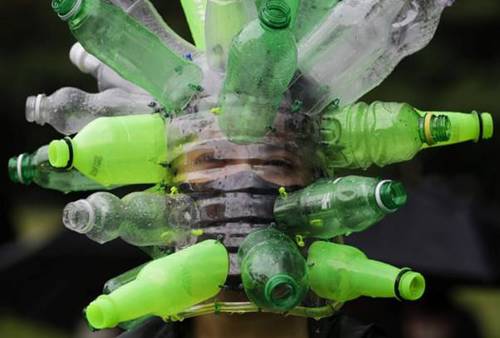 He's making a point, of course, about the Covid-19 crisis not pushing the plastic waste crisis off the agenda. They're both about how we look after our planet, or, so often, don't look after it.
Great to see Ged, Ann and Connor this afternoon, with another Red Cross Food Parcel, curry and rice. Wow! Personally, I hope this lockdown goes on for ever… Connor is Year 12 (the old Lower Sixth), so he's back to school tomorrow getting ready for his A Level year starting in September. Plus choosing Unis and courses, Plus thinking about a career. Plus, a very well-paid job to look after his parents in their old age. And knowing those two, Connor, they won't be cheap. Good luck with the new gf, Lottie!! (Honestly, I don't know why people say I've got a gob on me, I really don't).
Full of thoughts and memories today of 28 years ago, also a Sunday. Tried to work out if it's a Sunday every seven years or if Leap Years wreck that neatness but can't do it. Anyway, 14th June 1992 was a Sunday as I slipped out of the English College early in the morning, no-one about: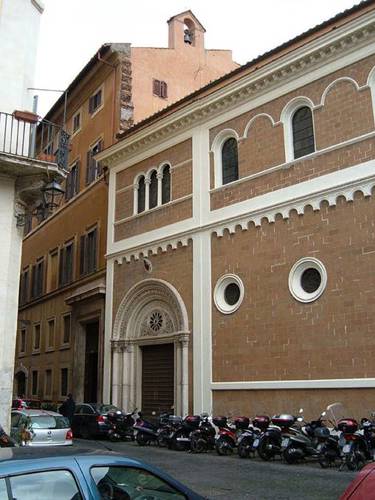 That's the door on the extreme left, all the others securely bolted at that time of day. Into St Peter's by a side door, and reporting to a little side chapel, with the other 49 to be Ordained that morning. In those days, they had a General Ordination in St Peter's for anyone who didn't have a home parish back in the Diocese, but only for three or four years, I think, before they stopped it. Fifty of us, from all over the world. The only other Englishman was Fr Paul Hayward, a great friend of mine then and since, ordained for the Opus Dei Prelature. Four Bishops were doing the Ceremony, one for the Laying On of Hands, one for anointing of the hands with oil, one for the Vesting. I can't remember what the fourth one did, but I'm sure he did it perfectly! Fifty of us, in a beautiful succession, moving in every sense. I could never have coped with the Bride for the Day Ordination in one's home parish that's become the norm since then, finding the serene anonymity of it all so powerful, able to think my own thoughts without any sense of the spotlight being on me.
Bishop Joe Gray was tickled pink when I asked him permission, as supportive as he always was, and amused at the idea that he had to write a Letter of Freedom to give the Vatican permission for my ordination! He sent Fr Peter Robertson out as his delegate – any of you remember him? Robbo, as he always affectionately known, and one of the dearest Priests it's ever been my pleasure to know. That's him on the left, with his successor at St John Henry Newman parish in Warrington, another dear friend of mine, Fr Peter Montgomery: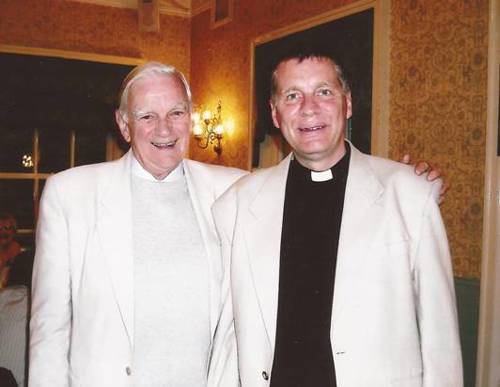 12.00 noon, and we're all outside, back to College for a simple lunch – it was a Free Weekend and half the students and staff had gone away – and then, in the evening, a little party up on one of the roof terraces.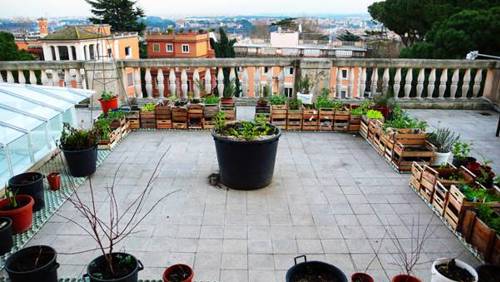 It was right in the middle of the exam season at the Gregorian University. This is a good shot which shows the central area, with all the lecture theatres through those doors on three sides of the atrium, where we would gather for a chat between lectures: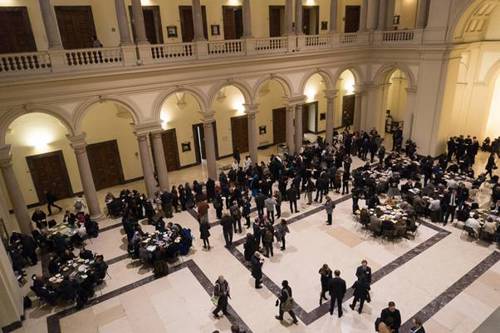 I had Finals the week following the Ordination, a four-hour written paper and a three-hour oral with three Profs. Two of my Profs, that I knew weren't involved in either, I invited to the evening party, little thinking they'd accept – Fr Welten SJ, a German Jesuit, and Fr Sprokel SJ, from Holland. Wonderful men, eminent scholars, and fine teachers. I was truly surprised and delighted when they said they would love to come, and would be there, 8 o'clock, at that same little door I'd sneaked out of twelve hours earlier. I let them both in. They both immediately fell to their knees and asked for my First Blessing. I was so choked I could hardly speak.
One of my abiding memories of those six fantastic years in Rome. No, cancel that. One of the abiding memories of my life.
May God bless you all,
Fr Paul