Daily Updates 16th - 22nd August
Saturday 22nd August 2020
Busy day today, Confessions seeming to have started up again on Saturday morning of their own accord, safe spaced in the house – people ringing and asking if they are on, and FP retorting "Why not?" He's like that. We have to have Confessionals and queues in our churches, but there's a certain joy in face to face, when there's no queue, and we're under no pressure of time. I'll never forget covering somewhere where they had those long rows of confessionals you see in some Victorian Churches. Holy Name in Manchester is a good example. Something like this: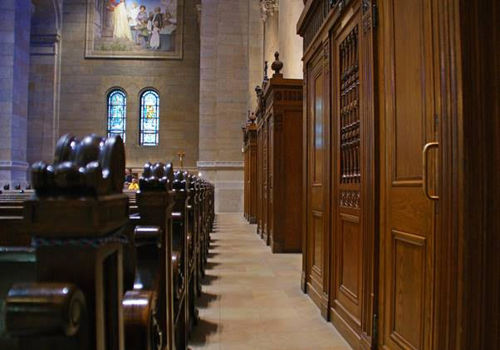 I was fairly sure which one to use and duly went in and settled myself down, ready for the first customer. The next thing I knew a cleaning lady opened the door and threw in a handful of brooms, slamming the door shut after her. Obviously, I'd chosen the wrong one.
Photo of the Week this week on the Newsletter is another great picture from the Millers' trip to Poland last year and the Salt Mines of Wieliczka. Steve's picture is of a statue of St John Paul II, carved in the Rock Salt. Amazing. I often talk about the Michigan Monsters, their two dreadful children, and someone last week said they'd like a picture. I told them they wouldn't, they really wouldn't. But they insisted, so here goes: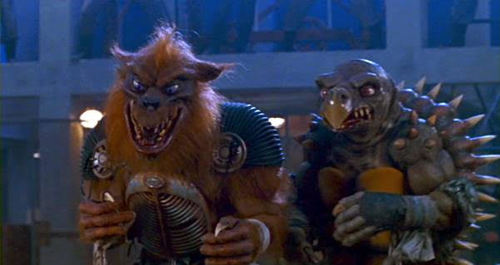 Good to realise we escaped the worst of Storm Ellen here in Chester. I love these pictures from the South West, where the sea really does give the coast a battering, but the coast is (generally) built to withstand it. This is Kingsland in Cornwall, and you see how close the buildings are to the water: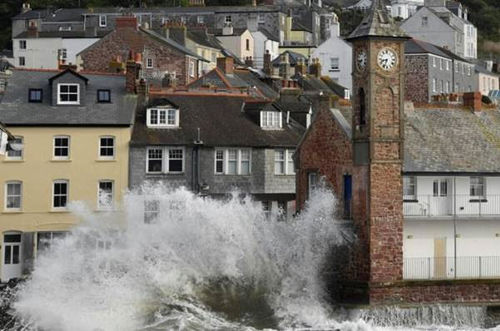 Great treat this afternoon, Miriam and Danny calling in on a quick visit to Chester. One of the hundreds of couples I've married here in St Werburgh's, four years ago, July 2016, but firm favourites. Both University Lecturers, in those days, living in Chester, Miriam was teaching at Bangor and Danny at Nottingham. Two years ago, they both got jobs at Birmingham University, and, sadly but understandably, moved down there last year. They love their new house in Sutton Coldfield, and the easy train ride into the University, and, like all their colleagues all over the country, been coping with lockdown to the best of their ability. Danny's originally from Northern Ireland, Miriam from Germany, and they shared their wonderful news that they are expecting their first baby in January! Wow! Really made my week! They know it's going to be a boy, and would like a German name, so we had great fun coming up with suggestions. I like Wolfgang, so let's wait and see! Look after yourselves, both, and good luck for seeing Wolfie safely into the world when the time comes! Here are their official University mugshots. I'll leave you to guess which is which: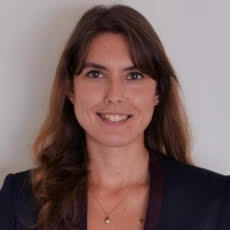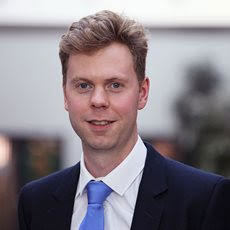 Good luck, bad luck, oops! You might recognise the front of Hoole URC, and one particular parishioner a little too anxious to get in to say their prayers. Thank heavens no-one was hurt, and best wishes from all your friends at the Werbies for the Repairs. Any of us know a good brickie?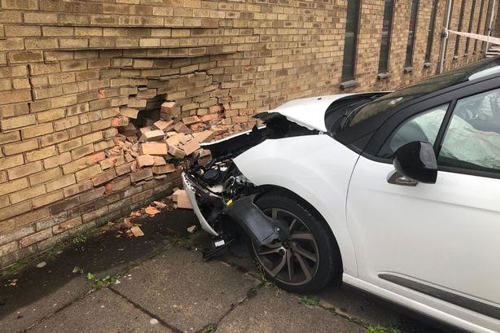 May God bless you all,
Fr Paul
---
Friday 21st August 2020
We are gradually working through the list of items that need rectifying as a result of our recent Fire Audit. Last Wednesday, Barlow's came to do the PAT testing of our portable electrical appliances in church. Next on the list is the inspection of our Lightning Conductor. It will mean someone going up by ladder to the very highest point on the roof, but I do want us to be inspired by Rev Sam Leach, Rector of St Mary Magdalene in Torquay. He did it himself: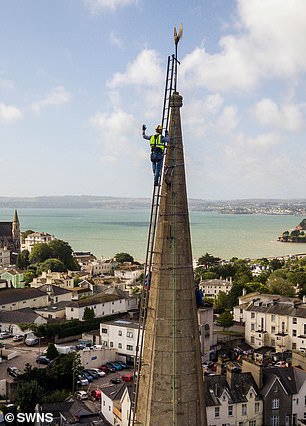 For those with no head for heights, please LOOK AWAY NOW!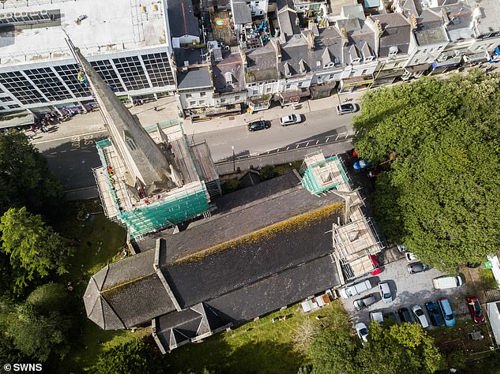 Delighted to say that our Garden Gnome has volunteered for this task. He said something about taking that beeping bench with him, and putting it on the top of the roof, but I'm sure he was joking. Wasn't he? Please?
IMG
Wonderful evening last night over in Grosvenor Park for the Open Air Shakespeare. Storyhouse normally present three plays over a two-month season, two Shakespeares and a play aimed more for younger audiences. This year, a very shortened three-week season, just one play, reduced to eighty minutes, everyone socially distanced in the auditorium. But… But the great news is firstly that live theatre is BACK in Chester, and secondly that last night's production of Comedy of Errors was fantastic! Well done, Storyhouse!
It's a stupid play at one level, one of the first Shakespeare wrote, in his "apprentice period", as it's known. As a start-out dramatist, he's copying older models – Titus Andronicus from Roman Tragedy, Comedy of Errors from Roman Comedy. Don't worry too much about the plot: two pairs of identical twins are separated at birth, following a shipwreck, two and two, one a master and the other a servant. Both believe the other pair perished in the shipwreck, but somehow – never mind how, you rationalists! – both pairs rock up in the same city. They look identical, are completely unaware of the other pair. Cue riotous chaos!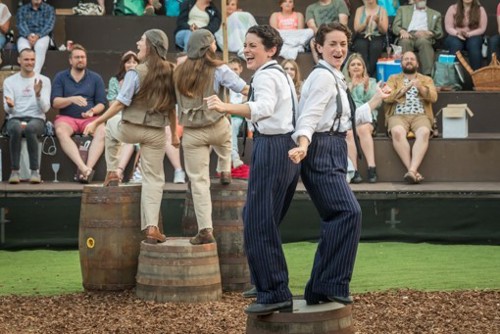 Full marks to everyone involved for sheer initiative in getting this great production up and running. The rain held off, it was a warm, sunny evening, the Waitrose wine wasn't bad, and just for an hour and half, we could all pretend this whole lockdown had never happened.
May God bless you all,
Fr Paul
---
Thursday 20th August 2020
Feast Day of St John Eudes yesterday, and lovely as always to hear from our good friend Kate down in St Clare's. She reminds me of this Feast Day, saying "It seems that, during severe plagues in 1627 and 1631, he volunteered to care for the stricken in his own diocese. Lest he infect his fellow religious, he lived in a huge cask in the middle of a field during the plague. Mind you, it doesn't say what else was in the cask!" That puts a whole new slant on saints living in barrels and on poles!
Do you remember when all this started, our saying to the First Holy Communion Children, due to make their FHC in May, "Never mind! If the worst comes to the worst, we'll do it in September"? And now here we are, a fortnight off that month, and no sign at all of being able to hold these or any other large-scale ceremonies any time soon. It's an obvious thing to say, but no-one imagined when it started that we'd still be here six months later. Are we downhearted? Answers on a post-card please to…
First Holy Communion Days are timeless, aren't they? Here's Chicago, 1920 – exactly a century ago:
Hang on in there, kids! We haven't forgotten you and will hold those beautiful Ceremonies just as soon as we are able to.
Meanwhile, thanks everyone for making Sunday Mornings work so well. Some of you are asking when we will be able to roll it out to Weekdays, and to Saturday and Sunday evenings. The major issue is stewarding and cleaning: our wonderful team are working flat out at present, and I don't want to put an extra responsibility on them until we are totally sure we can accommodate it.
Next big challenge is getting our schools started up again in a fortnight's time, and we do send our best wishes especially to our own St Werburgh's and St Columba's Primary School, to the Catholic High, and to every school in Chester for the big day when their doors are flung open once again.
I love the photos you send in, or the ones I find online. Some I understand, some I just give up on. Any idea what's happening here?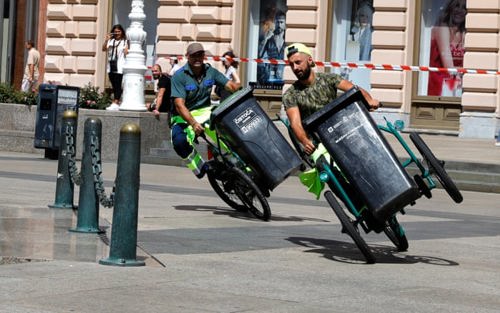 Apparently, it's the Annual Garbage Men's Tricycle Race around the streets of Zagreb in Croatia. (They're definitely not all locked up yet.) Come on, chaps – haven't you got any bins to empty?
This one makes a bit more sense, the Queen Victoria lying at rest off the Dorset Coast at Weymouth. I gather there are lots of similar Cruise Liners to be seen on the South Coast, the cruise industry for obvious reasons on pause at present, and the liners wanting to avoid paying hefty Berthing Fees in the established docks and harbours.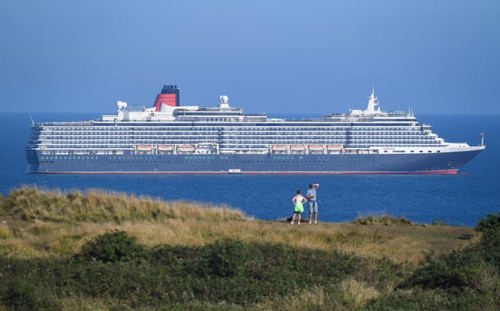 Looks impressive, but not exactly a thing of beauty? Remember the old QEII?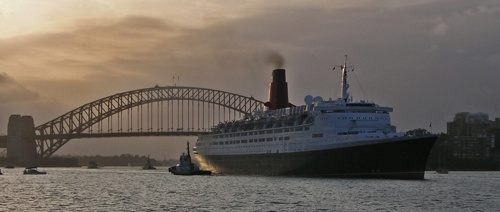 Here she is, in 2004, leaving Sydney. Must have been something he said. Now that's what I call a ship!
May God bless you all,
Fr Paul
---
Wednesday 19th August 2020
Excellent news from David Monk this morning that he was hoping to be able to collect Helen from the Hospital in Stoke and bring her home, either today or tomorrow, That's an amazing recovery. Thanks, everyone, for all your prayers. A long way to go, of course, but I'm sure all of us recover a lot quicker at home than we do in the Hospital. That's no criticism of hospitals, needless to say: but there's something about your own chair in the sitting room, your own bathroom, your own kitchen, above all your own bedroom. And being able to do things to your timetable and not the Hospital's? Plus, most important of all, you simply cannot get a decent gin and tonic in any hospital I have ever worked in. And the Lord knows, I've tried…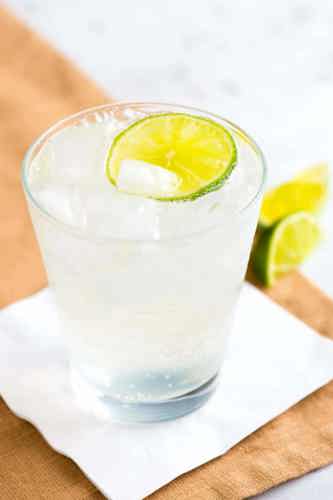 You cannot get them to cut the lemon properly, no matter how many times you tell them.
Straight into the hospital myself this morning. I gather on the grapevine there is some prospect of getting Frs Jude, Jarek, Niall and the other Deanery Priests back on the hospital rota sometime in the next month or so. We really do need them: I'm conscious I am only firefighting with what I'm doing at the moment. I got through my list at the Countess quicker than usual, but so good to be able to say "Cheerio" to James Guinan, his last week as HCA at the hospital before he heads back to Leeds for his fourth year at Med School there. A smashing lad, and it's been so good to catch-up each week on a Wednesday morning. (As for all the A Level Students who now do have the Grades for Med School, vastly more than there are places for – don't ask!)
So, with half an hour spare, up to Ellesmere Port Cottage Hospital to see our Catenian John. He's an amazing 95-year-old. (I think he was at school with most of our Choir, yes?) His mind is better than most of ours, but he did mash up one of his legs when he had that fall four weeks ago, and it's not kicking back into life as quickly as he'd like. It will, John, it will – but at 95, the old limbs don't recover as quickly from injury as when we were 19. Not that any of us can remember…
Remember? He was telling me about working in Fiji, and the journey home with wife and new-born baby in early 1950's. On a cargo ship. No cruise liner for them. It took five weeks, sailing round the Cape to Southampton. When he asked for a cot for the baby, the crew looked very puzzled. They hadn't had this request before! But they produced a third full-sized bed, and, in their spacious cabin, they were in the lap of luxury. A wonderful voyage, beautiful weather all the way, and something he has obviously never forgotten. As I say, it was a cargo ship, with a hold full of frozen Australian lamb, and only about fifty paying passengers. John didn't have any photographs with him in the Hospital, but this is the closest I've been able to find, deck golf, and always dressing for dinner in the evening: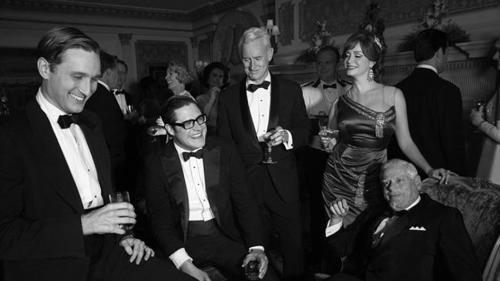 Days of much more elegant travel than today's Jumbo-Jets? Though they are now a thing of the past too, the first of the British fleet flying off to Spain yesterday to be scrapped. Here's a fleet in the Mojave Desert in California, awaiting a similar fate: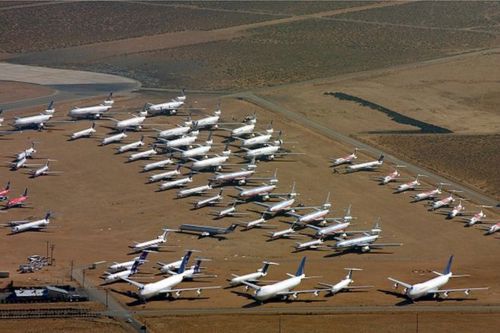 John was in a bay with just one other very cheery gentleman. "Has John been behaving himself?" I asked him. "Alas, no", was the response, "He's been sneaking out to the Pub every night, as soon as the Night Staff come on duty…" "Some things never change!" I told him, as we both shook our heads over this miserable reprobate…
After I'd chatted with John, I went over to introduce myself to the other gentleman. Name of Stephen. Stephen Smalley. "The only person I know, but have never met, of that name in these parts is the legendary Dean Smalley of Chester Cathedral", I told him. He smiled broadly and confessed to being one and the same! Let me say, in my defence, that he wasn't wearing his dog collar with his pyjamas…
He retired from the Cathedral in 2006, the year I moved here, so we just missed each other – lucky chap, you all cry! – but he has a fine reputation in the City, as a wonderful Cathedral Dean (1987-2006). He was heavily involved in the University and its transition to full University Status and was a very well-remembered Chairman of Governors at King's School. He literally left his mark on the Cathedral, remodelling the new entrance, with proper toilet and disabled facilities, the Refectory and Shop. He started retirement in Gloucestershire before coming back to Elton and helps out on a regular basis at St Paul's Helsby. Like John, he had a fall at home, but fortunately seems to have done little damage. Get well soon, both of you!
May God bless you all,
Fr Paul
---
Tuesday 18th August 2020
Much, much better news of Helen Monk this morning, in a cheery and very welcome email from David. "She has made some big steps forward since I wrote to you. We were able to Zoom with her with Emma and Eilish this afternoon. She is in good spirits and humour. She had us and her nurses laughing with her witty take on her situation. Medical black humour by doctors even when they are the patient! I think she will leave ICU tomorrow and I suspect a few more days in hospital."
Medical black humour! How well I remember that from my Clatterbridge years. But it's what bonds a medical team together and gets you through the toughest days and hardest cases. The day you can't smile any more is probably the day to hang up the stethoscope and go and do something else.
I never thought I'd be glad we don't have a church hall and meeting places here at St Werburgh's – until today, when mounds of documents have arrived from the Diocese for the "Safe Reopening of Parish Premises". All good stuff, and highly necessary, especially in the complex legal relationship when a commercial organisation – say, Weight-Watchers - hires your church hall. Who's responsible for what, in terms of Health and Safety? Nice, just for once, to be able to put a big fat "n/a" against this one!
I love these photos of our museums and galleries preparing to reopen. Dust, as you know, can be incredibly damaging when it settles on surfaces, which is why I myself am rarely to be seen without a duster in my hand here in the Parish House. [Shome mishtake shurely? Ed] Today they are giving a dust-down to the exhibits in the wonderful British Museum before it opens its doors once again at the end of this month. It contains one of the greatest collections of Assyrian artefacts in the world. Here's Ishtar, the goddess of war, from about 860 BC: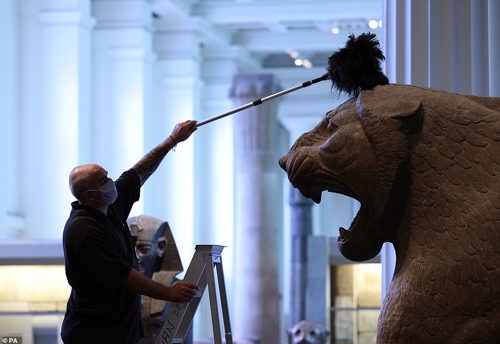 And here they are getting impertinently up close and personal with the Townley Venus, from about AD 100:
Suddenly, "algorithm" has become the word of the week. Can I just suggest "formula" would be better, and much less complicated? For these A Level Results, there are four pieces of information needed for grades to be awarded in the absence of exams: the teacher-predicted grades for each candidate and the whole class; the GCSE results for each candidate; their Mocks Result; and the performance of the school over the last few years. I can't see anything else being relevant? Then they have to be weighted in some way. If all four are of equal weight, give them 25% each. So, for predicted grades, if it's A*, give them 25 points. A would be 20, B 15, C 10 and so on. Ditto for Mocks. Hang on, you say, mocks aren't that reliable – I think Teacher Predictions should have twice their weightings, say 40% against 20% for mocks. And so on. You see the point I'm making? That they had six months to get this right. They could have proposed some model like the one above, not so flaming complex that no-one understood it, put it out for consultation three months ago, got everyone's views, and finally come up with a formula a month ago that commanded if not everyone's, then the majority's respect. What have they been doing for the past six months?
Making it fit the profile of the last five years isn't difficult, because all marks tend to fit the standard "Bell Curve", or Standard Deviation, a small number at the two extremes and most in the middle.

Every school has such a profile for each individual subject, and then for A Levels as a whole. One memory I cherish from the years when I was working on A Levels was an examiner ringing me in a panic one summer as it seemed to her every single script she was marking in one very large centre was either A or A*. Had she completely lost it, she wanted to know, full of anxiety? Had her marking standard completely gone for a burton? She didn't know what the centre was but could give me their number. I was able to look it up and reassure her she hadn't lost it in the least – it was the legendary Hills Road Sixth Form College in Cambridge, one of the best SFC's in the country, and yes, typically, every script would be an A or A*. It's where the profs sent their children, so you'd expect it to be good!
Tonight's news is that we now have 55,000 more students with the requisite grades for their first choice Uni's than we have places for. The chaos goes on.
May God bless you all,
Fr Paul
---
Monday 17th August 2020
I'm afraid the chaos goes on. The Government's U-turn this afternoon on A Level Grades, allowing Teacher Predictions after all, means that many more will now have the grades for University than there are University places for. Hypothetical example: Newtown University has 100 places in its Medical School. On the basis of last Thursday's results, it's now awarded those hundred places. Today, many more discover they do have the grades Newtown asked for after all. But the places are all full. What now? They can't suddenly magic up extra places. But why should students on "Version One" of the grades, last Thursday, get them and not students on today's "Version Two"? How on earth do you decide if 150, say, have the asked-for grades? Do you say to some of those given places on Thursday, "Sorry - you haven't got a place here to study Medicine after all"? It's a nightmare – played out with young, vulnerable lives.
Attendance at Sunday Morning Mass continues to show a much pleasanter sort of grade inflation, 232 in total yesterday, up from 215 last week, 201 the week before, 198 before that and 147 on Week One. The numbers continue to be spread evenly over the four Masses, 66 at 9.00 am, 64 at 10.00 am, 51 at 11.00 am and 51 at 12.00 noon. So, no need for a Booking System at the moment, as nobody has been turned away, and no need to provide more or fewer Masses. About a dozen people turned up for Evening Mass last night, and I had to explain we had not yet re-started the 6.00 pm Sunday Mass. We discussed that at our Monday Morning Taskforce Meeting today, and the general feeling is that our Cleaners and Stewards are doing a fantastic job at present, and we do not want to ask them to do more just now, which would be the case if we reintroduced the Sunday Evening Mass. Be patient, everyone, and we will get there!
We appealed for six new Stewards / Cleaners on the Newsletter at the weekend, partly to replace those students who will be heading back to college in the next two or three weeks. Four wolunteers have come forward so far – wow! Another two out there?
A good hour or so with Les and Eileen last night, assuring them both of your love and prayers. They have done so much for our parish over so many years: if I just say the Palm Sunday Donkey, you'll get some idea. Or the super lunch they put on after some of us went to see "The Two Popes" at Storyhouse before lockdown took hold. Or our Parish logo, for St Werburgh, based on a Saxon Royal brooch: how many of you knew these designs were from the amazingly talented Eileen? Which one do you prefer?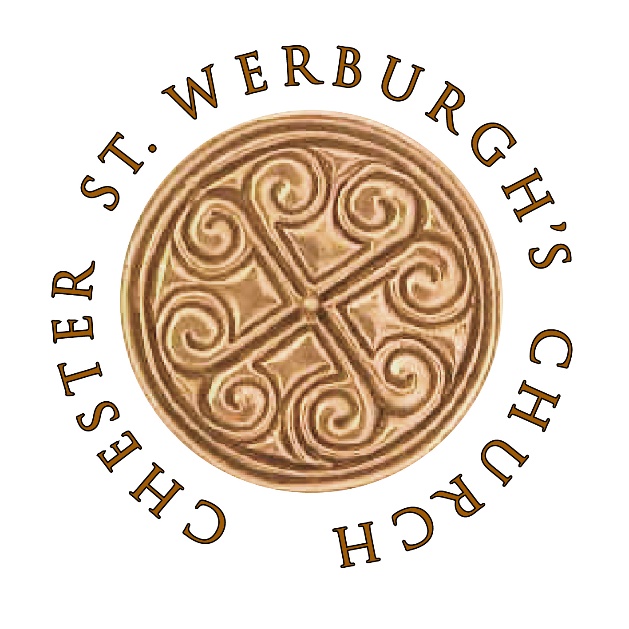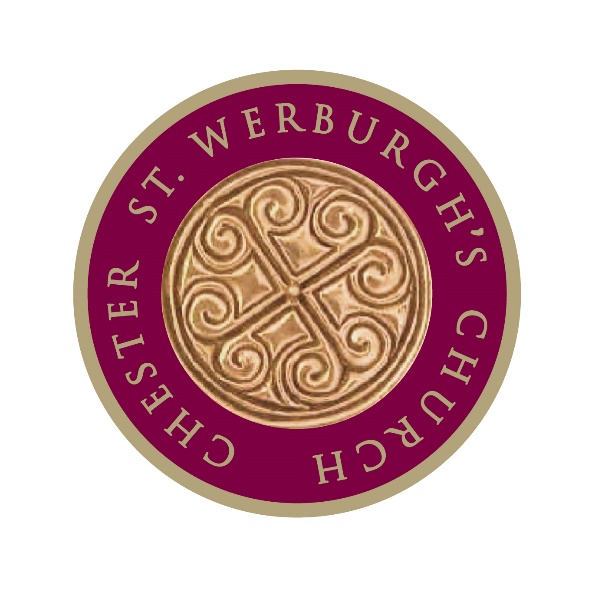 They are heavily grieving for the loss of Les Junior, so do please continue to keep them, and their two super seven foot sons, Sam and Ben, in your prayers.
Hoping to hear today that Helen Monk is well enough to be moved out of Intensive Care in the Royal Stoke Hospital. It was good to see her parents, Eilish and Alec yesterday, and their excellent friends – and great Werbies – Alex and David Abberton. Plus, at different times, two of our Werbies who are starting treatment for Cancer this week, John and Bob. On the prayer list, please! And that's an Order!!
Two cheery phone calls yesterday, one from Dr Sam, just having finished his first week on the new Junior Hospital Doctor rotation. He's now up at University College Hospital, that stupendous tower block next to Euston Station. It's been a week of nights on A&E, but he's thoroughly enjoyed it, working, he says, with a great team. Also loving his new accommodation, a house of three medics in Ifield Road, just up from the Chelsea and Westminster Hospital, and half-way between Chelsea and Fulham. Not far from the river. Definitely a Des Res, by the sounds of it!
Second cheery call was from Edward, celebrating his 24th Birthday yesterday down in Wales, getting ready to come back to Chester for the start of his second year at Christleton Law School, well on his way to becoming a solicitor.
Good picture today from the Michigan Monsters having been over at the open-air Shakespeare in Grosvenor Park. Under many Covid-19 restrictions, as you can imagine, with a much smaller audience, socially distanced, play shortened and running straight through without an interval. But it's LIVE THEATRE and it's BACK! What else matters? Oh, and the fact that they haven't banned people taking their picnics and bottles with them. I shall be there myself on Thursday evening. Yes, with a picnic and a bottle, before you ask. Lemonade only, of course.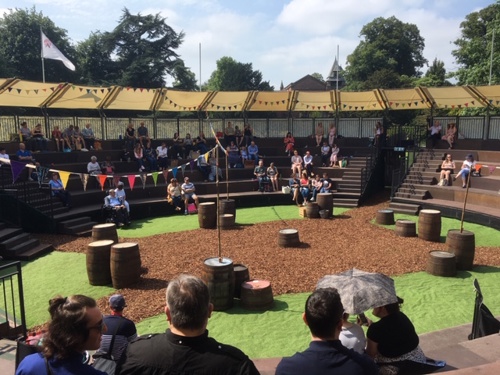 A poignant photo to finish with, a Priest about to say Mass yesterday in Beirut, the ruined city stretching out behind him. I wonder what he's thinking?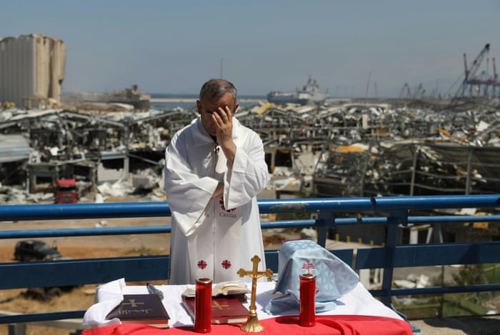 May God bless you all,
Fr Paul
---
Sunday 16th August 2020
Thanks, everyone, for all the prayers and messages of good will for Helen and family after her very serious cycling accident last week. She's still in Intensive Care at the Royal Stoke Hospital but been able to speak on the phone to David today and sent a cheery message. The Hospital is not allowing Chaplain Visits to Intensive Care unless it is End-of-Life, which is the same policy as at the Countess, but David will ask again when she is transferred to a non-ICU ward. Chaplain Visits are allowed there at the Countess, but as is universally the case, not family and friends. After an accident, that restriction is particularly hard to take. I spoke to Ben last night and told him I'd try to get down if they'd let me, and he made some biting reference to his mum needing to see a friendly face. Not my ugly mug. Cheers, Ben!
Some more sad news this morning from our wonderful friends Eileen and Les, out in Italy on their summer holidays. Very tragically, Les' son and Eileen's stepson, also Les, died yesterday. No more details to share at present, but Eileen and Les had to fly straight back to England. I'll try to call in tonight on my evening walk and see how they both are but do please keep them and all the family in your prayers. Call me an old idiot - and you do – but the Werbies at their best are a real family. And you know that old saying, "The family that prays together, stays together?" That applies to us quite as much as to any blood family, I'm sure.
Not that families don't fall out from time to time, I've got a real Turf Wars on my hands at the moment. Roy of the Rovers has done a smashing job on that bench, bringing it back to life. It has a small plaque on it commemorating the St Werburgh's Football Team, as it was a gift from them when the Team wound up a few years ago. Roy's been concerned that it's in the wrong place, getting too much water on it from the guttering above. He thinks the front lawn would be better. Whoa!!!! Enter furious Garden Gnome, you're not putting that beep-beep bench on my beautiful grass. Things got very heated yesterday morning, and the inevitable happened. It now needs a new plaque, and this is what you will see in future, instead of the Football Team One. Only in Latin, of course.
We cheer the work of Roy the Rover,
Who put new varnish here, all over.
He'd like it on the lawn to lie
But Garden Gnome let out a Cry:
'Oi! Get it off my flaming lawn!
I don't cut grass for you to scorn!'
And with his shears from life did wrench
Poor Roy, who lies beneath this bench.
And finally, such an evocative photo from yesterday's VJ 75th Anniversary Commemoration. My own Uncle Reg, captured at the fall of Singapore, spent four years in a Japanese Prisoner of War Camp. They used to talk about the Far Eastern forces as "the forgotten army". I hope no longer. Look at these two Gurkha Veterans helping each other to lay a wreath. They must be in their mid to late-90's?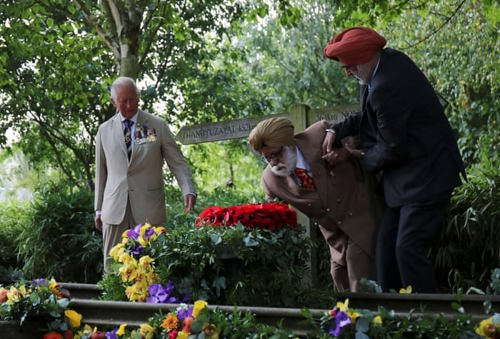 When You Go Home, Tell Them Of Us And Say,
For Your Tomorrow, We Gave Our Today.
May God bless you all,
Fr Paul