Daily updates 17th-23rd May
Saturday 23rd May 2020
If Vicar's Cross is a mystery, it's positively transparent compared to the internet. As if by magic, it came back on during the night, and was blue and glowing, iridescent sapphire in the early dawn… [Don't start all that again. Ed] The engineer duly turned up at 2.30 pm, his progress through the day being closely tracked, as if he were a DHL parcel, with updates to my computer. Very nice and thoughtful. But a fat lot of good if the problem is lack of internet connection. There's a hole in my bucket dear Liza, dear Liza…

I meet the engineer at the door, and tell him broadly the problem, and that it came back on of its own accord during the night. "2.54 am" said smuggy engineer, consulting his screen. Ran all the tests known to man and beast here in the house and deduced from that the problem must lie in the green box outside, not the state-of-the-art computer equipment (??) here in the house. Definitely green box last week, as lots of local residents had reported similar problems. Checked with HQ, but we were the only ones having difficulties this time. So, changes us from one circuit in the Green Box to a different one – didn't understand that bit at all. His conclusion was the explanation had to be one of two: either a malfunctioning of the lower tappit on the right side doofah connecting to the whatsit OR we have ghost in the house who's switching the wretched thing on and off at their mischievous pleasure. Canon Murphy! I knew he was to blame!

Going back to St Colmcille's in East Belfast, and the churches of that area dealing with the Northern Ireland Assembly directly, could it be that the Scottish Bishops will cut their own deal for re-opening churches with Nicola? No reason why not. Now, here's where it gets intriguing: England and Wales form one Hierarchy or "Episcopal Conference", one set of Bishops. But England Wales are two separate authorities when it comes to the lockdown regulations. Could the three Welsh Dioceses – Cardiff, Menevia and Wrexham – come to their own arrangement with the Welsh Assembly, independently of the English Dioceses and the Dear Leader? Intriguing thought, yes or no?

Torrent of emails when I opened up this morning as you can imagine, after three days of no connection. Excellent update from Bishop Mark, asking us to start planning for re-opening churches, so that when the decision is made, it doesn't catch us on the hop. I would have put his message on the Newsletter, but, with no internet, that had to be got to our tekkies last night rather than this morning. Here's Bishop Mark's statement in full:

Statement from Bishop Mark: Friday 22nd May 2020
PREPARING TO EMERGE FROM LOCKDOWN

As we await an announcement regarding the reopening of churches for private prayer, we have been asked by the Bishop's Conference to begin considering who in each of our parishes might be nominated to serve as a "COVID-19 Safety Lead" to help assist with the implementation of safety policies as our churches re-open. I would be grateful if you begin giving thought as to who might be able to undertake this task at parish level. I would also be grateful if you could begin to give some consideration to those parishioners who might be approached and subsequently trained in public health requirements to serve as stewards facilitating this long-anticipated reopening. It will be important to be conscious that parishioners who fall into a risk category could not be invited to volunteer for these roles. The risk categories include those aged 70+, pregnant women, and anyone with underlying health conditions.

As part of this process, risk assessments will need to be drawn up and appropriate PPE purchased along with cleaning materials. The Diocesan Health and Safety Officer, Julie Tinsley, will return to work next week to begin drawing up guidance and advice which will be issued in due course. At diocesan level, we have been able to secure some limited supplies of PPE (face masks, gloves, disposable aprons and hand sanitiser along with barrier tape and floor marking tape) which we will be seeking to increase in the coming weeks working with churchmarketplace. However, this will be a good time to consider ways of securing more readily available supplies of domestic cleaning materials such as household disinfectant; disposable cloths, disposable or kitchen "rubber" gloves and disposable aprons. Hand sanitiser will also be needed which should be at least 65% alcohol in order to be effective.

I hope when a governmental decision is made and we have received the full advice on public safety measures in co-ordination with Public Health England we will be given sufficient time to undertake the immediate preparation and training for the re-opening our churches. I am conscious that with the public announcement there will be expectation of finding churches open for prayer wherever this is possible, even if this is only for a limited time each day. This expectation will no doubt extend beyond the Catholic community. I am conscious that parish clergy who are self-isolating at this time will not be able to be directly involved in the process of re-opening so consideration will need to be given as to how this process can best and most safely be undertaken in each locality. It will be especially important for us to manage the reopening with both care and responsibility for all who may visit our churches and also as a first stage in the return to Mass and access to the sacraments which we are now seeing in other countries across Europe. The demands of managing stewarding, maintaining social distancing and undertaking cleaning procedures when we receive further guidance and instructions will no doubt be burdensome, yet they will help allow us gradually return to greater normalcy in the life of the Church after these unprecedented weeks of closure and lockdown.
He's making a very good point, isn't he? We don't want re-opening to be sprung on us at a few days' notice, with no time to prepare. I really do thank God that we've got our excellent Health and Safety Group up and running, and, in partnership with the Parish Council, we can start looking at all these questions next week, and so be ready for that wonderful day when, once again, we can throw open the doors of our beautiful church.

One sentence from the story about St Colmcille's struck me - "We have cordoned off areas of the Church to minimise the need to clean surfaces". Good thinking! Rather than have the whole of our vast church open, all needing cleansing regularly, more sensible to have just one section, one aisle, that would be relatively easy to disinfect after every visit? A great example of "putting heads together" and brainstorming this whole exercise. Thanks, Colmies?? [Do you have to? Ed]

You can sense people are ready for re-opening church by the number of calls I've had in the past few days from people wanting now to book Baptisms and Weddings. "Safe-distanced weddings" are possible – I've never allowed that dirty disgusting "You may now kiss the bride" nonsense in my ceremonies, I'm not having no snogging in my church, thank you very much. But safe-distanced Baptisms are much more problematic. Would parents object if we quite literally threw the baby to each other, Godmother, CATCH!, six feet apart, and then, finally, I throw it in the font? Just asking. We really do need Heath Robinson at a time like this, with his marvellous contraptions:


Heath Robinson — the father of the Internet of Things (IoT)

May God bless you all,

Fr Paul
---
Friday 22nd May 2020
Still no internet, Friday teatime, as I pen today's instalment of this spiritually uplifting and inspirational message to my people [Shurely 'usual load of old codswallop'? Ed]. Some progress, in that the builders came out, oohed and aahed as builders do. Two of them came back a couple of hours later with a ladder, one shinned up, and other "footing" the ladder – see, eighteen months of H&S and I've got all the jargon – and unwrapped several yards of plastic sheeting from the telephone wires, at the junction where they go into the house. Result? Absolutely nothing. Zippo. Zilch. Bit fat zero. Am I downhearted? You bet your life I am.
At least we've eliminated Ben Monk's theory. Just wait till I see him next time, that's half a brick going through the window of his bijou farmhouse in Pulford. Meanwhile… Meanwhile, good old Syd has been on the phone to jolly old BT and laid it on with a trowel… Catholic Church… absolutely essential we have internet connection… Parish Priest a Key Worker… Life and death… only way to communicate with his beloved parishioners – (steady on, Syd!) – total emergency – Life and Death [You've done that bit already Ed.] - Send the Cavalry NOW!!!
As we all know, these BT Call Centres can be anywhere in the wide, wide world, Sometimes quite exotic places. Cleethorpes. Basingstoke. We struck lucky with this one this morning – NOORN IRELAND!! And when the lad on the other end started calling Syd "Father", we knew we'd cracked it. We got a good holy Catholic call centre worker!! End result, engineer calling tomorrow, Saturday, between 1.00 pm and 6.00 pm. At least I hope it was pm….
Time then to set off for Flint Cemetery for George Shepherd's Service. Directions all written out for me, A55, off at Junction 33, stay on main road and not the turn for Mold… Except that Junction 33 was closed!! Very closed, bollarded off, workmen in the road, lorries, vans, no way Papa P was getting through that little lot. Diversion signposted going straight on – not really much choice, was there? – and what a diversion, right over the new Welsh Bridge to Queensferry and then back along what I call "the bottom road", fringing all those vast industrial estates. Eventually up into the middle of Flint, and then Nightmare on Elm Avenue, or whatever that is in Welsh. I was coming into Flint Town Centre from "the wrong end" in terms of my meticulous directions. Locals were helpful, but no signs anywhere pointing to the Cemetery, and tiny roads, one-way system. Pulled up at traffic lights, wound down the window and shouted at the startled driver alongside. He ws halfway through telling me where to go – in the nicest sense, dear people - when the lights changed. Thankfully, he ignored the cars behind and finished his directions, which got me there, bang on the spot of 12.00 noon, the starting time. Strange weather, warm but blowing a gale, and having to shout everything at the top of my voice, it was quite a battle to be heard.
George Shepherd was so well known to so many of you, growing up in Queen Street, just up from the Hewsons. George was always proud of the fact that the back entrance to Tesco's is where his house was. Never tired of the old line, that he didn't object to their pulling the house down, just thought they might have waited till he'd finished his bath. The old ones are the best, George. Then National Service, and marriage to Angela here in St Werburgh's – Fr George Leonard – in 1962. Two sons, Dave and Mike, and then in 1975 moved down to Auckland Road in Blacon, where they've been ever since.
Good to check with Geoff Hewson on the phone this morning about other classmates, as he and George were both in the same year at St Werburgh's School. Jimmy Barlow, Dave Lipscombe, Bernard Keating – his sister Sylvia married John Pritchard, our wonderful woodworker – Brian Moore, Walter Cunniffe a couple of years above. George loved his physical exercise – running, swimming, bicycling well into his seventies, He reconnected with Sunday Mass when his mother Frances died, six months after I arrived here, April 2007, and that was when I first met George and Angela. A lovely, lovely family. Angela worked for years as a Dinner Lady down at the school in Blacon, first outside on the yard and then in the Kitchens, where her great pal and colleague was Doreen Granger, Jean Hewson's sister. What a close-knit community this is! I must check out all these connections with our oldest friend in that part of Chester, Mrs Eileen Mapp (born 1908.) She knows everyone. She knows everything. Wonder if she could sort out our internet?
At the other end of Chester is Vicar's Cross, and a very interesting news item handed to me yesterday by Dawn from Vicars Cross, about St Colmcille's Church in East Belfast planning to re-open for Private Prayer. As you know, the "Devolved Assemblies" – Scotland, Wales and Noorn Ireland – can make their own rules, and clearly the Bishops across the sea have been busy negotiating with nice Arlene Foster and agreeing a set of rules for getting churches open again. Come on, English Bishes!! You don't think our lovely Call Centre Worker this morning could be a parishioner at St Colmcille's? Is the church known to either of our tekkies (nudge, nudge)?
Thanks, Dawn – or, to give her her full name, Delicious Dawn of Rosslyn Road. Best friends with Luscious Lorna of Melrose Avenue, she tells me. Both in the heart of Vicars Cross.
Always been a bit of a mystery to me, Vicars Cross.
May God bless you all,
Fr Paul
---
Thursday 21st May 2020
Ascension Thursday today – the Lord has gone up on High - and a Happy Feast Day to everyone. Like many people, I was very glad when the Bishops restored Ascension to the Thursday a few years ago, as opposed to the following Sunday. This keeps the forty days intact since Easter, and prepares us for ten days hence, Pentecost, fifty days after Easter. Does it seem like forty days since the oddest Easter any of us have ever experienced?
The internet is still down, and I refuse to let it stress me. Last time, thirty-six hours later, it mysteriously came back on of its own accord. A delightful phone call yesterday from Ben Monk, now at the end of his third year at the University of Bath. Anyone remember the lovely Monk family? They lived out at Pulford, mum and dad both doctors, David a very well thought-of surgeon at the Countess and Helen in General Practice in North Wales. I suppose it must be about three years ago they decided to take the plunge, and move out to the Gulf, to take up medical positions there. Four great children, Ben the eldest, and always a faithful old mate of mine. Haven't heard from him for about a year now, but good to know that he and two of his brothers and sisters are on lockdown at Pulford. He's busy with his third year Dissertation – he's studying Engineering - and finding the lack of lab and library facilities frustrating. But, as he says, the tutors know the conditions that he and every other university student are working under in producing their Dissertations and Theses and must presumably make some allowances. His dissertation is on some area of Blue Tooth adaptability – I can't pretend to have understood more than a tenth of it – but I took a punt and told him about our internet problems. He gave an amazingly low-tech answer. Did we still have the old phone line coming into the house? Yes, we do. Ah, he said, the phone wires and the internet wires sometimes rub, especially in a high wind. Just a thought. Toodle-pip, FP. Toodle-pip to you, Ben! So, I go out and have a look, and, blow me (or less polite words to that effect), there's half a ton of plastic sheeting wrapped firmly round the junction box where the phone wires comes into the house, blown there by the wind and, judging by the look of it, not about to blow away any time soon. Couldn't be, could it?
After eighteen months of our Health and Safety Group, I knew better than to get our ladders out and shin up there myself. It's the height of our first-floor bedrooms. Not comfortable asking another parishioner to do it either. So, given there's no internet here to google, dug out an old Yellow Pages and found a local builder who's coming out tomorrow morning to get that plastic off. May not do the trick but thought it worthwhile before trying to get a BT engineer out to see if they can fix it. Bank Holiday on Monday too – HELP!!!
No, in the great scheme of things, I'm not getting stressed about a couple of days without the internet. It means I can't access emails, but also, equally importantly, can't access Mail Online. Eeeeek! Horrors! What are Harry and Meghan, Holly and Phil, Meltdown Matt and Dishy Rishi, Katie Price and all the Kardashians going to do without me? And you do depend on me for the latest there, I am well aware.
Three great Werbie Birthdays to celebrate today, and raise a glass to, however remotely. Andy is 23 today, on lockdown at home in Frodsham, one of those super families who thought it worthwhile to get the bus in from Frodsham to the Catholic High in the good old days when the Council laid on transport – the other out-station being Neston. The kids we took from both Frodsham and Neston were always first-class, and Andy and his brother James no exception. I went to Andy's Master's Graduation last year in Sheffield, and now he's storming ahead with his application to join the RAF. (An old mate of Ben Monk too). Then Josh is 27 today. Do you remember my going to his and Sarah's wedding in Bangor Co Down in Northern Ireland, 29th July 2016? They were both students at Chester, and that beautiful day will stay in my memory for a long, long time. Josh is now back teaching in his old High School, Notre Dame Sheffield, and doing excellently. And then there's Redcliffe, who really is old enough to know better. Happy Birthday, T, and a bottle of something is ready for when we can hit the summer house together!
Two photos to finish with tonight, the two ends of life. The first is Baby Theo, just come into the world, very premature, up in the Neonatal ICU at Burnley General Hospital: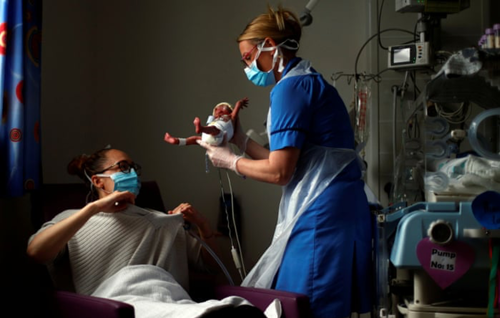 Good luck, Theo and Mum! You're in our prayers! And a million thanks, Midwife!! I used to know a lad from Burnley called Rich: wonder what he's doing now?
The second takes us to the other side of the world, Quito in Ecuador. A body has been found in the street, and the Health Worker is taking no chances over whether it is Covid-19 or not.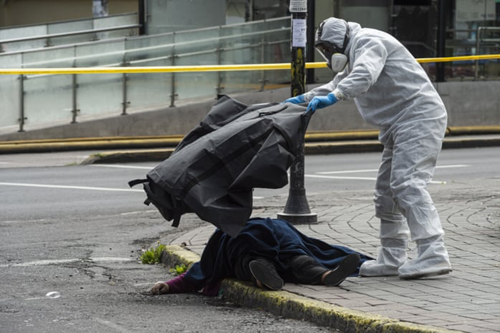 On the whole, England isn't a bad place to live, is it?
May God bless you all,
Fr Paul
---
Wednesday 20th May 2020
 Came back from the Funeral at lunchtime to find the internet is down again. Grrr! Clearly something major wrong with it but getting out engineers is dodgy at the best of times, and in this lockdown virtually impossible. Last time, ten days ago, after thirty-six hours of sulking, it suddenly decided to come on again. I hope it's the same now. But I wonder what I've done to offend it. You don't think it was that photo of the Norton Anti-Virus Guard yesterday? Computers are very sensitive luvvies, and probably related to each other in ways us lesser mortals wot not of. As Shakespeare might have said. But didn't.
Yesterday's Funeral was Noreen Cubitt, whom many of you will remember from her time up in Ingham Close in Boughton before needing extra care at Orchard Manor NH two years ago. She always loved coming to SVP events, Masses, Lunches, Teas, and always loved a chat. Born in Trafford Street in Newtown in 1930, she was the youngest of the eight Badrock children. She married Ken, a metallurgist out at Shotton Steel Works, in 1953, here in St Werburgh's, Fr Louis St John the officiant. Their daughter, Kathryn, was born in 1961, having suffered the sadness of losing their first daughter five years earlier, who didn't survive the early days of life. And then in 1973, Ken suddenly collapsed and died, a massive heart attack, leaving Noreen and twelve-year-old Kathy. The hardest of times, but God was good, and two years later she met Paul Cubitt, with whom she made a very happy second marriage. They saw Kathy off to Leeds University when she was eighteen, to read German and Mandarin, and took enormous pride in her subsequent education and career, especially her own marriage and two grandchildren, Alexander and Natasha, making up for the fact that they lived  in Peterborough, and not round the corner. Paul died in 2007 – I just remember him – and then Noreen settled to her life in Ingham Close. Latterly, she was one of our own wonderful Jean Hewson's "old ladies", people Jean looked after, doing their shopping, popping in to make sure they were all right. Jean had a dozen of her "old ladies". And yes, Jean was older than all of them! What a star she was!
For some unknown reason, Noreen got it in her head that I liked gin, and every time we met up, say at an SVP Autumn Mass and Tea, she'd conspiratorially beckon me over, subtly – Noreen didn't  do subtle – pointing to a carrier bag on the floor, and whispering in a voice that would have reached Liverpool, "It's for YOU!" Inside, the statutory bottle of Gordon's. Don't know why she thought I drank gin. Absolutely ridiculous.
Today's funeral was Val Roberts' mother, Jane Gregory. Val and John live out at Kelsall, but such faithful Werbies, and I was privileged to Baptise two of their grandchildren some years ago. Their father is in the U.S. Navy, stationed then in Hawaii, now in South Carolina, married to Sarah, their daughter. Five years ago, Jane came up from Cheltenham to visit Val, and sort of stayed! She was starting  to need extra care, John and Val were able to find room for her in their house, and a very happy five years it turned out to be, only needing Nursing Home care in the last six months down at Grosvenor Manor NH on Heath Lane. And then Val told me a little of her mother's amazing life. Born in Malta in 1925, the eldest of five, her own father in the Royal Navy stationed there, she was fourteen when the war broke out, caught in a ferocious air-raid when she was fifteen and disobeying her father's orders to come straight home from work and not to go into Valetta. Three months later she was in uniform, working for the RAF as an aircraft spotter. This was Air Traffic Control at Lascaris, before all the computers and screens. Yes, an enormous map of Malta and the surrounding sea in the middle of the huge ops room, little model aircraft on the map, one for each plane, and long poles for pushing them into position. But absolutely critical work: if they knew the number of enemy planes, their exact position, their flight path and their speed, they would be able to calculate exactly when and where they would reach the island. No good waiting till they had arrived before sounding the Air Raid sirens, in other words.
Amazing work, for which she was paid £2-2s-6d a week, nightshift and days. In early 1943, Flight Lt Harry Evans strode into the ops room, straight out of Biggles, and six months later, they were married, a month short of her eighteenth birthday. Eighteen months later, their daughter Val was born, Harry continuing to fly Wellingtons all over the Med. But he'd contracted Dysentery, and this led to Diphtheria, and as the war came to an end, and they were sent back to England in August 1945 – to RAF Cosford – he was a sick man. Leukaemia was diagnosed, and by September, he was dead. Jane was a widow with a young baby at 19, in a country she'd never lived in. She dug deep, battled on for four years, and then returned to her parents in Malta, where she met her second husband, George, whom she married in 1950, and they had a son together, David, a brother for Val. George worked for the Admiralty, stationed all over Southern England, and then Moscow and the Middle East, finally settling in Cheltenham. Jane was Secretary at the Catholic School there, St Peter's, a keen member of the CWL, counted the collection - the most important member of the Parish Team, believe you me – and worked in the Sue Ryder Charity Shop for an extraordinary 34 years. George died in 1987, and she coped amazingly on her own, until that visit up to Kelsall five years ago and the generous offer from John and Val, "Mum, why not come and live with us?"
I saw her last down at the Nursing Home a month before she died, our monthly Ecumenical Service, this one focusing on Palms. I love these services, because it's a form of Memory Exercise for the residents, especially those on the Dementia Unit. "Any memories of Palm Sunday, anyone, and receiving Palms?" FP asks, and then it's a question of stopping them rather than encouraging them to speak! Jane was on fine form, recalling Palms from her childhood days in Malta.
Noreen and Jane, two of the Werbies' finest, both young widows, Jane at 19, Noreen at 43, both digging deep and finding their strength and the strength of the Lord. Reading their lives does you good, doesn't it? May they both Rest in Peace in the Light of the Risen Lord. Well done, thou good and faithful servants!
Apart from which, the old boy is definitely losing it where all these Funerals are concerned. Funeral Director calls last night to check details for a forthcoming one: opening hymn? "Amazing Grace" I tell him. Oh, that's not what we've got, better check with family. Reading? "John 14" – oh, we've got Isaiah 25, never mind, we can always check. Second hymn? "The Lord's My Shepherd". Oh dear, we've got "How Great Thou Art". Final music? "We're going out to Nat King Cole, "Unforgettable" – we've got "Over the Rainbow", says the Funeral Director, but we'll check with the family. Then I turn my piece of paper over and realise I've got completely the wrong Funeral…. Quick nurse, the screens!
With no internet connection, I shall have to take this blog down to the Cellar Ops Room, the Nerve Centre of the whole exercise, by hand. I may not make it back again. If I don't please tell Gwyneth in Blighty that I shall always love her and the kids… Too much Biggles, you old fool!
You continue to delight me with your forensic research on all the topics I cover in this Blog. Olive from Oxton has unearthed a photo – for some reason, it's in her loo – of Meltdown Matt in a rowing eight, being shouted at by the cox. Whom I subsequently married. This isn't all getting too complicated for you, is it? I've told Olive I'm confident I can place that photo with one of the tabloids for a tidy five figure sum, half for Olive half for the church. If she says 'yes', do scan the pages of The Sun for the next few days, and see if they give us a Photo Credit.
Talking of Photos – another of my stunning Radio Two links – here's a couple to finish with tonight. A French Priest in Chalon-en-Champagne has decided to initiate a Drive In Mass and is getting everything ready: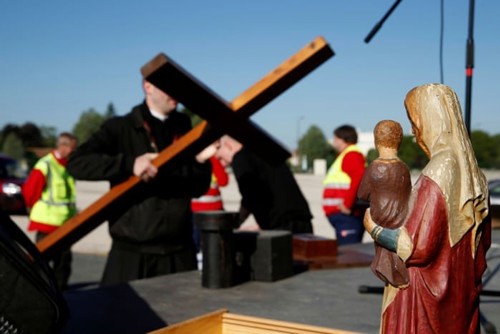 Why don't we try it here? Because we don't have a CAR PARK. You never miss an opportunity, do you, Choir?
And then Colin from Curzon Park spotted this Detroit Priest improvising brilliantly for sprinkling Holy Water on the Congregation – what we call the Asperges – when you have to be six feet away from the Congregation.
 But – and I don't how to break this to you, Father – that happens to be a CAR you're blessing. I know, I know, it's been a long lockdown. Get him a gin, someone.
 Now to deliver the memory stick. I am going out now. I may be some time…
May God bless you all,
Fr Paul
---
Tuesday 19th May 2020
I knew it was a mistake as soon as I'd mentioned it. I should never have raised the subject. What a fool I was! Asking you to come up with ways we could distinguish between Anglican Bishop Mark of Chester and our own Catholic Bishop Mark of Shrewsbury. What a deluge of mainly disgraceful suggestions. And you call me childish and immature! Not in the same league. I am not going to respond to all those of you who, shall we say, are not particularly committed to the cause of ecumenism, and go off on one about validity of orders, Apostolicae Curae and having our Cathedral back. I shall just ignore you for the intolerant bigots you are. (Anyone remember Gordon Brown and Bigotgate, 3rd April 2010??)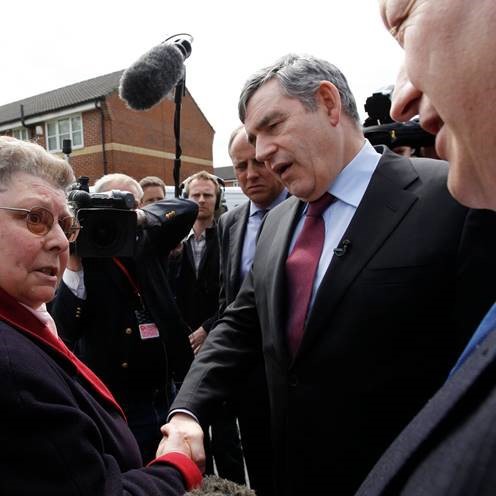 But I cannot leave this subject without marvelling at Gordon of Guilden Sutton who really has got his spies out. He has, very resourcefully, gone back to respective Seminary Days, Cranmer Hall and Ushaw respectively, and enquired about Seminary Nick Names. I would have gone to the stake to swear its impossibility: ALL seminary nicknames are password protected to the Nth degree of cyber encryption. We are all bound by a Faustian Pact: if X gives away Y's, Y will simply spill the beans on X. Mine? Dream on, Werbies.
So how the Gibbering Jesuits did Gordon get hold of half of the nickname of one of our two Bishes? Only half, mind you – but that half is dynamite. Gordon of Guilden Sutton, I should add, is a Consultant Physician. Just wait till I tell the Secretary of State for Health, and you'll be struck off before you can say "Bedpan, Nurse!" Talking of whom, do you find Meltdown Matt growing on you? Did you know he was a local lad, Farndon CP and Kings? The more he blows his top, the more endearing he becomes. We rather like his style of LISTEN, CHOIR, I DON'T LIKE YOUR TONE, hang on, get a grip, Matty boy, deep-breathing exercises as ordered by your anger management consultant. Yes, he's definitely growing on us. PLEASE LET ME FINISH THE ANSWER. Wonder where it will end? The John Prescott Award for Likeable Thuggery?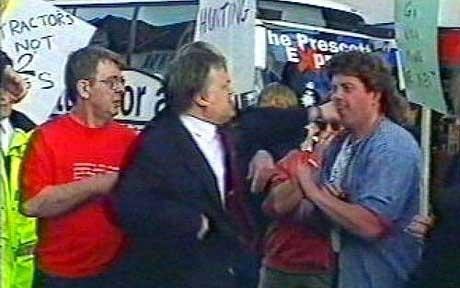 Both delighted and a little apprehensive to receive this email yesterday from Tommy of Tarporley:
Just to let you know that we have changed our live streaming allegiance again. The one at Liverpool Cathedral lost us this morning when we lost the point of the Homily. Fortunately, we were able to attend Mass at St. Joseph in Fergus just a short hop across the Atlantic to Canada, just outside Toronto. So, we can have a lie-in in future, as we don't have to switch the live streaming on until 15.00 hrs.
You can see why I'm apprehensive, I'm sure. Is this going to catch on? As soon as Papa P's Priceless Preaching (impressed?) begins, are you all going to get your smartphones out, give me one minute or even less, and, if it's rubbish, Click on to Canada, Dial Up Detroit, Up-Load Ukraine, Tune into [Yes, we've got the idea now. Shut up. Ed.]
Before we leave the subject of live streamed homilies, can you confirm or deny that your beloved Fr Edmund at the Cathedral referred to Dickens on Sunday in his sermon? "I shall not leave you orphans" getting him started on Oliver Twist and Pip? How very dare he. That Housing Estate in Birkenhead is getting ever closer, dear Father.
Numbers tonight, Tuesday, continue to look encouraging. But the great question, as everyone is saying, is not whether we are getting on top of this first wave, but is there going to be a second wave if we start easing restrictions too early? Over to you Matt I'VE STARTED SO I'LL FINISH. I've not begun to think about my own Italian Holiday, booked last year as soon as I got back from Milan, two and half weeks in a little Airbnb apartment in Bologna, flying out courtesy of Ryanair on Monday 17th August. If it doesn't happen, it doesn't happen. But if it doesn't, I may need safe distancing from all Parishioners by about 10 metres. Is that OK?
These parked planes looked horribly permanently parked, don't they?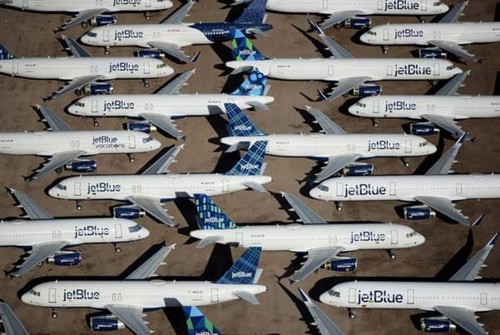 Yesterday, the Uffizi Galleries – the greatest in the world? - reopened in Florence. They haven't been idle during the lockdown, as this entrancing picture shows, a restorer working on Botticelli's Tondo della Madonna del Magnificat. It would look nice over some of your mantelpieces, wouldn't it?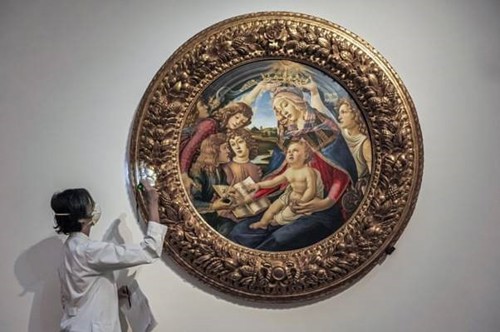 You lot find the oddest things taking your interest on this Blog. Curious from Cambrian Road – oh, all right, our Geoff Taylor, he blew his cover years ago – was interested in the original 1875 Westmoreland Tiles which you can see on the roof at the back of church. And stunning they are too. I said the church had been re-roofed in the 1940's – that was the estimate we were given when it was last surveyed, about ten years ago – and that sent Geoff off to the Newspaper Archives. He didn't find anything on the roof, but he stumbled across this Death Notice for Canon Maurice Hayes, our Parish Priest 1927-48. He retired to Ireland, but sadly died the following year: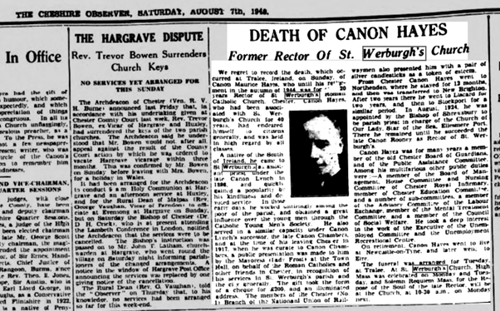 BUT…. It's the old Newspapers on the Tube phenomenon, isn't it? Whatever you're reading the chap next door is reading something more interesting, and over you stare. Shaw's Law: the person next to you is always reading something more interesting than you are. For a moment – forgive me, Canon Hayes – cast your eyes to the left of his Obit Notice. What do you see? "The Hargrave Dispute. Rev Trevor Bowen Surrenders Church Keys". Wow! What the flaming flying buttresses is that all about? Makes life in the Werbies seem positively dull by comparison, doesn't it? The usual bottle of very expensive Dom P鲩gnon 2008 (get the accent, R󮡮? Look, you couldn't change your name to Roger, could you?) for the first person who can explore Hargrave in 1949. I go there regularly to talk to their Fellowship Group. They always seem so nice and polite. Again, appearances can be so deceptive…
Finally, another "Lockdown Improvisation Award" to dish out tonight. Do you remember, tekkies and faux tekkies, when anti-virus software had to be downloaded by a CD-ROM onto the jolly old computer? Where now it's all done remotely, or something. Anyway, we've all got a drawer full of those old CD's, wondering what on earth to do with them. Who remembers Norton Anti-Virus Guard? Doo-lally of Dodleston has come up with a brilliant way of re-using them: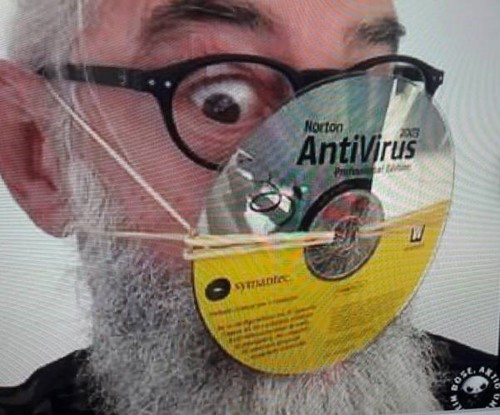 It's his wife I feel sorry for.
God bless you all,
Fr Paul
---
Monday 18th May 2020
Mass Intentions for the week ahead:
- Sunday 17th May: Morning: Richard Spencer (Birthday Remembrance)
- Evening: Daphne Taylor (3rd Anniversary)
- Monday 18th May: Rita Cannon (L.D., 88th Birthday Remembrance)
- Tuesday 19th May: Intentions of Mary Mills (Ruislip)
- Wednesday 20th May: Marco and Maria Rea
- Thursday 21st May: Intentions of Teague Family, and Redcliffe Birthday Ints.
- Friday 22nd May: Tiani Family
- Saturday 23rd May: Latessa Family
- Sunday 24th May: Morning: David Woodbury (2nd Anniversary)
- Evening: Katie Curtis (1st Anniversary)
Some much better figures on Covid-19 Deaths yesterday and today give a glimmer of hope that the worst of this outbreak may be over. I suppose we are all frightened of relaxing restrictions too early and triggering a second surge. Chris of Christleton is obviously monitoring his investments carefully, and has a rather different second surge in mind: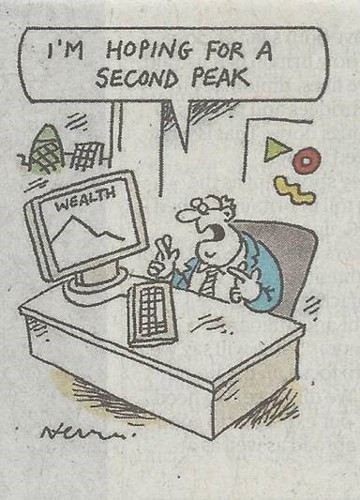 You'll be lucky, Chris! Richard's motivation in doing his run for CAFOD is the realisation that charities across the board have taken a massive hit through this lockdown. As he says, the people CAFOD serves – the hungry and starving of the third world – don't suddenly go away because Covid-19 has come on the scene. The same is true of Climate Change, of course. I was delighted and impressed yesterday morning to see one Werbie arriving for their Newsletter who's managed to combine concern for carbon emissions with taking precautions against the Coronavirus: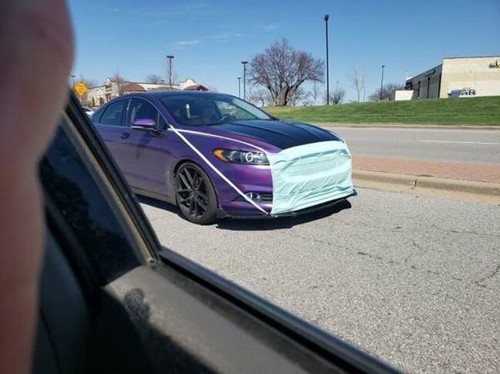 Well done, that Werbie! That's the spirit! We are all having to be much more enterprising in this lockdown and find new solutions to old problems. I've shared with you my desperation at not being able to get a haircut and rapidly losing vision now to both eyes. Not that any of you lot, cared. Oh no. Just a cheap laugh, that's all I am. Fortunately, Brenda of Broughton came to my aid, and suggested that her business, whilst not exactly a hairdressing salon, might be able to help, and was one of those businesses that had been allowed to start up again. The trip down to Broughton this morning was certainly well worthwhile, and I can't thank Brenda and her assistant, Sally of Saltney, enough. I'm not allowed to advertise, as you now, but I did say I'd put a snap of their business premises on our Blog: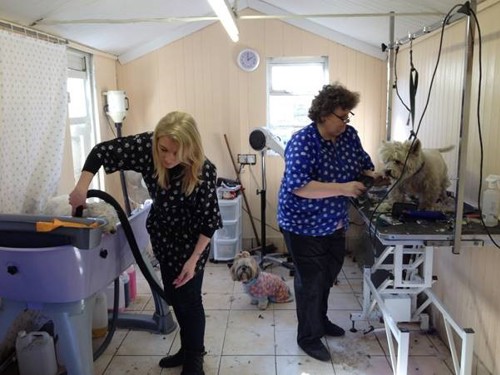 I told them not to worry about going too short. I suppose they have rather taken me at my word…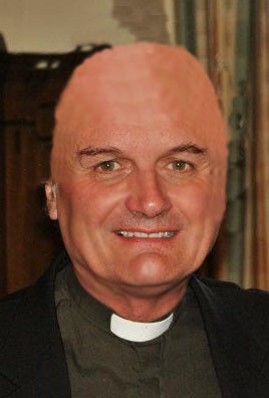 Much of the chat outside church yesterday morning was around the vexed question of schools re-opening, and there was widespread regret that some of the language at the national level has started becoming polemical – "posturing trade unionists", "irresponsible politicians", "playing games of life and death with our children", and so on. Such language really doesn't help, does it? Everyone has a legitimate concern with the welfare of our children, and the more we can work together the better the outcome for them, the citizens of tomorrow.
One of our Werbies, Deputy Head in a local High School, was saying that their present thinking is to get Years 10 and 12 back first, the critical exam groups, going into their GCSEs and A Levels respectively next September. Their school was thinking of splitting each class into two classrooms, with a separate teacher, to allow for the safe distancing between desks. Year 13 has effectively left school; Year 11 need coming back for some pre-Sixth form induction; but essentially, once Years 10 and 12 have been reintegrated, that leaves "just" Years 7, 8 and 9 to get back in. Which he thought was doable before the end of term in mid-July.
Our Primary Schools present quite a different order of challenge. No "Exam years" there, no years that have already left, and absolutely no spare capacity to split classes into separate classrooms. Our own excellent primary school is full to bursting. How they're going to manage safe distancing I can't imagine: but we're all a hundred per cent behind our first-rate head, Mrs Oates, for when the time comes.
When the time comes… Who'd like to be responsible for saying when that will be? Not me. Not any of us, I guess. Easy to attack politicians, but they have a lonely job to do at times, and a frightening level of responsibility.
In these worrying days, where would we be without our Tabloids? I'm sorry but I had to share this one with you concerning a hapless Anglican clergyman in Dorset. I'll call him Rev Charlie Farnes-Barnes for the sake of anonymity, and his Parish St Myrtle's Anytown. Over to our Tabloid:
Today, Farnes-Barnes was sentenced at Winchester Crown Court after a jury found him guilty of fraud by abuse of position and fraud by false representation. The trial heard the offences related to a period between December 2009 and August 2013, when he was an Assistant Curate in St Myrtle's Anytown. The trial was told that he did not remit fees to the Diocese of Winchester for funerals he officiated or declare that he had officiated them, as he was required to do.
Three and a half years without declaring Funerals Fees? Wait for it, wait for it…
The court heard he received up to 49,059.25 during that period.
Holy Moses! How many funerals was he doing?? And don't you love that ".25"? Now for the best line of all – fasten your seat belts:
The fraud by false representation offence related to a later period, when Farnes-Barnes had been received into the Catholic Church.
I just give in! You couldn't make it up, could you?
It makes my Funeral-a-Day at present look like downright slacking. But however onerous Funerals are, they always present something to inspire me. Today's was no exception. Conchita left the Philippines to come to England to train as a Nurse in Berkshire and have a fine career in that finest of professions. Married in the 1970's, they had just one son, Chris, who had a life-threatening illness as a baby, and they could easily have lost him. Or been brought up very cossetted, molly-coddled and spoilt. Instead of which they produced an amazing young man, who, when his mother, now on her own down in the Midlands, was diagnosed with a comparably life-threatening illness two years ago, made the decision, with his lovely wife and two super little boys, to make a home for her up here in Chester and take charge of her treatment. Chris identified Christies in Manchester as the best Hospital for her to receive that treatment and looked after her devotedly until she was Called Home to the Lord a fortnight ago. Talk about payback time! She did it for him when he was tiny, he did it for her when she was elderly. I find that totally inspiring, don't you? He gave the Eulogy, which was superb. Chris, we need a few more like you! When you meet people like him, it makes officiating at Funerals a privilege.
God bless you all,
Fr Paul
---
Sunday 17th May 2020
Just back indoors after our usual – by now! - Sunday Morning Social outside church, stretching to a full hour-and-a-half today. As well as the bizz – Newsletters, Papers, Collection Envelopes, Mass Cards – I think we're all missing the sheer human interaction, the buzz and the banter. As one parishioner remarked this morning, at the end of our deeply spiritual conversation, "Now I realise what I've been missing, Father – your abuse. I can get that at home, you know." Really? That's a home I must visit as soon as lockdown's over.
As we chat and catch up, good to see the cyclists and runners passing by. One incredibly unfit teacher from King's School staggered past on his run and needed to collapse on the church steps to get his breath back. Be our guest, Mr Lee. Talking of running, good to chat with Richard Curtis on the phone yesterday about his 10k sponsored run for CAFOD. Thanks to everyone who's contributed so far. The closing date is a fortnight today, Pentecost Sunday, 31st May. Richard's obviously needing to build up his fitness slowly. He's done a 5k in the week, at a time of 2 hours 37 minutes, so training pretty well on track. As I am myself, pounding the streets every day. He's asked me to be his pace man for the actual run itself, which I'm honoured and delighted to do. But I will have to drop back for the last ten yards and let him cross the finishing line first. You've no idea how competitive he is, folks. If I went over the line first, he wouldn't speak to me for years. Full details of how you can contribute, if you'd like to, on the Newsletter.
Talking of running again (good eh?) we normally run off 500 Newsletters every Saturday and have about fifty left at the end of the week. During the lockdown, I've been producing just a hundred, but gratifying this week to see they'd all gone, and more were needed. Clearly people are getting into a routine now, and able to come past the front of church to pick up their copy. (Remember: it's always online as well). Duplicating a hundred rather than five hundred is a saving on photocopying costs, of course. A bill came in the week from Redemptorists for the 500 Newsletter blanks for the month of May, £50 a week, five Sundays, totalling £250. My initial reaction was "Why should we pay for stuff we're not using?" But a moment's reflection showed me that the Redemptorists had already incurred this cost in producing the blanks and shipping them out to us, and if we don't pay, they'll take the hit. I guess that's the pattern all over: one person's refusal to pay because of the lockdown becomes someone else's financial hit. We really are in this together.
News recently of the appointment of the next Anglican Bishop of Chester. Rev Mark Tanner is presently Bishop of Berwick up in the North Easter, a Suffragan (equivalent to our Assistant) Bishop in the Diocese of Newcastle. He's 49, married with two student-age children. Born in Canada, he was educated at Loughborough GS, Christ Church Oxford (Maths, I think), then working as a Youth Chaplain in a parish in Coventry before going off to Seminary at Cranmer Hall, Durham. Ordained in Chester Cathedral in 1999 by Michael Langrish, Bishop of Birkenhead and well-known here in Chester to many of us. He served in Parishes in Doncaster and Ripon before returning to Cranmer as Warden (equals our Rector) for five years before heading off to Newcastle as Suffragan Bishop. And so to Chester!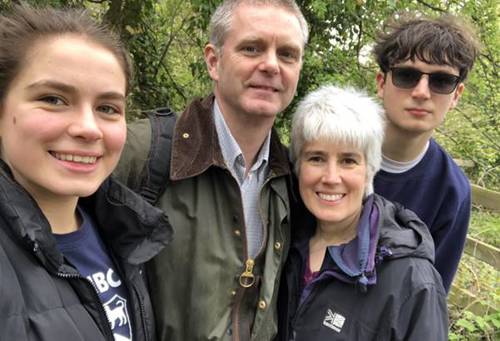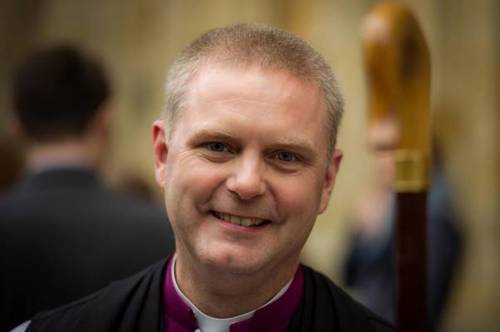 A warm welcome to Chester, Bishop Mark! My hair used to be like that…
Now that both Bishops, Catholic and Anglican, are Bishop Mark, I would invite you to suggest ways of distinguishing them, titles that would tell them apart. But I just know, after seven weeks of this Blog, that you would only be silly and come up with a number of totally inappropriate suggestions. So, I'm not going to bother. I am very disappointed in you at times.
Before leaving Bishop Mark's appointment, I do want to put on record a word of thanks to his predecessor, Bishop Peter. In the fifteen years I've been here, he was always very friendly and supportive of the work of Catholics in the city and where our two Dioceses, Chester and Shrewsbury, overlapped. I met him frequently at Cathedral functions, on Churches Together in Cheshire Committee Meetings, and at the University. As a Church of England college, he was President of the Council. When I was sent here in September 2006 – yes, yes, I know, Black Saturday, you never leave it, do you? – it was with the specific brief of establishing a Catholic presence on Campus, two students there having approached Bishop Brian to know why there wasn't any. Part of that was to say Mass regularly in the University Chapel. I bumped into Bishop Peter about a month later. At first sight, he could have quite an authoritative, powerful presence. "Ah!' he said, "I hear you're now saying Mass in the Chapel. Good. Once a term?" "Er… not quite… actually once a week…" "ONCE A WEEK?" he bellowed. I thought I was really in for it. "SPLENDID! ABSOLUTELY SPLENDID!" he roared and strode off down the corridor. Best wishes to Bishop Peter and his wife, Fiona, for a long and happy retirement in the Scottish Borders.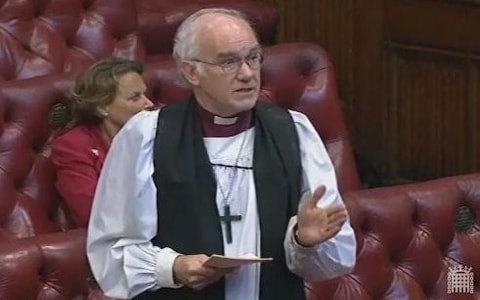 A thousand thanks once again to our SVP – who are never silly – for the wonderful work they have been doing in contacting people, especially our self-isolators. They have also now produced their superb Annual Report, telling SVP nationally and us locally all that they have been up to in the last twelve months. You'll find it online – it's the fourth box down on the Home Page - and it's an excellent read. Thanks, Steve, Fran and the Team!
Jean, Chris and I share a particular interest in Art of all ages, I know. Jean has been sending me some stunning artwork during this lockdown. The Rainbow has become something of a motif, especially linked to our gratitude to the NHS for all they are doing for us, and rainbows are to be seen in windows and fronts of buildings all over the country. Please don't think of Damien Hirst as just sharks and tanks: he's a very fine living artist, who works in many different media. This is his Rainbow, which Jean sent over to me and I'm delighted to share with the rest of you. He calls his work "Butterfly Rainbow", and it's made up of bands of coloured butterfly wings, an image he uses many times in his works: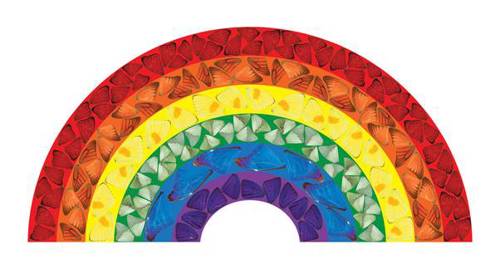 Do you like it? My final photo is from the interior of St Stephen's Cathedral in Vienna, which I know many of you have visited. Maria Yakovleva, a Russian ballet dancer and first soloist of the Vienna State Ballet of the Vienna State Opera, is shown recording an online charity concert for hospitals in Milan, Naples and Rome.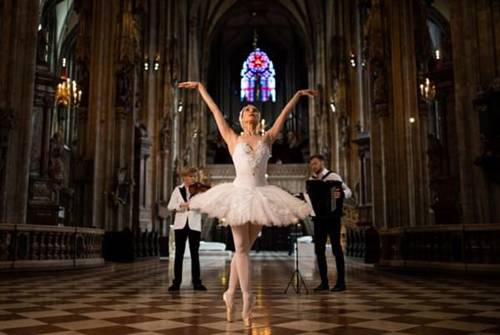 The concert will be streamed on 17th May. I find that very moving: Austria reaching out to Italy, two of the most artistic nations on earth.
May God bless you all,
Fr Paul