Daily updates 19th - 25th April
Saturday 25th April 2020

20,000 deaths to date – a horrible milestone to have to pass – and no sign of that dip down we were hoping for in our daily totals, with 781 today, 761 yesterday, 616 on Thursday, 757 on Wednesday. Thank Heaven it's not going up, but you could never argue we're over the worst and can now start relaxing restrictions. Here's a graphic, even shocking, photo from Tijuana in Mexico, a very strongly Catholic country, of the burial of an unclaimed virus victim. It brings the stark reality home, doesn't it?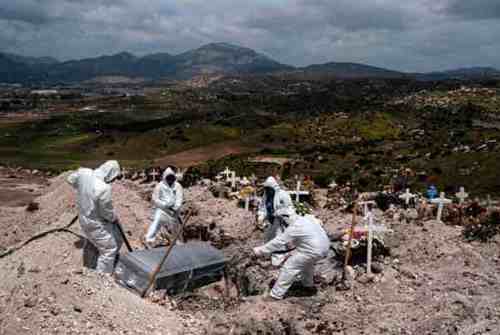 A call-out this afternoon to one of our Nursing Homes. They are all on lockdown, as you know, so necessary to get the permission of the Manager to go in and anoint one of their patients. Readily given, and so on with the old gown, gloves and mask. I just don't know how front-line staff wear those masks in particular for any length of time so much does the heat build-up inside it. Mind you, their mouths probably aren't as permanently open as mine…

So comforting to realise how well I knew Nora: sister of Pat and Mollie, aunt of Gillian and Trish, sister-in-law of Roy, and grandmother to the wonderful twins, George and Hannah, and their big sister, one of our loveliest families at the High School. George was always a right charmer – "Hello, Father! How are you today?" every time we met in the corridor. But sensational as a performer on stage, and such a nice lad. One of John Murray's favourites. (Sorry, George – is that the kiss of death?) A privilege and honour, as always, to anoint Nora this afternoon, with all the strength that wonderful Sacrament gives for the journey from this life to the Life Eternal. And thank you, Gillian, for the call out.

Votes are pouring in for the Werbies Blog Mascot. Anwen is just edging out Bailey and Buttons at the moment, but only a few hundred votes in it, and plenty of time to go. In case you are a Late Arrival at the Blog Ball [Don't start all that again. Ed], here's a reminder of each candidate, beginning tonight with the Princess: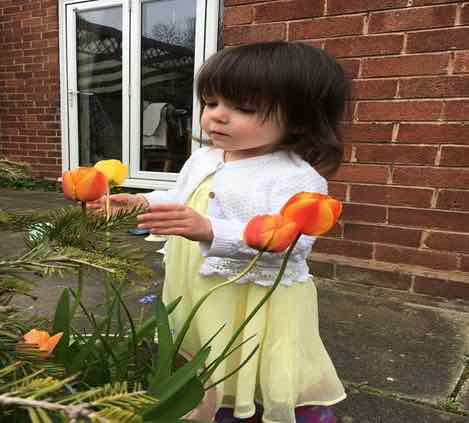 But what did I say, a propos of the Archbishop of Canterbury, about watching what's in the background of these snaps? Anyone offering to do that pile of ironing?

Nag, nag, nag from some of you about posting an equivalent snap of FP at six to the playful innocence of Edmund Kirby two nights ago. Look, if I give one picture of me at that age, will you let it go? Stop pestering me? Please? Here we are then: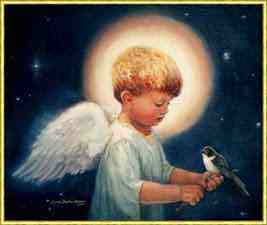 And that is positively the last and final dip into the FP Photo Album. But it did bring back some memories. Me at six? Where have the last forty years gone to? [Shome mishtake shurely? Ed]

Bring back memories? I should never have posted that wonderful Commemorative Stamp to mark the 75th Anniversary of VE Day, notionally 8th May. Has it started the Choir off! I told you in one of the earlier Blogs that three of them were on Fire Watch on Chester Town Hall Roof during the war, and half the Altos seem to have been Land Girls in the Women's Land Army out in Cheshire. Oh, and Geoff – thanks for the picture of you in the Home Guard. Absolute spitting image of Private Pike. Stupid boy. Pike, not Geoff. Oh, I don't know though…

Tonight, a poignant reminder of those like the Old Nuisance who nursed right through the war, in her case in the London Hospital in Whitechapel, deep in the East End, bombed more than once, and eventually evacuated.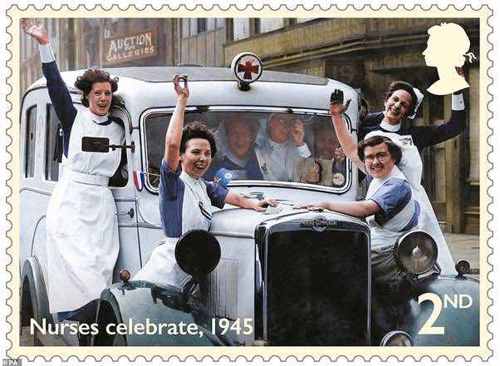 A group of nurses in Liverpool raise their arms in celebration while clinging onto a vehicle, pictured. As many as 67,000 nurses were thought to be needed at the start of the war to care for the expected air-raid casualties - far more than the number of trained nurses in employment

They also serve who only stand and… I love this picture of the Library Cleaner in the south of England who took the opportunity of the Library being closed in the lockdown to give those wretched books and shelves a jolly good clean. And then put them back afterwards, obviously biggest to the left, smallest to the right… That's a cleaner who takes a pride in her work! I'm sure it won't take them long to put them all back where they belong…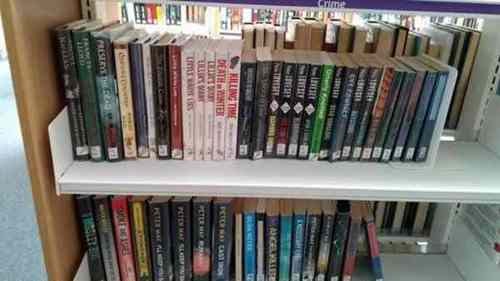 The books shelved by size on the bookshelf

Geoff and Gill have sent in some wonderful pictures of the church. This one was taken by Geoff standing on Jill's shoulders. We're very lucky to have it, as two seconds later he fell off.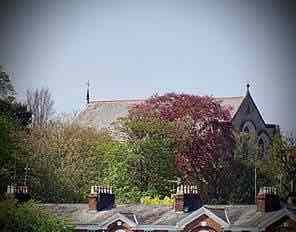 And finally, a question from the Curtis family. Having said that, I realise we have at least three Curtis families in the Werbies: John, Juliet and Matt (mum and dad both doctors, Matt was at King's); Ann Marie and John (Great War Group, Heritage and Health and Safety); and Marian and her wonderful extended family, the Uncrowned Queen of Soup. Our question tonight is from the last of them:

If Fr Paul were to follow Donald Trump's advice and inject himself with Dettol, could be bring a charge against the President for Bleach of the Priest?

They asked it, not me!

God bless you all,

Fr Paul

PS I'll be outside church tomorrow morning, Sunday, as usual, 10.00 – 11.00 am, if you want to pick up News Papers, Newsletters and so on. Or just to say hello – six feet apart!
---
Friday 24th April 2020

A message tonight from Bishop Mark which it is good to share with all of you:

A message from the Bishop to the people of the Diocese during the public health crisis, for Sunday 26th April 2020
I send this short message to you as we continue to walk day by day through this crisis. I know that tens of thousands have been able to join me in the Cathedral via livestream, yet I am conscious that I have not been able to speak personally to many others in the Diocese. I want to assure you, whether you find yourself today in our hospitals and care homes; in self-isolation at home; or living amidst the many restrictions of this time, that we remain united in prayer. Be assured that you have a place in my prayer every day. I particularly want to thank your priests and deacons who have continued to serve in so many generous ways, not least in the care of the sick and dying and above all by the daily offering of the Mass celebrated alone. I know you are held in their daily prayer.
I also want to record our gratitude at this moment in history to all the doctors, nurses, care workers, cleaners, our police and shop workers and all of the essential services together with so many volunteers. I know many others are praying and interceding hidden from human sight. Pope Francis reminds us, it is all of you who are quietly and heroically writing the story of this time. In the Gospel, we hear how even in the most desolate and bewildering moments, the Risen Jesus walks with us even when we fail to recognise Him. He allows our hearts to once more burn within us and inspires the prayer, "Stay with us, Lord Jesus."
I hope the re-opening of our churches will not be too long delayed so that we can recognise Jesus Himself as the first disciples recognised Him in the breaking of the bread – in the mystery of the Holy Eucharist with all joy renewed. In the meantime, let us continue to pray wherever we find ourselves: Stay with us, Lord Jesus as we walk through these days.
May God bless you and all your loved ones,
+ Mark Bishop of Shrewsbury

Let's all keep Bishop Mark in our prayers too as he continues to lead our Diocese through these difficult and unprecedented times.
Many of you have sent in memories and reminiscences of Tommy Bromwich, showing how much he touched all of us here in St Werburgh's. His working life was largely spent at the Lead Works, and here's a photo of him – third from the left – with his work colleagues and friends. I guess he would have been about sixty then, so getting on for thirty years ago.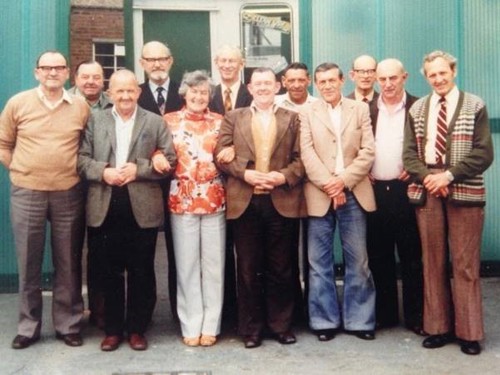 Thanks for the comments too about bringing in industrialists to assist Government in times of crisis with logistics and supply chains. And for your reminders that it doesn't always end happily, for them or the country: who remembers Captain Robert (Maxwell) of Daily Mirror fame, for example? If it's a choice between Captain Tom and Captain Bob, I think we all know which we'd prefer!
Another glorious day's weather, and a chance to get a few watering cans on a very dry, parched garden. Is it just me, or have we had a record dry spell during April? The bluebells are glorious, the buttercups are just starting, and the roses shooting splendidly. The border next to the church is much more planned and orderly, and I'm watching the paeonies carefully, some glorious hybrid ones about to burst into flower as well as the more common crimson ones. Watch this space for photos!
Today begins Ramadan, the Holy Month for Muslims all over the world, and we do remember Bilal and all our Muslim friends at the University here, hoping to start a Muslim Society just before the lockdown hit. Here's a lovely photo of a Palestinian boy in the Jabalia camp celebrating the start of Ramadan with a sparkler: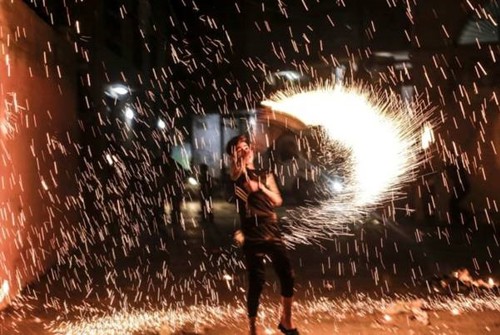 Now in case you're worrying if the old boy has totally lost it in the course of the lockdown, here's proof positive that he has. I go into Church last night to say Mass, candles lit, Credence Table checked, vestments on, here we go. "The grace of our Lord Jesus Christ, the Love of God, and the Communion of the Holy Spirit, be with you all". No reply, but I'd be worried if there were. I say the whole Mass aloud, partly because I like to imagine you really are there, partly because it has to be (the Eucharistic Prayer and Words of Consecration especially – the Mass would not be valid if they were not said aloud!) and partly because it stops me going too fast. So, I carry on: "The Entrance Antiphon for Wednesday… no, Thursday… no, Wednesday." I couldn't remember what day of the week it was! Only a look at the Mass Intentions on the Newsletter brought me back to my senses, St George of England, my dearest friend Gerry Cummins' sixth anniversary. In Ireland, they'd call me "an auld eejit", and they wouldn't be far wrong.
Don't mock, you'll be old yourselves one day.
Did you see the wonderful set of stamps they've issued to mark the 75th Anniversary of the end of the Second World War this summer? They are all colourised photos from 1945, and they've come up with some stunning pictures. I'll post one a day for the next twelve days, and hope you enjoy them as much as I did – beginning tonight with the Evacuees coming home.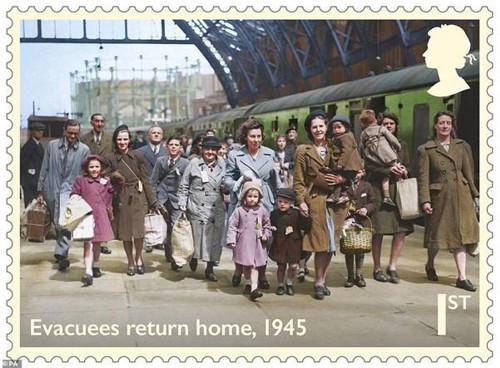 Thanks again to Ann Marie Curtis for reminding us that this week is the 100th Anniversary of Edmund Kirby's death, our church's Architect. Last night, a painting of the six-year-old Edmund – thanks for all the enquiries if there is something equivalent for the six-year-old FP I could post, and the answer is a big fat "No" – and here tonight is her account of his life, and picture of the older man. Thanks, Ann Marie!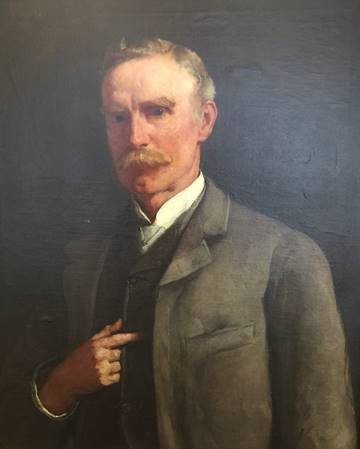 Edmund Kirby (1838-1920)
Edmund was born in April 1838 in Liverpool, where his father owned a small brass foundry. The rather eccentric Liverpool artist, William Daniels, painted this picture of Edmund around the age of 5 years. It was his first painting of a child – later Daniels was to paint more studies of children, often poor wretches, seen on the streets of Liverpool.
Edmund was educated at Sedgeley Park College, where the direction of his life was inadvertently set in train. The famous architect Augustine Welby Northmore Pugin visited the school and was shown some of Edmund's sketches and paintings. Pugin was very impressed and promised that Edmund could join his own (eldest) son, Edward, as an apprentice, when his time at school was over. Edmund now had the entr饠to the most famous architectural family in the country and his future was well assured! Or was it?
In 1852 Augustine Pugin died, leaving his business, family and financial situation in complete confusion. Eventually, however, Edward Pugin decided to move the whole family from their home in Ramsgate (which was then rented out) to Birmingham, where the chief producer of artefacts for Pugin buildings, John Hardman Powell, had his premises. He then asked Edmund Kirby to join him there, as an apprentice. Edward Pugin at only 19 years of age, was now head of the large Pugin family and business. Kirby seemed to thrive in the chaotic atmosphere of the Pugin household and business and probably was able to tackle complex tasks at an earlier age than usual. Kirby's father died during this time and Edmund in turn then became head of his family, having a mother and two younger brothers to educate and provide for.
Later, Kirby's work and attention span seemed to fall off. He was working as a cartoon maker for the stained glass windows of buildings for which Pugin was producing plans. He was working alongside John Hardman Powell, Edward Pugin's chief artefact producer and also his brother-in-law. Powell was less than impressed by Kirby's output. The cause of the inattention was later revealed as being Agnes Pugin, the beautiful well-educated and musical sister of Edward Pugin, his employer! Though Agnes had many, (more socially acceptable), male admirers, she accepted Kirby's marriage proposal, in 1860. However, by 1861 Agnes had changed her mind and the arranged marriage was cancelled. Edmund was devastated and a Pugin family conference was called. Edward Pugin and the remainder of the family moved back to Ramsgate and Edmund Kirby was recommended by Pugin, as a post graduate student, at the Royal Academy, London. He studied there 1862-65 and then, as his mother had also died, returned to his home town of Birkenhead, where he remained for the rest of his life. John Douglas offered him an associate position at his practice in Abbey Square, Chester. Kirby remained with Douglas for about one year and then opened his own business in Liverpool.
In 1867 Kirby designed the additions and alterations at Dee House in Chester. No doubt this brought him to the attention of Canon Buquet of St. Werburgh's, and Kirby was asked to design the new church on Grosvenor Park Road. This was partially built 1873-75 and was Kirby's first church in stone, built according to what would become his signature style – a large stone vault with two tiers of windows. This made the interior lighter and more airy than was usual for a church of this size. There was no need for large external buttresses. The external stone was from a Yorkshire quarry and its interior pillars are of red Cheshire sandstone from Stourton Quarry, Wirral. The roof is of a blue-grey toning Welsh slate. Two sacristies were added in 1903 and the length of the church was eventually completed, together with a narthex (porch) in 1914, just before the outbreak of WW1.
By this time, Kirby had become the "go to" architect for the diocese of Shrewsbury and he had built 14 other churches for this diocese. He had built churches for other Catholic and Anglican dioceses, together with schools, orphanages, hospitals and civic buildings. He was also famous for the houses he designed for Liverpool merchants. These were built mostly in the Birkenhead hinterland along the Noctorum Ridge and are now enclosed in a conservation area.
Edmund Kirby married Rose Ann Dodsworth, daughter of a Yorkshire recusant family, in 1873. They appeared to have had an extremely happy marriage and three sons were born to them, Francis Joseph (Frank), Edward Dodsworth and Edmund Bertram (Bertie). Kirby acted as guardian to the two sons, Edgar and Laurence of Edmund's younger brother, Hugh Laurence, who had died at a young age. The Kirby family always had a fondness for St. Werburgh's, Edmund Kirby's flagship church. It must have been a source of frustration to him, that it took such a long time to complete, (mainly due to lack of finance) especially as his middle son, Edward, became a priest and was curate here 1906-9.
Edmund Kirby died 24 April 1920, so he did at least see his first stone church completed. His other two sons had joined the family firm, and Bertie, who was an architect, designed many of the additional internal constructions at St. Werburgh's e.g. Great War Memorial altar, shrine of St. Werburgh, and lid of the baptismal font. Canon Chambers had reason to write to Bertie in 1922, saying how much St. Werburgh's had to be grateful for the services of his father and himself. Frank and Bertie Kirby continued to take an interest in St. Werburgh's until their deaths in 1946 and 1954 respectively.
We are now (temporarily) prevented from entering the lovely church of St. Werburgh's in Chester. However, some parishioners can still see it from the outside and especially now the street is relatively empty, can appreciate what an impressive building it is. We can perhaps better appreciate the work and service of its architect Edmund Kirby and acknowledge the debt we owe to him and his family.
During the Chester History Festival, taking place in June this year, a talk about Edmund Kirby and John Douglas was to be given at St. Werburgh's in what is the centenary of Kirby's death. Sadly, the festival has now been cancelled and events re-scheduled to June 2021. However, I think that it could be appropriate if Werbies remember Edmund Kirby, on the occasion of the centenary of his death.
May Edmund, Tommy and all our Faithful Departed Rest in Peace. Amen.
And may God bless you all,
Fr Paul
---
Thursday 23rd April 2020
Sad news this afternoon of the death of Tommy Bromwich, another fine Werbie who was devoted to this Parish, as you all know. For the last few months, he'd been a resident in the Willows Care Home in Blacon, and one of the carers there very kindly brought him to 10.45 Mass a few weeks ago. I asked him how he was liking it: "Oh, it's very nice indeed, and the people are lovely – but IT'S NOT BOUGHTON! And I've lived all my life in Boughton…" As indeed he had, St Werburgh's one of the central points of that life. In many ways an intensely private man, I shall look forward to meeting his family and finding out more about his early years. Tommy Bromwich – May he Rest in Peace! Speaking to the Funeral Directors, I asked them to let me guess his age. I went for 81/82. In fact, he was 88! An excellent innings, Tom!
Funeral this afternoon of another fine Werbie, Jim Catterson. Only been with us in St Werburgh's for about three years, but didn't he make an impact in that time, with his lovely wife Margaret! Always at 10.45, first of all on his wheeler at the back of church, then latterly in his wheelchair at the front, both courtesy of PlusBus from Cedar Court, up by Sainsbury's. Jim was a Strabane lad, Margaret a Derry girl, and they married in Derry Cathedral in 1962, that being Margaret's home parish. He had thirty-three years in the Royal Navy, rising to the rank of Lieutenant Commander. There's a quiz question for all of you: what are the equivalent ranks in the Army and RAF? Answers at the end – and no googling! Margaret and the family chose a fine photograph of Jim in his Navy Whites for the front of the Order of Service, from his time stationed out in Hong Kong.
Celebration of Life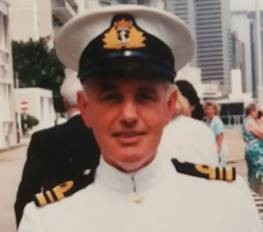 Lt.Cmdr. James Catterson MBE
April 2nd 1940 - April 11th 2020
Blacon Cemetery, Chester
Thursday 23rd April 2020 at 2.00 pm
Under the new Lockdown Regulations, it was a "Graveside Service and Burial", with a maximum of ten people present. How did it work? Extraordinarily well. We bless the grave, lower the coffin, the Funeral Director's men withdraw, and then we settle to our service, half an hour in length, full content as we would in church, readings, hymns, eulogy, tributes and prayers. The upside of restricting it to ten was that only immediate family were there: Margaret, three of their four children (one, sadly, in Sussex not able to attend owing to the restrictions), Margaret's sister from Warrington, brother-in-law and nephew. Seven in total: and it made it a remarkably personal, intimate service. The weather was beautiful, a warm, sunny afternoon, with not a breath of air to stir the trees, now all coming into full leaf. As Dan, the Funeral Director said afterwards as we were leaving, he could see this "Graveside Option" becoming more popular after the lockdown is over, precisely for that very intimacy. All dependent on the weather of course. But this afternoon was very special. Huge thanks to everyone who befriended Jim and Margaret in their time with us, and I know that friendship will continue. And I do have to say a particular thanks to Richard and Lyn from SVP who went above and beyond, especially in recent weeks and months. Margaret and the family appreciated it so much, you two! Thanks.
Of course, graveside funerals were the norm in the nineteenth century, and the standard in the novels of Dickens. Would you like me to tell you about some of them? You wouldn't? Well there's no need to get nasty about it…
Speaking of the beauty of our church, especially in the evening sun, Ann Marie, our wonderful Heritage supremo, reminds me that tomorrow is the 100th Anniversary of the death of Edmund Kirby. She's written a fine account of his life, which I'll post tomorrow, and found two paintings of Kirby, one in later life and a fascinating one of when he was about six. Painted in 1844, it shows clearly the Victorian habit of dressing boys and girls the same until they were about eight, a tradition going back to the sixteenth century and possibly earlier. The artist, William Daniels, was known as the Rembrandt of Liverpool, and here's a fantastic website if you want to know more about him and see more of his work:
http://www.art-science.com/WDaniels/index.html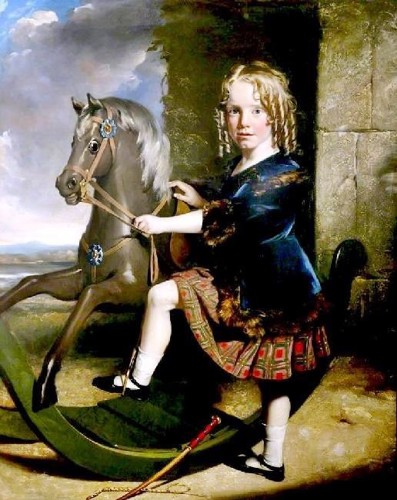 Master Edmund Kirby
by William Daniels (1813 – 1880) painted 1844
Held by the Walker Art Gallery, Liverpool
Donated by Edmund Bertram Kirby (son of the subject)

Another portrait and Ann Marie's article tomorrow!
On the Newsletter at the weekend, I posted something from the Diocese about an online giving site they'd set up for all Parishes of the Diocese, not really understanding it or knowing if it worked or not. Peter and Brian, our ever faithful tekkies, tell me it IS working, and you've started using it!
"It looks as though £181.25 has come in on the online link." https://investmycommunity.com/stwerburghdioceseofshrewsbury2130
God is good, I tell you, God is good!
And talking of the technology working, how about this item in this week's Tablet?
"Shrewsbury Cathedral has recorded the largest congregations in its 170-year history since it started live streaming services. On Easter Sunday, 11,446 people watched Mass online, more than ten times the usual attendance of 1,000 people. The highest number of service views was on Good Friday, when 13,594 people watched the liturgy. The monthly total of unique views exceeds 83,000, with some 33,307 logging in for the first time. As well as daily Mass, the Cathedral livestreams liturgies including morning, evening and night prayer, amounting to more than 40,000 hours of footage in the last month alone."
Don't tell me – they're all logging on to catch Fr Edmund… I hate him, I've always hated him…
Seriously God is good. If you want proof of that, how about last night? Just finished my Priesty-Person Prayers (= Divine Office of the Church) at the 9.00 watershed, gin poured, can of tonic at the ready, bowl of Bombay Mix poised (Lal, you're a star!) when the phone goes. Sick call, evening shift of MacMillan Nurses having been, and if you want to get the Priest, you'd better do it now… Far side of Chester, long way from the Werbies, but I've learnt over the years not to question or argue, just GO. By the time you've had an up-and-down about trying Fr X, and where is Fr X, and why isn't Fr X picking up [Contd p 98] you could have been and come back. Other thing I've learned: don't leave the desk until you've google-mapped EXACTLY here it is. Wilds of the outskirts of Chester not the best place to be lost when the dark is descending. So, armed with that, no problems finding it, lovely family, distant connection with some Werbies, hence calling me, a privilege always to Anoint the Sick, and back within the hour. Please all of you, remember John as he makes that last journey from this life to the Life eternal. May well be there already.
Now, here's the thing, and why God is so good. Does the phone call come BEFORE OR AFTER you've opened the tonic? The fizzzzzzz moment, in other words. Before, and He's the Best. After, and I return to a horribly flat gin and tonic, all ready to join the Methodists. Hang on, some of them don't drink at all! Last night it was BEFORE!! Thank you, Lord.
May God bless you all,
Fr Paul
Quiz Answers: Lieutenant Commander in the Royal Navy is equivalent to Major in the Army and Squadron Leader in the RAF.
---
Wednesday 22nd April 2020
Well, you are enjoying this Blog, aren't you? It's certainly bringing out the unpleasant in many of you, and you're not holding back. Typical of this morning's post-bag is this little gem from "Bitter of Boughton":
"Hello Fr Paul,
From reading your blog this evening I note your admiration for Captain Tom's amazing achievement at raising 27 million by just walking 100 laps of his garden before his 100th birthday. Could I suggest you do something similar? Just a thought, if you start walking, and keep walking, we could start a crowd funding appeal split between NHS and parish funds with a special prize for the person who guesses, to the nearest town or village in the world you reach by your 100th birthday. My guess, weather permitting is Farndon.
Best wishes…"
I'll give you 'Best wishes' next time the church is open, and you have the nerve to set foot over the threshold. I might just have to swing that thurible a little closer to your left earhole than is comfortable.
Interesting to see at this evening's Downing Street Press Conference the Chief of the Armed Forces, General Sir Nick Carter. The supply chain is critical in any war, against a hostile army or a hostile virus. Logistics. Getting the stuff to the right place at the right time. Who said, "an army marches on its stomach"? It sent me back to both World Wars, and Max Beaverbrook's contribution in the Second, as Minister of Aircraft Production. His background? He was a Press Baron, the owner and power behind the Daily Express. He took its circulation from 40,000 a day in 1918 to 3,700,000 in the years after the Second World War. Of course, you don't achieve that sort of success – duplicated at the Air Ministry, with planes rather than papers – without ruffling a few feathers and making a few enemies. I love this comment H.G.Wells made about him:
If ever Max ever gets to Heaven, he won't last long. He will be chucked out for trying to pull off a merger between Heaven and Hell after having secured a controlling interest in key subsidiary companies in both places, of course.
Do we need a few Beaverbrooks around today? Not politicians, not civil servants, not even army generals, but hard-headed businessmen who know how to sort out a supply chain?
A pleasant enquiry this morning – at least, I think it was a pleasant enquiry. After the onslaught I've suffered on the subjects of Belted Earls, Stained Glass and Captain Tom, I'm beginning to doubt some of your so-called pleasantries. "Curious from Christleton" wanted to know why we've heard so little from the Great Man in this Blog to date. Funny you should mention that… Harper sent me over this morning an interesting piece about the grave of Cedric Dickens, his grandson, killed in the Battle of the Somme in 1916, and how, when they came to re-inter him in the official War Graves Cemetery, it was found to be empty. Cedric was the son of Henry Dickens, the only one of Dickens's seven sons who made anything of his life, Cambridge, Barrister, QC and Judge – sounds familiar, Jogger? - and I love this particular story from his time on the Bench:
On one occasion Dickens was judging a case when the male prisoner interrupted him by saying "You ain't a patch on your father." "I quite agree with you. What do you know of my father?" Dickens replied. The prisoner, who had spent most of his life in prison, answered "Well, I have read some in prison." "Have you?", Dickens replied, "That's capital; for you will now have eighteen months in which to resume your studies."
Touch顼o:p>
He wrote a couple of very readable books of memories and reminiscences, and I love this particular anecdote. Dickens felt he was a bad father and rotten husband – and he wasn't far from the truth in both judgements. Six of his seven sons caused him real anxiety, and he was always conscious of the need to be the authoritarian father figure, especially – as was often the case - when they were going off the rails. He had a much better relationship with his two daughters, Mamie and Katie, who were both very strong, remarkable women. Henry was the only boy, as I say, who remotely fulfilled his father's expectations, but Charles found it next to impossible to show his feelings where his children were concerned. Henry writes:
"Looking back now upon the years that are gone, I find that there are one or two scenes or incidents which arise with astonishing vividness to my mind that may be worth recording...I hope it will not be thought that I tell this story vaingloriously, as it was but a small matter so far as I was concerned. Nothing is farther from my thoughts. I do so because it is typical of a strange reticence on [my father's] part, an intense dislike of 'letting himself go' in private life or of using language which might be deemed strained or over-effusive; though, as will be seen later, when he was deeply moved he was at no pains to hide the depth of his emotion. Thus it came about that, though his children knew he was devotedly attached to them, there was still a kind of reserve on his part which seemed occasionally to come as a cloud between us and which I never quite understood.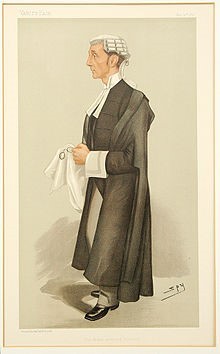 Dickens by 'Spy' in Vanity Fair in 1897
In the year 1869, after I had been at college about a year, I was fortunate enough to gain one of the principal scholarships at Trinity Hall, Cambridge – not a great thing, only 50 pounds a year; but I knew that this success, slight as it was, would give him intense pleasure, so I went to meet him at Higham Station upon his arrival from London to tell him of it. As he got out of the train, I told him the news. He said, 'Capital! capital!' – nothing more. Disappointed to find that he received the news apparently so lightly, I took my seat beside him in the pony carriage he was driving. Nothing more happened until we had got half-way to Gad's Hill, when he broke down completely. Turning towards me with tears in his eyes and giving me a warm grip of the hand, he said, 'God bless you, my boy; God bless you!' That pressure of the hand I can feel now as distinctly as I felt it then, and it will remain as strong and real until the day of my death."
Look, if you want any more about the Great Man, you only have to ask, "Curious of Christleton". (What have I just said? If that doesn't set off "Bitter of Boughton", "Sarky of Saighton", "Harsh of Handbridge" and "Vicious of Vicars Cross" – and that's just the Choir - nothing will. And those are some of the nicer contributors to this Blog. I shall tell them all what a hard time you're giving me when I pop down to Eaton Hall this evening…)
And finally, a photo with a view of the Himalayas that, apparently, has not been seen for over thirty years, so dense has been the pollution in that part of India. Anyone noticed how much louder and clearer the birdsong is these days, both early morning and at dusk?
God bless you all,
Fr Paul
---
Tuesday 21st April 2020
Well! If I thought you were turning nasty because I happen to have a very warm personal friendship with most of the members of Debrett's Peerage, that was nothing compared to the onslaught I've received because I mentioned Stained Glass last night. I simply said Edmund Kirby, our church architect in the 1870's, didn't favour it, and, on a vibrant sunny evening, when the church is full of light from the upper windows, you could see why. Blimey! If you thought insulting cats produces a fat post-bag of undiluted outrage, try saying something about Stained Glass.
OK, OK already! Just because some of us have been to Marrakesh and seen the Sultan's Palace there (and you accuse me of name-dropping!) and how the light flooded into the nearby rooms…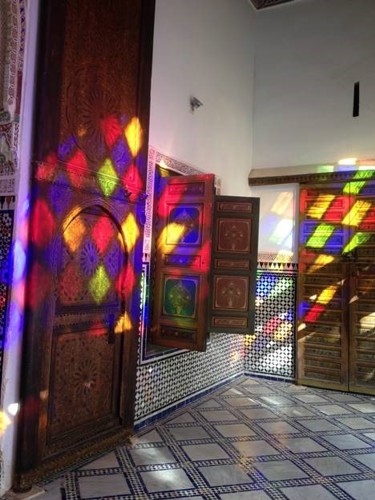 Apparently, this picture was taken in the Sultan's palace, "the sunlight reflected through the windows of the many and various rooms surrounding a central courtyard, each housed his wives (Sultanas) and concubines…" Steady, Kath! This is a family Blog, I'd have you know. And there was the Choir thinking Sultanas were something you put in scones.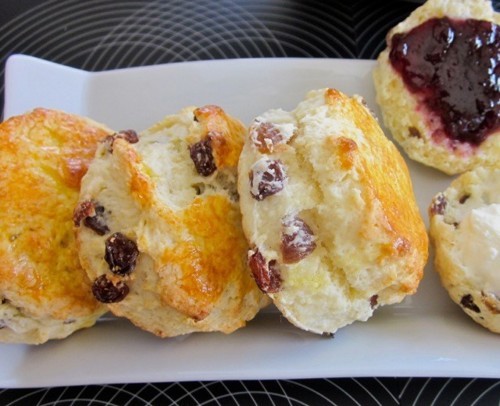 A few questions from you about the finances I shared on Monday, and the average weekly collection from (a) Envelopes, (b) Loose Plate and (c) Standing Orders. It breaks down like this, for an average week:
(a) Envelopes: 550
(b) Loose Plate: 650
(c) Standing Orders: 650
Totalling 1850. (a) and (b) together come to 1,200 – hence my real gratitude to you for managing to get a third of that, 400, to us by fair means or foul. Actually, through the letterbox of the Parish House, whichever that is. Mille Grazie! As they say in… If we include the Standing Orders, that means last Sunday's Collection came to 1,050 – against the normal 1,850. A big hit, but we're still afloat, agreed?
No Twenty-One Gun Salute, but still the whole country wishing "Happy Birthday, Ma'am!" to our Queen today. Of all the many, many pictures we've seen to mark her extraordinary nine-four years, one of my favourites is this wartime one: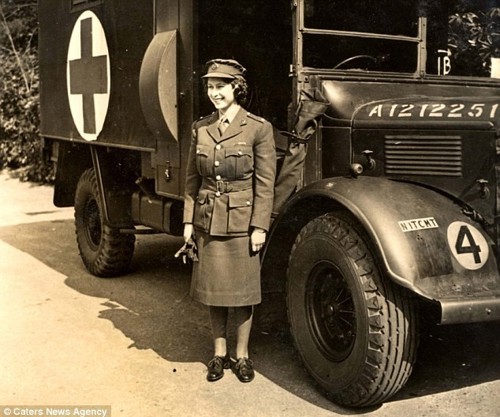 What did she say on her 21st Birthday, this day, 21st April, in 1947? "I declare before you all that my whole life, whether it be long or short, shall be devoted to your service and the service of our great imperial family to which we all belong." If ever there was a promise kept!
Birthday greetings have come in, of course, from all over the world. I loved this one from Christmas Island [where that? Ed]. Never mind the history, well done on the sentiment!
Flying Fish Cove, Christmas Island, less than a minute ago:
A very Happy Birthday Ma'am. And it just goes to show the great service which Her Majesty has given to Britain over a very long period of time. Her Mum, Queen Victoria, must be up in heaven right now very proud of everything that her daughter has done.
There's something about these nonagenarians, isn't there? Captain Tom has caught the imagination and respect of the whole country, not just by his past achievements but by his present determination quite literally to get off his seat and do something to help the present health crisis. 27 million later, we salute him!
Mind you, before I start getting too dewy-eyed about these 90-somethings, I do have to remember I had the Old Nuisance with me till she was 99. I thought she'd never take the hint.
It's an ill wind as they say, that blows nobody any good. This lockdown has brought a smile to my Postie's face. "I love it!" he said cheerily this morning, on his parcel round. "Everyone's in!"
God bless you all,
Fr Paul
---
Monday 20th April 2020
Two days of much better numbers – 596 yesterday and 450 today, compared to the peak of 953 (Good Friday) - give some grounds for optimism? It was certainly good to be out for an hour this afternoon, a Burial of Ashes at Overleigh, and the cemetery looking beautiful, bathed in warm sunshine, and the primroses luxuriating everywhere. It's an amazing and very historical cemetery, and so good to see it come back into use with the "Garden of Remembrance" right in the middle, and spaces made for the Interment of Ashes. It dates from the 1840's, the period when the scandal of the over-full Church Graveyards had to be addressed. There was simply no more room in these graveyards, and in London the situation was verging on the obscene, depicted by Dickens in Bleak House (1852-3). But there was opposition from the Church of England to the idea of Civic Cemeteries, and local authorities were far from sure they wanted to take on the cost or the responsibility. So, typical Victorian solution, they formed private Cemetery Companies, issuing shares and paying dividends, with the Church of England also buying shares. Here's a little note on Overleigh's history for those who enjoy this sort of social history:

The cemetery was initiated in 1847 by Canon Bloomfield of Chester who suggested the site at Overleigh, then outside the town, and on 18th February 1848 the city surveyor, Mr Whalley, held a public enquiry to discuss the necessity of a cemetery. The site was owned by the Marquis of Westminster who exchanged it for a shareholding in the new Chester General Cemetery Company, formed by an Act of Parliament dated 22nd July 1848. Other shareholders included solicitors Walker and Potts and the Dean of the Cathedral. The cost of the cemetery exceeded the estimate of 5,000 and in 1849 work was halted for seven months while additional shareholders were sought.
The cemetery opened on 12th November 1850 with the consecration of the Church of England burial ground by the Bishop of Chester Diocese. The first burial, of a Mr Ayrton, took place on the afternoon of the same day. The chapels and entrances were designed by architect Thomas Mainwaring Penson, but the Chester Chronicle reported that Mr Lister prepared the cemetery plans and laid out the grounds. The 1875 OS map shows the site laid out with a great many trees, serpentine paths, a lake with three small islands, two mortuary chapels, two lodges, and a chaplain's house.
In 1879 the cemetery was extended on land beyond Overleigh Road to the south and in August 1904 a new mortuary chapel, constructed on the extension land, was consecrated. The whole of the cemetery was conveyed to Chester City Council in 1933 and during the twentieth century was further extended to the south.
All the buildings in the 1850 cemetery have now been demolished and the lake infilled. Overleigh Cemetery remains (2001) in use and in the ownership of Chester City Council.

Not easy to imagine it with two chapels, two lodges, a chaplain's house and a lake? It's full of fascinating historical graves, including Canon Chambers from St Werburgh's: anyone fancy a Heritage Walk there one evening this summer, followed by Psalm Singing in the Handbridge? Don't say you weren't asked…
Monday morning, so Syd and Denise in to do the Count, as always. Amazed and delighted that so many of you were kind enough to put your envelopes and cash contributions through the front door of the house. It totalled just short of 400. On a normal Sunday, the cash & envelopes collection would amount to about 1,200: so, to say you've managed to send in a third, is frankly amazing. A huge tribute to your resourcefulness in these odd, odd times, and something for which we are hugely grateful.
Didn't get to say Evening Mass last night until 8.00 pm: but the church was looking stunning, all the magnificent evening sun streaming through those high upper windows, the Clerestories. I wish I'd had Geoff along to photograph it, but even Geoff, Holy Joe that he is, doesn't reckon to be in Church at 8.00 pm on a Sunday Evening… I also wished I'd had Edmund Kirby with me, our original architect, but he couldn't make it for slightly different reasons. He didn't favour Stained Glass, and all his early churches had just that plain glass with every seventh or eighth pane picked out in green or yellow, making an enchanted "off white" look. If you want to see it close up, go into the Day Chapel when church is open again.
Found this picture tonight of Westminster Cathedral last week. Poignant and beautiful, it's John Francis Bentley's masterpiece, another wonderful Victorian architect, and twenty-five years later than St Werburgh's (1903). Which might just preclude it from being described as Victorian??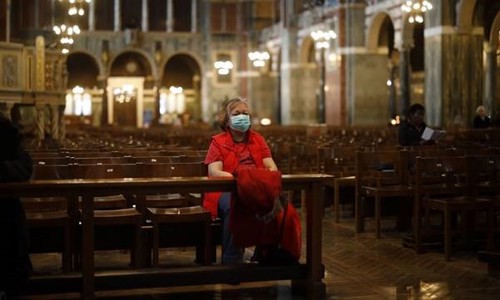 Talking of which, is it too early to wish HM The Queen "Happy Birthday!" – Happy 94th Birthday, Ma'am!! – for tomorrow?
And talking of beautiful sights, we've opened up a bit of a competition on these pages for St Werburgh's Blog Mascot: is it to be Anwen or Bailey & Buttons? Might need to have a People's Vote on that one!
God bless you all,
Fr Paul
---
Sunday 19th April 2020
"Happy Easter" to all our Orthodox friends, all over the world. And "Καλό Πάσχα!" to all our Greek friends in particular. As they say in German…
I've not been able to find where this beautiful picture was taken, on many of today's websites, but it looks Greek Orthodox to me, and the monks very carefully spaced apart. It was Pope St John Paul II's great prayer and hope that one day the Catholic and Orthodox worlds would be united once again. Amen to that.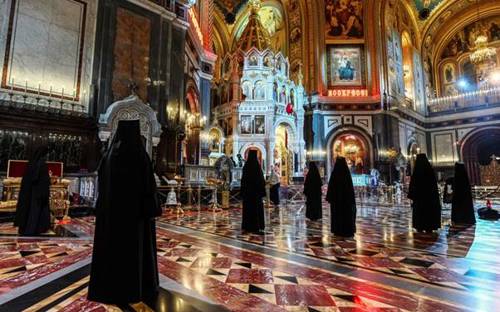 With your help, I've done better in tracking down our wonderful Dancing Priests. I'm feeling Smug Very for correctly guessing it was the North American College in Rome, the United States Seminary there, and thanks to Eileen for this additional information:
A video of a pair of duelling, dancing American priests studying in Rome has gone viral, following in the footsteps of a now-famous Italian singing nun whose voice won her a record contract. The Reverend David Rider of Hyde Park, New York, and the Reverend John Gibson of Milwaukee, first shot to Internet fame when they were filmed in April during a fundraiser at the North American College, the elite American seminary up the hill from the Vatican. The video, recorded by a journalist at the back of the refectory, has notched up more than a quarter of a million views on YouTube – and has drawn comparisons to Sr Cristina Scuccia, who won the Italian edition of "The Voice" in June with a series of unadorned pop song performances, in full habit.
 Thanks, Eileen! But can we use the phrase "gone viral" anymore? It's suddenly gained a whole new, horribly literal meaning, hasn't it?
I also found this clip from an American news programme which shows our two Priests when they are not dancing!
https://www.youtube.com/watch?v=Pt1kmMhCVNQ
Wonderful that some people objected, viewing it as somehow disrespectful when there was (a) a Crucifix and (b) a Portrait of Pope Francis on the wall behind them…
As ever on a Sunday, here are the Mass Intentions for today and the week to come.
Sunday 19th April: Morning: Sheila Norman (Birthday Remembrance)
        Evening: Tineke Robertson (L.D., Netherlands)
Monday 20th April: Phyllis Kay (L.D.)
Tuesday 21st April: Amy Williams (L.D.)
Wednesday 22nd April: Jean Walker (L.D., Hoole)
Thursday 23rd April: Gerry Cummins (6th Anniversary)
Friday 24th April: Mary Hanrahan (L.D., Limerick)
Saturday 25th April: Joe Cortese (L.D., Delaware)
Sunday 26th April: Morning: Wendy Jones (Birthday Remembrance)
        Evening: Jim Catterson (L.D.)
The hour spent outside Church this morning was really successful, a beautifully sunny day and over thirty of you stopping by on your Daily Walk to pick up a Newsletter or one of the Catholic Papers. Delighted to see all the latter go, as they would have ended up in Recycling otherwise. And so nice to see so many of you in person and say "Hello!" Star Badge goes to David Huxley, come for his Newsletter. Or, in his case, Newsletters. "You want more than one, David?" – "Yes, please" – "Fine – how many?" – "About fifteen, please" – "FIFTEEN??" – "Yes, I do all the St Werburgh's parishioners in my Tower Block and the one next door…" Dave, you are a total STAR! What are you?
Finally, tonight I leave you with the Government's latest Public Health advice: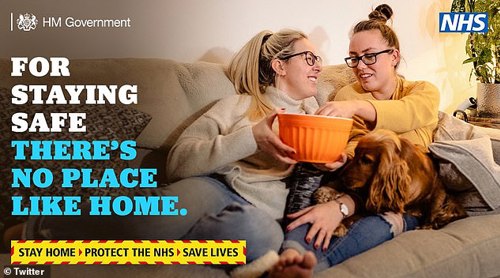 Look at it carefully. Very carefully. Yes, there are TOO MANY HANDS… Lady on the left holding the bowl with both hands. Lady on the right has one hand dipping into the bowl (greedy!) and the other one on the dog. SO, WHERE DOES THE HAND WITH THE WATCH COME FROM??
I've heard of getting cosy, but this is ridiculous.
God bless you all,
Fr Paul