Daily Updates 19th - 25th July
Saturday 25th July 2020
Good to hear how other Chester churches are responding to the challenge of Reopening for Mass after this four-month shutdown, such as St Clare's: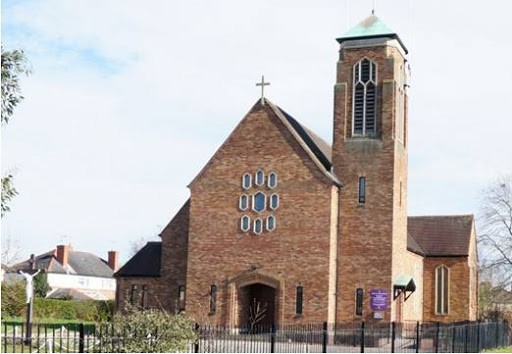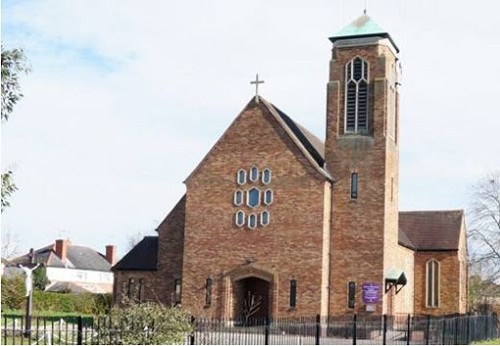 Our good friend at St Clare's, Lulu-belle from Lache, sent us a very welcome email. They have clearly hit the ground running. I asked Lulu-belle how it was all going:
Good thanks, 22/23 on Sundays and 12 on Wednesdays. We are having a "Drive-in Mass" at 6.00 pm today!!! Showing off with a car park. ;)-  Will let you know how it goes!
Drive-in Mass? Really! I mean, how ridiculous. Whatever next? (Jealous? Moi? What on earth gives you that idea?) [Tekkies: where do I find those emolies? emomies? mojo's? moanies? Whatever.]
Drive-in Mass – huh! Should we try something similar, stopping all the traffic in Grosvenor Park Road for half an hour of the Sacred Mysteries? I'm willing to give it a go if you lot are.
One news story you might have missed in today's papers and will be eternally glad you didn't. Teetotaller Nicolas Sarkozy has revealed that he nervously downed a glass of gin - believing it was plain water - to ease his dry throat ahead of meeting the Queen at a Windsor state dinner. In the first volume of his autobiography Le Temps des Temp괥s (The Time of Storms), the former French president recounts his state visit to Britain in 2008 with Carla Bruni-Sarkozy, when he says the Queen left him shaking with fear.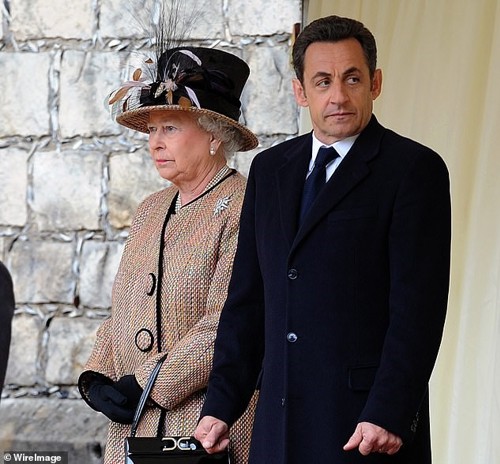 Plain eau? Monsieur Sarkozy, pullez l'autre one.
Getting ready this afternoon for our second Sunday Morning Mass Reopening. The team will be swinging into action at 8.00 am tomorrow, a last clean round, then Stewards and Cleaners arriving at 8.30 for the final briefing before the doors are opened and the 9.00 o'clock Sixty come in. Can I repeat the same plea: that was easily the fullest Mass last week, and if you could spread yourselves over the other Masses as well, that will prevent what we hope will not happen – having to turn people away? If that were to occur, which please God it won't, you do know, I hope, you can always book down, there and them, for one of the later Masses, go away, and come back at that time and go straight in? 9.00, 10.00, 11.00 and 12.00 noon.
Nothing divides opinion like modern sculpture and artwork in general. Some people feel they do not "understand" it and that therefore someone is having a laugh at their expense. So, I just leave this one with you, from Tate Modern, as it prepares to re-open next week. The spines of books make delicious patterns on shelves, and Yinka Shonibare's artwork entitled "The British Library", is trying to capture just that effect.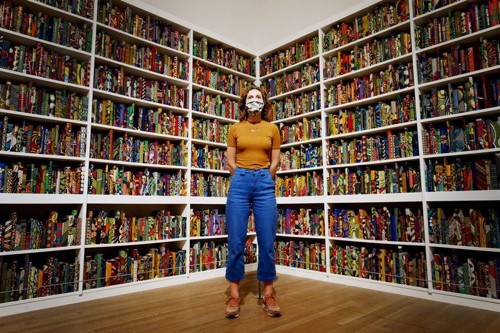 Like it or loathe it? I love it - but then I've always been a bit odd. (I heard that, Choir).
May God bless you all – and see you tomorrow,
Fr Paul
---
Friday 24th July 2020

We have a new member of our Congregation, now firmly installed in her place and monarch of all she surveys!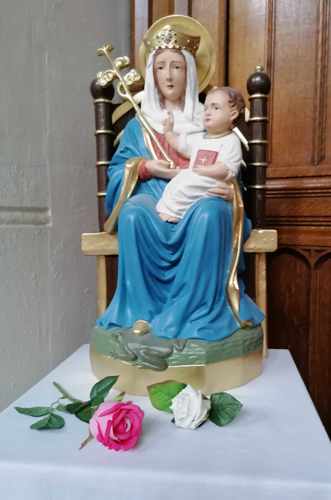 Our Lady of Walsingham! I've always wanted a copy of this special statue for our church, and when I saw one in the cellar over at Carrara's in Liverpool recently, I had to snap her up! Needless to say, she was in a dreadful condition, honestly only good for the scrapyard. But Carrara's have done their usual magic, and here she is, in the same bay as St Werburgh's. Nice company for each other. Here's a shot from a little further away: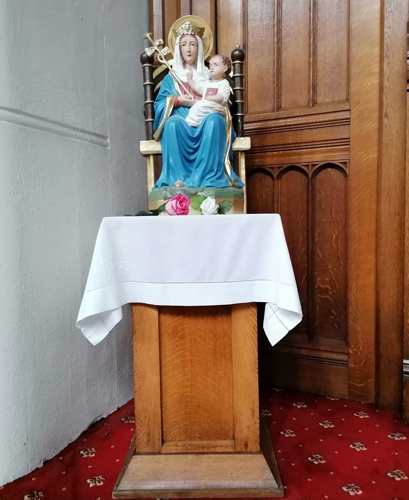 She's the gift of one very generous parishioner, who wants to remain anonymous. Thank you so much for this beautiful addition to our church. It says on the back that it was from a model by L. F. Dacless in 1929, remodelled 1949-55. The other side of the bay, next to the door into the Sacristy, is Our Lady of Lourdes which, as you know, I rescued from a tip at Clatterbridge Hospital when the old Chapel was being pulled down. The poor demolition men hadn't got a clue what it was, of course, and when I asked if I could have her, they must have thought I was mad. And so she came with me to St Werburgh's, and stands proudly in our church. Trust me, you can never have too many statues of Our Lady!

The pedestal that Our Lady of Walsingham rests on was where we have our little shrine to Rebecca Coriam, and that's still there, Mike and Ann kindly agreeing that Our Lady could share that spot in church. Rebecca disappeared from a cruise liner on 22nd March 2011, as you all remember, and no trace of her ever found since. Mike and Ann have been inspirational in the way they have both mourned her loss and campaigned for greater awareness of how many go missing from ships every year, and the need for better security for all those who work on board. Rebecca was a beautiful girl – I remember helping her with some coursework she had when a student at the University here, and she is never forgotten by all of us in St Werburgh's: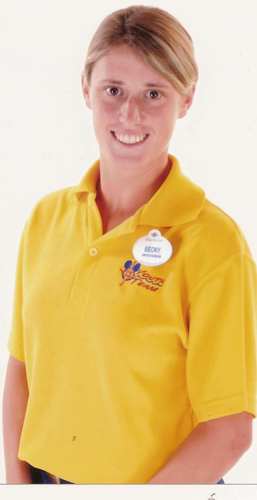 Our Lady of Walsingham, please look after all our youngsters, wherever they may be.

Great to hear from Trevor the Trainspotter, who's organising our Parish Day out on the Ffestiniog Light Railway, postponed from May this year, that things are starting to revive there:
Did my first day's train guarding on Monday as the Ffestiniog reopened to passengers on its "Covid 19 service". Line is open between Porthmadog and Tan-y-Bwlch - the half-way station. Lots of hand sanitiser and cleaning going on. Passengers have to use the same compartment to travel there and back in - the railway has numbered each individual compartment. It was just great to be back and a sense of some form of normality returning. I've attached a photo taken on Monday at Tan-y-Bwlch. The service being operated is very similar to that operated in the mid-1960s... Let's hope we can run our trip next year...we just have to get through the winter… Guarding 3 days next week - can't wait!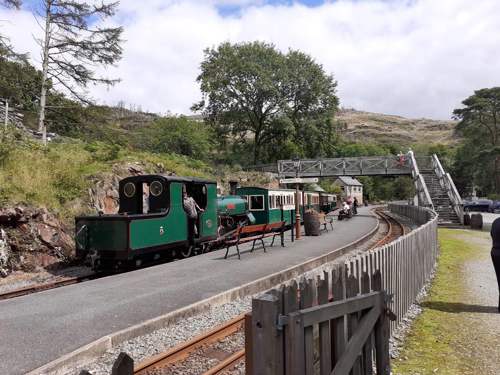 As you say, Trev, let's get through the winter and a whole new world will open up, please God. But it does seem odd to be talking about getting through the winter when it's still July? 2020 a year like no other? A year to forget?

In case you're worrying about Madam Ex-Prezzie's pixelated number-plate, apparently, it's to do with her love life. Does the expression "babe magnet" mean anything to you when applied to a motor car? Well, whatever the male equivalent is – hunk magnet? – that's what the new wheels are turning out to be. And she was so well behaved when running CathSoc in Chester…

God bless you all,

Fr Paul
---
Thursday 23rd July 2020
5.30 pm, and just in from Anna's in Vicars Cross. She's the lovely lady I have been taking Holy Communion to on a Sunday lunchtime, and well-known to many of you. At 4.30 pm, she very peacefully Went Home to the Lord, having received the Anointing of the Sick with all her family present – husband Evan and her four super children, Gareth, Kerry, Alan and Helen. A very blessed way to pass from this life to the Life Eternal, and a wonderful lady of remarkable faith. May she rest in peace, and may the Angels lead her into Paradise. How many beautiful Requiems set those wonderful words to sublime music – "In paradisum deducant te angeli"?
As we get ready for next Sunday, and the second experience of Reopening for Mass, can I just say that if you are coming, and have mobility problems, and can't stand in a queue, do please identify yourself to Syd, our Chief Steward outside church, and, provided the Sixty limit hasn't been reached, he'll seat you immediately. We certainly don't expect you to stand, Margaret from Newton, especially waiting for your new hip courtesy of our own Mr Banim! Sock it to her! (Hip? Sock it? Socket? Geddit? Oh, please yourselves.)
"Chief Steward" – he's going to be asking for a peaked cap soon, isn't he? Especially after this latest Intelligence Report from Harry of Hare Lane, who's continuing his indefatigable researches into how other institutions are coping with coming out of lockdown. This is dispatch from behind enemy lines, "somewhere in Chester":
 Thought I'd recommend another watering hole that is making a proper attempt at complying with Covid 19 regs - this time the Bawn Lodge on Hoole Road - definitely gets Harry's stamp of approval!
 Clear sign on arrival informing customers to wait to be seated, hand sanitiser clearly available. Barman took our names & phone number - reminded me of Syd outside church on Sunday - and then took us to an outside table which we'd pre-booked. Another member of staff was spraying sanitiser on the said table. Polite efficient service with staff members all masked up etc.
 Great to be back in another well-run local establishment!
 I've left that one unredacted, in the sure and certain hope of a free pint for Harry FP next time one is passing…
 Mind you, if I find that Syd, flush from his success last Sunday, is moonlighting up at the Bawn Lodge, there'll be trouble. Whatever next? Bouncer at Rosie's?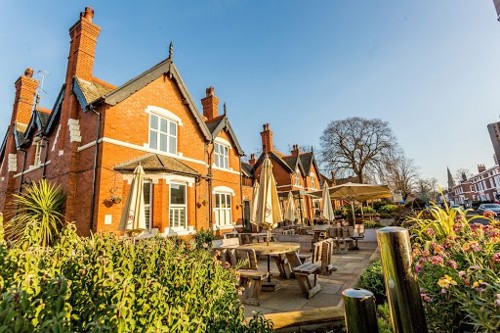 Meanwhile, I'd be very grateful if Maud from Mouldsworth would report in, as it's been four days since I've heard from her, heading fast towards the Staffs border and trying to take in every licensed establishment on the way. Maud, you're a star!
Sundays, 9.00, 10.00, 11.00 and 12.00, half an hour each Mass, sixty limit at each Mass, all seated singly, six feet apart. First come, first served, but we do have an online booking system up our sleeves if we need it. If you have mobility problems, or are married to Reg, make yourselves known to Syd, as I say, and he'll show you straight in. If the Mass you have come to is full, you can, there and then, put your name down for a later one. [Well, it wouldn't be an earlier one, you idiot, would it? Ed]
Here's another smashing pic of last Sunday at 9.00 – a sight to gladden the heart?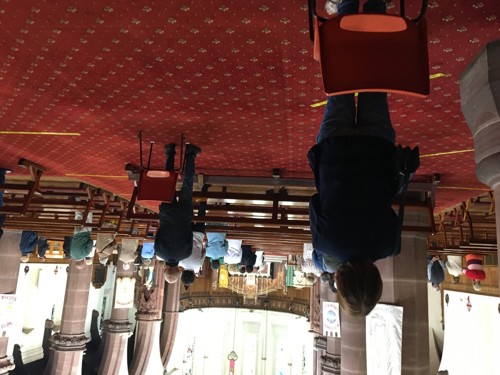 The big issue when the Taskforce sits down next Monday morning will be numbers: are they the same, lower or higher than Week One? My hunch is that they may be slightly higher, partly as the news gets out that the Werbies are open for business once again, partly as more and more people feel confident about coming out. If it looks as if the "sixty limit per Mass" is not adequate, we have a number of options:
 Increase the number of Masses – difficult, as that would mean increasing the number of Cleaners and Stewards or lengthening the time they were on duty;
Increase the capacity by going to one-metre spacing – would that be popular?
Allowing bubbles to sit together as a way of increasing capacity;
Seeing if on-line booking would allow us to spread the numbers more equally over the four Masses.
The best brains in the Parish are grappling with these questions. And occasionally they allow me to join them. Hey-ho. I leave you with this gorgeous open-air concert in Berlin, the orchestra spaced out on the platform and the audience in marked rings on the concourse. What wouldn't I give to be there!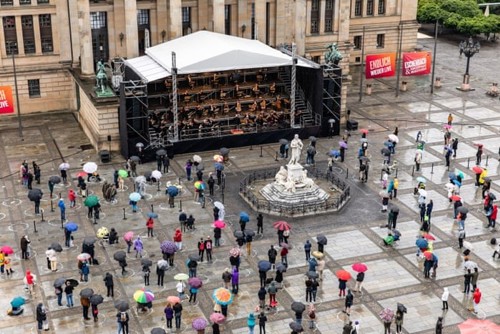 May God bless you all,
Fr Paul
---
Wednesday 22nd July 2020
Wonderful to know how many are reading this Blog all over the world! And to know that I have friends overseas. None in Chester. But plenty all over the world. Like Marcelle, in deepest France. She's just celebrated her 94th Birthday, so "Bon anniversaire, Marcelle!" (As they say in German). [Do you ever feel you flog these jokes to death? Ed] No, never. You can never repeat a good one-liner too often! [Good?? Ed]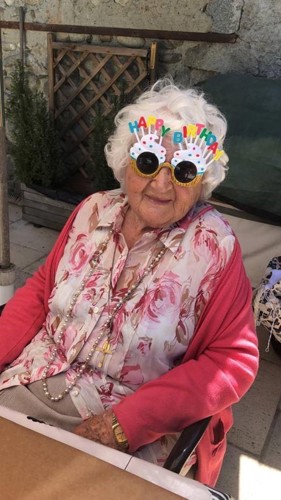 Clearly getting into the party spirit! And yes, that bottle in the background here does look suspicious like Bailey's, doesn't it?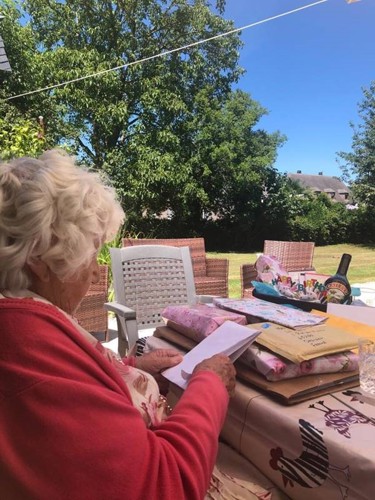 Strange, because Nikki, Mark and Anya don't touch a drop. Or so they tell me. It's Marcelle who been asking me about Madame Prezzie, and who the heck she is. A question I've often asked myself, Marcelle. The mystery deepens, as she's just bought herself a car, starting her Teacher Training this autumn. She sent me a photo from deepest Swadlincote. How nice. How sweet. How totally out of character. But she's pixelated the number plate.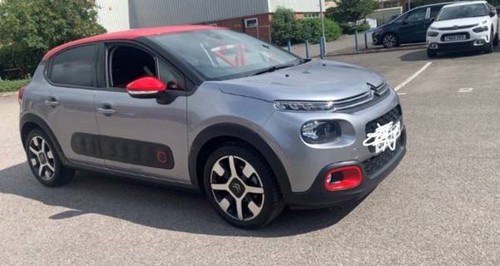 WHY??? What on earth is she also using this jalopy for? Holding up banks? Hot-rodding it down the M1? No, she's a mystery to me, that one.
Madam Ex-Ex-Prezzie, our Georgia, called by yesterday on a lightning visit to Chester, getting ready for going back to the Gulf and her teaching job out there. Seemed on excellent form, and brought news of her predecessor, Jacob. No, you wouldn't want to know, you really wouldn't. She also brought a bottle of gin, but we needn't go into that. I came here in 2010, as you remember. ("Can we ever forget it?" wail the Choir. At least, I think they're wailing. It might their new Communion Anthem…) With the specific brief of starting a Catholic Chaplaincy at the University. It took a few years to get a CathSoc off the ground, but, with Isabel and Tobes' great help, we launched in 2014. These are the Prezzies since then:
2014-15 Helen from Stoke
2015-16 Chloe (the good one), from Manchester
2016-17 Charles from Rutland
2017-18 Jacob from Woking
2018-19 Georgia, his sister, amazingly also from Woking
2019-20 Chlo-Jo (the Swad one), from Swadlincote
2020-21 Barley from Bristol
Odd time for Unis all over the world. I do feel – Rant Alert – that we haven't shown the same sense of urgency and initiative when it comes to education during this lockdown year, that other countries have done. Our children will have been sixth months out of school when things – we hope – start up again in September. Other countries possibly value education more than we do and have shown more imagination and enterprise in keeping things going? Here are a few snaps from round the world. Firstly, a College Class in Srinagar, Kashmir: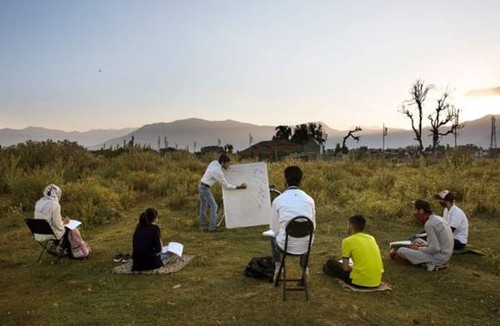 And now a free school in Delhi for students who cannot get to normal ones: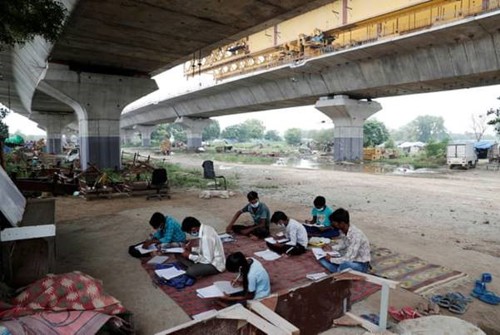 Finally, to Islamabad, another open-air free school for those who do not have normal access to education: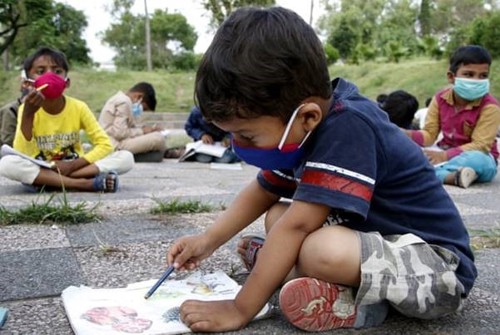 Every one of those young lives precious- and for most, education and schooling is a once-in-a lifetime opportunity to better their lot in life? Come on Britain, let's get our youngsters back to their classes!
Into the Countess this morning for my usual Ward Rounds. One of my Wards is the Stroke Unit, and there's a lady there, let's call her Jenny. I've seen every week for the past six, as badly stricken as I suppose it's possible to be. She is completely incapacitated, no movement, no speech. She grasps my hand with such pleading in her eyes and doesn't want to let go. I try to do the best I can with a one-sided conversation. She just looks at me and grips even harder. Please say a prayer for her. That could be you or me.
Got through a little quicker than usual today, so sped up to Ellesmere Port Cottage Hospital to see Ann, eight long weeks in Hospital, and keeping remarkably cheerful under all the difficulties. Hopefully home this week. Sean, get that kettle on!
May God bless you all,
Fr Paul
---
Tuesday 21st July 2020
A number of phone calls in the last few days asking when Baptisms are going to start up again. Good question. The protocols have been issued by the Bishops' Conference, so it's "just" a question of the Taskforce sitting down and applying them to our local situation here in St Werburgh's. Half of me would like to get cracking, the more cautious half says we have more than enough on our plate at the moment with Sunday Masses, especially if numbers start appreciably to rise and we have to look to alter our capacity of 60.
Our two wonderful tekkies – but I'd never say that to their faces – are already working on an on-line booking system – if we need one. Many parishes began with one, but we felt we wanted, in the interests of simplicity, to try initially without. But we're certainly not anti-Booking. We'll introduce one if it seems necessary or desirable. But not for the sake of it.
Meanwhile, Catholic Masses all over the world are starting up again, and it's wonderful to sense we are one universal church. OK, we might do things slightly differently in different countries, but what unites us is infinitely more important than small local variations. Here's an open-air Mass in Cascais, Portugal. You'll recognise it's in a sports stadium – actually, a horse racing track. Good safe-distancing being maintained by everyone? Well done, Portugal!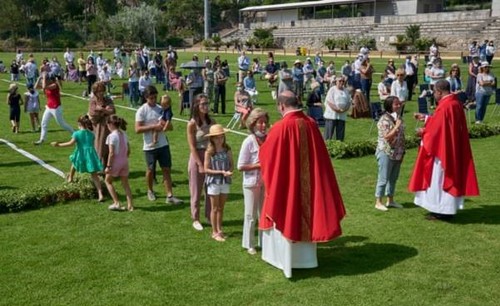 And here's an Ordination to the Priesthood in Los Angeles. (Quiz Question: how do you know it's not an Ordination to the Diaconate?) Again, everyone at a safe distance, and well done, lads – you haven't left any price labels on the soles of your shoes!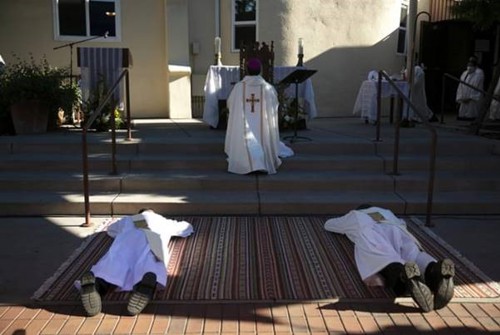 Wonderful news that we have four Ordinations to the Transitional Diaconate here in our own Diocese this summer, and one to the Priesthood. "Transitional" means "on the way to Priesthood", as opposed to the Permanent Diaconate, which, as you know, is open to married men as well as single. This is what Bishop Mark said about our own Ordinations:
Ordinations to the Diaconate and the Priesthood
Bishop Mark writes: "I am very happy to announce that Patrick Breeze, David Irwin, Humphrey O'Connor and Stephen Roberts will be ordained to the Transitional Diaconate at Shrewsbury Cathedral on Saturday 25th July at 12 noon. Rev Robert Dykes will be ordained to the Priesthood at Shrewsbury Cathedral on Tuesday 4th August at 6.00 pm. Please keep these five men very much in your prayers. The guidance we have received makes clear that the number attending and taking part in these celebrations are strictly restricted to 30, making it impossible for us to extend a general invitation. However, these Ordination Masses can be accessed via livestream."
Let's keep all these five lads in our prayers, please, as their great days approach. We all met Robert, of course, when we had that wonderful Day Out to Oscott College last year organised by Gerry. He was one of the Shrewsbury Students who made us all so welcome and gave us a marvellous guided tour of the College. His home Parish is St Mary's Crewe, which we've also visited on a Day Out, again organised superbly by Gerry. We met their Parish Priest, do you remember? Fr Jerome. Right little monkey he is. Worse than Fr Edmund.
It's not just Masses that are starting up again – what about Cricket? Is there anything more quintessentially English than the thwack of something or other on something else? Do you know, I sometimes write absolute rubbish? [Don't tempt me. Ed] But I Ioved this picture of Bideford against North Devon last week. That's where Mum and Dad retired to, desperate to get out of London in 1973. And what a wonderful retirement they enjoyed down there, Dad for thirteen years before his death in 1986, and then the Old Nuisance for a further fourteen before coming "oop north" to live in a Retirement Apartment round the corner from me in Port Sunlight in 2000.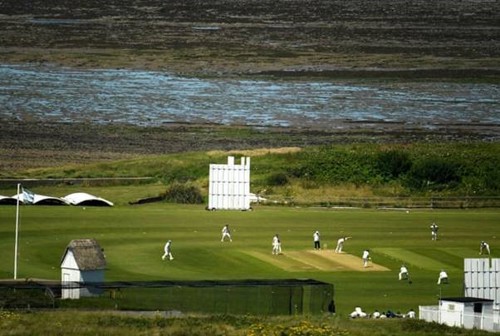 That's the estuary of the River Torridge you see behind, at low tide. They lived on the far side of Bideford, at Northam, just where the Torridge meets the Taw, and pours out into the Atlantic, next stop America. Here's the Graveyard in Northam, adjacent to St Margaret's Church, where they are both buried.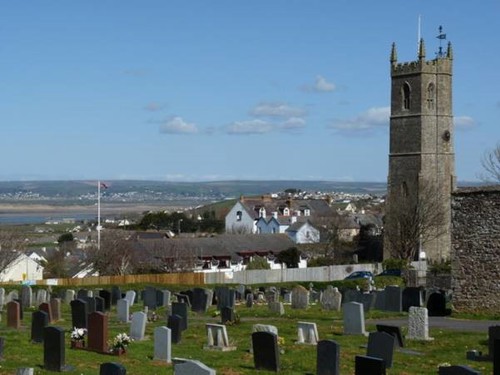 My own plot is about ten graves away. Decent social distancing?
May God bless you all,
Fr Paul
---
Monday 20th July 2020
Lovely email from Bishop Mark this afternoon, congratulating us on getting open for Mass yesterday – and sending a special word of thanks to the Taskforce, Stewards and Cleaners. Amen to that! Without YOU, none of this would have been possible. I hope you know how personally grateful I am, as are all the parishioners.
Didn't stop us shouting at each other once again this morning! Serious point: this is how our Taskforce works, and it works well. Nothing we don't thrash out and kick around. If everyone sat at that table nodding at Father's pearls of wisdom, I'd know we weren't doing a proper job. The general feeling this morning was one of satisfaction, that it hadn't all gone horribly wrong – five hundred turning up, nobody turning up, first Mass going on 45 minutes and subsequent timetable collapsing, Fred throwing a bottle of Sanitiser over Mabel, slapped faces, muffled sobs and slammed doors. None of that. Well, none that I noticed, anyway. The basic model – 60 max, four shorter Masses, just turn up – worked. But we're not complacent. This is not the time for Smug Very. Even Werbies Smug Very. We spent two hours this morning reviewing yesterday and ended up with over a dozen points that need tightening or changing. Then we played the guessing game with numbers. We'd be disappointed if they went down but need to plan for if they go up. One immediate plea: the 9.00 was almost full to capacity (57/60), and we imagined this was because it was the only pre-existing Mass time. "I'm a nine o'clocker and delighted I can still go at the same time". BUT… If some of you dedicated nine o'clockers could spread yourselves around the other Masses, that would even numbers out and be hugely appreciated. Any chance?
Thank God, we didn't have to turn anyone away yesterday. 171/400 = 42% (OK, OK, tekkies, 42.75%, for crying out loud. Once a tekkie, always a tekkie? I wouldn't mind, but one of them was off gadding and gallivanting this weekend with those gorgeous piggies. Whatever next?) BUT… 171/240 = 71%. If we start creeping up towards that 240 ceiling (four Masses at 60 people each), we have two options – increase the number of Masses (which would stretch our Stewards / Cleaners) or increase the capacity. The latter could be done one of two ways: allowing bubbles or going to "one metre safe distancing".
Everything will depend on numbers, and that's what we'll be monitoring very carefully next Sunday. Here's a selection of the emails received yesterday and today. I've only edited out (a) personal details that would have identified them, and (b) abuse directed at the Parish Priest:
• This is just a little note to say thank you for the wonderful Mass this morning. I was afraid that it was going to feel regimented and artificial. In fact, it felt wonderfully sacred and prayerful. I did not come until 11.00 am and it was the third Mass; but it felt just as if it were the first, with all the feeling of the wonder of this special celebration. Many, many thanks and many good wishes.
• I felt very nervous about coming, as this is the first time I have been out of the house since lockdown began. But as soon as I arrived, I saw all the precautions you had put in place, and I felt so safe and reassured.
• Well done on the Grand Reopening!
• I would have come if there had been a Booking System, but I wasn't prepared to risk it without.
• I hope you will accept this tidal wave of gratitude and thanksgiving for our Mass today with a "live" priest (!!) and your army of volunteers taking such pride in their accomplishments. Nobody does it better than them…
• Thank you so much for Mass this morning, it was just so wonderful to be able to come to our beautiful Church again, everything seemed very well organised indeed. Thank you also to the fantastic team of Parishioners who are making it all possible as well.
• How lovely to be back in church today; a lovely service and safe in the knowledge that coronavirus was not welcome within those walls. Well done to the team and thank you.
• Thank you for opening up St Werburgh's again today for public worship, it was a real joy to be back in church.
• I appreciate how much thought and planning has gone into reopening.
• I wanted to apologise as I felt we disrupted the flow at the end of the 12.00 noon service by not yet feeling comfortable receiving Communion. [You didn't in the least. Several people didn't feel comfortable receiving Communion yesterday. You were not alone. Take your time and come to Communion only when you feel ready. FP]
• Can I just thank you and the task force for making Mass happen?
• I hope it all went well for you this morning after all your careful planning. I imagine it has been quite stressful making sure everything fell into place. I apologise for not being there but the whole situation we are in has made me feel very anxious. You have been very kind not to make anyone feel pressured into attending.
• Thank you for a wonderful Mass today. It was very prayerful indeed. It was just so lovely to be back in our church again, and at Mass.
• Thank you to all the team for making it so safe and yet so calm and prayerful.
• It's such a joy to see so many parishioners once more. I'll never take it for granted again…
• I know I am supposed to be 'Shielded' until 1st August, but I won't let that stop me. [Careful! FP]
• It was so good being able to attend 9.00 am Mass again this morning and it worked really well. The distribution of Holy Communion as we leave is definitely the best way to do it. So, thank you to the H&S team, stewards and cleaners for doing such a wonderful job.
• Let's keep all those who are unable to return to Mass at present, for whatever reason, in our prayers as it will be even harder for them knowing that many of us will have this great privilege. [What a beautiful sentiment! FP]
• God bless you and all the helpers.
• So pleased to see that it went well yesterday. Sorry I was not there. Next Sunday is my LAST UNDER HOUSE ARREST. So, I will be at Church as from 2nd August. [Thank you so much for your patience and forbearance. Hugely appreciated. FP]
Sadly, I have decided to cancel my holiday in Bologna in August. No, no sounds of violins playing, please. I adore those two weeks away just going native, burning Italian sun, fascinating city to explore, tee short, shorts and sandals, my beautiful body going an envious bronze (sorry, were you just having your tea? I do apologise). If it were just me, I would risk it. But this is simply the wrong time to be away from the Parish, recently open for Mass, needing to review the situation every Monday morning. I couldn't go and leave other Priests to say Mass, however willing I know they would have been, nor the Taskforce to get on with the mechanics of safeguarding. Italy will be there next year, AND SO WILL I!!! Now I am going into a corner to cry my eyes out. Especially when I saw this picture of the Teatro Communale in Bologna, rehearsing for a concert, all safe-distanced.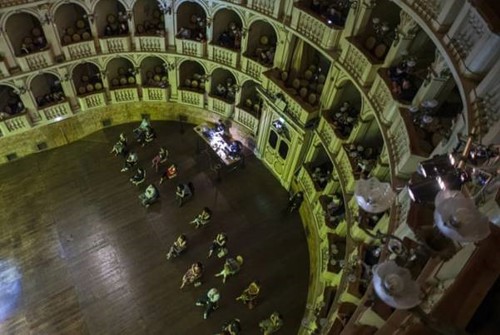 Bologna, August 2021 – start laying down the wine now, lots of it, Signori e Signore!
May God bless you all,
Fr Paul
---
Sunday 19th July 2020
And so we opened! This was the scene outside church at 8.45 this morning as we prepared to open for the 9.00 am Mass: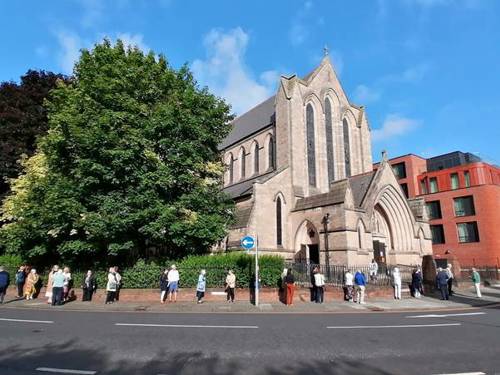 Everyone safely six feet apart, and thank God, the sun was shining. It was an emotional moment when the Altar Server rang the bell at 9.00 am, and the first Public Mass for four months was celebrated in our beautiful church. Here it is, ready for the influx: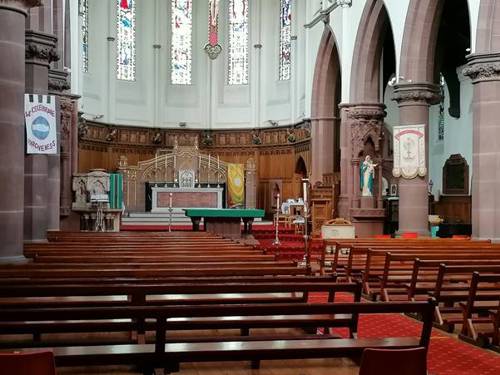 One point the Taskforce was insistent upon: that the visual interior of the church should be disrupted as little as possible. We've seen other churches with yellow and black tape everywhere, or the red and white variety, equally intrusive. Others shows chairs piled up on top of each other, or all pushed to one side. We're not criticizing anyone, as every church has to make its own interior arrangements: we just wanted people to be able to come into our incredible church and feel that same sense of sublime peace it always engenders in wizziters.
Four Masses, 9.00, 10.00, 11.00 and 12.00, and all well attended. The general feeling at 12.45, when we were locking up and saying goodbye to our amazing Stewards and Cleaners, was that it has been a great success. I myself have a list of a dozen points to look at and possibly tweak tomorrow morning, and I know other members of the taskforce have the same. But the basic pattern of the four half-hour Masses with a maximum of sixty in the church for each, seemed to hold up well. Here are the figures:
9.00 am: 56
10.00 am: 29
11.00 am: 35
12.00 noon: 27
That totals 147. Add in the twelve Stewards and Cleaners, and the members of the Taskforce, plus the two great Altar Servers (plus Gerry, bless him) for each Mass, and it gives a grand total of 171 people at Mass this morning, about 42% of our normal Sunday Mass attendance of 400. Not bad, eh?
None of it would have been possible without the Stewards and Cleaners, and they really did play a blinder. The whole church, every chair and bench was disinfected in fifteen minutes each time, ready for the next group to come in. Wow! Sadly, none of the great Fashion Shows was held this year. Had they been, Pam would certainly have strutted the cakewalk to show off the latest design in couturier PPE: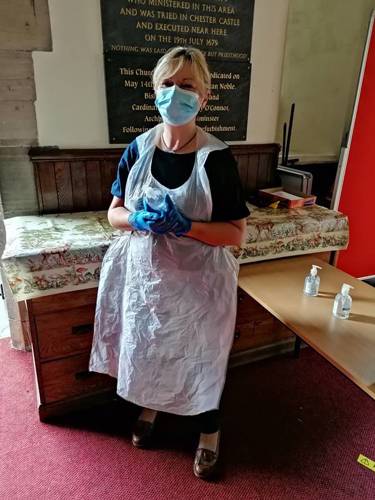 And yes, before you ask, we do have it in green. And in blue. And in yellow. Yes, in sizes 8, 10 and 12. And in 14 as well.
No, not exactly a best seller, Beattie.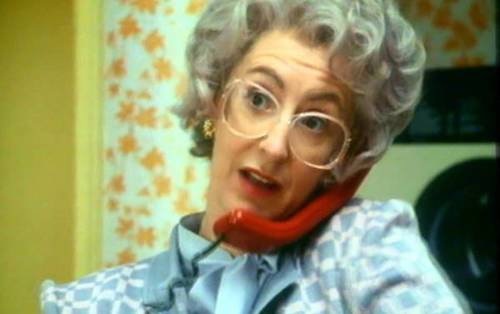 If you were at Mass this morning and have any suggestions to make, do please send them in. If you weren't, and are taking things cautiously at the moment, you have our full support. As long as you know that when you are ready to come back to Mass, we are ready to welcome you.
May God bless you all,
Fr Paul