Daily Updates 21st-27th June
Saturday 27th June 2020
Amazing what you can see from the top of the scaffolding on the house! I didn't know we had a Garden Gnome on the front lawn, did you? I wonder who put it there…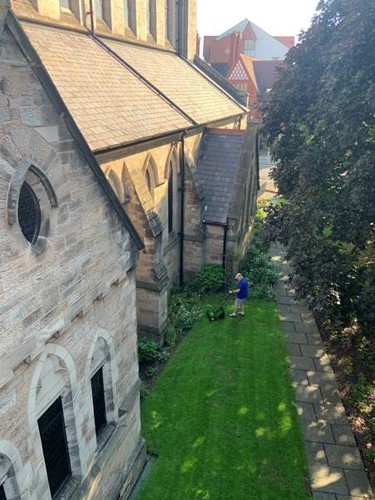 Mind you, we're finding all sort of things thanks to our painters and decorators, like the nest of blackbirds in the back outhouse. We've always believed these outhouses to be the oldest part of the building, predating both Church and Presbytery in 1875. Could someone do some research some time and find out what was here before we were? The outhouses give the impression of another building on the site that was possibly demolished to make way for the Presbytery. This is the gate leading to the outhouses from the back garden: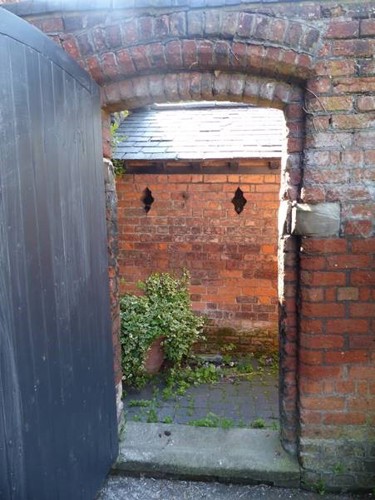 And this is what we saw when we looked through one of those diamond shaped windows: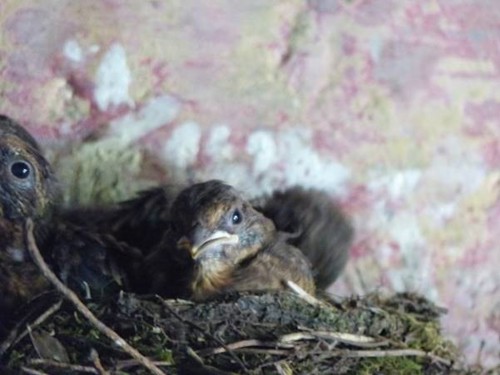 Syd and Denise took the photos, commenting "Big, fat lazy so-and-so's, lying around all day, chirping away, mouths perpetually open for food…"
I said that was no way to talk about the Choir, if you don't mind.
Another very welcome Message to all of us from Bishop Mark on Friday, attaching three documents from the Bishops' Conference, a Message from the Archbishops, one on Reopening for Mass and the third on Reopening for Confession. The full documents are on the website home page, in the top box, "The Church's Response to the Current Emergency." Here's how he summarised them and their importance:
A MOMENT OF GREAT JOY: A MESSAGE FROM BISHOP MARK – FRIDAY 26th JUNE
We are about to embark on the next, decisive stage of our re-emergence from the state of national lockdown with the public celebration of Mass and the availability, at set times, of the Sacrament of Penance and Reconciliation. All is due to begin from Saturday 4th July; however, I wish to stress that every parish must feel free to go safely and surely at its own pace. The reports which you have shared with me of the joy that has marked the re-opening of church doors, came about thanks to all the hard work involved in the detailed preparation of some 60 of our churches to open for private prayer. I am very much aware of the pressure which the demands of COVID safety have brought. However, nothing can take away the joy of being able to assist many to return, in the weeks ahead, to Confession, Mass and Holy Communion. Amid the pressure of the many details of our compliance with standards of safety may we keep in sight the goal and great joy to be shared.
MESSAGE FROM THE METROPOLITAN ARCHBISHOPS
I attach a message of encouragement for this Sunday from Cardinal Nichols, together with Archbishops Longley, McMahon and Wilson on behalf of the bishops, which I would be grateful if you could share with your parishioners in every way you can. We are approaching a moment to be celebrated and also to be approached with care and caution. I think this is the note clearly sounded in the Archbishops' note to the Catholic faithful.

SUNDAY AND HOLY DAY OBLIGATION

The faithful continue to be dispensed in this national emergency from the obligation to attend Holy Mass on Sundays and Holy Days. We have not yet returned to a state of "normality" and there are parishioners who may remain shielded/isolated for many medical reasons. For this reason, I would want to encourage the livestreaming of Mass to be continued wherever possible and the encouragement of prayer in the home and acts of spiritual communion for those unable to attend Mass.
TWO GUIDANCE DOCUMENTS
Bishop Mark writes:
I always want to share the advice I have received and today I am pleased to share with you two documents issued this morning from the Bishops Conference. I should note that we are expecting more general guidance from the Government at some stage, however, the guidance prepared for the bishops takes into account the best advice and practice available. The guidance assumes that all the provisions for the safe re-opening of a church for private prayer have already been put in place. The documents place a great responsibility on us to ensure that the Mass and the Sacraments can be celebrated safely in the weeks and months ahead. I think it likely that we will receive additional guidance as new questions and issues inevitably arise: 

1) Guidance for The Celebration of Mass.  In reading this document you will notice that a decision is to be made, which I entrust to each Parish Priest who will best know the local situation:

Safe Numbers

To remain with the two-metre social distancing within the church and the number agreed in your risk assessment.
To adopt the one metre plus social distancing provision and to consult with the Vicars General and Julie Tinsley our Health and Safety Officer to establish a new and significantly larger safe number for the church. The adoption of one metre plus will require the wearing of face masks for all who attend and the closure and cleaning of the church after every celebration of the Mass.
It may be possible for you to consider an outdoor Mass with all the vagaries of an English summer this would allow one metre plus social distancing without the use of face masks and would significantly increase the numbers able to attend. The Altar would of course need to be covered and shielded from wind, rain and even sunshine!

Distribution of Holy Communion

The national guidance leaves us with two choices:

To distribute Communion silently at the traditional time for Holy Communion and in the traditional place in the manner described in the first option using a kneeler or perhaps a small table to create the social distance required of us
To distribute Holy Communion silently at the end of Mass from an established point with a kneeler or table allowing the faithful to depart from Mass immediately after receiving Holy Communion I think you will see that there are no easy options and we will need to find our way forwards in a way that is both reverent and safe for the parishioners.

Readers

I think you will note the requirement of single use gloves and the possible need to adjust face masks for the purposes of reading. I would wish to add that according to your judgement, I am happy in these extraordinary circumstances for the clergy to read all of the Scripture readings at Mass.

How Do We Regulate Numbers?

I dearly wish I was able to offer you a readymade solution to this most difficult question. I fear that it will be a source of upset when people arrive to take part in Mass and are not able to attend for safety reasons. It is the stewards who will most often be faced with this situation and a very unpleasant dilemma. I would suggest a clear and compassionate notice be prepared to clearly indicate at the entrance, that the safe number of participants has now been reached and it would be necessary to either attend Mass in the grounds of the church or to return for a later Mass. It may help the stewards simply to be able to point to this notice when the church has reached capacity. Some dioceses are considering an on-line pre-booking of places in church or a ticket distribution, however, this doesn't overcome the difficulty when people or entire families arrive at the church door without prior booking. One means to help overcome this problem would be to increase the number of Sunday Masses celebrated. The simplification of the Liturgy should allow us to do this more easily. At the Cathedral, this will be the approach that I will propose. I would ask you to seriously consider whether this would be possible. As already mentioned, it may also be helpful to consider the possibility of an outdoor celebration of the Mass which allows a greater number to attend.

2) Guidance for Confession In my previous Ad Clerum, I outlined the benefits at this time of hearing Confessions out of doors. In the guidance received today, we can now envisage Confessions within the church with social distancing and hygiene requirements Diocese of Shrewsbury in place, either in the church itself or with extra conditions within a confessional where there is an enhanced physical divide between priest and penitent. I commend all the advice to you in the light of your local circumstances. However, this is the time for us to begin announcing and making provision for the return of many to the Sacrament of Penance and Reconciliation.
Thanks, Bishop Mark! A lot to take in there, but I did want you all to have full access to all the Documents that come through to us, so that you can see the basis on which our Taskforce is coming to their decisions. You will also note Bishop Mark's emphasis on not being rushed here. We are still in the early days of Church Reopening for Private Prayer, second time tomorrow, Sunday, 11.00-12.30 pm. The Taskforce meets again Monday Morning, and will start looking at all this documentation then.
Wednesday was our first reopening, and a steep learning curve for all of us, not least our twelve fantastic Stewards – you'll note how Bishop Mark highlights their importance in what he says above. We had much to learn on Wednesday, not least how to put those PPE aprons on. You can see what poor Mikhael is thinking…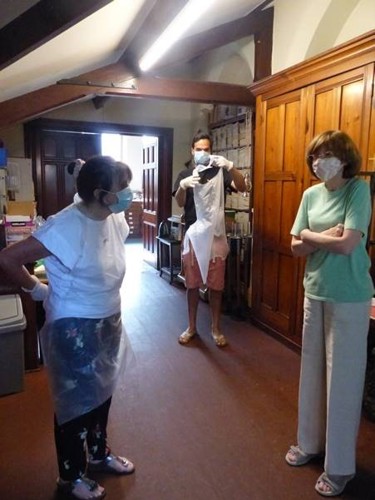 "Now, is it my left leg or my right one I put through this hole?" He got there eventually: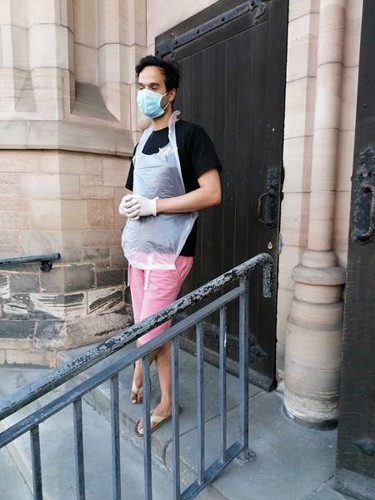 Joe Cool or what? The pink shorts are purely optional, Stewards.
Sorry, Hugh of Handbridge and Barrie of Blacon, and all our many, many Caption Competition fans. Only one possible entry for this one: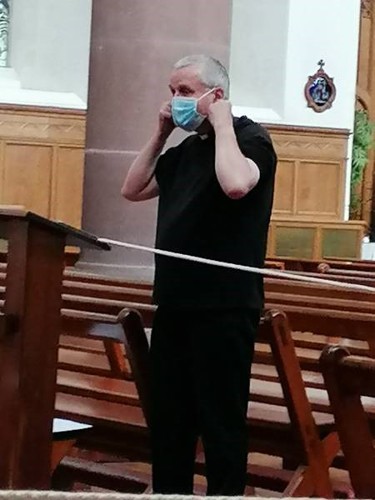 "If any of you think one of THESE is going to shut me up, you've got another think coming!"
Off now to see if that Garden Gnome is still there. See lots of you tomorrow morning, I hope – Papers and Chat from 10.00 till 11.00, and then Church Open for Private Prayer, 11.00 to 12.30 pm.
May God bless you all,
Fr Paul
---
Friday 26th June 2020
Oh dear, oh dear – I really shouldn't have started that Caption Competition off last night. It truly brought out the childish and flippant in you.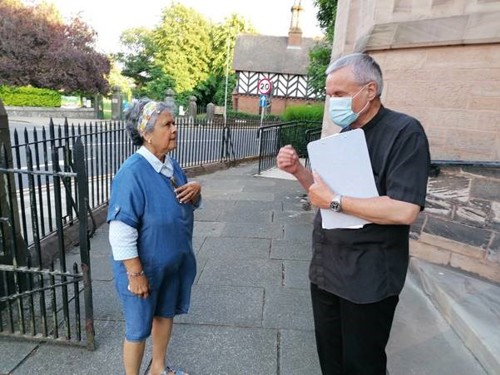 Hugh of Handbridge goes for the Teeth Theme, FP enquiring about poor Bernice's dentures during lockdown, and did they want fixing; Barrie of Blacon is on side-splitting form with hair-do's, and if Bernice wanted to borrow the electric clippers; Val of Vicar's Cross is obsessed with having his first pint, by the sound of his entry; and poor old Heathcliff of Heath Lane takes a trip down memory lane with Dennis Norden. Remember him, anyone? No, nor me…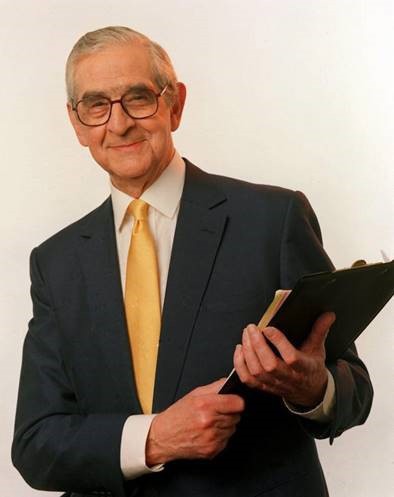 That's the last, positively the last time I suggest a Caption Competition. It just makes you lot worse, not better.
We look after about thirty couples every year for marriages, either here in St Werburgh's or in churches elsewhere in England or abroad. The vast majority of them who were planning to marry here this summer have postponed, but two couples are set on a summer wedding for very important personal and family reasons, one in July and one in August. The Government gave the Green Light last week for "Mini Weddings" in church, so how would the Diocese react? I emailed Bishop Mark last night, saying that I would be happy to go ahead, with our superb Taskforce in charge to look after all the Health and Safety aspects, if he would be willing to give permission. He came back within the hour – he really is amazing – to say he'd be delighted for the weddings to go ahead and thanking me for sending over last night's final picture of our church open for Private Prayer. Isn't that fantastic? Rang both couples this morning with the good news, and they are totally on board with all the restrictions that will need to be in place, especially on numbers. "Over the moon, Brian", they both said. Funny as my name's not Brian…
No music, as you know, but for both of them I did offer to sing a few songs from the shows. Or Ballads of Old Tralee if they preferred. For some reason, they didn't seem keen. Odd.  But don't we love our weddings in St Werburgh's? As all the couples say, beautiful church, shame about the Priest…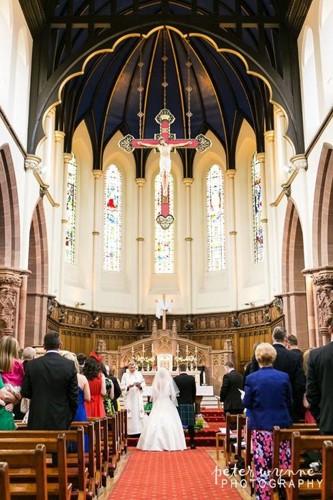 Here's a Blast from the Past. Recognize this Priest?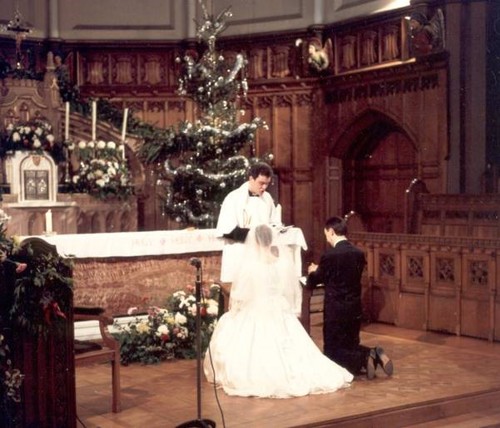 That shouldn't be too difficult. But I am going to give a prize for the first person to identity the couple getting married. Clue: it was 1990, and the month was August…
 Lots of lovely photos to share with you, some taken by our House Painters from the top of the scaffolding, unique views looking down into the house, church and gardens; and some of our latest Werbies, a nest of black birds which we discovered in the outhouses and are watching carefully, as the chicks are almost fledged.
Fun and games last night: the joiner was due to call, to measure up for new gates and garage door, due at 7.00 pm. 7.30 pm, and he still hadn't come, and I was ready for my evening walk over the Meadows. In the bathroom, and the unmistakeable sounds of someone on the scaffolding. Blessed kids! (Or words to that effect). Flew down but couldn't see anyone. Into the back garden – yes, there's definitely someone up there. Back to the front and see a shadowy figure. "Oy! You!" in best policeman voice. "Come down here IMMEDIATELY!" And the sheepish figure of the joiner climbed down the ladder. Silly so-and-so! Could easily have been given a thick ear by the irate PP. (Are you allowed to do that these days?) Moral of the story: ring the blooming front doorbell when you come on site? I would have thought so!
Final picture from Brighton Beach yesterday: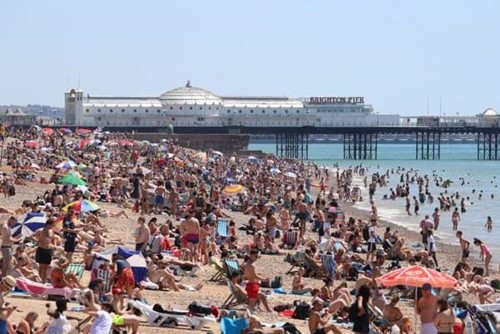 Wouldn't you have loved to be there? No, nor me, neither.
May God bless you all,
Fr Paul
---
Thursday 25th June 2020
First through the church doors yesterday when we reopened at 6.00 pm? Joan and David Huxley! Great to welcome them back to church, in the queue at 5.30 pm, no less: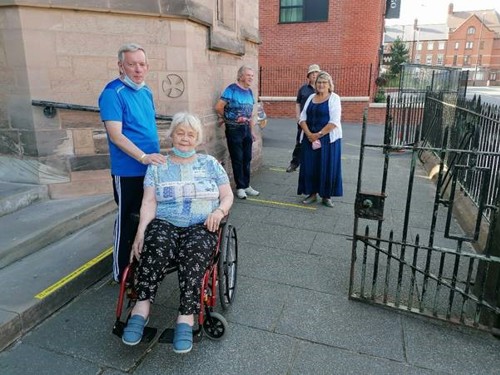 And that's Barbara and David behind them, closely (not too closely!) followed by Gerry Tighe. What a wonderful day in the life of our church!
We welcomed sixteen of you back into church last night, with four stewards on duty and four members of the Taskforce. So, including moi-meme, twenty-five of us able to spend a little time before the Blessed Sacrament and give God thanks that the life of our Church is starting to move forward once again. I was going to write "the life of St Werburgh's", but of course the life of the parish has gone on continuously for the last three months, thanks to phone calls, emails, the internet, the miracles of Skype and Zoom and, where appropriate, face to face engagement, especially in the Hospital. You can't keep a good parish down!
This is the scene inside church, the ten red chairs safe-spaced six feet apart, in a cordoned area, the back third of the church. You probably recognise the manly figure of Brian Burns with his back to us, one of the super Taskforce people and the one who wrote the Risk Assessment that we had to send in to, and have approved by, the Diocese.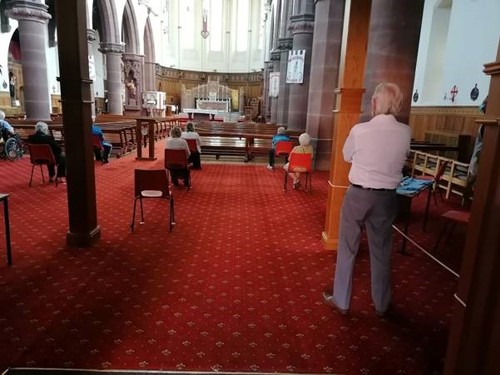 So, now for Sunday! We hope lost and lots of you will want to come in, for that ten-minute slot, just to give God thanks for churches reopening, and for His guidance on the next stage, opening for Mass. That will take an enormous amount of planning, but I'm confident, with the guidelines we will receive from Diocese and Government, we will be as prepared for that great day as were for last night.
See you all Sunday morning, 11.00-12.30 pm! I'll be there for the usual hour from 10.00 am for those who'd like to pick up Newsletters and Catholic Papers, and then we'll swing the doors open at 11.00 for you to come in for Private Prayer, ten at a time, ten minutes for each group of ten, to allow us to disinfect the seats between groups, and welcome in the next ten.
Talking of doors, the Painters have been hard at it all day, repainting the whole of the outside of the Parish House. Including the front door. They asked me what colour I wanted it: I would have liked to consult Parish Council and the wider parish about this but had to make an executive decision. I've gone for dayglo pink – do you think that will be OK?
And finally, a photo from last night that screams out for a Caption Competition. Sharpen your pens, Heathcliff from Heath Lane, Wally from Waverton, Sebbo from Sealand and Luscious Lorna from Littleton – and all of you who send in Caption Competition entries, whether I ask for them or not…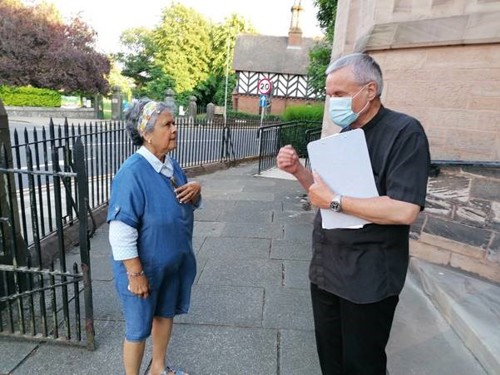 I'm saying, "What do you mean, you've run out of Tomato Ketchup? Not AGAIN!!" And Bernice is replying, "Look, if you think you can run that flaming Burger Bar better than me, you can take over TONIGHT!"
I'm sure Lorna and Wal can improve on that that. Good luck, chaps!
Many God bless you all,
Fr Paul
---
Wednesday 24th June 2020: Opening Day!!
A shorter Blog tonight – aren't you the lucky ones? – as it's "all systems go" for 6.00 pm and throwing our church doors wide – for the first time in 93 days. Yes, 93 days – that's three long months. A very long time, but very necessary in the face of this pandemic.
Big Government announcement yesterday about a raft of easings of the lockdown across a whole range of activities – including Churches. From Saturday 4th July onwards. A lot here to digest, and I know that that will mean our Church Leaders first and foremost, Bishop Mark here in our own Diocese, and the Bishops' Conference of England & Wales to represent the national church as a whole. They issued this statement last night:
We welcome the statement by the Prime Minister earlier today, that places of worship are now able to resume collective acts of worship from 4th July. This is welcome news for members of all religions in England. We thank all who have worked hard to bring this about, not least our fellow religious leaders.

As Catholics we now look forward to being able to celebrate Mass together again from 4th July. We have waited with patience and longing for this moment, understanding the importance of protecting the health of people in our society. Now we are full of anticipation that we will be able again to take part together in the Eucharist, which lies at the centre of our faith.>

It is important that we continue to abide by the guidance, given by the Government, on appropriate social distancing and the other measures to avoid all unnecessary risk. Our own detailed guidance will be distributed around dioceses and parishes so everyone can be confident that they may come to Mass securely and understand the part they are to play in protecting each other from any remaining risk of infection.

The past few months have been a time of fashioning new patterns of prayer, new ways of exploring and enriching our faith and vigorous ways of reaching out to those in need. We can build on these, forgetting nothing of the graces we have been given. Yet now, with the experience of opening our churches for individual prayer already gained, this return to the more normal patterns of worship will be of great importance to all Catholics.

This time of our 'Eucharistic fast' has made our hearts grow in longing for that moment when we can come together and receive again the Body and Blood of Christ in the Eucharist. That moment is now very near and for that we thank God.
So, wonderful to think that Mass is not far off: BUT a huge amount to be done before we get to that happy day. I hope you've all been confident here in St Werburgh's, led by our Taskforce, that we haven't rushed anything and have followed National and Diocesan Guidelines at every stage, always tailoring them to the local needs of St Werburgh's, of course. We had to send into the Diocese our own local-specific Risk Assessment before tonight's opening for Private Prayer, and I'm sure we will have to do the same before we open for Mass. But we're on the way!

Sorry, Choir: the Government specifically said "No Singing" in the instructions yesterday. I think they've got it in for you. You don't reckon that nice Mr Cummings was out on the Meadows on Sunday night to catch you all welcoming Midsummer's Day? And was so shocked he went home and told Boris?

Talking of which, I had a lovely walk over the Meadows last night, after finishing everything here, in the beautiful warm sunshine. Met a lot of Werbies out for their evening walk too: but a bit concerned to see two of the Choir were still there from Sunday, still in their Sheets and decidedly the worse the wear. I really do think you'd better get home now, chaps, get those sheets in the wash – I'd recommend 50˚ Cottons programme, judging by the look of them - and smarten up before your good Lady Wives start to miss you. Just saying.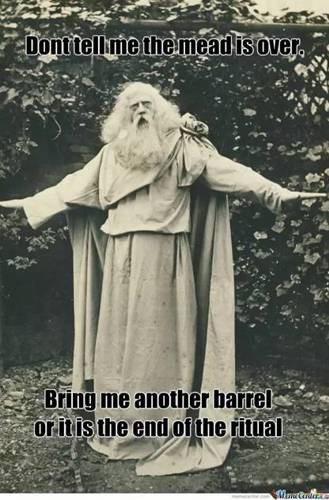 Aren't we so lucky having the Meadows in the heart of our City?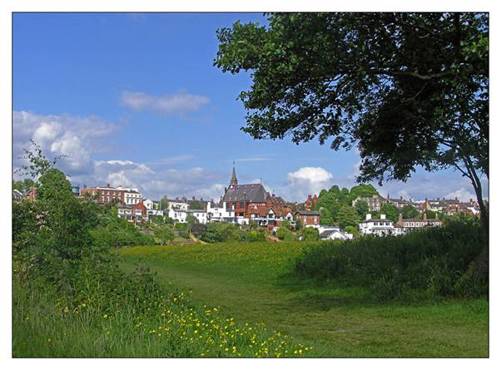 May God bless you all, and if you can't join us physically at 6.00 pm tonight, do be with us in prayer,

Fr Paul
---
Tuesday 23rd June 2020: We open church TOMORROW!
Very pleasant phone call from Mgr. Mike Gannon this afternoon, one of our two Vicars General, just ringing round to see how everyone is. So, how are we, Werbies? Are we on good form? Are we downhearted by all this lockdown? Are we missing the pubs and clubs of Chester? Could we all murder for a pint?
No, I didn't go quite that far: but good to be able to tell him we were all coping reasonably well, and excited by the prospect of opening our church for the first time tomorrow. He was able to tell me that about half the churches of the Diocese were now open or about to open for Private Prayer. Absolutely no pressure on anyone to open quickly, or even at all, where the Parish Priest himself was needing to self-isolate and couldn't keep an eye on things. We discussed the Government approval for small Funerals to take place in church – but not Requiem Masses – and he told me the thinking at Diocesan level was that we may be better off continuing with the Crematorium or Graveside Short Services for the time being. In church, we couldn't match the brilliant music provision of the Crem, nor could we police numbers as well as they do it. If a hundred turned up for a Funeral at Church, what would we do? At the Crem, it's their responsibility, the Crem Officials and the Undertakers jointly, and thank heavens it is. They also have the responsibility of cleaning everything after each service, which would fall to us if we held such services here in church. So, at the moment, the thinking seems to be "No rush on small Funerals in Church just yet".
He cheered me up a bit by telling me that the general pattern is for very few Priests to go into the Covid-19 Wards at Hospital. At Wythenshawe, it's just Fr Nick, and he's moved to one of the smaller presbyteries in his group of Churches to keep himself away from the others. At Stepping Hill, it's our excellent friend and previous PP, Fr Peter, who's doing the Covid Wards at Stepping Hill. Best wishes, Frs Pete and Nick, from everyone in St Werburgh's - and keep safe, both of you!
Painters been hard at it all day, some of these windows not having been opened for centuries. They are working on the front garden side of the house at the moment; then will move to the back garden side, facing Bath Street; then to the side, near the Church, and finally to the front, facing onto Grosvenor Park Road, by which time all the permits should be in place. They are also taking the opportunity to have a look at the roof – two missing tiles spotted already – and the guttering, while they're up there, which is very much appreciated. Before the scaffolding comes down, I'll try to get permission, and all the necessary safety precautions, for someone to go up and take some unique photographs of the house and church, looking downwards. Geoff and Jill – OK for this? You don't mind Geoff standing on your shoulders, Jill, on the top-most scaffolding? Thanks both – you're treasures!
Lots of you recognised the striking face yesterday, though I did get the predictable number of hilarious suggestions from Bill of Boughton, Hettie of Huntington, Sally of Saighton and Brenda of Broughton. (Have you not got any dogs to trim, Bren?) Ho, ho, everyone, very funny. Most amusing.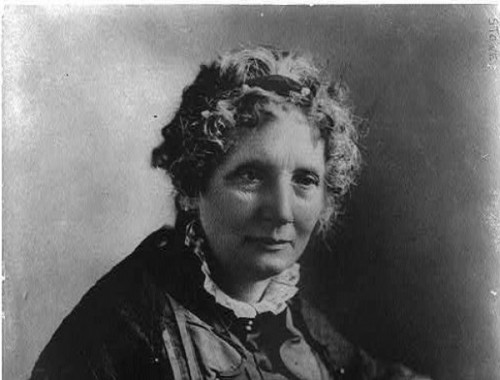 Harriet Beecher Stowe indeed, born in Litchfield, Connecticut in 1811, and dying at the age of 85 in 1896, in Hartford. Always a passionate opponent of slavery, it was the Fugitive Slave Act of 1850 that pushed her into action. Passed by Congress, it made assisting a runaway slave a criminal offence, with harsh penalties for both runaway and assister. The first instalment of Uncle Toms' Cabin appeared in June 1851, and weekly thereafter until April 1852. Originally subtitled The Man That Was a Thing, the book sold over 300,000 copies in its first year of publication. Loved in the Northern States, hated in the South, she came to England on a Speaking Tour in 1853. It's probably apocryphal, but the story has it that when she met Abraham Lincoln in November 1862, he said to her, "So you are the little woman who wrote the book that started this great war." The American Civil War raged from 1861 to 1865, sparked by the issue of slavery but more fundamentally about how centralised a country the new United States was to be. The War ended on 9th April 1865, when the Confederate (southern) General Lee surrendered to the Unionist (northern) General Grant. The Thirteenth Amendment to the US Constitution, abolishing slavery, was ratified and proclaimed in December 1865.
Tomorrow: Harriet Beecher Stowe's friendship with both Dickens and George Eliot.
She changed the world by the power of a novel. So, yes, take down Rhodes' statue if you must, but please don't think that the end of it. My one fear is that the statue will come down, the Oriel Dons will treat themselves to an extra bottle or two of port at High Table that evening, the students will adjourn to the Lamb and Flag to toast their great victory and get thoroughly pixelated, and they'll all roll off to bed. Preferably their own. Thoroughly pleased with a good day's work done.
Nothing wrong with gestures if they are the start of real action and positive change: but dangerous things if they are considered ends in themselves?
May God bless you all – and see you INSIDE St Werburgh's at 6.00 pm tomorrow night!
Fr Paul
---
Monday 22nd June 2020: Two Days to Reopening!!
Taskforce in and working hard once again this morning – after two of them, Syd and Denise, had already been hard at it, on the finance, counting all the contributions you've been kind enough to send in. We are just about keeping our heads above water financially, thanks to your very generous weekly envelopes and donations: income is right down, but expenditure is significantly down too. No heating bills for church makes a huge difference!
Taskforce had a meeting at 10.00 am – are we ready for Wednesday evening? We crossed every t and dotted every i, and then moved into church to put everything in position for 6.00 pm on Wednesday. All we need now is for YOU to come along and join us in celebrating our beautiful church being open again after 91 long days of lockdown.
The House Painters also arrived on the dot of 8.00 am this morning to start work on the outside of the house, most of the scaffolding being in place. (The part that isn't, where we're still awaiting the Council permit, is the fronting onto Grosvenor Park Road.) They'll be on site for about three weeks, some of the woodwork needing replacing in parts, and I'm sure it will be a good job done when finished.
Many thanks to Jean for ending in this beautiful illustration to yesterday's Readings. "Can you not buy two sparrows for a penny? And yet not one falls to the ground without your Father knowing. Why, every hair on your head has been counted. So there is no need to be afraid: you are worth more than hundreds of sparrows." (Matthew 10)
Magnus von Wright, the artist, (1805-1868) is a new name to me, a Finnish artist and taxidermist who later became a painter of animals, especially birds. That's the beauty of all art forms, isn't it – you never exhaust it? There are always new composers, new painters, new writers to discover. Here's a super picture of a String Quartet getting ready to welcome the Midsummer Solstice yesterday on the shores of Lake Geneva. I just hope there was no policeman around to move everyone on… "Nothing to see here, just a wrong note in Bar Seventeen…"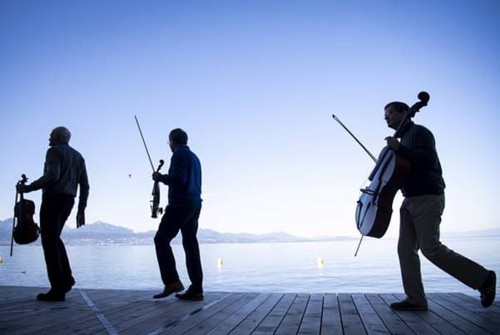 There's an old saying that the pen is mightier than the sword. In the recent "Black Lives Matter" protest movement and questions about the role of slavery in our society, it's good to know how some of our famous novelists lined up in the debate in the nineteenth century. Dickens was a leading abolitionist, and his passionate denunciation of slavery during his visit to America, January to June 1842, and then in the book he published in October of that year describing his visit, American Notes, made him few friends and many enemies. It's a wonderful book, not long, and well worth a read. He saves his final word for the evil of slavery:
What! shall we declaim against the ignorant peasantry of Ireland, and mince the matter when these American taskmasters are in question? Shall we cry shame on the brutality of those who hamstring cattle: and spare the lights of Freedom upon earth who notch the ears of men and women, cut pleasant posies in the shrinking flesh, learn to write with pens of red-hot iron on the human face, rack their poetic fancies for liveries of mutilation which their slaves shall wear for life and carry to the grave, breaking living limbs as did the soldiery who mocked and slew the Saviour of the world, and set defenceless creatures up for targets! Shall we whimper over legends of the tortures practised on each other by the Pagan Indians, and smile upon the cruelties of Christian men! Shall we, so long as these things last, exult above the scattered remnants of that race, and triumph in the white enjoyment of their possessions?
But we did – and do - triumph in the white enjoyment of their possessions. My favourite theatre in Manchester is the Royal Exchange, built inside the old Stock Exchange for Commodities (principally, but not exclusively cotton), the Prices Board still visible from the day it closed in 1968. You can see that board clearly in this picture, high up above the pillars.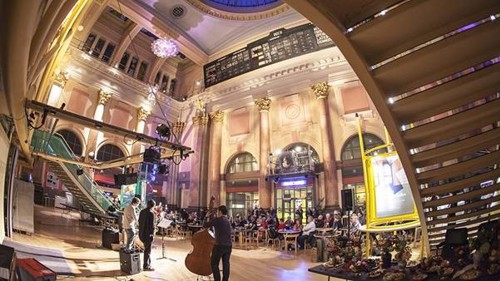 Manchester, of course, was known as "Cottonopolis" in the nineteenth century, its phenomenal wealth built on the cotton trade. Which was built on the slave trade. You can take a statue down if you wish: you can't take a city down. I've had such wonderful hours in that Theatre over the years, and always spend a little time pondering the history of the theatre and the city.
Let's look at this a little more in coming days – and I always love reading your own views on these urgent questions. Another excellent session on Zoom this afternoon with three of our Sixth Formers hoping to have a crack at Oxbridge next autumn. The lawyer is particularly interested in the story of George Blake, the Russian Spy who was sentenced to 42 years for espionage in 1961, and then sprung from Wormwood Scrubs in one of the most audacious prison escapes ever known. Long after he had settled into his new life in Moscow, he advanced this defence for his "betrayal" of Britain: "To betray, you first have to belong. I never belonged". How strong a defence is that? Then we put our prospective Musician through their paces on Chopin's Ornaments. And finally, our Economist, who's taking a shine to Marx and his critique of Adam Smith. As why not. "Philosophers up to now," Marx famously said, "have only interpreted the world in various ways: the point is to change it."
What do I have to do to change my world and finally defeat racism? Taking a statue down may possibly be a start, but I'd hate to think it was all that I do.
Continuing this theme tomorrow, here's your Starter for Ten. Who's this?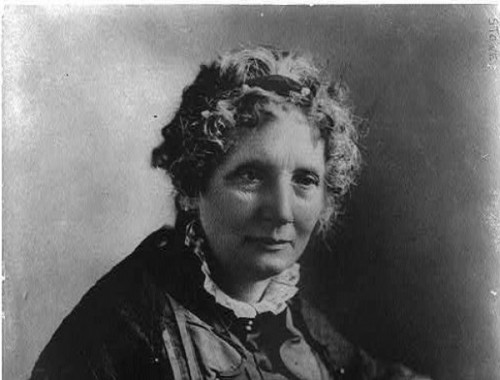 May God bless you all,
Fr Paul
---
Sunday 21st June 2020: Three Days to Reopening!
Midsummer's Day! The Mid-Summer Solstice, the longest day. Sunset tonight in Chester is at 21.43, so, Choir, can we gather as usual on the Meadows at 8.30 pm? Please bring your own sheets, and I'll bring the bells for the ankles, the pig's head and the fertility symbols. Sorry we can't adjourn to the King's Arms afterwards, as we usually do; but Adrian tells me he's got a couple of decent bottles of claret at his house. Thanks, Adrian – but what are the rest of you going to drink?
So glad we are able to keep these old Werbies Customs going – and who can forget last year, when we really pushed the boat out, and hired a coach for the Choir to go down to Stonehenge for 21st June? Utterly unforgettable. Thanks for the photo, Geoff, and if you can do the same this evening, we'd be much obliged: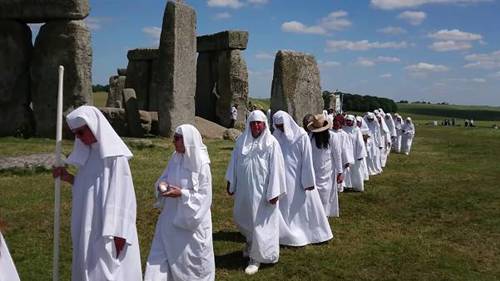 Enormous congratulations to Fr Neill, celebrating Fifty Years in Ministry today – and such a shame that we cannot celebrate publicly, and raise a glass or two to celebrate this great milestone. (Not that Fr Neill touches a drop, of course – he promised his mother not to…) Fifty years ago, he was ordained for the Baptist Church, up in his native Scotland. As you all know, that took him eventually into the Anglican Church, and his wonderful journey culminated with his reception into the Catholic Church five years ago and then, 31st May last year, his Ordination as a Catholic Priest here in St Werburgh's by our own Bishop Mark. A memorable evening, and so amazing to have Fr Neill now helping us out so valiantly, not just here in St Werburgh's but in the Deanery and beyond. Let's get this Lockdown over soon, Neill, and raise a glass with yourself and Marlene to your Golden Jubilee of Ministry! And blow what your mother said…
Busy, busy, busy day today. Started early helping Bernice on the Burger Bar doing some Red Cross Food Parcels drops in Grosvenor Park Road. Then time for our lovely "Open Hour" outside church, more and more of you dropping by to say hello. Real treat for me to see the Michigan Monsters. They were on great form: but due to go back to Years 8 and 10 at the Catholic High, they won't be required in this term, before the summer holidays, attention being focused on the Exam Years, next year's 11 and 13. What this means is that they will have had six months away from school, away from their teachers (however good the home schooling has been), and, just as important away from their friends. Do any of you share with me a feeling that we haven't got this "back to school" business right in the slightest?
11.15 am, time to lock up again, say Morning Mass and out on Holy Communion calls. I have a new lady on my visits, a wonderful 97-year-old I got to know while she was in Hospital, and now thankfully back home in Boughton, but mighty tired. Good to celebrate the Sacrament with her, and then down to the Garden Quarter to see John. Jean, his ever-faithful wife, met me at the door. "I think he's just gone!" Indeed he had, on angels' wings, to meet Our Lord and Saviour face to face. I know how ready he was, thanks to the time I'd been able to spend with them both over the last week. Well done, thou good and faithful servant; enter into your eternal reward.
Home for a late lunch, and then a call-out to one of our Nursing Homes, to Maureen Byrne, a super lady many of you would have known. A quiet, very dignified, very warm elderly Irish lady, who was often at our 12.15 pm Mass – and when she wasn't, she'd have been at St Francis, counting herself a parishioner of both, as so many of you do. Able to give her the Anointing of the Sick to speed her on her final journey.
Lots of you saw this article in yesterday's Daily Telegraph – thanks to Redcliffe, John from H&S, and to David from St James' Avenue for all three of you sending it in. Christopher Howse is a very good writer – Terry Collier always thought he was the best, and Terry was a shrewd judge of these things, believe you me.
Sacred Mysteries: Looking through 130 windows from home

A calendar of saints for the whole year, depicted in stained glass at Chester, can now be inspected online

By Christopher Howse: 20th June 2020

After looking round Chester cathedral, you might pause on the way to the café for a cup of tea and a scone (once the coronavirus regulations allow) beneath the hammer-beam roof of the old monastic refectory, and examine some of the figures in the stained glass of the cloisters.

The afternoon sun lights up the windows of the east walk, where a woman in abbess's attire (holding a crosier) and wearing a coronet is shown before the medieval splendour of the tower of Chester cathedral.

Beneath the checked floor on which she stands is her name: Saint Werburga. In the seventh century, so unfamiliar to most of us, people had funny names. Her grandmother was St Sexburga; her murdered aunt Osthryth and uncle Æthelred were accounted saints too.

In reality they were civilised and accomplished people. Women had some routes to power, either secular as queens, or spiritual as nuns. Werburh, as her name was spelt in English, was the daughter of the king of Mercia. She had become a nun at Ely, where the abbess was Æthelthryth (whom we know as Etheldreda). Werburh had her greatest influence posthumously as a saint. Her day is March 3, but a commemoration was also made on June 21, tomorrow.

In the Danish (Viking) invasions, her remains were brought to Chester, where she became patron of the monastery refounded as a Benedictine house in 1093. Her shrine was smashed up in 1540, but the next year her monastery church became Chester cathedral.

In addition to her image, 129 other lights in the 34 windows of the four sides of the cloister show holy men and women. The cloister was glazed at the suggestion of Frank Bennett, who became dean in 1920. (One pane of glass bears a rebus, a bee on a net, for "be'net".) The cloisters were certainly glazed in the 16th century, as marks on the masonry and a bill for glass from 1526 show. The windows are dedicated to 147 local people, about a quarter as First World War memorials.

For the first time, I can look at St Werburh's window and the others because they are all online with explanatory notes on biography and iconography, and the text of the saints' collects. Stained glass is hard to reproduce in a book but looks good on a glowing screen. The windows are on the cathedral home page as "A Gallery of Saints". This fascinating resource exists because in 2017, James Thomson, a retired surgeon, noticed a window in the cloisters depicting St Luke, patron of doctors. Finding no guide to the windows he set about compiling one online, working with Canon Jane Brooke, the Vice-Dean of Chester, Nicholas Fry, Elizabeth Moncrieff and Barry Ingram, who took 1,000 photographs.

The windows follow the calendar in the Prayer Book that the House of Commons voted against authorising in 1928, causing quite a stir. There are 23 lights showing people not included in that calendar, about half of them Caroline Divines of the 17th century, such as Thomas Ken and Nicholas Ferrar. Many of these have a place in the Church of England service book Common Worship. Half the windows are by Frederick Charles Eden (1864-1944), a pupil of William Butterfield and G F Bodley and a strong influence on Stephen Dykes Bower. St Werburh's window is by Archibald Keightley Nicholson (1871-1937), whose brothers were prominent in church architecture and music. He enjoyed giving architectural backgrounds to the saints in these windows: the cathedrals of Chichester, Worcester and Lichfield, and exotic sketches of Alexandria, Poitiers and Zaragoza.
What a fascinating article! Go to the Cathedral website, and on the home page, half-way down, "The Gallery of Saints" box. Click it, and an absolute treasure-trove opens up. Many, many thanks, Cathedral, for compiling this – and of the names mentioned, I'm delighted to single out Canon Jane Brooke and Nicholas Fry as both personal friends of mine and great friends of St Werburgh's. Nick has also helped out more than once during this lockdown on Bernice's Burger Bar. You're a good man, Fr Fry!!
Now time for a cup of tea, say Evening Mass, and head down to the Meadows for sundown and our traditional Werbies way of celebrating Midsummer's Day. Now, where on earth have I put that pig's head…
May God bless you all,
Fr Paul