Daily updates 22nd-28th March 2020
Saturday 28th March 2020: Coronavirus Update
The figures inexorably rise, and I sense the seriousness of the situation we're in is starting to hit home, even to those youngsters we're seeing in our papers who seem to feel they're invincible, with their barbeques and parties in the park. Please stay home, everyone, and please stay safe!

Doing the Newsletter this morning was a surreal experience, wondering who, if anyone, is going to pick it up. But thank Heavens for the internet, your ability to access it, to read the Newsletter through this same Parish website, and the Information Sheet we're able to send out tonight with a good selection of on-line Catholic resources. So many of you watched Pope Francis' very moving special Prayer Service and Papal Blessing from the Vatican at 5.00 pm last night, Friday, and huge numbers are tuning in every day to the live streamed Masses from our own Cathedral in Shrewsbury. We're turning into a nation of silver surfers, but in a very good cause!

Just to repeat: this week's Newsletter is available now on-line, in the usual way, and also, as hard copy, in the Newsletter Box on the front of the church. The Information Sheet on On-Line Resources is also on-line, in the upper of the two boxes you see on the home page dealing with the Coronavirus Outbreak. It is also available as hard copy, inserted in this week's Newsletters in the Box on the Front Door. I do hope that's clear to everyone. But still a fair few phone calls today asking what time Mass is tomorrow, so the message is taking a little time to get out to everyone.

I am saying my Private Mass every day, another surreal experience in our beautiful but strangely empty church. I am continuing to say your Mass Intentions, but as there is only one Mass per day at present, the actual date may not be exactly the one you booked. I do hope you will understand why not, especially if it was a Sunday when there were three Masses. For next week, the Intentions are as follows:

Mass Intentions for Next Week
Sunday 29th March: Dilys Ball (8th Anniversary)
Monday 30th March: Kevin Smyth (Funeral in Birmingham this morning)
Tuesday 31st March: Dolores and Kevin Coriam (Anniversaries)
Wednesday 1st April: Intentions of Peter Stanley
Thursday 2nd April: Sylvia Pritchard (5th Anniversary)
Friday 3rd April: John Beatty (Anniversary)
Saturday 4th April: Mario Vitelli (Birthday Remembrance)
Sunday 5th April: Kathleen and Ray Wilbraham (Birthday Remembrances)

Always good to hear from you, and many of you liked the cartoon Eileen sent in of the Angel suggesting to a puzzled God the Father, holding the world, that he might try switching it off and on again. Shirley wrote in: "We are told to create a timetable for ourselves to provide some sort of structure to the day. I have decided to write this Diary as a distraction. Unexpectedly humour helps us too. I see the cartoon which shows a God-like figure holding the globe with a confused look on his face. The words come from the angel at his side: 'Have you tried turning it off and back on again?' Strangely it does feel that way. As if we are in a universal reboot but first, we must shutdown. With global reboot we are forced to find patience despite the urgency of the situation. Not an easy quest."

Perhaps we could all do with a spiritual reboot? Thanks for the idea, Shirley!

God bless you all, and don't forget to put the clocks on one hour tonight,

Fr Paul
---
Friday 27th March 2020: Coronavirus Update
A week ago today that we had our last Mass here in St Werburgh's, the usual 12.15 pm, but so many more people here than normal At one level, it was so good to see everyone here, at another level clear evidence as to why Churches, along with every other gathering place, had to be closed.

That was a week ago last Friday; and a fortnight today is Good Friday. Many of you have remarked on how this enforced isolation is playing strange tricks with time. Tomorrow, Saturday, the clocks go forward an hour for the start of Spring: never will that change of hour have been less noticed or needed? Many of you have asked about Holy Week and the Triduum: yes, they will go ahead, as Easter cannot be postponed liturgically. How exactly it will work is to be decided, by our own Bishops in consultation with the Universal Church. Yesterday, Bishop Mark forwarded to us a statement on Easter Duties from our Bishops, and I've asked for it to be put on the website this evening, along with this blog, in the upper of the two boxes. In essence, as you would imagine, all concept of "Easter Duties" is suspended this year, all Churches being closed. But I know one or two of you have been anxious about this, and I hope this statement provides the reassurance you need at this worrying time.

A call-out this afternoon from one of our Nursing Home, the Sacrament of the Sick needed for Patrick. Please keep him in your prayers as he makes that journey from this life to the Life Eternal.

Meanwhile, the Werbies live to fight another day. Judith was highly indignant in not being asked for evidence of age as she snuck into the 70+ Happy Hour at her local supermarket. I quite agree, Judith – it makes you wonder if these staff members are trained or not. And some of you have asked what criterion I'm using in working through parishioners to phone and check if they're OK. I'm starting at the oldest, our 90+ contingent. So obviously Sheila Fields was one of the first I rang: on great form, as always, but she slightly concerned me in that, like many of us, she's finding it difficult to obtain Alcohol Hand Gel from the supermarket. She's asking me if any alcohol will do as well, and should she be washing her hands in neat gin. Sheila, I'm proud of you.

But I was more than slightly concerned to hear from Cath and Mark that they've been live-steaming a Mass from Pasadena, California. I knew it was hot out there, but had no idea it had reached those sort of temperatures…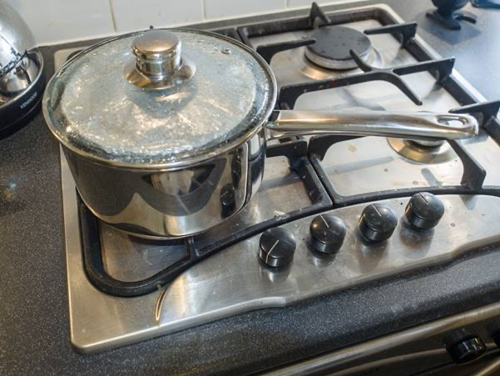 Sheila's ingenuity in getting around the shortage of alcohol hand gel takes us back to wartime, doesn't it, and all the improvisations we had to make then. OK, you had to make then. Even to the First War, and asking, Daddy, what did YOU do in the Great War?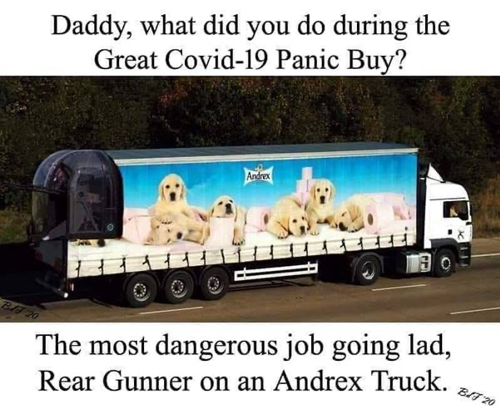 And finally, talking of shortages, have you heard the latest news: you can't buy OXO cubes anywhere. The Stock Market has gone crazy…

God bless you all, and keep smiling

Fr Paul
---
Thursday 26th March 2020: Coronavirus Update
Needed a trip out this morning to Waitrose for a few basics, and a very reassuring visit it was too. Plenty of staff on duty, using a single entrance to the store, queueing area marked off, taped lines six feet apart, and the queue strictly controlled, one person out, one person in. Plenty of food in the store, no evidence of any panic buying. Let's hope it's the same in every supermarket in the country very soon.
Conscious saying my Private Mass yesterday that it was the Feast of the Annunciation. The Angel Gabriel announced the greatest news the world has ever heard, the imminent birth of its Saviour. And that message is as central today as it was then: the powers of darkness and death have been conquered, once for all, and that victory can never be undone. What we have to do now is bring that Good News to a world desperate to hear it. The work of the Annunciation, in other words, goes on, each of us called to be a Gabriel in our own way and our own world. Good to speak to another batch of our self-isolaters on the phone this morning and hear their amazing resilience. We shall get through this, with God's help, and come out the other side even stronger. 
Many of you have been reminding me that Infections, Plagues, Contagious Diseases are nothing new. The Spanish Influenza epidemic of 1919-20 killed more people, remember, than the whole of the preceding Great War. Here's a letter from F. Scott Fitzgerald ('The Great Gatsby' and so many other wonderful novels) quarantined in 1920 in the south of France during the Spanish Influenza outbreak:
Dearest Rosemary,
It was a limpid dreary day, hung as in a basket from a single dull star. I thank you for your letter. Outside, I perceive what may be a collection of fallen leaves tussling against a trash can. It rings like jazz to my ears. The streets are that empty. It seems as though the bulk of the city has retreated to their quarters, rightfully so. At this time, it seems very poignant to avoid all public spaces. Even the bars, as I told Hemingway, but to that he punched me in the stomach, to which I asked if he had washed his hands. He hadn't. He is much the denier, that one. Why, he considers the virus to be just influenza. I'm curious of his sources.
The officials have alerted us to ensure we have a month's worth of necessities. Zelda and I have stocked up on red wine, whiskey, rum, vermouth, absinthe, white wine, sherry, gin, and lord, if we need it, brandy. Please pray for us.
You should see the square, oh, it is terrible. I weep for the damned eventualities this future brings. The long afternoons rolling forward slowly on the ever-slick bottomless highball. Z. says it's no excuse to drink, but I just can't seem to steady my hand. In the distance, from my brooding perch, the shoreline is cloaked in a dull haze where I can discern an unremitting penance that has been heading this way for a long, long while. And yet, amongst the cracked cloudline of an evening's cast, I focus on a single strain of light, calling me forth to believe in a better morrow.
Faithfully yours,
F. Scott Fitzgerald
Not that I am recommending you follow Fitzgerald's notion of "necessities", of course. After Lent is over possibly, but not just now, my chickadees…
You obviously enjoy pictures and videos of Priests making fools of themselves. The ones I've shared with you so far have clearly brought out the bitter and twisted in many of you. So, here's another one. One of the last Church Weddings to sneak in under the radar, in the West Midlands, just immediate family allowed, before they were all stopped earlier this week. I know you'll find it hard to believe, but occasionally I get the request myself afterwards for "a quick photo with father". Doesn't happen often, of course, and I always stand on the edge so it can safely be photo-shopped off afterwards. No such reticence with this particular Vicar, you'll notice:
For pity's sake, Rev, who's getting married – you or them?
God bless you all,
Fr Paul
---
Wednesday 25th March 2020: Coronavirus Update
Another fascinating chat on the phone to our own Dr Sam Williams at St Thomas' Hospital in London yesterday morning, the former Catholic High School pupil now very much at the sharp end. He was telling me how all the central London hospitals are coming together at this time, with a dramatic ramping up of Critical Care Beds. This means non-Covid-19 patients being grouped together (cancer, strokes, all the thousand and one other forms of illness that don't disappear at a time like this), freeing up other units to be Covid-19 only. All doctors required on duty, new six-week rota for everyone, all doctors required to work in Critical Care whatever their existing specialisation. As Sam was telling me, this means psychiatrists, radiologists, dermatologists, geriatricians, every specialisation under the sun, having to brush off their Critical Care training and become adept in this branch of medicine as they all work together on this single illness. You probably saw plans for converting the ExCel Conference Centre in the Docklands to become an emergency 4,000 (yes, four thousand!) bed hospital treating nothing but Covid-19 patients. The level of preparation, Sam tells me, is very impressive, and everyone rallying round superbly. The usual Hospital Humour, of course, Consultant Psychiatrists asking their colleagues how to take a temperature, it's been a few years since they last had to do it, where exactly do they put the thermometer…
All doctors in Sam's area of London are on a new 6-week rota, leave kept to an absolute minimum, everyone working three shifts on, night or day, each shift 13 hours, and then three days off. This sounds a very sensible balance: if our beloved nurses and doctors burn out through over-load, we are all in deep trouble. Take care, Sam, and best wishes to everyone in the front line. We are all thinking of you and keeping you and your colleagues in our prayers.
Another busy day here on the phones. One of our loveliest elderly couples is separated, one in hospital, one in isolation at home. The one at home would love to be able to visit, but just not possible. Touchingly, the Consultant herself rang the one at home this morning to explain that, as things stand at present, visits into the Ward are just not possible or advisable. Our parishioner at home was truly touched that the doctor herself should have made that call, and it helped enormously in accepting their separation at this time, after fifty plus years of marriage. As the one at home said to me, "Wasn't that kind of the Doctor ringing me herself?"  Kind, and absolutely typical. We are all so blessed with our doctors and nurses. Let's look after them.
Life here at the Werbies tries to go on as normally as possible. Thank you to our wonderful cleaners and gardeners, who are turning in, safely spaced apart, to keep the place looking reasonable. Isn't the front garden a joy? Lots of people remark on it, and to one and all I say the same: "It didn't take me long…"
In the wonderful words of Margaret Thatcher, we are about to become a grandmother. No, not me, you fools, one of our parishioners. She's knitting like mad and is delighted the sex of the child is to be revealed at the proper time! Apparently – wait for it – there are now "Gender Reveal Parties", with a big cake to be cut open at the central moment of the festivities, to reveal either a blue or a pink exterior. (Do you ever feel you don't want to carry on living?)
I was a little disappointed at how many of you hugely enjoyed the poor Vicar setting fire to himself. Obviously ecumenical togetherness has not reached every part of this Parish yet. But it doesn't seem to be stopping Revs all over the world Revving up with the latest technology, however little they understand it. How about this poor Italian Priest, who hasn't quite mastered the art of applying filters?
https://www.dailymail.co.uk/news/article-8149319/Priest-accidentally-turns-video-filters-hilarious-clip.html
Gerry is doing a wonderful task keeping our fantastic Altar Servers in touch with himself, the Parish and each other, and I do thank him for his superb Altar Servers Newsletters he sends round so regularly.
I am a little disappointed some of you seem to be enjoying the black humour contained in some of these blogs quite so much. Others of you are mildly shocked. All, I can say is, if you think some of the ones I send you are bad, you should see some of the ones I decide not to send you.
God bless you all,
Fr Paul
---
Tuesday 24th March 2020: Coronavirus Update
Sad but not entirely unexpected news last night that all churches will now need to be closed, and everyone encouraged to stay at home as much as is humanly possible. All the evidence seems to suggest that the next two to three weeks are going to be critical in the fight against this virus: my one prayer, as I'm sure it is for all of us, is that there might be some definite signs of a down-turn by Easter. What a wonderful Easter present that would be, the ultimate gift of New Life.
Extremely odd not being able to open church this morning and again this evening: the three days we were permitted – Saturday, Sunday and Monday – saw appreciable numbers coming in, in their ones and twos, preserving safe distancing, having a brief chat as they entered, taking their Newsletters and Information Sheets, and going to the wonderful spaces of our inspiring church for their own personal time for prayer and perhaps to light a candle. Obviously, we are all sad this can't continue but defeating the infection has to be to the top priority and we as churches must play our part in that fight.
I used the time this morning to hit the phones, and check up on as many of our elderly, self-isolating parishioners as I could. They all sounded in remarkably good form, the good old blitz spirit, buckling down to this period of enforced isolation with as much cheerfulness and resignation as they can. This generation really do have a lesson to teach the rest of us! Today's Mail On-Line has a story on all the couples who were expecting to be married in the next weeks and months for whom this is no longer possible. The statutory word from all of them is "gutted", their lives have been ruined, and enough Misery Mug Shots to paper your living-room wall with. Needless to say, they don't get much sympathy from the "Comments" that follow the story, and needless to say, the approach of all our Marriage Couples, with whom I've been in touch again today, has been the exact opposite: very sensible, calm and stoical, and fixing dates six and twelve months hence for their postponed Nuptials. Definitely a sturdier class of marriage couples at the Werbies!
This crisis is bringing out the best in 99% of us. It's also bringing out the black humour in some of you! But it's a grim crisis indeed where there's nothing to raise a smile and I did love this one sent in by Eileen Owens: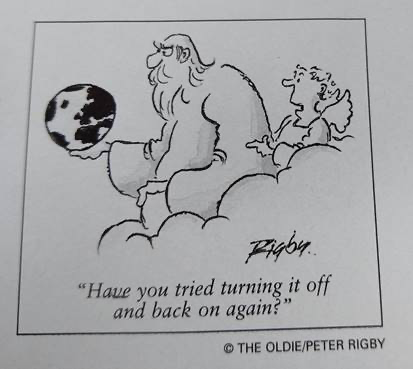 Keep'em coming, folks!
God bless you all,
Fr Paul
---
Monday 23rd March 2020: Coronavirus Update
My blog musings were rudely cut short last night by the telephone, 5.00 pm, people outside the church, when were the flaming doors going to be opened? I had 6.00 pm as opening time in my mind, and apologies for the confusion, some lists saying 6.00 pm and others 5.00 pm. But good to know that that evening opening slot was needed, as indeed it was, even busier than the morning. From now on, Sundays will definitely be 5.00-7.00 pm, with weekdays 6.00-7.00 pm. 
One of the evening visitors was our local Police Officer, and good to have a chat with her about how this present emergency was affecting her work. Normally out on the streets of Chester at a weekend, the focus was now shifting, she said, to what was going on inside people's houses. Two areas concern particularly: anxiety levels for people on their own, cooped up all day with just four walls to stare at; and possibly rising levels of anti-social behaviour inside the home itself, again with people staying in all day and possibly drinking more at home than they would normally do, with pubs and clubs being closed. So good to have this catch up with her, and let's keep all our wonderful emergency services, including the Police, in our prayers at this time. At the end of our chat, I asked her if she'd come in for any particular reason: "Well, to light a candle, of course!" was her answer, with that withering look on her face she obviously keeps for dim priests and vicars. I am well used to that look, needless to say.
A busy day today, activating our "Self Isolating" Contact List, with the assistance of our superb SVP, Steve and Fran on top of things as always, and well ahead of the game in having already contacted our folk and set up the mechanism for future contacts. What a huge debt we owe the SVP, in this and every situation!
Parishioners who have been abroad very glad to be back home again. John and Eileen have been out in Malaysia and were more than relieved to see Chester once again. "What strange times!" Eileen wrote. "We made it home early from Malaysia, taking any flights to get back. I love travelling but there are times when you just need to be home, so it was with a sense of relief that we touched down in Manchester yesterday. Malaysia is in lockdown with police checkpoints on the roads and all hotels, markets, mosques, churches and shops closed. There was lots of coughing and sneezing at the airports and on planes, so we are self isolating just in case. We are looking forward to celebrating our grand-daughter's christening whenever it is possible." Good to have you both back home again!
Many of you are finding the wealth of Masses online. Pat emailed from Pulford: "I watched Mass from Shrewsbury Cathedral at 8.30 am today, Bishop Mark and Father Edmund plus one other. Very moving. I have watched Masses from Ireland too, which I do every day anyway." Fr Edmund – whatever they're saying about you down in Shrewsbury, I do want you to know that you're big in Pulford!
We have some wonderful American families in the Parish – Michigan, Maryland, half the state of Delaware. Gerry from Delaware emailed in to say he's caught Mass from his home Cathedral in Limerick. The wonders of the internet. Mind you, all this technology is a two-edged sword, as one poor Vicar found out attempting to skype his flock:
https://www.dailymail.co.uk/wires/pa/article-8139479/Vicar-sets-arm-fire-virtual-service.html
I had been starting to wonder why so many of you were so keen for me to adopt the same technology. Now I'm beginning to understand your keenness…
A beautiful picture to share with you all tonight, little Anwen, one of the absolute stars of this Parish, born at 28 weeks two years ago, storming ahead ever since, but needing an op in the week over in Alder Hey. She came through it like the trooper she is.  She's a bundle of joy, bright, alert, always cheerful, intelligent, patient, always interested in what's going on, loves my sermons… Alas, none of those qualities shared by her parents, Kate and Pete, especially the last one: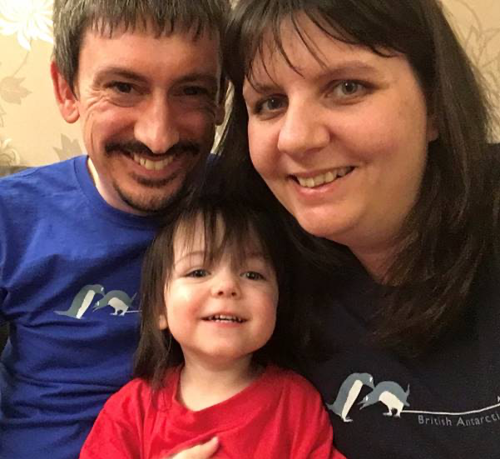 Worst joke of today? The prize has to go to our own Fr Neill. What's the name of the first Russian casualty to have been diagnosed with this virus? Ivor Chestikov.
It's Marlene I feel sorry for.
God bless you all, and somehow, keep smiling!
Fr Paul
---
Sunday 22nd March 2020: Coronavirus Update

The oddest Mothers' Day any of us can remember, the sun shining fit to burst, but everywhere strangely quiet and deserted, as people sensibly heed the call to stay at home. Can understand the National Trust advising earlier in the week that coming to one of their properties for a walk around the grounds could be the perfect way to spend this Sunday afternoon: and then suddenly realising what crowds this might generate, and changing their advice pdq.

No-one waiting for Mass at Rowton last night, which was reassuring – that the message is getting out there that there is no public worship at present in any church. Then a reassuringly busy Sunday morning, a steady trickle of people coming into church from when we opened at 8.00 am, collecting their Newsletters and Information Sheets (both on-line, as well), telling us how they were getting on, and then spending a few minutes in quiet prayer. Great to see some of our young families and our Altar Servers, two of whom are in that cohort who were expecting to sit their GCSE's in a month's time and suddenly discovering the exams aren't going to happen, with no firm information as to when schools will be open again. To both, I cheekily suggested this could be an ideal time to make a start with their A Level work, get a head start before September, and amazingly both said they'd already thought of it and wanted to give it a go. I should have been a teacher!

Good to have Fr Neill and Marlene back from their week in the Lakes, cut short at the end as the emergency really started to bite. He and Marlene will need to take care, and both are self-isolating up in their house in Vicar's Cross. It is a very well-populated part of the Parish, and I know they won't want for anything if they run short.

Time now to open up Church for our evening hour – 6.00-7.00 pm each day except Saturday. Odd to think that last summer I was myself in Lombardy, the region of Italy hardest hit by the Coronavirus outbreak. Milan, its Capital, is the centre of the country's richest area, and there seems no rhyme or reason why it should have been so devastated, especially with one of the best Health Systems going, and Italian doctors among the finest in the world. Bergamo has suffered most, the hometown of Pope St John XXIII, a magnificent "twin city", one down on the level, and then a dizzying climb up to the top one, the walled city of the Middle Ages. I spent a beautiful day there, on the train from Milan, and find myself thinking about that part of Italy at this tragic time a great deal.

Tomorrow we swing into action on our Self-Isolating List, those who would like us to make contact and those willing to make that contact. Don't forget to let us know if you would like to be on either list.

God bless you all,

Fr Paul