Daily Updates 23rd - 29th August
Saturday 29th August 2020

Blog Power! Those Bus Lanes have now been "postponed". You read it here first. I'm not claiming the whole credit of course, but that little phone call to Boris last night clearly did the trick. I relished this Council statement, a wonderfully lengthy way of saying "we've changed our minds". Instead, we have: "We pride ourselves on being a listening council and have been taking heed of people's feedback about their introduction. We would like to thank everyone for their input so far. We are now going to take a pause and reflect on the feedback we have received."

Anything else anyone would like me to sort? Any blocked drains? Unemptied bins?

Wonderful email when I got back from my walk last night, from one of that great 2010-11 Upper Sixth cohort at the Catholic High: "I wanted to share some exciting news with you!! As you know 2020 has been a difficult year for a number of reasons, but I'm delighted to let you know I've finally taken the plunge!!!"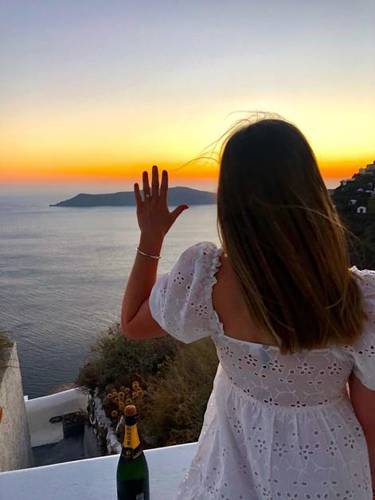 Wow! The auld eejit came over all emotional when he read that and saw that amazing fourth finger. A thousand congratulations to you both! They've been an item for so long, both 28 and working in London, and all of us have been wanting them to tie the knot for ages. Last time I saw his mum, a couple of months ago, she remarked that if he didn't get a move on, he'd lose her, as she wasn't going to hang around for ever! Your mum's right. You are so-ooooo punching.

Look, you two; I can't reveal names or faces until I know you've gone really public with this one. I mean, have you told your mum yet? If not, I really think you ought to…

If you're thinking of buying somewhere and starting to furnish it, both I've got a Fridge, Fridge-Freezer and Microwave Oven, all looking for a good home. In excellent condition and entirely free. Anyone out there? If you'd like to make a donation to St Werburgh's, we wouldn't exactly stop you! If anyone's interested in any or all of these items, or would like to see them, please let FP know.

Thanks again to Lyn for hosting a super Prego Zoom Prayer Meeting last night. Eight of us linked up, for just an hour, looking at next Sunday's Readings and sharing our thoughts and petitions. A thousand thanks to Lyn for getting this off the ground. It really has made me think that Prayer Groups are a big gap in our life as a Parish at the moment. Shall we all see what we can do soon? I was going to say, "when this pandemic is over", but (a) that might be a very long time indeed and (b) do we really need to wait till then to act?

Lots of you have been away for hols – me? no, can't stand them! – and sent in pictures. So glad to have a steady stream from Sicily. Look at that brown parched grass: thank heavens no danger of that in this lovely cool August we're all enjoying. (Did someone say something?)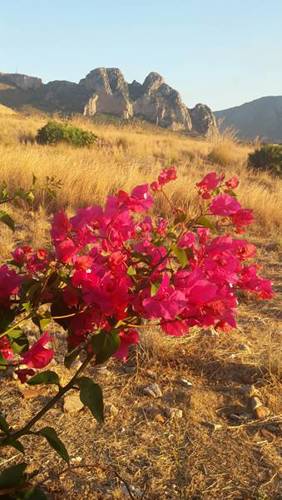 The Piggies have been away in Norfolk and sent me this powerful photo from Walsingham, the ruins of the east end of Walsingham Priory. It was a large monastery of Augustinian Canons, and like all monasteries, abbeys and convents, closed down at the Dissolution of the Monasteries under Henry VIII, 1536-41.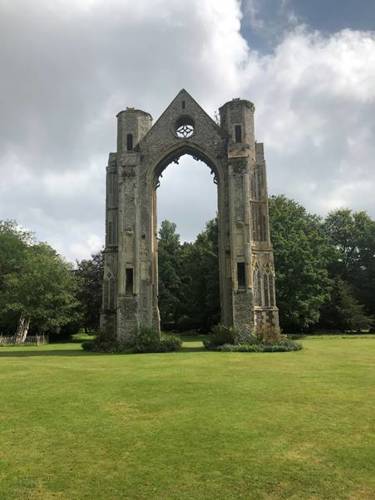 So much for the Priory. What about the Piggies? So many of you have been asking for a photo of them, and, as you know, I am here to serve.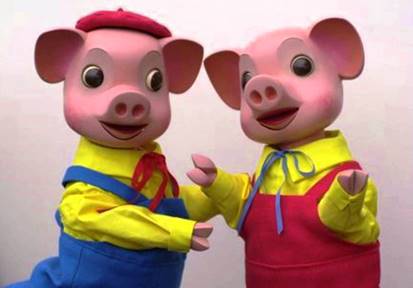 See you all at Mass tomorrow morning!

May God bless you all,

Fr Paul
---
Friday 28th August 2020
Bishop Mark sends round a regular message to all clergy and religious, the so-called "Ad Clerum", and they have been much more frequent in the last six months than usual. I've tried to share some of the news with you all, and two paragraphs in yesterday's message make for interesting reading:

WYTHENSHAWE GENERAL HOSPITAL
I am grateful to Father Owen Gallagher and Deacon Antony Zidan who together with Sister Bernadette Boland will lead the work of the Catholic Chaplaincy at Wythenshawe General Hospital with the generous assistance of the local clergy. Following a meeting at the hospital yesterday, I am pleased that from 7th September we can ensure the presence of a Catholic Chaplain every weekday together with the continuing on-call support of the local parishes. I wish to record my thanks for all the generosity and co-operation which has made these new arrangements possible.
VOCATIONS TO THE PRIESTHOOD
Thank you for your continuing prayer and encouragement of new vocations to the Priesthood. Amid all the complexities of lockdown it has been difficult to make plans for the men beginning discernment at the Cathedral. At times we wondered whether there would be a discernment year for 2020/2021. Happily, two men have already been able to begin their time of discernment in these past couple of months and a third man will come to Shrewsbury next month. One applicant has decided to delay his discernment amid the uncertainties of this time and two men have expressed the desire to come to the Cathedral later in the Autumn. I wish to thank Father Edmund Montgomery for all his painstaking work in facilitating this discernment year. Please keep all the men discerning with us in prayer.

Good news on both fronts? Wythenshawe is one of the largest Hospitals in the Diocese. In the old days, we measured hospital size by "beds". Do you remember? "Newtown was a 600-bed Hospital", and so on. Nowadays, with so much day care and Outpatient and clinic treatment, that's a much less reliable measure. Probably more meaningful to say how many acres it covers! By that standard, Wythenshawe is huge, and you need to know where you're going to before you set out. Delighted to see a high-powered team has been appointed as Catholic Chaplains there, Fr Owen, Deacon Anthony and Sister Bernadette as dedicated Chaplains and the local Clergy in a supporting role. Apart from anything else, it shows how seriously Bishop Mark takes Hospital Chaplaincy. Good luck, Team!
And delighted to hear news of the House of Discernment too, based at the Cathedral, and producing so many much-needed Vocations for our Diocese. I can understand one or two are waiting to see how this lockdown pans out before joining them, but don't wait too long, chaps! Good luck to Fr Edmund in looking after this House of Discernment. Even if he is a little monkey.
Out this morning to Landican in Birkenhead, and Les Owen's son's funeral. He was also Les, so known as "Little Les" to distinguish him. The grandfather is also Les, but not able to leave his Nursing Home in Hoylake, which made things a touch less complicated. The irony of his nickname was that he was a Gentle Giant who lit up any room he entered. Talking to so many members of the family beforehand, I was overwhelmed with the tidal wave of love towards him, perhaps more than he ever realised. 27 is far too young to Go Home to the Lord. I was honoured as a personal friend of his father to take the service today. Please keep them all very much in your prayers in the weeks and months ahead. They are going to need them.
The Crematorium there dates from 1934, and the three Chapels you see as you go down the main drive were originally Anglican (centre), Free Church (south) and Catholic (north):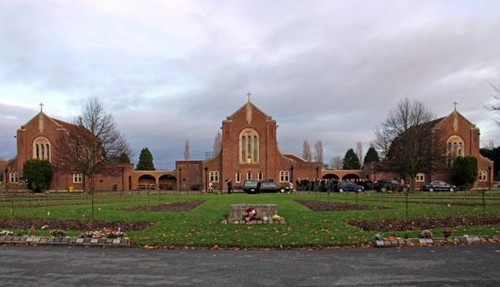 Nowadays, of course, all denominations and none use them all interchangeably. Steve was my Chapel Superintendent this morning, a friend from the old days on the Wirral. He was telling me that, at the height of the pandemic, they were having to work will 10.00 every night, starting at 6.00 in the morning. Thank heavens that peak has passed.
I've started something by mentioning those wretched delightful Bus Lanes that have sprung up like mushrooms all over Chester. Clearly many of you have very strong opinions on the subject, for and against. Yippee! One question: are they operational at the moment or not? The temporary yellow signs seem to say they start sometime in September, and there are no permanent roadside ones to say what hours they operate over. But everyone seems to be obeying them, with some wonderful snarl-ups along Boughton. Second Question: coming from the Bars Roundabout, how do you get into Waitrose without crossing the Bus Lane? Just asking. No need to shout.
Another Sicily photo from the Grand Duchess, this time showing the Crown Prince and Princess Royal thinking deep thoughts as they stare moodily out to sea. Probably wondering how on earth they are going to afford to look after their mother in her old age. She's not going to be cheap, kids.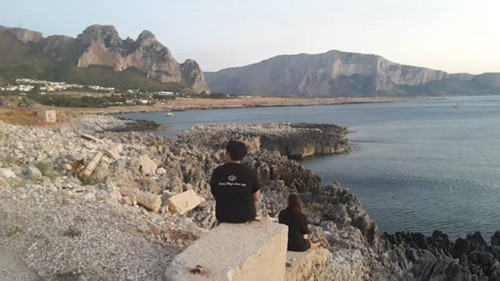 And finally, another lovely snap from Patrick and Mary's Golden Wedding Renewal of Vows: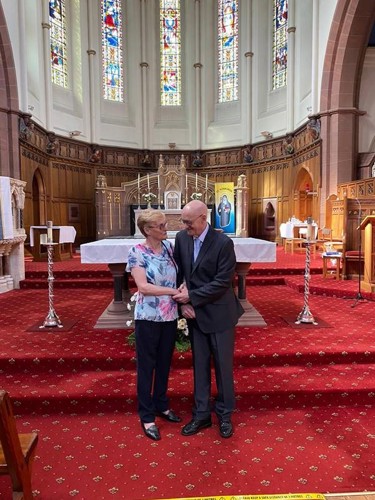 It's true what they say about St Werburgh's, isn't it? Beautiful church, shame about the Priest. You never get it all in this life, do you?
May God bless you all,
Fr Paul
---
Thursday 27th August 2020
Just sitting down to start the Blog this evening, and a callout came from the Ellesmere Port Cottage Hospital to the lady I've been visiting every week on the Stroke Ward at the Countess. I've called her Jenny, and some of you have been asking me how she was getting on: the lady on the Stroke Ward who couldn't speak, just holding my hand, looking at me with such a tearful, expressive face, and refusing to let go. A week ago, she was in a side room, and completely unconscious, and I remember telling you all that I felt she was starting to fail. Not on the list at all yesterday, so I feared the worst. So, very pleased to be called up to the Cottage Hospital and meet her daughter and hear all the family background and celebrate the Sacrament of the Sick together. Her real name is Janet, and I ask you to keep her in your prayers tonight as she starts that wonderful journey Home to the Lord.
Name are sensitive things: I'm very conscious when I meet people in the Hospital of the need to respect Patient Confidentiality. But again and again, you know exactly who I'm writing about! You were spot on with the gentlemen I met on Monday, and then again yesterday, looking ten times better. "That's my dad!" said an excited email this morning from East Yorkshire. [Where that? Ed] "Thank you so much for visiting him!" And then another email about the same patient, from the Grand Duchess's next-door neighbour. (In Vicar's Cross, you fools, not Latvia!) You were both able to fill me in on so much detail. Everything my gentleman told me was true, but, as I said, there were big gaps in his memory, and you've filled those in beautifully. Thank you, Naomi and Sue!
Talking of the Grand Duchess, I told you she's just back from a week in Sicily. Jealous? Me? Why should I be? I mean, she's sent me some lovely photos of the blue skies, Italian countryside, fantastic buildings. What's to make me envious? I'd hate a view like this from my apartment terrace, wouldn't you?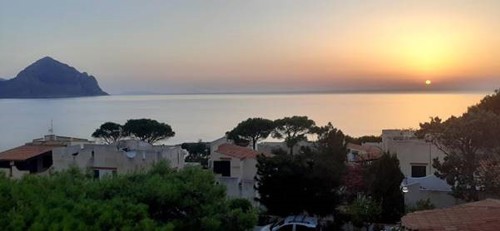 Superb Zoom SVP Meeting last night, and a thousand thanks to Steve, Fran and Richard for organising it. Really good to hear how the SVP have been faithfully continuing their work all through lockdown and keeping in touch with so many of our elderly and self-isolating Parishioners. They shared with me the feeling that it's time now, respecting all precautions, to start moving forward. I totally agree. How about the autumn Elderly and Housebound Mass and Tea? Clearly, we can't ask the Primary School to host it, as they so excellently do every year. But can we do it here in Church? My own reaction is, "Of course we can!" No reason why they can't be brought here using "taxi rules" (passenger in back seat, both passenger and driver wearing masks, and car window open). They could be safe-spaced for Mass, and given a cup of tea and some sandwiches and cakes afterwards, surely? It will mean a 2.00 am start in the kitchen for me, but you know how I'm pleased to serve. Especially at 2.00 am. Something for the Taskforce to start discussing, and hopefully planning for, when we meet on Monday.
Last week, Mary and Patrick came into church for a special Blessing for their Golden Wedding Anniversary, married here in the Werbies August 1970. The family took some lovely photos, and I'm delighted they've given permission for one of them to appear here. Patrick hasn't been in the best of health recently, and it meant so much to them to be able to come back here and renew their vows and give God thanks for Fifty Years and Never a Cross Word. Or something.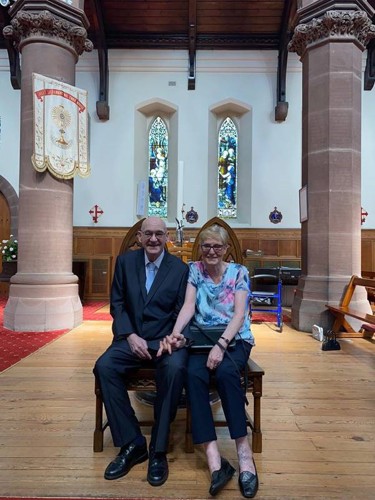 May God bless you all,
Fr Paul
---
Wednesday 26th August 2020
Most kind of the Grand Duchess of Riga to send me some snaps from her holiday last week in Sicily. They were staying at Macari, a village near to Trapani on the north coast, right on the shores of the Mediterranean. Here are the little fishing boats pulled up on the beach: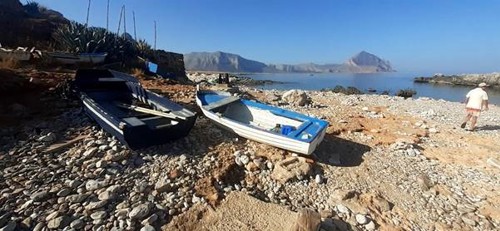 Just look at that sky. It could be Chester, couldn't it? Thanks so much for sending them, Duchess (he said through gritted teeth).
Actually, the sky last night over Chester was magnificent. I couldn't get out till gone 7.30 pm (martyr to the Parish, chained to the office desk, contd. p 94) and Storm Francis was still blowing a gale. What rain there was, was blowing on the wind, and not enough to stop an intrepid walker like me (??) The scudding clouds and sunset were a picture over the Racecourse, quiet and deserted. I had the place to myself me and the tail end of the Storm.
Who on earth would want to be in Italy in August when you can have weather like at home in Chester? Rhetorical question number two: who's the bright spark who thought up the plan for these Bus Lanes in the middle of Chester? Do what I did yesterday and stand there for ten or fifteen minutes and see how many buses are using them. You'd lose the will to live before you saw a single one.
Into the Hospital at 10.00 am this morning, some welcome signs that some of the other chaps are starting to come back in. Good chat with our Lead Chaplain, Rev John, and then round the wards. Monday's call-out had staged something of a minor miracle, ten times better and so much more lucid and communicative. But still with some huge memory blanks, like where he was living now and what had happened to him. But definitely back in the land of the living, for which Thanks be to God. Very pleasant lady, in for tests, hailed me with "I know you! You're from St Werburgh's!" I was about to deny all knowledge of the place and hope no cock crowed, when she said she's been once, ten years ago, Christmas Eve Children's Mass. "You didn't have three Kings, just two Kings and a Queen!" Sounds about right. Chances of holding such a Mass this year? Not looking bright at the moment, are they?
Charlie's been in the Hospital for several weeks now, and not showing much sign of getting back on his feet. He always tells me how fed up he is but seems to enjoy the ten minutes he takes to tell me. Today, two large pork pies on his locker, brought in and left at Reception by his wife. He clearly fancied one in the middle of our chat, so took a large bite. "That's no good!" he said and proceeded to take his teeth out. Both uppers and lowers. And consume the pork pie that way. Absolutely fascinating watching someone eat a pork pie without teeth. I wonder if I could get him on Britain's Got Talent or the X Factor?
Finally, Josie, a very pleasant lady from Huntington, whose son is a mate of Hugh from Handbridge. Apparently, they prop the bar up at the Catholic Club together. (John: you really, should get a better class of clientele). Son told Hugh about Mum being in Hospital, Hugh told me, and here we are. I knew all those pints Hugh's downed at the Club over the years would pay dividends one day…
Lovely email from one of our Student Stewards this morning, now getting ready to go back to University: "I wanted to say how much I enjoyed being part of the Stewards Team over the past few months. Entering into the church community again has been a very fulfilling and lovely experience". See, you cynics! Putting on a pinny and setting to with Jay-Cloth and disinfectant can be a whole new way of life…
And finally, this email from another of our students made me smile, the perennial problem for Unis of what to do with bikes left there, made ten time worse by the last six months lockdown:
Good day everyone,
Over the course of lock-down the College has been home to a number of bicycles locked into bike sheds and stands; some appear to be not road worthy or working. 
In order to provide space for bicycles in the new academic year we are carrying out our annual bicycle cull on site week commencing 14th September 2020.
If you have a bicycle currently on the main site you must contact us before the 14th September with a full description of the bicycle and its location. All other bicycles will be removed and recycled or donated to a charity.
Don't you love that – "our annual bicycle cull".  How cruel! You know full well what's going to happen. There'll be a bike that's been there forever, falling apart, completely unroadworthy. Appeal after appeal for its owner to come forward ignored. Eventually, they cut it free and take it to the great Bicycle Shed in the sky. Very next day, irate message: "Where's my bike? What have done with it??"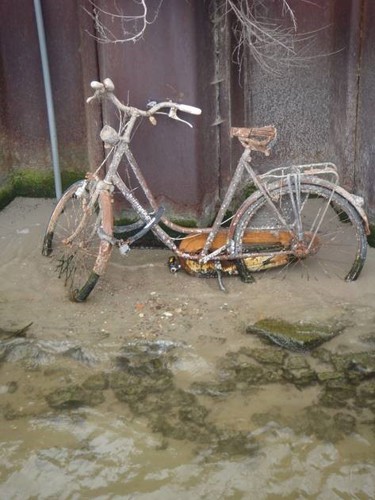 If any of you recognise that bike, tell them not me!!
May God bless you all,
Fr Paul
---
Tuesday 25th August 2020
Time to start contacting our new Wolunteers and talk about Training and Rotas and other exciting topics. Ann and Pat Quinn, Ben Preston, Madeleine Morrin, Gillian Roe, Meg Ahmad, welcome on board! We need a team of fourteen Cleaners / Stewards for each of the two "slots" on a Sunday morning, 8.30-10.45 and 10.30 to 12.45, so you can see how labour-intensive it all is. And why we are moving slowly to extend Mass provision to weekdays and weekend evenings. "Festina lente!" (as they say in German).
Funeral this afternoon here at St Werburgh's for Colin Watson. He and Catherine (Green) married here on Saturday 7th October 2006, exactly a month after I arrived. Fr Peter came back from Hazel Green to do the ceremony. I remember asking Catherine if I wasn't good enough for her? "We didn't know you", was her answer. Honestly, the excuses some people will give to get out of a Papa P wedding.
Colin was an extraordinary man who cared passionately for the environment and campaigned ceaselessly for green causes. He worked initially in the Nuclear Fuel industry but after Chernobyl in 1986, became disillusioned with the risks it posed, and transferred to the chemical industry at Unilever. He became a Catholic in his thirties, and was received into the Church at St Theresa's, Blacon. Marriage to Catherine in 2006 brought him not just a wife and partner, but an absolute soul mate in all his environmental passions, and early retirement seven years ago allowed him to throw himself full time into all his many, many campaigns both local and national.
Sadly, only thirty allowed in the church, but an army of cyclists outside who accompanied the hearse down to Blacon afterwards were wonderful testimony to his passion for cycling. One of the most beautiful signs for me in this Celebration of his Life was the beautiful cardboard coffin. I know I've expressed this personal enthusiasm before but seeing it today in our Church just brought home to me how beautiful it is, both aesthetically and ethically. My hunch is that before too much longer, they will become standard, and, as in so much else, where Colin led the rest of us will eventually follow.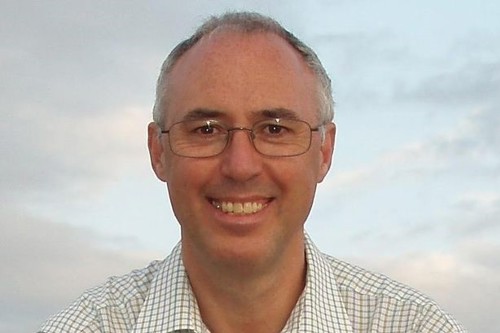 On one of my favourite walks last night, over the Meadows and back through Queens Park I passed the apartment I mentioned a couple of days ago. It really is the best of both worlds, the compactness of an apartment but the room size of a house, plus a garden and garage. This is the main sitting room: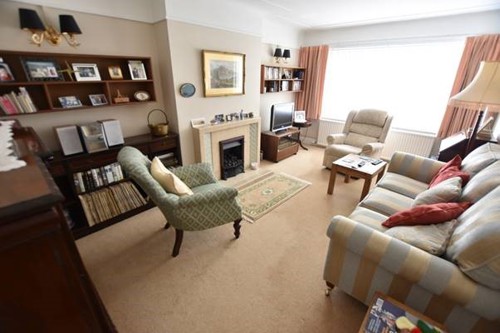 There are special reasons for giving this particular House Sale a bit of a push, the wonderful Werbie looking to sell this property wanting to move right into the City Centre. It's a very spacious two-bedroom apartment for sale in a beautiful part of Queens Park, just near the Meadows and a short walk over the Suspension Bridge into town. Very attractive rear garden, garage and ample parking. It's the bottom half of a two-storey house and is an absolute snip at £275,000.
Or do you fancy this to live in, Inverailort Castle, used for training SOE agents?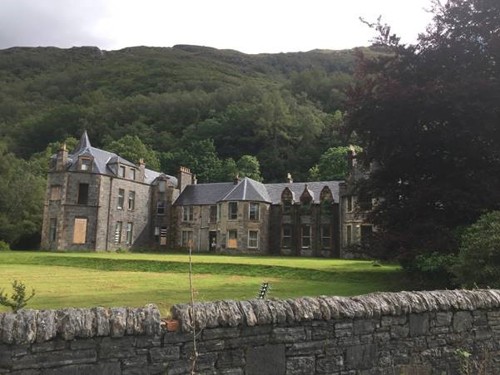 It was snapped by Ann and Jed on a holiday in Scotland last week, on the banks of Loch Morar, not far from Fort William and Ben Nevis. It would be an amazing project to restore – super views but don't think about the heating bills? They also saw this Catholic Church nearby, overlooking the Loch: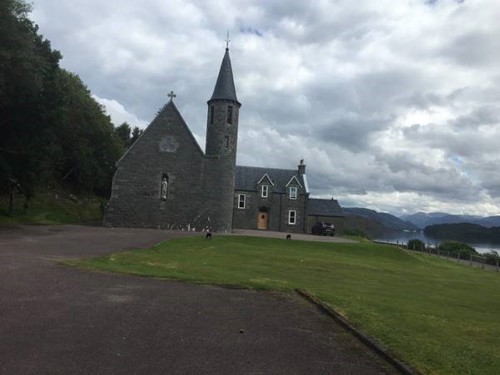 It's dedicated to St Cumin and Our Lady of Perpetual Succour. And before you all start sending in your witty little suggestions, yes, I do know St Cumin is the Patron Saint of Curries.
May God bless you all,
Fr Paul
---
Monday 24th August 2020
A tiny bit of Smug Very this morning as the Taskforce sat down as usual at 10.30 to review yesterday. The system is working well, and more and more people are feeling confident in returning to Mass. What's not to like? Inevitably, people are starting to relax, and that's expected and good. But it can bring its dangers. Some folk yesterday were less than willing to wait for the Stewards to usher them out for Holy Communion. Some were turning up at the last moment which meant getting down their details for Track and Trace was a bit of a challenge. But these are minor issues our crack team of Stewards are more than capable of dealing with. Huge thanks to the six new Wolunteers who've come forward. You really are stars and are going to be so useful now that some of our Students are leaving Chester to go back to college. 
Then we went on to look at restarting Daily Mass. Not happening immediately but we've started getting our heads round some of the issues that would raise. Finally, a look at our Fire Audit and great to realise how much work Brian, John, Gordon and Tony have been doing to answer all the Audit questions. Thanks team!
Call-out to see a gentleman in the Hospital this afternoon, on the Medical Assessment Unit, probably the busiest ward in the Countess. It's where patients go after they've been admitted and when they are still need a full diagnosis before decisions can be taken as to which ward they should be transferred to. There must have been eight or ten doctors on duty today, all consulting each other, reading notes, looking at computer screens, talking to patients. Some of them looked about sixteen. What do they say about Policemen looking younger?
My gentleman was very poorly, and not finding talking easy. But wanting to chat. I could only understand about a quarter of what he was saying, but that was enough to keep a conversation going. Born in Liverpool, grew up in London, came back to Liverpool to work, one son and one daughter. Any particular reason why he'd asked to see me? "I just wanted to see a Priest!" he said in such sad tones, his eyes filling with tears; "I'm so glad to see you!" Not me, you idiot, not FP, not Papa P. Lucky man, he'd never heard of any of those odd characters. Just "a Priest". Any priest would do. For the umpteenth time, this isn't about me. It's about the Christ we represent. On a good day. I was just so privileged to be "that Priest" today. On a bad day? Don't ask.
Lovely hour this afternoon with one of our sixth formers, having netted an amazing Four A Stars in their A Levels last week. Wow! That's top grades in any language. They had a good crack at Oxford last Autumn, got through to the Interview Stage, but weren't finally lucky in securing a place. Remember it's a ratio of 5:1 for all applicants, which comes down to 3:1 if you get an interview. Unfortunately, they're all good! No duffers among them. My youngster has an excellent University offer down in the Smoke: but should they take a gap year and have another crack at Oxford? That's a complex one, and we spent our hour teasing out all the arguments for and against. Now they're going off to Scotland for a week's holiday to mull it all over, and we'll get together again when they get back and see what decision they've come to. Please keep this youngster in your prayers as they face this difficult choice, a choice which, at the end of the day, only the individual can make, no one else.
Talking of holidays, did I tell you I'm not going on mine this year? I did? Are you certain? Just checking.
Final Quiz Question: this photo was taken yesterday. But where?
Answer: New South Wales, Oz. Fair dinkum?
May God bless you all,
Fr Paul
---
Sunday 23rd August 2020
Lovely message to share with you: Judith from Bunbury sent this in after Mass this morning. "A young Deliveroo cyclist passing the church looked across and made the Sign of the Cross (without slowing down). Good to see a nice tradition upheld. Sunday mornings continue to be an absolute joy." Do they ever slow down? Or don't they want the Pizzas and Kebabs to get cold?
One of our CathSoc students last year, Patrick, was a Deliveroo Cyclist as his Uni job, and had legs of steel! How's it all going this year, Pat?
Thanks for sending that smashing story in, Judith. And thanks to everyone for showing up at Mass today, record numbers once again. We were 243, up from 232 last week.
Week One: 147
Week Two: 198
Week Three: 201
Week Four: 215
Week Five: 232
Week Six: 243
Today's figures in full: 64 at 9.00, 64 at 10.00, 61 at 11.00 and 54 at 12.00. We're still very pleased that we've not have to turn anyone away, and that, as a result, we've not needed to introduce a Booking System. Tomorrow morning, when the Taskforce meets, we'll start thinking about Weekday Masses, and how best they can be started up again. The other great news this morning was the number of young families we welcomed back. I counted over seven such families, and it was a sheer joy to see children back in St Werburgh's. Even Michigan Monsters. (Help! What am I saying?)
And finally… A Lovely Apartment for Sale in Handbridge. Please don't think I've given up the Priesthood and gone into the Estate Agency business. But there are special reasons for giving this particular House Sale a bit of a push, the wonderful Werbie looking to sell this property wanting to move right into the City Centre.
It's a very spacious two-bedroom apartment for sale in a beautiful part of Queens Park, just near the Meadows and a short walk over the Suspension Bridge into town. Very attractive rear garden, garage and ample parking. It's the bottom half of a two-storey house and is an absolute snip at £275,000. Not many apartments come with their own parking and back garden: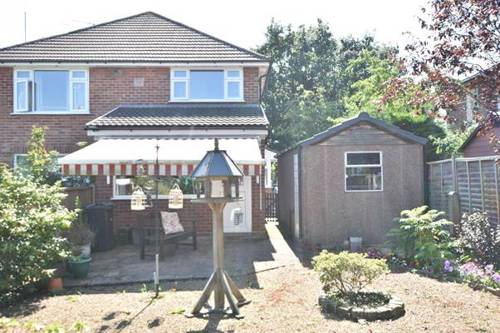 If interested or you'd like to know more, see FP, and I'll put you in touch with the Agents.
Busy afternoon today, meeting a number of families to talk about forthcoming funerals. Always a privilege, as we prepare to celebrate both this life and the Life Eternal. Please keep these families in your prayers, Colin's, Michael's and Little Les's.
May God bless you all,
Fr Paul