Daily updates 24th-30th May
Saturday 30th May 2020
Bishop Mark has asked if any Parishes would like to wolunteer to be in the first phase of re-opening when the time comes. Not here yet, not imminent, but could possibly be within the next four to six weeks. He doesn't want us to be caught on the hop by a sudden Government announcement, as happened in some areas of France last week. So, he wants every Parish to appoint Re-Opening Coordinators, and to start the process of thinking about all that has to be done, spotting hazards and snags, brainstorming the issues of each local individual church and its own particular challenges. Delighted to say that we now have a Re-Opening Taskforce in place – Syd and Denise Jones from Parish Council, Brian Burns and John Curtis from Health and Safety, and Muggins. We meet for the first time on Monday, safe-distanced of course, and start thinking if we would like to wolunteer to be one of Bishop Mark's "First Phase Churches" or not. Arguments for and against, and I know the five of us will come to the best decision we can for our Parish and all those we serve.
Tekkies were on the ball last night, which is more than can be said for the auld eejit, the Parish Priest. They spotted that the message from Vincent and Pat's Geneva Parish, as it stood, inviting people to sign up for which Sunday Mass they would like to attend, as a way of controlling numbers, had live hyperlinks in it. [What they? Ed] Such that Werbies could have clicked the link and signed up for any of their Sunday Masses. In Geneva. Cue rotten Swiss Accent. "Who are zeese Verbies? Vy have they not turned up for our Mass?" Oh, I give up – there are some levels of comic claptrap to which even I will not sink. [Really? We haven't noticed. Ed]
While we are on the European theme, great to hear yesterday from Henry Appleton, another ex-Catholic High, the year above Dr Sam – Henry, Josh Band, Sam Farr, James Cunniffe, all the usual suspects. Henry did Maths at Bath and then joined Ernst and Young for Chartered Accountancy training. At Bath he met the beautiful Mona – the unanimous verdict of his year was that he was "punching" – graduated in 2013, qualified as an Accountant and went out to Norway. He loved it and the fragrant Mona in equal measures (I had to say that if I want an invite to the wedding next year) and we had a superb catch-up at Christmas. He's just fallen in love with the life out there, personally and professionally. Like New Zealand – both small but confident nations? – they went into lockdown early, and have had a better outcome in terms of infections and deaths than those countries (mentioning no names) that were possibly a little more casual in the early days. (Sweden?) He made me smile with one expression – they don't "work from home" out there, they "work from cabin"!
And talking of Maths at Uni, another of my brilliant Radio Two links [Oh, do get on with it! Ed], a fascinating obituary in today's papers of one of the extraordinary "Bletchley Girls" who worked on Decoding Enemy Signals in the last war from their famous huts, culminating in the almost unbelievable story of breaking the infamous Enigma Code. Anne Mitchell was one such, who went on to have a career as a Social Psychologist and wrote some highly influential books in the 1980's on the effects of divorce on children. Shas now died at the age of 97. But this was her academic beginnings: she gained a scholarship to Headington School, Oxford from 1930 to 1939, before winning a place to study mathematics at Lady Margaret Hall, University of Oxford, between 1940 and 1943. At the time relatively few women went to Oxford and even fewer studied maths. There were only five women in her year at Oxford and she remarked that the men coming to university had been taught maths much better at school than the girls. Indeed, it was suggested to her by the Headmistress of her school that studying maths was "unladylike". Her parents had to overrule her school to allow her to take up her place at Oxford.
A generation earlier, Violet Bonham Carter (Violet Asquith before her marriage, daughter of the First World War Prime Minister, Herbert Asquith) was told by her Governesses that she certainly could not study Classics at University: "No man would ever marry a woman who knew Greek", she was firmly told. She didn't get to study Classics, but she did marry, had a very formidable career as a politician herself and is the grandmother of the actor Helen Bonham Carter. (Question: when were we no longer allowed to use the word "actress" and why not?)
I don't know whether I'm sorry or not for posting those couple of items about online scams. Surely no-one ever falls for them? Alas, someone must, or they'd have given up by now. This is one I get on a regular, weekly basis, only the names redacted (Good, eh?) [I'm warning you. Ed]: this is from somewhere in Africa, someone on the point of death, no one to leave their fortune to, so thought of the Werbies. Isn't that sweet? They'd like it to go to "widows, orphans and the less privileged". If we could send over our Bank Details…
So, it's for widows, orphans and the less privileged ones, eh? Can you form an orderly queue, please, starting outside church, snaking along Bath Street and as far as the Town Hall if necessary? Safe-distanced six feet apart, needless to say. (Did you like "next of king"?)
Lovely to hear from Caroline from Stockport this morning, an altar server in my second parish, Our Lady and the Apostles, all those years ago. I remember her as a bonny little cherub, bright-eyed, bushy-tailed, buck teeth, brace, soppy grin, usually burbling nonsense. And now, twenty-five years later, very little has changed, except that she's a Matron at Stepping Hill! Wow! Turn your back for five minutes and they… Well done, Caroline! Her father is one of the three great Higgins Brothers, pillars of Our Lady's. The stories I could tell about the Flower Sacristy on a Saturday Morning! But I don't gossip, as you know…
Mass Intentions for the week ahead:
Sunday 24th May: Morning: Fr Neill – 1st Anniversary Thanksgiving
Evening: Terry Collier (3rd Anniversary)
Monday 25th May: Gill Wilson (L.D.)
Tuesday 26th May: Gerardina Vitelli
Wednesday 27th May: Maureen and Peter McCabe 58th Wedding Anniversary
Thursday 28th May: Dr Sam – 27th Birthday Intentions
Friday 29th May: Maureen Birukowska (3rd Anniversary)
Saturday 30th May: 61st Wedding Anniversary Remembrance (J&B)
Sunday 31st May: Morning: Wendy Jones (79th Anniversary)
Evening: Paula Farr 50th Birthday Intentions
May God bless you all,
Fr Paul
---
Friday 29th May 2020
 Yesterday, Thursday, down at Blacon we celebrated the extraordinary life of Paddy Scanlan, led by his three wonderful children, Teresa, Judith and Michael, his three grandchildren (Noah, Isaac and Jonah) and his two sisters, Margaret and Aggie. When we have the Memorial Mass in the autumn, we will fill St Werburgh's: but yesterday, it was the intimacy of the immediate family circle, his origins in one of the great families of this parish, interconnected with the McCleary family and so many others. As a mature student, Paddy took himself off to Teacher Training College, qualified, went out to teach in Zambia for three years, and then for so long at our own Ellesmere Port Catholic High. One of his colleagues in the History Department was the legendary Bob Flewitt, the Headmaster. I can remember talking to Bob as retirement drew close – I believe he went the whole way to 65. He told me he was giving himself a little treat, which, of course, he'd cleared with his successor: that he was to come back and teach just his beloved A Level History set, which he'd always done, and which he told me kept him sane. His first and last love – A Level History. This indeed he did for a number of years, travelling from Liverpool each time. I know how much Paddy and Bob valued each other as friends and colleagues. However high you go in teaching, your heart is always in the classroom.
 We came out yesterday, after celebrating Paddy's life, to Ella Fitzgerald singing "Every time I say goodbye". This was a poignant memory for me, as many years ago, I'd mentioned in a sermon – can't think how, must have been in connection with the Athanasian Creed or Council of Trent - that I adored Cole Porter. Coming out of Mass, Paddy said he hoped I was aware there was only one singer who could truly interpret Cole, and that was Ella Fitzgerald. And, to prove the point, he'd make a couple of CD's for me. As good as his word, they duly arrived a few days later, and I still have them. He was absolutely right – Ella and Cole are a combo made in heaven. Thanks, Paddy! Hope you're listening to them right now.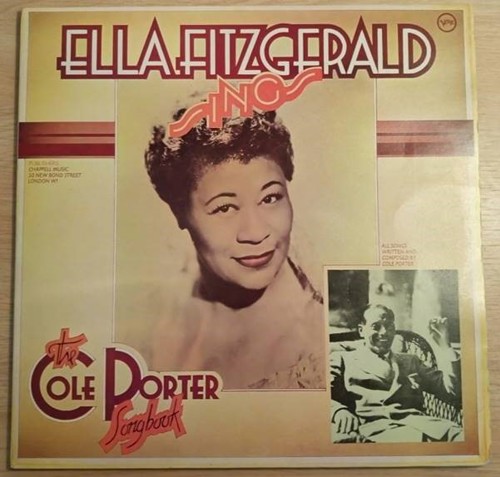 Sunday is the closing date for sponsoring Richard's 10k CAFOD run – all monies to either Richard or myself, please, and then we'll let you know how we've done. I say "we" because I've been his pace man in training, and he'd be the first to say he couldn't have done it without me. Here's a photo of the two of us training last week in Delamere Forest. I'm the one in front, of course, and before you start worrying, well over six feet in front.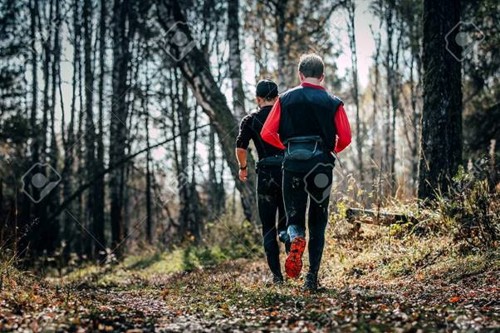 Vincent and Pat still have their house in Geneva, from the days when Vincent worked at CERN, and they often send in fascinating snippets from the Parish there. They've already started re-opening for Mass, using an on-line Booking System to monitor numbers and keep them within the safe-spaced requirements. I thought you might like to see their last week's Newsletter:
Dear Parish Family, 
Many thanks for your cooperation in signing up for Mass this coming weekend.
Our numbers are restricted and some of the Mass times are now full. Please register by Friday so we can properly assign seats for you.
• 18:30 Saturday (Sorry – FULL as of May 27 – Please select another Mass)
• 8:00 am Sunday, register here
• 9:00 am Sunday, register here
• 10:00 am Sunday (Sorry – FULL as of May 27 – Please select another Mass)
• 11:00 am Sunday, register here
• 12:00 am Sunday, register here

If you cannot attend Mass this Sunday because of the Mass you preferred is "full", please inform us so we can try to optimise our system/schedules next week. 
Our registration and safe seating system are new and will certainly be reviewed each week. It represents our best efforts to address your health safety as advised by the federal, canton & church authorities, and at the same time provide Mass for our parish family.
Please also consider attending a weekday Mass which are available at 12h15 on Wednesday, Thursday & Friday. (no registration required)
We invite you to consider that these inconveniences are a practical translation of loving one's neighbour as oneself during this time of pandemic. Remember to read the Guidelines for reopening of our Church from Fr Paul.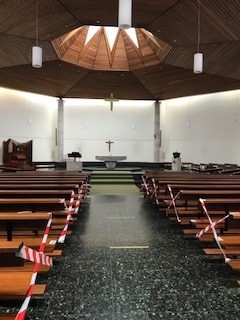 I'm delighted to say that our Werbies Task Force for Re-Opening Church is now formed – Syd and Denise Jones, Brian Burns, John Curtis and myself – and we will have our first meeting on Monday Morning, to begin the essential planning in advance of the happy day. We've already started buying in some equipment – red cord for sectioning off parts of church, and Gladdy from Garth Drive has played a blinder. She's used this lockdown period to re-train as an Avon Lady – remember them? – and sourced lots of Sanitised Hand Gel from Avon for St Werburgh's. She's even promised to deliver them. I just can't wait for that ring on the doorbell, can you? Ding-Dong, Avon Calling! Mrs Baggs, you're a star!
 https://www.youtube.com/watch?v=66IWgU9AAis
 May God bless you all,
Fr Paul
---
Thursday 28th May 2020
On one of the Wards in the Countess yesterday, and a nice, fresh-faced young lad came up and greeted me warmly. I know that face! It's James Guinan, ex-Catholic High School! Hello, James! He's just finished his third year at Leeds University Medical School and using this time away from Uni to work in the Hospital as a Health Care Assistant. What an excellent use of time for any doctor of the future! You really are seeing the Ward from every angle, as well as doing such a useful job. A lovely family, living out at Pulford, and a sheer pleasure to do some Mock Interview work with all those years ago. Good luck, James! This is five of his year getting their A Level Results in August 2017: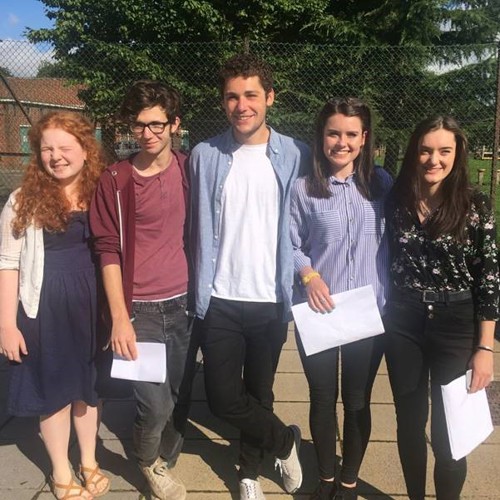 That's James in the middle: how many of the others can you recognise?? And this is James pursuing his favourite – and very successful – hobby:
The Catholic High has an amazing record in sending boys and girls off to Medical School. I must have worked with well over a dozen in my time there. Sam's year, 2009-2011, was Kath Fitzgerald's "annus mirabilis" our phenomenal Head of Sixth Form in those days, with no fewer than four Medics gaining places: Sam at Edinburgh, Jack at Liverpool, Greg at Bristol and Chris at Bart's in London. They all started in the autumn of 2011, so nine years ago. Where does the time go to?
Real "aarh!" story from St Thomas's yesterday, a doctor and a nurse marrying in the Hospital Chapel there. I do feel my age, because I can remember, as a boy growing up in London (inasmuch as I ever grew up), all the "old" Hospitals – the "old" St George's at Hyde Park Corner (now in Tooting), the "old" UCH, still there, next to the spanking new Tower Block by Euston Station; the "old" London Hospital in Whitechapel, Nightingale Wards, the lot, replaced by a state-of-the art modern hospital today; and the "old" St Thomas's. It started life in the middle ages. I think the earliest records are 1215, the year of Magna Carta ("Did she die in vain?") in Southwark, named after St Thomas Becket and run by the Augustinian Canons Regular, and Canonesses, one of the great Medieval Orders. They left Southwark in 1862, for the new site at Lambeth, opposite the Houses of Parliament, opening in 1871. Three blocks were destroyed in the War, and the new hospital on the same site opened in 1975, despite objections from MP's that it was spoiling their view! I'm sure the Hospital could say exactly the same thing – you're spoiling our view!
When they rebuilt St Thomas's in the 1970's – Tommies, as it's always known – they left the core of the old Victorian building, including the magnificent Hospital Chapel. It was extensively renovated and redecorated six years ago, and this is it today: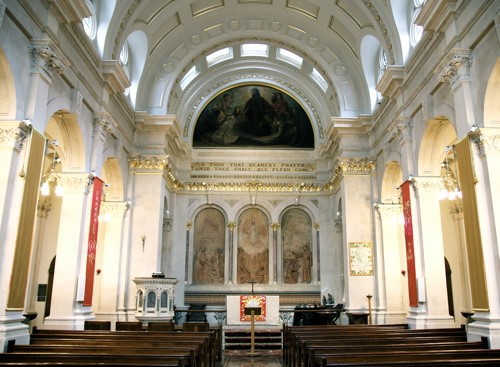 Can you believe that's a Hospital Chapel? Countess of Chester, eat your heart out! It's a part of the Hospital Dr Sam is never out of: the knees on his scrubs are always the first part to go. It was in the news yesterday for a real "feel good" story, a Doctor and a Nurse from Tommies who'd had their wedding postponed, with tens of thousands of others, because of the lockdown. Then they decided to go ahead and have a "5 Person Mini-Wedding" (just the two of them, the Minister and two Witnesses) right where they both worked – in the Hospital Chapel!! If you have tears to shed, prepare to shed them now…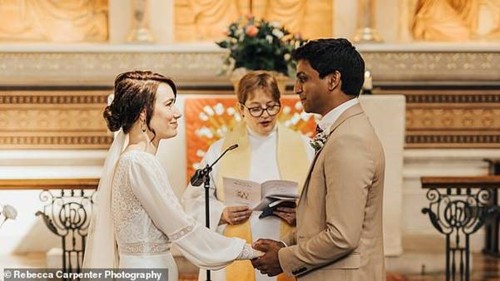 Straight after the Ceremony, out on the terrace, one of them at least getting ready to go back on duty: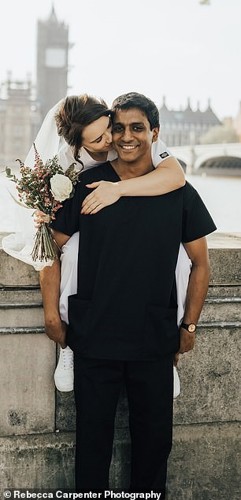 If you are surprised at the magnificence of the Hospital Chapel, you shouldn't be. They are generally superb. And powerful reminders, firstly that Hospitals and the Health Service were the work of the Church centuries before the State and secular Charities came on the scene; and secondly, that spiritual healing and physical healing can never be separated. The Chaplain is still an integral part of the Hospital Team, as I was warmly reminded yesterday, and it's a wonderful job for any Minister or Volunteer to do.
I was thrilled to be in on the building and opening of the new Chapel at Clatterbridge when I arrived there in the autumn of 1997. The old chapel was one of the Army Huts, in the days when the whole hospital was huts. This was a reminder of its origin as a Fever Hospital in 1888 on land donated by William Hesketh Lever, the Port Sunlight Soap Works being only a mile or so away. All the money for the new chapel - 100,000, I remember it so well – was raised by the local Churches and the building was opened by Bishop of Birkenhead with not one penny of debt. The Chairman of the Trust asked how we'd done it, and could we possibly come and work for him full-time? The walls were rather bare, and we set to, to find good decorations. I suggested a large colour picture of the Pope, but the CofE and Free Church Chaplain didn't go a bundle on that. Then I came across an old red Roman Chasuble in St Luke's that was in dreadful condition and only good for chucking. But the back wasn't in bad nick. Kath Adamson, a fantastic needlewoman in the Parish said, "Give it here, Father!" and in a week, had taken the back off and made it into the lovely wall hanging you see today behind the lectern today: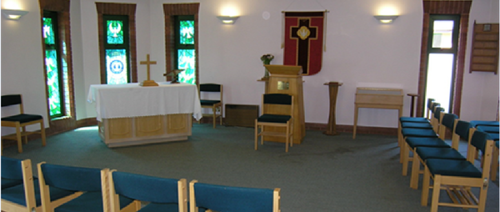 Sorry – I'm just getting a message coming through over the headphones. Excuse me a moment. "James's hobby? Yes, sailing – what about it? Pardon? What's Dr Sam's hobby? Oh, that's easily answered…"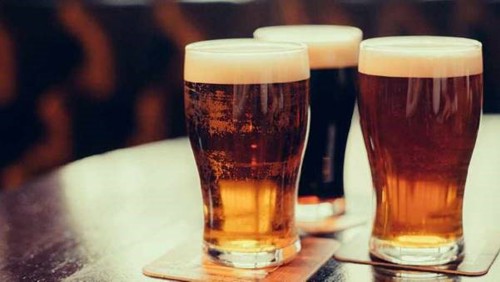 May God Bless you all,
Fr Paul
---
Wednesday 27th May 2020
A thousand thanks for all your Red Cross Food Parcels! Lovely to see Norma from No-Man's-Heath this afternoon, with a bag of FLOUR!! Never mind, "Good grief, is that an orange, Cedric?", the must-have commodity in this particular war is flour, for some strange reason. And, as you know, I rarely have my arms out of the mixing bowl, conjuring up some light-to-the-touch Victoria Sponge or – your favourite – my famous Lemon Drizzle cake. Whatever my Werbies want, it is my pleasure to provide…
Norma was telling me how much her mother out in France is enjoying the Blog! Buon giorno, mama! (as they say in German). But she can't quite work out who Madame Prezzie is. None of us can, mum. Been trying for years.
Good to hear this morning from next year's Prezzie – Swadlincote, where's that, how quickly you're forgotten. Now it's Brizzle. I have a great book upstairs entitled "Krek waiter spek Brizzle". I shall expect us all to have perfect accents by the start of the new academic year. Talking of far-flung parts, in case our country cousins are wondering about No-Man's-Heath, it's an actual little village down the A41, near to Malpas. I don't make this stuff up, you know.
With so many Priests off the Hospital Rota, and no Volunteers able to go in, the non-urgent Catholic Patients have been missing out a bit. Chats backwards and forwards with Rev John Kingsley and Canon Niall Mullaley, our Dean, and it's ended up with yours truly offering to do one session a week, Wednesday Morning, to visit as many as possible. First time today, and I hugely enjoyed it. Took me back to the Clatterbridge Hospital days, when every day would be Ward Rounds in one part of the Hospital or other. Managed three Wards today, twelve patients in total, and it was as if the years had slipped away, as if St Werburgh's were bad a bad dream, and I was back on Sulby Ward, the Stroke Unit, Sandringham Ward on Psych, all the Elective Surgery wards and the Care of the Elderly. I felt so at home there. Especially the last one.
Wonderful icebreaker this morning. Armed with my print-out list of Catholic Patients from Rev John, I head to my first Ward. My first patient? Remember what you were told, Shaw – ten seconds to make the connection, you either do or you don't, and if you don't, you'll never get it back. Big smile – OK, it was an effort, but I managed it, "Hello, I'm Fr Paul, Catholic Chaplain, how are you today?" GO AWAY! I DON'T WANT TO SEE YOU! MIND YOUR OWN BUSINESS! Err, right-io, no problems, have a good day, get me out of here!! Not the first time that has happened, and it won't be the last. No sobbing in the sluice room, just put a tick against that name and get on to the next one, you fool.
Went to see my beautiful married couple from Monday morning, 90 and 91, in next door beds. Still with us, but both a stage further on with their Journey to the Lord. As I was going in, the Palliative Care Sister was coming out, and so good to have a talk with her, and all the work she's doing, especially liaising with families at this terrible time when they can't go in to visit. Once again, I was struck by how she spoke to me as a colleague, always my experience in the Clatterbridge days, hugely complimentary, not to me personally but to the role of the Hospital Chaplain.
Going into the Hospital, I bumped into one of our Werbies, Consultant Orthopaedic Surgeon. No elective surgery at present he was telling me – hip, knee replacements, that sort of thing – but very busy with the Trauma Cases, lots more falls at home, kids falling off trampolines, and so on. You might not think it, but school is a much safer environment for children than home is!
End of the Ward Rounds and handed my notes into Rev John. "There's a Tesco Food Parcel for you!" he said. What? Yes, every Hospital Worker gets a complimentary gift from Tesco. Wow! Thank you very much. Every little helps! [Do you have to be so predictable? Ed] Swung it over my shoulder and headed back to the Werbies in time for the 1.00 pm News. Wonder what's in my parcel? Some fruit, some juice, a Beef Lasagne, a biscuit, and two tubs of yoghurt. One of which had become very detached from its lid…. Oh dear, yoghurt everywhere. Didn't take long to rinse off under the tap and consume the half that was still in the pot. Delicious!
So grateful to Mavis from Mouldsworth for her drone-delivered Offertory Envelope. But saying so on the Blog really has set the poor dear off, a potted history of the Church there rattling down my chimney as I finished the yoghurt. One good thing, it was a lot easier to get out than that dratted lovely Offertory Envelope. There's only so far an unravelled metal coat-hanger will reach, you know.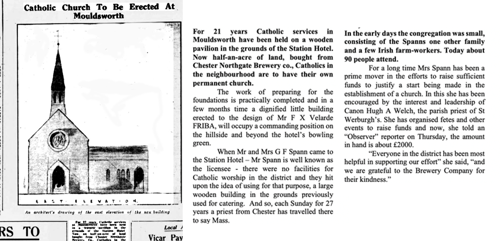 I love that last sentence – we are most grateful to the Brewery Company for their kindness. I feel that same way every time I down a pint. Which I could murder for at present. Agreed, Grumpy from Gresford?
Let's raise the tone a little, shall we? Galileo from Great Boughton has always been a bit of an amateur astronomer – "Head in the clouds, you mean," opines his good lady wife, Hattie from Heath Lane. Apparently, a look up in the sky tonight about 11.00 pm could see something worth seeing:
It occurs to me parishioners might like to try this little project: to attempt to see the International Space Station and Elon Musk's SpaceX Dragon rocket tonight.
Shortly after 10.30 pm our time tonight, the very first manned mission of SpaceX Dragon is due to be launched from Cape Canaveral in Florida. It will almost certainly receive some TV and other media coverage. Its mission is to link up with the International Space Station (ISS). It so happens that for the rest of this week we will have regular opportunities to see the ISS as it crosses our sky. Not only that, but we are well placed to see the SpaceX manned rocket, less than two hours after its launch, as it makes its way to the ISS.
The ISS will pass over Chester shortly before 11.00 BST (BST) tomorrow. It will rise in the west at about 10.57 pm. It will climb high in the south-western sky, reaching its maximum altitude, almost overhead, around 11.00 pm. Then it will sink in the eastern sky and (probably) fade out of sight into the Earth's shadow shortly before 11.15 pm. It will be spectacular. It will appear almost as bright as the planet Venus and will be quite unmistakeable. Anyone who takes the trouble to look will see a brilliant star-like point moving slowly and silently from east to west against the background of the stars.
The SpaceX rocket (assuming the launch takes place at the scheduled time) will follow about an hour and a quarter later. It will, however, be quite a challenge to see it. In the first place, it will not rise far above the horizon, and in the second place it will not be as bright as the ISS. It will reach magnitude 2.6 – about as bright as a moderate but not particularly conspicuous star, such as the stars in Orion's belt for anyone familiar with the constellations. The place to look will be in the south west, just above the horizon. Binoculars may help. Again, the rocket will move slowly against the background of the stars before vanishing into the Earth's shadow. The best time to look will be between 1124 and 1128 pm. Parishioners shouldn't worry if they see nothing at first. The best chance will be during the last minute or two, but observers will need a low, clear south-western horizon. They should keep looking south-west, just above the horizon.
In summary, the only thing that will prevent anyone seeing the International Space Station is a cloudy sky, but even if tomorrow is another clear night, it will be quite an achievement to spot the much fainter SpaceX rocket!
The only thing stopping me seeing it will be a cloudy sky? How about being tucked up in bed with a good book, Gally?
If you haven't got a telescope, you can use the naked eye, I believe. If that doesn't help, you may need to go to Specsavers. Have you seen, they now have a new Eye Test Chart?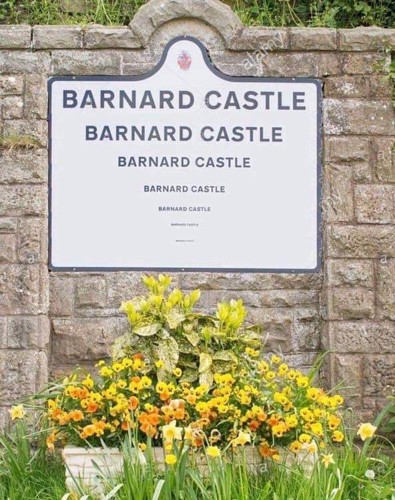 That amateurish email scam from Amazon – Azanom? – Monaza? – has tickled the criminal in too many of you. Some of you seem to know a suspicious amount about online scamming, Bertie of Beaconsfield especially. This came yesterday from Theresa, Bishop Mark's PA, to all the Priests of the Diocese:
"On 22 May 2020, at 08:38, Fr. (priest's name) <parishpastor694@gmail.com> wrote:
 Hi! Hope you are having a nice day?
I need your help with something very important. Email me as soon as you
get my message.
Fr. (priest's name)"
Notice how the scammer has formed an email name and address to make the recipient think that it is genuinely from the priest.  Once the parishioner responded to this email, the following email was sent:
"OK. I'm in a meeting right now and I really don't know when the
meeting will be rounding up .Can you help me order or get a Google
play card worth £500 at £100 denominations for a Seminarian of mine
that was tested positive with Covid-19. He needs the cards to download
his favorite Gospel musics and videos to boost his confidence to
enable him get rid of fear of the Covid-19 in the hospital.  Can you
order or get the cards from any store around you and have it sent
directly to his email at the hospital today, I will pay back as soon
as I can. Thanks."
Spelling of "favourite"? I hope this isn't you, Bertie, behind this, as it's been sent to a number of Shrewsbury Priests, I gather.
And finally, another suggestion for differentiating the two Bishop Marks. It's from Quentin of QEII:
On the topic of distinguishing the two Bishop Marks, by the way, may I make the following suggestion:
 Bishop Mark (Shrewsbury)
Bishop Mark (Plymouth)
Not too ecumenical, our Quentin.
May God bless you all,
Fr Paul
---
Tuesday 26th May 2020
Throughout his Blog, we have tried to show our solidarity with the front-line workers in our Hospitals and Care Homes by taking an intelligent interest in their work. It's good to know they have felt the same way about ours. Witness a touching message from Dr Sam, on the front line in St Thomas' Hospital in London, who's been worrying himself sick about our little problem with safe distanced Baptisms. He's come up with the following suggestion: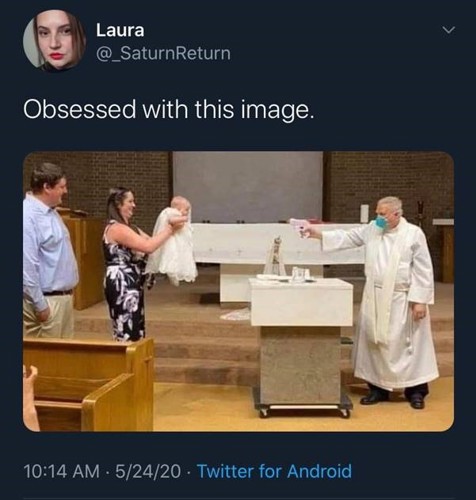 Have you got no bedpans to empty, Sam?
And before you start, Choir, no, that is not me behind the mask. Would I have a FONT ON WHEELS?? Pur-leeeeeeeze. And as for Father's ample girth – I am now a shadow of my former self. FP Fitness Videos? Physician heal thyself. One question: if Fr misses, does that mean Mum is getting Baptised all over again? And to think the fourth century tore itself apart on the question of re-Baptism. Mind you, St Augustine would have loved that water pistol.
Very nice letter this morning from our friends at Rowton Methodists. As you know, we borrow their beautiful little 1865 Chapel on a Saturday Evening for our Vigil Mass. It suits us down to the ground, as we just about fill its sixty seats. From my point of view, I love it, as it's possible, in that venue, to give a much more intimate level of cheek and abuse to the Congregation. Most of whom come from the United States, but that's another story. In return, we know that the rent we pay Rowton Methodists is much appreciated by them, and significantly helps to keep them afloat. So, what to do in lockdown? It's rather like the bill from the Redemptorists for the May Newsletter outsides. 50 a week – but we're only using a fifth of them. BUT… They've had the costs of printing and distributing them, and why should they take the hit if Parishes refuse to pay? This is Lockdown Economics, folks, and everyone is suffering. We either all become incredibly selfish and adopt a "Can't Pay! Won't Pay!" Policy, or we share the pain. Result? We pay the Redemptorists in full and offer Rowton half-rent during the lockdown. Letter from Rowton today saying how incredibly grateful they are for this gesture of good-will. "We very much appreciate your support during the lockdown", they write, "as it certainly helps us to continue meeting our bills." A pleasure, Rowton – and thanks for the use of your lovely chapel!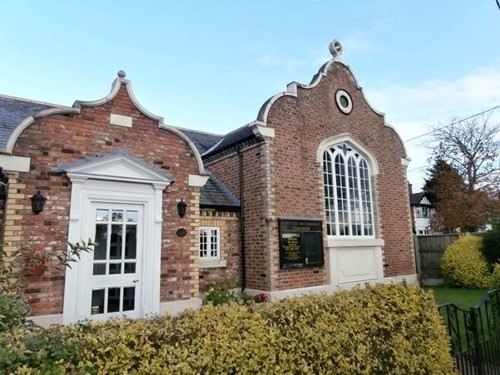 And sincere thanks to all of YOU who somehow manage to get your Collection money to us by fair means or foul. Mavis of Mouldsworth certainly came up with a novel method: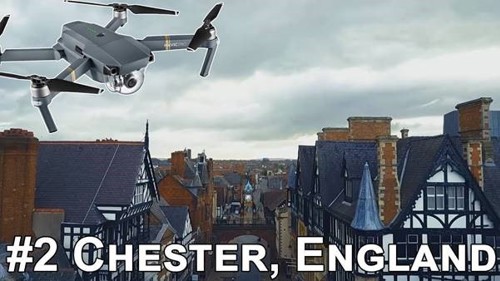 Thanks, Mave! All I have to do now is find a way of getting your envelope out of the chimney, wedged half-way down. Don't worry – I'll come up with something!
Our Parish Council and Health & Safety Group are now putting their heads together to plan for the happy day when St Werburgh's will be open again, first for Private Prayer and then, eventually, for Public Mass. Bishop Mark's message, reported here a few days ago, was stressing the need not to be caught on the hop by a sudden Government Announcement. Judging by this News item in yesterday's "Tablet", that seems to have been what's happened in France:
Many Catholic parishes across France reopened for public Mass last weekend in some hurry and disarray after the government, prompted by the country's chief administrative court, lifted the ban imposed during the coronavirus lockdown. The interior ministry announced last Friday evening, 22nd May, that houses of worship could reopen from that weekend if they observed strict health guidelines, including social distancing that would cut attendance to about one-fourth its normal size.
After missing ten Sundays, many Catholic churches reopened promptly, having already organised seating, and bought face masks and hand gel. Others opted to wait a week until Pentecost Sunday for more time to prepare and inform parishioners. 
"Every bishop must see with his priests which churches can open right away and which need more time to get organised," bishops conference spokesman Fr Thierry Magnin said. Other faiths were more cautious. The French Muslim Council said the official decision caused confusion because it came two days before the Islamic feast of Eid al-Fitr that the Council had decided not to reopen mosques to celebrate. "It looks better to wait until 3rd June," said council president Mohammad Moussaoui, noting social distancing would be difficult if the first public prayers at a mosque came on the feast day after the fasting month of Ramadan. Orthodox Christian churches will also wait until 3rd June. Jewish and Protestant leaders also urged prudence and advised their congregations to wait until June. 
In a well-staffed diocese such as Paris, parishes added Masses to make up for the limits on attendance. This often meant an extra Saturday vigil Mass and two additional services on Sunday, something rural dioceses with few priests cannot offer. Reopening has led to tensions between the government, which stresses health concerns, and some Catholics citing their religious right to assemble. The bishops conference did not support this view but was overtaken by the Conseil d'Etat's court order. "The government took us by surprise, and on a Saturday," exclaimed Bishop Bruno Grua of Saint Flour in the Auvergne region, which will resume public Mass at Pentecost. 
Watch this space for our thinking on reopening the Werbies, ready, we hope, with full planning, for that happy day when our doors swing wide open once again.
Enough politics to last us a lifetime at the moment, agreed? I mustn't enter the political arena at any time: but I'm very tempted to start a Petition to get the Dear Leader replaced by Joyful Jacinta, who's playing a blinder Down Under in Kiwi-Land. Not only has she had one of the best Covid-19 results of any country on earth, she also weathered (good, eh?) a not-so-little earthquake yesterday. While she was actually on air!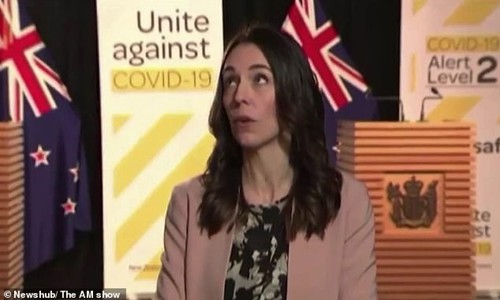 "We're just having a bit of an earthquake here," she said, in mid-Interview. "Quite a decent shake - if you see things moving behind me. Now, what were we talking about?"
That's my girl! Consummate sang-froid, as they say in German. Jacinta for No 10! Watch out for the on-line petition, and make sure you get your vote in early.
Looks good news from Italy, France and Spain too, roughly a fortnight ahead of us, and no sign so far of a second surge as a result of loosening lock-down restrictions. Two lovely photos from Rome to share with you, the first a quintessential caf頳cene along the Corso from the English College. The coffee comes second to the people-watching.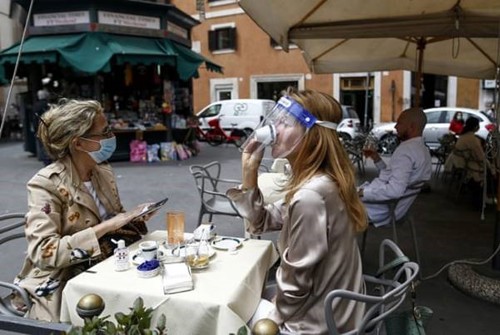 The second one is the Capitoline Museum, all museums and galleries now re-opened in Italy. In case you're wondering, the foreground is part of that extraordinary Equestrian Statue of Emperor Marcus Aurelius. (Equestrian, Werbies? It means he's on a flaming horse, do you know nothing?)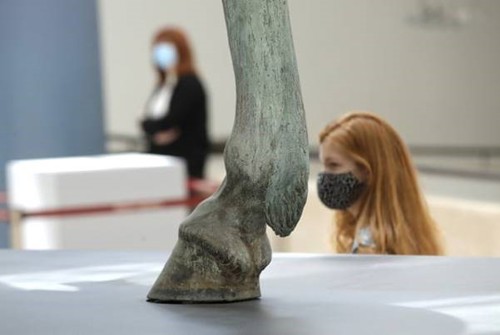 All this high art and culture. Has the Werbies nothing to match? Well yes, we do have one statue here, out in the garden, which, for obvious reasons, we don't tend to advertise. Speaking personally, I wasn't keen on having a Garden Gnome on display, but the gardeners insisted. At least it's in the Rockery, by the Disabled Entrance, out of view of the general public: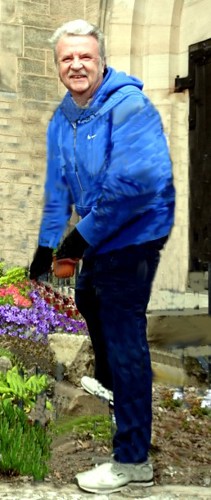 May God bless you all, Werbies and Garden Gnomes,
Fr Paul
---
Monday 25th May 2020
One of my Hospital on-call days today, and a phone call this morning from Rev John Kingsley, the Co-ordinating Chaplain at the Countess. He's an old friend of mine – we were colleagues before coming to Chester, when I was at St Luke's Bebington and he was Minister at Port Sunlight URC. That's the amazing Congregationalist Cathedral William Hesketh Lever built when he came to the Wirral from Bolton in 1887 to start his Port Sunlight Soap Works. Christ Church Port Sunlight is the religious heart of his model village: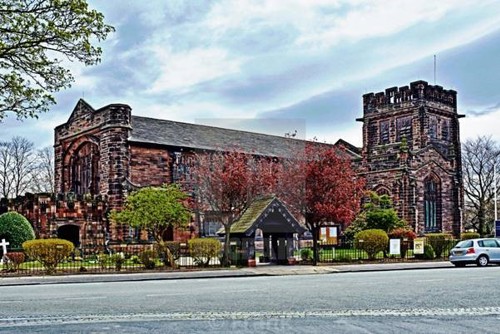 John left Port Sunlight to come to the Countess in 2005, the year before I left St Luke's to come to the Werbies. He is a thoroughly Good Egg, and doing a fantastic job at the Countess, co-ordinating all the various chaplaincies, and resolutely at his post in this Covid-19 emergency. A lady had rung him to say both her parents were in the Hospital. Both poorly, and could they see a Catholic Priest? Again, a total privilege to visit them, calling in to see Rev John in the Chaplaincy Office first and collect their details. 90 and 91, she more communicative than he was. Liverpool born and bred, which parish was she from? She couldn't remember but wanted to try. St Paul's? No, not St Paul's. Christ the King Queen's Drive? No, not that far round. St Matthew's Allerton? No, Wavertree, not Allerton!! Beginning with a C, she said. St Clare's? YES! St Clare's Wavertree, corner of Arundel Avenue and York Avenue. We got there in the end, and I don't know to whom it gave greater pleasure. I anointed them both – he was being looked after by the fabulous nurses on that Ward as I chatted to his wife – and as I left, they pushed the two beds together, so they could hold hands. It takes a lot to make your hard-bitten old bruiser of a PP fill up, but that did.
Sister on the Ward was so appreciative that I was able to come in – a little surprised too, which surprised me. But not as appreciative as I was for having been in and celebrated the Sacrament of the Sick with this lovely couple. Their family had written a little personal history to go on their bedside – three daughters and a son, and umpteen grandchildren – and not able to visit themselves in these lockdown days. You're in my prayers, mum and dad.
Port Sunlight is a gem: I was chatting to Jean Aslet the other day, and both of us total Art nuts. I want a Parish Outing to that Model Village, then on to the Williamson Art Gallery in Birkenhead. One of the jewels of Port Sunlight is Goscombe John's Great War Memorial, a commemoration not so much of those who fought as of the families left behind, the Home Front: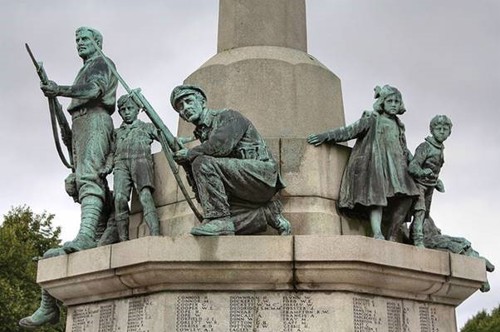 Just look at those three children and the expressions on their faces: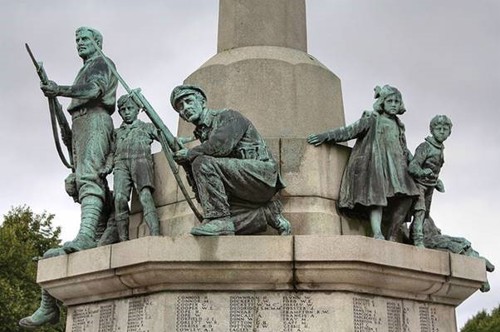 Anyone want to come with me? And then let's go into the Lady Lever Art Gallery, and, when we've feasted on the Pre-Raphaelites and Lever's eclectic collection of Napoleana and Wedgwood jasperware, we can see the Old Nuisance's favourite, partly because in a wheelchair, she could get close up and personal with this particular sculpture. It's Goscombe John's plaster head, covered in linseed oil to give it a more natural patina, simply entitled "Age" (1892):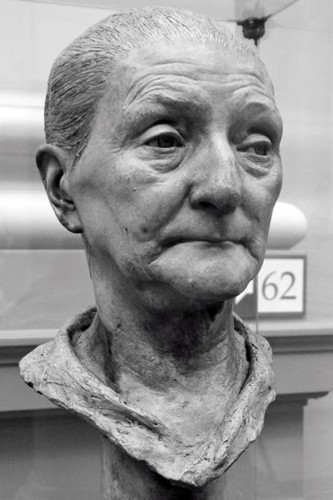 That is a plaster-cast sculpture! It takes me back to this morning, and the beauty and dignity of old age. Never let anyone tell you anything else.
 Let's go back to my couple this morning, and the pain of their children in not being able to be with them, and all families separated from those they love in Hospital. Being on that Ward this morning brought home to me why they have their "no visitor" policy: the high risk of infection being brought in to the Ward or carried out, and the sheer intensity of that nursing care, almost one-to-one. I felt welcomed in as a member of the team, a huge compliment. But relatives they almost certainly couldn't cope with on top of looking after the sick person. When it is definitely end-of-life, then one family member may be present, suitably protected. An important concession, but, with four children, how do you choose? I will always thank God I was able to be with the Old Nuisance when she took her last breath. I didn't manage it with my father, a horrible three months dying, and my seeming to live on the Motorway between Birkenhead and North Devon. I will forever regret that I was not there at that most precious of moments.
And so to Mr Cummings. I won't enter the politics of it all, just register one point and finish. This is all about perceptions, Mr Cummings. The perception that you might have broken the rules when keeping to those rules has almost broken some families. The vast majority of people have kept the rules, and the cost has been more than painful in some cases. You are a policy advisor, in popular terms a "spin doctor". Your bread and butter is "perceptions". You are an expert on "perceptions". You may technically have been in the right in making that journey, but the popular perception is that you broke the rules, and, in so doing, created the perception that there's one rule for "them", the rulers, and another set for "us", the people. That's very dangerous at all sorts of levels. Think about it, Dom.
Let's all keep to the rules, and above all, let's keep my family this morning in our prayers. They could be your mum and dad, they could be mine.
Normal flippancy will be resumed tomorrow, as you have sent me the usual crop of outrageous pictures and letters. Have you nothing better to do? Please don't stop.
May God bless you all,
Fr Paul
---
 Sunday 24th May 2020
Oh, we have started, haven't we? One little mention of "socially distanced Weddings", and it brings out the comic in all of you. Quite typical of this morning's side-splitting inbox is this little contribution from Grumpy of Gresford:
Hello Fr. Paul,
I can't see any problem approving socially distanced weddings so long as the process is maintained, meaning socially distanced honeymoons.
And then Daphne from Dee Hills has been upset at the idea of socially distanced Baptisms and what happens if the Godmother doesn't catch the baby. Look, Daphne, we all have to make an effort in these challenging times. It has to be said, in the confidence of this Blog, that Daphne is not quite the woman she was. Mind you, none of us are.
Usual jolly hour outside Church this morning – the lace curtains of Grosvenor Park Road were definitely twitching. We were joined as usual by the Lady on the Bicycle. No, I don't know who she is either but we always welcome wizziters, don't we? Two legs, four legs, two wheels, whatever. Apparently, she tells me, she's not a Werbie. Well, none of us is perfect, dear. And then another nice lady stopped to join us, a regular at Hoole URC. We'll get her on the next Catholic Enquiry Course, don't you worry. And finally, Mr Lee, ours and King's, not running this time – having a day off for his 50th Birthday today, but anxious to show me his latest four-footed friend. Good luck with that one, Mike!
Working through the 300 emails waiting for me in my inbox once the connection was restored yesterday was this little beauty:
Amaozn.co.uk <noreply@ssromeenail.com>
We noticed new login attempt with your account from a device we don't recognize.
For your security, there may be some limitations on your account.

We need to confirm your information, we need you to take action on your account to continue using our services again:

Confirm now >

Thanks,
Amazon
Can someone tell these scammers it's going to help if they spell "Amazon" correctly?
Geoff's been continuing his fascinating trawl through local archives and newspapers and came up with this cutting from the Cheshire Observer for 11th April 1953.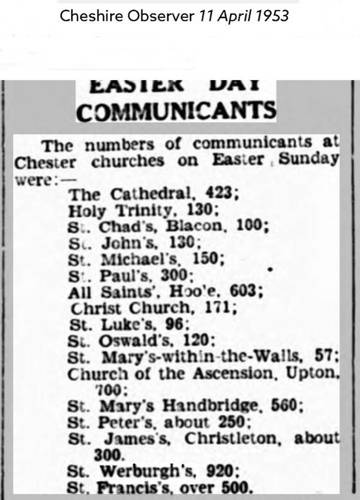 It's fascinating at so many different levels, isn't it? That Newspapers seventy years ago would think such figures newsworthy, that all local churches would compile such figures and, most impressive of all, the sheer size of those figures. Some of those churches no longer here, of course – but the vast majority are, which is also impressive. Of what other organisation in Chester, or anywhere else, could you list a dozen or so examples in one city and, seventy years later, find the majority of them still in business, still serving the people of that city in essentially the same way?
But…
There's always a but, isn't there? Very interesting communication yesterday, among the 300, from Rev Andrew Taylor the County Ecumenical Officer for Cheshire, and a good personal friend and friend of the Werbies. County have already identified a number of smaller churches and chapels that are seriously concerned they may not re-open after this lockdown is over, communities that were teetering on the edge of viability before this all started and for whom the lockdown may prove the final straw. How many Werbies will not return once we're open again? My heart says "None! Let them just try!" but my head says, "It could a fair few". Bishop Brian always said that if he, as Bishop, ever closed a Parish, as, sadly, from time to time he was forced to do, only 60% of the parishioners transferred elsewhere. 40% stopped going altogether. Our Mass attendance figures have held up well in recent years at around 650 every weekend, over the four Masses. What will this October's Mass Count show?
Ring on the doorbell yesterday after BT chummy had gone – and it was Madame Prezzie, come to say goodbye, here in Chester with Dee-Daddy to clear her room and head back to Swadlincote (aka Centre of the Universe). I was gutted!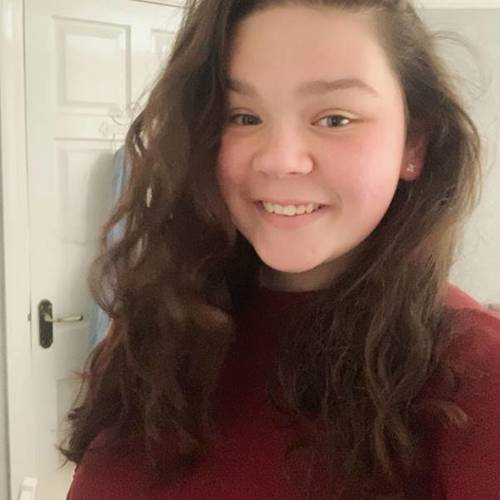 And what a Madame Prezzie she's been! One of the best! I'd have seized her in my arms, given her a big wet sloppy kiss, and whirled her round my head. But I didn't want to do my back in, so just waved from a safe distance. Next year? Off to do Teacher Training. I told her to do a Master's in Victorian Literature, actually took her to the Open Day at Liverpool University, but no, wouldn't listen to me, what did I know about anything, mind my own flaming business, always sticking my nose in, when she wants my opinion she'll ask for it… [Contd. P 94].
Good luck, Chlo-Jo! And now you're out the way, roll on Ginger! In a manner of speaking. Oh, I don't, know though. And good luck to her successor, Barley from Bristol. The CathSoc story goes on, one generation leaves, another takes over, new freshers arrive, the never-ending story (cue music) … Actually, you cynics, the story does go on. Quick shop at Waitrose yesterday evening, half an hour before they close, and always head first for the Cheapo Cabinet. Five pizzas there, normally £3.00 each reduced to 75p. That'll do nicely for next year's CathSoc, as I snap the lot up, and bung them in the freezer in the garage. Changed your mind about that Master's, Chlo-Jo?
And finally, next week's Mass Intentions:
Mass Intentions for the week ahead:
Sunday 24th May: Morning: David Woodbury (2nd Anniversary)
Evening: Katie Curtis (1st Anniversary)
Monday 25th May: Bob and Pat Billsborrow
Tuesday 26th May: Loreto and Margarita Rea
Wednesday 27th May: Arcari Family
Thursday 28th May: Paddy Scanlan (L.D. – Funeral at Blacon today)
Friday 29th May: Moore Family
Saturday 30th May: Rachael Andrews
Sunday 31st May: Morning: Fr Neill – 1st Anniversary of Ordination Thanksgiving
Evening: Terry Collier (3rd Anniversary)
Can we all keep Marian in our thoughts and prayers today, please, the first anniversary of Katie's Going Home to the Lord?
May God bless you all,
Fr Paul