Daily updates 26th April - 2nd May
Saturday 2nd May 2020

Day 40 of the lockdown today, a special number for all of us? Do you remember before this all started, in the early days of Lent, we were musing in Sunday Masses on the original meaning of the word "Quarantine", medieval Italian – Venetian dialect – for the forty days sailors returning to the port showing signs of illness or disease had to self-isolate. Forty days of self-isolation, forty days of Lent. The parallels were irresistible. Could Lent be a chance for a little spiritual self-isolating, that step away from the world and step towards Our Lord? That all seems a long time ago now, as long as Lent seemed from Ash Wednesday to Easter Sunday this year, sometimes an eternity. But it does us good to look back and realise we've all coped with forty days – a Lent-load! – of this lockdown. Oh, you can just see the alliteration beckoning there, can't you? A Lent-load of Lockdown. Remember, you read it here first.

Good to hear from Bishop Mark again today, with a message from our four Archbishops (Westminster, Southwark, Cardiff and Liverpool), who form a sort of Inner Cabinet for the Bishops of England and Wales. The full statement is on the website in the top box, above the Blog Box and the On-Line Giving Box. Here's a summary of their message:
Dear Fathers, Deacons and Sisters,

I am sending the attached message from the Metropolitan Archbishops of England and Wales entitled "A People who Hope in Christ." It is a message of encouragement for all the faithful that I ask you to share and circulate at local level as you are able.

The bishops were able to meet by various means at the beginning of the week. The message prepared by the Archbishops anticipates, without yet being able to specify the various time-scales, a gradual re-opening of our churches and access to the sacraments. The bishops are now planning for this time and are engaged in discussions with the statutory health authorities and government representatives. I think it is important for us to communicate that this is the course the bishops are actively seeking. We are doing this with a view to all of the appropriate safety provisions as society gradually emerges from this unprecedented state of national lockdown. It is not a simple path to walk, so it is also important to invite the prayer of the people for this intention and, as the Archbishops ask in their message to seek the intercession of Our Blessed Lady that we may be safely and surely guided in the weeks and months ahead.

With remembrance in my prayer and every good wish,

Yours sincerely in Christ,

+ Mark

Bishop of Shrewsbury
As they say, whatever steps we take have to be in line with the policies of the statutory health authorities and the government representatives. There have been some calls in some countries and some churches for a "go-it-alone" policy, no government telling us churches what to do, and so on. I just don't see any future in that approach. We all have to work together, during this crisis and afterwards. Making enemies can never be the way forward.

This morning, for example, a family asked me to visit their elderly relative in the Hospital. Poorly, but not end-of-life. I needed to consult the Hospital first, who have a "no visitors unless end of life" policy, as you all know. Would they allow me to make a Chaplain's Visit to this patient? The answer was a very polite "no", which I fully accepted. The Health Authorities have to be in charge of their Hospitals, and we all have to fit in. Just because I'm a chaplain doesn't mean I couldn't take infection in with me or bring it out again. They make an exception for "end-of-life" and that's compassionate and fair. Supporting the NHS means "their house, their rules" – agreed?

Now, where were we up to? Oh yes, that wretched photo Izzy sent me of the Spanish church with the photos on the seats. Why on earth did I ever share it with you? It's just brought the silly and childish out in all of you. First of all, you sent me pictures of other people, when I only wanted self-portraits. And then all sorts of inappropriate stuff, having a go at the poor Choir and other parish groups. I sometimes think you're more juvenile than I am. And other churches are following suit. Did you see this one, a mini-Wedding in St Ignatius Church in San Francisco?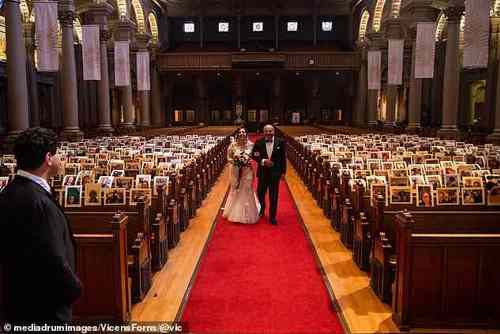 I do hope all those folks didn't come to the Reception afterwards, don't you? But quite a stunning church? Almost as nice as the Werbies?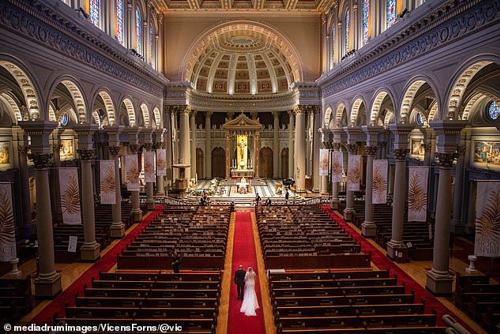 You also liked the pictures of the Archbishop of Paris blessing the city from the roof of Montmartre. We think. Not sure if it was Sacré Coeur or not. And some of you are not sure it was the Archbishop of Paris. In fact, you're darned certain it wasn't. Wow! Does that mean someone is masquerading as the Archbishop? Impersonating His Grace? This is serious. Definitely a case for…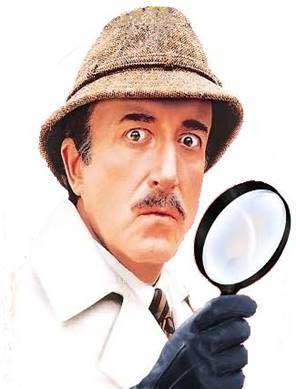 Yes, send for Inspector Clousseau! As he famously remarked when investigating a murder in the backstreets of Paris, "She was killed in a jit of realous fage!" How very true.

Great to hear from our excellent friend Richard Curtis in the week. He looks after the Altar Servers at St Columba's and St Theresa's, and it's been great working with him and Gerry on the new "Chester Parishes Together" Group. We went to the National Altar Servers Mass in Liverpool together last September and enjoyed a vicious Bowls Match up at Cheshire Oaks in January (which he completely organised). Now he's addressing CAFOD's crisis in donations – together with all Charities, of course, they've seen their income fall off a cliff – by doing a Virtual 10K Run for them and asking if we'd like to sponsor him. Rich, we'd be delighted to! Here's his message and link, which I've also put on the Newsletter this weekend:
Richard Curtis's CAFOD 10k Run
Our excellent friend Richard Curtis from St Columba's and St Theresa's – he organises the Altar Servers for both churches - has signed up to do "The Team CAFOD Virtual Challenge" and run 10K and has pledged to help raise £250.00 for CAFOD. He writes: "My company works with charities, and with the recent COVID-19 pandemic, charities including CAFOD will have a massive shortfall in funding and donations. Without emergency funding, some of these charities will disappear. If you have a spare few pounds, please sponsor me by going to the link below, but if you can't, don't worry about it - as we all have a lot going on at the moment. Thanks, everyone, Richard." Richard's a great chap, Werbies – he organised the Bowling Match for our Altar Servers at Cheshire Oaks a couple of months ago, and he's a pillar of strength in Chester Parishes Together. Let's get behind him on this one!
https://www.justgiving.com/fundraising/richard-curtis18
Sad today to say farewell to Rachel, our super CathSoc Vice-Prezzie (or Veeps, as she's usually known), coming back from Preston to pick up her stuff from her Student House, as this term at Uni – and all Uni's – just isn't going to happen. The teaching and learning will go on as best as possible, online, but students will not be coming back to their Uni's in person, and there's a real sadness about that, no chance for a formal end-of-year celebration, or, in Rach's case, end of Degree and end of time in Chester. No end of year Chinese Meal??? Perish the thought! We shall invade the Summer Place together even if we have to do it in August or September. Great to hear that Rachel will be working for her home Diocese, Lancaster, up at their Retreat Centre, Castlerigg Manor, next year, and we send her very best wishes for that. Madame Prezzie herself, did I hear you ask? She As Must Be Obeyed? Oh, don't worry about HER. Still locked-down in her shed at the bottom of the garden in the Centre of the Universe (aka Swadlincote), communing with Milton and Browning, family members bringing her Gin-and-Tonics on a regular basis. Oh, please don't worry about HER!!

With students not physically returning to Uni's until September, Uni Authorities have had a bit of a dilemma about what to do with the Student Rooms in the Halls of Residence. Cardiff might have jumped the gun in sending the cleaners in already and blitzing the Student Kitchens. Mind you, you'd need full PPE protective clothing to go into any of those Kitchens. And hope to come out alive again. This is the scene today outside one of those Cardiff Halls: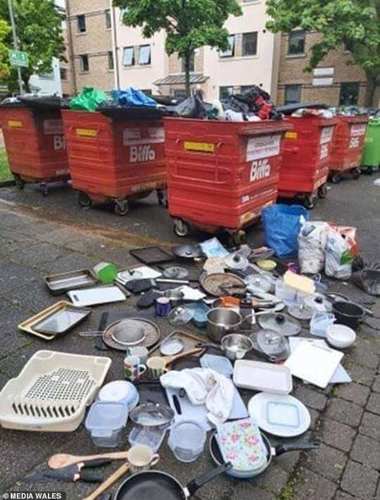 Cries of "That's my saucepan!" and "Hey! What are you doing with my frying pan?" from points north, south, east and west. Well, there they are, kids. But not for much longer, I'd guess.

Talking of Cardiff Uni, did you know one of our two tekkies met the Love of His life there? (Well, he tells me she's the Love of His life. And I suppose he ought to know). At Cardiff CathSoc. Now parents to those two fine Piggies. CathSoc Romances - they make me come over all something-or-other. And the other tekkie was an Oxford CathSoc romance, married to Bury Convent for thirty-six years on the very day this Blog began, 17th March. What a way to celebrate your Wedding Anniversary! Just in case you think I'm exaggerating, here is the Student Kitchen from ONE of their student days, either Cardiff or Oxford. And no, I'm not saying which. Not if I hope they'll continue posting this Blog, that is.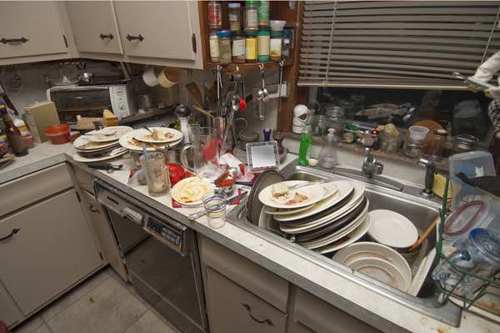 I'm with the Cardiff cleaners, aren't you?
Our stamp tonight? This lovely £1.63 one, featuring Navy personnel celebrating.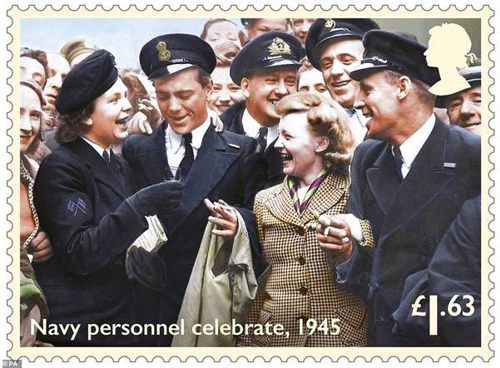 A Wren (member of the Women's Royal Navy Service) proposes a toast during VE celebrations in Glasgow, pictured. By 1944, some 74,000 women were doing more than 200 different jobs in the WRNS, with 303 tragically killed while serving. After the war the WRNS was made a permanent part of the Royal Navy, but women did not serve in Royal Navy ships until the 1990s

What I love about it is that everyone is laughing and smiling at each other. Not at the flaming Camera, as is always the way today. You can see a rant coming on, can't you? I'd better get off quick…

May God bless you all,

Fr Paul

---
Friday 1st May 2020

Do you get an irrational buzz when the machines actually work, and the technology doesn't fight back? My Bank Card Reader arrived today after several weeks wait, the gizmo you now need to read your bank statements online. And probably do all sorts of other clever things as well, but I just want to know what degree of diddley-squat I've got in my account, no more, no less. Up to a couple of months ago, could do this just by logging on. Then they decided they needed an extra level of security for everyone and made this Card Reader thingy compulsory. Arrived today, followed the instructions, and…NOTHING! Just a message saying "checking". Half an hour later, I decide it's checked enough, pull the card out, bad-temperedly stick it back in again and, hey presto! it's working. Then two of the drawers of the filing cabinet won't open. Try tender loving care, industrial quantities of WD40 on the locks, every conceivable key in the house, and, once again, nothing. If in doubt, try brute force. Rock the cabinet up two inches at the front, let it fall with an almighty crash, and – yes! All four drawers now open. PLEASE DO NOT TRY THIS AT HOME. I do not want to receive a raft of writs and civil litigation for equipment damaged, ankles twisted, computers broken, marriages destroyed. I'm only saying, my Card Reader worked, and my Filing Cabinet opened. Just feeling smug, OK? Not a crime, is it?

Where do you think this photo below was taken? The uniforms of the attendants might give it away – Bavaria, in Southern Germany. Some of the churches there have started to reopen today, 1st May, and here's one of them, with a suitable procession, the two altar servers at the front, Thurifer and Boat-bearer. Any suggestions for which Werbie we should ask to lead the way when it's our turn to re-open, with that wonderful stove pipe hat?? Form an orderly queue, please!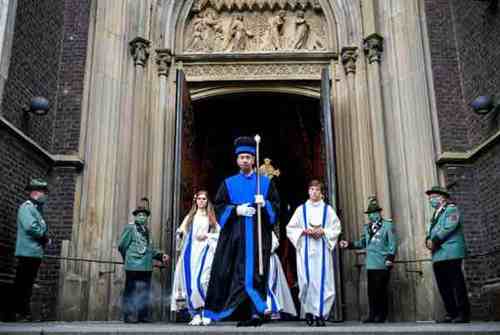 Good to hear from lots of you today as to how you are surviving the lockdown. Anne is discovering the joys of Algebra, not sure if her thirteen-year-old is equally enamoured or finding all those x's and y's as fun as she is. Often the way, isn't it? Mum or Dad gets more stuck into the homework than the youngster? How's the Latin coming along, Simon? Amo, amas, amat? Hic, haec, hoc? (As they say in German…)

And Carla and Alison are re-discovering E.M. Forster, relishing "Howard's End" all over again. That's the joy of literature: you can read the same book over and over again and always see new things in it. That was C.S. Lewis's definition of "Literature", himself a great Professor of Medieval and Renaissance Literature at Cambridge (when he was wasn't writing his Narnia Chronicles or religious books): "Literature is anything you would read more than once". So, instructions on a Bank Card Reader or an article in a newspaper probably aren't literature, because you'd never read them after the first time. But a favourite novel or poem is, because you can never read them too often. A neat, workable definition I've always valued.

Don't forget, if you're short of books, eBay is superb: any book you care to mention, never pay more than a fiver, often with delivery free, and it'll plop through your letter box within a few days.

May Day today, Feast of St Joseph the Worker, and the Guardian had a very fine Picture Gallery of Workers of the World, concentrating today on those who work with death all day every day. Probably areas we don't normally think about, or want to think about, but ought to. Times like this make us appreciate such workers and what they do. This young lady works in the Mortuary in Mulhouse in France: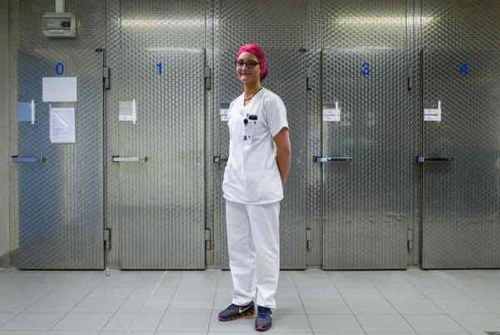 And this lady is a Crematorium Worker in the United States. Do you notice the cardboard coffins? That item certainly stirred up interest among you from last night's Blog, some of you agreeing with me, many not.



And finally, a Cemetery Worker from Ecuador, where the coffins are placed in long openings in the wall, the same system you see in Italy today and many other countries, the end then sealed up with a plaque saying the name of the person interred.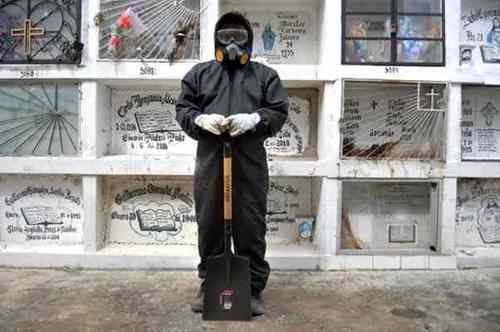 Not work you and I would possibly choose to do, but absolutely essential, vital work, and good today, St Joseph the Worker, to salute those who do this work on our behalf.

This lockdown has certainly brought us closer together, more emails, more phone calls, more skyping and zooming. Various organisations keep trying to get me to join them on Zoom, but with those two technological mega-successes today, the Card Reader and the Filing Cabinet, I'm not pushing my luck by trying something clever on the computer. Knowing me, the whole system would crash, and then you wouldn't receive these daily Blogs, and how would you get on then? I heard that, Choir. Oh, and thanks for sending over your photo today. The chaps got in first with their own photo of themselves, before the ladies could retaliate. They tell me this isn't exactly a current photo, it was taken a few years ago apparently, but still recognisable as all our wonderful Tenors and Basses today: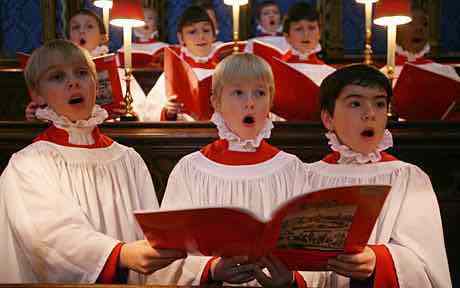 That's Geoff Hewson in the middle on the front row. Hasn't changed at all, has he?

And oh so many of you, so funny, so witty, have decided that if there are to be photos of all the parishioners posted up in church, there really ought to be one of the Parish Priest as well. Six of you sent in the same one…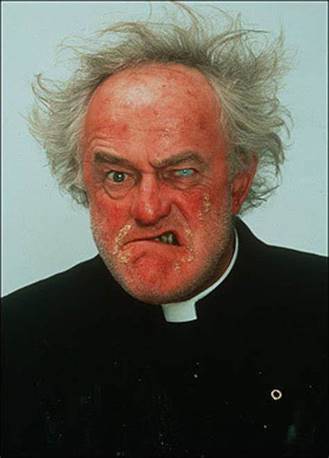 Ho, ho, ho. Side-splitting beyond. Rolling in the aisles… Look, I'll do the jokes, OK?

Crises like this bring out the best and worst in all of us, and that goes for our national leaders as well. In the last war, there was an expression after it was all over that so-and-so "had had a Good War", meaning it had brought out the better side of them, and they finished the war with reputation enhanced. Who's "having a Good War" at the moment? Boris? Dishy Rishi? Dour Dom? Meltdown Matt? Prissy Priti? Prof Chris Whitty seems to be building quite a fan club? (And Boris really is a gift to the headline writers with a name like that. The first rule of Fleet Street is that any good headline has to have lots of alliteration. So, first day back after his own health scare, you couldn't improve on "Boris Bounces Back", could you?)

Tonight's stamp? "Jubilant public" sums it up – except for that poor baby, who definitely seems less than impressed?
Smiling visitors to London's Piccadilly wear rosettes and wave flags in celebration as huge crowds descended on the capital. There were scenes of dancing in the streets on VE Day, including a large conga line forming down the middle, while revellers blowing party trumpets


God bless you all,

Fr Paul
---
 Thursday 30th April 2020
Open-air haircuts in Naples – but then they have the weather. Now that Bernice's Bath Street Burger Bar has closed, and she and Paula are heading off to Blackpool – enjoy, girls! – anyone volunteering for a Werbies Grosvenor Park Road Grooming Service? Lay-by in front of the Hotel – and a quick Short Back and Sides for those of us who are having difficulty seeing out of the front? Val?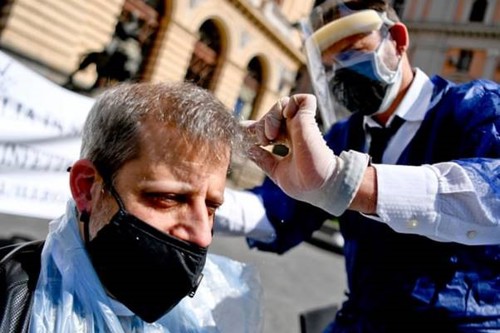 I knew I should never have posted that one from the Church in Spain, the Priest and the Photos of all his parishioners. Asking you to send in pix of Werbies was such a mistake. I meant photos of yourselves, not photos of each other… It really has brought the unpleasant out in so many of you. Might have guessed that the Choir would lead the way, Tenors and Basses sending this one in for the Sopranos and Altos first thing this morning. It's now pasted to your seats, Ladies.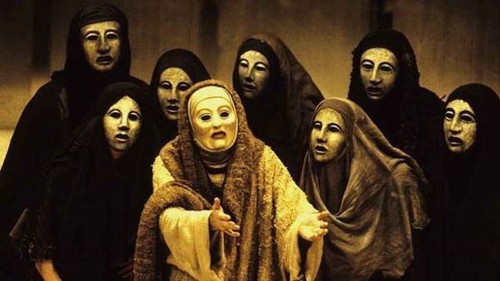 Ladies, got one for the Men? Yes, I thought you might have, somehow…
The army, as ever, has led the way in this crisis, and Birthday Greetings to Colonel Tom! But any idea why the Fly Past diverted over Chester? I do hope they hadn't got lost on the way back to the Aerodrome. Here's a fine picture of the army running one of the Testing Stations.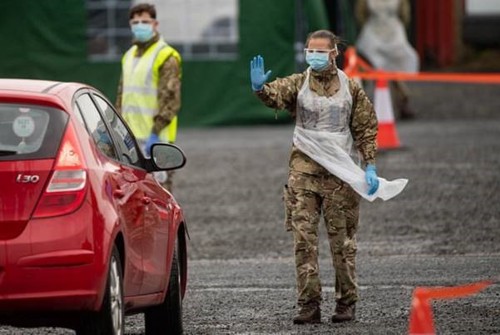 Not sure why it's Army work, but at least they will get the job done, in a way you can't always guarantee with other sides of the supply chain in recent weeks. Politicians mean well, but… Talking of whom, did you see the Cover of Private Eye? Boris and Carrie? She's saying, "No 10 Baby!" and he's replying "Is it? I've lost count…" Offensive, tacky and in thoroughly bad taste. Good old Private Eye!
Two striking pictures of the Archbishop of Paris blessing the city on Easter Sunday Morning, from the roof – I think - of Sacr頃oeur. I stand corrected if I'm wrong. And I hope His Grace was standing secure too. It's a long way down…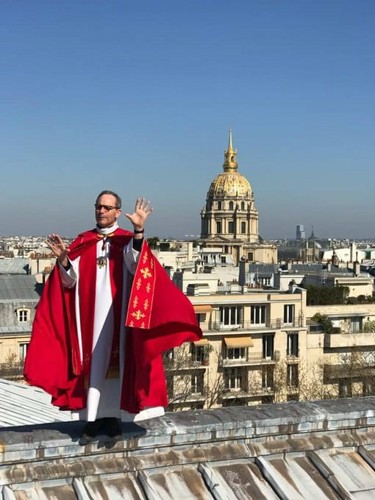 And no, before you ask, I have no present plans – as the politicians say – to do the same from the roof of St Werburgh's. (If I do, will you take the photos, Geoff? Jill? Geoff, Jill, please don't run away when I'm talking to you!)
Very interesting Interview this morning on the radio with the CEO of Barclay's Bank, about some of the lessons they've learnt from this lockdown. One of the main ones, she was saying, is that they're asking if, with all this very efficient homeworking, they need big expensive office blocks in the middle of cities. Hundreds of staff sitting at screens in office blocks, city centre versus hundreds sitting at screens at home, doing exactly the same work. No commuting, no sky-high Office rents. Makes you think? What else is not going to "go back to normal" when this is all over, and thank Heaven it isn't?
Some disturbing scenes around the world of funerals, and no attempt to maintain safe distancing. One yesterday in New York, and a couple of days earlier, here in Manchester. 150 turned up, which puts the police in an impossible position. If they attempt to disperse them, with tempers running high, they'll be a riot. And who will be the first to take the blame. The poor old police, as always.
You've been sending over some entrancing poetry, and these lines from Anne this morning have always been among my favourites, from the seventeenth century poet Richard Lovelace. He wrote them to his beloved from Prison:
Stone Walls do not a Prison make,
Nor Iron bars a Cage;
Minds innocent and quiet take
That for an Hermitage.
If I have freedom in my Love,
And in my soul am free,
Angels alone that soar above,
Enjoy such Liberty.
Yes, Anne, freedom is first and foremost in the human heart, not in our external circumstances. I could not agree more.
Two dramatic photos from Manila in the Philippines to finish with tonight. The first shows a group of Priests going about their Ministry, suitably protected but with their Priestly stoles clear for everyone to see. God bless you, Fathers - and keep safe!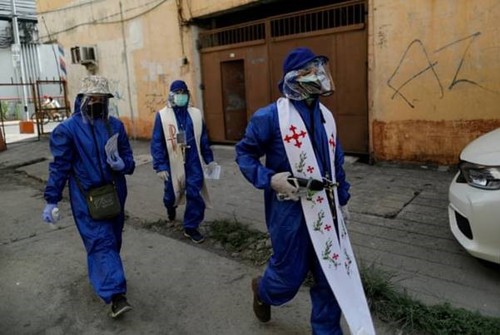 The second is very thought-provoking: a group of joyous children running past the local Crematorium in Manila, with clearly used coffins stacked up outside. Ready to be re-used? What do we all feel about Coffins? Personally, I would strongly favour cardboard ones. They are already available, but people just don't fancy them at present. Strong, reinforced cardboard is every bit as good as our traditional wood – or the American choice of metal Caskets. 40 for cardboard against 400 for wood? And whether it's for a cremation or a burial, why not cardboard? Any views, anyone?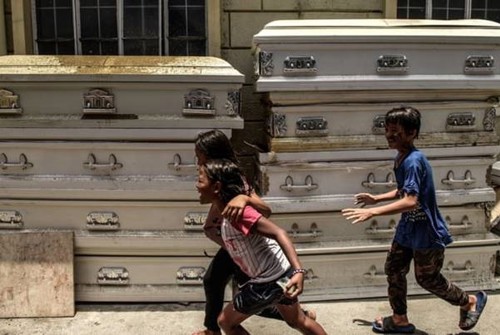 Our farewell stamp tonight is a wonderful Victory Parade from all corners of the Empire along the streets of London. Don't you love the milkman in the background on his horse and cart?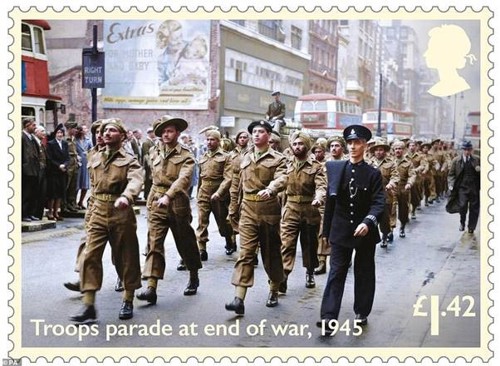 I wonder if his name was Ernie, and if he drove the fastest milk-cart in the west…
Off now to find out what that Fly-Past was all about.
God bless you all,
Fr Paul
---
Wednesday 29th April 2020
Day 37 of the lockdown: are you like me in not being able to relate to that statistic? 37 days? What does that mean? How many weeks is that – five? six? When did it all start? I can't remember…
This lockdown plays funny tricks with our sense of time, do you find? And yet we need something, some "facts" to be able to anchor us to some sort of reality, something to hold onto. Like many, I've been using the daily Death Total. A ghastly statistic, but at least it allows us some indication of where this epidemic (pandemic?) might be going. Today, it was 601. A week ago, last Wednesday, it was 757. Then it went 616 – 761 – 781 – 413 – 360 – 586 – 601 (today). A pattern? Hardly. But it tells a story, a narrative of sorts, that it's not going up, if anything it's coming down, but not quickly, and not immediately.
Then today we've had the Care Homes total, hideous again. There's been a lot of handwringing in the press and media about the "scandal" of the Care Homes. I've been thinking about this as I've been in so many in the last week, and I can't see an easy solution. You have, by definition, a number of elderly frail people, living closely together in one place. They can't be locked in their rooms, and people (principally staff and visiting nurses and doctors) have to come and go from the outside world. Is it kindness or cruelty to ban family and friends from visiting? If the infection does get into a Care Home, how on earth do you stop it spreading like wildfire? I know it's been said before, but the absolute heroes here are the Care Home workers, many of them only on the basic minimum Living Wage. Is that one of the things that might, just might, change after this is all over? When we get back to 'normal', or, as it's increasingly being called, the 'new normal'?
Thanks, Isabel, for sending this powerful picture over from Spain. They've been through it, as a country, more than somewhat. This church, like all others, is on lockdown, but the Parish Priest has had the brilliant idea of sticking photographs of all his parishioners to the seats where they would normally sit, so he feels he is addressing them and not an empty church. What do you think? Good idea? We could try it here? (You can see the way his evil little mind is going, can't you? He's so obvious at times with his adolescent humour). Do let me know your thoughts…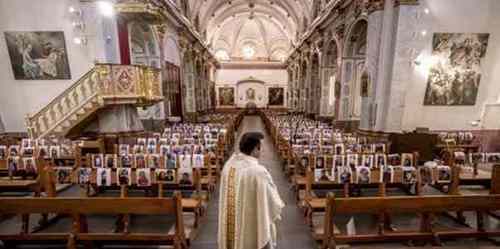 The Funerals pile up. Interesting question today: can you forbid anyone to attend on health grounds? Someone, quite elderly, not in good health, is proposing driving from the south of England to Chester for a service at Blacon. Government advice, family advice is "don't come". But, if it doesn't breach the "Maximum Ten" rule, I don't think you can stop them, however unwise it might be. All I could say to the worried family this morning is that the person proposing to make that journey needs to ask what the deceased would have wished. Would any of us want someone coming to our funeral if it meant their own health, and potentially that of others, being at risk? Worrying times for all concerned.
This lockdown has certainly got the old jigsaws out of the attic, hasn't it? Loved this one of the Sistine Chapel Ceiling from Simon: finished it yet?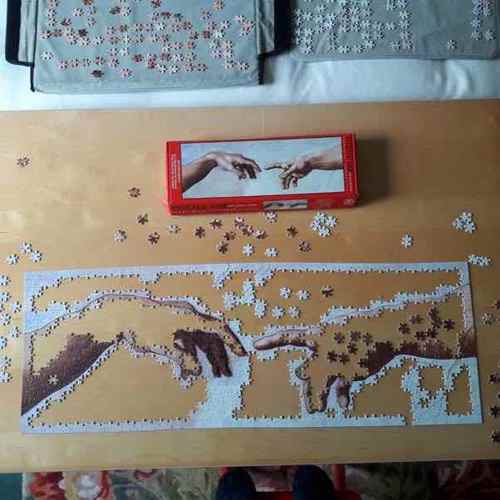 I try to steer clear of politics and controversial matters on this Blog, but I just couldn't resist this from one of our American friends: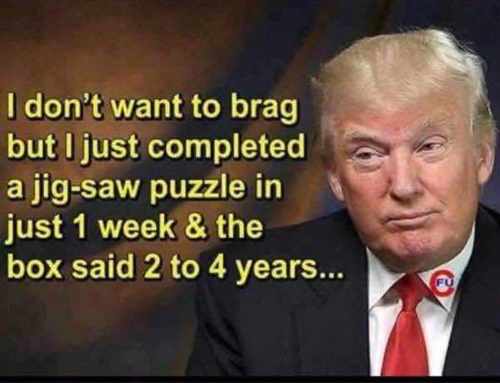 If it does come down to a Biden-Trump play-off in November, I do hope our half of the State of Delaware, the half living in the Werbies, will be posting their votes to support their man?
Enough of politics! Thank you so much for the £570 you managed to post through the letterbox this week for the Sunday Collection. It would 'normally' be (envelopes and loose plate together) about £1,200, so that's a fantastic result, almost half the usual, and we are truly, truly grateful. It keeps us afloat in these difficult times, and we know how difficult they are for you all financially as well.
Very sad news about the loss of a few local businesses. A local bra manufacturer has gone bust, a submarine company has gone under, a manufacturer of food blenders has gone into liquidation, a dog kennel company has called in the retrievers and a company supplying paper for Origami enthusiasts has folded. (Sorry! Blame 'Fed-Up of Farndon' for sending that one in).
Bernice's Bath Street Burger Bar was a real winner, and she's splitting the proceeds apparently between the Werbies and her summer jaunt to Blackpool. It's been Mrs Peabody's Guest House, as you all know, on the South Shore (one star) for many years, but you supported her and Paula's recent Second Hand Sale ("Pre-Loved Piety", as we bill it) so magnificently, they're thinking of upgrading to the Pomona Guest House (one and a half stars. Still 'No Sand in the Bedroom', but you can have two slices of toast with your breakfast instead of one. Enjoy!) Paula and Bernice were thrilled to be able to send us this picture today: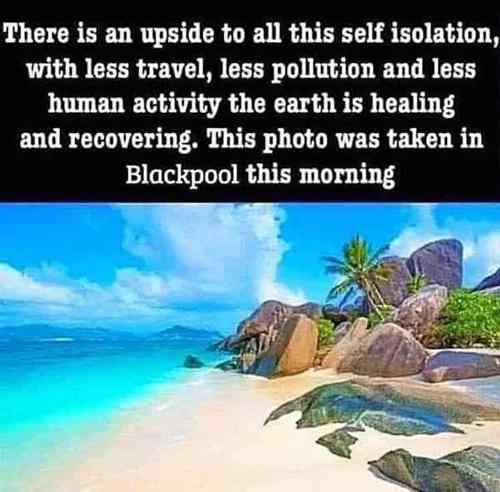 A big 'thank you' to Peter and Brian, our tekkies, who do all the clever stuff with the Blog, while I just pen these inspirational, deeply moving messages [shurely 'usual load of old rubbish'? Ed]. They've been encouraging me to try Zoom, where you all sign in together, one person on the central screen and the other participants in a sort of gallery at the top. I'm reluctant, I must admit, not being the cleverest with all this techno stuff, but Pete assures me it's been done before, and has an excellent pedigree: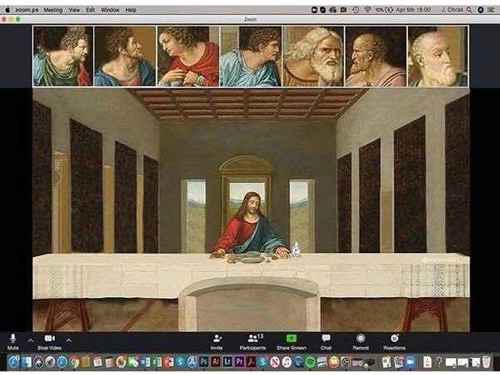 The other reason I'm not keen is the lack of a barber shop being open in the last several weeks. The Wild Man of Borneo isn't in it. One of our Sunday Morning Wizziters made a valuable suggestion: that I should sell my locks, for people to put in lockets or rings. What do you think? £20 a snip? £30? We know how the lads in the POW camps kept their hair short, one of them acting as Camp Barber whether he knew how to cut hair or not. Their relief when the war was eventually over must have been astronomical: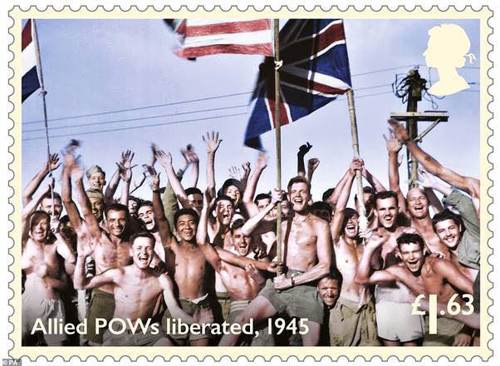 May God bless you all,
Fr Paul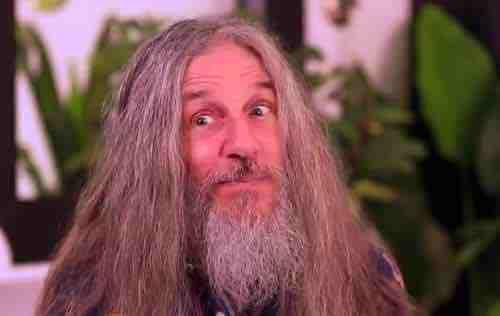 ---
Tuesday 28th April 2020

I'm sorry, but I was a bit grumpy last night, wasn't I? (Cries from the Choir of "No, No, not you, Father – never, Father! Grumpy? YOU??" Honestly, sarcasm doesn't suit you. Lowest form of wit and all that. I mean, I don't make comment about your singing, do I? …) I suppose I was getting fed up with all the chopping and changing on the call-out rota, chaps supposedly on-call but their denying it, Hospital Wards spending a long time trying to contact on-calls with no success. The upshot today is that a completely new rota has been drawn up, only a third of the normal number of chaps on it, and those of us who are on it doing a lot more sessions, but at least we (and the Hospital) know where we stand. Stoical or what? Comes of being an Alpha Male. [Yes, you've told us that already, you idiot. Ed]

"You sounded stressed" someone commented this morning on last night's Blog. Fortunately, I don't really get stressed. ("No! You just stress the rest of us out, that's all".) I'm not listening to what that Choir is saying any more. Bitter and twisted, the lot of them. The Priest's job is never really stressful, not like an airline pilot or a brain surgeon, or anyone working on the front line in this present crisis. The only stress I would ever admit to is the lowest variety, that of always being on duty, living over the shop, your home is your office. But the advantages of Presbytery living so hugely outweigh the disadvantages that I am profoundly grateful to live in a beautiful house like this in the middle of Chester, and not exactly have to commute to work. Perhaps I should try home-working some day?

Interesting observation: when we gather together as City Centre Ministers, it's only the Catholic clergy who now live over the shop. Fifty years ago, everyone did. But then they sold off those stunning Rectories and Vicarages, Parsonages and Manses, and shoved their Ministers out into Barratt Boxes in the suburbs. Not that there's anything wrong with a Barratt Box in the suburbs, he added quickly. Phew! You have to be so careful these days.

Quieter day today, trying to get on top of all the admin for this flood of funerals that have come in. Burial of Ashes for Peggy and Maurice this afternoon up at Overleigh, the primroses looking lovelier than over. Two of the sons were able to be with us, but the daughter, down on the south coast, wasn't. The whole little service was relayed to her via Mobile Phone. Yet again, technology has revolutionised this lockdown, hasn't it?

Not that you can do everything remotely. I was very struck by this picture from San Antonio, Texas, of their Catholic Priest, Fr Pat O'Brien, taking the Blessed Sacrament round the streets of his Parish: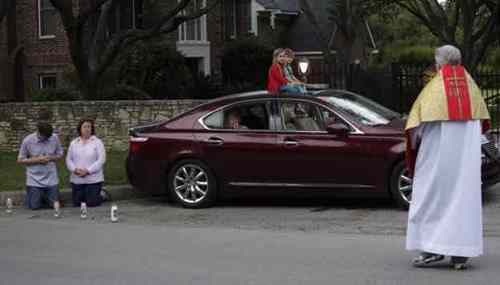 I love the look on the old lady's face sitting in the car, don't you?

I follow the situation in Italy closely, as you know, and they've started announcing a few easings of their lockdown. The Catholic Bishops are not happy that churches have not been included in the first wave. I can see it both ways. The Bishops are saying that attending church is a fundamental human right; the Government are saying that gatherings of people in close proximity, with a fair number of elderly folk among them, social distancing virtually impossible, is the last thing they want. They're both right, and I just don't envy those who have to make extremely difficult decisions in these situations.

And one day it's all over, and everyone can "come home" again, whatever that means for each of us as individuals. The cardboard suitcases struck me on tonight's Commemorative Stamp. Common sense, when you come to think of it: the servicemen and women wouldn't still have their suitcases from when they enlisted – five? six years ago? And little sense in spending money on expensive cases that were for just one journey home. So, why not cardboard? I wonder what people's reactions would be today.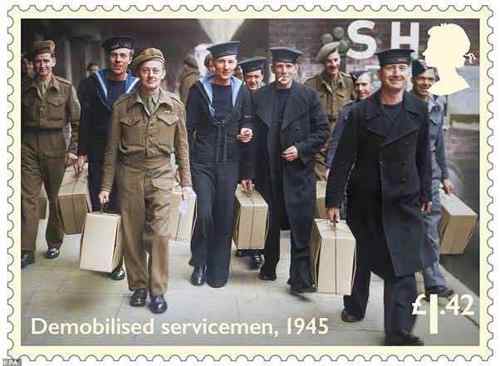 Soldiers and sailors leave a demobilisation centre carrying their civilian clothes in boxes, however. These were where servicemen went before going back to 'normal life'. However, not everyone was able to make a swift return home - not only due to the impracticality of processing so many men in such a short period of time, but the army also still had commitments it had to fulfill in areas including Germany and northern Russia

May God bless you all,

Fr Paul
---
Monday 27th April 2020
The pressure really has started to build today, and for the first time since this lockdown began, I've personally felt it. More and more of the local Priests are coming off the on-call rota, for one reason or another, and that's leaving very few of us to pick up the call-outs. Two this afternoon. I've just got back in from the Hospice, and been asked be on-call (unexpectedly) tonight. But this is all as nothing compared to our incredible front-line nurses and doctors who are carrying the brunt of this crisis. I did the bizz tonight with my patient in the Hospice and reported to the Nurses' Desk afterwards. They took one look at me and burst into laughter. "Something amusing you?" I enquired with some hauteur. "Yes! You've got your mask on back to front!" I knew I'd be good for something one of these days, giving them all a cheap laugh!!
My Funeral this afternoon was out at Walton Lea Crematorium, on the way to Warrington, Blacon being at capacity. And so was Walton Lea, thirteen funerals today and having to go into the evening to cope. Tough on all the staff there. Originally, there was going to be no-one whatsoever at my Funeral, all the family needing for good reasons to be on lockdown. At then at the last minute, two turned up – against doctor's orders, apparently, but not my place to say anything. How would it have been with no-one? Exactly the same as with a congregation. I would have done all the parts precisely the same, including the Eulogy. My lady was 95, born out in India in 1925 where her father worked on the Railways. She was educated by German Nuns there, and then had to leave India quickly on the outbreak of war, by Flying Boat, a journey of six days in total to reach England. What days! And what remarkable people lived through them and became the remarkable people they were.
"My son the surgeon" phoned this afternoon to say his father had Gone Home to the Lord in the early hours of this morning, his son sitting by his bedside as he'd promised to do. May Dr John rest in the peace of the Risen Lord Jesus. Plus, the four funerals I booked in this morning. Fasten your seatbelts, everyone!
Off into that stunningly beautiful church now, bathed in evening sunlight, to say Mass, and spend a bit of quiet time in Priesty-Prayers, I need it tonight, folks! Please say a prayer I don't get a call-out tonight! One day this will be all over. The numbers yesterday and today are encouraging that we might now be on a downward path. So, what stamp tonight? I think it has to be the servicemen being welcomed home: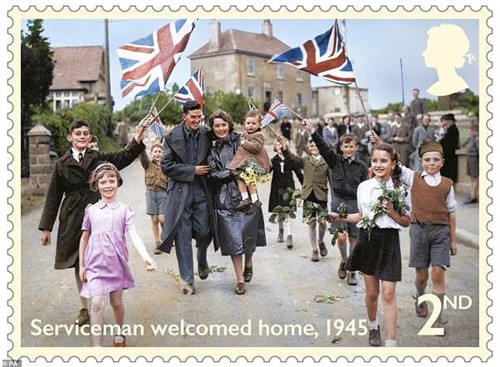 May God bless you all,
Fr Paul
---
Sunday 26th April 2020

Another lovely hour this morning, the sun obligingly coming out, chair outside the front door of church, mug of coffee just made, and ready to be charming and pleasant to the world and his wife for the next sixty minutes, I know, it was an effort, but just occasionally the auld eejit surprises himself. Lots of you were passing by and it was really good to say hello in person and see how you were all doing. And then the long arm of the law approached from across the park entrance. Were we too close? (I don't think so – I was shouting insults as per usual to Geoff and Jill on the opposite side of Grosvenor Park Road). Were we making too much noise? Was I about to see the inside of Blacon Custody Suite? Could have been all three: but not when the long arm of the law revealed himself to be our very own PC John Wszolek, citizen of this parish, and a former Altar Boy par excellence. (As they say in German. You're getting the hang of this now, aren't you?) And offspring (good, eh?) of one half of the Repository Team, "our Paula", as they say in school. Great to see you, John, and great to hear that the folk of Chester are generally co-operating with all these new restrictions.

Another call-out to the Hospital this afternoon, a Covid-19 patient. With more and more priests on lockdown, I guess I'll be getting more and more of these call-outs, whether it's my patch/day or not, I guess. Comes of being an Alpha Male. (I heard that, Choir, and it was very hurtful).

They talk of "God-incidences" rather than "co-incidences", and I know what they mean. One such this afternoon: the patient was one of my favourite residents from one of our Nursing Homes, a delightful old retired GP from up on the Wirral. Now 88, and with far too many serious health problems for one man, but a mind and memory as sharp as a razor, I loved talking to him about the old days. He'd started his medical career, after UCD, Dublin, in the RAF, and thoroughly enjoyed his time as a Services Doctor, telling me (what I've heard from so many other Services Medics) that you see a range of conditions out on a Base far wider than you would see in a comparable hospital or medical practice in England. But then marriage, four children, and time to settle down, and over thirty years of General Practice on the Wirral, before a well-earned retirement. He told me about all his children, one boy and three girls, intensely proud of them all, as you can imagine, but a real Yiddisher Poppa about "my son the surgeon" as he always called him, ENT Consultant down at St Thomas's in London. It was "my son the surgeon" that called me, not knowing how well I knew his father, and lovely to meet him after hearing so much about him. No problems with a Covid-19 patient and the Last Rites, as ever the Sister on the Ward taking me through the necessary precautions first, the familiar mask, gown and gloves, and all the various hand-washings needed before and after. Plus, disinfecting my Anointing Kit afterwards – oil, prayer book, stole and carrying bag – which is a first! But with "my son the surgeon" by my side, having to do everything the same himself, I was very reassured. The important thing is that his father, Dr John, was "fortified by the rites of Holy Mother Church", as they used to say in the old days, and that's a beautiful expression worth remembering. Father and son both very devout Catholics, and Dr John a regular on the Diocesan Pilgrimage to Lourdes for years. So many happy memories of that we shared.

Divested of all that PPE kit, "my son the surgeon" walked me to the car afterwards and roared with laughter when I told him that was how his father always referred to him. "Tell me about it!" he riposted. "How many times have I told him to shut up on that subject, but he never would. Aren't fathers embarrassing?" Yes, always have been, and always will be. I said goodbye to "my son the surgeon" and left him to return to his father's bedside, where's he's been sleeping for the last couple of nights and will stay until his father has made that last Journey Home. What an amazingly lovely couple, and how they will stay in my memory. Priests are lucky so-and-so's meeting people like them.

Liz Brook has been reminding me that as well as the 75th Anniversary of VE-Day, this is also the 75th Anniversary of the Liberation of Belsen. I knew that Liz came from a family of Priests and Nuns – well, it shows, doesn't it? – but I hadn't appreciated that one of her uncles was an Army Padre, Fr Vincent Fay, and that he'd been one of those who entered the gates of Belsen on that fateful day, little knowing the horrors they were going to find inside. He was a Salford Diocesan Priest, who'd trained at the English College in Rome in the 1930's, and I'm anxious to find out more about him, There are some letters somewhere, apparently, that he wrote home during the War, and, with the family's permission, I'd love to see them, and see if there might be an article there for the English College magazine.

This newspaper cutting shows Fr Vincent baptising a baby who was born in Belsen: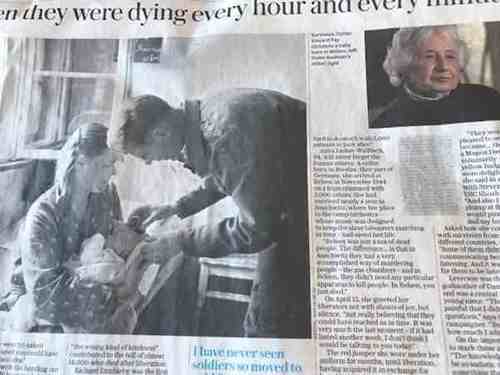 No question therefore which 75th Anniversary stamp to show tonight, the Yad Vashem Memorial Museum in Jerusalem:

The Hall of Names at Yad Vashem, Jerusalem, pictured, is the Jewish People¿s memorial to each and every Jew who perished in the Holocaust. More than two million pages are stored in the circular repository around the outer edge of the hall, with room for six million in all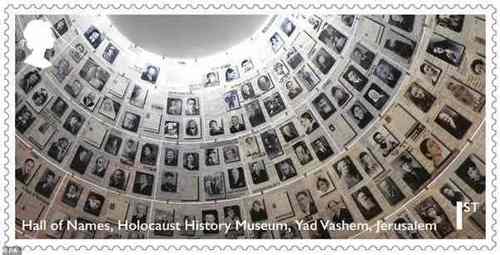 The three great Religions of the Books, Christianity, Judaism and Islam, "sister faiths" in the words of the Second Vatican Council. So much division and hatred in the past. I leave you with this lovely message from Bilal, the Chester University Student who is trying to set up an Islamic Society on Campus, when we sent him our greetings for the start of Ramadan yesterday:

Dear Father Paul,
Thank you for your warm email. I hope this finds you in peace.
It's so nice of you to remember me during this period. Honestly, I've been thinking a lot about you and the CathSoc recently too - keeping everyone in my thoughts and prayers.
I hope you're also staying safe, sane, and smiling through these difficult times; it's a challenging time for us all, but we will overcome it :) this too shall pass.

When I'm back in Chester, God willing, you'll definitely be one of the first people I'll be coming to see! I miss the warm, welcoming atmosphere of the church, and the CathSoc -
Stay safe,
Bilal :)

See, the Muslim students love me. Not the Catholic, needless to say, but I'm big with the Muslims. Perhaps I'll become an Imam rather than a Methodist. Sorry, Graham.

And finally…

Mass Intentions for the week ahead:
Sunday 26th April: Morning: Wendy Jones (Birthday Remembrance): Evening: Jim Catterson (L.D.)
Monday 27th April: Mary Fazey (Birthday Remembrance)
Tuesday 28th April: Pat Maguire (26th Anniversary)
Wednesday 29th April: Intentions of Joy Woolfall (Canada)
Thursday 30th April: Thanksgiving
Friday 1st May: Margaret Haslam (24th Anniversary)
Saturday 2nd May: Alan Kilfoyle (8th Anniversary)
Sunday 3rd May: Morning: Mary Taylor (Birthday Remembrance) Evening: Ray O'Brien (10th Anniversary)
God bless you all,
Fr Paul