Daily Updates 26th July - 1st August
Saturday 1st August 2020
Phew! We just about got away with it – the first Wedding since lockdown. No problems on the church side, but yesterday, only twenty-four ago, the Government announced that no "up to 30" wedding receptions were to be allowed, and the maximum number present could only be six. Twenty-four hours' notice. So, a serious question: if there was pressing scientific evidence why this change had to be announced at such short notice, may we please be told what it is? If there is no such scientific evidence, but just a matter of policy, why on earth couldn't all those involved in weddings have been given decent notice, say a week? At twenty-four hours' notice, all the families who have been travelling – in my case, from Dublin and London – have arrived in their Chester hotels. The reception venue has bought all the food in and employed the extra staff. And then suddenly, it's off. The Government say they want to kick-start the economy with Rishi's £10 vouchers starting this month: but how is treating all weddings venues this way helping the hospitality sector? End of rant.
My bride's parents live in Wilmslow, so they made the decision to switch the reception to their back garden. That was at 9.00 am this morning, when, as we all know, the heavens in Chester opened. Thank heavens, that was the rain for today, and the afternoon has been pleasantly blustery and sunny, if nothing like the temperatures of yesterday. Mums of the Bride: how would you like suddenly to have to host the Reception at home at a few hours' notice? Denise and I did offer to do some sandwiches here at the Werbies, don't say we didn't.
Good to hear from lots of you, including David and Anne, who've been to Ampleforth. As we saw in the photo yesterday, it's both a Monastery of some 80 monks, and also a large, successful Boarding School for both boys and girls. Fr Chad, forgive me: you are now Novice Master, not just Master of Studies. He was formerly a very popular Housemaster in the school and History teacher. Here is the dear boy, with some of his pupils: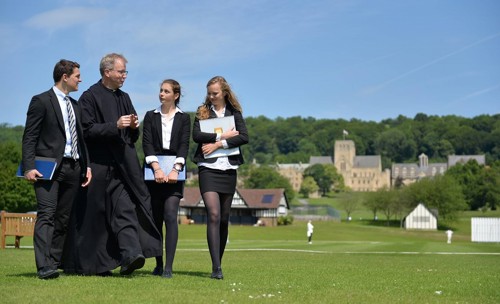 Galleries and museums are doing their very best to reopen, and here's the enormous Blue Whale skeleton in the Natural History Museum in Kensington getting an inspection before reopening on Monday. You wouldn't want one of those jaws dropping on you as you peered upwards, would you? That would definitely hurt in the morning.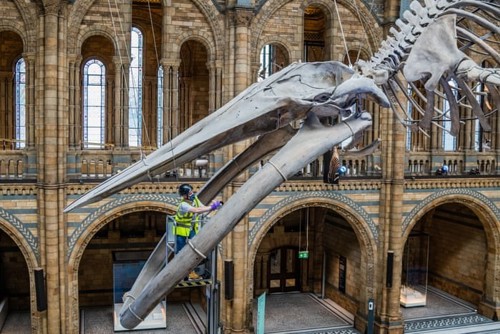 And finally…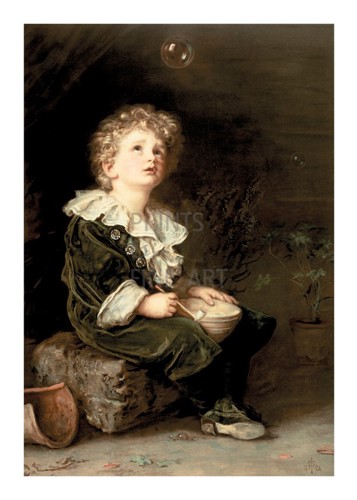 Yes, BUBBLES! They are here in the Werbies, and hopefully here to stay. Not in the winsome Millais soap bubbles sense, but in the Covid19 sense of people who habitually live in the same household. If bubbles turn up at Mass tomorrow, they can sit together, either couples (on the side benches) or larger family groups (in the central benches). We hope this will signifcantly increase capacity, and allow us to keep on with our present half-hour Masses every hour on the hour – 9.00, 10.00, 11.00 and 12.00 – with minimal queuing and no need for a booking system. If the day came when we were turning people away, we would introduce a booking system immediately, But, we reason, if we don't need one, we won't have one. It's worked excellently the last two Sundays, and I'm sure tomorrow will be even better.
See you all at Mass tomorrow!
Quiz Question: why on earth did that charming painting end up in court?
May God bless you all,
Fr Paul
---
Friday 31st July 2020
Two fascinating pictures from Sicily in the papers today, that amazing island I visited in August 2018. I stayed then in Palermo and used it as a base for exploring the western half of the island. There was a medieval University in Palermo, with the modern one today dating from 1806. The original 1806 buildings in the centre of the city were fascinating, and I spent many an hour there, especially in the centrally situated University Chapel. Those 1806 building are now the Law Faculty: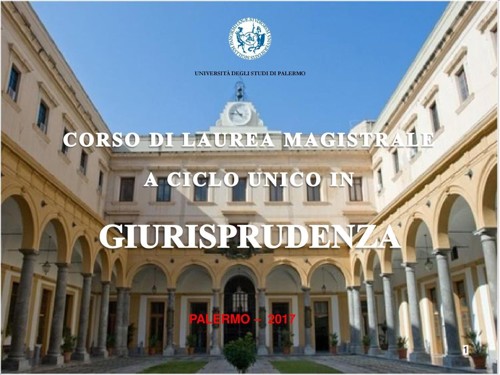 Today, all the other faculties are out at a sprawling modern campus, a couple of miles beyond the city centre. But here's a picture of Giuseppe Paterno, having a shave before his Graduation Ceremony, gaining an undergraduate degree in History and Philosophy, at the age of 96! If that doesn't inspire us, nothing will: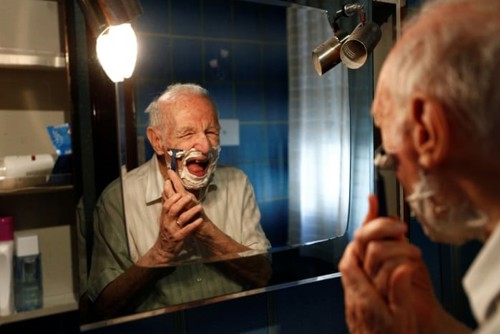 August 2019, last year, I had that amazing fortnight in Milan, quite unforgettable. This year was to be Bologna, but that's postponed till August 2021. (You will still be there, Bologna, this time next year? Oh good – just checking.) But going back to Sicily, to explore the eastern half, basing myself probably in Catania, is high on the list. And that south-east half is dominated by: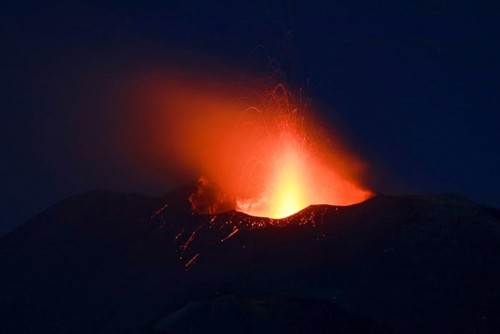 A new crater has opened up on Mount Etna's south-east side, and boy, is it active! Here's a map of the island to help you get your bearings: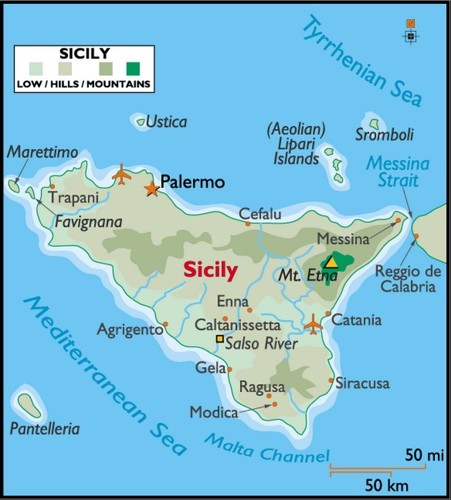 Come, on, Coronavirus, hurry up and hop it, please! But actually, it's showing no signs of doing anything remotely like hopping it. Bishop Mark writes to us today about the newly reimposed restrictions in Greater Manchester, the southern third of which is in Shrewsbury Diocese:
I wanted to send this short message of encouragement to the clergy of Greater Manchester and will seek to provide whatever guidance may be necessary in the days ahead. I hope you will have a blessed Sunday and please remember Deacon Robert Dykes on Tuesday as he is ordained to the Priesthood on the Feast of our patron Saint John Mary Vianney.

 + Mark Bishop of Shrewsbury
My first two parishes were in that part of the Diocese – St Joseph's Sale (1992-3) and Our Lady's Stockport (1993-7), where those Wicked Women come from. And I do mean wicked. Theresa, Janice and Josie. Does this picture give you some idea?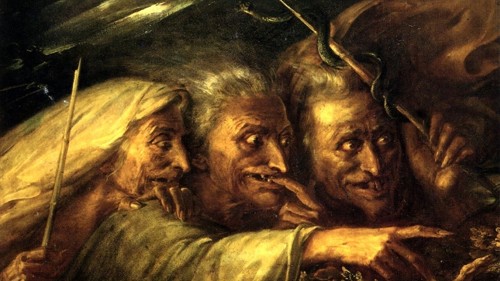 Talking of which – another brilliant link, eat your heart out, Ken Bruce – the Shakespeare is back in Grosvenor Park this summer. Obviously, a limited season – just one play, The Comedy of Errors, and for just the month of August. Get booking, everyone, it's going to sell out fast! (By the way, that's Theresa in the middle. On a good day).
Back to the new restrictions in Manchester: this morning, it was good to sit down with three of our Key Workers, Fr Neill, Marie (Florist) and Gerry (Sacristan) and go through a little "Welcome Back to Work" Induction package the Diocese has put together for returning workers and wolunteers. All common sense, but still good to make sure everyone is on the same page.
Our first post-lockdown wedding tomorrow, Saturday, at 2.00 pm, James and Mina. Dublin marries Teheran! Surreal moment on Wednesday evening when James rang to say they had a problem, as the dress didn't fit. Could he possibly ask me an enormous favour? Pause. Yes, like you, dear reader, I was wondering what the heck could be coming next. What did I, a mere Parish Priest, know about the finer points of Haute Couture (as they say in German)? Perhaps they wanted to borrow the long-suffering Dining Room table, Mina to stand aloft and me to pin her hem, muttering "keep still" from between a mouthful of pins? Remember our mothers doing that? I was considerably relieved when the pause came to an end and he asked if they could move the rehearsal from this morning, Friday, to last night, so she could have an extra fitting today. No problems – except that it was a gorgeous evening yesterday, and I couldn't wait to finish, lock up and head out over those meadows. What an evening for a walk!
Great joy this morning to receive an email from Fr Chad at Ampleforth, the new Master of Studies – they have another poor novice for me to torture. Yippee! I started this about twenty years ago, when the supply of novices was becoming a little more erratic, and they needed to bring in outside tutors for some of the non-theological parts of formation (the mainstream theology, of course, easily teachable by the monks in the Monastery). Since then, I've had a string of novices, most of them now fully Professed and Ordained, and some of them actually out of Therapy. But still twitching, especially if anyone mentions the word "Philosophy". The teaching will initially be by Zoom, and then, please God, in person up at the Monastery itself, one of the most stunning monastic locations in the world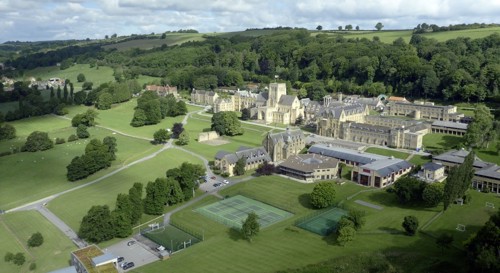 The Monastery is the tall tower and all the buildings to the left: everything to the right is the school. I was close at one point – about 1980 – to applying to join the community there. I mentioned this to the Abbot once. He went pale.
May God bless you all,
Fr Paul
STOP PRESS: James has just rung, 3.00 pm, to say that, as of today (!!), all Wedding Receptions for more than ten people have been prohibited. I've checked on the BBC news site, and he's right: "Indoor performances will also not resume, pilots of larger gatherings in sports venues and conference centres will not take place, and the planned expansion of wedding receptions to allow up to 30 people will not be permitted." The poor families! They're in a bit of a panic as to what to do now. I've reassured him that there are no changes to church regulations, and the church ceremony can go ahead as planned. Denise, can you and I knock up some sandwiches for afterwards? Just a suggestion. Seriously, folks: do please keep them in your prayers, as this must be unbelievably stressful for them, with only twenty-four hours' notice of this change.
---
Thursday 30th July 2020
Our first wedding since lockdown is on Saturday afternoon, with the rehearsal this evening. Life starting to return to normal? But it is a "mini-Wedding", under restrictions: maximum of thirty guests, everyone safe-spaced, rings to be placed on a special plate rather than handled, and so on. No "You may now kiss the bride?" you cry? Certainly not. I never allowed that anyway. I'm not having no snogging in my church, thank you very much.
Here's a Quiz Question: in terms of Covid-19 transmission, what is the most hazardous part of the ceremony? I couldn't have guessed this until reading the pages of Government and Diocesan Regulations on Restricted Weddings. It's the signing of the registers because of the handling of the pen: from me to groom, back to me, to bride, back to me, then to each of the two witnesses. The pen has to be wiped clean each time. It's an argument for celibacy, isn't it?
Excellent CathSoc Committee Zoom Meeting last night, Barl, Andreia, Josie, Emma and Mollie all buzzing ideas around for next year, and helping to record a video for national use on Chester CathSoc last year, and what they'd particularly enjoyed – the Walks, the Psalm Singing at the Boathouse, the Shared Table Suppers, the Quizzes and Debates, the informal Cake and Catch-Up sessions either side of Half Terms, and especially meeting the Wrinklies and being made to feel so welcome by them. The Chaplain? You must be joking. Definitely Who he? Ed.
Great to catch up once again with my "brother" Graham from Christ Church Newtown at lunchtime. He has three weddings coming up in September, and good to swap notes with him on how his congregation are adapting to these new circumstances. If you don't know his church, go and have a look at it – round the back of the Salvation Army. The Victorian school room is now Chester Little Theatre, and a popular home-from-home for lots of us: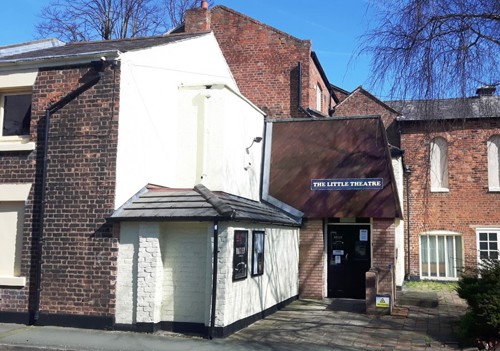 Like most of you, I can't wait for plays to start up again. But, looking at how this disease is transmitted, you can quite see why theatres – like churches – will have to be very careful. Lots of people, a fair number of them elderly, in close proximity inside a building is simply asking for trouble. But I did love this picture from Brussels, the Grand Place in the centre of the city: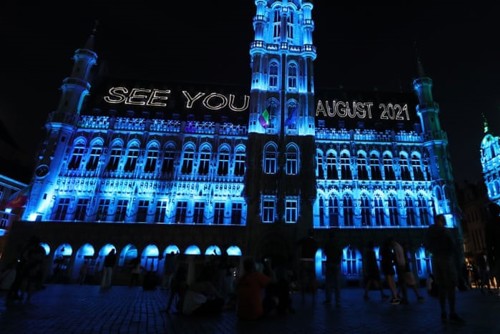 That's my sentiment entirely: sadly, we've got to write off most of Summer 2020, make the best of what remains, and just look forward to Summer 2021. Bologna, here I come!
Christ Church Newtown is an interesting John Douglas building from the 1890's, replacing an earlier church from the 1830's, built to serve the close-knit community of Newtown, many of them initially drawn to Chester to work on the railways. It's a flourishing church today, largely thanks to Graham and his leadership. But sad to hear today that another church in Chester is closing - St Andrew's Handbridge. This is the little chapel opposite to Edge's Butchers, on your right past the Service Station as you cross the bridge. It's part of the United Reformed Church, and was given the name "St Andrew's" when the original St Andrew's URC in Newgate Street – behind Piccolino's Restaurant – was closed in the 1980's. They wanted to preserve the devotion to St Andrew, so the little URC chapel in Handbridge took on the name. Sadly – do I mean that? Yes, I think I do – the original St Andrew's is now a night club, called "The Church". Here it is when a disused church: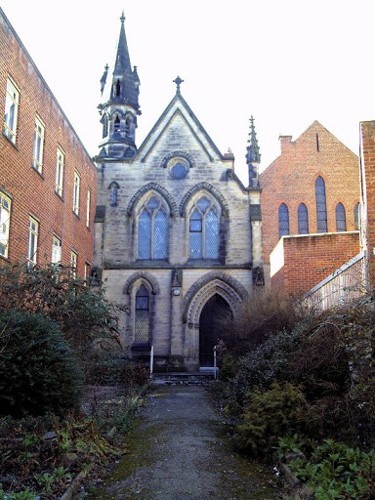 And here it is today: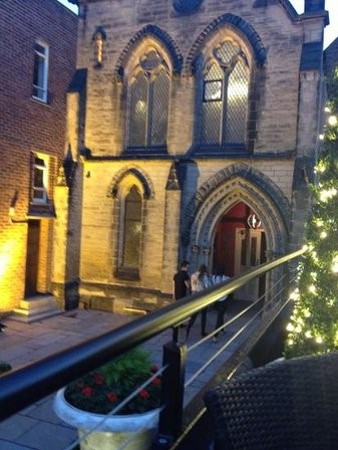 O tempora, o mores? Or, as dear old Terry Wogan would have said, "Sic transit Gloria Swanson."
And finally, what on earth are Boris, Taylor Swift [who she? Ed], Harry, Meghan and The Donald doing? Answer: Not a lot. These are waxworks, as Madame Tussaud's in London prepares for reopening!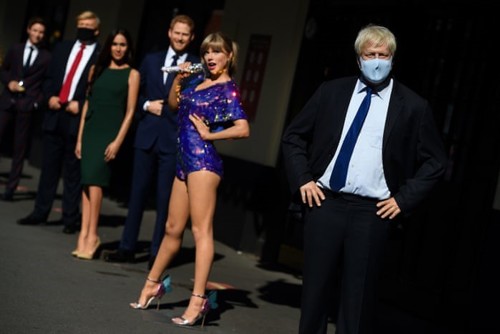 May God bless you all,
Fr Paul
---
Wednesday 29th July 2020
Just to add to the joy of nations, the County Fire Service has wanted to do a Fire Inspection of St Werburgh's over the last few months. By telephone only. Yes, you did read that correctly. A fire inspection over the phone. Frustrating isn't the word. Now they've issued their Report, and fortunately our Diocesan Health and Safety Co-ordinator, Julie Tinsley, is willing to come in on the job of dealing with it. Our own excellent H&S Fire Team – Brian Burns, Tony Baxter, Gordon Iremonger and John Curtis – have been working steadily on the Diocesan Fire Inspection Report of last September until lockdown hit in March. So, now we have three documents: The Diocesan Inspection Report, the County (telephone) Inspection Report and the work of our own Four Musketeers. Tuesday at 10.00 am we sit down, with Julie, and see where we go next. We need this under the present circumstances of lockdown, reopening for Mass and everything else going on, like the proverbial hole in the head. Am I downhearted? You bet your life I am.
That all needed setting up this morning before heading into the Hospital at 10.00 am for the usual Wednesday Morning Ward Rounds. Two special visits today, in and amongst. First to Graham, who's often with us when not at St Carpark's. A lovely gentleman who lost his wife two years ago and has not been in the best of health recently. He was delighted that his daughter from Switzerland is over and able to visit him. He lives in Handbridge, I discovered, so I was pulling his leg about why he goes to St Carpark's and to us, St Wheel-clamp's. He told me the story of how he started tending the gardens up there, and one thing led to another. In that case, I'll let you off, Graham! 
And then off to see John, one of our proud Catenians, amazingly still going strong at 95. He's had a fall at home and was black and blue with bruises but on sparkling form, full of spirit, and his mind working better than someone of half his age! There was a lovely young Irish Doctor on the Ward, who not only took me to see John but insisted on drawing the curtains to give us a better degree of privacy. "County Dublin?" I hazarded a guess at his accent. "Limerick!" he replied. "Six out of ten!" John was joining in this banter with great enthusiasm. But as we chatted, I couldn't help over-hearing what was going on in the next door bed, the Doctor trying to persuade the patient there not to get out of bed, not to sign himself out, not to catch the next bus home. He was having a really difficult time, a male nurse having to come to assist him with keeping the patient in bed. He was doing it with such gentle forcefulness, such insistence that he mustn't get out of bed, but never once showing any irritation or impatience. They make good Doctors in Limerick!
Next weekend is when all the House Jobs change, the start of August. Our Dr Sam is taking a week off between leaving Tommies and moving to UCH, to catch up with all his Edinburgh medic friends, "doing a few more Munros", he tells me. [What they? Ed] Is a Munro a type of single malt whisky? It would make sense of Sam's devotion to them if it were. Here's a photo of them all. Where's Sam? No, he's not on the photo. He stays down in the pub to look after everyone's personal possessions. It's tough work, but someone has to do it.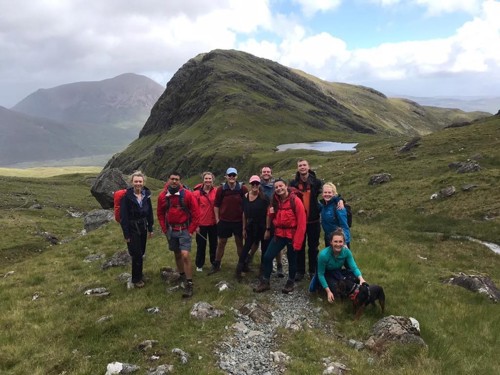 This afternoon, by arrangement, M&A, who suffered a miscarriage recently, came along to church for just a little time of prayer together, and to light a special candle to mark this life that was with us, but not for very long. Not long enough. We just sat in church and had a few prayers together, gave God thanks for the fact that they were able to conceive, and for the knowledge that that life is now safely with God, and to pray that they will soon be able to carry a baby to full term and start their family in earnest. Her home is in Broxton, down the A41, and that's where they've been staying during lockdown. Their own place is in Cheltenham. We had a cup of tea afterwards, and then off they set. "Not far to Broxton?" I said as I was waving them off. "Oh no, we've come from Cheltenham. And heading back there now." Heavens alive, they'd driven all the way from Gloucestershire for that little service and were driving all that way back! A very special couple indeed. Please keep them in your prayers, especially that they will soon be blessed with that magical first child. As one of them said, the non-Catholic one, this whole experience of miscarrying has taught them that having a baby is not an automatic process, something that "just happens", but an incredibly precious gift. Please God, give them that gift soon. Amen.
And now tonight, the CathSoc Zoom meeting with the new Committee. What do I need to look my best for them all? Oh yes, I remember – now, where have I put it…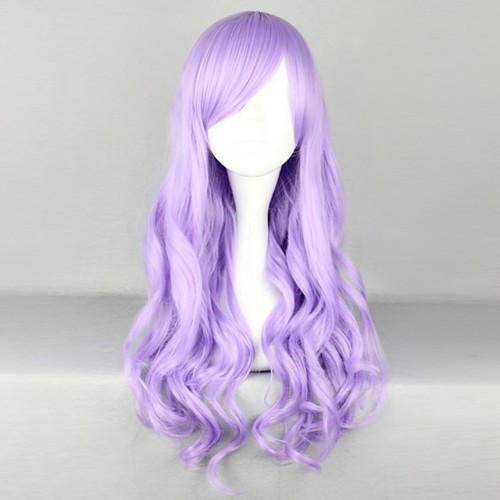 May God bless you all,
 Fr Paul
---
Tuesday 28th July 2020
Big list of Clergy Retirement and Moves announced by Bishop Mark yesterday, and I know how many of you eagerly scan these lists. In fact, all of you. To see if your agony is over at last, and FP has finally been MOVED!!! Sorry, folks, not this time. Bad luck. But be patient. One day, one day. And then the bunting will be out in Huntington, the street parties organised in Handbridge, not a sober breath drawn in Hoole and Vicars Cross. Free at last, free at last. Meanwhile…
RETIREMENTS

I wish to record on behalf of the whole Diocese, my gratitude for the long years of dedicated service of the priests who will be retiring at the end of the summer. We pray they will enjoy a new and active stage of their priestly life and ministry in retirement:

Father Chris McCurry will retire in October as Parish Priest of Saint Ann's Cheadle having reached the canonical age of retirement.

Father Willie O'Riordan will retire in September as Parish Priest of Saint Benedict's, Handforth having reached the canonical age of retirement.

Father John Joyce will retire in September as Parish Priest of Saint Vincent's Knutsford on health grounds.

APPOINTMENTS

I am grateful for all the counsel and generosity which allows me to announce the following appointments to provide for the pastoral care of the parishes and of Wythenshawe General Hospital. I wish to record our thanks to Father Sajimon Kuriakose for his faithful years as chaplain as he stands down from his service in the Wythenshawe Hospital Chaplaincy.

Father Martin Onuoha to Our Lady and Apostles, Saint Ambrose and Saint Vincent de Paul, Stockport as Parochial Administrator from September 2020

Father Tom Cunnah to Holy Angels, Hale Barns as Parish Priest and to serve as Judicial Vicar and Chancellor of the Diocese from September 2020.

Father David Long from Our Lady's Stockport to Saint Vincent's, Knutsford as Parish Priest from September 2020.

Father Anthony McGrath to assume pastoral responsibility for Saint Benedict's Handforth as Parish Priest of Christ Church, Heald Green from September 2020.

Father Sean Davidson to assume pastoral responsibility for Saint Ann's Cheadle as Parochial Administrator of Saint Chad's Cheadle from October 2020.

Father Fr Kuriakose Madathirampil to Sacred Heart and Saint Peter's Baguley to serve the Wythenshawe Team Ministry and to continue to serve as Chaplain to the Syro-Malankara community from September 2020.

Father Owen Gallagher from the Cathedral Parish and Saint George's, Whitchurch to Sacred Heart and Saint Peter, Baguley to serve the Wythenshawe Team Ministry and the Chaplaincy of Wythenshawe General Hospital from September 2020.

Deacon Anthony Zidan to serve the Chaplaincy of Wythenshawe General Hospital from September 2020.

Father Thaddeus Opara from the Wythenshawe Team Ministry to Saint George's, Whitchurch as Parochial Administrator from September 2020.

Father John Britto from Saint Vincent's, Altrincham to Saint Mary's Shifnal and Saint Joseph's Albrighton as Parochial Administrator from September 2020.

Father Robert Dykes (newly ordained) as Assistant Priest to Saint Vincent's, Altrincham from September 2020.

Deacon Humphrey O'Connor (newly ordained) to Christ Church, Heald Green and to serve the parishes of Heald Green, Cheadle and Handforth from September 2020.
Bishop Mark does warn us that there will need to be further moves and appointments before the summer is out, so keep that Prosecco on ice, Boughton. You might get your wish yet, Birthdays and Christmas rolled into one…
Lovely evening with Edward a couple of nights ago. He's had the results of his GDL - the one-year Law Conversion Course at Christleton for those whose degree subject is not law – and he was awarded one of the few Distinctions! Wow! That is so amazing and wonderful. Equally amazing and wonderful is that he cooked me supper. I hate him, I really hate him – he's a fantastic cook. His home backs on to the Meadows in Queen's Park, and we had a super evening, putting the world to rights over a delicious baked chicken and ratatouille supper, all cooked by him, and a bottle of French Red supplied by yours truly. Amazing and fantastic number three: he's dyed his hair bleach blonde! I have this theory that all men secretly long to (a) dye their hair, (b) have a tattoo, and (c) wear an earring. But 99% of us are far too cowardly to do anything about it. Just the tattoo and ear piercing to go now, Ed! I asked him if I could take a photo, and he turned stroppy, and said if I wanted to snap something, why not the ratatouille?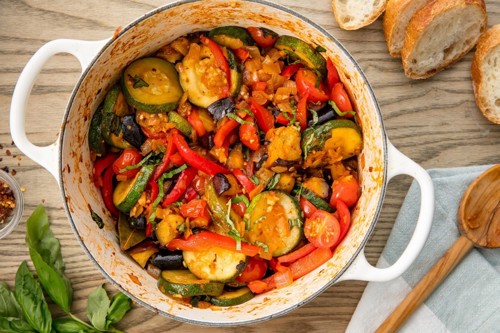 It was yummy.
There's a bit of a dyed hair theme this evening – not that I'm implying for one second that any of the good Fathers in Bishop Mark's list would ever do anything so uncanonical. (Fr Tom? Please tell me not!) But Madam Prezzie Barl, who's doing a great job from Barland (aka Bristol) of getting CathSoc ready for next term, remotely if necessary, has, as you know, long sported purple locks. Now she's gone one further and wants to create a Corporate Identity for CathSoc. Give me strength. She wants us all to wear a purple CathSoc hoodie, comme ça, as they say in French. (There! Caught you out, didn't I? Ever been had!)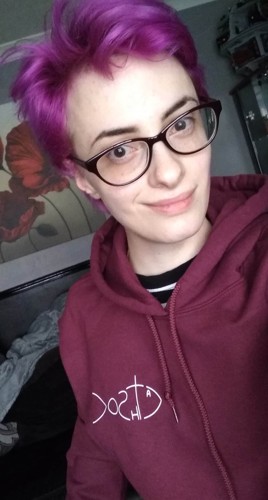 I know I'm not the most technological adept creature on two legs [You are absolutely pathetic. Ed] but it took me years to realise why the lettering on selfies is always back to front. She's also got into alliteration in a big way, her CathSoc name to be "Blubbering Baboon Barl". No, I don't understand either. Finally, she's aiming at all of us going for the purple hair look. When I asked her what on earth I would look like with purple tresses, this is what she sent me: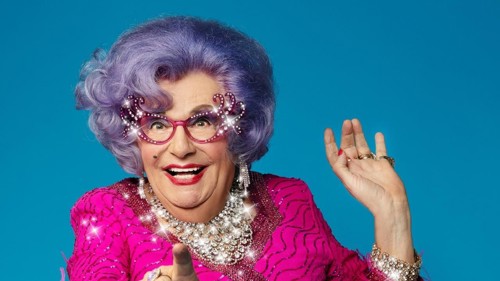 Cruel or what?
Let's end on some really good news: at long last, the Poor Clares' Monastery at Hawarden has gained the necessary Planning Permission for redevelopment as housing. It's been a long, protracted saga, but the PP has come through, which means the sale can be completed and the derelict Monastery site turned into a modern housing estate. The Sisters, now in Nottingham, must be mightily relieved! Thanks to Cuddly Karen from Christleton for sending this over:
Appeal: Exceptional circumstances justify Welsh monastery's demolition

Plans to demolish a monastery in Flintshire to make way for 15 homes can go ahead, an inspector has decided, after finding that the scheme would improve the openness of the surrounding green barrier.
| | |
| --- | --- |
| LOCATION | |
| AUTHORITY | |
| INSPECTOR | A Thickett |
| PROCEDURE | Written submissions |
| DECISION | Allowed |
| REFERENCE | |
The appeal concerned a monastery and associated buildings in Hawarden, a village in North Wales near the English border. A community of nuns that had been in the village for more than 90 years occupied the monastery. In 2018, however, the order of nuns decided to join another community in Nottingham, after the cost of maintaining the monastery become unaffordable.
A year later, developer Ecclestone Homes sought permission to demolish the buildings and replace them with 15 houses. However, the site lies within a designated green barrier, where development is not allowed other than in exceptional circumstances. The council's officers supported the scheme on the basis that exceptional circumstances did exist, but permission was still refused.
Inspector A Thickett sided with the council's officers, noting that the monastery was a substantial and now vacant building, in a sustainable location within walking distance of shops and services, and could be considered as previously developed land. Given that another use for the buildings was unlikely to be found, he said, "some form of redevelopment" would be necessary.
The proposed homes would have a considerably smaller footprint than the existing buildings, Thickett noted, and would therefore have a positive impact on the openness of the green barrier. Although it was inappropriate development, he concluded, very special circumstances existed that justified allowing the appeal and granting permission.
The inspector's report – case reference 3245090 – can be read here.
The photo credit says, "Stock Image". Not half! I love the Poor Clares to bits, but, trust me, there was no Sister quite that dishy in either Hawarden or Nottingham…
May God bless you – and them – always,
Fr Paul
---
Monday 27th July 2020
Excellent Review Meeting by the Taskforce this morning, looking at how yesterday had gone. The general feeling is that our system is now working well – "slick" was the Smug Very word they came up with – and that Stewards and Cleaners know what they are doing and are capable of doing it with amazing efficiency. Amazing? I was gobsmacked watching the Grand Duchess of Riga disinfecting those benches, as it's well known that her husband Val is a Domestic Goddess and Her Highness never so much as lifts a duster at home…
Total numbers were up from 147 last Sunday to 198 yesterday (and that's not including Stewards, Taskforce and Cleaners). Total capacity = 240 (4 x 60). So, do we now need a Booking System? The general feeling is that if we ever had to turn people away from Mass, as capacity had been reached, that would be a powerful argument for some form of pre-booking. But we haven't got there yet – and we do have another way of easing capacity, and that's allowing bubbles. A bubble is defined as a group who habitually live in the same house. There were some naturally occurring bubbles at 12.00 – a Bubble of Piggies, for example, which gladdened the aged PP's heart. So, after our hour-and-a-half review this morning we went into church and looked at this question "on the ground". The side benches will certainly take couples, still allowing for two metres social distancing, and the central benches could take a bubble of four or five, with two people sitting on the yellow crosses and the rest of the bubble between them. That would considerably increase capacity.
Let's try it next Sunday! When we feel entirely comfortable with Sunday Mornings, then we will go on to look at the possibility of a Saturday or Sunday Evening Mass, and then reinstating the Weekday Masses. But it's "festina lente", everyone (as they say in German): make haste slowly.
Cambrian Plumbers called first thing this morning, and in no time at all had that washer replaced on the leaky tap. They're a Mr and Mrs team, very reasonable rates, and a super way of working. He sits on a chair and tells her what to do. You should have seen her with that monkey wrench this morning. At one point, I thought she was going to brain him with it… Cambrian Plumbers don't normally like publicity, but I do think they need a little public recognition for what they did this morning. So, here's a recent photo, and all I'll say is that ONE of these four is our Plumber. (Clue: it's not the Queen).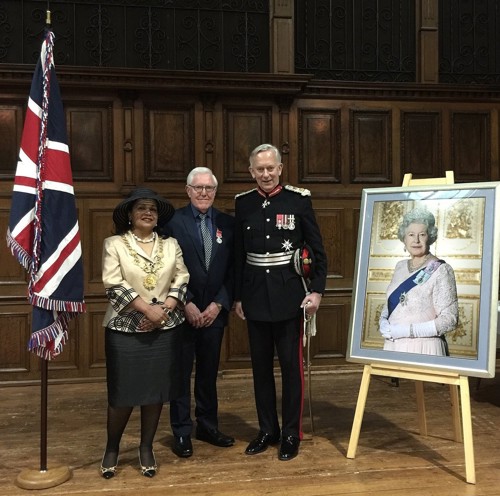 Great to hear again from Lulu-belle from St Clare's on how well the Car Park Mass had gone. 11 cars turned up with 20 people inside, and a number of those had been self-isolating, and so couldn't have got to Mass any other way: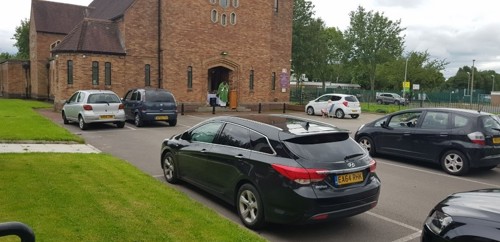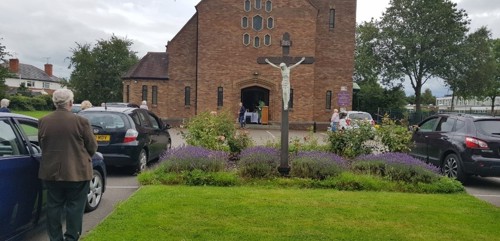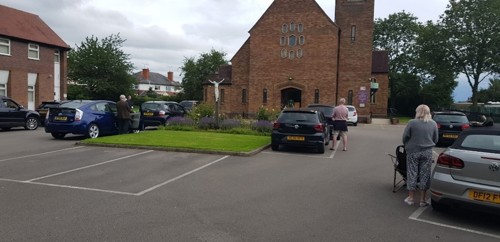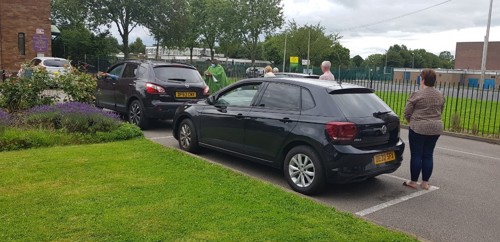 Lulu-belle, who as you all know is a bit of a goer, was kind enough to hope I would get better soon from my nasty attack of CPE. Isn't that sweet of her? CPE? Car Park Envy, for those of you who are not medically trained.
And talking of CPE, good to hear again from our old friend Bernard from St Carparks. He'd told us yesterday that his good lady wife hailed from Guisborough, this weekend's "Photo of the Week" on the Newsletter. But today, the plot thickens. He's sent us a photo of the Priory with St Nicholas Church in the background: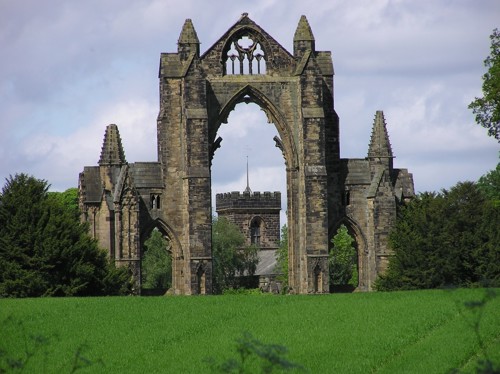 Lady P was an Anglican in those days, and St Nicholas was where they did much of their courting, Bernard having swept the poor lass off her feet. And her dear parents thought she was going there just for Evensong… Bernard, you swine!
Spent much of the later morning shedding my blood for the Fatherland. If you're a regular Blood Donor, you get asked to take part in all sorts of trials. This latest one is a Covid-19 trial, to see if people can catch the virus without knowing it, let the virus pass through, and then hop off again, all without the individual being the slightest bit aware of it. So, had to fill in a lengthy health questionnaire, and then be willing to send off a blood sample every month for a year. Not normally anything to it, a lancet that pricks a finger, then blood drops into the tube – I do hope I'm not putting any of you off your tea? – seal it up and post it off. But could I get the lancet to work this morning? Could I platelets. Eventually had to pull up their explanatory YouTube video and watch the professionals do it. The things I do for my flaming Fatherland.
Talking of trials – good, eh? - Hugh of Handbridge is proving something of a trial to his poor family once again. He's run out of masks, and went to his local Chemist's, who were also out of stock. They advised him to try Boots instead: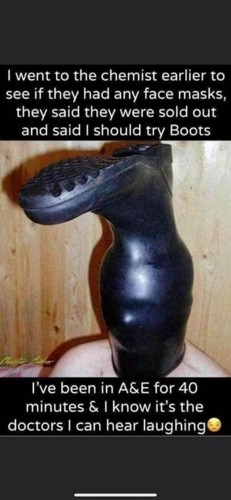 No, don't mock. It could be one of your own.
May God bless you all,
Fr Paul
---
Sunday 26th July 2020
Numbers at Mass this morning were up on last week, which is so encouraging:
9.00 am: Last Week – 56; This Week - 51
10.00 am: Last Week - 29: This Week - 47
11.00 am: Last Week – 35; This Week - 46
12.00 noon: Last Week – 27; This Week – 54
Total: Last Week – 147; This Week - 198
You'll notice we're closer to our 240 capacity (four Masses with sixty maximum at each). Food for thought at our Review Meeting tomorrow. At the 12.00 noon Mass, there were some naturally occurring "bubbles" (members of the same household wanting to sit together), and I suspect this is the way we may go. If bubbles can sit together, that would significantly increase our capacity. But bubbles are harder to administer from a Stewards' perspective. Do you allow a bubble of five to take precedence over three singletons in the queue? Or vice versa? Tricky, but kind of a nice problem to face? The nasty problems would have been no-one turning up or five hundred turning up. 147 last week, 198 this week is the sort of challenge I like. Again, huge thanks to the army of Stewards and Cleaners – none of this would be possible without YOU!
Very puzzled yesterday by those mohican thingies Lulu-Belle from Lache attached to her email. Lots of answers to my query about their proper name. Thanks, everyone for clearing this one up. Apparently, they're called "Mojos". Really grateful. Someone even sent me a bag. Most kind.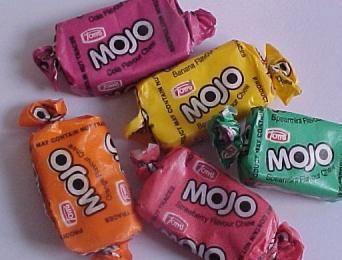 Very nice. Word of warning: don't try to east a bag full. I just have and feel decidedly ill.
Good to hear from Lulu-belle – and, this morning, from another good friend from a neighbouring Parish, Bernard from St Carpark's. Hi, Bernard! He was interested in our Photo of the Week in the Newsletter from Guisborough Priory: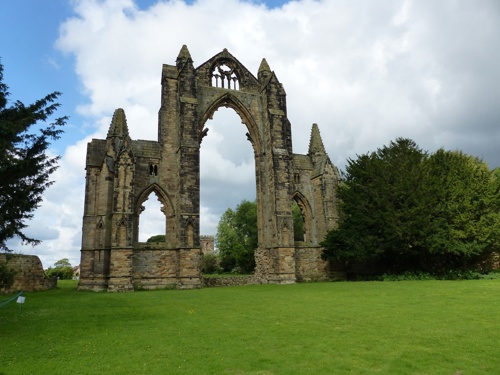 Apparently, Lady Payne hails from Guisborough, a beautiful little town in North Yorkshire. Bernard started going on about old ruins, and I had to stop him there. You don't know Lady Payne like I do. Left hook to floor a double-decker bus. Just don't go there, Bernard – OK?
Talking of medieval abbey ruins (brilliant Radio 2 link??) [Oh, do get on with it, you old windbag. Ed], lots of reaction to our new statue of Our Lady of Walsingham. If you've never been to the Slipper Chapel there, I nominate it as one of the holiest places in England: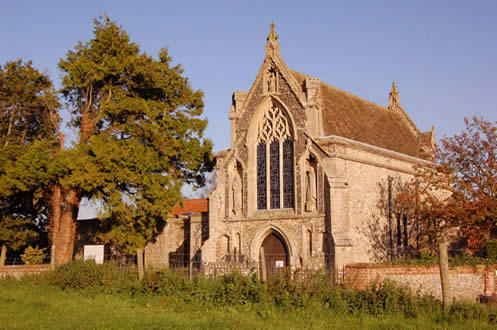 It was lovingly restored by the Pearson Boyd family, who bought it in 1893 when it was derelict. Here's an amazing archive photo of the same building when it was being used as a cowshed. You can just see the cowman shutting the door: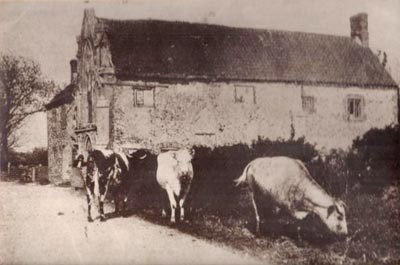 Some of you have said you can't quite imagine whereabouts in the church our new Statue of Our Lady of Walsingham is, so here's a photo of it taken from a little further back. She's keeping St Werburgh company in the bay near the door into the Sacristy: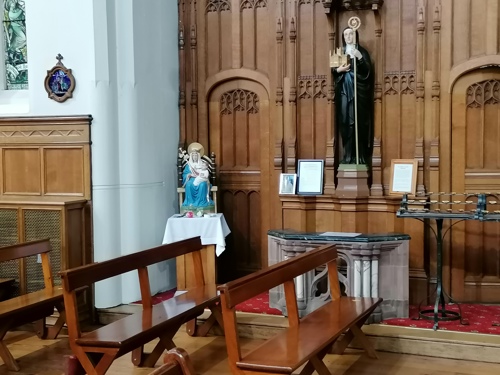 No, I haven't included her in the total of 198 for this morning. Perhaps I should have done. Make that 199.
May God bless you all,
Fr Paul