Daily Updates 28th June - 4th July
Saturday 4th July 2020
Just taking a break from the Pub Round to bring today's Blog up to date. All quiet so far, but a bit surprised to find two of our Tenors in the Cross Foxes this morning. According to the landlord, they've been there since before lockdown. You'd have thought someone would have missed them. Their families?

Good to hear from our old faithful Hugh of Handbridge, wanting to know why there aren't any more Caption Competitions. Poor old devil. As Frankie Howerd would have said, "Don't mock – it could be one of your own". He's not as clever on his legs as he used to be, and his doctor has warned him of the dangers of slips in the bathroom, specially coming out of the shower. He's been advised to fit a bar in the shower, and he's rightly proud of how good it looks: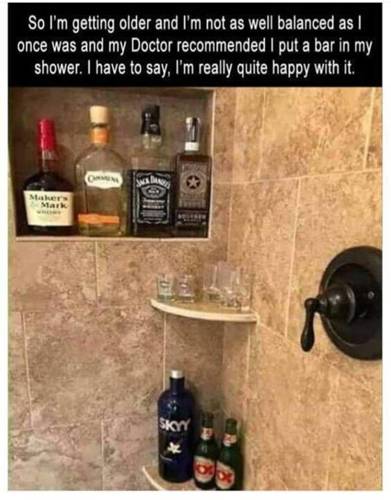 Good to hear from Bishop Mark again, in response to my request for permission to conduct an Adult Baptism next week. He's more than happy for this to go ahead, with all the standard precautions in place. No permission for Infant Baptisms yet, of course, as they are just impossible with six feet apart safe distancing. I ran past him my suggestion of all of us standing at the requisite distance and throwing the baby at each other, here Godmother, CATCH! … Over to you now, Father, whoops!... but he didn't seem any keener than the parents I suggested it to. Quiz Question: who did throw the baby and what did it turn into? (Answer at the end!)

Churches officially allowed to open for public services today, Saturday 4th July - but the impression I get is that while a number will open tomorrow, many are taking a little longer to make sure they are absolutely ready. And that applies to our friends in other Faiths as well. This was in today's Grauniad:
Yet despite the green light to open their doors, many churches, mosques, synagogues and temples will remain empty this weekend. Some faith leaders say the safety requirements for communal service are simply too onerous and the risks too high, especially for smaller places of worship.

"We will not be returning to normality overnight," said Sarah Mullally, the Bishop of London who is overseeing the resumption of services in the Church of England. Harun Khan, the Muslim Council of Britain's secretary general, said: "Mosques must not feel rushed into reopening, but should only take this step when they feel it is safe to do so.

Ephraim Mirvis, the Chief Rabbi, said reopening was not a single event "but rather a cautious, phased process" that would take place over several months. Jewish leaders have said that some synagogues may still be closed for the high holidays of Rosh Hashanah and Yom Kippur in September.
Our Reopening Taskforce meets again on Monday morning, and I know how busy they've been since last Monday in looking at our church lay-out, taking measurements, making calculations about both space and time. I'm sure that on Monday we will start to make some definite decisions and be able to announce some firm dates for Reopening for Mass. Alleluia!

Today, of course, is Jewish Sabbath. From being a child [you still are. Ed] I've been fascinated by the Jewish Faith and always had a deep respect and love of their tradition. The Liberal and Reform movements in Judaism allow for a Bat Mitzvah for girls - and increasingly some Orthodox communities too. It's the "Coming of Age" Ceremony for Boys and Girls, usually at 13. Here's a wonderful picture of Ellie (second left) celebrating her Bat Mizvah remotely – you can see the edge of the screen in the foreground – at home with her parents and older sister in Finchley, north London: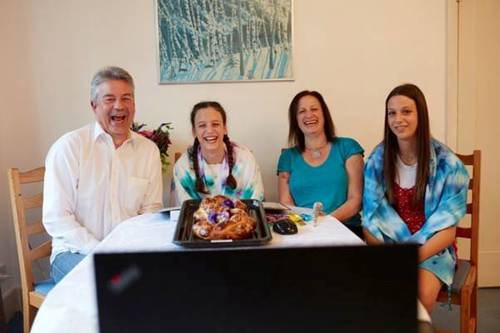 The central moment of the ceremony is the youngster reading two or three verses from the Torah part of the Bible – in Hebrew, of course! Because they regard the Word of God as being so Sacred – I wish we did a little more – they do not touch the page of scripture with their bare hands but use a "yad" or pointer. Some of the antique ones are extraordinary, silver handles and ivory tips. You can see the yad in the picture below, plus the nicely protected page of the Bible. And a few Roses Chocolates for when she gets it right! Happy Bat Mitzvah, Ellie!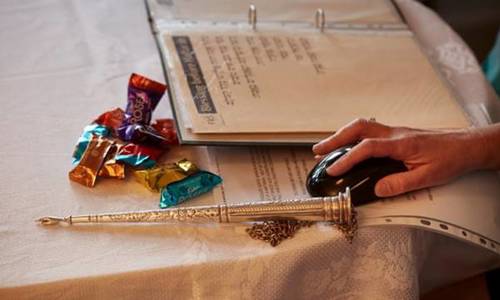 Do you remember seeing the yad when we visited the Synagogue in Liverpool last year? What a lovely day out that was. Finally, because the Synagogues are all closed, as are all places of worship before today, and because Jews practise communal prayer as much as private, they need ten people to constitute a "minyan" or assembly (a sort of religious quorum). Here are ten neighbours in the Orthodox Hasidic community of Stamford Hill, also in north London, doing just that: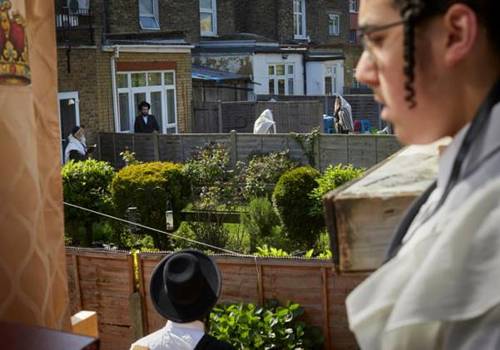 We've all heard of chatting over the garden fence, but I bet not many of us have prayed over one!

May God bless you all, and all our brothers and sisters in other Faiths,

Fr Paul

PS See you tomorrow for Papers and Chat 10.00-11.00, and Church Reopened for Private Prayer 11.00-12.30 pm.
PPS: Off now to the Coach House. Just make it a half, Eileen…
PPPS: Answer to the Quiz question – easy, wasn't it?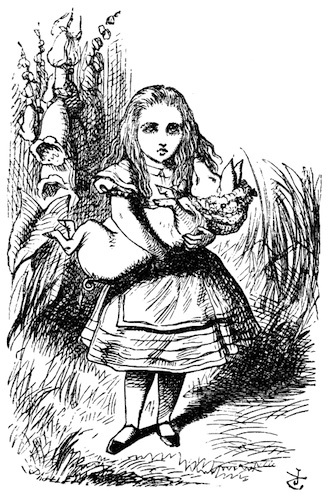 ---
Friday 3rd July
Bit of a lull on the house-painting as we are waiting for the Council Permit to allow the scaffolders to do their stuff on the front of the house. Meanwhile, the woodworking and joinery chaps have been here today, replacing the odd bit of rotten woodwork here and there. No, I didn't ask them to look at my head before you ask. Very amusing, some of you. But only some.
Been a slight lull too on Funerals in the last week, but no longer: six booked in over the last two days. Having a Funeral under these very restricted conditions is as difficult as ever, but at least we can now come into church, though with all the standard restrictions. Good last night to be able to ring up Mary and Peter in Boughton Hall, to wish them a very happy 60th Wedding Anniversary. Sixty years and never a cross word – I'm proud of both of you! But first I needed to find the number, which meant a call to Marian, who put me on to Mary and Peter's next-door neighbour, Anna. So, three very pleasant chats instead of one: but I still can't believe Marian doesn't love Vanity Fair, my next re-read! When she just beat me to it with Middlemarch, I had high hopes of her…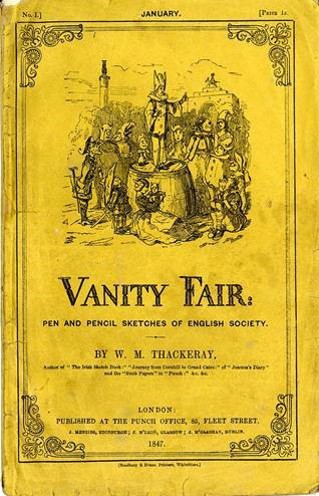 Thackeray made those canary-yellow covers one of his trademark signs: Vanity Fair was serialised in Punch in twenty monthly parts, January 1847 to July 1848.
After all those phone calls, it meant a shorter walk over the Meadows, and a chance to call in on Edward in Queen's Park for a safe-distanced catch-up and see how he's been getting on. Year One of his law studies completed – the GDL at the Law College at Christleton, after his Philosophy Degree at Edinburgh. Back to Christleton for his LCP year in September, and then starting work as a Trainee Solicitor with his legal firm in Manchester. Good luck, Ed!
Like me, he'd been driven by sheer desperation to the electric hair clippers. I opted for a fairly conservative Number 4, half-an-inch. He'd gone the whole hog, a Number One, one-eighth of an inch. I hate to say this, but it really suited him. He's a good-looking swine, and I hate him.
In case you're wondering what a number one haircut looks like, ladies – or even fancy one yourself? – here it is: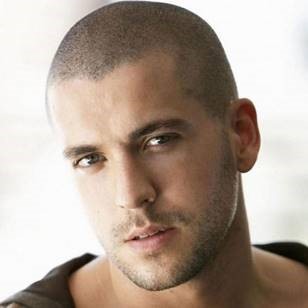 And no, before you ask: that is NOT Edward. He's not that good looking, thank heavens!
Before we leave the subject of chaps cutting their own hair, did you see Dr Phil Green, an assistant professor in the school of mechanical, aerospace and automotive engineering at Coventry University, has come up with a wizard wheeze?
Yes, he's attached the clippers to the vacuum cleaner! Now that's what I call a useful scientific invention!
And finally… It's 5.00 pm Friday now as I write this deathly prose [rambling load of old rubbish shurely? Ed]. In other words, fifteen hours to go. 8.00 am tomorrow morning, Saturday. Don't pretend you don't know, because you DO. The pubs re-open. I've heard all sorts of worrying rumours about the Werbies and planning to take full advantage. Come off it, Choir – when have you ever had a Choir Practice at 8.00 am on a Saturday Morning? Purleeeeeze! So, why are you planning to have one TOMORROW? In the King's Arms??? For heaven's sake, do I look stupid?
So, being a caring and dutiful Parish Priest, to make sure my flock keep safe and well tomorrow, I'm going to have to patrol all of Chester's City Centre pubs to make sure I catch no Werbies in any of them. Starting with the King's Arms, of course. Here's my timetable for tomorrow:
8.00 am: King's Arms
9.00 am: Old Queen's Head
10.00 am: The Cross Foxes
11.00 am: Lock Vaults
12.00 noon: Stanley Arms
1.00 pm: Liverpool Arms, how many arms have I got?
2.00 pm: Wetherspoons, whether spoons what…?
3.00 pm: George and Dragging my poor carcase a bit now
4.00 pm: Bear and Bilious, definitely feeling a bit sick
5.00 pm: Brewery Tap but do it gently
6.00 pm: The Coach House, any beds going Eileen?
7.00 pm: Revolution, whole place spinning round
8.00 pm: The Victoria, am I in EastEnders already?
9.00 pm: Old Arkers Harms, I mean Hold Markus' Palms, I mean…
10.00 pm: The Architect of my own folly
11.00 pm: The Boathouse, no I don't want to sing any Psalms
 It's tough work, my children, but someone has to do it.
 May God bless you all,
 Fr Paul
---
Thursday 2nd July 2020
I do wish I could use one tenth of the Caption Competition entries you send me. Alas, this is a family Blog and I have a reputation to keep up. [Shome mishtake shurely? Ed] It certainly set you off last night, Prince Charles and the Pig. Hugh of Handbridge had to go with shopping lists and mint sauce, Rowena of Rowton had lots of fun with Talking to Plants, and Holly from Huntington was on side-splitting form with porkers / porkies. Doo-lally from Doddington, Kev from Kinnerton and Vi from Vicars Cross: there are quite enough Libel Actions swirling around at the moment even to mention your entries. (But thanks for sending them in!!)
Another excellent "Reopening for Private Prayer" last night, Wednesday. Other churches seemed to have experienced some tailing off after the initial interest, but we were delighted to welcome sixteen Werbies and Wizziters during the hour-and-a-half, compared with eighteen last Wednesday. Thanks for coming, and huge thanks to Stewards and Taskforce for making it possible. Next opening: Sunday Morning, 11.00-12.30. If you've not been along yet, why not come along? Just as a way of thanking God that we seem to be getting through the worst of this Coronavirus and are now actively looking to Reopen for Mass. Watch this space!
It's always an honour to be asked to take anyone's Funeral, but I felt especially privileged taking Derrick's this morning, out at Flintshire Crematorium. Derrick wasn't a Catholic, not that that makes any difference, but a resident in one of our Nursing Homes since last September. A very pleasant, amiable old gentleman, he always came to our monthly Church Services, and quietly enjoyed the half-hour of hymns, memories and prayers. I hadn't realised how much, until his daughter rang me to say he'd passed away, and, as he'd always spoken so highly of those little monthly services, could I possibly take the Service? What an honour! And a compliment not to myself but to the Home for organising them. We have eight Care Homes in the Parish, and at the moment regular monthly services in three of them. Anyone like to help with getting the other five plates spinning, once this lockdown is over?
If you don't know the Flintshire Crematorium, it's a new one, opened two years ago, just the other side of Ewloe, in very pleasantly landscaped grounds: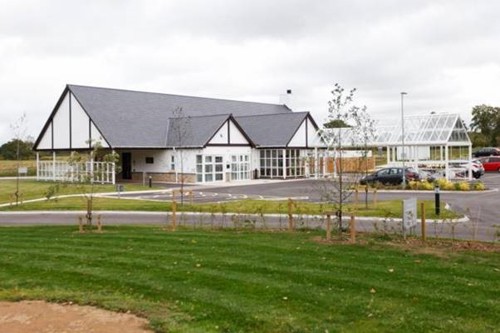 You get to it via Junction 33A on the A55. In case you think I've suddenly morphed into Sally Traffic or one of those other profoundly irritating broadcasters who bring us news of motorway closures and ten-mile tailbacks in such bright, breezy voices – "Oh, good news, everyone! A major crash has just shut the M6. In both directions!" – you know the type, Circle of Hell reserved for them – I'm only mentioning it because 33A is one of those equally irritating junctions where you can get off the flaming A55 but not get on. So, the return journey brings you back via all sorts of interesting places. This morning, Preston.
My lovely lady from Helsby that I visited on the Covid-19 wards on Sunday went Home to the Lord this morning, and again I feel honoured to be asked by her husband to conduct her Funeral, a service here in church. Having spoken to the Funeral Director on the phone, and agreeing dates and times, we rang off. She rang me back immediately. "Oh, Father, I'm dreadfully sorry – one thing I didn't mention. She was Covid-19. Are you still willing to take the Service?" Listen, I said to her, how long have you got…
A spot of sad news today: my couple planning to marry here, the first of our Mini-Weddings, on 12th July, rang me this afternoon to say that one of the parents has just been taken into hospital, with what sounds like worrying news. 12th July now very much up in the air, as you can imagine. What a stressful time for the couple, and all the family. I told them we'd keep them in our prayers at this worrying time.
A couple of photos to finish with. One I absolutely do not understand. A restaurant in Ankara, Turkey, which has placed Pandas on strategic seats to illustrate "safe distancing." Anyone got a clue what this is all about?
And the Eurasian Beavers are back and breeding like good'uns in Essex. Well, there isn't a lot else to do in that benighted county, is there? (That's half my readers gone at a stroke). Hey-ho!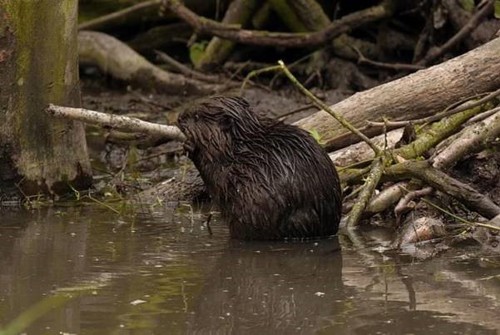 Very nice, aren't they, but not sure I'd want one for a pet.
May God bless you all,
Fr Paul
---
Wednesday 1st July 2020

News early this morning of the death of our 97-year-old, Dorothy from Great Boughton, whom I'd met in the Hospital and was delighted to visit a couple of times in the week she was home. Now she's Home with the Lord. May she rest in peace. An amazing family: she had ten children, and more grandchildren and great-grandchildren than you could shake the proverbial stick at. The family would very much like her Funeral Service to be here in Church, in a fortnight's time, so that will be our first Church Funeral since lockdown, as well as our first Church Wedding in the same week. Maximum of 30 at each, no singing, no Requiem Mass, all safe-spaced. Two challenges for our Reopening Taskforce as they continue their deliberations about Reopening for Mass.

Very pleasant, worthwhile morning in the Countess today, doing the standard Ward Rounds that's the bread-and-butter work of Hospital Chaplaincy. We do need to get our Catholic staff back in action soon, as I'm conscious I'm only scratching the surface with this Wednesday morning, as well as taking the emergency callouts. It does allow me to visit most of the Wards and it's always a joy. Lovely lady today, in her eighties, married at St Werburgh's but lived in St Columba's for the past sixty years. We all make mistakes, I told her. It's only human. Another gentleman had been a Choir Boy here back in the day, now gone posh and up in Great Sutton. The next-door bed was enjoying joining in with our chat. "Are you a Catholic?" I asked him, "you're not on my list". "No", he replied, "I'm of the Jewish Faith." And then he told me his story: his parents just escaped Austria in 1938, came to the North West, and made a new life for themselves here. His grandparents on his father's side both died in Auschwitz.

Hearing something like that just puts everything in perspective, doesn't it? Then round to Jean's in the Garden Quarter, preparing for John's Funeral on Monday. Nice to meet the gardener, working in the back garden, but I do have to say she might have put her back into that weeding a little more… Hiya, Stella!

Open tonight for Private Prayer, 6.00-7.30 pm, so hope to see lots of you then. Many of you are asking me when we will be open again for Mass, and the honest answer is "I don't know – but we are actively working on it." My best guess is two- or three-weeks' time, but please don't hold me to that. We have to complete a brand-new Risk Assessment for Opening for Mass, and that has to be approved by the Diocese, and lots and lots of work to be done before that old bell rings out and you all lever those arthritic frames of yours back into the upright…

You don't come here for cheek, do you? You can get that from your own bubble at home. Talking of which: pubs open again what day of the week? Yes, this coming SATURDAY!! Good bit of planning, or what?

Friday 5th June, a month ago, and what would have been one of my favourite nights of the year, the Saddleworth and Oldham Whit Friday Brass Band Contest, with bands coming from all over the world to march from village to village on the Moors above Oldham. They stop in the village square, play their piece, adjudicated by the judges hidden away in a nearby caravan or tent, and march on to the next one:

Like so much else of our musical life in this country, it's had to be suspended during lockdown. But you can't keep a good Brass Band down, and I was overjoyed to be sent this picture of the Meltham and Meltham Mills Band getting back to their weekly Band Practice, high on the moors above Marsden: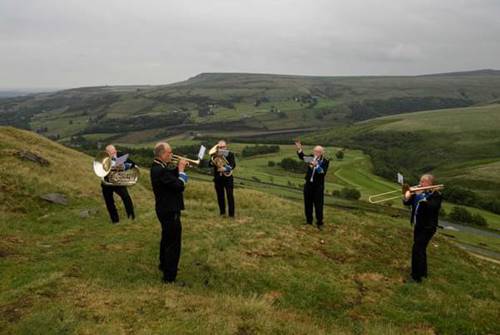 Don't forget, it's A natural in bar seventeen, lads, not A flat…

And finally: I said no more Caption Competitions, as it just makes you lot worse, not better. It brings out the childish and immature in too many of you. And that's just Redcliffe. But I'm weak-willed and easily led, as you know, so here's the very last one. The absolute last one. (Believe that and you'll believe anything…)

Just one word of warning, please, Hugh from Handbridge and Gertie from Guilden Sutton. Oh, and especially Quentin from Queen's Park. PLEASE try to make it suitable for a good family Blog. Some of your recent entries have been outrageous and totally unseemly. But they did make me laugh. So, sharpen your pencils: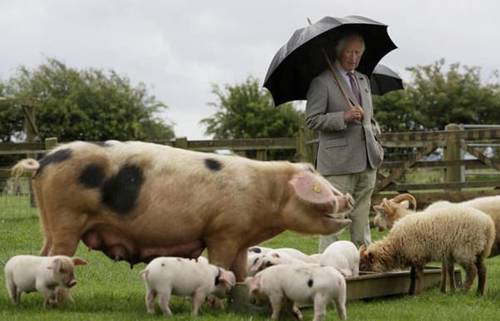 May God bless you all,

Fr Paul
---
Tuesday 30th June 2020
News all around us of a country starting to come out of lockdown: but events in Leicester a painful reminder of how careful we need to be. I've been enjoying lovely evening walks – sometimes night ones – in the past fortnight, a way of getting the day out of the system before going to bed. Like a number of lockdown routines, it would be good to think of it continuing after it's over. On Sunday night, out to Harker's Arms – shut, before you lot start – and turned right to walk along the Canal to Christleton and beyond. Last night, along the canal the other way, down to the Canal Basin and Taylor's Boatyard and along past the University as far as the Crematorium, leaving the tow path there to come up on the main road to Fountains Roundabout and into a strangely deserted city centre. This is going down past the locks to the basin: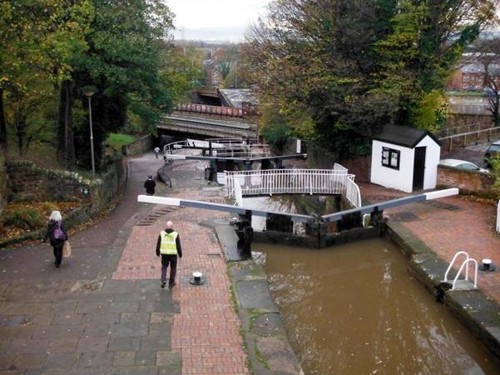 And then round past King Charles' Tower. A stunning walk, if you haven't done it recently.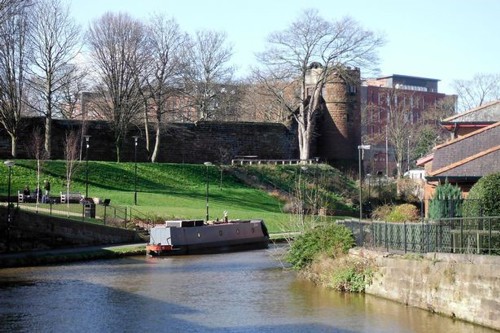 Tomorrow, into the Hospital Wards in the morning, hoping it isn't too much longer before all the Hospital Chaplains and Volunteers can get back to work, and then getting ready for our third Opening for Private Prayer in the evening, 6.00-7.30 pm. If you've not yet been into the church since re-opening why not come along?
Edinburgh zoo opened again for the first time yesterday, and I loved this photo of their Sumatran tiger, Dharma, welcoming wizziters back.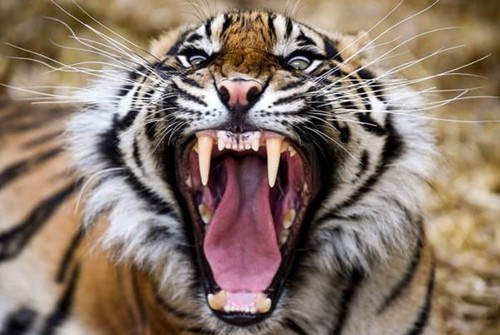 I am reliably informed that is a friendly yawn. I'd take their word for it, wouldn't you – rather than go and investigate personally. And lastly, from Costa Rica, a lady praying in the newly reopened Basilica de los Angeles. They've fixed a mimimum of 1.8 metres between people, and a maximum on 75 in that church at any one time. Werbies, we're not going to be far behind them!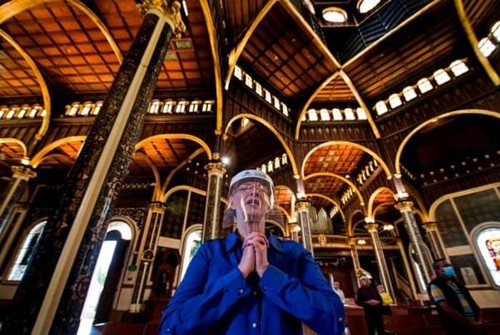 May God bless you all,
Fr Paul
---
Monday 29th June 2020

All put into perspective by an email last night from a beautiful couple I married two years ago, who made a real impact upon me by some of the struggles they'd been through to get to their happy day. They emailed to tell me they'd just had a miscarriage, their first pregnancy, at ten weeks. Nothing to say in this situation, is there? Just rang them and assured them of lots of love and hugs. Could I say a prayer for them both at Mass, they asked? I think I probably could, don't you? M&A, you're in our thoughts today, and I know all of you reading this tonight will say a little prayer for them too. It's the World Wide Web of Werbies Prayer. And no, before you ask: you can never have too much alliteration.

Government regulation on post-lockdown weddings out today. We have two coming up, on Sunday 12th July, a fortnight yesterday, and Saturday 1st August. I've been speaking to both couples extensively over the last few months, and fully support their wish to have a simple wedding now, on the date they'd originally planned. The Government says there's to be no "You may now kiss the bride". But since when did I ever allow any snogging in my church? Pur-leeeeze!

Taskforce in this morning, reviewing (briefly) our first two sessions of Reopening for Private Prayer and then moving onto the thornier question of Reopening for Mass. The critical question to be answered is Numbers: how many can we safely accommodate in our church on the two metre (six feet) social distancing? If we go for one metre, everyone must wear face covering, and our experience of Private Prayer reopening in the last two sessions is that most people come with some such, but not everybody.

No decisions reached this morning, as we all need time to absorb our discussions and walks around church. But our hunch was that it could be in the 60-ish range. The church will need to be cleaned afterwards. That will mean more, shorter Masses, just half an hour, no singing or music, no Sermon (please be brave, my children) and no Bidding Prayers. How we distribute Holy Communion safely to be decided. Could we be looking at four Mases on a Sunday Morning, at 9.00, 10.00, 11.00 and 12.00? That would give us half an hour between each, to allow people to leave, clean everywhere and invite the next group to come in. Possibly one on Saturday evening and one Sunday evening as well? Big challenge, and we're not there yet. But we did want you to know the way our thinking as a group is going at present. Next Monday morning, we hope to be able to be in a position to start making a few decisions.

29th June, today, always takes me back to Rome days. Birthdays in Italy often take second place to your Saint's Feast Day, your "onomastico". By tradition in the English College, all the students of that name would go out for a meal together on their Feast Day. The biggest name group in College were the Johns – and they were, without exception, the most depressing bunch of miseries it would ever be your misfortune to meet. Never did anything together. The second biggest group was the Pauls, and we'd murder for a pizza and a bottle of wine. I felt so out of it. We treated ourselves twice a year, on our TWO Feast Days – 25th January, the Conversion of St Paul, just as the winter exam season was ending, and 29th June, end of the year and up at the Villa at Palazzola. We'd walk through the woods up to the tiny town of Rocca di Papa, looking dizzily down on Lake Albano. There was a single ristorante there – it was scarcely that – and provided we were prepared to have whatever Mamma wanted to cook that evening, we'd be in for a jolly good meal. And far too much wine. For some reason, they felt us seminarians needed fattening up. Here's Rocca di Papa:

And right next to this fountain was the tiny ristorante, at the very top of the hill: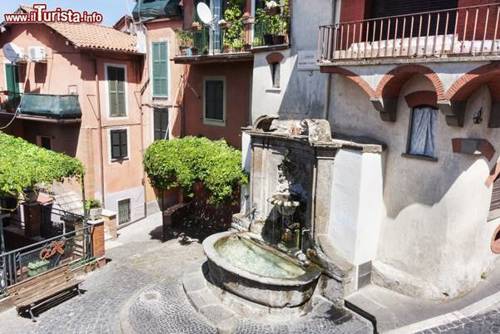 The Pauls of my time were a particularly jolly bunch: Paul Bruxby (Brentwood), Paul Connelly (Southwark), Paul Cuff (Lancaster), Paul Daly (Salford), Paul Grogan (Leeds), Paul Leonard (Middlesbrough – the "John Paul" came much later!) and Paul Rowan (Liverpool). With the odd Peter and Simon thrown in if we felt sorry for them and thought they were in a need of a decent meal.

Another session with some of our Oxbridge hopefuls, via Zoom, this afternoon. The University sector is in for a big shake-up, I guess, but their keenness and enthusiasm, the joyous way they completely bark up the wrong tree in their answers, was wonderful! Never let being wrong stop you ploughing on, kids!

I love these photos from all over the world, showing we are one world, or could be, if we stopped being quite so insular. Here's a Sixth Former starting to go back to school in Senegal, and looking at the notice board (is it even that?) to find out where he's supposed to be, first day back: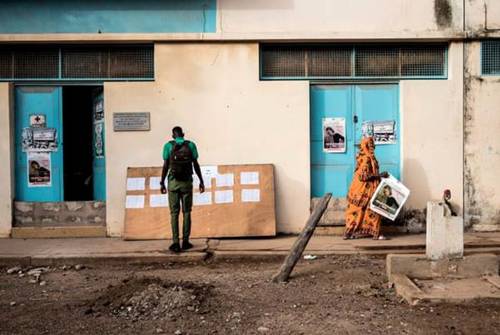 He's probably not going to end up at Oxford or Cambridge, but he matters just as much, doesn't he? EVERY life matters equally. The heart of Jesus Christ's message?

A bit of self-indulgence to finish with. The stage of the Old Vic, Matt Smith and Claire Foy rehearsing, in hope rather than expectation of when their play is going to see the light of day?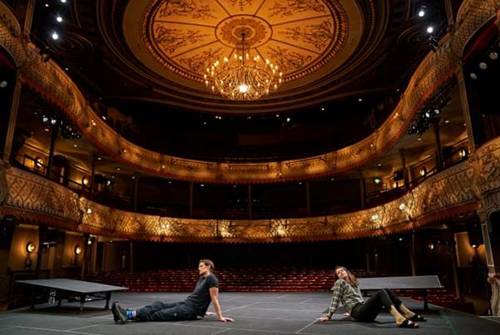 As a boy at school in London, I started going there when I was about thirteen or fourteen, our wonderful Head of English, Alan Jones, buying ten tickets for every production and offering them to the Sixth Formers. Cheekily, not being in the Sixth Form, I asked him if I could come along if he ever had any left. So often he did, and away I trotted, trying not to look fourteen in the presence of these Greek gods, round the back of Waterloo Station to the Old Vic. Alan said he got half-price for me from the Theatre. Only some years later did I discover he got no such thing. He paid the other half himself.

May God bless you all,

---

Fr Paul
Sunday 28th June 2020
Another excellent reopening this morning, a total of 38 of you welcomed to our church. If you consider that we have six fifteen-minute slots in our hour-and-a-half session, with ten wizziters for each slot, that's a maximum of sixty in any one session. More than that would be a problem; fewer than ten would be a problem the other way. 38 is just about perfect! I'm working the queue outside, while the taskforce and stewards are on duty inside. So many people coming out remarked how well it was all organised, and that's gratifying to hear and a huge credit to our taskforce and stewards. So, for the present, it's Sunday Morning and Wednesday Evening every week. If you've not been down yet, why not come soon, just to give God thanks for the fact that we are open again?
And now the wonderful challenge of "Open for Mass" is starting to appear on the horizon. And more than appear: the earliest we can open for Mass is 4th July, and we believe the Cathedral are aiming for Sunday 5th July. (It's that little wonder, Fr Edmund, doing his magic all over again, isn't it? Arentcha sick of him?) No way will we be open for Mass for a few weeks, but it's top of the Agenda for our Taskforce Meeting tomorrow morning, Monday, 10.00 am. The good news is that we won't need to spend too long reviewing "Opening for Private Prayer", so successfully has it been working. We can spend most of our time brainstorming "Opening for Mass". A nice challenge to have to face!
The Cathedral, we believe, are going for a series of shorter Masses, every hour on the hour throughout Sunday Morning, half-an-hour for each, and then half-an-hour to clean the church and be ready for the next one. No Music, no Prayers of the Faithful, no Sermon (you will be brave, won't you?) It's doable, if everyone shows the same wonderful spirit they've shown so far. No photos yet of this morning, but here's another one from last Wednesday: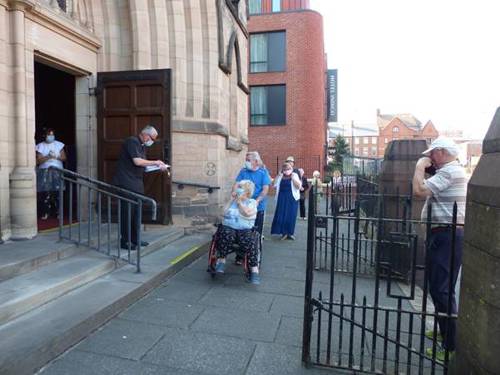 Caption? "I counted them all out and I counted them all back in again"?
Call out this afternoon to the Hospital, to one of our Covid-19 Wards. But noticeably less busy than in recent weeks. Communication with poorly patients is always a challenge. Eileen didn't find speaking easy but did want to chat. "Where are you from?" I asked her. "Alsbey". Didn't mean anything to me, and you can't keep asking over and over. On the other hand, it's obvious to the patient when the other person hasn't understood. God is good. You don't, believe me, but He is. I could just about make out her next sentence. "Near Odsham". Holy Spirit, thanks! "Ah, Helsby near Frodsham!" Big smile from Eileen, and an attempted thumbs up. She's a very poorly lady, so do please keep her in your prayers tonight as she starts that journey from Helsby to Heaven.
I'm going to have make these Quiz Questions a bit harder, I realise. None of you was fooled by the Spoiler Alert, telling you the wedding was in August: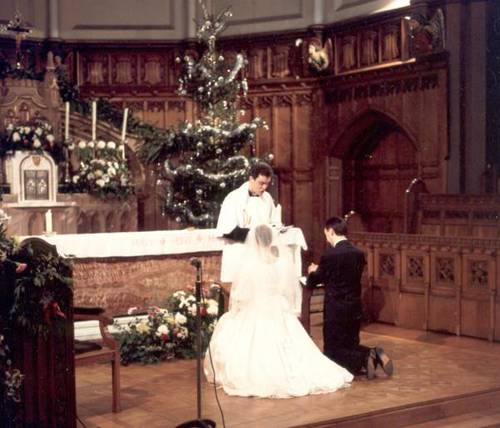 Lots of you recognised Fr Andrew Lloyd. And the winner of the "Guess the Couple" Prize? Sue Rankin! Well done Sue. Don't know how you did it, with just a back view to go on. Brilliant.
Who were the couple, did you ask? Er, Sue and Colin Rankin… Thirty years and never a cross word. I'm proud of you both! And before we leave this photo, it shows quite clearly how the High Altar was pulled forward from its base to allow Mass to be said facing the people.
I sometimes wonder if any of you actually read this Blog. I mean actually READ it. Only one entrant in the Captain Mainwaring Competition last week.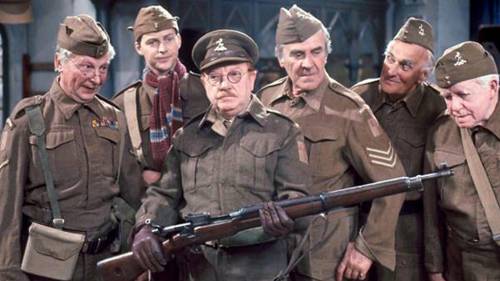 Remember a week ago, welcoming our newest Werbie, Cillian Joseph?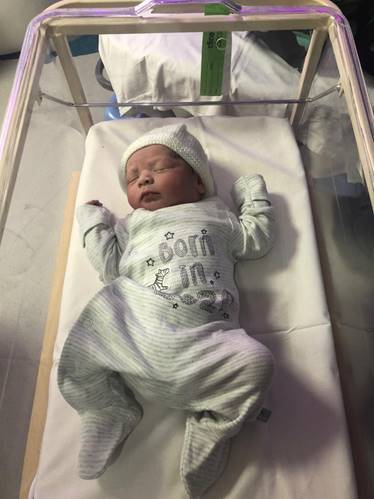 Weighing in, I said at a healthy 7st 1lb? Only Margaret of Marbury spotted the Deliberate Error. Should of course, have been 7lb 1oz. I was wondering which of you was going to be the first to spot that…
With the prospect of reopening for Mass now started to be planned for, some system of pre-booking may well be on the cards. Delighted to receive this suggestion from Old Rhona of Old Wrexham Road, and her long-suffering husband, Lockdown Les: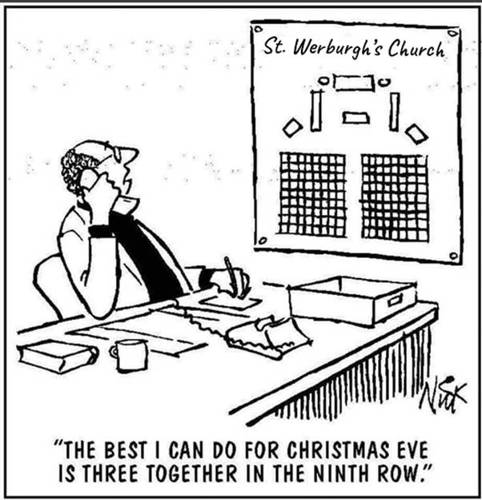 Here's a picture of the porch, showing how we separate the way in from the way out, a one-way system in operation throughout: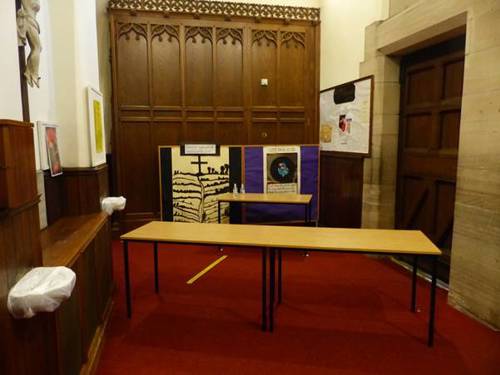 And I leave you tonight with a wonderful picture from the 60th Anniversary this weekend of Television Centre in London, and a reminder of some of the iconic programmes televised from there over the years.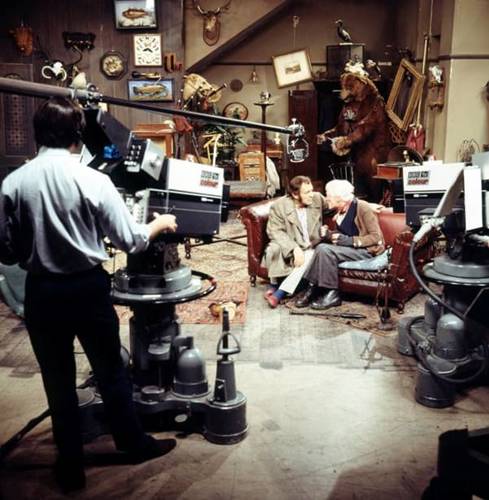 Altogether, now: "You dirty old man!" And in those days, that didn't have any other connotation except physical dirt. A long-lost world of innocence?
May God bless you all,
Fr Paul