Daily updates 29th March - 4th April 2020
Saturday 4th April 2020

We clutch at straws every time these daily statistics come out, don't we? Record number of deaths today, but some evidence the rate of infection is slowing down, and some clearer signs from Spain and Italy that the curve may be flattening. Again, the experts in this country seem to suggest that the peak might be reached next weekend, Easter weekend, which all us who believe in the Risen Lord Jesus see not just as a ghastly coincidence but as a real challenge to prayer. If ever the gift of New Life is needed, it will be when this infection peaks. And the message of Easter is that that New Life is ours for the asking. Double up those prayers, Werbies! And that's an Order!

I've tried to summarise the Bishops' advice for celebrating Holy Week on this Sunday's Newsletter, available, as always, both on-line from this afternoon onwards, and as Hard Copy in the Newsletter Box on the Church Door from Sunday morning onwards. For those of you who haven't had a chance to see it, this is what I said:

Holy Week

The Pope and all our Bishops have decided that Easter cannot be postponed until after this Coronavirus outbreak is ended, and so we must celebrate each and every day of this holiest week in our life together as reverently and meaningfully as we can. Sadly, the church cannot be open and there can be no public gatherings. But FP will celebrate each day, as fully as possible in the absence of a congregation. Palm Sunday tomorrow: no palms at this stage, of course, because of the risk of infectivity. But we have them all ready and waiting, for the happy day this is all over and they can be blessed and distributed. Thursday Evening, Maundy Thursday, I will say the Mass of the Lord's Supper at our normal time, 7.30 pm, and invite you to join in prayer or live streaming one of the many excellent Masses available on-line. I will then myself watch in front of the Blessed Sacrament until midnight, so do join me in prayer at any time if you can, finishing with Compline, as ever at 11.55 pm. Good Friday will be the Liturgy of the Passion at 3.00 pm: again, a wonderful opportunity to join in with many of the amazing live streamed Liturgies from our own Cathedral or dozens of other Cathedrals and churches all over the world. The Easter Vigil will be celebrated here at 8.30 pm, again, alas, privately, with another Private Mass at Midnight, as usual. Easter Morning Mass at 10.45 am, with a second one at 6.00 pm, again on my own, but I know you are with me in prayer. And then, after Evening Mass on Easter Sunday…


A long conversation this morning on the phone with Rev Andrew Taylor, County Ecumenical Officer for Cheshire and a very good friend of St Werburgh's, the team often meeting here and coming for 12.15 Mass beforehand. He's been asked by Venerable Michael Gilbertson, the Anglican Archdeacon and another good friend of ours, to co-ordinate between the various denominations in the event of a sudden increase in Funerals in Cheshire, beyond the normal capacity of our local Cemeteries and Crematoria. A difficult conversation to have with Andrew, but made easier by all of us in all Christian denominations seeing the present situation the same way, and my own input greatly assisted by Bishop Mark's Notes on this subject sent to all of us a few days ago. He really has been on top of this crisis from the beginning, I have to say. For one, I am extremely grateful. The present Government Guidelines on Funerals we absolutely support: no services in Church, services permitted only at Crematoria and Grave-sides, but limited to ten people maximum, who must be safe-spaced, i.e. at least six feet, two metres, apart at all times. In the worst eventuality, we might have to time limit these services too, but, again, we would co-operate to the full. All we would ask, as Christian churches together, is that there should be time for some Christian rite of committal and commendation, and we have seen no evidence that anyone has proposed curtailing this. We stand together, churches and Government, and that's exactly the way it should be. We know we can rely on the co-operation of our families, and in the case of the two Funerals I have next week and the week after, that co-operation has been total and magnificent.

Hanging up after speaking to Andrew, my thoughts strayed to both World Wars, and the extraordinary – and not fully recorded – work of Service Padres of all denominations in both conflicts. They would have performed so many Christian Burials in ghastly situations, often with the battle still raging about them, and with very little time at their disposal. They would have carried out that Ministry in exemplary fashion, I know – as many of the records and eye-witness accounts testify. Our magnificent Great War Memorial in church bears testimony to that. If they could do it in wartime we sure as eggs can do it in this present crisis. Stand easy, men!

Sorry: this has been a rather serious blog tonight. Been in rather serious mood today. It won't last, and normal adolescent stupidity will be resumed tomorrow, I promise you. Off now to see if those donkeys have been behaving themselves, and Donald is ready for tomorrow's outing. And Donna not throwing a hissy fit because she's not even got a walk-on part.

Did something this afternoon I haven't done for years: some cooking. Waitrose had some beautiful cauliflowers in their Sale bin, absolutely first-class, and, interestingly, from Lincolnshire the label told me. So, listened to the news at 5.00 pm on the radio and knocked up one of my favourites, a Cauliflower Cheese. One tip: don't boil or steam the cauliflower beforehand, but actually cook it in the cheese sauce. This means making a little more sauce than you might do normally, and making it a little runnier than you might, and then cooking the raw cauliflower in it over a very low heat indeed, with frequent stirrings. But well worth it, and all the goodness kept in.

Jamie Oliver, eat your heart out. Delicious with a glass or two of red wine, but it's ten to seven now on Saturday evening, so 192 hours, fifteen minutes to go…. Yes, counting every minute, before you ask.

I'd invite you all round for supper tonight, you understand but Government Regulations…

Off now to say my Priesty Prayers. Pray for me, as I do for you.

God bless you all,

Fr Paul
---
Friday 3rd April 2020 
I'm "Fr Friday" on the Hospital Call-Out Rota, and a call this afternoon up to Ellesmere Port Cottage Hospital, which we cover as well as the Countess. On the phone, Sister was wondering if we are now doing Last Rites "remotely" – that would be interesting! – and in turn, I was asking if this was a Coronavirus patient. Apparently not, but half the Ward was affected, so would I mind putting on all the protective clothing. Happy, of course, to do this, and no, before you ask, there isn't a photograph of me. Just plain nasty, some of you.
Coming away afterwards, I was chatting to the staff and asking how they were finding things, and it suddenly dawned on me that I knew Sister: mother of some of our great Catholic High School students in years gone by, all now long gone through and earning lots of money to keep their parents in their old age. Yeah, right. But a small world in the Catholic church, and good to make that connection. Please keep Michael, a lovely 93-year-old, Dorset born and bred, in your prayers as he makes that great final journey from this life to the Life Eternal. And heaven is not unlike Dorset, come to think of it. Agreed, Tommy?
Details starting to come through of how the Bishops would like us to celebrate the Holy Week Services starting on Sunday. I've asked the Team to put the full document on the website, in the upper of the two Coronavirus boxes. In essence, for Palm Sunday "the Mass of Palm Sunday is to be celebrated and the Commemoration of the Lord's Entrance into Jerusalem should be celebrated within the church buildings and not outside; in parish churches and other places the Third Form (the Simple Entrance) should be used. There is no blessing of palms. Palms could be kept until next year, or parish priests may wish to bless palms separately from the liturgy so that they can be available to their people at a later date when travel becomes possible." Small things cheer us up in times like this, don't they – and I was immensely cheered to see we can have the Blessed Palms ready for when this is all over. In the old days as Hospital Chaplain at Clatterbridge, I used to love taking the palms round, and even the hardiest old atheist would happily take one to stick behind their bedhead! If you think Palm Sunday without the palms and procession will be sad for us, spare a thought for poor Donald, our donkey, this being one of the highlights of his year:
The one bright spot, of course, is that he now has Donna to keep him company – and we were beginning to worry how we were going to break it to her that she wouldn't be putting in an appearance on Palm Sunday as the Gospels only mention one donkey. Could have turned nasty?
Back to the Bishops' Instructions: Maundy Thursday: "Mass of the Lord's Supper. The Washing of the Feet is to be omitted and there is to be no procession to the Altar of Repose. The reserved Sacrament is to be kept in the Tabernacle. It is likely that the priest may wish to spend some time in prayer before the Blessed Sacrament in the Tabernacle. The Archbishops have asked that priests make a Renewal of Priestly Commitment at this time using the formula in Appendix One." That beautiful Renewal I've also posted in Box One for any who'd like to read it.
I'll cover Good Friday, Holy Saturday and Easter Sunday in the days ahead, rather than giving you too much information all at once. But the Bishops have asked if our Private Masses could be at the same time the Parish would normally have held them, and this I'm delighted to do. Palm Sunday Mass will be at 10.45 am, Mass of the Lord's Supper on Maundy Thursday evening at 7.30 pm, Good Friday Liturgy of the Passion at 3.00 pm, and the Easter Vigil at 8.30 pm. We'll be together in prayer, I know, even if we can't be together in our beautiful church. More details about all these services in the days ahead.
Can you all say a special prayer for Fr Neill at this time? I know how much he was looking forward to celebrating his first Holy Week and Triduum as a Catholic Priest, and I'd asked him to Preside at the Good Friday Liturgy of the Passion. Let me say immediately that there is absolutely no truth in the foul rumour that he is secretly relieved as he wasn't fancying the full-length prostration that begins the Good Friday Service one little bit. Completely not true. We had already made arrangements with the Countess to borrow one of their hoists and had two of our senior Altar Servers fully trained and ready to stand by. Just in case. Never mind, Fr Neill, it's not all disappointment. For the Asperges, that takes the place of the Penitential Rite on Easter Sunday morning, you'll be able to give poor Marlene such a soaking…
Back to all the gear I had to put on for visiting the Hospital Ward this afternoon. It's known as "Personal Protective Equipment", as you know, or PPE for short. I don't want any confusion between that and PPI, Payment Protection Insurance, which some of you may have been mis-sold and for which you may then have been entitled to compensation. I'm sorry, but if you've obtained the wrong PPE, then you are totally on your own…
God bless you all,
Fr Paul
---
Thursday 2nd April 2020
Many thanks to all the members of the Parish Council who participated in our Virtual PC Meeting last night. As surreal an experience as everything else in the past ten days. Thanks all round to everyone for how well the Contact Lists have been working, both sides seeming to enjoy that little five-minute phone call to check that everything's OK. Clearly finances are a concern, but they were always going to be before this little bug came along. (I said "bug".) Thanks so much to everyone who's continued to send in their envelopes or cheques: hugely appreciated at such a difficult time for everyone. We await instructions on Palms (and Psalms, come to that), and whether they'll be available after this is all over. Meanwhile, Holy Week will be celebrated next week, albeit in a way it's never been done before. The new Paschal Candle has arrived, and, with the Holy Water of the Font, will be blessed at the Easter Vigil on Saturday Evening. All ready, in other words, for that wonderful day our church doors are thrown open once again and normal services resumes.
It was always only going to be a matter of time before our dear friends, the Conspiracy Theorists, got their act together and told us there was no such thing as coronavirus and it was all an evil plot got up by the Martians / Russians / Communists / Catholic Church to destabilise the whole world and allow said Martians etc to take over and introduce their own evil dictatorship.
Beloved Conspiracy Theorists. They're definitely not all locked up yet. But, serious point: if you do see a horde of Martians coming down Boughton and heading in the general direction of St Werburgh's, please remember that we welcome all Wizziters, one head or two, earthlings or from outer space. Do give them a Newsletter, and tell them about tea and coffee after 10.45 Mass.
Lots of you are clearly not wasting your time: gardens have never looked so good, garages so tidy, spare rooms so empty, shelves so orderly. One family has eventually got around to decorating their front room. It will be known forever after, they tell me, as their Coronavirus Lounge. For the knitters among you, will we be treated to a whole range of Coronavirus woolly hats and scarves in the cold winters to come? What did you do in the Great War, Daddy? I decorated the front room.
Just as long as nine months from now, I'm not being asked to Baptise a whole host of babies with Coronavirus as their middle name…
I'm so sorry we can only have one Photo of the Week, so many of you wanting to send in pictures of the Tomb of St Looflirpa. John and Cathy saw it near Sofia, monument to a great Bulgarian Bishop and Martyr. Shame Peter also snapped it near Bury St Edmunds, where the great Saxon Princess, St Looflirpa, is buried. Any more sightings? Keep them coming in. And I was very reassured by one Parishioner who wants to know what arrangements we are making for on-line Confessions. They favour some sort of Questionnaire, one hundred popular sins, which you can all tick or cross as appropriate and send back to me for online absolution. If only.
Thank you for all your personal enquiries and suggestions, none more apposite than the one I leave you with:
"Dear FP. There have been number of fitness relics from the past appearing on television lately, for example, the Green Goddess and Mr Motivator, helping to keep the great British public healthy during the lockdown. I was just wondering if you had any plans to put on your Lycra and do a fitness video for the Werbies? It could be a best seller and help parish finances."
Thank you, Hugh. Most kind. So, if you've all got yourself in a comfortable position on the living room carpet, shall we start with a few tummy tucks?
God bless you all,
Fr Paul
---
Wednesday 1st April 2020
More grim statistics this evening, emphasising that we are very far from being out of the woods. But my personal contact with Parishioners continues to amaze me with how resilient and cheerful everyone is, accepting that the best thing we can all do is stay home-based, look after ourselves, keep safe, use some of this extra time for a few extra prayers, and just count the days until this is all over and normal life resumes.
Not out of the woods? Who'd be a Government Spokesman at a time like this? Last night, one of them came out with a beauty: "Looking at the figures, there are some green shoots, but we are far from out of the woods, and it's essential no-one at this time takes their foot off the pedal". Who said mixed metaphors were a thing of the past?
Good to continue to speak to as many of you as possible, starting, as always, with our oldest parishioners. So, a lovely call this afternoon with our very oldest, Eileen Mapp, 102 and still going strong. She's bunkered down in Blacon, has emptied the local Off Licence, and, when I rang, was having an afternoon singing her favourite Vera Lynn songs. Actually, some concern at present about all this enforced togetherness, all of us cooped up together, on top of each other, plentiful supply of cheap alcohol, tempers wearing thin, potential for outbreaks of violence. If you don't believe me, just look at our Choir.
Difficult not to feel sorry for the police in this situation, damned if they do and damned if they don't. Papers seem full of irresponsible public gatherings, poor police having to disperse them, people making unnecessary trips out, and so on. Easy to mock, police spotlights piercing the night sky, helicopters overhead, Werbies surreptitiously trying to leave Tesco's, loud hailer "Step away from that Creme Egg, and keep your hands where we can see them…" Had a morning on Funerals today, and a chance to ask the Funeral Directors if people were generally observing the restrictions. "Generally," was the reply, "but it's very hard to know what to do if they don't." Indeed. Who'd be a police officer in that situation, having to disperse a dangerously large Funeral gathering? The more all of us can co-operate at this time, the easier we make our emergency workers' jobs?
We know there'll be no Palms this coming Sunday, and that we accept. How the rest of Holy Week will work out, we await to see. Today's Feast was a powerful one, St Looflirpa. Last year, one of you came to me puzzled, couldn't find that Saint anywhere in the books or the Universal Calendar of the Church. I told them to go to the end of the Calendar and work back slowly…
Virtual Parish Council this evening. Some of you have suggested Skype or Zoom. As if! I can just about manage emails, if I pour enough boiling water into the computer before I start. "More steam, more steam!" just isn't in it. These are the six Agenda Items I've sent round the Parish Council members for their comments and reactions:
1. Very little has changed, and little chance of any change in the immediate future?
2. We await instructions on the Liturgical side of Easter and how it is to be celebrated.
3. Many thanks to Marie, John, Barbara and David for continuing with the cleaning and gardening.
4. Denise and Syd are working on financial year end, and many thanks to them: Diocese have offered an extension, but our feeling is that it's better once all the statements are in for March, just to go ahead and do it. It'll be the tightest year yet: normally, we like a surplus of 15,000 - 20,000. This year it will be nearer 6,000 – 7,000 we suspect.
5. Telephone contacts with self-isolators going well, thanks to joint Parish-SVP list.
6. Everyone seems remarkably resilient and cheerful at present, only the Parish Priest showing any signs of Cabin Fever.
I'll let you know everyone's feedback tomorrow.
God bless you all,
Fr Paul
---
Tuesday 31st March 2020
A number of you have been asking about Holy Week and what form the liturgies will take, and I've had to reply to all of you that I await instructions! Be patient everyone, as this is uncharted territory for everyone, from the Pope downwards, to all our Bishops, to every Parish in the whole world. We know that Easter cannot be postponed but that no Public Liturgies are possible: so, squaring that particular circle is going to take a lot of sensitivity and insight on the part of our Bishops. I don't envy them their task!
Tonight, instructions came about Palm Sunday: no procession, and no palms. Disappointing, but unavoidable, I'm sure you all agree. I don't fancy processing on my own around the garden and into the Main Door of the Church, magnificent as I would look, of course… Sad about no palms, but given the nature of this infection, on the surfaces of things, palms would be no exception. Then there would be the issue of how to get them to people. I'll happily come around to everyone's house to deliver them, you do understand. But it may not be before Easter. Easter 2021, that is.
It's hard not to see the funny side of things, isn't it? And thank heavens it is. I was accused many years ago by one very exasperated Prof of being "irredeemably flippant". Wounding, but true. Last night, I found myself reading another Diocese's Notes on Easter Week, their trying to guess what the final decisions would be, and containing this thought-provoking sentence: "Washing of the Feet at the Mass of the Lord's Supper may be difficult without a congregation." Yes, well… I would say difficult going on totally impossible, wouldn't you? How could we do it? Twelve empty chairs and I wash the chair legs? Anyone got twelve false legs they could lend us? Then I started getting the giggles. No, no, irredeemably flippant he's always been and still is. You deserve better.
Seriously, folks: Palm Sunday and Easter Week will be celebrated, and so many of you have found fantastic live-streaming sites to allow you to be part of these wonderful liturgies. Yesterday, our ever-faithful Candle Suppliers delivered the new Paschal Candle. That will certainly be blessed and lit, and the New Water of Baptism in the Font consecrated as always. In other words, ready for business just as soon as all our churches are open again.
When will that be? No-one knows. But we can say that it's now one week nearer than when we started this lockdown last Monday. Every day that passes is a day nearer the end. And let's hold on to that essential truth.
What will the world look like when our church doors are once again thrown open? Again, no-one knows. But there's a huge potential for us to be a better church, and a better society, when that happy day arrives, if we learn the real lessons of this crisis. I loved the way John and Claire put it, with their four great youngsters who always cheer me up so much: "We are sure that the rapid change from the normal hectic life of the Parish to one in which everyone has to stay away has been traumatic for you, as much as for the rest of us. Hopefully coming out of this, we will all have a refreshed understanding of what it means to be members of the church, more willing to let church into our daily lives, not just constrained to one place on a Sunday morning." Amen to that, John – and thanks so much for writing.
Meanwhile, if anyone does come across a dozen false legs, tell the owner (owners?) to hold on to them, and I'll cut a deal.
God bless you all,
Fr Paul
---
Monday 30th March 2020
Exactly a week ago this evening that the lockdown began – and what a weird, weird week it's been. We're locked down "for the duration", one of those old war-time expressions we're hearing more and more these days. Lots of radio programmes and websites have been recommending books to read during this enforced isolation, and I was pleasantly surprised by one the other day that suggested the old "Just William" stories of Richmal Crompton. They span almost fifty years, the first, "Just William", appearing in 1922, the thirty-eighth and final, "William the Lawless", posthumously in 1970. They are a complete social history of that half-century, and the war-time volumes capture those evocative phrases so powerfully: "William Does His Bit" (1941), "William Carries On" (1942). For William aficionados, as they say in German, the first two war-time books had their titles changed after the war: "William and the ARP" became "William's Bad Resolution" and "William and the Evacuees" was later re-titled "William the Film Star". So, are we all doing our bit? Are we all carrying on? Mr Churchill would expect little less.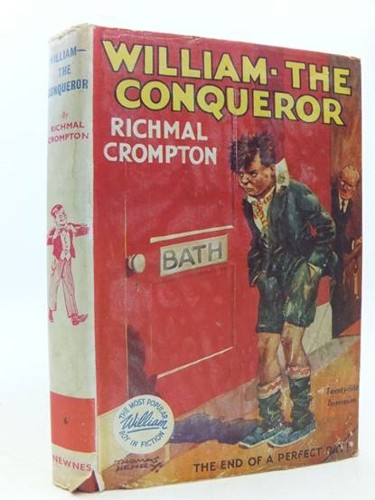 Possibly some faint glimmerings of better news this evening on the statistics, the experts telling us that the daily death figures – 180 today – are what they call "lagging indicators", meaning they lag behind what is happening in real time, what is going on today. They estimate these figures are possibly a fortnight behind the real situation, which would mean Easter Weekend as the time we have some definite idea where we are going with all this. In God's world, that cannot be a coincidence. Keep those prayers going "for the duration", folks, as they say!
Good heavens, is that an orange?
No, I don't remember it either. Good to chat on the phone this afternoon to Brother Augustine from Belmont, one of the Benedictine Juniors and Novices I taught up at Ampleforth a few years ago. He's coming to the end of his two years Further Studies out at the Benedictine University in Rome, Sant'Anselmo, and had to make a fairly precipitous departure a fortnight ago as that whole city – and country – went into lock down. A reminder of 1940, when the English College had to scuttle out of Rome only hours before they would have been interned by Mussolini, making their home for the next six years up at St Mary's, the Junior School for Stonyhurst, in the beautiful Ribble Valley. Remember visiting there a few years ago on a Parish Outing, everyone? Good to hear from Mgr Philip Whitmore, the Rector of the VEC, that all students are now safely back in England, just a skeleton staff left in Rome to look after the buildings. "For the duration".
Bishop Mark told us in one of his recent messages that one of our current Diocesan Seminarians had been a full-time Health Worker before starting Seminary, and, in this present crisis, has returned to the Front Line, with Bishop Mark's total blessing, to help out. "For the duration". Put that beep-beep light out!
In my own six years out in Rome, 1986-92, one of my favourite places to go on Retreat was the enormous Benedictine Abbey at Engleberg, up in the Alps above Lucerne in Switzerland. On my first visit there, one of the monks showed me down into the crypt, and the grave after grave of members of the community who'd died in the Spanish Influenza epidemic of 1919-20. I'm not sure what history teaches us, but it does remind us that, whatever we're going through, the chances are the world has been through it before. And come out the other side.
Here's a lovely one to leave you with tonight: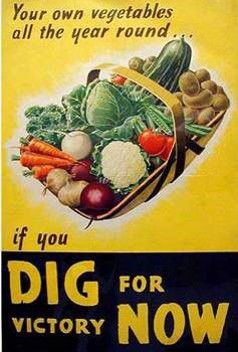 Chin up, Werbies, and dig deep!
God bless you all,
Fr Paul
---
Sunday 29th March 2020

I've been so struck by everyone's stoical, common-sensical reaction to this crisis that the last thing I intend to do tonight is go counter to it all by saying this is the first Sunday ever that St Werburgh's has been closed and piling on the agony. We all know that our church has never been closed before, we're all coping with it, and clerical melodramatics wouldn't improve the shining hour one little bit. Agreed? I try to imagine Sunday 3rd September 1939: Canon Maurice Hayes handed a note as he finished saying the 10.30 Mass, and having to announce that, as the 11.00 o'clock Ultimatum had now expired, Britain was sadly once again at War. As the people left church, they noticed sandbags being filled on the corner of Foregate Street and Grosvenor Park Road, the former being, of course, the main thoroughfare in those days.

No, we don't as a nation do drama queen, do we? And thank heavens we don't. I'm sure Canon Hayes didn't, eighty years ago. Nor did Canon Chambers in August 1914. Nor would Canon Welch, with his own memories of being a Seminarian at Ushaw in 1914, choosing to enlist, and finishing the war in November 1918 in a German Prison-of-War Camp. Wonderful Priests, one and all, and I just feel so inadequate occupying their place today.

But, as I said yesterday, there is something transcendentally calm and peaceful about saying Mass in our empty Church. Except that it's never empty: the presence of the Blessed Sacrament means Our Lord is always there, even when we aren't. It may sound daft to you, but when I say my Private Mass every day, I try to read the Readings out loud, as if you were all there. Apart from anything else, it makes me read them more slowly and carefully. I hope you are using the Universalis app (good, or what?) to find the Mass Readings every day. No need for any Lectionaries or those death-dealing ribbons. Just click the button, and hey presto. How I would have loved such electronic aids in those Seminary days, me the reader, Community Mass, ribbons not prepared beforehand, eighty pairs of eyes burrowing into me as I go from pink to crimson, just wanting the ground behind the Lectern to open up and swallow me whole. And the Rector greeting me afterwards, "Eee, Paul, I did enjoy that…" Thanks, Father!

Today's Readings pulled me up short, not just that superb account in John 11 of Lazarus, Martha and Mary, but St Paul to the Romans: "If the Spirit of him who raised Jesus from the dead is living in you, then he who raised Jesus from the dead will give life to your own mortal bodies through his Spirit living in you" (8, 11). It's the Holy Spirit who will defeat this virus, working in His own marvellously unfathomable way, but also through the skill, commitment and training of our wonderful nurses, doctors, scientists and health workers. There's no "either… or" here, God versus Science, only an unstoppable "both… and". The power of our prayer at this time is also unstoppable, so let's all renew it doubly, every day.

Being given the number of Coronavirus Deaths on a daily basis is a hideous reality check: but it does allow us to track the course of this killer disease. 113 deaths last Thursday, 181 on Friday, 260 on Saturday, 209 today. Far too early to say we've reached the peak. We are all following these numbers, I know, and praying and longing for the day they are definitely and permanently starting to go down. Each one is a Soul who has met the Lord face to face, and each one needs our prayers.

Thanks to Deacon Tom from St Theresa's and St Columba's for sending over this morning a message from his previous Diocese, Southwark, including a reference to the Funeral of Peter Smith, their late Archbishop, previously Archbishop of Cardiff and Bishop of East Anglia.

"It is a great sadness that Archbishop Peter's funeral will take place on Monday with only his close family and the priests of the Cathedral present. Please pray for him, and his family, and all who mourn him at this time of loss. This is effectively a graveside service as Archbishop Peter will be buried in the vault of the Cathedral. We will have a Mass in memoriam once the restrictions are lifted, when we will be able to give thanks for his life and ministry. May he rest in peace and rise in glory. Amen."
I only met him on three or four occasions, but was always struck by his amazingly down-to-earth, straightforward manner, putting you at your ease immediately. As he would have been the first to acknowledge, part of that impression may possibly have been created by the inevitable cigarette in his hand. His other uncompromising trademark was his evening Gin and Tonic. I've followed the second, Your Grace, if not the first. Two weeks today and counting. Boy, am I counting!

Thanks for sending that over, Deacon Tom, and the whole of the new Archbishop of Southwark's message. Archbishop John Wilson. John, my great swimming buddy all those years ago, every Sunday afternoon out on the bus to the Salesian College next to the Beda for our statutory lengths, back for Sunday Vespers and Supper. One of the nicest lads it's ever been my pleasure to know. You're in my prayers, John, with the awesome responsibility now on your shoulders.

May God bless you all,

Fr Paul