Daily updates 3rd - 9th May
Saturday 9th May 2020
It takes a lot to make me awake in the middle of the night, but today's back-to-back funerals did just that. How come, you all ask? Some of you? Any of you? Choir? OK, I'll tell you whether you want to know or not. For some odd reason I've never been able to fathom, I don't like using notes at a Funeral. Most Ministers do and do it well; but I personally can't. I need to memorise the key facts and then speak straight to the family and congregation. Not normally a problem, as I don't find committing facts to memory difficult in the short term. But don't ask me anything about it half an hour later. It's a bit like mugging up for an exam, all crammed in, but not for long. Now you can see the problem with consecutive, back-to-back funerals: having to hold two sets of facts in your mind, as there'll be no time between the two to erase the first and mug up the second. Nightmare of nightmares would be confusing the two, and telling X's family all about Y.
"Their cat ran up our alley" is one of those marvellous expressions I first heard when I went to Stockport, my second parish, in 1993. As a phrase, it doesn't travel much outside the South Manchester area. It means "We're distantly related, but it would take far too long to tell you exactly how". Both today's Funerals come into that category, related to great St Werburgh's families. John McMahon's mother, Winnie, was a Deponeo; and Nora Rathbone was a Melia. Werbie Royalty in both cases, in other words. I told you when I went out to anoint Nora a week ago, that one of her sons had very helpfully put up a short Life of his mum on the wardrobe door, and, reading that, I realised how well I knew her whole family. One of her sisters, Molly, was our Gillian Roger's mother and another sister, Pat, was married to our Roy Griffiths. The three grandchildren, Molly, Hannah and George, were all at the Catholic High. Nora married Albert here in St Werburgh's in 1953. I always ask if families still have the Marriage Certificate, and if they can see who the Priest was. Son Steve emails it over, saying he can't quite make out the handwriting, but it looks like "Walsh". Almost right! Canon Hugh Welch, one of our greatest PP's, himself a Prisoner of War in 1918 while a Seminarian at Ushaw.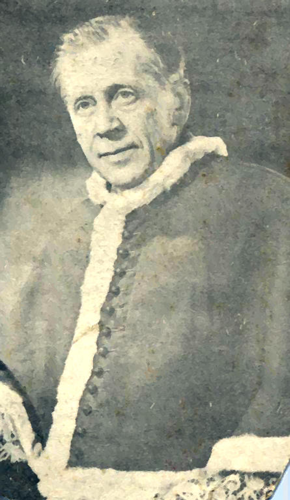 Very sadly and prematurely, he himself died only six years after marrying Albert and Nora, August 1959, and he's buried up in Overleigh. A keen Dickensian, he's the one of my dead predecessors I'd have most loved to have met.
And where did John McMahon first catch the eye of his wife Carol? On the Deponeo Chip Van. He was eighteen, drop dead gorgeous Italian looks, and she's a very smitten ten years old. As you are. Come on girls, you can all remember your first girly crush, can't you? But how many of you go on to marry him??
Both Funerals went well, I think: in both cases, the Funeral Director had to intervene to enforce the "ten max" rule, the second one actually standing in the doorway to bar further entrants. I guess what's happening is that people are thinking that "just one extra" won't make any difference. But if twenty think that way, that's thirty at the Funeral instead of the permitted ten.
Any mistakes on FP's part? Yes, one: she was at St Werburgh's School, he was at St Anthony's. Got it the wrong way round. Anyone notice? I did, and that's all that matters. Quite OCD at times. George did a beautiful tribute to his grandma. The quickest of catchups afterwards. He left the Catholic High four years ago, and in two weeks' time finishes his degree course at Leeds University, he was telling me. Is this the same cheeky kid I used to pretend to chase down the corridor?
Many thanks to all the members of the Parish Council and Health & Safety Group who've been brainstorming the many issues around the eventual re-opening of our church, first, I guess, for private prayer and then for Mass. We've always felt that Italy was a fortnight ahead of us in this coronavirus emergency, and Italian churches are reopening soon. This article was in this week's Tablet and goes into very useful detail about the agreement reached between Italian Bishops and the Italian government.
The Italian bishops and government have agreed on a protocol to allow the public to be present for liturgical celebrations starting May 18th. In an effort to avoid spreading the coronavirus, a series of restrictions will be in force, such as wearing facial masks inside the church, social distancing between individuals and no choir being present. People also are asked not to go to church if they are showing flu-like symptoms, have a temperature above 37.5 degrees Celsius (99.5 F), or know they have been in contact with someone who has recently tested positive for the coronavirus. The protocol, which was signed May 7th, specifies the guidelines each church and the faithful will have to follow in order to help safeguard public health, the Italian bishops' conference said in a statement on its website.

The agreement came as a result of "deep collaboration and synergy between the government, the technical-scientific committee and the bishops," said Cardinal Gualtiero Bassetti of Perugia, president of the Italian Bishops' Conference, adding that the church was committed to helping end the COVID-19 crisis. Italian Prime Minister Giuseppe Conte said the procedures and restrictions outlined in the protocol are meant to ensure the public could once again attend liturgical celebrations with the utmost safety. "I thank the bishops for the moral and material support that they are giving the entire nation in this difficult moment for the country," he added. In order to allow the faithful to attend a liturgical celebration in a place of worship, a number of norms would have to be respected, including: wearing a facial mask; avoiding any form of assembly throughout the structure; limiting the number of people inside so that each person can maintain a five-foot distance from each other; and having special entrances and sections inside for differently abled people.

During the phase of gradual reopening, it called for volunteers with protective personal equipment to stand at the entrances to supervise adherence to the norms, to leave doors open so people don't have to touch handles and to provide hand sanitizing gel at the entrance. If there is not enough room inside the church for those who wish to attend a Mass, it asked the church to consider offering more daily services. The church and objects inside would have to be sanitized after each celebration and rooms be aired out where possible. Holy water fonts must remain empty, it added. There also should be a limited number of concelebrants and other ministers so that social distancing can be guaranteed and, while there can be an organist, there should be no choir during this phase of reopening, it said.

Exchanging the sign of peace should be omitted and Communion should be distributed in the hand only and only by ministers who have properly sanitized their hands, put on disposable gloves and are wearing a mask. The priest or eucharistic minister must offer the consecrated host without having contact with the hands of the faithful. The collection basket should not be passed around during the celebration but be kept in one fixed spot deemed to be appropriate.

The Sacrament of Penance should be administered in an open, ventilated location, and both priest and penitent must wear masks and keep a five-foot distance while ensuring a sense of privacy.

The norms apply to all liturgical celebrations including Marriages, Funeral Masses, Baptisms and the Anointing of the Sick. The last two require the minister to wear a mask and disposable gloves. For now, the celebration of the Sacrament of Confirmation is to be postponed. Signs should be put up at the church entrance indicating the required public health norms, the maximum number of faithful allowed inside at a time and that access is forbidden to those with flu-like symptoms, fever or known contact with someone testing positive for coronavirus.

The protocol suggested outdoor Masses be considered and encouraged the ongoing livestreaming of Masses for those who cannot participate.
Of course, it needs to be said at once, that Italy is not completely analogous to Britain: in Italy, the Catholic Church is virtually the only church, and therefore the State Religion. In England, the Government has to negotiate with many different Christian denominations. We know, for example, that the Church of England has taken a different line on clergy entering their churches (not allowed) to the Catholics (encouraged). Hence Archbishop Justin's kitchen…
Two striking pictures to finish with tonight. The first is a reminder this lockdown affects every country and every religion. Here is "safe-spaced" Friday Prayers in the National Mosque yesterday in Dhaka, Bangladesh: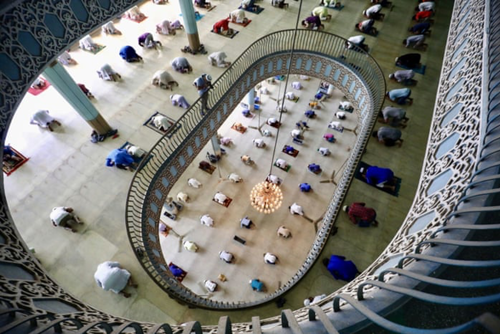 And here is a poignant photo from yesterday's VE Day of 95-year-old Signalman Eric Bradshaw, in isolation after testing positive for coronavirus, in his Care Home in Oldham – with a photograph of his war-time self in the window. Get well soon, Eric! Born in 1925, he was twenty when the war was over. How old was he in that photograph?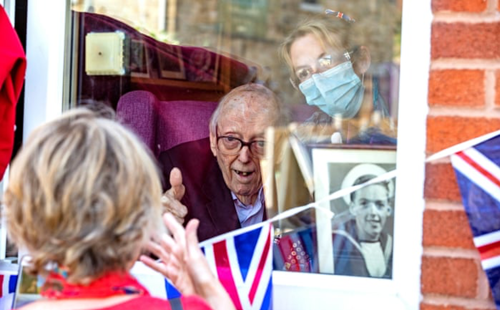 May God bless you all,
Fr Paul
---
Friday 8th May 2020
Another call-out yesterday to the Hospital, to the new Module Unit they've set up on the Car Park outside A&E. It won't win any architectural awards, as it's essentially a series of joined Portacabins: but as an isolation Unit for Covid-19, it's highly effective. It means patients with the virus can be taken straight from the ambulances to this unit, and not have to enter the main hospital. As far as possible, all the Covid-19 patients can be isolated together. Not all, of course, as some in-patients will develop the condition on their existing wards and have to stay there: but new admissions with the virus can be taken to the Module and looked after in isolation. And boy, am I getting good at putting on all this PPE stuff! You mock me - you always have – but those masks! Potentially, they can go on four ways? If you don't know which way is up and which down, and which is front and back? I just act stupid – I'm good at that – and get the dishiest nurse around to show me. Not that the dishiest always has the sharpest sense of humour. Gloves come in small-medium-large sizes. I asked her if it was the same for masks and mouth sizes, and could I please have an extra-large one. "No,'" she said, deadly seriously, "the masks are only in one size…" Wasted on her, I was, totally wasted on her.
If I was idling a bit in the early days, I'm not now. Not with ten funerals in the pipeline for the next three weeks, and the list growing every day. Everything has to be planned and prepared over the phone, as you can imagine. Strange to relate, but I find meeting families to plan funerals one of the easier parts of my job. I always allow at least an hour, sit down in that little back sitting room off the kitchen, and say to whoever I'm meeting, "Please tell me about your mother/husband/sister". They seem to find it comforting and healing, meeting someone who, in many cases, didn't know the person who died personally and who genuinely wants to hear all about them, to reconstruct their lives with a view to the eventual Eulogy. I suppose, without analysing myself too deeply, this is where the Priest in me meets the novel-reader, helping the person I'm talking to in that task of recreating the narrative of their life. Sometimes I ask a question, occasionally register surprise, usually just listen and make notes. It's both a sad and a joyous hour we spend together. In nine cases out of ten, I then give the Eulogy as the family's spokesman; in one case in ten, the family want to deliver it themselves, which is very welcome and always appreciated. But for most, it's too much of an ordeal, and I'm their spokesman on the day, delivering the tribute to their family member that they would have liked to deliver themselves, but just couldn't.
Doing this over the telephone is so much harder work. You don't have the body language, you can only speak to one person at a time, there's no cup of tea in the middle to break up the tension, just a voice at the end of the phone, the emotion of which you have to judge. Is now the time to ask them a question or just let them talk? They've gone very quiet; I wonder why… It's had to be a Telephone Ministry in these last six weeks, with no let-up in sight, but the sooner we can get back to face-to-face, the better, as far as I'm concerned. In that back sitting room and get the kettle on!
That's quite enough of the serious stuff: back to the abuse. It's what you all read this Blog for, I'm well aware. A question I have been asked a number of times, and was asked again on the phone last night, is "Father, we'd really like to meet the brains behind this Blog." To which I always reply, "That's a pleasure – I'm outside Church every Sunday morning, 10.00 – 11.00, and it would great to say hello then." Always a slight pause. "Er, no, Father, we didn't mean you – we meant the real brains behind the operation, the tekkies…" YOU WANNA MEET THE TEKKIES?? That's kinda hard, folks. I mean, they operate from the Website Control Centre, deep in the cellars here, and, to be honest, I don't let them out that much. They probably wouldn't come back. And then where would be without this Blog? (I heard that, Choir). The best I can offer, I'm afraid, is a photo. Will that do? So, here they are, Pete and Brian, without whom…
You realise they're going to want a pay rise now, don't you?
Still good to speak to so many of you on the phone and hear how you're getting on. Anne, like me, is a theatre and film addict, and she's so missing the roar of the greasepaint, the smell of the crowd. Couldn't agree more, Anne. Theatr Clwyd, our own Chester Little Theatre and Storyhouse, Manchester Royal Exchange, Liverpool Phil, Bridgewater… No Grosvenor Park Open Air Theatre this summer?? When they do all re-open, Anne and I – and Bury Convent – will be at the front of the queue. I'm sure they're all missing us as much as we're missing them.
Good to keep in touch with our Students as this surreal Summer Term grinds on. Madame Prezzie continues her own inimitable lockdown in the Swadlincote Summerhouse. I gather her crate of empties is now spilling out into the garden. She continues to think beautiful thoughts about the giants of English Literature. Her essay on Milton's Paradise Lost was given 78%. I know, 78%!!! She doesn't even look clever, does she? She wrote on the role of Satan, and, apparently was commended by the Tutor for her empathy with Satan and her deep understanding of the nature of evil. I'm saying nothing. Absolutely nothing.
With that 78% in the bag, Madame really is hovering on that magic borderline. Everything to play for with the Dissertation on Browning. No pressure there, then?
So many beautiful, evocative pictures to mark VE Day, it's hard to know what to choose. I'm staying with Berlin, one of the most stunning cities in Europe, and the way Berliners have left so many signs of 1945 for the locals and wizziters to see today. It would have been so easy to tidy it all away, clear out the bomb damage and build anew. Who wants to see a bomb site? Ruined buildings? In many ways that's what they've done: but they've left poignant reminders of those dreadful days, and I share some of them with you tonight, in a mood of great sadness at the horror of war. Lest we Forget. As we have our own St Luke's Church at the top of Bold Street in Liverpool.
My first one is the bronze reliefs at the base of the Victory Column, just visible at the bottom of the first picture, commemorating "success" in the Danish-Prussian War of 1864. The figure of Christ with the bullet hole from April 1945, the battle for Berlin, defies words?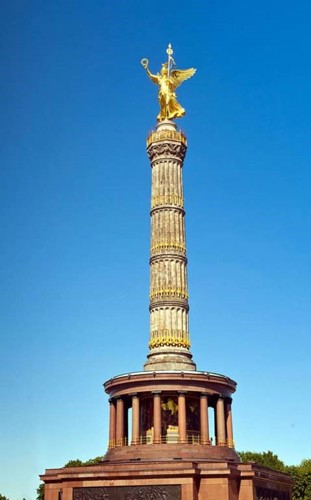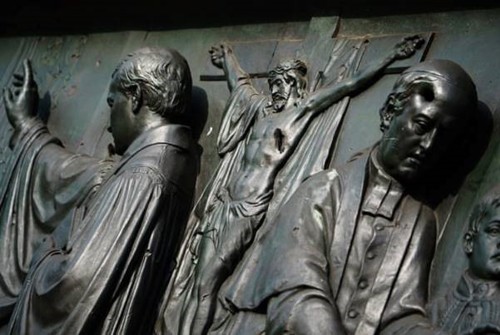 The battle for Berlin was a two-pronged affair, the Allies attacking from the west and the Russians from the east. This graffito has been left from 75 years ago, scribbled there by a Russian soldier. Can you see "Moskva" (Moscow) and "Berlina" in the Cyrillic script?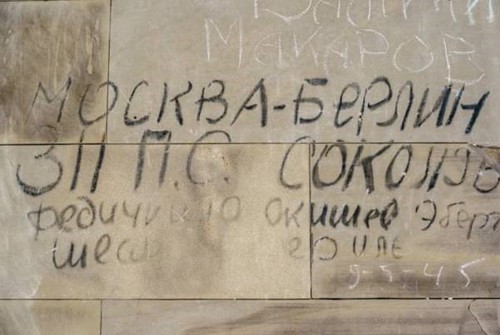 And, finally, the old noticeboard from outside the Dom church in Berlin showing the times of services, "Sonntag" the German for Sunday?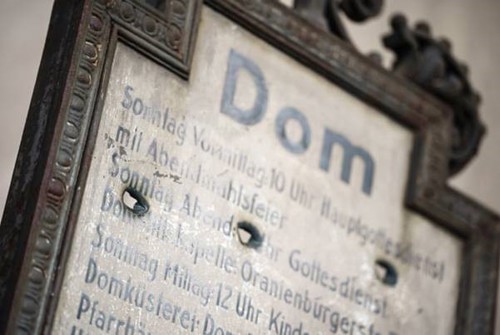 Thank you, Berlin, for leaving these memorials for us to see today. We need them. Lest we forget.
May God bless you all,
Fr Paul
---
Thursday 7th May 2020

Horrible shock this morning, very traumatic. I still feel unsettled and shaky. The admin side of the Parish has to go on, as you can imagine, and I was delivering the April Bank Statements up to Syd and Denise at home. They opened the front door, and there on the mat were ten of the most hideous little blobs you've ever seen, discoloured, and moving backwards and forwards. "Syd!" I shrieked. "for heaven's sake put some shoes on!"

VE Day tomorrow: do you remember last year when the Government suddenly announced it was to be a Bank Holiday this year, moving the date of the traditional "First Monday in May"? It didn't half cause a rumpus, Diaries already printed, weddings arranged, and so on. Who would have thought then that, come the day, it would make virtually no difference at all, the whole country being in a virtually permanent bank holiday lockdown?

Lovely email this morning from Marian Curtis sharing her VE Day memories: "I am one of those who were there on the day. There were crowds in the streets, and I remember dancing on the roof of Hoylake Station. I don't think my mother had any idea of what I was getting up to! As children we took the war in our stride and left the adults to worry about such things as rationing, danger, air raids and the awful losses. I can't imagine how difficult it must have been for my mother with my dad away and a houseful of young children to provide for. I will wave a flag tomorrow but like you I feel that war is a dreadful thing." Thanks, Marian!

Please do send in any more VE Day Memories. Lots from the Choir, as you can imagine – "Glad to be off that blessed town Hall Roof and all those nights of Fire Watch", said one, and another told us "Fun as it was being a Land Army Girl, it was nice getting out of that scratchy uniform and back into a decent dress." That was one from one of the Tenors. I worry about those Tenors at times. And as for Geoff Hewson, all I can say is…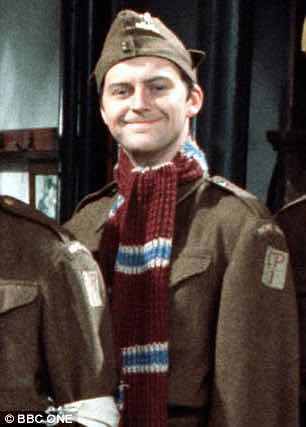 Street parties this year are impossible, of course, though some places might put out the odd bit of bunting…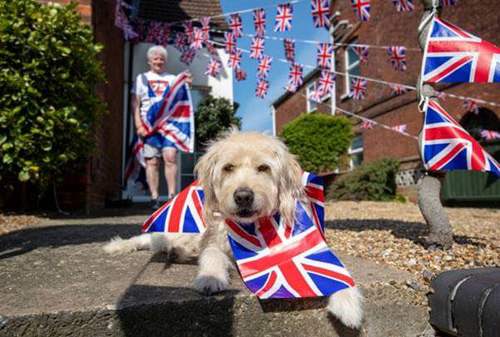 Chester Council has its own VE Day website, featuring this picture of celebrations "somewhere in Chester", as the old wartime saying used to go. Now the challenge: who can recognise WHICH street it is in our town that was celebrating like this shortly after 8th May 1945?




Great to hear from Tom again, one of our fantastic Altar Servers, a student at Edinburgh University, who made the decision to stay there rather than come home. "I am halfway through the Edinburgh summer exam season at the moment. However, exams have now come to mean working through the papers online, whilst listening to an interesting melody formed by the sound of car horns and pop music. Quite a change from the ticking clock in the exam hall! I should be back in Chester come early June, but it doesn't seem as though anything much will be re-opening even by then. I could yet be proven wrong, but I would certainly be surprised if that was the case. I look forward both to hearing from you all, and our eventual return to regular Mass at St. Werburgh's." Thanks, Tom – and good luck with those online exams, with the end of term and a safe journey back to Chester!

Gerry and James have done a fabulous job in keeping in touch with our Altar Servers during the lockdown and making sure they're OK and "gainfully employed". Some of them have been emailing in with their stories, and Joe Baxter, one of our great 9.00 am contingent, sent us this picture of his "Lockdown Baking":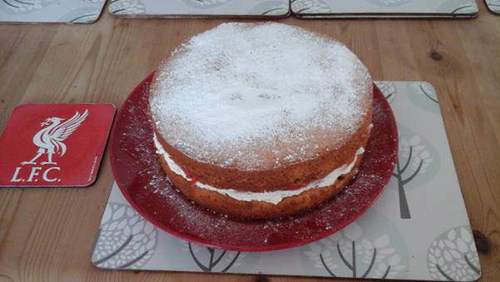 As you can see, he's a keen Everton supporter. So, someone get the kettle on, and find a knife!
People are already talking about the need to document this lockdown, verbally and visually. A striking photo-gallery this morning from the big Sotiria Hospital in the centre of Athens and these four front line workers. One is a Domestic Orderly, one a Physiotherapist, one a Nurse and one a Consultant. Would you know which is which? Of course not. That's the point the picture is making: that medicine in any context, but especially in a hospital, is teamwork and no one member is more important than another. It was put to me in the early days as Chaplain at Clatterbridge by one of the top surgeons there: "The most important member of my surgical team is the cleaner – if they don't clean this theatre properly, we can all go home." Well put!
Loukia Mareti, a caterer
Georgia Kolofotia, a physiotherapist
Yiota Lourida, an infectious diseases consultant
Eleni Pagoni, a senior nurse

We were saying yesterday that pictures of children always concentrate the mind powerfully. Thanks for this one, two little Palestinian girls in the Gaza Strip helping each other put their masks on.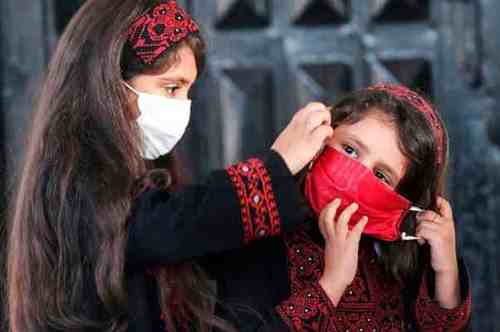 And finally: you are so kind with your Red Cross Food parcels and cakes. (And you ask why I'm fat and fifty?? Well, fat anyway). Your Christmas Presents are always hugely appreciated too. Paula keeps me every year in slippers. And yes, I have got to that age when slippers are the most comfortable footwear. OK, OK, already, I forgot to change out of them for the Sunday Morning "Hour Outside". Does that mean you have to photograph them, Geoff?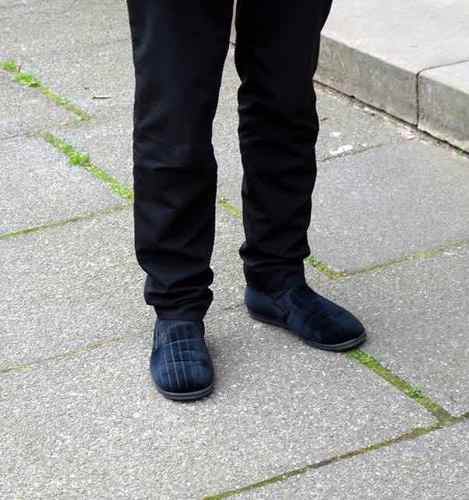 But you've got to admit, nice legs?

God bless you all,

Fr Paul
---
Wednesday 6th May 2020

Good to have a reminder first thing this morning from David that this was the day we should all have seen setting out on our Parish Outing to the Welsh Railways and Snowdonia.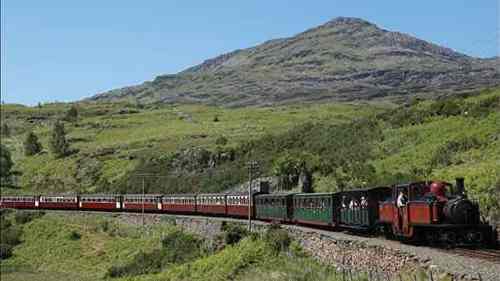 David has done such a fantastic job in organising this whole trip, the transport, the railways journeys, the Mass at Porthmadog, lunch, absolutely everything. The one thing we can say with certainty, David, is that Snowdon will still be with there when this is all over. Which is not for as second to minimise the damage this lockdown has done for the world-wide tourist industry and especially small concerns like our own Welsh Railway. They often operate on a shoestring, with no great cash reserves, and without customers may well fold. Let's keep the tourist industry of Chester and North Wales in our thoughts and prayers, everyone: they bring so much pleasure to locals and wizziters and are a vital part of our local economy.

The Coronavirus Testing seems to be getting into its stride. Grateful thanks to the Choir for telling me that, apparently, I qualify for this testing. You have to meet three of a list of criteria, and they tell me I do. I am classed as a 'key worker' through my work as Hospital Chaplain. So, the three boxes I tick, according to the Choir, are Key Worker, Fat and Fifties. Thanks! That's really sweet of you. I do appreciate it. Fifties, eh? The nicest thing you've ever said… I shall turn up tomorrow.

This lockdown has brought many communities and families closer together, hasn't it? I've been touched to hear from many members of former Parishes in recent weeks. St Werburgh's Chester is my fourth: I started off in St Joseph's Sale (1992-3), then a short move in the South Manchester area over to Our Lady and the Apostles Stockport (1993-7). Then to the Wirral for St Luke's Bebington and Chaplain to Clatterbridge Hospital (1997-2006), and here to Chester in September 2006. (The parishioners call it 'Black Saturday', wizziters. I can't think why.) Three former parishioners sometimes come here for Mass from Stockport. I always introduce them, of course, to the folk here in St Werburgh's, as "The Wicked Women of Our Lady's". You come up to me afterwards and say they weren't that bad, actually quite nice, not sure why I should so describe them, look quite pleasant. Looks, my dear people. can be so deceptive so very, very deceptive…

Many thanks to all of you who've written in after last night's Blog, thinking of ways we could perhaps re-open our churches for Mass but limit numbers to allow for the six foot apart "safe distancing". Some super suggestions, 'event-brite' and other online gizmos. Whatever we do will have to allow for those who do not have access to the internet, and it will require careful thinking about. We're not there yet, and I'm only thinking aloud here. But I cannot see a way that churches will be allowed to reopen for Mass without some sort of limitations on numbers at any one time. It's finding the best way to do it that's the challenge.

An interesting question from one of you: why are we making so much of this 75th Anniversary of VE Day? Surely 75 isn't a special number? Good point. My hunch is that it's being celebrated so widely because it's the last significant milestone where there will still be people here to remember it. There won't be any such when the Centenary comes in twenty-five years' time. And haven't the Captain (Colonel!) Toms of this world (and HM The Queen, of course) done us all good? An amazing generation, still with us in their nineties and beyond.

Some pictures to finish with tonight – and I'm glad so many of you have liked the visual part of this Blog. ("Much better than the boring words" said one member of the Choir who shall remain nameless. But not for long.) Parallels with the Spanish Influenza Epidemic of 1919-20 have been fascinating and thrown up some remarkable photos of a hundred years ago. Here's a workman disinfecting the top deck of a London bus in 1920. Who remembers those spray guns? Who remembers Flit??

The 'Spanish' flu cut down a swathe of humanity towards the end of the First World War, lasting from January 1918 to December 2020 and killing about 50 million people. This picture, taken in March of 2020 shows a still masked cleaner spraying the top of a London bus with anti-bacterial spray as Britain prepared for a fourth wave of the disease

I don't want to glamorise the end of the Second World War in Europe 75 years ago this week. This photo of one of the streets in Berlin, early May 1945, tells you why not.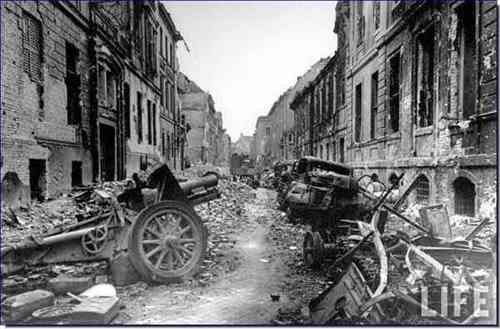 War is an obscenity. Is it the ultimate obscenity? No. In my personal view, Belsen is. And if it takes a War to eliminate a Belsen, so be it. But never glamorise. Most photos of Belsen I cannot show you. They are literally "obscene", the Latin meaning "not to be shown in public". But here's one I can, a British officer with three children he found in that hell hole: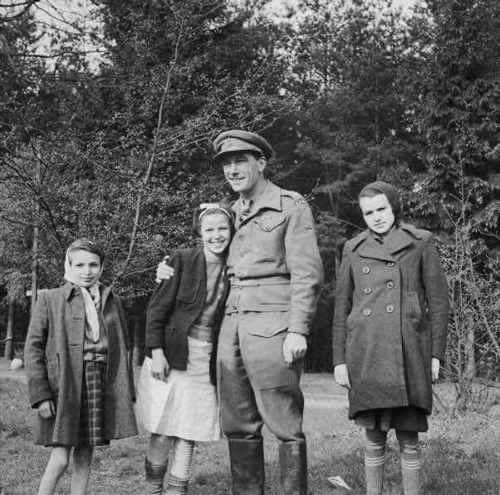 Where are those children now? They must be 85 or 90, if they are still alive. I hope they are, with grandchildren and perhaps great-grandchildren of their own, I like to think. But those memories from their childhood will never leave them. Whoever's to blame for the mess we make of this beautiful world, of ours, do you agree with me that it can never be children's fault? They don't ask to be born. Here are five street children from the streets of New York in 1920. Don't you just love them, especially the one without shoes? The bags round their necks contained camphor which, people believed at the time, warded off the Spanish Flu. But why aren't they wearing masks? I think we can all guess the answer to that.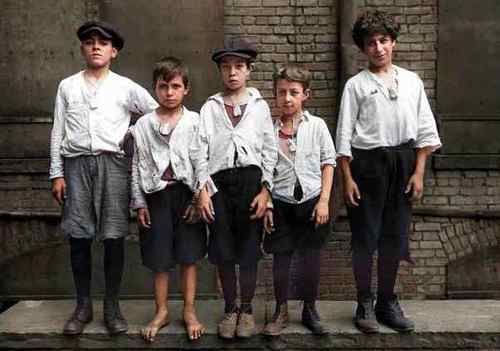 These photos have been brought to colour for the first time by MyHeritage, whose colouring tool can now be used by anyone for their black and white snaps. Pictured: Poor children in America were given small sacks containing Camphor to wear around their necks and the oil was considered a good way to guard against the flu

Many thanks for all the contributions so many of you send in for this Blog. A truly community effort. You've obviously enjoyed thinking about what makes a good Tabloid Headline: either alliteration ("Meltdown Matt") or rhyme ("Dishy Rishi"). You've all exercised your imaginations wonderfully in the case today of poor Professor Neil Ferguson and his extra-curricular activities. Thank you for all your Headline Suggestions, not one of which I can reproduce here.

May God bless you all,

Fr Paul
---
Tuesday 5th May 2020
Numbers coming down, but painfully slowly? Meanwhile it looks as if this country has taken one of the biggest hits in Europe. Too early to say if there's a definable reason for this. In any outbreak of disease, the incidence will never be uniform, of course, and, without being flippant, it may just be "bad luck" that one area has a worse outcome than another. Eyes very much on Italy now, to see if their relaxing of lockdown yesterday is successful, or, worst case scenario, leads to a second surge.
Many of you have been interested in ways of limiting numbers at Mass when we are able to open our churches again. Yesterday we saw Cologne Cathedral's "book online" method: as some of you have pointed out, that's assuming everyone has a smartphone, which lots of our older parishioners, for example, probably don't. Our excellent Health and Safety Group here in the Parish have done some first-rate work in the eighteen months they've been in existence, and one project they were working on was Church Capacity. This means calculating safest numbers for normal Masses on a Sunday, day and evening, then for the big Festivals, Christmas and Easter, and finally for concerts and recitals, both internal and 'outside organisations.' If we go down the road of "limited numbers at Mass", I'll be asking them to do a 'Church Capacity with Safe Spacing' exercise. Let's say, for the sake of argument, they come up with a total of 150 if everyone has to be six feet apart. Then we have to decide how practically to limit attendance at each Mass to that figure, given that our average weekend total attendance is 650. Clearly it will need more (shorter) Masses. But are we going to have people turned away because the 150 limit has been reached for that particular service? How do we run a "book in advance" system? A tricky one - over to you, Parish Council!
Nice to see a church in Dublin has decided to copy our "Alfresco Confessions" idea – but I bet they didn't have Bernice's Burger Bar round the corner as well!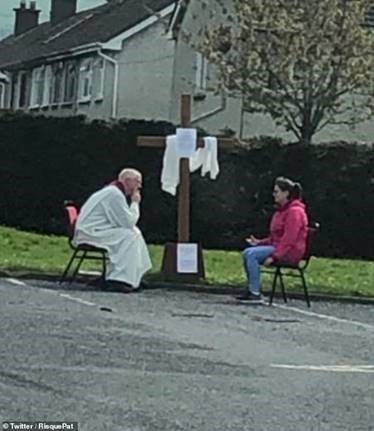 Thanks to Dr Sam, ex-Catholic High School, for keeping us up to date from the front line at St Thomas's ICU in London: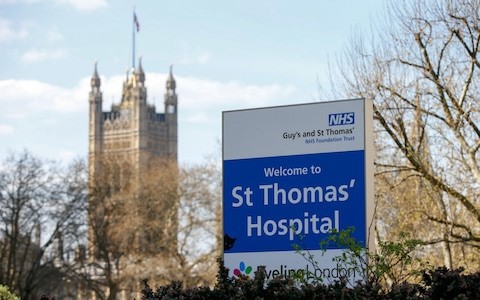 As you can see, it is right opposite the Houses of Parliament on the other side of the river, and it's where MP's and Peers get rushed if they collapse or are taken ill in Parliament. The old joke always used to go like this:
A&E Doctor in Casualty: And which party do you represent?
MP: Er, that depends, Doctor… Which party are you?
Conscious this month that we are marking a number of 75th Anniversaries, principally VE Day on 8th May, but also the Liberation of Belsen on 15th April, and the unspeakable horrors the Allied Troops found inside those gates. St Thomas's is now part of the same Trust as Guy's, and a fascinating story today of a cohort of medical students at Guy's coming to the end of their training in 1943. Instead of finding themselves in white coats, they found themselves in army uniforms.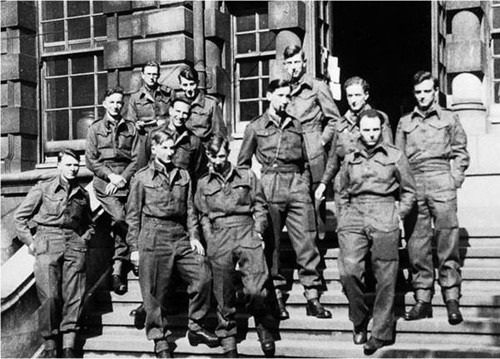 And as Army Medics, RAMC, this group went into Belsen. They were forever changed by that experience, and some wrote about it afterwards. One of them, at 95, is still with us today. Like all London Hospital Medical Schools of the time, when they weren't in Hospital, they were on the rugby field, and many of the above photo are also in this one:
It's another world, isn't it? Continuing that international theme, I saw this powerful photo from the Dominican Republic. Fray Antonio Montesino was a Dominican Friar in the sixteenth century, who fought against the practice of slavery in the island. A brave thing to do, as he would have been perceived as on the side of the imperialists who were enslaving the native population. I give you the same statue, without the mask, below.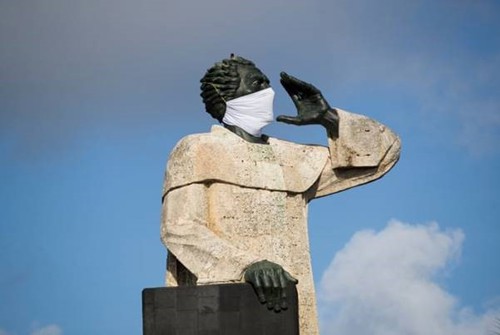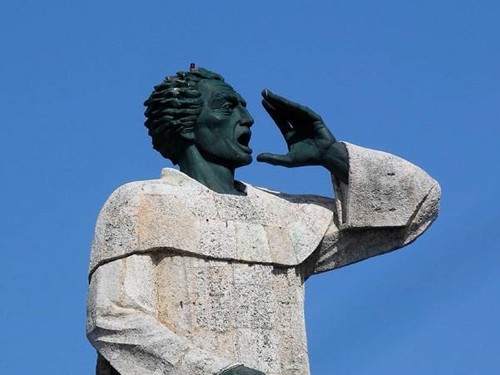 Last of our 75th Anniversary commemorative stamps – and haven't they been fabulous? We've been thinking about lands overseas on today's Blog, and how appropriate to end with the stamp depicting a Commonwealth War Cemetery on the other side of the world, in Myanmar (Burma). A reminder also that, although the war in Europe finished seventy-five years ago this week, the war in the Far East raged on for several more months.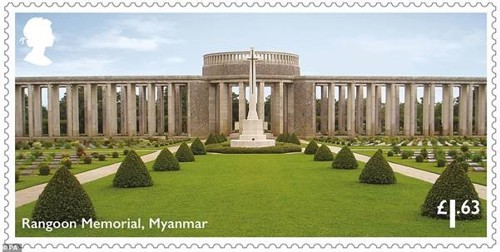 As always, aren't they immaculately kept? My own Uncle Reg was captured at the Fall of Singapore in February 1942 and spent the next four years in a Japanese Prisoner of War camp. He was never the same man again.
Shall we finish with the words of the Kohima Epitaph carved on the Memorial of the 2nd British Division in the cemetery of Kohima (North-East India)?
When You Go Home,
Tell Them Of Us And Say,
For Your Tomorrow,
We Gave Our Today.
From their Kohima website: "The verse is attributed to John Maxwell Edmonds (1875-1958) and is thought to have been inspired by the epitaph written by Simonides to honour the Greeks who fell at the Battle of Thermopylae in 480 BC."
May God bless you all,
Fr Paul
---
Monday 4th May 2020
To begin with, just a selection from today's postbag. First of all, this from Catherine: "I'm sitting in a chair looking at the evening sun on the front garden, having a gin and tonic in hand and you came to mind…" Not live-streaming Mass, notice, or saying her prayers, or doing her daily Bible Reading. Oh no, none of those brings the Parish Priest to mind, just getting outside a gin and tonic. That's all I'm good for.
And then this little message regarding last night's blog about the photo I posted from student days back in Rome thirty years ago. The name on the email is very indistinct, but it's been sent from Blackpool: "Loved the beautiful life-like stony face from your Seminary days – shame you were photo-bombed by that dishy Priest…"
You'll miss me when I'm gone, I'm telling you.

Mass Intentions for the week ahead:
Sunday 3rd May: Morning: Mary Taylor (Birthday Remembrance)
Evening: Ray O'Brien (10th Anniversary)
Monday 4th May: Martin Cranny (L.D.)
Tuesday 5th May: Little Pip (L.D.)
Wednesday 6th May: Carmel Kimpton (L.D.)
Thursday 7th May: Helen Jacobs (L.D., Bristol)
Friday 8th May: Intentions of Ben Morrin (NHS)
Saturday 9th May: Lorraine McKeown (1st Anniversary)
Sunday 10th May: Morning: Mary Taylor Alex Barnes
Evening: Bob Delap (3rd Anniversary)
Italy starts to get back to normal this morning, so I couldn't resist this photo from Milan Cadorna Station, platforms I pounded so many times last August in that superb fortnight there. You can just see the "double decker" on the trains, those upper windows in the higher deck which give such unrivalled views as you speed over the Italian countryside.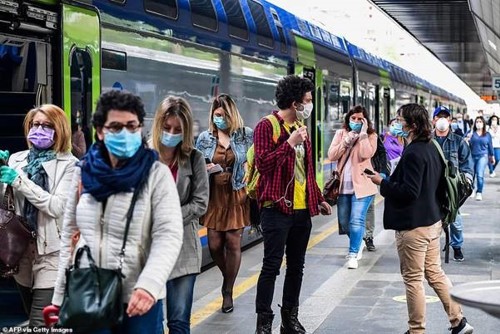 And now here's one of the Milan stations, the chap on the left operating a heat-seeking camera, to scan all the passengers as they arrive. If we're a fortnight behind Italy, then that could become a familiar sight on British station concourses?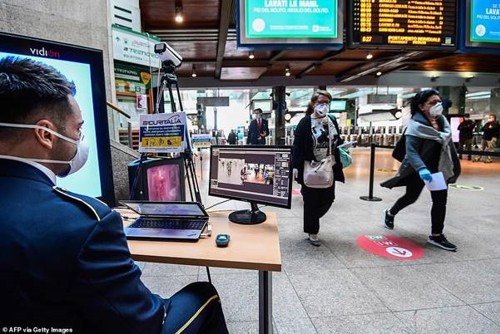 A couple of darker pictures from Italy this weekend. I include this next one because it shows you how much more beautiful and landscaped Italian cemeteries are than some of ours in this country. As I've said before, in Italy coffins are lowered into vaults, and remain on ledges there forever. Family graves have those large marble slabs you can see, which are taken off whenever there's need to inter a new family member. No digging of soil or water-logged graves. Just interesting how different countries bury their dead?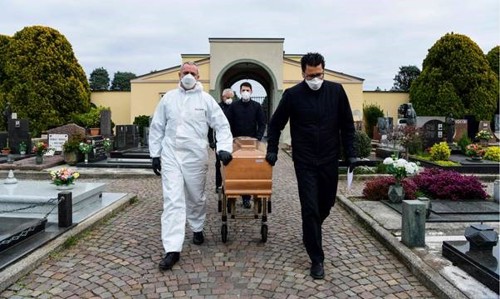 Finally, this dramatic picture from Rome. Italy has had the highest total of deaths of any country in Europe, but UK is not far behind. This picture brings home the reality of this horrible virus?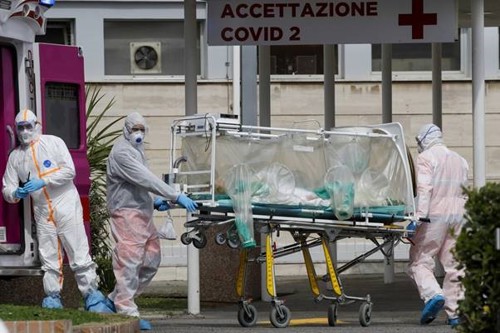 Figures from UK so much better today and yesterday, starting to raise hopes that we may be over the worst. I was thinking aloud yesterday how churches might be brought back into service, no pun intended, with possibly more, shorter Masses on a Sunday, numbers strictly limited at each. Interested to read this is what they've done in Germany, churches re-opened for the first time yesterday. Here's Cologne Cathedral, where you have to book online for Mass! I know it sounds bizarre at first, but it's one way of managing numbers. 120 only allowed in for each Mass, and it's first-come-first-served for online booking, the steward at the door checking the lady's mobile phone, just like on a train. Bizarre, but I can't at the moment think of a better system for managing the numbers.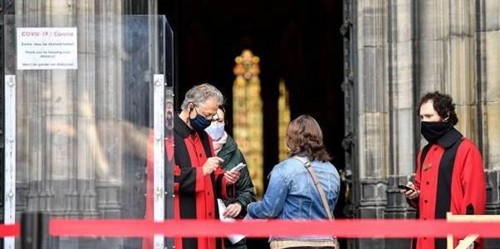 And now a very evocative one sent in from a Werbie in London, Trafalgar Square, with all the benches taped off to prevent gathering there. It looks all wrong, but then this virus is all wrong, and we have to get on top of it.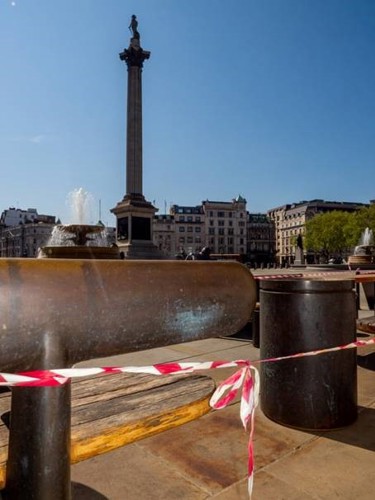 I'm on Hospital call-out now four days a week, and don't mind in the least, the rota having been re-jigged to adjust for those who have to self-isolate. A call yesterday to our dear friend George Shepherd, so faithfully at Mass here every Sunday. He's bounced back so many times from serious ill health in the last five years, he could well bounce back again. But if he doesn't, he's received the Sacraments of the Church. Always best not to take chances in these situations. Please keep him and his lovely wife Angela in your prayers and their two sons. He was officially "non-responsive", as indeed he was. Until I started the prayers and finished them, when he joined me with the most enormous sign of the cross on his chest. What a man! And that's why Hospital Call-Outs are such a privilege and I'm a lucky so-and-so being a Priest. Call me cheesy, I don't care anymore.
Thank you for clearing up the mystery connection between our own Fr Neill and "Chamberlain". Nothing to do with Neville, or with Richard Chamberlain. (Apologies – apparently that picture of the succulent Cardinal caused flutters all over Chester – Wobbly of Whitchurch Road said it had ruined her evening, Cardiac Arrest of Caldy Valley said it had made her come over all faint, and Palpitations of Plas Newton said she had to go and pour another gin. Sorry, ladies.) Back to Fr Neill: the missing link, several of you tell me, is the CATENIANS. 'Chamberlain' being a High Office in that organisation. So, many congratulations to Fr Neill, and, research shows me, Chamberlains wear a very special uniform: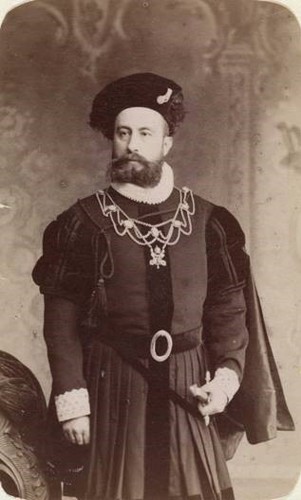 I'm sure he'll look magnificent, don't you?
Good to hear from Werbies all over the world. Lots of fans of this Blog in London and many countries abroad. None in Chester, but lots all over the world. Isn't that nice? I'm sorry to hear that folk in Co Wicklow over in Ireland are finding the lockdown a little hard to bear, and especially Tom, judging by this letter to the local newspaper: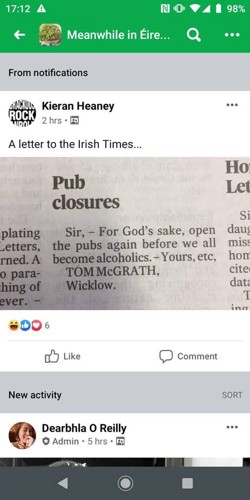 Let's hope it's not too much longer, Tom. A sentiment shared, I'm sure, by this poor doggie: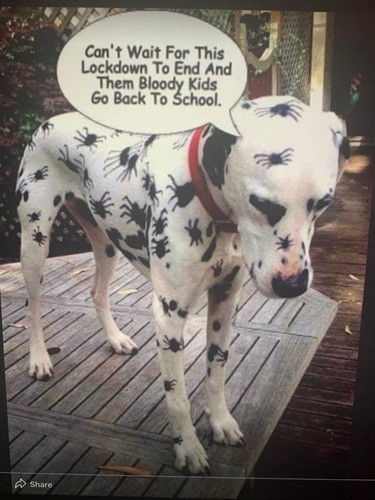 Thanks for the various Red Cross Food Parcels that have been left on the doorstep: hugely appreciated and thoroughly enjoyed. Especially thanks to those of you who've been raiding your allotments: Kieran for the Cabbage and Marian for the Rhubarb. (Marian – you couldn't change your name to Rhona, could you? Rita? Just a thought.)
So many of you have written in about the stunning series of 75th VE Day Anniversary Stamps I've been posting on this Blog, I feel I ought to pass your applause on to the Royal Mail. They've clearly produced a winner here. Yesterday, it was Runnymede, the Memorial to all the RAF Servicemen and women who lost their lives – over 20,00 of them – with no known graves. Today, the equivalent for the Royal Navy and Merchant Navy at Plymouth. The latter were so important: if food supplies had not been secured, we could well have starved. The story of the North Atlantic Convoys is an amazing tale in itself, and well worth researching. The Plymouth Memorial has the names of 7,200 sailors from World War One and 16,000 from World War Two. Final stamp tomorrow.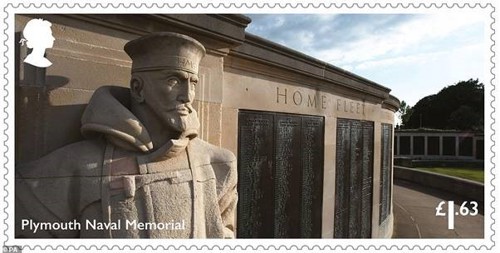 May God bless you all,
Fr Paul
---
Sunday 3rd May 2020
Another very enjoyable and worthwhile hour outside the church this morning, 10.00-11.00 am, giving out Newsletters and Catholic Papers – one lady asked if I had a copy of the "Observer", sorry, madam, no, sold out – and generally catching up face-to-face. Lovely to see my favourite Michigan Family, with the two Michigan Monsters. Love the braids, Aoife, and crazy about that mask, Rónán. And I hope you're crazy about those accents (fada?): it's taken me forty-five minutes to find them on this flaming computer… And another twenty to find the plural of 'fada'. This one's for you, Rónán: the Spanish Flu Pandemic of 1918-19, and a group out in California: "Wear a Mask or Got to Jail"! (Don't the faces look modern?)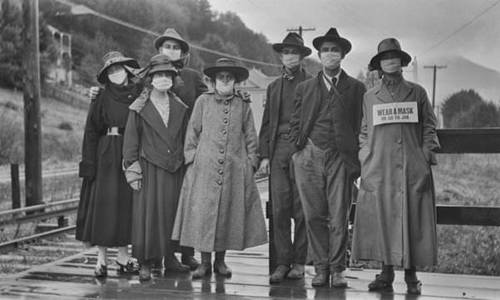 No policeman this morning to come along and see what we were all up to, after last week's friendly PC John Wszolek. But did you see the policeman who broke up the String Quartet playing on the pavement in London for the delectation of their neighbours? I do feel sorry for our boys in blue (black?). They are a bit like the maid in the old Punch Cartoon from the 1880's, languid mother reclining on chaise longue saying to maid, "Eliza! I haven't seen or heard from the children for ages. Go and find out what they're doing and tell them to stop it."
Well, the police, I sometimes think, have been sent out on a similar mission: find out what people are doing and tell them to stop it. This particular intervention with the musicians, though, did elicit an email from Helen and the other three wives of our own Onslow Quartet here in Chester, frequent wizziters to the Werbies. Helen and the wives, apparently, want to get in touch with this Policeman's Chief Constable, and see if they can nominate him for a Distinguished Service Medal. And ask if there's any chance of his being transferred to Chester.
Always good when we see our police officers taking their duties seriously, isn't it, Helen?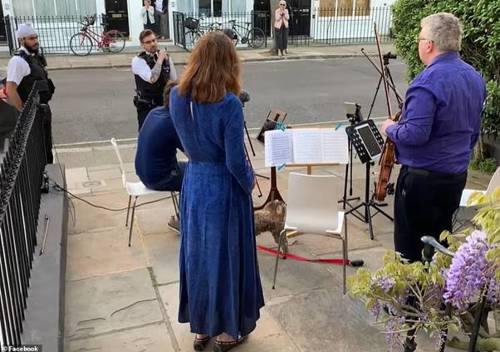 Thanks everyone who's already been in touch about Richard's sponsored Virtual Run for CAFOD. Don't worry if the technology of those just-giving pages defeats you – he tells me he'll take cash, cheques, goats, anything. Good man, Richard!
And some of you have been in touch asking about "Chester Parishes Together". It's a new set-up, going for about eighteen months now, to see if we can bring the four parishes (and five churches) of Chester closer together. Specifically, is there anything we could be doing better together than singly? Co-operation between the Altar Servers has been fantastic, thanks to Gerry and Richard, and there are lots of other ventures in the pipeline. We are trying to visit each other's churches for Patronal Feasts. This year, it's St Clare's Diamond Jubilee, and they are celebrating with a big Mass with the Bishop on 8th December and a Social in the School Hall afterwards. Are you still saving the first dance for me, Kate?
Interesting if rather gloomy Report today from a group of epidemiologists at London School of Hygiene and Tropical Medicine about how this lockdown might be lifted: what activities could we safely resume tomorrow, and which not for some time. Their report contained this sentence: "But when large groups meet in badly ventilated environments, such as churches, the infection rate soars and the virus spreads three times faster, the study suggests." We can see where they're coming from, can't we? On the other hand, few social groups, I'd like to think, would be more co-operative than church ones (though recent funerals round the world make you wonder?) I'm thinking aloud here, but speaking personally – and I'm sure for Fr Neill – if the day came, we'd be happy to say more, briefer Masses on a Sunday to allow everyone to come to Mass, but safe distanced from each other. Say, just a half-hour Mass, but six or seven of them throughout the Sunday. It would mean cutting the sermon, of course. Could you be brave about that? You could? I'm so proud of you.
Talking of Fr Neill, worrying news yesterday. Just a very quick message from one of my correspondents which said, "Fr Neill now Chancellor". What on earth does that mean? Surely not replacing Dishy Rishi? (You'd have half the housewives of Surrey up in arms if you did). Perhaps he's been following my musings on politicians in times of war, Churchill, Lloyd George. Boris. Is that what it means? He has aspirations in that direction?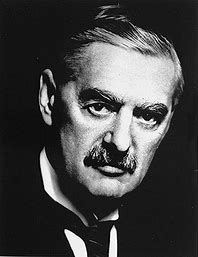 And then I suddenly thought, the first anniversary of his Ordination is coming up. Surely, he's not getting clerically ambitious??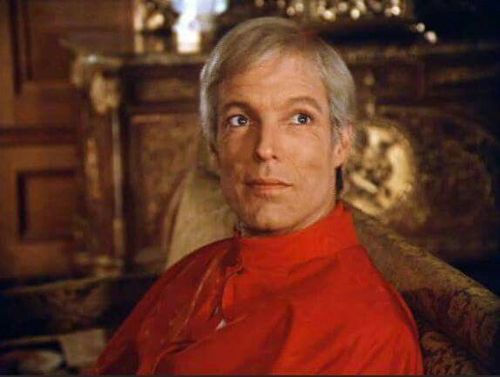 If anyone can clear up this mystery, I should be extremely grateful. And that last picture reminds me: some of you are being very silly and childish on the subject of the FP Photo Album. I knew it was a total mistake pasting that angelic shot of me at six, in response to the oil painting of Edmund Kirby, our architect, in the Walker Art Gallery in Liverpool. Then stupidly, I fell for it again, you wanting to know just how long-haired and shaggy I was becoming. That's only set you all off demanding to know if there are any pictures from those Seminary Days out in Rome thirty-five years ago. Look, if I post one, will you now leave me in peace?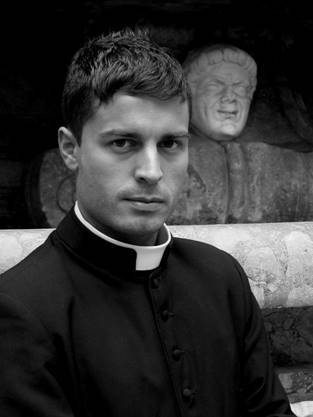 That's absolutely it. The FP Photo Album is now securely locked away. But the years have not been kind to me, have they? I mean, coming to the Werbies in September 2006, a mere slip of a lad…
I do welcome your contributions to this Blog, but generally some of you are getting very lippy. Lots of you want a picture of Madam Prezzie's Garden Shed wash my mouth out, Summer House, at the bottom of her garden in Swadlincote. Here it is, and you can just see the window ledge where the G&T's are left: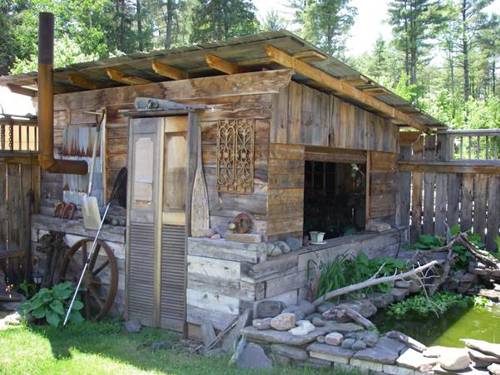 Good to hear from Dr Sam in London yesterday, on the front line in St Thomas's Hospital opposite the House of Commons on the Embankment. He'd sum up the situation there as "very busy but coping", which is great to hear. He's on his three-day break now – he does three days on, three days off – and is really missing the theatres and concerts halls being closed, having become a culture vulture in his old age (he's 26!) Reminds me of when the Old Nuisance went nursing in 1934, to the London Hospital in Whitechapel. You had to live in the Nurses Home in those days, of course, and every evening, a lad would cycle round with any spare tickets left for the theatres and concerts, and stick them in the Porter's Lodge, a free gift to the nurses if any of them wanted to take up the offer. The ON did. You didn't know what you were going to, just took potluck as you caught the tube up to the West End. But it was the start of her life-long love of classical theatre and music. She'd be tickled pink to think of Dr Sam following in her footsteps. Even if he has to buy the tickets himself. Listen, he's loaded!
The popular mantra is that the UK's a fortnight behind Italy with this virus and lockdown. They're starting to come out of it now, and I loved this photo of one of the Erboristerie in Rome, the specialist Herbal Shops, preparing to re-open. I suspect it will be like this for many of our Shops when the same happens over here: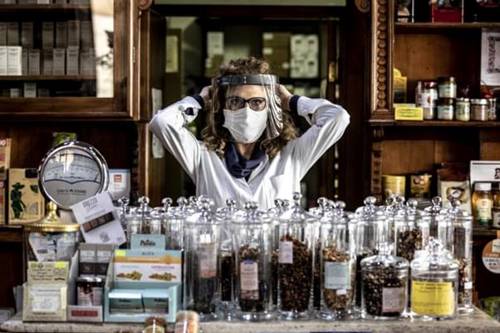 Our stamp tonight is a beautifully peaceful one, the Runnymede Memorial near London. It commemorates the over 20,000 airmen and women who lost their lives from Britain and the Empire in the last war who have no graves of their own. It also houses the British Memorial to President John Fitzgerald Kennedy. To all our American Werbies – from Michigan, Maryland, Delaware, Kansas, and not least our two Dancing Priests: stay safe and keep well.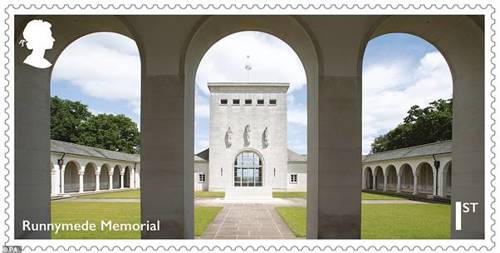 May God bless you all,
Fr Paul