Daily Updates 30th August - 5th September
Saturday 5th September 2020
One of those "Media Messages" in the emails this morning, sending me pictures from a mobile phone, but no name attached. Anyone claiming the following?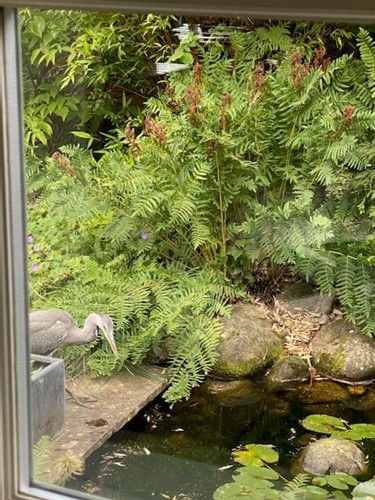 No, it's not a statue, before you ask, but a very live heron indeed. Eyeing up its breakfast. Anyone claim it? (The picture, not the heron, you fools!)
I know I could just ring the mobile number and say "Hello" Who are YOU?" but (a) that seems a bit rude and (b) too simple. I really am a technophobe. You don't believe me but I am. Hair-cutting. I know you worry if I don't tell you these things. Having abandoned barbers for ever in favour of my trusty electric clippers, I have to decide frequency. These things matter, believe me. Go for once a month, start of the month. So, last Tuesday was D Day. Would they cut? Would they Brylcreem. As an absolute last straw – and this is the mark of the true techophobe – I get out the instructions. "You will need to reset the cutters between cuts." You what? "This is very simple". Oh, yeah? Anyway, cut to the chase (good, eh?), it was simple, unscrew cutters, align them, screw them up again, and your PP is gorgeous once more. [Shurely "hideous old wreck as usual"? Ed]
I'm the only person I know who doesn't change his car clock when all the others go forward or backwards an hour. I don't know how to do it. Rather than get the manual out, for six months of the year it's correct, and an hour out for the other six. I look as if I care?
Lovely Baptism at lunchtime today for Kate and Kesi's third daughter. Congratulations, you two! Let's hope it's not too long before we can have Readers at Mass once again and see Kate up there in the pulpit!
Captain Cook and the transits of Venus, discovery of New Zealand, Tahiti, the whole remarkable story has clearly gripped some of you. And why not. Cook wrote a travel journal for his three voyages, and it makes extraordinary reading. He wasn't the only lad from these shores who fetched up down there: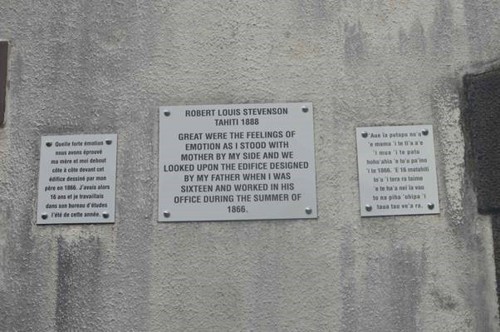 Zoom chat with Beth and Jimmy this morning in preparation for their wedding here next Saturday. I may be a technophobe, but I have made a mind-blowing discovery. You can have a cup of coffee and put it below the line of the camera. Wait till the other person looks away, and you can sneak a crafty gulp. Coffee or anything else that takes your fancy…
Incredible discovery. Do you think I could patent it?
Just asking. No need to shout.
May God bless you all,
Fr Paul
---
Friday 4th September 2020
Good to get another of Bishop Mark's very regular Ad Clerum round robins today. He's off himself today for a week's very well-earned holiday: he's led us more than ably through this pandemic so far, and he deserves a good break away from us all! He suggests there may be some movement on the singing and music front, with a communication from the Royal School of Church Music (RSCM), but very early days, and he cautions carefulness. Reintroducing singing would also have implications for our "four half-hour Masses" present policy, wouldn't it? So, more food for thought for the Taskforce when they sit down after their Bank Holiday break next Monday. (John: did you win the golf or not?)
Chester Bach Singers have approached us, plus another local Choir, to see if we would be willing to allow their weekly choir practices to take place here, their normal venues (schools) having regretfully declined them under present circumstances. Lovely to think that choirs are starting up again, but, in terms of virus spread, we can all see why singing is lovely for the singer, nice for the listener, heavenly for the virus and not such fun for anyone in its flight-path…
A wonderful surprise on Wednesday evening to come round the end of the Racecourse by Nuns Road and hear heavenly music. For a second, I thought I'd passed over: but no, a Brass Band were using the awning over the New Crane Street entrance for their practice. "Love divine, all loves excelling" – such a beautiful tune, and so appropriate for Brass Band. There was quite a nippy wind blowing, so they were all muffled up well, with plenty of clothes pegs in evidence, to keep the music fastened to their stands! It's one of my favourite Charles Wesley hymns, with its sublime ending:
Finish, then, Thy new creation;
Pure and spotless let us be;
Let us see Thy great salvation
Perfectly restored in Thee;
Changed from glory into glory
Till with Thee we take our place,
Till we cast our crowns before Thee,
Lost in wonder, love and praise.
It's enough to make you a Methodist, isn't it?
Bishop Mark also asks for Prayers for Fr Mike Dyson tonight, long retired but, I know, very well remembered by many of you from different parts of the Diocese.
Very good Zoom CathSoc committee meeting last night, ably led by Madame President, the Barlster. Obviously, there are a lot of known unknowns, and probably a fair few unknown unknowns, about next term. But students will be returning to Chester, many coming for the first time, and we want to give them as authentic a student experience as current Covid-19 regulations allow. We'll need to work within Student Union guidelines for Society Meetings, but they seem keen to get the Clubs and Societies up and running. Their present policy is to limit all meetings to under twenty, in a venue where people can keep safe-spaced. My main questions last night were around the most important activity CathSoc always does and has ever done: EAT FOOD. What are the risks of my being in the kitchen at 2.00 am to make them a plate of sandwiches and a cake? (Apart from falling asleep and going head-first in the Egg Mayonnaise, of course). Over to you, Monday Morning taskforce!
They normally meet on a Sunday Evening after 6.00 pm Mass, and the general feeling last night is that this is a popular time. But no 6.00 pm Mass at present, so we'll need to work round that one. They start coming back on the weekend of 19/20 September, so we've drawn up an outline Programme for the first half of term, up to the start of November. I'm sure it will be a very different world by then:
Sunday 20th September: Walk to 12.00 Mass from the Uni, and Lunch afterwards
Sunday 27th September: Prayer & Praise, and Icebreaker Session
Sunday 4th October: Walls Walk and Psalm Singing in the Boathouse
Sunday 11th October: Debate Night
Sunday 18th October: Joint Meeting with the Islamic Society
Sunday 25th October: Meet the Wrinklies
Sunday 1st November: Start of Student Development Week – Cake and Catch-Up
Sunday 8th November: End of Student Development Week – Cake and Catch-Up
A few 2.00 am starts there, as you can see, but I'm here to serve…
Interesting news in the national press today that the Cause for Elizabeth Prout's Canonisation has taken another step forward. She was born in Shrewsbury in 1820 and worked as a Religious Sister amongst the poorest of Manchester until her own death from TB in 1864. Often known as the "Mother Teresa of Manchester", she led a remarkable life: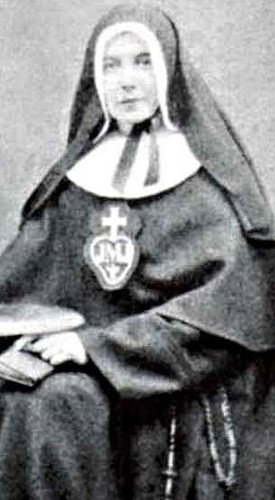 You'll recognise the habit of the Passionists, and her base in Manchester was at St Chad's, a church we visited on one of our Parish Days Out, and now home to the Oratorian community in Manchester. Bishop Mark is actively promoting her Cause, and the good news is that she may soon be on the first rung to Sainthood, which is being declared "Venerable". (Remember the Venomous Bede?) Bishop Mark had an apt quotation in today's papers, reminding us that she was working in Manchester (his home city) at the same time as Marx and Engels: "If Marx and Engels merely observed the condition of the poor, Elizabeth desired to live and die among them." Well put – even if my old dad would have objected to that "merely"!
The Quiz Question on who went off to study the Transit of Venus and found something else was far too easy. Lots of you got Captain James Cook and New Zealand. The Barlster was first and Tekkie One second, sending me some wonderful pictures of his own recent Gad and Galivant down under with BC: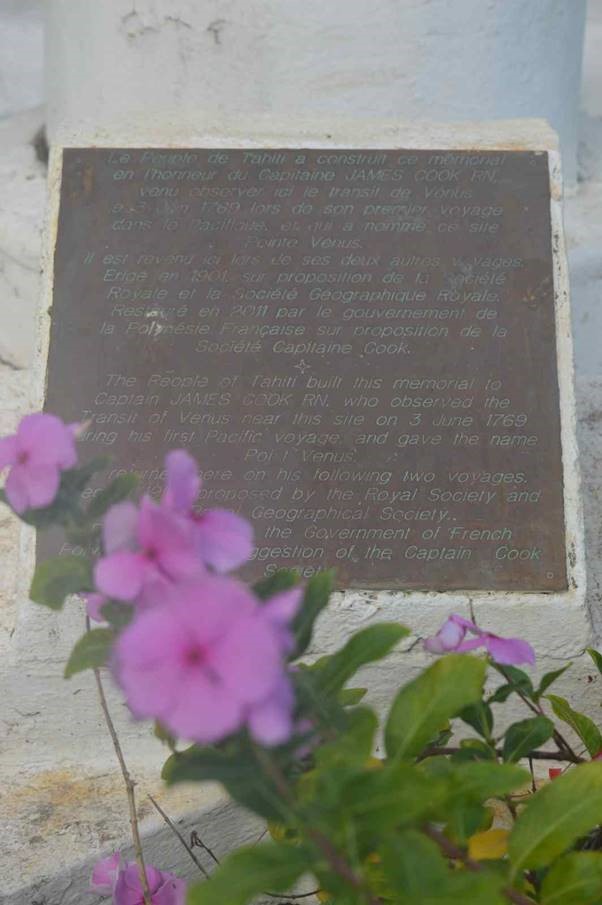 Today is the day, of course, that I should have been returning from Bologna. The Grand Duchess, en route to her ancestral estates in Latvia, has sent me another stream of pictures from her own recent trip to Sicily. Not a cloud in the sky in any of them. Bless her. Love to the Riga Saints from all of us, Duch.
May God bless you all,
Fr Paul
---
Thursday 3rd September 2020
I knew it was a mistake venturing into astronomy last night. It really did set Dotty from Doddleston off, sending me a photo of her old Transit Van and far too much information on the part it played in her and Dennis's courtship thirty years ago:
Transits of Venus, dear, not Transit Vans! Oh, give me strength.
Good to see favourite restaurants reopening in Chester but sad to see the Open-Air Theatre in Grosvenor Park being dismantled. Full marks to them for mounting a production this summer. OK, it was a shortened season; OK, it was just one play, and they abbreviated it; OK, it was a cast of eight taking all the parts – but they did it! And that's the sort of initiative in these lockdown days I really love. It shows a "can do" attitude", not pretending the restrictions or health emergency aren't there, but not letting them stop normal life if at all possible.
Just to show there are no hard feelings, Michigan has organised a little farewell gift for Maryland, Harper and Janet sadly leaving us tomorrow for their new life in Oz. It's a plaque, with as many Rowton signatures on the back as he could garner. On the front, the final Saturday Evening Score: Maryland 106, Michigan 6. [Shome mishtake shurely? When did Michigan ever get six right?] Good luck, Harper and Janet! And I know you will both stay in touch with all of us.
A sight I've come to treasure every evening down on the Groves is that pair of swans and their cygnet. You can see them just under the Suspension Bridge, the cygnet now almost as large as the parents, but still a stubborn grey. I wish I knew more about ornithology (or is that paper folding?): what happens when the cygnet is "old enough": does it just swim off somewhere else? Do the parents swim off and leave it to fend for itself? Do swans mate for life, and where will the cygnet find a mate? Questions, I am fully aware, every parent of teenage children would love to know the answers to.
Talking of which, Dr Sam coming to supper this evening, back for the weekend from London. Plus, the latest innamorata. As they say in German. I don't gossip as you all know but expect a full report tomorrow.
Privileged to say Michael Paziuk's Requiem Mass today up at St Columba's. He was the 92-year-old gentleman I visited every week in the Countess on a Wednesday morning, but not able to communicate much. It was only when his son Michael and daughter Anna called me in to administer the Sacrament of the Sick that I began to find out about him, and wished he'd written a book. Only for our good friend David from St James Avenue, to tell me he had! And what a fascinating book it is. I could have spoken for hours this morning, not the seven minutes allotted. He was born in 1928, in Eastern Ukraine, enjoying its first freedom for centuries from Russian control after the Bolshevik Revolution of 1917. Short-lived freedom: he was 16 in 1944 when the Russians, following the failed 900-day siege of Stalingrad, were starting to push the German armies westwards. Michael was captured by the Germans and conscripted into their army. At the end of the war, fortunately only twelve months later, he found himself in a POW camp in Italy. Where did he want to go to? Where was "home"? He didn't know. Not the Ukraine, now firmly under Russian control. Certainly not Germany. Did he want to go to England? He knew nothing of England except what he'd read in schoolbooks: a small, ugly off-shore island, full of cities, with a dreadful climate.
So, May 1947, he boarded a Canadian Troop Ship and a week later disembarked at Glasgow for the train ride down to Lincolnshire where he was to be encamped as a "DP" (Displaced Person). He couldn't believe what he was seeing out of the train ride: beautiful scenery, a lovely warm day and friendly faces everywhere. He had found "home". He trained as an electrical engineer, came to RAF Sealand to work, married and had two children, and the rest, as they say, is History. Except that he lived to see the fall of the Iron Curtain in the 1990's and decided to make the journey back to see who and what was left. He met his sister, whom he hadn't seen for fifty years, now a grandmother, and the remains of his village. He found his father's grave and was able to lay some flowers there. The Catholic Church was in ruins, closed during the Communist years, and the villagers were setting to, to rebuild it. Michael's contribution when he got back to Chester was to fund-raise here for money to send back, and he raised thousands. In gratitude, the ladies of the village embroidered a special Altar Cloth for St Columba's which was in use and on display today.
So good to have his five grandchildren there, ranging in age from 20 to 8. I hope one day they'll read their grandfather's book and realise he was a grandfather to be so proud of. May he rest in peace.
Then a quick trip down to Harper's to deliver Michigan's Plaque: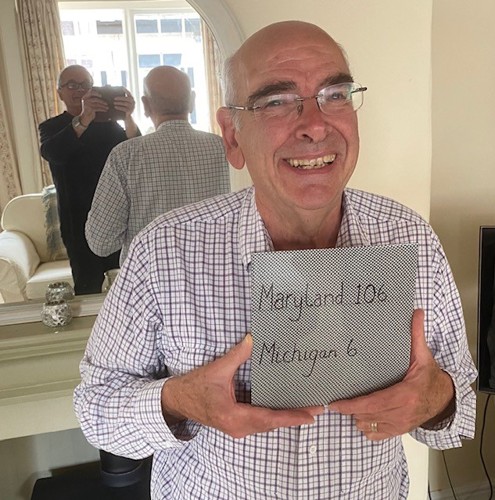 Michigan 6? In his dreams. Do you like the photographer caught in the mirror? Very "film noire". As they say in German.
May God bless you all,
Fr Paul
---
Wednesday 2nd September 2020

Sad and happy to hear last night that Jenny (Janet) has been Called Home to the Lord. Meeting her daughter at the Hospital on Friday was a great joy and hearing so much about her mother that she had been unable to tell me herself. We both knew that Mum had come to the end of her earthly road and celebrating the Sacrament of the Sick, the three of us together, was so appropriate. May she Rest in Peace.

Hospital this morning once again, and a real sense that the worst of this Covid-19 pandemic is passing through. Naomi's dad and Sue's Uncle continues his excellent progress and is able to go home tomorrow. A very difficult conversation then with another gentleman who's had his voice-box removed. He was wanting to talk, but I could honestly make out nothing he was saying. And he must have known that. I sensed it wasn't a recent removal and was wondering if they still used those voice amplifiers that could be pressed close to the throat. Do you remember the famous actor Jack Hawkins having one? It produces a rather metallic sound, but at least you can hear clearly what the other person is trying to say.

Syd and Denise in this morning to count the Collection. It's nowhere near what it used to be pre-lockdown, but it's not so disastrous as in the early days and we do all thank you so much for your generosity. And your imaginative ways of getting your collections and donations to us. Like the flock of sheep left on the front lawn the other morning. Anyone know the market value of lambs these days? We needed the photocopier engineer to call, the scanning facility having gone down. Gratified to hear it was quite a complex software malfunction and not the result of my pouring a gin and tonic over the keyboard. That would have been a disaster. We all know the market value of a bottle of Bombay Sapphire.

Great to induct – or was it induce? – our new Stewards / Cleaners last night. Welcome on board Madeleine, Meg, Pat, Ann and Gill. Syd initiated them into the mysteries of Queue Management, Brian took them through the delicacies of trying to get everyone seated where we'd like them to sit (not always the same as where they'd like to sit!) and Denise ran through the cleaning protocol. So glad to have them on the Wolunteer Rota. We've relaxed the criteria a touch, not insisting on the 70+ quite threshold quite so strictly. Hence Meg being able to join us.

This morning, while we were exploring the fascination of internet fax connections, Denise was tentatively exploring another rather delicate cleaning job: the front of the High Altar Tabernacle. When the Historic Churches Commission came to St Werburgh's to discuss the possible removal of the Screen, this was a feature they especially enthused over. Its Art Deco details, the wheat and grapes, with the mosaic surround, really are a delight. But, look closely at the silver bas relief, and you can quite clearly see that someone has cleaned them at some stage with some sort of silver polish, and left a white powdery residue behind in the cracks and crevices. Denise this morning investigated if warm water and a gentle clean would remove these traces, and it's made a spectacular difference. Photos coming up soon!

Been on a few later walks this week, it all depending on what time I can get unchained from the desk… (Martyr! Martyr!) The other night, there was the most glorious alignment of Venus and the Moon, the latter particularly visible at this time of the year, orange-red and low in the sky. This is a "stock photo", as they say in the best tabloids, but it gives you some idea of what to look for: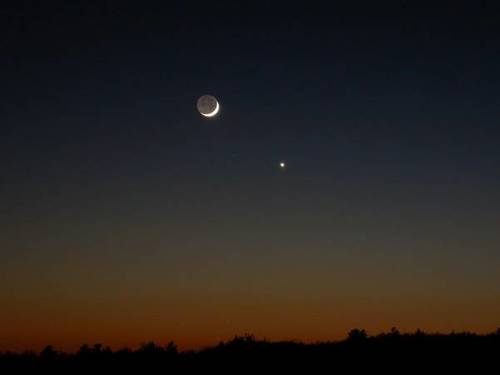 I know next to nothing about this, but, as you'd be the first to point out, when did that ever stop me? Transits of Venus. This is Venus moving across the face of the sun, occurring every 243 years, in pairs. Known about in the Ancient World, apparently they are a very precise way of gauging the size of the solar system. Scientists have long tried to measure them as closely as possible. Quiz Question: who set off on a voyage in 1768 to map the transit of Venus and discovered something very different?

Two other more earthbound sights to gladden the heart seen in Chester on recent nights: Carluccio's and Bella Italia are open again! They really did look terribly closed, and I was afraid they might be permanent victims of the lockdown. But now both open for business again, and both busy. Very popular with CathSoc, Carluccio's our usual venue for the Christmas Meal, and Bella Italia – well, difficult to keep Madame Ex-Prezzie out of. She really fancied their prawn risotto. Either that or the red-haired waiter. I was never sure which.


Buon appetito!

May God bless you all,

Fr Paul
---
Tuesday 1st September 2020
A thousand apologies, first of all, to St Boniface Bunbury for saying yesterday that they are not yet open for Public Worship. Delighted to learn that they are, and delighted to set the record straight. Apologies, Bunburies! I shall be in trouble with the Church Warden…
Desperate email this afternoon, telling me my Amazon account has been suspended! Or should that be "Anozama"?
You can no longer use Amazon.co.uk. (Ref ID - AA-R-9881291981) Amaozn.co.uk <no-reply@10amaoznservices.co.uk>
Touchingly, they tell me the security of my account is important to them. So is their spelling to me.
Lots of schools back today, more tomorrow and Thursday. I couldn't resist this picture from Charles Dickens Primary School in Southwark of the tinies being shown how to hand sanitise at the start of the day: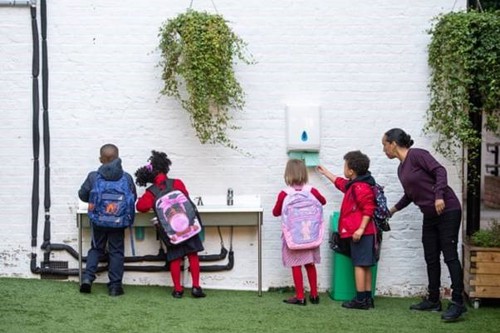 And here's a High School in Rennes, France getting down to business. You can tell it's the start of the School Year by the home-made labels on each desk telling the teacher their names!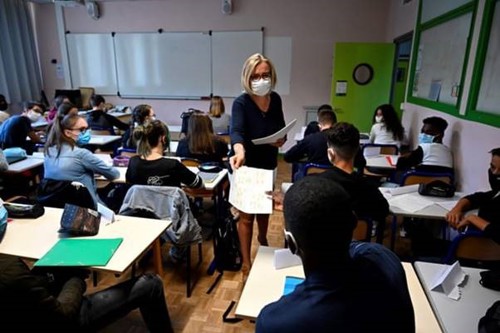 At my first school, in Bradford, we were given up to Half Term to learn everyone's name. The amazing Deputy Head there had extraordinary advice for us: at any time after that, sit down, and try to write out, from memory, the names of every pupil in your class. You'll manage 95% of them, he always said: and the ten per cent you can't remember has something very important to tell you about those particular pupils. Children who make themselves invisible.
Met my new pupil for the first time this morning, Bro Edmund, the new kid on the block at Ampleforth. Actually, that's not quite true, as he's been a "nibbler" as they call you when you make informal contact with the Monastery and stay there on a few trial visits. And then a Postulant, before taking Simple Vows (which he did a few weeks ago) and officially becoming a Novice. And prepared, they reckon, to have FP let loose on you. You feel sorry for them, don't you? Good to hear something of his life story this morning, and the journey that's brought him to the valleys of North Yorkshire.
Out shopping this afternoon, and bought the 2021 Mass Diary. I've had the notice in the Newsletter for three weeks now, telling everyone that the 2021 Diary would be open for business on 1st September, and amazingly, six of you have already sent in your lists for next year! Thanks. This is exactly the way I want the system to work, so that no-one is disappointed of Mass Intentions on their special days because that day has already been taken. Delighted to say there are no clashes in the six lists submitted. 2020 has been the oddest of years, you have to wonder what 2021 is going to be like.
This is a photo of Gaia, a seven metre sculpture at the Old Royal Naval College, Greenwich. If you've never been to Greenwich, go! And the only way to go is by River Boat from any of the stops on the way, such as Westminster Bridge. Gaia was the Greek goddess of the Earth, Mother Earth if you like, and she gives her name to a variety of modern ecological and environmental hypotheses based around the concept of the world as one vast organism or ecosystem. Like any body, it will sometimes succumb to illnesses.
Get well soon, Mother Earth!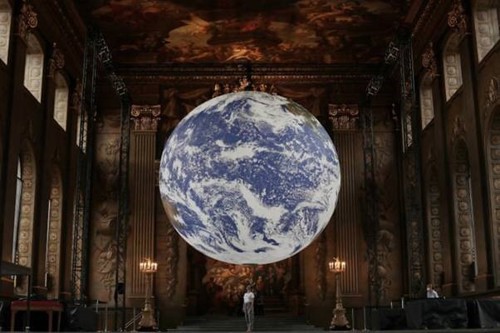 May God bless you all,
Fr Paul
---
Monday 31st August 2020
You really are amazing! Beryl from Bunbury emails straight in this morning, to say she recognises yesterday's church with the photographs instead of parishioners as her own St Boniface's Bunbury. It's a stunning church, one of the finest in Cheshire, and I'm sorry to hear that it's not open yet for Public Worship. One of my plans for when this lockdown is fully over is to do a Parish Day Out exploring three or four of the finest churches in Cheshire. We'd probbaly start here in Chester with St Mary on the Hill, next to the Castle, with its extraordinary Gamul Monument and the effigy of the small boy seated at the end: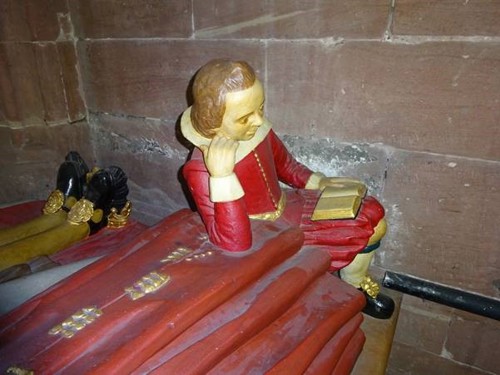 And then down to Malpas, and the wonderful Brereton Tomb Monuments: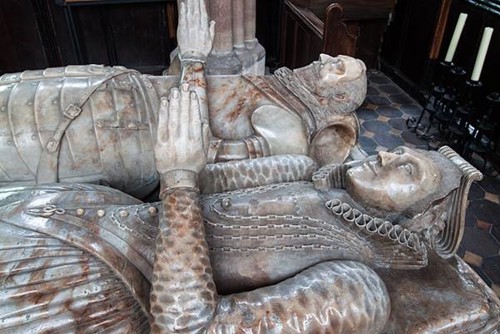 Certainly to St Boniface's Bunbury, and probably finishing at Gawsworth, near Macclesfield, home to the equally fine Fitton Tomb Monuments: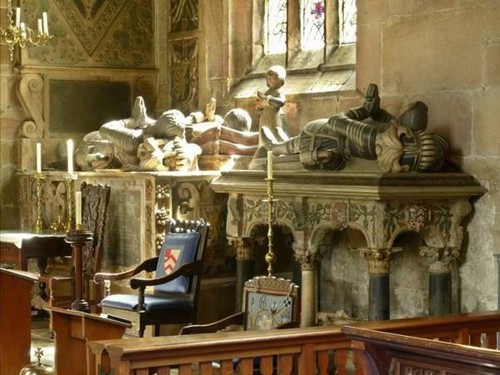 Oh, and of course – do stop shouting, please! – a long liquid lunch in the middle of the day. Why wouldn't we? Gerry and Bernice ready to do the recckying? Tough work, but someone has to do it. Anyone got any other suggestions for churches we might visit?
It does make us eager for lockdown to finish, doesn't it? But first we have to get all the children back to school, and they are very much in our thoughts and prayers this week. Odd sort of Bank Holiday today, noticeably quieter on the phone front, but plenty of folk in town, bright sunshine but cool temperatures.
Tomorrow it all starts up again, Zoom lesson with Ampleforth in the morning, new Stewards Training at tea-time, and all ready for schools reopening on Wednesday. The summer is starting to draw to a close?
May God bless you all,
Fr Paul
---
Sunday 30th August 2020
Very interesting project publicised today, headed by the Duchess of Cambridge, selecting the best one hundred photographs from the lockdown. This is one that reached the final 100, and a reminder of six long months ago when churches first closed for Public Worship. Do you remember some congregations sending in their individual photographs instead?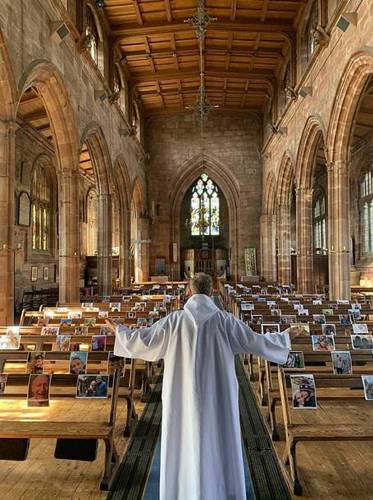 Six months later, and today was the seventh Sunday we've been open for Mass, and yet again record numbers. For us, this is such a welcome sign that you feel secure coming out on a Sunday morning, and reassured that we have made our church and the whole experience of Public Mass as safe as it possibly can be:
Sunday 19th July: 147
Sunday 26th July: 198
Sunday 2nd August: 201
Sunday 9th August: 215
Sunday 16th August: 232
Sunday 23rd August: 243
Sunday 30th August: 257
Our typical Sunday Mass attendance before lockdown was 650:
Saturday Evening (Rowton): 50
Sunday 9.00 am: 200
Sunday 10.45: 250
Sunday Evening: 150
So, we're at about 40% of our total attendance, and 65% of our Sunday Morning. Not Smug Very, but some small cause for joy as we give the Taskforce a well-earned break tomorrow morning, Bank Holiday, and one member at least with a very pressing engagement on the Golf Course…
Mind you, I think the auld eejit needs a day off. First Baptism yesterday for six months. Chairs arranged, all six feet apart, everyone present and correct according to my Track and Trace List, so let's get the show on the road. "Welcome, everyone, to Christy's Baptism! … And now we come to the first anointing…" Yes, well, it would help if you'd remembered to get the Oils out of the safe, wouldn't it? "Excuse me just one moment everybody…" And so on to the Blessing of the Baptismal Candle. Going to help if you'd remembered to bring one from the Candle Cupboard, no? "Sorry, everyone – won't be a second…" No, not my finest hour.
Beautifully sunny day today, if far from the warmest. Front Garden looking good, in the photo sent in from the Cambrian View Photo Agency: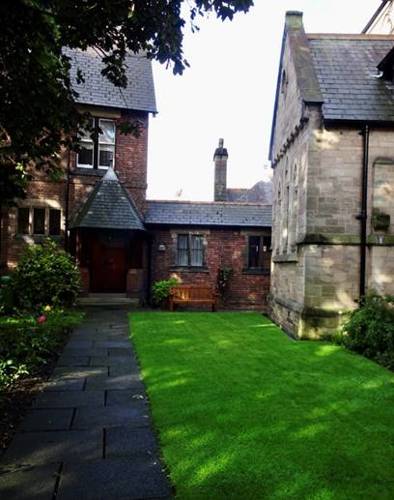 Can you just see that little raised mound in front of the bench? That Roy of the Rovers. May he rest in peace.
I leave you with sunset over the north coast of Sicily, courtesy of the Grand Duchess. Could be Chester, couldn't it? (I wonder what she'd look like under a mound in the Front Garden? Just saying).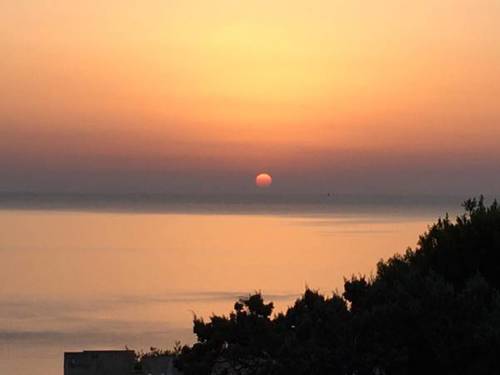 May God bless you all,
Fr Paul