Daily Updates 31st May - 6th June
Saturday 6th May 2020
In our Confirmation Classes, every other autumn, we use the image of Stepping Stones to explain the Seven Sacraments to our youngsters: they are the way we cross the River of Life, beginning with Baptism, then First Holy Communion and Confession, on as teenagers to Confirmation, then Marriage for some, Holy Orders perhaps for others, but all ending up with the Anointing of the Sick, the final stepping stone before we reach the other side. So, delighted to find this picture of the famous Stepping Stones at Bolton Abbey in the Yorkshire Dales:
Understandably, Bishop Mark has suspended the Confirmation Programme for the rest of this year: even if the Sacrament itself could take place, in September or October, the youngsters would have missed so many of their Classes, they just wouldn't be ready. Confirmation for Chester this Autumn was to have been organised by St Columba's and St Theresa's, so they'll be on for Autumn 2021, and ourselves for Autumn 2022, in one of the three Churches in our little group – St Clare's, St Francis or St Werburgh's. It'll be here before we know it!
Yesterday, we received the Bishops' Conference Statement on Preparing for Re-Opening Churches. We're not there yet, of course, but we do need to be ready for when the great day comes, and this Statement sets out some of the many points we will need to consider. Fortunately, we already have our own Re-Opening Taskforce up and running, its first meeting last Monday morning, its second this coming Monday. They've already started identifying key issues and proposing solutions, so on Monday we will see how our thinking meshes with the Bishops' Guidelines, and then move forward from there. I've put the full statement on the Home Page of the web-site – the top box, dated 6th June 2020, so you can clearly find it.
Meanwhile, here is Bishop Mark's message when sending it to us:
PREPARING FOR THE RE-OPENING OF THE CHURCHES
I am grateful to all the parish priests who have indicated that their parishes wish to be part of the first phase of the re-opening of our churches. It is good to see the readiness and generosity of volunteers and some 47 churches expressing interest in being part of this initial phase. I appreciate that local conditions - including the situation of clergy - won't allow the re-opening of all of the churches. However, I hope the experience of the first parishes will be a source of encouragement for everyone.

I note that parish priests are most often seeking to begin this phase by opening churches for a specific number of hours on weekdays and especially on Sundays. In conversation with the Vicars General, everyone seems to appreciate this is very much a pioneering stage as we emerge into changed circumstances and in some ways a changed world. The recent re-opening of schools, businesses and other facilities indicate elements of 'Covid security' that will be expected of the churches in the months ahead. I am grateful to Julie Tinsley, our Diocesan Health and Safety Officer, for her availability to assist parish priests and parishioners during this first phase and beyond.
OFFICIAL GUIDANCE FOR THE REOPENING OF THE CHURCHES
As we await the final word from the Government on the timescale for the re-opening of churches, I am pleased to be able to send you the official guidance from the Bishops of England and Wales which has been agreed by the Government Task Force and peer reviewed by Public Health England. As I warned in my last letter, the requirements for public safety are certainly demanding. However, once we have these provisions in place and demonstrate that we can act safely and responsibly we will have the basis to move towards the public celebration of Mass and the sacraments. It is important to note that we are awaiting from the Government the Risk Assessment Template which will be required to be completed before any church can be opened. However, I have been assured that the guidance document attached contains all of the points to complete this risk assessment correctly.
Our own Parish Taskforce is Syd and Denise from Parish Council, Brian Burns and John Curtis from Health & Safety, and yours truly. I'm saying we're all meeting on Monday Morning, but that depends on Syd and Denise getting back from their weekend watching the Test Match in London…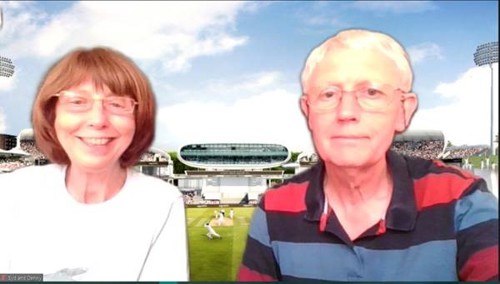 Please, nobody tell Dominic Cummings! I know it's been a long time, and I'm as susceptible to mirages as the next idiot – but does that look like a pint of bitter between them? It's been such a long time…
Now, calling all Thesps: is there a sadder sight than this one below? London's West End during lockdown? You probably all recognize Shaftesbury Avenue, in the heart of Theatreland: I was at the Gielgud Theatre about eighteen months ago for a sensational revival of Stephen Sondheim's "Company", with a gender-reversed Bobbie played by Patti LuPone. It worked perfectly. It was the Old Nuisance's favourite musical: we saw it together when it first came to London from Broadway in 1972, and her comment at the time was "That's too clever to be commercial". She was right at the time, but seeing it again fifty years later, it wears better than ever. Elaine Stritch's "Here's to the Ladies Who Lunch" stole the show, sitting at a table on the stage on her own, facing the audience, getting steadily more drunk as the song progresses. Please don't try this at home.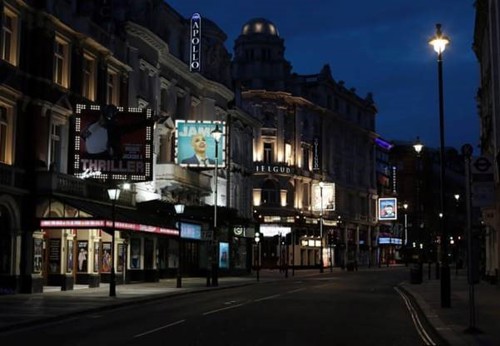 Another photo that caught my eye was this one from Valle de Chalco, Mexico, a musician preparing to cycle home. It isn't you, is it, Redcliffe? I joke about cycling, cello on board, around the streets of Cambridge but this is beyond a joke…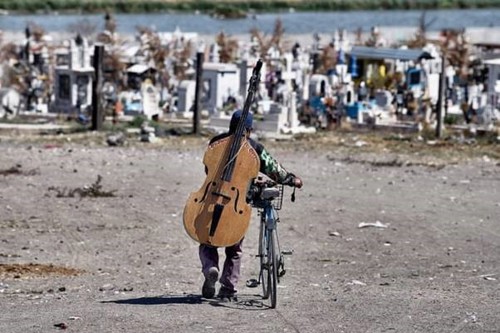 And a very poignant one to finish with of a small child on the border between Syria and Turkey. What must he be thinking? When this horrible virus is under control and lockdown finishes, we've still got a lot of problems in our world to face, haven't we?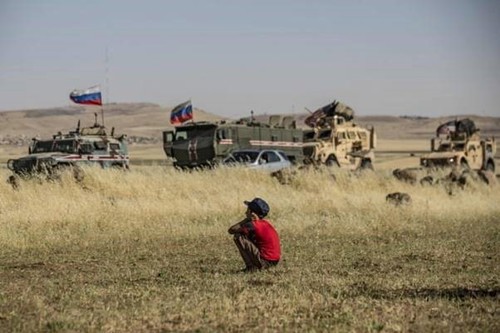 May God bless you all,
Fr Paul
---
Friday 5th June 2020
Here's a nice cheery picture of Japanese children getting back to school this week: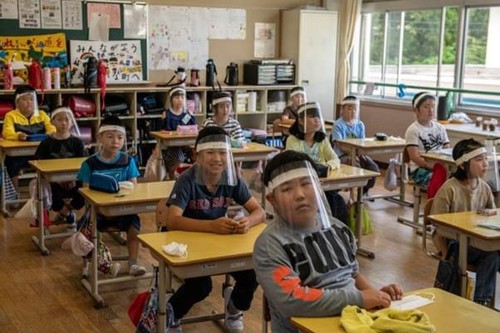 Our own Primary Schools start to reopen after the Weekend, and I'm sure it will be a nervous time for everyone, pupils, teachers and parents. It's a strange mood at the moment, wanting normal life to return, but apprehensive about going too quickly and risking second surges. The aim in our schools, as you know, is to get Years 1 and 6 back first in the Primaries, and the exam years, 10 and 12, back in the High Schools. The aim, wherever possible, is to keep them in "bubbles"; but far from easy in Year 12, as my Deputy Head yesterday told me, as they all do different combinations of A Level Subjects. Good luck, schools!
Spain has started re-opening Churches and held a big Memorial Mass yesterday in Seville for all their Coronavirus victims. It was strictly invitation only, for the families of those who'd lost members in the current pandemic. 500 attended, all in face masks, and a ninety-strong choir and orchestra performed Mozart's Requiem to accompany the Mass, the Principal Celebrant being the Archbishop of Seville.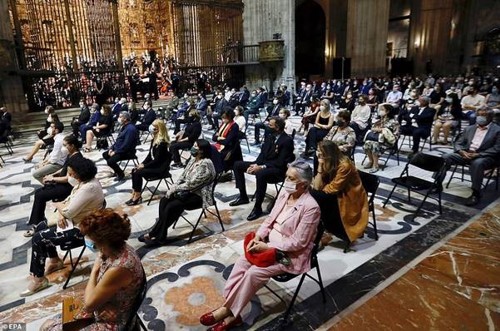 You'll notice how plastic chairs have replaced the benches, and how they are all six feet apart. The Cathedral can seat 4,000, apparently, but not on this occasion: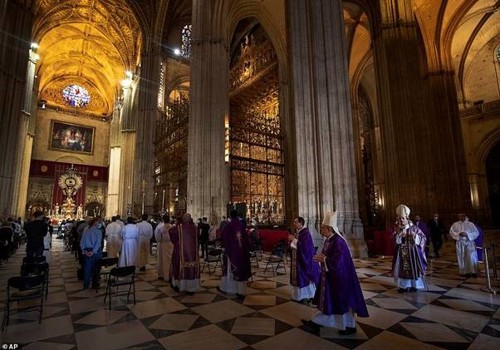 It looks to have been a very beautiful and solemn occasion, and, please God, one that will be seen in our own churches and chapels and cathedrals in the not too distant future. Just as soon as it's safe to do so.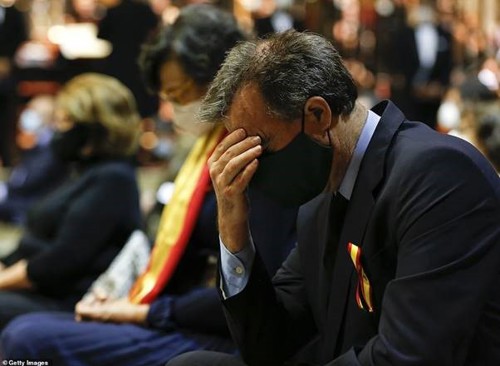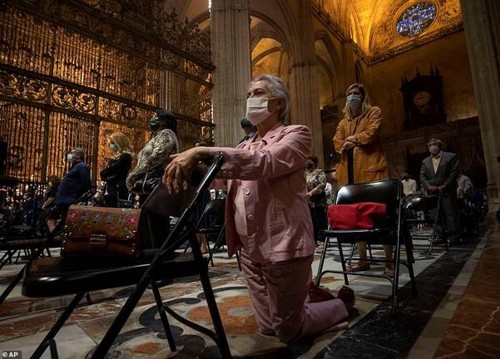 Very different in size and scale, but equally beautiful, was our own Funeral for Gladwen Nicholson at lunchtime today down at Blacon. Only a dozen of the very many folk there were able to come into the Chapel, but they could all join us, safe spaced, at the Graveside afterwards. Gladwen had been a patient in Chester Lodge Nursing Home for fifteen years, and Bill, her devoted husband, visited her almost every day, from 10.00 to 6.00 pm. He called Chester Lodge his "second family", and so indeed they were. Gladwen was born in 1936 in Seller Street, one of those little streets near the Mill Hotel, and she and Bill met on Bonfire Night 1951. She was 15 and he was 17, and they've been together ever since, marrying in St Francis and going on to have five children, sixteen grandchildren and twelve great-grandchildren. What a family! Bill was a frequent wizziter here in the Werbies, though always reminding me he was only "on loan" from St Theresa's. And it was at St Theresa's that Gladwen was received into the Church by Fr Joe Carney after her marriage. May she rest in the Peace and Light of the Risen Lord Jesus.
And may God bless you all,
Fr Paul
---
Thursday 4th June 2020

Forgot to mention that last Sunday evening saw Gerry and myself standing outside St Werburgh's to wish Richard well on his 10k run for CAFOD. We weren't sure of the exact time and had a very pleasant half-hour in the warm twilight sunshine. We'd just decided we'd missed him, and had gone back inside, when he came speeding along Union Street on his way back up to St Columba's. Thanks for doing this run, Richard, and helping one charity that is dear to all our hearts, at a time when donations to Charities, as with everything else, have fallen off a cliff. Which, as Richard reminds us, doesn't mean that the starving of the Third World have conveniently gone away. If only. Their need is as pressing as ever, and Richard has done something amazing to help them. Not too late if any of you want to send in a donation for him to pass on to CAFOD.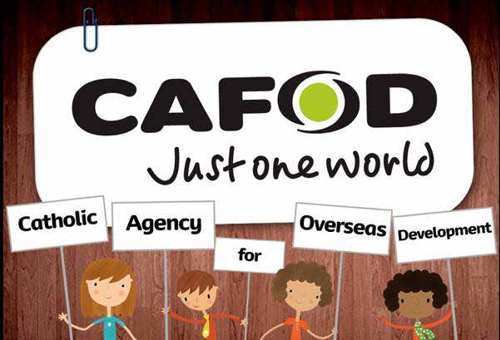 Renewing passports is simplicity itself these days – they do the whole thing for you at the Post Office in the basement now of W.H. Smith's. All you need is your old one and a mobile telephone number. I took new photos with me, courtesy of Cambrian Cameras, but they actually do the photo too in a booth that connects straight to the Passport Office. Which means you never see the finished result. No bad thing in my case. But one little detail I forgot: if you are a Rev of any denomination, you need to be in your full clericals. OK, fair enoughsky. But could I just have a copy for my own records? Of course, you can, said the nice lady.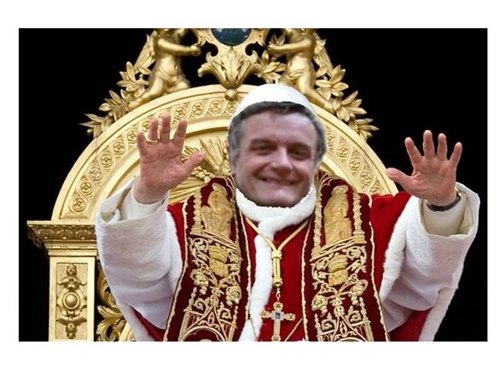 I bet Italian Border Control don't see many Passport Photos like that, do they?

Steve, our amazing SVP Prezzie – as opposed to Chlo-Jo, our amazing CathSoc ex-Madame Prezzie – has fixed me up with Zoom, and today was the first try-out, talking to the Deputy Head at one of our High Schools who has his Oxbridge Candidates now lined up for next term. (Oh, that others were as efficient!) It's true, every word they say about Zoom – the background is so much more fascinating than the foreground. He was talking from his study at home. "Hello! Is that a book on Stanislavski on the shelf behind you?" Sure was, the legendary Russian theatre director and founder of "method acting".


Cue fascinating ten-minute discussion of the Moscow Art Theatre before we thought we'd better get back to his Dreaming Spires wannabes. And he's a flaming mathematician! What you learn from these Zoom backgrounds!

John Roberts' Funeral today, the gentleman of 56 who'd suffered the massive stroke, and whose lovely wife called me into the Hospital in the early hours of the morning to give a blessing a fortnight ago. "Does it matter, Father, that he isn't a Catholic?" Do you remember? Only 56, but he'd lived about three lives already, with his professional life, his sport and above all his family. Both his sons gave me their tributes to incorporate in the Eulogy: "He was just the most amazing role model for both of us growing up and still is today". Is there a finer tribute any son can give to any father? John and Nikki were married here in the Werbies in 1990. May he rest in peace, Lord, and please look after his wonderful family.

Peter and Maureen celebrating their 58th Wedding Anniversary about now, super Werbies both. 58 years and never a cross word – I'm proud of both of you! And 27th Birthday Wishes to Dr Sam down in London. Can you remember being 27? No, nor me. Here he is a little while ago…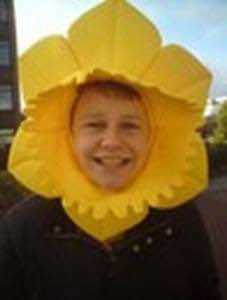 He'll kill me for that.

May God bless you all,

Fr Paul
---
Wednesday 3rd June 2020
Good to be round the Wards at the Countess once again today, some patients still there from last Wednesday but a lot of new faces. Lovely to see James again, our ex-Catholic High student, just finishing his third year of Medicine at Leeds and using his time away from Leeds so helpfully by being a Health Care Assistant on one of "my" Wards. See how proprietorial I've become after only two weeks!

Popped into Holland and Barrett afterwards, one of my favourite High Street Stores, a total addict of their large jumbo size bags of Mixed Broken Nuts, one of those combined with a jumbo sized bag of Raisins and you have an indispensable accompaniment to the evening's Gin and tonic. You don't really want to know this, I'm sure – but I do like to be a caring and sharing Parish Priest. Right down to the minutiae (as they say in German) of my miserable little life. Do you ever feel this Blog is turning into Mrs Dale's Diary?

Anyway, who should I see in Holland and Barrett but the mother of one of our High School Year 12 pupils, going into the Upper Sixth next September (in old money) and hoping to study Medicine at University. Fantastic news! I look forward to working with them, starting before we break up, however remotely. Another James in the pipeline, another Dr Sam? It's one of the hardest jobs to do, but is there a finer? Their sacrifices are for our benefit, and I never forget that.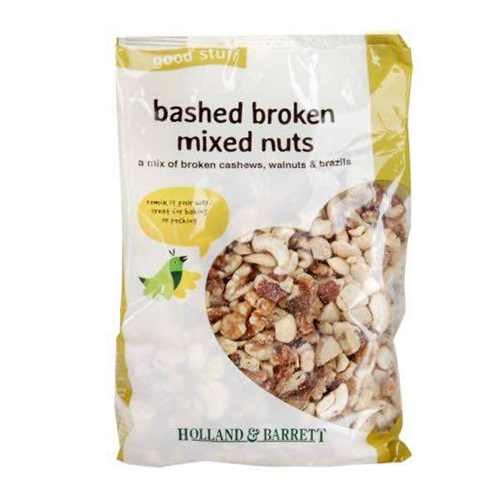 That should be worth a 10% reduction next time, surely?

Remarkable moment on one of the Acute Wards this morning. Very intense one-to-one nursing up there, as you can imagine. I was having an excellent chat with one of our Werbies when the Consultant appeared on Ward Round, trailing the Registrar, Senior House Officer, Ward Sister, Staff nurse, as they do. He saw me, and said, "Oh, excuse me, I will come back". Fortunately, I'd had enough training in the old days to know that the medical demands of any Ward always trump the spiritual: the Chaplain always gives way to the Doctors and Nurses. Their work comes first. Every time. So, I made myself scarce and sat on a chair at the end of the ward. But I could hear what was going on, not intentionally, and again just so impressed at how the Consultant was handling everything, talking both to the Patient and to his Team, using this as a teaching situation for his juniors. When he'd finished, he thanked me most graciously for giving way. I felt like saying that there was no question of my giving way. I know what an eminent man this Consultant is, and never having met him before, only knowing him by reputation. I now know what a courteous man he is too. Let's keep all these doctors and nurses in our prayers at this time. Here's a reminder of a Ward Round from yesteryear from the wonderful Wellcome Medical Library. (Ever been to their Museum just opposite Euston Station? If not, do go next time you have an hour to spare):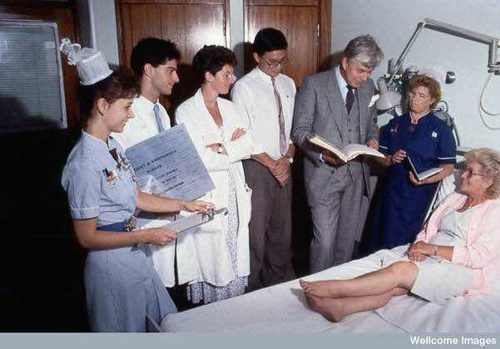 The "other" side of the Hospital, the non-Covid-19, is definitely coming back to life now, and Rev John, the Lead Chaplain, confirmed this when I popped into the Chaplaincy Office to get my list of Catholic Patients at 10.00 am. As we've said so many times, let's hope it's not too much longer before our great team of Hospital Volunteers is able to be back in action, and taking over, once again, the systematic visiting of every Ward in the Hospital.

Now: renew my Passport or not? It runs out in September, and virus or no virus, it needs renewing. I suppose I'm investing it with some sort of iconic status, the pressing question of whether I'm going to be using it or not this summer. Everything is booked: Ryanair from Manchester to Bologna, out on Monday 17th August, back on Friday 4th September, real cheapo, so not the end of the world if I lose it. Then what looks like a beautiful little Airbnb apartment in the middle of Bologna, billed as "Quiet Studio in the Old Town". Yes, please! I have till 8th August to confirm or cancel, so that money – again, a real bargain – isn't a big issue.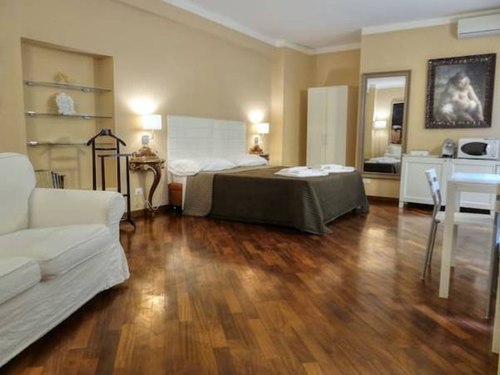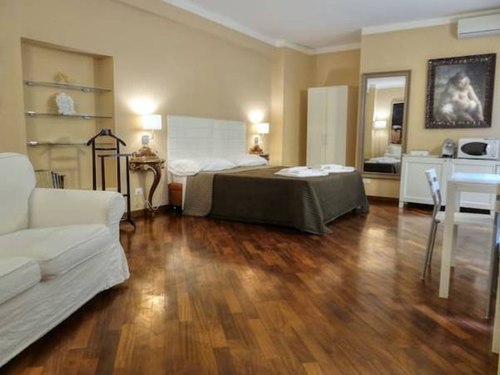 Want to join me out on that little balcony for a bowl of pasta and a glass of red wine? Here's the Sistine Chapel as you've never seen it before and will probably never see again – first day of reopening on Monday and a handful of visitors as opposed to the usual jam-packed crowds.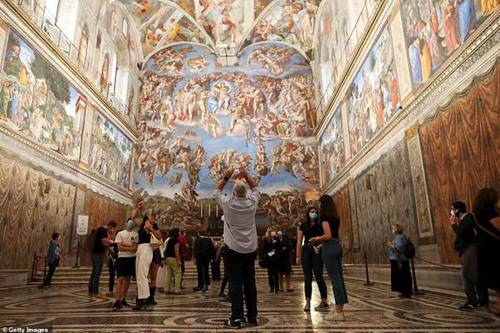 And that trick of perspective as you go into the Vatican Museum, Bramante's Staircase. Nothing unusual about that, you think at first, as you climb up its spiral to reach the upper levels, and then down again at the end of your visit. Hang on – we didn't meet anyone going in the opposite direction! No, you didn't: because it's TWO staircases built one inside the other, one spiralling up and one spiralling down. Clever or what?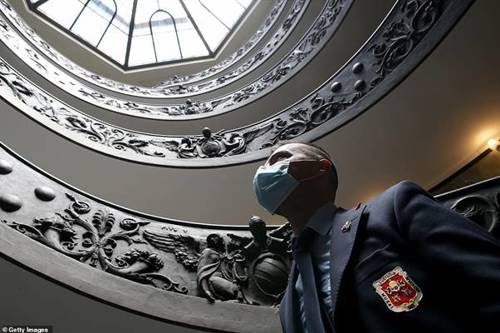 Good to get the first draft of the Diocesan Guidelines on Re-Opening Churches last night and send it round to all our Parish Council and Health & Safety Group to compare with our own first pass at a set of guidelines at the weekend. Gratifying to see how much we were on the same page as the Diocese. Brian Burns was in this morning, measuring up, spacing chairs, thinking about routes in and out. Thanks, Brian! Everyone is sending in their reactions to the Diocesan Guidelines vis-à-vis (as they say in…) our own, with a view to next Monday Morning's meeting. Still no date for re-opening, of course, and no indication of when it will definitely be. My own hunch is that it's a few weeks off. But the key thing is to be ready for when that great day comes, and I can't thank our little Five Man Task Force (four parishioners who know what they're doing and myself) for all this excellent planning work in advance of that great day.

May God bless you all,

Fr Paul
---
Tuesday 2nd June 2020
Settled down to my Office yesterday morning in the Day Chapel, as all good priesty-persons do, meditation first, then Breviary, now, where are we, what comes after Pentecost Sunday? … What comes after is a completely new volume of the Breviary, upstairs in my bedroom. Grrr! Take the old one up, bring the new one down. That's better. After Lent and Eastertide, we're back to Ordinary Time. But flipping heck, what week of Ordinary Time? Back to the Sacristy to consult the good old Diocesan Ordo and find out we've resumed Ordinary Time at Week Nine. Thank heaven, a bit of time to chat to Jesus now. You must be joking: what week of the Four Week Psalter are we on? Back to the Ordo in the Sacristy and find out it's Week One. Sorry, Jesus! All right for Fr Neill – he just rings a bell and Marlene finds the right page for him…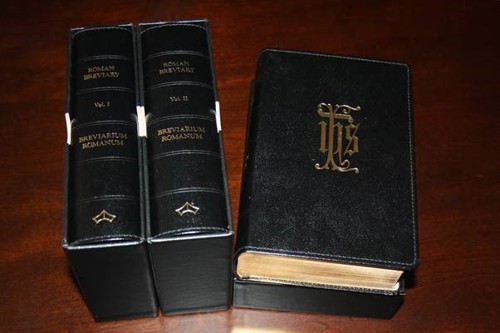 The Divine Office of the Church comes in these three very large volumes, each one the weight and dimensions of a brick. Volume One is Advent, Christmastide and Weeks 1-9 of Ordinary Time; Volume Two is Lent and Eastertide; and Volume Three, Ordinary Time Weeks 8-34. All of this you can find on-line, of course, at the click of a mouse, on that amazing app Universalis, which not only takes you straight through to the Breviary but to the right page. It does all the work for you! It is an online Marlene! I'm always threatening to get one of those tablets or iPads or whatever they call them, because of the problems of taking the relevant volume on holiday to Italy with me. They weigh a ton. I strictly have to ration how many books I can take, because of the Ryanair weight limit, and the unit of measurement now is a "Dickens". Volume Two of the Breviary would be three Dickens's, for example. I used to measure them in Trollope's, but my reference one year to going on holiday with two fat Trollope's gave rise to all sorts of misunderstanding…
The doolaly-ness didn't stop there, as I carefully extinguish the Paschal Candle as well as the two Altar Candles. Hang on a doggone moment – should you have lit the Paschal Candle in the first place now that Eastertide has finished? Er, no. Wondering who was going to be the first to spot that… Good thing there was no-one in church to see me. In Ordinary Time, which lasts from now till the start of Advent in late November (eek!!), the Paschal Candle is only lit for Funerals and Baptisms.
Yesterday was quite the end of one chapter and beginning of another, not just liturgically. IKEA opened its doors and this was the scene in the car park at Warrington branch at opening time!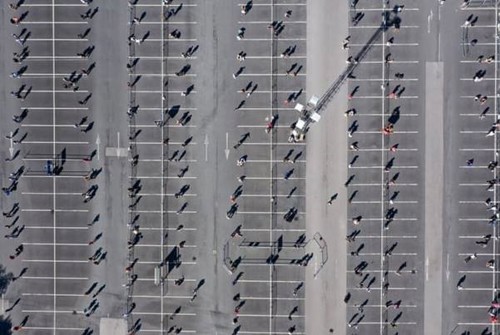 I'm not sure I'd have liked to have been in that particular queue, but I'm certainly never going to knock IKEA, using their phenomenal Billy Bookcases in common with 8.8 billion of the world's 6.2 billion people. [Shome mishtake shurely? Ed] Another sporting first yesterday was the beginning of pigeon racing after the lockdown. What do you think they are all saying to each other as they quite literally reach for the skies?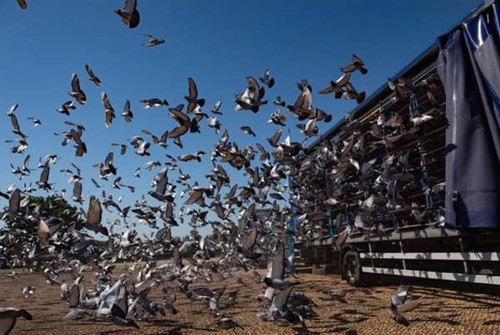 And talking of reaching for the skies – another genius link! – back to my beloved Italy and the Air Force in action again to mark Republic Day. Here they are over one of the main squares of Rome: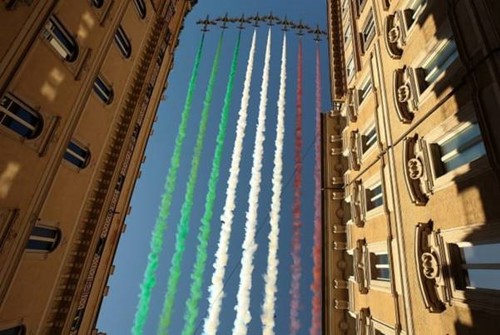 And yesterday, they opened the Vatican Musuems for the first time since lockdown began. Don't you love those bunches of keys?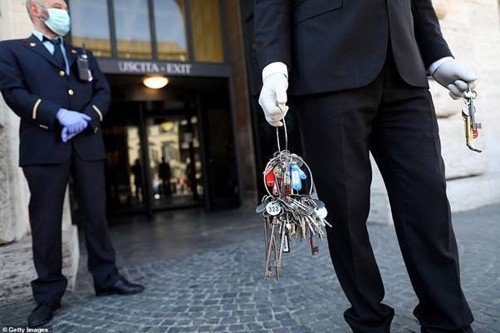 May God bless you all,
Fr Paul
---
Monday 1st June 2020
Excellent first meeting of the Re-Opening Task Force this morning – Syd and Denise Jones from PC, Brian Burns and John Curtis from H&S, and moi-mꭥ (as they in German = 3.8 minutes, R󮡮, getting quicker!!). We were out in the garden, six feet apart, and it was only a question of "sun or shade"? Three chose shade – wimps – and Brian and I pretended it was Italy. Actually, so hot it wasn't that hard.
We all agreed, quite unanimously, that the starting point was the safety of our parishioners, and that nothing should be done that would jeopardize this in any way. Health comes first. And, with a highly contagious disease, it's not just "my" safety I need to think about, but the safety of everyone with whom I may come into contact. As Brian put it, from his industrial experience, H&S is often a matter of having to say, politely but firmly, "No!"
Seven questions to look at beginning with instructions received from Government and Diocese. Nothing so far, but we hoped it wouldn't be long in coming. There was total agreement that the timing is a matter for Government and Diocese, and no possibility or remotest desire of our going it alone. We await orders!
"Opening for Private Prayer" will almost certainly precede "Opening for Public Mass" by a long gap in time. So, how do we practically manage it? Again, total agreement that we should start cautiously, very tight restrictions, and then relax if and when appropriate, rather than trying to go the other way, relaxed and then attempting to tighten up. Stewarding is going to be pivotal, at least three needed on duty at any one time, one to supervise entrance, one to look after those in church, and one to disinfect chairs between visits. Stewards have to be under 70, have time available, and not be involved in looking after children – and that's not a big pool to draw from, is it? Toilets will have to be closed, as they are in Supermarkets for example, and candles withdrawn. Time in church will need to be limited - 15 minutes? – and chairs safe spaced, six feet apart, side to side and front to back. Initially two slots a week? – two hours at the weekend, two hours one weekday evening, and just see how it goes? We're just thinking aloud here to get the feel of the challenge.
What about those who have been advised to shield? Some indication today that they are now free to go out if they wish. Does that include going to church if they were re-opened? Are there parishioners we should advise not to come? Any we need to tell not to come?
My initial thought was to place chairs at the front of church, and rope off the benches – but the Group came up with a much better suggestion, roping off the bottom third of the church as you go in, the areas where there are red chairs at present as opposed to benches. These red chairs – and the ones we were given by the Cathedral – should be removed, and the red plastic chairs we presently have in the Dining Room put in their place. Upholstered chairs and wooden benches are so much more difficult to disinfect after every use than good quality plastic chairs, which can be wiped down relatively easily, and, with alcohol cleanser, dry quickly. The thought was to have them in two halves, perhaps six or nine in each half, one half being used while the other half is disinfected. One door into church will be for entrance, one for exit, and there will be a "one way only" route through church, to the seats, and out again, all supervised by a steward.
In terms of protective clothing for stewards and parishioners, we hope to be advised by the forthcoming Diocesan Guidelines. But, to avoid a sudden rush when churches are eventually re-opened, we thought it prudent to buy in some stocks of Hand Gel, Masks and Gloves. We don't want a repetition of what happened in the supermarkets when the lockdown first began, shelves stripped bare within a day or two and quite irrational stockpiling of food and household items, many of which were never used. Remember the toilet-rolls?
In terms of Bishop Mark's request for parishes to participate in a pilot project, we felt we should reply by saying we were minded to join in, but needed to see the Diocesan Guidelines before we could definitely commit ourselves. Tell us what you want, Diocese, and we'll tell you if we can help!!
Then we went into Church and started looking at how we could practically zone off one area, and were pleasantly surprised how easy it would be, using the Team's "back third of the church" option. I wish I'd thought of it first!
We are going to meet, out in the garden, every Monday at 10.30 am, from now on, and keep planning and talking – and, where necessary buying – until that wonderful day comes when we are given the green light to swing open our church doors once again!
Primary Schools back today for Years 1 and 6 in some parts of the country – Cheshire is waiting another week. I'm sure it's the right approach to let those come back who want to – both children and parents – and not to put any pressure on those who are not comfortable in coming back. Let's see how it works out, taking absolutely every precaution to make sure no child or teacher is put at risk. I loved this photo from Norfolk this morning: let's keep all these beautiful kiddies and their parents in our prayers. A big step for all of them. (Don't you hate it when the parents look so flipping young?)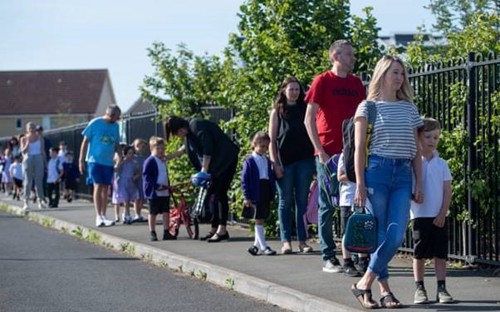 But I was concerned – no, alarmed would be more accurate - to read this second paragraph in an Obituary today in the Chester Chronicle for Adèle Edwards, who did so much for the protection and welfare of the Meadows, gifted to the City over a hundred years ago by the Brown Family of the Department Store (before it became Debenham's):
Adèle commitment to the Meadows was unquestionable whether through conservation work or fund-raising. And she was proud to have received two Queen Mother's Birthday Awards for her contribution to Environmental Improvement.
Many of her adventures were reported in the local press. One such occasion was when she and a fellow member, Richard Lydon, an experienced cow hand, rescued a man driven into the River Dee by aggressive cattle. Another episode that impressed her grandchildren was when she helped Hollyoaks to film on the Meadows and a cast member even used her shower.
Richard, is this true? And does Helen know? Your poor children? A cow hand, eh? You'd never guess it from the way he sings in the Music Group.
And talking of music – don't you think these links are brilliant? [No. Ed] – our excellent friend Kate from St Clare's has sent me this link to a video made by Fr Pat Browne at Pimlico, Samanta's bestie:
I thought you might be interested in this video which has been made by Fr. Pat Browne at Holy Apostles, Pimlico, together with the seminarian, Patrick, who is there during the lockdown, having been sent home from Rome just before the lockdown started. Before he went to Rome, he was obviously involved in the world of Christian art and, together, they have made this video for Pentecost. The link is: https://christian.art/videos.php I found it beautiful. and stirring. From the visual point of view, I was enthralled by the last part, showing the creation of a picture based on a very famous painting. It reminded me of the way we used the same technique as youngsters to create patterns with indian ink on water. I hope you enjoy it.
Truly beautiful, Kate! I really did enjoy it. Thanks for sending it over. And I hope you're still saving me that first dance for St Clare's Diamond Jubilee on 8th December?
Equally inspirational are these three Irish Priests dancing with all their full Vestments on. You can't keep a good man down! Thanks, Bill and Maggie, for sending it in!
https://www.rte.ie/news/ulster/2020/0526/1142688-dancing-priests/
And finally, an extraordinary shot from someone's CCTV in their porch in Idaho. It's so fashionable nowadays to record delivery men and women behaving badly, throwing parcels over hedges, into waste bins and so forth. This young girl has just delivered a parcel of essential medical supplies to the home of a sick baby. If I played the whole video, which you can find on-line, you would see her bow her head for a few moments and then – immediately after this shot – make the Sign of the Cross! God bless you, whoever you are!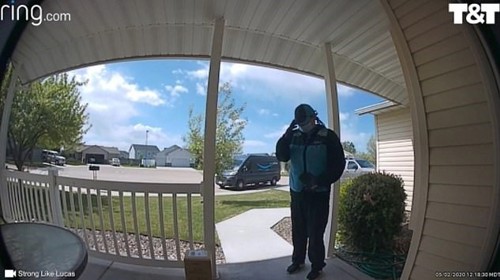 And may God bless you all,
Fr Paul
---
Sunday, 31st May 2020: Pentecost
Happy 1st Anniversary to Fr Neill! 31st May 2019 was that memorable evening in St Werburgh's when he was ordained to the Priesthood by Bishop Mark in our beautiful church. Although we haven't had any Ordinations in recent years, the researches of John and Ann Marie showed how many there had been in the more distant past. Later on, in June, we will be celebrating Fr Neill's Golden Jubilee of Priestly Ministry, begun in the Baptist Church in Scotland fifty years ago, a ministry that was carried forward into his Ordination as a Catholic Priest this time last year. As Cardinal Basil Hume put it, when he ordained the first group of former Anglican Clergymen, their becoming Catholic Priests was a fulfilment, not a negation of their former Ministry. Amen to that. It's been so good having Fr Neill with us over the past year, and so unfortunate that, like so many millions, he's "confined to barracks" by this wretched Coronavirus. But it was a memorable evening, 31st May last year, the Choir performing splendidly with a lot of new music, the Altar Servers as wonderful as ever, and Bishop Mark gracing our church as always. A night I shall never forget for all sorts of reasons.
The hour outside church this morning looked in danger of turning rowdy, so many there, so much high spirits. I saw at least two Police cars drive past and give us a rather suspicious look. But we were all safely six feet apart, and I don't think they would have needed to use tasers and pepper spray to disperse us. Our nice lady from Hoole URC came and said hello once again, and, as she left, complimented us on our fine Christian Witness, outside our Church on a Sunday Morning, bearing testimony to our religious observance. I thought we were just having a jolly good gossip.
Geoff and Jill – mainly Jill – have taken another wonderful couple of pictures of our church, this time "the back", if that means anything, which it doesn't. In other words, from behind the High Altar, in Bath Street. Immediately in front of you is the Day Chapel, that we have reason to believe was built on after the construction of the main church in 1875. As I said a couple of weeks ago, the roof of the Day Chapel preserves the original 1875 Westmoreland Green slates, found to be far too expensive to use when the church was re-roofed, some time, we believe, in the 1940's. Then they used Lakeland Grey. Still very attractive, but you can see why the Green have the edge, can't you?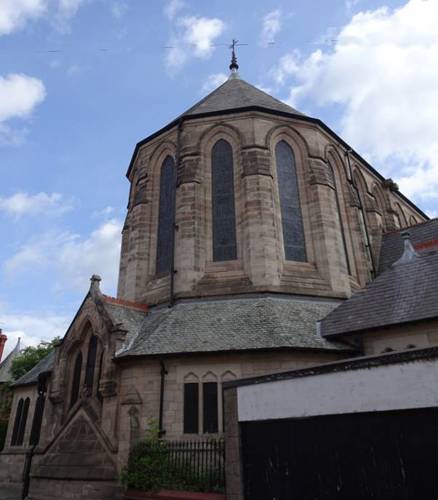 The second one shows the contrast very clearly, the green to the left, the grey to the right, over the Garage, which was built in the 1960's when the roads were realigned: Foregate Street became pedestrianised and Grosvenor Park Road the main thoroughfare. The Council needed to take a corner off our garden to make a wider entrance into Bath Street, and in return built the garage. Not a thing of beauty, but which of us is these days??
Tomorrow morning our Church Re-Opening Task Force meets for the first time, out in the garden, all nicely six feet apart. I may have given the wrong impression in recent Blogs that we ourselves will decide when we re-open. Absolutely not. That decision will be taken by the Government, hopefully in consultation with our Bishops. We can't possibly make that decision for ourselves. It won't be any time soon. 4th July has been suggested by the Government as a possible date, which is five weeks away. But Bishop Mark's request to all Parishes is that they start preparing for that happy day, planning for it. We've set ourselves six questions to start looking at tomorrow:
What instructions have we been given by Government and/or Diocese?
What do we need to purchase now, in the light of those instructions, and what purchases can wait?
Who do we need to recruit to act as Stewards, and how do we recruit them?
How do we train them?
What parts of our church will be open and what parts coned off?
What signage do we need to help everyone understand how this re-opening works?
And now the Bishop has given us a seventh question: would we like to be part of the "First Phase Re-Opening", a Pilot Parish that can feed back its experiences to help the rest of the Diocese? Pro's and con's here, as have emerged from replies from Parish Council and Health & Safety Group. Should be an interesting hour tomorrow morning, 10.30, out in the Garden! No snogging, please.
Finally, a picture to lift our spirits – well, mine anyway: the Italian Air Force equivalent of the Red Arrows, flying over Milan Cathedral in the national colours of Red, White and Green. Am I going to get there this summer? "Chi lo sa?" As they say in German.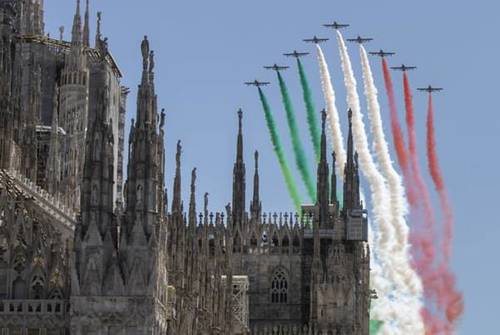 May God bless you all,
Fr Paul