Daily updates 5th - 11th April 2020
Saturday 11th April 2020

What a perfect evening for an Easter Vigil! Last year was the latest Easter it's possible to have, and this year is one week earlier, so still a beautiful mid-April evening. The trees outside the office window are all in bud, it's been a hot afternoon, and just enough heat would be left for lighting the fire at 8.00 pm, the folk gathering, the altar servers, the new Paschal Candle and Incense Studs on the table by the fire, all ready for that transcendent moment that the Candle is lit, 8.30 pm. Then each of us lights our individual tapers from it, and we process into church. "The Light of Christ has come into the world" or another stirring Easter processional hymn to accompany us. Into the darkness of the church for the Exsultet, the Hymn of Praise for He is Risen, and we sit for the Easter Readings. These tell the story of our Salvation History, from Creation to Judgment, from Abraham to the Patriarchs, the Exile in Egypt to the Forty Years in the Wilderness. The Return to the Promised Land is followed by the second Exile, this time to Babylon, the second return, and the Promise of the Messiah, who would bring a new Covenant that would be "once for all", the Covenant of His Blood. And so to the Epistle to the Romans:

If in union with Christ we have imitated his death, we shall also imitate him in his resurrection. We must realise that our former selves have been crucified with him to destroy this sinful body and to free us from the slavery of sin…. We believe that having died with Christ we shall return to life with him… Death has no power over him any more.

Powerful words, but with such an added resonance this year?

There were hopes at one stage that Easter might see the peak of this virus in our country, but that looks a forlorn hope tonight, with numbers of deaths continuing each day to nudge the thousand mark. Disappointing to read of arguments about supplies of ventilators and PPE. It sent me back for half an hour this afternoon to Lloyd George and the First World War. In Asquith's coalition government, he was Minister of Munitions, and could soon see that the traditional partnership of Government-Civil Service-Industry was quite unfit for purpose. He brought industrialists into the heart of government, gave them unprecedented powers, and told them to get on with it. Let me say straightaway, he's not one of my political heroes; but his conduct of the supply side of the war was a major factor in winning it. It seems frustrating today that manufacturers and industrialists are telling us they're willing and able to make as much PPE and as many ventilators as the Government wants, but just need a lead from someone.

One ceremony we all missed on Thursday was the Maundy Money. Amazingly, after 67 years on the throne, the Queen has visited every Cathedral in the country. So, for the last year or so, she's been "home based" at St George's Windsor. The Maundy Money will be sent by post to those who would have received it in person had these been normal times, and, once again, I was struck by the message from the Queen that accompanies it this year, reminding us of Christ's self-giving which is at the heart of Maundy Thursday. Her message tonight for Easter Saturday, strikes the same note:

As darkness falls on the Saturday before Easter Day, many Christians would normally light candles together. In church, one light would pass to another, spreading slowly and then more rapidly as more candles are lit. It's a way of showing how the good news of Christ's resurrection has been passed on from the first Easter by every generation until now.
Thank you all for your wonderful ideas and suggestions as to how we can continue to be a community here in St Werburgh's despite the lockdown. Choir have been very taken with Dame Vera Lynn – well, she brings back such memories for them all – and the idea that we should have a Community Sing tomorrow night. What a good idea! Did you see the Italians all singing in harmony from their balconies? So, here's my suggestion. Let's divide the Parish into four groups:

1. City Centre and Newtown
2. Boughton and Vicar's Cross
3. Waverton, Rowton and Christleton
4. Huntington

Now, you all know what a Round is, where we all sing the same tune, but come in one line later than the previous group. Frere Jacques? Yes?

So, to the tune of Frere Jacques, I want us all on our doorsteps at 7.05 tomorrow evening, Sunday, and off we go! You know the tune, so here are the words, with City Centre and Newtown to lead us off:

1. Clink, clink, clink, clink. Clink, clink, clink, clink.
2. Glug, glug, glug. Glug, glug, glug.
3. Fizzy, fizzy, fizz, fizz. Fizzy, fizz, fizz, fizz.
4. Cor, that's good! Cor, that's good!

And then back to the beginning again, carrying on till the whole of Chester is joining in.

What do you think?

You don't like the idea, do you? I can tell it by the looks on your faces.

I give up! Mr Churchill never had these problems.

God bless you all,

Fr Paul
---
Friday, 10th April 2020: Good Friday

A Good Friday like no other for all of us, I'm sure. And yet… We've always been a Parish proud of its Military Links, host to whichever Regiment is occupying the Dale Barracks here in Chester, and a Parish that embraced the challenge recently of reconstructing our Great War Memorial with extraordinary enthusiasm and commitment. What were Good Fridays like for our parishioners caught up in both World Wars, fighting at the front, bombed out of house and home, evacuated to far off places in the country? Yes, St Werburgh's Church would always have been open, but in those war years, everyone must have been so conscious of friends and family not with them in person, some never to return. We will meet again.

No children's Stations of the Cross this morning, always a key part of Holy Week, seeing the Passion and Death of Our Lord through the eyes of our younger parishioners. And then Celebrating the Liturgy of the Passion this afternoon in an empty church. Except that it's never empty, as we've said so many times in these last few months. If the red Sanctuary Lamp means anything, it means that the Lord is with us, here in this building, in the very special way of the Blessed Sacrament. Special thanks to those who helped to construct the new, permanent Sanctuary Lamp on the right of the Altar. This is something we've long wanted to do, and something you made possible by your generosity to the Diocesan Appeal. It was one of our twenty or so "Minor Works" that have enhanced our beautiful church in the last two years.

3.00 o'clock this afternoon, and the Liturgy begins with the prostration of the Priest before the Altar. For Fr Neill, myself and all Priests this is an unforgettable reminder of the start of our Ordination, however recently or long ago that may have been. Then the beautiful readings, the Passion According to St John today, followed by the Universal Prayers of the Church, the Solemn Intercessions. None of us could have failed to be struck by the tenth and final one, For Those in Special Need:

Let us pray, dearly beloved,
To God the Father almighty,
That he may cleanse the world of all errors,
Banish disease, drive out hunger,
Unlock prisons, loosen fetters,
Granting to travellers safety, to pilgrims return,
health to the sick, and salvation to the dying.

Banish disease. On a day that has seen the highest total of deaths so far, Amen to that.

In place of the Veneration of the Cross, I just sat for a good while back in the body of the church, looking at our wonderful Hanging Cross, placed there in 1933. The year Hitler came to power in Germany, the year that, once again, the storm clouds started to gather over Europe. It was also an Extraordinary Holy Year in the Church, called by Pope Pius XI to mark the 1900th Anniversary of the Crucifixion and Resurrection. It would be good to think that the Werbies of 2033 would mark its centenary in some special way. Here's a prayer card from that Holy Year, 1933: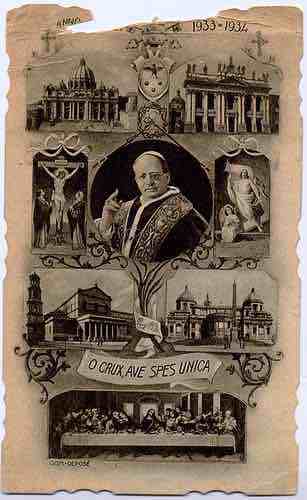 O Crux, Ave Spes Unica: O Cross, Hail our Only Hope!

Such a beautiful afternoon after the Liturgy of the Passion was over that I made a pot of tea and sat out in our superb Back Garden for an hour, admiring the loveliness of the garden (it didn't take me long…) and reading. Just so fortunate to have that garden, and thoughts very much with families and individuals who don't have anywhere to sit out in this Easter weather.

Good to hear from Werbies all over the world, and two lovely emails from former CathSoc students. Tania is now back home in Argentina, and sent us all this lovely message:

Hello, Fr Paul!
I'm one of the Argentinian exchange students who were in Chester last year (from Buenos Aires).
I'm reading your blog on the website and reminiscing about Easter at St Werburgh's last year. I really enjoyed the time spent at St Werburgh's. I always felt very welcome 😊
We are also quarantined here in Argentina, so we'll be spending these holy days from home, connected to the Church through the internet and through prayer.
I wish you a happy Easter, that will surely bring new Life and Hope!
Take care!
Tania
Georgia, last year's President, is out in Kuwait, starting her teaching career there, and so good to hear from her and the Persian Gulf:

Hi FP, I just thought that I would give you an update on how I am getting on and tell you what the past few months have been like for me in Kuwait!

It has been a strange NQT year for me. Arriving and starting my teaching career with my year 5 class in August 2019, I have had some amazing experiences and travelled loads already going on trips to Goa, Zanzibar, Kilimanjaro, Bahrain, Dubai and Qatar. Since arriving back after the February half term, life has changed completely.

Kuwait very quickly closed down the airports and for us, life has slowly become increasingly restrictive. Whilst the school campus has been closed for six weeks now, school is still very much "open" – we teach with via zoom, setting and marking work and continuing with the UK syllabus on a daily basis. Children are still expected to take part in lessons and for these six weeks now online communication has been the norm - as Kuwaiti children are not allowed out to exercise for an hour as British children do – and are not allowed outside in public at all – even to the supermarkets! There has been no panic buying or shortages in the supermarkets and other local shops, and social distancing and PPE (masks & gel hand washing), having my temperature taken before entering and disinfecting trollies has been standard for a while now.

As in the UK, public worship has been stopped with churches (yes there are some catholic churches and a cathedral – The Holy family – in Kuwait City), mosques and other places of worship have been closed for a while now. For Muslims, Ramadan starts on/around 24 April and meeting with extended family every evening for Iftar is very much part of the routine here, so we will have to see what happens in the weeks to come and how people will adapt. There has been a partial curfew in place from 17.00 till 6.00 am for a few weeks now. But now there is a total curfew in our area and we get texts from the Ministry of Interior and Health most days reminding us that breaking the curfew is against the law and that we need to remain at home for our safety and the safety of others.

We have been very well looked after. I live on the 13th floor in a block of 30 apartments with a wonderful view of the sea and oil tankers making their way to and from the ports. We are allowed to socialise freely within these apartments and are a mixture of both primary and secondary school teachers. We have been holding pub quizzes, table tennis tournaments, bake offs, afternoon teas, movie nights, games nights and this week we are having a crazy pub golf tournament with brooms and other suitable paraphernalia!

Thanks, Georgy and Tania! As for Jacob, Georgy's brother, CathSoc President before her – don't ask! Nor about this year's Madam Prezzie, at home in the centre of the Universe, aka Swadlincote. I was phoning her the other evening, sitting in her Conservatory at the bottom of the garden pretending to read Browning (as if) to see how she was getting on when our call was interrupted. By a family member bringing her a Gin and Tonic!! At 6.15 pm. I don't know what time the sun goes over the yardarm in Swadlincote but…

So that brings me to my final point tonight: the perennial question of when exactly Lent ends. (For some, Madam Prezzie, it probably never began). I tried to clear this up on the Newsletter last weekend:

That Perennial Question, Asked Every Year…
"So, Father, when exactly does Lent end?" You know the answer, my children, and just try it on asking it again and again. Sunday Evening, 7.05 pm. OK? If ends then for me, it flaming does for you too. And I mean that lovingly and pastorally, of course. This year, with fewer cars on the road, an ideal time to hear one of the great Sounds of Old Chester, Easter Evening, 7.05 on the dot. Gather in Grosvenor Park, a safe six feet apart and you will hear that most beautiful of sounds: Clink, clink, clink, glug, glug, fizzzzzzzzzzzzzzzzzzzzzz.

6.55 pm now on Good Friday evening, so forty-eight-hours and ten minutes to go. Sorry, nine minutes now. Eight…

I don't know why I do these sums. It really doesn't help.

God bless you all,

Fr Paul
---
Thursday 9th April 2020

Hard not to think about what I would normally be doing today, Maundy Thursday. Thursday Morning would always be collecting the Holy Oils after the Diocesan Chrism Mass last night. In recent years, where possible, a group of us have gone on the train to this Mass, always celebrated in one of the bigger churches of the Diocese. Some of us went over to Stockport a couple of years ago, and then down to the Cathedral in Shrewsbury last year. It's the Mass when as many of the Priests of the Diocese as possible can gather for the Renewal of their Priestly Vows, and the three Holy Oils are blessed by the Bishop in enormous vats. After the Mass, they are dispensed into twelve or so large pint-sized Oil Stocks for each Deanery, so that, on the Thursday Morning, the individual Parish Priests of that Deanery can go to one of the Deanery churches to collect their own supplies. Not possible this year, of course, so we are continuing to use the Oils from last year until this is all over, and the new Oils for 2020-21 can be blessed and distributed.

Always a moving moment at the start of the Mass of the Lord's Supper on Maundy Thursday Evening when three parishioners bring up the individual Holy Oils from the back of church: a Catechist to bring up the Oil of Chrism, with memories of our own wonderful Chester-wide Confirmation last November down at St Clare's; then a member of the Medical profession carries up the Oil of the Sick, a reminder of all the Anointings carried out last year, and how many of those souls are now, please God, safely with Our Lord in Heaven. And finally, a parent brings up the Oil of Baptism, again a reminder of the record number of Baptisms we had in the Werbies last year.

Another job I do Maundy Thursday morning is empty out the Baptismal Font, clean it, and get it ready for the Easter Vigil, full to the brim of water to be blessed for the next twelve months of Baptisms. Sadly, that won't be happening just yet this year, but still necessary to empty it – and, as it's Holy Water, has to be emptied on the garden. Chose the amazing peony that the Poor Clares from Hawarden allowed to take from their beautiful garden when they left for Nottingham last year. Peonies can be a bit temperamental, and it may not flower this year. But it's certainly put up lots of foliage, and with all that Holy Water on, had better do something pretty spectacular next year! So, here's a view of the old relic's bottom you don't normally see: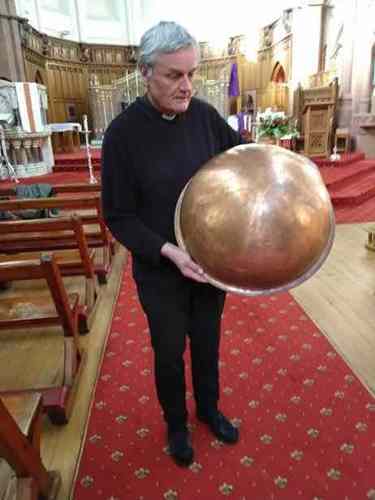 And I'll have no comments from any of you about nice to see the copper font too…

The Thursday Team were in as usual today, John and Marie, Maureen, Barbara and David, with Gerry to help, as we prepared the church as well as we could for the Triduum starting tonight. Altar Cloths and Lectern Hanging changed to white, and the Paschal Candle Stand with some beautiful flowers in, ready for the blessing of the new Paschal Candle on Saturday Evening: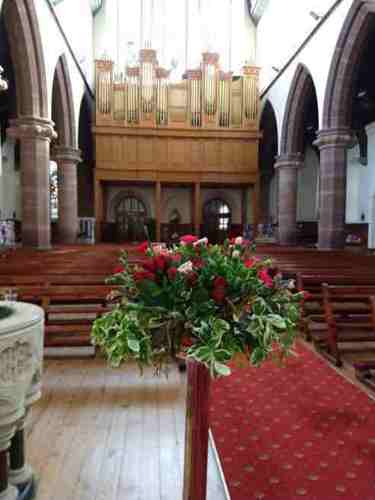 Lovely photo in the papers this morning of Arundel Cathedral, down in Sussex, and their Easter Tulip garden. Built by the (Catholic) Dukes of Norfolk, it's every bit as spectacular as it looks. I was there last in 1993, for the ordination of my great friend Fr Dominic Rolls, the year below me in the English College, and an Arundel and Brighton student, then Priest.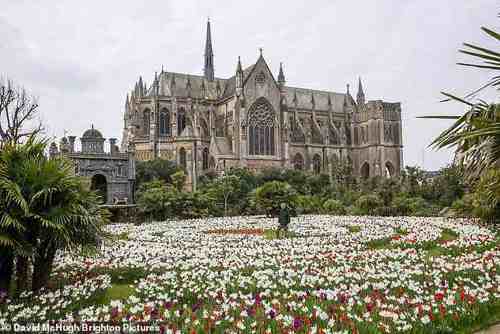 Martin Duncan, Head Gardener at Arundel Castle has the job of looking after the 80,000 tulips that have bloomed normally ready for the start of the Annual Tulip FestivalMartin Duncan, Head Gardener at Arundel Castle has the job of looking after the 80,000 tulips that have bloomed normally ready for the start of the Annual Tulip Festival
Fr Dominic very sadly died four years ago, April 2016, after a long battle with cancer, something that shook us all to the core, as he was such a good man and such a great friend to so many of us of his time in college and afterwards. Good to be at St Joseph's Dorking for his Vigil Mass, Fr Tony Milner (my year) presiding. I knew I would arrive late and have to stand at the back, which was itself a privilege in such a packed church. And afterward to sit quietly with Fr John Cahill in one of the pews, John calming me down as always, one of my closest friends in Rome, and in the years since, a Nottingham Priest. Memories of our final Gita in Rome, summer exams over, July 1992, the three of us, Dominic, John and myself, going to find St Thomas' birthplace at Roccasecca, an hour south of Rome. We climbed up the hill to the ruined castle, demolished the excellent cestino the Nuns had packed for us, with the statutory bottle of wine, and in the heat of a Lazio June, the three of us fell soundly asleep. Sleep in peace, Dom.




One last memory of Maundy Thursday to share with you all tonight. After supper was over, 8.00 pm, groups of us would head out into Rome to visit as many of the Altars of Repose as we could in the three hours before we had to be back in College at 11.00 pm for the final hour's Watching together. With churches and chapels on every street corner, it was a bad year if we couldn't visit twelve such Altars of Repose in the three hours available, each competing with its neighbours for the beauty and extravagance of the flowers and decorations. On a good year, we might manage twenty!

Couple of smiles to finish with before I get ready for the Mass of the Lord's Supper in an hour's time at 7.30 pm, and then watching before the Tabernacle till Midnight, Compline at 11.55 pm, as always. My long-suffering Dentist is a great Werbie, apparently now working from home via the telephone. Good to hear from his wife that they're all coping as well as possible, with their two boys, ten and eight, surviving lockdown. But then I start thinking: how exactly does a Dentist work from home on the phone? "Hello, is that Mrs Such-a-body? Right, now could you open wide for me? Thank you. A little wider? Now, please hold the painful tooth in your right hand. Thank you. And please hold the pliers in your left hand. OK? Now…" Irredeemably flippant. Always have been.

But so reassuring to hear from another Werbie Working Mum that she's solved the problem of how to work from home with three boys, twelve, ten and seven: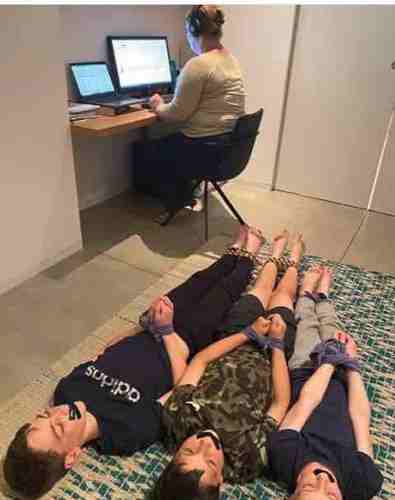 That's my girl!

God bless you all,

Fr Paul
---
Wednesday 8th April 2020
My first Funeral under these new arrangements this afternoon, and it all passed very well. We're fortunate at Blacon in having such a large, spacious Chapel – over twice the size of the old one – and designed in such a way that you can space everyone out, and yet not feel disconnected. Families are all on board with the restrictions, and the general impression I get is that everyone is co-operating splendidly. Not true everywhere, of course: sad to read yesterday that some of the Crematoria in the Manchester area have had to employ Doormen (aka bouncers) as some families are turning up with far in excess of the Government Maximum of ten mourners. They can't really plead ignorance, as their Funeral Directors would – I hope! – have advised them of the "Ten Max" rule well in advance.
I know I've asked this question before: but does the beautiful weather we've had, especially this afternoon, help or hinder? On balance, I find it helps. But it does make you want to get out there and enjoy the sunshine, doesn't it? More work today on the Marriage List for 2020, with all couples cheerfully postponing, on the grounds they can't do anything else, and generally pencilling in two later dates, one in the autumn and one for this time next year. Chatting to Liam this morning, a Police officer in Manchester: he wanted a date in June 2021. "Liam! Do you honestly think she's going to wait that long?" Long pause. "Father – don't even joke about things like that!" I'm with her mother on this one, Liam – she could have done so much better…
Some lovely news yesterday that a couple I prepared for Marriage here some years ago are now expecting their third child. Well done, both! And a suggestion from the two of them: for the next Marriage Prep Course, which they both attended back in the day, could I please put in a Module on "Surviving Lockdowns". Getting a bit tense, is it? I can imagine! Hang on in there – the first twenty years are the worst.
The third Gospel Reading this morning for Holy Week, again centring on Judas. Was it really worth it for thirty pieces of silver? For thirty thousand? When we turn our backs on Our Lord, we're so sure it's worth it, the prize we're gaining for stepping away from His presence. And it never is. Sometimes we regret it immediately, the cock crows and daylight dawns. Sometimes it takes a bit longer, and we try to give the silver back. But we can't put the clock back. Thank God Peter could repent and seek the Lord's love again; an eternal sorrow for everyone that Judas didn't feel he could.
Tomorrow, Maundy Thursday, and the Mass of the Lord's Supper, celebrated here, on my own, at 7.30 pm, and then watching before the Tabernacle till midnight. I'm so sorry you cannot join me in person, but I know you're there in spirit, and will be tuning into beautiful Masses all over the world.
May God bless you all,
Fr Paul
---
Tuesday 7th April 2020
7.00 pm as I write this, and just had a quick chat on the phone to Dr Sam, our wonderful former Catholic High School student, now working in Intensive Care at St Thomas' Hospital in London. Yes, exactly where the Prime Minister is. Sam says that ICU at St Thomas' is so big and made so much bigger recently to deal with this Coronavirus outbreak, that his chances of coming across Boris are minimal. But it does bring home to us what a small world we live in, and how inter-connected we all are – and could be even more so, if we made that determination. Sam was just cooking his supper when I rang, before leaving for his thirteen-hour Night Shift tonight, hand-over at 8.30 pm, a pleasant cycle ride along the river into work and back again tomorrow morning. I asked him if he had a Scrubs selfie, and this is what he sent: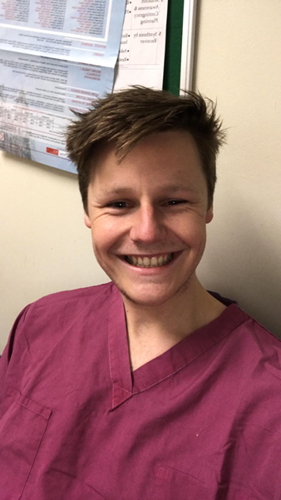 I don't know why they call him a posey so-and-so, do you? Sam's dad Kevin runs the very popular Cheese Stall in the market which many of you love. The other night, a food parcel on my doorstep, four gorgeous cheeses and a bottle of wine. Thanks, Kev and Gill! Cheese already sampled, wine ready for Sunday Evening, 7.05 pm…
Good luck for the nightshift tonight and keep safe, Sam! And give our best wishes to all the amazing doctors, nurses and health-care workers you work with on the front line. They are very much in our thoughts and prayers.
Good to hear from you all, and how well you are mastering the technology for live-streaming Masses from all over the world. Peter is typical of many who have really valued our own Cathedral down in Shrewsbury: "I confess to being a Shrewsbury Cathedral devotee now – beautiful stained glass behind the altar, some moving sermons from Bishop Mark and Fr Edmund (so concise too…😎). I have even added it to 'My Favourites'." Very funny, very amusing. Look, what is it with this Fr Edmund fan club? I do have feelings, you know…
And thanks, Chris, for sending in this lovely memory of the early days of Television Masses in the 1960's: "I recall, as a seven or eight-year-old, watching a Mass on television and asking my Mother, "Does it count?" Inevitably, she replied "Ask your Father." It was not that Mum would have had no thoughts on the matter, just that Dad was more of the expert on church law. He gave me my answer: if you are able to go to Mass, you must." They were the days! Remember switching off, and watching the little white spot gradually disappear? Remember the Interludes? The Windmill? The Potter's Wheel? My favourite was always the flower coming out, twenty-four hours speeded up into thirty seconds.
I told you of the Call-Out to the Ellesmere Port Cottage Hospital on Friday afternoon? Michael's family live overseas, and somehow, they managed to track me down, via the internet. A lovely email this afternoon from his son in Chile, thanking me so much for visiting his father. The pleasure - and privilege - was totally mine, Simon.
Special prayers tonight, please, for Pat, whose son's funeral was today, and for Anne, going down tomorrow to visit her daughter in a Hospice in the Midlands. Two fantastic mums, so please enfold them in your love tonight.
Talking of Dr Sam earlier, it's always wonderful when our Catholic High School pupils choose to keep in touch. One of them, coincidentally also at Edinburgh, sent this message today, choosing to stay there rather than come back to Chester: "It is wonderful to be able to keep in contact with others during these difficult times. I have in fact remained in Edinburgh myself. My exams and coursework are still going ahead, albeit through "online submission". I decided to stay up here where I have got into quite a good study routine, although I do miss my family as you can imagine. I am very glad that university continues in a remote form though, as it gives me something to focus on and to keep working at during the day." Well done, Tom! And let's keep all our Uni Students in our prayers in this very difficult time for them. I was granted an audience with Madam Prezzie from the University of Chester CathSoc on the phone this afternoon, back home in the Centre of the Universe (aka Swadlincote) and organising CathSoc remotely like a good'un. What a Madam Prezzie she is! Love you, Chlo-Jo!
A couple of music clips to share with you all before I finish tonight. The first is an amazing video from the Rotterdam Philharmonic Orchestra, with their "remote" rendition of Beethoven's Ode to Joy. (I'll do a translation for you, Lego, if you need one).
https://www.youtube.com/watch?v=3eXT60rbBVk&feature=youtu.be 
And who remembers Tom Jones and "It's Not Unusual"? That hair? Those tight flares? Those pelvic thrusts? (Sorry, Choir). Well, the boyo from the valleys has done his little bit for the War Effort. Just click twice on the icon, and make sure you are sitting down first…
Icon to follow 
God bless you all,
Fr Paul
---
Monday 6th April 2020
Another call to the Hospital this afternoon, this time the Countess. A strange air of calm pervades everywhere, visitors kept to a minimum, everyone very focused on the job they have to do. I mentioned it to one of the Staff Nurses as I was leaving. "Yes,' he said, adding "in some ways, I wish it was always like this." I think, in an odd way, we all know what he means? A crisis brings the best out in almost everyone? Hard to put into words, but a wonderful sense of peace and professionalism on the Wards today.
The Gospel readings for the first three days of Holy Week focus on Judas, and I always find them magnetic and compulsive, never saying to me, "Thank Heavens I'm not like that myself" but always saying, "There but for the grace of God…" Today, St John describes Judas' sanctimonious tut-tutting at the money he felt was "wasted" when Mary anointed the feet of Christ. "Could have been spent on the poor…" he preachily comments. "Not that Judas cared tuppence about the poor", St John comments in turn. No, Judas's cold judgementalism is where it all began, and we know where it ended.
If you want a good book on this theme in Dickens, Juliet John's "Dickens' Villains" is unbeatable (2001). She was the superb Prof at Liverpool before Royal Holloway made her an offer she couldn't refuse in 2012. Liverpool's loss was Holloway's gain. I told you Pam's finished David Copperfield, Bury Convent is into Martin Chuzzlewit, and Brian's now on page 2 of Tale of Two Cities (low blow!)? Norah is embarking on Our Mutual Friend and Marian is going back to an old love and re-reading for the second or third time Middlemarch. One of Dickens' finest. (He wished!)
More time reading, more time staring at screens. I have had a life-long love of the former, a grudging cohabitation with the latter. They never leave you alone, that ominous sign "Please wait while we update", which means only one thing – you'll never be able to find anything where you left it once this wretched updating has finished. Wonderful message the other day inciting me to "link across all my devices". The devices and desire of my heart, you mean? No, you wouldn't want to link there, believe me. That's the title of one of P.D. James' finest Adam Dalgliesh detective thrillers, "Devices and Desires", if you fancy something a little lighter than Dickens. Strongly recommended.
Number of deaths significantly down today, but none of us dares to hope that we're over the worst yet. Italy, Spain and France all seem to be heading in the right direction. My Italian fortnight is booked, come sempre, for the second half of August. I'm not daring to hope. Not packing the case just yet. A very long way to go before then, agreed?
May God bless you all,
Fr Paul
---
Sunday 5th April 2020
I should have mentioned yesterday, as I did on the Newsletter, what the Mass Intentions are for Holy Week. In case you missed them, here they are:
Palm Sunday: Kathleen and Ray Wilbraham (Birthday Remembrances)
Monday of Holy Week (6th April): Piotr Voronko (L.D. Belarus)
Tuesday of Holy Week (7th April): Gregory Stuart Phillips (L.D.)
Wednesday of Holy Week (8th April): James Donovan (L.D.)
Maundy Thursday Mass of the Lord's Supper: Barbara Galvin (L.D, Calgary, Alberta)
Good Friday: No Mass
Holy Saturday Easter Vigil: Mae Kay
Holy Saturday Midnight Mass: Matthew Robinson
Easter Sunday Day Mass: Ken Lawley and Kathleen Hargreaves
Easter Sunday Evening Mass – End of Lent: Private Intention (JA)
And so Palm Sunday comes and goes, like no other Palm Sunday any of us can remember. And yet Palm Sunday Mass was celebrated in every Cathedral, Church and Chapel, and Holy Week solemnly begun, and that's what really matters. This is God's church, not ours: just think how Mass is celebrated in countries where the church is banned, the underground church of past centuries, and in too many countries in our present time. Think of St Werburgh's when it was first founded in the mid-eighteenth century, no church, no resident priest, the penal times still in force. But Mass was celebrated here, very differently from a month ago, totally differently from today. It's the Sacrifice of the Mass that matters, let's always remember, given to us by Jesus Christ on Maundy Thursday evening. "Do this is memory of me." We will, Lord, however unlike usual Masses and normal Holy Weeks it may seem.
People still arriving here for Mass this morning, so clearly the message not totally out there yet. But the electronic church is up and running, as I verified this morning. Parishioner on the phone, can't find this steaming business anywhere, Father. Normally, that's me. Wonderful role reversal as I told said parishioner I was now going to my computer. Tell me what screen you are looking at. Parish Home Page, yes? Yes. Two boxes, upper one on Coronavirus Links, yes? Yes. Press that button, and find the document on On-Line Resources, second one down? Yes, got that. Open it, and it should show some links in blue? Yep, can see those. See the one for the Cathedral – put the cursor up against that link and the cursor should turn into a little hand. Oh, yes, so it does! Now click, and it'll take you straight through to the Cathedral. Third box along at the top, "Live Stream", got it? Yes, I can see that. Now click on it. And immediately, the lovely tones of Bishop Mark came flooding out, saying Palm Sunday Mass. I don't know who was more surprised, the parishioner or myself! Isn't it great when the technology works?
Serious point: huge thanks to all the tekkies. I am the most tekkie incompetent in the world and if I can make it work, it must be simple. All of you, Cathedral, here in St Werburgh's, everyone, you've really played a blinder in setting it all up, and so many people are using it now in ways they wouldn't have believed possible even a fortnight ago. Mille grazie, as they say in G…
Unserious point: one of you told me this morning something I didn't know. Apparently, with all this lock-down, it's making romantic assignations, liaisons dangereuses (as they say in…) and all sorts of hanky panky incredibly difficult. What's the only safe place such meetings can take place? Apparently, I am reliably informed, in the SUPERMARKET QUEUE. Look, I'm only telling you what I've been told myself. I take no responsibility for the accuracy of this information, But I'm certainly going to have a jolly good look round next time I go to Waitrose. And if I see any of YOU there who shouldn't be, say'n'more, there'll be trouble. Mind you, I'll probably be rubber-necking so much I'll miss my place in the queue. Either that or dislocate my neck permanently. Hey-ho.
Glad some of you are putting this enforced idleness to better use. Pam has finished David Copperfield, Brian has just started Tale of Two Cities, and Bury Convent is getting stuck into Martin Chuzzlewit. Well done, chaps! And did you see that Holly and Phil's Soap Awards for 2020 has had to be cancelled. So, it's not all bad news, is it?
I love your accounts of what you and your families are getting up to in these odd times. Many thanks to all our teachers who volunteered to go into school to look after the children of Essential Workers, and who, I know, shifted heaven and earth to make the time as meaningful as possible for the kids. Thanks, Margaret, for your touching account of your granddaughter in the South of England, both of whose parents work for the NHS: "We face-timed our granddaughter last week and it was lovely to see her and listen to her stories. She was telling us about her day at 'special school', as both her mum and dad work for the NHS. She said that there were six children in school, and they did some writing and then a treasure hunt around which she enjoyed. She also did some reading. She has been enjoying her lessons given to her at home by her mummy and daddy. She said she hoped to come to stay with us as soon as this virus had passed. We can't wait." I'm sure you can't, Margaret, and thanks so much for sharing that little story with the rest of us.
I'm so glad you are taking the financial aspect of this crisis seriously The FP Fitness Videos are selling like hot cakes, and Choir tell me they've lost 20 kg between them. At least, I hope it was between them, and not just my correspondent. Apparently, they can now sing some high notes they've not been able to reach for years. Keep at it! Next video tomorrow is Abdominal Crunches. Whatever they are…
This Coronavirus really had brought out the enterprising in you. Steve from Michigan (yes, honestly) has found a way around the Confessions problem, with Church being closed: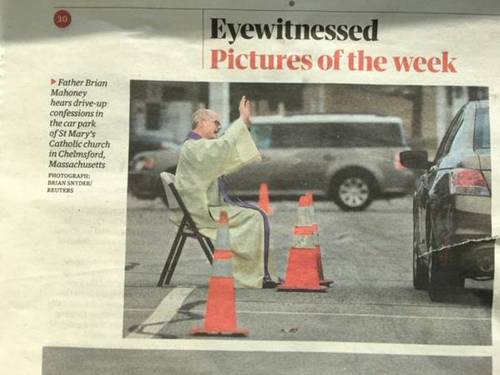 What do the rest of you think? I'm looking at the lay-by in front of the Hotel Indigo next door, obviously not being used at present. Ideal for cars to pull up for Confession? And then round the block to Bath Street for Bernice and Team to set up a little Burger and Chips stall in front of the Garage? Could be a real winner? At least it's staying the right side of the law, unlike dear Bishop Climate Wiseman [who he? Ed] of the Kingdom Church in Camberwell. And where on earth did he get the figure of £91 from??
https://www.dailymail.co.uk/wires/pa/article-8173877/Church-selling-plague-protection-kits-91.html
Keep smiling, everybody!
God bless you all,
Fr Paul