Daily Updates 6th-12th September
Saturday 12th September 2020
I knew it was a mistake. I should never have done it. Asking you lot for alternative names for the "Elderly and Housebound" Masses and Penitential Services. It just brings out the childish and juvenile in all of you. Brian from Broughton was first off with "The Pastits". Thank you, Brian, most sensitive. I might have known Dotty from Dodleston would have something to contribute. "Silver Threads Amongst the Gold". Very poetic. (I think she'd been at the cooking sherry). Evadne from Ewloe suggests "The Wrinklies". Wonderful. But haven't CathSoc rather got in first? (Shame about the Titanic, Vadders…) Hattie from Huntington came up with "The Twilight Club". Cath from Stocks Avenue had one of our more sensible ideas, "The Werbies VIP's". Violet from Vicars Cross verged on the defamatory. "Why are you looking for another name for a group of very elderly, occasionally senile, frequently confused parishioners? Surely, we have a name already? CHOIR." Bet you wouldn't dare say that to their faces, Vi.
It's obviously the season for insults. I was out on my walk last night, canal to Blacon, Greenway to the old Blacon Station, and then up through town to home, when I bumped into a former member of CathSoc, long graduated and now living in Saughall. He was on his way home and hailed me noisily from one side of Foregate to the other. "Still writing that Diary? I started reading it, but then it got boring". Gee, thanks. "But that photo of the young Priest from when you were out in Italy? Was it really you?" Of course, it was. What are you implying?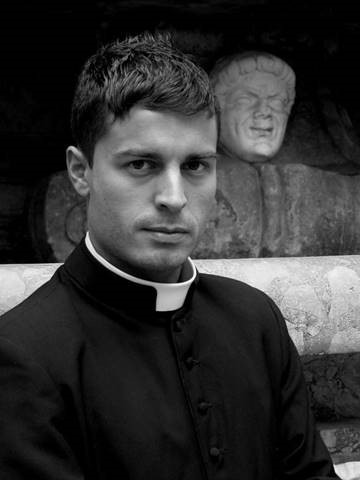 I'm only posting it again because so-ooooo many of you enjoyed exercising that childish wit of yours with ever so polite enquiries about the two faces in the picture, and which one exactly was FP. Very funny. Most droll.
Greenway is a whole new world to me, and Steve from SVP was giving me a bit of a history lesson on it the other day. I could have heard much more. Why a railway line from Connah's Quay to Mickle Trafford?? I mean, I'm not saying anything against either (he added quickly, conscious of how many readers he's about to lose), but neither is exactly the centre of the universe? Apparently, it's all to do with connecting both the milk supplies from Lord Crewe's farms and the Steel Works at Shotton with Hawarden Junction one way and the old Chester Northgate Station the other. It was a line principally for freight, I believe, rather than passengers. Harry from Hare Lane – you know about these things, don't you?
Steve has sent me this picture of the old Blacon Station, pulled down in the 1980's. It stopped taking passengers in 1968, and freight ceased in 1984: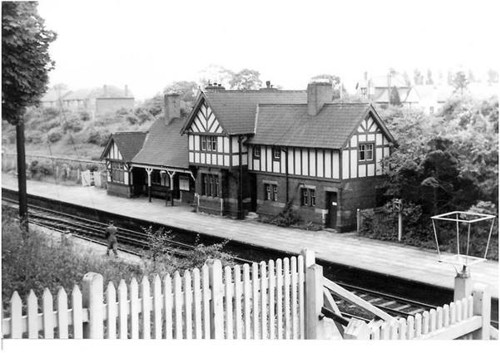 Steve and Caroline were very involved in the Blacon Regeneration Project in the 1990's. which did so much to turn the derelict site into the scenic heritage park it is today.
Chester Northgate Station was on the site of the Fitness First gym on Liverpool Road. Go down the track by the side of the gym, onto Greenway, and you can see by the size of the Railway Bridge over Victoria Road what a large junction this once was. You'd be hard put to it to imagine now where the Station was: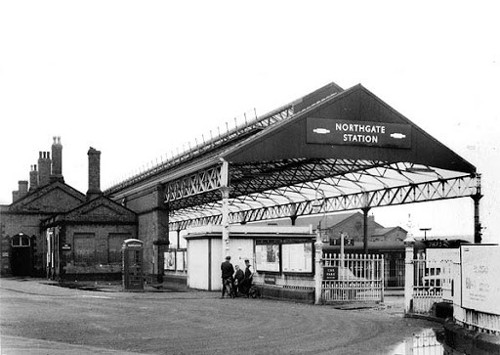 Again and again, I'm impatient for this lockdown to finish and for us to be able to resume our full life together as a Parish. We've done some wonderful Heritage Walks over the years, here in Chester and wider afield. One on "The Old Railways of Chester" would be fascinating? I'd love some day to get permission to go out and see the old Waverton Station that you pass in a flash on the trains down to Crewe and beyond, and now the site of the Bus Depot: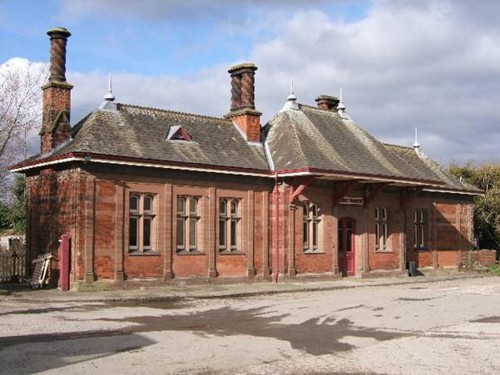 It closed in 1965, another victim of the Beeching cuts. Talking of Waverton and Rowton, I know you're as worried about that blessed Heron of Rowena's as I am.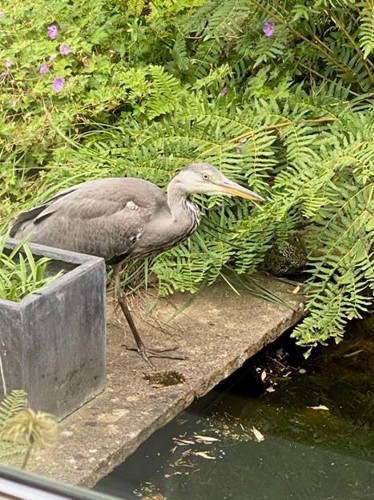 The hedgehog? Don't ask!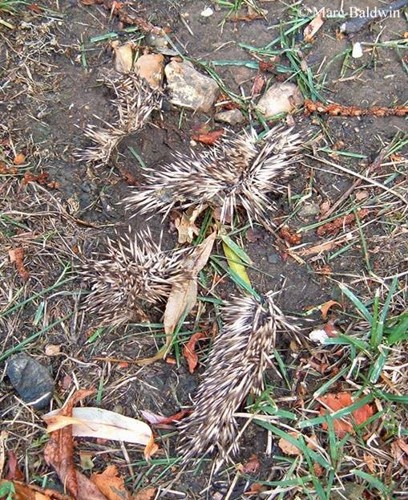 May God bless you all,
Fr Paul
---
Friday 11th September 2020
Some sense of frustration today: a week ago, we were anticipating significant relaxation in the restrictions, and a chance really to move forward with both the liturgical and the social life of the Parish. Now we seem to be heading in the opposite direction. The latest Government Announcements don't have a direct effect on what we do here in Church, but do hold us back from opening up the social and community life of the Parish, which is so important, and has been so badly affected over the last six months. And they have a crippling effect on the social life of the University, and our own CathSoc. "Student Connect" is an informal network of some of the evangelical student churches and gatherings, and it was good to have this round robin from Joel, the Student Connect Coordinator, today, with his three practical suggestions:
Pray: Let's believe for God's protection and peace over the students as they navigate this new landscape.
Be present: I know that CathSoc, Chaplaincy and CU are holding various Fresher events and I suspect they'll be in touch should they need our help.
Meet: Out next meeting is on Wednesday 7th October at 2.30 pm. We'll probably Zoom it, I'd love to see you there.
Praying that all may have buckets of energy and wisdom,
Thanks,
Joel
Thanks, Joel – and really good to know that lots of churches and individual students are holding the University in their prayer at this difficult time, and especially the students arriving for the first time in the next few weeks.
One sign of that desire to move forward has been the number of emails recently with super suggestions about Sunday Mornings – deeply appreciative of what we have been able to do and proposing ideas for taking it forward. A number of you have written about music: if we can't have singing or live music, could we have a suitable CD possibly to help set the atmosphere before each Mass? A CD Hymn in the middle, or during Holy Communion? Super ideas - thanks, folks! We'll certainly give them our best consideration.
Anne writes in with some excellent ideas of how CathSoc might get round the "Six Max" rule:
"I was just thinking that the present situation may be an opportunity. Could you not use the same technique that the eating places use, i.e. split a group of say 8 into two groups of 4. For example, if you are doing one of your tours of Chester, you can ask anybody who is planning to come to meet in two alternative places. If you know say 8 people are coming you ask four to meet in one place and 4 in another. If you do not know who is coming you offer two venues and invite them to go to the one which is not already "full". If you have much larger numbers than 12 then you may have to have three.
"If you are having singing and/or food then the groups would either again meet in different places or at different times. I cannot help thinking that the "novelty" of having to manage the event themselves may be an attraction and encourage the individuals to get to know each other without the input from the organisers."
Some super ideas there, Anne - thanks very much! I know I've said it before, but I so warm to the "can do" attitude that sees ways of obeying all the rules but still keeping some sort of normal life going. As opposed to seeing the rules and saying we can't do anything! There's lots we can do if we put our imagination to it.
SVP have exactly that "can do" approach and are determined to have the Elderly and Housebound Autumn Mass this year. I won't say "as usual", because it won't be as usual! But it will BE!!! Here in church, socially distanced, and with a jolly good tea afterwards, if I have anything to do with it. (2.00 am in the kitchen, and all that…) This is the notice I'm putting in the Newsletter this weekend:
Sunday 4th October 2.30 pm – the SVP will be holding a special Mass in St Werburgh's Church for anyone requiring extra assistance and reassurance in these challenging times. For many previous years similar Masses have been held at the Primary School and have been known as the 'Housebound Mass'. This is a special event to which the SVP cordially invite anyone requiring a little extra assistance or support to come along and enjoy Mass and a cup of tea. If you or some you know would like to join this event please contact Stephen on 07775781204 or via svpchester@gmail.com. Suggestions for a new name for this event will be gratefully received.
Steve and I were chatting on the phone yesterday about this great event and wondering what's the best way of describing the folks it's aimed at. Any suggestions, anyone? It's always been "Elderly and Housebound", but you don't have to be either if you feel it's for you and don't find it easy to get to the scheduled Sunday Masses. Over to you – a very valuable Prize to the winning entry!
My God bless you all,
Fr Paul
---
Thursday 10th September 2020
Great to hear from Harper and Janet on the conclusion of their amazing journey from Chester to Sydney last weekend, to begin their new life out there. They left here for Heathrow airport on Friday, flew out Saturday morning and, with a quick stop in Singapore, arrived in Sydney late Sunday evening. Now a fortnight's quarantine in a hotel. But I'll let them tell their own story:
"Monday 7th September: Janet and I would like to thank everyone who helped turn our crazy idea into reality. We arrived late last night after an uneventful pair of flights. The surreal part was the deserted airports. Heathrow had some activity and a few open Duty-Free shops. The car parks were deserted. Changi and Sydney airports looked like sets for a post-apocalyptic film. The Airbus A350 from Singapore to Sydney had less than 100 passengers, of whom half were going on to Brisbane. Our one good piece of luck was to be placed in the InterContinental Hotel for our 14 days of strictly enforced quarantine. We're not allowed out of our room, but at least the view keeps us distracted. It's truly a gilded cage as we are not allowed out for the next fourteen days. I'll keep you posted as to how we get on. Thanks for everything over the past eight years. Harper"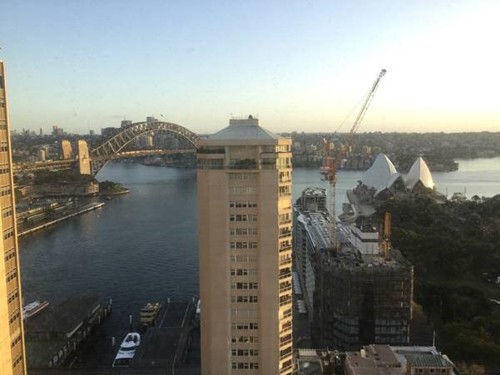 Not a bad view from your hotel window! You could be in downtown Broughton, couldn't you?
How about this for a contrasting view?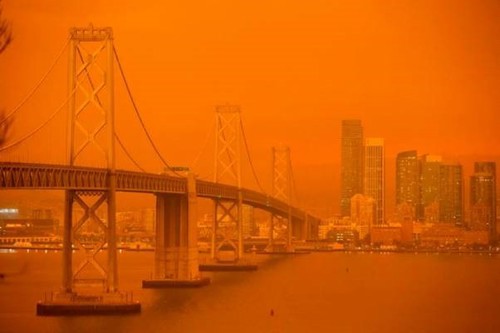 Yes, San Francisco, with its famous Bay Bridge, everything obscured by the orange smoke and haze of the dreadful forest fires that are raging in much of California. Just stay in your hotel room, Harper, OK?
Doesn't seem as if the new Government Restrictions are going to hinder us too much as a Church, but they will have implications for social events – and pretty devastating for CathSoc and all the other University Clubs and Societies. Madame Barl, our new Prezzie, has been working hard, and had a meeting this morning with the university authorities. Their new rules mean we will not be able to run our programme for Sundays as planned, certainly not for the first few weeks of term. So, we will have to work harder than ever at one-to-one contacts, especially with new students arriving in Chester for the first time.
Good to hear from Olive from Orford in response to my item about the Brass Band practising outside the Watergate Entrance to the Racecourse. I told you how they were playing hymn tunes, and how "Love Divine, All Loves Excelling" in particular hit me for six. Olive writes:
With regard to you listening to the bass band playing the lovely hymn 'Love Divine All Loves Excelling'. I can imagine how you felt. I do love all our 'Catholic' hymns but, I agree Charles Wesley hymns could tend to tempt you to 'convert'. In fact, I used to come very close to it, unknown to my parents, when I was a little girl. We went on holiday each year to one or another of the seaside resorts and would frequently hear the Salvation Army playing on the Beach and that would be enough for me. I would always follow them playing the hymns and my Mother or Father would know where to find me if I wandered off. Also, I was born and lived all my young life in Orford, Warrington when it was not at all like it is today. It was a lovely little country village way back then, but we were the only Catholic family in St. Margaret's Avenue where I was born and lived all my life until I was married. This consequently meant that all my playmates were 'Protestants' On a Sunday afternoon I would go to Children's Benediction at St. Benedict's and immediately afterwards (completely unknown to my parents) I would risk excommunication and go to the Protestant Church with my friends to the children's service and once again it would be the hymns and the music that I just couldn't resist. Looking back, I was too young to know then at 5 years of age and onwards but realised much later that they were Wesley's beautiful hymns. My parents never knew. It was a different era; life was so much safer then.
Thanks, Olive – that's a super memory! And love to the Garden Gnome!
A smashing evening out with Tekkie Two on Tuesday, a heavy, in-depth discussion of website and technical matters connected with computers and the website. Harker's Arms were so kind allowing us to use their premises for our seminar. Tekkie One, not to be outdone, has sent me another picture of his jaunt to the South Seas last year with Bury Convent. I think this is the two of them walking on the beach, but I'm not a hundred per cent sure.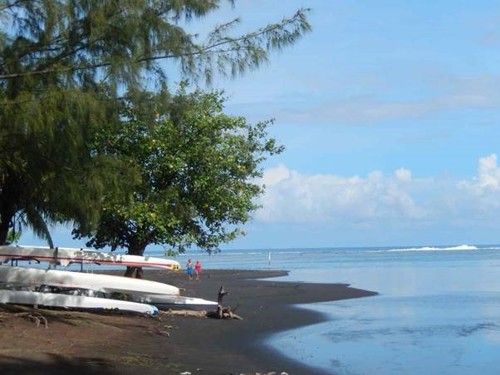 May God bless you all,
Fr Paul
---
Wednesday 9th September 2020

Strange not being in the Hospital this morning after the last fifteen weeks. Time has played strange tricks on all of us during this Covid-19 lockdown: when I first wolunteered to help out on a Wednesday morning, May 27th, I thought it would be for a couple of weeks, a month at most. Four months later… All I can say is that I have thoroughly enjoyed it, meeting some fabulous patients, and it's been a privilege to be part of many of their journeys, not the least from this life to the Life Eternal.

Any gaps in my life get filled immediately, if not sooner! Three Funerals have come in today, for example, plus an excellent meeting of our Fire Safety Group this afternoon, addressing all the issues raised by that County Fire Audit earlier this summer. Brian, John, Gordon and Tony really have played a blinder on this one. A task for next week is to have the Lightning Conductor inspected. At present, it's Cambrian Cameras who have wolunteered to climb to the top of the roof and check it's all tickety-boo (that Geoff, on Jill's shoulders), and I am immensely grateful to them both.

As I write, Wednesday tea-time, the Government are unveiling their latest Covid-19 Restrictions. From the headlines I've seen, churches do not seem to be affected, but the "six maximum" rule for social gatherings will have a severe impact on CathSoc and the life of the University, especially the Clubs and Societies, which is such a vital part of University life. I'm sure the Students Union will be working flat out to make the new term, starting in a few weeks, as normal an experience as possible. Apart from anything else, isn't it better that they socialise in these regulated Clubs and Societies rather than in the unregulated way of all piling down the pub?

I wonder if I would have enjoyed the last four months in the Countess if I'd not had that experience of being full-time Chaplain at Clatterbridge? Much of the time there was spent in their centre of excellent Oncology Unit. I was very moved to see this picture of the Luis Razetti Oncology Hospital, Caracas, Venezuela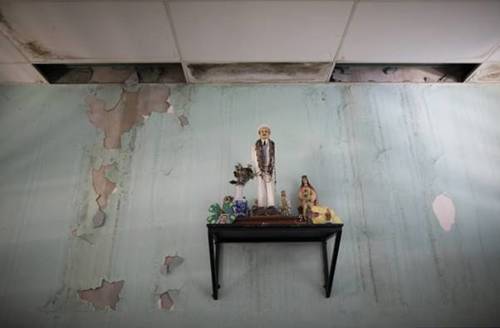 We don't know we're born, do we? The same could be said about our schools when I see this photo of Yoff High School, Dakar, Senegal: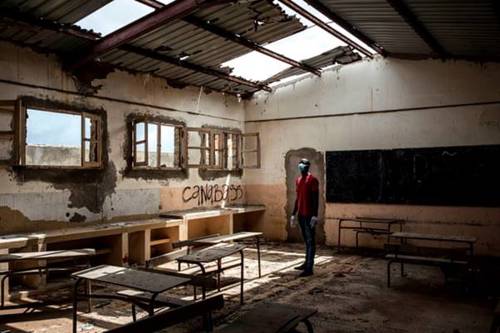 As dear old Terry Wogan used to say, "Kwitcherbellyakin, everyone". And he wasn't far wrong, was he?

Tomorrow night, a full account of whatever the Government's new announcements tonight are going to mean for us Werbies and our Wizziters.

May God bless you all,

Fr Paul
---
Tuesday 8th September 2020
Earthquakes in Leighton Buzzard? Definitely the end of the world. Meanwhile…
Impossible to say where we're going as a nation with this Covid-19 pandemic. Deaths and hospitalisations are now tiny, but rates of inflection in some areas rising worryingly. But, again, hard to say if that is because more people are becoming infected or more people being tested. The evidence seems to show that it is young people who are succumbing rather than the elderly, but that they do not become seriously ill with it as the elderly do and did. Reading the runes is not helped by the experts disagreeing among themselves: in today's papers, one Professor of Medicine says we are doing far more harm by lockdown than by the virus, another says we are becoming far too relaxed and need to tighten up lockdown generally. Who to believe?
Zoom lesson with Bro Edmund at Ampleforth this morning, looking at those verses we had at Mass a week ago, Monday of the 22nd Week. I Corinthians 2, 1-5:
Now when I came to you, brothers, I did not come with any brilliance of oratory or philosophy to announce to you the mystery of God. I was resolved that the only knowledge I would have while I was with you was knowledge of Jesus, and of him as the crucified Christ. I came among you in weakness, in fear and great trembling and what I spoke and proclaimed was not meant to convince by philosophical argument, but to demonstrate the convincing power of the Spirit, so that your faith should depend not on human philosophy but on the power of God.

I can remember some of the lads out in the Seminary with me gleefully seizing on these verses as proof positive that they shouldn't be studying philosophy. Needless to say, Fr Rector was having none of it. But what does St Paul mean here by "philosophy", and, when we take that sense of the term out of the equation, what's left? A good stimulating hour with Edmund this morning, with lots to think about on both sides.
Mini disaster this afternoon. I told you I was taking part in this Covid-19 Trial, as a regular blood donor. It's to assess, if possible, how many people may have had Covid-19 and know nothing about it. So, every month I have to give a blood sample and complete a questionnaire about how I've been feeling over the past four weeks. Fortunately, on top form, thank God. Found the lancet and blood tube last time really awkward to use, but today much easier. Too easy, as the tube filled up quickly and I tried to put the cap back on it. Only succeeding in sending the tube flying all over the desk. Duh! Fortunately, they provide two lancets and ten fingers, so let's start again, shall we? The things I do for the health of the nation.
Thanks to Cambrian Photo Agency for sending in this striking shot of the side of the church, looking down the passageway: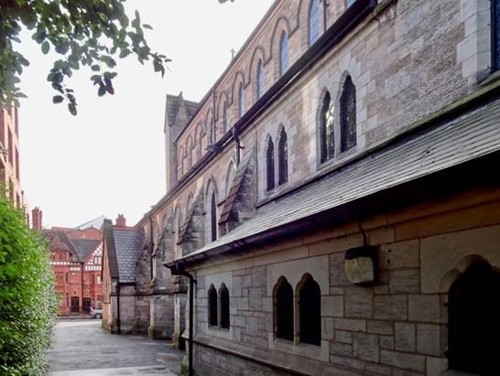 It shows off the clean lines of Edmund Kirby's designs beautifully. I'll never forget, not long after I'd arrived here, someone trying to break into the church through one of those little side windows, 3.00 am in the morning. The intruder set the alarm off and scarpered empty-handed: but it cost almost £2,000 to repair the window, absolutely like for like, to Kirby's original designs. That was when we took the decision to have all the windows covered in strong wire mesh, not to keep intruders out – they couldn't – but to protect our priceless stained glass from vandalism or accidental damage. You don't really notice the meshes from outside, and they don't show from the inside of the church, I was glad to find out. Many church authorities say the same thing: a break-in nets the thieves ten pounds from the candle box and costs a thousand pounds to repair. You'd rather they knocked at the door and asked for the tenner!
And finally, Switzerland, and time to bring the flocks back from their summer pastures on the mountains down into the protection of the valleys.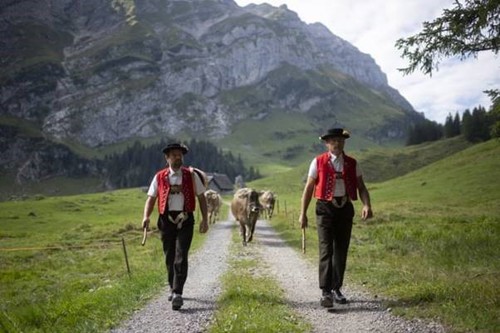 Switzerland is two countries, winter and summer, and I'm not sure which I prefer. If you've never been, GO! And that's an order.
May God bless you all,
Fr Paul
---
Monday 7th September 2020
Encouraging headline in tonight's Chester Chronicle: it's now fifty days since anyone has died of Covid-19 in the Countess of Chester Hospital. Too soon to be cracking open the bubbly: but a significant landmark as we continue the long road back to some sort of normality. Having said that, I had a call-out this morning at 8.30 am, to a Ward that has had some Coronavirus, and it meant the full PPE gear again, apron, gloves, mask, and, this time, face visor. Not worn one before, and really don't know how our waiters and waitresses manage! You build up so much heat and putting on glasses and taking them off again is a major technical feat. But if it keeps us all virus-free, so be it!
My patient was on that journey Home to the Lord. Only in his early 60's, he's a Lecturer at the University, and on Friday, in the Hospital Ward, married his partner of 40 years! She showed me the beautiful photos taken by the staff, the Registrar coming in specially, the groom managing to get into a suit, and just such a joyous occasion. I asked her the obvious question, why they'd never married before. No reason at all, just never got round to it. So glad for them both that they were able to celebrate their Marriage on Friday, and together celebrate the Sacrament of the Sick this morning. It clearly meant the world to them both. In a very special sense, a marriage made in Heaven.
Rev John Kingsley, Lead Chaplain, called me out. He also told me that my services were no longer required on a Wednesday Morning, which I take as a very welcome sign that things are also starting to get back to normal on the Catholic Chaplaincy front. No more details available at present, but he thanked me very warmly for holding the fort for these last few months. I told him I'd hugely enjoyed it, which I have, a reminder of those nine super years in Clatterbridge Hospital before coming to St Werburgh's.
Talking of which, Black Saturday two days ago. If Wizziters were left wondering why all the Werbies were wearing black arm bands at Mass yesterday, I suggested they had probably better not ask. Unless they wanted to see grown men cry. Interesting to dig out my Diary for this week in 2006. What was I up to? On the actual Saturday, I had a wedding in Holy Name Birkenhead – Mark and Katherine (remember, Brian and Sally?) before arriving at Rowton for the 6.00 pm Vigil Mass. Monday afternoon was SVP, up at Joan Baxter's house, Pauline in the chair. Tuesday was First Holy Communion Parents Meeting, Louise running the show as capably as ever. Wednesday was City Centre Churches Together Fraternal Lunch in the Deanery at the Cathedral, Gordon McPhate hosting us. Thursday was my first Funeral, a lady from Beaconsfield Street, with a meeting in the Primary School in the afternoon, and Nick and Holly Abbinante's Wedding Rehearsal in the evening. Saturday was their wedding, and Sunday afternoon my first experience of Polish Mass here in St Werburgh's. So much changed, so much the same in the last fourteen years!
Taskforce Meeting this morning, and much to discuss on the back of another Sunday Morning of higher numbers yesterday. We reckon capacity for each Mass is about 80, so 320 over the four Masses. With total attendance yesterday of 270, we're kind of getting close. We talked about reintroducing a Saturday or Sunday Evening Mass, but that would need another team of ten Stewards & Cleaners, and we honestly feel they are working flat out at present. So, as an alternative way of increasing capacity, we are planning on restarting Weekday Masses, emphasising to everyone that while Sunday Obligation is suspended, they might like to come to a Weekday Mass instead of Sunday, and so free up Sunday Morning capacity that way. Our present plans are to begin with Masses on Thursday and Friday Morning at 10.00 am, starting in October. With myself on duty, it would only require one Steward to help out, Mass taking place in the back section of the church which we used for Private Prayer. Let's see how it goes!
An appeal: after eight weeks of Reopening for Mass, people are understandably starting to relax a little, which is good. But it does mean people are coming to Mass at the last minute, having to wait a while in the queue for Hand Sanitising and to provide Track and Trace Details, so not getting into Mass until it's started. A few cross words directed at Stewards yesterday Come on, chaps! Appreciate what has to be done, and please don't turn up at the last minute if you can avoid it! Church is open from fifteen minutes before Mass each time. Come at quarter to, and you walk straight in. Come at ten to, there's a slight wait. Come at five to, you'll have a longer wait. Come at two minutes two, you'll be late into Mass. Simples!
What, you all cry, no pictures tonight? It's the only reason we log onto to this interminably, mind-numbing Blog! All right then, another pic from the Nature Notes of Rowena from Rowton, she of the Heron and Hedgehog.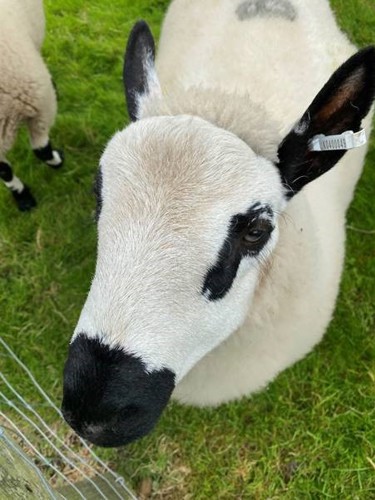 Seen in the field opposite. Nice with mint sauce?
Anyone tried Heron and Chips?
Just asking.
May God bless you all,
Fr Paul
---
Sunday 6th September 2020
Quite amazing to think this was week eight of "Reopening for Mass": at each and every stage of this pandemic lockdown, we've thought it was only going to be "for a few weeks", only to discover it was for a few months. If we're lucky. It's the "It'll all be over by Christmas" syndrome of 1914. It probably tells us more about human nature than historical events.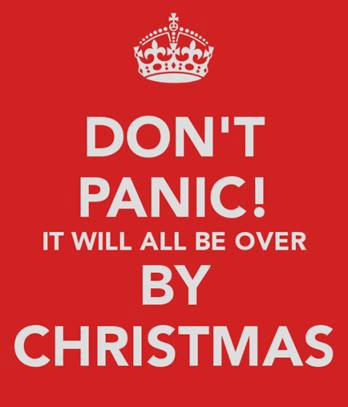 So, week eight, and numbers continue to rise: 257 here last Sunday, 270 today. Spread over the four Masses, that was 72 at 9.00, 61 at 10.00, 74 at 11.00 and 63 at 12.00 noon. Remarkably evenly distributed, and clearly a demand for all four Masses. While the demand is there, Fr Neill and I are happy to try to meet it. Tomorrow morning, the Taskforce will look at the many requests we have had from displaced organisations to use our church during lockdown, at our returning Students, and the possibilities of reopening for Daily Mass and eventually Saturday or Sunday evening. But "so far so good" doesn't sound too Smug Very, I hope.
I should never have mentioned that blessed heron. It's set Rowena from Rowton, and her very long-suffering husband, Robert, off something rotten. Yes, it's definitely a heron, it's in her back garden, and she thinks it's cute: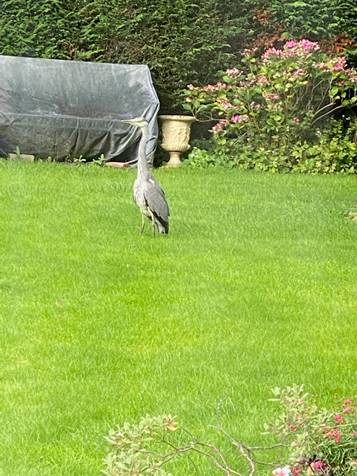 I suppose it depends on your definition of "cute". But that's not all. No, not by a long way. Her back garden is turning into a right little Chester Zoo, another arrival spotted the other night: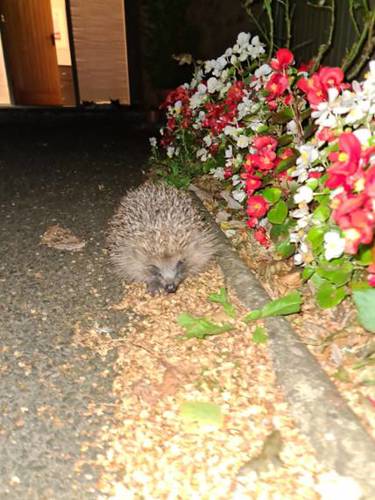 Now I hope you're not thinking what I'm thinking? Heron + Hedgehog = Lunch and Supper? I wouldn't fancy one myself, but then I'm not a heron. Don't say I didn't warn you, Rowena.
Before we leave this zoological theme, I couldn't resist these latest pictures from our own Chester Zoo of one of their newest arrivals, a baby Western Chimpanzee born to Mandy last month.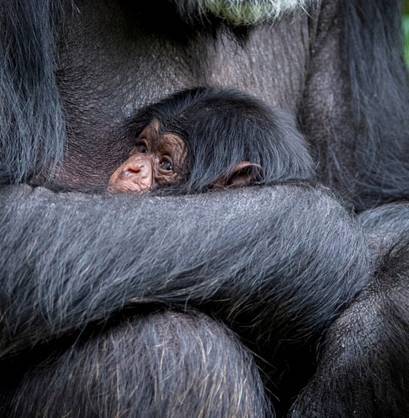 Mandy is 43 apparently, and already a mother and grandmother. I was fascinated to read that they won't know the sex of the baby for some months, as that's the time it takes before Mandy lets go and allows anyone near enough to find out. Aaaarh! Just wait till the cute little baby's a teenager, Mand – it'll be a different story then!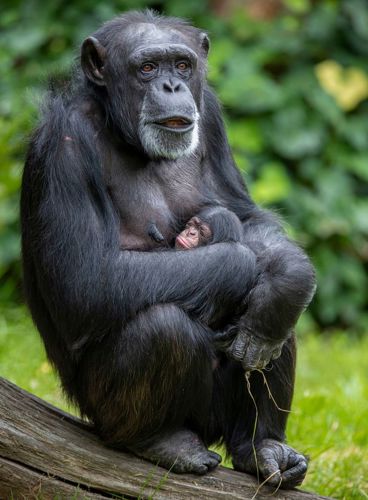 May God bless you all,
Fr Paul