Daily Updates 9th - 15th August
Saturday 15th August 2020
Prayers, please, lots of them, for a dear Werbie who's been involved in an accident, has been in Intensive Care, and is hopefully just coming out. All of you know Helen Monk, who went with her husband, David, both doctors, out to Abu Dhabi some four years ago to take up senior medical posts there, their four children all at the student stage here in the UK. Earlier his week, Monday I believe, Helen was back in England for a fortnight's holiday and was cycling on Anglesey with two of the children when she came off her bike and sustained serious injuries, including to the head. She was airlifted to Hospital in Stoke-on-Trent, where she is now and, we hope, coming out of ICU soon.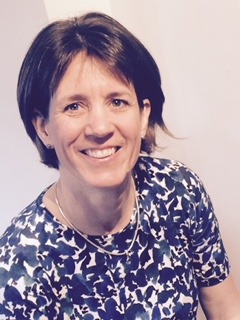 Helen was a GP in these parts and David a very respected Surgeon at the Countess when they decided to make the bold – and very successful - career break about four years ago. They've kept in touch all the time, and it wasn't so long ago, I think I told you, that their eldest son, Ben, rang me for a catch-up, bored with writing up his Dissertation as part of his Engineering Degree at Bath! They have four children and are a lovely family. Helen's parents, Eilish and Alec, are also wonderful Werbies, Alec with an amazing singing voice, both often at Rowton on a Saturday evening.
Eilish rang me this afternoon with the news, and I've just had an email from David asking for everyone's prayers, hence this Blog tonight. I've asked them to find out what the situation is at Stoke: if it's the same as the Countess, and Chaplain visits are allowed, I've offered to go down myself early next week and see Helen and find out at first-hand how she is. I will certainly let you all know, and in return, I know that you will be keeping Helen and all the family very much in your prayers tonight.
May God bless you all,
Fr Paul
---
Friday 14th August 2020
For heaven's sake, you cannot nominate YOURSELVES for "Mum of the Week"! Whatever next? You have to be nominated by someone else, preferably your own offspring. If they won't do it (understandable, really), try your husband or other family member. Neighbours. Total Strangers. Anyone. But I'm not accepting any more nominations from yourselves. It's just not cricket.
The furore over A Level Grades shows no sign of abating, and I'm glad it doesn't. A very cynical thought came to me at 2.00 am this morning, my favourite time for serving the Parish, as you all know. The one area where the results were up on last year was the top grades, A and A*. In Sixth Form Colleges, they were up by 0.3%. In Comprehensives, by 2.0%. In Academies, by 1.7%. In Independent (fee-paying) schools, up by 4.7%. Smell a rat? The independent sector always does better at the top grades, a combination of selective intake, highly qualified teachers and smaller sets. But we also know that this was the sector who had Legal Counsel briefed ready to challenge these grades as soon as they were published – and many of them would probably be able to draw on a goodly cohort of solicitors, barristers, QC's, judges, just from among the parent body. No sign of that legal challenge so far. To be absolutely cynical, have they been bought off with the awarding of 4.7% top grades, so that their stars – and they are stars – can take up their places in Medical School and top Russell Group Universities this autumn, no trouble? While, deep in the depths of the Sixth Form Colleges in Moss Side in Manchester or Peckham or Paddington (where I grew up) in London or Kensington or Bootle in Liverpool…
Many congratulations to Sophia Aiello, another of our star Altar Servers, for excellent grades and a place at Edinburgh University. I assure you, if you're a Werbie and you want top grades, become an Altar Server! There's no better way of getting A*'s, I'm telling you.
Wedding Receptions are now back on. I don't know why people say this Government makes it up as it goes along, I really don't. I needed to check out with Bishop Mark last night where we were up to with Weddings and Funerals, and, typically helpful and on the ball, he was back to me straightaway this morning. Wedding Services allowed, but not Nuptial Masses; but we can now hold Requiem Masses as well as Funeral Services, but strictly 30 maximum for both weddings and funerals.
And delighted to be approached by the family of Michael, the wonderful Ukrainian gentleman who went Home to the Lord from the Countess on Monday, to ask if I would take his Funeral. That would be an honour and a privilege.
What are the Russell Group of Universities, I was asked today? They are the twenty-four British Universities that aim to be (claim to be, and usually with good cause) world-class, research-intensive universities. They don't always come in the top 24 of University Rankings, but their common denominator is their emphasis on world-class research. In our part of the world, Liverpool and Manchester are proud members. If you have never been to the Manchester Museum of Science and Industry just near Deansgate Station, GO! Just as soon as it reopens, which won't be long. A super day out, with some of the great machinery of the Industrial Revolution on display – the steam engines, the power looms, and so on – and often they have these machines working. It also has its "Baby", a rebuilt model of the very first modern computer in 1948. The equivalent today would be held in your hand. Here it is having a clean prior to reopening: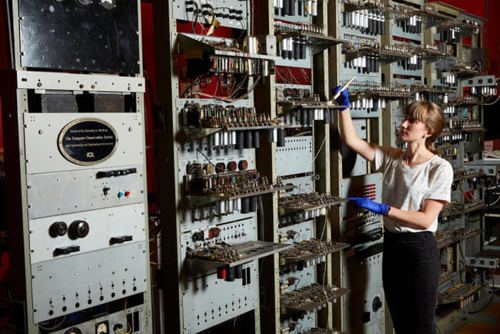 They often have it working, so do check before you go if that's what you'd particularly like to see.
Same principle applies to me, really.
May God bless you all,
Fr Paul
---
Thursday 13th August 2020
A Level Results Day. One of those days that can stay in the mind forever. I will never forget mine, the results coming through the post. It's as if the thirty years since have suddenly vanished. [Shome mishtake shurely? Ed]
This year? I just feel glad not to have been directly involved, such has been the fiasco of the system of assessment used, and then being changed at the last minute. A very moving interview on the lunchtime radio with a Headteacher of an inner-city London comprehensive. Typically, she was explaining, they have about ten pupils each year taking Geography A Level, and typically they'd expect something like three A's, three B's and three C's. That's been the pattern in recent years. Last year, quite exceptionally, one pupil got an E grade. This year, they have a much larger entry, 15 pupils, and a very able year. But because of that E last year, the computer has decided there has to be an E this year, and the poor girl selected for that honour was predicted by the school to get a B. Result? She's awarded an E and is in pieces. For heaven's sake, these are young lives we are talking about! Eighteen-year-olds are grown up at one level, but still very vulnerable at others, as we all know. Let's change the subject, as I feel myself getting hot under the collar.
Here's a young man in the front, a wonderful Werbie Altar Server, Head Boy of his school and, with excellent results, off to join that fine group of Werbie Stoodies at Edinburgh University. Well done, Conor!!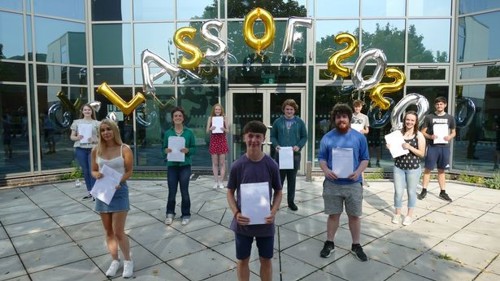 Many thanks to Roy of the Rovers who's the Uncrowned King of the Wood Stainers. He took that magnificent door we had made, from the front garden into Grosvenor Park Road, when it was first installed, and treated it with all sorts of magic potions. The result is that it still looks as good today at when it was specially made for us, ten years ago. Now he's working the same magic on the wooden bench by the front door, donated to the church by the St Werburgh's Football Team when it decided to disband, some five or six years ago. Apparently, it's been catching a lot of water coming off the roof, so Roy wants to put it in a better place where it can catch the sun and miss the water, perhaps somewhere on the front lawn. Thanks, Roy!
A very moving funeral at noon today for Steve, who was only 50. He lived round the corner in Kinnaird House, on City Road, and liked to spend the days sitting in the park or visiting one of the coffee shops in town. He was nineteen when the cruellest of illnesses, schizophrenia, struck, and the rest of his life was under that shadow. He was a student at Liverpool John Moores at the time, and his education, job prospects, hopes of marrying and having a family, were all blighted. But he was able to relish life, to love his music and make some fantastic trips to America. His mum, Irene, cared for him selflessly, though anxious for him to have as much independence as possible. Her only child, she was inconsolable this morning. Nothing can console her at the moment, but she's my "Mum of the Week" by a country mile. May God enfold her in His love and care.
Why schizophrenia hits so many more men than women, why it hits in late teens are questions scientists and doctors are battling to answer. One day, there may be answers and possibly a cure. This is the whole field of epidemiology, and an absorbing science it must be too. Here's yesterday's graph of the Covid-19 pandemic in this country, and it illustrates very graphically [Well, it would, wouldn't it, you idiot. Ed] the stubborn tail that shows little signs of disappearing. There's even a slight upturn since the middle of July. All the time that tail's there, there's the potential to cause a second outbreak.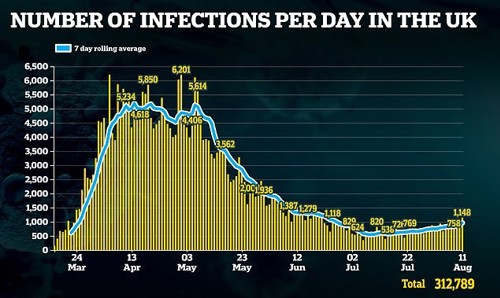 May God bless you all,
Fr Paul
---
Wednesday 12th August 2020

For Reception classes, it's not so much "going back to school" this autumn but starting there for the very first time. You can see the excitement on these two little four-year-olds' faces as they run in for their first day at school in Glasgow, Scottish schools always beginning some three weeks earlier than England: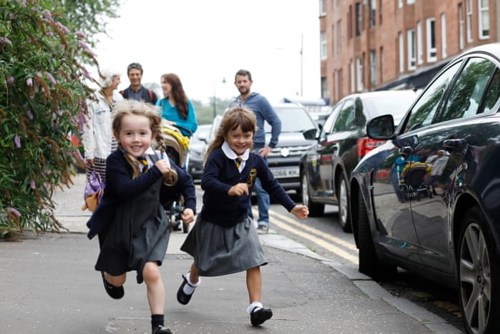 Do you ever wonder what their parents are thinking as they stand in the background watching them run through those school gates? Cecil Day Lewis wrote the most poignant poem on this theme, having watched his own four-year-old son Daniel (the actor) make that very same walk:


Walking Away by C Day-Lewis

It is eighteen years ago, almost to the day –
A sunny day with leaves just turning,
The touch-lines new-ruled – since I watched you play
Your first game of football, then, like a satellite
Wrenched from its orbit, go drifting away

Behind a scatter of boys. I can see
You walking away from me towards the school
With the pathos of a half-fledged thing set free
Into a wilderness, the gait of one
Who finds no path where the path should be.

That hesitant figure, eddying away
Like a winged seed loosened from its parent stem,
Has something I never quite grasp to convey
About nature's give-and-take – the small, the scorching
Ordeals which fire one's irresolute clay.

I have had worse partings, but none that so
Gnaws at my mind still. Perhaps it is roughly
Saying what God alone could perfectly show –
How selfhood begins with a walking away,
And love is proved in the letting go.

Love is proved in the letting go – isn't that perfect? And the next thing you know, they're doing their A Levels and leaving home for the great beyond. Tomorrow is Results Day, and it's going to be a fiasco, with all these last-minute changes to how the results will be calculated. It does make me angry that they've had six months to work this one out, ever since they announced that no GCSE or A Level Exams would take place this summer. They don't seem to have used those six months very well if first the Scots and then the English have to change everything at the last minute? Do they not remember what it's like to be an eighteen-year-old, having studied for the most important exams of their lives, and so much depending on the results? Our youngsters do deserve better.

In the Hospital as usual on a Wednesday morning, and having a chat with James along these lines, our lovely former Catholic High student now getting ready to go back to Leeds for Year Four of Medical School. His summer holiday plans were thrown into disarray, as those of all students were, by the lockdown, and he thought he'd do something useful by volunteering as a Health Care Assistant at the Countess. What a fantastic thing to do! This morning, he was very carefully and sensitively helping an old gentleman get from his zimmer into his chair, gently does it, an inch at a time, don't move till you feel secure… He'll make a great doctor.

102-year-old Ellie, who lives opposite St Columba's, was not enjoying being in Hospital, just wanting to be HOME. Let's hope she is, soon. Graham, another St Carpark's parishioner, is back home after his few weeks in, and I'm sure delighted to be there. John, my 95-year-old Catenian, has been moved to Ellesmere Port for a spot of Rehab before going home to Pulford. Another lady I met, Hilary, is also a St Columba's Parishioner – we must pray for them, Werbies – and had been thinking for some time of becoming a Hospital Volunteer. Get well again soon, Hilary, and get on the Volunteer Rota IMMEDIATELY! And news that Michael, my elderly gentleman from the Ukraine that I'd been called out to on Monday Morning, had reached Journey's End, and made his final Home with the Lord. I said on Monday that I wished he'd written a book about his war-time experiences: Blow me, he has!! Thanks to our great friend David from St Columba's for recognising who I was talking about and supplying that further information.

And finally, do you remember me telling you about Jenny (not her name) on the Stroke Unit a few weeks ago, not able to speak, but just grasping my hand, looking at me so pitifully, beseechingly, and not wanting to let go? Not even able to do that this morning. Please, Lord, in your good time, carry her from this life to the Life Eternal. She deserves it after what she's been through.

May God bless you all,

Fr Paul
---
Tuesday 11th August 2020
One of the issues we threw around at our Taskforce Review Meeting yesterday was masks now being required for church, and the need to prepare for receiving Holy Communion. For many, this was a first, a juggling of mask and hands, especially if you are carrying anything such as a handbag or missal, And this proved a problem. What we are going to suggest this coming Sunday is that everyone either removes their mask or slips it down over their chins as they queue. They then can safely and reverently receive Holy Communion, and, as they leave, replace their masks. One thing I am definitely not going to do is copy this Anglican Vicar in Co Durham: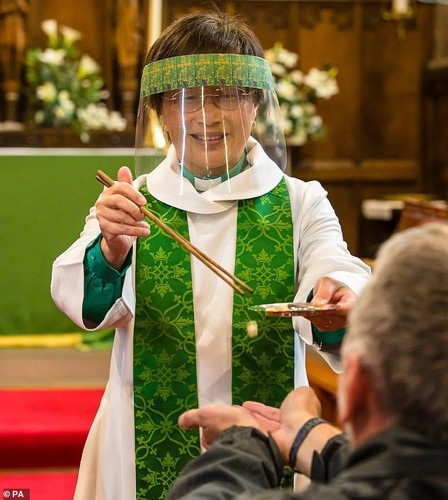 Sorry. I'm as keen on ecumenism as the next priest, but there are limits. Chopsticks. Deffo not.
This Saturday, we have our first post-lockdown Baptism, and on Sunday, our second Wedding. Added to the two Funerals in recent weeks, you can see how we are beginning to get back to the Celebration of all our Sacraments. Confessions will be next. Sadly, Confirmations have had to be postponed, Bishop Mark intending to start the programme all over again as soon as possible, probably in the New Year. This is needed to give Parishes time to plan and carry out their Programmes, well in advance of the final Celebration of the Sacrament of Confirmation with Bishop Mark himself.
Another small list of Clergy Moves this afternoon:
CLERGY RETIREMENT AND APPOINTMENTS
Father Philip McGovern will retire in September on grounds of health as the Parish Priest of Our Lady, Holy Cross and Saint Paul's, Birkenhead. We record our thanks for all of Philip's years of faithful service in the parishes of the Diocese and wish him many fruitful and active years in retirement.
Father Wicktor Ostrowski has completed his service of the Polish Catholic community in Shropshire and Staffordshire and has been recalled to his home Diocese in Poland. We record our thanks for his years of faithful service within this Diocese of Shrewsbury.
Father Michael Coughlan has accepted my invitation to become the new Parish Priest of Our Lady, Holy Cross and Saint Paul's, Birkenhead from September.
Father Michael Latuszynski has been appointed to serve the Polish communities in Telford and Shrewsbury from August this year replacing Father Wiktor Ostrowski. Please remember in your prayer Father Philip and the two Father Michaels as they begin these new stages of their priestly life and ministry.
Our Lady's, Cavendish Street, Birkenhead, is one of the largest and most beautiful churches in the Diocese. It's right in the heart of the old Docks area, the North End. An E.W. Pugin church, 1860-2, it took a direct hit in one of the air raids of 1941, the priest and housekeeper both killed.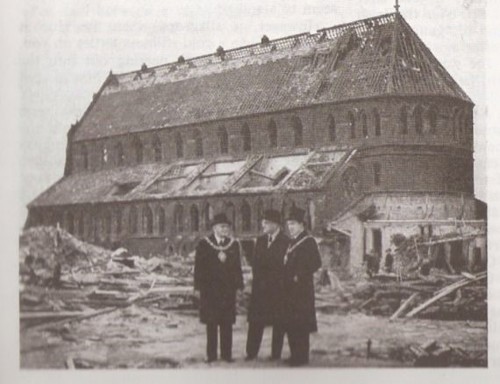 Carefully restored after the war, it sadly does not have the population it once had, the Docks a shadow of their former selves. But it remains a magnificent church and is often used for big Diocesan events such as the Funeral of Bishop Joseph Gray in 1999.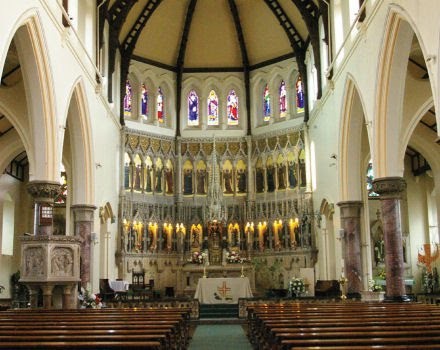 May God bless you all,
Fr Paul
---
Monday 10th August 2020
Taskforce duly sat down at 10.30 once again this morning, after a quick finance update with Syd and Denise. Income is right down, but so is expenditure, and the balance sheet shows us just in the black. Huge thanks to everyone who has kept their donations going through this difficult time: those of you who use Standing Order and Direct Debits, those who've posted their envelopes faithfully through the letter box of the Parish House, and those who've given us their cash contributions, large and small. Every penny has been appreciated and safely banked and entered in the Parish Accounts. You're keeping HMS Werbie afloat, and we can't thank you enough.
Then the Taskforce met and reviewed yesterday. Numbers significantly up, many of you feeling reassured enough to return to Mass for the first time. Welcome back! All four Masses very well supported, so no case for cutting any of them. No-one needing to be turned away, so no need at present for any Booking System. And no strop at all yesterday from anyone! Wow! Perhaps it was my invitation to come and have a strop at me if you felt so inclined that did it. Disappointingly, no one has taken me up on that invite. But my door remains open! 
Student Stewards are getting ready for going back to Uni, so we are going to need some replacements. Appeal will go out in the Newsletter and Blog this weekend. No-one has taken up our offer of two large boxes of excellent files, ring binders, plastic wallets, you name it. Free to anyone who'd like them. Ideal for any student who doesn't feel everything can be done on the flaming laptop!
Just as the Taskforce meeting was wrapping up at 11.30, a call-out to the Hospital, Michael on his journey Home to the Lord. Thanks to having been in every Wednesday morning for the last few months, I knew exactly who Michael was, but little else about him, communication not having been easy. So, incredibly valuable to meet his son and daughter this morning, the daughter having married some years ago up at St Columba's. Well, as I told her, nobody's perfect. Michael was from the Ukraine, not Poland (as I'd guessed, wrongly, from his surname), born in 1928, and came to England, as a refugee in uniform, at the age of 16 in 1944. Unlike many, he had kept his ties in the Ukraine, and was able to visit a number of times before old age made it out of the question. What stories he could have told me had communication between us on those Wednesday mornings been possible! Please keep him in your prayers tonight, everyone, as that wonderful Final Journey begins. 
Rotten chiz! As Molesworth would have said. No, nothing to do with Maudie from Mouldsworth, now somewhere in the Loire Valley, but Nigel Molesworth, star pupil of St Custard's, in Geoffrey Willans's hilarious series of books, with those unforgettable illustrations by Ronald Searle, "Down with Skool" and "How to be Topp" two of the best. Here is the genius himself: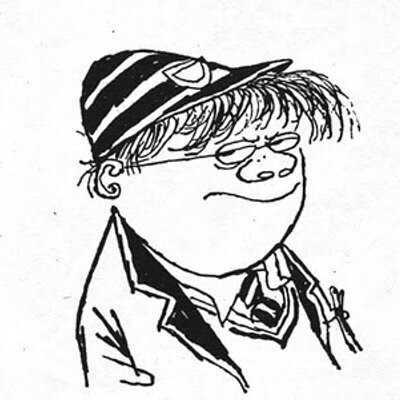 Only three weeks to go to the start of the new school term, and, boy, is Nigel excited: 
Why mention Molesworth, dear Reader? Because it is almost time for my evening walk, and the Racecourse is closed for some stupid horses to race round it. What a chiz! And secondly, because it looks as if the skies are going to open any minute. Rotten chiz!
 What's a chiz, you cry? Let Nigel explain in his own inimitable way.
 "A chiz is a swiz or swindle as any fule kno."
 May God bless you all,
 Fr Paul
---
Sunday 9th August 2020
Numbers up again today, which is so encouraging. 69 at 9.00 am, 58 at 10.00 am, 44 at 11.00 and 44 at 12.00, totalling 215 for the whole morning. This is up from 201 last week, 198 the week before and 147 on our first Sunday reopening for Mass. Many people commented on how good it was to see all the bubbles today: not just because it increases our socially distanced capacity, but because it was so lovely to see families, especially with young children, worshipping together. Getting like the old times!
But I can't quite believe I'm reporting on Week Four of Reopening for Mass, middle of August, and still no sign of it all ending. Will we still be in this situation at Christmas? Graphs of Covid-19 in this country show the peak, but then a long, stubborn tail which is horribly failing to disappear. All the time it is there, like a simmering fire, it has the potential to burst into flames again and cause a second wave.
Youngsters are always on my mind, but I've been thinking about three groups especially this week. Firstly, our weddings couples, who, when lockdown began in March, confidently rebooked for this Autumn. They are now wondering if that was a wise decision. Some have already bitten the bullet and gone for another date twelve months hence, into next summer. Many are sitting on two dates, one this autumn and one next summer, which is fine by us.
The second group is our university students. Tom was Altar Serving this morning, a wonderful young man, and heading back, in a fortnight's time, to begin the new academic year in Edinburgh, the Scottish universities always beginning before the English. Georgina, one of our great Stewards and Cleaners, is also due back in Edinburgh soon. Ellie, another wolunteer on the team, will be starting Year 13 when High Schools are back in three weeks' time. Mikhael is starting at college in the Midlands in a fortnight's time. So, we are going to need to recruit some new members. Get your pinnies out, folks! No, no need – they will be provided, plus gloves and masks. Seriously, everyone: do you think you could join us on a Sunday morning, 8.30 to 10.45, or 10.30 to 12,45? You'd get a very warm welcome from all of us if you could.
That brings me to my third group, our A Level students receiving their results next Thursday. Those results have had to be assessed, as exams this summer were out of the question once schools went into lockdown with the rest of us back in March. The assessments will partly be by the schools and partly by the Exam Boards. Understandably, the teachers' assessments have proved too generous. If any of us were teachers and had a pupil on the B/C borderline, Grade B on a good day, C on a not so good, what would we give them? We'd all err on the side of generosity. But multiply that by the whole 300,000 cohort of A Level students and you have serious inflation. Why does that matter? Because these grades are the currency for getting into University and doing nothing simply pushes the problem up a level to the poor Admissions Tutors, who now have 140 applicants with the required grades where in a normal year they would have 100. For the 100 places on offer. How on earth do you decide which of those 140 equally well-qualified candidates are to be given the hundred places? Hence the need for the Exam Boards to cut down the teachers' assessed grades before we get to that stage.
But that makes Thursday doubly tense: "Miss, Sir, why did you assess me at C when I was always B/C borderline?" "I didn't, Johnny – the Board did". Ouch! Not surprising to hear that the posher independent schools already have Counsel briefed to launch all sorts of legal challenges. In some ways, I'm quite glad I'm not directly in that world anymore.
Lots of you liked the poetry yesterday, even if some of you, like me, didn't share the sentiments of the writer. To say "Anglo-Saxon Writers on Italy" is to open up an enormous treasure-trove. W.H. Auden has always been one of my favourite modern poets, and I love the one he wrote when, after many years, he decided to leave Italy and return to the northern Anglo-Saxon world of England, Lower Austria and New York. Goodbye to the Mezzogiorno is his farewell to Italy, written when he left Ischia in 1958, in which he wrestles with the question of why Italy has such a pull on the English soul. It begins:
Good-Bye To The Mezzogiorno
Out of a gothic North, the pallid children
Of a potato, beer-or-whisky
Guilt culture, we behave like our fathers and come
Southward into a sunburnt otherwhere

Of vineyards, baroque, la bella figura,
To these feminine townships where men
Are males…
We'll look at the poignant ending of the poem tomorrow, perhaps.
I accused the Lady on a Bicycle yesterday of rubbing salt in the wound by sending over her poem. The same accusation today to Lockdown Les and Catalogue Katie, e-mailing me a picture of the little church in Italy where they go to Mass.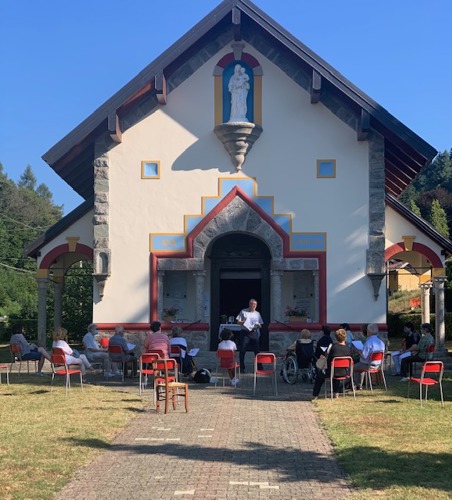 And will for the next six Sundays…
Just look at that blue sky. And you ask me why I get so bitter and twisted.
May God bless you all,
Fr Paul