Concert Series 2018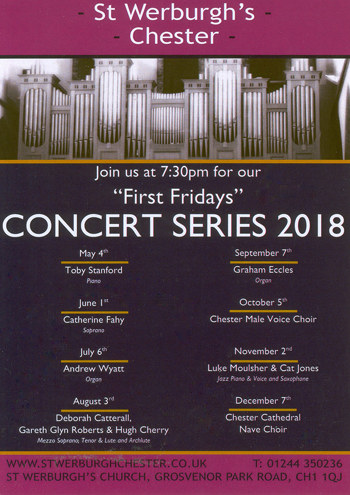 Our First Fridays are lovely, accessible introductions to Classical Music, from the whole repertoire of vocal, choral, instrumental and orchestral music.
And not just Classical but Popular music as well, Jazz, the American Song Book, the lot!
Ideal for those starting to get into Classical Music as well as seasoned enthusiasts.
Each concert about 60-80 minutes long.
Refreshments included - tea, coffee, wine!
Free admission, but we sometimes take a Retiring Collection, especially to support a young student or early years professional.
Now a few details about this season of 'First Fridays' ... But do please see the Weekly Newsletter for more details of each concert in the weeks beforehand.
May - Toby Stanford. Toby is currently on a gap year, having been a pupil at Abbey Gate College, off to University to study Music in the autumn at Hertford College, Oxford. He's a superb pianist, in his third year of studying at the JRNCM and gives regular piano recitals in the Chester area.
*** Change of date ***
June - Andrew Wyatt. Andrew is Assistant Director of Music at Chester Cathedral, and conducts the Cathedral Choir and the Nave Choir. He's an accomplished Organist, having trained at Birmingham Conservatoire and occupied posts at Birmingham and Canterbury Cathedrals. He's an old friend of St Werburgh's and we're welcoming him back with his Nave Choir in December.
*** Change of date ***
July - Catherine Fahy. Catherine is a soprano from Hawarden, in North Wales. She holds a Master's in Musicology with distinction from the University of York and a Bachelor of Music with honours from the University of Manchester. Currently studying singing with Andrew Heggie of the Royal Northern College of Music.
August - Deborah Catterall, Gareth Glyn Roberts and Hugh Cherry. Back by popular demand! Hugh and Deborah came two years ago and enchanted us with their Lute and Soprano recital. Hugh taught the lute at the Royal Northern and at Chetham's and is joined by Deborah and Gareth for what promises to be another fascinating exploration of these wonderful instruments - Lute and (wait for it!) Archlute!
September - Graham Eccles. Another old friend, Graham has delighted audiences at St Werburgh's on our magnificent three-manual Binns Organ since its installation in 2004. A former Assistant Organist at Chester Cathedral, he went on to become Organist at St Asaph, and is now a freelance soloist, teacher, conductor and accompanist, very much in demand. Welcome, Graham!
October - Chester Male Voice Choir. This wonderful ensemble needs no introduction, and their visits to us are always eagerly anticipated and hugely appreciated. Croeso, dyn!
November - Luke Moulsher and Cat Jones. They wowed us last year with their selection from the Great American Song Book, and the only question was when they could come back again. Their combination of Jazz Piano, Voice and Saxophone is utterly irresistible!
December - Chester Cathedral Nave Choir. Chester Cathedral Nave Choir is the oldest continuously serving cathedral voluntary choir in England. Welcome back, Andrew and friends!