Updates from the Parish Priest
---
Tuesday 15th June 2021

We received this message from Bishop Mark this afternoon:

CONTINUING LOCKDOWN RESTRICTIONS

I know you will be fully aware of the announcement last evening that lockdown restrictions are to continue in England until at least Monday 19th July. We are told much depends on extending the vaccination programme in order to help ensure the immunity of a greater proportion of the population in the face of the rapidly spreading Delta Variant.

I will keep you informed if there are any adjustments or changes to the public health measures which apply to places of worship and parish activities. In the meantime, we will continue following the present guidance in the hope of better days soon to be with us.

With remembrance in my prayer and every good wish,

+ Mark

Bishop of Shrewsbury






The Dear Leader's announcement last night was very much as trailed: no change for another four weeks. But there are two easings we'd like to introduce here in St Werburgh's: Daily Mass and Confessions. The last set of instructions a month ago said we did not need to Steward weekday Masses. We didn't act on that at the time, because we honestly hoped everything was going to change yesterday, 21st June. As it's obvious now it isn't all going to change – be honest, nothing's going to change!! – we might as well go ahead with reintroducing weekday Masses and Confessions asap. Taskforce meets this week on Thursday, as we wanted to see what yesterday brought. And what did it bring? Diddly squat. As they say in German.

I wasn't able to join the morning session of the National Uni Chaplains Conference today, with a Funeral at 10.40 and appointments before and afterwards. But I was able to take part this afternoon, with a very moving Liturgy organised by the Committee and led by our Lead Bishop, Alan Williams.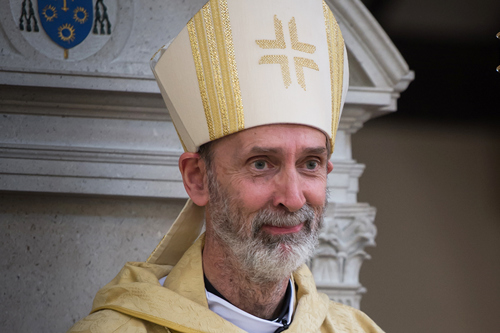 I was going to write that in many ways, he's not the typical bishop, but I'm not sure there's any such thing anymore. Born in Oldham in 1951 – excellent vintage! – his father was a fireman, so Alan had a very peripatetic childhood around the Fire Stations of Lancashire. He's a Religious, a Marist, becoming Superior of the Marist Fathers in England. Before being Bishop of Brentwood, he was Director of the Shrine at Walsingham.

There was one joyful moment in this afternoon's Liturgy. The tekkie side of things has been professionally controlled by Mia, our Chair (Chaplain at Newcastle) and Tekkie Supremo, Neill (Chaplain at Keele). We are all properly muted at the correct times. But when it came to the "Hail Mary", Mia spontaneously asked us all to unmute, and bellow away. What a holy din! But I'm sure Our Lady loved it, storming heaven by every means, earthly and remote.

Otherwise, today has been spent carrying all those Cathedral chairs to the porch, from where they will hopefully be picked up tomorrow by the church in Crewe who are so grateful to take them. We're getting rid only because our new "Maximum Capacity Figure" that had to be calculated for the County Fire Audit means they really are surplus to our requirements.

And finally, my dear brother Graham tells me the big interview this morning down in London went as well as it could have done. He hears results tomorrow morning, so please keep those prayers going, Werbies, for Graham, his beautiful wife Anna, and their three smashing kids, Barney, Daniel and Ruth.

Tonight's "Gardener's Corner" features the brilliant colours of the irises, newly planted in the front border as part of last November's Bulbathon: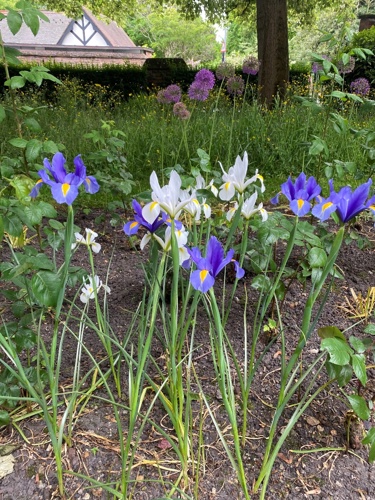 May God bless you all,

Fr Paul
---
Monday 14th June 2021
Tea-time now and we await the Dear Leader's words: but such is the nature of modern politics it's all leaked, trailed, briefed, what you will, well in advance. I think we all know he is going to announce a further four weeks' lockdown. As a blog, of course we are only concerned with the higher truths and spiritual improvement [shome mishtake shurely? Ed]. Far be it from us to trespass into politics, but this photo has attracted a fair bit of comment: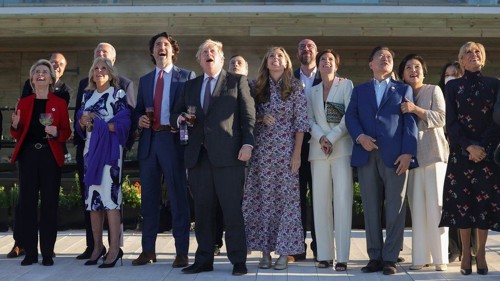 Not much social distancing there? Not a mask in sight? One law for them and one for us? Or am I just getting bitter and twisted because I've never seen the Red Arrows close up and personal?
Like the rest of you, I get my fair share of scams and potential frauds. Amused by this one this morning:
In order to continue to access your (BTINTERNET) Mail account after june 31st-2021, you will need to confirm you accept the Terms of Service. We also need a few moments of your time to explain how we manage your data and provide you with some choices in relation to the processing of that data. If you do not want the new Terms of Service and Privacy Policy to apply to you, you will no longer be able to access your account from june 31st-2021. If you would like the contents of your email account, you may obtain a copy of your data by clicking here.
I mean, that's serious, isn't it? Having my emails cut off from 31st June onwards? Especially as there are only thirty days in June…
Laurie from Larshay has sent me this heartfelt plea from one of his friends. Can anyone help? His friend is someone cruelly hamstrung between his wedding plans and the Euro 2021 Finals:
WEMBLEY TICKETS....
England v Scotland
Fri 18th June 2021
KO 20.00 hrs
One of my mates has two spare tickets in a corporate box for the England v Scotland game. He paid £300 each, but he didn't realise when he bought them that it was going to be the same day as his Covid 19 postponed wedding. If you are interested, he is looking for someone to take his place.
It's at Bolton Registry Office, at 2.30 pm. The bride's name is Moira, she's 5'4", about 8 stone, quite pretty, has her own income and is a really good cook.
Let's hope he gets some good offers. We all hate to see a grown man cry.
Today has been Day One of the National Conference of Catholic University Chaplains, all by Zoom, but bringing us together in this very isolated world we all inhabit. Today, we were joined by Chaplains from Newcastle, Liverpool, Goldsmiths, Southampton, Durham, Newman, Liverpool Hope, Sunderland, Oxford, Cardiff, Essex, Edinburgh, London, Manchester, Birmingham, Oxford Brookes, Roehampton, Birmingham City, Keele, Loughborough, Lincoln and Swansea. Tomorrow we're hoping for another selection, everyone's fervent prayer being that we are back to some sort of "normal" by September.
Today's garden shot is geraniums – the natural variety, not the hybrid pillar box red ones – and periwinkle. Cooler in the garden today, and no bad thing after the heat of the last few days.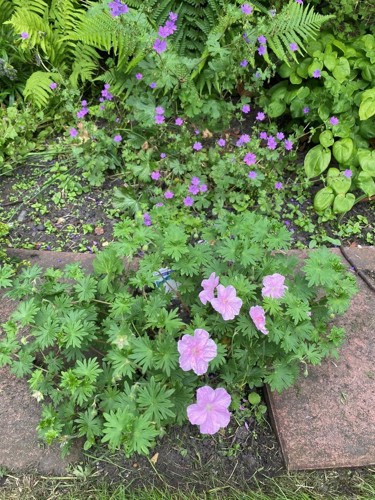 My dearest brother Graham, Vicar of Christ Church here in Chester, is up for a hugely important interview tomorrow morning. I told him last night we'd all be praying for him: the big difference between Catholic and Anglican prayers being, as I told him, that Catholic ones work… (Low blow, but I couldn't resist).
My Donegall mother of last week facing the potential Breech Delivery? Brought safely to bed of a bouncing baby girl three days ago, she excitedly told me on the phone last night. I told you Catholic prayers work! As the Irish always say when a baby's due, whether it's a boy or a child as long as it's healthy.
You've asked for photos of Olive's Hot Pots. For heaven's sake! I'm trying to raise the spiritual level of this blog and you're just determined to pull it down again. OK, OK, I do happen to have just one…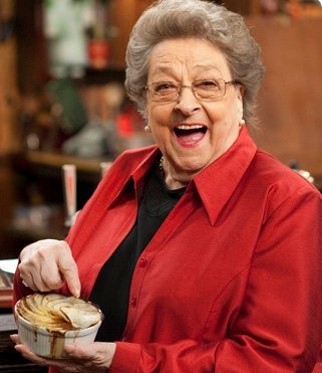 May God bless you all,
Fr Paul
---
Sunday 13th June 2021
Total numbers at Mass today exactly the same as last Sunday: 308. If 80-ish is our capacity, with four Masses on a Sunday, that would suggest 320-ish as a total capacity. You can see how close we are to that figure.
9.00 am: 84
10.00 am: 89
11.00 am: 85
12.00 noon: 50
People obviously wanted to get home early for the Match! (For those who haven't seen it, or heard the result, Croatia won 7-0). Again, God is good: two people needed turning away from the 9.00 am, and they both cheerfully came back for the 10.00 am. I am so glad they were cheerful: I would have an awful conscience if they'd punched Syd's lights out.
Our Lady on a Bicycle has little interest in football and has her mind on much loftier subjects. She has a particular devotion to St Anthony of Padua, whose feast day it is today, 13th June. In the front room at Loab Lodge, she has this beautiful little "icon corner" to St Anthony: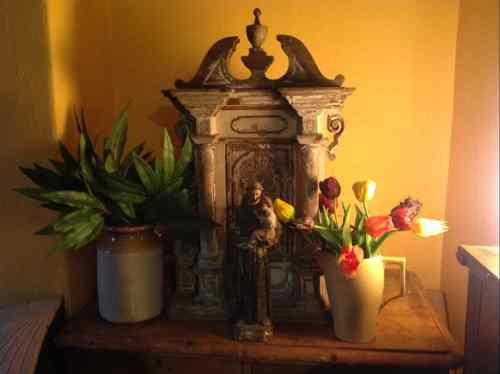 She also has quite decent taste in poetry. Not a bad old codger, Loab, taken all in all. Meanwhile, down in Carbis Bay, good to see Joe and Jill Biden starting the day with Mass at the Catholic Church in St Ives, Sacred Heart and St Ia.
I like that post box right outside the church. But it did make me wonder about the other G7 leaders and if any of the Catholics amongst them – and their Catholic spouses? - also attended Mass? Just asking.
Thought I'd finish today with a couples of visions of loveliness. No, not the Choir – behave, you lot! Visions don't get much more adorable than Laila, getting ready for her forthcoming Baptism here in the Werbies. She has two Werbie grandmothers. That's all I'm saying. Nothing more. Not a single reference to broomsticks. No way.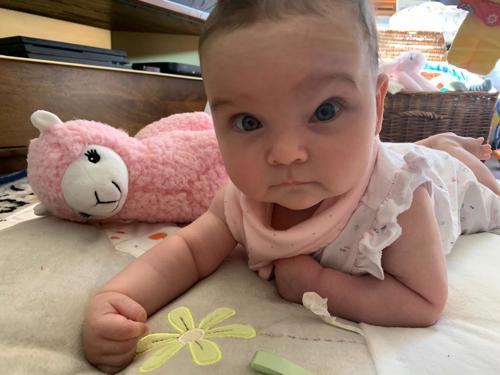 And these scarlet poppies in the back garden make a brilliant but all too brief flash of colour: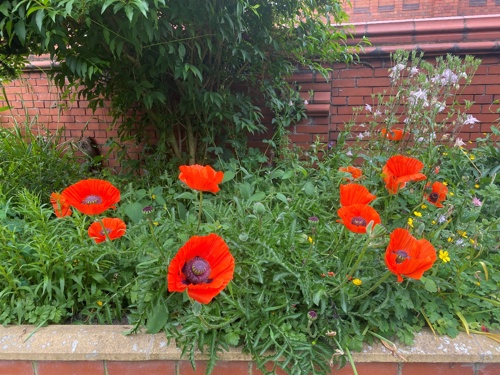 Now we wait for the Dear Leader tomorrow and his announcement on Covid-19 restrictions. Have you noticed he's lost quite a bit of weight recently?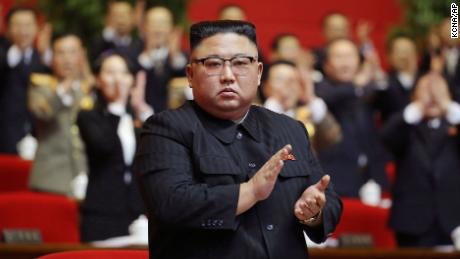 He could do with one of Olive from Orford's Hot Pots, couldn't he? Legendary they are, throughout every pub and club in Warrington.
May God bless you all,
Fr Paul
---
Saturday 12th June 2021

At long last! First Holy Communions this morning, our Parish Group (children not at the Catholic Primary School), ten of them, with just seven guests each. Here's Olivia arriving with her mum and dad, Jessica and Mark, and her grandparents from Kilkeel, Co Down, Mary and Patrick: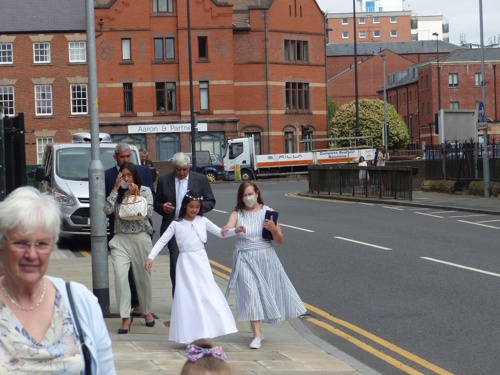 It was lovely to be able to say hello to the candidates and families as they arrived, and were seated by our ever-faithful Stewards: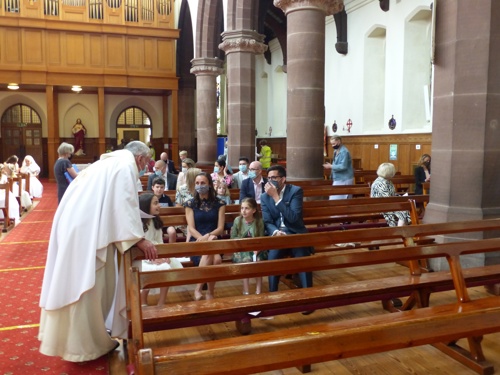 I'm saying hello there to Natasha and Dave Spiteri, from Malta, and their two daughters, Mia and Cara. Syd took this powerful shot from the pulpit just before Mass started: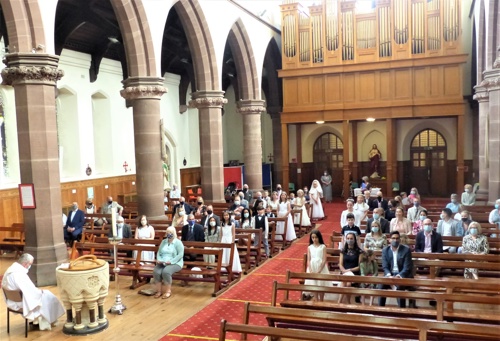 And here we are, the Mass just begun, Louise and Bernie (two of our super Catechists) on the front row: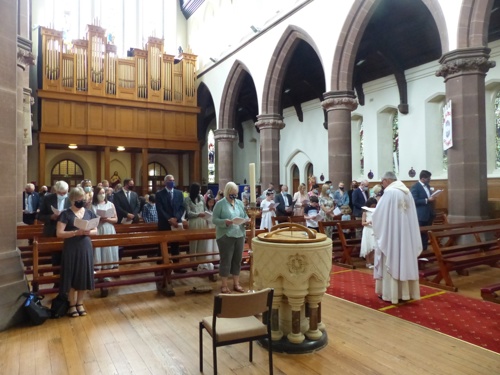 After all these years, I still find the moment of a First Holy Communion deeply moving and spiritual, the first encounter between any individual and the Lord Jesus in the Blessed Sacrament of the Altar. Here's Olivia, with her parents behind, and Louise keeping a watchful eye as each family group comes up in turn: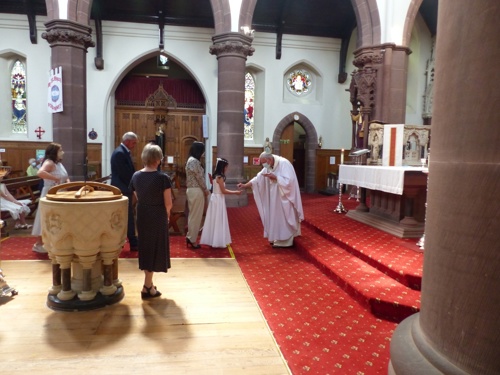 After it was all over, there have to be photographs, so we called each family group up to the space in front of the High Altar, starting with our wonderful Maltese family: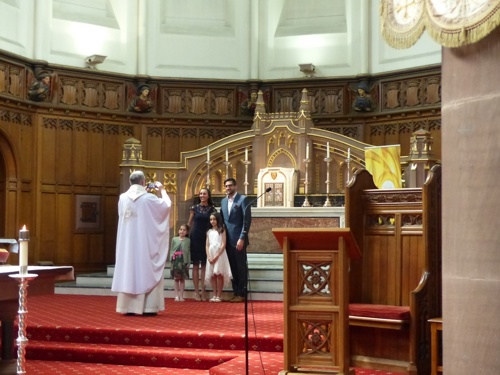 Then they left via the Sacristy and the front door of the house, to ensure our "One Way System" in compliance with Covid-19 regulations. Out last shot shows Christian and his mother Pauline off down the garden path. In Christian's envelope is his FHC certificate, his photo that we used in the display at the back of church, and a pair of rosary beads, kindly donated by Kevin Prendergast of the Catenians, with a super little booklet on "Praying the Rosary":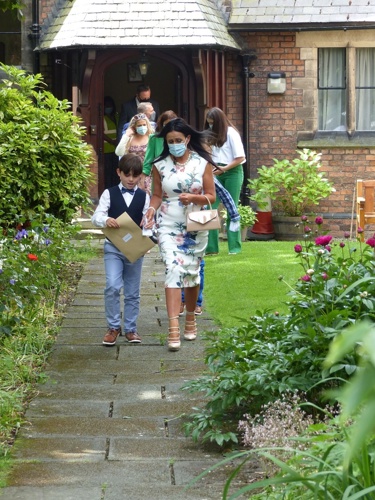 The Catechists, Stewards and myself had the briefest of post mortems afterwards: and it was universally felt that it had gone splendidly, the children so attentive and responsive, the families so engaged and co-operative. (Which isn't always the case, dearly beloved!) It was such a lovely occasion that we need to think carefully now about the advantages and disadvantages of special "First Holy Communion Masses" like this one, as opposed to our normal practice of inviting the children to make their FHC at any Sunday Mass during May. This morning definitely set us all a challenge to think about.

Two nice follow-ups to recent postings. Good to hear from our excellent Werbie Fiona Rushforth (Kirstie from Keristal, except that she doesn't live there anymore!) about Roger Fisher, reminding me that Roger was related to her husband Adrian. With Fiona's permission, I quote one paragraph from her very thoughtful email:

"He was always full of praise about the organ at St Werburgh's and we were very fortunate to have him play at Jenny's and Rich's weddings, as well as my father's funeral. He treated these occasions with as much professionalism and seriousness as he did a recital in one of the world's concert halls. My mother-in-law has literally had messages of condolences and tributes from all around the world - many within hours of his death, the news travelling so fast in the music world."

And Cameron from Cambrian Avenue has unearthed this nugget of Dickensiana: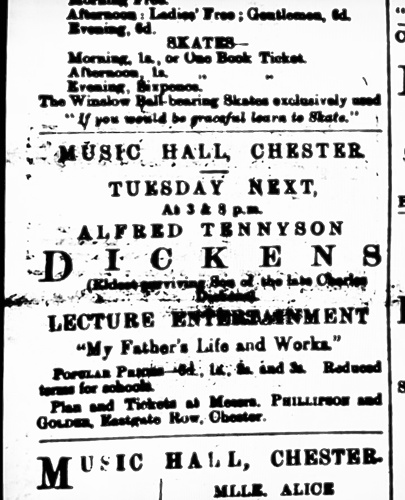 Cameron writes:

The date is 4th October 1910, and the cutting is from the Cheshire Observer, now digitised and in the British Newspaper Archive. (Worth every penny of a subscription for me).

As a youngster, attending Victoria Rd School, we always referred to the former Crosville Garage as the Rink Garage - the garage stretched from Liverpool Rd (Opposite the George and Dragon) to Victoria Rd. This is now the site of a block of apartments. Recently, I decided to check this out and found the cutting in the Cheshire Observer - confirmed with the ad and referred to as the American Roller Rink - spotted the Dickens event in the same cutting.

Found a couple more references to Alfred Tennyson Dickens in the same paper.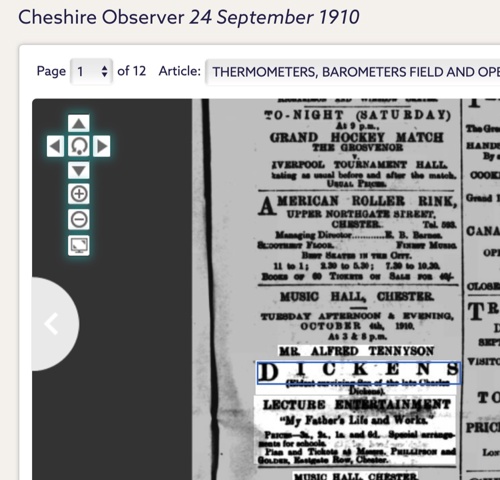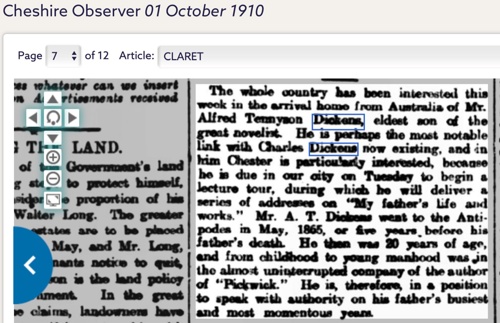 There's a rich irony here. Dickens had ten children, nine of whom survived infancy: two daughters and seven sons. I think it would be fair to say that he was as proud of his two daughters as he was despairing of his seven sons. He packed Alfred off to Australia when he was nineteen to escape the life of idleness and debts he was enjoying in London. He stayed there for 45 years, making a second, fairly disastrous marriage, and suffering mightily in the depression that hit Australia in the 1890's. Having lost most of his money, he took to the lecture circuit. He came back to England in 1910, the first time in 45 years, as I say, and these clips from the Cheshire Observer show that he was giving his "My Memories of My Famous Father" talks here. In 1911, he tried his luck in America, where he unfortunately died, 2nd January 1912. His grave is in the Trinity Church cemetery in Manhattan: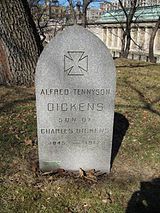 May God bless you all,

Fr Paul
---
Friday 11th June 2021

Gardening team in first thing this morning to finish clearing and tidying that triangle at the back of the church building on Bath Street, between the Day Chapel and the garage. Presumably this patch was only created when the Garage was built, in the 1970's. No-one's fault, but it's become a dumping ground of everyone's discarded cans, fag packets, half-eaten takeaways, you name it. Not a pleasant job, but had to be done, and the stumps of the ever-present buddleias treated with chemicals to make them die back. Challenge now is to keep that patch clean on a regular basis. Thanks, team!

Busy morning then booking in Baptisms. I think "pent-up demand" is what the economists call it. We were reflecting after the FHC practice on Wednesday that, when we start classes up again in September (God willing), we will have two years' worth of customers to deal with, not one. How we're going to manage that, heaven alone knows.

Out this afternoon to see Mike and Margaret Hart in their lovely garden up in Great Boughton. They've both been in the wars lately healthy-wise, but their spirits this afternoon were absolutely marvellous. Margaret was full of praise for her new GP, new to the practice that is, and I felt exceedingly smug very in being able to say, "You do know they're a Werbie, don't you?" Nothing but the best here! We always say that if you have to be taken ill, the middle of Mass at St Werburgh's will guarantee you medical care of the highest quality. Once we were up to date with all the medical happenings over the last year – and there were plenty of those – we started catching up with mutual Werbies, past and present. When I arrived in 2006, Margaret was a pillar of the SVP and did so much else for this Parish, and Mike was the Gift Aid Organiser, a job that secures you a place in Heaven if nothing else does. Good to hear news today that Evelyn Hughes is out of Hospital: Mike was telling me about the day in the mid-70's that Canon Murphy marched into the old Bowling Green Hotel and bought it on the spot, cash down – and Mike and Stan Hughes were given the task of ripping out some of the old fittings! What days they were!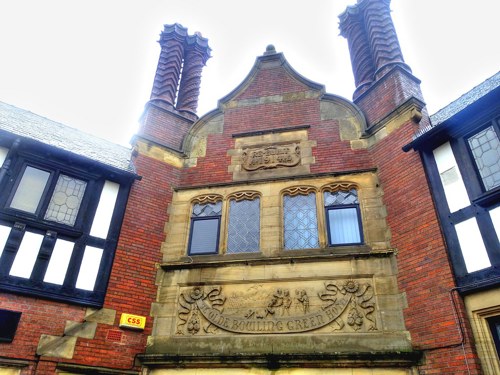 No sooner back at 3.30 pm than a call straight out to the Hospital. The patient had been admitted after a major breakdown, and when I arrived, the psychiatric emergency team were with them. The patient had specially asked for the Catholic Chaplain, so the team very graciously gave way to me to have a conversation with the patient. Half an hour later, they asked me for my opinion. I can always remember the first time this happened at Clatterbridge, and how startled I was: why on earth would medical professionals ask the opinion of a totally medically unqualified Chaplain? I asked one of the doctors this in a quiet moment in the ward office and was given the unforgettable reply: "Look! They wouldn't ask you if they didn't want to know what you thought, They're not just being polite, being nice to the dog-collar. They want to know your view, so get over yourself, and give it!"

It was affirming to see this afternoon that the way I read it was very much the same as the psychiatrists – it need not have been – and that the patient was anxious to keep up the discussion with myself, which, again the doctors said was extremely helpful. See, you lot – someone appreciates me! As today's Friday, can we call the patient Frankie? Frankie really does need your prayers tonight. I sense they'll be in for quite some time.

Paeonies have been my favourite flower since my boyhood garden was smothered in them. They were just the common or garden deep crimson ones: here, in the Werbies, we have some specialist varieties. First to bloom this year is this smasher, pink leaves and deep yellow centre: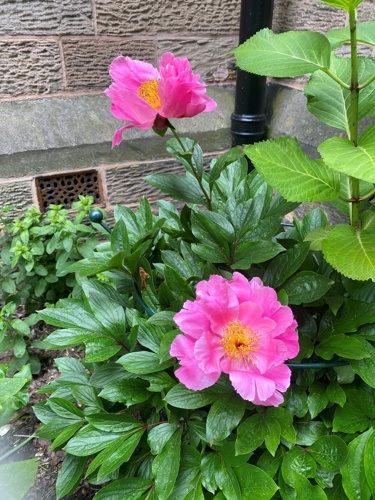 It's good to be alive, isn't it?

May God bless you all,

Fr Paul
---
Thursday 10th June 2021

Two years ago yesterday Madame Ex-Prezzie, Queen of Swadlincote, was received into the Catholic Church. That is quite a remarkable fact, isn't it? Not her reception, as we've been blessed by so many wonderful new Werbies over the years; but by the fact that Chloe came here as a student to the University, from no faith background whatsoever, found something missing in the total student experience, somehow rocked up at St Werburgh's, and not only became a Catholic but President of CathSoc.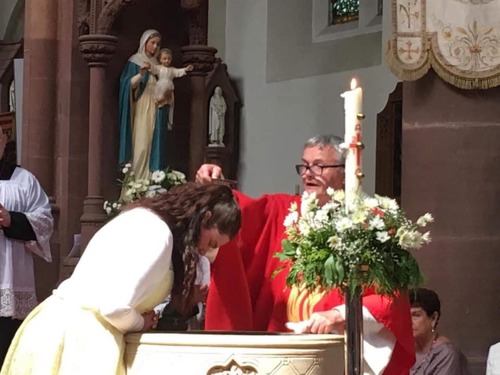 That's Olive from Orford on the right, and Norman from Knightsbridge on the left. Who the old wreck in the glasses is, I haven't a clue. Hurry back, Ol – we're missing you!

Very sorry to hear news today of the death of Roger Fisher, former Cathedral Organist and a very good friend of St Werburgh's. He was Organist and Master of the Choristers at Chester 1967-96. He was a wonderful recitalist, and a very gifted teacher, and assisted Ray Harper to a very considerable extent when the organ here was installed, purchased from the Queen's Street chapel in Glasgow. Roger had not been in the best of health for some time, living out in North Wales, but it was always a joy to see him: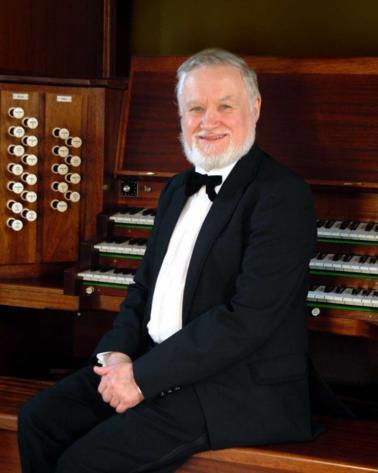 Roger: may you rest in the peace and joy of the heavenly quires.

One piece I will always associate with him was his own Organ transcription of the Overture to Humperdinck's opera, Hansel and Gretel. If you don't know this opera, it's quite a dark, powerful piece. Humperdinck was Wagner's close colleague at Bayreuth, and many of his wonderful rich harmonic textures are quite Wagnerian in feel. There are lots of versions on YouTube – give yourself an eight-minute treat! This one is beautifully accompanied by film of the orchestra:



Did you notice how all the violinists were women, and almost all the cellists? But not so many brass players and only one double bassist? Many of the German and Austrian orchestras were quite resistant to gender equality in the pit: good to see one here where the ladies definitely rule the roost! Watching it makes me desperate to get back to the Bridgewater Hall and Liverpool Phil. If I'm not back soon, I shan't be answerable for the consequences.

The garden here, front and back is bursting into heavenly colours. We didn't have much luck with lupins in the front border, but this display "in the back" more than makes up for it: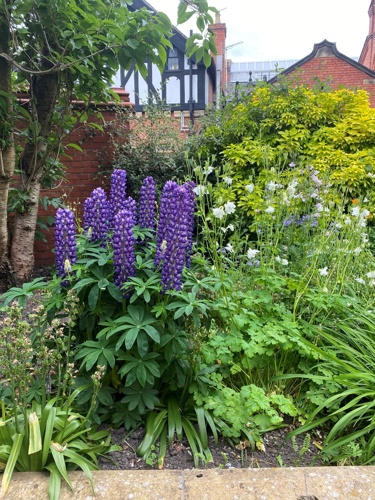 Excellent Rehearsal for the First Holy Communions last night, taken by Louise and Team, with Stewards on hand to keep everyone safe and also practise for Saturday. More Baptisms booked in today, with two scheduled for Saturday after the FHC's. Slowly, slowly, we are starting to get back to normal, but it won't be a quick process. After the practice last night, I went for an hour's walk over the Meadows. If you've not been recently, go! It's a riot of buttercups, meadow parsley and alkanet. It's a tonic to the spirits.

May God bless you all,

Fr Paul
---
Wednesday 9th June 2021
Team in this morning getting ready for tonight's First Holy Communion Rehearsal. A lot to do, and we keep reminding ourselves that none of this was necessary pre-Covid, the children making their First Holy Communion with all the other parishioners at the usual Sunday Masses. Plus, everything multiplied by three: one Mass for the Parish group (on Saturday) and then two more in July for the two School Groups. It all makes work for the working man to do!
Good this morning to sit down with a new parishioner for an hour and hear their story of how they arrived in Chester. When we'd finished, they said, "But you can't do this with every parishioner!" which made me wonder if that wouldn't be a better use of my time than some of the things I get up to. But that's the nature of the Parish Priest's life: you simply do not know from one hour to the next what is going to come across your desk. Afterwards, you can assess the value or otherwise of that hour. Or perhaps you can't: what seems pointless now may make sense in the time to come, and vice versa. Crazy old life, isn't it?
Here's an example: as you know, Sunday Mornings are full on. Once the Mass has ended and everyone seen safely out, the whole church has to be sanitised, and I have to clean all the Sacred Vessels and set up for the next Mass. For this reason, I am not really available between Masses to see people. But Syd and the Door Stewards sometimes get this request, and that puts them in a dilemma. They have to exercise their judgement. A couple of weeks ago, it was a new couple from Galway, just moved to Liverpool and expecting their first baby very soon. The latest tests had shown that it was breech, and they had an appointment at the Hospital the following Friday to see if it could be turned. Understandably, the mum was very worried: could I possibly give her baby a special blessing? Of course, I could, for heaven's sake. Then back to washing those chalices, where's that purificator, who's moved those Missal ribbons?? 
A breech baby may be lying in one of the following positions:


Lovely card this morning to say she'd been to the hospital and the baby had righted itself! See, Werbies and Mockers, there's power in those palms of mine!! 
Anyone else need my attentions? Ingrowing toenails? Dodgy knees? Sore throat? Just form a queue, please.
May God bless you all, born and unborn,
Fr Paul
---
Tuesday 8th June 2021

Beautiful walk last night, getting back into my daily rhythm that made Lockdown One so enjoyable in May, June and July last year. Two hours door to door, over the Suspension Bridge, along the meadows, following the river all the way, under the A55 and then turning right up through Diamond Jubilee Wood to Eaton Road. Cross over to the bottom end of Duke's Drive, and then right up to the Overleigh Roundabout and home. I floated the idea last year and wondered again last night if it would have any attractions: a Werbies Walking Club, a gentle walk out, between one and two hours, tea-time, once a week. Anyone interested?

Sincere thanks to Margaret Hart this morning for helping me to track down Sheila Winder. I anointed Sheila in the Hospital five weeks ago, when she was on the edge of that journey Home to the Lord. Delighted and not surprised to hear from Margaret that Sheila has rallied and is now in a Nursing Home awaiting assessment. You can't keep a good Lancastrian Lady down! – and that applies to Margaret quite as much as to Sheila, Blackburn and Lancaster their hometowns respectively. God bless you, both, and both pillars of the SVP when I arrived here fifteen years ago.

Good Zoom lesson with Bro Edmund up at Ampleforth this morning on that fascinating philosophical question, the definition of "knowledge". What does it mean to know anything, as opposed to suspecting or thinking or believing? Then out to Colin Edwards' Funeral at Blacon, married to Joyce sixty-seven years ago, 1954, at St Francis. Born in 1931, Colin's own father had fought in the Great War and been gassed, dying at the very early age of 48. Colin himself did National Service 1953-55 in Germany, marrying in the middle of it, before resuming his working life at Shell. He was one of that very lucky generation who were able to take early retirement, a golden handshake at 55, giving him thirty-five wonderful years to enjoy his grandchildren, great-grandchildren and his beloved sport. I suspect those great-grandchildren are not going to believe that anyone ever had the good fortune to quit work on a full pension at 55. What age will they have to work to before they can hang up their boots?

Out this afternoon to see Chris and Vera at Holt, Vera not having been in the best of health recently. And to see their wonderful pugs, of course, a third one having now joined the family. The front row at church is missing you! Holt, as you probably know, has been cut off from the known world since the collapse of the bridge at Aldford, so I had to go the long way round: down the A41 to the Egerton Arms cross-roads, turn right and along past Carden Park. Great to see them both, socially distanced in the back garden, and hear at first hand just how disrupted non-Covid treatment has been in the last twelve months, one scheduled operation cancelled by a message on the answerphone. That isn't really good enough, is it? To have an op cancelled is traumatic enough, after you've built yourself up for it: but you really would like someone to tell you in person, not pick it up from a machine?

The Diocesan Insurers want a photo record of the property they are responsible for: not just churches, of course, but presbyteries, schools, parish centres, anything owned by the church. They've asked for some sample pics, so we sent them, amongst others, this photo of the wonderful first floor sitting room which is one of the most stunning rooms in the house. I use it for one-to-one chats, for small groups and to do my own writing, seated at that chair in the window, looking out over Grosvenor Park. My record-player is also set up there, and Wagner regularly blasts out, with only the passing pigeons to overhear it. They happen to have a soft spot for Siegfried, I know for a fact.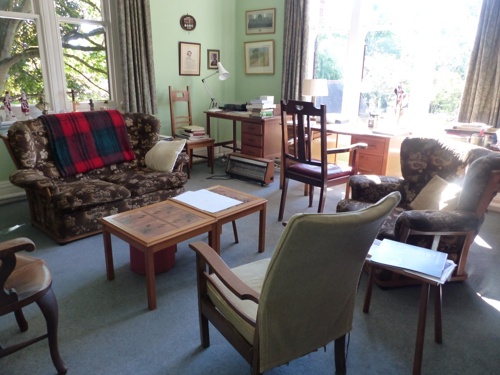 Half-term well and truly over, and good to hear that a number of our families managed to get away. The Michigan Monsters made it up to Edinburgh, and sent me this lovely photo of St Mary's Catholic Cathedral, which I know a number of you have visited over the years:



The monsters themselves? Couldn't get a good shot of the two of them together but here's one of them, at least: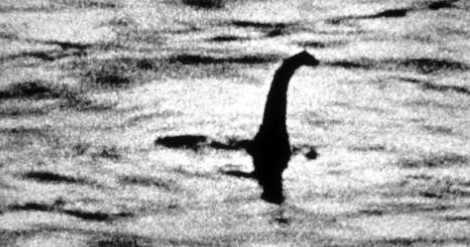 May God bless you all,

Fr Paul
---
Monday 7th June 2021

Taskforce met as usual this morning to review yesterday – the highest numbers since Easter - and to continue the detailed planning for the First Holy Communion Mass next Saturday morning. Denise and I have done the seating plan, and this has now been sent out to the families. We have a supplementary list of instructions we'll get out today or tomorrow, and then be ready for the Rehearsal on Wednesday evening. Next month, we will have two similar Saturday Mornings for the two School Groups. None of this was necessary pre-Covid, of course, as the children just came along and made their First Holy Communion at any of the normal Parish Sunday Masses. Another sign of the strange times that we're in.

Next Monday tea-time, if normal protocols are followed, our Dear Leader will unveil his thoughts on the next stage of easing restrictions, due to come in the following Monday, 21st June. We can only guess what he will tell us at this stage. But Bishop Mark has sent us the following message this afternoon, and his new Risk Assessment allows for "Meter plus" distancing rather than "two meters" that we use at present. It also allows for a less rigorous cleansing of the church between services. But everything is left up to the judgement of the individual Parishes: meaning that we can't be more permissive than his rules, but we could choose for local reasons to be more restrictive. I've sent the new Risk Assessment round to the members of the Taskforce, and we'll start considering it this week.

LOOKING FORWARDS BEYOND LOCKDOWN

As I write there is much uncertainty as to whether we will very soon be at the end of lockdown measures. I will, of course, keep you updated on all guidance relating to worship and the mission of the Church. We await an announcement by the Government next Monday and we can expect guidance for places of worship shortly afterwards. In the meantime, this might be a good time for us to consider how to manage a return to normality or perhaps a greater degree of normality in our parishes. I have been told of "nervous parishioners" who are anxious about the arrangements beyond lockdown and some who may even be hesitant about the safety of returning following this year of anxiety and restriction. I think it will be important to be able to reassure those who feel anxious about returning. One example is the shaking of hands which was so natural prior to the pandemic and yet during the crisis became something to be avoided in all circumstances. I have mentioned last year how on final parish visitations before lockdown a significant number of people no longer offered their hands and this was a cause of some embarrassment at the door of church. In the sensitive months ahead, as people return in even greater numbers, we would want to avoid anything which may embarrass or cause unnecessary anxiety. It may be helpful to give thought now as to how best we might prepare for a return to normality and the post-lockdown era.

RISK ASSESSMENT FOR INCREASED CAPACITY

I attach with this Ad Clerum the Risk Assessment for an increase in the Safe Maximum Capacity of our churches drawn-up by Mrs Julie Tinsley. I know that the numbers seeking to attend Sunday Mass now often exceed the present capacities of churches. I hope this risk assessment will be of assistance in making safe provision for more parishioners to attend Mass.

Last night's CathSoc was a very enjoyable Debate Evening, each of us being a well-known Musician, and one of us voted off each round. No marks for guessing who I was: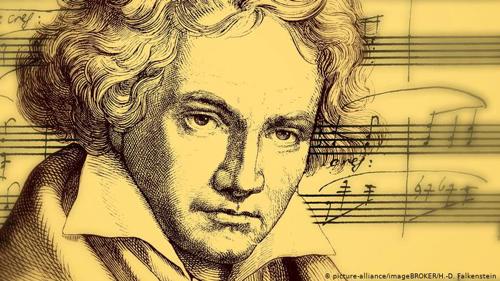 Sadly, I didn't win, having to cede that honour to…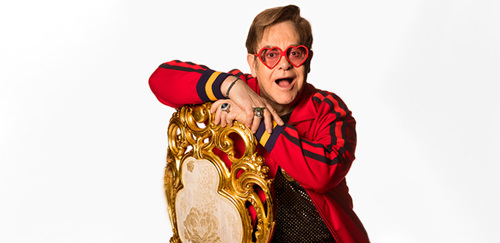 Great treat earlier in the afternoon to have a catch-up with a former Prezzie of CathSoc, Jacob Hutchison. We've been truly blessed in our Prezzies since CathSoc was formed in 2013:
2020-21: Charlotte "Barl" Atkinson
2019-20: Chloe "Chlo-Jo" Blencowe
2018-19: Georgia and Chlo-Jo
2017-18: Georgia Hutchinson
2016-17: Jacob Hutchinson
2015-16: Charles Archer
2014-15: Chloe Myrtle
2013-14: Helen Smith
Extraordinary people, all of them. Yesterday, Jake brought along the new love interest, Heather. I say "new" but – hope you're sitting down, everyone – they've been going out for THREE YEARS! Blimey! Previous to Heather, he didn't do three weeks. She's a big noise in her Catholic Parish in Guildford, did a Classics degree then an MA at King's College, London, and is now working for a firm of publishers. And drop dead gorgeous into the bargain. Jakey boy, you're PUNCHING!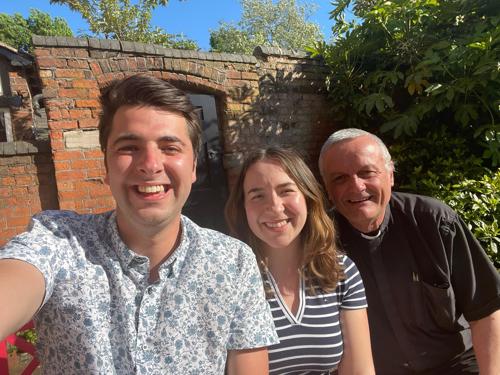 Andy, ex-Catholic High, from my favourite Frodsham family, has a big interview coming up on Wednesday, postponed so many times owing to lockdowns. This position has his name written all over it, so prayers, please Werbies, and then a few more. Good luck, Andy!

Barbara from Balmoral has repented of her ornithological confusions and says it's definitely a Raven. She tells me that after her little post-Grapes wobble, she's now got a Grip. Geddit?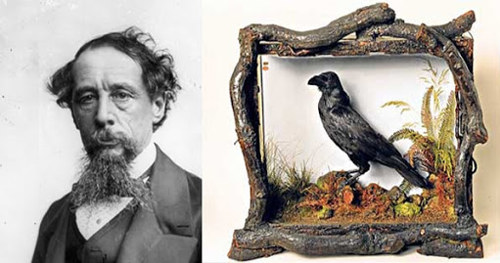 May God bless you all,

Fr Paul
---
Sunday 6th June 2021
Numbers this morning the highest we've had since Easter:
9.00 am: 87
10.00 am: 86
11.00 am: 70
12.00 noon: 65
Total: 308
9.00 am was officially full, and two people had to be asked to come back for a later Mass. The others weren't far off. Moral of the story? Please come early, and don't leave it to the last minute, if you want to be sure of a place.
Barbara from Balmoral now reveals that she combined a visit to the site of the former Dickens house in London with a few hours in The Grapes in Limehouse, which features on Chapter One of Our Mutual Friend:
A tavern of dropsical appearance… long settled down into a state of hale infirmity. It had outlasted many a sprucer public house, indeed the whole house impended over the water but seemed to have got into the condition of a faint-hearted diver, who has paused so long on the brink that he will never go in at all.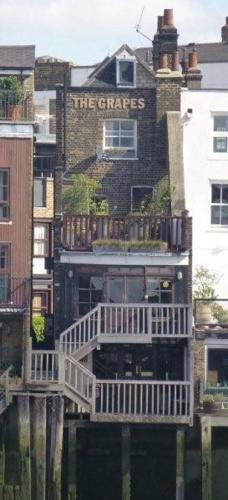 So, given Babs' inability to tell a Raven from an Eagle, the only question is whether she saw the plaque with the mystery bird on it before or after her visit to The Grapes. I have my suspicions, but I'm far too polite to say.
Well worth a visit is the official Dickens Museum in Doughty Street. It was his home from 1837 to 1839, the first house he bought with his earnings as a writer. It has come interesting Dickensiana on view, but for me the main fascination is that it is a very unspoilt small Georgian Town House. On five floors, the kitchens and "offices" are in the basement, the servants' quarters in the attics, the family living in the three floors in between.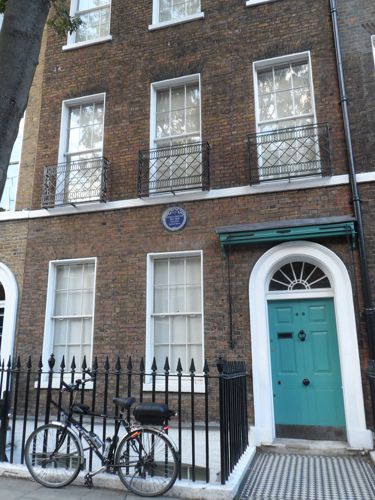 It's a ten-minute walk down Gray's Inn Road from King's Cross Station, and well worth a visit if you found yourself too early for your train from Euston, for example.
Thank you for your prayers for A&R who lost their baby so recently at 18 weeks. The protocol today, apparently, is that the doctors and midwives feel it is preferable if the mother can deliver the baby herself, rather than an operation, an induced birth in other words. They were full of praise for Arrowe Park Hospital and how sensitively and efficiently they managed the whole process on Friday and are so grateful for the Werbies for thinking of them at this very difficult time.
Which beautifully leads to the tenth and final Modern Commandment from Elizabeth and Pat:
10. Worrying does not take away tomorrow's troubles, it takes away today's peace.
We know that, of course, but knowing it does not always – ever? – stop us worrying. Equally, we know that worrying never in itself solved anything. So, we seem to be in a double bind: it doesn't help us tomorrow and it spoils today. What to do? For me, the answer is to throw myself on some of the most beautiful verses in the Bible on the theme of worrying, and realise Almighty God understands anxiety a hundred times better than we begin to realise.
"Cast all your anxieties on him, for he cares about you." [I Peter 5,7]. Once we remember the Lord really does care about us and isn't indifferent to what we're going through we start to relax a little. Now for Matthew, 11, 28-30: "Come to me, all who labour and are heavy burdened, and I will give you rest. Take my yoke upon you and learn from me; for I am gentle and lowly in heart, and you will find rest for your souls. For my yoke is easy, and my burden is light." What I love about that verse is its paradox: come to the Lord if you are heavy-burdened and swap one burden for another! Yes, leave the burden of my worry and anxiety at His feet, and take up His burden, infinitely lighter and more joyful, of walking by His side. I worry because I feel I am on my own. Lay that feeling down and take on the feeling of Discipleship. As the Lord's Disciple, I am NEVER alone!
And the prize? St Paul sums it up perfectly: "The Lord is at hand. Have no anxiety about anything, but in everything by prayer and supplication with thanksgiving let your requests be made known to God. And the peace of God, which passes all understanding, will keep your hearts and your minds in Christ Jesus." [Philippians, 4, 5-7]. But if the problem is still there, what's changed? I've changed, that's what! From being an isolated worrier, I've become a trusting friend, drawing on Christ's promise that, whatever I face, I do not face it alone. Realizing that, I am in a totally different mind-set as, with the Holy Spirit for guidance, I now start looking afresh and positively at the problem facing me and begin by drawing on the strength of all the good people around me who can help me face it. With Christ, I am never alone.
Thank you so much, Elizabeth and Pat, for sending those Ten Modern Commandments over. Anyone else got anything similar they'd like to share with the rest of us?
Cheshire Live today has some wonderful photos of old Chester.
https://www.cheshire-live.co.uk/whats-on/whats-on-news/gallery/striking-images-chester-1970s-show-20746726
Only fifty years ago, but what a vanished world! Here are just three of them to whet your appetite for the complete set. Firstly, the old Fire Station, where Chez Joules is today in Northgate Street: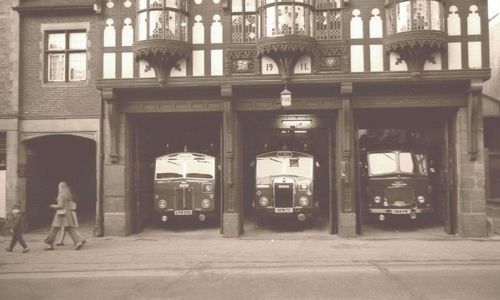 Now for Browns of Chester in its heyday, before it became Debenhams and sadly recently closed: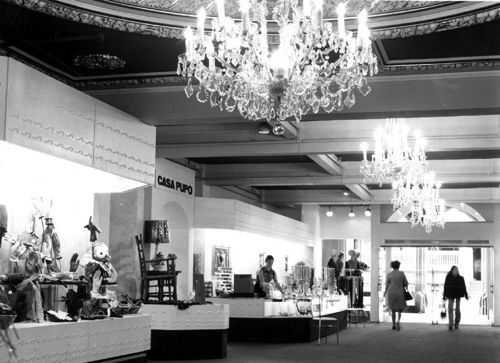 Finally, how about Quaintways Nightclub and its latest attractions?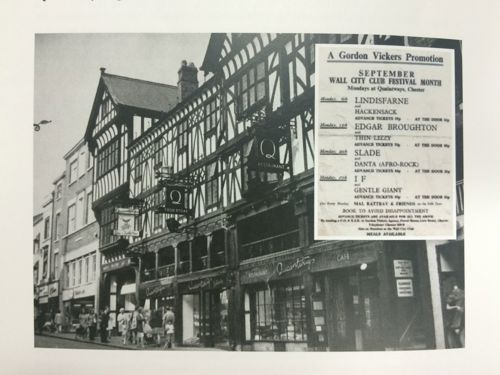 Delighted to say Gordon is still going strong, a fine and proud Werbie. From Quaintways he moved on to the Mill Hotel and is now enjoying a very well-earned retirement. Though, knowing Gordon, I'm sure the last thing he's doing is nothing.
May God bless you all,
Fr Paul
---
Saturday 5th June 2021

Call out yesterday evening to Sefton Road in Hoole for the Sacrament of the Sick. I remembered the house well, from the husband's funeral seven years ago: now his beloved wife is on that same journey to meet the Lord. After Peter's funeral, she and their daughter came regularly to our November Mass of the Holy Souls, the centrepiece of which, of course, was the lighting of the candles in memory of those we'd lost. Not possible last year. This November? A few months ago we would have said it was a racing certainty, but with the rise in infection cases last week following the recent easing of restrictions, we all feel a lot less certain.

Talking of being a lot less certain, Barbara of Balmoral – you've really started something now with that blessed Eagle! Please, please: no more already! I've been swamped with people telling me it's a Raven. I know it's a Raven, CD knew it was a Raven, the world knows it's a Raven: it's only Babs that needs to go to Specsavers. It's Bernard I feel sorry for. She rubs it in by asking if I've been to the Beckett Exhibition in London. (Was she born bitter and twisted or is it the result of twenty years marriage to Bernard?) So, for the very last time, Barbara, this is a Raven: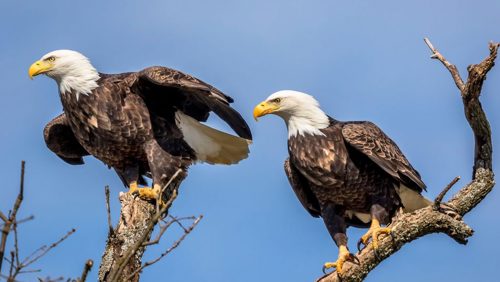 And this is an Eagle. OK?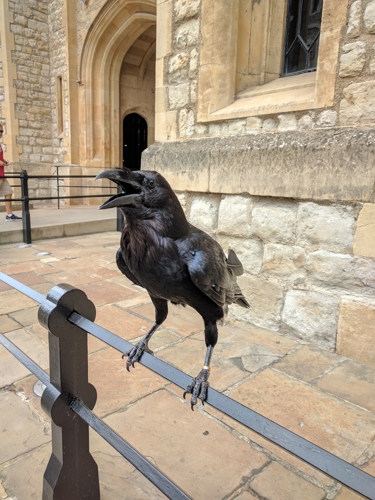 Pleasantly quiet day today in this gorgeous sunshine, finishing the newsletter this morning, trying to get up to date with emails (always a losing battle) and be ready for tomorrow and the week ahead. Lots of you have valued Elizabeth and Pat's Modern Ten Commandments as much as I have. If any of you have anything similar you'd like to share with the rest of us, please don't hesitate to send it in. Just no more birds, please, Barbara: my shattered nerves can't cope with them.
9. When you pray for others, God listens to you and blesses them; sometimes, when you are safe and happy, remember that someone has prayed for you.
What a profound truth! Do I know who's been praying for me? Of course, I don't – unless it's the final withering put-down line in an argument, "Father, I shall pray for you!" I guess the answer is that many more people pray for each of us than we begin to realise or will ever know. Our own personal saints in Heaven pray for us, as do our Patron Saints, St Paul in my case, St Francis (my Confirmation Saint), St Werburgh (my Patronal Saint). What about our enclosed religious orders – Ampleforth, Curzon Park, Stanbrook, the Poor Clares at Nottingham and Ellesmere, our Carmelites up in Birkenhead? And then, of course, our families and friends. Wasn't that the strength of our Rosary Month: that, in praying for the end of the pandemic and all those caught up in it, our prayers will have been answered for a patient in South Africa, a doctor in India, a nurse in Latin America, a sorrowing mother in Canada, a grieving husband in Poland… We didn't know the person we were praying for personally and that didn't matter in the least. The Lord heard our prayers, answered them, and that patient, doctor, nurse, mother or husband was blessed and felt that little more safe and happy. Thank God for prayer.

Brett from Broughton rang this morning, asking for prayers for his Driving Test on Monday afternoon. Listen, Brett – God answers prayers but I'm not sure about flaming MIRACLES!!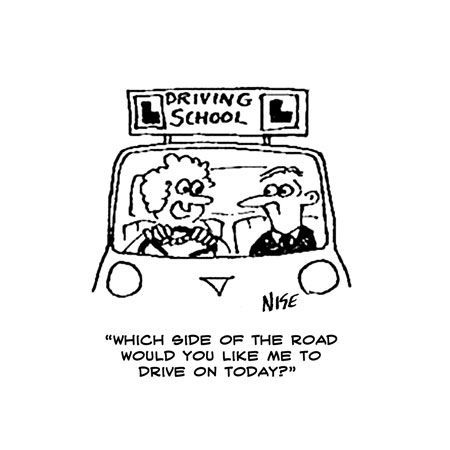 May God bless you all,

Fr Paul
---
Friday 4th June 2021

Bernard and Barbara from Balmoral Park have been gadding and gallivanting down to London, and spotted this plaque on the wall of a large office building on the corner of Marylebone Road and Marylebone High Street: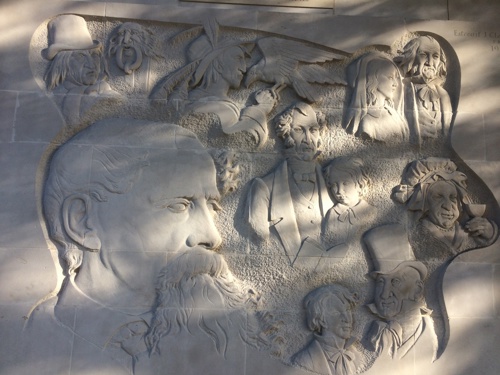 Dickens lived in a house on that site (1, Devonshire Terrace) from 1839 to 1851, a period which included his six months visit to America (1842) and his twelve months in Italy (1844-5). It also saw the writing and publication of The Old Curiosity Shop (1840-1), Barnaby Rudge (1841) Martin Chuzzlewit (1842-4), Dombey and Son (1846-8) and David Copperfield (1849-50). Each is commemorated in the plaque: how many can you recognise? Barbara wondered what the eagle was doing there: but it's not an eagle, is it? Anyone? Bury Convent? Redcliffe?

More sadly, the building today – Ferguson House – also marks the site of one of the London bombings, 7th July 2005, three on the Underground and one on a double-decker bus right outside this building: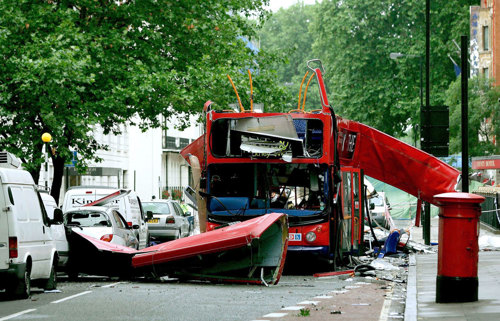 Could you get a more poignant contrast in the extremes of the human heart: the soaring beauty of art and literature versus the ugliness of terrorism and murder? 56 people lost their lives that day, including the four bombers. Put another way, 56 people met the Lord face to face. We can only wonder what the bombers would have had to say to Him.
8. A blind person asked St. Anthony, "Can there be anything worse than losing eyesight?" He replied, "Yes, losing your vision."

The eighth of Elizabeth and Pat's Ten Modern Commandments once again couldn't be more apposite. There's eyesight, and there's vision. I always remember and appreciate the sign I saw once over a rack of goggles in a Chemistry Lab in one of our High School: "Remember, you are now using your last pair of eyes". Like all our faculties, there is the danger we only appreciate them when we risk losing them. But precious as eyesight is, it can never rival the permanent value of vision, our own and other people's. The vision of a medical pioneer who begins cataract surgery or cures for River Blindness. The vision of a Charles Dickens, whose literary imagination has lit the world for almost two hundred years. The musical vision of a Bach or a Mozart. The vision of Our Lord, who told us "I am the way, the truth and the life" and "I am the Light of the World".
Out this afternoon for Joan Cooper's Funeral at Blacon; then a long-awaited chance to go and see Pat from Pulford and have a jolly good catch-up, taking in a visit to one of my favourite families en route (as they say in German), the Tunnocks of Tattenhall; and finally back for another enjoyable hour with Ben from Butterbache who had the aborted start to Uni last September, gave it up as a bad job after six frustrating weeks, and is now rearing to get started again. Studying Politics, one of the most fascinating subjects in the world. Most visionary British politician? No contest where I am concerned: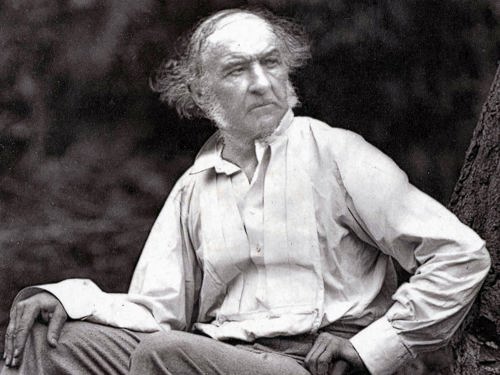 If Liverpool University go ahead with their threat to remove his name from one of their Halls of Residence, there'll be trouble, I promise you!

May God bless you all,

Fr Paul
---
Thursday 3rd June 2021

We have some new Werbies: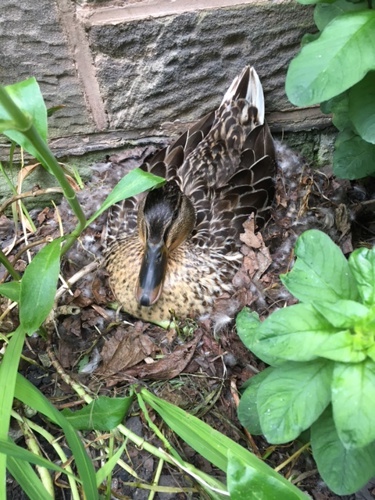 They're in a corner of the garden, and look set for the duration. Well, until the eggs hatch, that is. Then, Houston, we have a problem. How is she going to get her ducklings to water across that busy main road? This has happened many times before and makes one wonder about the expression "silly duck". I'd like to say this wasn't a very intelligent place to build a nest and hatch one's young, but I'm just reluctant to pit human intelligence against animal and conclude we are always superior. We're not doing very well against this little fella, are we?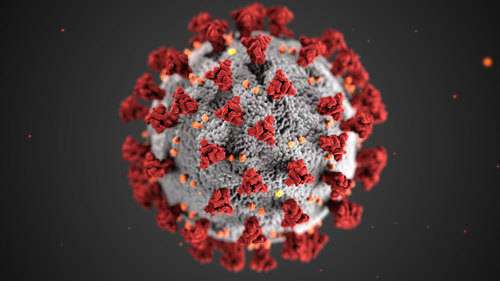 Yes, the Covid-19 virus. Talk tonight about the wisdom of allowing ten thousand Chelsea and Man City supporters to fly out to Portugal together, socialise wildly before and after the match, and then fly back in those super-spreaders otherwise known as airplanes. Tempting to say that the virus wouldn't have to be terribly bright to be brighter than that?

The figures certainly are on a knife-edge today, numbers of infections rising very uncomfortably over the past fortnight even though they not yet translated – and may not translate - into hospitalizations and deaths. We are all so weary of these restrictions but lifting them prematurely might be the worst thing to do, if it just means they go on a lot longer than might have been the case.

Gardeners in this morning and this afternoon, a real army of wolunteers working front and back. They discovered the nesting duck. Please don't go looking for it, folks: let's leave her in peace to do her business, and then hope that somehow those ducklings can be got to water. Meanwhile, I've been out on Funeral Calls, the lull well and truly over, and preparing for another Catholic Enquiry Lessons with Brett from Broughton this evening.

The seventh of Pat and Elizabeth's Ten Modern Commandments is real food for thought:
7. When God solves your problems, you have faith in His abilities; when God doesn't solve your problems, He has faith in your abilities.

It takes us to the heart of the partnership between God and Us which is at the centre of faith. Pentecost is the great moment that the Lord hands over to us the responsibility of running His church, not on our own, of course, but always with His Holy Spirit to guide us. (Presupposing we are listening to the Holy Spirit, of course, which is always a very big "if"). But this partnership also works at the individual level. I have a problem and pray to God to solve it. His answer is always the same: "Let's solve it together, my son, my daughter." He very rarely takes it out of our hands and sorts it all out independently of us. When He does, we are certainly impressed by his power! When such a magic solution doesn't come, it isn't that He isn't listening or doesn't care. It's that He's saying to us, "You have more abilities and strength in this situation than you begin to realise. With your power and my power working together, we're going to solve it together!" Result? Not only is the problem solved, but we've gained so much confidence and faith in both Almighty God and in ourselves for when the next problem comes along. As it inevitably will.

It's the equivalent in prayer of that wonderful CAFOD saying: "Give a man a fish and you feed him for a day. Teach him how to fish, and you feed him for life."




The Lord loves it when we work together, to run the Church, to feed the World and to solve our individual problems.

May God bless you all,

Fr Paul
---
Wednesday 2nd June 2021
The taste of Summer continues today, almost unpleasantly warm and humid this afternoon. Good to see everybody out and about, and just wanting these Covid-19 restrictions to finish. But we can all see the sense of "data not dates", and so wait and see how the figures are moving in the run-up to 14th June, when some indications will hopefully be given of what will be eased a week later on 21st June.
"Just a bend, not the end" is the message of our Sixth Commandment this evening:
6. Often when we lose hope and think this is the end, God smiles from above and says, "Relax, sweetheart, it's just a bend, not the end!"
I'm not sure God ever calls us "sweetheart", but there's no reason why not! The sentiment is what matters: that perspective only reveals itself over time. Today, I am full of gloom, my problems are overwhelming me, there seems absolutely no light at the end of the tunnel. But that's because I'm on top of them – or they're on top of me! But give it a week, a month, a little further along the road of life, and the perspective will appear very different. This is another upside of the fact that the world is always moving, the river always flowing. What seems like a cul-de-sac, a dead-end to me now will so often reveal itself to be just a bend in the road if only I can hold on and travel a little further along the journey of life.
Tonight, I need to go out to see a couple who have suffered a miscarriage today. They were told at the twelve-week scan that their baby was very poorly, and unlikely to go to full term. If it did so, it would be born with multiple health challenges. In that sense, they were prepared for today's news that the baby had miscarried. But that doesn't lessen the pain. I married them ten years ago, and they have one smashing little boy, aged 8. Telling him he wasn't going to have a little brother or sister after all has been one of their hardest tasks today. You prayed for A&M, who suffered a miscarriage last year and have now been blessed with beautiful baby Emily, proudly brought to Mass a fortnight ago, Please now pray for A&R, as they travel some of the same road.
May God bless you all,
Fr Paul
---
Tuesday 1st June 2021

What a wonderful end to the Rosary Month last night! As on every occasion, we welcomed some new faces yesterday to join the old and all of us to join with the Holy Father in his world-wide Crusade of Prayer for the end of this wretched pandemic. It's been such a valuable and enjoyable month, and I do thank most sincerely all those who've joined us, not just Werbies but from many other local parishes. Afterwards, we all adjourned to the Rooftop Bar round the corner at Forest Court for some light refreshments. (Believe that, and you'll believe anything). Obviously, I have to be careful about posting photos, as technically this party was against the Covid-19 regulations. What I will do instead is show you the scene at the start of the evening and when it was all over. Here's the Roof Top just before we arrived, with the lovely Chester skyline in the background: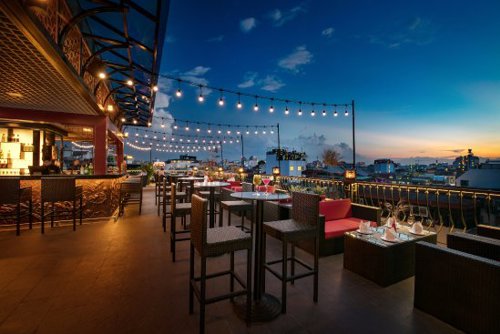 And this is the end of the evening: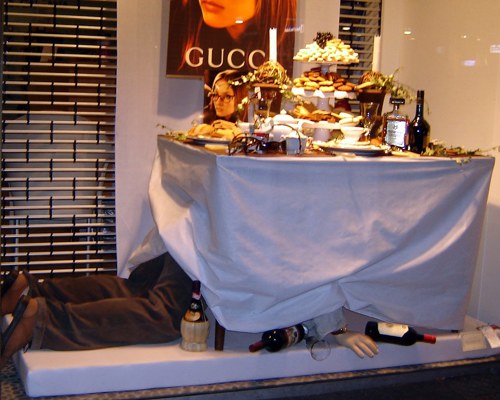 I have absolutely no intention of identifying that particular member of the Choir. Provided they pay me enough, of course.

Here's the new Altar Cloth that the Stanbrook Nuns have made for us and delivered yesterday: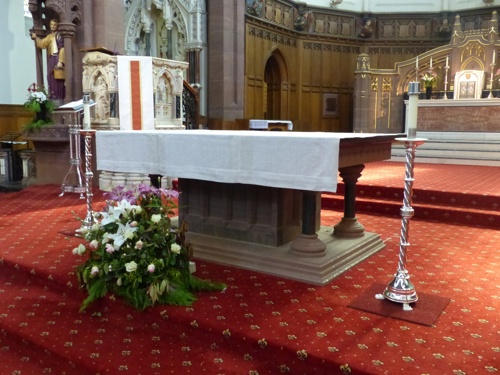 I hesitate to post this next one, as some of you are of a nervous disposition. Others may be having their tea. To save you all the trouble, especially Redcliffe, I will provide the Captions myself. Sister Anna (Mother Abbess) is on the right, and she's saying, "I didn't know they'd found the missing link!" To which Sister Josephine, Prioress, on the left, is saying "I think it's a Neanderthal myself." The ape-like creature on the left is simply grunting.

Look, it's been a hard year, OK? Just leave me alone!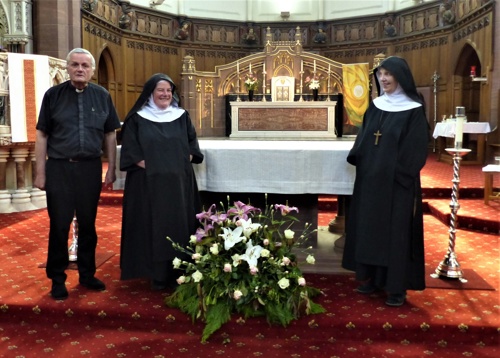 Let's raise the tone and consider No. 5 of our modern Ten commandments:
5. Old friends are gold! New friends are diamond! If you get a diamond, don't forget the gold! Because to hold a diamond, you always need a base of gold!

Don't be so desperate to make new friends that you forget the old ones. Do you ever go back to where you were born and just spend a few minutes pondering your roots, where your own personal story began? We said yesterday that the world is always turning, the river flowing, and time moving on. St Paul said that the only three things that never change in this life are faith, hope and love. This applies to our relationship with the Lord but also to that with our friends. Have faith in them, especially when the friendship might be under strain, and you might be tempted to end it. Hope always in the possibility of making new friends: we're never too old to meet someone new. Remember that lovely Irish saying, "There are no strangers, only friends you haven't made yet." And above all, keep the love going, extending your love to them and accepting their love for you. What did St Thomas Aquinas say? "There is nothing on this earth more to be prized than true friendship."

Which brings me on finally and very neatly to say a heartfelt word of thanks to Brian Flack, who's laying down today the weighty burden of ordering Sacristy Supplies. It's weighty in three ways: literally, those boxes of candles and boxes of Altar Wine weigh a ton; secondly, you always have to keep your eyes on supplies and when they are running low, with the dozen different candle sizes we use; lastly, any failures are horribly public. You all remember that wonderful Deacon Charlie Woods at St Theresa's? How many times did he ring me? "Paul? Have you got any spare Ashes / Charcoals / Incense / Large Hosts / You name it? We've run out, and IT'S MY FAULT." Of course, it's your fault, Charlie – what else are Deacons for?

Brian has done so much for this Parish over half a century: Sacristy Supplies, Sunday Morning Refreshments after Mass, Readers and EM's Rotas, Parish Data Base, Parish Photographer, Parish Computer Maintenance – the list is endless. And somehow, he and Rita have managed to find time to make the odd visit over to Goodison… He did make me smile with his email this morning. I'd asked him, tongue in cheek, if he's started ordering Sacristy Supplies under Canon Chambers, just after the Great War:

Good Morning Fr. Paul,

"No problemo" as the Germans say. Canon Chambers, Ho, Ho, Ho. It was Canon Murphy in residence when we arrived here in 1972. I always remember I called in to register the arrival of a new Catholic family, he took down my details, thanked me and his immortal words were, "That is the last you will hear from me" or words similar to that. I sometimes thought it may not have helped that I was not Irish.

In case it is useful, I have attached the latest April 2020 template I used for re-ordering. The average consumption rates will no longer apply of course but the descriptions thereon are those shared with Mr Lennon and his scouse wife. I will miss her calling me "Ok, Father", after every item ordered over the phone. It had occurred to me recently that they must have been affected by the drop off in orders this past year.

Take care and God Bless,

Brian


Good man, Brian! And a thousand thanks from all of us. From now, if we run out of any Sacristy Supplies, it will be SYD'S FAULT!

May God bless you all,

Fr Paul
---
Monday 31st May 2021

Real joy this afternoon to welcome to the Werbies Sister Anna and Sister Josephine, Abbess and Prioress of Stanbrook Abbey in North Yorkshire. They were down in Chester on a Visitation at Curzon Park and very kindly took the opportunity of bringing our beautiful new Altar Cloth which Sister Gunilla has woven for us on one of her extraordinary looms at Stanbrook. She uses only natural wool and linen thread, and it makes a superb effect, a mottled off-white colour. Because they are all natural fibres, they absorb the light, where synthetics always reflect it: hence the much deeper, richer colours that true silk, wool and linen create. Nothing against synthetics – most of us are probably wearing more polyester than we'd ever care to admit, and as for the Choir on their motorbikes roaring up to New Brighton, wall to wall lycra, ugh! – but natural materials are unbeatable. Syd and Denise kindly came down and took a number of photos, so watch out for them on the Blog tomorrow.

You mock me for my addiction to Mail On-Line, but there was a very good and sympathetic article this morning on the closure of St John's Seminary in Wonersh, near Guildford, closing its doors today after 130 years.

https://www.dailymail.co.uk/news/article-9635123/Last-rites-seminary-130-years-runs-trainee-PRIESTS.html

It was opened in 1891 as the Seminary for Southwark Archdiocese. Its first Rector was Francis Bourne, later to be Cardinal Archbishop of Westminster. The Mail has this photograph from the 1920's: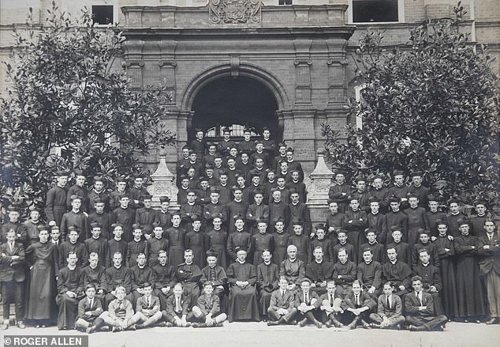 But now there are only eleven seminarians, and it doesn't make sense to have them rattling around in such a big building; nor is it sensible to tie up a Seminary Staff of four or five full-time Priests to look after and teach such a small group. So, sadly it is closing its doors, and the students moving up country to join their mates at Allen Hall, the Seminary for Westminster Archdiocese. Where someone we all know very well has just been appointed Rector – one of my closest friends from English College days, Fr John O'Leary!




He's been a frequent wizziter here at the Werbies, and I very much hope he'll be able to come again sometime in August before his Term of Office officially begins in September. Well done, John! We all look forward to welcoming you here.

The fourth of our Modern Ten Commandments tonight is full of wise commonsense:

4. All things in life are temporary. If it's going well, enjoy it, that won't last long. If it's going badly, don't worry, that won't last long either.
As my old father often used to say, "The big bad world keeps turning." It does indeed. The River Dee keeps flowing, time and tide stop for no-one, May moves into June tomorrow, and the seasons give way to each other as they always have done and always will. This is a profound truth for our lives: nothing stays the same for long. We live in a world of perpetual flux and change. So, enjoy the good things while they're here, because they won't be here forever. Try to put up with the bad things because, just like the good ones, they will pass.

CathSoc last night was Remote Bingo. I know! Don't ask! Madame Prezzie Barl sent me this photo for her official University Website mugshot: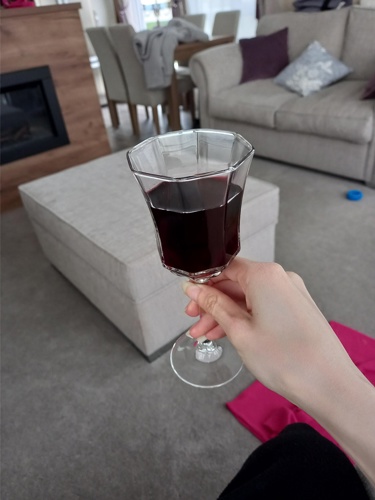 Believe you me, where Madame Prezzie is concerned, that photo tell you all you need to know.

Final Rosary tonight, the end of Pope Francis' superb initiative to get us all praying, all over the world, for an end to this pandemic. We've gathered here in the garden every evening at 6.30 pm throughout the month, joining in prayer with other such groups all over the world. Each day there has been a Lead Shrine, taken from every Continent. We end the month in the beautiful Vatican Gardens in Rome. The General Intention today is "For the end of the pandemic and the resumption of our social and economic life." A lovely note on which to end. I leave you tonight with this view of the Vatican Gardens from the top of St Peter's: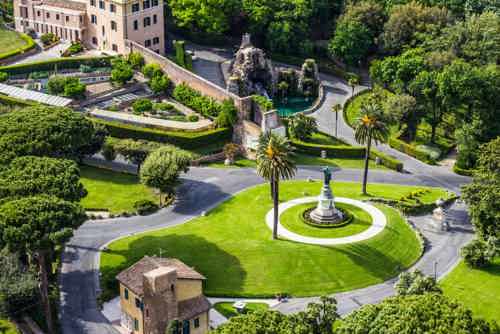 May God bless you all,

Fr Paul
---
Sunday 30th May 2021
A real taste of summer this afternoon, driving out to deepest Upton on a Funeral Call. The hedgerows and the trees are what I noticed most, full of leaves and blossom. It's come at a perfect time for families getting away for Half Term next week. Let's hope it continues!
Numbers good again this morning, meaning well divided over the four Masses, and no need to turn anyone away:
9.00 am: 72
10.00 am: 89
11.00 am: 54
12.00 noon: 61
Total: 276
Interesting phone call at five to six yesterday evening: "We're standing outside Rowton Methodist Church, and there's no sign of any 6.00 o'clock Mass". Yes, Wizziters! The first cuckoo of spring – the first wizziters of summer. I explained about the Covid-19 restrictions and how we just couldn't use such a small chapel. We fill it on a Saturday evening, welcoming 50 or 60 folk: socially distanced you'd get three and a half people in. Come on down to the Main Church tomorrow morning! Where are you from? "Sacred Heart, Exeter". Ah, I know it well! A fine church, serving a very big and busy parish: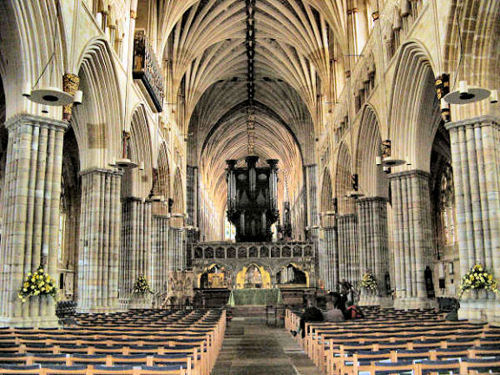 Sure enough, they're they were, at 9.00 am this morning. Well, the good lady wife was. "Where's your husband?" enquired the nosey PP. "Oh, he's a pagan!" came the reply.
Penultimate Rosary tonight. Here we were last night. I won't tell you where the Parish Secretary was to take this photo. He has to do all sorts in the line of duty.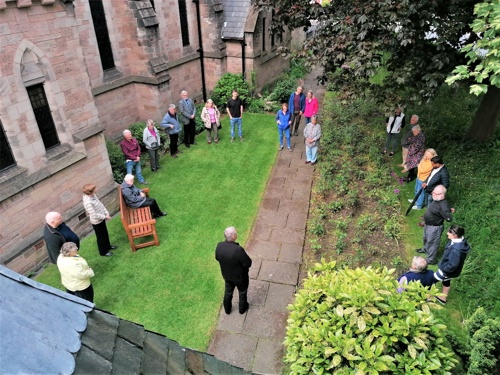 Lead Shrine today is Blessed Virgin of the Holy Rosary of Pompeii Italy.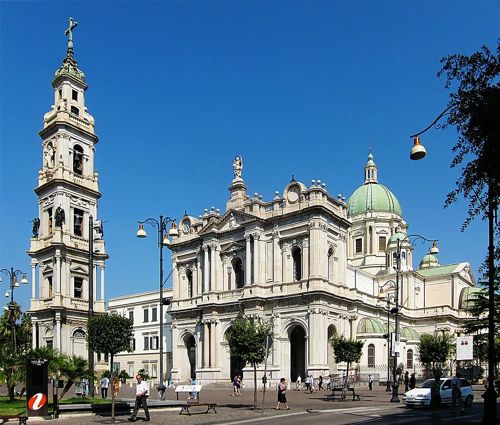 Just look at that sky. And you ask me why I go to Italy every summer. Having said which, the next person who asks me if I'm going this summer could get a thump. Especially if they're in the Choir. Just saying.
Inside the Church, on the High Altar, is the Icon of the Blessed Virgin of the Holy Rosary: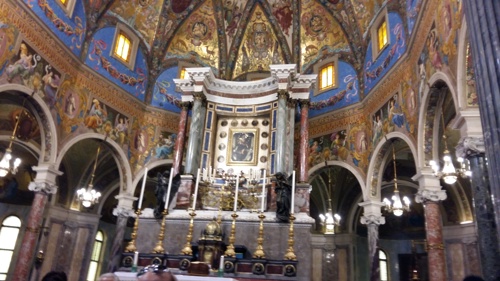 The General Intention today is "For the Church." Which might even include the Choir. On the other hand, it might not…
May God bless you all, and enjoy this wonderful weather,
Fr Paul