Updates from the Parish Priest
---
Saturday 31st July 2021

Tomorrow, another big change: back to our normal system for Holy Communion, everyone coming out, returning to their seats for their private prayer, and then the Final Prayer, Blessing and Dismissal. We know that the Covid-19 practice of receiving Holy Communion and leaving immediately was never popular, and we do thank you for your understanding why it was necessary. We had to do it if we were to keep the one-way system and allow everyone to leave church in time for the benches to be sanitised before the next congregation was admitted. It has been a military exercise over the last fourteen months, and it's helped so much that the vast majority of you have appreciated what we've been trying to do and why we've been trying to do it. But now we can start to move back towards normality, one or two changes every fortnight. I know what you're all really waiting for – it's the ten to fifteen minute slot at the end where the auld eejit goes through every flaming notice on the Newsletter, isn't it? I know, I know. Just be patient, my children, and it'll soon be back again.

Arrangements for Holy Communion from tomorrow onwards:

1. Please only come out when Stewards indicate.
2. Centre benches first, coming into the centre aisle and returning by the side aisles.
3. Then side benches, going to the back of the church and coming up the centre aisle.
4. Please always maintain the metre distance from each other.
5. Side benches, please do not cut through the centre benches to reach the centre aisle.
6. At the end of Mass, you will not be stewarded out, but please vacate church as speedily as possible, as we still need to clean before the next congregation can be admitted. Saying "hello" to each other is a key part of Sunday Mass, we know, but please do it well clear of the porch and church steps.

This Sunday, we will all be monitoring how it goes, so any reactions will be gratefully received.

Here's today's Infections Graph, courtesy of the Daily Mail, showing the unmistakeable third surge but the equally clear signs that it has clearly turned downwards in the last fortnight: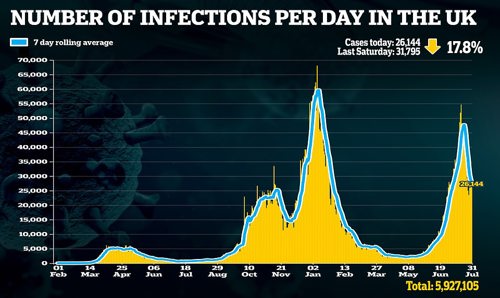 Busy old day today, with two Baptisms this morning – both for couples that I married here, Tom and Ruth, and Joey and Victoria – which, for any Priest, is one of the greatest joys. Then a wedding rehearsal for Laura and Aidan for next Saturday, when we have two weddings, one straight after the other. This afternoon, a frantic phone call from Ivan and Carrie, married here ten days ago. Phoning from Mexico!! They're at the border, and the Immigration Officials want evidence that they're married. Under this new system, the Wedding Certificate is not issued by the Register Office until fourteen days after the wedding, which is a problem for those going on honeymoon immediately. (Not a problem in the old days, as I handed the couple their Wedding Lines at the end of the ceremony). Could I possibly help? All I could suggest was sending over a copy of the Wedding Schedule they all signed and which I then took down to Goldsmith's House here in Chester. For once, the technology worked; I was able to scan it as a pdf, and then email that over to them. Triumphantly, they told me it had arrived! Now they have to schmooze the Border Authorities with it. If that fails, I told them I would come over to Mexico myself to explain everything.

Can you start the party without me tomorrow morning?

Talking of exotic travels, good to get a post card from Syd and Denise this morning from the Caribbean, which they've just reached on their Round the World Cruise.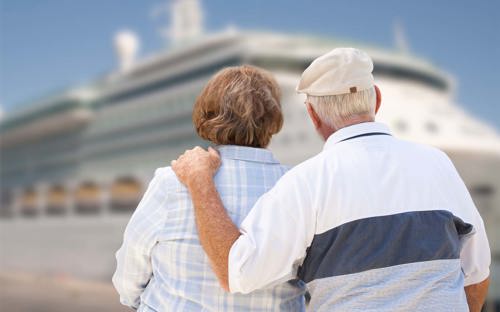 Amazingly, they are going to fly in for tomorrow morning's Masses and then fly back out again. Isn't that real Werbies devotion?

May God bless you all,

Fr Paul
---
Friday 30th July 2021

Funeral first thing this morning at Blacon. They reserve the 9.00 am times for babies, and funerals that need to be ultra-quiet. Such a sensitive area. Dominic was twenty-one weeks. I was a little startled to see him classified on the paperwork as "NVF", a new acronym on me, and I had to ask: non-viable foetus. Language is so sensitive also. When does a "foetus" become a "baby"? No mother announces, "I'm expecting a foetus". And yet some mothers and fathers say it's not until the twelve-week scan that they start to relate to their baby as a human being. If they suffer a miscarriage, do they want to know the sex of the baby they've lost? Do they want to give him or her a name? Do they want a funeral?

These are all intensely personal questions. Fifty years ago, "it" was all taken out of the mother's hands, and "it" was disposed of. Today, that process remains some family's preference. But others wish to handle it differently. My parents today wanted a name – Dominic – and a funeral. They were the only ones there. Possibly their choice, possibly not. They looked little more than children themselves. Please pray for them.

Back for a solid morning of appointments, the Electricians finishing off in church, one of our new team of organists keeping them company by doing some practice. Booking in more Baptisms this afternoon: "pent-up demand" is the cliché of choice here, August and most of September completely full now.

Rowena from Rowton sends over this fascinating snap of a woodpecker in her back garden, Thompson Towers, enjoying a treat from the bird-feeder:




They are generally quite well-camouflaged birds, giving their presence away by their noise rather than their appearance: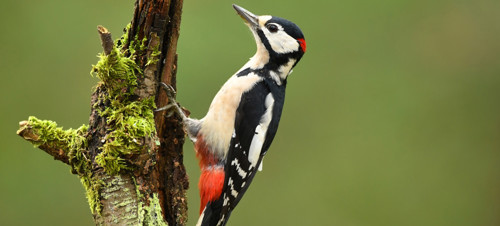 What would we do without the beauty of birds?

May God bless you all,

Fr Paul
---
Thursday 28th July 2021

Electricians busy in church all day, laying the channels for the Emergency Lighting. The actual lights will not be delivered till early September, but the plan is that when they arrive, it will be relatively quick and easy to fix them in place, as the hard work will already have been done. Otherwise, a deskbound morning, wading into emails and trying to get up to date with funerals, coming in thick and fast.

Yesterday's Funeral was for John Hamilton, from Dennis Drive. I did his wife Wendy's three years ago, which is when I first really came to know the family. Wendy and John met at Midnight Mass at Brompton Oratory December 1953, John's sister Sheila being Wendy's best friend, John himself away in the forces. His father had been a Doctor, evacuated from Dunkirk in May 1941, and then tragically killed in a road traffic accident in December of that year. John himself, by his own admission, achieved little at school, the death of his father (when John was 13) hitting him hard. Later on, he took himself back to Night School and gained 'O' Levels and 'A' Levels that way. He gained admission to Medical School to train to be a doctor himself and got half-way through the course: but with a wife and three young children by this time, it was a bridge too far, and he settled for a very successful career in the pharmaceutical industry instead.

Denise and Syd are enjoying a very well-earned holiday this week and next – they really have played a blinder, and rarely been off duty since this whole pandemic began in February of last year. As is so often the case, any notion of a "job spec" has been overtaken by their being in the wrong place at the wrong time, and acquiring a whole new set of responsibilities a million miles from where they came in. Like being Funeral Sacristan. Which also involves, in these organist-less days, operating the CD system. Don't ask! Multi-tasking just isn't in it. So, with Syd and Denise enjoying a round-the-world cruise [shome mishtake shurely? Ed], who on earth could take their place? Cue Conor, one of our great student Altar Servers, just about to set off for University in September: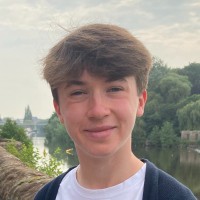 I have to say, Gerry trains these Servers well! Conor took to it like a duck to water, hopping between the music and the Thurible like a good'un, managing to avoid pointing the remote control at the charcoal to light it and pouring goodly quantities of incense into the CD player…

The only snag with being that good at your job is that you get landed with doing more. He's just been signed up for two Funerals next week. That'll teach him.

Lunchtime today was my final soup-and-bread with my beloved brother Graham. He has his final service at Christ Church on Sunday 8th August, and then heads off into the great blue beyond. Or as it's usually known, Surrey. These Thursday lunchtimes over the past twelve months have been wonderful, just a chance to talk to a real friend about anything and everything. Last Sunday evening, I was round at theirs, Anna providing supper, and the three kids (Barney, Daniel and Ruth) having great fun sitting under the table, ripping off my Velcro sandals. Gee, thanks, kids!

Seeing Graham off at 3.00 pm, I found great peace in our garden. Is there anything simpler or lovelier than the Daisy?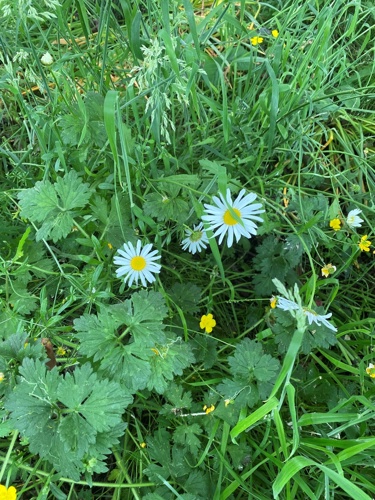 May God bless you all,

Fr Paul
Wednesday 28th July 2021
Here's a pleasant photo sent over by Bro Jinson from St Francis of our supper together last Thursday, to bid Bro Matthew farewell on leaving Chester to take up his new assignment in the Capuchin Provincial HQ at Erith in Kent: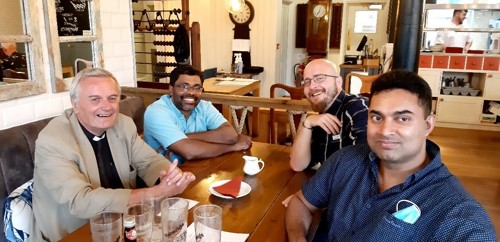 From right to left, that's Bro Matthew, Bro Piotr, the new Polish Priest, Bro Jinson and the waiter.
We always try to foster good relations with our neighbours, and I trust this was a fairly tongue-in-cheek complaint from our friends in the offices opposite, No 10, Grosvenor Park Road, following the wedding on Monday:
"I was greeted by what I assume was one of the guest's rubbish: a giant "Confetti Bomb" launcher. They must have mistaken the office front garden for a bin."
What was it like? Something like this?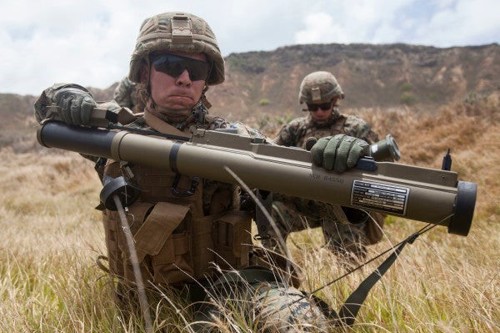 I've said many times before that one of our more sensible categories of Blog reader are the Gardeners Question Time cohort. I asked what the blue flower growing along the path was, and both Monty from Mickle Trafford and Rowena from Rowton supplied the answer. Monty writes:
"Your geranium I'm fairly sure is geranium Rozanne - I have the same variety in my garden."
Rowena, who has a bit of a thing about Nature Notes, also sent this picture of her new lodger: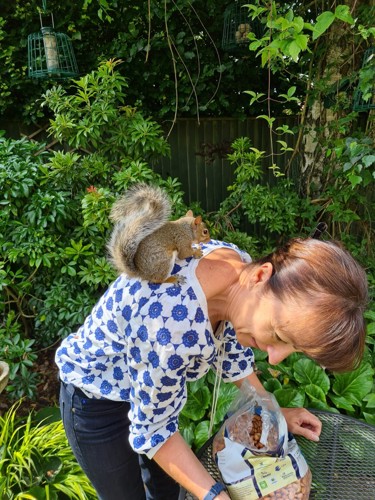 Just look at the intelligence in those little eyes! And the squirrel looks cute too.
Finally, our friends from the Polish Airmen's Association sent over these pictures from their Service in the Town Hall on Saturday afternoon. The first one is FP praying, just in case you were wondering: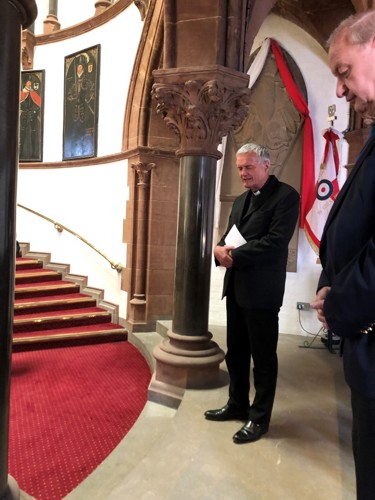 The next one shows Bro Piotr on the left – his Polish is better than mine – the Polish Defence Attachés, the Lord Lieutenant, Lord Mayor and then FP on the far right. Best place for him. Easy to photoshop him off that way.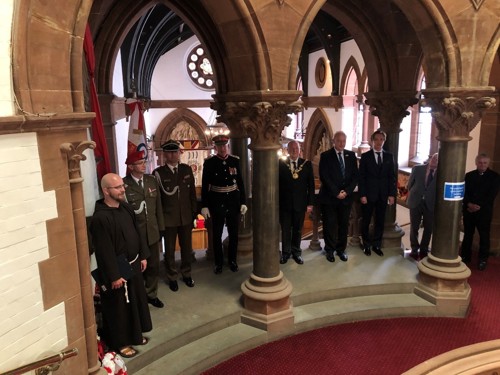 The last one shows the Polish Consul-General from Manchester in the middle: I enjoyed talking to him, in the full-time diplomatic service of his country, two years here in Manchester with one to go, his last posting being the Ukraine. Not a clue where the next one will be.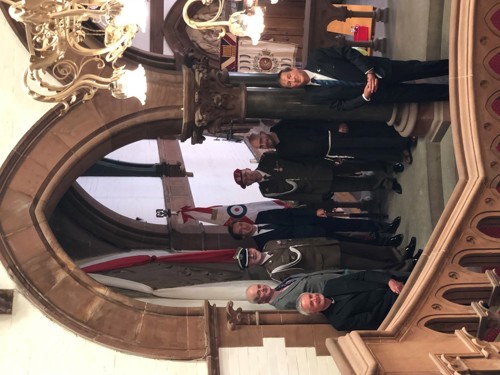 Today's garden flowers are these intensely blue phlox, which really do lift the spirits, don't they?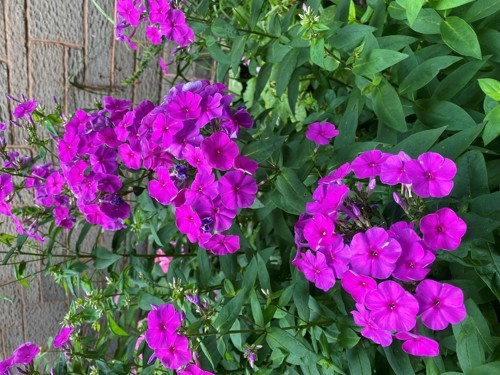 May God bless you all,
Fr Paul
---
Tuesday 27th July 2021

I was starting to wade into the morning's emails at 8.30 am when the phone rang, one of my colleagues. A call-out to the Hospital, he was on duty but couldn't go, nor could Fr X whom he tried, so could I? OK already, I'm going, I'm going! The traffic wasn't as bad as it could have been, and I'm there in fifteen minutes. Patient, in a side room, had just Gone to the Lord. Family were with him, but they weren't ready for me yet so could I wait? I suppose so. So wait I do, standing outside. And then that marvellous little worm of Original Sin starts to kick in. Huh! Not even on duty! Only doing this to help a colleague, scrub that, two colleagues. Keeping me waiting! How very dare they?

It's called Original Sin, dearly beloved brethren. Not for nothing known as "The only Church Dogma that can be empirically verified", meaning verified within our own personal experience. Then the side room door opened, I met the family and they greeted me like an old friend – I'd done their mother's Funeral five years ago. They'd never forgotten: I told everyone at the end where the Reception was to be, and had then added all the drinks were to be on Fred. And Fred, apparently, had never been the same since. Funny what people remember?

Back here for 9.00 am, back to the emails, and then a solid morning of appointments, the electrician working away meanwhile in church on the Emergency Lighting. He caught my attention some days ago when he told me that one of the lighting channels would need to go under the floorboards "beneath the Tabernacle". Blimey! Not many electricians would know that term. All became clearer today when he mentioned in passing that his little boy was making his First Holy Communion this coming Saturday up at St Alban's in Liscard, Wallasey.




Honestly, these Catholics – they get everywhere.

The funerals are flooding in these days after a slight lull over the last fortnight. Last night, I met the son – the only child – of an elderly lady originally from Chester who's lived for the past fifty years in the Midlands. The father died four years ago, and now he feels he's honouring her wishes by bringing her back to Chester to lay her to rest. I offered to assemble a little group of parishioners to join us, but he was clear that he wanted just the two of us in Church, himself and myself. So be it: it's my job to respect his wishes, though I know some of you would have been more than willing to join us if asked.

Marked change in the weather today, and not unwelcome. The garden continues to be a delight. This blue flower is now spilling all over the garden path. Is it a member of the geranium family? Anyone know its name? Sensible suggestions only, please, Choir.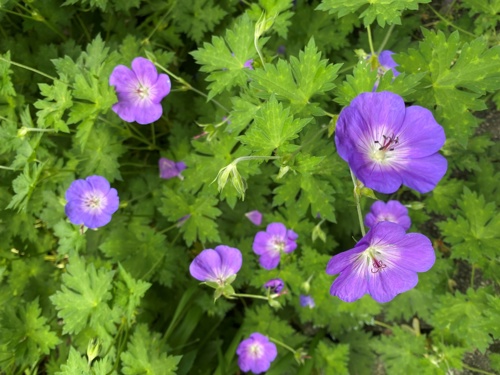 May God bless you all,

Fr Paul
---
Monday 26th July 2021

General feeling at Taskforce this morning that the easings of restrictions yesterday had gone well: that they'd produced the hoped-for benefits without any associated drawbacks. Stewards reported that parishioners still instinctively looked to them when entering church for directions, but soon grasped that this was no longer necessary. Most people seemed to gravitate back to their "old" places, and the distribution around church was well within social-distancing guidelines. Dispensing with the Holy Communion Steward seemed fine, everyone well able by this time to come out to Holy Communion and then make their own way out of church using both exits equally. Numbers being ten up on last week suggested that these easings did not put significant numbers off.

So, where to now? The Toilets are now back in operation: they were ceremonially re-opened by Syd yesterday morning at 8.40 am. The next stage seems to be allowing Holy Communion at the usual time and for people to go back to their seats afterwards for the Final Prayer and Blessing. This will add five minutes to the time of Mass, but we have saved that by needing only a light-touch clean of the church between Masses. We will need people to vacate church speedily afterwards, as we'll only have ten minutes for the clean rather than the usual fifteen. But we're certain people will co-operate here as splendidly as they have done in most other areas to date.

Anyone not wearing a mask yesterday? Yes, three parishioners exercised their perfect right to say they no longer wanted to wear masks. That's 3 out of 258, or 1.2% for the mathematically minded. It's also Principle Two of our Four Principles for Coming Out of Lockdown:

(1) The new Government emphasis is on individuals deciding for themselves rather than central diktat.
(2) As a result, different people will take different positions, and we need to be extra sensitive to those who take a different view from ourselves. There won't be unanimity.
(3) No Parish, Diocese or Denomination is on its own here: the Government's Task Force for Places of Worship has issued guidelines to help us all.
(4) We will have a phased return to normality, not go from "all restrictions" to "no restrictions" overnight.

Taskforce this morning reaffirmed our aspiration as a Parish that we should be back to "normal" - our 9.00 am and 10.45 am Sunday Morning Masses, and then our 9.00 pm Sunday Evening Mass- some time in September. It's an aspiration, not a commitment, as everything depends on the national numbers; and we are not committing ourselves to saying when in September. But we hope stating that aspiration gives every Werbie and every Wizziter some sense of where we are heading.

Difficult to say where the weather was going first thing this morning with Liam and Molly's Wedding here at 1.00 pm… In the event, another beautiful day, and a hot afternoon as I punch this keyboard. The hydrangeas in the garden are coming to their best, wonderful green leaves and deeply coloured flowers: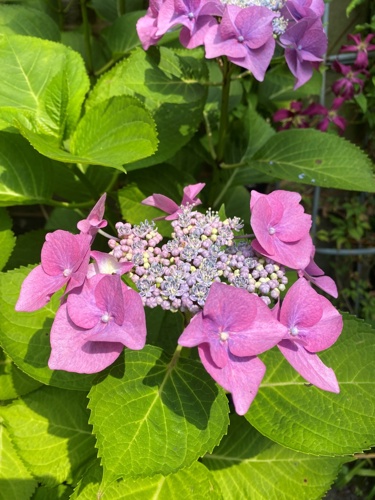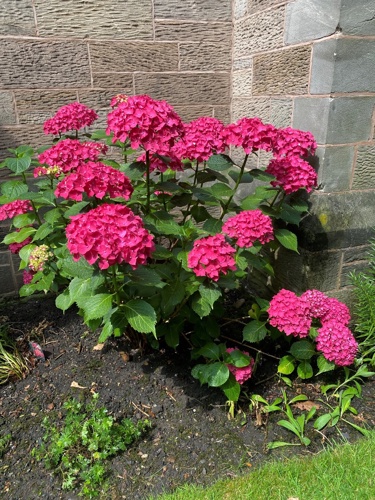 May God bless you all,

Fr Paul
---
Sunday 25th July 2021
Numbers at Mass today slightly up on last week – 258 today, 249 last Sunday. We were wondering what effect if any the start of easing restrictions would have: parishioners now choosing where they sit, and hand-sanitising themselves. Our fear was that it might put some people off: "I was happy under the old, very strict regime, but far less happy now that you're starting to relax restrictions…" Today's figures don't show any evidence of that, but obviously early days:
9.00 am: 97
10.00 am: 67
11.00 am: 56
12.00 noon: 38
Total: 258
To put those figures in context, here's Barrie and Bettie from Berkley's latest, updated graph: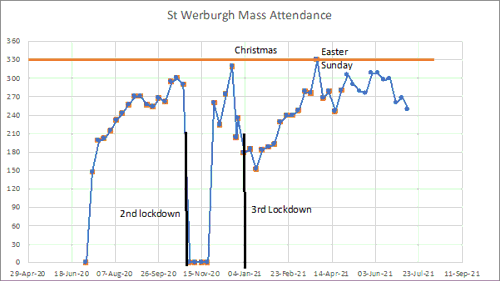 Tomorrow morning, Taskforce will sit down as usual to review today, to look at last week's big Catenians' Mass and Wedding – two separate events, you fools, not all the Catenians, getting married, for heaven's sake! – and see what restrictions we can ease next. Much will depend on what happens to the national figures for Infections, Hospitalisations and Deaths. The last four days have shown some slackening in the first. But one swallow doesn't make a summer, and we are committed to going slowly, slowly. The aspiration is to be "Back to Normal in September". That's an aspiration, no more: and we're not committing ourselves to when in September. But it gives you all some idea of where we're heading and the pace at which we'd like to get there.
I know where some of you are heading: right round the twist. We had some floral pedestals left over from the wedding on Tuesday: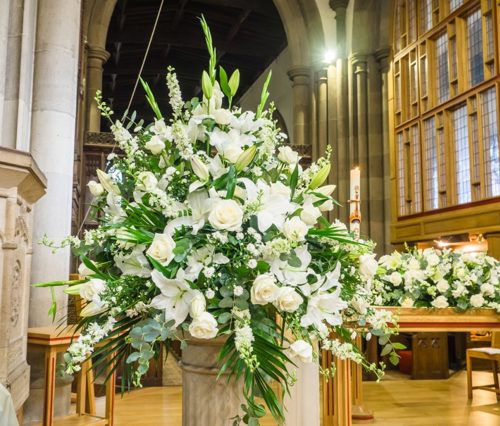 I placed one either side of the altar, little thinking that in so doing I was completely obliterating the view of the Priest at the lectern from the left hand-side of the church. Boy, oh, boy, did that set you lot off. Thelma from Thornton was first up: "Father, you know you said certain temporary things during Lockdown might stay on afterwards? Well, how about those flowers? Much more restful looking at them during Mass than at you, if one sits half-way down on the left…" Thanks, Thelm. Edgar from Eaton Road then piles in: "You know you wanted everyone to seat themselves today, and space themselves throughout the church? Well, why were thirty people all trying to cram on to the same benches, those on the left-hand side, in the middle?" Very amusing, Ed. Finally, Tony from Tattenhall has to make his little contribution: "Just got back from Mass and had to tell you about an amazing spiritual experience this morning. I looked up half-way through and there was a bunch of flowers talking!"
Witty little Werbies, aren't you? You'll miss me when I'm gone.
May God bless you – and forgive you – all,
Fr Paul
---
Saturday 24th July 2021
Not long to go now till A Level and GCSE Results days, both sets based on teacher calculations this year to try to avoid the algorithm chaos of last August. But worrying signs already that too many youngsters will have gained the necessary A Level grades for the capacity of certain Uni departments. Ironically, this is worst in the high prestige subjects like Medicine. Many students deferred entry from last autumn, adding to the pressure. It raises the prospect of a number of straight-A's sixth formers not gaining places at medical school. That's problem number one. Number two is where Universities have potentially made more offers than they should have done. If a Uni offers me a place to read Law, say, on condition I gain AAA grades, then, as I understand it, that's a legal contract between me and the Uni. They can't backtrack on it if more students get the asked-for grades than they have places for. Cue yesterday's Guardian story about Exeter University offering Medics incentives to those willing to defer a year:
The university has written to candidates who have accepted offers to study Medicine starting this autumn, asking if they will delay until 2022. In return the university will guarantee their place, if they get the required grades, provide free accommodation worth up to £7,600 and a cash bursary of £10,000 "to spend on preparing yourself".
Of course, you don't need to be a genius to see that's simply pushing the problem back a year, from Autumn 2021 to Autumn 2022. You know, sometimes I'm glad I'm 48 and not 18.
It's the issue airline travellers sometimes face when they turn up to check-in and are offered a king's ransom to take a later flight. In simple terms, the airline has overbooked for that flight. They offer an upgrade to Business Class, even First Class, a hotel overnight if that's necessary, and eye-watering cash inducements. Not that I've ever experienced it on my August Ryanair flight to Italy, of course. A chance would be a fine thing.
The pontoon outside the Rowing Club down on the Groves has been turned into a shrine for the poor lad who lost his life in the river on Thursday. Lots of helium balloons and cellophane-wrapped bunches of flowers. Do you find yourself as confused about this as I do? The need to mark a death is totally understandable, and young people need to do it in their own way. But today's balloon and bunch of flowers looks so sad in a few days' time: leave them there and it's wrong, take them away and it's wrong. I can quite see why the Police adopt the policy they do on national tragedies of this sort: all flowers and memorials will be removed at the end of every day, taken to a safe place, "and so leaving space for new ones". It's the reason they give, and it's a kind one. Unlike some of my Anglican colleagues, I do not have a graveyard to be responsible for. For which I am eternally grateful.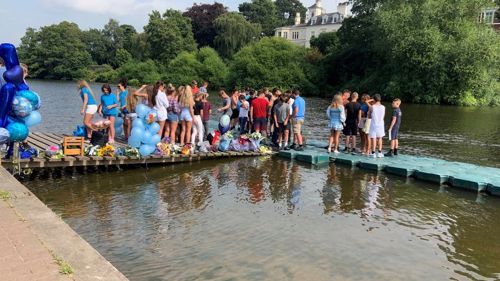 Confessions are settling into a nice routine now, 9.00-10.00 on a Saturday morning, two chairs socially distanced on the Sanctuary and red plastic chairs down the aisle for those waiting. I suspect we'll return to our normal time of 10.30-12.00 noon one day, but, as with everything else, the Covid-19 lockdowns have allowed us to review times and decide together if we want to go back to the old ones or make some changes. (Have you submitted your Daily Mass Times questionnaire yet? Many have, but it's open until Assumption, 15th August, to allow everyone to have their say.)
Baptism at lunchtime for Ava, daughter of Joe and Rachel. I've always known Joe as "Joe", one of our lovely Goan Werbies, but fascinated to earn his actual name is "Joachim": Happy Feast Day for Monday, Joe, Saints Joachim and Anna. Here they are in the unmistakeable style of Fra Lippo Lippi (1445), in the Ashmolean Museum, Oxford:

Out straightaway to the Register Office, to deposit the Completed Schedules for Carrie and Ivan from Tuesday, and the Wedding I registered at St Francis last Saturday, and to pick up the Schedule for Molly and Liam for next Monday, whose Rehearsal we held here last night. Twenty minutes to spare before I needed to be at the Town Hall, so sat in the square and watched a good old-fashioned Demo by the Chester Branch of the UCU, the Lecturers' Trade Union, protesting about threatened job cuts at the University here. 1.30, and time to be inside for the annual Commemoration Service for the unveiling of the Polish Air Force Memorial, placed in our Town Hall in 1944: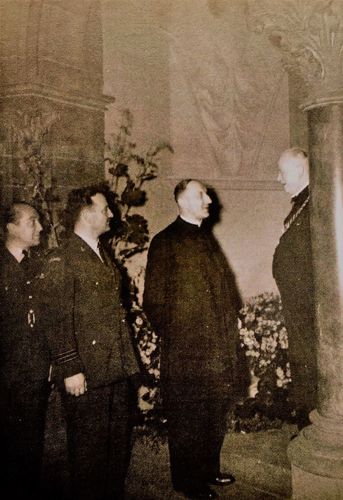 This was a very slimmed down version, because of Covid-19, but the Lord Lieutenant was there, the Lord Mayor, the Polish Defence Attaché from London, the Vice-Consul from Manchester, and half a dozen representatives of the Polish Airmen's Association. Bro Peter – given his proper name, Piotr today! – was there from St Francis and myself from St Werburgh's. It was a very pleasant occasion, remembering the days of RAF Sealand during the last war and the lasting friendship forged then between the two nations: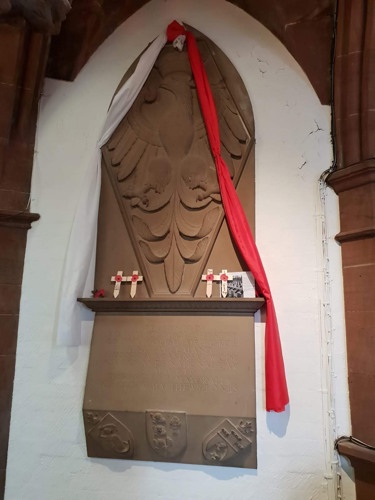 May God bless you all,
Fr Paul
---
Friday 23rd July 2021

Woke up this morning to the sad news that a body had indeed been found in the river yesterday evening and identified as that of a sixteen-year-old boy. May he rest in peace. He was found at 8.30 pm yesterday, just at the time I was walking back to St Francis with three of the Franciscans after supper together. This was to mark the departure of Fr Matthew after only six months with us. Very short time, but an absolute joy, as all of you know who frequent St Francis. He came to us after six years in Edinburgh, and is on his way, on Tuesday in fact, to the Provincial HQ at Erith in Kent. He a very old classmate of Fr Jinson, from the same home Province in Kerala, who, I'm delighted to say, is very much staying. We were joined by Fr Peter from Poland, and the four of us had a delightful meal together. They are three smashing Franciscans, who've been through a tough time recently, but relieved to be out the other side with big smiles on their faces. This was my first assignment as Acting Dean, and if all the other duties are as pleasant as this one, it'll be a blast! St Francis has been a great Chester Parish and with Bros Jinson and Peter in charge, will continue that fine tradition: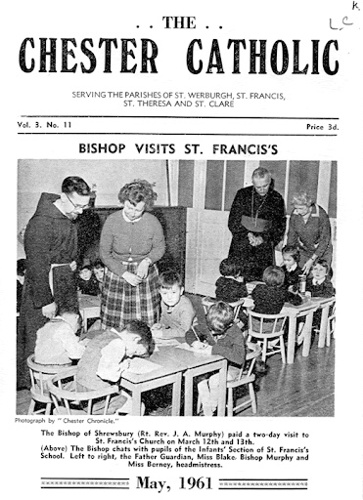 Graham and I were swapping notes yesterday on "First Sunday after Freedom Day", coming up this weekend for every church, synagogue, temple, mosque and chapel in the land. What restrictions to ease first? Big bang or Slowly, Slowly? Christ Church Newtown, Graham's Church, would classify itself as "Conservative Evangelical", as you know. For us at St Werburgh's, the centrepiece of our worship is the Mass and Holy Communion; for Christ Church, it's Music, worshipping the Lord through Gospel Choruses and Hymns. So, that's where they're starting, where for us the reintroduction of congregational singing will be a few weeks down the line. I couldn't resist taking him into church and showing off our newly spaced benches. He was impressed and made that comment I've heard so many times in my years here: "What a beautiful church! Shame about the Priest…"

Funeral Call this afternoon out to St David's Park, to Twain Close. Didn't think too much about that as a name until discovering its part of a complex of roads all named after writers: Sheridan, Fielding, Brooke, Bronte, Thomas, Shelley, Wordsworth, Longfellow, Byron, Shakespeare, Spenser and Burns. There's an Eliot Close (George or TS?) and a Patten Close, which stumped me. Surely not Brian Patten, the 1960's Liverpool Poet (with Roger McGough and Adrian Henri)? Or perhaps Marguerite Patten, the war-time Celebrity Chef, with her Radio Programme, "Kitchen Front"? Who apart from the Choir remembers that?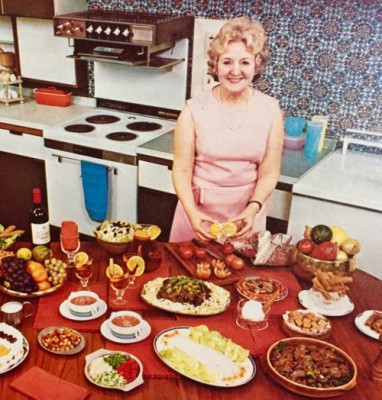 We sent Congratulations to Georgina last week on landing that superb job with Ernst and Young – no better platform from which to look after her parents in their old age. Now today news on her Remote Graduation from proud mum Karen:

We have watched an online graduation with G – Crazy times.
G made a speech too, so it was very special.
We had lunch in the garden and a glass of champagne to celebrate the moment.
Sybil came too – she graduated in Geography from Edinburgh 72 years ago!
This photo came up on the screen!! 😊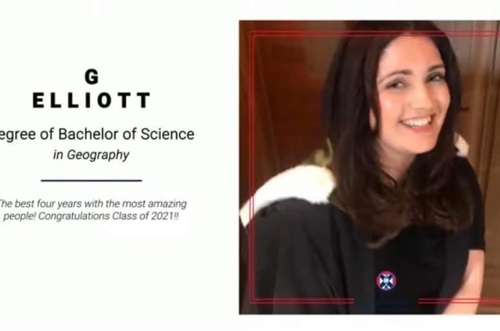 Well done, G! And Sybil is her very proud grandmother, Sybil Austin, whose husband Dr Austen Elliot, so many of you will remember, and I was privileged to meet, when we were both Trustees at the Hospice.

May God bless you all,

Fr Paul
Thursday 22nd July 2021
Lovely lunchtime yesterday out at Trudy from Trueman's beautiful garden in Hawarden. We inherited Trudy from Sacred Heart Hawarden many years ago, a priceless heirloom, and all I can say is, their loss was our gain. She's run our on-line Zoom Prayer Group brilliantly all year, meeting every fortnight and basing our hour together around the forthcoming Sunday's Scriptures, with some inspirational music to accompany them. She's also a pillar of our Choir and brings the average age down by twenty years. She's an amazing grandmother to Gethin, Carwyn and William, and spoils her husband Richard something rotten. What else can I say?
Yesterday, she invited all twelve members of the Prayer Group to a super mid-day lunch in her garden. We all agreed that, well as we know each other, it was so pleasant to meet in person and not to have to shout, "You're muted, Norman!" at each other every five minutes. That's one phrase none of us will miss in the future, eh?
One interesting question arose as we sat under the awning sipping our water (honestly): what is the role of a Dean? Last night, Brett from Broughton came round for his weekly lesson, more than ready now to be received into the Catholic Church. He asked me what Canon Law was and how it operated. So, killing two birds with the identical half-brick, here's the relevant section from the 1983 Code of Canon Law, Title III, "The Internal Ordering of Particular Churches." (Particular means local or individual churches - Dioceses and Parishes - as opposed to "the Universal Church").
Chapter One is on Diocesan Synods (surprisingly rare these days?).
Chapter Two is "The Diocesan Curia", very much in evidence in every Diocese.
Chapter Three is "The Council of Priests and College of Consultors" – again you'll find full details for our Diocese in the Diocesan Yearbook.
Chapter Four is "The Chapter of Canons".
Chapter Five is "The Pastoral Council", again not perhaps as widespread as once envisaged.
Chapter Six is "Parishes, Parish Priests and Parochial Vicars" – do you remember the Wicked Women of Stockport once asking me what a Parochial Vicar was, and why their Parish was now run by one?
Chapter Seven is "Vicars Forane, or Deans".
Chapter Eight is "Rectors of Churches and Chaplains".
"Vicars Forane" is the technical name for Deans, and this is what Chapter Seven has to say in full:
CHAPTER VII: VICARS FORANE
Canon 553 §1. A vicar forane, who is also called a dean, an archpriest, or some other name, is a priest who is placed over a vicariate forane.
2. Unless particular law establishes otherwise, the diocesan bishop appoints the vicar forane, after he has heard the priests who exercise ministry in the vicariate in question according to his own prudent judgment.
Canon 554 §1. For the office of vicar forane, which is not tied to the office of pastor of a certain parish, the bishop is to select a priest whom he has judged suitable, after he has considered the circumstances of place and time.
2. A vicar forane is to be appointed for a certain period of time determined by particular law.
3. The diocesan bishop can freely remove a vicar forane from office for a just cause in accord with his own prudent judgment.
Canon 555 §1. In addition to the faculties legitimately given to him by particular law, the vicar forane has the duty and right:
1/ of promoting and coordinating common pastoral activity in the vicariate;
2/ of seeing to it that the clerics of his district lead a life in keeping with their state and perform their duties diligently;
3/ of seeing to it that religious functions are celebrated according to the prescripts of the sacred liturgy, that the beauty and elegance of churches and sacred furnishings are maintained carefully, especially in the eucharistic celebration and custody of the Most Blessed Sacrament, that the parochial registers are inscribed correctly and protected appropriately, that ecclesiastical goods are administered carefully, and finally that the rectory is cared for with proper diligence.
2. In the vicariate entrusted to him, the vicar forane:
1/ is to see to it that, according to the prescripts of particular law and at the times stated, the clerics attend lectures, theological meetings, or conferences according to the norm of canon 279, §2;
2/ is to take care that spiritual supports are available to the presbyters of his district, and likewise to be concerned especially for those who find themselves in more difficult circumstances or are beset by problems.
3. The vicar forane is to take care that the pastors of his district whom he knows to be gravely ill do not lack spiritual and material aids and that the funeral rites of those who have died are celebrated worthily. He is also to make provision so that, on the occasion of illness or death, the registers, documents, sacred furnishings, and other things which belong to the Church are not lost or removed.
4. A vicar forane is obliged to visit the parishes of his district according to the determination made by the diocesan bishop.
Interesting stuff? The Bishop appoints the Dean after consultation with the priests and deacons of the Deanery. Canon 554 §1 is noteworthy: in the old days, the position of Dean was very much tied to the biggest church in the area, and so the PP of St Werburgh's would always be the Dean. That's no longer the case: now it's whoever in the Deanery the Bishop feels is most suitable. Canon 555 spells out the duties, and you see how pastoral they are in direction: building up the community life of the priests in the Deanery (I hope they like my sandwiches!); making sure everyone is doing their job properly, and keeping an eye open for any problems in any of the Deanery Parishes, for example the way we've all been implementing the Covid-19 Regulations; seeing to it that we're all keeping up to date theologically – a challenging one; and pastoral oversight for any who may be struggling or not well. The final one is very clear, isn't it? Regularly visiting all the Parishes and Priests of the Deanery. No ambiguity there! Tango Terror, here we come!
If that's your first experience of unadulterated Canon Law, I wonder what your reactions are? That it's not as fearsome or as technical as one might have feared? That's it's actually quite useful – essential – to have a Rule Book that spells certain things out? That in a Universal Church of some 1.2 billion Catholics, in 2,250 Dioceses, looked after by some 450,000 Priests and Nuns, if you didn't have some central Rule Book, it could be (would be?) utter chaos?
Talking of the Wicked Women of Stockport and the Tango Terror, their ring-leader – Terrible Teresa – sent me over a poetical accompaniment to their suggestion that the new FP-mobile should be known as Fr Paul's Pumpkin: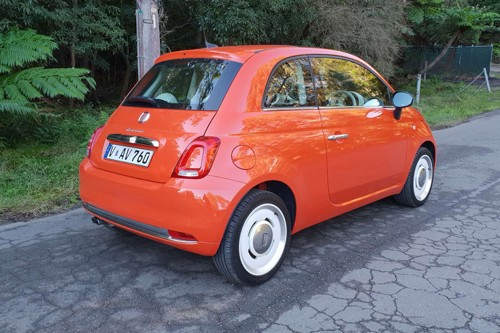 A Christian Pumpkin Poem
I am a Jack O' Lantern 
My light will shine so bright;
For I am a Christian pumpkin 
My symbols tell what's right.
My nose is like the cross 
on which our Saviour died, 
To set us free from sin 
We need no longer hide.
My mouth is like a fish 
The whole wide world to show, 
That Christians live in this house 
And love their Saviour so! 
The story starts at Christmas 
My eyes are like the star 
That shone on Baby Jesus 
And wise men saw from far.
My colour it is orange 
Just like the big bright sun 
That rose on Easter Day 
Along with Gods' own Son.
And so on Halloween 
Let's set our pumpkins out 
And tell the trick or treaters 
What Gods' love is all about! 
Author Unknown
See! Not everything that comes from Stockport is mad as a box of frogs!! They can be quite sensible when they want to be.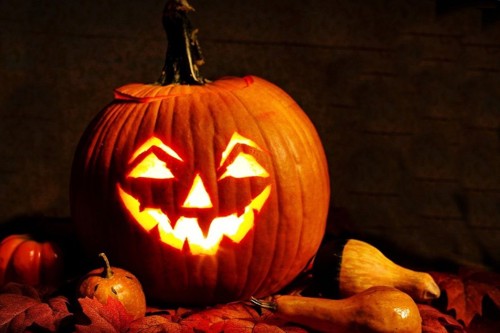 Lunch with my brother Graham, as we usually do on a Thursday if we can, with only another couple of weeks before he and his family leave Chester to head back to Surrey. Out in the garden, in this lovely sunshine, but then the sky fell in with at least two helicopters circling close overhead and any number of emergency vehicles flashing past. We wandered down to the riverbank to find out what was going on – not easy to say why – and quite clearly a major incident was taking place. Yesterday, as I took my tea-time stroll along the Groves, there was a large group of boys dangerously jumping off the Suspension Bridge into the river below. My first thought was that one of them had come to harm today, everywhere cordoned off, ambulances at the Queen's Park end of the bridge, and a Search and Rescue Team in the river.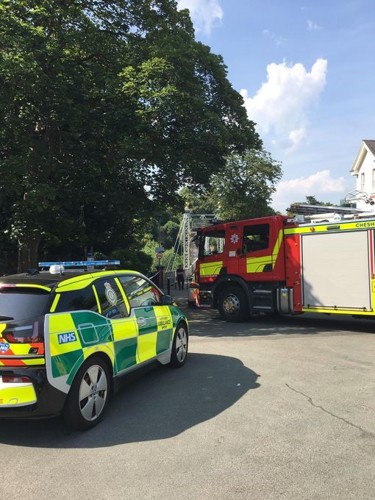 We wandered back through the park to the Church and looked at each other, the same intuition hitting us both. Someone had lost their life. Please God no, but the shared feeling was unmistakeable.
May God bless you all,
Fr Paul
---
Wednesday 21st July 2021

Delighted to be able to put through a phone call this morning to our dear friend Canon John Marmion, celebrating his 70th Anniversary of Ordination today. He was ordained here in St Werburgh's on 21st July 1951 by Bishop John Murphy. He sounded on splendid form. We're all so sorry that we can't have a big bash to celebrate this amazing milestone, but he is having a special Mass with Bishop Mark at St Joseph's Upton this evening. Let's hope he might be able to come here to St Werburgh's some time soon so that we can all congratulate him in person. This is John with his brother, Fr Denis, who died in 2014: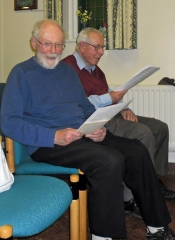 Fr Denis enjoyed a long and very happy retirement in Neston, in the bungalow opposite to St Winefride's Church, helping out both Fr Gerry and Fr Ravi in turn. I suspect "retirement" is not a word in Canon John's vocabulary!

As promised, some photos from the Wedding of the Century here yesterday afternoon. First, the fully decorated church before any of the guests arrived: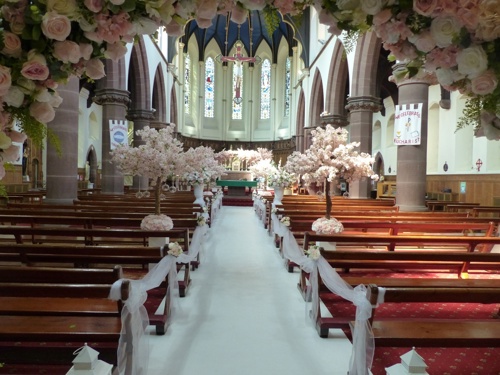 Do you like it? It didn't take me long. This one shows the newly-spaced benches: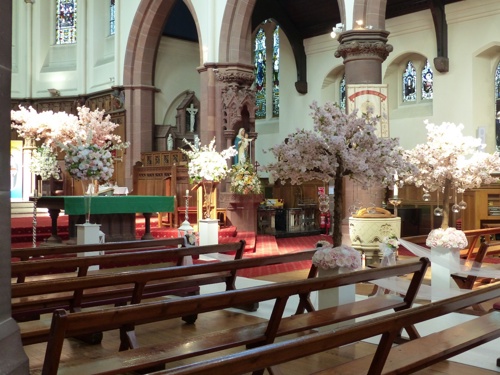 And now the guests start to arrive: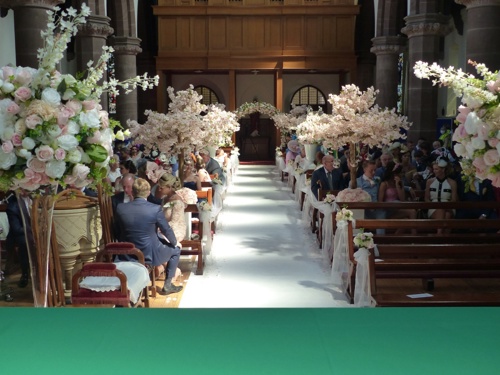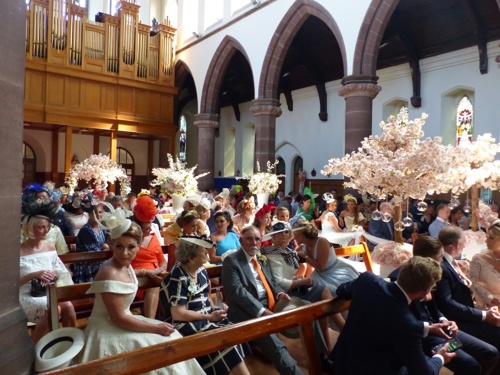 I thought the front of church could do with a little sprucing up too, and was tempted to drape a little bunting around the Tango Terror: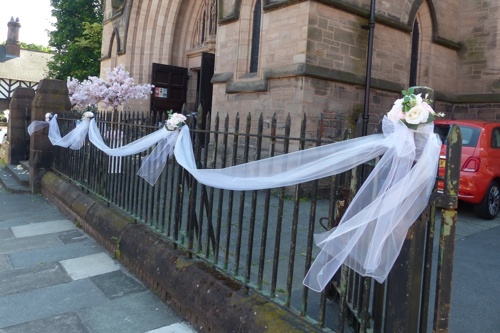 Here comes the Bride! And with the Groom, in place for the Wedding itself: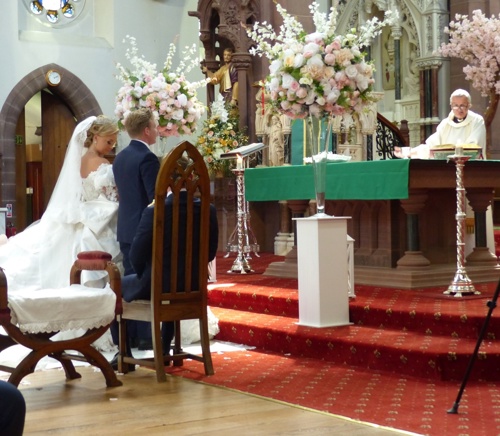 And now the Blessing and Exchange of Rings: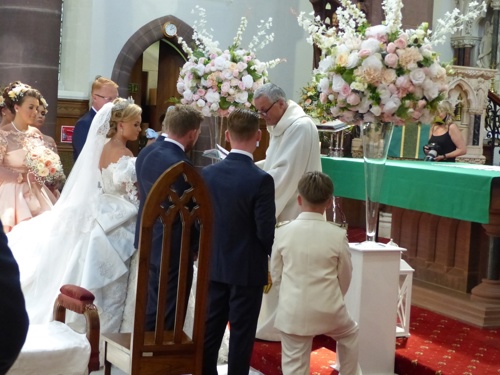 I'd love to say this floral arch was in commemoration of our Patron Saint but…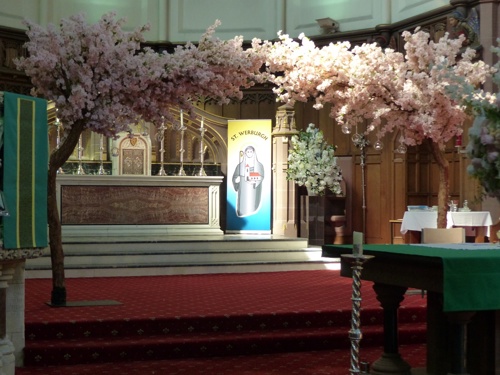 Get a good look, everyone – you won't see a sight like this again soon!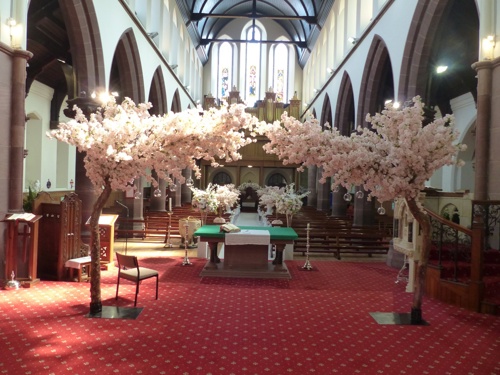 May God bless you all,

Fr Paul
---
Tuesday 20th July 2021

I'm cream-crackered, totally cream-crackered after our huge wedding this afternoon. Talk about a Baptism by Fire! [I thought it was a wedding, you idiot? Ed] As I've said in recent days, we were in a dilemma with this wedding – but then so were the couple themselves. They wanted 180 guests, but 20th July is only one day after "Freedom Day". On the one hand, was going from "restrictions" to "180" too big a leap? On the other hand, were we in a position to say "no"? Having debated it long and hard, we decided to go with the second option and make it a learning experience for our newly distanced benches, all one metres apart.

None of it would have been possible without our stupendous team of Stewards: Syd and Denise, Marian McCarthy, Pat and Anne Quinn, and Pat Ashcroft. Here at 11.30 for a briefing session, they swung into action at 12.00 noon, Pat Q doing a superb job outside repelling all boarders, telling them to come back at 12.30 and a not a second before. He was terrifying! 12.30, we swung the doors open, and Marian was equally scary at getting everyone inside, tracked and traced. I just stood back and marvelled at these amazing Werbies. Denise, Anne and Pat A got everyone seated, not made easy by the Bride having a white petal train down the central aisle which no-one was allowed to use. Bride, ten bridesmaids, ten grooms' men, two page-boys, sundry flower girls, we got the show on the road with Syd masterminding the CD's, violinist and soloist, and Michael Reynolds as our wonderful and utterly unflappable organist. He's a consummate professional, always cool under fire.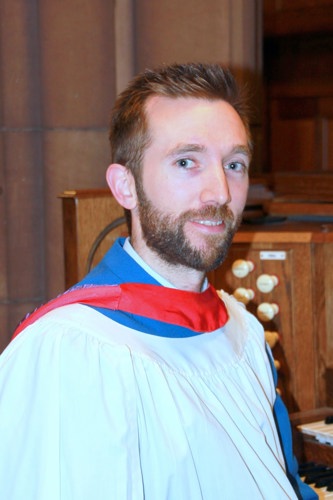 Last night, at the Catenians Mass for St John Plessington, we had our first practice for people coming out to Holy Communion and going back to their places again afterwards. It would have worked perfectly if only the dimwit Parish Priest had remembered what he'd asked the Stewards to do beforehand, and not thrown everybody by asking them to do something completely different when the time for Holy Communion actually came. Honestly, there are so many situations where it would be far better if the auld eejit would just keep out of it and let the people who really know what they are doing get on with it.

The flowers, the decorations of the church, the dresses were all out of this world – the Wedding, not the Catenians' Mass, you fools! - and I'll give you a full photo gallery tomorrow. For tonight, I'll leave you with a sumptuous head of roses from our front garden and head off to a very big pot of tea followed by a very long walk along the riverbank. All I'm good for.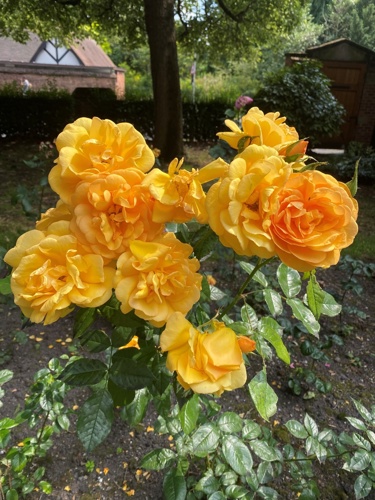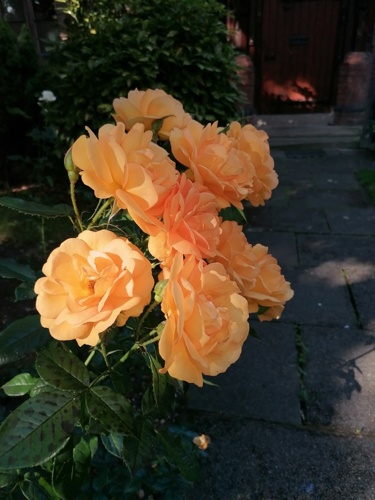 May God bless you all,

Fr Paul
---
Monday 19th July 2021

What a day! and it's only 4.00 pm. Taskforce at 10.00 am reviewed the third and final First Holy Communion Mass from Saturday and felt the whole series had been an enormous success, certainly judging by the number of very appreciative emails we've received from parents. Here's Zach in the front garden afterwards with his very proud mother and sisters: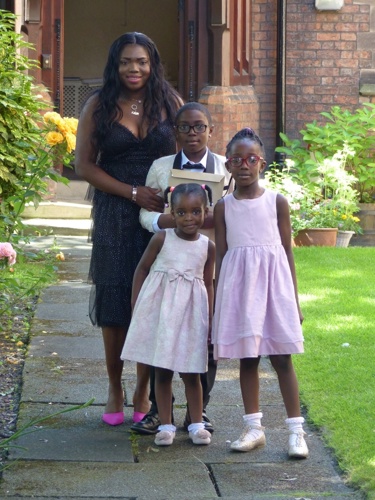 Photo of the Week this week on the Newsletter was a shot of the workmen dismantling the Screen across the High Altar in 2012: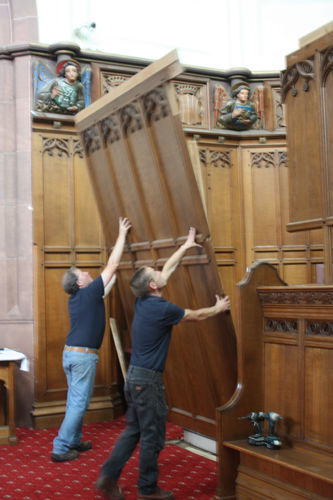 We said on the Newsletter that some of the wood had been used to make the new Lectern on the Sanctuary, and one of the photos from Saturday's FHC Mass shows off this new Lectern to excellent effect: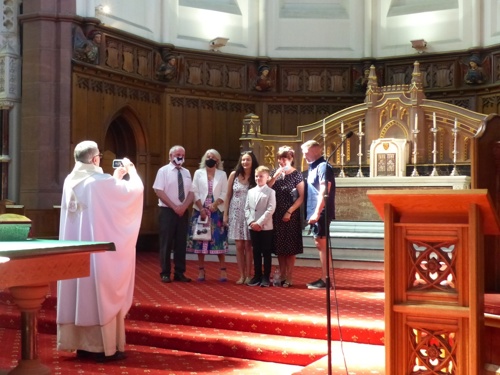 From Choir Stalls to Screen to Lectern: the recycling story goes on! Then Taskforce came on to looking at the pace of dismantling the Covid-19 restrictions, and we all agreed slower was better than faster. This coming Sunday we begin with asking you all to hand-sanitise yourselves rather than us doing it for you; and you seating yourselves, rather than us telling you where to sit. To that end, we all went into church at the end of the discussion this morning and saw if we could move the benches back so that they were now all safely a metre apart. An hour (and a few argie-bargies) later and the job was done. We're aided by the fact that there are no red fabric chairs in use at present, and the Cathedral Chairs have all been given away. So, just using the benches, can we space them a metre apart from front to back? God was with us, as you'll see on Sunday. Now YOU just have to seat yourselves a metre apart. You can do that for us, can't you? We knew you could!!

Meanwhile, the electricians were beavering away installing the cabling for the Emergency Lighting, and the Florists arrived for decorating the church for tomorrow's wedding. We promise you some great photos for tomorrow's Blog. In and amongst, I've broken the habit of a lifetime and actually written my Homily for the Catenians' Mass for St John Plessington this evening, which Fr Neill is celebrating for them here at 7.30 pm. Before that, at 7.00 pm, he is leading an ecumenical service along at the Marble Obelisk near St Paul's Church in Boughton, where the names of both the Catholic John Plessington and Protestant George Marsh are inscribed: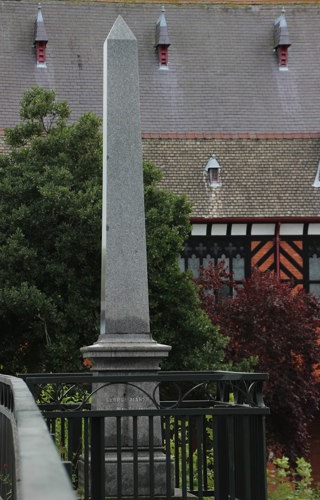 And then, presumably, he will be leading the third part of the service down at the Catholic Club afterwards. Well, you all know what those Catenians are like…

May God bless you all,

Fr Paul
---
Sunday 18th July 2021
Numbers continuing in the range we've seen in the last few weeks, slightly off from the peaks of six weeks ago. I shall see if Barrie from Berkeley can bring his wizard graph up to date to show you the pattern since lockdown began to ease:
9.00 am: 74
10.00 am: 68
11.00 am: 63
12.00 noon: 44
Total: 249
After 12.00 noon Mass, we started looking to see how the benches could be spaced further apart. Now that the Cathedral chairs have gone, we have considerably more room to play with. This photo of yesterday's First Holy Communion Mass - the children standing – also shows you the possibilities, if that back bench is taken as far back as the first sandstone pillar. But believe you me, folks, by the end of the fourth Mass, 12.45 pm, we're all pretty whacked, and didn't disagree that we'd leave the detailed arrangement of benches until tomorrow!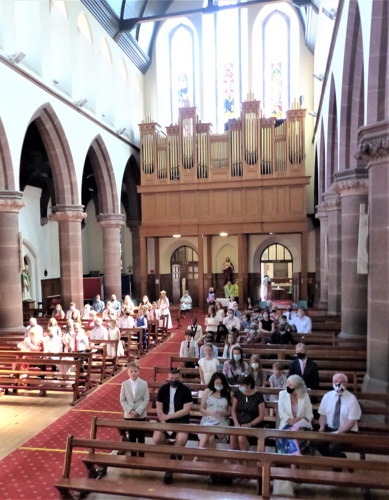 This next photo from yesterday is seriously misleading: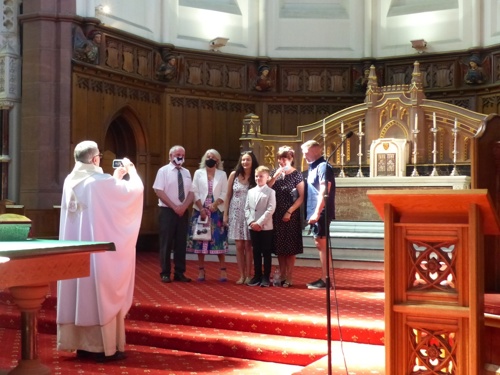 Do I look as if I knew what I was doing with that camera smartphone thingy? Because I hadn't a clue. Wherever you grasp the stupid thing, for example round the side, you seem unintentionally to press some button and it speeds off into video mode or gives you the racing results from Doncaster. Grab it any other way, and you just get a big thick finger to record for posterity.
And my point is? I neither have one of the wretched things nor have intention of ever getting one., So, count me out of the Pingdemic. If you don't possess a smartphone (or don't download the app – oh, the jargon!) or don't switch it on, you can't be pinged. Boris's U-turn on the subject this morning must be one of the quickest on record: "We don't have to self-isolate because we're part of a pilot scheme, oops, no we're not…" It was a field day for anyone of a satirical cast of mind: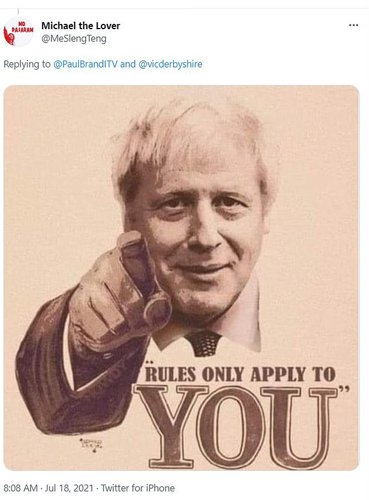 8.08: thanks heavens we were getting ready for Mass. Times four.
One last First Holy Communion photo from yesterday. Lena, one of our Polish children, is wearing a beautiful headband made out of real flowers by her mother Dorata: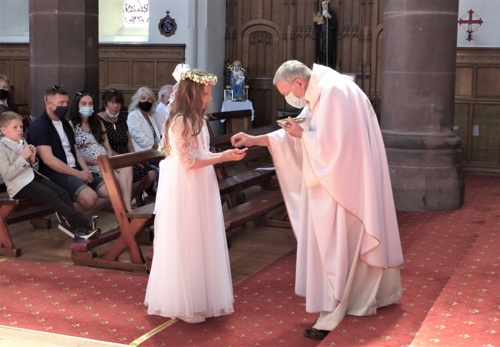 Straight down to St Francis afterwards to act as Registrar for their wedding. The Priest performing the ceremony was Fr Marc Homsey, who's just taken over as Catholic Chaplain at Leeds University. I "saw" Fr Marc last month in the Zoom National Chaplains Meeting, but good to see him in the flesh this afternoon.
Did the bizz, and straight on the train over to Bramhall. I caught the "slow" Manchester train, through Mouldsworth, Delamere, Northwich, Knutsford, Altrincham, a stunningly beautiful ride if you're not in a hurry to get to Manchester. Which I wasn't. Off at Stockport, where I changed on to the Stoke Train, just two stops to Bramhall. St Michael's is a five-minute walk from the station, and everyone was sitting out in the garden in the sweltering heat, celebrating Calum's 30th Birthday. Half the folk there were family and friends, half parishioners, and I enjoyed talking to a big group of the latter, including one of the two Church Wardens, about their experiences of lockdown and their hopes for coming out the other side.
7.33 train back, home at 9.30 pm and ready for a little spiritual sustenance: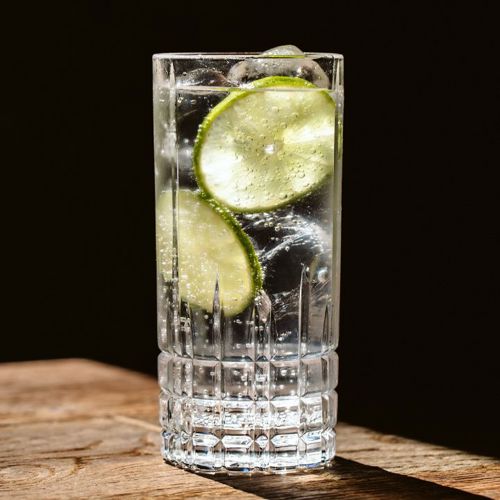 Cheers, everyone!
May God bless you all,
Fr Paul
---
Saturday 17th July 2021
This is the second part of Bishop Mark's message from yesterday:
Dear Fathers and Deacons,
I had once hoped this might be the last Ad Clerum to be marked Covid-19. However, the Prime Minister's statement on Monday that "the pandemic is not over" sadly reminds us that we have not yet reached the end of this crisis. Yet, from midnight on Monday we are move into the new terrain of post-lockdown times. I am writing primarily to share with you the guidance and recommendations for our churches following a meeting earlier today of the Governmental Task Force for Places of Worship together with a statement by the Bishops of England on the Sunday Mass Obligation.
THE SUNDAY MASS OBLIGATION
The bishops see the first months after lockdown as a period for everyone to strive to return to Sunday Mass and providing an opportunity for renewed reflection on the centrality of Sunday worship. The bishops are inviting all Catholics to do everything they can to participate personally in the Sunday Mass. This will surely be a central, pastoral focus for the year ahead. However, due to the caution required in the immediate months ahead it is the bishops' judgment that "It is not possible at the present time for all the faithful to attend Mass on a Sunday thereby fulfilling their duty to God." We hope it will be possible for all Catholics to fulfil the Sunday obligation by the First Sunday of Advent 2021. I attach the statement of the bishops for the attention of parishioners. We can see the four months leading to the beginning of Advent as a time to encourage and build-up that joyful return to Mass which we continue to see across the Diocese. The obligation that is soon to return is surely the happiest of obligations if we begin to recognise what the Holy Eucharist truly is!
EMERGING FROM NATIONAL LOCKDOWN
In the weeks ahead we will be adjusting in all the parishes to new conditions as a new variant of the virus continues spreading. I know people will have widely divergent views as to what is prudent or necessary. The Government's general guidance for Step 4 of the Covid-19 Route Map relates to the ways in which the population can stay safe and prevent the spread of Covid-19:
https://www.gov.uk/government/publications/covid19-response-summer-2021-roadmap/coronavirushow-to-stay-safe-and-help-prevent-the-spread
This is a decisive step forward moving away from detailed regulation enforced by law to prudent local judgments. If people in our parishes adopt different attitudes towards the lifting of statutory restrictions it might be noted that the Government's guidance is itself nuanced. The guidance states, for example, that it is no longer required to stay two metres apart from people you do not live with and there is no limit to the numbers you may meet. However, the guidance goes on to say "in order to minimise the risk at a time of high prevalence, you should limit the contact you have with those you do not usually live with and increase close contact gradually. This includes limiting the number, proximity and duration of social events." This is a note of caution for us in returning to parish activities. Most happily the guidance states "There will no longer be restrictions on group sizes for attending communal worship." This allows a return to pre-Covid-19 safety capacities whilst taking into account the guidance of the Bishops of England and Wales published today.
We've given as much information as possible on the Newsletter this weekend, including the first two aspects we are going to change as we all come out of lockdown. Starting next Sunday, 25th July, you will hand-sanitise yourselves as you come in and go out of church rather than Stewards doing it for you; and you will decide yourselves where you want to sit. All we ask is that you respect the "One Metre Rule", both either side of yourselves and in front and behind.
Getting ready now for the third and final First Holy Communion Mass at 11.00 am, then along to St Francis to act as Registrar for their wedding, and then over to Bramhall to wish Rev Callum a very happy thirtieth birthday. Full report on all three events tomorrow
Thirty! Can any of us remember being thirty? Where, oh where, have the last twenty-five years gone to? (Watch it, Choir).
May God bless you all,
Fr Paul
---
Friday 16th July 2021

Oh, ho, ho, ho! Very side-splitting! You have had fun with those photos from yesterday, haven't you? As long as I can bring a little smile to those bitter and twisted lips of yours, that's all I'm good for, isn't it? I was only sharing with you Fr Edmund's musings on the exact sense of "Acting" Dean and thought I might illustrate it by a couple of shots of two of the twentieth century's greatest Thespians, Sir Laurence Olivier and Dame Edith Evans. Olivier's Hamlet was justly famous and didn't deserve the treatment you lot gave it.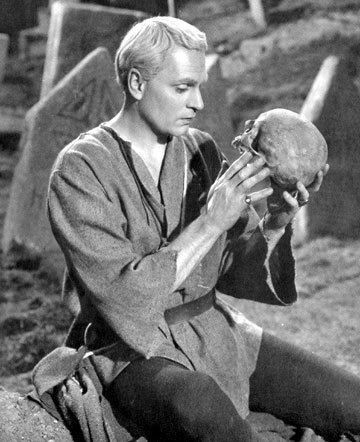 First of all, Herbert from Hartington Street has to enquire as to which one is supposed to be FP, and wonders if this might help: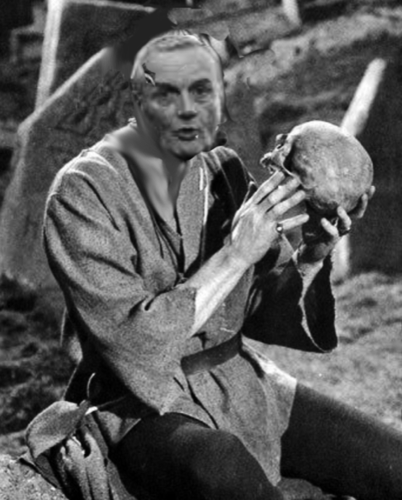 And then Maisie from Mollington has to chip in, doesn't she, and ask about the age of the skull Hamlet is holding: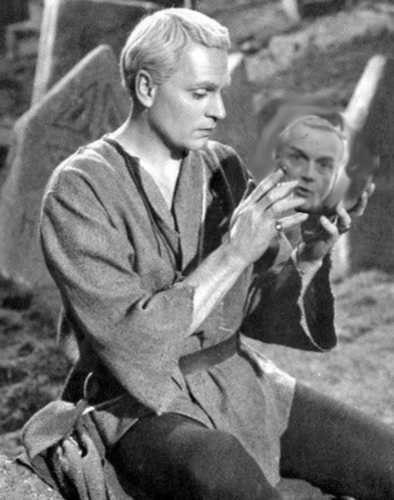 Any of you lot ever consider a career on the stage, you're so hilarious? Just turn me into Lady Bracknell, and there'll be serious trouble. (A HANDBAG??)

Let's get down to the real business: absolutely on the button, Bishop Mark emails us this morning with the decisions of the National Task Force on Places of Worship as mediated by the Bishops' Conference of England and Wales. The full Bishops' Conference Statement is on our website tonight, in the second box down, "Coronavirus: the Church's Response to the current emergency" (headed "Covid 19 Route Map Stage 4 Guidance 16th July 2021). Bishop Mark then puts it in a more digestible form for our Diocese, and I have tabulated it into sixteen points for ease of actioning here in St Werburgh's. Bishop Mark writes:

THE GUIDANCE OF THE BISHOPS OF ENGLAND AND WALES: Friday 16th July 2021

I attach with this Ad Clerum the complete guidance provided with practical advice on the key mitigations to keep in place. I provide below a brief overview of the guidance and recommendations received:

1. From 19th July it is recommended we continue to provide sanitiser at entrances and exits to our churches; good ventilation, encourage the wearing of face coverings and maintain general cleaning to a good standard.

2. Great care has been taken to ensure people feel safe in our churches. Decisions will need to be made locally regarding capacity and social distancing. Some suggestions are offered for the many and varied situations of our churches with the aim of building local confidence. This is something we will need to continue reflecting upon.

3. Stewarding will no longer be required. This may be a time to consider re-directing the wonderful service of the teams of dedicated, parish stewards for which we have all been grateful.

4. Congregational singing is permitted from 19th July; however, it is recommended this be phased in gradually and face coverings continue to be worn by members of the congregation whilst singing until infection levels reduce. I am not sure how this will exactly work in practice.

5. Churches can be open for private prayer without stewarding though QR codes should remain in place. As long as NHS Test, Track and Trace is in operation churches are asked to continue using the available means for people to sign in.

6. It is recommended that Holy Water Stoops should not be refilled at this point though Holy Water can be made available to the Faithful.

7. Servers, Cantors, Readers and Extraordinary Ministers of Holy Communion can be fully deployed as needed.

8. The Offertory Collection can be resumed with baskets and pouches; however, online and contactless giving is encouraged if possible.

9. The Sign of Peace remains suspended in the Liturgy of the Mass to reduce physical contact between members of the congregation.

10. Holy Communion will continue under one kind with no administration of the Chalice. Ministers are asked to sanitise their hands and wear face coverings as before. Holy Communion is still recommended on the hand though all who wish to receive on the tongue may do so with special care being taken. It is no longer necessary to have a one-way system or other restrictions on movement within our churches. Holy Communion by Concelebrants (including the Principal Celebrant) should be received only by intinction and the purification of the sacred vessels undertaken by the principal celebrant alone.

11. For the celebration of Baptism there are no restrictions on numbers though multiple Baptisms should be avoided.

12. For the celebration of Marriages there is no restriction on numbers.

13. For Funerals there is no restriction on numbers though liaison with the Funeral Directors over local conditions and regulations at the place of committal will need to continue.

14. For the Sacrament of the Anointing the laying of hands should be by extension of the hands over the sick person and the sign of peace should be a gesture without touch. In a hospital or care home advice should be followed regarding the PPE required. The requirement to be vaccinated to regularly visit care homes is expected to come into force in October and a separate note will be published in due course.

15. For Parish Social Activities it is strongly recommended that a Risk Assessment be completed for both the activity and the space.

16. For Catechesis, requirements for Covid security should be determined locally and a combination of in-person online sessions where appropriate, is recommended.

Here in St Werburgh's, we'll be implementing these measures, one at a time over the next couple of months, starting Sunday 25th with the benches back to where they were and you all choosing where to sit rather than being told where to by the Stewards. This is fully in line with Principle One of our Four Principles – the onus is now on individuals to keep safe by looking after themselves, rather than "they" telling us what to do. As long as you are One Metre Apart from those not in your bubble, you can choose where to sit. Please, please, please: respect each other's space. "I'm not bothered about sitting near someone else!" No, you might not be: but the other person might, so please respect their space as well as your own when choosing where to sit.

If that goes well, we can start to think about returning to the 9.00 and 10.45 am Mass times rather than the "four half-hours" we have at present. That will hopefully be in early September. And so on, as we gradually, slowly, roll out all these sixteen guidelines as appropriate to St Werburgh's. We know we can count on the cooperation of all of you, Werbies and Wizziters, as we do so. Thanks!

This afternoon, into the High School again for a little Zoom Service from the School Chapel for one of our teachers whose spouse is far from well. I married them here some years ago, they have two lovely little children, and do need your prayers at this time. They were at home, myself and other members of staff in the Chapel, and we used the Readings and Biddings Prayers from their Wedding Order of Service as a way of telling them that they are all very much in our thoughts and prayers at this time. Can they be in yours too, please?

May God bless you all,

Fr Paul

---
Thursday 15th July 2021
Fr Edmund was enquiring yesterday afternoon about the exact sense of the word "acting" in my appointment as Acting Dean. Something like this, he wondered: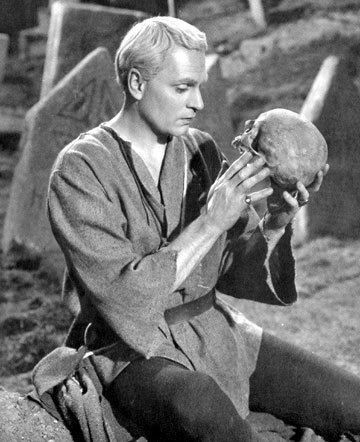 Or more like this?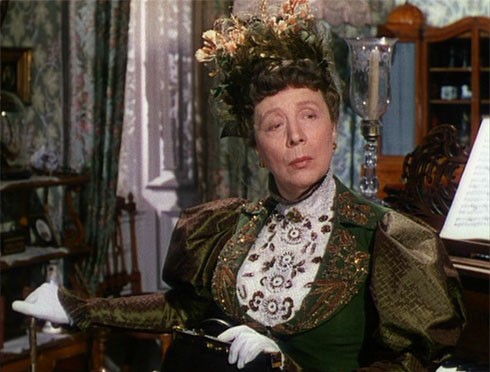 Cheeky little so-and-so.
Meanwhile, we await – with no very great hope – some clarification on just what next Monday's "Freedom Day" really means. The papers are gloomy this morning. Will the rules just shift from Government to individual organisations? Two anxieties here: that different organisations will make different rules, and that people will say "You can't make me, the government does I don't have to". Masks? Mandatory in Marks and Spencer's, optional in Asda? Gotta wear them on the Tube but up to you on the Buses? Definitely required in St X's, but not in St Y's? Could be chaos. And into that chaos could come a fair bit of strop, from both sides - "You've got to wear a mask in here" – "Who says so?"
The National Taskforce on Places of Worship meets today, Thursday. Lighten our darkness, we beseech Thee, O Lord…? This morning we had a Zoom Meeting of the Cheshire Churches Together steering group, the county-wide ecumenical body. Each of us was asked to submit a report on the last year's ecumenism from our different denominational perspectives, and I thought you might be interested in what I sent in for the Catholics:

Churches Together in Cheshire: From the Catholic Perspective
Most of us on the Steering Group run our own parishes and communities as well as representing our churches on Churches Together in Cheshire, and that's allowed us to see many of the stresses and strains of the past twelve months at the local level. Keeping our churches, chapels and meeting halls open, when allowed, has tested us all to the limits. But to start with the good news: somehow, we have managed to keep going, and experience the need for everyone to pull together: Stewards, Cleaners, Track and Tracers, you name it, they've done a magnificent job, and actually made us more of a community. " I feel I've got to know other parishioners so much better since becoming a Steward", one volunteer remarked to me; "I really do feel part of this Parish now".
But it hasn't all been good news. Our Catholic Bishops' Conference has identified three groups in particular who need special care: those who are still very Covid-anxious, who have lost confidence during these various lockdowns and restrictions, and who are finding it very difficult to engage again with the wider community. Secondly, sadly there are those who have got out of the habit of coming to church on a Sunday and may never rejoin us. Once a habit is broken, it's hard to start up again? Thirdly, and most positively, we have reached some people, especially through our live-streamed and Zoomed services and events who are new to the whole Christian or church-going experience. It's been a superb opportunity for evangelism, and we need to build on that when eventually all these restrictions are lifted.
One example from the Catholic World, though far from exclusively so: we love our Stations of the Cross devotions, especially during the six weeks of Lent. This year, we had Zoom Stations, not only allowing folk to join us from the comfort of their own homes but allowing everyone to see the artwork of the fourteen stations - we used a different set each week, from all over the world – in a close-up intimate detail that would be quite impossible actually in church. On the positive ecumenical front, we've continued to do as much as possible for the prisoners in HMP Berwyn, just over the border in Wrexham, where we work not just as an ecumenical team but very much an Inter-Faith team, the Muslim Imam for example, being a great supporter of our work. Wearing another hat, I am Catholic Chaplain at the University here in Chester, and one of the Liverpool law firms organised an excellent three-way roundtable Zoom meeting with myself, the Jewish Rabbi who is Chaplain at Liverpool University and the Muslim Imam at Liverpool John Moores University. The theme was "Living out Our Faith on Campus", reflecting on both the joys and the challenges of professing faith in what is sometimes a very secular University world, occasionally hostile.
As a Catholic Parish here in the centre of Chester, we are very lucky in being able to use a small Methodist Chapel on the southeast side of the city for our Saturday Evening Mass. Or were, until Covid-19 struck! We fill it, with about fifty folk from that side of town: but, being a small, very beautiful 1865 chapel , with social distancing you'd get three and half people in. Sadly, they've been closed, and we really do hold our Methodist friends in prayer, as so many of their smaller chapels have been out of use for the past fifteen months. Huge draughty Catholic churches sometimes have their advantages!
Ecumenism hasn't stopped at all over this last year: our Week of Prayer for Christian Unity last January was celebrated in great style, for example, by the Christleton and Waverton Churches Together group on the edge of Chester, six churches in all, each taking one day to lead the service and time of socialising together, all via Zoom, and all masterminded by the unbelievably tekkie Rector of Christleton!
An odd year, in other words, but we live to fight another day!
Fr Paul Shaw (Catholic Rep)
Looking forward, we're revamping our Churches Together in Cheshire website and starting to plan for the Week of Prayer for Christian Unity in January 2022, when it will be the turn of the big Cathedral Service. Either Saturday 22nd or Sunday 23rd January, in the afternoon. Good to look forward, but you'd have to be a crazy betting person to wager what the world will look like then.
May God bless you all,
Fr Paul
---
Wednesday 14th July 2021

Good to hear from Bishop Mark again last night, on the ball as ever:

Dear Fathers and Deacons,

I know you are already considering many questions in the parishes regarding the post-lockdown period. A few questions have already come to my office. I wanted to keep you in the picture regarding the timescale in which we can expect to receive specific advice for places of worship in addition to the general advice already offered by the Government.

The Governmental Task Force for Places of Worship will meet on Thursday this week to consider the specific advice for churches. I will relay to you any advice as soon as it has been received to assist with your planning in the parishes from Monday 19th July.

With remembrance in my prayer this evening and every good wish,

+ Mark

Bishop of Shrewsbury

That helpfully tells us the National Taskforce is meeting on Thursday. They are normally pretty prompt in getting out their guidance, which will then need to be applied to the specifically Catholic context (the central position of Holy Communion in our worship, for example) and then applied to the local case of St Werburgh's. Infection numbers are not looking good, and there's a slight rise in hospitalisations and deaths too. By no stretch of the imagination are we out of the woods.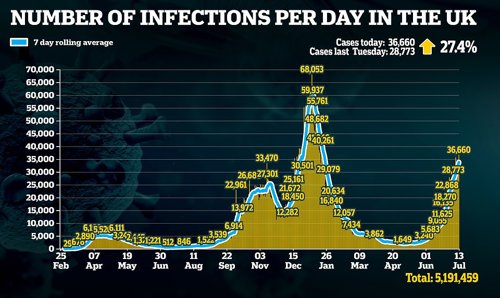 Busy day today, beginning with Patrick, getting ready for starting Newcastle University in September. You may remember he started last year, but with one thing and another – all on-line learning, lockdown in his Hall of Residence, you name it – he sensibly decided to give it a miss and defer for a year. I can see now that he's ten times readier for the wonderful world of being a fresher than he would have been this time last year.

Coming out the other end of the sausage machine (!!), Georgina has done fabulously well in her round of job interviews, following the end of her four years at Edinburgh. She's landed a job with world-leaders Ernst & Young, one of the largest multi-agency service providers in the world. Wow! Talk about earning lots of money to look after her parents in their old age. Karen and Ewan are certainly up for that, I can assure you.

Good time in the High School this afternoon with the Year Ten High-Flyers. We looked at the enormous range of courses one can study these days at university, and then we had "a bit of a quiz" with incredibly valuable pee-y-zes. How would you get on if asked what you'd be studying if you took a degree in: Anatomy? Anthropology? Assyriology? Classics? Coptic? Old English? Land Economy? Insular Latin? Linguistics? Neuroscience? Norse? Palaeography? Pathology? Pharmacology? Physiology? Sanskrit?

Get them all right? Straight home to meet with Fr Edmund, preparing for his move from the Cathedral to Ellesmere Port and Hooton. He's got a real challenge on his hands, building on Canon Neill's excellent work in bringing Our Lady's EP, St Bernard's EP, St Saviour's Great Sutton and St Mary of the Angels Hooton into a single Parish. But he's the man for the job and is relishing his new assignment. It'll be great to have him as our next-door neighbour.

4.45 as I write with Brett from Broughton due at 5.00 pm, FHC Rehearsal at 6.30 pm, try-out for Catenians Mass Music at 7.30 pm and then hopefully a bit of a walk along the canal. I shan't need rocking tonight! I leave you with these lovely little yellow flowers snapped along the drive. Garden plant? Weed? What a pointless distinction that is!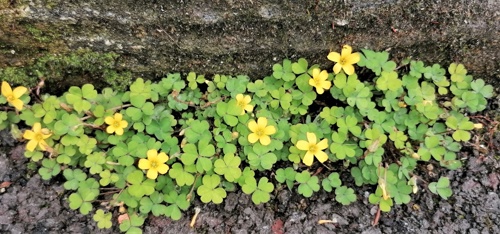 May God bless you all,

Fr Paul
---
Tuesday 13th July 2021
I don't think we are a lot the wiser after the Dear Leader's press conference last night: the restrictions are exactly the same as before but now you must enforce them on yourselves rather than us enforcing them on you? Is that fair summary? If so, how does it help us a church community and our public worship? Let's hope for a little more detail and guidance from the National Taskforce later on this week.
Foreign holidays this summer? Tempting but I've decided personally against. Italy is an amber list country rather than red list (= just don't go!) and green list (= no problems). My main reason for not going is the hope that August will be the month that everything starts getting back to normal. I shall not be a happy bunny if absolutely nothing changes in August, and you all come back from Tuscany or Sicily in early September with outrageous tans and painful hangovers.
Always pleased to countersign passports. In the old days, it had to be a Solicitor, a Bank Manager or a Minister of Religion, and the third category was the only ones that didn't charge. But it's all on-line now, which makes things considerably easier if I know you well, but trickier if I don't. Back then, you had to come in for an appointment, and I would use that time to "refresh my memory" (ahem!) as to who exactly you were. Fortunately, my first online request came from one of our greatest parishioners, a regular here every Sunday morning. No problems with recognising and authenticating this Princess!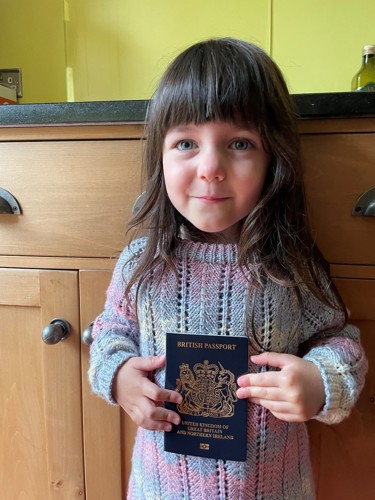 Yes, Miss (Princess?) Anwen! What a gorgeous child! And what a mystery that such a gorgeous child can have two such terrible parents: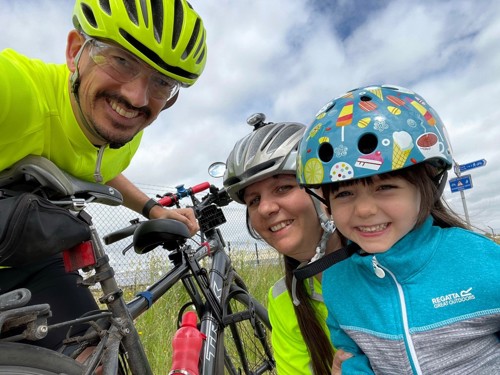 I'll let them off, as long as they keep introducing Anwen to the wonderful world of cycling. They actually cycle to Mass every Sunday morning, but then we all did in the old days, didn't we? No car park for my tin hut church in London but long bicycle racks. I've dug out this old pic of myself, about the age of seven, arriving outside church: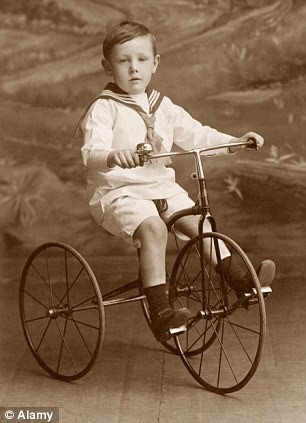 Sweet or what?
Electricians arrived yesterday morning to begin work on the Emergency Lighting, and, in the best tradition of workmen, haven't appeared at all today. Tomorrow, as they say, is another day.
This afternoon, Anastasia and her mum popped round to photograph the Trena Cox windows in the porch. Anastasia is getting ready for leaving for London to begin her Fine Arts degree at the Courtauld – lucky girl! – and mum has started seeing what's available on Trena Cox, one of the most exciting Stained-Glass artists of the twentieth century. She hasn't unearthed a great deal so far: if any of you have any information on her, do please send it in. Here's her St Werburgh's from Ince Parish Church: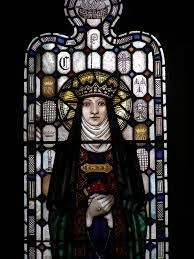 And here's our orange lilies from the front garden: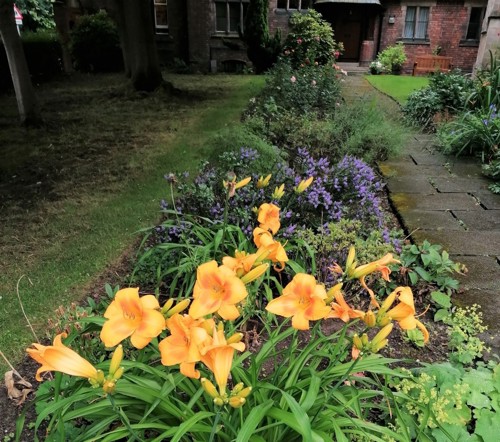 Just copying my car, that's all they're doing.
May God bless you all,
Fr Paul
---
Monday 12th July 2021
If this doesn't bring a smile to your bitter and twisted lips, nothing will. Snapped in our front garden today by Reggie from Rosslyn: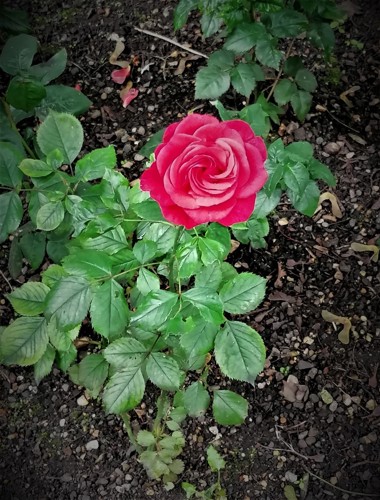 What brought a smile to my btl's was a very good Taskforce Meeting this morning, and Hattie from Hamilton Street's revelation that if we hand-sanitise ourselves, rather than a Steward doing it for us, that allows us to go down from eight to six stewards per Mass. Wow! That's a significant saving, and completely in line with Principle One of our four: that where appropriate, individuals should take responsibility for themselves rather than obeying central diktats. We are not saying for one second that hand-sanitising is no longer essential and isn't required for everyone coming into church: but if the responsibility lies with you rather than with us, we can ease off a little with the unrelenting pressure on those magnificent Stewards. Not that I'd say it to their faces, of course. They'd only want a pay rise.
Otherwise, Taskforce today reviewed yesterday's Masses – smooth and uneventful for the most part – and looked forward to the Catenians' Mass next Monday evening and big Wedding next Tuesday, both of which will require some level of Stewarding, and then to the last FHC Mass on Saturday, with the Rehearsal on Wednesday evening. It's a good life if you don't weaken, isn't it?
It's anyone's guess what the Dear Leader is going to say this evening. None of us knows. Possibly he doesn't even know himself, (Low blow!) The mood music coming out of Downing Street this morning was distinctly cooler on next Monday (19th July) being "Freedom Day". Over the weekend, various ministers were popping up on the airwaves to tell us masks would still be "expected" after 19th. Essentially, we need to wait for the National Taskforce on Places of Worship to meet later this week and issue their guidance, and then we'll be able to see just what we can and can't do.
Loved this "Prayer for Today" sent yesterday by Hilary of Higher Kinnerton:
Let us pray.
Our Father, who art in Wembley,
Southgate be thy name.
Thy cup will come,
Kane's work will be done,
For England as it is at Tottenham.
Give us this day an England penalty,
And forgive us our offsides, as we forgive those who offside against us.
Lead us beyond this semi-final,
And deliver us the Euro's title.
For football's coming home.
England are the power, the glory.
Forever and ever.
Amen!
Alas, it was not to be. Italian tabloids this morning jubilant without being crowing: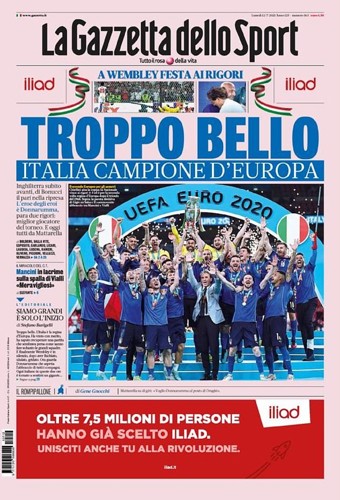 Troppo bello: too good.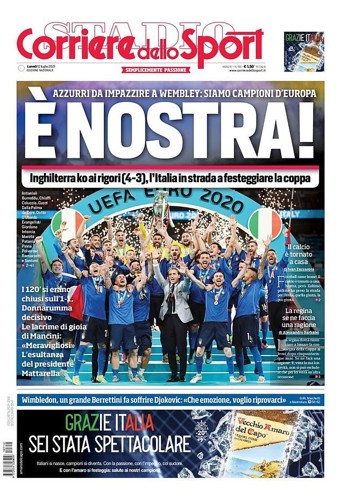 É Nostra! – It's Ours!
I suppose I'm biased: but if England couldn't win, my favourites would be the Italians. Sorry, Scotland (he lied).
May God bless you all,
Fr Paul
---
Sunday 11th July 2021
Numbers comfortable this morning at all four Masses:
9.00 am: 73
10.00 am: 73
11.00 am: 63
12.00 noon: 59
Total: 268
Meanwhile, we all wait with some trepidation to see what the Dear Leader is going to announce tomorrow, and how the churches nationally will react.
I knew it was a mistake mentioning Orford the other day, and the fact that Bishop-elect Tom Neylon of Liverpool had been a pupil at the English Martyrs High School in Orford. Talk about setting Olive off! In no time at all, she's hitting the keyboard with these wonderful memories from her childhood in the 1920's:
Well, it is well after midnight now and the last two days have been pretty hectic to say the least. However, I can't let another day go by without commenting on the Friday blog.

I thought the sentence commencing "Born into a Catholic family in Warrington, the oldest (although I am the youngest) of three children of Irish parents - I thought to myself here goes, what next have you discovered about me and my SComfort again? But wrong! A lovely story followed about Bishop Tom Neylon' s background. St. Oswald's parish was our neighbouring parish - I was in St Benedict's - both Benedictine parishes about a five minutes' walk from where I lived (Pammy would have perhaps known the family because she came from Padgate, of course). I cannot lay claim however to have attended St. Oswald's Primary School (although my Great Aunt was a Head Mistress there many years ago and with regard to English Martyrs' High School in Orford that was built on many of the lovely fields I played upon as a child and which I was surrounded by when Orford was a lovely little village. The Priest responsible for the building of English Marty's was our dear family friend Fr. Dillon. God rest his soul. He built the Church St. Stephen's for the people of the huge, massive, council estate which had later been built (the one that robbed me of my beautiful fields of wildflowers) which to this day I love so much. I could write a book about Fr. Dillon - he was a great man who achieved so much. English Martyrs was for the children of St. Stephen's parish. Before the Church was built, he built a tin hut and I used to answer Mass in Latin for him kneeling at the altar rails (females not allowed on the altar in those days). From that tin hut the money was raised for the Church. I could go on and on reminiscing but it's getting really late. You are hopefully fast asleep - nearly ready to get up.

Goodnight and God bless. Thanks for taking me back to my lovely childhood even for a few minutes.
Aren't those lovely memories? I've tried long and hard to find a picture of that original "tin hut" church, with no success. But I did manage to find a marvellous picture of Olive from Orford, Pammy from Padgate and Greta from Grappenhall from 1926, the three of them sporting the latest fashion: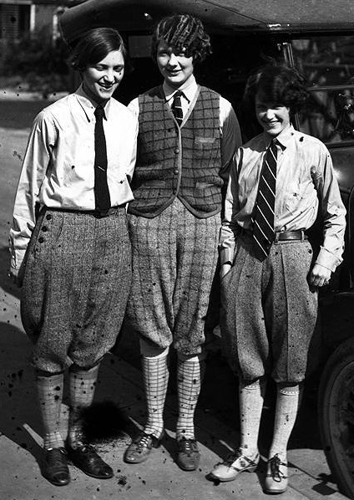 If you go to the website of St Stephen and St Bridget's Church, there is a marvellous Parish History, full of personal memories of those far-off years. Here is the church today:
And here are the wildflowers in the fields Olive remembers from those golden years a lifetime ago: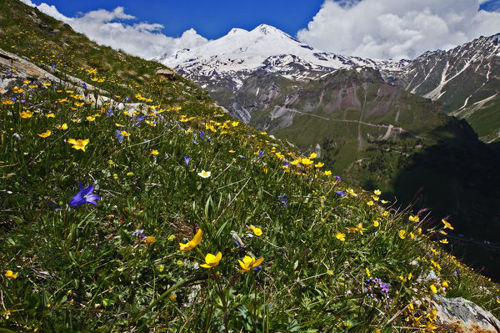 I told you she wasn't the woman she was, bless her. But you wouldn't believe me.
John O'Sullivan and Anna Frank-Keyes, key players in the National SVP Prisons Group (John from St Werburgh's, Anna from over the border at St Francis Llay, but we're working on it…), have produced another super Newsletter, showing everyone just how active this SVP group is:
https://cdandpltd.co.uk/wwp-news/SVP-WWP-Newsheet-Summer2021.pdf
If you ever got the impression that the churches had closed down during these Covid-19 lockdowns, that couldn't be further from the truth. Tomorrow morning, hangovers permitting, Taskforce will sit down at 10.00 am as usual, to plan for the third and final First Holy Communion Mass next Saturday, to discuss Bishop Mark's last communication to us all, and to be ready for whatever the National Taskforce on Places of Worship decides at their meeting later this week. Whatever it is, you'll be the first to know!
May God bless you all,
Fr Paul
---
Saturday 10th July 2021

You'll be as shocked as I was this morning to read – wait for it - a sensible email from Laurie from Larshay. Hard to believe, isn't it? Laurie, as you know, is President of the Mad as a Box of Frogs Blog Contributors. (They're definitely not all locked up yet.) So, I hope you're sitting down when you read this one:

"Just a suggestion: in the early weeks after relaxation of rules maybe the church could initially be segregated i.e., left side for mask wearers only, right hand side for mixed, mask/and no mask. There would still have to be control going up for Communion to allow mask only side to remain segregated and feeling safe from people not masked."

Monday Morning Taskforce have very much been thinking along the same lines, reserving the side benches both sides for those who wish to remain socially distanced, and the central benches for those who aren't so concerned. We'd love to hear your views on this one, as it takes us to the heart of our "Four Principles for Easing Restrictions" we outlined last night:

(1) The new Government emphasis is on individuals deciding for themselves rather than central diktat.
(2) Everyone will not agree here – some will argue for fewer restrictions, others will be anxious to see existing restrictions maintained. There won't be unanimity.
(3) No Parish, Diocese or Denomination is on its own here: the Government's Task Force for Places of Worship is meeting next week and will then issue guidelines.
(4) Let's have a phased return to normality, not go from "all restrictions" to "no restrictions" overnight.

We're trying to move away from the "one size fits all" approach, allowing different people to decide different levels for themselves. Of course, this isn't easy when you're talking about levels for a community, such as a church congregation: but having segregated areas for those who wish to continue wearing masks or keep socially distanced, might well be a way forward.

But then Laurie has to go and spoil it, doesn't he, with his second comment:

"I feel must congratulate the choir during the lockdown, I know they are required to stay out of sight while singing, but they are sounding amazing before Mass starts and while going up to Communion. Well done all…"

Stay out of sight, Laurie? We should be so lucky. No, I'm sorry, I find your second comment very personally hurtful. 2.00 o'clock in the morning I'm up recording those tapes, ready for first Mass on Sunday Morning. Getting some of those top soprano notes brings tears to the eyes, I don't mind telling you.

Headlines and front pages today predictably over-the top - look, it's only a football game, OK? But they have been getting their own back at some of the Italian tabloids and their verdict that England's performance against Denmark reminded them of "zuppa inglese", custard. It's come to the attention of some of their Brit counterparts that, talking of culinary nightmares, putting pineapple on pizza winds the Italians up something rotten…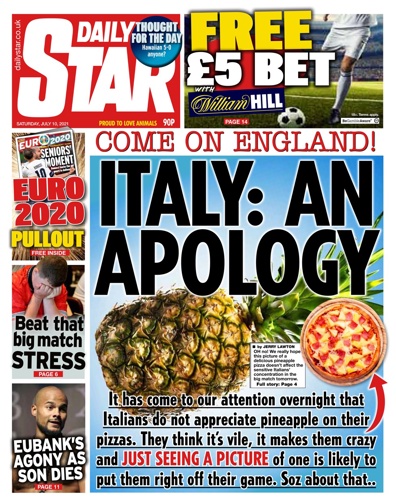 We have a wonderful cohort of Italian Werbies, as you all know: Luigi from Liverpool Road reminds me that "Zuppa Inglese" is also a flavour of Italian Ice Cream, which Italians love, probably without thinking too much about where the term comes from. I can promise you, it's more-ish beyond.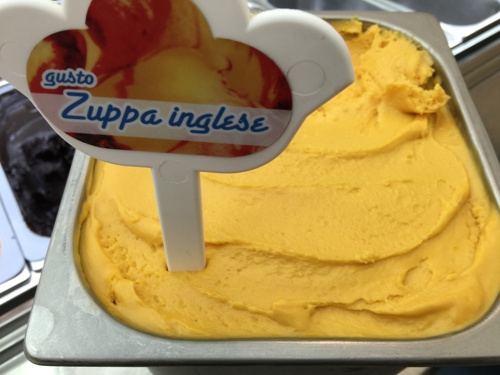 A couple of jumbo-sized cornets of that tomorrow night, and we'll all be ready for the match?

May God bless you all,

Fr Paul
---
Friday 9th July 2021
Very useful and welcome Ad Clerum from Bishop Mark this afternoon, so I'll give it to you in full:
Dear Fathers and Deacons,
NEW AUXILIARY BISHOP OF LIVERPOOL
The Holy Father has appointed Canon Thomas Neylon as Auxiliary Bishop to assist Archbishop McMahon of Liverpool. Bishop-Elect Tom Neylon's Episcopal Ordination will be celebrated on 3rd September at the Metropolitan Cathedral. I ask you to keep him in your prayers.
THE LIFTING OF LOCKDOWN RESTRICTIONS AND THE GOVERNMENT'S CALL FOR PERSONAL RESPONSIBILITY
The Prime Minister indicated on Monday that he envisaged lockdown restrictions in England being lifted from Monday 19th July. This decision is expected to be confirmed on Monday. The Government sees this as a turning-point in this protracted crisis, which invites us to assume greater personal responsibility rather than to be reliant on statutory restrictions. This will take us into a new situation where we can expect advice will be received on best practice within places of worship as statutory requirements are lifted.
At the meeting of the Bishop's Council this week, we reflected on how the lifting of all restrictions in our churches and parishes will present some new pastoral challenges in helping integrate the expectations and concerns of parishioners. Some we may anticipate will approach these changes with delight in the return of freedom; others with anxiety at the loss of stringent protections that have been so long in place; a further group of parishioners may continue to remain at home until the safety of the new arrangements in Church and society becomes clear. 
Throughout the past sixteen months of the pandemic, we have always sought to be fully compliant to the law and to follow all the public health guidance provided for us. The Governmental Task Force for Places of Worship in England will meet next week, and we can anticipate that there will be advice forthcoming for churches. In being guided by personal responsibility whether, for example, to wear a mask in an enclosed space, we will surely need to be sensitive to parishioners who may make different choices. In the light of local circumstances, you may give thought to something of a phased return to normality, in delaying, for example, the return of congregational singing, rather than seeking to return to all pre-lockdown practices on Sunday 25th July. I am sure it will be a major part of our task in the months ahead, not to discourage or even alarm those who have already faithfully returned to Sunday Mass in recent months, or those who may be preparing to return this summer. I know that this will not be an easy balance to strike. I will pass on to you all advice as soon as it is received in helping make the best provision in the many and varied circumstances of the Diocese.
OUR MISSION TOGETHER
As we emerge from lockdown, I am conscious that parishioners who made the first pledges for the Our Mission Together initiative are coming to completion. Our Mission Together has certainly been a great success and made a visible difference to the life of our parishes and the Diocese. Letters are being sent thanking the first donors for their generosity in prayer and sacrifice; highlighting some of the great things which have been achieved in addressing priorities in our mission; and offering the opportunity to extend the pledge for a further two years if they so wish.
FINALLY …
Please especially remember Pope Francis in prayer this weekend as he continues to recover from surgery earlier in the week. Please also remember the three men preparing to be ordained priests for the Diocese at Saint Anthony's Wythenshawe next Friday; and the two candidates preparing to be ordained to the Permanent Diaconate at Saint Michael and All Angels, Woodchurch on 24th July.
Entrusting them all to the prayers of Saint Joseph,
+ Mark Bishop of Shrewsbury
Concentrating today on Bishop Mark's comments on easing lockdown restrictions, I think he makes four central points:
(1) The new Government emphasis is on individuals deciding for themselves rather than central diktat.
(2) Everyone will not agree here – some will argue for fewer restrictions, others will be anxious to see existing restrictions maintained. There won't be unanimity.
(3) No Parish, Diocese or Denomination is on its own here: the Government's Task Force for Places of Worship is meeting next week and will then issue guidelines.
(4) Let's have a phased return to normality, not go from "all restrictions" to "no restrictions" overnight.
I personally – and I'm sure all of us – totally endorse those four points, and they provide the beginnings of a route map for going forward. Our own Taskforce will start with them when we meet again next Monday morning as we have done throughout. You know how grateful I am to them for the way they have steered us through this crisis, and I know you share that sense of gratitude.
The other stars of the show have been our Stewards, and I share this reply with you from one of them to Marian's letter from Wednesday:
Hi, Marian.
Thank you for preparing such a thorough report to help us make our comments.
Working through this from a personal perspective I can only say that the very fact that St Werburgh's has been so Covid compliant and a safe place to be, has made it easy for people to come back to church - which is where people should be able to go during a crisis.
I believe that we should continue to make it a safe place to go, and that people should be asked to wear masks and continue to use the hand sanitizer- It really isn't too much to ask to ensure that we all feel safe and should be reassuring for the congregation and especially for the more elderly members of the church.
I wouldn't want people to stop coming just because no one was wearing a mask or cleaning their hands. My view is that everyone is quite used to the protocol now and could and would accept it.
I am not sure that it is absolutely necessary to continue to clean the church after each Mass - especially if hand sanitizer is used on the way in and out. Having had to go into a hospital during the lockdown I was surprised that the seats weren't cleaned after each person sat on them. I do not know what happens on public transport which is a similar situation. 
Notwithstanding this, we have all got it off to a fine art and can clean the church in record time these days so it is not such an onerous job.
I think that the organised way in which people take Communion is very good and seems to work well. I am not sure that Fr Paul will agree that it is a good thing to walk straight out after church without final prayers, but if we are continuing with 30 minute Masses then speed is important.
I welcome the Bishop's input into this and agree that it would be for the best if he gives firm direction on the best way forwards.
I hope that this helps you make a decision on how to proceed in the future.
I am quite happy to continue to help you in the future.
Kind regards,
Mandy from Moorcroft
It's Werbies like Our Mand that make this parish what it is.
Bishop Mark's other two points this afternoon concerned the new Auxiliary Bishop for Liverpool, Tom Neylon, and the end of the Our Mission Together Diocesan appeal. I thought you might like a little background on the new Bishop Tom, some of it in his own words:
 "Born into a Catholic family in Warrington, the oldest of three children of Irish parents, the development of his faith was strongly influenced by the parish I grew up in, St Oswald's Primary School, Padgate and English Martyrs High School in Orford. It was Father Bill Cook, a curate in the parish, who asked me this question: 'Have you ever thought about becoming a priest?'  That set me on a pathway of exploration which brought me to the Junior Seminary at St Joseph's, Upholland and to St Cuthbert's Senior Seminary, Durham."
 After ordination by Pope John Paul II in 1982 he spent four years as assistant priest at St Cuthbert's, Wigan. This was followed by nine years in Skelmersdale as part of the team ministry. In 1996 he was appointed parish priest at St Julie's, St Helens.  Over the next 24 years he also had responsibility for St Teresa's, Devon Street and English Martyrs, Haydock.  Last September he joined the clergy team in St Wilfrid's, Widnes.
  You see – some good things do come out of Orford…
 May bless you all,
 Fr Paul
---
Thursday 8th July 2021
Very enjoyable session in the High School yesterday afternoon, meeting some the Year 10 students who might be in the frame for a crack at Oxbridge in the years ahead. I definitely believe in catching them early. Years 11 and 13 are out of school, of course, and Year 12 are on exams, so Year 10 were the unlucky winners of FP's Wednesday Witch-Hunt. Mrs McKeagney had lined me up seven of them, four boys and three girls, all 14/15, and it was good to spend an hour just talking about University what it gives and what it doesn't, advantages and disadvantages, how Unis are ranked, what's involved in getting in – and staying in! – and what lies the other side.  I easily identified the most able student, a boy of high intellectual promise and advanced academic potential. He laughed at my jokes.
Walked back from the High School in the pouring rain, with no raincoat or umbrella: but it was warm rain, and it honestly couldn't have mattered less. OK, so I come down with the mother and father of all colds and gradually succumb into an early grave. Like you lot are going to care?
Back home to dry out a little and get ready for another super hour with Brett from Broughton (aka Shaun from Saltney!) who really is coming to the boil in terms of his one-man Catholic Enquiry Course. Now, with Covid-19 restrictions still in force, I have the dilemma of how to orchestrate his reception into the Church. It couldn't be during a half-hour Sunday Morning Mass, obvs. He doesn't know any other Catholics, so I need to introduce him to some parishioners, as he'd like me to nominate his Godmother and Godfather for his Baptism and Confirmation. A pleasant dilemma to have, but a dilemma, nonetheless.
Afterwards, watch the footie match or go for a walk over the Meadows? As I don't have a television and only marginal interest in football, it was a no-brainer. The Meadows were deserted, and at their most fragrant after the downpour. Time enough this morning to catch up with football and other world-shattering events. The win over Denmark didn't give the headline writers a great deal of inspiration. The best of the bunch was The Sun, musing on Denmark's great gift to the world of Carlsberg Lager: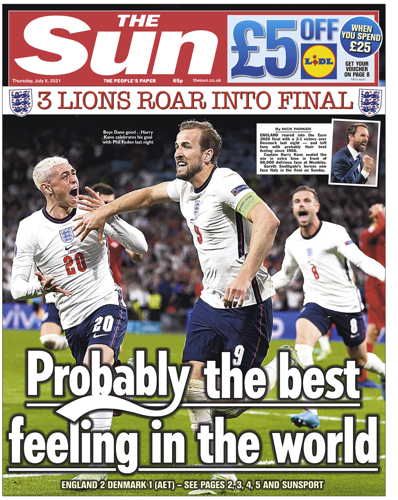 The Italians love their tabloid headlines too: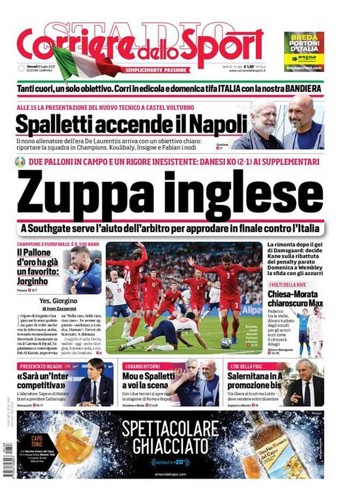 But be careful: if you order "Zuppa Inglese" in an Italian Restaurant, you won't, get soup, English or any other variety, you'll get this: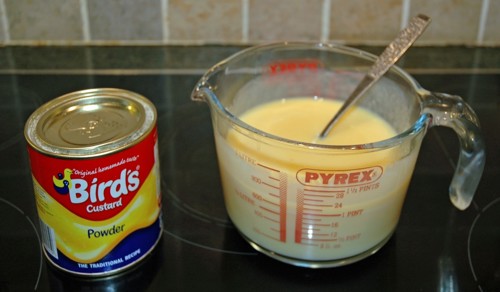 Yes, Custard! The Italians obviously didn't think much of the English performance. But then they wouldn't do, would they? And "serve l'aiuto del'arbitro" could roughly be translated as "with a little help from the Ref." Ah, football! The beautiful game!
May God bless you all, English and Italian,
Fr Paul
---
Wednesday 7th July 2021

I said yesterday that David from St James' Avenue was one of my very few sensible contributors to this Blog. Then he started banging on about me and the Catenians and I had to relegate him to the "Mad as a Box of Frogs" category alongside the Wicked Women of Stockport. Sorry, David. There is one other member of the Sensible Cat, and that's our dear friend Wanda from Waverton, who sends me the following this morning:
Dear Father Paul
It might help, as it helps me, as someone who was shielding, to think that:
1. If not now, when? We need to try this out before schools go back and the NHS is further burdened with winter illness.
2. There are lots of cases now but few of these are severe, as reflected in the low (relative) number of deaths and hospitalisations (horrible word!)
3. You simply cannot please everyone - hand sanitiser can be offered, masks can remain optional, Holy Communion can continue to be in one kind and in the hand, but we must get on. There is little evidence of transmission via surfaces so no needfor cleaning of pews between services. Our church is big enough for people not to be on top of each other.
I really admire the way St W has managed the last 16 months but let's hope we can move on soon,
Love,
Wanda
This is a typically sensible statement of the "Time to ease off restrictions" argument: if not now, when? In terms of serious illness and hospital admissions, is it any worse than winter flu? Pointless trying to please everybody?
Two arguments on the other side: there is a definite third wave, shown in the graph below, and if we ease off restrictions, will we lose more Mass-going parishioners than we gain?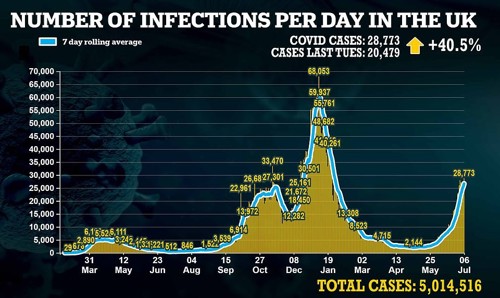 It's a gamble either way. If we continue with restrictions, do we risk more and more people taking the law into their own hands and abandoning the rules unilaterally?
But, you cry, what do you mean by "we" – the church or the country? Fair point. We've always accepted that as an enclosed space with people packed tightly in, many of them elderly, and a great deal of congregational participation, we are high risk for viral transmission. Part of me, the coward's part, just hopes we get a clear set of do's and don't's from the Bishops. If they leave it up to us, each local church, to make their own decisions, then I just know we won't please everyone, and whatever we decide could prove very divisive. Hymnbooks at thirty yards won't be in it.
The key issue in all this has been Stewards: a team of forty parishioners who've honestly played a blinder over the past twelve months, never having signed on for anything remotely as tedious. You've seen them faithfully on duty, week in and week out, high days and holy days, but probably haven't realised the amount of work that's gone into organising them behind the scenes. Hattie from Hamilton Street has gone above and beyond in this role, Rota Secretary, and I thought you might appreciate seeing her letter to Stewards after Taskforce this week just to illustrate the amount of time and attention that goes into this vital side of things:
Dear Stewards,
The task force had a very detailed discussion at our meeting yesterday morning about what the situation will be once the 'unlocking' of Covid restrictions on 19th July happens, a date we have all been focusing on.
The problem is that we really don't know yet what the Government rules will actually be after that date, so it is very hard for us to plan going forward. But at the same time, if we leave planning until we do know, which will be only a week ahead (despite the teasers Boris announces last night!) we will then potentially be caught on the hop.
So, very reluctantly we decided yesterday that we need to take a 'belt and braces' approach and that I do, with your help, need to prepare a stewarding rota for August. Quite what shape that rota should take is not clear yet, but there are number of factors which we can take into account, as detailed below. The idea is that if we prepare a rota now, we can modify it after 19th July if that is appropriate. We prepare for the worst and hope for the best!
This is a somewhat long email, but I feel that it is worth spelling out some of our thinking, partly in order to ask you magnificent people to let us have any feedback on it, as we plan ahead. So please read on and reply to me with any thoughts if you want to……
From what was trailed by Boris last night it would seem likely that we will not need the two outside stewards – free movement into church and no need for 'track and trace', but our feeling is that we may still want a couple of door stewards to give general directions as to where the best place for people to go to sit to keep the congregation reasonably spread out.
The main area of concern is actually how Holy Communion is handled. Even before this whole pandemic happened, there was growing recognition that some stewarding/directing is needed for Communion to avoid the rather chaotic scramble that had become the norm. So as we do return to new normal, it is the intention, anyway, to maintain some such directing. Indeed the fire regulations which came into force around pandemic time do actually require some 'fire marshal' presence at all Masses as well, and our feeling also is that there should still be some help for parishioners to find their way, as the mandatory requirements disappear. Communion directing will probably need three people – one up the centre aisle and one on each side aisle.
As for sanitising, we're not sure at present what to do, and it will become more clear as we think it all through some more before 25th July, our first 'free from restrictions' Sunday.
As Fr Paul said in the blog on 22nd June, the intention is to continue with the 4x30min Masses on Sunday until the beginning of September, so the plan is to put a rota together for the remaining July Sundays and all of August. At that point, all being equal, we will close 'covid regulations' stewarding and start again with a call out to all parishioners for communion stewards. (I suspect that all of us current stewards will be glad to be able to step down, but if you want to volunteer for the new stewarding role, that will be your choice.)
Having said all of the above, I am not going to put out the call for stewarding availability, to cover to the end of August, until after next week's Task Force meeting, by which time you may have provided some invaluable input, and we should have a better idea of how many stewards we should rota – the current eight or hopefully fewer.
I have just looked up the dates on the very first stewarding rota I produced – 24th June 2020, St Werburgh's open for private prayer; I know we have said it many times, but a whole year and a week to date of St Werburgh's being open (except for a hiatus in Nov/Dec 2020) has been entirely down to you dedicated people, and our parishioners do not know how lucky they are (actually I think many of them do!).
So thank you, yet again, from the Task Force Team!
I look forward your comments….
Marian xx
Not only that, she also finds time in her West Country gadding and gallivanting to visit my parents' graves for me – and to size up mine, I don't have to add!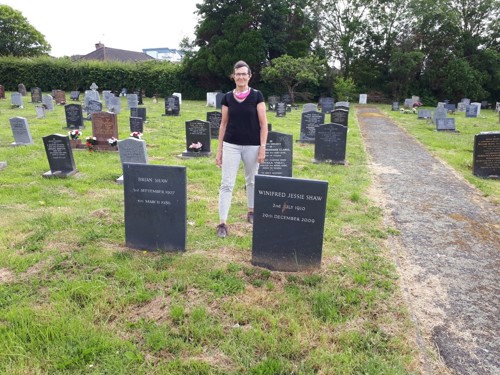 You're a player, Hattie!
May God bless you all,
Fr Paul
---
Tuesday 6th July 2021
I think I'd probably describe the Dear Leader's announcement last night on the lifting of Covid-19 restrictions as "clear as mud". Saying "It's now up to you as individuals" doesn't help us as a church community – or any other community for that matter – having to make decisions for a body of people. Do we decide to lift all restrictions? In which case, my guess is that a number of people will stop coming to Mass, no longer feeling safe here. If, on the other hand, we continue restrictions after the government has said we don't have to, will some people challenge us: "You can't enforce the wearing of masks / social distancing / hand sanitising / track and tracing, as the government says we don't have to." How do we prevent conflict between those who want to maintain a tight level of control and those who don't?
Fortunately, we won't be on our own here, with advice coming from Bishop Mark and the Bishops' Conference. But I did find myself wondering last night what advice they could give us in the light of the Government's statement yesterday. Mud isn't the easiest thing to clarify?
You can divide the readership of this blog into distinct sections. I have my Gardener's Question Time cohort, who take an intelligent interest in all matters horticultural. One such is our faithful correspondent, Monty of Mickle Trafford. He writes in about that rather fine yellow flowering shrub on the corner of the front garden as you turn towards the front of the church: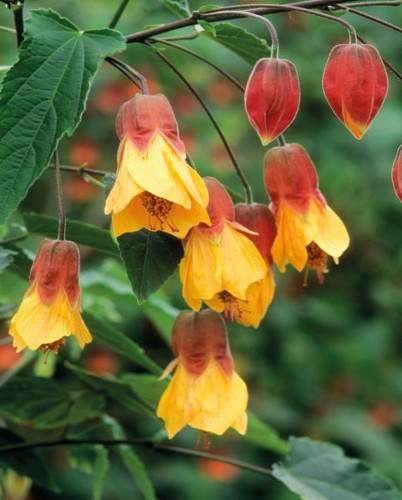 I've often wondered what it was, but this morning Monty explains all:
Much enjoying reading your updates and in particular your forays into matters horticultural! One plant in your garden which perhaps is worth a photo in an update is the abutilon which I've been observing while queuing for Sunday Mass. It's clearly thriving in a favoured spot - against the south wall of the church in a sheltered spot (and perhaps getting some extra warmth from the central heating and hot air from the church!). Abutilons are of borderline hardiness in the UK. I grew one in our conservatory in Burnley - it certainly would not have survived in the rather harsh winters there outdoors. The only other abutilon I've seen growing outdoors locally is in a garden in Upton where it's growing on a south facing fence on very sandy soil (according to the homeowner, a professional landscape gardener who has a number of exotic plants including a banana tree in his garden). Your abutilon looks the same variety as the one in Upton - is it the Kentish Belle?
Thriving on the hot air coming from church, eh? Watch it, Monty!
Apparently, abutilons are also found in fetching shades of orange: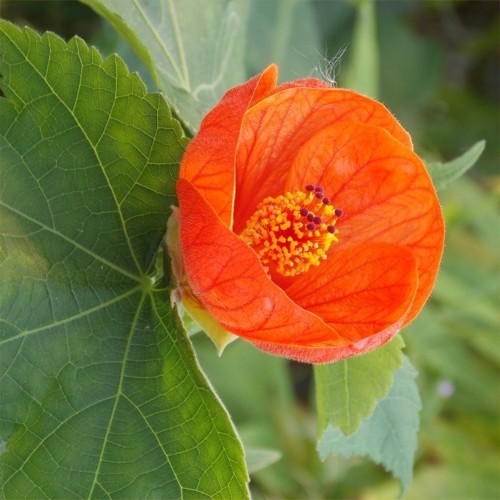 Which brings me to my second group of readers, the "Mad as a Box of Frogs" clientele. Prominent among them, I don't have to tell you, are the Wicked Women of Stockport. I was in two minds whether to trouble you or not with their suggestion for the name of FP's new car: Fr Paul's Pumpkin. Thank, you, WW – don't call us, and we won't call you.
My third group of readers are residents in the Chester Home for the Bewildered – yes, Olive from Orford, and her ilk. The poor soul really has lost it, seeing pink everywhere, pink shirts, pink trousers, pink gin. Especially pink gin. I've said it before and I'll say it again, she's not the woman she was. David from St James Avenue was representative of my fourth group, earnest seekers after truth, ever anxious to improve their knowledge of Holy Mother Church, definitely people of a higher intelligence and loftier level of seriousness. But after today's little offering, I may have to move David from Cat 4 to Cat 3: how long, he enquires, have I been a Catenian… A Catenian? MOI???
And that just leaves Cat 5, the vast majority of readers, over 90% of them, predominantly Werbies, who only log on for the abuse and cheek. I am totally wasted on you lot.
I wonder what my poor parents would have made of it all? Hattie from Hamilton Street had a holiday in beautiful North Devon last week and very kindly took a detour round to Bideford, Northam and Westward Ho, the area the Wrinklies retired to when dad finished work in London. There they are both buried, in Northam Churchyard.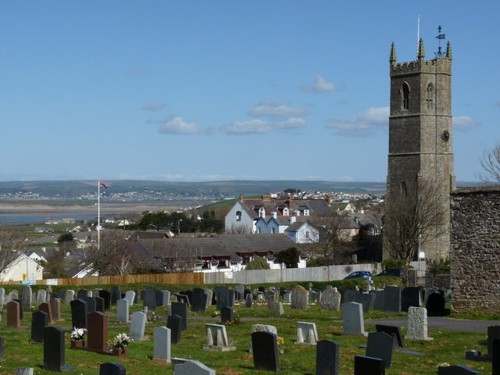 To the left lie the breakers of the Atlantic, next stop North America. Here are the two graves Hattie kindly visited, their backs to the camera in the picture above, with a spare one a few spaces to the left: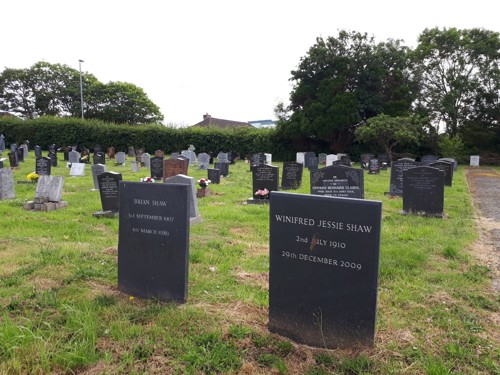 Honestly, Brian and Winifred – don't blame yourself for the way he turned out. You did your best.
May God bless you all,
Fr Paul
---
Monday 5th July 2021

Here's Lottie Abbott Beck striding down the Parish House path after her First Holy Communion on Saturday: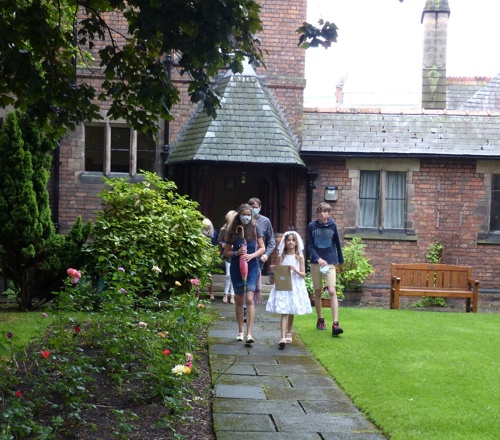 Taskforce's first task this morning was reviewing Saturday – another very successful occasion, we all agreed. Thanks to the parents who wrote in afterwards to say how much they had valued and enjoyed it. Second item on the Agenda was the launch yesterday of our Questionnaire on Weekday Mass Times. 36 replies in so far, so do please go online to the home page of the website or let us have your paper copy back when convenient. The more replies we receive, the more help they will give us in looking at this issue.

The third item was trying to guess what easing of restrictions will be announced today, next Monday and a fortnight today, 19th July, when the newspapers are speculating that "we will all be back to normal". We'll believe that when we see it. The short answer to our question was "Nobody knows"; but our excellent round table discussion today was very far from a waste of time, as we sketched out a number of hypothetical scenarios and wondered aloud on how we would react to them as a church. All useful stuff for when we see exactly what we can and cannot do as a church community in the various announcements this month. Here's another snap of the auld eejit in Saturday's dialogue sermon, seeing how many poor wizziters he can embarrass in the space of five minutes: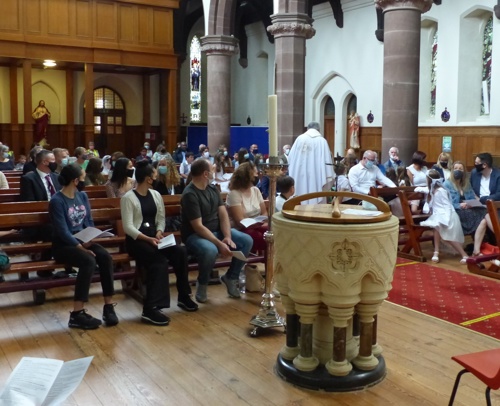 And here's Enzo Mansutti, receiving the Lord for the very first time. It was Enzo's grandfather, Kevin Prendergast, who arranged for the very generous donation of Rosary Beads from the Catenians, such that we were able to give one to each candidate afterwards, with a helpful little explanatory leaflet. Thanks, Kevin!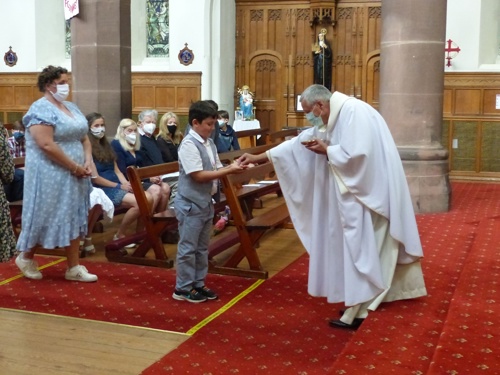 Early start in the High School today, needing to be there at 8.20 for their weekly Staff Briefing led by Mrs McKeagney, the large staff socially distanced in the enormous Sports Hall. She briefed everyone on the Surge Testing the staff and students had done on Friday, with the students coming in an hour later today to allow all the results to be processed. Then over to me for a very brief introduction to the staff. I know about two thirds of them already, but some of those appointed in recent years might not yet have had the pleasure. Or something. They soon will over the coming Wednesday afternoons that I will be spending there.

Lovely walking over the Groves at 7.45, completely deserted and quiet. Honestly, at that time in the morning it's quicker to walk than go by car. Back at the Ranch at 9.00, to encounter Syd (who'd been here with Denise since 8.30 counting yesterday's Collection) to tell me I'd just missed a call from Bishop Mark, and could I ring him back? "I told him you were at the High School and were expected home at 9.00 am." Talk about Brownie Points! Already in the High School and back home again when most priesty-persons are just opening their first eye and putting their first foot out of bed…

Mind you, Syd might have answered very differently? "Sorry, Bishop – he's still in bed. Would you like me to wake him? Bit of a late night last night." [Covers – or half-covers – speaker with his hand.] "Denise! Could you fix an Alka-Seltzer quick and get it upstairs to FP, and tell him the Bishop is of the phone?... Hello, Bishop? Are you still there? Yes, he's coming, but he asks if you could please speak quietly…" Yes, it could have been very different. I definitely owe Syd a pint.

Usual excellent chat with Bishop Mark on the phone, basking in those High School Brownie Points. How he manages to stay so calm and cheerful in the midst of all his responsibilities, I never know. Sorry to disappoint all of you - you really will have to write more letters – but I don't feature in quite a sizeable series of Summer Moves announced today. Well, that's not strictly true: I feature in a very small way, as I'll let you decide for yourselves:

SUMMER APPOINTMENTS

I am grateful for all the generosity which has made the following appointments in the Diocese possible.

Cathedral Dean: Father Christopher Matthews as Dean of the Cathedral and Canon of the Cathedral Chapter from Sunday 8th August. I am grateful to Canon Jonathan Mitchell for overseeing the chaplaincy work during the interim period at the Shrewsbury Royal Hospital from 16th July onwards.

Parish Priests: Canon Niall Mullaley as Parish Priest of Saint Philip Neri, Birkenhead from Sunday 5th September. I am very grateful to Father Paul Shaw for accepting the invitation to serve as the Acting Dean of the Ellesmere Port and Chester Deanery. I am also very grateful to Father Paul Standish who will assume pastoral and administrative responsibility for Saint Thomas Becket, Tarporley, from Sunday 5th September.

Father Thomas Thoppaparambil OFM Cap is to take up a new appointment in Italy at the direction of the Capuchin Order.

Father Louis Maggiore to be Parish Priest of Christ the King, Bromborough from Sunday 5th September.

Father Edmund Montgomery to be Parish Priest of Our Lady, Star of the Sea and Saint Bernard's & Saint Saviour's, Ellesmere Port and Saint Mary's, Hooton from Sunday 5th September.

Canon Paschal Byrne to retire as Parish Priest of Saint Luke's, Bebington and remain resident at the presbytery on Church Road.

Father Bernard Forshaw to be Parish Priest of Saint Luke's, Bebington with Saint John's New Ferry and Saint Anne's, Rock Ferry from Sunday 5th September.

Father Paul O'Grady has now retired as Parish Priest of Saint Winefride's, Neston due to ill-health.

Father Francis Kochupaliath (on loan to us from the Society of Saint Paul) to be Parochial Administrator of Saint Winefride's, Neston with the pastoral oversight of Canon Stephen Coonan from Sunday 11th July.

Assistant Priests: Rev Patrick Breeze following his priestly ordination on 16th July to the Cathedral Parish as Assistant Priest from Sunday 5th September.

Rev Humphrey O'Connor following his priestly ordination on 16th July to Our Lady, Star of the Sea and Saint Bernard's and Saint Saviour's, Ellesmere Port and Saint Mary's, Hooton as Assistant Priest from Sunday 5th September.

Rev Stephen Roberts following his priestly ordination on 16th July to Sacred Heart and Saint Peter and Our Lady Queen of Peace Parishes, Wythenshawe as Assistant Priest from Sunday 5th September.

Deacons: Deacon Anthony Hunt to Christ the King, Bromborough as Parish Deacon from Sunday 5th September.

Deacon Moses Ezebuchi to Our Lady & the Apostles, Saint Ambrose and Saint Vincent's, Stockport from Sunday 5th July.

John McKay following ordination to the Permanent Diaconate on 24th July, to serve at Saint Peter's Hazel Grove and Saint Philip's Offerton.

Wilfred McSherry following ordination to the Permanent Diaconate on 24th July to serve at Saint Thomas Aquinas and Saint Stephen Harding, Market Drayton and Saints Peter and Paul Newport.

So, no moves for Muggins – commiserations to all of you – but an invitation to be Acting Dean following Canon Niall Mullaley's move up to St Philip Neri Birkenhead. This is an honour, and I had no hesitation in saying yes. Delighted to welcome my great friend Edmund from the Cathedral to replace Niall in Ellesmere Port, with the task of bringing the four existing Parishes – Our Lady's EP, St Bernard's EP, St Saviour's Gt Sutton and St Mary's Hooton – into a single Missionary Parish. I told Bishop Mark that I was absolutely sick to death of the Fr Edmund Fan Club here in this Parish, and as long as he stayed firmly in Ellesmere Port…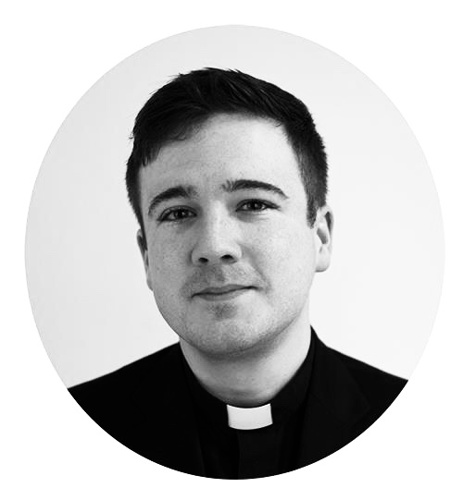 Welcome to the Deanery, Edmund!

May God bless you all,

Fr Paul
---
Sunday 4th July 2021
Sunshine and showers today, but I was glad to see the queue stewards didn't get too wet as I watched them at work from the dry, cosy confines of the church: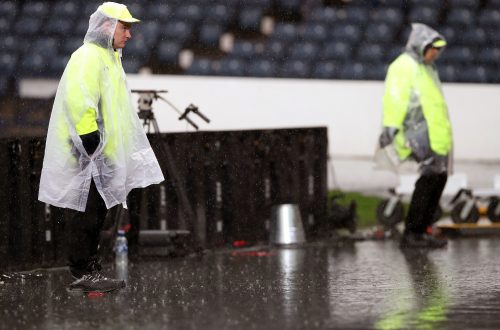 Numbers slightly down today, with a total of 260 at the four Masses:
9.00 am: 83
10.00 am: 67
11.00 am: 68
12.00 noon: 42
Perhaps too many people were nursing headaches after last night's little game of kick-around. I always love it when the tabloids come over all classical, as the Sunday People did today: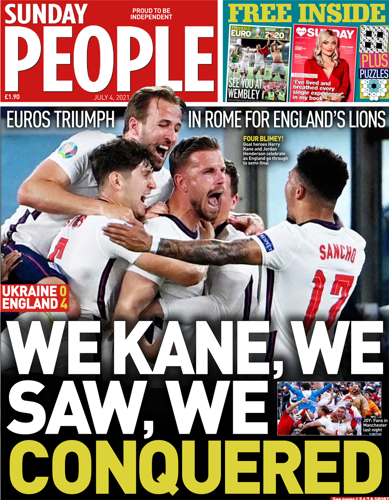 Whether Julius Caesar ever actually said "Veni, vidi, vici" – I came, I saw, I conquered – is a moot point. It's neat piece of Latin, three first person perfect tenses, and with as nice a bit of alliteration as you'll find this side of the Coliseum. I'm just so glad we didn't have any more references to that nice Mr Hancock and his footballing abilities. At least, I think that is what they were talking about.
Here's a lovely photo from yesterday and the first of the two Primary School FHC's. Aiden just came forward for a blessing, as he was baptised in the Romanian Orthodox Church, his father coming from that beautiful but rather sad country. I remember exploring this issue with our Bishop Brian many years ago: the theology of the Roman Catholic and Orthodox Churches is virtually identical, certainly where Sacraments are concerned: we would be happy for a child Baptised in the Orthodox Church to make his FHC in our Church, Bishop Brian advised, but the Orthodox Churches would not approve of it. One of the biggest issues that divides us is the authority of the Pope: they do not accept it, instead looking to a number of individual territorial Patriarchs for leadership: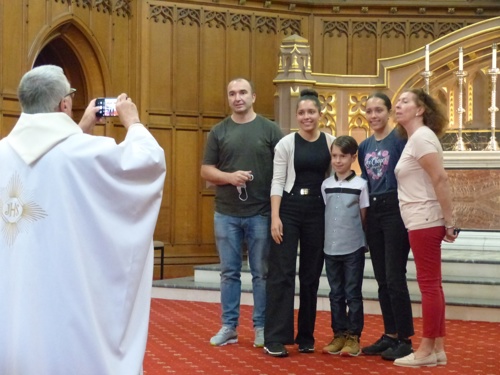 I asked Aiden if he'd be happy for me to demonstrate total immersion Baptism for the benefit of the congregation yesterday who'd never seen one, but for some strange reason, he didn't seem keen.
Thanks for the dozens of Weekday Mass Times questionnaires that have already been returned – over twenty on paper, and many more on-line. Do please keep them coming in, so that we can be sure we've consulted all of you before we make any changes here.
May God bless you all,
Fr Paul