Updates from the Parish Priest
---
Saturday 31st October 2020

STOP PRESS! Bobbity the Bobster is going to help us out by being a one-off Christmas Steward this year. Wow! We sent the appeal out this afternoon to all those who'd kindly indicated they might be available as Christmas Specials. I said on the appeal that we'd also be delighted to welcome other family members, husbands, wives, partners, children, aged (not too!) grannies, dogs. Back comes the answer that the husband of one of our fools wolunteers is also willing to help out. Wonderful man, sainted man, who only ever made one mistake in his life…

Marian McCarthy has been playing a blinder as our Stewards Rota Secretary, though I'd never say that to her face. When we see how many extra wolunteers we have, we'll put our hypothetical timetable out to them to see which slots they'd be able to cover. Then, and only then, can we see if that timetable is a goer or not, and if it is, get it out to all of you for booking up. So much work is going on behind the scenes to deliver a wonderful Werbies Christmas this year. Of course, it could all be upended by new Government/Diocesan guidelines, starting this week. But, for the umpteenth time of saying, that's not an argument for not planning.

Bishop Mark's message to us all yesterday, Friday, is very much aimed at Christmas:


ARRANGEMENTS FOR CHRISTMAS MASSES

"How best to put in place arrangements for Christmas Masses across the Diocese might be an issue we can fruitfully discuss together at the forthcoming meeting of the Council of Priests. I am aware that many parishes are preparing booking systems for Mass at Christmas and are also producing booking forms in advance for those who are described today as living in "digital poverty" without access or knowledge of the internet. The numbers who will be seeking to attend Mass this Christmas is uncertain as we are entering uncharted territory. However, I am aware a number of parishes are planning additional Masses on Christmas Eve and Christmas morning in anticipation of extra numbers. I am also told that parishes are preparing to strengthen "track and trace" arrangements, as we approach what one Parish Priest described as the first "big test" of our Covid security arrangements. Two difficult especially questions have been raised regarding how we prepare our stewards to manage the situation where people may arrive for Mass without knowledge of prebooking. A second question is how to manage households of more than six within the church context. It might be helpful to consider these and any other practical questions which are arising at the meeting of the Council of Priests on 10th November; and then with the assistance of our Health and Safety Officer, prepare advice and guidance for our parishes at Christmas."

Meanwhile, we prepare for another Sunday Morning tomorrow, remembering that 300 were able to join us to celebrate Holy Mass over the four available times last week, a record. Here's a photo taken when we opened up last Sunday at 8.00 am, Supervisors in first at 8.00 am, then Stewards at 8.30, then the public at 8.45.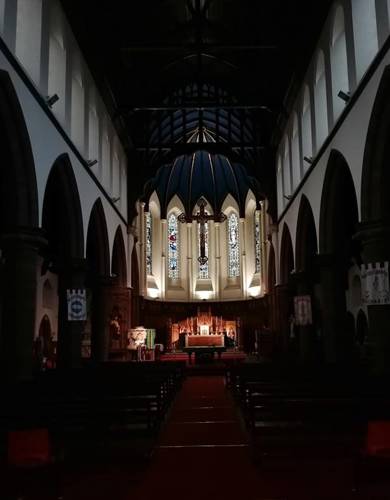 We know many of you have not been able to join us again yet, for a variety of reasons, not the least being living in Wales, where the lockdown has been tight for the last few weeks. You can't accuse the Welsh Police of not taking their responsibilities seriously, can you? Especially anyone thinking they can gamble irresponsibly on those beautiful hills…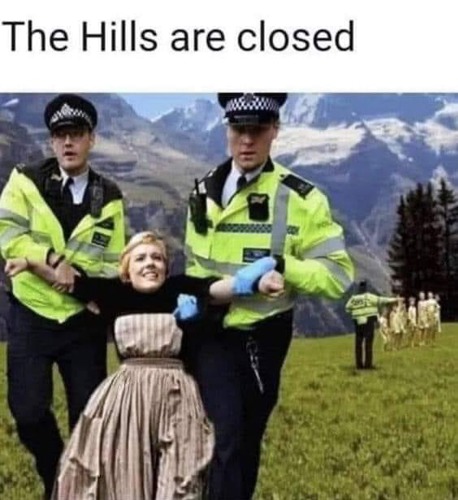 The hills are alive, with the sound of sirens?

Lovely to hear from Chris and Vera, and their two little girls, Rosie and Ella. Always on the front row at Sunday Morning Mass, the two girls sit patiently on the floor under the bench, as good as gold. In fact, they are amongst our best-behaved parishioners. Here they are, saying hello to all of us: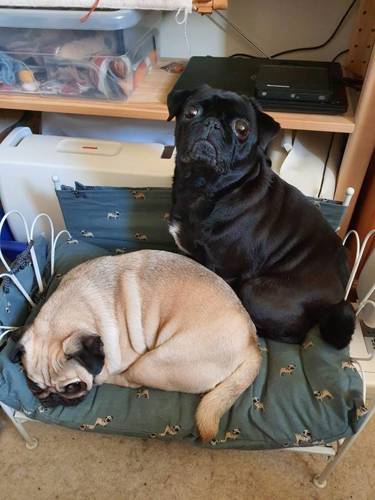 More intelligence in those little eyes than in Chris and Vera's? (The old ones are the best: Tom and Helena – WHERE ARE YOU???)

Vera was kind enough to write: "I find your blog very helpful in helping us feel that we are still part of the Werbies family, albeit from a distance. We hope and pray that, at some point soon, 'Things' will get back to as normal as they can be, and we will once again be sitting in the front pew with the girls". 😊

That's not an emoji, I hope, Vera? Don't work for the BBC, do you?

May God bless you all,

Fr Paul
---
Friday 30th October 2020

There are moments when the train rattles over the points, and you realise life goes in one direction or another. Michelle Jennings' funeral here at 12.00 noon, only thirty allowed into church of course, but as many as that gathered along the pavement outside to pay their last respects. Her dad was from the great Jennings family, mum from the equally mighty Deponeos, Michelle herself a student at our Catholic High School. For much of her adult life, Michelle carried the cross of mental health, good months, not so sunny weeks, years that seemed to be going out of control, brilliant days, long periods of flatness, the rollercoaster of so many sufferers hidden from plain sight in our society. I'd like to think that we are a Parish committed to Mental Health, and among the many things that implies, it means we are prepared to talk about it and say it's OK to talk about it, OK to say you're not OK.

When she was fifteen, in 2000, Michelle went on a school trip to Dehon House, then the Diocesan Youth Centre up at Hooton on the Wirral. Thousands of our children must have had similar visits over the years it was in operation until it closed in 2003, run by the Sacred Heart Fathers. Here's a group on the main steps from 1984: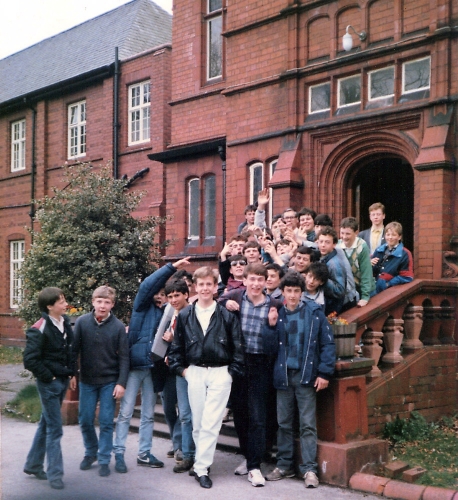 They look about 13 or 14? Which means they are 49 or 50 today. I wonder what happened to them all?

It became a very special place for Michelle, and she wrote a remarkable book about her time there and what it came to mean to her. She found a space and a peace there that cut into her fairly chaotic life at the time, and made her revalue that life, and where she was going. I just hope the SCJ's and Youth Workers who ran Dehon all those years ago realise what incredibly work they did, and what impact they had on at least one fifteen-year-old. May she rest in the Peace and Joy of the Risen Lord Jesus.

Back from the Funeral at 3.00 pm to meet up with a present day Catholic High School student applying to University. A lovely young girl, bright and positive, interested in studying Linguistics. An unusual choice of subject so naturally I asked her what first attracted her to it. We chatted over the different branches, and found we shared a common interest in Sociolinguistics which studies the way Language mirrors sociological structures such as class. How many of you remember U and Non-U language? It started in the 1950's, "U" short for "Upper Class". Certain terms denoted you were Upper Class, others horribly Middle Class, or even worse. It was a fine old piece of English snobbery, and John Betjeman, with the keenest of ears, wrote the perfect parody in his 1958 Poem, "How To Get On In Society", winning a competition set by "Time and Tide" magazine for the poem containing the largest number of Non-U terms:
How To Get On In Society

Phone for the fish knives, Norman
As cook is a little unnerved;
You kiddies have crumpled the serviettes
And I must have things daintily served.

Are the requisites all in the toilet?
The frills round the cutlets can wait
Till the girl has replenished the cruets
And switched on the logs in the grate.

It's ever so close in the lounge dear,
But the vestibule's comfy for tea
And Howard is riding on horseback
So do come and take some with me.

Now here is a fork for your pastries
And do use the couch for your feet;
I know that I wanted to ask you –
Is trifle sufficient for sweet?

Milk and then just as it comes dear?
I'm afraid the preserve's full of stones;
Beg pardon, I'm soiling the doilies
With afternoon tea-cakes and scones.


Isn't that glorious! For those wo care about these things it finally tells you the "correct" (give me strength) pronunciation of "scones". And who remembers frill round the cutlets?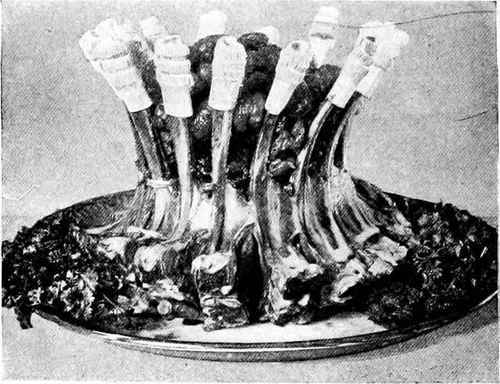 Now, where are Fanny and Johnny Cradock when you need them?

Last Sunday, our Chester CathSoc students had a super Zoom Joint Meeting with Keele University CathSoc. Keele became a full University in 1962, having had a long and distinguished history before then. It started off as the North Staffordshire College in the 1890's, to organise Cambridge and Oxford Extension lectures for the workers in the Potteries. In the 1930's the great Balliol philosopher A.D. Lindsay was a passionate advocate of working-class adult education, and identified Staffordshire, Shropshire and Derbyshire as the largest area in the country that had no University provision. So Keele became the University College of the North West in 1949, and full University status thirteen years later.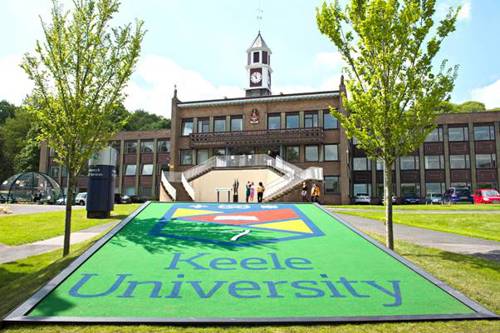 Today, it's a fine modern, thriving university, and it was good to hook up with their CathSoc students and hear what was happening in the Catholic Chaplaincy there and tell them some of our Chester doings. We finished by promising that when this lockdown is over, we'll have a physical get-together and a meal, as they're less than an hour down the A51!

Yesterday, the Catholic Directory sent me over the full list of University Chaplains to check that the entry for Chester was correct, and I thought you might be interested in seeing the full list yourselves:

Chaplaincy List

One fifteen-year-old heads off into the Sixth Form and onto University, another one heads into the shadows of life-long Mental Health challenges. Don't ask me why one goes one way, the other the other. I just don't know. But I do know that it's a privilege to work with both and walk alongside both. I could have been either and so could you. And so could any of our children.

May God bless all our fifteen-year-olds tonight and keep them safe,

Fr Paul
---
Thursday 29th October 2020

What a morning! Many thanks to the six of you who turned up to help me plant all those bulbs. It was a wet old morning, but that didn't stop us, dibbers at the ready. By twelve noon, over 600 bulbs had been planted, in the borders and under the trees. Daffodils and Narcissi went in the rough grass, with a wonderful number of Crocuses (Croci??), thanks to Lal, Geoff, Jill and Brendan. Meanwhile, Helen and Lars were doing a sterling job filling the top border with all those beautiful Tulips, and Your Truly did the bottom border and the border near the church with Hyacinths, African Grape Violets and Alium. I can publish these photos in the sure and certain knowledge you won't be able to identify anyone underneath all that waterproof clothing!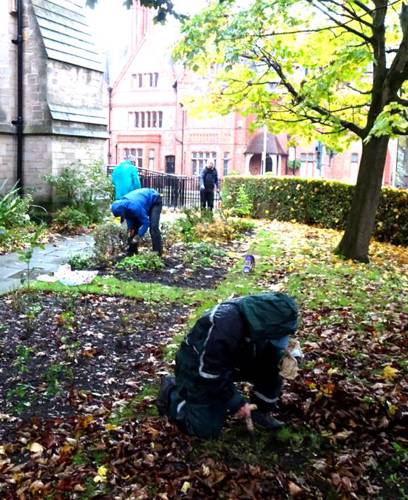 At one stage we were joined by Alan Titchmarsh himself, how kind, most thoughtful: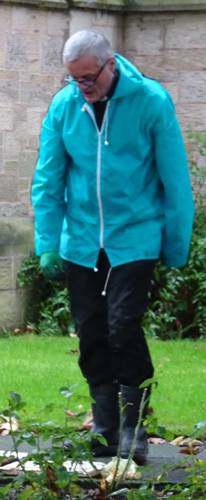 You find all sorts under those leaves, of course, and I had no idea that, buried in the long grass, we had a perfect set of Garden Pixies:




Thanks, everyone! It was a fun morning, if very wet, and we were all glad of a hot drink and a mince pie (2.00 am variety) halfway through.

On an almost daily basis, our financial problems seem to be solved thanks to the amazing generosity of people we have never even heard of, this time from Burkina Faso. Any idea where that is? This kind lady wants to send us squillions, to be shared with a local orphanage. All she needs from us is our Bank Details…

50% to us and 50% to local orphanages, eh? Not too sure about that. Annie was such a dreadful brat, wasn't she?

Thanks to Deidre of Dee Hills for sending over this video. I'm not sure about the title, "Third World Engineering", as we sometimes use the expression "third world" in a pejorative sense, something we look down on. Whereas the initiative shown here is just fantastic. Especially the bicycle wheel!
Video to follow

Over this afternoon to see Anita at Burton. A sad, sad visit: she knows something has happened, that someone isn't there anymore, that someone has died. But just as I am a composite of all the Priests she's known, so this has become the death of many people she has been close to. At one stage, it was her mother she was talking about, then a sister who died thirty years ago. She just looked lost and bewildered. I know from the comments you send in that many of you have been with family members suffering dementia at times of bereavement, and what a difficult and stressful time it is. Again, please keep Anita in your prayers, as she struggles to come to terms with her loss.

May God bless you all,

Fr Paul
---
Wednesday 28th October 2020

Crises, as we've said many times before, bring out the best and the worst in people. That goes for National Leaders too: some "have a good war", some don't. Crises also throw up all sorts of collateral issues. One this time has been the role played by the Devolved Governments in Belfast, Edinburgh and Cardiff. I guess the general take up till now is that they've "had a good crisis", and, in the process, stoked the fires for greater devolution, even possible independence. But then along come the banana skins, and, by heck, did the Welsh slip up on Supermarket restrictions, what were "essential" goods and what not.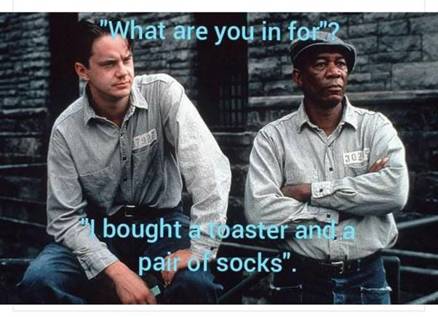 Meanwhile, Nicola is also having to fight on the Alex Salmond front, and Arlene is having to keep more than half an eye on the Brexit talks – remember them, folks? - and hard and soft borders down the Irish Sea. Who'd be a politician?

Before we leave Wales, disappointing that, contrary to their Lockdown Regulations, one church went ahead on Sunday and held a service?

https://www.dailymail.co.uk/news/article-8884023/Coronavirus-Wales-Angry-worshippers-slam-police-shutting-church-service.html 

So far, Church Services seem to have been left alone in these Second Wave crackdowns, left out of Angela Merkel's new regulations for Germany this afternoon, and hopefully out of Emmanuel Macron's for France this evening. As Bishop Mark said at the weekend, churches have been seen to pose low risk, and thank heavens they do. And therefore, allowed to stay open. But it won't take many breaking the rules for them to be included in the next wave of restrictions?

News this morning of the death of Jean, my wonderful ninety-year-old out at Burton. Anointed last Tuesday, she has lasted a full week, when most would have given her a day or two at most. I'm sure many of us have been in this situation at one time or other in our lives, sitting by the bedside of someone who is on their way to the Lord. Initially, it is quite stressful, wanting it over, why doesn't the Lord take them? Then we relax a little and, rather like childbirth (very like childbirth?) it dawns on us that it will happen when it happens, and us getting agitato isn't going to make it happen any quicker? Thoughts now very much with her sister, Anita. I shall pop out to see her tomorrow afternoon: so hard to say how much she has taken in. Please keep her in your prayers. The two sisters have never been apart, and the family are so concerned about what is going to happen to her now.

Good to hear from Harper and Janet, settling into their new life in Australia. Unpacking as you can imagine, is a very slow business, but at least they have put Michigan's little score card up on the mantlepiece:




We still miss our Poor Clares from Hawarden, well settled now into their new life in Nottingham. Many of you noticed the amazing initiative of their associates in Arundel in recording and marketing their own CD of hymns and devotional music.
https://www.isrbx.net/3137830905-poor-clare-sisters-arundel-light-for-the-world-2020-hi-res.html
Bulb planting tomorrow morning, an act of faith, hope and love, planting now for a colourful Spring next year.

May God bless you all,

Fr Paul
---
Tuesday 27th October 2020

Late today, 7.00 pm, and just got back in from a superb day with one of our University Applicants hoping to read Law. A day in court is always a good idea, and this was a day and a half. Over on the 8.30 am train to Liverpool's James Street, and cross over the road to the impressive Queen Elizabeth II Law Courts:


We were promised the sentencing in a Murder Trial to begin with, but not promised that we would necessarily get places in the Public Gallery, those places reduced to a minimum by social distancing and the family of the victim being given priority. But we were in luck and in our places for the closing speeches from Prosecution and Defence, and then the Judge's sentencing. This was a particular brutal and senseless killing. The defendant had already been found guilty – he'd offered a guilty plea to manslaughter, but that had been rejected by the prosecution, who sought – and obtained – a verdict of guilty to murder. Only one sentence, and that is Life Imprisonment. But then the Judge has to make a ruling on minimum term, and that depends on the mitigating and aggravating factors. The tariff starts at 15 years, and then the Judge goes up and down from there. Few mitigating circumstances here, if any, but lots of aggravating ones, especially the defencelessness of the victim. He finally decided on 21 years, i.e. 21 years before he can even begin to apply for Parole, with no guarantees at all that he will get it. The seriousness of it all was not wasted on either myself or our student.

And then the second day of a robbery trial, where there was no direct evidence to tie the defendant to the crime, but a mountain of circumstantial evidence, coincidence after coincidence if he really was innocent, as he claimed. We saw the cross-examination, which tested the defendant to the limits without actually shaking him out of his story, which he stuck to rigidly and even doggedly. 4.15 came, and time for the courts to adjourn, with the Prosecution final speech made but not the Defence one, which will be in the morning. Then the Judge will sum up and the jury will be sent out to consider their verdict. For what it's worth, my student and I were split: one of us went for "guilty", the other for "innocent".

And then, one of the most surprising aspects of an extraordinary valuable day for any aspiring law student, the two barristers, both from the same chambers, stopped on and chatted to us about the case and the work of a barrister for almost an hour! Wow! Completely unexpected, and so useful. Not just for the information they conveyed, but for the impact they made on this young, very starry-eyed lad who is now totally in love with the world of the Barrister and can't wait to get that wig and gown on himself.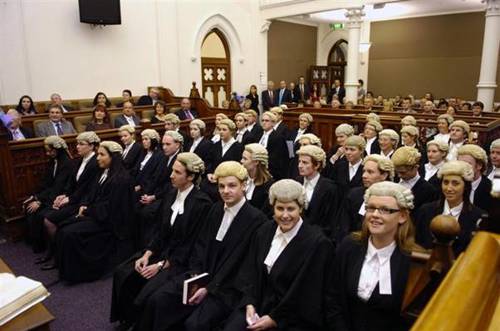 A little matter of A Levels, Law Degree and Professional Qualifications first, of course, but what are they among friends? The barristers even gave him their email contact details and told him to get in touch. And that really is jam on it.

An absolutely magical day for one of our Sixth Formers, and I just loved watching the effect of it all upon him. Work experience at its very best.

Thanks, Redcliffe! You were a star!

May God bless you all,

Fr Paul
---
Monday 26th October 2020

Plenty to talk about when the Taskforce sat down once again at 10.00 am this morning. Our record numbers at Mass yesterday – 300 in total – started to test our capacity, especially at 10.00 and 11.00, where numbers were creeping into the low 80's. Some of you have asked why we don't have a fixed "Maximum Capacity Number". The answer lies in the balance of singletons and bubbles. If only singletons turned up, the capacity would be 60. That's our "least maximum" if you like. If only bubbles arrived, that figure would rise to nearer 100, bubbles of five on the central benches and bubbles of two on the wide ones. In practice, we are never going to have all singletons or all bubbles, which is why we cannot say in absolute terms that X or Y is our Total Capacity. Well, you did ask…

All this was discussed today as we moved on to look at the Booking System we will certainly need for Christmas. Blimey! Talk about complex! It made us all supremely glad that we'd managed to re-introduce Sunday Masses so far without one – but those complexities need taking on board for the Christmas Period. How physically do we book (combination of on-line, telephone and word of mouth)? What information do we require from those people booking? Do we need e-tickets? Do we need people to say if they are singletons or part of bubbles? How then do we map their requests onto the seating plan of the church? What do we do about parishioners who are just not able to book in advance? Or who turn up without booking? Wizziters? When do we need to open booking, and do we need a Dummy Run at it first?

Thank heavens we had Tekkie Two with us to take us through all these issues and reassure us they were all soluble. (I hope that's what he was saying!!) We thanked him cordially for coming along, and he said it was nice to have an hour out of the Central Control bunker. As it was his first time out since March, the least we could do was have a photo of the dear chap as a memento: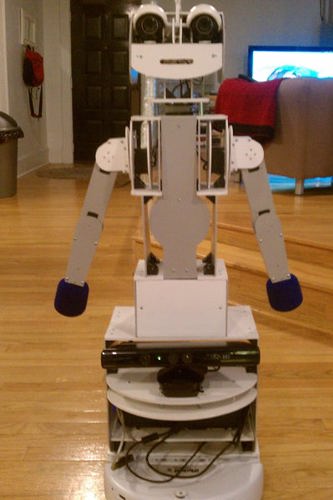 Thanks, Tekkie – and see you next Monday!

The other matter we discussed was the forthcoming First Holy Communion Mass on Saturday 24th November. Nine of the twelve have said they are happy to go forward on this day, so now the detailed planning starts. Traditionally, our youngsters have taken as many parts in the Mass as possible, but that's just not possible this year with movement restricted and the need to keep socially distanced at all times. But we are actively considering how much of a "normal" FHC experience we can deliver, telling our candidates all the time that this is an FHC to bore their children and grandchildren with in the years ahead. "By, the way, kids, did I ever tell you about my First Holy Communion in the extraordinary lockdown year of 2020?" Grandchildren: "Yes, grandad, dozens of times!"

Of course, all of this is predicated on no new lockdown restrictions being imposed. With Warrington imminently going into Tier Three, that's something that could always happen at any moment. But, as we've said throughout, that's not a good reason for not planning, not planning for Christmas and not planning for FHC.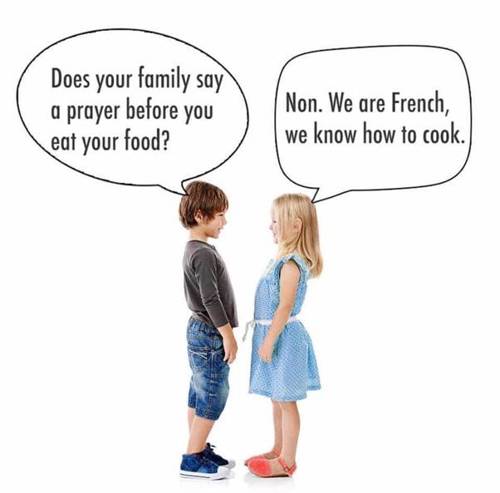 That was sent in by one of our French Readers – "Merci mille fois!" (as they say in German).

May God bless you all,

Fr Paul
---
Sunday 25th October 2020
Talking of First Holy Communions, did any of you see this video clip which we used to say has "gone viral" – but I don't think we're allowed to say that anymore, are we? It's the Priest trying to give the little girl a blessing and her high fiving him in return. Then the poor Priest gets the giggles: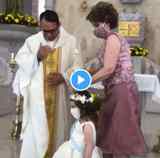 Very glad to say we have no such levity in St Werburgh's.
Super numbers at Mass again this morning, another record after last week's 294. Today, it was 300, made up as follows:
9.00 am: 78
10.00 am: 83
11.00 am: 82
12.00 noon: 57
Last Sunday we welcomed a large group of Joe Farrell's friends and family to remember Stella's first anniversary, and we knew that would boost the numbers. But it looks as if they're rising anyway, despite not being able to welcome all our Welsh friends. Thanks to everyone at the 12.00 noon Mass for their cheerful co-operation in our first ever Fire Drill. It all seemed to go very smoothly, and I don't think too many Werbies were burnt to a frazzle.
Tomorrow morning, when the Taskforce sits down once again, we'll be continuing the detailed planning for our wonderful First Holy Communion Mass on Saturday Morning, 24th November, with nine of our Parish Group able and willing to come forward and receive the Lord in the Blessed Sacrament for the very first time. What a joyous occasion! We've told our Primary School to count us in one hundred per cent for when they feel ready to move forward with the School Group, in whatever way they find most helpful. Then we can start thinking about next year's group which is actually this year's group. HELP!!!
Rare privilege tomorrow morning: we will be joined in the Taskforce Meeting by one of the Tekkies, temporarily allowed out from the basement nerve centre where they are both kept hard at work. Tekkie Two is going to show us his first thoughts on a booking system, which we are certainly going to need for Christmas. Apparently, it looks something like this: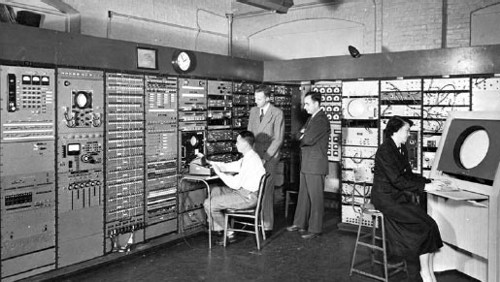 It will need three or four wolunteers to assist. We've received back answers from almost all our existing Stewards, indicating their Christmas availability, and, according to Tekkie, their answers are now ready for inputting into the computer on these things: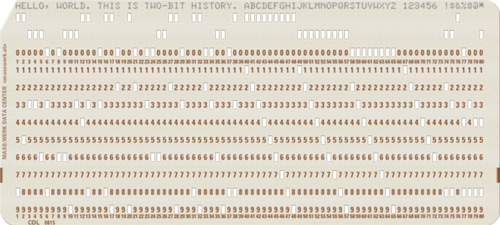 No, I don't understand it either – I just hope to blazes the Tekkies do.
Interesting communication from the Blood Donor Service this morning. I thought you might find it worthwhile, as a commentary on how the health services are trying to keep going in these strange times:
These are tough and difficult times for us all. I hope you and your family are keeping safe and well.

I would like to take the time to say thank you, and to all our loyal donors like you. Together we are helping make sure the NHS has plenty of lifesaving blood, platelets and plasma through the COVID-19 pandemic.

We know that safety measures mean that donation feels very different from how it has in the past. I hope you feel reassured by the steps we have taken. I am very grateful for your patience as we have made these changes.

Hospital demand for your donations fell when non-urgent operations were cancelled during the first peak of infection. But we still had to keep collecting enough to provide for those who need regular transfusions, and to treat patients in emergencies. With your help we did it.

The NHS is now safely bringing back routine operations. Demand for blood is close to normal levels. We need to match this demand with our collections, prepare for other winter pressures, like coughs colds and flu, severe weather and the holiday season. All this while facing a second wave of COVID-19.

As we head into what could be a tough winter, your support in making and keeping an appointment to donate is vital if we are to collect the blood, platelets and plasma that patients need. Your NHS will be there to help you. Here are some of the ways you can help us:

Make a date.

Your donation can save and improve lives. Different COVID-19 restrictions apply across the country, but wherever you live, travelling to a donation centre is always allowed. Social distancing, high hygiene standards, and wearing face masks mean that our centres are very safe.

Please book an appointment to give blood, platelets or plasma.

Keep it if you can.

We know that COVID-19 can make it harder for you to attend your appointment. Unfortunately, a lot of donors cancel at the last moment leaving empty appointments. This could get worse in the winter when flu and severe weather hit.

Please keep your appointment if you can. We understand there may be unavoidable reasons why you can't donate. Do let us know as soon as you know you can't make it so we can find another donor to take your place.

Go to town.

The pandemic means fewer people are travelling into city centres to work and shop. That means our city-centre donor centres have more appointments available than usual, whilst our mobile sessions are quite full.

If you live or work close to one of our city-centre donor centres, please make your appointment there if you can.

Please bear with us.

Unfortunately, our donor teams sometimes get ill, bad weather can hit our venues, and social distancing means we can't make room for as many donors as we would like. We are doing our best to keep our sessions running as usual, but there have been occasions when we have had to cancel appointments or whole sessions, and there are some venues that we have previously used that we can no longer visit. Cancellations are our last resort.

Please do accept our apologies if your appointment gets cancelled at short notice. We will help you re-book another appointment as soon as possible.

We are really grateful for your patience and your continued support. Thank you for being a donor. Many patients rely on your selfless generosity. You are helping our health service stay strong in the toughest of times. Together we are saving and improving lives.

Thank you,

David Rose
Director of Donor Experience
NHS Blood and Transplant

---

Important: For the latest advice about donations and coronavirus (Covid-19) please see our website www.blood.co.uk/coronavirus

Blood donations are essential to the NHS and extra safety measures are in place.
Onwards and upwards, Werbies!
May God bless you all,
Fr Paul