Updates from the Parish Priest
---
Saturday 18th September 2021

5.00 pm as I write, and this time next week, I'll be on the road out to Rowton for the first of the re-started 6.00 pm Masses for such a long time. Typically mixed feelings: excitement that we are picking up our old life together, tinged with a slight regret that the last eighteen months of "free" Saturday and Sunday evenings are now coming to a close.

Out last night for my evening walk at 6.30 pm, round the Racecourse, the sun starting to set. Tonight, the Meadows? I am determined to protect as many of these evening walks as I can, as they have literally been my sanity since lockdown began in March of last year. Those weeks of a meeting every night were probably not the most productive use of time, and certainly not the healthiest: that's one of the areas I'll need to sit down with the Parish Council to discuss. It's not a question of working harder or less hard so much as how we can all work together smarter.

Three conversations today encapsulate the day I've had. First in the Prison this morning. A new face, early twenties? Sensitive, finely drawn, shy. From Birkenhead. Wanted prayers for his mother who'd died some time ago. How long? Twenty years. So, how old were you at the time? Ten.

No time to take it further in the middle of Mass, going round to ask everyone for their special intentions. But over coffee afterwards, I learnt more. Let's call him Les. Not his name, but it will do, especially for all of you to keep Les in your prayers.

FP: So, what happened to Mum?
Les: Alcoholic poisoning. She drank herself to death.
FP: Where was this?
Les: I found her dead in bed one morning.
FP: Anyone else around?
Les: No, just me.
FP: That sounds terrible. How on earth did you cope at the age of ten?
Les: I started drinking myself…

It could break your heart, couldn't it? His twenties have been spent in and out of prison, drink always being the trigger for his behaviour. Les on everyone's prayer list, please. An order, not a request!

Good to meet Joe, whose father had been rushed into hospital in Derry a fortnight ago, heart attack. Responded well to treatment, stent fitted, and now back home again. Looking after Mum, who has vascular dementia. Joe so grateful to everyone for their prayers, especially the good folk back home in my Parish. Nothing good about that lot, Joe. Home for a Baptism of ten-year-old Cole at 12.00 noon, a lovely little lad from Malpas who's made this decision for himself, with his parents' support. I told him that at that age the method of Baptism was to hold him by his ankles and lower him down into the font and keep him there. For about five minutes. For some unknown reason he found that hilariously funny and was still giggling at the prospect as I showed them all out of church afterwards. Easily amused at that age. Thank heavens.

Out to the shops to stock up on writing paper and ink, and come back to see a man, probably in his sixties, staring intently at our Notice Board. Moving into an apartment near here in a few months' time, and just sussing out the local facilities, shops, station, Catholic churches. Moving down from Lancashire. His partner died four years ago, and he tried moving too quickly afterwards. That was a mistake. Now, he knows the time is right. The garden was their favourite place, but just too painful for him to go out there and he needs a fresh start somewhere. Has fallen in love with Chester and knows selling up the big house and down-sizing to an apartment is what he needs to do. So, I ask him, where is the apartment he's bought? Forest Court. FOREST COURT!!! Ye gods, not another Catholic in that den of iniquity. Before you can say Holy Moses, Garden Gnome will have him collecting glasses up on the Rooftop Bar, Olive from Orford will have him joining the Call Centre Telephone Team for Christmas Booking, and Fifi, the original Wicked Woman, will have him baking cakes for their midnight feasts. Poor man, we must rescue him.

Then out to Mary Thornton at Boughton Hall to start planning for her beloved husband Peter's Funeral. On the way in, I bump into Reg, our amazing 93-year-old, ready now to start his lessons for coming into the Catholic Church. "I gather there's an eighteen-year-old beating me to it!" he quips. Yes, Brett from Broughton whose happy day is to be on Sunday 3rd October. 18 or 93, we'll take'em at any age!!

As we are finishing discussing Peter and the celebration of his life, she asks me if I've heard from a certain lady. Yes, message on the answerphone as I came back from the shops, the daughter of the 96-year-old gentleman I'd been called out to in the Hospital last Saturday afternoon. Remember? Stroke Ward, communication very difficult, eventually established he was from Neston, name of Reg, National Service in the RAF out in India. A lovely, lovely chat, and, as I said at the time, so grateful that I'd persevered with it, and not given up in the early days when we were getting nowhere. Now for the real coincidence: apparently, and I didn't know this, Reg was also a resident at Boughton Hall. He went Home to the Lord a few days after my visit, and Mary was talking to the daughter, who told her she was so glad a Priest had been called out to her father but hadn't a clue who it was. Mary, who's an avid reader of this Blog, said she knew immediately who it was – her own pesky PP from St Werburgh's. Hence phone call from daughter to thank me for going. The pleasure was all mine.

See, you sceptics: this Blog does do some good after all!

May God bless you all,

Fr Paul
---
Friday 17th September 2021

Stop Press: The Blog goes weekly at the end of the month!

It's been wonderful writing this load of old rubbish every single day since lockdown began in March last year. But as the world wakes out of the Big Sleep, and I'm needing to gad and gallivant all over the place, the chances of being able to scribble an entry every day and get it over to our awesome Tekkies for uploading [What that? Ed] are looking remote. Last week I was in Stockport on Wednesday and Yorkshire on Thursday: next week it's Shrewsbury on Tuesday and St Neots on Thursday. The demn'd elusive Parish Priest!

It's not just the trips away, it's the hour a day that the Blog takes to write. It's been huge fun, and the most enjoyable part without doubt has been your wonderful, zany, completely bonkers contributions. For pity's sake, keep them coming! They've given me such a smile, and I know that's true for our readers all over the world. Yes, fans of this blog all over the world! None in Chester, mind, but in other parts of the world, it's enormous.

So, we'll keep going daily until the end of September, and thereafter it will appear once a week on a Saturday, about the same time as the Newsletter. Unless of course, there's another national lockdown and we need to communicate on a daily basis… HELP!!!! In fact, that was the way it all began, 17th March 2020, and the need to get information to people every day in a fast-moving scenario. For those who like Ancient History, this was the first entry:
Tuesday 17th March 2020: Coronavirus Update

Happy St Patrick's Day to everyone! But an odd one with the threat of church closures hanging over us all. The situation here in St Werburgh's as of today is that our Parish Council will be meeting tomorrow night, Wednesday, to make some pretty hard decisions – and some planning for the next few months – informed by the latest advice from our own Bishop Mark and from our Government.

The Government's Press Conference yesterday, Monday, confirmed that we are into a new phase of reacting to this epidemic. It came too late to stop our Readers' Meeting last night, where we observed "safe spacing". Tonight, we have a brief Finance Committee Meeting – just four of us, but so critical with Financial Year End looming – and then Parish Council on Wednesday. I think we can all see the way the wind is blowing, but I'm asking individual Parish Groups not to make decisions about their future meetings until we have had a chance to look together at the whole picture tomorrow night.

If indeed we do have to suspend public gatherings of all kinds, and our older Parishioners are advised to stop at home, rest assured we will do everything in our power to support them and make sure they are not isolated at this time.
I'll be updating this page daily, so do please keep in touch with developments this way, and if you have any questions or suggestions, please don't hesitate to email or phone them in.

STOP PRESS: The Church of England has just announced, Tuesday afternoon, that all public worship will be suspended until further notice.

I'll be in touch tomorrow on this page, but meanwhile, let's keep each other in our prayers at this time. "Oremus pro Invicem" (as they say in German?)

God bless,
Fr Paul
17th March 2020


What are the figures looking like today, eighteen months later? It appears like a substantial "third wave", but (a) the rate of hospitalisations and death this time is dramatically lower; (b) those who have been vaccinated are dramatically less likely to catch Covid-19 than those who haven't; (c) those who do catch it are not so seriously ill for the most part as in the first and second waves. For those like me who enjoy graphs, here's the Infection Rate, showing how clearly the third wave has flattened out in the last couple of months: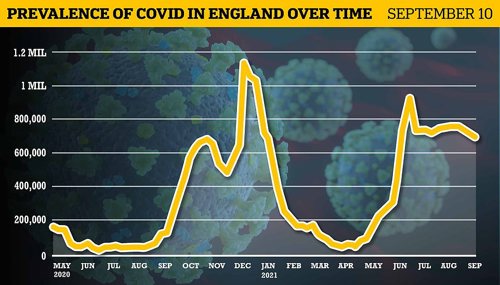 Here's the Hospitalisations Graph, showing how desperate things were in the second wave after Christmas, and how comparatively manageable the situation is today: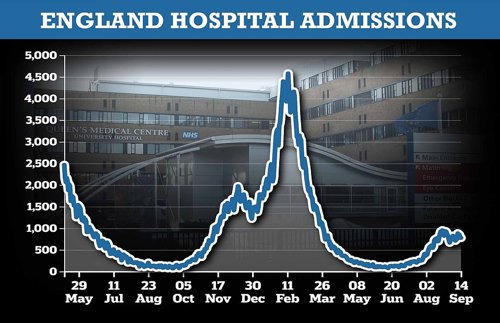 Finally, the Death Rate graph, again showing how the situation today is vastly different from the peaks of the first and second waves:




Conclusion? We are still facing a serious situation that could turn nasty at any time: but current figures don't justify a national lockdown, and, providing we stay cautious and careful, we can gradually reintroduce most of those features of our life together we had to put on hold.

Public weekday Mass this week has been a real joy, so many of you coming along. It's been a sheer pleasure to hear the sound of your voices reading the Holy Scriptures. Yes, I do get sick of the sound of my own voice, a question I am often asked. This Sunday, at 9.00 and 10.45, we will be singing hymns again, the first time in eighteen months. The following Sunday, we will have our Saturday Evening Rowton Mass back again, and the next day our Sunday Evening Werbies one. Alleluia!

Sunday, 26th September we also welcome back our students, and have our first CathSoc Meeting. Great to sit down with Madame President Barl this morning before Mass to check all arrangements for Freshers' Week next week. Monday 27th is our first Nursing Home Service for eighteen months. Exciting times, everyone, so fasten your seatbelts!

May God bless you all,

Fr Paul
---
Thursday 16th September 2021
Some interesting words from Pope Francis yesterday during a Press Conference on board the plane during his Papal Visit to Eastern Europe: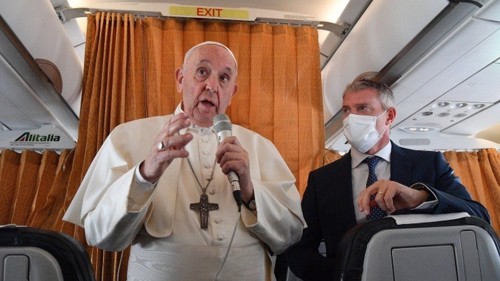 The Pope has said he does not know how to explain why some cardinals in the Catholic Church are hesitant to get the Covid-19 jab.
"It's a bit strange because humanity has a history of friendship with vaccines," Francis told reporters during a flight from Slovakia to Italy. The pontiff, who is vaccinated himself, has previously encouraged people to get jabbed for the "common good". He said one cardinal had ended up in intensive care with Covid-19. Francis did not name the man he was referring to, but conservative US Cardinal Raymond Burke, 73, recently spent days on a ventilator in hospital after contracting the virus. It is unclear whether Cardinal Burke is vaccinated or not, but in the past, he has been critical of vaccination.
"Even in the College of Cardinals there are some vaccine negationists," the Pope told reporters aboard the Papal plane. "But one of them, poor thing, has been hospitalised with the virus. These are the ironies of life." He added that almost everyone at the Vatican was now vaccinated, and that they were "studying how to help" those who were hesitant. "As children [we were vaccinated] for measles, polio - all the children were vaccinated and no one said anything," he exclaimed.
But the pontiff did recognise that some vaccine debates could increase fears and uncertainty about the jabs, to which he said, "we should clarify things and speak calmly". Some religious leaders, especially in the United States, believe Catholics should be allowed to claim conscientious objection to the Covid-19 vaccines on religious grounds. However, Pope Francis has disagreed with this, and said the vaccines were "morally acceptable" and could be used "in good conscience".
Apart from strongly supporting Pope Francis' comments about the common sense of everyone getting vaccinated, I am intrigued by one spot of translation here. Clearly not speaking in English, calling Cardinal Raymond Burke "poor thing" is wonderfully off-key, with all its connotations in English of condescension and talking down. I'm guessing he was speaking Italian, and saying "povero", which would be much better put into English as "poor chap" or "poor man". It's well known that Pope Francis and Cardinal Burke are not exactly besties, but never in a million years can I imagine the Supreme Pontiff referring to the Patron of the Sovereign Order of Malta as "poor thing"!
You have to be so careful with words, as I've been telling Madame Prezzie as she gets ready for Freshers' Fair next week and CathSoc's term ahead. Spelling out "CathSoc" in these lovely home-made letters is all well, and good: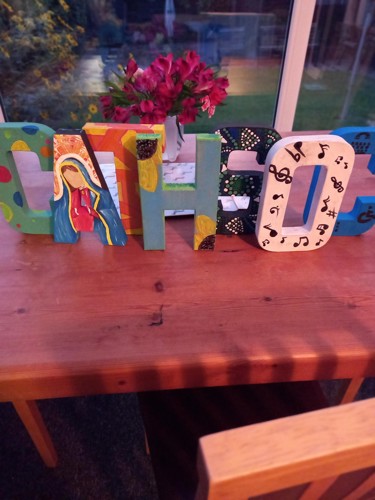 But who's going to keep an eye to make sure no mischievous student starts rearranging them? Anyone fancy…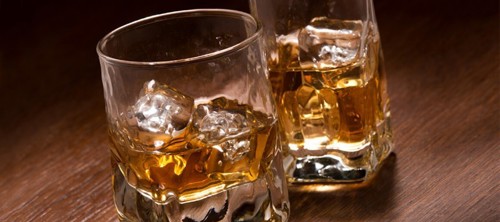 A Scotch? Or, possibly, if you're having a clear-out and want to put a few items you're no longer going to need on eBay to raise a few pennies?
In other words, a Cash Cot? If you think that's too CathSoc-y, you could always stay at home for a nice Cosy Chat?
You're clearly loving translating Dickens's novels from their European translations, so here are a few in Italian for you to have a go at:
"Grandi Speranze"
"Racconto di Natale"
"Il nostro commune amico"
Lunchtime now, and over to Yorkshire for a Funeral this afternoon, having just finished a Zoom meeting of the Cheshire Church Leaders. What's Italian for "It's a good life if you don't weaken"?
May God bless you all,
Fr Paul
---
Wednesday 15th September

Non-stop day today, over to Stockport first thing on the train and back for an afternoon in the High School. That slow train to Manchester, cutting a swathe through the Cheshire countryside, Delamere, Cuddington, Knutsford, Altrincham, is a beautiful run if you're not in a hurry, and the weather and the countryside were both stunning today. Back a different route, via Crewe, but again a magnificent panorama of this county of ours, one of the most beautiful in England?

Nice chat with a group of Upper Sixth Formers in the High School before getting down to business. In our chat, we were reflecting on the difference between boys and girls: why do boys wing it when girls never do? And boys will keep on winging it, until disaster strikes, and they suddenly realise they are going to have to do a bit of work if they are going to turn their dreams into reality. Girls, by contrast, are much more grounded, and know that "results out" is only ever going to equal "effort in". Give me girls every day of the week!

Good to sit in on one of the Form Tutor lessons at the end of the day, the excellent young teacher going through timetables with them, personal statements for their University applications, and a hundred and one other personal enquiries. She had a lovely rapport with these seventeen-year-olds. Then a work session with the Upper Sixth students offering the voluntary Extended Project Qualification (EPQ) essay, which is worth half an A Level. As I mentioned last week, our own Emily Neale is Head Girl, and this afternoon I was working with the Head boy, Liam Samuels, a smashing lad who wants to do Medicine at University. He's already done a personal research project over the summer hols on Covid-19 rates in Africa and was discussing with me if this was a suitable topic to expand into his EPQ. Could be, could be: but rather than re-heating old work, why not cook up something new? How about Cancer rates in Arica, compared with the UK? Mental health rates in India? Now there are two fascinating questions. I like this lad: he's got brains, personality and a very sunny disposition. He could make an excellent doctor.

Monday night out at St Peter's Hargrave was a chance to catch up with some old friends as well as make some new ones. Good to meet the new Bishop of Chester for the first time, another Bishop Mark, and see folk from Laura Rhodes' last Parish, St Mary's Handbridge, including their Director of Music and our own great friend, Michael Reynolds. The Rural Dean of the area was the Vicar of Bunbury, so good to meet him, as we share between us the Cure of Souls of Walter and Judith! And finally, great to see our dear friend Rev Karen Andrews again, now moved from Kelsall to Marbury, Tushingham and Whitewell, in the south of the county, just north of Whitchurch. Here's just one of her three new churches, St Mary's Whitewell: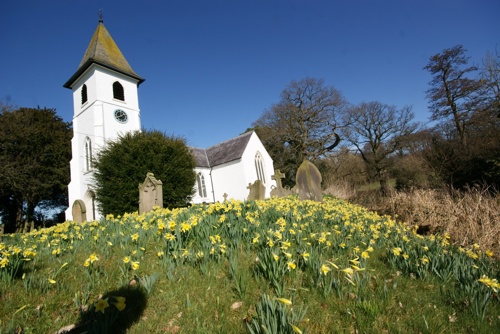 5.30 pm now, so time to get ready for one of the last sessions with Brett from Broughton – Shaun from Saltney! – in preparation for his being received into the Church on Sunday 3rd October.

May God bless you all,

Fr Paul
---
Tuesday 14th September 2021

Requiem Mass for Evelyn Roberts at noon today, followed by burial in Blacon. Born in Knighton in Powys in the same year as the Queen, 1926, her father was on the railways, as a result of which she moved around as great deal as a girl. Her favourite home was Wallasey, so near the sea. She married in 1946, having met Ron, her husband at a dance in Quaintways: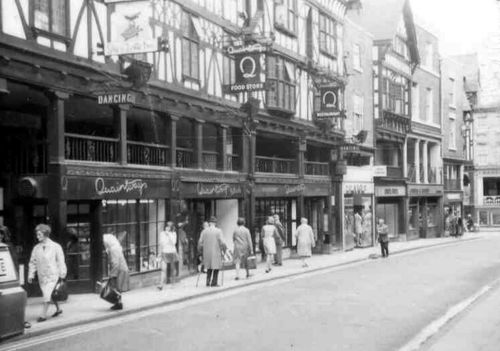 She was first into Linden Grove when it was built, in 1951, and lived in the same house for seventy years. Very sadly, her son Philip died last November, and there were many memories of his service in our Requiem this morning. May they both Rest in Peace.

Earlier, a zoom lesson with Bro Edmund up at Ampleforth. We finished at 11.00 am, myself to get ready for the Funeral, Edmund to assist Fr Bede with showing a large group of schoolchildren from Bradford around the public parts of the Monastery. Fr Bede is a good friend of a number of Werbies, and himself hails from Leeds.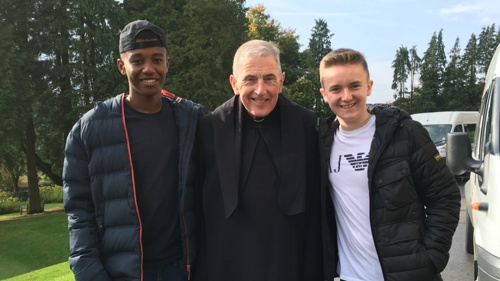 Straight from Blacon to our Primary School, for a meeting with Kath Oates, the Headteacher, and other members of staff, plus the catechists and Priests from the two Parishes, St Columba's & St Theresa's and St Werburgh's, to plan the First Holy Communion Programme for this academic year. We haven't yet made a decision about the form of the final First Holy Communion Masses, whether to stay with the traditional format – any Sunday Mass during May – or to keep with this year's Covid-19 format of special FHC Masses on Saturday Mornings. We all felt the latter had worked very well, but we don't need to make a final decision until we can see a little more clearly how the land lies, perhaps after Christmas.

Sadly, the Funerals are flooding in, so back to the Ranch for a telephone call with Simon, the only child of next Wednesday afternoon's Funeral, Anne McLinden, as Simon lives in London. We got on fine, but it was a reminder of when we could only have these conversations via the telephone at the height of the pandemic last year. They do work but give me the face to face meeting every time.

A free evening tonight – no, I don't believe it either – so a pot of tea coming up, the 6.00 pm o'clock radio news and what I suspect could be quite a long walk over the Meadows.

May God bless you all,

Fr Paul
---
Monday 13th September 2021
David from St James Avenue has a suggestion for my Winter Break this year: the Charles Dickens Festival in Deventer, Netherlands. [What Winter Break? Ed] Actually, the story of Dickens' translation into European languages is a fascinating one, the speed with which his novels were translated and the range of languages into which they were rendered. I'll put together a silly quiz, ten of his novels in their European translations, to see if you can guess the originals. To whet your appetite, here's a very nice five-volume edition of Pickwick Papers in German: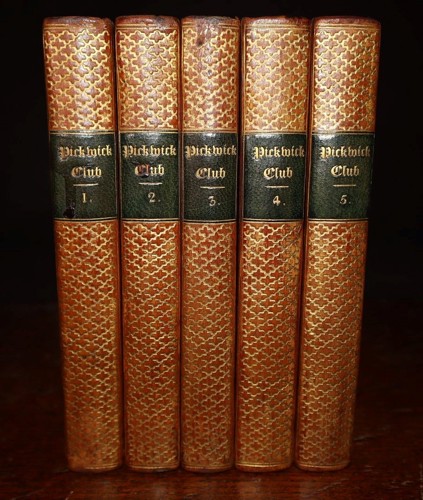 And here's just a couple of French translations to get you started, one dead easy, the other rather trickier:
"Le Conte de Deux Cités"
"La Maison d'Apre-Vent"
Manic Monday morning here, everything going off at the same time. Delighted Cath Brennan was able to take two carloads of the Debenhams Christmas Decorations for a charity she works with, before the removal men arrived to take the rest to the tip. Not sorry to see the garage cleared afterwards, as I should never have said 'yes' to this offer in the first place. Meanwhile, Finance Team are counting the collection and getting ready to bank it, and Covid-19 Taskforce meeting at 10.00 am. We spent a long time reviewing yesterday's two Masses and seeing what lessons we needed to learn before moving onto to the next stage of easing restrictions.
The feedback we got from you – for which many, many thanks – was pretty universally positive. This, from Molly of Moorcroft, was typical:
"I wanted to let you know that I thought that the Mass today was so good and in particular the final departure from the Altar as you all walked down the aisle to the back of Church made me feel as though we were back to normal. It must have been a defining moment for you to stand at the door and greet people again.
Long may it last."
But we did receive one long email saying we'd made a mistake in going from four Masses to two yesterday. Because it was so well-written, arguing its points in detail and written at such length, we wanted to read it together, line by line, and discuss all the arguments it advanced. We hugely appreciated the time this excellent Werbie had taken to write it, and I can promise them we did their views full justice this morning. It helped our discussion no end. As a group, we cannot thank you enough for the volume and depth of your feedback. Not one line of it is ever wasted.
Good discussion afterwards, one-to-one, with another excellent Werbie about their grandchild of 13 who was never Baptised and now would like to be. Super. But many angles here that need careful handling, as you can imagine. Fortunately, my grandparent was totally on the ball as to the sensitivities involved. Full marks to them for grasping the nettle. Grandparents have so many responsibilities, don't they – and virtually no legal rights where grandchildren are concerned? The two main angles to tease out were the wishes of the child themselves and then the wishes of the child's parents. You can be treading on eggshells here, but that's no reason for avoiding the subject altogether. Provided we go slowly and seek the consent of all the main players at every stage, we can find a successful outcome here, I'm sure.
Then, the highlight of the day, no, of the week – blow it, of the YEAR! The return of weekday Mass. I was sure it was going to be just myself and a passing stray dog. Knock me down with a feather, SIXTEEN of you turned up to keep me company and celebrate the Holy Mass together for the Feast of St John Chrysostom. Lots of familiar faces there – Olive from Orford, Garden Gnome, Fifi from Forest Court, to name just three of the worst cases. Wonderful when Teresa Rogers stepped forward to do the reading, her lovely lilting Welsh tones echoing around our church. It's been a lonely old business saying Mass here every day on my own for the last eighteen months. Of course, a wonderful experience: but the Mass was given to us to be shared and having so many of you along at 12.15 pm today was amazing.
This afternoon, into the Hospital to touch base with my boss there, Rev John Kingsley, and now home to bash the keys and get ready for going out to Hargrave this evening for their new Vicar's induction. Hope they've got lots of hot water and towels ready.
May God bless you all,
Fr Paul
---
Sunday 12th September 2021
First Sunday Morning back to the old times – 9.00 and 10,45 – and total numbers slightly down at 234. Reasons why? Some people turned up at 12.00, expecting Mass then so we probably lost a few because they'd forgotten about the changes. Were some put off by the prospect of two fuller Masses rather than four more spacious ones? Quite possibly. Some may have preferred the older times, as they suited them better. My hunch is that with the reintroduction of Evenings Masses a fortnight today, we shall gradually see the numbers creeping up. Whether they will ever match the pre-covid levels of 600-650 over the four Masses (Saturday Evening, two Sunday Morning and the Sunday Evening) only time will tell. Details for today:
9.00 am: 127
10.45 am: 107
Total: 234
Otherwise, everything seemed to go well. Great to having a full cohort of Altar Servers, being able to process in and out at the start and finish of Mass, having the Bidding Prayers and (only slightly) longer Homily. Above all, the NOTICES! My Notice Slot, which you've missed more than anything else, I am well aware, was dedicated to the lady from my first Parish, who took me seriously to task in the Sacristy, five minutes before Mass, for reading out all the notices when they were printed in full on the Newsletter. "Please don't do it, Father," she said, in acid tones, shoving a piece of paper at me as she spoke. "But do please give my whist drive a special plug."
No whist drive to push today, but please remember that Weekday Masses re-start tomorrow, usually at 12.15 pm but often needing to be re-scheduled because of other commitments. Don't forget the SVP Autumn Celebration Mass next Sunday afternoon, if you know of any elderly or housebound parishioners who'd like to join us. Please remember the Food Bank's appeal for goods, and the ten items they are particularly short of:
UHT Juice
Tinned Fruit
Tinned Rice Pudding
Instant Mash
Instant Noodles
Tinned Tomatoes
Chocolate Bars and Sweets
Rice
Instant Custard
Coffee
Box at the back of church. And our Photo of the Week this week on the Newsletter is Trena Cox's sumptuous Stained-Glass Window of St Christopher, now encased in our Disabled Loo. As good a reason for a visit there as any I can think of: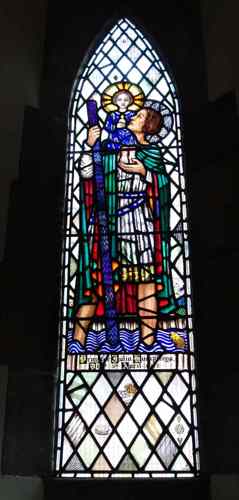 Finally, two dates for the Diary:
Tuesday 28th September at 7.00 pm: Information and Training Meeting for new Sunday Morning Stewards to assist with Holy Communion, and to be ready in the event of an emergency evacuation. Not an arduous duty, but an important one. If enough of you wolunteer, you would only need to be on duty one week in five or six.
Thursday 7th October at 7.00 pm: Open Meeting for all Choir Members, old and new, and anyone interested in joining. Tom, our new Choir Leader, will be unveiling his ideas, and all of us will have a chance to contribute, as together we shape the next exciting chapter in our Choir's history.
Next Sunday we are back singing hymns, so I want you all to practise this week, every morning in the shower, so that you are all in excellent voice for the big day.
May God bless you all,
Fr Paul
---
Saturday 11th September 2021
What a day! All went well until mid-afternoon, when suddenly my immaculately crafted Hospital Rota fell apart. I felt like booking myself into A&E. Fr Jude has finished as main Hospital Chaplain, we don't know when his successor is arriving, Fr William (who's finished Training) doesn't have his induction till early October and can't go on the Rota till then… It basically means that there are just three of us – Fr Emeka, Fr James and me – to cover the whole of September. Fr James wants to attend the Funeral of one of his Spiritans up in Scotland on Thursday, I need to be away myself for part of that day, so Fr Emeka is the saviour of the hour. He'll cover Thursday, and then Monday morning I can get into the Hospital, when Rev John Kingsley, the Lead Chaplain is back from hols, and start sorting something out for the longer term. Come back Canon Niall, all is forgiven!!
And the day began so well, finishing the Newsletter on time, welcoming Fr Neill to hear Confessions, and out on the road to Wrexham well before 9.00 am. A joy to be back in the Prison, meeting many of the lads who'd been there a fortnight ago. Two were in some distress: Joe from Derry had just heard that his father Peter had been rushed into hospital. Knowing no more than that he obviously was in a very emotional state. Then another lad had just heard his sister had been found dead. Times like this bring home the horrible reality of being in Prison: you and I would be on the phone immediately to anyone and everyone, we'd be making plans to get over to where we needed to be, we'd be gathering our friends and family around us for emotional support. None of which is possible when you are in prison. The paucity of information is one of the cruellest aspects. You just don't know what's going on, and into that vacuum all sorts of horrible imaginings flood.
I had the chance of a good chat with my lad from Chester Catholic High. He asked if he could keep in touch, due to leave Prison in a fortnight's time and move to the Bail Hostel, prior to complete release. Can he come here to Church, he asked? The answer is slowly, slowly. The first thing is to establish contact once he's left Berwyn. They we need to find out what's possible and what's not. Fortunately, our own John O'Sullivan has started doing some excellent work on follow-up after release, and I shall want to pick his brains. When he's back from planning his Memorial Service in Menorca, that is. How the other half live.
Back at 11.30 to knock out a letter for one of our Werbies, going down to London this afternoon to be a Godmother for her brother's child tomorrow. The Priest there wants a letter of recommendation that she's a card-carrying left-footer. OK, Father, will do: but it does all make work for the working man to do, doesn't it?
Two joyous Baptisms after that, the third for Karl and Laura, married here in 2013, and the second for Richard and Rebecca, married here in 2014. A total joy for me to Baptise the babies of couples I've married. Good to see Richard Milner again, and his parents: some of you remember them as a young family at Mass in the old Tattenhall days, don't you?
Then the ceiling fell in on the Hospital Rota. Any of you fancy doing a shift? NO? Honestly, self, self, self: it's all you ever hear from some parishioners. Now I'm going for a long walk over the Meadows, to get some of this grumpiness out of the system before I settle down for the evening with my two favourites: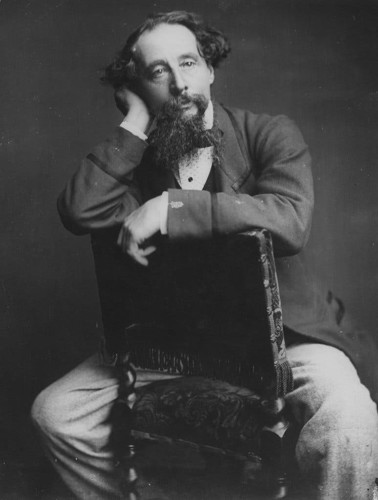 and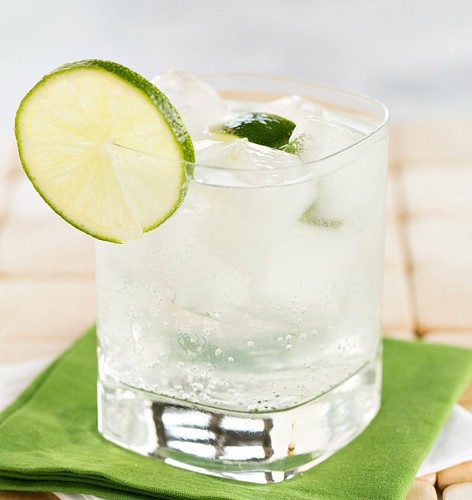 An unbeatable combination. Trust me, I'm a doctor.
May God bless you all,
Fr Grumpy
---
Friday 10th September 2021

The skies obligingly opened at 3.30 pm to wash away all the confetti, the last wedding guests having departed half an hour previously. God is good. You don't believe me, but He is. Half-way through the wedding I asked the Stewards to open the front doors, so muggy and oppressive had it become in church. Tommy Fennell was marrying Lauren Roberts, three years after they'd first come to start the process. They've had multiple postponements and cancellations, so really good today to welcome a church-full for a happy and relaxed wedding. These are two super families, and we've been blessed to marry so many members of both families in recent years, as well as Baptise their Babies and celebrate their Funerals.

Celebration was very much the keynote for Sheila Winder's Requiem at 10.30 am. The family – Liz, David, Helen and Clare – had put together a beautiful service to honour their Mum and her ninety years of living life to the full. For twenty years Sheila was Domestic Science Mistress at Blacon High School, and generations of children remember her with affection, not just for her lessons but for her catering for school functions and looking after the food side of residential trips away. I met her first two days after arriving here, the first Saturday in September, Mondays always being SVP Meetings days up at Sheila Baxter's house in Hoole. Good to welcome Margaret Hart here today as one of the few survivors of that remarkable group, so many no longer in good health or having Gone Home to the Lord. Good to welcome Steve Perry too this morning, our current SVP President, to represent today's generations of Vincentians.

Quite a military exercise going from one busy Funeral to another crowded Wedding. Thank heavens we are no longer tracking and tracing, nor supervising hand sanitising, that now being the responsibility of each individual. For those of us who like the stats, here are yesterdays' Covid-19 figures:

1. 65.2% of the UK have now had both jabs and so are fully vaccinated
2. 38,013 Daily Cases of Covid-19, down 141 on this day last week
3. 8,805 hospitalisations, up 424 on this day last week
4. 167 deaths, down 11 on this day last week

In a single word, I would describe the situation at the end of this week as "stalled": the figures aren't going up and they aren't coming down. 167 Covid-19 deaths, given that roughly 1,500 die in the UK every day, needs taking seriously, but is not sufficient grounds for closing down the whole country. Do you all agree?

And so we go into our first weekend of normal Sunday Morning Masses, with Weekday Masses re-starting on Monday and Saturday and Sunday Evening Masses a fortnight later. We need to remain vigilant, but we also need to get on with our lives. All those in favour raise a hand. Many thanks to Michael Reynolds for playing the organ for the wedding, going straight from here to Silver Singers, where so many members of our own Choir take part. The man needs a medal!

The rain spared our wedding guests, but not, of course, our punters, Chester Races in full swing this afternoon: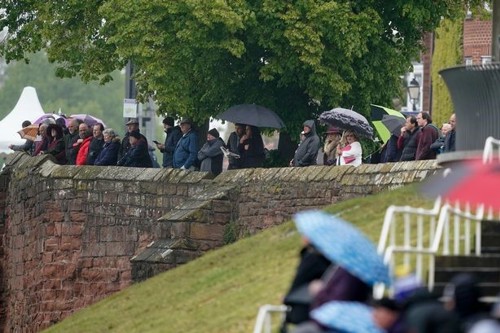 The horses didn't seem to mind. It's what the Irish would describe as "soft going".

May God bless you all,

Fr Paul

---
Thursday 9th September 2021

Early morning trip over to Liverpool to shed my blood for the fatherland. The Blood Donor Centre has moved further up into Moorfields, for me one of the most interesting areas of Liverpool, and one that's rarely explored. Anyone for a Heritage Day out there with a very long lunch in the middle? Come out the station now and turn up Tithebarn Street, to the old Exchange Station: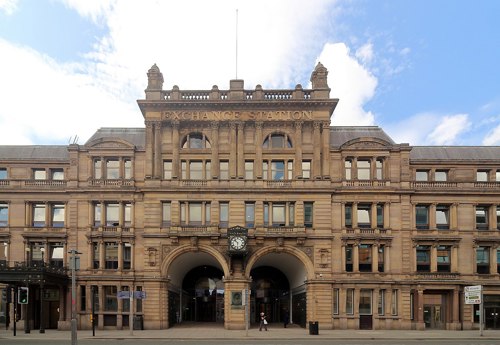 It opened in May 1850, at the end of the great decade of railway building in this country, the 1840's. It was the Terminus for three companies, the Lancashire and Yorkshire Railway, the East Lancs Railway, and the Liverpool, Crosby and Southport Railway, when they were all private companies issuing shares, fortunes won and fortunes lost. Badly damaged in the last war, the station was a victim of the Beeching cuts in the 1960's. The station was demolished in the 1980's, but thank heavens they preserved the façade, a wonderful memorial to the heyday of railways in the northwest.

Past Exchange Station and up Bixteth Street to St Paul's Square, where the new Donor Centre is, and some exciting modern office blocks trying to recreate the dense high-rise feel of the Victorian Moorfields, the office and commercial centre of the city: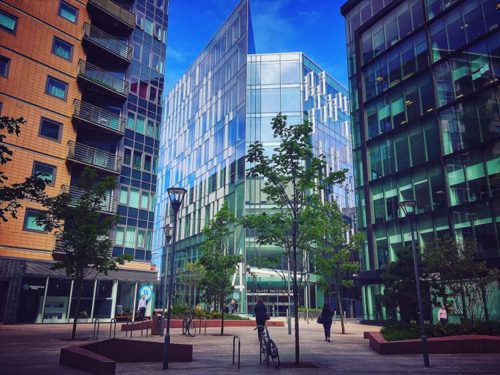 Into the new Centre and get plugged in. The young lad next to me is a first timer. "Date of Birth?" "Something of the something 2000" he replies. Blimey! 21! Any of us remember being 21? (No, obviously not you, Choir, for heaven's sake). He's getting a fair bit of reassurance from the nurses, where all I ever get is banter and insults, as you can imagine. In no time, we're both finished, and you can see a faint smile of pride and pleasure on his face as he tucks into his complimentary bag of crisps.

Straight back to the Ranch, where the Team have been doing some excellent work on the Registers. I'm not the world's best on Church Registers, but, trust me, I'm certainly not the worst. You wouldn't want to know. They found one Baptism I hadn't registered. So glad they did but can't for the life of me understand why I missed writing it up. That would be a problem in twenty years' time when the then youngster wanted to get married. By which time, I would long have gone to my eternal reward. A small Parish in Shropshire.

11.00 and Liz Aiello, our splendid Parish Safeguarding Officer came in to bring us up to date. The previous four-year cycle between DBS renewals has now been reduced to three, so it's time to start again with DBS checks on our army of wolunteers if they work with Children or Vulnerable Adults:
Children's Liturgy
FHC Catechists
SVP
Adult Altar Servers
Eucharistic Ministers who do Home Visits
Confirmation Catechists
Parish Secretary
Parish Safeguarding Officer
Clergy
Those last two categories are vitally important: Liz and I are not asking anyone to do anything that we don't have to do ourselves. Both Liz and I are in the highest category of DBS Checks and rightly so.

Two sets of Organists coming in today for practice, one at 1.00 pm and one at 5.30 pm, as we pump up the bellows for Organ at Mass again Sunday 19th September. This final photo will bring back some fond memories for the Choir: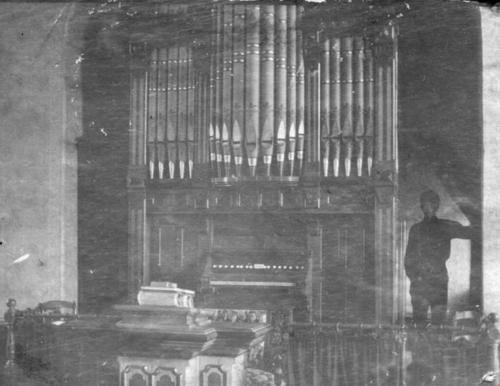 That's the old St John's Church, it's 1916, and a youthful Geoff Hewson is doing the pumping. What a player!

May God bless you all,

Fr Paul
---
Wednesday 8th September 2021
Whichever way you slice it, lockdown as we've known it so far seems to be over. At least, it certainly was in the High School this afternoon, the nearest to normal I've seen for eighteen months. Everyone loving it. No masks, no bubbles, just the buzz of starting a new school year. As Mrs McKeagney, the Head, put it to me, it's not just Year 7 we have to introduce to a new school and go through induction procedures with – it's also Year 8, because they missed out on all this, this time last year. Then I headed over to the Sixth Form, to meet Ana, our excellent School Chaplain, who wanted to book in the Year Welcome Mass for next month, and Mrs Letissier, the first-rate Head of Sixth Form. Delighted to have confirmed that the High School Head Girl next year is our very own Emily Neale. Well done, Emily! They have to go through quite a gruelling selection process, votes of both pupils and staff, then interviews, before the final choice is made. She'll make a first-class role model for those students.
It looks like there'll be two Candidates from the High School for Medicine/Oxbridge this year, a bright mathematician trying Oxbridge, and Liam, the Head Boy, having a shot at Medicine. Met both of them today and looking forward to working with them. Then Mrs Letissier said she was leaving me for an hour with a common room full of Year 12, "So, just go and say hello, and make yourself known!" Yeah, right. In fact, it proved remarkably easy, lovely young boys and girls, no problem at all wandering round chatting to them in little groups, how are they finding the Sixth Form, what A Levels are they doing, did they get away anywhere this summer… One young lady was making me laugh with tales of her summer holiday job, working for Domino's Pizzas, wrong toppings, no nachos, irate customers. Very much enjoying it, she told me, except for the Friday evening rush, when the whole world wants their Texas BBQ or Mighty Meaty. And for pity's sake don't confuse the two.
Finally, into one of the Upper Sixth classes to start talking about Personal Statements, how to sell yourself to your colleges or unis. These students are only sixteen and seventeen, so young in many ways, so mature in others. An exciting time of life, so go for it, everyone.
Our own John O'Sullivan sadly cannot remember being that age, too many decades ago. Sunning his aged body in Menorca as we write, he found this beautiful church:
He writes:
"I was privileged to attend Mass at The Cathedral of Menorca last Sunday. Dedicated to St Mary, it was built on the orders of King Alphonse III of Aragon in the 14th century, on the site of the island's former main Mosque. It is such an ancient and beautiful building (see images attached) that I decided right there and then to have it for my own Memorial Service (in due course!) and have written to Bishop Francisco Simon Conesa Ferrer to obtain his permission."
Despite all the abuse of the PP, John, that's a few decades away, I hope!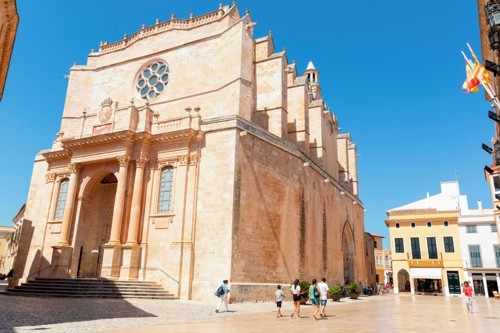 Now, this evening, Tommy and Lauren's Wedding Rehearsal and a couple of people who wanted a Confession outside of the normal Saturday Morning slot, which is always a pleasure.
Roll on, Gin O'Clock!
May God bless you all,
Fr Paul
---
Tuesday 7th September 2021
A quieter afternoon after a manic morning, the whole world coming back to life after its long sleep. At least that's what it felt like. Zoom lesson with Bro Edmund at Ampleforth interrupted every ten minutes by a phone call. Which he then started to mark. "Seven out of ten for that one. Started quite nice but I thought you got a bit bossy in the middle"… "Five out of ten – talk about passive-aggressive!"… "That was a nine – liked that person, did you?" Cheeky little novice.
First thing, I needed to sort out Marriage Prep, one part of the great sleep that is definitely coming to an end. Identified out a couple of Saturdays between now and Christmas when I can offer this whole day session and contacted all couples between now and then to see who's interested. Normally, this is a compulsory part of marrying in the Catholic Church, but it's been impossible to deliver for the past eighteen months. Now I've run up the flag, let's see who salutes.
Ever have that feeling you should have said "No"? Big style last week when a nice gentleman rang me from Debenhams to say he had the contract to clear the whole store, and would I like the Christmas Decorations? Otherwise, they'd all be taken to the tip. I know, I know, I should have asked a lot more questions. Naively, I thought they were boxes of Christmas baubles that the store would sell; rather, they are the decorations the store itself puts up every festive scene to make the place look more Christmassy. One hundred boxes of them, now bunging up our garage. Having had a good look at them, I know we can't use them ourselves and haven't got anyone else who can. So, contacted a local rubbish removal firm, who came this morning to have a look (and probably a laugh) and will come next Monday to take the lot away. Anyone for…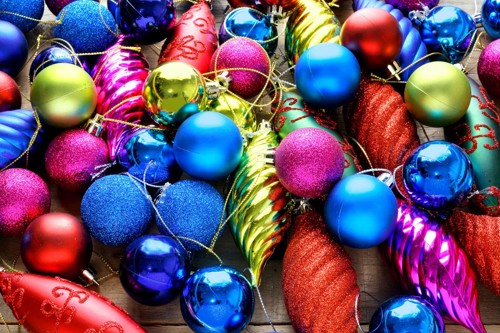 Lots and lots of them.
Congratulations to Steve Perry on completing his bike ride to Paris to raise funds for the British Legion: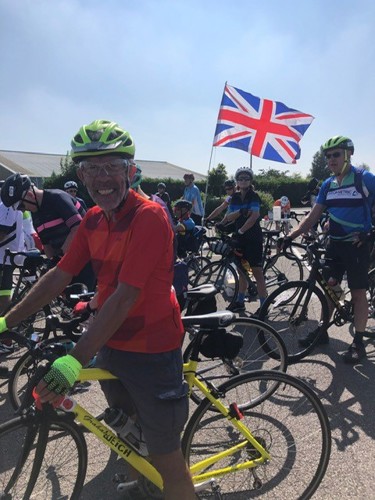 I know – that could have been taken anywhere. So, just to prove that he and Caroline did actually make it, cue sound of accordion as you see…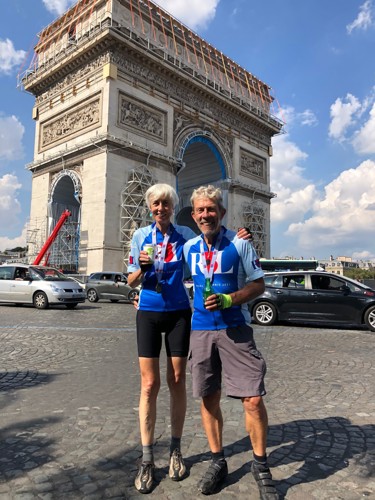 Talking of fund raising, I sent a big envelope off to the Poor Clares at Nottingham this morning, all your wonderful contributions to their Building Fund.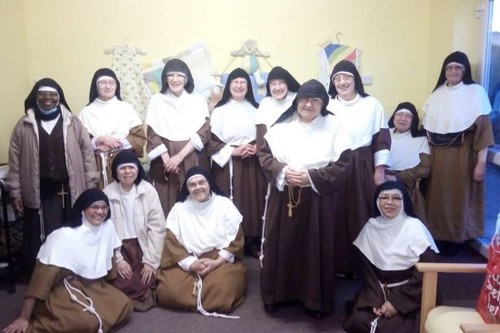 I know how grateful they'll be, so thanks to one and all for helping them.
Here's a lovely web site which shows you some stunning churches in National Parks. Being situated there, they enjoy much greater protection, of course, than they might otherwise, hopefully free from demolition or, what is sometimes worse, "modernisation". Ugh!
https://www.dailymail.co.uk/travel/travel_news/article-9954687/Pretty-churches-UK-national-parks-including-Bill-Brysons-favourites.html 
And finally, I love these computer-generated emails that reckons to establish your name from your email address. They had a good go with this one, didn't they?
Hello Mr (Mrs) BURG, I'm A Student And I'm Honored To Be Selling T-Shirts For You.
I have all Size - Color - Product Type - Gender
Guaranteed Delivery in 4-7 days for you

May God bless you all, and much love from Mr (Mrs) Burg,
Fr Paul
---
Monday 6th September 2021
Lively Taskforce first thing this morning, looking at yesterday's Masses, and the 9.00 am in particularly, 110 present yesterday. This could be 150/160 next Sunday, when we are back to our two traditional Mass times, 9.00 am and 10.45 am. In essence, the major change is that each of us is now responsible for his or her own social distancing rather than "them" enforcing it on us. Do you notice this out in town or in any public place? Other people will cheerfully crash into us. If I don't want this to happen – and I don't – I have to take the evading action, usually with a fairly sarcastic "Thank you so much!" as I dodge out of their way. Apply this to church, and each of has to be responsible for keeping a sensible distance from other people. There's no police force out there any more to enforce it. Let's see how it works out on Sunday! Solvitur ambulando, as they say in German.
Other bullet points this morning:
• Parking down the side passageway – yes, but it's your responsibility to make sure you don't get blocked in, not ours. I'm not going to interrupt the 10.45 Mass to ask the owner of the red Fiesta to move so that the green Toyota can get out…
• Collections: we're not reintroducing the basket passing along the rows just yet because…
• …because that needs our wonderful team of Welcomers being reinstated, and we are very conscious that, for one reason or another, both 9.00 and 10.45 teams have been slimmed down in the last eighteen months. Watch this pace for an appeal for Welcomers, old and new, to come together again. (In case you can't follow the logic there, it's Welcomers who tap people on the shoulder to take round the baskets.)
• Newsletters: in the porch for a little while because…
• …because we need to sort out the two back corners, to allow the Repository, Newsstand, CTS rack and Library to come back into use. Any wolunteers to help us sort out the back corners?
• QR Codes and Sign-in Sheets will be on the tables in the porch for us to use if you wish but tracking and tracing is no longer mandatory.
• Candles will be available from this Sunday onwards. Light one for me, please.
• Opening time? 8.15 initially, as the Team comes in at 8.00 am and just needs to give everything a wipe down (including the Parish Priest) before we can fling wide the doors to the lumpenproletariat. As they really do say in German.
The message for this Sunday, then, is this: I am now responsible for myself, and my own Covid-19 safety. Get too close, and you'll find out what Hat Pins are really for…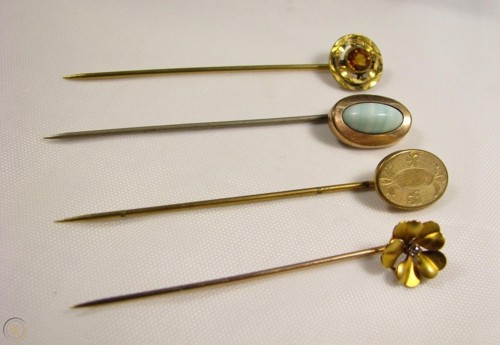 Long chat this afternoon with one of our younger Werbies, grieving heavily for the death of a grandparent. This was an unscheduled visit, and for the first ten minutes I'm fretting about my afternoon schedule. Then, thanks be to God, the Holy Spirit gets a word in edgeways, and tells me that nothing is more important than giving this youngster space and time. Stuff the Diary. And you know what? The Holy Spirit was right. Funny, isn't it?
It meant a spot of rearranging, which was dead simple, and it meant being a bit later up to Ellesmere Port on my latest Decanal Pastoral visit. Great to see Frs Edmund and Humphrey settling in, starting to get the Presbytery the way they want it, starting to meet the folk. Both lovely youngsters, and we are so blessed having them. Looking at dates for me to induce Fr Edmund, so I shall have the hot water and towels ready, don't you worry. And he wants a Deanery trip to Rome next June, when two of our Shrewsbury seminarians are due to be ordained. Wow! Any of you Werbies up for it? Please, please, form an orderly queue!
He is an absolute love, isn't he? Little monkey too, but a lovely little monkey. One duty he performed this afternoon was handing over to me the Deanery Oil Stocks. I enjoy researching pictures to go on this Blog, but when I googled "Oil Stocks" I was a little disconcerted to get this: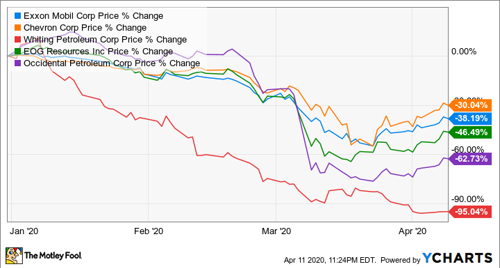 A little more juggling, and I found this, from the Archdiocese of Southwark. Wherever that is.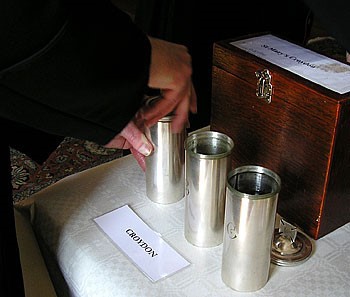 My mate Johnny Wilson in charge down there now. Remember him when he was just a kid. Taught him all he knows.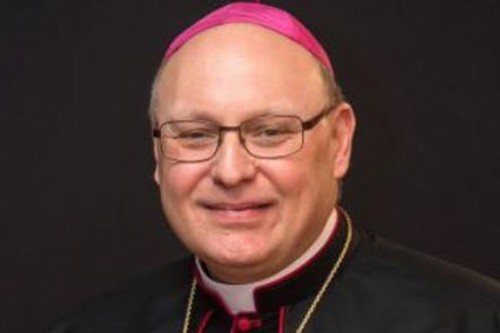 Another lovely boy. A real smasher.
May God bless you all,
Fr Paul
---
Sunday 5th September 2021
I have to admit, the Old Nuisance's recliner armchair came into its own at 3.30 this afternoon, head back, feet up, bye-bye world. Pretty non-stop eight or nine hours before that, a typical Werbies Sunday. Alarm goes at 6.00 am, and for the first time, I have to put the light on. Cleaning my teeth in the dark could be hazardous especially if I dropped them down the… Then priesty-prayers and some semblance of being ready to face the world at 8.00 am, when Syd and Denise arrive to start preparing for "Doors Open" in church at 8.30 am. The last time we are welcoming Stewards, tracking and tracing, the final time for four half-hour Masses, on the hour, every hour, 9.00 till 12.00 noon. It's been arduous, but necessary to accommodate everyone who's wanted to come here, socially distanced, entire church cleaned between whiles. Arduous, necessary, but none of us will miss it. Now we return to the traditional 9.00 and 10.45 times next Sunday, with Saturday and Sunday evening Masses re-starting a fortnight later, organ, hymns, library, repository, all the normal features of our traditional Werbies Sundays. Then just when we are fully back to normal, there'll be another national lockdown…
And you ask why I get so bitter and twisted.
After the final noon Mass, a joint Baptism for Gracie and Oliver. I don't normally do more than one at a time, but this was a special request, the dads, Danny O'Reilly and Matthew Titley, being old mates from the Catholic High. It meant a church full, but good to welcome so many friendly faces, including Frank Titley from St Clare's, this his first grandchild from his four sons. They're just not doing their duty, Frank!
Next Baptism was Veronica Roger's great-grandchild Ada, so she had to take plenty of cheek, as you can imagine. Well, you lot would have expected little else. Straight from there to Blacon, to bless the new headstone for Elizabeth, Ethel and George Hewson. Ethel and George were Geoff's parents, and he was there with his two sisters, Lucy and Dot, plus Geoff's daughter Pam and Dot's daughter Louise. Elizabeth was George's mother, so the grave in other words, contained Geoff's parents and grandmother. Strangely, there had never been a gravestone, but they'd always wanted to erect one. Never too late for these things, and this afternoon, we had a beautiful little gathering in the warm September sunshine to share some memories of bygone days, growing up in the family house in Queen Street. Room for just one more in this grave so, of course, I asked Geoff if it was really worth his while going home? [You can go too far at times you know. Ed] Lucy offered to find a shovel, and Geoff moved away fairly sharply.
That's Geoff with Lucy on the left and Dot on his right. A rose between two thorns??
Back at 3.30 to press those buttons on the old recliner. For those who like the Stats, here are today's figures:
Sunday 5th September 321
Sunday 29th August 308
Sunday 22nd August 325
Sunday 15th August 296
Sunday 8th August 270
Sunday 1st August 261
Sunday 25th July 258
Sunday 18th July 249
9.00 am 110
10.00 am 55
11.00 am 94
12.00 noon 62
Total 321
If 321 come next Sunday, that will mean dividing it over two Masses, with possibly 160 at each. Well, you all know what hat pins are for, don't you?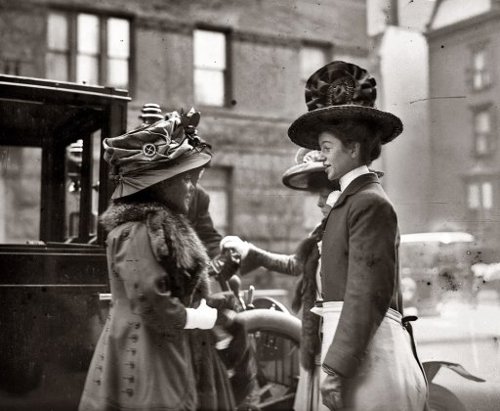 May God bless you all,
Fr Paul
---
Saturday 4th September 2021
A moment of intense disappointment this afternoon, as my Covid-19 Lateral Flow Test came back negative. You know, I really could have handled ten days of total isolation. Start the party without me. I was on a call-out to one of our Nursing Homes, to see Peter Thornton, the husband of Mary from Boughton Grange, who's on his way from this life to the Life Eternal. Good to meet her sister and niece there as well. Mary and her sister were both Shanleys, and Margaret married a Shone. Two of the great dynasties of Catholic Chester.
Straight from the Nursing Home to a second call-out, this time to the Hospital, to Reg Chrimes on the Stroke Unit. He was very unresponsive when I arrived, but soon woke up, and wanted a chat. The problem initially was understanding him: he knew I hadn't grasped what he'd just said, and I knew it. No hiding place. Tempting to call it a day, quick Our Father and disappear. But always so glad I don't give in to that temptation. You just have to discover one seam of sense, and you've cracked it. This afternoon, it was where he came from. Neston. That took three minutes. Always lived in Neston, Reg? No. Where else? In-dia. That came out beautifully clearly. Age? 96, born in 1924. So, did you go to India in the war? Yes. Now we're flying, pun intended. Army? No, RAF. Whereabouts? Bombay. Wow! At the end of twenty minutes, we'd had a really good, if painfully slow, chat, and I could see the pleasure on his face. Hospital visiting at its best.
The day began with putting the Newsletter to bed before Confessions at 9.00 am. Then an hour wading into emails – they really do breed in the night – and time to swing into action for today's Wedding, Owain and Sarah. Sarah's a Junior Doctor at Christie's, the huge Cancer Hospital in Manchester, and Owain a Product Manager. Whatever one of them is. Good to welcome Michael Reynolds as our star organist, Queen of Sheba to start the wedding and Widor's Toccata to finish with. Rather a grey day, but not cold and mercifully dry. All the guests lined up along the path to the house door and asked if the couple could come through the front door for their confetti shot. It made a lovely scene, and no, GG, there's not too much mess on your front lawn. You have to be so careful these days.
Lovely chance in the week to catch up for an evening with the Millers, that super family from Michigan (Steve, the dad) and Strabane (Diane, the mum), both the kids at the High School. Ronan only wears that hat to hide the six-foot long hair underneath it, a male Rapunzel. Wonder if he'll get his hair cut before term begins for the pupils on Monday?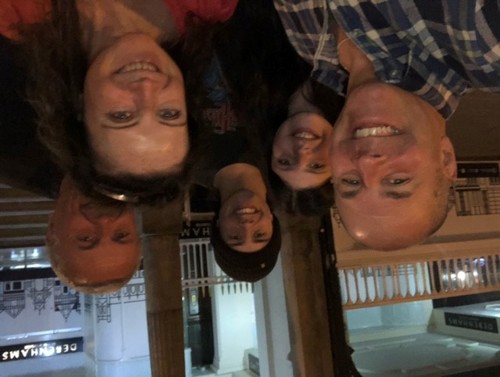 Always a pleasure working with the Oxbridge pupils across a wide range of Chester schools. Of the group I saw last autumn, only one gained a place, Grace from the Catholic High. She's an extraordinary linguist, French and Spanish, beautifully fluent in both, and using constructions and vocabulary you could never expect from a seventeen-year-old. She also has a deep love of the literature of both cultures. I wasn't surprised Wadham, Oxford snapped her up: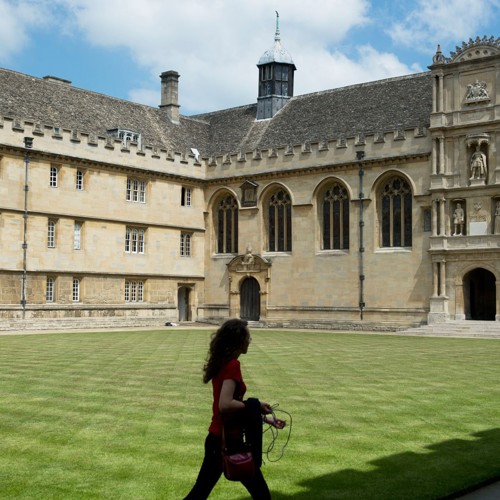 And who's our own star Werbie Wadhamite? Yes, him in the yellow jacket: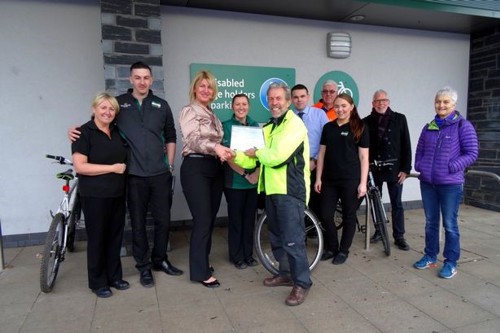 It was good to see Grace's parents at the Leavers' Mass on Thursday and have a chat. "Do you know what I want to thank this school for most, now that Grace is leaving?" her Mum asked me. I wondered what she would say. The quality of the teaching? The academic success her daughter had gained? No, none of these. "I want to thank it for being such a kind school."
I was very moved by that. Perhaps she's right: if a school has kindness, all the other qualities will follow?
May God bless you all,
Fr Paul
---
Friday 3rd September 2021


So glad to be able to celebrate the Year 13 Leavers' Mass at the High School with so many pupils, parents and staff last night. None of us was sure how many would turn up for this first School Mass in eighteen months. But the Lyceum was pleasantly full, and Mrs McKeagney started proceedings with a heartfelt expression of thanks to these youngsters who simply haven't had anything like a normal Sixth Form education. In the Mass, we gave God thanks for the last seven years, and especially for the strength to get through the last two, and to ask His blessings on the next chapter of our lives, whatever they may be and wherever they may take us. After Mass, we had the usual very moving slide show of their time at school, from being shy Year 7 starters onwards. Definitely brought a lump to the throat.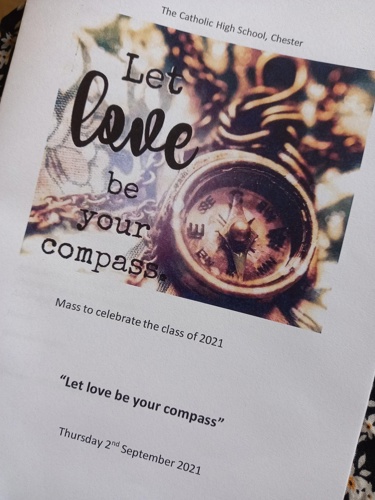 In my little non-Homily, I reflected on our second reading, I Corinthians 13, "Only three things last in this life, faith, hope and love; and the greatest of these is love". Looking back on our own school days, mum and dads, teachers and governors, to which of our teachers would be give the "Man or Woman of the Match" award? No-one seemed to find this a difficult question to answer. The common theme was that Mr X or Mrs Y had gone that extra mile, had reached out to us, had encouraged us when we needed it most, had been more than "just a teacher". I myself was torn between my English teacher and my History one in the sixth form, both wonderful men to whom I'll always be grateful. The History Master, Head of History, was Colonel Badman, also in charge of the CCF. "I'm Badman by name, and bad man by nature," is how he ferociously introduced himself at the start of the Lower Sixth; "As you boys will find if you ever cross me". No sir, absolutely not, sir, not in a million years, sir. Although we were terrified of him, you couldn't mistake the twinkle in his eye as he said it. A passionate, inspiring wonderfully motivational History teacher, he literally made the nineteenth century come alive. Every week, we had to write an essay, handed in on Monday and handed back on Wednesday, meticulously marked and graded. I will never forget the occasion, sometime towards the end of that first term, late November, when we passed in the corridor. "Shaw!" he barked. "Your essay this week. Not bad at all. You're not as stupid as you look, are you?"

I was walking on air for the rest of that term. Rare praise indeed.

This morning, out to an early call in Linden Grove, a 95-year-old lady on her Way to the Lord. Then back to call in at the Register Office in Goldsmith's House to pick up the Wedding Schedule for tomorrow, Owain and Sarah. Back for their Rehearsal at 10.30 and straight out to Rowton for a Site Visit with our Taskforce and their Rowton Methodist Team. Immensely positive, we've come up with a plan that we think will respect social distancing and all other remaining Covid-19 regulations, a plan that is acceptable to both our Methodist hosts and to us, their Catholic guests, and which will solve the age-old (long pre-Covid) problem of distributing Holy Communion in that beautiful but very tight little chapel.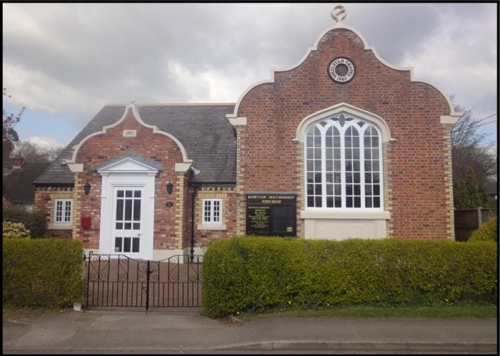 Saturday evening Mass will re-start at Rowton on 25th September.
We will sit in every other bench.
We will expect everyone to wear masks, as in our Main Church.
Maximum capacity of any one bench: three singletons or two pairs, or a single, large bubble.
Total maximum capacity of the chapel under these arrangements – 40.
If you come at the last minute, you risk being turned away.
Space to position additional single chairs at the front and in the hallway.
Everyone will stay in their seats for Holy Communion, and I will come round to you, possible now if we are using only every other bench.
We will sanitise the Chapel after Mass, ready for the Methodist Service on Sunday Morning.
We will do a written Risk Assessment.
Anne H and FP will initially act as Stewards but may ask for other wolunteers when we see how it is all going.

Home for lunch, then out for my usual very enjoyable and stimulating monthly visit to Pat from Pulford, back to bash on these keys, and get ready for the last session with Patrick, who had the false start at University this time last year, and who has used the intervening twelve months so positively. He is now rearing to go, Freshers' Week here we come, reading Politics at University of Newcastle. Go for it, Patrick!

May God bless you all,

Fr Paul
---
Thursday 2nd September 2021
Mentions of hosting Deanery Lunches has certainly got you lot going. Among the more repeatable menu suggestions comes this one from Mike from Mickle Trafford:
Suggestions for your menu. Goose, of course, for the main course in honour of St Werburgh. Perhaps followed by Stinking Bishop cheese from the Cheese Shop on Northgate (yes, it does stink!) and then a bowl of a Dickens' favourite, Smoking Bishop!
Keep the suggestions coming, folks, but do please remember this is a family blog.
A failing of mine – and I'm the first to admit it – is admiring objets d'art (as they say in German) in people's houses – furniture, antiques, porcelain or pictures. It's a fine line to tread between showing genuine admiration for beautiful objects and sounding as if you're asking to be given it. John Hamilton Moore was an extraordinary gentleman, whose Funeral we celebrated here last month. Amongst his many talents and abilities, he was a talented amateur artist. I met him first three years ago, when I came to administer the Last Rites to his wife up in Oaklands Nursing Home. The room was covered with a number of striking oil paintings, all the work of her husband, John. He himself went Home to the Lord in July, and William, his eldest son, has been clearing his house in Westminster Park. He's disposed of all the paintings around the family: then the question I was half dreading – would I like one? The answer was an emphatic yes, but not if the implication was that I had been angling for one. This is it, a view of the Groves, with light catching the boats on the river, setting off the dark walls on the left. It's a wonderful contrast of light and shade and unmistakeably Chester. I hope you all like it as much as I do.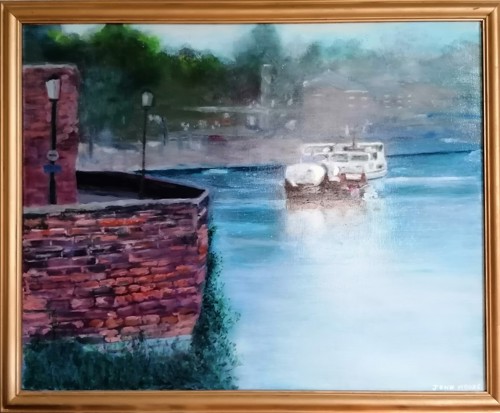 Busy old day today, booking in Baptisms and Weddings this morning before the first meeting at 11.00 am of our new Music Team: Syd and Denise as Music Group Leaders, and Michael Reynolds, Tom Rozario, Mike Riley and Bob Owens as our four-man Organists Quartet. Lovely sense of enthusiasm this morning, everyone pledged to help everyone else as we move our music forward into its next exciting chapter. Sunday 19th September we will start singing hymns again, and then the Mass Commons from either 26th September or 3rd October. Thursday 7th October is our Open Evening for all Choir Members, old and new, to meet their new Choir Master, Tom, and pool ideas together for how they would like the Choir to develop.
Great news from Dominique that Nathalie is now home again after her spell in both the Countess and Salford Royal. She sent us this lovely snap of the Hospital Chapel at the latter, the Chapel of the Good Shepherd: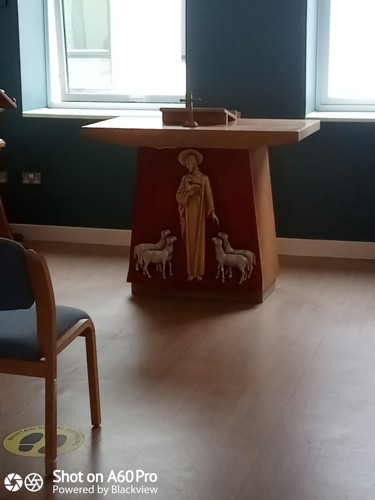 The hospital website is very interesting on how they see Chaplaincy provision fitting in with the ethos of the hospital as a whole. In that connection, I share with you the coverage given by SPUC, the leading anti-abortion charity, to the dispute at Nottingham University between the University and the Catholic Chaplain. I don't comment on the accuracy of their report at all, and I know nothing about this dispute apart from what I have read in the newspapers. But I do know that, as a national body of Catholic Uni Chaplains, we try very hard to make sure such disputes do not occur. As I said yesterday, it's a juggling act, and, by the sound of it, something's gone badly wrong here:
UK University rejects Catholic Chaplain for expressing pro-life views posted on 31 August 2021 15:17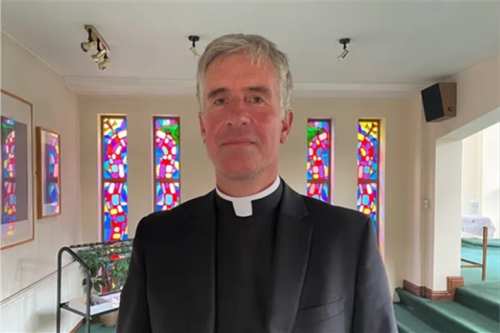 A University in the UK has refused to officially recognise a Catholic priest as its campus Chaplain because of his pro-life views. Michael Robinson, SPUC Director of Communications said: "The rejection of this priest from his role as University Chaplain, is indicative of a broader free speech crisis and growing hostility towards the pro-life community."
Father David Palmer, who is serving in the Diocese of Nottingham, was named as chaplain to the Catholic community at the University of Nottingham by local Bishop Patrick McKinney.
However, the University of Nottingham is now refusing to recognise Father Palmer as its Chaplain after he refused to amend his social media posts where he spoke out against abortion and assisted suicide.
On Twitter, Father Palmer referred to a recent assisted suicide bill as an attempt to "kill the vulnerable." He also referred to abortion as "the slaughter of babies."
The University of Nottingham demanded that he amend the wording of his pro-life views on social media. Father Palmer refused to amend his pro-life statements and asserted that his tweets reflected Catholic belief.
Father Palmer said: "I was told it was fine for me to have this opinion, but they were concerned with how I expressed it. When I asked how they would suggest I express it, quite remarkably, they suggested I should call it 'end of life care,' which is a completely unacceptable policing of religious belief."
Bishop McKinney has not nominated another Priest to take Father Palmer's place as Chaplain. The University of Nottingham is permitting Father Palmer to celebrate Mass on campus on Sundays as a 'guest Priest.'
Social media users have since taken to Twitter to defend Father Palmer and express their dismay at the University's actions.
One user wrote: "Sounds like University of Nottingham are attempting to censor Fr Palmer. Are traditional Catholic ideas not to be voiced in a secular university? Questions need to be asked."
SPUC's Michael Robinson said: "The University of Nottingham's decision to cancel Father Palmer appears to be steeped in prejudice towards the Catholic community and pro-lifers.
"To silence any person particularly on the basis of a deeply held philosophical belief, is to act against the Equalities Act."
Hostility towards pro-lifers at Nottingham University
Medial student, Julia Rynkiewicz received a formal apology and financial compensation after the University of Nottingham suspended her because she expressed pro-life views.
The student was subject to a four-month fitness to practice investigation by the University in 2019 and was blocked from entering hospital placements.
A survey conducted earlier this year found that one in four students are "threatened, abused, alarmed or distressed" for being pro-life at university in the UK.
SPUC's Michael Robinson added: "Universities should be bastions of free speech, where differing opinions are explored and challenged.
"Unfortunately, at UK universities, those who identify as pro-life are being subject to censorship and discrimination. Universities must work harder to protect freedom of speech."
As you see here, the Bishop nominates the Chaplain to the University – and only the Bishop can nominate – but the University has to accept this nomination (they almost invariably do) and then make the Appointment.
After the Music Team meeting, Madame Prezzie of CathSoc came round for me to record my Welcome Message for the Freshers' Fair video. Delighted to do this, just as I am delighted to serve as Catholic Chaplain to the University of Chester. Only sorry that things have broken down so badly at Nottingham University.
Then lunch with Danny and Miriam, one of my favourite weddings couples from yesteryear, Danny from Northern Ireland and Miriam from Germany, now both teaching at Birmingham University. Plus, Alexander Karl, eight months and absolutely gorgeous. They want to bring him up bilingual, but I said he should be allowed to choose his own politics when he's older.
Off now to the Upper Sixth (Year 13) Leavers' Mass at the High School, held over from last July. Just so glad they are having it, a chance to ask God's blessings on our youngsters as they now head off to college or the world of work. It doesn't matter which, as long as they earn lots of money to look after their parents in their old age. Agreed?
May God bless you all,
Fr Paul
---
Wednesday 1st September 2021

No question about it, life is picking up pace. Half of me glad, half horrified. New month today, and it sees Apostolic Succession swinging into life, Dean of Ellesmere Port and Chester miraculously passing from Canon Niall to FP at midnight. It almost woke me up. Once awake and priesty-prayers out the way, time to send a first email round to all the troops, saying I was now open for business, updating everyone on the Hospital Rota for September and telling them to watch out for the date of our first Deanery Conference, hopefully the first in-person one for two years. Normally they are in the middle of October and we're hoping for a firm date soon. As a point of interest, Meet the Team!!
Ellesmere Port and Hooton: Fr Edmund and Fr Humphrey; Deacon Paul
Spiritans Chester and Hospital Chaplain: Fr Jude, and all the Spiritans
St Francis Chester: Bro Jinson, Bro Piotr and all the Friars; Deacon Peter
St Clare's Chester: Fr Emeka
St Columba's and St Theresa's Chester: Fr William and Fr James; Deacons Lawrence and Tom
St Werburgh's Chester: Fr Neill and Fr Paul
That could be a maximum of fourteen, then, for Deanery Lunch after Conference. Definitely a 2.00 am in the kitchen on that day, possibly 1.30 am.
So, having sent off my first email and Hospital Rota, down to the Spiritans to say hello to them all, my first Decanal Visit. Nine Priests in the house these days, some in better health than others, but all fascinating to talk to about their amazing experiences as Missionaries all over the world, mainly in Africa. 87-year-old Fr Vincent is always a joy to talk to. After his Spiritan training, he was sent by the Order to do an English degree, to equip him to teach in their schools and seminaries. The other Spiritans this morning were joshing him that they'd sent him to do his English Degree at University College Dublin – an English Degree in Ireland! How very dare they! Both UCD and TCD have first-class English faculties today and did then. Apart from anything else, it's a cliché of the subject that all the best English Literature is Irish…
Yesterday and today have seen the ecumenical scene trying to get back on its feet again. Yesterday, we had our first in-person meeting of the Christleton Churches Together, in Judith's lovely garden in the lee of St James' Church in the heart of the village. This afternoon, I was out to Tarvin for the Churches Together in Cheshire team meeting, trying to plan as far as we can for the big county-wide ecumenical service in the Cathedral for the Week of Prayer for Christian Unity in January. Everything has to be "Plan A" and "Plan B" these days, sometimes "Plan C". That's all we can do at present, as the shape of the months ahead is so far from settled.
Not that that stops CathSoc's Madame Prezzie, down in Bristol, and her blossoming love life. I'm not at liberty to talk about it, and I never gossip, as you know. But how about this as evidence of a recent assignation?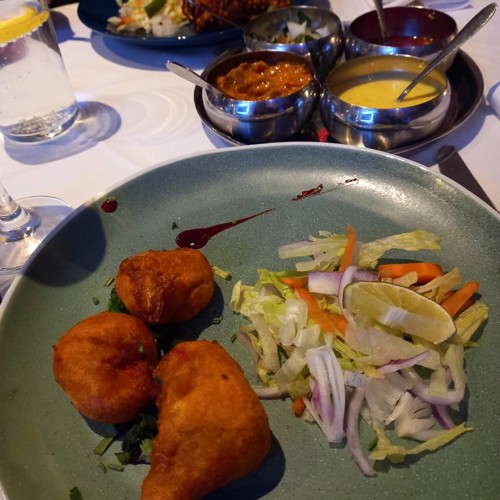 And it wasn't a Curry for One. Nudge, nudge. Say'n'more.
Madame Ex-Prezzie's love life? Oh, for pity's sake, just don't go there! Not unless you have the entire evening free.
Just saying.
May God bless you all,
Fr Paul
---
Tuesday 31st August 2021

Lots of little signs today of a world returning to some sort of "normal". Liz Aiello, our excellent Parish Safeguarding Officer, is going through her records of who's been DBS checked and who hasn't and is looking at the Altar Servers who have now turned 18. What a list! This is a real tribute to Gerry, our indefatigable Altar Servers Organiser, that whereas most Parishes tend to lose their Servers when they reach 14 or 15, we have a fine record of keeping ours on, through college or university, and into the adult world of work afterwards. A real achievement!
I told you James and Laura and their two lovely little boys called in yesterday, up from London to visit the Clotton Wrinklies, Mike and Liz. Here they are at the holiday home on Anglesey: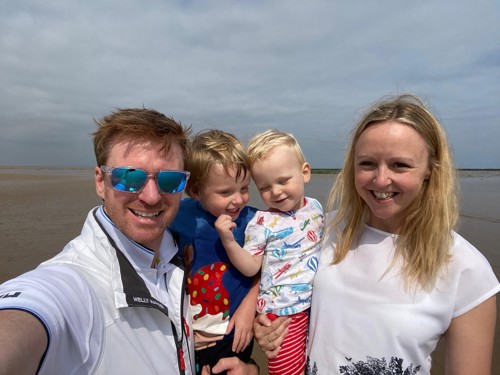 Honestly, James, I don't know why people call you a bit of a poser. Actually, if you look carefully, he's doing a bit of product placement. He's Head Legal Honcho for Helly Hansen, off to HQ in Norway next week. Take care, James!
Talking of posers and bits of posers, how about this foursome on the green in Anglesey?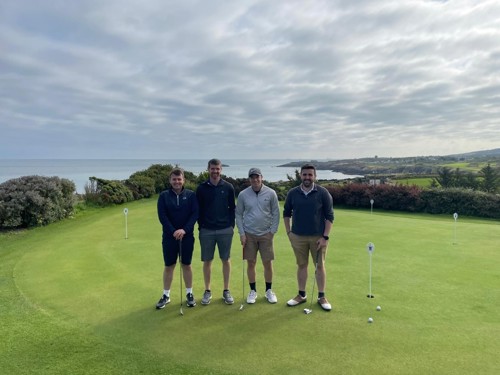 Recognise the one in the cap, pupils at St Werburgh's and St Columba's Primary School? Just make sure you don't slice any of them into the rough, Mr McCallum!
Thanks to one of our readers for sending over this clip from yesterday's Daily Telegraph: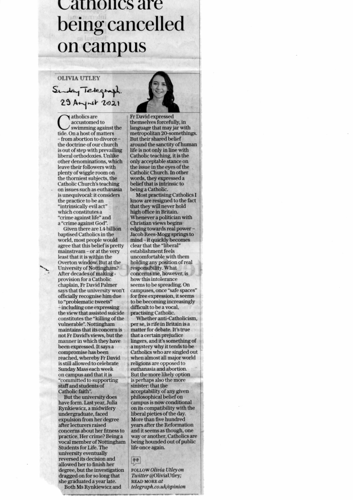 These are issues we discuss regularly at Regional and National meetings of Catholic Uni Chaplains. In many ways, it's not dissimilar from being a Hospital or Prison Chaplain: you are a minister of a particular denomination but working in (and employed by) an essentially secular organisation. But – and this is the big 'but' – they wouldn't employ you if they didn't think Chaplaincy worthwhile. It's a question of juggling faithfulness to my church teaching and loyalty to what the organisation as a whole is trying to achieve. I've always enjoyed cordial relations with the hospitals, universities, regiments, hospices and prisons where I've been a Chaplain. I don't agree with the headline that Catholics are being cancelled on campus: but equally, I do know that we are treading on eggshells at times. I always say, "keep on treading, but tread carefully".
And finally, another day, another email scam. They never give up, do they?



I don't know what to be more worried about: being speculated, which sounds awfully painful, or discovering the date today is 3rd September. And I thought it was 31st August. Now I'm really confused!
May God bless you all,
Fr Paul
---
Monday 30th August 2021

Bank Holidays? What's one of them? Team in as usual at 8.30 today to count the Collection. No Taskforce this morning as we are meeting on Friday, a Site Visit out to Rowton to look at the Chapel there and decide what's what. But we did have ten minutes at the end of the count to look at 12th September and the following Sundays and decide what's changing when. Sunday 19th we hope to reintroduce hymns and collection. Then we need to clean out the two back corners, where chairs and tables have been stored for the past eighteen months, to allow the Library, Repository and News-stand to start up again.

As we said at Mass yesterday, if you are one of the army of parishioners who had a "Sunday Job", please wait till you get the signal from us to resume work. We want to go a stage at a time, in case anything doesn't work, and we have to pause the roll-out and make some changes. At the same time, not everything we did before do we want to keep on doing: all of us have learnt lots of lessons through lockdowns, and some of the old ways of doing things don't have to be the way we're going to do them in the future.

Then a phone call with Fr Gabriel at Ampleforth. He's my "line manager", to use ghastly corp-speak, the Master of Studies, in charge of the academic side of the Novices' and Junior Monks' formation. Before Abbot Robert was elected in January this year, Fr Gabriel was Prior Administrator, and in that capacity, he administered Simple Vows to Bro Edmund (my pupil). Here they all are on that happy occasion, with, from the left, Fr Kevin, Fr Chad (then Novice Master), Bro Edmund, Fr Gabriel (vested), someone I don't recognise but possibly a Novice from Downside, and Fr Christopher, Junior Master. Bro Edmund, you notice, is the only one not smiling. Perhaps he'd heard about me.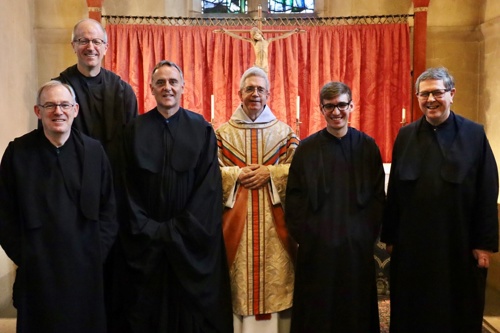 Fr Gabriel is the most wonderful, scholarly and very funny boss. A medieval historian, he was master of St Benet's Hall in Oxford for some time, and a Headmaster of the school at Ampleforth. He is the sort of boss who makes teaching a pleasure.

Then an hour with Sheila Winder's three daughters, Liz, Helen and Claire, starting to plan the celebration of their mother's life on Friday of next week, 10th September. I always value hearing the full account of anyone's life, slotting the bits I knew already into the total picture. A proud Lancastrian, her home on Belgrave Road had a number of fine black and white lithographs of Victorian Lancaster, often featuring the River Lune. I knew that two of the girls had been keen rowers, Sheila supporting them vociferously from the towpath; but I hadn't realised both her father and grandfather had been keen amateur oarsmen. I can't find a good example to show you but here's a Victorian picture from the Illustrated London News of the building of the railway line viaduct across the river into the city: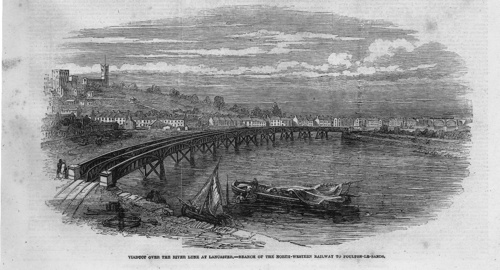 And then just before lunch, a lovely surprise visit from James and Laura, married by myself over in Holy Angels Hale Barns in 2017, and now blessed with two super little boys. We've always kept in touch despite their living in London, and they usually pop in when they come up to see the Wrinklies, James' parents: Liz and Mike Brook, two of our ever-faithful Stewards!

Finally, that terrible man, Laurie from Larshay, has been at it again:




May God bless you all,

Fr Paul
---
Sunday 29th August 2021
The rising trend of recent weeks slightly stalled today, but still over the 300 mark which challenges Barrie and Bettie, as they have to re-draw the red line on their graph:
Sunday 29th August 308
Sunday 22nd August 325
Sunday 15th August 296
Sunday 8th August 270
Sunday 1st August 261
Sunday 25th July 258
Sunday 18th July 249
All four Masses today very well attended, including the 12.00 noon, usually the least popular of the four:
9.00 am 93
10.00 am 64
11.00 am 89
12.00 noon 62
Total 308
Eyes now on a fortnight today, 12th September, when we move from four half-hour Masses to the usual two full-length ones. Will that put anyone off? Equally, will the end of the Summer Hols and all schools back, have any effect the other way? You will get all the facts here, folks: never let it be said that this blog is just pretty pictures of flowers and pretty pictures of Olive.
Very interesting study by a group of medics in today's Mail On-line trying to put deaths from Covid-19 into some sort of perspective. Over the period of their study, in July this year, this is what they found: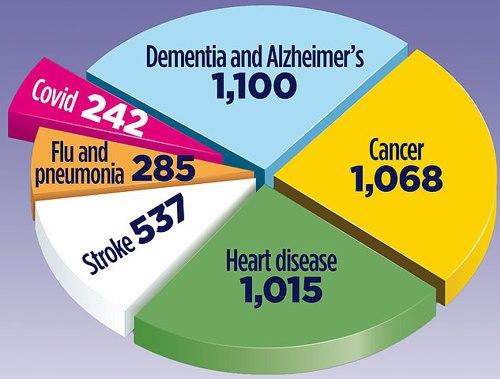 In other words, more people dying of flu and pneumonia than of Covid, and nowhere near the big killers, Heart Disease, Cancer and Dementia. But some may argue, Covid is preventable. Well, so are the others: a Professor of Cardiovascular Medicine was on the radio the other day saying he wished all people over 50 would regularly take medication to reduce Blood Pressure, as that would have a dramatic effect on the numbers dying from Strokes. This pandemic has cost us squillions. Just think of Dishy Rishi's Furlough Scheme. What would that money have achieved if it had been spent on Cancer Research instead?
Before we leave the stats, here's the Infections Graph, showing that the decline in the third wave has halted but isn't dramatically increasing: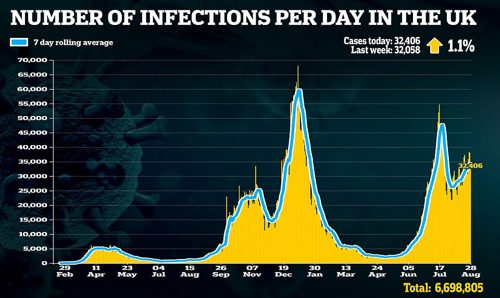 133 deaths were recorded from Covid-19 in the latest twenty-four-hour period in the UK. To put that in context, about 1,700 people die in the UK every day.
| Year  |  Number of deaths  |  Population (Thousands)  |  Crude mortality rate (per 100,000 population)  |  Age-standardised mortality rate (per 100,000 population) |
| --- | --- | --- | --- | --- |
| 2020 | 608,002 | 59,829 | 1,016.20 | 1,043.50 |
| 2019 | 530,841 | 59,440 | 893.1 | 925 |
| 2018 | 541,589 | 59,116 | 916.1 | 965.4 |
| 2017 | 533,253 | 58,745 | 907.7 | 965.3 |
| 2016 | 525,048 | 58,381 | 899.3 | 966.9 |
| 2015 | 529,655 | 57,885 | 915 | 993 |
Right! Enough of these statistics! (Cries of "You can never have enough of statistics!" from Barrie and Bettie of Berkley), let's have a pretty flower or a holiday snap. How about this little church, St Thomas of Canterbury Wroxton, snapped by Anne Rushton on her gaddings and gallivantings in Oxfordshire and Warwickshire?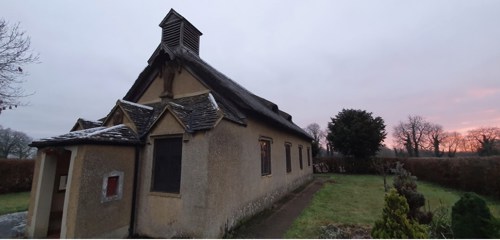 It's near Banbury and boasts of being the only thatched church in the county. It has a fascinating history, as you'll see by googling it. Talking of g&g-ing, John and Anne Marie Curtis have been travelling in the French Alps and have sent us back some wonderful photos. Here's one to finish with tonight, just to whet your appetite:
Altar and nave of the Parish Church of St Bernard, Les Houches, French Alps, about half-way on a straight line between Geneva and Turin.
Turin? That's in Italy, isn't it?
May God bless you all, and keep me from being bitter and twisted at all times,
Fr Paul
---
Saturday 28th August 2021
A non-stop Saturday, half of me glad to be getting back into the old rhythms, half worried that the auld eejit can't keep up the pace anymore. For a couple of weeks now, Wally Vella, the excellent Lead Catholic Chaplain at HMP Berwyn, has been trying to get Masses up and running. It looks like just myself and Bishop Peter at present: so, could I do this Saturday? I could, but it meant postponing Confessions from the morning to tea-time. Polished the Newsletter off first thing, Notice apologising for changing Confessions nailed on the church door – Luther eat your heart out – and away to Wrexham at 8.45 on a gloriously sunny morning.
They've done a first-rate job landscaping the grounds around the prison, and making it look less threatening. But a prison is a prison, as I needed no reminding as I reported to the Main Desk and was checked in. Would my biometrics still work after eighteen months? Reassuringly, they did, and that took me through the first barrier, into a holding area. New checks and screening there, before Anne, the Assistant Chaplain came to meet me. Three North Wales SVP Members were able to be present today, Anna, Gino and John, and it was beginning to feel just a little like old times. Out into the main grounds where the borders have grown up magnificently, but sadly wanting weeding, a task the inmates have not been able to perform during lockdown. Berwyn, as you know, is organised in three Houses, each of 700 inmates, and the prison is virtually full now, making it the second largest in Europe. Unfortunately again, during Covid-19 times, Mass has not been possible, but now it is re-starting, they are allowing only one House at a time. Having said that, about twenty came along this morning, ambling cheerfully into the Chapel area, high-spirited as ever, just so glad to be off the wing for an hour.
Michael, our superb Altar Server, has sadly been moved: sadly from our point of view, as he was such a faithful and excellent minister at Mass; but not sadly from his point of view, as he moves from Berwyn (Category C) to a Cat D prison, another step towards eventual release. I told the lads we were going to need a replacement. Any of you been an Altar Server before? One middle-aged man put his hand up. Where was that, I asked. He filled up and found it hard to answer.
Instead of a sermon, I love to go round and ask each of those present if they have anyone special they would like us to pray for. Never any lack of responses, as we went round the chapel. It's usually wives and families, in Manchester, Birmingham, Newcastle, London, Dublin. All the other side of the wall. I like to include the Prison Officers, on duty here, if they have anyone to pray for. Often, they decline the offer, but not today, one of them wanting prayers for former colleagues in Afghanistan (many of the military go into the Prison Service on discharge) and one wanted prayers for his mother. "How is she?" Oh, she's dead was the unembarrassed answer; died when I was seven. Never forgotten her though.
Today they were allowed refreshments afterwards – tea, coffee and biscuits – and this is such a beautiful part of our gathering for Mass. Some questions you can ask, some you can't. "Where are you from?" is safe enough. "Chester", said this young lad. I chanced it a little with, "And which school did you go to?" I wasn't prepared for the answer: "Catholic High". That may open the door for a closer involvement with the lad and his family, it may not. The weeks ahead will tell.
11.30 and needing to get back for Theodore's Baptism, the latest grandchild for John and Kath McCann, so well-known to so many of you, John the Deputy Head at the Catholic High for a generation of youngsters. "Theodore – lovely name? Is he still Theodore, or become Theo?", I ask. "Neither – he's Ted now!" Well, I did ask. They went off afterwards to celebrate at the Queen's Hotel, a beautiful afternoon for any family gathering, and I had to rush to get the train over to Liverpool, Confession for the auld eejit due and overdue. Train absolutely packed, as was the city centre, crowds of football fans preparing for the match tonight against Chelsea. The Cathedral, as ever, a gorgeous oasis of calm, the brilliant sunshine gleaming through those blue windows to bathe the whole interior in supernatural light, as FP gets on his knees and tells Almighty God he's a sinner. And not a second before time.
See on the noticeboard that they are going back to normal times next weekend – just copying us, aren't they, a week earlier? Resist the temptation to go into Reid's, one of my favourite Second-hand Book Shops, and make it straight to Central Station. But coming into Rock Ferry Station, we are told that there has been "an incident on the line at Bromborough" and we're going no further. Everyone off. We don't have to wait too long, about twenty minutes, before another train comes along, and we limp from station to station, being warned every time that we may not be going much further. But we do, and as we come into Eastham Rake, we see a large number of heavies, Police and Railway Police, having words with a sheepish group of teenagers. Apparently one of them had the bright idea of seeing if an Electric Scooter would go along the Railway Track. Thank heavens he came to no harm. Teenagers trespassing on the line is an irritating form of "incident on the track", a thousand times better than the alternative explanation.
It made me ten minutes late for the postponed Confessions, but no irate punters banging on the doors, so probably got away with it. 7.00 pm as I write, much later than we normally try to be with the Blog. If both the Tekkies have already gone down the pub, you may have to wait till the morning to read it. One more call to make, and then Gin O'Clock at 9.00 pm. And yes, I am looking forward to it, since you ask.
The score? Liverpool, 1 – Chelsea 1. Half-time. Since you ask.
May God bless you all,
Fr Paul
---
Friday 27th August 2021

I have to be honest, the Diary is a little lighter this week and last, due to these being Holiday Weeks when I wouldn't normally be booking in appointments. Having said that, good to see Owain and Sarah again this morning to go through their Order of Service booklet, marrying here tomorrow week. Sarah's family are great parishioners at St Benedict's Handforth, up near Manchester Airport, which really should be renamed St Jackie Weaver's?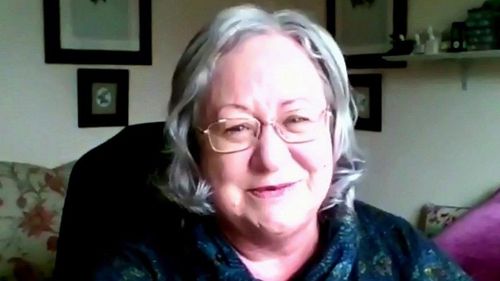 Otherwise, a good opportunity to catch up with letters and personal emails today, still being a fan of the old snail-mail.

Talking of which, a lovely email from our Dean, Canon Niall, sent to all the Priests and Deacons of the Deanery, as he prepares to leave Ellesmere Port and move up to Birkenhead: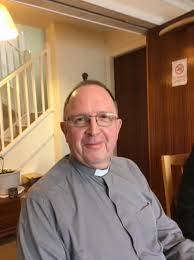 Hello all,

I had hoped to get to see you all before I move away on Sunday Evening to Birkenhead, but I have just run out of time!

It has been a great privilege to serve as Dean these last eight or so years, and a privilege to work with all of you. You have all been a great support to me, and it is greatly appreciated.

Reverend John Kingsley at the Hospital Chaplaincy: thank you and all the Chaplaincy Team for all your support and friendship to us in the Hospital Ministry which I know all our Deanery Clergy greatly value.

I know you will all support Father Paul as takes on the role of Dean for the immediate future.

Father Edmund Montgomery and Father Humphrey O'Connor will be serving Ellesmere Port and Hooton as one parish from this coming week, and I know they will find a great welcome in this Deanery.

If you need to contact me for any reason my details as of next week will be:

Address:
Parish of St Philip Neri
10 Willowbank Road
BIRKENHEAD
CH42 7JY

T: 0151 652 5767

E: parishpriest@saint-philip-neri.co.uk

W: www.saint-philip-neri.co.uk

Do please keep me in your prayers as I will continue to pray for you all.

God bless & best wishes,

Niall

Canon Niall Mullaley

Dean-and-gone!

Dean-and-gone – but not forgotten, Niall, and we all send you our warmest best wishes as you take up your new challenge in North Road and the Woodchurch. (Always known in those parts as "The Woodie").

I'm now attempting to step into his shoes with my first Hospital Rota, for September. We are losing Canon Niall and Fr Louis, the latter moving to Bromborough, and gaining Fr William, from St Columba's and St Theresa's, now fully trained and ready to come on the Rota. That leaves Bro Jinson (St Francis), Fr Edmund and Fr Humphrey (both moving to Ellesmere Port) to be trained and inducted, and we're back to full strength. Of the three, Fr Edmund will need little training, moving to us from a heavy commitment at the Royal Shrewsbury, and already very experienced in Hospital ministry.

Life really is starting to pick up pace now, isn't it?

May God bless you all,

Fr Paul
---
Thursday 26th August 2021

This lovely peach rose brightened up the front border last week. I've given all the rose bushes a good prune – dead-heading, as the Old Nuisance used to call it – and hope that will spur them all into another burst of colour. Fingers crossed!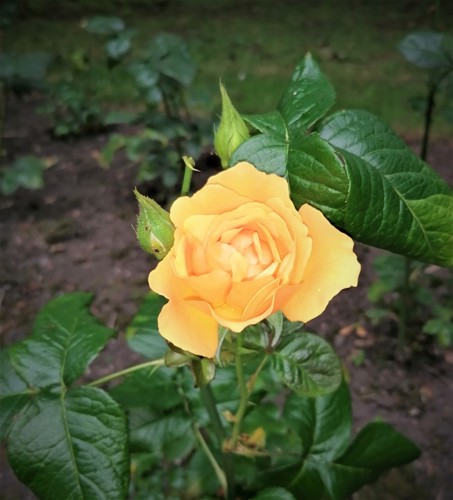 A fair few of you picked up the reference to Acting and Numbers Five and Nine – yes, Leichner Grease Paint, Nos 5 and 9 being the basic foundation. Or so they tell me.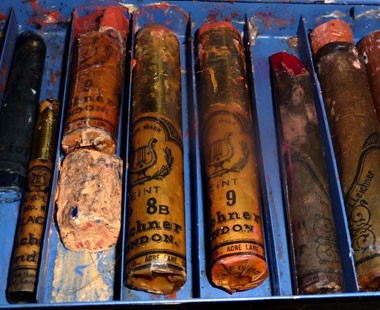 They were never the most hygienic of things, were they? Especially as everyone had to share them. Here's a copy of one of their original Colour Guides: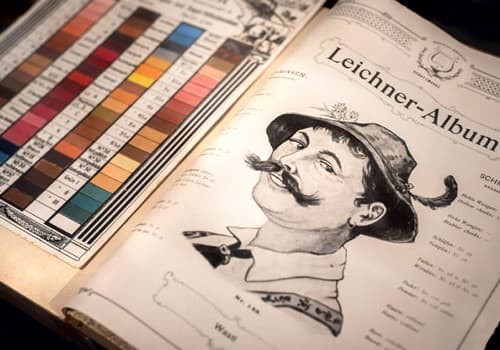 Good to see Brett from Broughton yesterday evening, whom we're going to have to start calling by his proper name, Shaun from Saltney, as he prepares for his reception into the Church. Sunday 3rd October is the date we've set, at the 10.45 Mass, when he will receive three Sacraments: Baptism, Confirmation and Holy Communion, having received the fourth, Confession, in the days preceding. A proud day in his young life – he's only 18 - and a very proud day in the life of the Parish.

Still the scam emails keep coming. Two today, one urging me to check my Santander account details:

Please make sure your details are wright 533146417

I wouldn't mind, Mr (Ms?) Wright, but I don't even have a Santander account. I do use PayPal, though, and was alarmed to receive this one: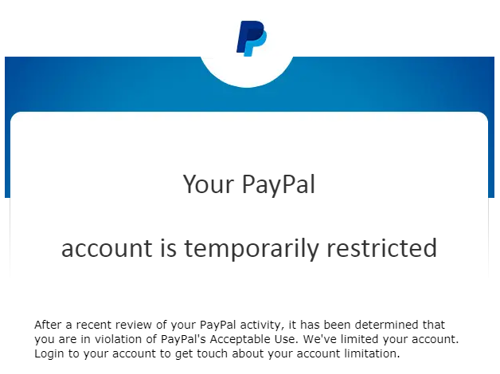 Log into my account to get touch? That sounds a bit cheeky to me. Mind you, it's so easy to say the wrong thing these days. Laila's grandparents called in this morning with some lovely cooking apples and plums from their garden, always welcome. I emailed my thanks and told them that their apples had kept me going all last winter.

That could have been better phrased, couldn't it?

May God bless you all,

Fr Paul

---
Wednesday 25th August 2021
I love these spoof emails, this one today promising me $805,000 just for being jabbed. Honestly, Andrew, it was a pleasure!! They'd just like my bank details, and the riches are mine. Yeah, right.
Good day to you.
I am Andrew Walters, from Coronavirus Reward Department United Nations. Due to the outbreak of this deadly disease Corona virus (COVID-19) which has caused a lot of death and hardship. United Nations is rewarding randomly selected individuals with the Sum of $805,000 to help and support lives all over the world.
Your email was luckily selected and has been listed among individuals to receive this payment, please kindly confirm the details below to enable us file and facilitate your payment.
Full Name
Home Address:
Nationality:
Date of Birth:
Gender:
Occupation:
Tel Phone/Mobile:
We await your response as soon as possible and please we advise you wash and sanitize your hands always (stay at home and stay at safe).
Best Regards.
Andrew Walters
United Nations Reward Department
I suspect they never read these emails through that carefully afterwards. I love the brackets four lines up from the bottom: "Stay at home and stay at safe". With that amount of dollars in the safe, I promise I'll take it to bed with me.
Busy morning today working on the new music arrangements, in readiness for 12th September and returning to the two old Mass times, 9.00 and 10.45 am. As you know, there won't be one Director of Music but a team of four who will divide up the responsibilities between them: our own Tom Rozario, who will take on the Choir – brave man!! – plus Michael Reynolds, Bob Owens and Mike Riley. Between them, they will cover the 10.45 Mass, the Weddings and Funerals and anything else that comes up. At the same time, Syd and Denise will continue their excellent work leading Music Group which, at present, plays one Sunday in four at the 10.45 Mass.
The seven of us are going to meet up for the first time a week tomorrow, Thursday 2nd September at 11.00. Once the two traditional Masses have been reintroduced and the stewarding arrangements are working smoothly, we will start with hymns at both Masses, then the simpler Mass Settings, and gradually work up to everything we were doing before. Exciting times! And huge thanks to these six talented musicians for so generously putting their skills at the disposal of St Werburgh's.
This afternoon, into the Hospital for a meeting with Rev John Kingsley, the Lead Chaplain. He and I go back a very long way, to previous parishes on the Wirral, and have always been the best of friends. Amazingly, this coming week sees August moving into September, which is when FP takes over as Acting Dean. So, today we talked about all the issues of common interest, and how to build on Canon Niall's excellent work over the last many years. Fr William comes on the Hospital Rota very soon, and then it will be good to get our new Arrivals, Frs Edmund and Humphrey, inducted. Or should that be induced? I never know.
Acting Dean. Where are my Number Five and Number Nine?
Anyone any idea what I'm talking about?
May God bless you all,
Fr Paul
---
Tuesday 24th August 2021
Email this morning from Andy Jones, our Traffic Management Officer at Cheshire Constabulary:
Good morning,
Can I advise you of an issue that has come to light and has involved at least one extremely near-miss?
Due to the current extensive roadworks, traffic is slowing around Chester, probably most drastically around the lower end of the City. We have reports of vehicles, certainly food delivery drivers, using the path to the side of St Werburgh's a short cut to access Bath Street.
The near-miss involved a car emerging onto Bath Street with little caution and without a view due to the hedging very nearly driving into pedestrians walking on the pavement.
I wonder if there is scope to close one or indeed both of your gates when practical for the next few months whilst these roadworks persist to deter this continued risky practice. Failing that I have seen you possess a large traffic cone down that side. If that were at least placed midway that would require a delivery driver to stop, get out and move it that might perhaps make the short-cut sufficiently less appealing?
Kind regards,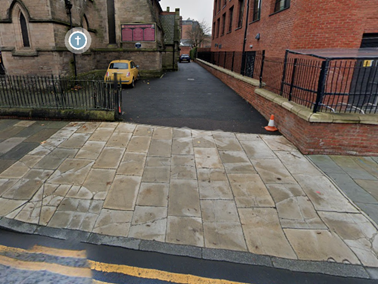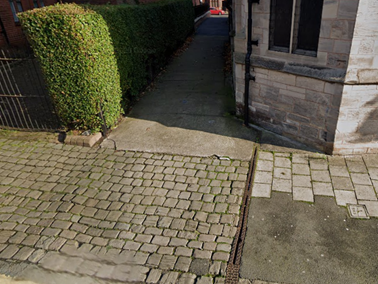 Andy Jones – Traffic Management Officer
Cheshire Constabulary| Blacon Police Station | Blacon Avenue | Chester | Cheshire| CH1 5BD
As I said in my reply to Andy, I haven't seen this myself but can well believe it. Those Deliveroo and other company cyclists certainly take no prisoners, do they? Rowena from Rowton and Captain Birdseye have recently cut back the hedge at the top of our passageway, but all of us still have to take extreme care when exiting, especially as many pedestrians and other drivers are not aware that that is an exit. There are only half-gates at the Grosvenor Park Road end, but Andy's suggestions of deploying the traffic cone at that end is worth pursuing? For any car driver, it would mean stopping to remove it, which might make a non-Church User think twice about why it was there?
Here are the results of the Survey on Weekday Mass times which concluded last week. I put them on the Newsletter, but people might appreciate them here as well:
Consultation on Weekday Mass Times: Results!
125 of you submitted questionnaires
117 were valid, 8 were "spoilt ballot papers"!
63.8% of you preferred the same time every day
36.2% of you wanted different times different days
40.9% wanted 12.15 pm
34.1% wanted 10.00 am
11.4% wanted 9.00 am
9.1% wanted 7.30 pm
4.5% wanted 7.30 am
So, dearly beloved, the majority want the status quo, as they say in German: the existing time of 12.15 pm each weekday. So be it. Just don't say you weren't asked!!
And finally, two lovely photos from Jo from Higher Kinnerton, here at Mass on Sunday for her beloved Mike's Birthday Remembrance. He went Home to the Lord just before Christmas last year, at the far too early age of 62. Since then, this cheeky little robin has taken up residence inside his brother's house on Anglesey. And yes, I do mean inside!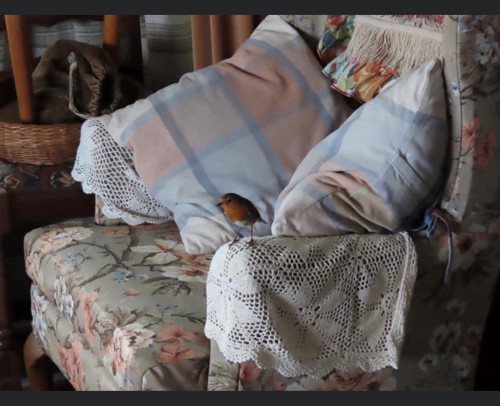 Almost the last trip out Mike was able to make was with his super son, Tom, to Llandudno: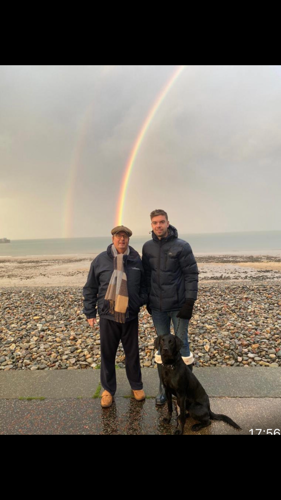 Last week, the whole family went out there to relive those memories. It's what I call "positive grieving", and I really think it helps. No two people grieve in the same way but grieving together and remembering together is so healing.
Meanwhile, Laurie from Larshay is continuing to celebrate the joys of having a dog in his new CH4 Des Res: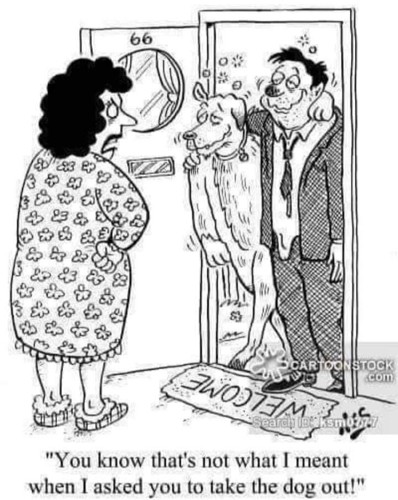 May God bless you all,
Fr Paul
---
Monday 23rd August 2021
Real progress this morning at Taskforce. Again, I cannot thank this group half enough for their help over the past eighteen months, above all for the depth of their commitment to this parish and the rigour of their views. Five of us debate everything, and final decisions are all the better for it.
Do we all still feel Sunday 12th September is the right day to revert to our old Sunday Mass pattern? Absolutely, yes.
What should we make top priority on that day? Long debate, but we all came down to the same decision – it's stewarding and moving from five stewards per Mass to three or four.
Three or four? This depends on whether we need to continue with "Track and Trace". So, what do the Bishops' Conference guidelines say on this subject
"Test, Track and Trace. As long as the NHS Test, Track and Trace system is in operation, churches should continue to make available the means for people to sign in for acts of worship using the NHS app and the associated QR codes, or other means of attendee identification."
So, come 12th September we will no longer enforce Track and Trace but make more of the QR codes available and plenty of opportunities for you to sign yourselves in. But we won't steward this, as the Bishops' Guidelines make clear that, and I quote, "The deployment of stewards will no longer be necessary."
So, do we need to keep Stewards on? Yes, for two purposes: to assist with coming to Holy Communion, no desire on anyone's part to return to the old free for all; and, if necessary, to act as Fire Marshalls and indicate the three Church Exits for evacuation purposes: one by the organ; one through the Sacristy and Front Door of the house; and one via the main porch.
Anything else to change on Sunday 12th September? No, bedding down the new Stewarding arrangements is top priority before we move on to other changes. But if that works, we'd like to reintroduce Hymn Singing on the following Sunday, 19th September, and then singing the Mass Parts as soon after that as feasible. Then everything else on the Sundays following.
What about the Saturday and Sunday evening Masses? We will take up Rowton's kind offer for a site visit down there in the next week or so, to see what's feasible. One thing we would like to change there too is Holy Communion, as it's always been something of a rugby scrum, and we all felt there had to be a better way of doing it. CathSoc's first Sunday evening meeting is 26th September, so that would be a good target date for reintroducing the Sunday Evening 6.00 pm Mass.
What about cleaning? The Bishops' Guidelines refer to "general cleaning to a good standard… with attention to frequent touch points". That we will do, but we will not ask the Stewards to do it, as it can be done relatively quickly between the two Masses and at the end of the second one.
Do we have enough Stewards? Impossible to have too many. Of the existing rota, thirteen have wolunteered to carry on. You are Heroes of the Soviet Union, First Class! Three newbies have come forward, one of them a "Christmas Special", so already trained. We sense that more will come forward when they realise it's not that onerous: you only need to Steward at the Mass you attend, you need to be ready for a Fire Alarm (hopefully very rare) and you need to get into position during the "Our Father" for helping everyone to come out to Holy Communion in an orderly and efficient fashion.
"I'm interested, but I'm not sure…" Funny you should say that! We have a Training/Information evening fixed for Tuesday 28th September at 7.00 pm, here in church. Come along, find out what it's all about, and, if you feel comfortable, please sign up to join our merry band. We really do need you.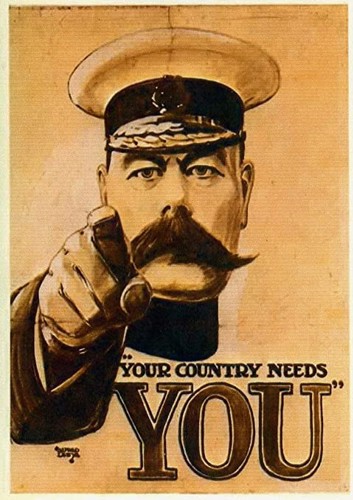 What else did we discuss this morning? The First Holy Communion Programme, and the reintroduction of the Music (Choir and Music Group), into the life of our Parish. Two huge topics, and we just want to get it right. Sorry if all this seems cumbersome and we are not moving quickly enough: but safety has to remain our top priority, and we just want to get each stage right before we move on to the next one.
Meanwhile, Chester's been here an awfully long time, hasn't it, and probably seen a few pandemics in its two thousand years. Who, apart from the Choir, remember this garage on the corner of Grosvenor Park Road and Foregate Street, when the Dentists now is?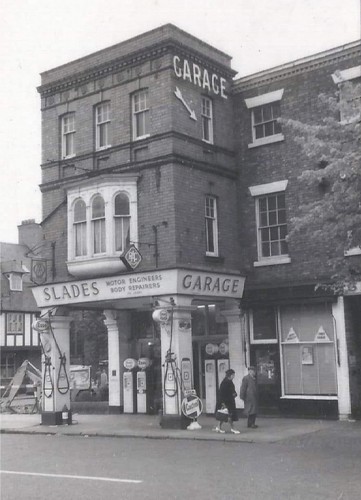 Many thanks to Geoff and Jill for sending it in, and yes, that's them in the photo, off for a morning's shopping.
May God bless you all,
Fr Paul
---
Sunday 22nd August 2021
Numbers significantly up again today, a total of 325, continuing the rising trend of recent weeks:
Sunday 22nd August 325
Sunday 15th August 296
Sunday 8th August 270
Sunday 1st August 261
Sunday 25th July 258
Sunday 18th July 249
All four Masses today had a "full" feel about them, including the 12.00 noon, usually the least popular of the four:
9.00 am 98
10.00 am 76
11.00 am 87
12.00 noon 64
Total 325
Three weeks today we revert to our normal 9.00 am and 10.45 am. Spread over two Masses, 325 would be 160 at each. Interestingly, Cath Blucher's Requiem, the biggest Mass attendance since churches reopened in July last year, was 140.
Let's see how it goes. The musicians are rearing to go, as are the Altar Servers, the Readers, Eucharistic Ministers, Welcomers, the whole team that makes Sunday Morning Mass here such a joint enterprise. Be patient, my children! All will be restored, I promise you, just as soon as we are comfortable with each stage of re-opening. Meanwhile, our discussions about Saturday and Sunday evening Mass are taking place not a moment too soon. We hope to go out to Rowton soon, as a Taskforce, and have a site visit with our excellent friends there, and then be able to draw up a risk assessment for reopening Rowton. Not one blade of grass is growing under out feet, let me reassure you!
Certainly, no grass growing under CathSoc's feet: this afternoon, we recorded an online "Sofa Chat" for the Students' Union, to go on their website to give new and existing students some idea of what CathSoc is, how it works, and what activities we pursue. It's like a virtual Freshers' Fair, where all the different societies and clubs can showcase their programmes for anyone who'd like to join. The committee and I chatted about last year's online meetings, and what we've got planned for this year. Then the SU tekkies will edit it into a ten- or fifteen-minute presentation which anyone can access who wants to find out more about CathSoc. Simples!
One aspect we will be taking to the wider parish is the wonderful gift of our Wrinklies. When I was a student back in the day, we had a number of "Senior Members" who came regularly to Chaplaincy activities and Mass in the Chaplaincy. They were a combination of good lay folk who lived in the city and lecturers and professors at the university, with their families. It helped to give the Chaplaincy a little more of a "normal parish" feel. To be honest, they were more like grandparents to the students than parents and provided a really valuable continuity element. Students come and go, most for just three years, but the Wrinklies go on for ever. Well, our five Chester ones do anyway: David, Jane, Eileen, Geoff and Jill. A combined age of 467. Would you like to join them? You have to like students and be willing to come along to two or three Sunday evening activities each term and the occasional Mass in the University Chapel, when we are allowed to re-start those. (No news on that at present). If you're interested in becoming a Wrinklie, do please let me know. Minimum age 95.
And talking of Wrinklies, how about this for an archive photo: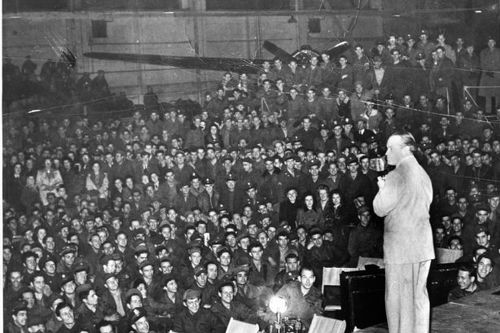 It's RAF Burtonwood in Warrington, 1943, and Bob Hope paying a morale-boosting visit to the troops. If you look carefully, that's Olive from Orford half-way up on the left. She did wonderful work herself for our boys in uniform. A true patriot.
May God bless you all,
Fr Paul
---
Saturday 21st August 2021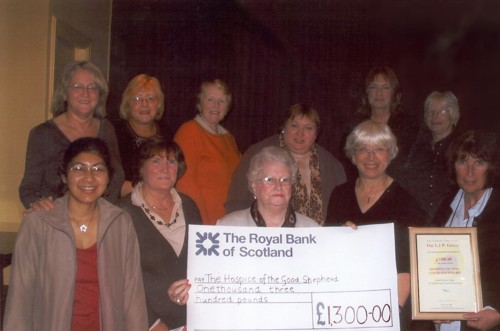 This weekend's Photo of the Week on the Newsletter couldn't be more timely, the Chester Ladies Inter-Parish Group from 2006. Cath Blucher is on the far right of the front row, holding the certificate. Peggy Ronayne is holding the cheque with Margaret Hopkins from the Hospice between them. Dear Jean Sullivan is behind Peggy, with Cathy Elsden and Rita Flack to the right of her. I think I can recognise everyone else, except the lady with her hand on Lal's shoulder. Is that Cate Evans, Fr Tony Elder's sister?
Usual Saturday morning here, finishing the Newsletter before Confessions start at 9.00 am. Back afterwards for an appointment with Clare Duke and Luke Hobson, marrying in St Werburgh's in November. Clare's one of the very first parishioners I met on my first weekend here in early September 2006. Sunday evening Mass, 6.00 pm, and the twelve-year-old Clare was my Altar Server. "Do you know what you're doing, Father?" she sweetly enquired. "Haven't got a clue!" was my truthful response. "Never mind," she said, "I'll look after you." She was as good as her word. Now she's 28 and marrying the dream of her life. Well, Luke anyway. (Low blow!) Where does the time go to?
Talking of moving Parishes, first weekend in September, good to have a catch-up on the phone with Canon Niall, moving next month from Ellesmere Port to Birkenhead. Most of the physical move over, just the few last appointments here and the people to say goodbye to. He goes with our good wishes, and sincere thanks for all that he has done for the Deanery of Chester and Ellesmere Port. We can only pray for them, looking at his successor…
In the middle of talking to Clare and Luke, a phone call from Sheila Winder's daughter Helen to say her mother had peacefully Gone Home to the Lord an hour earlier. Their call to me yesterday to go down for the Sacrament of the Sick could not have come at a more appropriate time. Another wonderful servant of this parish, and another lovely, lovely lady who never failed to make me laugh with her blunt but kindly Lancastrian humour. Well done, thou good and faithful servant. May she rest in peace.
From talking to Clare and Luke, straight up to Cath and Brian Haslam's in Waverton, Cath having now moved from the Hospital. She was very comfortable today, rejoicing in being home again, and with a care package in place to assist with the medical and nursing side of things. Another very funny, very grounded Lancastrian: why does that county produce so many marvellous ladies?
Two welcome signs of returning normality today: Wally Vella, the Lead Catholic Chaplain at HMP Berwyn wants to talk about re-starting the Saturday Morning Prison Mass Rota, and the first of our parish Nursing Homes – Crabwall Manor – wants to resume monthly services there. Alleluia! Two places I have always enjoyed visiting and eagerly look forward to re-visiting. As long as I don't forget which is which, and start putting crocheted blankets on the prisoners' knees and making sure all the old folk are securely locked up afterwards…
May God bless you all,
Fr Paul
---
Friday 20th August 2021
One of those rushy, non-stop days, 5.30 pm now and a busy evening ahead. All I can think of is this: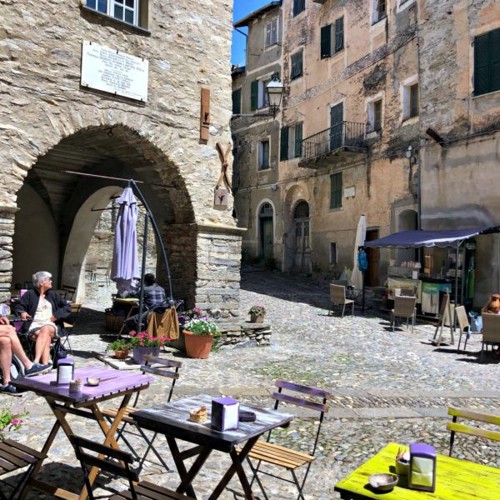 Instead of which, call-out first thing this morning to Sheila Winder. Sheila came out of hospital some six weeks ago, which is where I'd seen her last. After a period in a Nursing Home, the family decided they wanted to make the great effort of getting her home, and being a marvellous family, her three daughters and one son, they did indeed achieve this, bless them. One or other of them has been with her all the time, with District Nurses coming in once a day for the medical side of her care. This morning, she was on her Way to the Lord, and it was a joy to share the Sacrament of the Sick with her and her family, as we had done in the hospital. One of the reasons we no longer tend to call it "Last Rites" is that there is no limit to the number of times it can be celebrated. Plus, the fact that you do not need to be clearly on that final journey in order to receive it. But our feeling this morning was that Sheila was indeed on that journey. Well done, thou good and faithful servant!
Straight from Belgrave Road to St James Christleton for the interment of ashes for the late Anne Melia. Normally, only a handful of family are present: today, it must have been forty or fifty. Great to see them all, gathered in the warm sunshine of the graveyard in front of the church, Anne re-united with Michael. Necessary to sign the Register in the Vestry afterwards, my good friend Rev Rob Croft looking after me, the Rector, Stefan Collier, on holiday this week.
From there, straight up to Bromborough on a call, just 15 minutes up the M53, and, while I was there, a call from the Hospital to see Rita Robertshaw from Frodsham. Our wonderful friend Fr Colin rang me yesterday to say she was in, Fr Colin minding the shop at Frodsham while Fr James Kenny is on holiday. Rita is 90, a great parishioner with no family at all in this part of the world. So, good to be with her this afternoon, again to celebrate the Sacrament of the Sick, again decidedly on that final journey from this life to the Life Eternal.
Of course, in normal times, we – correction, YOU – would have been getting ready now to welcome Fr Colin to cover the Masses this weekend, with Fr Neill. Fr Colin is always so welcome at this time of the year for these two weekends. Where's the Auld Eejit, you all ask, where's the flaming PP?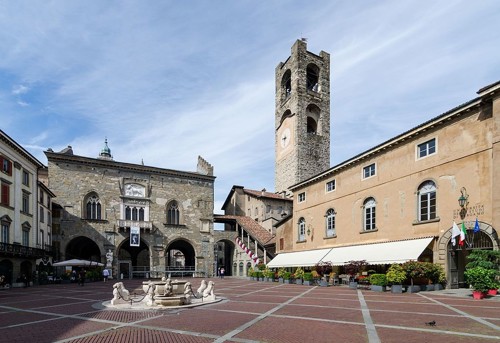 That's where – Bella Italia!
I don't, know why I keep posting these pictures. It isn't helping!!
May God bless you all.
Fr Paul
---
Thursday 19th August 2021

Superb to see a church full at 12.30 pm today to celebrate Cath Blucher's life, faith and hope in the Life Eternal. We needed four Stewards on duty to track and trace everyone, and seat them in the church, leaving the required space at the front for the family. We gave God thanks for all aspects of her life: her family upbringing in 1950's Huyton, her marriage to David and her two children, Nicola and Andrew; for her working life in Lloyds Bank, and them following the family's arrival in Adder Hill in 1988, her phenomenal involvement with this Parish family and the wider life of Chester.

I don't think there was a Ministry she didn't embrace. You all knew Cath as Reader and Eucharistic Minister; but she also ran Children's Liturgy for many a long year, and was a weekday Sacristan, nabbing you for Offertory Procession or Reader as soon as you'd set foot in the church. Somehow, you never said no to Cath. She was our Parish Link Catechist for several years, meaning all Diocesan training events came to her as well as to me, and without her drawing them to my attention, could easily have been missed. She was a pillar of the Music Group. I'm not sure if she actually invented the idea of the Ladies Inter-Parish Group, which was just winding up when I arrived in 2006. But she was certainly a leading light, bringing the ladies together from all the Chester Parishes.

Then she had the brilliant idea of a monthly Wednesday Lunch after Mass, coming through into the house for sandwiches, cakes and biscuits. I never once resented those 2.00 am starts in the kitchen that it meant for me personally, the little smiles of pleasure on your chubby faces making it all so worthwhile. The Prayer Board at the back of church where you could write and pin your personal intentions was another Cath brainwave, brought up to the Altar with the Offertory Procession at the 10.45 Mass. A simple and highly popular idea, but it needed someone to have it, and someone to turn it from an idea into a reality. That was Cath to a tee.

Here's a lovely picture to finish with, morning coffee in Assisi, June 2014, seven years ago: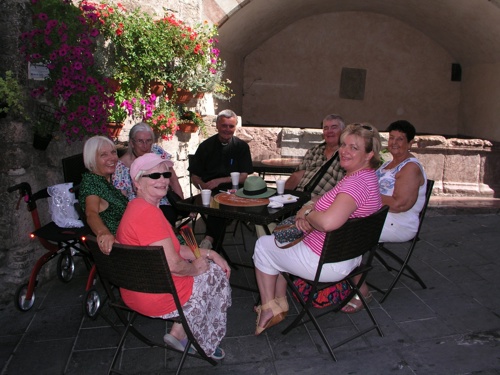 That's Rita in the dark glasses, and then going round the table clockwise, Teresa Rogers, Cath, Auld Eejit, Garden Gnome, Olive from Orford and Theresa's daughter, Catherine.

And here we all are, having lunch under the trees at Palazzola. Why am I shouting at Olive, I wonder? Poor soul, she's always getting it in the neck. But Lal seems to be enjoying it. Bernice, you may notice, is topping up everyone's glasses in the backgrounds. Good woman, Bernice.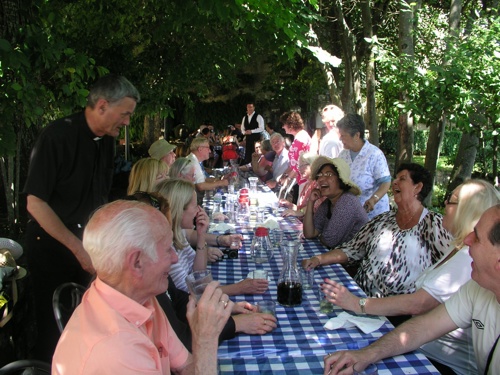 And as for that Garden Gnome, giving us all a blessing from his bedroom window!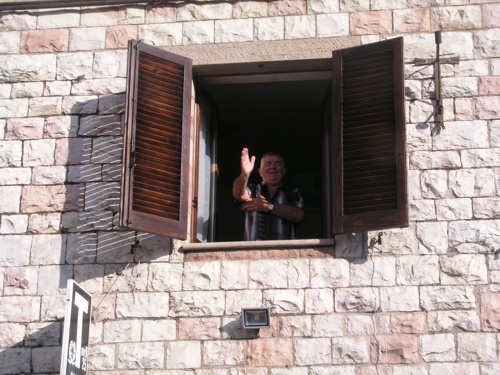 Happy memories, and the happiest of memories of Cath, always at the centre of everything.

May she rest in the Peace and Light of the Risen Lord Jesus, and may God bless you all,

Fr Paul
---
Wednesday 18th August 2021
Good to see Parliament back today and debating the crisis in Afghanistan so eloquently and maturely. Parliamentary debate at its best. But no social distancing whatsoever? Crowded benches on both sides. So, I think we are entitled to ask if social distancing has now been suspended or ended? It would make a huge difference, for example, for our planning here in St Werburgh's in terms of Saturday evening Mass at Rowton. Some masks in evidence in that packed chamber, but certainly not everybody. Give us this day our daily clarity?
One of the joys of an evening walk out along the riverbank, through the Meadows, round the Racecourse or by the side of the canal, is the number of people you meet. If you love dogs, as I do, they are always icebreakers when two strangers meet up. Last night, great to catch up with our dear friends Alex and David Abberton, with their two dogs. They were straining at the leash to get at the ducks on the canal, with wonderful optimism. (The dogs, you fools – not Alex and David!) Their chances of catching them, of course, absolutely nil. They'd just come back from a few days on Anglesey, on the western side of the island between Treaddur Bay and Rhosneigr. I'm sure lots of you will know this part of the world much better than I do. There, they stumbled upon St Gwenfaen's Well in a cleft in the rocks. Steps take you down into a square chamber with a flagstone floor, with four diagonal seats in each corner. St Gwenfaen's cell was nearby. She was a sixth century saint, and the Patron Saint of Mental Illness. Alex and David told me they found great peace there: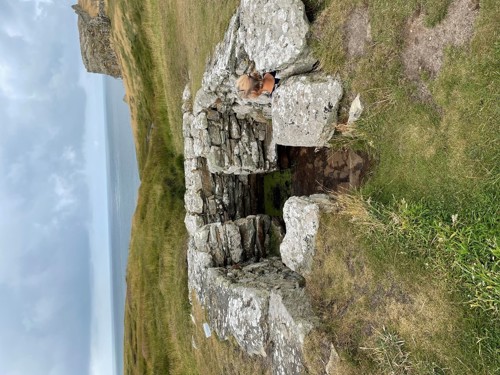 Great to hear from so many of you enjoying Staycations all over the British Isles. Geoff and Jill have gone up to Findhorn on the Moray Firth, the top of Scotland, and taken the opportunity to visit Pluscarden, the northernmost Benedictine Abbey in Europe. A medieval foundation dating back to 1230, it's six miles south-west of Elgin. The Reformation in Scotland took a rather different form from south of the border, the last monk dying about 1600. Life re-started in 1948, when monks from Prinknash arrived to make the place habitable, the first ones taking up residence the following year. Once the roof had been mended, there was no stopping them. In 1966 it became an independent monastery in its own right, and in 1974 was elevated to the status of Abbey. If you've never visited, it's supremely well worth the trouble. A long way to go, but wonderful when you get there. Geoff shared these pictures with the rest of us: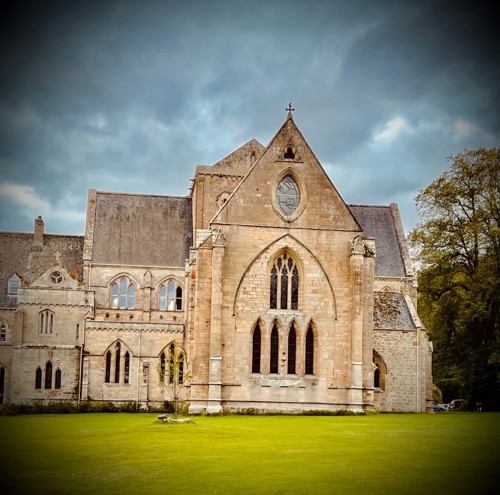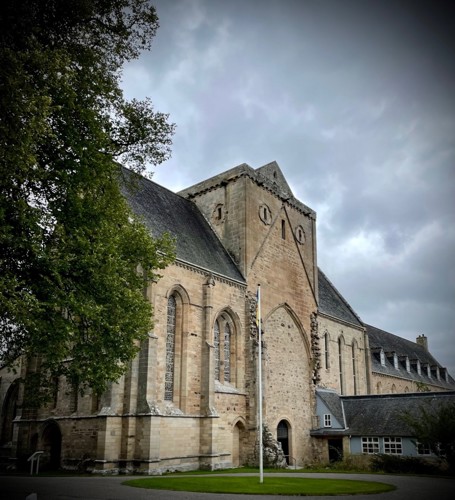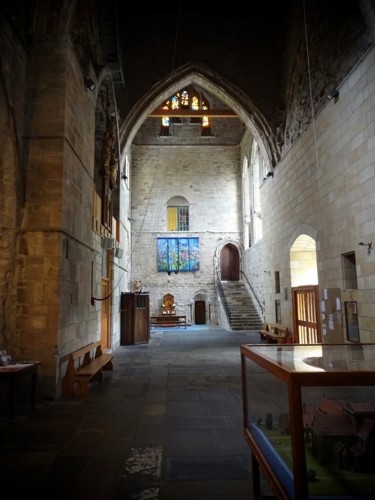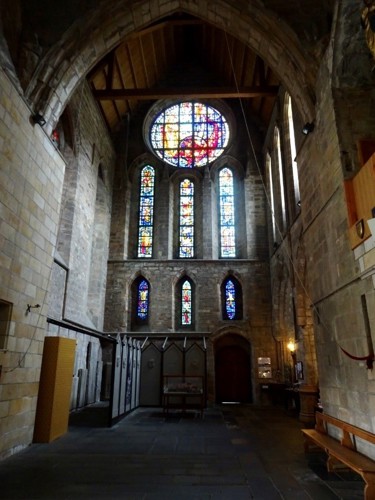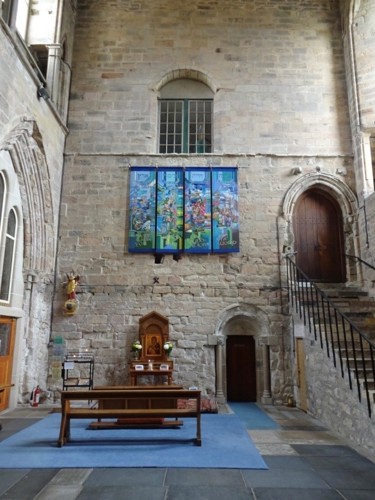 Any more Stacations Snaps gratefully received!
A little nearer home – a lot nearer home – is this interesting archive photo from Steve Barnes. It shows Grosvenor Park Road in the 1960's, I'd guess – the car (Ford Cortina?) should make it easy to date more precisely – before the road was remodelled, when Foregate Street became pedestrianised. You'll identify the two pillars outside church easily enough, but, alas, those two fine trees no longer there? Steve has colourised one of the photos, to give it a more up-to-date feel: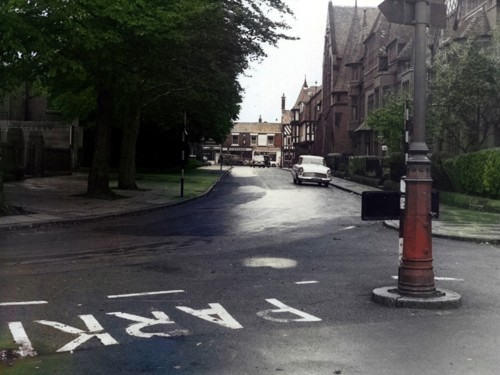 Then, at 3.00 pm today, Cath Blucher came Home to St Werburgh's, a simple little Vigil Service for her Reception into Church. She will rest here for the last time tonight before we all gather to celebrate her extraordinary life and faith tomorrow at 12.30 pm. It will be good to see you all there.
May God bless you all,
Fr Paul
---
Tuesday 17th August 2021

Classic disorganised morning today, and nobody's fault but my own. It's a glitch in my mental admin system which I've been guilty of before: you contact me by email to arrange an appointment, I suggest Tuesday or Thursday, you reply Tuesday is better, about 10.00 am, I say I could do 12.00, you say that's fine. And then I fail to enter the final arrangement into my Diary! Duh! 11.00 am today was priceless, Zoom call to York University, one couple in the Dining Room and another in the back sitting room. Not my finest hour. Fortunately, they were all forgiving and sweet-tempered, and we got through them with not too much of a delay. But I still felt a bit of a plonker, all so avoidable if only I'd enter the final arrangement into that flaming Diary of mine.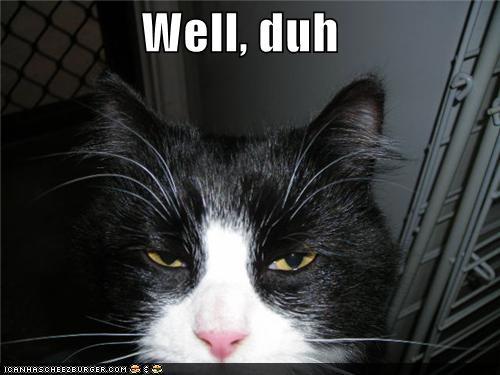 More work to do on Cath's Booklet first thing, and then working on arrangements for the resumption of Music. Next item was our plans for 12th September and beyond. I felt the slight need to put the brakes on this morning. CathSoc are anxious to get the Sunday evening Masses up and running again, and some of you have been contacting me about Saturday evening Masses at Rowton. Wow! Really good news at one level, so much enthusiasm out there; but a little voice says in my ear "Go slowly, you old fool! Don't bite off more than you can chew!" So, great to have a conversation with our good friend Phil Morrey, the wonderful Methodist Church Treasurer and Senior Steward out at Rowton, to see where they were up to. The good news is that they are just resuming their services after an eighteen months' break. At one level, that opens the door for our return. But the second issue is Socially Distanced Capacity. I've asked him to do a Capacity Survey for us, as we fill that little Chapel to capacity many Saturday evenings in the good old days, before any of us had ever heard the expression "socially distanced".

CathSoc resumes on Sunday evening 26th September: at one level, that would be an ideal Sunday to pick up Sunday Evening Masses again. But both Saturday and Sunday Evening Masses will need teams of Stewards on duty. Here we go again! So – a lot of "So's" in this Blog! – I've asked Marian to chase the existing Stewards Team to see how many of them would now like to stand down and how many carry on. Then we will have some idea of how many new ones we are going to need. Isn't life complicated at times? In those good old pre-Covid days, this would now be my first full day in Italy… But I'm not going to get bitter and twisted about that, am I? Would I?

Lovely photos sent over from the Wicked Witch of Whitchurch (aka Mystic Meg from Malpas) of her granddaughter's Baptism on Saturday, Laila Marianne. She's a real sweetie. Can't think where she gets its from. Here she is with her proud parents, Dan and Anya. (Dan's the one with the beard).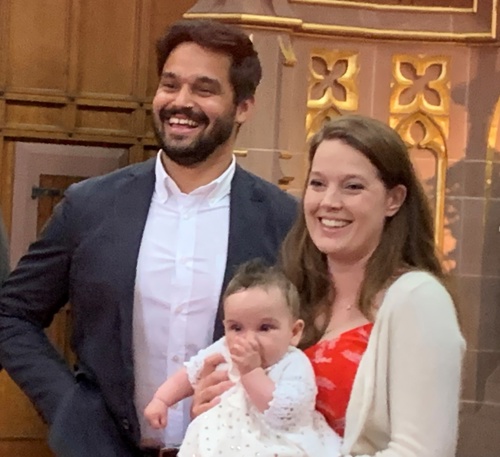 And here are the Godparents, Uncle Mikhael the one you last saw on this Blog in pink shorts. Don't ask.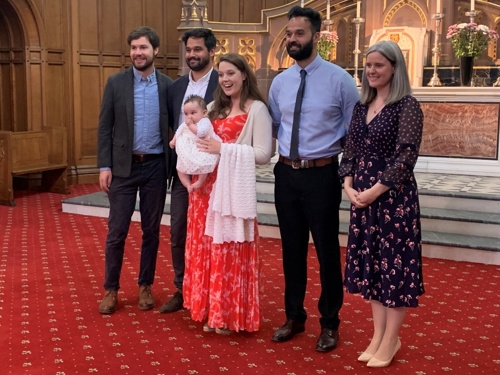 And here he is doing his besotted Uncle bit. You've got to hand her back, Mikhael, and get back on those knees of yours. Didn't the Jesuits tell you that?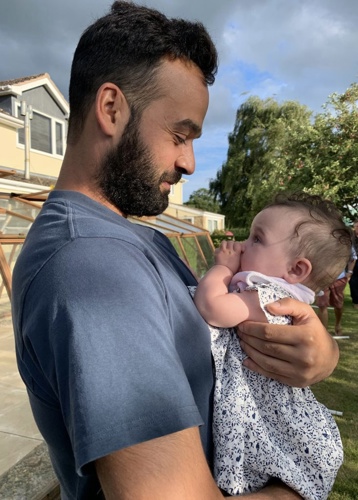 May God bless you all,

Fr Paul
---
Monday 16th August 2021
If you don't know this stained-glass depiction of St Werburgh, it's one of Trena Cox's finest and can be seen in the University of Chester Chapel: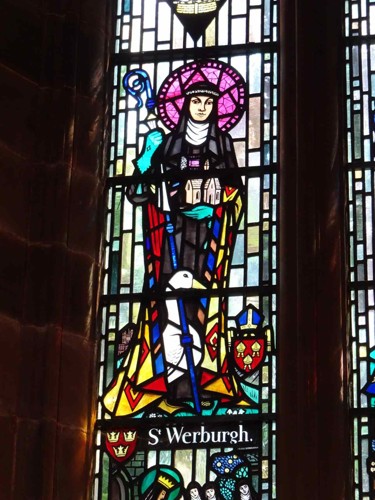 Aleta Doran and her daughter Anastasia have been working on Trena Cox, Anastasia (ex-Catholic High) before she heads off to begin her History of Art degree at the Courtauld Institute next month, and they've compiled some wonderful examples of this most talented artist's work. A selection is now on our website: click on "Galleries" on the top menu bar, then under "2021" on the list below. Her work here in St Werburgh's can be seen in our Porch, and the best of the lot in our Disabled Toilet. Well worth a visit!!
With two of the Taskforce away this morning, we spent our time discussing not Sunday Masses so much as the reintroduction of Music to Sunday Masses. There's a lot of enthusiasm out there to get the music up and running again, so I've sent an email round to all the members of the Choir outlining present thoughts and future plans, hoping that we can see Music back in the Mass just as soon as we've got the new/old (!) Mass times of 9.00 am and 10.45 am re-established securely. Get gargling and tuning up, everyone!
The rest of the morning was spent on more work on Cath Blucher's Order of Service for Thursday: 12.30 pm on that day, and I do hope we'll see as many of you as possible who can come along to celebrate Cath's life and faith. Then Zoom CathSoc committee meeting this afternoon, finalising our plans for Freshers' Week and the Sunday Evening and Thursday evening programmes. Madame Barl, our Prezzie, really has done an amazing job in drawing up this programme, and I know we as a parish will give her our full support.
A couple of graphs to finish with today: the Barrie and Betty statistical presentation of our Sunday Mass attendances, showing the rising trend of the last five weeks: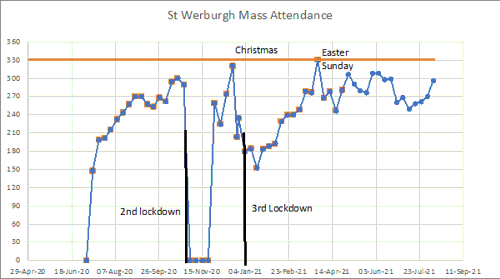 And now the National Graph of Infections, courtesy of the Daily Mail, showing how the decline in the third wave has halted in the last fortnight, going neither up nor down: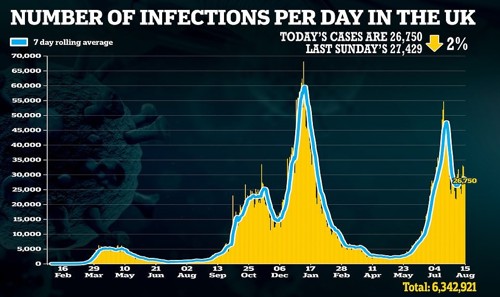 Finally, great to hear from our old friend Barbara Turner, confirming that it was indeed her good self in this week's Photo of the Week, the merry band of pilgrims setting off for Lourdes in 2004:
Hi Fr Paul,
That was me in the photograph in your blog with my sisters, Veda is on my right, Sue on my left and Pauline behind Sue. We were going to Lourdes to take mum's ashes to scatter. Mum and Dad went to Lourdes almost every year, we took Dad's ashes a few years earlier.
Many thanks
Barbara Turner
What a lovely reason for going to Lourdes! Well done, Babs!
May God bless you all,
Fr Paul