Updates from the Parish Priest
---
Thursday 6th August 2020
Good to be up on the Wirral again this morning with all the folks from St Luke's Bebington, my last Parish, although for a sad occasion, Jill' Funeral. She was a lovely lady, a pillar of the Parish, whom it was a privilege to receive into the church shortly after my arriving there, in 1999. She was one of those converts – those many – for whom becoming a Catholic was essentially a coming home. She threw herself energetically into the life of the Parish, a stalwart of the SVP (which met every Wednesday evening after 7.30 pm Mass) and organising the Readers' Rota and training. Good to see their amazing Parish Priest again, Fr Paschal, well into his eighties but still going strong, and still out on the Golf Course at Northenden every Monday with his Priest pals from Salford Diocese. St Luke's, of course, is famously the Parish without a Church, daily Mass in the chapel (converted from the Garage) and Sunday Mass in the local Methodist Church. They've not been able to use the chapel during lockdown – at six feet apart social distancing, they'd probably get one and half parishioners in – but thanks to the next door Parish Priest at St John's, New Ferry, Fr Bernard, Jill's funeral was able to be held up in his church. This is a picture of St Luke's Chapel from the outside: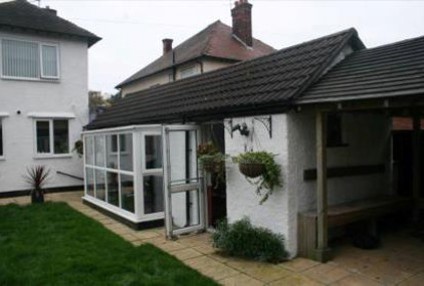 Not a bad little chapel, you cynics? Straight back here afterwards for our own Anna Roberts' Funeral Service, so well-known to so many of you, and a true family celebration of her life, with husband Evan and her four children, Gareth, Ceri, Alan and Helen. The music was provided by Martin Higgins, singing the hymns solo from the back of the Sanctuary, accompanying himself on the Guitar. Martin is a friend of Ceri's, but also an old friend of mine from the time he was helping lead the Folk Group at Our Lady's Stockport, where the Wicked Women come from. The WW have been in touch to ask me what a Parochial Administrator is, and how it differs from a Parish Priest. Fr Martin, who was with us for fourteen months in 2010-11, is to be their new Parochial Administrator. (Memo: I must brief him well in advance about the WW).
Quite simply, a Parochial Administrator is a Priest who runs a Parish but is not a Priest of that Diocese, and therefore cannot, under Canon Law, be Parish Priest. It's a legal point, but an important one: to be a Parish Priest is to have certain delegated powers from the Bishop, and they can't be delegated to you if you're not one his Priests, in this case Shrewsbury Diocese. But, to all intents and purposes, there's no difference in the work they do. For example, they will be well able to deal with WW, even in the industrial numbers in that part of Stockport…
Good to have a message on the answerphone when I got back from New Ferry from Fr Paul Standish, a former curate here, wanting to be fondly remembered to the Roberts family, he and Anna having worked closely together in his time here on the Youth Group. Fr Paul is now PP over at Northwich and doing great things there. Here he is with another face a few of you might remember…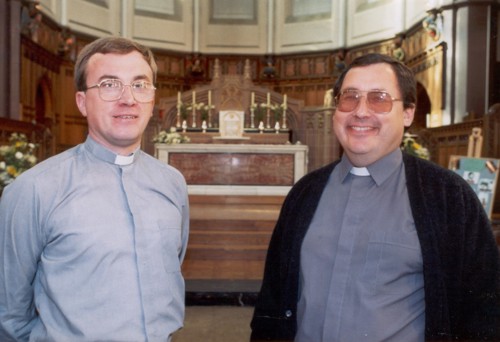 Fly away, Peter, fly away, Paul? Our own Fr Peter is over in St Peter's Hazel Grove, of course, the posh end of Stockport. (No Wicked Women there).
Bristol Barl, our new CathSoc Prezzie, has been busy putting together an online Freshers' Fair CathSoc display. She wants a pic of the Chaplain, so I sent her over this one: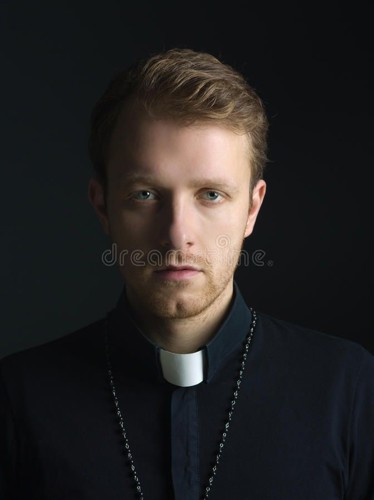 Look, let them dream until they actually get here and the harsh reality hits them, OK? Student days are one long process of disillusionment, aren't they?
May God bless you all,
Fr Paul
---
Wednesday 5th August 2020
A dramatic picture from Beirut this morning in the aftermath of that dreadful explosion yesterday. It's the floor of a mosque in the city, the capital of Lebanon, covered in shattered glass: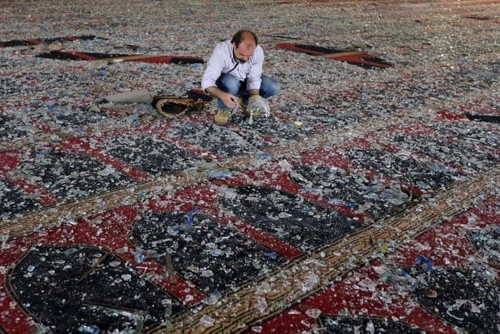 At one level, it looks so pathetic, one man in the midst of all that destruction when it needs an army of cleaners. But he's obviously thinking – praying? – and that's probably as good a place as any to start the clean-up. The best place to start it? I would love to think that all the churches will pull together in the days and weeks after this catastrophic explosion. Did the Christian churches stand with the Jews when the synagogues were trashed in Germany in the 1930's? I wonder.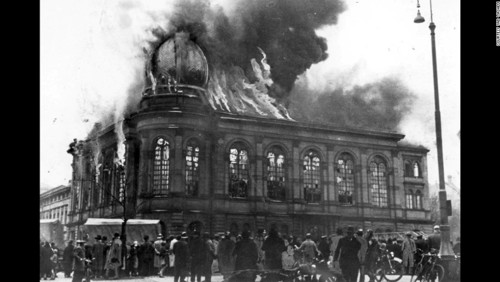 That's the Boemstrasse Synagogue in Frankfurt, November 10th 1938, the day after "Kristallnacht", or Night of the Broken Glass, when Jewish synagogues and properties were attacked all over Germany. It always reminds me of those resonant words of Edmund Burke, the great eighteenth century philosopher: "The only thing necessary for the triumph of evil, is for good men to do nothing."
Over the course of this Covid-19 lockdown, many of us have thought more than once of the parallels with wartime. Of course, they are not exact: but they are both "national emergencies", with much to teach us. My own father, coming out of six years in the RAF, often lamented that the togetherness and community spirit of wartime evaporated with the peace. During the war, people worked together and became a little less self-centred. "Don't you know there's a war on!" became the great rallying cry when people were inclined to become a little thoughtless or forgetful of the national emergency. It was actually the title of a very fine book by Nigel Rees:
I love my evening walks out but do despair of some of the youngsters who make no attempt at safe distancing. Don't they know there's a war on – against the Covid-19 virus – and the sooner we all play our part, the sooner victory will come?
Wartime spirit is the perfect antidote to the "it's all about me" mentality that can so easily take over in peacetime. Lulu-Belle from Lache has been thinking about my Wedding last Saturday, when the Hotel Reception was cancelled by the Government at 24 hours' notice. It reminded her of how often such situations happened in wartime. How true! I did the funeral a couple of years ago of a lovely lady who had been scheduled to marry in a Methodist Church in Bootle on a Saturday in May 1941. They had the Rehearsal in the church on the Friday, and they all went home for an early night. Not the best night's sleep, a huge air-raid keeping them in the shelters much of the time. Never mind, on with the glad rags and get me to the church on time. Except that the church was no longer there, just a smoking pile of rubble. What the heck do we do now? The Church Hall next door was still standing, so that's where the wedding took place. Here's an archive photo of a street in Bootle in May 1941: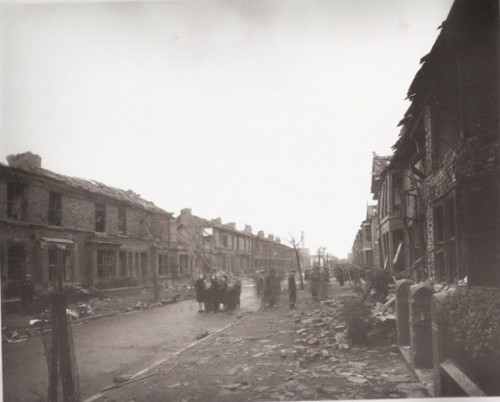 And here's James Street Station from the same month, with the Liver Building in the background: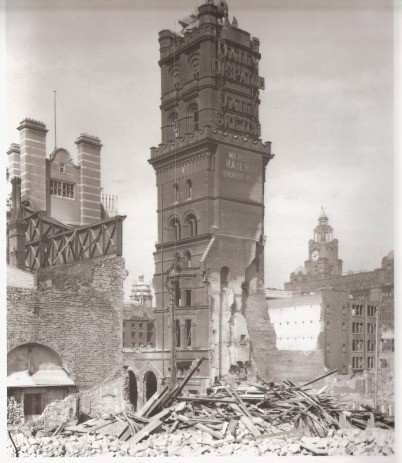 It's not all about me, is it? What prompted Lulu-belle to put pen to paper was her long-suffering husband's parents' experience. They were planning to marry in her hometown of Edinburgh, but he was in the Regular Army, and when war broke out, 3rd September, they realised everything was up in the air – quite literally, when those Air Raids started. When war was declared on that Sunday, and he knew he could be posted any day to heavens knows where, they decided to get married by Special Licence the following day, 4th September 1939, in the quietest of ceremonies, down in London where they happened to be at the time, with just the two witnesses present, no white dress, no reception. Just the wedding. And the night afterwards spent in an Air Raid Shelter. A beautiful story of a couple who definitely got their priorities right. And here they are: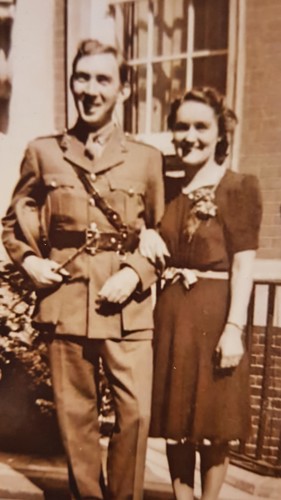 For sharp eyed military buffs, you can just make out the pips on the shoulders as belonging to a Lt. Colonel – and don't you love the cap under the arm and the swagger stick in hand. Thanks for sending that over, Lulu-Belle. She's a fine woman when sober. Unfortunately…
Into the Hospital this morning for my usual Wednesday morning, our two local friends. John and Graham, both still there, but both making progress. Graham is hoping to be home soon, and John's got fingers crossed perhaps for a spot of Rehab at Ellesmere Port Cottage Hospital, to get him ready again for the Pubs and Clubs of Pulford. Mine's a pint, John, if I see you in there!
Which reminds me – my first pint last week since lockdown began! Met up with lifelong friends Mick and Val at the Red Fox in Thornton Hough. A super pub restaurant if you've never been, the same excellent chain as Harker's Arms and the Architect here in Chester, and the Grosvenor out at Aldford (Brunning and Price). They always provide an excellent meal at very reasonable prices. The Red Fox really passed the Harry from Hare Lane test – you must book in advance (thereby giving them the Track and Trace information), on arrival you queue, six feet apart, shown to your table by a waiter in a visor, all the tables socially distanced, and away you go. That first pint? Absolutely gorgeous. So gorgeous in fact, there was only one thing to do. Yes, you've guessed! Have another one.
Continuing the new-found love of walking, I got off the train at Bromborough, and then walked along Raby Mere Road to Thornton Hough. It took an hour and a half, but a wonderful walk, the only snag being the lack of any pavement or footpath for much of the way. It meant dodging the cars, but well worth it. (Wonder how many notches they'd cut on their steering wheel for a Catholic Priest?) The walk takes you right past Raby Mere, and this snap gives you some idea of the amazing countryside in that part of the Wirral: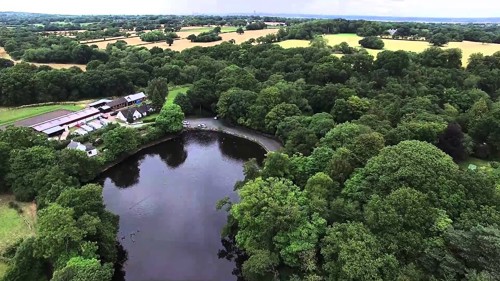 And here's a snap of the pint: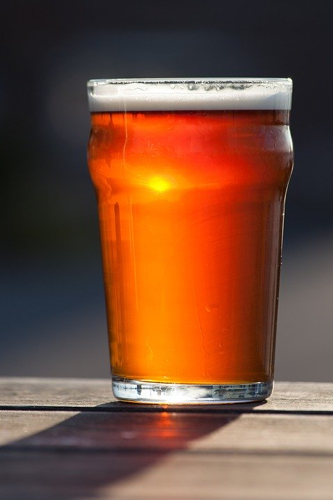 Cheers, everyone!
May God bless you all,
Fr Paul
---
Confirmation from Bishop Mark last night that there will be some important changes to how we celebrate Mass from this coming Sunday, as a result of the new Government Regulations in force from 8th August, and this Covid-19 pandemic not going away any time soon. Bishop Mark lists the seven main changes:
Face coverings must now be worn in church unless parishioners are exempt from doing so, for the celebration of the Mass and for the celebration of the other sacraments until further notice.
Priests in the sanctuary, if sufficiently distant from the congregation (that is 2 metres or more), DO NOT NEED TO WEAR A FACE COVERING except when distributing Holy Communion.
Deacons (it appears to be assumed they are not of the same household) must wear face coverings apart from the proclamation of the Gospel.
Servers must wear face coverings whilst in the sanctuary.
Readers may remove their face coverings while reading
The priest and deacon and any extraordinary minister must wear face coverings when distributing Holy Communion.
If clergy wish to greet the people in church then they should always remove their vestments and wear a face covering.
So, it's Masks for all of us, please – or other suitable face covering. That includes the Altar Servers, and myself when distributing Holy Communion. Bishop Mark adds a further paragraph on this point:
EXTRA CARE AT HOLY COMMUNION
I have been asked to note that the wearing of face masks requires extra care by people in unlooping the face covering in order to receive Holy Communion and replacing it afterwards. It would be good to draw parishioners' attention to the importance of this in order to prevent contamination of the covering by the hands. I am told that this is a minimal risk so long as any hand to hand contact is avoided between the priest and the communicant. 
Your response to these regulations and to the Stewards here in St Werburgh's so far has been excellent, with only minimal arguing or strop. But there has been a tiny bit of both, to which I would only say: please remember these are the Government's and Bishops' Conference's rules, not ours, and they are the price of being able to reopen our churches. Secondly, we could not do this without our wonderful Stewards, so if any of you wants to have a strop, PLEASE come and have a strop with me. Not with the volunteer Stewards, who are your fellow parishioners!!
The very first Head I worked under – the one, in other words, who gave me my first job, the legendary K.D. Robinson – had a wonderful line if anyone was getting a little argumentative in Staff Meetings. "Of course, if any of you are not happy with what I have just proposed," he would say, "you are more than welcome to come along to my study afterwards to discuss it." Pause. "And one of us will resign." Touché!
I've had occasion to salute brave Werbies who have been selflessly researching the way other Institutions have been coming out of lockdown and reopening to the public. Hugh of Handbridge has been doing his bit for the war effort, investigating Licensed Premises as far afield as Blackpool and the Fylde Coast. Hugh, we salute you! Sadly, he tells us, some will not be reopening at all. Which leaves a slight problem of what to do with the already-opened barrels of beer attached to the pumps. Apparently, he's been invaluable in that respect as well. He noticed a pair of rather fine chairs in the Snug at the Rat and Ferret in Formby, and though they might suit St Werburgh's and possible weddings. How right he was! Here they are, in use for our first post-lockdown Wedding in our church last Saturday: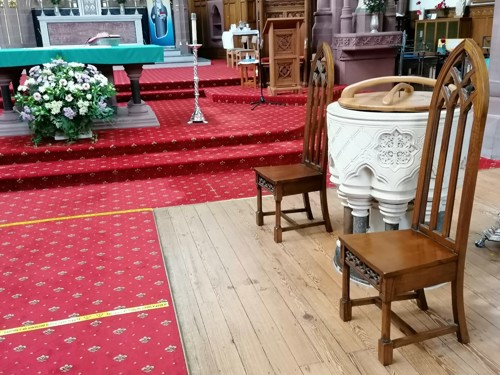 Well done, Marie, on those beautiful flowers! You did the couple proud.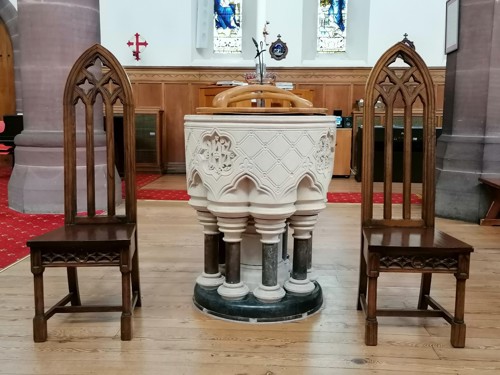 They really do grace our church, don't they? What they looked like in the aforesaid snug, Hugh alone knows. Not sure we can use the other goods you purchased at the closing down sale, Hugh – the Optic Dispensers and Dart Board – but you could always try John at the Club?
Our Taskforce – Syd and Denise, John Curtis, Brian Burns and Marian McCarthy – really have done an extraordinary job over these last few months, preparing for Reopening for Private Prayer and then for Mass. This morning, John and Brian were back again, with Gordon Iremonger, to start looking at the County Fire Inspection, done remotely, over the telephone, during the last few months. Yes, I thought the same – a Fire Inspection by phone! But ours is not to reason why &c &c. Julie Tinsley from the Diocese joined us, and we started bottoming the report and drafting our responses. Thanks, Team!
Nice chat on the phone this afternoon with Bro Augustine at Belmont, back now from his three years at Sant'Anselmo, the Benedictine monastery in Rome, and studying at the Angelicum, the Dominican University. All his studies are finished, and he's graduated STB (Bachelor in Sacred Theology – a Pontifical Degree) with "Magna cum Laude", the equivalent of a 2:1. Well done, Gussie Finknottle! (as I call him). Belmont is just starting reopening for Mass, and Augustine made the cardinal error of saying to the Abbot that he'd been having a few ideas about how they might do it. "Oh, jolly good!" replied Abbot Paul, "How would you like to be in charge of organising it?" So, organiser he now is – that'll learn him! We were swapping notes, and he was more than interested in our experiences over the last three weeks.
His last major piece of work at the Angelicum was on the great British Philosopher J.L. Austin, who died tragically young in 1960 at the age of 48. He was already Professor at Oxford by then, and who knows what more work he would have achieved had he been spared. He was a proponent of what came to be known as "Ordinary Language Philosophy", meaning that analysing everyday speech and how we use it can yield extraordinary philosophical insights. One example: if I say to you, "There are some biscuits on the table if you want one", does that imply that, if you don't want one, then there aren't any biscuits on the table? If not, why not? It's a perfectly formed Conditional, so why does it fail in this example?
Is a double negative a positive? "I haven't got no money" means I do have some money? "He's not ungenerous" means he's actually quite generous? But why doesn't it work the other way, a double positive indicating a negative? He asked this question once at a Conference in America. "There is no language in the world in which a double positive implies a negative", he proclaimed. To which his American counterpart dismissively replied, "Yeah, right".
Austin was an expert first and last on Aristotle. Here's the moon rising over the Temple of Poseidon at Cape Sounion in Greece two nights ago: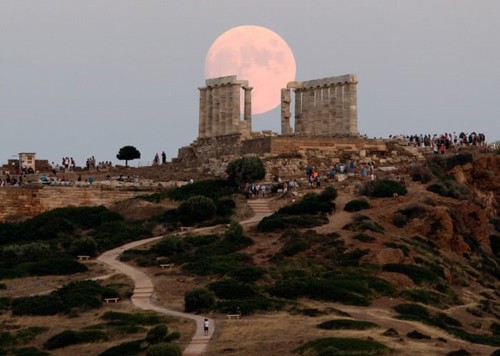 May God bless you all,
Fr Paul
---
Monday 3rd August 2020
Two lovely and very welcome emails this morning after yesterday's Sunday Masses, typical of the many we've received since reopening for Mass. The first is from one of our senior parishioners – she'll kill me for that! – who has been faithfully shielding, on Government instructions, for the past four months:
 It was great being back at St Werburgh's this morning. I actually felt quite excited at the prospect of it. I am sure everyone really appreciates coming back after such a long time. All the work gone into arranging it so meticulously, has certainly paid off. Everything went like clockwork and no hitches. Well done to you and the team. Let's hope it won't be too long before more people will be able to join us. Here's to next Sunday and many, many more Sunday's. God bless and here's to your continued success.
When she says "Here's to your continued success", I do hope she was raising a glass at the time, Not that typing and drinking are easily combined, but somehow, during this lockdown, I have managed it, I really have.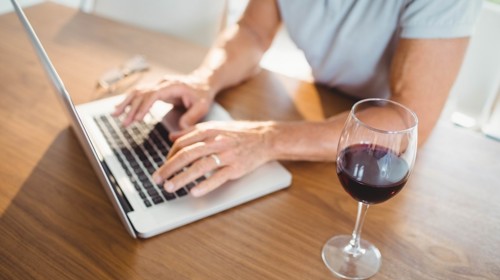 The second was from another parishioner who's also been shielding
I was absolutely knocked sideways (in a good way!) by my experience of Mass this morning. I have just emerged from shielding and was not sure what to expect.
I knew that it would be wonderfully well organised, and it was. But everyone was so warm and friendly, despite the masks, so it didn't feel regimented, just very safe.
Father Neill was on great form and it's nice that he's back and able to share what must be a very busy Sunday morning.
The other thing that struck me was that it didn't feel at all like "Mass with bits missing", but like a new kind of liturgy for the times we are in, in which a much greater focus on the words of the prayers and readings is possible.
 
I know that to achieve all this takes a great deal of thought and effort. 
My warmest thanks to you and to the task force for all you are doing.
And so the Taskforce sat down at 10.30 this morning, as we do every Monday – and the last thing it was was a Mutual Congratulation Society. We just don't work like that. We had Bubbles to review. Here's a photo from yesterday morning:
We felt it had worked well, and significantly increased our capacity. We also looked at Stewarding for Holy Communion, where there had been a few issues yesterday. And third, we looked at the new Government Instruction that everyone MUST wear a mask or face covering in church, unless they have medical reasons for not so doing.
For members of the public, from 8 August the places where you will have to wear a face covering will be expanded to include:
And so we had to decide how to publicise this change – 90% of you are already wearing such face coverings at Mass – and what to do for those who turn up next Sunday without one. We decided to give one week of grace, on the grounds that not everybody would have heard of this new rule – and make some masks available at the door, for which we would request a donation. There's no such thing as a free mask! Week Two, we will have to insist that everyone wears a mask – again, unless they have a medical reason against – as these are Government Regulations, backed up by the Diocese, and not some bright idea that the Werbies have suddenly thought up by themselves!
Talking of sudden bright ideas, that banning of Wedding Receptions at twenty-four hours' notice was not the brightest? A view that was shared by Lockdown Les and his good lady wife, Catalogue Kate. Of Old Wrexham Road. Well, no, not exactly. They are "en vacances" (as they say in German), in my beloved Italy. For six weeks. SIX WEEKS! Not that I'm envious or jealous in any way. Oh no, Not me. I hope they have a lovely time. He said, through gritted teeth.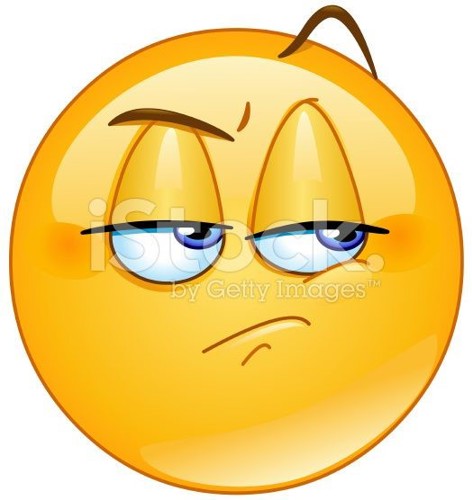 Anyway, Les and Kate emailed to say that they took a scientific interest in safe-spaced Licensed Premises in Chester, much like our own beloved Hugh of Handbridge and Maudie from Mouldsworth, last heard of somewhere south of Paris. They have a particular interest in the Coach House, next to the Town Hall. They write:
In the Coach House now they can seat 80 people as long as the socially distanced tables are not seating more than 6.
So, 80 people can sit in the restaurant but not if they are a wedding party!!! Surely they could be spread out in the same way?
In Italy now there are no restrictions on the amount of people at one table.
Very quiet here with far fewer tourists and sad to see some hotels closed. In this region in the mountains they relied heavily on coach trips.
Our nearest hotel only has 12 guests and they are all the regular nonnas who come from Milan to escape the heat. The owner says this year has been catastrophic. 

Still good to be here!
Good to be there, eh? In Italy In August? Let's change the subject, shall we?
A striking photo to finish with tonight, from the Hindu Festival of Raksha Bandhan. Here we see a Hindu lady imparting her blessing on a young doctor in Mumbai. Notice the stethoscope around his neck? Religion and Science side by side, exactly where they belong.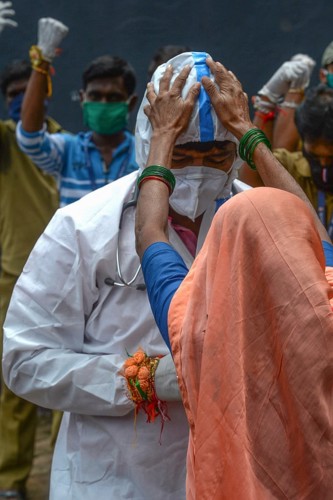 May God bless you all,
Fr Paul
---
Sunday, 2nd August 2020
Numbers today slightly up on last Sunday – 201, compared to 198 last week and 147 on week one. Very evenly distributed today over the four Masses too: 58 at 9.00, 45 at 10.00, 53 at 11.00 and 45 at 12.00. Clearly there's an appetite and a demand for all four Masses, and as long as that is the case, we are delighted to provide them. I say "we" for two reasons: first because it was wonderful to welcome Fr Neill back today after his four long months of shielding; and secondly, because this is a real team effort, and none of it would be possible without our brilliant army of Taskforce Supervisors, Cleaners and Stewards.
That word 'army' leads me to a very welcome email after Mass today from a wizziter from another Parish. She wrote: "Most impressed with your Covid arrangements, as seamless as a military manoeuvre but much friendlier." That really pleases me, because we wanted it to be efficient without being bossy, a clear sense of direction without being regimented or over-controlling. Ironically, the Government are talking today about new restrictions on the 50+ group. Excuse me, Boris, but this is the generation you have the least to worry about! Come with me on a walk through Chester any evening and see the hordes of young people cramming into the pubs and clubs, with absolutely no regard for social distancing whatsoever. They are the ones to sort out, PM, not us Wrinklies!
This week will probably see some new restrictions, regionally over in Greater Manchester, and nationally concerning wearing face masks or coverings in church. We expect the latter to be made compulsory, but we'll advise you of changes to the regulations just as soon as we hear them. As ever, the Taskforce will sit down tomorrow morning, Monday, and review this morning and see what we need to do next as we hopefully move – albeit slowly – back to normal.
Three powerful pictures to leave you with tonight. I love the photos of Museums and Galleries preparing to reopen. You'll recognise the artist here, I'm sure – Monet – but where is the Gallery? Redcliffe?
Just as much do I value pictures of live music and theatre asserting itself despite the lockdown. Here's the Staatsphilharmonie Orchestra performing in Nuremberg to a floating audience: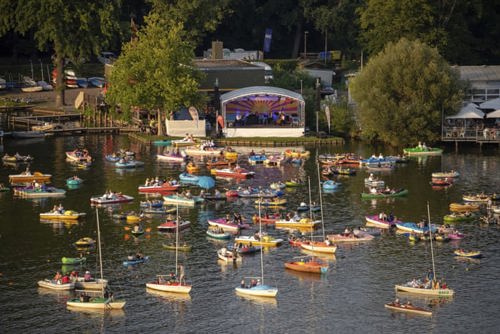 But finally, a grim reminder from the state of Victoria in Australia of the global reality, that part of the world experiencing a bad resurgence of the Covid-19 virus: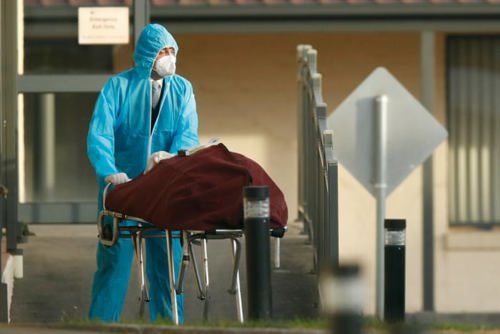 May God bless you all,
Fr Paul