Updates from the Parish Priest
---
Tuesday 22nd September 2020
 I said a while ago that if any Parish Priests wants a full postbag, just say something nasty about cats. Now I've discovered a close second: mention old trains. My heavens, we have some anoraks in this parish, don't we? The sort that will log in to YouTube for hours, to listen to the sound of a Class 74A Diesel Locomotive coming up the incline into Euston Station. (I made that up before another sack of mail thunders into my inbox). And then the sound of going down that same incline. Just a train to us, dear readers, but ethereal music to them. The heavenly choirs.
This is Redcliffe's latest offering, courtesy of said YouTube:
An hour of class 40s 1983-84. A compilation of the best bits.
Have you no villains to bang up?
And then Horace from Hoole awakes from his lockdown slumber to burst into poetic vein. He blames the Irish blood in his veins, I blame the six pints of Guinness he imbibes before ever setting pen to paper. For those of you who love Betjeman's verse autobiography, Summoned by Bells, look away now:
SUMMONED BY OTHER BELLS
Oh, Father Paul Shaw, Oh Father Paul Shaw,
Harassed, embarrassed by sinners galore,
Those sermons delivered at nine, ten, and six,
To the faithful attending with smiles carefully fixed.
"He's come to the end," Oh! Weakness of joy,
Stopped now the bon mot, the rhetorical ploy.
Concordance is silenced, example pressed home,
And tickets are booked for a fortnight in Rome.
Oh Father Paul Shaw, oh Father Paul Shaw,
How gladly you stride from the presbytery door.
Episcopal meetings, delivered by Zoom,
Are things of the past, remembered with gloom.
You sat by the beds of sinner and saint,
Baptized squawling infant, encouraged the faint.
Confessions of theft, hushed up xxxxxxxxx,
Forgotten, Fiumicino is suddenly near.
Oh Father Paul Shaw, oh Father Paul Shaw,
Too soon you are back at St. Werburgh's front door,
Furnished and burnished by the Italian sun,
No rest for the wicked till all souls are won.
John O'Betjeman
Very witty. Most amusing. He's a bit behind the curve, isn't he, as I haven't been to Rome for the past three years – 2017 was the last. 2018 was Sicily and 2019 was Milan. 2020 I didn't get away at all – did I ever mention that? I think he'd had seven pints the night he wrote that little ditty.
For Betjeman aficionados (as they say in German), he's actually mimicked A Subaltern's Love Song, hasn't he? If you don't know it, you're in for a treat. If you do know it, you'll know what a treat it is. No apologies for giving it to you tonight in full:
Miss J. Hunter Dunn, Miss J. Hunter Dunn,
Furnish'd and burnish'd by Aldershot sun,
What strenuous singles we played after tea,
We in the tournament - you against me!

Love-thirty, love-forty, oh! weakness of joy,
The speed of a swallow, the grace of a boy,
With carefullest carelessness, gaily you won,
I am weak from your loveliness, Joan Hunter Dunn.

Miss Joan Hunter Dunn, Miss Joan Hunter Dunn,
How mad I am, sad I am, glad that you won,
The warm-handled racket is back in its press,
But my shock-headed victor, she loves me no less.

Her father's euonymus shines as we walk,
And swing past the summer-house, buried in talk,
And cool the verandah that welcomes us in
To the six-o'clock news and a lime-juice and gin.

The scent of the conifers, sound of the bath,
The view from my bedroom of moss-dappled path,
As I struggle with double-end evening tie,
For we dance at the Golf Club, my victor and I.

On the floor of her bedroom lie blazer and shorts,
And the cream-coloured walls are be-trophied with sports,
And westering, questioning settles the sun,
On your low-leaded window, Miss Joan Hunter Dunn.

The Hillman is waiting, the light's in the hall,
The pictures of Egypt are bright on the wall,
My sweet, I am standing beside the oak stair
And there on the landing's the light on your hair.

By roads "not adopted", by woodlanded ways,
She drove to the club in the late summer haze,
Into nine-o'clock Camberley, heavy with bells
And mushroomy, pine-woody, evergreen smells.

Miss Joan Hunter Dunn, Miss Joan Hunter Dunn,
I can hear from the car park the dance has begun,
Oh! Surrey twilight! importunate band!
Oh! strongly adorable tennis-girl's hand!

Around us are Rovers and Austins afar,
Above us the intimate roof of the car,
And here on my right is the girl of my choice,
With the tilt of her nose and the chime of her voice.

And the scent of her wrap, and the words never said,
And the ominous, ominous dancing ahead.
We sat in the car park till twenty to one
And now I'm engaged to Miss Joan Hunter Dunn.
One of the Old Nuisance's favourites, and I can always see why.
I do like seeing a man in a hurry, don't you: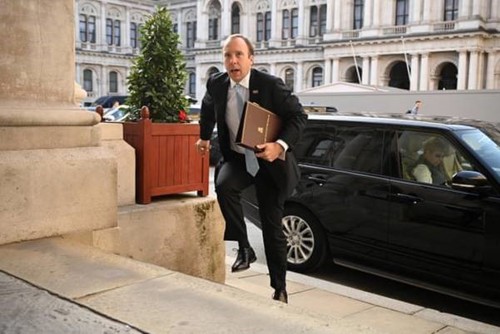 Go for it, Matt! But this one is a little sad, our Dear Leader caught on camera: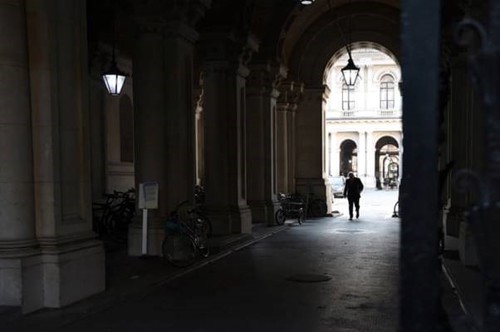 Not a happy bunny? Though who would be in his shoes these days! Looking at today's announcements, I think only Weddings being reduced from 30 to 15 affects us as a church. Burt the direction of travel is not encouraging, is it? Having said that, Steve, Fran and Madeleine from the SVP were in this afternoon with Brian 'Rottweiler' Burns to look at the arrangements for the SVP Elderly & Housebound (as was!) Mass on Sunday 4th October. No substitute for walking it through on the ground, and I think everyone has come up with a really imaginative plan for seating our special guests for the Mass and the tea afterwards, giving them a lovely afternoon outing – some of them have not been out for six months – while respecting the letter or every Government and Diocesan Guidelines. With Rottweiler around just try doing anything else! He'll have your leg off.
Horace (Latin poet? Geddit?) from Hoole actually made a sensible suggestion in and amongst his poetic ramblings – a better name for the Elderly and Housebound. He proposes "The Invincibles". Do you, know, I like that!
 There once was a poet called Mike,
Whose ramblings one couldn't but like!
For the Wrinklies he thought
A new name we ought
To give them - and wow, what a hike!
May God bless you all,
Fr Paul
---
Monday 21st September 2020
Yesterday's Mass Attendance Figures: 68 at 9.00 am, 62 at 10.00 am, 58 at 11.00 am and 66 at 12 noon. Total: 254. This is slightly down from the 270 of the last two weeks and may indicate numbers are plateauing off. National figures suggest about 60% are back at Mass, and we're up around 66%. So, a leetle bit of Smug Very.
You can never get particularly Smug Very round here, especially when it comes to technology. Like downloading and using Microsoft Teams. I know you were all being very helpful telling me how easy-peasy it was, child's play, do it with one hand tied behind my back. But you don't know FP, dear Readers. Cretinous is the word most usually applied. An hour yesterday got me absolutely nowhere. The problem was that they identified I was already on a Teams account via one of the Unis I work with. But no suggestions as to how to access that account, as I've never used it in my life. Obviously, the Uni thinking it was being helpful by enrolling everyone, even FP, on Teams. Thanks for the thought.
So, try again this morning. Plan B. Bypass this Uni account altogether and set up a new Werbies one. Ah, Bisto! Seems to be working. Forgotten my password? No, never had one, actually. Backwards and forwards from emails to set one up. Download the app. (What's one of them? FP) App downloaded. Final screen. "Now click on 'install', and you're ready to go!" But no button marked 'install', nope, nothing, big fat zero. Perhaps it's already installed by the act of downloading? Worth a try, as there's no other way forward. So, close it all down and open it up again. To find it's saved nothing of my enrolment, and I'll need to start all over again…
Oh no I won't. Contact the Law Firm in Liverpool and tell them it'll be quicker to get the train over there for this session than spend any more time in front of this wretched screen. I await their reply.
Who remembers Ah, Bisto! I've got a feeling that reference horribly ages me…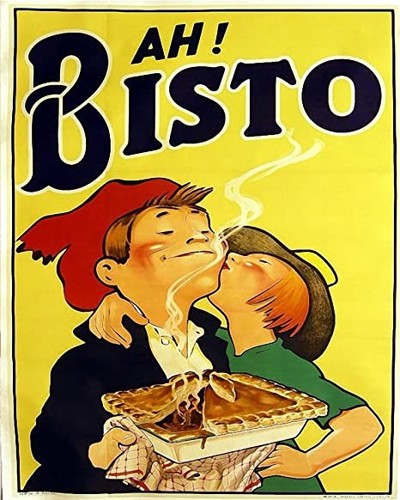 Don't think I'm getting PC in my advanced old age, but that is amazingly sexist, isn't it? He's cooked the pie (as if) and she's giving him an enormous smacker of appreciation. Hands up all Werbie Males who cook pies. I thought so. Not one of you. Domestic goddesses you ain't. Please don't let the side down by starting to cook one…
Vic from Vaughans Lane has been scouring Parish Newsletters up and down the country and come up with a wonderful list of howlers. Not that any such would ever grace (disgrace?) the pages of the Werbies Newsletter, of course…

Ladies, don't forget the rummage sale. It's a chance to get rid of those things not worth keeping around the house. Bring your husbands.
Don't let worry kill you off - let the Church help.
Miss Charlene Mason sang 'I will not pass this way again,' giving obvious pleasure to the congregation.
For those of you who have children and don't know it, we have a nursery downstairs.
Next Thursday there will be try-outs for the choir. They need all the help they can get.
Irving Benson and Jessie Carter were married on October 24 in the church. So ends a friendship that began in their school days.
At the evening service tonight, the sermon topic will be 'What Is Hell?' Come early and listen to our choir practice.
Eight new choir robes are currently needed, due to the addition of several new members and the deterioration of some older ones.
Please place your donation in the envelope along with the deceased person you want remembered.
The church will host an evening of fine dining, super entertainment and gracious hostility.
Pot-luck supper Sunday at 5:00 PM - prayer and medication to follow.
The ladies of the Church have cast off clothing of every kind. They may be seen in the basement on Friday afternoon.
This evening at 7 PM there will be a hymn singing in the park across from the Church. Bring a blanket and come prepared to sin.
The pastor would appreciate it if the ladies of the Congregation would lend him their electric girdles for the pancake breakfast next Sunday.

Low Self Esteem Support Group will meet Thursday at 7 PM. Please use the back door.
The High School will be presenting Shakespeare's Hamlet in the Church basement Friday at 7 PM. The congregation is invited to attend this tragedy.
Weight Watchers will meet at 7 PM at the First Presbyterian Church. Please use large double door at the side entrance.
The Associate Minister unveiled the church's new campaign slogan last Sunday: 'I Upped My Pledge - Up Yours.'

And finally, this wonderful photo from the Grand Duchess, the magnificent rainbow appearing over her ancestral homelands…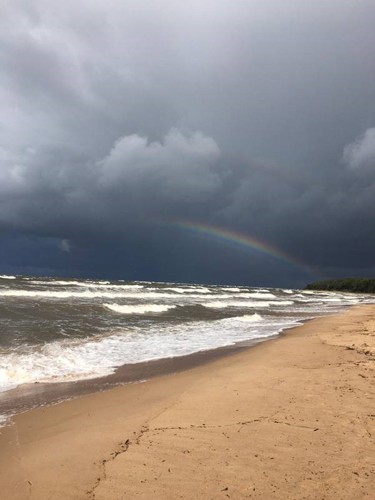 Wonderful view of Vicars Cross, isn't it?
May God bless you all,
Fr Paul
---
Sunday 20th September 2020
I must apologise. I really have misjudged you. Well, Hugh from Handbridge anyway. There was I thinking he'd totally gone to the dogs, taking his Parish Responsibility of monitoring licensed premises returning after lockdown far too seriously, no need to visit every pub between here and the Lake District, is there?
I've slandered him. All this time, he's been putting his mind to the question that's taxing all of us now that more frequent Coronavirus Testing is becoming available. Who should go? Absolutely everyone? Anyone who's been in contact with someone who's tested positive? Anyone in a front-line job? Or anyone experiencing symptoms? It's not clear, is it? So, I think all of us owe a hearty vote of thanks to Hugh for sending this in to put all our minds at rest:
How to Test Yourself for Coronavirus
Step One: Pour yourself a glass of wine and try to smell it.Step Two: If you can smell the wine, then drink some and see if you can taste it.
Step Three: If you can both smell and taste it, then you definitely don't have Coronavirus.
Last night, Hugh helpfully tells us, he did the Test nine times, and each time it came back negative. He recommends you also try it with gin, to guard against False Negatives.
Tonight, he informs us, he's going to take the Test again, because he woke up this morning with a splitting headache, and he's worried this could be a symptom of Coronavirus.
He's a hero, isn't he? And he's only doing this for our sakes. Hugh, we salute you!
Good to welcome the Grand Duchess back this morning from her visit to the ancestral lands in Latvia. She sends me this view of the Lake that borders her estates from the Grand Duke's next door: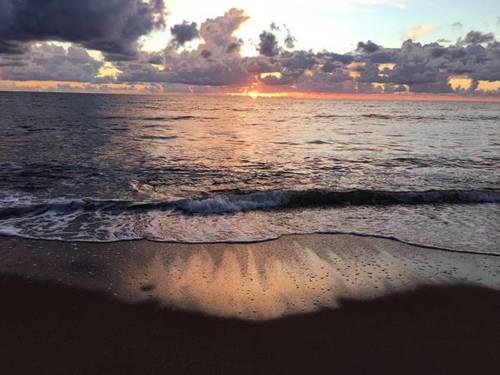 Buzz on the street this evening is that there's to be an extra special Rooftop session in Woodlands Court tonight. Mary the Maître d'hôtel tells me she's rustling up a special little steaming bowl of hot punch for them all tonight to keep the cold out – one bottle of orange juice and four of vodka.
That should do the trick, Mary!
May God bless you all,
Fr Paul