Updates from the Parish Priest
---
Saturday 16th January 2021
Interestingly, the tide of emails coming in today has very much been in favour of staying open, with a minority arguing for closure. I do want to reassure you that all these emails are read closely, and the points understood, even if I can't reply to them all individually. No votes are going to be taken at any stage: but your views really do help myself and the Taskforce in teasing out the issues involved in this complex and fast-moving situation.
Bishop Mark updated us again last night. At present, there are five Parishes that have closed in the Diocese as a whole: two that we knew about before Christmas, their Parish Priests having tested positive for Covid-19; the two Runcorn Parishes from earlier in the week; and now one Cheshire East Parish, with two churches. In addition, he has agreed to the closure of two smaller Mass Centres, though their main churches remain open. He also updated us on the latest infection figures, by Local Authority:
Halton: 1,148 per 100,000
Wirral: 976
Warrington: 780
Telford and Wrekin: 550
Cheshire West: 528
Stockport: 503
Trafford: 495
Manchester: 492
Shropshire: 420
Tameside: 407
Cheshire East: 388
Bishop Mark wrote last night:
I know in other parishes a decline in the number of stewards is leading to consideration of a reduction in the number of Masses. As we weather the height of the present storm be assured of every support in making the prudential local decisions which are necessary.
A bishop's post bag or inbox is never the best way of gauging the temperature of a diocese or public opinion in general. However, I have noted the contrast between how many correspondents in the last part of the year expressed dissatisfaction at the bishops' co-operating with the closure of churches; and since the beginning of the year, a smaller number of correspondents now express concern that the bishops are not working with public health policy. I have also received one or two messages complaining that their elderly parents still choose to attend Mass because the churches are open. I appreciate you may meet similar questions in the parish.
In the context of London, where the Mayor last week called on the Government to close all places of worship, Bishop John Sherrington responded with a helpful letter which can be found on the Bishops Conference website:
https://www.cbcew.org.uk/bishop-on-roleof-catholic-churches-during-current-lockdown/
Bishop Sherrington explains that the decision for churches to remain open is based on the recognition that our churches are safe and that the service they offer is essential. In meetings in the Diocese with public authorities there has been a similar recognition. It is important when considering all controversies regarding the closure or opening of churches, to also remember the many words and messages of appreciation for all you have done and continue to do in these times.
I had a call-out to the Hospital last night, to a very elderly Covid-19 patient. From the beginning, I've been impressed by the Countess' calm professionalism. Yes, they are under extraordinary pressures at the moment, and over half the beds are presently occupied by Covid-19 patients. But they are carrying on with their work with no hysteria or signs of excessive stress or anxiety. I am welcomed in, thanked for coming, kitted out in full PPE gear, shown to my patient, left in peace with them for half an hour, and escorted out afterwards, again with expressions of thanks. It's the calm professionalism, if I'm not in danger of patting ourselves on the backs, that I try to copy here in St Werburgh's. We must take every precaution to stay safe and comply strictly with every one of the Government and Diocese's rules and guidelines. But then the work must go on.
It's not an option to close down the whole of society. One group that I would like to praise that perhaps hasn't had the recognition they deserve is the shop-workers. If they stay at home, all shops and retail outlets close. And where are we then? Ditto the transport workers that allow our Health Care Workers to get into the Hospitals all over the country. And the emergency services. And so on. Millions are turning out to work so that our basic life as a society can continue, and I for one am immensely grateful to them. Thank you, nice ladies and gentlemen in Waitrose, who wipe down my Self-Service till every time I pop in for the basics of life.
The basics of life… Some of you have far too much time on your hands, like Alison from Altrincham, aided and abetted by that well-known rascal, Gary from Garden Quarter: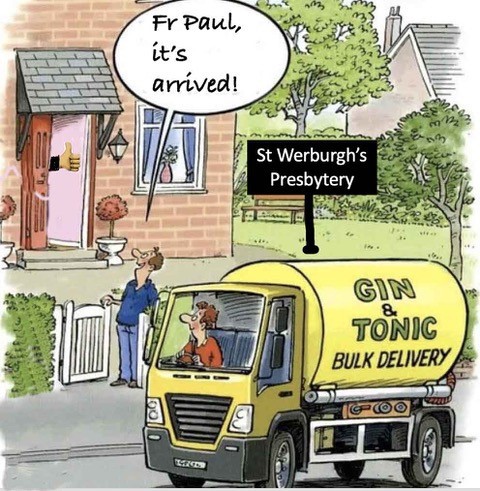 Ever had a Hymns Ancient and Modern round the back of the head, you two?
This morning after finishing the Newsletter, it was time to turn to my online Safeguarding Training, as required of all Priests by the Diocese. I must admit I'd been putting this off, all very worthy, will settle down to it in the quiet days after Christmas, online training or Dickens? next question please… Today, finally bit the bullet, registered, created password (yes, and wrote it down somewhere as well!!) and away we went, Mental Capacity Act 2005, Health and Social Care Act 2012, Care Act 2014…
Interesting stuff, bringing me up to date with changes in the law, Module One, yes, all fair enough. Finish that. Now what? A Test Questionnaire? A WHAT? Ref-er-ee! No-one said anything about an EXAM! It's multiple choice, and the smile is fading from FP's little face. Hang on a moment if I'd known there was a test, I'd have spent a bit longer reading the material! Somehow pass that one, but lesson learnt. No more skimming the material, slow-reading and note-taking instead. Module Two, here we come. Now Module Three. The third module took three actual case studies and analysed where mistakes had been made. What are these main mistakes?
• Naivety: people just don't believe that abuse could be happening
• We are all too willing to believe what other people are telling us
• We don't insist on seeing with our own eyes the individual concerned
• We fail to report it quickly enough to our superiors
• If we report it and nothing happens, we give up
• All the various agencies fail to talk to each other
Of the three cases they analysed in detail, the one that I had heard about and remembered was the Winterbourne View abuse scandal of 2011-12, when the appalling treatment at a residential hospital for young people with learning difficulties was exposed by an undercover reporter. His secretly filmed footage was the centrepiece of the subsequent Panorama Documentary and then of the criminal trial which followed that. The eleven defendants were found guilty and six of them sent to prison.
The module began with the familiar red triangle, warning that some may find the following scenes shocking or disturbing… I reckon myself to be fairly hard-bitten and case-hardened – well, wouldn't you be after fourteen years in St Werburgh's? – but 'shocking' is just an understatement for what I saw on that film. It was a rather quietened FP that slunk off to get his lunch afterwards.
We await our Masses tomorrow, and see how many turn up…
Off now to St Clare's Open Air Drive-In Mass. Winter draws on.
May God bless you all,
Fr Paul
---
Friday 15th January 2021

Good to hear from Bishop Mark last night in response to the email I sent yesterday, outlining the situation here in St Werburgh's and the state of our present thinking. He finished his response like this:

I do fully appreciate the many challenges particularly with stewarding and be assured of full support in whatever decisions are needed. Thank you for all you are doing and especially for what you were able to do at Christmas allowing almost 600 to attend Mass.

I will be especially remembering the people of Saint Werburgh's and their Parish Priest in my prayer this evening,

+ Mark

The inbox/postbag/phone messages this morning have been interestingly more on the side of staying open than closing, including one new offer to join the Stewards' Rota if there are now gaps. People clearly feel passionately on both sides, and if we respect each other's points of view, we can only grow as a Parish, closer to each other and closer to Our Lord.

Long phone conversation with our very hard-working Dean, Canon Niall from Our Lady's Ellesmere Port, on the Diocese-wide situation. He's been talking to the Vicars General and others, and he knows of no Parish that's asked for and been given permission to close, apart from the two Runcorn ones I told you about a few days ago. Numbers coming to Mass are generally down around the Diocese, as you would imagine, with everyone looking keenly at how many show up this coming Sunday, and how many Stewards feel unable at present to stay on the rota.

On that point, Stewards: if you have not yet let Marian know your feelings, please do so as soon as possible as we do need those accurate figures from our Monday Morning Meeting.

Talking also yesterday to one of the Anglican Rectors here in Chester, and his Parish Council did a list of pro's and con's, in terms of staying open or closing, which I thought you might find interesting:
Reasons to Remain Open
We are allowed to meet. People fought to allow churches to remain open, and now we can.
Given we are allowed to meet, the routine of coming to Sunday should be encouraged.
It's a safe space - big and airy.
"Our vast drafty (sic.) buildings have been very effective (with national figures showing about 1 COVID case per 25,500 church services)." +Mark
It's not the same as schools or shops. People arrive and leave in a 'regimented' way.
Unlike many other churches, a high proportion of our community are not considered vulnerable.
People had already begun to 'drift' away from online streaming, having spent much of each day in front of a computer already. 
It would allow those without access to virtual services to continue to attend.
Reasons to Close the Building
With so many other places closed, does it make sense for church to remain open? What message does that send to others?
Safety implications for continuing to meet - the obvious risk of the spread of Covid.
By not having a physical service it would allow us to put all our energy into our live-streaming and make that the best possible experience that we can. We would also have option of pre-recording.
In addition to not being allowed to sing, people are not allowed to mingle with each other. Is this enforceable and does this take so much fundamentally away from what we're doing that it's not worth meeting in person…?
"All mingling before and after worship needs to be most rigorously discouraged." +Mark
The risks of meeting seem to be increasing, whilst benefits seem to be decreasing.
Unlike many other churches, a high proportion of our community are able to engage digitally.
The situation is likely to get worse so making the decision to close now would save discussions each upcoming week.
Travel is currently discouraged. Given we are a 'gathered' church, should we be encouraging people to travel to church?

The "+Mark" there, of course, is the Anglican Bishop of Chester, not our own Bishop Mark – but I do like his comment about big drafty (draughty?) buildings. I don't think any of us believed we'd live to see the day when we actually praised them for being big and draughty!

Bishop Mark has also sent us news of the death of a former Curate here in St Werburgh's that I know a number of you will remember well:

MICHAEL CONNOLLY R.I.P

I have received news of the death of Michael Connolly. Many of you who served in the Diocese from the late 1960's will remember Michael who was ordained to the Priesthood in 1967 and subsequently served at Saint Werburgh's, Chester and for several years in Rwanda and Kenya before returning to become Parish Priest of Our Lady of Lourdes, Leasowe. Michael sadly departed active ministry in January 1986. I have never met Michael but was pleased to have recently been in correspondence with him and to be told by his Parish Priest that he was able to receive the last Sacraments before he died last week. May he rest in peace. I have offered Mass for his eternal repose and commend Michael to your prayers.


Talking of the 22 Dioceses of England and Wales, I thought you might find this map interesting, showing what they are and where they are situated – but it does rather short-change Westminster Archdiocese?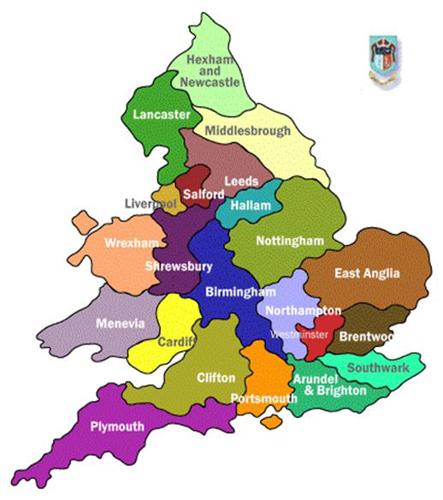 To state the obvious: each of those twenty-two Bishops and Archbishops is facing the same pressures and dilemmas, as do all Church and Faith Leaders at this present time. We all want to get it right, and your prayers will be the single biggest help in achieving that goal.

And finally, Terry from Toll Bar Road spotted this one today, and sent it in:
What are the most depressing words in the English Language? How about "Password Incorrect"?
I was asked to provide a password for my online banking, so I suggested chicken. They said it had to have a capital, so I chose chicken Kiev.

Nothing wrong with that, is there?

Keep smiling, everyone, and stay safe,

May God bless you all,

Fr Paul
---
Thursday 14th January 2021

In case you're wondering who first said, "I didn't have time to write you a short letter, so I wrote you a long one", the answer is EVERYONE. Look it up in any index of quotations, and it's attributed to everyone, from Cicero to Mark Twain. Which is all by way of saying I wrote to the Bishop this morning, as promised: not my longest email ever, but certainly not my shortest. I summarised where we were up to in St Werburgh's and our present thinking about where we should go from here. I would say my postbag/inbox is running at 70/30, 70% arguing for immediate closure and 30% arguing for staying open. This is a flavour of the points being raised on both sides:

Pro-closure: that everyone should be staying home in this emergency; that it's contradictory for the Government to make "Stay Home!" their lead message and yet allow people to come to church; that we as churches should be setting an example; that having been allowed to stay open this time it would be a gracious gesture on our part voluntarily to close; that Catholic DNA runs deep and that some of or elderly folk will put themselves at risk in making themselves come to Mass…

Pro-opening: that Church attendance is part of the solution to this pandemic, not part of the problem; that we need the Mass and communal prayer like never before; that the churches are also doing amazing community work; that no individual is obliged to come to Mass if they feel uncomfortable doing so; and that it's ridiculously paternalistic to say we need to make up people's minds for them by having a blanket closure…

I know there are passionate feelings on both sides. All I would ask for is respect for each other, especially for those you don't agree with, and thoughts and prayers for those who actually have to make the decisions. Theirs is not an enviable responsibility.

To recap for the next few days and for this coming Sunday:
Four Masses as normal this Sunday, 17th January
Stewards: please reply asap to Marian's email asking you your intentions
Remember, everyone: you are under NO OBLIGATION to come to Mass
Monday Morning – Taskforce reviews the numbers and DECIDES what next

Meanwhile, the vaccination programme rolls on. Great to have this first-hand account from the front line. Fifi from Forest Court writes:

"I thought you had cornered the market with the military style operation you have perfected at Werbies (yah!) but the NHS Vaccination centre comes a very close second. There was an army of volunteer Stewards directing, checking, helping, at every step of the way. So reassuring.

Venue: St Columba's church hall; clearly signposted from A41 (info says the Church Hall was donated for use).

Small 5-car queue to get in but Stewards directing/showing one where to park.

Stewards at entrance to Hall, at door, more checking, then inside two lines of spaced tables manned by NHS staff dishing out the vaccine.

NHS checking medical history again, then short jab (the Pfizer vaccine).

Immediately afterwards, directed to large airy tent put up behind Hall, boarded underfoot for ease of walking, rows of spaced chairs to sit and wait for 15 minutes before leaving.

Home now, cup of tea + lemon danish for the driver…"

I didn't know they had a Car Park up there? Honestly?

And yes, Fifi, they did come to us for a few tips of how to organise things and sort the Stewards out. It was our pleasure to help.

Lemon Danish??? Steady on, Feefs!




Great to hear from our old friend Jean from Panton Road this morning about an item that had caught her eye regarding Whalley Abbey. Do you all remember a wonderful Parish Day Out we had there a few years ago, exploring the incredibly beautiful Ribble Valley? Belonging to the Anglican Diocese of Blackburn, they now have new plans for the Abbey:


Lancashire: Plans to establish new monastic community in Cistercian abbey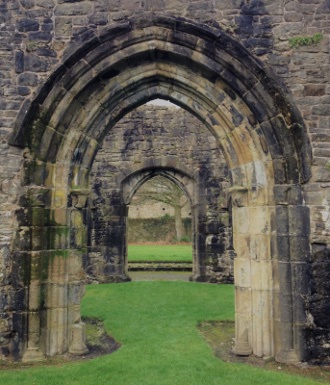 Whalley Abbey ruins

Source: Anglican Diocese of Blackburn
The ruins of a Cistercian Abbey in Lancashire are getting a new lease of life this year, with the announcement that a new director is planning to open an ecumenical monastic community on the site. The Abbey is owned by The Church of England. It nestles on the banks of the River Calder and on edge of the picturesque village of Whalley; part of Lancashire's stunning Ribble Valley.
Whalley Abbey was first established by the Cistercians, in 1296. The building was not completed until 1480. Just 57 years later it was closed in Henry VIII's Dissolution of the Monasteries. The last Abbot, John Paslew, who added a Lady Chapel to the monastery, was executed at Lancaster in 1537 with two other monks, for high treason, as he refused to accept the King as Supreme Head of the Church in England. His remains were returned to the Abbey and hung there in chains. The monastery was then largely demolished, apart from the church, and turned into a private house by the new owner Richard Assheton of Lever.
The new Director of Whalley Abbey will be Revd Adam Thomas, who is currently Curate at St Cuthbert's Church in Lytham. Prior to ordination, one of Adam's roles was Lake District National Park Authority Development Programme Director and Head of Commercial Services.
Adam will take up his new post on March 1 and will steer the Abbey's life in a new direction during 2021 and beyond as we emerge from the pandemic.

Doesn't this make us long for the time when we can go on Parish Days Out again? Hang on in there, everybody: we will get through this horrible virus, and we will have our lives back again. Please God, sometime soon!

May God bless you all, and keep you safe,

Fr Paul
---
Wednesday 13th January 2021

Good hour with the Taskforce this morning reacting to the current situation and deciding our next move. I really do owe this group an enormous debt of gratitude: they've met every week for the past many, many months, to keep an eye on a fast-moving situation and create a forum in which we can make all our decisions together.

Heavy inbox at the moment, as you can imagine, and I do thank you all for writing. I'm getting up to a hundred emails a day, on this and other subjects, so I know you will understand that I can't reply to them all individually. But I will do my best.

Put at their starkest, they can be divided into two points of view:

Pro-Closure: There is a life-threatening virus out there, the Government have told us all to "Stay Home", and we need to set a good example. Catholics have very strong feelings of duty/obligation/guilt and will struggle to Mass when they shouldn't, many of them elderly. We need to take this decision away from them by closing our churches.

Anti-Closure: The right to practise our faith – and all faiths and religions – is one of the deepest human rights, and it should not be taken away. Obligation has been suspended, you have told people they are absolutely entitled to stay away if they wish, but for those who do want to come, it is vital that the churches remain open.

Let me say immediately, for those of you who say, "Close St Werburgh's immediately!" and "Never close St Werburgh's!", I don't have the authority to do either. Nor should I have, in my opinion. The Bishop has the final say either way, and rightly so. I could advise closure, but he'd want me to make out a jolly good case, and I could resist closure, but again I would have to argue my case. The final say is his. At the moment, the instinct of the Taskforce is to wait and see. Many commentators seem to believe that the picture will be significantly clearer by the weekend. Let's hope they're right.

The challenge here is to strike the right balance, and is what the Government themselves have to do, in so many areas:

Personal freedom versus Government diktat
Acting as a single Church versus local knowledge and conditions
My freedom to live my life versus my effect on those I live among
The health consequences of lockdown versus those of not locking down
Health versus economy

For one brief – only very brief – moment the other night, I actually felt sorry for Our Dear Leader, BoJo. Don't worry, I poured myself a stiff gin and it soon passed. Seriously, who'd be a Prime Minister?

The upshot of our excellent discussion this morning is as follows:

1. We are staying open this Sunday as advertised, partly because it is very late to cancel or change at three days' notice, and because the evidence of this Sunday's attendance figures will be vital in planning the next stage.

2. Meanwhile, we will be contacting all our Stewards to see who wish to continue and who wish to stand down. Depending on that survey, and attendance next Sunday, we will see if there is a case for reducing the number of Masses.

3. Reducing from four to three would not economise on Stewards at all, as we would still need two Shifts of eight each. The only feasible reduction is from four to two or one. Total attendance last Sunday was 179, which is a little over capacity for two Masses (160).

4. Decisions will be made next Monday morning, based on the numerical surveys of Stewards and congregation, and also on any other Diocesan or Governmental advice that may have come through by then.

5. FP will write to Bishop Mark tomorrow to explain our thinking and let him know where St Werburgh's Chester is up to, one of the well over 100 Parishes and Mass Centres in our Diocese. Who'd be a Bishop?

May God bless you all, and keep you all safe and well,

Fr Paul
---
Tuesday 12th January 2021

As expected, we heard from Bishop Mark last night on how he would like us as a Diocese to respond to the latest Covid-19 situation and lockdown. Sadly, as we have seen, it has not been possible for all the different churches to act in concert here, nor for all the Catholic Dioceses to react the same way. Some have devolved to the individual parishes the decision to remain open or close; some have devolved it down to the level of the individual Deanery.

In essence, Bishop Mark would like us to keep as many of our churches open for as long as possible, and offering as much as possible to our people, though he fully recognises that this is dependent on the willingness of volunteers to Steward the churches and will vary from area to area. Here is his communication in full:


THE SURGE IN INFECTIONS

I am conscious that public concern is growing about the rapid spread of infections and the capacity of hospitals to care for the sick. It seems we are entering the peak of the present wave of the pandemic. I attach the statistical assessment as it stood at the end of last week for the local authorities in the Diocese:

Area and Number of cases per 100,0000
Halton: 1,188.96
Wirral: 812.72
Warrington: 789.80
Cheshire West: 553.30
Telford & Wrekin: 545.00
Cheshire East: 469.02
Shropshire: 463.35
Trafford: 431.10
Stockport: 426.70
Manchester: 425.84
Tameside: 336.15

It appears we must expect greater enforcement of the existing public health measures rather than the introduction of new measures. However, during this pandemic the whole landscape can rapidly change within 24 hours. I appreciate how difficult this makes your day-to-day planning in the parishes. Keeping the doors of our churches safely open and enabling the public celebration of Mass and the Sacraments might seem modest goals in normal times, however, I know how much this has demanded.

Yesterday, it was good to see the Cathedral filled for Mass and evening Eucharistic Adoration well attended. However, I am aware that this is not the picture in other parts of the Diocese where there has been a significant fall in attendance. It is always important for us to keep in mind that to date, there is no evidence that would require places of worship to close on safety grounds and the safety of our churches is widely recognised by public officials. As you know, we have always worked closely with the public authorities and will continue to do so following every safety measure required of us. However, in an everchanging situation some flexibility may be required in the weeks ahead.

In the light of your local circumstances, I have outlined three areas of consideration for us:

1. Parish Volunteers and Number of Masses. I am aware that one significant impact of growing public concern and indeed of infections may be upon the numbers of parish volunteers essential to the continued safe opening and secure operating of our churches. If you find yourself unable to provide sufficient stewards, then it would be wise to consider reducing the number of celebrations of Mass. I leave this prudential decision to your pastoral judgment and would ask you simply to inform the Vicars General or myself as to any changes in the programme of Sunday Masses which is necessitated.

2. Voluntary Local Closures. In areas where there are very high levels of infection it may be necessary to consider voluntary closures. On Saturday, Father Peter Wright and Father Ravi Bosco took the difficult decision in consultation with Canon Michael Gannon VG to close the churches across Runcorn. This was due to the high level of infections in the Halton district that had led the neighbouring parishes of the Archdiocese of Liverpool to close. Wherever we face similar challenges we may likewise have need to consider such temporary, local closures. It is only you who will fully know the local situation. Please contact either the Vicars General or myself if this question emerges in your locality.

3. Clergy Who are Vulnerable at This Time. I have written regarding the retired clergy of the Diocese. However, if serving members of the parish clergy have concerns about personal vulnerability, then please don't hesitate to contact the Vicars General or myself. It may be necessary to consider temporarily standing back from pastoral responsibilities and seeking to make alternative provisions for the parish.


THE CHALLENGE OF THE WEEKS AHEAD

I have indicated in this Ad Clerum how circumstances may demand, in the weeks ahead of us, reducing the number of Masses and where a parish can no longer guarantee all safety measures the temporary closures of churches. This may also become a consideration in districts where infection rates and public concern is rapidly growing. Be assured of my support and that of the diocesan officers in meeting these challenges. However, it is always important to keep the clear perspective with which we have worked throughout this crisis. It was reflected in the recent statement you may have seen from the Bishops of Scotland following the enforced closure of places of worship. The bishops note the widely acknowledged spiritual, social and psychological value of churches remaining open at a time of increased stress, heightened anxiety and personal loss for many people and go on to address the heart of the matter, writing "Public worship is a human right, and a duty humanity owes to God … Catholics need the Eucharist and the Sacramental encounter with the LORD as necessary for their wellbeing and their ultimate salvation."

May Saint Joseph, to whose care the Holy Family was entrusted, help us make prudent decisions and meet the challenges of the weeks ahead,

+ Mark Bishop of Shrewsbury


I've asked the Taskforce to come in for an extra meeting tomorrow morning, Wednesday, so we can discuss this in detail and decide our own response. If a number of Stewards decide to come off the rota, which they are absolutely entitled to do, then we will have to look at offering fewer Masses on a Sunday morning, going down from four to three, or possibly even two. Last Sunday, we welcomed 179 to the four Masses. Our approximate maximum (always dependent on the balance of bubbles and singletons) is 80, so 179 could easily have been accommodated at 3 Masses. But just how this would allow a reduction in the number of Stewards required I am not too sure, as it would still require two shifts, eight on duty in each shift, the same as now.

This is what we will discuss tomorrow. Of course, the Government could introduce new restrictions at any time, including requiring all churches to close, or the Dioceses could revise their guidance.

It's a fast-moving situation, everyone, and we will do our best to keep you up to date on a daily basis via this horrendous Blog.

May God bless you all,

Fr Paul
---
Monday 11th January 2021
4.30 pm now and awaiting Bishop Mark's feelings about a very fast-moving situation. Our Taskforce met this morning, as usual, and had an excellent hour debating all the issues. Clearly some people voted with their feet yesterday, as they are absolutely entitled to do, but not quite as many as we were expecting. But there are two issues here: the willingness of our parishioners to come to Mass, and the willingness of our Stewards to turn out to facilitate their coming to Mass. Some Stewards have already indicated that they would rather not, and if this number grows, then our viability as a Mass Centre goes. It was good last night in our CathSoc Zoom meeting to get a flavour of what was happening in other parts of the country, as all our students are still at home and have not returned to Chester:
Clifton Diocese: each church can decide for itself.
Southwark Archdiocese: all churches seem open.
Liverpool Archdiocese: Deanery by Deanery, Dean to decide. 
My preference, as I've always argued, is for all the 22 Dioceses of England and Wales to act together in concert. If that's not possible, then I would favour the Bishop deciding for the Diocese as a whole. Just as soon as I hear Bishop Mark's position on this, I will let you all know. Meanwhile
It's 11th January, for Heaven's sake!  Have none of you noticed that I've been putting "2020" on every day's Blog up to now? Or just been too polite to tell me? (Thanks to Tekkie One for pointing it out last night. Dozy? Who? Moi?) Before we totally lose sight of the New Year, enormous thanks to Marian Curtis for sending over this enchanting embroidery of the Minnie Louise Haskins poem we referred to and quoted: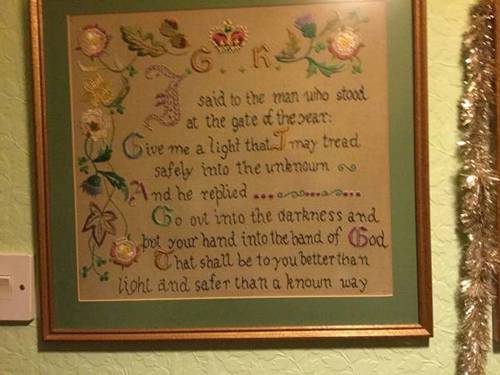 Any ideas who made it, Marian?
The Week of Prayer for Christian Unity is fast approaching. First reactions? "Forget it this year!" Second reactions, "No, don't let's - let's see what might be done…" So, in that spirit, a very useful Zoom meeting this afternoon of the Christleton and Waverton Churches Together. That's a grouping of six churches in total: St James C of E Christleton; St Peter's C of E Waverton; Christleton Methodists; Rowton Methodists; Waverton Evangelical Fellowship; and St Werburgh's. Traditionally, we have met at noon in each of those six churches and chapels on one of the days of the week, for a time of prayer and fellowship, and refreshments afterwards. St Werburgh's has traditionally hosted the Saturday, and the lunch I have personally laid on afterwards has been famous the length and breadth of the County. It means 2.00 am in the kitchen, but the sight of those little Methodisti and Anglicano smiles just made it all worthwhile…
So, we are going to see what we can do remotely this year, using the material supplied by Churches Together in Britain and Ireland. Go on their website and it's the first box you come across on their homepage:
St Werburgh's is going to host on Thursday 21st January and use Day Seven of the suggested service material. In previous years, we always supported this week very wholeheartedly, so is there anyone who'd like to join me in presenting the virtual service? Get in touch if you would, and I'm sure, between us, we'll do both St Werburgh's and the Week of Prayer proud.
Countywide, Churches Together in Cheshire, we alternate a Chester Cathedral Service with an event in one of the larger churches of the county. Not possible this year. Instead, we are compiling a video of Ecumenical Activity in the last year or so throughout Cheshire. Our own wonderful John O'Sullivan is helping us put the clips together into a 15–20-minute compilation, and clips are coming in from all churches in all parts of the County. Any of you have any you'd like to send in? Ideally, it should be of churches working together on some joint enterprise rather than St Myrtle's doing their own thing or All Saints being terribly All Saintsish. But something with All Saints and St Myrtle's doing something together? Now, that is a clip! Send it over, as soon as possible, please, and we'd love to see it, and, if possible, incorporate it in the final video. Thanks, everyone!
Finally, to end on a depressing note, I've just had this email from one of our Werbies:
Mon 11/01/2021 16:17
Just back from hospital - all appointments cancelled – two-thirds of all beds are Covid.
If we needed the seriousness of the situation bringing home, that does it, doesn't it? 
May God bless you all, and keep you all safe and well, 
Fr Paul
---
Sunday 10th January 2021
We suspected numbers would be down this morning, given the amount of uncertainty there is out there about the growth of the virus and the state of the lockdown: but, in the event, not as down as we thought:
9.00 am: 38
10.00 am: 37
11.00 am: 58
12.00 noon: 46
Total: 179. This compares with 234 last week, and an average of 260-280 in the period after Public Mass was re-started in the summer. A certain amount of discussion in the papers today as to whether churches and chapels should still be open, and, as we saw last night, Liverpool Archdiocese are allowing each Deanery to decide for themselves. My own personal view, as I shared last night, is that there should be a uniform policy across all the Catholic Dioceses of England and Wales, and, ideally, across all churches of all denominations. I saw two problems last night with saying to a Deanery, "You decide": what happens if all the Parishes of that Deanery do not vote the same way; and who makes the decision? It seems to me a hideous bit of clericalism to say it should be the Parish Priest on his own. Do you agree? But if the Parishioners are to be consulted, how exactly, in the middle of a lockdown?
The papers wouldn't be the papers without at least one screaming tabloid headline, with a crashing bit of alliteration or a horrendous pun. Today, top prize goes to the Sunday Mirror, leading on Her Majesty's decision to be vaccinated: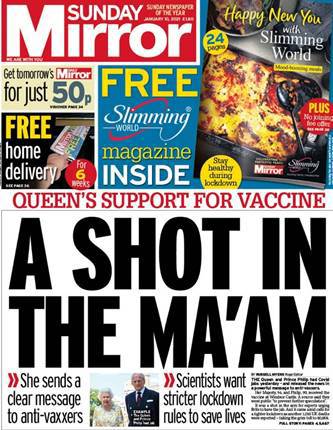 "A Shot in the Ma'am" – priceless!
And a nice email from our old friend (?) Hugh of Handbridge this morning:
Hello Fr Paul,

Great news to read that all 80+, fragile, vulnerable and infirm will have had their vaccinations very soon. Maybe you could reassure the Choir from personal experience that it doesn't hurt and there are no serious side effects?

Best wishes,

Hugh.
Most caring. Very kind. How considerate. Come here, Hugh, while I pat you on the head with this traffic cone.
One of the things that amazes me most about this parish – apart from how you put up with your irritating Parish Priest, shall we say – is the wealth of professional talent we find here. At one level, of course, you leave it at the church door, the community at Mass a gloriously egalitarian one. But if I've ever needed to draw on that professional expertise, I've never asked in vain. I often boast, for example, that we have more doctors here than the National Health Service. Certainly, if you have to be taken ill, the middle of Mass is one of the better places. The last time it happened, a year or so ago, the poor wretch was attended by two GP's, a heart surgeon, a geriatrician and a couple of psychiatrists. Not surprisingly, they made a full recovery.
In that context, delighted and thrilled to see a huge promotion for one of our leading Werbie Lawyers just before Christmas, Tommy Teague, aka His Honour Judge Teague QC, and, as of 24th December, Chief Coroner of England and Wales. Tommy has been one of the leading Crown Court judges in Liverpool for a number of years, and, before that, here in Chester. Three years ago, he was selected to lead the enormous Independent Public Enquiry into the death of Anthony Grainger during a Greater Manchester Police operation. I was privileged to be able to read the full Report – it ran to hundreds of pages – and can attest to what a superb piece of investigation and judgement it was.
Not surprisingly, His Honour has now been nabbed for a top job, heading up the whole Coroner service for England and Wales. He has to make sure the whole system is working as well as it possibly can – not easy, in these Covid-19 restrictions, where there is a backlog in all court cases – but also to take the very controversial and high-profile Inquests himself. An absolutely key position in our judicial process, and they couldn't have got a better man for it.
When I say I sometimes have to draw on the professional expertise of the Werbies in the pew, one of the most important ways is for Work Experience for our students. Last Half-Term, in October, I took one of our six Oxbridge hopefuls (six over a large range of schools), wanting to read Law, to Tommy's Court in Liverpool, and the student had an amazing day, seeing two high-profile cases, meeting the barristers, and immersing themselves in the whole justice process. Tommy could not have been kinder or more accommodating to this youngster, with the result that they are now totally sold on the Bar as a profession. The barristers' profession, not the saloon, bar, Choir! Oh, for heaven's sake…
By the by, this week ahead is when all six will hear if they have been successful. A nerve-racking time, so do keep them in your prayers.
The whole Parish sends Tommy our warmest congratulations and best wishes as he takes up this awesome responsibility. If we were still able to sing hymns, we would have had your favourite at Mass this morning – "Lord of the Dance".
Appointment of new Chief Coroner



His Honour Judge Thomas Teague QC will be appointed as Chief Coroner of England and Wales, in succession to His Honour Judge Mark Lucraft, from 24 December 2020.

His appointment as Chief Coroner of England and Wales was made by the Lord Chief Justice after consultation with the Lord Chancellor under the Coroners and Justice Act 2009. His appointment is for a three-year term.

The Chief Coroner provides judicial leadership for coroners and the coroner service in England and Wales as well as issuing national guidance and leading on training for coroners.

Biography

His Honour Judge Thomas Teague QC was called to the Bar (Inner Temple) in 1977 and took Silk in 2000.

He was authorised to sit as an Assistant Recorder in 1993 and appointed a Recorder in 1997, both on the Wales and Chester Circuit. He has been a Circuit Judge since 2006.
(What his sainted parents would have said about his having his picture taken with the Anglican cathedral in the background, I just can't imagine. Harry and Moth, please don't blame yourselves on the way he turned out. You did your best).
May God bless you all,
Fr Paul
---
Saturday 9th January 2021
Just in from the Car Park Mass at St Clare's, which I would have to describe as "bracing". Icy fingers good for the soul? In which case, my halo should be glowing brightly. That'll be the day! The one unmistakeable piece of good news with the weather is that it isn't quite so dark quite so early. Driving back along Hough Green at 4.30, it was still sunset, and lights were just starting to come on. Alleluia! Be of good cheer, everyone: the year is turning, and the darkness is abating.
Very important piece of news from Kate at St Clare's:
Incidentally, I was watching/participating in a Mass from St. Gregory's, Chorley, this morning, during which an announcement was made that there would be no further public Masses after this Sunday - it seems Archbishop Malcolm has left it to individual deaneries to make the decision about future Masses. There was also a plea from the Public Health Authority in Lancashire asking churches to consider closing because of the rapid rise in infection rates.  I suppose that, with Liverpool Archdiocese being such a large area, local variations need to be taken into account when making decisions.
The Mayor of London has asked for churches to close, as they are in Scotland and all parts of Ireland. It may well be that our Bishops in England Wales voluntarily offer to close our churches in the course of the coming week. Speaking personally,  I think it is fairer for the Bishop to make a decision for the Diocese as a whole, and even better for the whole Bishops' Conference to act as one. Asking individual Deaneries to choose could be invidious if there is a split of opinion within that Deanery. And who decides on behalf of each church: just the Parish Priest, or are the parishioners to be consulted at all? Choppy waters! Let's wait and see what this week brings: and rest assured, whatever developments there are, you will read them in this Blog first! (Groans from Werbies near and far).
You lot really do keep me going. Whatever I mention on this wretched Blog, it sets someone off somewhere. And I love it! Referring to Allen Hall the other day, the Westminster Diocesan Seminary in Chelsea (successor to St Edmund's Ware) prompted Bunty of Balmoral Park to send in these pictures of the famous tree under which St Thomas More sat, the patron Saint of Lawyers (and so having double the work to do with Redcliffe…).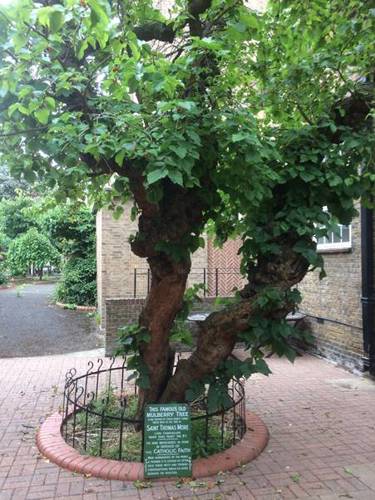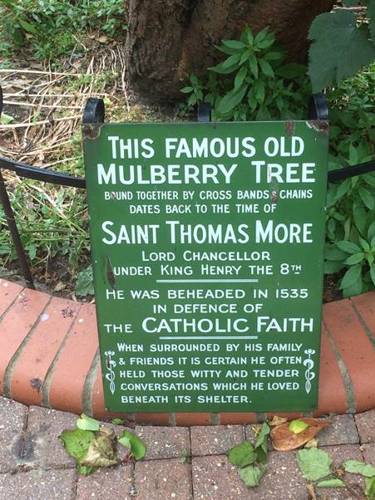 So, what were you doing in Allen Hall, Bunty? Do tell. But thanks for the pics.
Jane wrote recently from "darn sarf", working full time for the NHS:
Thought you might like to see the small Community vaccination centre we launched yesterday at St Christopher's Church in Haslemere. We have Jeremy Hunt as the local MP so always challenging! Was on site for 14 hours vaccinating, 365 in a day all over 80 and a tiny drop in this massive task. The Church has closed and we have taken over the whole site for 4 months… We let them back for Christmas Day!! It's very humbling to see in action. We have 3 other sites launching 4th Jan and 2 more are in Churches… I was on a roll with the contracts at the diocese! I now have 3 Churches, I Community Hall, a theatre and 6,000 housebound or Care Home residents to vaccinate. We will be on track to complete our over 80's by January 8th for first vaccine.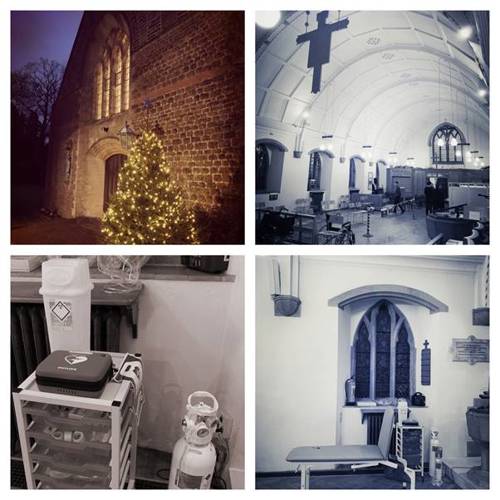 Well done, Jane – and the whole country is behind you and everyone else involved in rolling out this mammoth vaccination programme.
After finishing the Newsletter this morning, I did a very enjoyable spot of phone-bashing, and good to hear that some of you in the 80+ category have already had your first jab, with a date in the Diary for the second. Dennis from Tattenhall is going this afternoon to Cheshire View. Just make sure it's your sleeve you roll up, Dennis, and not your trouser leg!
If they are taking the 80+ fragile, vulnerable elderly as their first category, should we not invite them to come here to St Werburgh's and they can do our Choir in one go? No? Just a suggestion.
May God bless you all, 
Fr Paul
---
Friday 8th January 2021

Early morning phone call today from a neighbouring Diocese:

Caller: Was the Epiphany a Holyday of Obligation?
FP: No, all Obligation was suspended last March at the start of Lockdown.
Caller. Thank you. I asked my own Parish Priest, but he said he didn't do technicalities…

I love it! The whole of Canon Law dismissed in a single word. Of course, "The Rule Book", the Constitution, however you want to call it, is always "technicalities", dry as dust, until you actually want a specific answer to a specific question. Then it becomes highly useful, and saves an awful lot of argie-bargie, as they say in German.

Yesterday, it was good to share Bishop Mark's excellent news about Vocations and our House of Formation down at the Cathedral. This whole project is one of the fruits of the Diocesan Appeal of almost five years ago, which we supported so generously. Another incredibly valuable benefit was the setting up of the two Clergy Welfare Officers, two super ladies whose job it is to keep an eye on sick and retired Priests and Deacons. I know what a magnificent job they are doing. No, I haven't met them personally, before you ask (ever the hard word from you lot) but I'm sure I shall in the fullness of time. The "Our Mission Together" Appeal finishes this coming summer, but good to hear from Bishop Mark that the inevitable drop-out rate from those who pledged five years ago has been remarkably small:

CONTINUING COMMITMENT TO OUR MISSION TOGETHER

At the recent meeting of the Diocesan Trustees, it was reported that contributions to Our Mission Together have generously continued during the pandemic; with only a small reduction sadly due to the deaths of parishioners and to changes in personal, financial circumstances. This commitment has provided for the service of our Clergy Welfare Officers and for the increasing number of men coming forward with a desire to serve the Diocese in the Priesthood or the Permanent Diaconate. The work of the Youth Mission albeit reduced has been able to continue online and we can also look forward to the developing and expanding work for the training and support of catechists and for the promotion of the vocation of Christian Marriage as we emerge from the pandemic.

Looking at events over the pond yesterday, I was reminded of how many great American parishioners and families we have – Steve, Diane and the two Monsters (Michigan), Gerry, Jen, Michael, Gavin, Garrett and Megs (Delaware), and Harper and Janet still very much Honorary Werbies despite being Down Under (Maryland). There still is an intensely Special Relationship between our two countries, and we are all with you and thinking of you in the difficult days you are going through as a nation.

I said yesterday that any Parliamentary Chamber being trashed is a deep affront to democracy, and thank you to Humphrey from Huntington this morning for reminding me that Hitler came to power in 1933 by torching the Reichstag in Berlin: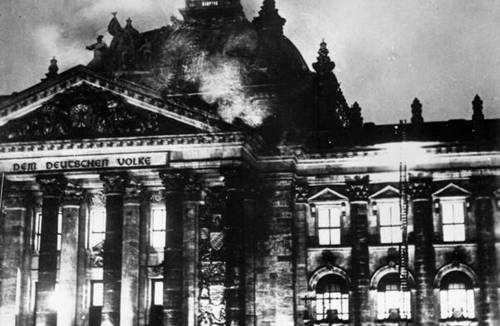 After German reunification in 1990, the competition to rebuild the Reichstag was won by one of our greatest British architects, Sir Norman Foster. He took his inspiration from the central glass dome of the original building, and used that to create an amazing glass bubble inside to house the new (united) German Parliament: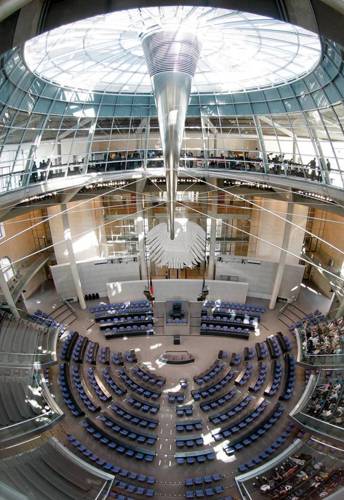 Thanks also to Christopher from Christleton who spotted this article about Fr Reggie Foster, the legendary Latin Prof, in a newspaper from Reggie's native Milwaukee after he returned there because of poor health a few years ago. You can see from the photo how he was able to keep teaching right to the end, even in his wheelchair, to within a few weeks of his being Called Home to the Lord on Christmas Day.

Milwaukee priest determined to keep Latin language alive
By: Justin Thompson-Gee
Posted: Jan 6, 2018 8:29 PM CST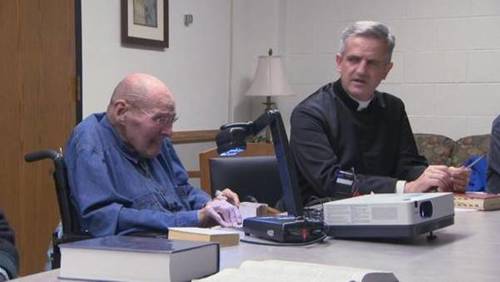 MILWAUKEE (CBS News) -- In the basement of a nursing home in Milwaukee, the world's best Latin lessons are given for free. That's where Father Reginald Foster, a priest who lacks patience, gives his lessons. He's managed to convince hundreds of people to dedicate their lives to a language no longer living, reports Brook Silva-Braga.
"His passion is what drives us," one of his students said. "He's like the rock star of the Latin world, so it's just great to be in his orbit."

The language was once at the heart of Western culture, and for centuries, most books and official letters were written in Latin. But today, it's considered a dead language – except to those who are trying to resurrect it.
"Do you see what I'm sitting on? My butt. If you sit on your butt and study Latin as long as I have you'll be a master, too," Foster said of why he's so good at the language.
And if you think it seems too hard to learn, he's not buying it.
"No. Every poor person, derelict, prostitute, anyone else in Rome spoke Latin," he said.
As a young man, Foster, the son of a Milwaukee plumber, became a priest in Rome with a knack for the language. In 1970, he got a call from the Vatican. They wanted him to translate Latin for the pope. For the next 40 years, he would write speeches and letters in the names of four popes.

"Pretend that you're the pope. What would you say? I said, 'Well I have some ideas,'" Foster said.

One of Foster's ideas was rejecting the trappings of the church. Instead of a priest's habit, he dressed like a working man. Instead of a mattress, he slept on the floor. His Latin was so good the church tolerated Foster, but the high-profile job didn't quite satisfy him.
"Because what we were doing upstairs in the office was useless. No one's reading those letters," he said. "So I said, I want to do something useful …Teach them Latin in my way."

His way meant scrapping the traditional method of memorizing tables of text and instead treating Latin as a living, spoken language. It was a radical departure in approach.
"Something out of the world of fantasy, a monk in Rome speaking Latin," said Jason Pedicone.

Pedicone had studied Latin by rote, but never heard anyone speak it out loud.

"He has scores of students who have become Latin teachers, several who have become Ivy League professors. That has affected a change on the culture of the way Latin is taught," he said.

Foster would still be teaching and translating at the Vatican if a bad fall hadn't landed him in a wheelchair – just as an appearance in Bill Maher's 2008 documentary "Religulous" landed him in hot water with the church. He was flown home to Milwaukee, never to return to Rome.
Now, at 78, he's working on textbooks to share his method, but is devoid of sentiment. When asked if he had photos of his life he said he'd thrown them all in a dumpster years ago. Luckily, a neighbor climbed in and saved them.
"I'm never going to look at that again. And it's gone, passed, finished, over with, done, forgotten, goodbye, ciao ciao," he said.

Except it isn't really. Foster's old students not only carried on the Latin summer classes in Rome, but also Jason Pedicone's nonprofit, the Paideia Institute, now brings Latin into underserved American classrooms, helping their English vocabularies in the process.
And on a recent Saturday, high school students swept through New York's Metropolitan Museum of Art for a Latin scavenger hunt.
The gospel of Father Reginald Foster is winning converts.
So she won't forget, Grace Milliman wrote the date she started Latin on her shoes in Roman numerals.
"September 2, 2016 and I walked into that classroom and, like, my entire life changed," she said.
When confronted with the notion that Latin is a dead language, Milliman countered "It's Roman around. It's not dead."
"Seeing a young person that excited, even if he doesn't want to admit it, I think would make Reginald really really happy. And I think that in her, he will live on and the tradition will live on," Pedicone said.

Foster maintains that Latin is easy – only if it's taught right.

And finally, that photo of the old Pay Phone with its Button A and Button B has certainly set some of you off. Many thanks to Sybil from Saighton for this timely reminder: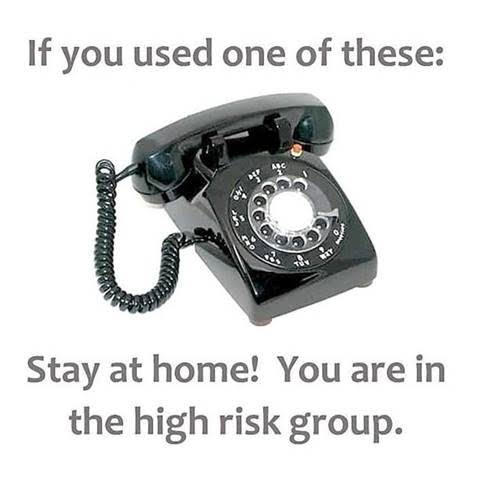 Thanks, Syb!

May God bless you all,

Fr Paul
---
Thursday 7th January 2021

The old cliché says a picture paints a thousand words: and some of the pictures this morning from Washington and the Capitol were truly chilling. They left me wondering what our reaction would have been if we'd awoken to see pictures of our own House of Commons trashed, rioters sitting in the Speaker's Chair, feet up on the desk, waving the Mace around. Both places are the hearts of their respective democracies, and to invade the space is to attack the concept, a concept that so many millions have died for in two World Wars, to defend and uphold. Democracy is so precious, and its foundation stones are free and fair elections. If Donald Trump believed that electoral fraud or malpractice had taken place, he had to produce the evidence: and that's precisely what's been absent. An accusation without any support is a smear, and they are dangerous things. Any parliamentary chamber like the House of Commons or the Capitol is not just a symbol of civilised debate, it's actually the physical embodiment of free speech and the controlled exchange of views. To see such places trashed I can only describe as deeply chilling.

On a happier note, good to hear from Bishop Mark how well our Diocese is doing on the Vocations front:

A SPRING-TIME IN VOCATIONS

The Diocese continues to see a small yet genuine spring-time in vocations. This year I hope to ordain four men to the Priesthood and two to the Permanent Diaconate. The fruitful work of the Shrewsbury Discernment House has been able to continue amid the difficulties, uncertainties and restrictions of this past year. Since the summer, three men have already been able to share in this discernment and three more young men are due to begin at the start of this year when Covid restrictions allow. We also have two further applications for the Priesthood from mature men, together with one candidate accepted into training for the Permanent Diaconate; one man entering the propaedeutic programme for the Diaconate and two other applications and enquiries amid the difficult conditions of the pandemic. Thank you for your continued prayer – especially for those able to offer the Mass on Fridays – and for the support and encouragement for this vital work for the promotion, discernment and formation of those vocations which will provide for the service of the whole Diocese in the century ahead.

Four Priestly Ordinations this year? I can't think the last time we had so many in any one year. Let's keep them all in our prayers.

There are two young men pursuing their vocations with very strong Werbie connections. The first is our own beloved Mikhael, who, when not studying for the priesthood, likes to dress up in funny clothes: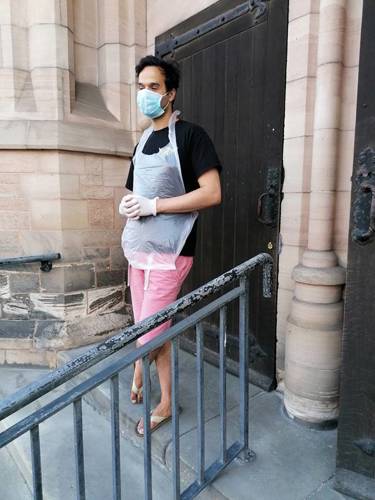 In September, as most of you know, he began his long, very long training for the Jesuits. Great to hear from him not so long ago that all was going well, and his mother – either Mystic Meg from Malpas or the Wicked Witch of Whitchurch, take your pick – sent us this lovely picture of Mikhael and some of his fellow novices having a break from their studies at St Beuno's to hike up the Great Orme last November, a reward for completing their 30-day Ignatian Retreat. (I'm amazed they're still able to stand!) It's Novices: Eamonn, Mikhael, Pavel – Novice Masters: Fr Simon and Fr Pavel (again).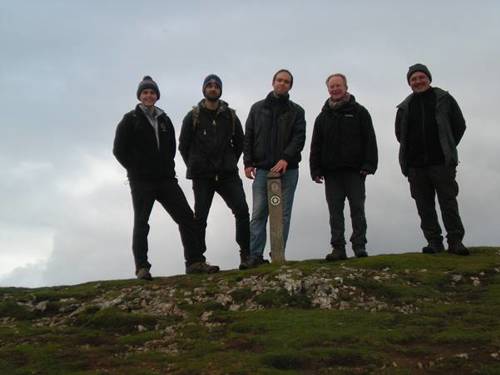 Mikhael is second from the left, with the designer stubble. You could see from those pink jeans he's a bit of a poser. (I hope to blazes he hasn't taken them with him to St Beuno's, Meg!)

The second seminarian we've adopted – well, I have anyway and would like you all to join me – is Gary Carter. Gary was a student here at the University when I arrived in 2006, and I taught him in a couple of courses I delivered on the Philosophy of Religion. If I describe him as the Front Row Keenie, all present and former teachers will know exactly what I mean: a wonderful bundle of enthusiasm, totally committed to the class, and eager to answer every question you pose. Every class needs one! Gary was a keen Baptist in those days but starting to question the ecclesiology of the Baptist church, and the great weight it throws on the local church and the personalities therein. They literally choose their own Minister, and subsequently can give him – or her, nowadays – an easy or a very hard time. Gary's own Baptist church, down in the home counties, was going through a period of turmoil, and that was leading him to question that particular model of church, and, as part of his Theology Degree, look at alternative models.

He stayed on for a Masters and then, not sure what to do next, went back home and looked for gap-year jobs. He saw one at the Salesian College, Chertsey, the excellent 11-18 Boys' School run by the Salesian Order. (My great mate in seminary, Steve Boyle, now Parish Priest at St Anselm's Dartford, was at Salesian Battersea, in the days when there were no t's in Battersea). They were looking for a one-year Assistant in the Reprographics Department. Yes, teachers old and new, he was to be the Uncrowned King of the Banda (1970's), Gestetner (1980's) and Xerox (1990's onwards). In Gary's own words, it was the first time he'd been part of a living religious community, and it made an enormous impact on him. Here's a photo from their website of some of the pupils with their Chaplain, Fr Kevin: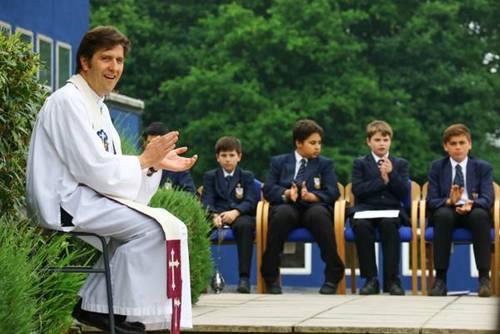 One year led to two, to three, and the momentous decision to become a Catholic. I was thrilled and delighted with this decision, having been no part of it whatsoever, just the recipient of lovely letters every so often telling me how he was getting on. And then from there, the equally momentous decision to apply to Arundel and Brighton Diocese [Where that? Ed] for training for the Priesthood.

He's done two years now, and, as I think I mentioned recently, Wonersh is going to close. When Gary rang last night my first question was where he was heading to next, and the answer was that all the students are going, en bloc (as they say in German) to join the Westminster students at Allen Hall. In the Heart of Chelsea. (Eat your heart out, Jesuit Mikhael!) But when I say "all", in fact there are only eleven Seminarians in Wonersh now, which brings home exactly why it needed to close and merge with another Seminary. Oscott is completely full at the moment, so Allen Hall was the obvious choice. Gary is very positive about the move, and very much looking forward to being part of a larger student community. I never cease to thank God that my own Seminary was full to bursting in my time, 75 students and not room for another single pesky one. It makes for such a better student experience than a half-empty college, students rattling round, the vast empty spaces speaking of "the old days". No thanks! When it's time to move, it's time to move. Here's a photo of Gary, on his recent placement in the Catholic Parish in Worthing: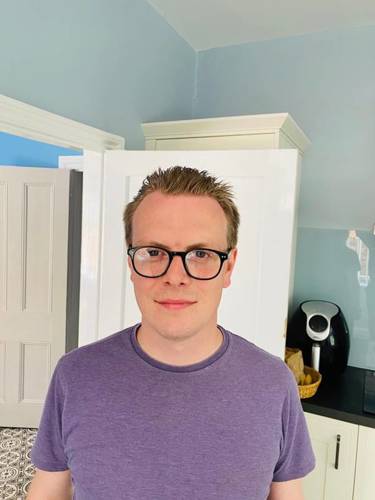 He's the nicest lad you'll ever meet, and let's adopt him as one of "our" students. Which means, first and foremost, keeping him – and posy Mikhael – in our prayers. Good luck, lads!

Worthing, incidentally, was my beloved friend Fr Dominic Rolls' first Parish, unforgettably described by him as "All blue rinse, twinsets and pearls. And that's before you've left the Presbytery…"

Rest in peace, Dom, and may God bless Mikhael, Gary and you all,

Fr Paul
---
Wednesday 6th January 2021: Feast of the Epiphany

Great to see 33 of you here at Mass this morning – and 18 down at St Clare's. We were wondering in both Parishes what the take-up would be, given that Obligation has been suspended and a new lockdown was announced two days ago. Obviously, some people are reticent to come out, and that we totally understand; equally, there are many others who want to observe all the required regulations and guidance, but also want to get on with their lives as best they may. Total support for both groups, which is why we offer everything we can to both.

I was struck, reading the online Newspapers yesterday, how many Church of England ministers have made the unilateral decision to close their churches. That, of course, they are fully entitled to do: but we just could not do that in the Catholic Church, by which I mean any individual Priest make the decision either to close or open his church, off his own bat. This is a decision only Bishops can make, of behalf of their Dioceses, and our Bishops have always tried to act totally in concert, through the Bishops' Conference of England and Wales. I am sure there is strength in this sort of collectivity. And if any of you feel our Catholic Churches ought to be closed, you have the complete right- and with our full support – personally to stay at home.

I wonder what it was like in Herod's time, when those three Kings made that extraordinary journey to the stable in Bethlehem. A pity we didn't ask one of them when he popped into our 4.30 pm Christmas Eve Mass here in St Werburgh's: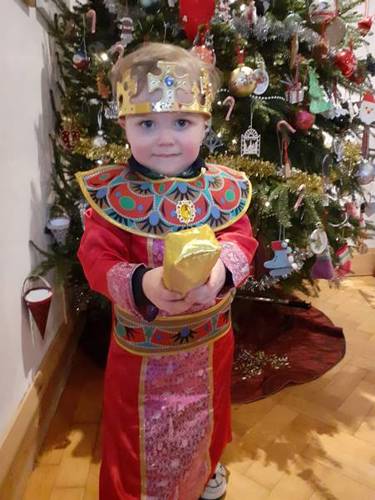 What a treasure! Thanks, Clare and David, for bringing him along and for allowing us to post the pic. I had no idea this year that any of the children would come in their costumes, and almost all of them did, at the 4.30 pm Mass. It was just like the old times, and definitely brought a lump to the auld eejit's throat, I can tell you.

Talking to our great friends down at St Clare's this morning, their feeling about Churches being allowed to stay open during this latest lockdown was essentially the same as ours: surprise, delight, and the sense that it could be a reward for how closely and conscientiously we have adhered to all the rules for Covid-19 safety. I do have to congratulate St Clare's here: you couldn't fault the whole experience, from entry (masks, hand sanitising) to trace and trace, to seating, to a one-way system around church, and on to Holy Communion and exiting. They had it down to a tee, and gave a great sense of safety, reassurance and security to any wizziter as a result.

But they also felt the same as us – that there could be some slight sense of relaxing now, and that this is the very worst time to be easing off, the virus rampant and many people looking at the churches to wonder why they've been privileged – and so ready to pounce on the slightest transgression on our part, believe you me. Social distancing remains imperative, and so no apologies for repeating our new mantra:

IF I CAN TOUCH YOU, THEN WE ARE TOO CLOSE

I want you all to be sick of that, in the right way, and not the wrong way. Geddit?

May God bless you all,

Fr Paul
---
Tuesday 5th January 2021

I posted a Blog at 8.30 am this morning with the clarification on Places of Worship as far as we had it by that stage. Sorry to have to get you out of bed, Tekkie Two.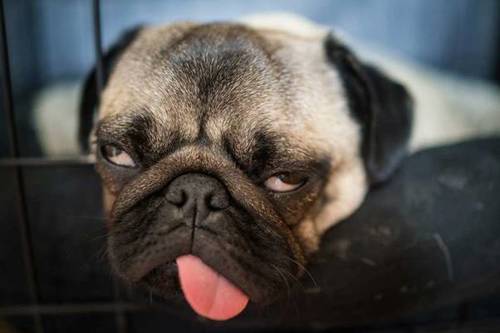 Bishop Mark promised us a further statement as and when the national Bishops' Conference had had a chance to digest developments, and that duly came through at 3.30 pm today:

PUBLIC WORSHIP TO CONTINUE DURING THE NATIONAL LOCKDOWN

As indicated in my message last night, following the Prime Minister's broadcast and announcement of a national lockdown the Mass and the Sacraments will happily continue to be publicly celebrated on the basis of us following with care, the guidance already received and the additional guidance I share with you this morning. We can be thankful that the Government has recognised the essential place of public worship by making worship the only permitted public gathering. I am sure this is a testimony to all the work you have undertaken with the assistance of dedicated teams of parishioners; and to the witness given to the central place of worship in every parliamentary constituency during the last lockdown. It appears public health officials have recommended that places of worship can be relied upon as places that are Covid secure thanks to the vigilance of clergy and people.

A PASTORAL LETTER

I will send a Pastoral Letter to be read at all Masses in the Diocese on Sunday to emphasise the freedom to worship and to stress the responsibility this brings for us all in the weeks and months ahead.

A GRAVE RESPONSIBILITY

It was with sadness that we learnt that the Scottish Administration has prohibited all public worship. In England, we are conscious that we will be subject to even greater scrutiny as to how we implement the required safety measures. My engagement with the media in defence of the freedom to worship suggests there will be some lack of sympathy and even incomprehension as to why churches and other places of worship remain open while other gatherings and facilities are prohibited by force of law. We have a grave responsibility to provide for the safety of those who come together for worship together with the safety of the wider community. This is a daunting task, yet we have all the means to ensure the safety of parishioners and that of the wider public by following the extensive guidance provided which we can now say is 'tried and tested' in all the months since the summer of last year. I hope we can go through the time ahead with both confidence and a continued sense of responsibility that has been seen in all our parishes not least at Christmas. May I also encourage you to take all prudent steps to safeguard your own health in carrying out these duties as we face the rapid spread of a new variant.

THE GOVERNMENT'S STATEMENT

The guidance published last night for all places of worship in England read as follows … "Communal worship and life events You can leave home to attend or visit a place of worship for communal worship, a funeral or event related to a death, a burial ground or a remembrance garden, or to attend a wedding ceremony. You should follow the guidance on the safe use of places of worship and must not mingle with anyone outside of your household or support bubble when attending a place of worship. Weddings, funerals and religious, belief-based or commemorative events linked to someone's death are all subject to limits on the numbers that can attend, and weddings and civil ceremonies may only take place in exceptional circumstances. You must not mingle with anyone outside of your household or support bubble if you do attend a service."

I think this is a moment for us to stress that there should be no mingling and social interaction between households either within or outside of our churches. We need to be conscious not only of safety, as we have done since the summer, but also of public perception.

FIVE IMPORTANT REMINDERS AS WE GO INTO LOCKDOWN

All our churches must provide hand sanitiser at all points of access and egress
Stewarding and managed social distancing is required at all times
Full cleaning of the space must be done immediately after the church has been in use
The time people are in church must be always minimised (the use of liturgical choices will assist this including preaching a short homily and the omission of the prayers of the faithful)
No congregational singing is permitted and if choir or cantors sing, the choices of music must ensure that the "exposure time" in church is not unduly prolonged for the faithful

FINALLY…

As this third national lockdown begins, we enter a new and yet strangely familiar landscape. I hope the guidance contained in this Ad Clerum will be of practical assistance and also reassurance as we set out into this new period of public health restrictions. I will seek to keep you updated on all developments so we can together maintain the public celebration of the Mass and the Sacraments and the safety of the many people and communities we serve.

May Saint Joseph accompany us through this difficult and demanding terrain. Wishing you a joyful celebration of the Epiphany of the Lord,

+ Mark Bishop of Shrewsbury

Syd and Denise were in this morning, as faithful as always, to Steward and Sacristan the Requiem Mass for Eddie Moloney, and we were able to have a brief chat about last night's developments – to agree how fortunate we were that churches were being allowed to stay open, how that was in part a recognition of the scrupulous arrangements we have put in place to be Covid-secure, and thirdly how this redoubles the obligation on us all to adhere totally to those guidelines. I mentioned yesterday that Monday Morning's Taskforce Meeting had shared some concerns that we were all becoming a little casual. We must not! Please! My main worry is physical proximity to each other: if I can touch you THEN WE ARE TOO CLOSE. I am going to make that my mantra over the coming weeks and months, and we are going to have some display boards and notices in the Church Porch to remind us of this fact. The virus is mainly spread through physical contact. So…

IF I CAN TOUCH YOU, THEN WE ARE TOO CLOSE

After our wonderful Christmas together, where our Stewards played a blinder to make sure we were all safe, a number of you have expressed concern about Olive from Orford, our tireless telephone operator for the Booking System. I've always said we're a caring and sharing Parish, and that this Blog helps to spread that caring concern far and wide, connecting people in many lands and continents, creating a true family of human compassion and charity, bringing together old friends and new, building a sense of [Oh do get on with it, you tedious old windbag. Ed]

We've all been worried about Olive from Orford and how she overdid it on the phones before Christmas. So, it was truly touching to see Danny and Miriam, down in Sutton Coldfield, in the midst of all their new-born baby bowels and howls (good, eh?) [No, not particularly. Ed] expressing concern for Olive, and hoping she was now feeling a little better after spending the whole of Christmas and New Year lying down in that darkened room.

See, Olive - you're big in Sutton Coldfield, the posh end of Birmingham! [You did that one yesterday, and it wasn't very funny then. Ed] Your fame is spreading far and wide. Next thing she'll be talking of a payrise. I gather the darkened room is doing some good, and the poor girl is only heard to mutter these days, "Hold the line please... I'm connecting you now... Push Button B..." The doctors are hopeful she'll make a full recovery, but I have my doubts myself. They didn't have to put out all the empties after every shift, did they?

Who on earth remembers Button B???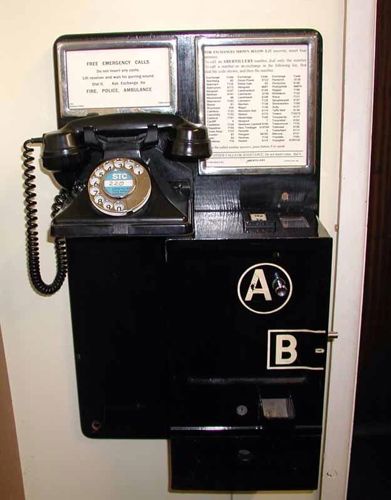 Remember, everyone:

IF I CAN TOUCH YOU, THEN WE ARE TOO CLOSE

May God bless you all, and hoping to see as many of you at Epiphany Mass tomorrow at 10.00 am who feel comfortable in joining us,

Fr Paul

STOP PRESS: Just been announced that Dom Robert Igo has been elected as the next Abbot of Ampleforth. For many years, he has been the Prior of their daughter house in Zimbabwe. Please keep him and the whole community in your prayers as he begins this daunting task.
---
Tuesday 5th January 2021: 8.30 am

Good morning, everyone

Quite a confusing evening last night with Lockdown announcements. As ever, we had to wait to get the small print, and many of the newspapers gave misleading stories where Church Worship was concerned.

Bishop Mark emailed us all at 21.30, as follows:

Dear Fathers and Deacons,

Following the Prime Minister's announcement earlier this evening of a national lockdown coming into force at Midnight, it appears from my reading in this past hour of the governmental guidance (attached) that "communal worship" continues as the only permitted public assembly during the days ahead. I will await any further guidance or clarifications from the Bishops Conference Secretariat and write to you tomorrow. However, I wanted to share my understanding with you tonight in the event of any concern.

Wishing you a good night's rest.

+ Mark

He attached the Government Guidance, the key paragraph of which is as follows:

Weddings, civil partnerships, religious services and funerals

Weddings, civil partnership ceremonies and funerals are allowed with strict limits on attendance, and must only take place in COVID-19 secure venues or in public outdoor spaces unless in exceptional circumstances.
Funerals can be attended by a maximum of 30 people. Linked religious, belief-based or commemorative events, such as stone settings and ash scatterings can also continue with up to 6 people in attendance. Anyone working is not counted in these limits. Social distancing should be maintained between people who do not live together or share a support bubble.

Weddings and civil partnership ceremonies must only take place with up to 6 people. Anyone working is not included. These should only take place in exceptional circumstances, for example, an urgent marriage where one of those getting married is seriously ill and not expected to recover, or is to undergo debilitating treatment or life-changing surgery.

Places of worship
You can attend places of worship for a service. However, you must not mingle with anyone outside of your household or support bubble. You should maintain strict social distancing at all times.
You should follow the national guidance on the safe use of places of worship .

This seems to indicate that we can stay open for Public Mass, and that seems to be Bishop Mark's reading as well. Do you all agree? Fantastic news, if true.

He says he will write to us again today, Tuesday, hopefully in receipt of official guidance from the Bishops' Conference. As ever, he has been totally on top of a very fast-moving situation, and I am very grateful to him, as I know we all are.

So: present understanding is that we can stay open for Public Mass, starting with Epiphany tomorrow if we've timetabled a Mass then, but that we are awaiting definitive guidance, hopefully today.

Best wishes to everyone, and keep smiling (he said, through gritted teeth). Actually, if we can stay open for Mass, that is tremendous news, and, for me personally, very unexpected.

Fr Paul
---
Monday 4th January 2021
Another excellent meeting of the Taskforce this morning, reviewing all the Christmas arrangements and statistics, and wondering what on earth Our Dear Leader is going to announce in his televised address to the nation this evening. It's bound to be tighter restrictions and looking at the figures for new infections and deaths, no-one could argue with that. The only question is whether Places of Worship will be included. They have been in the new Scottish Lockdown announced this afternoon, the only exceptions being Weddings (in exceptional circumstances) and Funerals. We're braced for something similar here tonight, south of the border. Sometimes I'm mighty glad I don't have a television…
Reviewing yesterday, Sunday, we were delighted that so many are continuing to want to come to Mass in these difficult times – but there were one or two signs of people relaxing a little in their observation of the regulations, and we all felt a timely reminder of the essentials wouldn't go amiss, in this Blog and on the Newsletter. Especially:
• Staying in your seat once put there by the Stewards, and not subsequently moving about the church until you are guided out for Holy Communion at the end;
• Keeping six feet apart in the queue when waiting to come into Mass;
• Avoiding physical contact with other parishioners and Stewards – which is why the Sign of Peace has been suspended, remember?
We know this is tough, because the social interaction is one of the important reasons people come to Mass, communion with the Lord and communion with each other. But in these Covid-19 times, we just have to make sure we are six feet apart at all times. Except for the Lord. We can get as close to HIM as we like!!!
Excellent CathSoc committee meeting last night, via Zoom. This is the programme they've put together for this term:

CathSoc Meeting Agenda
03/01/2021
Agenda
We made it everyone! 2021 is here! Congratulate yourselves on all of your hard work, yes including you FP, we wouldn't be here without each and every one of you - Barl
Catch Up and check in
Meetings from 10th January until the 28th March
Provisional Meeting Plan:
10th January - Cake and Catch Up
17th January - Prince of Egypt Film Night
24th January - Disability and Inclusion
31st January - Kahoot Quiz
7th February - Prayer and Praise - What is Love? Affirmations
14th February - Pancake and Catch Up
Student Development Week
21st February - Cake and Catch Up
28th February - Debate Night
7th March - CathSoc Around the World
14th March - CathSoc Bake Off - Emma to judge
21st March - Scavenger Hunt - Possible in person, back up online
28th March - Stations of the Cross - Possible in person, back up online
Easter Break

Big events of the term -
Disability and Inclusion
Scavenger Hunt
Well done, Students! It really is an imaginative programme, isn't it? Of course, it wouldn't be our dear students without a little funny at the end, a little chance to have a go at their Beloved Chaplain, and his ever-so-slight tendency to fall asleep as soon as gets on any train or bus…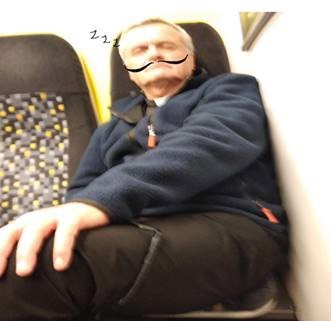 Very witty. Most amusing. Highly ha-ha.
Just you wait, Henry Higgins…
Half-an-hour into the Zoom Meeting, I had a call-out to the Hospital. I wasn't on duty, but the On-Call Chaplain was "unavailable". Let's hope we're not going back to…
Sheer joy this morning to get an email from my beloved Danny and Miriam, announcing the birth of Baby Alex. Gorgeous or what?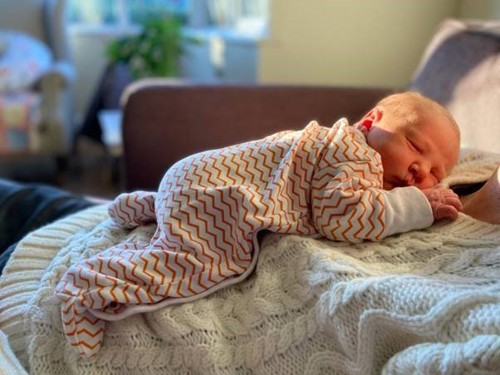 I would have six, wrapped up in a box with pink ribbon. They've chosen "Alex" as a name, wanting something that work equally in English (Danny) and German (Miriam). I was angling for "Wolfgang", but when did they ever listen to me?
Many, many congratulations both, down in Sutton Coldfield. (Call that the posh end of Birmingham if you really want to wind the locals up).
So now, all eyes on the Dear Leader at 8.00 pm: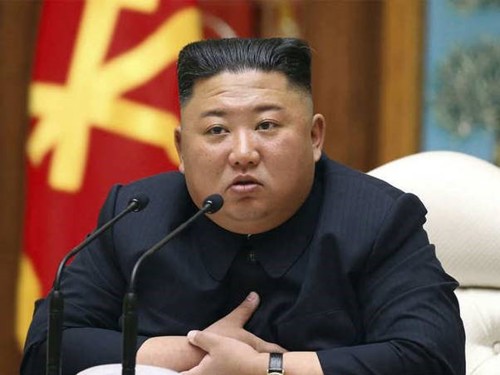 Well, they do both have funny hairdo's, you have to admit.
See you all tomorrow, if I haven't been locked up by one of them by then,
May God bless you all,
Fr Paul
---
Sunday 3rd January 2021
Numbers holding up well again today, a cold and crisp morning here, a total of 234 making their way to St Werburgh's for Mass:
9.00 am: 54
10.00 am: 59
11.00 am: 63
12.00 noon: 58
Always lovely to see some first-timers returning and today it was Gladdybags and family. Welcome back! We've missed you, possums! Some evidence also today that we are generally not being as conscientious on maintaining that six-feet social distancing as we should be. Let's all be one hundred per cent about this, folks: Public Worship being allowed to continue under Tier Four is a huge concession, and a tribute, I guess, to how well all churches and chapels have implemented the strict government and denominational guidelines. One outbreak or positive test traced back to a church service could set the whole cause back horribly: so, hand, face, SPACE remains the order of the day for all of us!
Sad to hear from our good friend David from St James' Avenue of the death on Christmas Day of one of my old Greg Profs, Fr Reggie Foster. He was the legendary Latin Professor at the Gregorian University. An American Carmelite from Milwaukee, he had a somewhat uneasy relation with the Jesuits, who could never quite fathom why quite so many students turned up to his classes, held every afternoon in the Greg. In the morning, he was the chief Latin translator up at the Vatican; then he'd stroll down to the Greg, and the fun would begin, always with a bottle of beer for refreshment: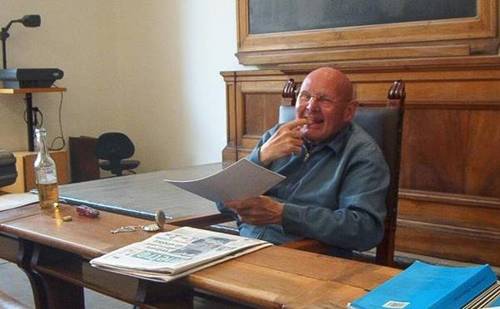 There were five Levels – what he called "Experiences" each lasting one year – and everyone had to pass Level One. This was an elementary knowledge of how Latin worked such that you could read a passage from the New Testament Vulgate with a dictionary to hand. For the vast majority of students, that was quite enough, thank you very much. But if it had whetted your appetite, there was Level Two the following year, which is when the fun really started. With no exam now to pass at the end, there were just Reggie's weekly worksheets, which were a sheer joy. He wrote them entirely himself, typed on his old Remington, and they combined a lot of Latin with some fabulous extracts and quotations from his favourite authors, and a fair bit of banter. Handed in each week, they came back to you the following week – and I have never seen marking like it in my life. Sometimes he wrote more than you did, every piece of translation meticulously scrutinised and corrected.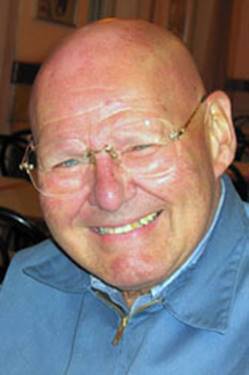 It was all such fun, and Level Five, the final one, was on a Saturday afternoon. Everyone in the English College had lectures on a Saturday morning, but lunchtime that day had a definite air of "end of the week", is anyone going to refill that carafe, honestly you could die of thirst around here… And then a small group of us would make our apologies. "Where on earth are YOU going?" – "Back to the Greg." – "WHAT? Are you mad? What on earth for?" – "Reggie's Latin Class". And that confirmed the worst suspicious among the student body that we really were nuts.
But we loved him, his wonderful sense of humour his utter dedication to Latin and his periodic mock-rants. Like so many people who love the church deeply, he had this pretence that it was all going to the dogs. Just an act, but a class one. It would usually be triggered by something that had happened that morning "up on the hill", as he always called the Vatican. "It's a madhouse up there!" he used to shout, "An absolute madhouse! You will not BELIEVE what happened today! Last week, four Cardinals marked their silver jubilee of receiving the red hat. Fine. Nice. If you like that sort of thing." Big snort. "So, they say to me, send them a TELEGRAM. Congratulations. You know. OK. No big deal. Had a bit of fun with "red hat" in Latin, ruber, rubrics. Pretty childish, but it worked. Off they went. So, what happened this morning? TWO OF THEM ASKED FOR A TRANSLATION. I do NOT believe it. And that, my friends, is EXACTLY what is wrong with the church today. Cardinals who do not know Latin. It's all going to the DOGS! I don't want to talk about it anymore, let's do some Latin QUICK! Some Cicero. Yes, Cicero. Now HE could write Latin! THAT MAN could write Latin!"
By this stage, we're all falling off our benches, my great study buddy, John, in danger of passing out. (Now Canon John of St Peter's Leicester, don't you know). It was dramatic, even histrionic stuff, but utterly irresistible. I was always glad that when our time in Rome was drawing to an end, we had the guts to invite him out for a Pizza. Amazingly, he came, and we had the most beautiful evening over in Trastevere, chatting long into the night. Always grateful I managed to find the words at the end to thank him for five marvellous years of Latin. There was love in us students' eyes when we parted, and I know there was in his too.
That was thirty years ago, and he kept teaching right up to the end. His joint passions were Cicero and Haydn. Sadly, he had to leave Rome a few years ago for health reasons, and go back to his native Wisconsin, to the Carmelite House there. But he continued teaching by Skype and Zoom right to the very end, aged 80 when he died on Christmas Day. Here's a very recent photo: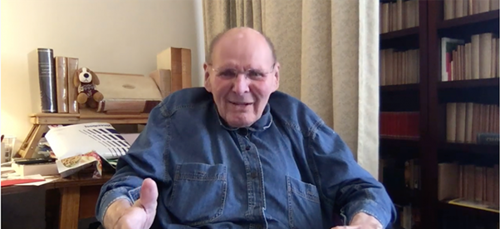 He would have loved the headline on the Carmelite webpage: "Requiescat in pace, Reginaldus". I can hear him now. "Reginaldus? REGINALDUS? Do these cretins know NO Latin? Reginaldus? Oh, my stars, it's all going to the dogs. There's no future in the church anymore. I'm finished with them. Hopeless. REGINALDUS! Have those idiots never heard of the VOCATIVE??? How about [huge bellow] REGINALDE?? Any chance? Never heard of "Et tu, BrutE"? Oh, I'm giving up. I've had enough. Let's do some Cicero NOW."
Requiescat in pace, Reginalde. In paradisum deducant te angeli.
May God bless you all,
Fr Paul