Updates from the Parish Priest
---
Wednesday 25th November 2020

Sad news at tea-time today of the passing of Sheila Fields, one of our most indefatigable Werbies and a pillar of our Sunday Evening Mass. Sheila was always there with at least one of her four daughters, and a few assorted grandchildren as well. I've spoken to her fairly regularly during lockdown, and no hint whatsoever that anything was wrong. But Sheila, always immaculately turned out, was a proud and a private lady, who wanted to keep a very serious diagnosis in the summer to herself, and that I totally respect. Her four wonderful daughters – Sally, Sue, Wendy and Cath – looked after her devotedly at home, and she Went Home to the Lord earlier today. Next Sunday, the Blessing of the graves at Overleigh, would always see her late husband Mick there, with the family grave he tended so lovingly. He left us about six years ago. A wonderful couple, very funny and sharp at all times, together again in the Life Eternal. God bless them both and comfort their amazing family, four daughters and nine grandchildren. And a few great-grands too!

The morning began with collating all the Taskforce's reactions to the Booking System. Tekkie Two has done a super job, and we really only had to tweak the odd bit of wording there, the odd instruction there. It's simple to use, and gives you the knowledge that you've made a booking (by sending you a follow-up email) and gives us all the information we need in terms of names, phone numbers and bubbles. To make it extra simple, we are going to produce a short "Read this first" document, setting out the instructions in ultra-straightforward language. We're confident that, with this in one hand, you'll make your booking with the other in no time at all!

Remember, everyone: booking opens on Tuesday 1st December. On-line, and by phone and in person, ideally between 10.00 and 11.00 am, when we can guarantee there is definitely sometime here to take your call and answer the front door.

I said last night I'd split Bishop Mark's message to us into two halves, and here's the second half:

THE CHALLENGE OF THE CHRISTMAS PERIOD

The Government has indicated there will be a brief and limited easement of restrictions to allow families to come together at Christmas. I believe further details will made known on Thursday. The public authorities are aware that with children home from school and fewer people working over the holidays this will be a time of significantly increased danger of transmission. Hospitality businesses will be expected to "call orders" at 10.00 pm and close by 11.00 pm each night. The Secretariat of the Bishops Conference has been advised to strongly encourage local risk assessments to be completed for each church in its physical location when considering times of Masses and other services. I will send any further advice or guidance received. Booking systems are being encouraged to safely limit numbers and if it is expedient to move "Midnight Mass" to an earlier hour, this should at least be considered this year.

COMMUNAL SINGING

Public Health research is continuing into the potential dangers of transmission attached to communal singing. The prohibition on congregational singing remains as we approach Christmas.

GOVERNMENT CONSULTATION ON FAITH ENGAGEMENT

I think you will be aware of the Government's initiative to consult on faith engagement with government. We have been urged by officials at the Ministry for Housing, Communities and Local Government to encourage Catholics to respond to this open consultation. The link to the online submissions is:

https://www.gov.uk/government/consultations/independent-faith-engagement-review-call-forevidence

I think some of the events of this past year indicates the importance of this review. The call for evidence opened on 13th November and will close at 11.45 pm on 11th December 2020. The contributions of the lay faithful, clergy and religious would be greatly welcomed.

FINALLY…

It was disappointing that the media didn't seem to regard the return of public worship from next week as sufficiently significant to highlight in their reports. I am sure it will be important to use all our means of communication to highlight the return to the Mass and the public celebration of the Sacraments from the first Wednesday of Advent. In the parishes, it will be a matter of returning to the high standards of Covid security as public worship now returns and we prepare for Christmas in every community. I know this will be a source of great joy for the faithful. Thank you for all your dedicated work and care which makes this celebration of Advent and Christmas possible for so many.

May Saint Joseph accompany us in all our preparations,

+ Mark Bishop of Shrewsbury

As Bishop Mark says, it is disappointing churches are classed with Bowling Alleys and Massage Parlours. Not that I have anything against either, he added quickly – especially after that wonderful Bowling Match our excellent friend Richard Curtis from St Columba's organised up at Cheshire Oaks. When was it? It seems a million years ago but was probably only earlier this year. AC and BC are going to be the new designators for years, aren't they? Before Covid and After Covid.

Otherwise, a day spent with five of our Sixth Formers in various schools, preparing for their Interviews. Two of our Medics will face "Mini-Stations", where they move smartly from one five-minute task to another. These can be on a wide range of questions and issues, but they sometimes shove a chart or graph or set of statistics under your nose and ask you to say what it tells you. I tried them this afternoon on this little beauty from the EU of 2018: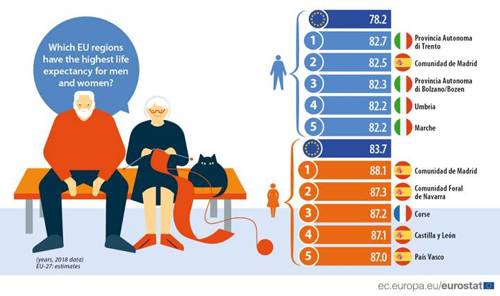 Average life expectancy across all 27 nations of the EU for women (83.7) is five and half years greater than for men (78.2)? But look at the countries: Italy has four of the top five spots for men, and Spain has four of the top five spots for women. Healthiest region in Italy? Trento, right up in the foothills of the Alps. For Spain? Madrid, for both sexes. Interestingly, neither of our sixth-formers today knew where "Corse" was. Napoleon could have told them!

A large part of the story, of course, is the Mediterranean diet, high in fruit and vegetables, lots of salads, not a great deal of meat, plenty of oily fish: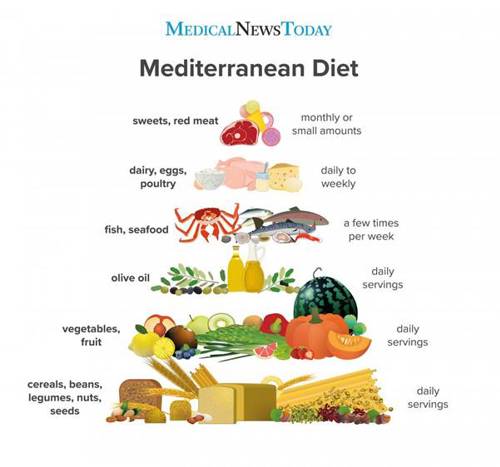 The bad news? That it does have to be washed down by a glass or two of Vino!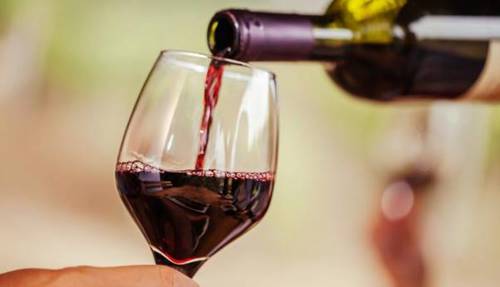 May God bless you all,

Fr Paul
---
Tuesday 24th November 2020

Very welcome message from Bishop Mark this evening confirming that churches will re-open for Public Worship from Wednesday 2nd December onwards.

THE RE-OPENING OF THE CHURCHES FOR PUBLIC WORSHIP

I am happy to report the Government's decision that communal worship will be able to restart from Wednesday 2nd December. The Diocese will once again be divided by local authority and regional tiers where varied restrictions will apply. However, the Mass will be able to be publicly celebrated across the whole Diocese from the first Wednesday of Advent onwards. The Government's decision that communal worship must be permitted across all tiers of restrictions recognises the importance of communal worship to which our parishioners have given witness and the considerable work undertaken to ensure our buildings are safe environments. I very much hope that there will be no further restrictions imposed upon the Mass and the celebration of the Sacraments. However, much will now depend on our continued vigilance and putting into practice of the guidance we have received.

As we await the announcement of the local tier restrictions, I attach a simple table which has been produced to advise places of worship on what will be possible and not possible within the various tier categories. I hope this will be helpful:

What will we be able to do in each Local Restriction Tier?

N.B. Wherever interaction can take place, social distancing of 1m+ should still be strictly maintained between anyone who doesn't live together or are in a 'support bubble'

There's more useful stuff in Bishop Mark's message tonight, but I thought I'd leave the second half till tomorrow, to avoid too much info at one go.

Phone call out of the blue this morning from my old mucker Fr Jerome, Parish Priest at St Mary's in Crewe. "Someone tells me that in St Werburgh's you're developing an online booking system for Christmas Masses…" We sure are! Nice to think our fame is spreading out there, and we're now the parish to consult! I couldn't begin to claim any of the credit, being the most untechnological priest in the world: but I did share with him what our Tekkies have been doing, and how the members of the Taskforce have been testing it out as we speak, with the intention of going live next Tuesday morning, 1st December. Good to have a natter with the old wreck, and swap notes about Chester and Crewe. Many of us will remember a delightful Parish Day Out Gerry organised not to so long ago, featuring Mass in St Mary's and a chance for the Werbies to see at close quarters one of the Ancient Relics of Shrewsbury Diocese. Here's a photo of him from yesteryear when he was Bishop Brian's Secretary: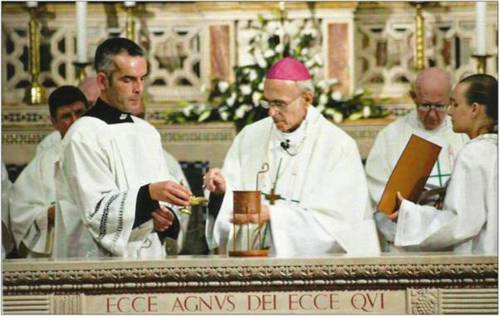 The passing years have not been kind to him. I'll leave it at that. We briefly shared a Presbytery together a century ago, both Curates. But there is a Faustian Pact of Silence about that time, i.e. any dirt he can attempt to dish on me I can repay a thousand-fold. Trust me, I'm a Doctor.

The individual members of the Taskforce are all giving Tekkie's Booking System a trial run at the moment, as I say, with the aim of getting our feedback to him by tomorrow morning. It's a very simple system to use – meaning, if I can find my way around it, then anyone can – and we just have a few suggestions about wording and so on before it's launched on the world at large.

Meanwhile, the phone calls asking to book continue even though we've shouted from the housetops that Booking doesn't open till 1st December. I spoke to one very nice lady this morning and used the opportunity for a little gentle market research. No, she's never heard of our Blog (lucky lady!) and didn't have access to our website or Newsletter. Yes, she just likes to come here at Christmas every year and guessed there'd be a Booking System rather than actually knowing one was proposed. Yes, she'd be delighted to ring us again on 1st December and make her booking. I wonder how many others there are like her? Probably a lot more than we realise.

What else has been going on today? Not much: just a Zoom Lesson with Bro Edmund at Ampleforth, a Zoom Conference Call with Cheshire Churches Together leaders, and a couple of funerals. Pretty quiet day, really. We commended both Christine McEnery and Annie Lancaster to the Lord. Christine was a very keen parishioner of St Columba's before going into residential care, but nobody's perfect. Good to see Sue Carr there and others from St Carpark's to celebrate Christine's life. Christine always came to our monthly services in Grosvenor Manor NH and was a lively member of our group. I really do miss those Nursing Home services and hope it isn't too much longer before we can gather once again.

Annie Lancaster was Hugh of Handbridge's mum, but, again, nobody's perfect. We all make mistakes. Next March, she would have been 101. Born in Omagh, Co Tyrone, she met Charlie when he was with the RAF in Co Fermanagh, and they married in Donegal in July 1945. Returning to his native Birkenhead, John was born in 1947, Pat in 1952, before moving to Sale where Hugh was born. Understandably, they had to leave pretty quickly after that and settled back in Eastham on the Wirral. Charlie Went Home to the Lord five years ago, at the age of 92, and Annie joined him last week, having celebrated her 100th Birthday in March this year. After Charlie's Funeral, Hugh hosted the wake back at his house. Point blank refused this time, on the grounds of some Covid-19 restrictions, some such rubbish, whatever. Honestly, what some people will do to get out of buying their round.

May God bless you all,

Fr Paul
---
Monday 23rd November 2020
Pauline Harper has got her own back! Typical Pauline, she left very precise Funeral Arrangements, and a paid-up Funeral Plan. According to Mike, her excellent son, on the phone this morning, she wanted her funeral at St Paul's. St Paul's? I queried. Yes, that's right. I was going to ask if the service was to be taken by Fr Werburgh, when he exclaimed, "No, hang on – at St Werburgh's, by Fr Paul!" That's better! Not that I have anything against St Paul's, one of the finest John Douglas buildings in Chester, sadly closed now for a number of years… Just look at some of this exquisite detail: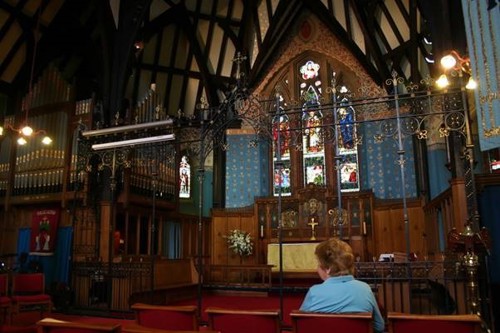 Covid-19 Taskforce swung into action this morning, joined by Marie Broadhurst to discuss Church Decorations. Sadly, not possible to have a Christmas Tree this year: imagine bringing it into church, erecting it, decorating it, and taking it all down afterwards – all at six-feet-apart social distancing. Simply impossible. Real pity, as I know how much it was loved by you all, and especially those lovely twinkling lights that Redcliffe always described as his favourite part of Christmas here in church.
Sunday is the First Week of Advent, so the Advent Wreath will be on show as usual, but now positioned in front of the Altar in the space where we would normally distribute Holy Communion. This will make it even more prominent if – when? – we re-open for Mass on Sunday 6th December. The Crib will be raised up on the Sanctuary behind the Altar, the most visible place we can find, though sadly the children will not be able to come up and view it at close quarters. Instead of greenery around church, which tends to dry out and become a real fire hazard, we will have artificial decorations on top of each of the radiators, candles (unlit), glitter pine cones, gold, silver, red, and some artificial lights. We hope you all approve when you come in at Christmas!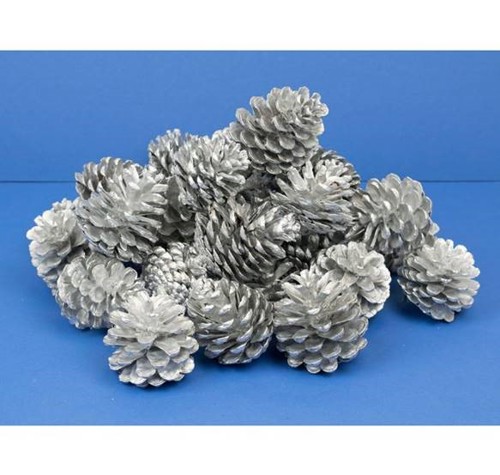 The second half of the meeting was spent on Christmas arrangements. Again, please note, booking begins 1st December, not before. Tekkie Two (aka Pharma Pete) has produced an excellent online booking system, which we are all playing with and trialling as I speak, to get our observations back to him. This will then go live on Tuesday 1st December, and be one of the three ways of booking: online, by telephone, and in person. We anticipate high demand for all these Masses, so, as ever, the request is please BOOK EARLY.
On the booking forms, we will have half a dozen or so key instructions, really important points to note, but not so many so as to overload the whole process:
• Masks are compulsory unless you have Health Exemption.
• Please arrive fifteen to twenty minutes before the start time.
• No parking available at church, we're afraid – the alleyway is for Stewards only.
• The toilets at church are unfortunately not open. Sorry.
• Please only come to one of the nine Masses.
• If you have to cancel, please let us know.
• Once seated, please don't move around the church.
Hope that doesn't sound too bossy or military: but it is a form of military manoeuvre, nine Masses, one after the other, whole church to be cleaned after each one. If we can give all our Werbies and our Wizziters a beautiful Christmas experience here in church at the end of this daftest of all years, it will all have been so worthwhile.
And finally, more vital instructions for any of you planning on holding a Nativity Play this Christmas: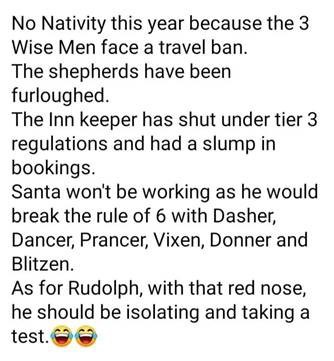 Now we await, either later on today or tomorrow, the Government's detailed arrangements for the end of Lockdown Two. You'll find "churches" under the heading "Bowling Alleys, Massage Parlours and other Places of Entertainment"…
May God bless you all,
Fr Paul
---
Sunday 22nd November 2020
First all, a thousand apologies for a real senior moment last week: when I said Pauline Ivory, I meant Pauline Harper. It was Pauline Harper whose family asked me to call and joined me for a joyous celebration of the Sacrament of the Sick, and who went Home to the Lord on Friday. Pauline Ivory is another redoubtable Werbie Nonagenarian, also looked after by our SVP, and battling on. Apologies to both Paulines! And I trust Pauline Harper's forgiveness is coming down from on high. I do need it!
Usual fun and games outside church this morning, so many of you dropping by to say hello and pick up a Newsletter. This morning's 'Eated Debate was about "The Crown". Watching it? No, nor me, but plenty of you are. Could it be taken for history rather than imaginative drama? Should it carry some sort of Health Warning beforehand to that effect? Does it matter? Sometimes, I'm really glad I don't have a television… (Check: I'm always glad I don't have a television!)
Good to see you all this morning: but absolutely delighted to see A&M, one of my favourite couples that I married a couple of years ago. Cast your minds back to July, and you might remember that they had just experienced a miscarriage and were finding it as hard as any couple would, neither wanting to over-play nor under-play it, and obviously having completely no context or experience to judge it by as it was their first pregnancy. We had a little time for prayer together in church, you may recall, and lit a special candle which they took away with them. And here they both were this morning, looking very well. Looking blooming actually. "How are you?" I asked, a little more heavily than usual. "Fine!" they both said. "How is your HEALTH?" I roared. Well, Priests can get away with things like this. "I'm expecting!" she shouted back. Collapse of Stout Cleric. Sixteen weeks, all going spiffingly, Junior to make an appearance start of May. I can't wait. Don't care about mum and dad, FP can't wait. He's stupid about things like this.
Another face it was good to see this morning was Hugh from Handbridge. His lovely old mum, Annie, Went Home to the Lord last week, a few months shy of her 101st Birthday. We celebrate her extraordinary life here next Tuesday afternoon. Hugh does a lot for the Parish, and you remember wolunteered for that hardest of tasks when Lockdown One was lifted of researching how licensed premises in Chester were coping with the reopening rules. He threw himself into his work, covered all of Chester and most of Lancashire and the Lake District too, sending us back regular updates from wherever he found himself. Hugh, we are indebted to you, sir!
Blacon Cemetery this afternoon, and a beautiful afternoon it was too, both in terms of the weather, dry, sunny and not too chilly, and in terms of being with you all and remembering special people and special places. Some people there I hadn't seen since the start of Lockdown One, for example Mrs Mapp, still going strong at 96. It was a busy two hours, making my way across the Cemetery but then inevitably doubling back on myself as new people arrived and families having graves in different parts. For some, the graves were so recent the headstones had not yet been erected; for others, it was sixty or seventy years ago, but never forgotten. Some graves I blessed on my own, such as John Manifold's, who died a couple of years ago, and whose bequest to us in his will paid for the Great War Memorial in our church. So often, after blessing one grave I looked at the nearby ones and saw another that I recognised.
One family I didn't see for the first time this year was one of my non-Catholic ones, who lost their son ten years ago in a road traffic accident, aged 26. They go to the grave every day, so they were in my thoughts this afternoon, hoping that mum and dad were both well and safe in this oddest of years. I blessed Carl's grave anyway and thought of you both. I missed the flask of hot tea you always bring me!
May God bless you all,
Fr Paul