Updates from the Parish Priest
---
Wednesday 21st April 2021

So many signs today of the world wanting to get back to normal, but still needing to respect all the restrictions currently in place. Couple came this morning to talk about Baptisms, for example: the next major easing of restrictions is in May, but it's just crystal ball-gazing to guess what will come then, if anything, in terms of Public Worship and the Sacraments. Wedding Rehearsal this evening, for one of our two Weddings here on Saturday. Then Brett from Broughton at lunchtime, with his usual list of wonderful questions: today's first was "What was your happiest memory of Seminary?" So many, it's hard to know where to start. If all of Brett's other career plans come to nothing, he'd make a wonderful chat show host!

Excellent CathSoc Zoom Committee Meeting at the end of last week, starting to flesh out the programme for this coming Summer Term. Madame President Barl has done a fantastic job in keeping the show on the road this year and has put together a super programme for the next few months. Here it is in outline:


CathSoc Provisional Meeting Plan: Summer Term 2021
25th April - Easter Egg and Catch Up
2nd May - Film Night - The Two Popes (Sister Act as back up)
9th May - CathSoc Quiz
16th May – Joint Meeting with Keele CathSoc
23rd May – Possible Story-Writing Night
30th May - Bingo
6th June - Debate Night
13th June - End of Year Party

All very provisional and we've had approaches from some other Student Societies for Joint Meetings. But as a basic outline, it looks excellent, doesn't it? Full marks to the Committee for such robust planning in these horrendously difficult times for all students.

Oh, and by the way, they feel some of the Photos on the CathSoc web-page need updating. You know the sort of thing, people choosing different hairstyles during lockdown, experimenting with new looks, that sort of stuff. This is their first suggestion for an updating: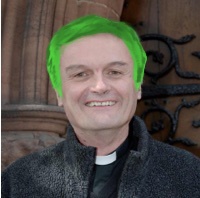 You students: got no essays to write, have you? Nothing better to do with your time?

This afternoon, an excellent catch-up with one of our parishioners who's hit something of a brick wall. I went up to the Countess to see them, only to be told they'd just been discharged, which is always good news. So, round to the house, and a very moving two hours hearing the whole story. It could have been my story, it could have been yours. Let's call them X, and please, please keep them in your prayers as the long, slow path to recovery begins.

May God bless you all,

Fr Paul
---
Tuesday 20th April 2021

Just as the daffs start to fade, the tulips burst out in all their glory: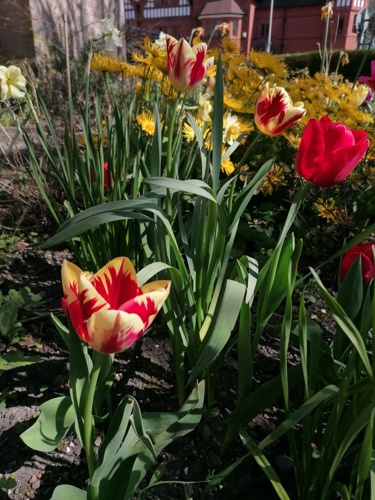 Is "variegated" the word I'm looking for? Never mind, these Blog readers will never know the difference. This next shot shows the bluebells starting to come out, but also how dry it's been for the last month: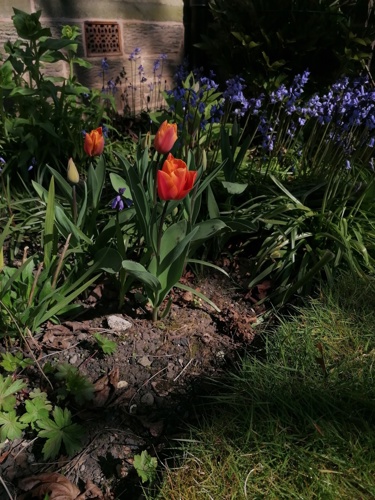 That's the beauty of a garden, it's never the same two weeks running. We don't cut anything down too soon, believing in letting the goodness run back into the bulbs. Then we ask 'Arry from Aldford to come along with his magic strimmer, with Roberta from Rowton (Captain Birdseye's wife) as his Magician's Assistant to cut it all down for another year. What a successful Bulbathon that was last November! Many thanks to all those who turned up in the pouring rain. Everyone has commented on the fruits of their labours, and to everyone I make the same response: "It didn't take me long…"

Having cleared out all the cellars and taken a couple of trips to the tip, we're in a Spring-Cleaning mode now, so watch out, everyone! We're now looking for a good home for the 43 chairs we were given by Chester Cathedral some years ago when they were having a turn-out, and which we've used in various places around the church. Our Fire Audit has included a "Maximum Capacity Survey", and we now realise we don't really need these chairs or have space for them. So, on offer FREE to anyone who'd like them. They are free standing, but also link together to form rigid rows: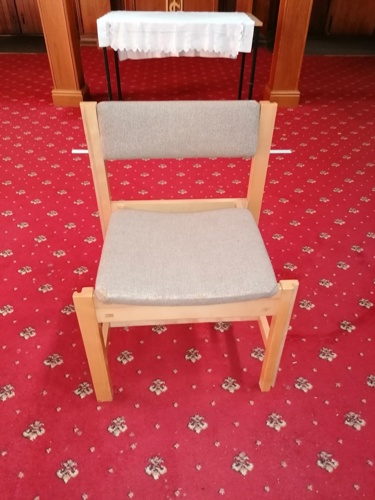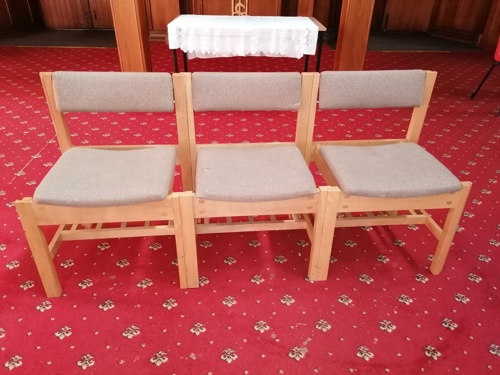 They'd be ideal for a church hall or meeting space, they are in excellent condition, and absolutely free to anyone who'd like to come and collect them. 43 in total.

Good to hear from Stuart, a mate of Terry from Tavin, whose son Adam saw this amazing jet-stream pattern over the skies of Colchester on Easter Sunday morning, the Easter Cross and the Heart of Love.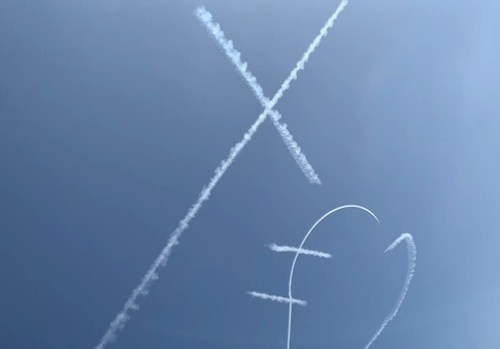 You see – we're even Big in Essex? TOWIE eat your heart out (geddit?)

May God bless you all,

Fr Paul
---
Saturday 17th April 2021

I only managed a glimpse of the Royal Funeral this afternoon, but that glimpse was so deeply moving and powerful. It was the scene of the massed bands of the various Armed Forces playing in the grassed courtyard before the coffin was brought out for the journey to the Chapel. The brilliant sunshine cast long shadows of the servicemen and women in their pristine uniforms, the military precision of their drill as razor-sharp as the beautiful stripes in the immaculate lawn.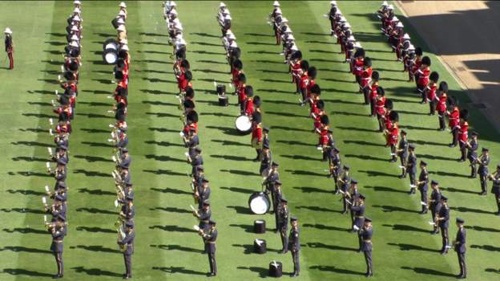 Jerusalem, Finlandia, and then the National Anthem, has ever a Military Band sounded more beautiful? There was a quiet dignity that matched the occasion perfectly: not the crowds and spectacle we might have seen in more normal times, but, for an intensely private man who had lived out his remarkable life in the public spotlight, a quiet serenity that seemed totally appropriate. For the few minutes I saw, I thought it captured the occasion to perfection.

May he rest in peace.

God bless you all,

Fr Paul
---
Friday 16th April 2021
I knew it was going to end in tears. Those sun loungers around the new water feature in Forest Court's Rooftop Bar or The Hanging Gardens of Babylon, as they're known locally. A lovely architectural feature, I would be the first to admit: just don't walk down Forest Street at the back when they're chucking the empty bottles over the side. Normally about midnight. You have been warned
No, this latest bout of unpleasantness is caused by residents putting their towels on the loungers early in the morning. Very unBritish. Olive's sending the Garden Gnome up every morning at 6.00 am, with her "Souvenir of Cleethorpes" Tea Towel to drape over the one nearest the bar. Here it is, just in case any of you think I am making this up: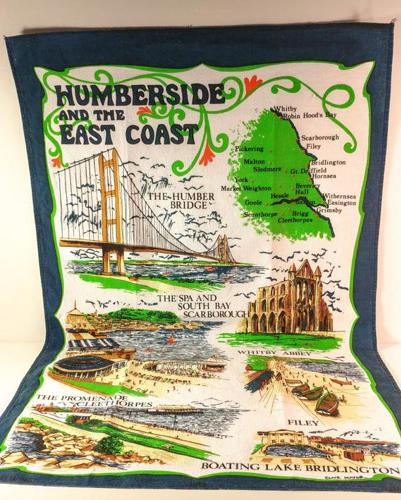 And there it stays all day. Talking of which, she's put this little sign over the Beer Pumps: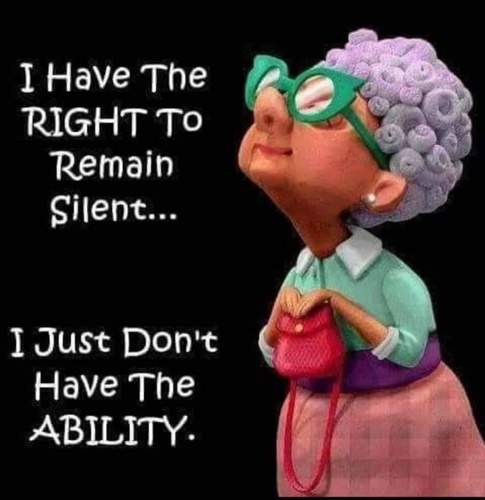 It's going to end in tears, isn't it?
Sick Call first thing this morning to Pat from Sefton, whom I've been visiting each week since she came here from her house on the Wirral to live with her daughter. Down a notch today, but not too down to curse the fact that she wasn't able to get out and enjoy this lovely sunshine, the warmest day we've had for a fortnight?
Wedding at lunchtime, and, writing up the Registers beforehand, odd to think that this will soon be a thing of the past, all Registers going online. I can see the sense, but it takes away a little of the magic, that satisfying moment of handing the couple their marriage lines at the very end of the ceremony. But no time to be poetic today, with a call out to a very poorly lady in one of our Nursing Homes. The usual routine, requiring me to take a Lateral Flow Test beforehand, in an extraordinary little pod they've built on the car park, partitioned down the middle by a glass screen. This allows families to visit residents, even if they can't actually make physical contact. As with last time, not sure if I'm glad or sorry when it comes back negative. Ten days quarantining sounds quite attractive at the moment! Peggy is on her way to the Lord, the Sacrament of the Sick to speed her on her way.
Back then for Mass here, for our beloved Gerry's 89th Birthday Intentions, and a couple of Zoom Meetings, a CathSoc Committee Meeting at 6.45 and our fortnightly Prayer Meeting at 7.30 pm, organised and led so superbly by Trudy of Trumans. Well done, our Trude!
May God bless you all,
Fr Paul
---
Thursday 15th April 2021

They have finished! Alleluia! Or, being Eastertide, how about Alleluia, alleluia, alleluia! To be fair, they worked late last night, not finishing till gone 8.00 pm. Then they have to drive back to North Manchester. This morning was basically tidying up and removing all the equipment, and at 2.00 pm, we said our tearful farewells to each other. So, I now have peace. I have quiet. I have a closed front door. And I have HEAT. And you lot say there's no God in heaven. Heathens, the lot of you.

Now for the Lightning Conductor Repairs. I do wish I could get that stupid Ken Dodd joke out of my head: "What a lovely day! What a plumptious day! What a perfect day for shoving a metal rod down Andre Previn's trouser leg and saying, 'How's that for a Lightning Conductor?' By jove! How tickled I am! Are you tickled missus?" And so on, for the next four hours.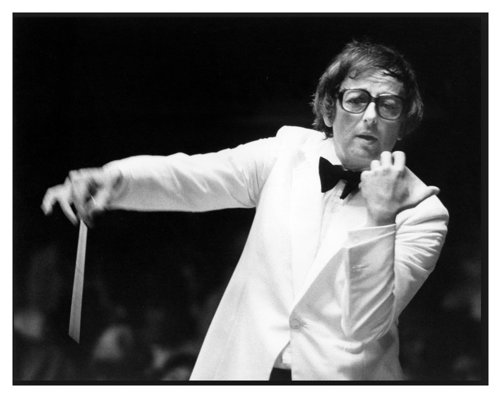 Funeral this morning for Dennis Hurley from the Rowlands Heights flats. He had a major heart attack twenty years ago but settled into a lovely routine for life thereafter. Up at the crack of dawn (about 12.00 noon), over to Tesco's for breakfast, down to the Brook Street Coffee Shops to meet some mates, over to the Bookies to put his bets on, and then settle down in the Stanley Arms or Bridgewater to enjoy the evening. Home for some telly, and bed about 3.00 am. Trouble with you girls is that you don't know what makes us chaps happy. Not that Dennis' early life had been that joyful. Born in Liverpool in 1935, placed in an Orphanage by his parents when he was seven, apparently something of a handful, staying there till he was sixteen, and then into National Service, when his life really started for the first time. Later on, he met up with brothers and sisters he didn't know he had, and one of his nieces from Liverpool gave a very moving account of what these rediscoveries had meant to all of them. "The past is a foreign country. They do things differently there".

Down to the Register Office to pick up the Marriage Certificate for Will and Liz's Wedding here tomorrow and bumped into the Lady on a Bicycle and Hilda from Holbein, one of our great Stewards Team, sitting on the benches outside Browns with a Costa Coffee, as if they hadn't a care in the world. Mind you, it was warmer sunshine than we've had for a couple of weeks. Been blooming cold, if you want to know. Did I tell you I'd not had any heating in the Presbytery for all that time? I did? OK, there's no need to shout.

Now, if you have ooo's to ooo, prepare to ooo them now: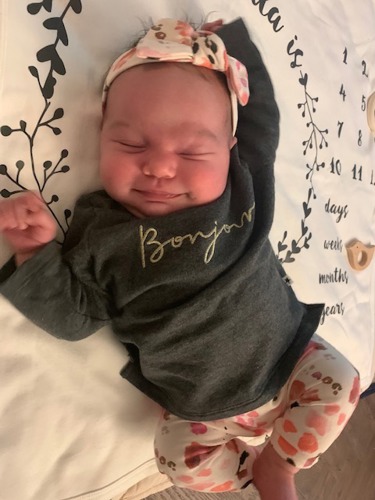 Baby Laila, arrived safely in this world on 25th February, her proud parents Dan and Anya, married here September 2016. Anya is the daughter of Mark and Nikki, Suppliers Extraordinary of Apples to the Clergy; Dan is Mikhail's brother, son of Naeem and another of our great Stewards Team who goes by alternative names: either Mystic Meg of Malpas, or the Wicked Witch of Whitchurch. Take your pick.

May God bless you all, and especially Baby Laila,

Fr Paul
---
Wednesday 14th April 2021
Could today be the penultimate day of this nightmare? Too good to believe, so let's just take it one day at a time. When contaminated material is taken out of the house to the disposal van, which is most of the time, the through route has to be clear and unobstructed. What does that mean, you all cry? It means the flaming front door of the house has to be open all the time. But at least it does give me some fellow feeling with one of God's creatures…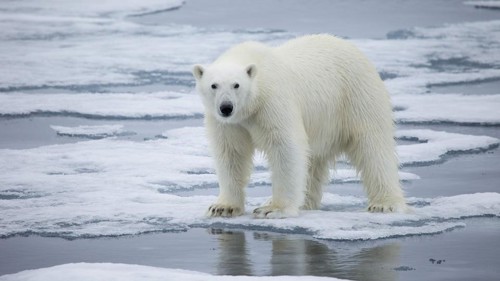 After appointments, a walk down to the Registry Office to meet the new Superintendent Registrar and be brought up to speed with some of the changes being introduced into Wedding Registration next month. Basically, they are coming into line with the way one registers a Birth or a Death: the couple will still attend the Register Office for their pre-Wedding interview, but now all couples will have to do this, with no exemption for Church of England marriages and their separate system of Banns. They will be issued the same forms – white now, not blue – which they have to bring to me as the State's "clearance for take-off". This form is what the couple, plus the two witnesses, plus myself, sign at the end of the ceremony. Nothing else. I keep no registers here and issue no Wedding Certificate – the old fashioned "marriage lines" – at the end of the ceremony. All we do, the five of us, is sign this white form – known as the Schedule – and once it has been signed, it has to be sent back to the Register Office who then issue the Certificate. It's a more streamlined process, prevents all those scam weddings which were a curse to the Church of England (and a nice little earner for the dodgy minister!), stops Registers being filled in wrongly, and makes it much easier for couples to obtain as many copies as they want. At the click of a Register Office mouse. And the payment of a fee, of course.
Thanks to Brian from Broughton for drawing my attention to obituaries for Cardinal Edward Cassidy, who has died at the age of 96 back home in his native Australia. He was a Curial Cardinal (meaning he worked for Head Office), in the Vatican Diplomatic Service, and came from anything but the traditional background. I quote from the Tablet Obituary:
Cardinal Cassidy's rise to become one of Australia's highest-ranking churchmen was an unlikely one. As he explained in his memoirs, My Years in Vatican Service, his parents were not Catholic and divorced when he was one. The young Cassidy was brought up by his maternal grandparents (they were Catholic but not practising), and his grandmother had him received into the Church. Although he never went to Catholic schools, he decided in his early teens to become a priest. After leaving school at 15 he was deemed not educated enough to join the seminary so went to night classes, while holding down a job as a clerk, before starting his training for the priesthood.
Ordained in 1949 for the Diocese of Wagga Wagga, Cassidy was sent to Rome for further studies and was planning to return to Australia when he was unexpectedly summoned for an interview at the Pontifical Ecclesiastical Academy, the Accademia, where the Vatican diplomatic corps are trained. At the time he protested about starting a diplomatic career because of the shortage of priests at home but was told by Archbishop Giovanni Montini (later Pope Paul VI) that his bishop thought it was a good idea.
That reference to his original Diocese of Wagga Wagga brought back a delicious personal memory of Fr Reggie Foster, the wonderfully eccentric Latin Prof at the Greg out in Rome in my day. Reggie worked on the Vatican Translation Desk in the morning, and then came down to the Greg to teach for the afternoon. He loved regaling us with stories of what had gone on "up there", his traditional way of referring to the Vatican. At one point, he had been asked to translate "Wagga Wagga" into Latin – I think it was when Edward Cassidy was made a Cardinal in 1991 - and a formal Latin Decree was required announcing the fact. Exactly the sort of linguistic challenge Reggie loved. He researched it painstakingly and discovered that "Wagga wagga" was the aboriginal language for the cry of the crow. Perfect! So, what would "Song of the Crow" be in Latin? Cantus Corvensis! He was so proud of this, and duly submitted it to the authorities "up there" who sent it back with a line through it, and "Wagga waggaensis" substituted instead. Cue Reggie mock-tirade. "Wagga WAGGAENSIS!" Reggie bellowed. "What is THAT? It ain't English, it ain't aboriginal Australian, it sure as hell ain't LATIN! In fact, my dear students, it tells you ALL YOU NEED TO KNOW about educational standards up there! Look, I don't want to talk about it, change the subject, let's do some Latin, some Cicero. Now HE knew how to write Latin. You, Sister – start translating!"
How could any of us start translating, still on the floor with laughing?
Ronnie from Rowton sent me in a beautiful clip of the Black Dyke Mills Band from Yorkshire (from Queensbury in Bradford). They are playing Gresford, a beautiful hymn tune usually, set to the words of Psalm 130, "Out of the depths". You can see how our very familiar "De Profundis" could be adapted to apply to the mining industry? The clip features an amazing sequence of pictures, a poignant reminder of the days of the Durham Pits and the dreadful coal-mining accidents that were such a tragically familiar feature of those days:
https://www.youtube.com/watch?v=2BjdaMGaVLs
I'm sure, like most of us who lived through those days, we are very conflicted about the Miners' Strike of the 1980's. Could the coal mining industry in this country have been wound down in a more peaceful way? Of course, in the 1980's, we were not so aware of the environmental cost of coal. Today, we would all ask questions about sending men down highly dangerous holes in the ground to dig out, sometimes with their bare hands, lumps of pure carbon. But whole swathes of Wales, the North-East and the Midlands depended on this industry for their total livelihoods. Take away the coal-mining and what did they have? Plus their amazingly rich historical heritage, reflected in this slide sequence.
Put two very strong, very intractable leaders head-to-head – Arthur Scargill and Margaret Thatcher – and I suppose conflict and violence was almost inevitable.
Could it have been otherwise? Listen to this highly evocative clip and decide for yourself.
And finally: an anguished email from Terry from Tarvin who sent in that beautiful photo of Lourdes yesterday. "But my name's not Terry…" Give me strength! Olive from Orford, pass that bottle of Southern Comfort NOW!
May God bless you all,
Fr Paul
---
Tuesday 13th April 2021

Bishop Mark wrote to us all yesterday, to mark the next stage of easing the Lockdown Restrictions but confirming what we already guessed - that it wouldn't mean any changes for churches and public worship:

A very happy Eastertide! I write today as we enter Stage 2 of our emergence from Covid restrictions. The changes which have now come into effect will not significantly impact the life and working of our parishes. At present, it is not possible to resume face to face parish gatherings or activities outside of Mass, even outdoors, so we have need to be patient. Parish/community halls are not due to reopen for some time (except for certain specific exempt activities) and the restrictions for households meeting outdoors remain limited to six people to two households until at least 17th May.

Meanwhile, onwards and upwards! When I let the Builders in at 8.00 am this morning, they said they hoped to be finished ahead of schedule, by Thursday of this week, if not Wednesday evening. That put a spring in my step, as you can imagine: but realistically, I shall believe it when I see it. Meanwhile, it's quite a pleasant winter we're all having at the moment, isn't it? Brrrrr!

Zoom lesson with Bro Edmund at Ampleforth this morning, and then one last heave on the Marriage Listings for this year and next, with an appointment tomorrow with our new Chester Registrar, Sharon Woodworth, to give her our lists to check against her own, and to be brought up to date with some important changes in the ways Weddings are now to be registered, starting next month. Sharon has just taken over from Keith Flanagan, a dear friend, whose daughter Nina married Richard Curtis, another great friend. Richard organises the Altar Servers for St Theresa's and St Columba's. Richard has got together with Gerry, James and myself more than once to share ideas. It's great to see the Chester Parishes coming together on this wonderful shared ministry.

Good to have this photo sent in by Heidi of Huntington, showing her father, the Sage of Ingham, in the Back Row. It's the St Werburgh's School Football Team, 1950-1. I'd like to say I wasn't even born, but…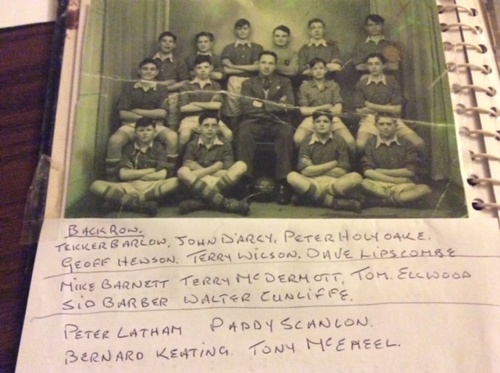 Subject: St Werburgh's School football team 1950 – 1951. Where are the others today?

So many of you have been in touch with memories of Bootle, either personal or second-hand. Fiona from Foxes Walk writes:


Hello Father,

On reading your blog on your visit to Bootle, it brought back memories. I spent a lot of time there during school holidays. My grandparents lived in Church St. opposite St Mary's churchyard and are both buried in Ford cemetery directly outside what was the Church. So, when you organise your day out don't forget me!!!

You'll be first on the list, Fiona! Hettie from Hough Green is one of our amazing Band of Stewards, and she was telling me on Sunday that her husband Colin (that's St Colin, by the way) grew up in Bootle. Bootle to Hough Green, eh? And they say there's no Social Mobility these days. Finally, our good friend Winifred of Walls Avenue, who sent me such a moving account recently of her brother Ged, now writes of her memories of Bootle:

Dear Father Paul,

I was born in in Balliol Road Bootle and I lived in Bootle, by the gas works, until I married. Your mentions of the area brought back many memories of growing up there. We were in St Monica's Parish and I went to that primary school before moving to Seafield in Crosby for my secondary education. When I was 17 I had completed my A levels and wanted to go to teacher training college. I wasn't allowed to begin training until I was 18, so Liverpool City Council offered me employment in a school until I could start at college. Feeling that this was a good opportunity, I readily accepted, thinking I would learn a great deal whilst helping a teacher to deliver the curriculum.

I arrived at St Alexander's school, Kirkdale, one Monday morning to meet the formidable headmistress, Bridget Loughran, who informed me that I would be taking the reception class, as the teacher had gone home with bad nerves!! Talk about being dropped in at the deep end. Forty little five-year-olds sitting in rows greeted me, in a big room with a high ceiling and high windows. It was initially terrifying but turned out to be such a happy time. I learnt such a lot from the whole experience and I hope that the children did too. Every lunch time Miss Loughran would take me to Mass in St John's church in Fountains Road and very often it was a Requiem. Then after a very hasty lunch I would be back in the classroom for the afternoon.

We married in St. James's church, commonly known as Bootle Cathedral, as the Canon there, Thomas Winder, was so welcoming to a 'mixed marriage' couple, allowing us to marry on the main altar. He was loved and respected by all who knew him and he worked with a group of clergy to promote church unity. There is a building named after him in Kirkdale, where I believe he grew up.

My sister still lives in Bootle, off Southport Road and she knows Eugene and Irene well. Thank you for the memories your visit brought back.

Best Wishes,

Winifred.

Aren't those lovely memories? Especially those recollections of teaching days, 45 in a class!! Eee, these teachers nowadays, don't know they're born (in mock Yorkshire accent).

Finally, a beautiful photo from Terry of Tarvin, lucky enough to have made a trip out to Lourdes last year just before Lockdown One hit all of us. Terry's picture reminds us that the town of Lourdes is in the most glorious scenery, the foothills of the Pyrenees. Please God it won't be long before we can all be back again.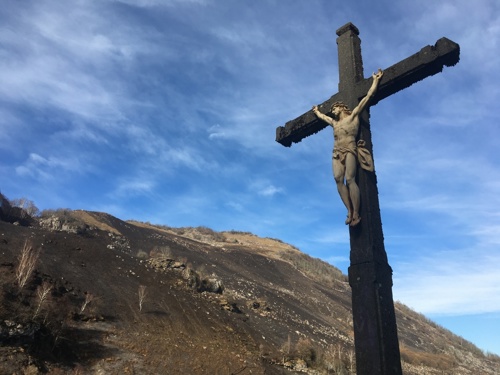 "Thought you may like this picture from my trip to Lourdes in February last year, just before lockdown. The weather was unseasonably beautiful, as you can see from the brilliant blue skies. This is a crucifix placed, quite gloriously, at the side of the road leading to the quaint French village of Omex, just a few kilometres from Lourdes at the feet of the Pyrenees."

Thanks, Terry!

May God bless you all,

Fr Paul
---
Monday 12th April 2021

Day Five of the Asbestos work today, five out of ten, and no, I don't want to talk about it. With all Building Work, there comes a point when you wonder if it's all worth it, should I ever have started this, why, oh why, didn't I leave things as they were… Of course, that may be a valid speculation for the Ecclestone Extensions, Littleton Loft Conversions and Parkgate Lane Patios. For Grumpy of Grosvenor Park Road, there was no choice, about the work being done or when. The Foreman here keeps telling me he's expecting a visit from the Health and Safety to check everything is being done correctly. I nod dutifully, and tick off another day.

The number-crunchers have been at their excellent work once again, and averaging out attendance at our four Sunday Morning Masses in recent weeks:
9.00 am: 74
10.00 am: 65
11.00 am: 79
12.00 noon: 56
That would match our anecdotal impression, that it's the 9.00 and 11.00 am Masses that are most popular. In the early days, you may remember, we suggested to some of our 9.00 am "regulars" that they might consider moving to 10.00 am or later, to balance out the numbers. We might need to make a similar appeal again, this time highlighting both the 9.00 am and the 11.00 am. But, again, just a reminder that if you came to either and it was full, you would only need a walk in the Park to be back in plenty of time for the following one, where there is less pressure on places?

Monday 12th April, and a significant easing of lockdown restrictions today. For example, it is now possible to go to a bar or restaurant and have a meal and a drink outside. Don't these two look as if they are loving this new freedom, in Cranleigh, Surrey, first thing this morning?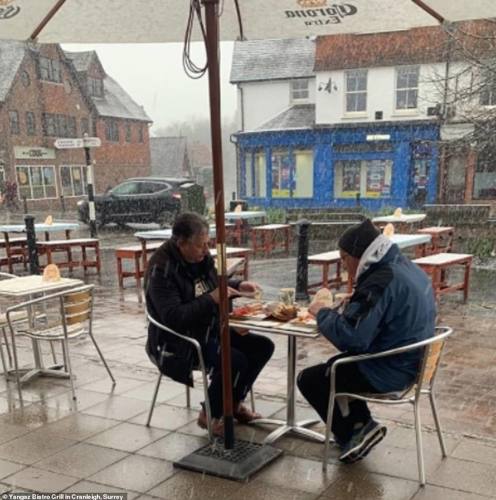 That's true British grit for you, isn't it? I just hope not too much rain got into the Marmalade.

Our good friend David from St James' Avenue – one of the few, the very few, sensible correspondents to this Blog – has set me an interesting challenge: the death of Hans Küng, the great Jesuit Theologian and writer. The best Obituary I read was by Peter Stanford, always a shrewd writer on Catholic affairs, in The Guardian:

https://www.theguardian.com/world/2021/apr/08/hans-kung-obituary

A close personal friend and academic colleague of Joseph Ratzinger at the University of Tübingen in the 1960's, they were both head-hunted to act as "Periti" or expert consultors at the Second Vatican Council, 1962-5. Both brilliant minds, both committed Catholics, one a Jesuit the other a Diocesan Priest. Then their paths started to divide, the critical point for both being the student unrest and demonstrations on campuses all over the world in the closing years of the 1960's. Küng found himself more and more critical of established Catholic teaching on a whole range of issues, and it culminated in 1979 in his loss of his "imprimatur", as it were, to be a recognised teacher of the Catholic Faith. In my view – as the Jesuits would say, "in my humble but correct opinion" – it looked worse than it was. Küng was teaching in the official Catholic Faculty at Tübingen, and he was moved sideways to a comparable Chair in Ecumenical Theology at the University, but no longer in the Catholic faculty. But it did look bad, that he was being gagged, silenced, sacked, persecuted, censored, hung, drawn and quartered. In fact, he stayed at Tübingen, a Professor of Theology, as he had always been, until his retirement in 1996.

Shortly after his election as Pope in 2005, Pope Benedict invited Küng to his summer residence at Castelgandolfo, on the opposite side of Lake Albano. I like the official communique following this visit:

A papal spokesman said the Pope and Fr Kung "agreed that in the space of this meeting it made no sense to enter into an argument about the doctrinal questions remaining between Hans Küng and the magisterium of the Church." Instead, they focused on two topics of Fr Küng's recent work: the possibility of developing a 'global ethic' drawing from all religious traditions and the dialogue between Christian faith and science.

That sounds about right to me! "Oh, for heaven's sake, Hans, let's not go into those old quarrels again. Let's talk about your latest work on global ethics and the faith/science divide, and let's have a jolly good discussion about that, instead!" Only in German, of course.

Küng remained a Priest in good standing to the day of his death. For me, his most interesting work is on Papal Infallibility. But, reading it, I was always reminded that this issue was contentious at the time – the First Vatican Council in 1870 – and divided Britain's two cardinals, Manning and Newman. And it was Cardinal John Henry Newman- Saint John Henry Newman – who opposed the official line. It's possible to have a jolly good argie-bargie (as they say in German) within the Catholic Church without anyone needing to leave. Küng: did he jump or was he pushed? That's something commentators will debate for a long time to come.

Not sure how much of the above David from St James Avenue would agree with – probably not much – but he did ask!

This was this week's Photo of the Week, a Knights of St Columbus Dinner from 1962. Fr Frank Murphy is clearly visible at the back on the right. I asked who the other two Priests were. Many of you identified the one on the far right as Fr John Corcoran, PP at St Theresa's Blacon for many years. Some of you wondered if the other one could have been one of the Salvatorians. Fr John was one of two brother Priests; their sister was Clare Heggie, whom many of you will remember from her time in St Werburgh's.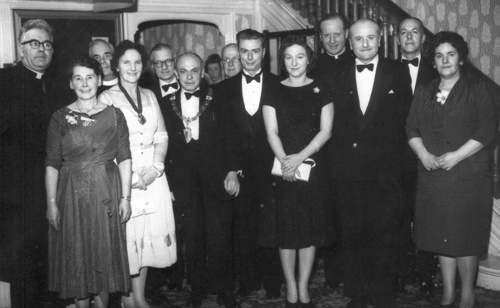 May God bless you all,

Fr Paul
---
Sunday 11th April 2021
Sunny but cold today, and with no heating in the Presbytery it was good to have the church warm to huddle in! And plenty of you did that, within one of capacity at 9.00 am:
9.00 am: 78
10.00 am: 69
11.00 am: 77
12.00 noon: 43
Total: 267
We literally could have accommodated one more singleton at 9.00 am, after which we would reluctantly have had to ask anyone else to come back for a later Mass. Perhaps we need to publicise this fact: that the 9.00 am is the most popular of the four, and so please don't come at the last minute… "But we're Catholics!" they all cry. "We always come at the last minute!" Any chance of breaking the habit of a lifetime, folks?
I was warming to Michael of Mickle Trafford when he sent me so many lovely Hopkins poems for inclusion in our Lent Poetry series: I'm definitely cooling, as he comments on the lack of heating in the Presbytery and sees it as an opportunity to extol the virtues of cold baths:
https://www.thetimes.co.uk/article/the-road-sparkled-with-millions-of-rainbows-rz79wn65q
Kilvert wasn't the only one: the Great Man was a great fan of cold-water bathing. In fact, they thought immersion in icy water was a cure for anything from gout to hysteria. If any of you fancy trying it, please don't let me stop you: just don't ask me to join you. Not at the moment, anyway. Tomorrow, Monday, is Day Five of the Asbestos Work, the whole programme scheduled to last ten days. So, discounting weekends, it should finish tomorrow week. Note that word "should", everyone. You read it here first.
Meanwhile tomorrow, 12th April, sees some significant lockdown restrictions lifted. Some of you have been a little worried about Hugh of Handbridge and Olive from Orford and are anxious for the latest news of them both. Hugh, as you know, has moved to a new house deeper into the lush pasturelands of CH4, and has mutated – I don't think that's too strong a term – into Laurie of Larshay. He's been busy, he tells me, preparing his garden for the happy time when we will be able to meet friends al fresco, as they say in German. In fact, he's kindly sent us a picture of the new facility he has built in his back garden, all ready for that happy day:
Of course, many of you as well as Laurie are preparing for the next significant easing of restrictions tomorrow when a certain amount of socialising outdoors will be permitted. Nowhere has been more eagerly looking forward to this day than Forest Court, and the Rooftop Bar and Terrace there has been given a Spring Clean in anticipation:
Do you like the new water feature? It didn't take me long.
Olive – thank you for asking – is making a good recovery after her Easter exertions, and is allowed by the doctors to have longer and longer spells out of her darkened room. Last week, the Garden Gnome thought he'd try a quick trip with her to Marks and Spencers. It wasn't an unqualified success, I have to admit. She kept going up to total strangers and asking them what bubble they were in, and if they wanted A4 or B7. Someone called Security, and she had to be escorted out of the store and taken home. But early days, everyone, early days: I'm sure she'll bounce back, with the help of the best medication the NHS can supply…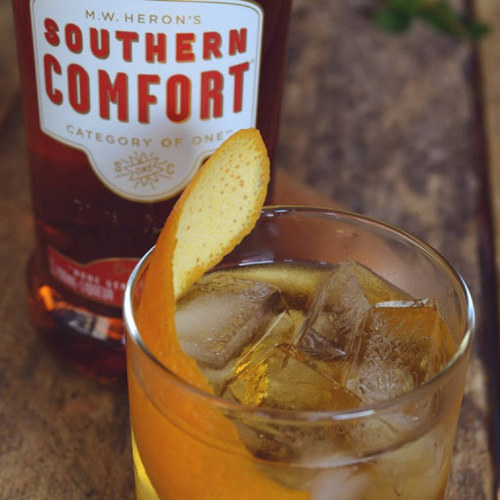 Cheers, Olive!
May God bless you all,
Fr Paul
---
Saturday 10th April 2021

Acres of newsprint and photos today to commemorate the life of Prince Philip. When you look at some of those photos, you begin to realise what 99 years of life looks like, and how much this particular individual crammed in. He could have had a distinguished career in so many fields but chose a supporting role instead. In so doing he became a star in his own right. I've always loved his irascibility and short fuse, President, for all time, of the Grumpy Old Men Society. Membership: half the human race. There's a story in today's Daily Mail – where else? – which may or may not be true, but if it isn't it deserves to be: that in his last week, he was pretty well confined to his rooms in Windsor Castle, able to hobble around with the aid of a walking stick. Someone made the mistake of bringing in a wheelchair, at the sight of which the frail, elderly Prince roared at the top of his voice, "Get that bloody thing out of here!" Attaboy! That's the Philip we all love and will sorely miss. Or his final photocall with a group of servicemen and women, the prima donna photographer as ever taking an eternity. You don't need to be a trained lip-reader to see what Philip is saying: "Just take the beep-beep photo!" Any of us never had the same thought?

Busy old day today in a very cold house. But at least we still have hot water. In answer to your many enquiries following yesterday's Blog, no, there aren't any photos of me in my pj's. Honestly, what are you lot like?

Miriam from Moorcroft raises the tone – believe me, it needed it – with a very interesting email about Chicago, and a great friend of hers who lives there. So, that's two of us for a trip over. Any others? One of my main reasons for wanting to go there is that it's home to one of America's "Big Five" world-class orchestras, the Chicago Symphony Orchestra. How many of you could name the other four?
New York Philharmonic (1842)
Boston Symphony Orchestra (1881)
Chicago Symphony Orchestra (1891)
Philadelphia Orchestra (1900)
Cleveland Orchestra (1918)
A good question for a supper table conversation: who was the greatest conductor of the twentieth century? You'd never get agreement, but you would have a great evening, and probably sink a couple of bottles of wine in the process. Tekkie Two might agree with me on this one, but probably not His Honour: George Solti. Driven out of Hungary by the Jewish persecutions of the 1930's, he made the west his home, both Covent Garden and Chicago, where he was music director 1967-91. His Beethoven, Brahms and Bruckner cycles are still legendary, but the absolute accolade has to go to his Mahler:




Just to bring you up to date with the work John O'Sullivan and the SVP National Prisons Group is doing, here is their latest report:

Prisoners need YOU!

As active SVP Conference Members, making regular visits and calls to local people in need, we are rightly pleased and proud to say that, 'Spending time with people is our greatest gift.'

At this moment there are 83,000 prisoners in 177 jails across the UK; men and women who, like our other visits, often feel isolated, excluded, lonely, anxious and in real need of some essential human care and consideration.

SVP has recently set-up a 'Working with Prisons' special work to encourage Members' visits to prisons, to engage with prisoners, their families, prison Chaplains and the numerous specialist support organisations available, to help to coordinate the vital housing, medical, welfare and employment services the prisoners will need when they're released.

Because whilst there are 70,000 who will be released this year, more than 50% will be back inside within 12 months!

So let's try and break the cycle of re-offending by turning our concern into action!

Can you help?

Here is a link to the latest 'SVP Working with Prisons' newsletter, featuring recent stories and some useful information to help you help us help them:

https://cdandpltd.co.uk/wwp-news/SVP-WWP-Newsheet-Spring2021.pdf


That link will take you to their excellent Newsletter, which also contains a link to the Mass we specially recorded for Prisons all over the country. I mention it, as it was so gratifying to receive this email from the Lead Chaplain (not Catholic) at Thorn Cross Young Offenders Institution. It was sent to Kevin McKenna, one of the national SVP leads on this project with our own John:

Dear Kevin

Thanks so very much for that, my friend. Thanks also for the lovely DVD re Easter Mass with Fr Paul Shaw. I had made enough copies of this for all of our lads on the Faith Pack list & they were most grateful. Thanks so much for that puzzles and quizzes… Our lads love them.

God bless & take care.

Shawn

Rev Shawn Verhey
Managing Chaplain
HMP YOI Thorn Cross

Solid morning today, once the Newsletter had been flipped Tekkie-wards, on Marriage couples: a Wedding Rehearsal for Liz and Will, marrying here next Friday in another of our series of scaled-down Mini-Weddings. Then a chance to meet Stephanie and Tobie, marrying here in September. Tobie was from the Old Kent Road, so in no time at all, groom and Priest were reverting to cockney accents that were verging on the mockney. In the middle of all of which, my thirtieth and final couple, whom I've been chasing for the past four weeks, eventually returned a phone call and gave me their final date! Fortunately, it was not till June 2022, and equally fortunately, didn't clash with anyone else's. Great sense of relief that I have now contacted all these couples marrying here in 2021 and 2022 and agreed their dates. Potential for disaster otherwise? Unimaginable!

Then this afternoon, a very pleasant catch up with Madame Ex-Prezzie, here on a State Visit to Chester. Honestly, Queen Elizabeth I's Royal Progresses have nothing on our Chlo-Jo. But good to see her fat face and check up on her love life. Yes, it was a very long afternoon…

Yesterday, a super email from Josh Neal, one of those "Catholics before CathSoc" Students at the University here, whose marriage to Sarah in Bangor County Down I was so delighted and honoured to share with the lovely Presbyterian Minister there, in July 2016. That was a golden day I shall never forget. Josh was a student at Chester (studying Geography and Religious Studies Joint Honours) 2010-13 and CathSoc only started getting off the ground at the time he was leaving. He'd been a pupil at Notre Dame High School in Sheffield, and returned there to teach afterwards, rapidly gaining promotion to his present position as Assistant Head. Here's a lovely photo of him with one his star pupils receiving her A Level Grades in 2016, the year he married Sarah:




And now to yesterday's email:

Hi Papa P!

Hope you're keeping well and looking forward to the end of some of these lockdown restrictions! If you're lucky you might even get to go to Rome this August, or is that asking too much?

Anyway, just wanted to let you know that our little family has grown again! Baby Paige Amelia Neal was born yesterday morning at 11:03 am and weighed 6lb 7oz! Sarah and Paige are both doing incredibly well and Sophia loved meeting her new sister! Some photos below! I hope you're keeping well, I have at least one trip to Chester booked for the summer, if you're free it would be great to catch up!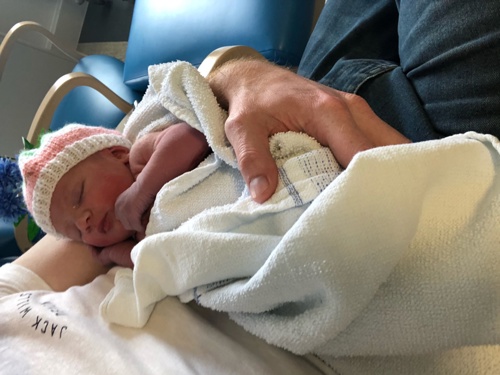 Gorgeous or what? And here's the happy mother and excited Big Sister: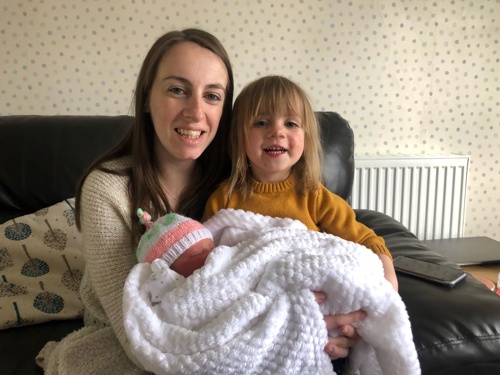 And finally, because I know you worry about these things, an email telling me where my last Blood Donation has ended up. Two donations ago, you may remember it was Burnley General. Last time, Leighton Hospital, Crewe. Who's the lucky winner this quarter?

After your donation at your local venue, your blood was taken to our manufacturing centre in Manchester where we ran all of our standard tests and then processed it into a form that can be given to a patient in need. Once it was ready it was sent to Arrowe Park Hospital where it will help to save or improve someone's life.

Arrowe Park, Birkenhead! Getting steadily closer and closer to the Countess, do you notice? Probably time to move if you don't want Papa P's platelets coursing through your miserable veins. Don't say you haven't been warned.

May God bless you all,

Fr Paul
---
Friday 9th April 2021

The following message was received from Bishop Mark at 2.30 this afternoon:

His Royal Highness, The Prince Philip R.I.P

I am sure you will already have received the sad news of the death of Prince Philip earlier today. May he rest in peace. Our first thought must be to pray for the eternal repose of Prince Philip's soul and for Her Majesty the Queen and the Royal Family at this time of personal loss.

In the absence of prayers of the faithful in the Liturgy, you may wish to invite the prayers of parishioners at the beginning of Mass or at the time of the homily. The papers I have received from the Lord Lieutenant indicate there are likely to be seven or eight days of mourning before a State Funeral for the Duke of Edinburgh takes place and this may be the most appropriate time for Requiem Masses to be offered in the parishes. A Requiem Mass will be livestreamed from the Cathedral at this time and details will follow.

As the Duke of Edinburgh was for so long part of our national life, this may also be a time to reflect on Prince Philip's life devoted to public service for as long as most of us can remember. In the various areas and counties of the Diocese we must be sensitive to the arrangements for Memorial Services in which the Church of England will be invited to take a leading role. I will be writing a letter of condolence to Her Majesty the Queen on behalf of the Diocese, and you may also wish to send messages of prayer and condolence from the parishes as you judge appropriate. I will pass on to you any further information or resources for prayerful remembrance that I receive in the days ahead.

With every good wish,

Yours sincerely in Christ,

+ Mark

Bishop of Shrewsbury





As Bishop Mark says, it was a life of extraordinary service, from the moment he fell in love with the future Queen and knew that, for the rest of his life, he would always play the supporting role. And didn't he do it magnificently? At the same time, he was evidently a man of extraordinary talents in his own right. Many have commented on his ferocious interest in life, and in the lives of everyone he met. In many ways a very private man, he always seemed happy striding off somewhere with a thick volume of political history under his arm, a passionate reader to the last.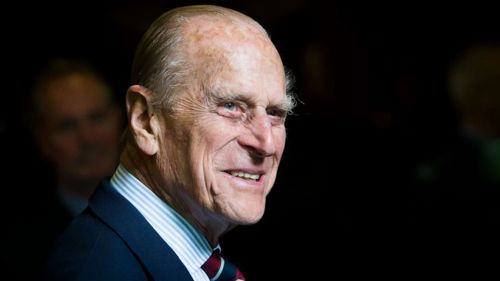 He served his wife, his family and his country in a totally impressive way. May he now rest in peace. I'll certainly be sending a message from all of us here in St Werburgh's, and I know many of you will wish to do so individually. I'll also be scheduling a number of special Masses in the weeks ahead, both for Prince Philip and for the Queen and our nation. Our thoughts tonight are with Her Majesty the Queen, having lost a husband today, and throughout the days and weeks ahead.

May God bless you all,

Fr Paul
---
Thursday 8th April 2021

Well! Yesterday's Bog certainly brought out the pedants in you lot, didn't it? Hattie from Hamilton Street started it, and the rest of you piled in. OK, OK…

Criminals are hanged, pictures are hung.

Satisfied? Mea culpa, mea culpa, mea maxima culpa. As they say in German. Mind you, pictures aren't the only thing that are hung. So is game: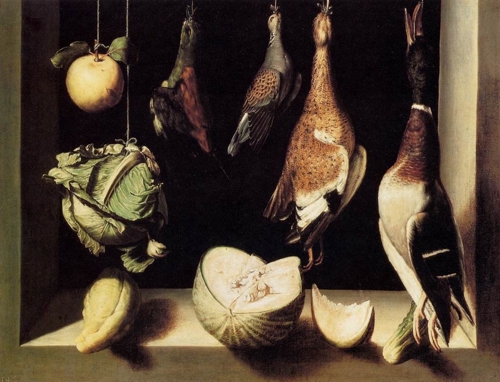 And so are stallions. But I won't go into that, as some of you might be having your tea.

Do you like that painting? I often think of Still Life studies as peculiar to the Dutch and Flemish Schools of painting, but that canvas - Still Life with Game Fowl, Vegetables and Fruits (1602) - is by the Spanish Baroque painter, Juan Sánchez Cotán (1560-1627). It's now in the Chicago Art Institute Museum. Anyone fancy a trip over to see it?

Talking of trips over to see places, I wouldn't mind betting some of you are as bonkers as me and would quite enjoy a Heritage Day over in Bootle. With the statutory Long Liquid Lunch in the middle, needless to say, such lunches being the sine qua non of our heritage days out. As they say in German. [You don't think you're flogging that line to death by any chance, do you, you repetitious old bore? Ed. Nah, never. FP]

After all the miserable little pedants had had their day yesterday on the hanged/hung distinction, a sensible email – yes, there are such things, but rare as hen's teeth where this flaming Blog is concerned, I don't mind telling you – from Stella of Stocks Avenue, recalling 51 years ago when she spent three months of her midwifery training in Bootle, cycling every day from Aintree Hospital, (they were only allowed a taxi for a home delivery). "Fortunately," she recalls, "it was summer (June, July and August) and the locals were friendly. My 'babies', the ones I delivered, 10 of them, are probably grandparents now!"

What a lovely memory! Thanks, Stella. Why can't I get more sensible contributions like that, rather than the usual level of cheap abuse you hurl in my direction? The Old Nuisance took the leap of her life when she quit her dull office job in Brighton to go Nursing at the London Hospital in Whitechapel, in the East End of London, in 1934. Her friends all told her she was mad, and her parents told her they would struggle without the income she was bringing in from that office job. But she just knew she had to go, and always described it to us kids as the best decision of her life. "Better than marrying dad?" I asked her once. "Oh, much better than that!" I mention this, because her best mate in her year of Nurse Training was Jessie from Bootle. Mum hadn't the faintest idea in those days where Bootle was, but when she came up to live here in December 1999, her favourite treat was days out in Liverpool. On one of them, we drove all round Bootle, and she was thrilled at making that connection all these years later. Another such day was spent in Llandudno, where her parents had come on their Honeymoon, back in Edwardian times. (The Old Nuisance was born in 1910).

Neither day disappointed: Llandudno, because it's a beautifully preserved seaside resort, and looking back on the town from the end of the pier, you could imagine you were back in Edwardian times.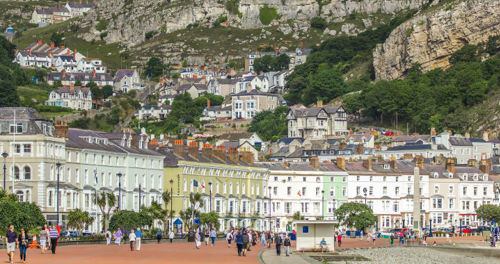 Bootle didn't disappoint either, because the industrial architecture as you drive north on the Docks Road out of the Liverpool City Centre is stunning.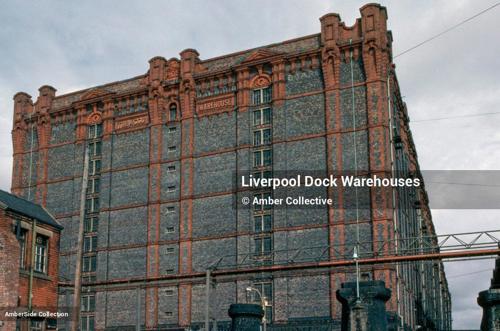 That's the old Tobacco Warehouse. The whole of the Amber website is fascinating, with a riveting collection of photographs:

https://www.amber-online.com/visual-culture/liverpool-dock-warehouses/

And then you get into those rabbit warrens of streets in the heart of Bootle with strangely "civic pride" names: Cambridge Road, with names of colleges running off it – Sidney, Gonville, Downing and Clare. Not to be outdone – shame about the Boat Race – is Balliol Road (always pronounced "Ba-leel" by the locals), with Exeter, Keble, Wadham, Oriel, St Edmund's. St Catherine's, Trinity, University and Merton Roads nearby. Just below, is a cluster of roads named after Shakespearean characters – Macbeth, Celia, Orlando, Olivia, Bianca. Viola, Beatrice, Miranda, and Othello Close just round the corner. Wonderful!

The Merton Inn in the heart of Bootle might do us a reasonable LLL?




Just as soon as this wretched Covid-19 has disappeared, my dear people, I promise you.

This morning, once the Asbestos Team had been let in and I could hear them merrily at their work (the House Cellars being right over the Parish Office and back Sitting Room), I was working on an Annulment Case. We have an excellent Chancellor in Fr Tom Cunnah, but it helps him in adjudicating these cases if Parish Priests can send in as much documentation as they have. I spent an hour ferreting through the files and was surprised at just how much I could turn up. For the rest, it was a case of relying on memory and old personal Diaries. Fortunately, I always keep them, and again and again they prove a Godsend.

That all went in the post at lunchtime, and this afternoon, an oddly enjoyable – I've commented on this before – couple of hours chatting to two of the daughters of my 86-year-old Funeral next week. Aged 7, his parents could cope with him no more, and stuck him in an orphanage in Liverpool, where he remained until he was sixteen, having no contact with them whatsoever. This was despite both parents very much being alive. Strangely, such things were possible in those days. A miserable time he had of it, and only really started enjoying life when he left and went into his two years of National Service. I've never been too sure about that expression "the good old days", have you?

"You live and learn" (Part 36). The boiler in the cellars was switched off yesterday morning, as they warned me it would be. Meaning no heat in the house, and no hot water. Or so I thought. But I discovered this morning, just checking if there was any hot water left in the tank before putting on a kettle for my morning wash – remember when we did such things all the time? – there was plenty of hot water. However the water is heated, it's not from the boiler in the cellars. When it comes to technology, I'm with Manuel. "I know nothing. I know NO-THING!" Followed by smart slap round the head from John Cleese: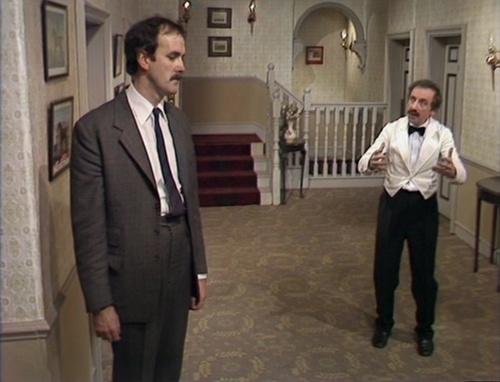 Many thanks to Catalogue Katie for the kind offer to come and use her shower, but it looks as if I'll be able to spare her the embarrassment of standing on her doorstep in my pj's. What would the neighbours say?

May God bless you all,

Fr Paul
---
Wednesday 7th April 2021

Saw the Builders in at 8.30 am, and left them to it, off on the train to Bootle Cemetery. The family were fairly horrified at my intention of getting the train over and walking, but it was a pleasant ten-minute stroll from Orrell Park Station, seeing what an affluent area that had been at one time, large detached houses, homes of the prosperous middle classes, now mainly multiple occupancy or businesses.

The Cemetery itself was a strangely flat field, with a grassy circular area in the middle. A monument there explained that this was where the Cemetery Chapel had once been, now demolished, and the central area turned into a War Memorial for the victims of the two Blitzes of the Second World War, 1940 and 1941. This afternoon, back home, a bit of research has turned up the following history:

The history of the Little Chapel and the Cemetery.
The Gothic style Chapel cost £2000 to build and could accommodate 100 people.
The building stands in the Cemetery on 31 .75 acres of land, which was purchased on the 12th January 1909. Initially 25 acres were laid out for Church of England, Non-Conformist and Roman Catholic internments.
The land was consecrated in October 1911 by Bishop Chevasse of Liverpool and was officially opened to the public on January 1st 1912 by Alderman J. W. E. Smith, the Mayor of Bootle, for the burial of people of Bootle and Orrell.
Before the Second World War, the Cemetery stretched as far as the railings of Aspinall's Field. (There was no Menai Road in those days).
Three gateway entrances gave access from Linacre Lane (the main gate), Orrell Road and Watts Lane junction and the end of the Isolation Hospital wall (now Menai Road).
The Little Chapel opened its doors during June 1915. The ceremonial opening was performed by Alderman G. A. Cassady, the then Mayor of Bootle. The keeper of the Cemetery for many years was a Mr Hesketh, who used to blow a whistle 5 minutes before closing time.
At first the grounds were used for Protestant burials but as Ford Cemetery began to fill, a section was allocated to Roman Catholic burials at the corner of Menai Road/Watts Lane.
During the Second War the corner adjoining the isolation Hospital was used as allotment space, to grow vegetables for the War effort.
The Cemetery contains 3 mass graves. One contains the remains of Protestant victims of the war, the second Roman Catholic victims (mostly unidentified due to mutilation or with no living dependants to identify them), and the third is the result of transferring the remains from St. Mary's graveyard in Church St, Irlam Rd, Bootle.
For persons with no particular church connection, visiting Clergy conducted services in the Little Chapel.
Many young and old residents of Bootle remember the Little Chapel with great respect, for this building had a distinctive chiming clock which lit up nightly and gave a great deal of pleasure to the children of the area.
For some time this now derelict building had been used as a store by the Cemetery gardeners but now has been cleared out. The building is sadly scheduled to be demolished as part of a refurbishment of Bootle Cemetery having been deemed too expensive to renovate.
Here it is, just prior to demolition: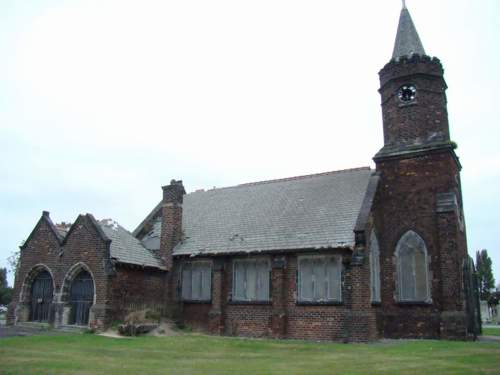 Pat Waite was born in Orrell Park in January 1939, and although her life took her to many other places, principally Nottingham, it was always her wish to come home to Bootle for her burial. Just half a dozen of us gathered at the graveside, but there was a good feeling that her dying wish had been respected, and so here we were.

I couldn't be in Bootle without seeing if our dear friends Eugene and Irene were at home, regular Wizziters at St Werburgh's, especially on Wednesdays, when they loved to stop on for our Monthly Lunches after the 12.15 pm Mass. God was good, and they were indeed both at home, and it was so lovely to be able to wish them both a Happy Easter from half-way down the front drive! And Happy Birthday to Irene, who was 86 yesterday. Let's hope it won't be too long before we can be celebrating our Daily Masses once again, and possibly our Monthly Lunches together too.

Walking is easily the best way to get to know any town, and ten minutes along from Eugene and Irene's was Walton Station, taking me past the forbidding exterior of Walton Prison. Inside the "new" exterior wall, the original Victorian Gaol can be clearly seen, built in the 1850's: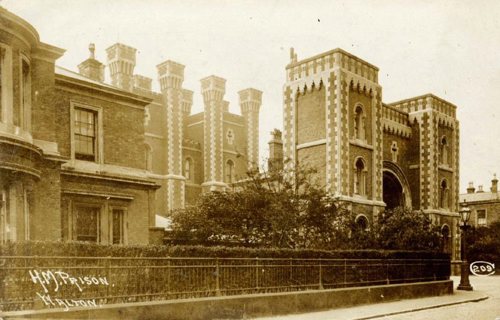 62 inmates were hung there in the course of its history, the last in 1964, a rather chilling statistic as I snuggled down in the train at Walton Station with my copy of Little Dorrit. Soon back in Chester and wondering what's going on in the forbidden cellars here!!

May God bless you all,

Fr Paul
---
Tuesday 6th April 2021

That endless dilemma: if you have Builders in, are you better off staying in yourself or going away for a fortnight and leaving them to it? Stressful either way. I don't have the second option, so 9.00 am this morning they arrived and Day One has gone reasonably smoothly. They've set up all their equipment in the driveway between the Church and Hotel, and then covered all the carpet between the Front Door of the House and the Cellar Steps with very professional matting. I'm not allowed to go down into the Cellars now they've started work, for fear of being contaminated myself and dying a long lingering death.

Like you lot would care.

Shouldn't have mentioned Airers and Canon Chambers' smalls yesterday. It really has set some of you off. Apparently these airers are making something of a comeback, especially in the more retro areas of CH4. Marjorie from Marlston tells me her smalls are regularly so draped. Look, I just don't want to think about Marjorie's smalls if it's all the same with you. It's been a tough Easter.

The Team in this morning to take the Collection to the Bank, including a very generous Bequest indeed from June Lea of ₤500. Thanks, June! You all knew her, not least from her lovely, smiling presence as one of the 9.00 am Welcomers. She has remembered us in her Will, and, as always on these occasions, I would like us to think of something we can buy with that donation, as a memorial to June, rather than just let it disappear into the General Accounts. All suggestions gratefully received. But not for Airers, please.

Then a chance to get a letter off to Jacob, our CathSoc Prezzie three back, who's so faithful at keeping in touch. Apparently, he is now working for the Youth Justice System. Yes, well… I think we'll leave it at that, don't you? He tells me that he is conducting his latest romance on Park Benches in the Woking area. Never tried it myself and probably a bit late to start. Madame Ex-Prezzie is in love again, so I will need to find out what role Park Benches, if any, play in her latest amour passionelle. As they say in German.

Off tomorrow to the wilds of Bootle to take a Graveside Service for Pat Waite, who came up from Nottingham to live with her Niece in Oakmere for the last six years of her life. This afternoon, I spoke on the phone to her cousin, Rod Caird, who's President of the SVP in Our Lady of Pity Greasby. He was telling me how busy they've been during the pandemic, and especially in supporting the down-town Birkenhead Parishes. As is often the case, Parishes in the most disadvantaged areas receive the biggest hit when it comes, in this particular case, to housing Asylum Seekers. Parishes in the more affluent areas of the Wirral, like Greasby, are trying to do their best to support parishes like St Werburgh's Birkenhead. This really is SVP charity in action, and more power to their elbow.

May God bless you all,

Fr Paul
---
Monday 5th April 2021

Busy start this morning, with Team in for counting the collection, even though it can't be taken to the Bank till tomorrow. Meanwhile, I am cleaning out the Cellars in readiness for the builders coming tomorrow to sort out the asbestos traces that were found there. Again, just to repeat what we are doing and why: the traces were slight and would only need treatment if we were going to start digging up floors and walls: but that's exactly what we may have to do, in repairing the Lightning Conductors for Church and House. They are both earthed in the Cellars, and this is what needs sorting., Hence the people coming tomorrow to clean out all those asbestos traces for once and all. They will be here for a fortnight, and I'll try and make sure their equipment stored in the driveway – including a shower unit for the men to use at the end of each day's work – is as discreet as possible.

Fortunately, not a lot in the cellars to clear out, and the workmen coming tomorrow have said they will kindly skip it for us. The cellars are now completely clear, and it would be good to think they could stay that way? One relic of the Stone Age down there are the Clothes Airers suspended from the ceiling: do you remember when these were a standard fitting in every kitchen?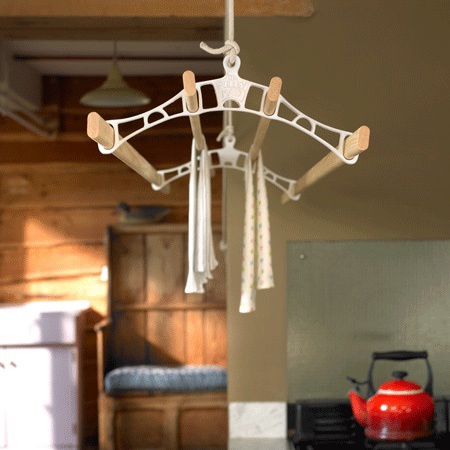 I started musing on Canon Chambers' smalls hanging there in the 1920's, but decided that wasn't a seemly topic for meditation, so went and made the Collectors a cup of tea instead.

We're working through all the Stats for last week – Barrie and Betty will be nagging me for them if we don't – but here are two Headline Figures. Total numbers welcomed over the Triduum (Thursday, Friday, Saturday and Sunday): 544. Total number for the four Masses yesterday, Sunday morning: 330. Getting them all in and out, checking them against the booking sheets and then against the seating plans, cleaning the whole church between whiles, was, as you can imagine, simply a military operation. As ever, only possible thanks to our amazing Stewards.

One tiny but essential bit of maths: four Masses, total attendance 330 yesterday, average per Mass – 82½. We never give an absolute "Maximum Capacity" figure, as it depends on the balance of singletons and bubbles: but we always say, "approximately 80". So, one and all, you can see how full we were for Easter Sunday Morning, how a Booking System was absolutely essential, and why very sadly, we did have to turn away a handful of folk who arrived without a booking. This gave us no pleasure at all, but I hope everyone can appreciate that we had no alternative.

Once the Counters had left to head off down the Pub (they wished), I settled down for a blissfully quiet day, finishing: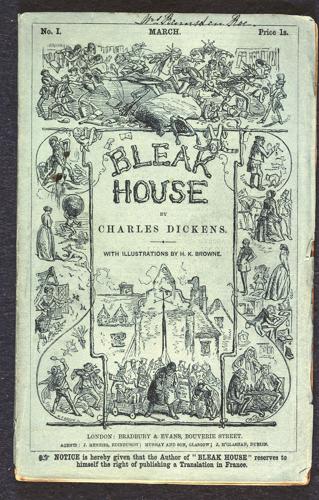 and immediately starting: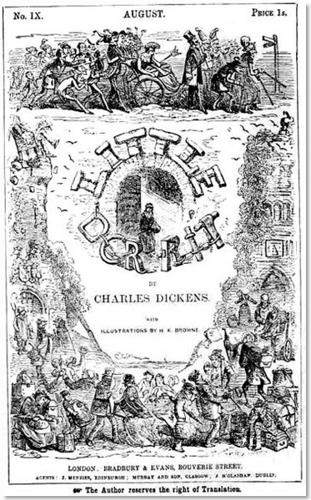 Which, as days go, is as near to Heaven as FP gets.

May God bless you all,

Fr Paul
---
Easter Sunday – 4th April 2021

A very Happy Easter to you all! A beautiful morning, sunny and crisp, and Team in at 8.00 am as usual to begin setting up for our four Masses, starting at 9.00 am. I do my bit for the War Effort by stapling together all the Booking Forms, alphabetically and by seat number, which the Stewards will need for getting everyone in and seated in that ten-minute window. And then realise I haven't included the Seating Plan, and feel like going back to bed again…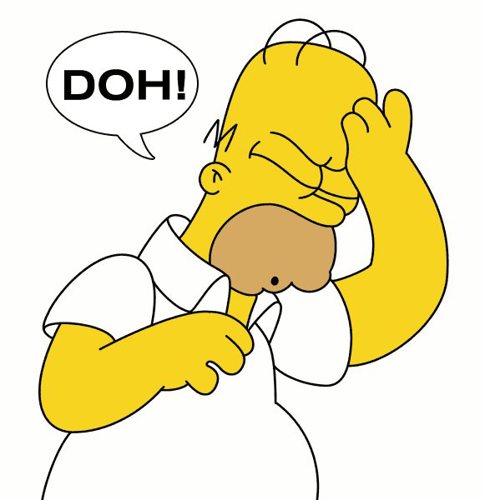 Where's Olive from Orford when you need someone to shout at?

Came in after the Easter Vigil last night to find the phone still ringing with enquiries about Easter Sunday Masses. I'd like to say these were Wizziters rather than Werbies, but, alas, no. Is it possible to be too nice? Not, I agree, something I am often accused of. Plastering on my best smile, I reach for the phone. It's turned into the Easter equivalent of "What time's Midnight Mass?" Hey-ho, 9.00 pm, so fifteen hours to go…
As you all know, one of the "Sounds of Old Chester" is that familiar Easter Sunday cry, normally heard about five minutes past seven in the evening, but this year possibly a little earlier…

Clink-clink-glug-glug-fizzzzzzzzzzzzzzz!

Please gather outside on the pavement about 2.00 pm, and I promise you, you will all hear it clearly. Except that this year it may be

Clink-clink-glug-glug-glug-glug-glug-glug-glug-fizzzzzzzzzzzzzzz!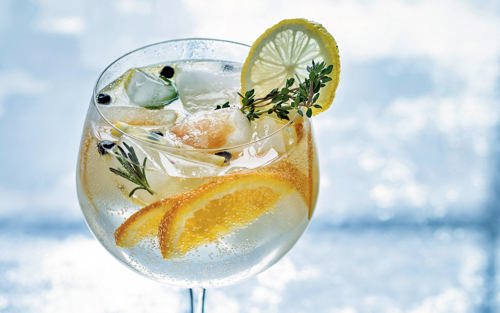 Happy Easter, everyone!

Fr Paul