Updates from the Parish Priest
---
Monday 17th May 2021

Busy morning, lots of meetings, but all with one theme: moving out of Lockdown. Taskforce first off started looking at the very long Bishops' Conference document on "Moving to Stage 3", which starts today, Monday 17th May. If you want to read this full document, it's on our home page, in the first box you come to, "The Church's Response". There is so much to absorb here, that we only started our discussion today. Excitingly, it looks as if we may be able to move forward on Daily Mass and Confessions in the next few weeks. Watch this space!

Then the First Holy Communions on Saturday 12th June was our next focus. Thank you so much to the twelve youngsters from our Parish Group – the complete cohort – and their parents for signaling their willingness to come, and for almost all of them now sending in in their Guest List. We moved into church for the second half of our meeting, to look in detail at what we can and can't do in terms of our traditional First Holy Communion Mass. We could concentrate on the negatives – what we will be missing – or the positives, most importantly that it is taking place and the heart of the whole experience – the children receiving the Lord in the Eucharist for the very first time. Here's a lovely group from Summer 2019, St Philip's School Arundel, standing outside Arundel Cathedral: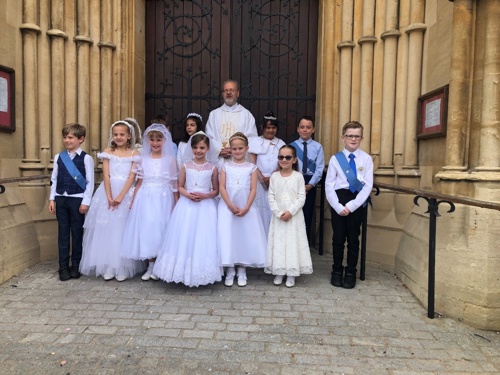 Sadly, group photos like that are one of the traditional aspects we will have to forego this year. But it will be possible for each family group to have their own photo here in church, on the Sanctuary, a reminder of a year like no other. Definitely an experience for these youngsters to tell their grandchildren!

Last meeting this morning was with the committee from our very good friends, Chester Bach Singers. Like all choirs and theatre groups, they are desperate to start some sort of live performance once again, and the Government's "Moving to Stage 3" does indeed envisage this, with every safety precaution in place. So, CBS are planning a concert here on Saturday 19th June: smaller choir, all socially distanced, smaller audience ditto, no interval, an hour and twenty minutes, tickets pre-booked and no sales on the door… Can it be done? Of course, it can! One more small step on the road to normality.

The very last public concert CBS did before Lockdown One in March 2020 was a magnificent performance of Haydn's "Creation", with a decent sized orchestra under their very talented Director, Martin Bussey. You might possibly recognize the venue?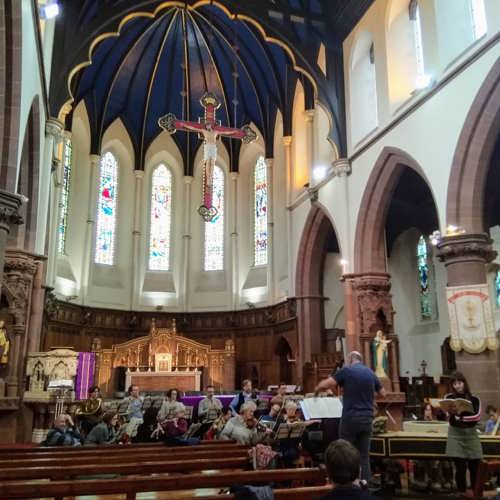 After lunch, as expected, an Ad Clerum from Bishop Mark, with his immediate thoughts on "Moving to Stage 3". As ever, he very helpfully précises the CBEW document and sends us some useful markers towards our individual parish implementation of it:

"I write on this 17th May with new information regarding the next steps in the re-opening of parishes. We are grateful to Canon Christopher Thomas, General Secretary of the Bishops of England and Wales; and all involved in the Government's Places of Worship Task Force that allows me to share clear and concise advice for all our churches and parishes in the attached Step 3 Guidance.

MOVING TO STAGE 3 IN OUR PARISHES

I think you will have noted from the Prime Ministerial statements last week, the note of caution requiring continued vigilance as we continue to make the progress out of lockdown. The rapid, proliferation of a new variant can only lead us take even greater care in these next steps out of lockdown. I would ask you to carefully read the paper attached (Step 3 Guidance) from the Bishops Conference which offers comprehensive guidance for this next stage, translating the generic advice into specifics for us.

REVIEWING THE CAPACITY OF OUR CHURCHES

I am aware that the number of the faithful returning to Sunday Mass has been steadily increasing and a number of churches have faced the sad, yet necessary situation of turning away parishioners because of building safety limits. We are now in a position from 17th May to reassess the safety capacity of our churches with social distancing of 1 metre + taking into account:

1) Continuing use of "physical mitigations"
2) Virus prevalence in your area
3) Good ventilation in the church
4) Local percentage of population vaccinated
5) Any Covid variants in the local area
6) Seating arrangements for family groups and "bubbles"

On the basis of a review, it may be possible to safely increase the Covid-secure capacity of your church. I will ask Mrs Julie Tinsley to send a new Risk Assessment Form to parishes so you can consider this re-assessment with a view to increasing the number of the faithful able to take part in Sunday Mass. The Risk Assessment process will follow the same pattern as before finally being signed-off by one of the Vicars General together with our Health and Safety Officer.

A NOTE ON NUMBERS AT BAPTISMS AND FUNERALS IN CHURCH

The safety number for Baptisms remains at 30, whereas the number for Funerals now corresponds to the safety capacity of your church. I am told that many of you are presently receiving requests regarding the number able to attend funerals in the expectation that all has returned to normal. I appreciate the complexities when a number of household groups are present. I would suggest the simplest approach during these final weeks of lockdown, might be to keep to the clear, Covid safety number of your church. I know some parishes have already done this in order to avoid misunderstanding and disappointment when approached by funeral directors or bereaved families.

CHANGES TO THE SAFE CELEBRATION OF MASS

From the documentation attached with the Ad Clerum you will note some changes to safe practice in the celebration of the Sunday Mass notably:

1) At Holy Communion, the priest or deacon must continue to wear a face covering but may now announce to each communicant: "The Body of Christ."
2) Holy Communion continues to be recommended on the hand, however, outside of localities suffering high spikes of infections those wishing to receive on the tongue are now recommended to wait until the end of the distribution of Holy Communion and receive on the tongue with the priest or deacon sanitising their hand after each communicant.
3) Stewards will be only required for Sunday Mass where numbers greater than the stated capacity of the church are likely. Stewards are no longer necessary for Covid security at Weekday Masses or when your church is opened for private prayer. The advice stresses in these eventualities QR codes for track and trace should be displayed prominently.
4) Concelebrations are permitted with restricted numbers and concelebrants are to receive Holy Communion only by intinction.
5) The Universal Prayer (Prayer of the Faithful) can now be re-introduced when it is appropriate.
6) Offertory Processions may be reintroduced where this is judged to be safe and with all involved sanitising their hands beforehand.
7) Readers are advised to limit touching the Lectionary; however, they do not need to sanitise their hands at the Lectern.
8) For collections, a static receptacle either fixed in position or held by a volunteer may now be used for cash collections though remote giving and contactless giving should be continued.

The use of Holy Water stoops, the physical exchange of the Sign of Peace and the distribution of Holy Communion under both kinds are not permitted for Covid safety. The cleaning of churches, the wearing of face coverings and the sanitising of hands continues to be required.

FINALLY …

We now have the guidance for Stage 3 of our emergence from lockdown, with further guidance to follow next month as we hopefully enter the final stage of the Government's Roadmap. This morning I have shared with you a lot of information and would wish to encourage you to take these steps gently and not to feel under any pressure of urgency. Thank you once again for all the hard work and co-operation which has allowed the churches of the Diocese to reach this stage. Caution continues to be counselled and we face the uncertainties of a new variant that is rapidly spreading in some parts of the country., However, with the steps outlined in this Ad Clerum, we are now ready to move forwards, according to local conditions, towards greater normality in the life of our parishes.

Entrusting these careful steps and all our parishes to the prayer and protection of Saint Joseph,

+ Mark, Bishop of Shrewsbury


So much here to digest but thank heavens for our excellent Taskforce – Ronnie and Reggie from Rosslyn, Hattie from Hamilton Street and Rita from Wrexham – who so selflessly give up their time every Monday Morning to meet, to review the past week and prepare for the forthcoming one. This parish owes them an enormous debt.

Today, Monday 17th May, our world-wide Rosary Prayer moves its focus to the New World, and the Immaculate Conception, Washington, D.C., USA.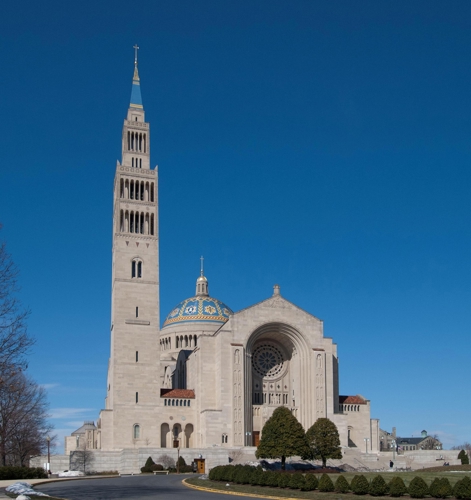 Our universal intentions today are "For all world leaders and for all heads of international organizations." Looks as I write as if the rains have paused, and the sun has come out. Last night we needed to seek refuge in church once again, but fingers crossed for tonight.

Believe you me, it's not easy saying the Rosary with fingers crossed…

May God bless you all,

Fr Paul
---
Sunday 16th May 2021
I do apologise for yesterday's mistake on Rosary Basilicas and Intentions: Saint Mary's Cathedral Sydney is today, Sunday, with the Intentions for all victims of violence and human trafficking. Saturday's Shrine and Intentions were Our Lady Queen of Peace, Medjugorje, Bosnia: For all migrants. This mistake was Olive from Orford's fault: I told her it was Medjugorje on Saturday and Sydney on Sunday, but she wouldn't listen. Mind you, I think she may well have been on the Southern Comfort at the time. And then, of course, anything can happen. Just ask the Garden Gnome. Here's a fine picture of the Shrine at Medjugorje: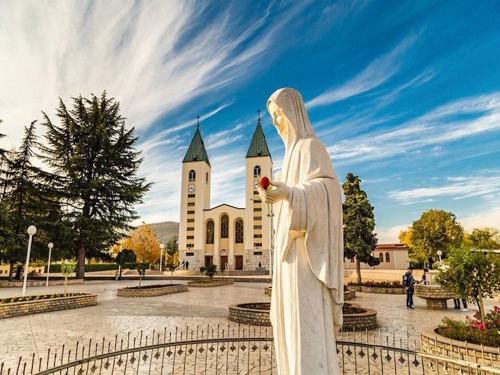 Numbers at Mass up again this morning, near capacity at the first three:
9.00 am: 79
10.00 am: 79
11.00 am: 78
12.00 noon: 54
Total: 290
A big communication came this afternoon from the Bishops' Conference of England and Wales about what changes might be introduced as a result of tomorrow's easing of restrictions. I've sent this to the Taskforce, but it's a lot to digest before tomorrow morning's meeting. I'm hoping Bishop Mark and his Head Office team will do some digesting for us and send us his guidelines in more bite-sized chunks. For those of you who'd like to read the full document, here it is:
https://www.cbcew.org.uk/covid-guidance-collective-worship/
I've also put it on the St Werburgh's Website as a convenient pdf: you'll find it in the first box on the Home Page; Coronavirus – the Church's Response to the Current Emergency. As I say, it's a weighty document, so we'll start working through it carefully and slowly tomorrow.
To finish with, a lovely picture of the front border leading up to the Front Door of the House: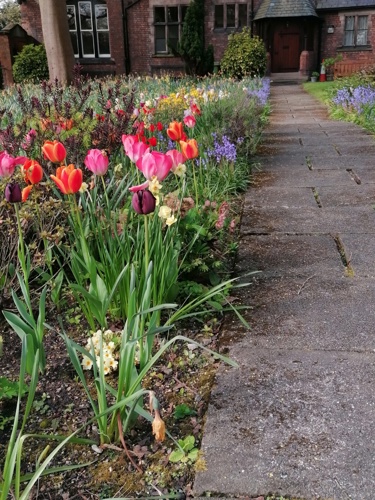 See you all at Rosary tonight or one night this week?
May God bless you all,
Fr Paul
---
Saturday 15th May 2021
Second Covid Jab first thing this morning. I wasn't going to make the mistake of last time and fall for all that "influencer" rubbish, poster boy Catholic Priest, doing such a valuable job persuading reluctant left-footers all over the country that there's nothing to it, just a few cameras there, perhaps a quick interview for "Good morning, Britain", shouldn't take long, can we just do a touch of make-up on those crow's feet…
No, I'm sorry. I did that last time, and bitterly regretted it, arm like a pincushion and, as a potential Influencer, offered only a weekend in Southend. This time I was going straight in and out. They asked me if I wanted to be on Instagram, but I said no, the Astra Zeneca one would be fine.
I did make one mistake, though: forgetting my mask. Arrived at Boots in plenty of time and asked the lady by the tills if they have any spare masks. Don't think I caught her at very best. "No!" she snapped. "We certainly don't! You can buy them if you want to", pointing to one of the sales racks. OK, keep your Max Factor on. But do they sell them singly? In packs of five? Ten? Do they ekerslike. So, I am now the proud possessor a pack of 49 face masks. Anyone want one? £1 each, to the first buyer…
Back for a solid morning on Newsletter and Baptisms, meeting couples who want their babies Christened, and then an actual live Baptism. First name?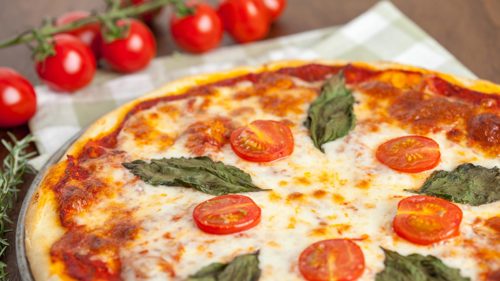 No, not "Pizza", you fools, Choir! Try again, and if anyone says "Tomato?" they can find somewhere else to sing. Yes, Margarita! A lovely name, especially as Pizza Margarita was named after Queen Margarita of Italy: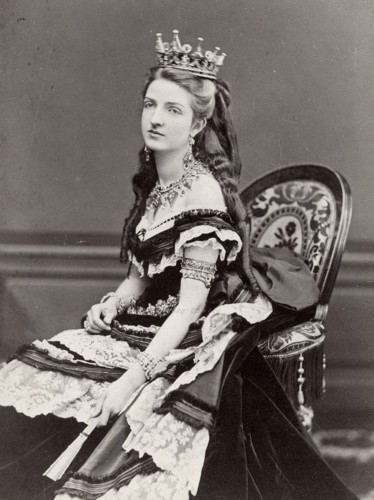 I just thought you'd all like to know that. But judging from the expressions on your faces, you clearly didn't. Just wasted on you lot, I am.
Interesting Photo of the week on the Newsletter today, the Mass celebrated by Bishop Grasar in 1970 for the Canonization of the Forty Martyrs of England and Wales out in Rome that year. Anyone recognise any of the Priests? I'm sure our excellent friend Gary from Gatley will be able to put names to at least one or two. Over to you, Gazzer!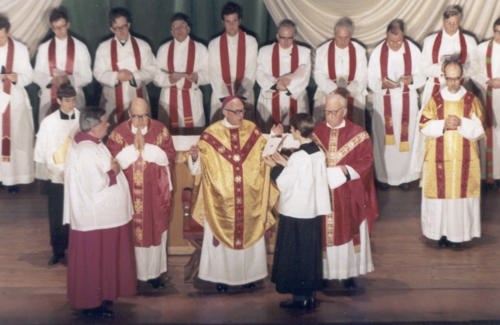 Lovely to hear from Matty's mother Sarah this morning, otherwise known as Grace from Gresford:
Good evening, Father Paul.
Paul, Jake and myself made a visit to Tintagel castle today in Cornwall and I came across this. For some reason I automatically thought of you and I wanted to share it. Times may have changed but your job is still as important. 
Many thanks and lots of love,
Sarah, Paul & Jake (the lab) Graham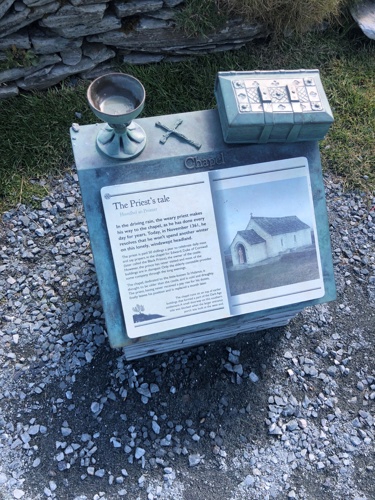 Isn't that lovely? Thank you, Sarah. I've always said it: you get a better class of parishioner out in Gresford. As opposed to the hooligans of Boughton, Vicars Cross and Huntington. And please don't get me started on Waverton and Rowton…
Rosary tonight led by Saint Mary's Cathedral, Sydney, Australia, with the General Intention "For all victims of violence and human trafficking."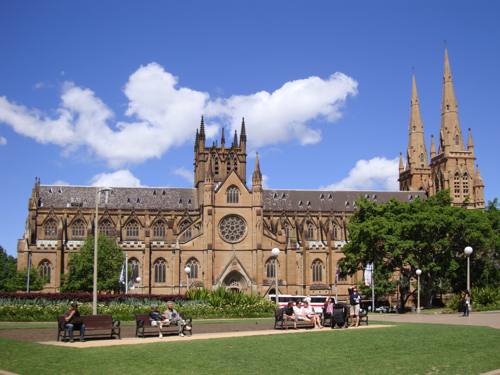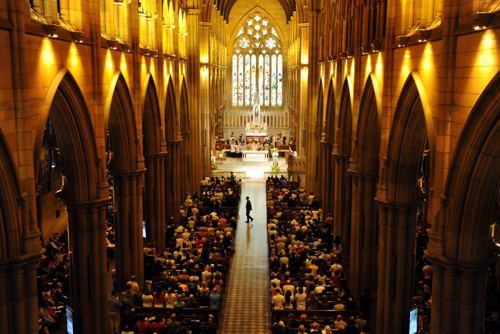 The Cathedral was opened in 1838 – which is much earlier than any Catholic Cathedral in England, Wales or Scotland. Well done, Ozzies! We will pray for them tonight, and especially their Patron Saint: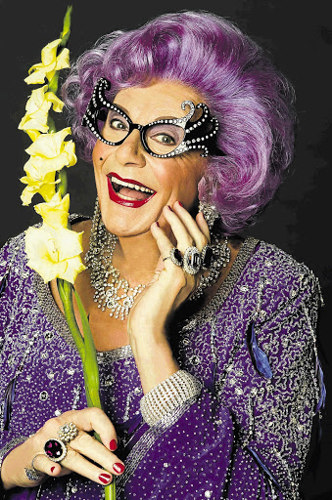 May God bless you all,
Fr Paul
---
Friday 14th May 2021
OK, you mockers: how about this one? Admittedly, the Yellow Peril isn't exactly electric, in fact it operates off two kettles of boiling water and a following wind. But this survey in today's papers shows you the future and the future is yellow:
Electric car awards winners
Car of the Year: Fiat 500 Electric
Best Small Car: Fiat 500 Electric
Best Value Car: MG5 EV
Best Family Car: Skoda Enyaq
Electric Dream: Pininfarina Battista
Best Performance Car: Porsche Taycan
Motorsport: Alejandro Agag
Best Used Car: Nissan Leaf
Best Premium Car: Jaguar I-Pace
Technology: Tesla Model 3
Efficiency: Tesla Model 3
Innovation: Gridserve
Source: Electrifying.com
I just hope you'll show a bit more respect to the Yellow Peril next time you pass it outside church. And those parishioners who ask me to park it in the next-door street when I visit, not right outside their houses, please, or the neighbours will complain, will see the errors of their ways.
Good morning of visits today, starting with Mrs Kathryn Oates at the Primary School for a long overdue catch-up. Both herself and Mrs Cathy McKeagney at our High School have played blinders over the last eighteen months, since these lockdowns began. Like the rest of us, they'd love to think the end was now in sight, but the news of the Indian variant today is worrying. How can a microscopic organism like the Covid-19 virus be cleverer than – outwit? – the whole human race? That's a profound question for both biology and philosophy, and much hinges on the interpretation of that word "cleverer".
I'm very conscious that both Heads are doing a fantastic job, and I want to ask both how they feel I can support them more. I asked Kath that this morning, and we had a really useful forty-five minutes chat on the subject. Watch this space for developments. Then over to Queens Park to see Edward, one of my heroes. I haven't seen him since Christmas, partly due to Covid-19 caution, partly to his very heavy schedule of work commitments. He's coming to the end of his second year at the Christleton Law College, ready to start his Training Contract at a firm of Manchester Solicitors in September. The key issue is accommodation: disabled flats in the centre of Manchester are virtually non-existent, and all apartments there cost an arm and a leg. But he thinks he might have found somewhere possible, very near work, and adaptable to his requirements. Fingers crossed and prayers, please, everyone.
Finally, up to Arkle Court to see two of our most wonderful Werbies, John and Betty Park. I cannot believe they are both 91, so full of life and spirits. John has discovered he needs some medical treatment so again do please keep them both in your prayers, plus their four children and seven grandchildren. And a fair few great-grandchildren. A lovely couple, who have done so much for this Parish over many, many years.
Interesting article in this week's Tablet, on the institution of a new formal Ministry of Catechist. At one level, I am delighted at the recognition this gives to some of the most important people in any Parish, those who instruct the youngsters for Baptism, First Holy Communion and Confirmation, and those who help with Marriage Preparation and Catholic Enquiry Courses. At the same time, I don't want it to be so formal that it puts anyone off, going on courses themselves, having formal training, ceremonies of induction, and so on. Anyway, here's part of the Tablet article:
New Ministry of Catechist
Pope Francis has instituted a new ministry of "catechist" describing it as a "stable form of service" carried out by lay people. In an apostolic letter setting out the change, Antiquum ministerium (Ancient Ministry), the Pope says the role is open to men and women who have a vocation to teach the Christian faith.

A special "Rite of Institution" which inducts catechists into their role will soon be drawn up by the Vatican's divine worship department while it will be up to bishops to draw up the "process of formation and the normative criteria for admission to this ministry."
There are thousands of catechists volunteering as teachers in parishes where they play a vital role in transmitting the faith to the next generation and are often tasked with preparing children for first communion or confirmation. In other parts of the world, including in the Amazon, Asia and parts of Africa, and particularly in places where there is a priest shortage, catechists act as the leaders of local parish communities.
Until now, however, the work of a catechist has not been recognised as a formal ministry, although the Pope explained in his ruling that it dates back to the early Christian era. "From the beginning, the Christian community was characterised by many different forms of ministry carried out by men and women who, obedient to the working of the Holy Spirit, devoted their lives to the building up of the Church," Francis writes. Over the 2,000 years of Christian history, the Pope explains, many "lay men and women" helped to "spread of the Gospel through catechetical instruction." They were, he said, "men and women of deep faith, authentic witnesses of holiness, who in some cases were also founders of Churches and eventually died as martyrs."
Francis' latest reform reveals his focus on building up lay ministries which is distinct from the ordained priesthood, and the creation of the catechist ministry comes after he opened up the roles of acolyte and lector (altar server and reader) to women.
I do wax lyrical about the front garden this year, but then it has been such a riot of colour, with plenty more to come as the Herbaceous Border gets ready to burst into bloom. Just look at this intensely dark purple tulip, almost black: it really lifts the spirits, doesn't it?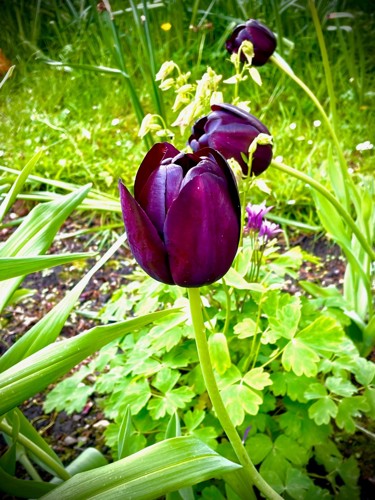 Rosary tonight at 6.30. We are almost at the half-way stage, so don't leave it too late, everyone, before you pay us at least one visit to join your prayers with those of the rest of the world, for the lifting of this pandemic. The Lead Basilica today is Our Lady of Health, Vailankanni, India; and the General Intention is "For all scientists and medical research institutions." With the virus still raging in India, this Basilica and Intention couldn't be more apposite: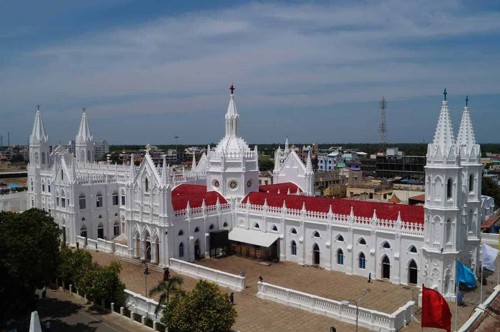 The Shrine is in Velankanni in Tamil Nadu, on the south-east coast of India, almost the closest point to Sri Lanka, and it houses their precious statue of Our Lady of Health: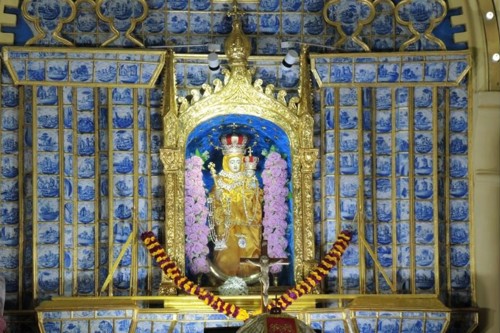 We pray tonight for all our great Indian Werbies, and for all the people of that extraordinary Sub-Continent.
May God bless you all,
Fr Paul
---
Thursday 13th May 2021 – Ascension Thursday
Great to welcome many of you to Mass here this morning for the Ascension, 41 at the 10.00 and 24 at the 11.00 am. Almost like old times! Many of you have asked about restarting daily Public Mass and the short answer is, we can't wait! But we must wait until we get official guidance from Bishop Mark and the Government. Next Monday, 17th May, sees a significant loosening of restrictions, with the hope that the final loosening will take place on Midsummer's Day, 21st June.
Rosary was rained off for the first time this month last night: at least, not rained off so much as "rained in", a great crowd turning up and coming into church here, so that we could stand in a socially distanced circle around the Paschal Candle and the Font. We took the lid off, so that everyone could bless themselves from the Holy Water as they left. We're a sturdy crowd here, you know. It will take more than a little rain to deter us and our nightly Rosary for the lifting of this pandemic.
Today's Lead Basilica is Our Lady of the Rosary, Fatima, Portugal, and the General Intention is "For all prisoners." That couldn't be more appropriate for the Werbies, which have built such strong links with HMP Berwyn out at Wrexham, and whose own John and Anna have taken such a central part in the new, wonderful and vibrant SVP Prisons group. (Anna – you're an honorary Werbie now!) Our photos of Fatima were taken by another Werbie, Vin of Victoria Road, on a recent trip there.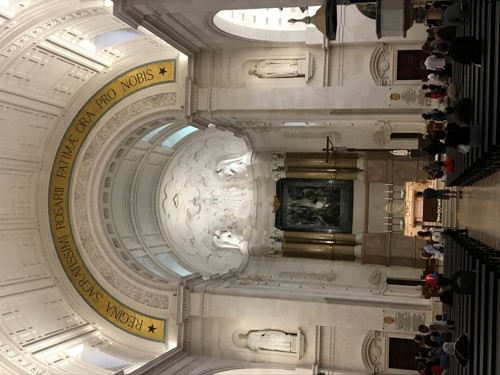 He reckons these Rosary Beads hanging outside must be the largest in the world. You certainly wouldn't want them round the back of the head, would you? Thanks, Vin!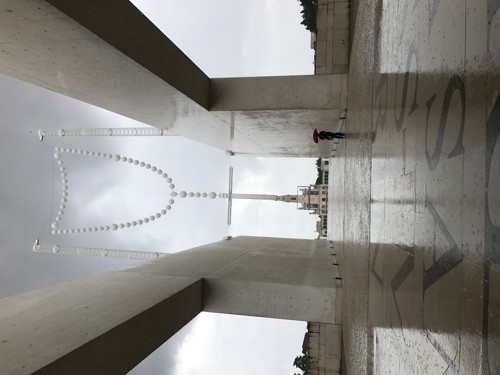 Great Zoom talk last night from Geoff Taylor on the Taylor Boatyards and their history here in the heart of Chester. The photos Geoff used to illustrate his talk – and the video clips – were superb, and he told us about the story of his family over the last century or so with great relish and enthusiasm. I could have listened to twice as much.
Clearly, these Zoom Talks and Groups have huge potential long after the pandemic is over and all restrictions have been lifted. We have had some wonderful Heritage Walks over the years, in many parts of this area. But they are dependent on people's legs being up to it, plus the weather, plus all of us being able to see everything that the Tour Guide is pointing out. With Zoom, all three considerations are dealt with: you see everything from the comfort of your own chair, the weather outside is immaterial, and you notice every detail in amazing close-up. Anyone like to volunteer a talk following Geoff's last night?
OK, OK there is one benefit of doing it in person… How many of these "usual suspects" can you recognise?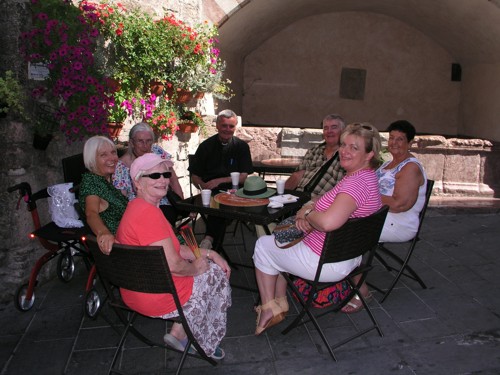 (That's Noreen from Norley behind the dark glasses).
I shouldn't have mentioned the Great Man last night, because it just brings the silly and immature out in so many of you. No-one more so than Laurie from Larshay, who sends in this little picture: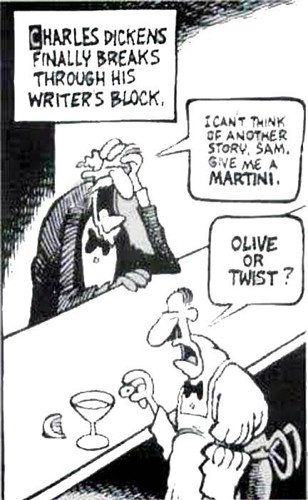 Not got any Pubs to inspect Laurie?
May God bless you all,
Fr Paul
---
Wednesday 12th May 2021
It's trying to be summery, isn't it? Good to catch up with both our Headteachers this morning, Kathryn Oates at the Primary School and Cathy McKeagney at the High School, and arrange times to go in over the next few days and see them both and see how they and the schools are getting on. But very sorry to hear news in the process of the death of Cathy's father over in her hometown of Widnes last week. I'm afraid I know no more than that at present but have assured Cathy of our prayers and sympathy at this sad time. She and her family have been here to the Werbies for many a Sunday Mass recently, and always take abuse as constituting "Half of Widnes - but the better half!" Amazingly, she still seems to keep coming back for more…
Then good to touch base with Geoff Taylor to tie up loose ends for his Canal Talk this evening. I'm sure this is going to be a fascinating hour on Zoom, starting at 7.30 pm, and we all send him our warmest thanks for doing it. The row of pints is already lined up on the bar of Telford's Warehouse for the end…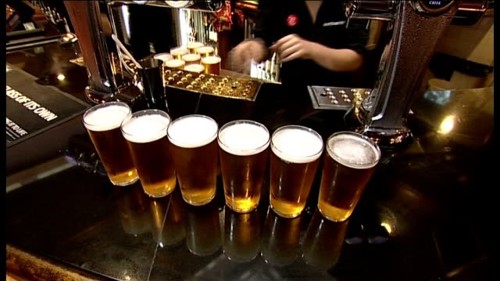 Then Rowena of Rowton called by, wife of the long-suffering Captain Birds-Eye, to talk about clearing up the outhouses here. They are quite extensive and could do with a good clear-out, so watch this space everyone if we find stuff there that might be useful to parishioners on a "come and collect" basis.
Last night, the skies opened, which put paid to a walk out after Rosary. So, with the skies black and threatening, a good excuse to sit down with the Great Man and read the last chapter on one novel and start immediately on the first chapter of the next. In this case, I was finishing Little Dorrit and starting Our Mutual Friend. I think I told you that my own set of Dickens – actually, one of many sets – was purchased from the second-hand bookshop in Hyde Park, Leeds, just up from the university: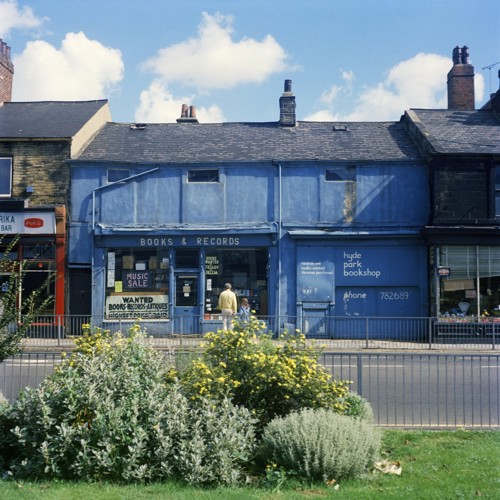 The year was 1972, PGCE at Leeds University, and possibly the idlest year of my life. But certainly one of the most enjoyable. Whoever first owned this set wrote at the end of each novel when and where they read it, and sometimes a brief comment on their enjoyment of it. He or she must have read Little Dorrit at least three times: "Re-read by W.J. March 1923" followed by "And again in 1925". I wonder why W.J. – whoever he or she was – read it again so quickly? For me, it was the third reading: "Read Leningrad, July 1978" – gosh, doesn't that sound pretentious? – and then "Re-read at Palazzola, August 2008." And now, "Read again and hugely admired, Chester, April-May 2021".
The beauty of reading great literature over and over again is that you can stand back from the plot and characters, and all their wonderful surprises, and admire the technique more coolly. I've always been fascinated by how any novelist begins and ends their works. Little Dorrit ends with the heroine's marriage – no surprises there, and I hope no-one is going to accuse me of spoiling the whole book for them! But note how he shapes the end in such a strongly elegiac tone, the tiny drama of one insignificant woman – the name 'Little Dorrit' insisted on throughout – set against the vast unfeeling pulse of the capital city, Dickens's London, surging on around her, him and all of us:
"They all gave place when the signing was done, and Little Dorrit and her husband walked out of the church alone. They paused for a moment on the steps of the portico, looking at the fresh perspective of the street in the autumn morning sun's bright rays, and then went down.
Went down into a modest life of usefulness and happiness. Went down to give a mother's care, in the fulness of time, to Fanny's neglected children no less than to their own, and to leave that lady going into Society for ever and a day. Went down to give a tender nurse and friend to Tip for some few years, who was never vexed by the great exactions he made of her in return for the riches he might have given her if he had ever had them, and who lovingly closed his eyes upon the Marshalsea and all its blighted fruits. They went quietly down into the roaring streets, inseparable and blessed; and as they passed along in sunshine and shade, the noisy and the eager, and the arrogant and the froward and the vain, fretted and chafed, and made their usual uproar."
I put that down, yes, with a fairly moist eye, and picked up his last novel, Our Mutual Friend, 1965. How many times have I read this one? The end page tells me this will be the fourth. My predecessor notched up three readings by the look of it: "Read by W.J, March 1910 – with great pleasure", and then "Ditto, September 1920" and "And again with great pleasure" in different ink, but no date. For me, it's "Read – Leningrad – August 1978". (Did I see any of the beep-beep city?) Second reading is "Re-read, Devon, August 1984" – visiting the old folks – and then "Read again at Palazzola with real enjoyment, August 2009."
I really should get out more, shouldn't I? Here's the opening of Our Mutual Friend:
"In these times of ours, though concerning the exact year there is no need to be precise, a boat of dirty and disreputable appearance, with two figures in it, floated on the Thames, between Southwark bridge which is of iron, and London Bridge which is of stone, as an autumn evening was closing in.
The figures in this boat were those of a strong man with ragged grizzled hair and a sun-browned face, and a dark girl of nineteen or twenty, sufficiently like him to be recognizable as his daughter. The girl rowed, pulling a pair of sculls very easily; the man, with the rudder-lines slack in his hands, and his hands loose in his waistband, kept an eager look out. He had no net, hook, or line, and he could not be a fisherman; his boat had no cushion for a sitter, no paint, no inscription, no appliance beyond a rusty boathook and a coil of rope, and he could not be a waterman; his boat was too crazy and too small to take in cargo for delivery, and he could not be a lighterman or river-carrier; there was no clue to what he looked for, but he looked for something, with a most intent and searching gaze. The tide, which had turned an hour before, was running down, and his eyes watched every little race and eddy in its broad sweep, as the boat made slight headway against it, or drove stern foremost before it, according as he directed his daughter by a movement of his head. She watched his face as earnestly as he watched the river. But, in the intensity of her look there was a touch of dread or horror.
Allied to the bottom of the river rather than the surface, by reason of the slime and ooze with which it was covered, and its sodden state, this boat and the two figures in it obviously were doing something that they often did and were seeking what they often sought. Half savage as the man showed, with no covering on his matted head, with his brown arms bare to between the elbow and the shoulder, with the loose knot of a looser kerchief lying low on his bare breast in a wilderness of beard and whisker, with such dress as he wore seeming to be made out of the mud that begrimed his boat, still there was a business-like usage in his steady gaze. So with every lithe action of the girl, with every turn of her wrist, perhaps most of all with her look of dread or horror; they were things of usage."
What on earth are they looking for? What are they catching? There would be a circle of hell waiting for me if I told you. Beg, borrow or steal a copy and find out for yourselves. I promise you, you won't regret it.
Rosary tonight is for the General Intention of all people who live alone and those who have lost hope. A lovely intention, but I'm sure they are intended to be two separate categories, and not suggesting that people who live alone have lost hope? I hope not! Some perfectly happy people live alone (your very own Blog writer for one) and some exquisitely miserable people live with others. Agreed?
And here is Our Lady of Algiers, inside and out. It looks magnificent, doesn't it? And more than a hint of Arab architecture?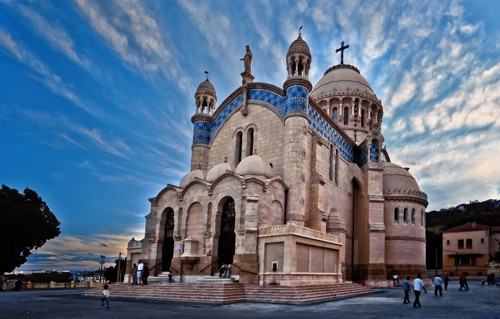 If you've not been down to Rosary yet, why not join us one evening? We're almost half-way through, and it would be so good to see you, and for you to join your prayers with ours for a lifting to this terrible pandemic world-wide.
May God bless you all,
Fr Paul
---
Tuesday 11th May 2021
Sunday night was Quiz Night for CathSoc, and the miracles of Kahoot. Do any of you know this app? (See, I've got all the tekkie jargon these days! Cool Cat or what? Or should that be "Kool Kat"?) By some mysterious process, we all see a screen with four choices on. You have to press your chosen answer, and in ten seconds it comes up as "Right" or "Wrong". Scores are mysteriously kept, and final results announced. From which you can see that none of this helped FP very much: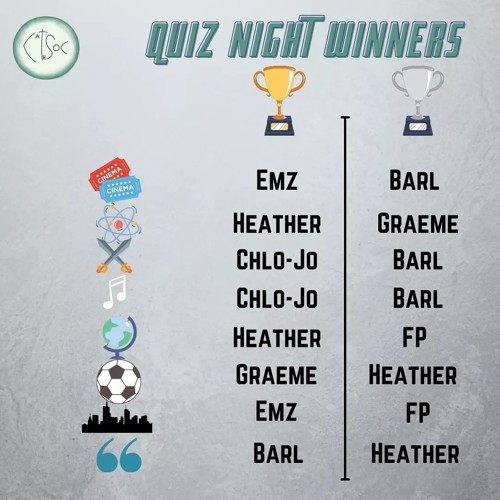 Next Sunday, a joint meeting with Keele University CathSoc, which should be fun, as we are building good links with them, and would hope to be able to have a visit there – or for them to come to us – before too much longer.
Madame President Barl hs been doing an interesting piece of work for one of her assignments, which has involved looking at University Applications over the past three years, the data taken from the official UCAS website. You can see some real trends here, can't you?
| | | | |
| --- | --- | --- | --- |
| Subject Group | 2019 | 2020 | 2021 |
| Medicine & Dentistry | 101,950 | 108,110 | 127,570 |
| Subjects allied to Medicine | 302,440 | 317,730 | 402,570 |
| Psychology | 128,850 | 132,230 | 137,640 |
| Business and Management | 301,800 | 308,420 | 331,530 |
| Education and Teaching | 67,520 | 65,560 | 77,080 |
| Language and area studies | 100,370 | 92,420 | 88,930 |
| History, Philosophy, Rel Studies | 88,810 | 81,940 | 81,190 |
|   |   |   |   |
| Total for all Subjects | 2,471,630 | 2,499,130 | 2,730,040 |
Most commentators have suggested two trends here: the first one away from the "humanities" towards subjects that have a definite job at the end of it; secondly, that despite all the disruptions to university education, sixth formers have not been put off applying, the total this year some 230,000 up on last year and the year before.
Back on planet earth, a busy morning here today with Zoom Lesson for Bro Edmund at Ampleforth and appointments. This afternoon, more tidying up – it will not last! – and a chance to make sure everything is in place for Geoff's Canal Zoom Talk tomorrow night at 7.30 pm. Not too late to ask for the Zoom Link, but I can't guarantee any requests after lunchtime tomorrow will be dealt with as I can't stay glued to this wretched computer screen, much as it feels like it some days.
Good to hear from our dear friend, Pat from Pulford. She's the only sensible parishioner in the whole of the Werbies, actually obeying the First Law of Alliteration by having her Christian name and her Residence start with the same letter.
Dear FP,
Would you please send me the link re the boatyard talk on Wednesday?
Also, to say I went to Knock Shrine (Virtual) this evening to share in the Rosary.
Oh, so very beautiful and that Choir. WOW you would just love them.
Of course, memories of home for me. My very favourite place. Taken by my parents when Knock was a tiny little place but just as special as now. How it has grown. Quite nostalgic.
Please God after next week you can visit soon. The Tunnocks are ready and waiting!!! I also say my rosary each evening at 6.30 so joining you in spirit.
Hope you are coping ok.
My love and prayers as always.
God Bless, Pat
In case you are wondering, the Tunnocks are a new family who have recently moved into the Parish. He lied.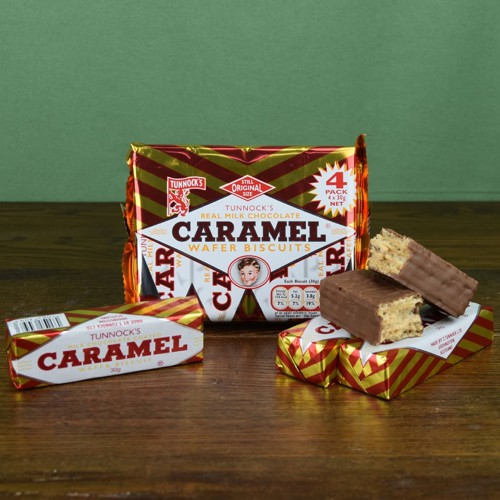 The only snag is that Canon Bernard, who takes Pat Holy Communion, is also partial to them. This could lead to a major war between Wrexham and Shrewsbury Dioceses. Just saying.
Rosary tonight led by The Virgin of the Poor (Banneux) Belgium, and the General Intention is "For all the poor, the homeless, and the economically distressed."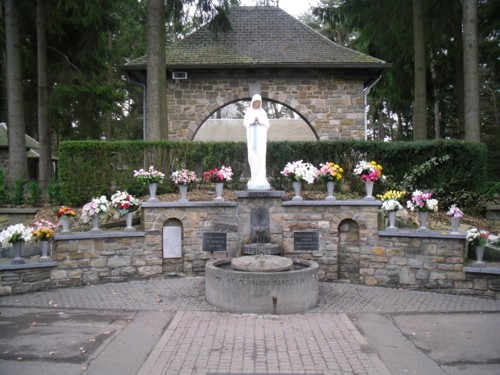 Why not come and join us? Last night, we welcomed five new faces, two of them from St Carpark's. See, we're not proud – we'll accept anyone.
May God bless you all,
Fr Paul
---
Monday 10th May 2021

We await the Dear Leader's Press Conference at 5.00 pm this afternoon, flanked by Boffins on either side we hope, with lots of jazzy graphics and punchy headlines. We're going to miss these Press Conferences when it's all over, aren't we? (Chorus of Massed Werbies: "No, we're flaming not!")

In advance, Bishop Mark sent us this message this afternoon:


STAGE 3 OF THE ROAD-MAP OUT OF LOCKDOWN

We are expecting a Prime Ministerial announcement outlining the next stage of England's 'Road-Map' out of lockdown, with measures taking effect from 17th May. It is thought the success of the national vaccine programme will allow the Government to ease safety measures in the week ahead. Insofar as these announcements will impact on the life and worship of our parishes and communities, I will seek to pass on to you all relevant information when received.

The unfolding tragedy of the Covid pandemic elsewhere in the world reminds us how the roll-out of vaccines and medicines on an international scale will be required to bring this global crisis to an end. Pope Francis's call to intercessory prayer with the Rosary especially focuses on those who are suffering most and who lack the resources and infrastructure that is allowing our country to emerge from this crisis. Let us continue to heed the Holy Father's call to prayer for an end to the global pandemic.


We are anticipating one immediate change: that all Baptisms, Weddings and Funerals will now be "thirty max" in church, which will certainly be welcomed by our Baptismal and Weddings families. Baptism this morning at 11.00 am for the latest member of our great Esposito family from La Fattoria, Bianca Esposito: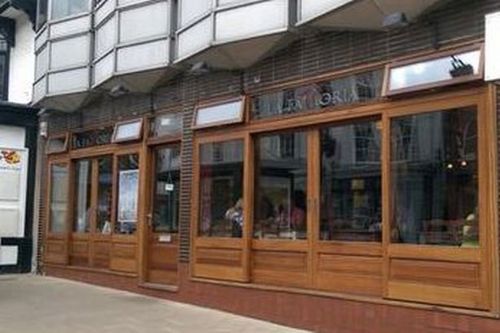 That's the Restaurant not the baby, you fools! Sofia Esposito, Bianca's cousin, is one of our twelve children in the Parish First Holy Communion Group, stuck in the Suez Canal for the past eighteen months. We are delighted that our proposed date of Saturday 12th June at 11.00 has been accepted by all twelve candidates and their families. They have all sent in their acceptances and their Guest Lists. Some of them would have liked 20-25 guests, but with social distancing in the church, we have had to cut that number down to a maximum of eight per candidate. That's the bad news; the good news is that it's going ahead, and these children will be able to celebrate meeting the Lord in the Blessed Sacrament for the first time.

Angelo, boss at the Restaurant, was here this morning for Bianca's Baptism: they asked for a Monday morning, as this is the day the Restaurant is closed. Could we possibly move the First Holy Communions to a Monday Morning too, he enquired? I wonder what the Italian for "Dream on!" is?

Taskforce played a blinder this morning at 10.00, starting to brainstorm this First Holy Communion celebration on 12th June, and all the hundred and one challenges it will present. But we know it is do-able, and Rita from Wrexham and Hattie from Hamilton Street joined Ronnie and Reggie from Rosslyn in putting heads together and coming up with some very imaginative solutions. We've now emailed back to all twelve families, asking them for their final Attendance List, and indicating to us where there are bubbles amongst their guests.

I shouldn't have posted that photo yesterday of one of the Choir proudly brandishing their teeth to show that possessing false gnashers is no barrier to singing flat. Believe you me, they can sing flat with their own teeth just as well. Anyway, it provoked one of them to dig out a photo of a couple of years ago, one of the Altos turning round in the middle of the Sermon and snapping one of the Basses concentrating hard on the Parish Priest's words of wisdom: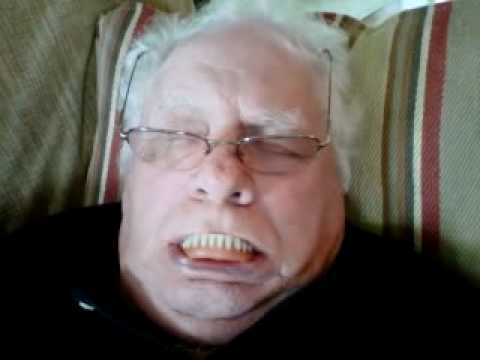 I'm going to ban mobile phones in church if this goes on.

I can't thank you all enough for those donations of bulbs last November and the team that turned up to plant them. The tulips have been sensational, just coming to their end now. How about these extraordinary multi-coloured ones?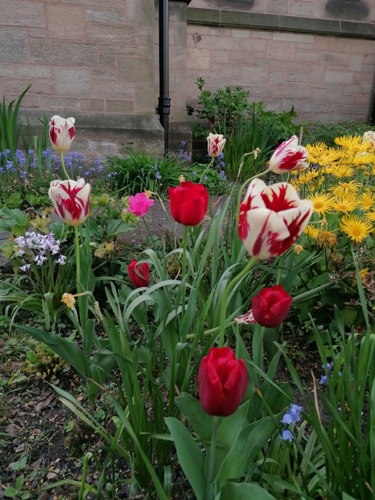 See you all for Rosary tonight, 6.30 pm, the Five Sorrowful Mysteries. The Lead Shrine today is our very own Our Lady of Knock in Ireland: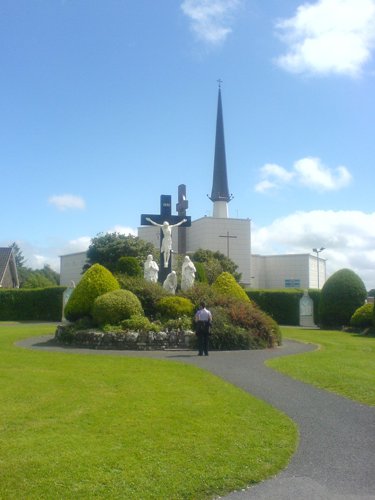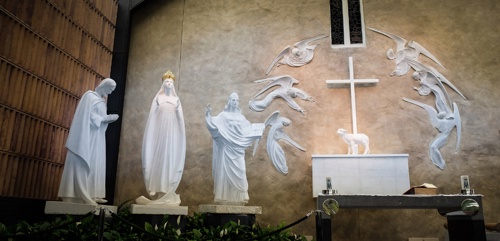 The General Intention is "For all people with disabilities".

Back to the Choir again?

May God bless you all,

Fr Paul
---
Sunday 9th May 2021
Highest numbers so far at Mass this morning: but only two people needing to be turned away, which I hope means we are spreading ourselves over the four Masses more evenly:
9.00 am: 90
10.00 am: 66
11.00 am: 85
12.00 noon: 65
Total: 306
9.00 am still noticeably the most popular, closely followed by the 11.00 am – is this because these two times most closely follow our old times of 9.00 and 10.45? The 10.00 has up to now been the third most popular, and the 12.00 noon coming in last. Someone asked me this morning what I would do if all numbers started breaching our maximum capacity. The answer is: I don't know! But the next scheduled review of Lockdown Restrictions is due on Monday week, 17th May, so we are all hoping for some easing of church restrictions then. Some news reports tell us that our Dear Leader is going to tell us tomorrow that we can now all start hugging each other. Please heavens, no!!!
Extraordinary story in today's papers of the Anglican Chaplain at "one of our minor public schools" – what a glorious English expression that is, social gradations within social gradations – who has parted company with said school because of his opposition to their desire to introduce LGBT awareness into the school curriculum. I prescind – good, eh? – from involvement in the issue itself, but did want to share with you one little aspect of the rumpus which caught my attention. The Chaplain objected to the training session where all the teachers were being urged by the Session Leader to chant in unison "Smash heteronormativity!" Just try it: but not with a mouthful of tea and toast, please! I tried it out on the Choir this morning, and the results were pitiful. Mind you, it was at 9.00 am, fairly soon after breakfast, and most of them still had their eaters in: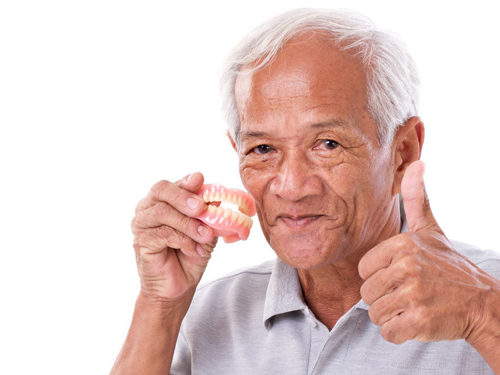 Rosary tonight at 6.30 pm, the World Leader today being the Holy House of Loreto Italy: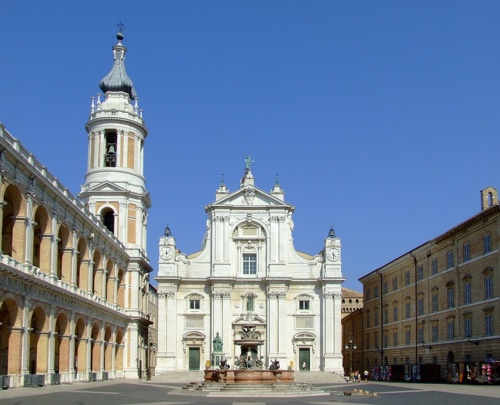 This is the magnificent "church within a church", at Loreto, in the Ancona region of Italy, on the opposite coast to Rome, and about half-way between Rome and Florence. The interior church is by tradition the house in which the Blessed Virgin lived: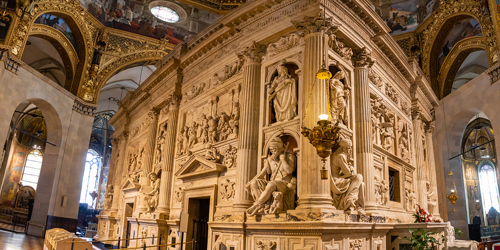 And again, by tradition, this is the house that provided the model for the shrine at Walsingham.
The Universal Intention tonight is "For Seniors". How appropriate! Takes me back to the Choir this morning, and that chant… And Olive from Orford, who kindly sent us this latest picture of herself staying in training for next Christmas' Booking!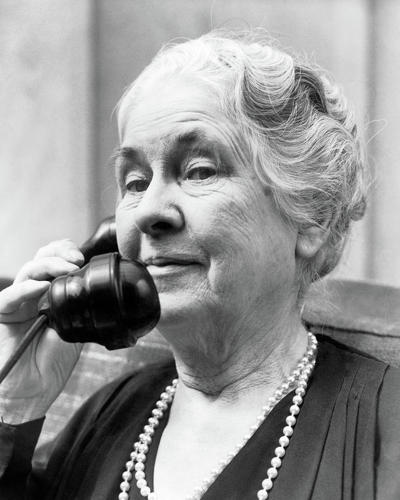 Next Christmas's WHAT, Olive????
Just a reminder: Geoff's Canal Talk, Wednesday at 7.30 pm. If you haven't emailed me yet for the Zoom Link, please do so well before Wednesday evening, and it will be our pleasure to send it over.
May God bless you all,
Fr Paul
---
Saturday 8th May 2021

More signs today of getting back to normal: a busy Saturday morning starting with a Wedding Couple, plus Florist, at 8.30 am, on to finishing the newsletter and getting it over to the Tekkies before they head off to the pub. Then another appointment to book a Baptism and an actual Baptism itself at mid-day. We're still on "Rule of Six", but as both parents were from Spain, and all the family over there and unable to travel, that wasn't a big problem. They quickly fixed up their laptop in Church, and in no time at all we were on Zoom to the various Spanish homes. As some of the party spoke Spanish, some English, a couple Portuguese and one French, I thought it easiest to compromise and do the whole service in Serbo-Croat.

This afternoon, more requests for weddings and baptisms. We can't jump the gun and must wait for official guidance on any easing of restrictions. But the next announcement is due on Monday 17th May, and we hope that might be followed by some Diocesan guidelines on anything that might change where churches are concerned. Meanwhile, Thursday next is the Holiday of Obligation of the Ascension, and we'll be holding two Masses, 10.00 am and 11.00 am. No need to book, but please arrive in plenty of time.

In terms of Sunday Masses, just to repeat what we said on the Newsletter this weekend: twelve people sadly had to be turned away from the 9.00 am Mass last Sunday, as we'd reached absolute capacity. If this is the Mass you most want to come to, please allow plenty of time to arrive, have your details taken, hand sanitize and wait to be seated by the stewards. If you come at the last minute, you could be unlucky. Spaces available at the other Masses, and especially at the 12.00 noon.

Today's World Wide Web of the Rosary is being led by the Marian Shrine at Our Lady of Luján Argentina, and the General Intention is for all communication workers. I rang up Pope Francis to see if he had anyone especially in mind, and he said it was particularly for Parish Blog writers. Sweet.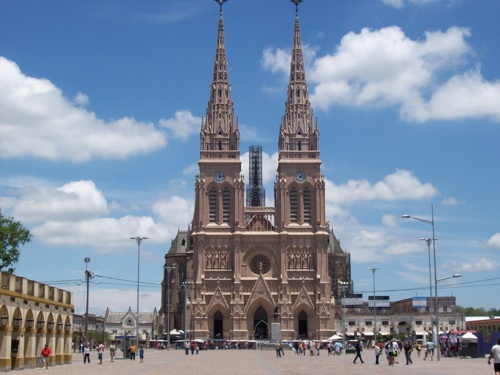 Inside the Basilica is a sixteenth century icon of the Blessed Virgin Mary which has been the centre of devotion for hundreds of years: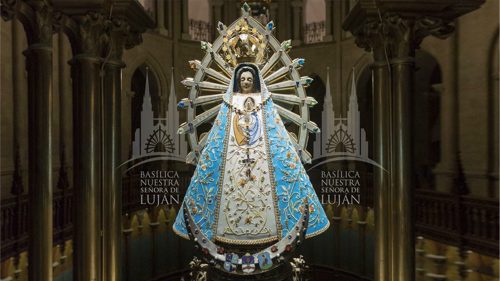 On Thursday night at 6.30 pm, we welcomed two Catenians to our Garden Rosary, Cameron and Callum. Last night, two from St Theresa's Blacon, Tam and Tilly. And then a lovely follow-up email from Tam:

I was in the Werbies SVP team for a number of years with Sheila Winder and Pauline Hackett. I have since lost contact with them, please give them my love when you next visit. Hopefully they will remember.

Sadly, neither Sheila nor Pauline in the best of health: but a poignant memory for Tam to share, nonetheless. Thanks, Tam and Tilly! So, you see, we're not proud: we welcome absolutely everyone. If you haven't been yourself, why not come down one evening? It would be so good to see you, and the most important aspect of all, you would be joining this world-wide prayer for the lifting of the Pandemic.

How about these deep purple tulips to finish with?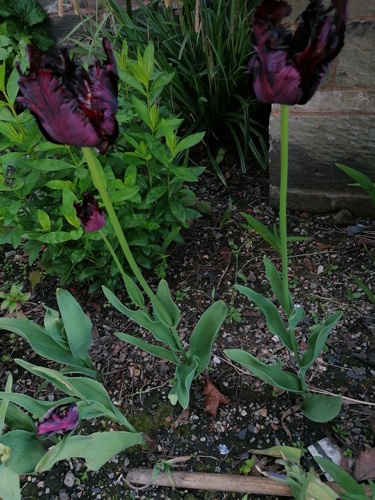 May God bless you all,

Fr Paul

---
Friday 7th May 2021

Funeral this morning for the lovely lady who came to live here in Chester on 2nd March, having had a devastating diagnosis the week before. Her daughter could not have made her more welcome, everyone knowing that the time was short. High on her list of priorities was re-connecting with the church, and I'm sure I speak for all Priests when I say this is some of the most precious, privileged work we do. The lady was a delight, Liverpudlian through and through, her early years spent up in the Walton, Orrell Park area of Liverpool, and taken to church by her daily Mass-going grandmother. Her local church was "Blessed Sacrament Aintree" which is simply "Blessed Sac" if you're from that part of the world: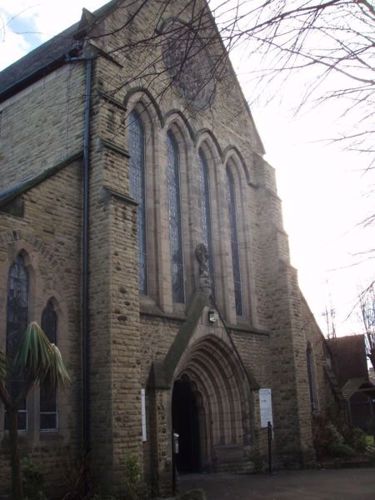 Then her life had moved in all directions, as all our lives do. Here in Chester, she simply wanted to be part of the church again, and, unable to come to us, it was a joy and privilege to go to her. "Once a Catholic, always a Catholic" is one of our proudest boasts, and I sincerely hope no Catholic ever forgets or doubts that truth.

Back for another very stimulating and thoughtful session on "Prayer" with Brett from Broughton. (He's started calling himself Brett, so clearly as mad as the rest of us. He should fit in well here). Then over to St Francis to collect Fr Matthew and walk together to the Register Office, to hand in Registers and bring everything up to date and be as ready as we can for the new system which began this week. I made a total fool of myself – why do you lot find that so hard to believe? – looking over Fr Matthew's shoulder and seeing him filling in one of the many forms they needed. "Name: Prince Matthew". "No," says Papa P, sticking his big nose in where it honestly wasn't wanted; "Here in England we put Christian names first, followed by surnames. So, it should be 'Matthew Prince'." "But", says Fr Matthew, "My first name is Prince, and my surname is Matthew". Why don't I just shut up and give everyone a break? Sharon, the Registrar hugely enjoyed my embarrassment. "Gosh, you'll be able to tell everyone they were married by a Prince!"

Back here to get ready for tonight's Rosary at 6.30 pm, the front border now a riot of blue with the bluebells, but the yellow buttercups starting to emerge, the next flower to take over in such a lovely way: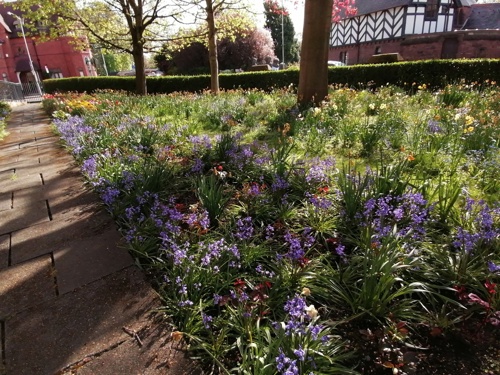 Pope Francis's World-Wide Rosary today is being led by Our Lady of Peace and Good Voyage (Antipolo) Philippines, and the Intention is for all families. Here it is, inside and out: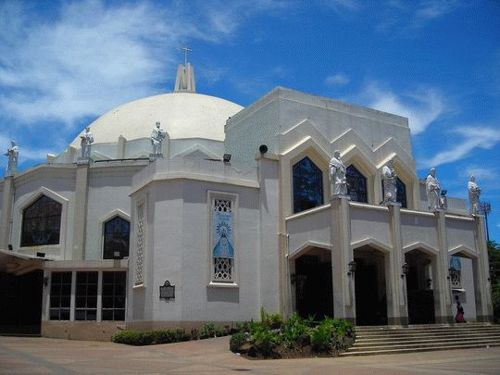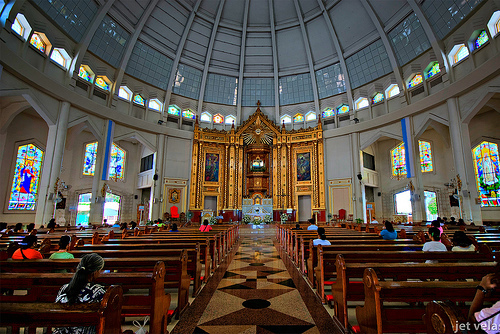 When I think of my lady this morning and how beautifully she was looked after by her three children in that final chapter on earth, I can't imagine a more wonderful Intention.

May God bless you all,

Fr Paul
---
Thursday 6th May 2021

Never under-estimate a Werbie! You think you know them, inside and out, all their little ways and wonderful idiosyncrasies, every aspect of them, body and soul – and then they come up and surprise you like a smack round the head. Take Laurie of Larshay. Someone. Please. No, seriously: you know him and I know him as our indefatigable researcher into Covid-19 restrictions and Licensed Premises. And all first-hand research, I can assure you. No cut-and-pasting or plagiarism for our Laurie. And then he comes up with this email this morning:

Hi, FP

Did you know that "The Two Popes" is still available on Netflix? [What they? Ed]

Turns out he's a right little Barry Humphreys – or do I mean Barry Norman? – our very own Film Critic. Well, I'll go to the foot of our stairs.

Thank heavens for Wanda and Walter (clue!) from Waverton, who significantly raise the tone of this blog. My heavens, it needs it.

Hello, Father Paul
We have particularly loved the photos of the garden with the wonderful bulb coming up. Walter thought you might like one of his favourite poems,
"The Year's Awakening" by Thomas Hardy, especially the second verse - have a look!
New hip doing well, half-way through six-week recovery period, we will be back at 10am before you know it!
love
Wanda and Walter

You see what I mean – a poem by Thomas Hardy and a new hip! It doesn't get much better than that:

The Year's Awakening by Thomas Hardy

How do you know that the pilgrim track
Along the belting zodiac
Swept by the sun in his seeming rounds
Is traced by now to the Fishes' bounds
And into the Ram, when weeks of cloud
Have wrapt the sky in a clammy shroud,
And never as yet a tinct of spring
Has shown in the Earth's apparelling;
O vespering bird, how do you know,
How do you know?
How do you know, deep underground,
Hid in your bed from sight and sound,
Without a turn in temperature,
With weather life can scarce endure,
That light has won a fraction's strength,
And day put on some moments' length,
Whereof in merest rote will come,
Weeks hence, mild airs that do not numb;
O crocus root, how do you know,
How do you know?

How does any bird know that it's Spring? How does a crocus root know? Out of such seemingly commonplace questions, Hardy weaves this magic and profound poem.

For tonight, how about this rather unusual shade of bluebell? Don't ask me to describe the colour, as I'm totally colour-blind. Is a rather striking shade of green, isn't it? No?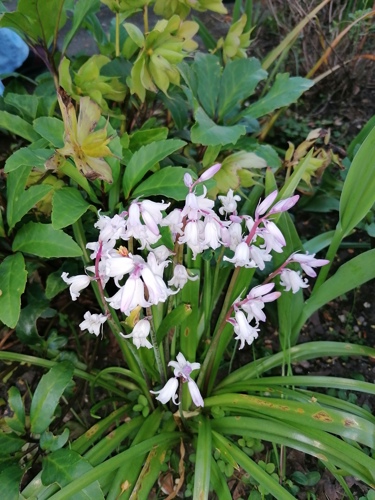 Our Rosary intention tonight is for all young people and the lead Marian Shrine is out in San Paolo Brazil, Our Lady Aparecida. The interior picture below shows Pope Francis saying Mass there: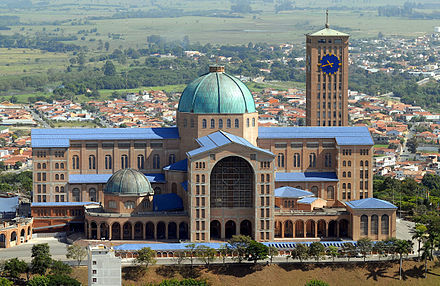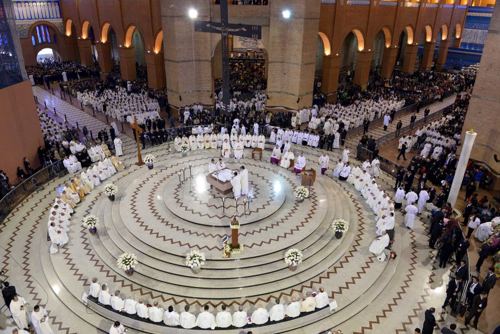 And here we all are last night, and will be, every 6.30 pm throughout May. It would be great to welcome you all any evening you were free to join us: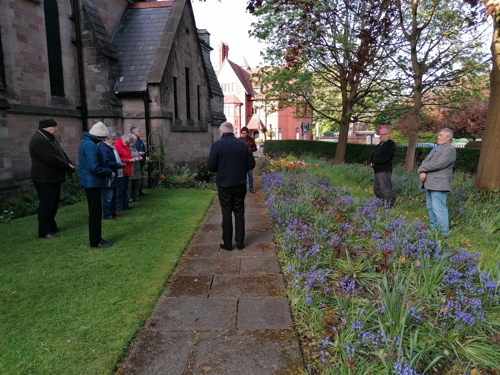 May God bless you all,

Fr Paul
Wednesday 5th May 2021
And yesterday the rain kept pouring down. It didn't stop our 6.30 pm Rosary Group last night, joining with similar groups all over the world. We prayed the Five Luminous Mysteries: come and join us one evening! It would be good to see you all there, if only for one day out of the thirty-one in May. Last night, Brett from Broughton joined us. Talk about keen!
The Marian Shrine leading for today, Wednesday 5th May, is the Blessed Virgin of the Rosary, in Namyang, South Korea, and the Intention is for all children and adolescents. It looks an amazingly futuristic Shrine, both inside and out: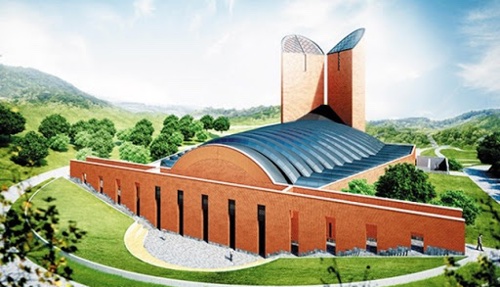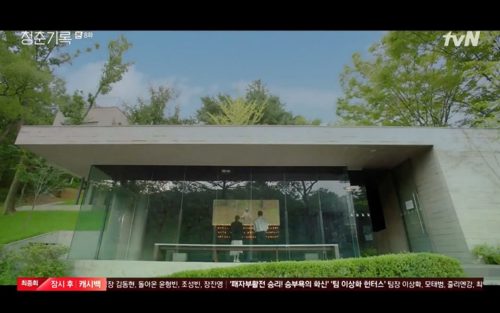 Anyone up for a Parish Visit? After we've done Bootle, of course.
Barry and Bettie, our two little statistical whizzes from Berkley, have updated the Mass attendance graph, with a very helpful red line at the top to show the Easter attendances: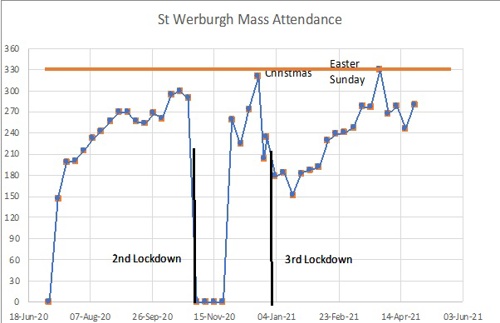 Thanks, B&B! In fact, don't laugh! Oh, you weren't. I see. When I was teaching in Bradford in the 1970's – 1970's, Choir not 1870's, you cheeky monkeys – we had a lovely pair of brothers in the school Scout Troop, Gordon and Malcolm Kemp. Their parents were both lecturers at the University: Dad was Professor of Statistics and Mum was Reader in the Statistics Department! Mum, Adrienne, was still active in the Department in an Honorary capacity under quite recently, I know. So, Barry and Betty are not such fantasy figures after all, you cynics!
Sunday evening CathSoc was a lovely Film Night. They chose the movie, and it was "The Two Popes", which so many of us saw a year or so ago when it was shown at the Playhouse here in Chester. It really is an extraordinarily good film: you begin with the two men, Ratzinger and Bergoglio, very polarized, if anything with the Argentinian as the goodie and the German the baddie. Almost stereotypes. But then as the film proceeds, both positions become so much more nuanced, and you realise what a Big Tent the Catholic Church is, two such contrasting Popes but both wonderful and saintly men who bring their own unique talents and charisms to the most impossible job on earth. Here they are at the start of the film, Cardinal Bergoglio visiting Pope Benedict at Castelgandolfo – right opposite the English College Villa at Palazzola, on the shores of Lake Albano – for the Cardinal to tender his resignation as Archbishop of Buenos Aires and the Pope to give him a dressing down for his liberal views and positions: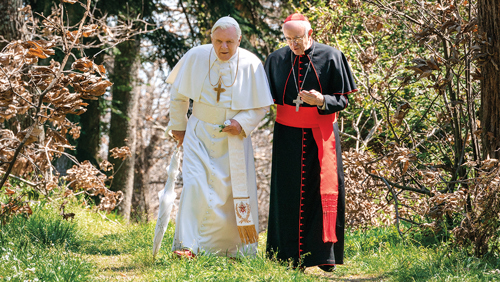 If you've not seen the film yet, do so soon! You won't regret it.
Meanwhile, Rita from Wrexham is doing a first-rate job gathering names for the Parish Group First Holy Communions on our suggested date of Saturday 12th June. I think we've just about heard from everyone now and there has been an overwhelmingly positive response. Now we need to process their requested Guest Lists, to see how many we can accommodate, all socially distanced, on the day.
To finish on a sad note: today is the day Debenhams' stores all over the country finally close their doors. Here's the branch in Staines, West London, the scene of my first Holiday Job from Uni, summer 1970. The passageway by the side, where the shadow is, was where I pushed my bike every morning at 8.30 am, and out again at 5.45 pm, once we'd cashed up and taken the proceeds up to the Cashier's Office on the fourth floor… Happy days! Actually, they were, as I went back each summer, and they always found me a couple of weeks at Christmas too.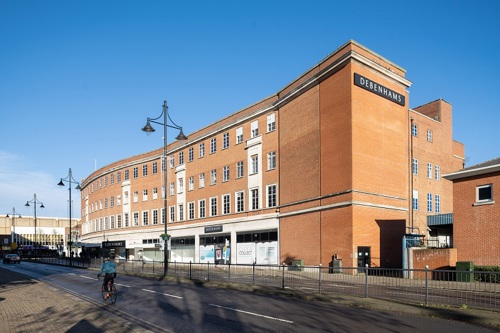 Thanks, Debenhams!
May God bless you all,
Fr Paul
---
Tuesday 4th May 2021
Amazingly, there was a brief break in the rain yesterday, for half an hour the sun actually shone, and that coincided with our 6.30 pm gathering in the Garden for the Rosary. Ten of us here last night, so numbers growing every day. Tonight, it's the Five Luminous Mysteries, especially written by Pope John Paul II to complement the traditional Joyous, Sorrowful and Glorious Mysteries. If you are not so familiar with the Luminous Mysteries, here they are:
The Baptism of Jesus in the Jordan.
The Wedding at Cana.
Jesus' Proclamation of the Kingdom of God.
The Transfiguration.
The Institution of the Eucharist.
The Marian Shrine chosen to lead today, 4th May, is the Basilica of the Annunciation (in Nazareth) Israel: The Intention is for all expectant women and their unborn babies. Please keep our own M&A in your prayers for their safe delivery this week. This is the Basilica of the Annunciation in Nazareth, inside and out: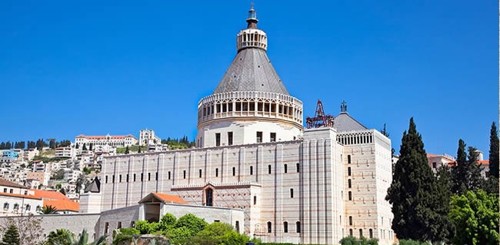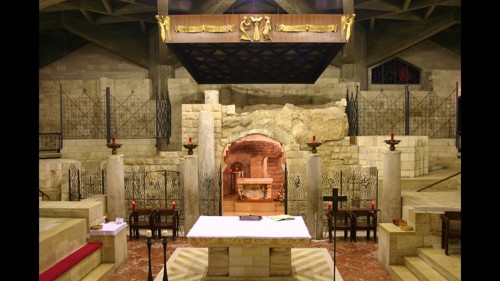 Today, 4th May, is also the day that big changes come in for the Registration of Weddings in England and Wales. The main changes are:
Mothers of the bride and groom can be named on marriage certificates from today in the biggest shake-up of the registration system for 200 years. This means that both parents will be included on the legal paperwork instead of only fathers.
Reforms will also see the creation of a single electronic marriage register, which is expected to make it easier to detect sham marriages. This system is more secure and eliminates the need for data to be extracted from hard copies.
In a break from centuries of tradition, couples taking their vows in a church will not be issued with a marriage certificate straight away. They will instead receive a 'marriage document' which will be sent to the register office so details can be recorded before the formal certificate is sent out.
The changes to the Marriage Act in England and Wales are the biggest shake-up to the registration system since 1837.
Under the current system, the couple – and witnesses – sign a register book held at each church, place of worship or register office. The new arrangements in a civil ceremony will see couples and witnesses sign a 'marriage schedule' which will include both parents' names from both sides. The document will be sent to the register office and recorded in the electronic register. A marriage certificate can then be issued to the couple.
Those notes on the Vanished Railway Stations of Cheshire yesterday weren't wasted on Harry from Hare Lane, judging by his email this morning:
Hi Fr. Paul,

Yes - had spotted the article on Cheshire Live re: closed railway stations - most interesting. Suspect Tarporley / Beeston will never see a station again despite some feasibility study allegedly happening to look at rebuilding. Crewe to Chester has effectively a half hourly service - a London train comprised of 5 or 10 carriages and a two-carriage sprinter shuttling between the two towns. Can't imagine Network Rail building a 10-car platform which is probably what would be insisted upon. Nice idea but harsh commercial realities will probably never see it happening…The fact that Arriva buses scaled the 84 bus service down to hourly says it all...

Full marks for your video introduction on website - very welcoming and I think other parishes should do similar. On Good Friday, while I couldn't attend church, I 'attended' a live stream from a church in Preston where a friend of mine is the equivalent to St Werburgh's 'Gerry'. It was good quality partly because the webcam was close to the altar rather than being some distance away and the sound quality was good. I think live streaming from selected parishes is a fantastic way of the church being more open to all.

Ffestiniog and Welsh Highland trip - the railways reopened last Tuesday 27/04. In reality, I suspect the earliest feasible date for doing our trip would be September. If that is not possible, I would suggest late April / May / June next year. High summer is to be avoided!

Harry
The Preston equivalent of our Gerry??? What a ridiculous idea! The man in unique!
And finally, Bank Holiday yesterday, and I just loved this photo of a group enjoying a meal outside at the Cranberry Farm Pub Restaurant down near Exeter. Looks such fun, doesn't it?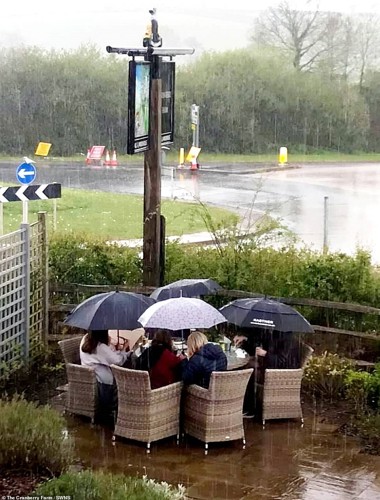 May God bless you – and them!
Fr Paul
---
Monday 3rd May 2021
Numbers at Mass were right up again yesterday, at a total of 280. That was the good news. The less good – but we've seen it coming – is that we had to turn twelve people away from the 9.00 am, as we were absolutely full:
9.00 am:      82
10.00 am:     80
11.00 am:     71
12.00 noon:  47
There's a simple message here, everyone: if you want to come to the 9.00 am, please come in plenty of time. If you're not fussed which Mass you come to, then avoid the 9.00 am. If you want to be guaranteed of a place, come to 12.00 noon.
Not for many more weeks, please God, but while the Covid-19 restrictions are in place, we will keep to them, and keep to the letter of them of them, I promise you. There will be no premature easing off at the Werbies!
Meanwhile, we're joining Pope Francis' invitation to pray the Rosary every day for the lifting of this pandemic like good'uns. Last night, Sunday, nine of us gathered in the front garden at 6.30 pm, up from five the night before. Tonight? Who knows? But do come and join us if you would like to do so: prayer should be our first port of call in any crisis, never our last resort.
Here's the complete list of Marian Shrines that are being invited to lead the Worldwide Rosary for each day of May, with a picture each day of that day's shrine. As I told you yesterday, I did indeed offer St Werburgh's Basilica, Chester. They said they'd get back to me.
SHRINE LIST AND DAILY PRAYER INTENTIONS 
Saturday 1st May: Basilica Vatican (Madonna del Soccorso): For the entire world wounded by this pandemic.
Saturday 1st May: Our Lady of Walsingham England: For all the deceased.
Sunday 2nd May: Jesus the Saviour and Mother Mary (Elele) Nigeria Africa: For all those who have not been able to say goodbye to their deceased family and friends.
Monday 3rd Our Lady of Częstochowa Poland: For all those infected with the corona virus and all the sick.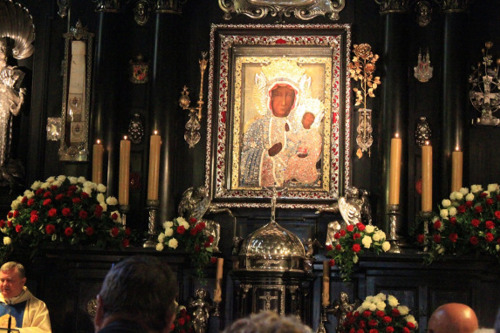 Tuesday 4th May: Basilica of the Annunciation (in Nazareth) Israel: For all expectant women and their unborn babies.
Wednesday 5th May: Blessed Virgin of the Rosary (in Namyang) South Korea: For all children and adolescents.
Thursday 6th May: Our Lady Aparecida (San Paolo) Brazil: For all young people.
Friday 7th May: Our Lady of Peace and Good Voyage (Antipolo) Philippines: For all families.
Saturday 8th May: Our Lady of Luján Argentina: For all communication workers.
Sunday 9th May:  Holy House of Loreto Italy: For all seniors.
Monday 10th May: Our Lady of Knock Ireland: For all people with disabilities.
Tuesday 11th May: The Virgin of the Poor (Banneux) Belgium: For all the poor, the homeless, and the economically distressed.
Wednesday 12th May: Our Lady of Africa (Algiers) Algeria: For all people who live alone and those who have lost hope.
Thursday 13th May: Our Lady of the Rosary (Fatima) Portugal: For all prisoners.
Friday 14th May: Our Lady of Health (Vailankanni) India: For all scientists and medical research institutions.
Saturday 15th May: Our Lady Queen of Peace (Medjugorje) Bosnia: For all migrants.
Sunday 16th May: Saint Mary's Cathedral (Sydney) Australia: For all victims of violence and human trafficking.
Monday 17th May: Immaculate Conception (Washington, D.C.) USA: For all world leaders and for all heads of international organizations.
Tuesday 18th May: Our Lady of Lourdes France: For all doctors and nurses.
Wednesday 19th May: Mother Mary's House - Meryem Ana Evi (Ephesus) Turkey: For all people at war and for world peace.
Thursday 20th May: Nuestra Señora de la Caridad del Cobre Cuba: For all pharmacists and health care personnel.
Friday 21st May: Our Lady of Nagasaki Japan: For all social workers.
Saturday 22nd May: Nuestra Señora de Montserrat Spain: For all volunteers.
Sunday 23rd May: Notre Dame du Cap (Trois Rivières) Canada: For all law enforcement and military personnel and for all firefighters.
Monday 24th May: To be confirmed: For all those who provide essential services.
Tuesday 25th May: Basilica of the Blessed Virgin of Ta' Pinu Malta: For all teachers, students and educators.
Wednesday 26th May: Nuestra Señora de Guadalupe Mexico: For all workers and entrepreneurs.
Thursday 27th May: Mother of God (Zarvanytsia) Ukraine: For all the unemployed.
Friday 28th May: Black Madonna of Altötting Germany: For the Holy Father, bishops, presbyters, and deacons.
Saturday 29th May: Our Lady of Lebanon (Harissa) Lebanon: For all consecrated men and women.
Sunday 30th May: Blessed Virgin of the Holy Rosary of Pompeii Italy: For the Church.
Monday 31st May: Vatican Gardens: For the end of the pandemic and the resumption of our social and economic life.
Fascinating article in today's online edition of Cheshire Live, on the lost Railway Stations of Cheshire. Harry from Hare Lane has been glued to it all day! As a taster here's Blacon Railway Station in a shot from the 1960's: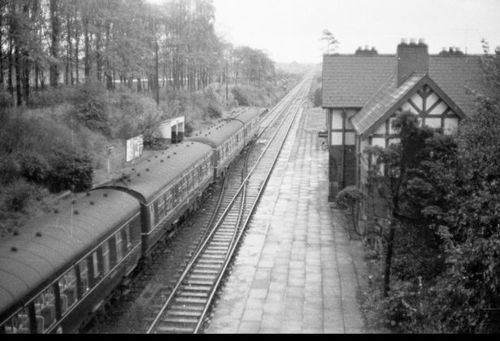 You'll find the whole site at:
https://www.cheshire-live.co.uk/news/chester-cheshire-news/lost-forgotten-train-stations-cheshire-20340152
And another intriguing article on the top five reasons people failed the Driving Test in Chester over the last twelve months:
Chester: Grand Total - 2,624
Junctions - observation - 291
Mirrors - change direction - 264
Response to signs - road markings - 176
Control - steering - 162
Response to signs - traffic lights – 152
So, go on: what did you fail your first test on? And if you say, "I didn't – I passed first time!" you can just go and find another Parish. Like NOW!
And finally: do you remember M&A, who suffered a miscarriage last year and particularly took it to heart? Well, this week their second pregnancy is due to come to full term. Wonderful news! You may have seen them at Mass in recent weeks, A blooming in her healthy state, but M looking decidedly peaky, poor chap, having suffered appalling Early Morning Sickness throughout. Let's keep them all in our prayers, everyone, for a safe delivery. As the Irish always say, whether's it's a boy or a chid, as long as it's healthy…
May God bless you all,
Fr Paul
---
Sunday 2nd May 2021
The Gospel today was "I am the vine, and you are the branches", from St John, and it was for many of us a powerful reminder of one of the great sites of Mediterranean lands: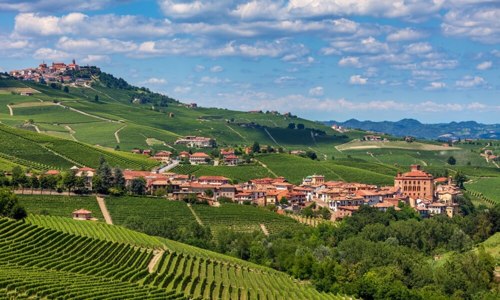 That picture is from the heart of the Barolo region, one of the great wine-growing parts of Italy, up in the North-West, between Genoa and Turin. Those straight lines of the vines can stretch for a hundred yards from the one stem, trained along wire trellises, all going back to the single trunk into the ground: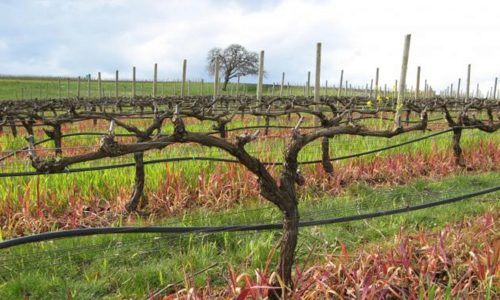 It's a beautiful and profound image of our relationship to Christ: He is that stem, that trunk, and we are the branches, drawing all our sustenance from him, and, in turn, bearing the fruit that is the complete raison d'être of the plant. As they say in German.
In May, we have another profound sense of all being parts of the same plant, in Pope Francis' call for us to join in a World Wide Web of Rosary throughout this Marian month. It will move each day to another of the world's great Marian Shrines, but started last night in Rome, led by Pope Francis in the Gregorian Chapel in St Peter's: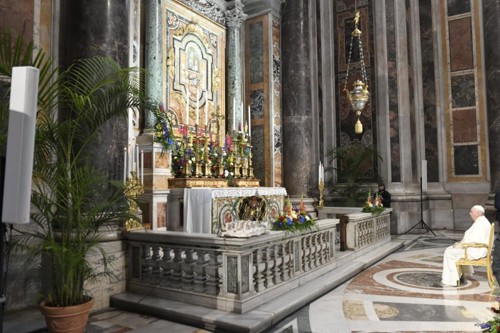 There are some wonderful photos on the Vatican website, and here is a small selection: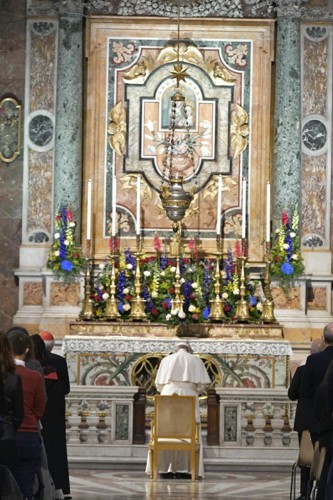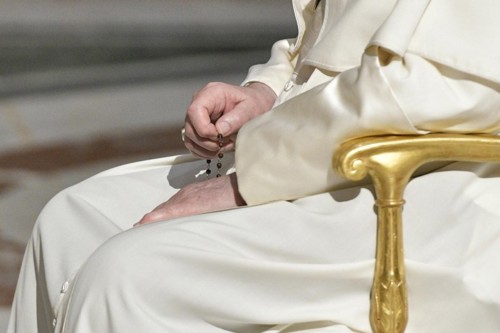 And now my very favourite: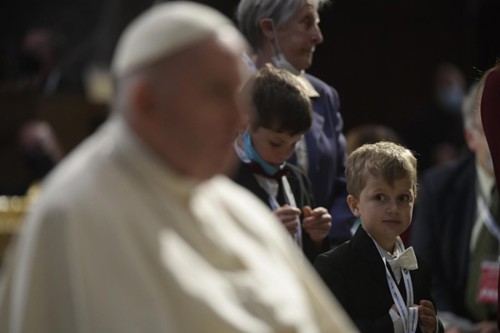 Tonight, Sunday, the Marian Shrine moves to our very own Walsingham – what an honour! Delighted this morning to point out that we now have our own statue of Our Lady of Walsingham, next to St Werburgh' to keep each other company: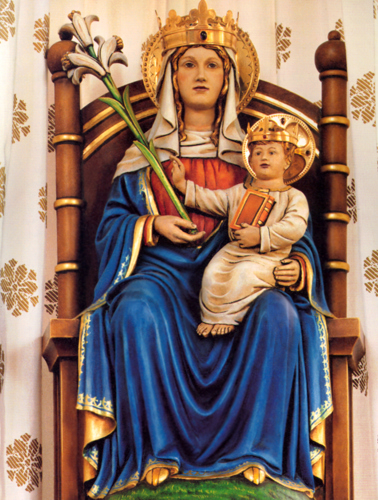 I did offer the Werbies as one of the thirty World-Wide Basilicas. They said they'd get back to me. Meanwhile, five of us gathered in the front garden last night at 6.30 to pray the Five Joyful Mysteries. How many will there be tonight for the Five Sorrowful Mysteries?
Everyone very warmly welcome indeed to join us.
May God bless you all,
Fr Paul