Fr Paul's Weekly Blog
Monday 3rd January 2022

Standing on the steps of the church after Saturday Evening Mass two days ago, my usual charming, pleasant, pastoral self [Shurely 'usual grumpy old so-and-so'? Ed] I was roundly attacked by one of our parishioners. "Have you totally given up on that Blog? We don't seem to have had any new entries for months!" Leave it out, madam! There has been the little matter of Christmas and New Year. If it's a choice between writing the Blog and drinking gin – well, surely you wouldn't want your Parish Priest to become seriously dehydrated, would you?

I left you last on Friday 17th December, just having shed my blood for the fatherland. You'll never guess where my pinta ended up – Burnley! Good thing I'm not proud, isn't it? Actually, there's nothing wrong with Burnley: it happens to have a particularly interesting Recusant history, the home of the Towneley family for over six hundred years. You can visit the house today, part of it an Art Gallery, part a Museum, part a stately home. You can read a great deal about this fascinating family and how they coped in the penal years, and the eye-watering fines they continually paid for being Catholics. Well worth a visit!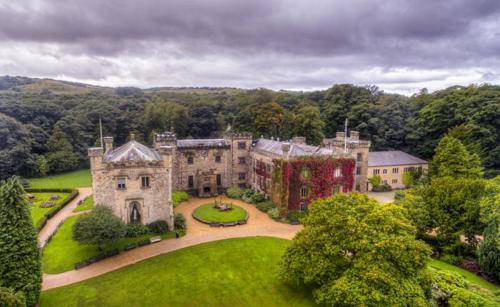 Straight back from Liverpool to the Funeral at Blacon for Brian McNicholas, one of the great McNicholas family in our Parish. His mum, Eileen, was one of the first I met when I arrived in 2006, always at 10.45 Mass with her great chum, Becky Banks. Remember Becky, everyone? She ran one of the small hotels on Hoole Road, an unflappable old trooper. Well, until the day she found a dead body in one of her bedrooms, that is. She summoned me down, not sure to do what exactly, the place crawling with police, Becky sitting in her little back office drinking endless cups of tea and wondering what effect all this would have on business.

Saturday morning was Okodi's second child's Baptism, a lovely family from Nigeria, Okodi himself a Doctor at the Countess, and already getting to know so many people by wolunteering to be one of our Christmas Stewards.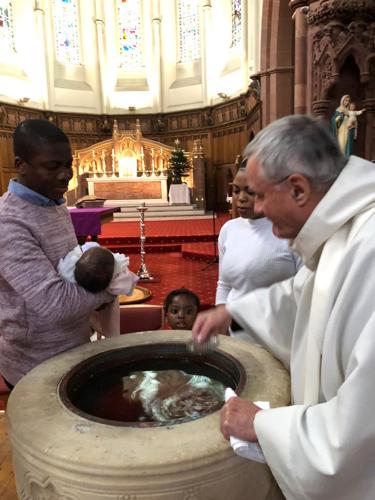 Then Chester Bach Singers arrived, old friends of ours, for two concerts, one at 3.00 pm and one at 7.00 pm.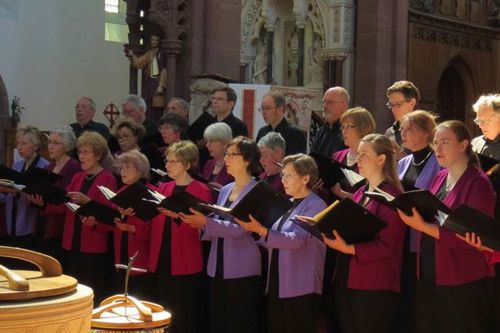 Choirs of all types have had a torrid time over the last two years of Covid and lockdowns, especially around the key issue of wearing masks. They've had as many postponements and cancellations as the rest of us, and CBC were determined to put on some sort of Christmas concert if humanly possible. So, they all arrived at 12.30, practised, delivered their first Concert at 3.00 pm, went home for a break, allowed us to have our 6.00 pm Mass, and then ready for a repeat concert at 7.00 pm, all tidied away and last wizziter out by 9.30 pm, gin poured by 9.35… A super concert and well done, one and all!

Music as a morale-booster is an old and valued idea, and in my final thanks to them, I was reflecting on Dame Myra Hess and her war-time piano recitals from the National Gallery in London – at lunchtime, to save infringing the blackout: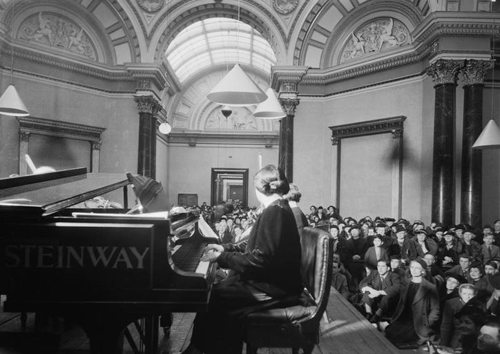 I know that photo will bring back powerful memories for our own Choir, bless'em.

Sunday 19th was the fourth Sunday of Advent, so necessary to change from the Rose Pink of Gaudete Sunday (3rd Sunday in Lent), back to purple: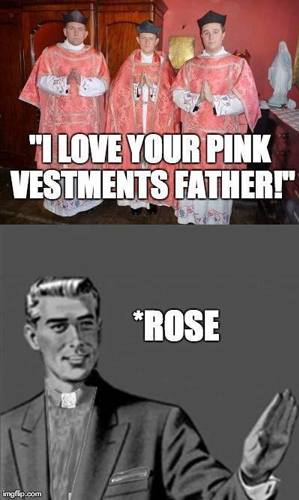 All our Uni students have been slinking off home the week before Christmas, to annoy their parents for the next three weeks, leaving their bags in the hall for everyone to trip over, staying in bed till lunchtime, going out without taking their keys and never washing a cup in the whole time they're there… Mums and dads, you know you love having them home for the hols! We did manage a CathSoc Christmas Meal before they all departed, and were delighted to be joined by Lal, who's been such a great Wrinklie this term, despite being only 45: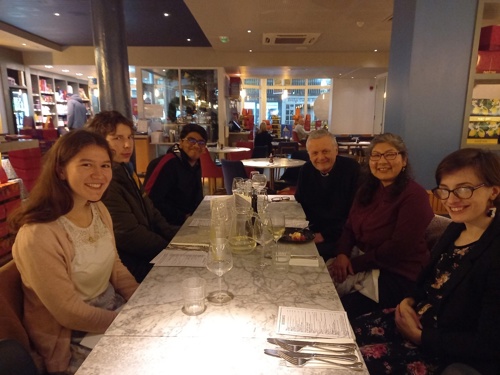 Sorry to be saying farewell to Marie-Eliane on the far left, one of our wonderful series of Erasmus Students who come on exchange from a whole range of European Universities, in this case from Belgium. We've welcomed some superb students on this scheme to CathSoc over the years, and just hope and pray it won't be a victim of Brexit, as rumour suggests it might be.

Sunday afternoon, round to the Chapel of Rest at Dutton and Hallmark for a little Vigil Service for Calogera Safina, whose Funeral we celebrate on Monday 20th. Simon Dutton kindly opened up for us. He's usually immaculately turned out in his FD morning dress. But not this afternoon, as he'd had to come in on his motorbike, and there he was in full leathers. What a transformation! Here's the team at D&H: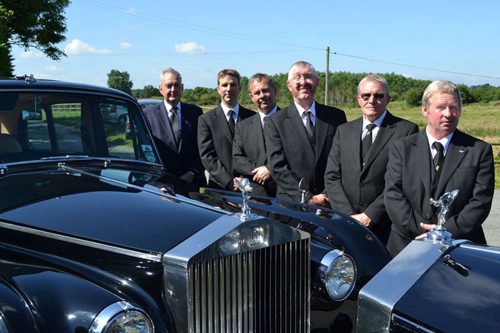 Simon is second from the left, his uncle, Steve Dutton, on the far left.

Two funerals on the Monday morning, families understandably anxious to fit them in before Christmas if humanly possible, So, up to Blacon for Mary Miller at 9.20 and a quick dash through town afterwards to be at St Columba's for 10.30 and Calogera, followed by burial at Mold. I asked Simon if he'd mind my coming with them. Not a problem, except that I did my usual trick of falling fast asleep in the hearse before it had even left Plas Newton Lane. All went well at the funeral, Calogera's son, Salvatore, kindly translating his father's Sicilian dialect for me. Good to see so many of our Italian families there, the Vitellis particularly well represented.

Tuesday 21st was a Taskforce Meeting, going over our final plans for the Christmas Services, most of them now maxed out on our Booking System at 160. Still a number of people asking about tickets, so if anyone turns up without a ticket, we're going to ask them to wait and see if there are spaces (up to 160) at the end. The Choir came in for their final Practice in the evening, all ready for their big night at Midnight Mass. Otherwise, the Shortest Day came and went. Great to see so many of the Choir in the evening, as most of them, of course, had been marking the Midwinter Solstice, this time at Glastonbury Tor: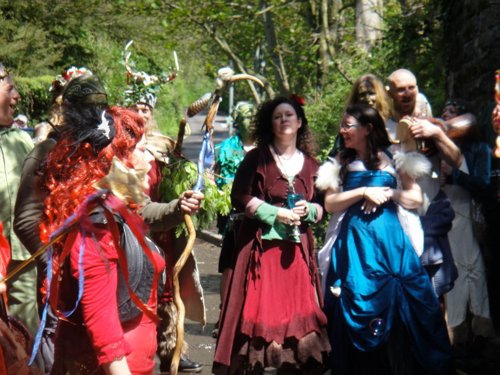 How Geoff Hewson got his costume off in time to be in church for 7.00 pm, I shall never know – that's him on the left. That Choir of ours never ceases to amaze me.

Thursday 23rd was the Wedding Rehearsal for Matt and Sadie, and then Christmas Eve dawned bright and fair, all ready for their Nuptial Mass at 1.00 pm, the Day Mass of Christmas Eve moved to the slightly earlier time of 10.00 am. There's something timeless about St Werburgh's Weddings, as this one from the 1950's shows: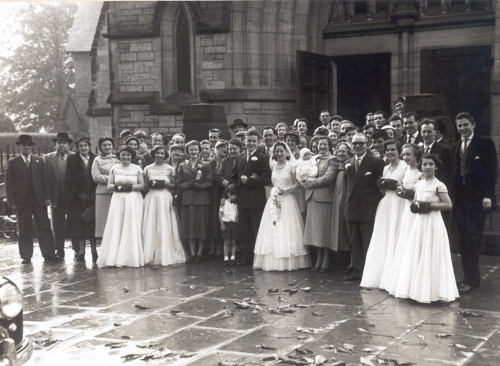 And then the amazing sequence of seven Christmas Masses began, four on Christmas Eve and three on Christmas Day. As ever, the children's Masses were a special joy, where mums and dads did them proud with their Nativity cozzies. Some characters we can predict – Mary, Joseph, the Shepherds – but the animals who come to the crib always take us totally by surprise. Especially this cheetah: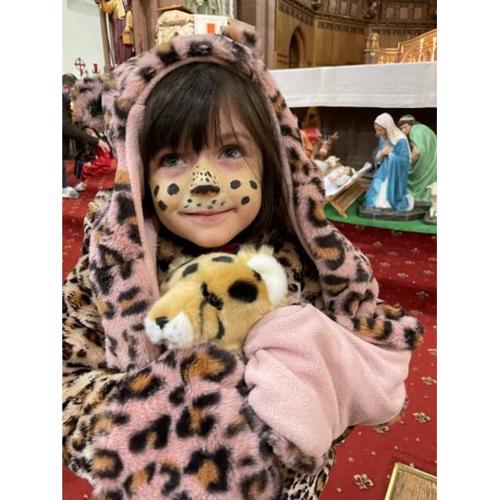 But she doesn't look too ferocious, does she? And with her baby cheetah to look after, probably has her hands full without devouring parish priests.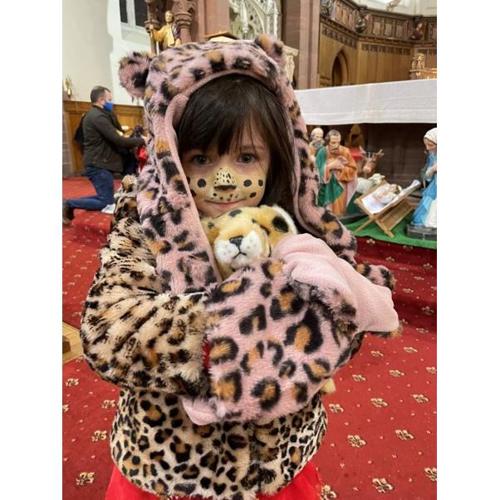 Well done, Kate and Pete! And when not organising our First Holy Communion Programme and being an invaluable member of our Covid-19 Taskforce, Louise finds time to kit out a beautiful Angel and Shepherd, her grandchildren Holly and Samuel: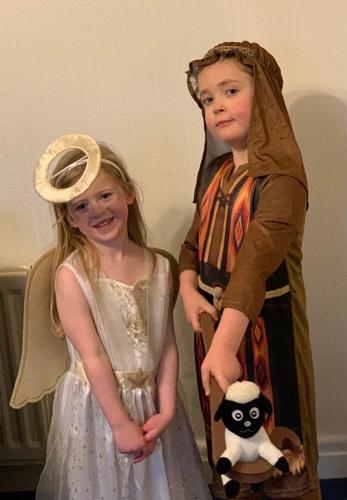 I'd say that was a Shepherd with attitude, wouldn't you? Another grandmother who seems to cram seven lifetimes into one is our wonderfully talented Lyn Williams from Hawarden. Three grandsons? Well, they've got to be the Three Kings, haven't they?




Caspar, Melchior and Balthasar, or, as they're usually known, Carwyn, Gethin and William. Happy ruling, Kings!

In bed for 2.00 am, up again at 6.00 pm, three Morning Masses at 9.00, 10.00 and 11.00 am, all nearly full to capacity. Yes, before you ask, that first Gin and Tonic of Christmas afternoon did taste good. And I do stress "first".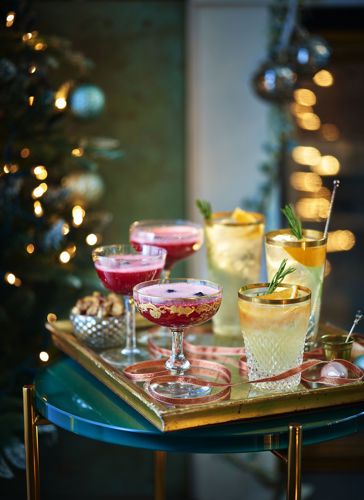 Now nobody loves the good old C of E more than I do. Some of my best friends are Anglican Priests, as you know. (Happy Christmas, Bro, down in Surrey now!) But what's all this about cancelling services on Sunday 26th December? Wimps and wusses the lot of them. Fortunately, Werbies are made of sterner stuff, and we had jolly decent turnouts for all three Masses, two on Sunday Morning and the usual 6.00 pm Sunday Evening. The Franciscans invited me to join them for lunch on Sunday, and that was a joy, Bro Michael doing the cooking – a Cauliflower Cheese to die for – and wonderful to see Bro Adrian back from his spell in Hospital and Nursing Home, his broken hip expertly pinned and plated, and bright as a new pin at 97! You just can't keep a good Capuchin down.


With Christmas Day on Saturday, it meant Monday and Tuesday were both Bank Holidays. But no rest for the wicked, or Syd and Denise as they are more usually known. They were in both mornings to count the two Collections, Christmas Day and the Sunday, and get them ready for banking on Wednesday. Thanks, both!

Monday night, I had a lovely catch-up with Dr Sam, up for a few days from his latest Hospital placement in London, ready for starting his specialist training in Anaesthetics in February. He was on great form, as always, bringing me up to date with his news, his family and his old High School friends. Most of you know his dad, Kevin, who's run the Cheese Stall in the Market for ever and day. Sadly, with all the market changes going on, he finishes there this month, but will be transferring to a shop in the Rows. Good luck, Kev!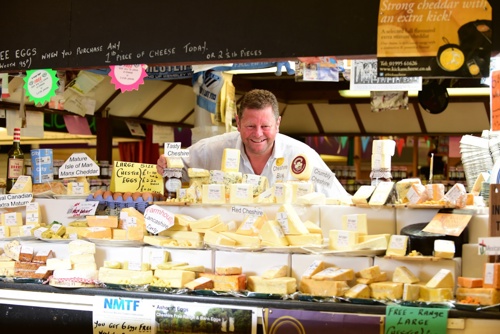 Sam was telling me about the recent wedding of Tom Strain in Bristol, one of his High School mates. We all know Tom's parents, Jim and Marie, often here at St Werburgh's, Jim a keen Catenian and Marie an equally keen member of her local Choir. Tom left the Catholic High ten years ago, but his great group of friends have kept in touch amazingly, and here are some of them at the Wedding: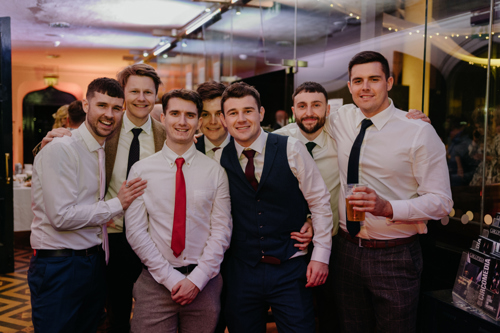 From the left, that's Matty Chandler (what's with the Pudding Basin haircut, Matty?), Sam Williams, Baz (Sam) Arathoon, Aled Mathias, Tom, Nick Nielsen and Jack Shallcross. They were all in the Catholic High Sixth Form 2009-11, and a great bunch of lads. Super to see them all still in touch ten years later. Good luck, lads!

Two of them are medics – Sam and Jack – and good to meet up over the Hols with one of our current High School Sixth Formers who has an Interview for Medicine at Keele on 6th January. It's via Zoom, unfortunately, six mini-stations on the following topics:
The student's motivation for studying Medicine, and their personal resilience, given it's such a long course.
Medical ethics, especially "what would you do in such-and-such a situation?"
Professionalism: working in a team, working to professional standards, and what that means in practice.
Caring for others: what does this mean, and what experience have you had in Care Work? (Work Experience absolutely vital for anyone applying to read Medicine).
Comprehension, meaning how quick are you on the uptake? How long does it take you to get your head round a case history? A set of statistics? A graph? A sticky situation? How good are you at thinking on your feet?

All vital skills for any Doctor, as Sam and Jack would testify, Sam going for Anaesthetics and Jack for Respiratory Medicine as specialisms.

And so New Year came and went.

Happy New Year to all our readers, all over the world, for 2022!

Fr Paul
---
Saturday 11th December 2021
A call-out to the Hospital last Sunday evening at 6.15 pm, during Mass. The protocol is clear on this one: you say Mass and then go straight up afterwards, including prayers for the patient during Mass. This call-out was for a lady who'd been ill for many years and was now peacefully embarking on that great final journey. Her son and daughter-in-law were there, and he was finding it particularly difficult. Again, a powerful reminder to me that hospital ministry is both for the patients and for their families. I hope I was able to bring him some small comfort before haring back here for CathSoc's Christmas Quiz. Two questions had the answer "Charles Dickens" and I got them both wrong. Yes, that sort of evening.
Monday morning was a bizarre experience: Year Nine Advent Mass in the High School, and I couldn't get a peep out of them. In the old High School days, we used to talk about the "Year Nine Dip". Then that was replaced by the "Years Seven, Eight, Nine, Ten and Eleven Dip". (Low blow!) I've never had difficulty saying Mass at the High School, and FP isn't normally bad at working a crowd. But not on Monday. Zippo, zilch, zero. Some of my funniest one-liners just bombed. Hilarious wise cracks that have the punters rolling in the aisles in the Werbies greeted with total silence. Had I done something to offend them? Had someone been shouting at them beforehand, the whole year traumatised into silence?
Good chat with their excellent Head of Year afterwards shed some light: as a Year, they simply haven't had any School Masses for the last two years, she explained, and so had no idea what to expect. That made sense. I was beginning to think it was me. What's that's line about "losing my timing this late in my career"? Thanks be to God, Year Ten on Wednesday morning restored my faith in Catholic Yoof, wonderfully lively and responsible. And yes, before you ask, dutifully tittering at all my funnies. Bless'em.
No time to mull Monday morning's "petit catastrophe" (as they say in German), as I had to be straight back to the ranch for seeing how the Christmas Phone Booking was going – where's Olive from Orford when you need her? – and liaising with the Lighting Contractors installing the emergency lights in church. They used a scaffolding tower, and had it erected in well under an hour. A much better solution for access to the Organ Loft for the Tuners and Rentokil than the hideous permanent scaffolding they put up two years ago? Checking everyone was happy, another dash to one of our High School for a final Oxbridge Mock Interview, the real things taking place this week and next. Of the six youngsters it's been my privilege to work with this autumn, five have secured interviews, which brings their chances down from 5:1 to 3:1. Still a tough call for them, but marginally less tough? But, as I always remind them in the great words of the Idealist philosopher, Immanuel Kant, "You've gotta be innit to winnit". Except in German, of course.
Monday evening, we had a quick Parish Council Meeting, some via Zoom from the comforts of their own homes, others gathered here in the comforts of the Parish Office [shome mishtake shurely? Ed] It was a very useful forty-five minutes, three items emerging strongly for our consideration between New Year and Easter: refurbishment and bringing back into use of the Day Chapel; the International Synod of Bishops in October 2023; and Live Streaming of Services from St Werburgh's. Three excellent items for our Spring Agenda.
Before leaving Monday, just a chance to say "Fijne feestdag!" to Lego and all our Dutch friends on St Nicholas's Day. She always presents me with a big chocolate "P":
This year, it had hazelnut chips in it. Absolutely delicious at 10.00 pm with an enormous Gin and Tonic.
Tuesday morning was Taskforce, moved from that heavily congested Monday, and then up to St Columba's for Steven Roberts' Funeral. The phones are going quieter these days, suggesting most people have already booked for Christmas Masses, for which we are all really grateful. Tuesday night was the second class for our First Holy Communion Children, Group One this Tuesday and Group Two a week hence. Again, huge thanks to Louise and her team for doubling all the work this year, two parallel groups instead of one.
Wednesday morning, after that reassuringly lively Year Ten Advent Mass, a chance to go up to deepest Waverton to see our Maureen Richards, who's not been in the best of health for some months now, and very much confined to barracks. But amazingly cheerful and positive, and we had a good chat about our mutual love of Italy, and where we're going to go when ill health / covid restrictions / the price of fish permits.
Thursday morning it was good to sit down with Liz Aiello, our first-class Parish Safeguarding Rep and have a catch-up. For some time, we've been mulling having a second Parish Rep, to act as Liz's colleague, to help her with some of the formidable secretarial burden of this role, and to embody the principle that "two heads are better than one" if an issue did arise. This morning we were able to take that idea forwards and look at the whole IT side of Parish Safeguarding. Liz also informed us that the Diocese have told her that DBS checks on all our volunteers are now to be three-yearly, not the previous four-yearly, which means we will need to swing into action on re-checking our army of wolunteers very shortly into the new year. Can't thank her enough, and all those who help her. This is a vital part of our life together.
Straight from that to a Mock Interview for one of our Werbies applying for Medicine, Keele wanting to see them (via Zoom) on Friday. This is the carousel of six "mini-interviews", five minutes at each one, all six interviewers pooling their verdicts at the end. Off camera, sadly. The poor candidate just gets a "yes" or a "no".
Out at tea-time to see Keith and Margaret Ellis, planning the First Anniversary Service for their beloved son Luke on 6thJanuary next year. Like so many others, we sat in their lovely little farmhouse in Stoak Village and asked ourselves where on earth this year has gone to. Back to the Werbies afterwards to see the Choir in full swing, practising for their Christmas musical contributions. Well done, everyone!
Friday morning was one of those days that would work fine if there were no glitches. If they were, there was no fall-back time to accommodate them. Thanks be to God the timetable went smoothly. Over on the early morning 7.30 am train to Liverpool to shed my blood for the fatherland. I thought I'd be the first in, but far from it. Those nurses really do work hard. As my life blood drained away – you should be so lucky, Werbies – my nurse was telling me she has Saturday and Sunday off, 25th and 26th December, but then back in on duty for Monday 27th and working all that week. The demand for blood goes up apparently at this time of year: fewer scheduled operations, but lots and lots of (mostly avoidable) accidents. Please stay safe, everyone! Especially where alcohol is concerned. Quiz Question: who was Tony Hancock's nurse in his unforgettable Blood Donor sketch?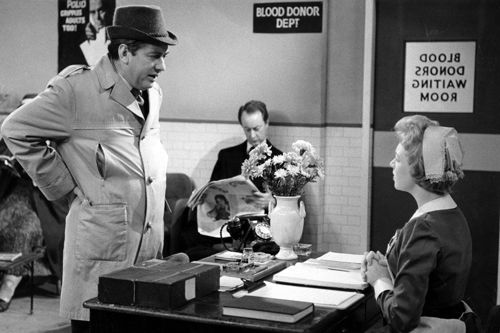 No? Perhaps this will help: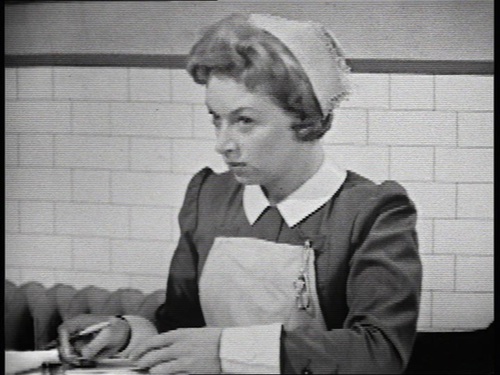 Yes, that wonderfully talented comic actress, June Whitfield. So glad she received official recognition by being made a Dame in 2017, the year before she opened in that great Theatre in the Sky, at the wonderful age of 93: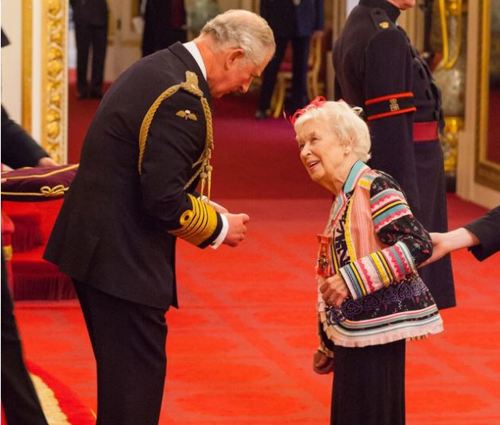 Straight back on the train for the 11.20 am Funeral at Blacon, Tony McGrady, a proud Belfast Falls Road lad all his life, not losing one trace of his accent in all those years. Back for the 12.15 pm Mass here and out to the High School for the Weekly Voluntary Mass, this time with 7 Werburgh's.  Nice and lively and engaged, we had a good half hour together before they needed to hurry back to afternoon lessons and me to drown in a vat of coffee.
May God bless you all,
Fr Paul
---
Saturday 4th December 2021
Definitely a nip in the air these days. The latest Bishops' Conference advice on coping with the ongoing Covid-19 challenge is to balance well-ventilated churches with wearing a few more clothes when coming to Mass. Here's everyone gathered for the First Holy Communion Enrolment Mass, our chance as a Parish formally to welcome all the children and their families to the programme and this exciting year in their lives: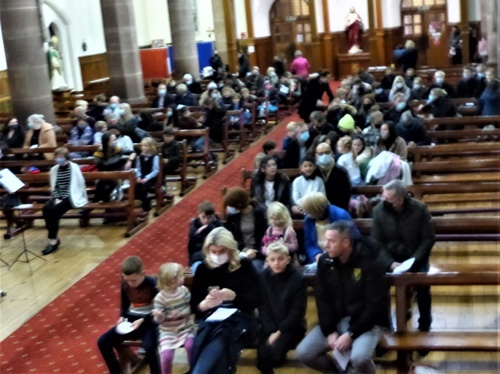 Can you all see that rather striking yellow Beanie Hat two-thirds of the way down on the right? So striking, that I felt the need to test out its thermal properties for myself afterwards. What do you all think? Yes or no?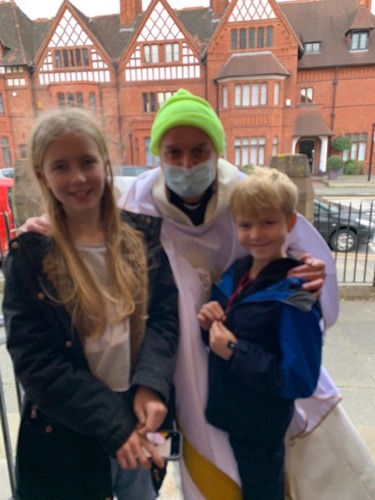 I'm a "yes" myself. Actually, I blame their father, the infamous Timmy from Tarporley. Just wait till I see his mother…
In the afternoon, we had our SVP Reconciliation Service and Tea. Well done, SVP, for keeping this important event going, a little Service first, then a chance for individual Confessions (which a goodly number took advantage of) and then tea at the back of church. As ever, my Lemon Drizzle Cake proved a big hit. The smiles on those little old, wizened faces made the 2.00 am start so worthwhile. And the SVP's guests seemed to enjoy it too: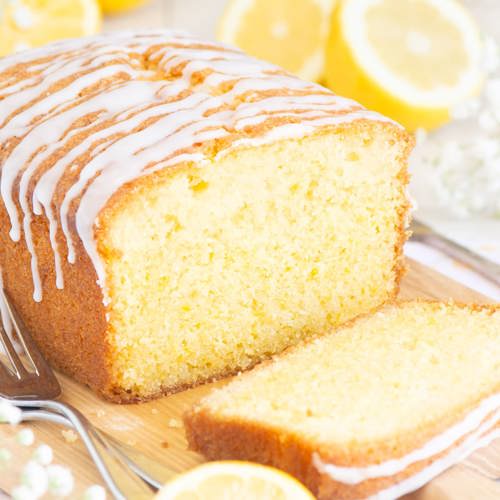 Numbers at Mass significantly down on Sunday, possibly due to the cold snap, possibly to renewed caution around the new Omicron variant.
Saturday 6.00 pm:  49

Sunday 9.00 am:     112

Sunday 10.45 am:   121

Sunday 6.00 pm:     61
Total:                    343
It was certainly cold enough in Overleigh Cemetery Sunday afternoon, the second week of Blessing of Graves. As ever, Overleigh is a combination of the very popular Central Section for the interment of Ashes and some very old graves indeed further afield. Deep in the undergrowth you can find the grave of John Douglas, Chester's great architect, and many other family members: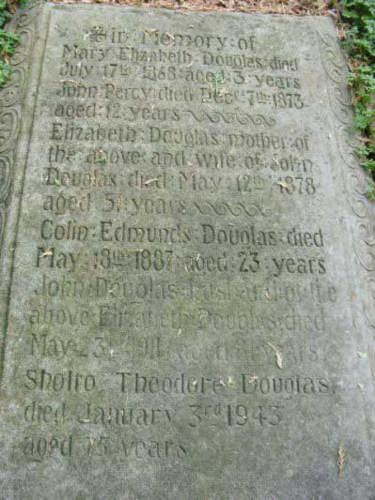 If you want to see Douglas's finest work, you need go no nearer than the steps of St Werburgh's. Turn round, look outwards, and you will see his magnificent "super-block", from the Baptist Church down to what used to be the Dentist's Surgery, "a symphony in red brick":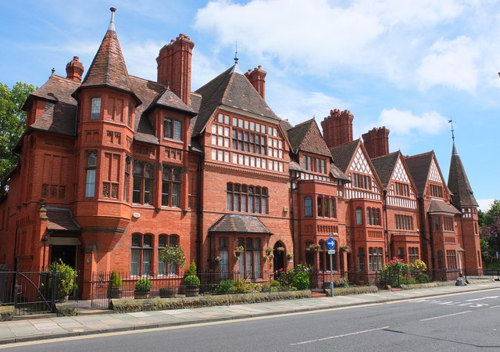 Sunday evening was Film Night for CathSoc, and a chance to wallow in that classic "Nativity". I'm an enormous fan of Martin Freeman, but he does have just one facial expression, doesn't he? – "How does that work?" goofiness: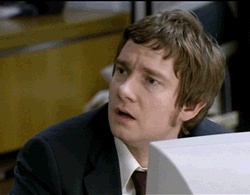 Monday was the first of two very big Memorial Masses this week, for Chris Dean. Good to welcome so very many members of the family to celebrate his life, in a way that hadn't been possible at the height of lockdown. Between the Mass of the Holy Souls in the evening on Monday and the Memorial Mass in the morning we had the Funeral of Gerhard Korchel, born in the south of Poland near to the German Border in 1925, conscripted into the German Werhmacht in 1943, and captured by the British at the end of the war. So, where do you want to go now? Home? Where's that, Poland now part of the Soviet Communist Bloc? Do you want to stay in England? What's the alternative? So, after a year or so in a DP Camp in Yorkshire, out to a Farm at St Asaph, marriage to a local girl, and here he happily stayed for the next seventy years. A familiar but intensely moving story. After the service here in church, out to Kelsall for burial, the snow lying quite thick on the graves in St Philip's Churchyard.
No rest for the wicked, as we then had to swing into action for the annual Mass of the Holy Souls, when every name in our Holy Souls Book is read out and you are invited to come forward and light a candle in their memory if you would wish to do so. What would numbers be like this year, especially after Sunday's drop-off? In fact, they were as high as ever, over a hundred of you gathering for this very special Mass. When all the candles have been lit, we dim the lights to allow all those individual flames to merge into one single mass of light, a beautiful image of heaven and the way we share our individual losses by realising they are part of a magnificent wider pattern: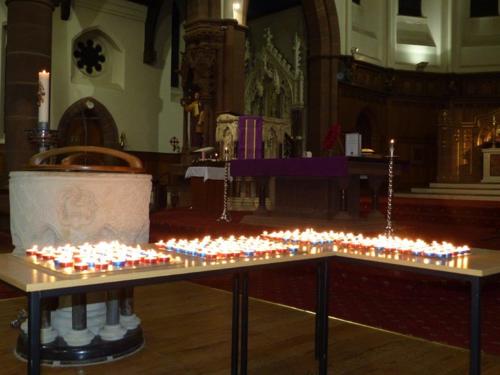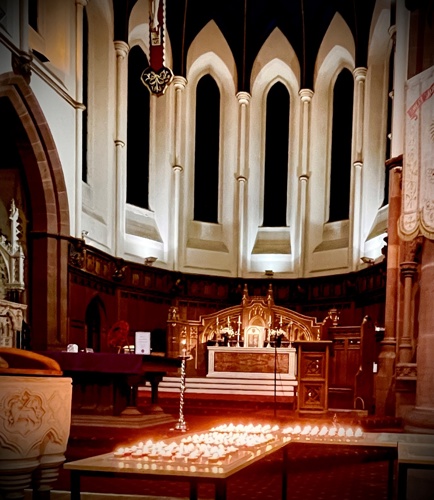 On Tuesday, we celebrated our beloved Celia Murphy's life with her Memorial Mass. The Order of Service contained three enchanting photographs. This is Celia's First Holy Communion, the best part of eighty years ago: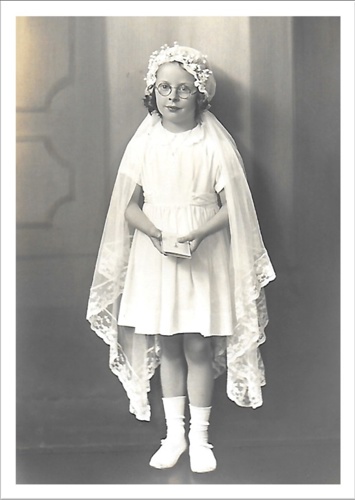 And here she is, presiding at a family party: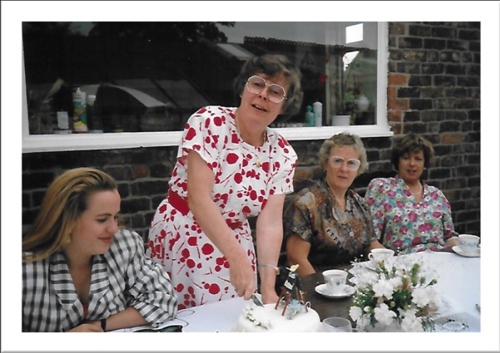 The Prime of Miss Celia Murphy. A wonderful human being, a magnificent Werbie and a very dear personal friend of mine. May she rest in peace.
Wednesday, Christleton Churches Together gathered here for lunch and bundling of Christmas Cards into streets, and then Thursday, Churches Together in Cheshire, to plan the Cathedral Service for the Week of Prayer for Christian Unity in January, I seem to have been doing nothing but 2.00 am Ecumenical Sandwiches all week. Still if it brings a smile to those…
In amongst, lots of Oxbridge Mock Interviews, my Cambridge Musician on Tuesday, my Cambridge Mathematician on Thursday. Tense old time for these youngsters, all interviews completed by Christmas, results mid-January. They don't have to put themselves through it, so why do they? Because some youngsters innately love challenges. It's part of being young. When you're middle-aged like me [And the rest, Ed], challenges pale alongside a good gin and a good Dickens. But at eighteen, the world's for conquering, so good luck to those who want to conquer it.
At the High School on Thursday, the next of the Advent Masses, this time Year Eight's turn. The Gospel was the man who built on rock and the man who built on sand. Then the storms blew. Any of you suffer Storm Damage from Storm Arwen, FP enquires? Several little hands shoot up. "Yes, one of our plastic chairs on the patio blew over!" Anyone else? "Our trampoline in the back garden ended up on its side."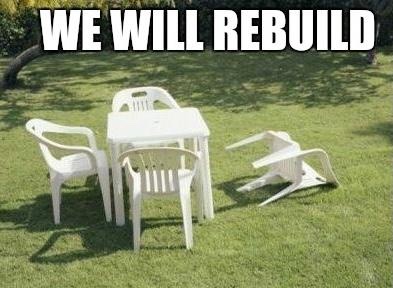 Cheshire Church Leaders here for a morning meeting after that, planning for the Week of Prayer for Christian Unity Service in the Cathedral in January. See? We've discounted 2021 already and are well into the New Year. Help!! Then back to the High School for my usual Thursday Afternoon session, minus the Year 11 students this time, all imprisoned in the School Hall on their Mock GCSE's. Rather them than me! Then an afternoon with our High School Maths Wizard, due to face his Cambridge Interviewers on Wednesday next. Likeable, laid back, humorous, nice, give him a Maths Problem and he changes dramatically, goes into total concentration mode, screws up his face, leans back in the chair, blows out air like a whale, and comes up with the right answer. With a following wind and an R in the month, he might just…
May God bless you all,
Fr Paul
---
Saturday 27th November 2021
The archive photos on this Blog and on our "Photo of the Week" slot on the Newsletter always attract a great deal of interest. The picture last week of Steven Street a hundred years ago elicited this response from Judith Done:
Thank you for including the photo of Steven Street in your blog this week. I discovered fairly recently that my maternal great grandmother lived there and was probably born there. The 1891 census shows that eight of them lived at number 33 - her parents, she and her three siblings, and two lodgers. Just imagine! As you say, not to be glamorised. If you had a minute to email me the photo, I'd be so grateful- can't work out how to extract it from your blog!
More information (again from 1891 census). My great-great grandparents Edward and Bridget Stanton, all their four children and their two lodgers were born in Ireland and all except the younger son and the two daughters were described as "garden labourers". I wonder what that meant? So obviously part of the large Irish community in Chester and no doubt attended Mass at St Werburgh.
Thanks, Judith! Any more contributions to our oral history of Steven Street gratefully accepted, the heart of the old St Werburgh's parish. I'm glad Judith raises the issue of copying photos: I'm a completely teck idiot, as you all know, but so often a different format when sending pictures seems to crack it. So, if something comes through you can't open or download, do please say so, as time and time again using a different format seems to solve the problem.
You send in the wackiest photos and memories! Thanks for this one, Kath Cosgrove, of Buxton Opera House. Built in 1903 by the legendary Victorian theatre-builder Frank Matcham (London Palladium, London Coliseum and so many others), it seats just 900. In 1927 – can't you just guess! – it was turned into a cinema, silent for the first five years until it was wired for sound in 1932. Gradually it sank into disrepair and was closed in 1976. But it was beautifully restored, and reopened in 1979 as a theatre, an orchestra pit being added. Now it hosts the annual International Gilbert and Sullivan Festival and is the centrepiece of the annual Buxton Festival. Pre-Covid, busy every night. If you've never been to Buxton, a delightful little town of just 20,000 people on the edge of the fabulous High Peak in Derbyshire, go! A town of that size would never normally boast an Opera House, so do enjoy exploring its history and its whole connection with Chatsworth and the Dukes of Devonshire.
But then Kath has to go and spoil it all but telling us why it has particular associations and memories for her:
Reliving memories of our two-day honeymoon in 1971 , and once again it rained.
Come on, Kath – you mustn't dwell. Try to move on. Please.
Last Saturday was Clare Duke's Wedding to Luke Hobson. Clare was always Queen of the Sunday Evening Altar Servers. Ever reliable, there she'd always be, sorting out her hopeless Parish Priest, licking the team into shape, and gracing the liturgy with her wonderful Altar Serving. We all send herself and Luke every best wish for a wonderful, long, happy married life together. Congratulations, both!
Sunday was Reg Snow's Reception into the Church at the marvellous age of 93. Just goes to show it's never too late to become a Werbie. A devout Anglo-Catholic for much of his adult life, Reg certainly knew his theology, and it was a pleasure discussing the one or two outstanding questions he had in our Friday Morning chats together over several months. Again, we all wish him a long and happy life as a   Werbie. A Zoom Call with Matt and Sadie down in London Sunday lunchtime, marrying here on Christmas Eve, and then time to get out to Blacon for the annual Blessing of Graves. A beautiful November day, sunny and crisp, and so good to see many of you down there for this powerful part of November, the Month of the Holy Souls. As ever, there were so many non-Werbies who come along for this special day. Jo goes every day to her daughter's grave. Killed by a drink-driver while travelling home from work one evening, her daughter was six months pregnant at the time. Her headstone marks both the daughter and the unborn son, to whom the family has given the name Ben. Sixteen years ago. Jo goes every day. "My life ended that day", she tells me. "But I often wonder what Ben would be like now, sixteen years old."
There are no words, are there? Just inexpressible sadness. I see Jo every year on this day, and she always looks out for me. Please keep her in your prayers as Christmas approaches.
A week ago was Remembrance Sunday, and this year we chose to focus on the two members of the 1st Battalion, the Royal Welsh who lost their lives in Afghanistan, Captain Stephen Healey and Corporal Michael Thacker. Their portraits have been in our War Memorial Chapel ever since they died in that pointless conflict, but for Remembrance Day, we placed them in a central position in our Church. They are not forgotten.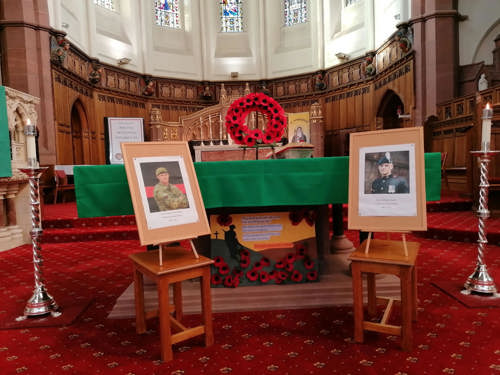 CathSoc in the evening was another "Preparation for Advent" session, this time decorating our own Advent Candles.
Monday Morning's Taskforce was divided between Christmas Planning and looking again at the arrangements of benches in the church. The super-sized new choir needs more room, and we've discovered that by moving the front bench and placing it further back, we not only increase overall capacity but create a much bigger, safer space for our Songsters to give of their all every Sunday Morning. Win-win!
In the afternoon, a Zoom Call to the Netherlands, to Laurent who is organising his grandfather's Funeral. He lives in the magical city of Den Bosch, or, to give it its full name, 's-Hertogenbosch. Its Cathedral is one of the finest in Holland: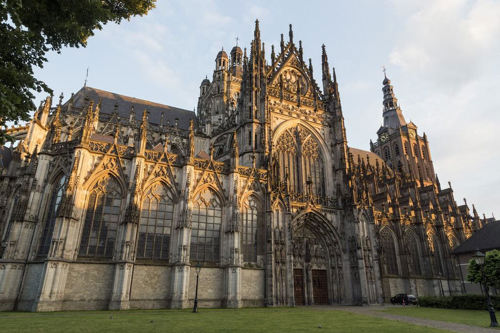 At the other extreme, here's another of those little churches Hilary Davies spotted on her last visit to family in New Zealand: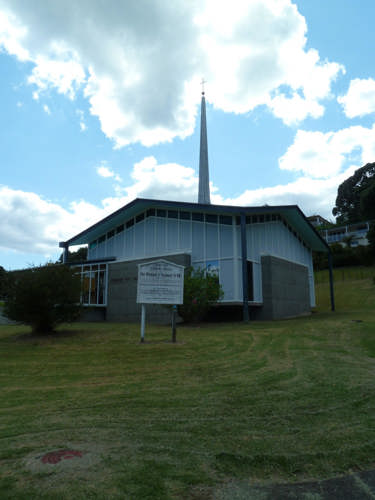 A close-up of that notice board reveals something of its rich history: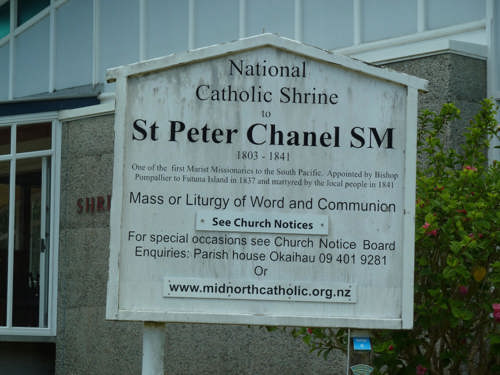 Only 38 when he met a martyr's death, St Peter Chanel's life is an extraordinary tale of faith and adventure.
Lots of pleasant visits to schools this week, but none more pleasurable that the High School's production of Matilda. It's a rather darker version of Annie, the central character's abusive home life only mitigated by her escape into books. If you thought Miss Hannigan, the Orphanage Superintendent in "Annie" was scary, wait till you see Miss Agatha Crunchbull, Headmistress of the school the poor Matilda gets sent to. She was brilliant acted by one of Sixth Formers last week. I'm sure there'll be lots of photos in the weeks to come, but here she is played by Bertie Carvell in the recent stage performance: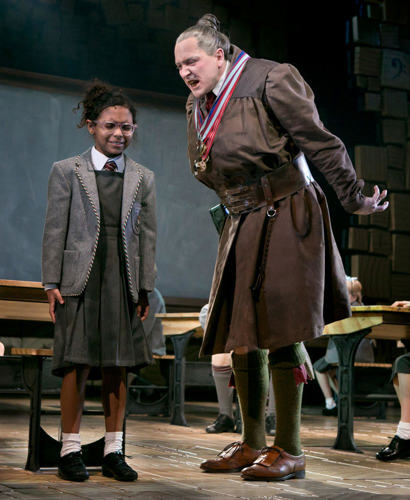 And yes, that's poor Matilda getting it in the neck. Except, as you can imagine, Matilda has the last laugh…
If you missed it, you missed a real treat. Well done, High School! And if you've not caught up with the High School's new website and monthly newsletter, here it is:
https://www.christofidelis.org.uk/docs/Newsletters/October_2021_Newsletter.pdf


And so another week ends, another Saturday Morning looms, and another week nearer Christmas. HELP!!! But it's not all bad news, as Laurie from Larshay spotted this festive message recently: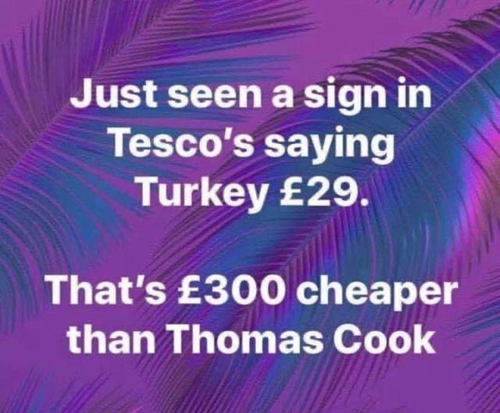 May God bless you all, and please keep smiling!
Fr Paul
---
Saturday 20th November 2021
 An early start last Saturday out to Newton-le-Willows (the posh part of St Helen's) for Nicholas's First Holy Communion: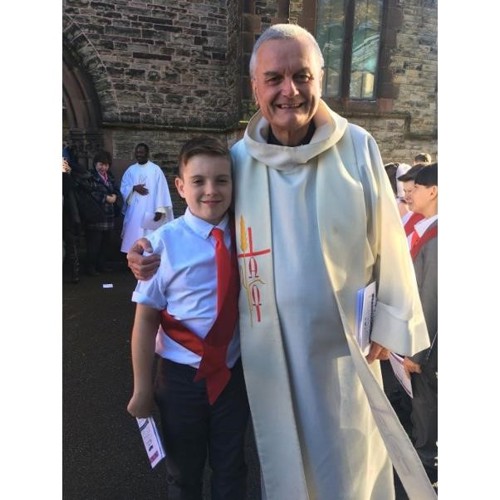 One of the greatest joys we have as Priests is journeying alongside families: I married Nick's parents, Leigh and Kathryn shortly after arriving here in 2006. Sadly, Kathryn's father Richard died not long afterwards, and it was a privilege to preside at his Requiem Mass at St Mary's in the centre of St Helen's. Then two little boys came along, Nicholas and Isaac, and back they came to the Werbies for their Baptisms.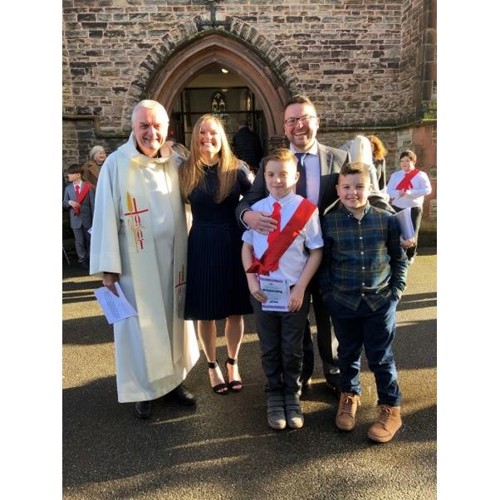 And now Nicholas is ten, his FHC delayed by lockdowns, and ready to make his First Holy Communion, with a batch of his classmates at the Primary School just across the yard from the Church: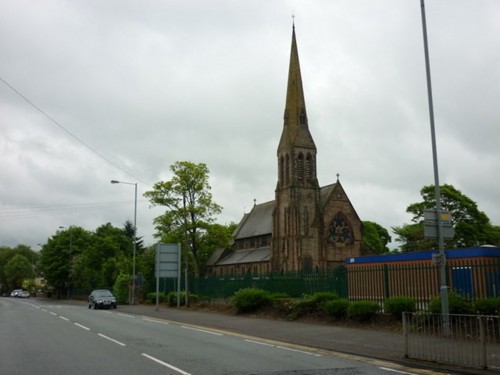 You don't see many Catholic Churches with spires: this one dates from 1864, ten years before St Werburgh's, the land being given by the local magnate Lord Newton. That's the school with the blue fascia on the right. Leigh and Kath were kind enough to invite me to lunch afterwards at the local Italian: well, let's face it, that's the closest I'm going to get to Italy this flaming year! Here we are with Nick and his terrible aunt Helen. I don't know what she's just told me, but it must have been dreadful!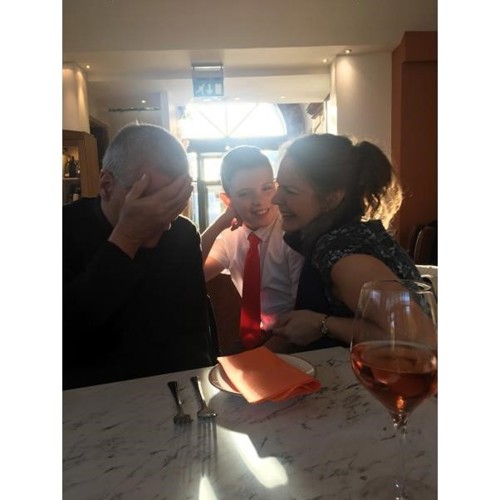 A lovely end to a lovely day, and so easy by train, the 2.30 from Newton seeing me back in Chester just after 3.00 pm.
I never tire of the sheer diversity of Church buildings. Here's another one Hillary snapped on her last visit to New Zealand, no local magnate around in those pioneering days to donate land or finance magnificent edifices: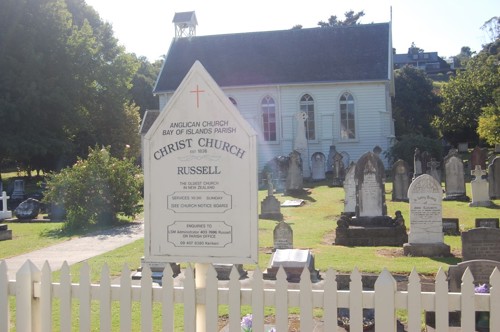 You'll see from the Notice Board that it boasts of being the oldest church in New Zealand, dating from 1836. Or, at the other extreme, how about this one snapped by Barrie and Bettie from Berkley on a recent gad and gallivant to the Midi-Pyrenees area of France, the stupendous Cathedral at Albi: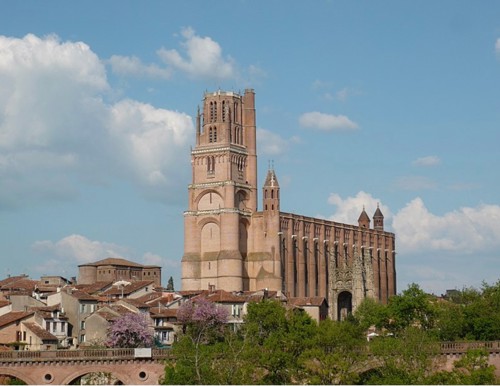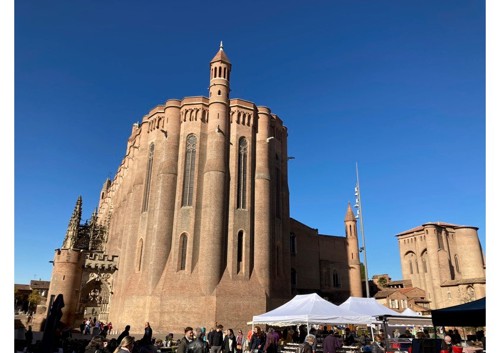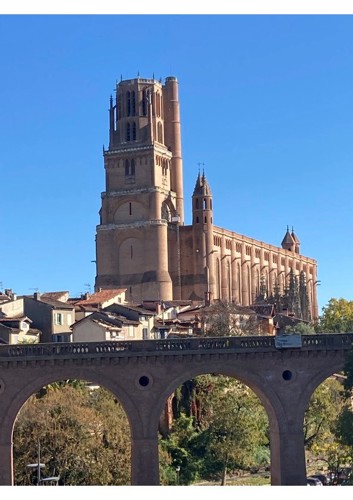 The Histories of the Church describe its "fortress-like exterior" contrasting with its magnificent interior: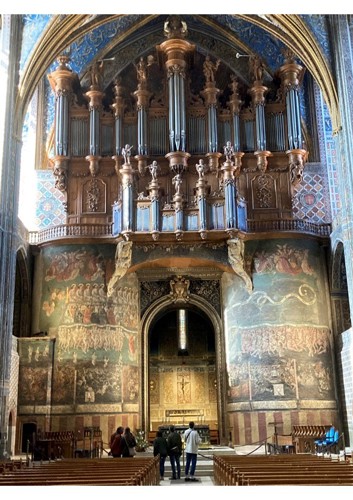 It was built in the thirteenth century in the aftermath of the Albigensian Crusade, the seat of the Cardinal Archbishops of Albi. Lest you think B&B spend their whole lives g&g-ing, I quickly add that they do also bring our Mass Attendance Graph up to date on a regular basis. Thanks, both!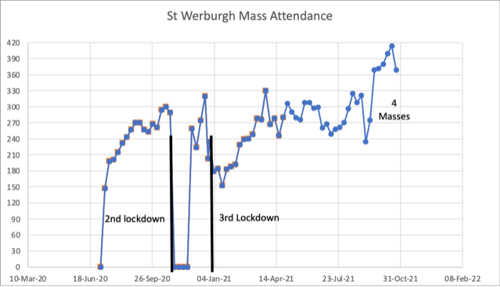 Attendance last Sunday was like this:
Saturday 6.0 pm:     57
Sunday 9.00 am:      151
Sunday 10.45 am:    122
Sunday 6.00 pm:      67
                         Total:      397
Numbers seem to be reaching a plateau now in the 390-410 range, approximately two-thirds of our pre-Covid levels. It will be interesting to see what happens in the run-up to Christmas, at the Festivities themselves, and then into the New Year.
CathSoc on Sunday Night continued our preparations for Advent, a walk over the three bridges of Chester with some Advent Meditations at key moments. Bridges are very symbolic, atmospheric places, of course, the demands of people wanting to cross the river being balanced by those whose first interest is travelling up and down that river. Here we are making our way off the Queen's Park Suspension Bridge:
And now pausing on the Handbridge for a Gospel Reading and Meditation (no Caption Competition on this one, please, anyone!!):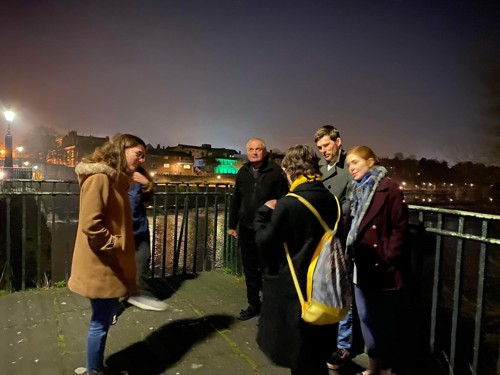 And now under the Grosvenor Bridge for another incident in the life of Mary as the Birth of Our Lord approaches: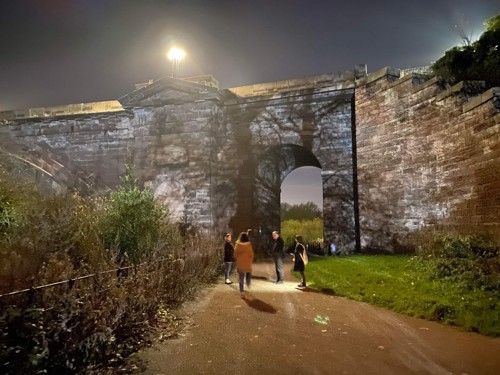 Monday Morning was Covid Taskforce, as always: then out to one of our High Schools to meet two of their Oxbridge Candidates again, an Oxford Mathematician and a Cambridge Musician, on to the University for Uni Mass at 1.10 pm, grateful to Fr Neill for looking after the 12.15 pm Parish Mass, and finally up to Upton Hall, the Girls' FCJ Grammar School in Birkenhead, to meet three of their Oxbridge Hopefuls, an Oxford PPE, a Cambridge Classics (Latin and Greek) and an Oxford Historian. Mock Interviews with all three, with debriefs on Friday. Good luck, one and all!
Back to the Werbies and out again to the Primary School for the first meeting of all the FHC parents from both Parishes and both Groups, reminding them all of the Baptism Liturgy they celebrated with their seven-year-olds all those years ago. Baptism to FHC to Uni Entrance: it all goes so quickly, doesn't it?
Tuesday was Zoom lesson with Bro Edmund again over at Ampleforth: lovely as that train ride up to the Monastery is, and the stay there, these Zoom Lessons are so much more efficient a use of time, an hour every week, and literally zooming through the material. In the afternoon, up to Vicar's Cross for my Covid Booster. I know, I know: strictly speaking, in my 50's I don't have to have it just yet, but I do like to set a good example for the Parish. The system wasn't as efficient as the first jabs courtesy of Boots in the centre of town: at Vicar's Cross, we had two queues, the Wise Virgins who'd booked, and the Foolish ones who hadn't. The powers-that-be were letting in half-a-dozen from one queue, then half-a-dozen from the other, the Wise queue glaring furiously at the Foolish, and vice versa. Really sore arm afterwards, for a good three days, which I hadn't had first time round. But what's that compared to not catching Covid and not passing it on to others?
Tuesday evening was the first chance for our new Organists and Musicians' Team to sit down, for a review meeting on how things had gone for the first three months, and to start looking ahead to Christmas: our four organists, Tom Rozario (who is also Choir Leader), Michael Reynolds, Mike Riley and Bob Owens, Syd and Denise to represent Music Group, and yours truly to make the tea. The whole parish seems to think it's been an immensely successful musical reprise (good, or what?), and has welcomed the sound of organ and choir in the church after a silence of twenty months. The Choir have come on leaps and bounds, some beautiful pieces now being sung in four-part harmony, and record numbers wanting to join. Well done, everyone!
Rehearsal for Reg first thing Thursday morning in anticipation of his Confirmation and Reception into the Catholic Church on Sunday, at the wonderful age of 93. Then a meeting was cancelled – oh frabjous day! – giving more time to get ready for my by now usual Thursday afternoon in the High School: the Year Eleven high-fliers, the year 13 Personal Statements and the Year 12 High-Fliers. I'm sure the school is getting this right: Year Eleven isn't a bit too early to start putting before our students some of the prizes that might be within their reach, both in terms of education and careers. Some will say "No, thank you!", but others will start to get motivated and excited. Our Catholic High School students deserve the best, and I'm delighted to be able to play a small part in helping them to reach their goals.
I left them at 4.00 pm preparing for the Sixth Form Open Evening, many of them staying at school rather than going home, and very happy to be back to join them at 6.00 pm. As with the Year 6 Open Evening a month or so ago, there was a real buzz about the place, all the A Level Departments setting out their stalls, plenty of good information leaflets and textbooks on display, and the teachers there to answer any and every question from both students and parents. Would I do the same three A Levels myself if I were choosing today? Yes, I would: English Literature, History and Latin. But I'm very conscious that not as many schools offer the Latin as they did in my day, twenty-five years ago. [And the rest. Ed.]
The funerals have been flooding in this week. First thing Friday morning I met Emma and her brother Michael: I married Emma here six years ago, and now sadly her mother, Mary Hayward, has died after a period of ill health. Mary was a Dinwoodie, of the famous Butchers Shop family in Hoole. Who remembers them?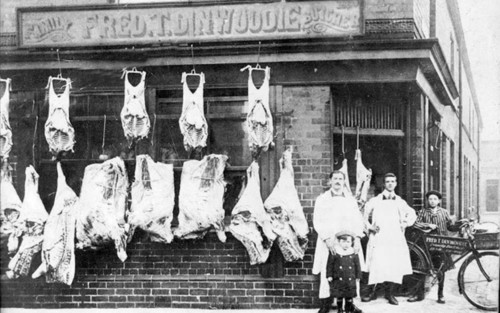 The little boy in the front is Roger Dinwoodie, Mary's father and Emma's grandfather, aged 3. That's his father behind him, Frederick Turner Dinwoodie. The shop was in Walker Street. Fred took the business over from his father and ran it with his brother for many years with his older brother Jack. Who's the handsome lad in the doorway, and who's the delivery boy? And don't you just love those old delivery bikes?
Many thanks to Pam Mullen for sending in another fascinating heritage picture, this time of Steven Street, in the heart of the Irish area of Chester, that rabbit warren of streets behind the Crossed Foxes pub. It's a powerful picture and a powerful reminder not to glamourise the old days too much: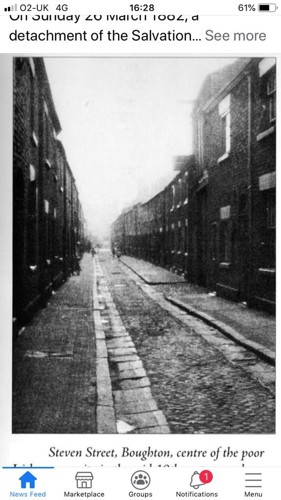 May God bless you all,
Fr Paul
---
Saturday 13th November 2021

Believe it or not, we've been planning for Christmas this week. Help!!! Numbers attending Mass at present are roughly two-thirds of pre-Covid levels, so that would suggest we need to plan for 1,000 attendees this Christmas, our normal total being roughly 1,500. If we limit each Mass to 150 maximum, socially distanced and seated, we could accommodate 1,000 with the following timetable:

Friday 24/12 10.00 am: Day Mass of Christmas Eve
1.00 pm: Wedding
4.30 pm: Children's Mass of Christmas Eve I
6.00 pm: Children's Mass of Christmas Eve II
8.30 pm: Vigil Mass of Christmas
11.30 pm: Carols and Midnight Mass

Saturday 25/12 9.00 am: Christmas Dawn Mass
10.00 am: Christmas Day Mass
11.00 am: Christmas Day Mass
(12.00 noon: Christmas Day Mass if needed)

Sunday 26/12 9.00 am: Mass of The Holy Family
10.45 am: Mass of the Holy Family
6.00 pm: Mass of the Holy Family

Exhausting just looking at it, isn't it? Anyway, this is what our Taskforce has been looking at on Monday mornings. Much will depend on people's willingness to act as Stewards: four for each Mass, arranged in shifts. Booking will be essential, both online and by telephone, and this time tickets will be issued, but not seat reservations. You will need to bring your ticket with you to gain admittance, but, once in, you can choose where you sit, just as you do on Sundays these days. Please: no standing at the back. With 150 max, there's no need to stand!

Last Sunday, numbers were up again:
Saturday 6.00 pm: 43
Sunday 9.00 am: 150
Sunday 10.45 am: 157
Sunday 6.00 pm: 63

Total: 413
Both Sunday Morning Masses felt "comfortably full", meaning we wouldn't like to see them much fuller. Hence our suggested maximum for each Christmas Mass of 150. As always, any views gratefully received for Taskforce Delectation (good or what?) on Monday morning.

Sunday lunchtime was a good chance to catch up with Matthew, a Chester University student here in pre-CathSoc times… (Happy days they were!!) He did his degree in Animal Behaviour and Welfare, graduating in 2008, has pursued a successful career in this area, and is now back in Chester, a little old man of 34, running his own business.

CathSoc on Sunday evening was an early look at Advent, making Advent Stars to reflect the lovely note of Advent Hope. Here we are, displaying the finished results in church afterwards: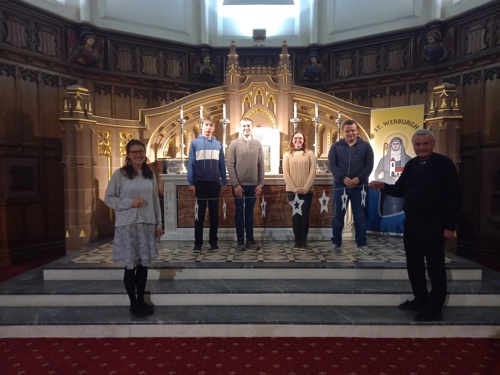 Then we adjourned to the back Sitting Room for our statutory Tea and Cake. Great to have Lal with us, representing the Wrinklies. She was having us all in stitches with memories of her own student days in Southampton. I'd love to share them with you, but they come under the Seal of the Confessional, I'm afraid…

Monday lunchtime a good opportunity to welcome Marian and her CWL hooligans to their Annual Mass for Deceased Members, and lunch in the back Sitting Room afterwards. It meant the inevitable 2.00 am start, but they seemed to like my sandwiches, and pronounced my Lemon Drizzle Cake heavenly. Definitely a better class of hooligan in the CWL.

4.00 pm Monday, and time to take our two new Hospital Newbies on their Guided Tour, Frs Edmund and Jinson. We started off in the Chaplaincy Office with a welcome cuppa with Rev John Kingsley, our Lead Chaplain and all-round good egg. Then a walk through the main building, which must win some sort of prize for the most illogically numbered wards in any hospital in England! But I showed them the main Notice Board and told them always to start there rather than trying to find their way round themselves and rely on any sort of rationale… I let them into the secret of how to gain admittance in the wee small hours of the morning (through A&E) and then showed them Maternity and Bowmere (the Mental Health wing) and our tour was complete. Good luck, lads, and great to have you on board!

Tuesday afternoon, a full church thanked God for the life and service of Cath Haslam, from her tough but loving childhood in Preston, to marriage to Brian in 1962, her two daughters and granddaughter, and her lifetime of service in Chester, not just to St Werburgh's but to the Waverton Day Centre and very much to Christleton Churches Together where she was our Treasurer for a number of years. Here in the parish, she was a Sacristan, with Brian, both at Rowton (The C Team!) and the main church, a Confirmation Catechist, a Reader, a Eucharistic Minister and a friend to everyone. Well done, thou good and faithful servant!

Thanks everyone for the way you've been restocking our Photo of the Week bank. This from the Millers, in London over Half Term, and visiting the Tower, the Altar where King Edward I heard Mass during his time as a prisoner there in the Baronial Wars of the 1260's.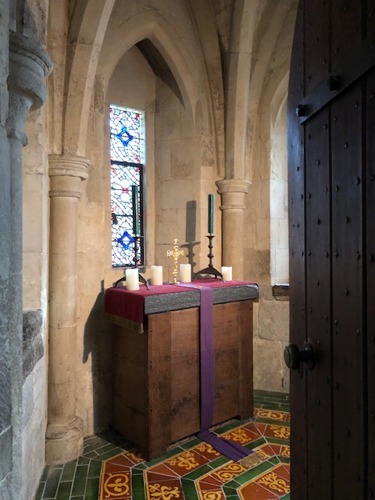 Yes, yes: Steve and Diane could easily have left the Monsters there, but sadly chose to bring them back with them to Chester… Here's another Chapel they spotted on their walk through the Tower, still in use today: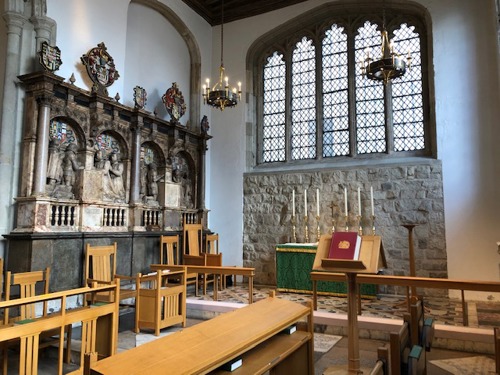 Tuesday evening was the second group of First Holy Communion Parents and Children, once again the children in church with Louise and team and the parents with myself in the Dining Room. One odd feature of this year's cohort: the majority of them have had older brothers or sisters through the programme, so I'm meeting old friends amongst the parents and very few new faces.

A trip over to York on Wednesday morning, the 4.45 am train from Chester. Fortunately, I don't mind early starts. I was the only passenger on the first stretch to Manchester, so a chance to catch up with some reading. Business over, I had forty-five minutes before my train back, so a chance to pop into the beautiful little St Wilfrid's Church, in the shadow of the Minster. (No chance of popping into the Minster, £12 admission and pre-booking essential!!) You can see from this picture how close it is to the Minster: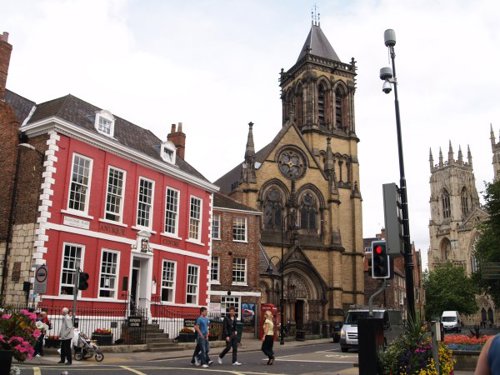 And here it is inside, a beautifully prayerful atmosphere, and always half a dozen people there, dotted around and "chatting to Jesus", in the immortal words of our old CathSoc Prezzie, Charles. Keep chatting, everyone!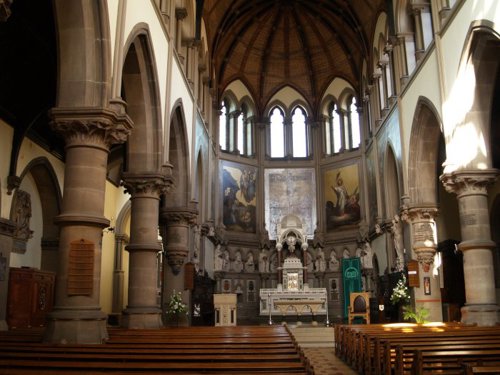 Thursday morning was a solid time of appointments, and then, after Mass, my usual very enjoyable and worthwhile afternoon in the High School. We start with the Year 11 High-Flyers and Potential Medics. One of them I recall as a babe in arms at Rowton fifteen years ago, driving his mother to distraction by his refusal to sleep. Ever. Then I sat in on a Police Presentation to the Sixth Form on knife crime and the dangers of carrying a knife. One chilling statistic; 50% of all knife injuries are inflicted by the victim's own knife. The approach here from a Nurse Practitioner working in A&E was to show the most graphic slides of knife injuries, with the aim of shocking these seventeen- and eighteen-year-olds into avoiding knives like the plague. I give you this one as an illustration – it wasn't one of the ones actually used, but it will give you some idea of the tone of the presentation: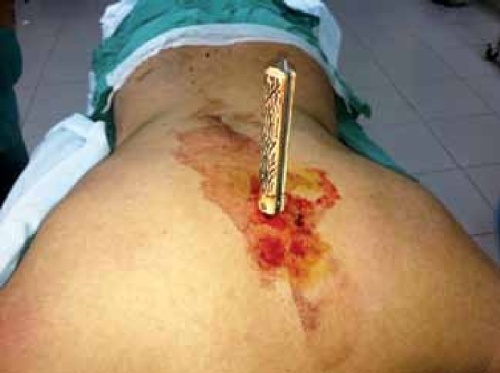 I can only speak personally when I say I wasn't sure that it worked for me, the shock approach. But I'm sure the powers-that-be have done a lot of research into what makes an impression on teenagers, and if this talk can save one youngster from being caught up in this horrible epidemic of knife crime, it will have been worth it.

Back for Choir Practice at 6.00 pm, followed by Parish Council at 7.15 pm, our first meeting for almost two years. Caroline Palmer sent apologies – "We are now a Grandmother", and it was also Jack's Graduation – but all the others were able to gather together in the Dining Room: Marie Broadhurst, Judith Done, Barbara Graves, Denise and Syd Jones, Bernice Meredith, Anne Proctor, Gerry Tighe and Paula Wszolek, with Fr Neill as an ex officio member. As they say in German.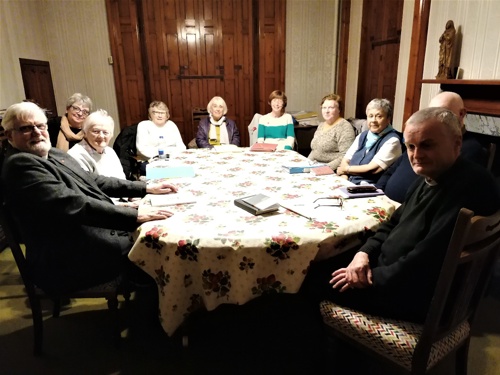 Friday ended with a beautiful Concert for Remembrance Day given by our friends the Cathedral Nave Choir, led by their Music Director, Alex Palotai. Our very good friend John Hosking was the Organist, and the whole hour was a total treat, something we have all missed so much over the last two years. We weren't sure about offering Tea and Coffee afterwards, but decided to take the plunge, and it was hugely appreciated, both Wizziters and Werbies mingling and chatting just like the old days. Thanks be to God!

May God bless you all,

Fr Paul
---
Saturday 6th November 2021

For the Statistical Stanleys and Stellas amongst you, here are the figures for last weekend:
Saturday 6.00 pm: 47
Sunday 9.00 am: 140
Sunday 10.45 am: 150
Sunday 6.00 pm: 383
Totals for the last six weeks now look like this:
25/26 September: 369
2/3 October: 372
9/10 October: 380
16/17 October: 399
23/24 October: 414
30/31 October: 383
This might suggest an element of levelling off now, after small but steady increases every week. We'll wait and see! The National Graph for Infections looks like this: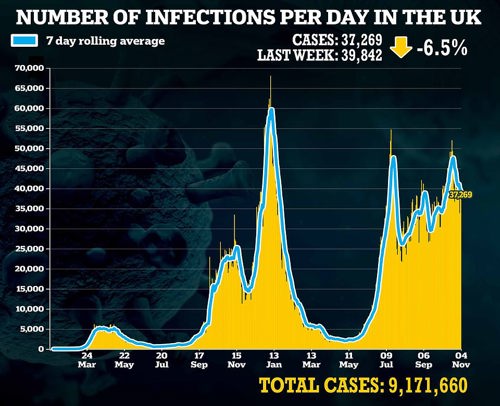 As you can see, that third wave overall has been plateauing over the last five months, the figures high but not out of control. We're certainly not out of the woods yet, but trying, with respect to all safety requirements, to get our life back as normal as possible.

Announced on the Newsletter last weekend was the forthcoming International Synod of Bishops in October 2023. That's two years away, but Pope Francis wants us to use the next two years to prepare, by prayer, discussion, consultation, every means available to us. These are the three questions we've been asked to consider by Bishop Mark, and then the ten questions posed by Pope Francis:

Bishop Marks' Three Questions for our quiet reflection individually or in groups:

1. Communion: In what ways has the unity of our parishes in faith and charity, above all in Eucharistic communion, been strengthened or weakened by the experience of the past two years? Have we grown in our desire for the Sacrament of the Holy Eucharist?

2. Participation: What has the experience of this time taught us about participation in the life of the Church?

3. Mission: What have been the fruits of this time for mission to those outside the life of our parishes and especially to those on the margins of society?

Questions provided for reflection from the Secretariat for the Synods of Bishops in Rome:

This Synod poses the following fundamental question: A synodal Church, in announcing the Gospel, "journeys together." How is this "journeying together" happening today in your local Church? What steps does the Spirit invite us to take in order to grow in our "journeying together"?

In responding to this question, we are invited to:
Recall our experiences: What experiences of our local Church does this question call to mind?
Re-read these experiences in greater depth: What joys did they bring? What difficulties and obstacles have they encountered? What wounds did they reveal? What insights have they elicited?
Gather the fruits to share: Where in these experiences does the voice of the Holy Spirit resound? What is the Spirit asking of us? What are the points to be confirmed, the prospects for change, the steps to be taken? Where do we register a consensus? What paths are opening up for our local Church?

To help people explore this fundamental question more fully, the following themes highlight significant aspects of "lived synodality". In responding to these questions, it is helpful to remember that "journeying together" occurs in two deeply interconnected ways. First, we journey together with one another as the People of God. Next, we journey together as the People of God with the entire human family. These two perspectives enrich one another and are helpful for our common discernment towards deeper communion and more fruitful mission.
The questions accompanying each of the following ten themes can be used as a starting point or helpful guideline. Your conversation and dialogue do not need to be limited to the following questions:

1. COMPANIONS ON THE JOURNEY
In the Church and in society we are side by side on the same road. In our local Church, who are those who "walk together"? Who are those who seem further apart? How are we called to grow as companions? What groups or individuals are left on the margins?

2. LISTENING
Listening is the first step, but it requires an open mind and heart, without prejudice. How is God speaking to us through voices we sometimes ignore? How are the laity listened to, especially women and young people? What facilitates or inhibits our listening? How well do we listen to those on the peripheries? How is the contribution of consecrated men and women integrated? What are some limitations in our ability to listen, especially to those who have different views than our own? What space is there for the voice of minorities, especially people who experience poverty, marginalization, or social exclusion?

3. SPEAKING OUT
All are invited to speak with courage and parrhesia, that is, in freedom, truth, and charity. What enables or hinders speaking up courageously, candidly, and responsibly in our local Church and in society? When and how do we manage to say what is important to us? How does the relationship with the local media work (not only Catholic media)? Who speaks on behalf of the Christian community, and how are they chosen?

4. CELEBRATION
"Walking together" is only possible if it is based on communal listening to the Word and the celebration of the Eucharist. How do prayer and liturgical celebrations actually inspire and guide our common life and mission in our community? How do they inspire the most important decisions? How do we promote the active participation of all the faithful in the liturgy? What space is given to participating in the ministries of lector and acolyte?

5. SHARING RESPONSIBILITY FOR OUR COMMON MISSION
Synodality is at the service of the mission of the Church, in which all members are called to participate. Since we are all missionary disciples, how is every baptised person called to participate in the mission of the Church? What hinders the baptised from being active in mission? What areas of mission are we neglecting? How does the community support its members who serve society in various ways (social and political involvement, scientific research, education, promoting social justice, protecting human rights, caring for the environment, etc.)? How does the Church help these members to live out their service to society in a missionary way? How is discernment about missionary choices made and by whom?

6. DIALOGUE IN CHURCH AND SOCIETY
Dialogue requires perseverance and patience, but it also enables mutual understanding. To what extent do diverse peoples in our community come together for dialogue? What are the places and means of dialogue within our local Church? How do we promote collaboration with neighbouring dioceses, religious communities in the area, lay associations and movements, etc.? How are divergences of vision, or conflicts and difficulties addressed? What particular issues in the Church and society do we need to pay more attention to? What experiences of dialogue and collaboration do we have with believers of other religions and with those who have no religious affiliation? How does the Church dialogue with and learn from other sectors of society: the spheres of politics, economics, culture, civil society, and people who live in poverty?

7. ECUMENISM
The dialogue between Christians of different confessions, united by one baptism, has a special place in the synodal journey. What relationships does our Church community have with members of other Christian traditions and denominations? What do we share and how do we journey together? What fruits have we drawn from walking together? What are the difficulties? How can we take the next step in walking forward with each other?

8. AUTHORITY AND PARTICIPATION
A synodal church is a participatory and co-responsible Church. How does our Church community identify the goals to be pursued, the way to reach them, and the steps to be taken? How is authority or governance exercised within our local Church? How are teamwork and co-responsibility put into practice? How are evaluations conducted and by whom? How are lay ministries and the responsibility of lay people promoted? Have we had fruitful experiences of synodality on a local level? How do synodal bodies function at the level of the local Church (Pastoral Councils in parishes and dioceses, Presbyteral Council, etc.)? How can we foster a more synodal approach in our participation and leadership?

9. DISCERNING AND DECIDING
In a synodal style we make decisions through discernment of what the Holy Spirit is saying through our whole community. What methods and processes do we use in decision-making? How can they be improved? How do we promote participation in decision-making within hierarchical structures? Do our decision- making methods help us to listen to the whole People of God? What is the relationship between consultation and decision-making, and how do we put these into practice? What tools and procedures do we use to promote transparency and accountability? How can we grow in communal spiritual discernment?

10. FORMING OURSELVES IN SYNODALITY
Synodality entails receptivity to change, formation, and on-going learning. How does our church community form people to be more capable of "walking together," listening to one another, participating in mission, and engaging in dialogue? What formation is offered to foster discernment and the exercise of authority in a synodal way?

For the purposes of our Newsletter and Parish Consultations Evenings, I've summarised these ten questions as follows:

Pope Francis's Ten Questions:

1. How can we walk together more effectively?
2. How can we become a more listening Church?
3. How can we become a better voice to the world?
4. How does our Liturgy inspire and guide us?
5. How do we all take part in the Church's mission?
6. How can we promote better dialogue with others?
7. How can we work better ecumenically?
8. How can church authority be better exercised?
9. How can our decision-making be improved?
10. How can we learn better to "walk together"?

We now know that we will be given more time as Parishes all over the world to discuss these questions, as the consultation period has been pushed back to Easter next year. Watch this space for an announcement of Meeting Dates in January and February! Meanwhile, the more thought and prayer we can all give to these issues, the better our final response will be.

Here's an extraordinary photograph taken by our ever creative and resourceful Geoff Taylor: it's the church's hanging cross reflected in the water of the Baptismal Font. Beautiful or what?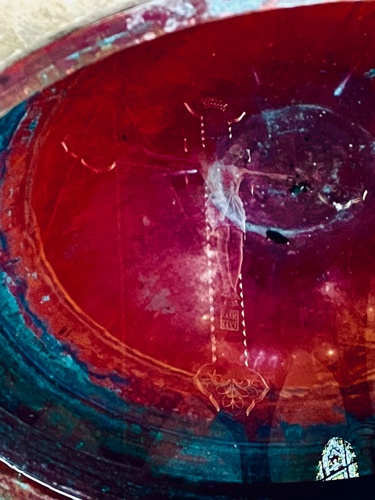 We've asked you to keep sending in your Photos of the Week and thank you for a tremendous response. Many of you send us churches from far flung spots, but any pictures that you think might be of interest to other parishioners are more than welcome. Hilary Davies, one of our wonderful Covid-19 Stewards, spends as many months of each year in New Zealand as she can, visiting her brother – or did until Covid-19 intervened. She's snapped some absorbing sights, such as this gravestone in Russell. Known as Kororareka in the early nineteenth century, it was the first permanent European settlement and seaport in New Zealand, situated in the Bay of Islands right at the northernmost tip of the North Island.




Here's a little more information about Hannah Letheridge, including the year of her birth (1817) as one of the digits is missing on the gravestone, and setting the record straight in one or two details

Hannah King Hansen was born at Hohi on January 11th 1816. She was named after her aunt, Hannah King. Hannah was baptised by Rev Samuel Marsden in 1819. Amongst those baptised at the same time were her brother Thomas, cousins John and Jane King, and Dinah Hall, the first European girl born in New Zealand. Dinah moved back to Australia as a young girl and never returned. This led to the misunderstanding regarding Hannah being the first white woman to be born in New Zealand. While Hannah was the second girl, unlike Dinah Hall, she was to live most of her life in New Zealand.

Like her brothers and sisters, Hannah was brought up in a bi-lingual and bi-cultural community with English as their first language, but also being fluent in Te Reo Māori. Hannah never attended school despite living close to the mission school at Hohi, and later at Te Puna. The mission school was only for Māori children and the children of the missionaries. Because the Hansen children fitted neither category, they were denied access to the school. Consequently, they all grew up illiterate other than being able to sign their names in just a few cases.

As a young girl, Hannah would have no doubt helped her mother with the many household chores and assisted looking after her 10 brothers and sisters who were born between 1818 and 1834. The experience of looking after her siblings would have no doubt helped Hannah secure a position as nursemaid or housemaid at the Busby's residence at Waitangi in 1834 when Hannah was aged 17. Hannah was married three years later by Rev Henry Williams to Captain George Clapham, a whaler. Her uncle, John King, and cousin Philip were witnesses.

In 1838, George purchased 200 acres from Chief Temara at Okura, near Kerikeri. A house was built here for Hannah and their new-born baby Maryann. Two other children were later born: Thomas in 1841 and Hannah in 1844. In addition to farming his land, George also continued to trade around the Bay of Islands in his schooner the Jane. With the outbreak of warfare and sacking of Kororareka in 1845, George decided to take his family to safety, first to Auckland, and then on to Sydney. The years that were spent in Sydney proved to be tragic for Hannah. In 1848, her husband George was killed along with the rest of the crew of the British Sovereign in Vanuatu. Her infant granddaughter, Maryann Jones, died a decade later, followed by her own son Thomas Clapham who drowned in Sydney harbour after falling from a wharf.

Soon after the death of George Clapham, Hannah had married Jeremiah Letheridge. In 1862, Jeremiah fell on hard times and the decision was made to return to New Zealand. Accompanying them was Hannah's remaining child, Hannah and her husband, George Mountain. Together they settled on the Purerua Peninsula, close to Te Puna where her father Thomas Hansen was still living. However, Jeremiah did not live long after arriving in New Zealand; he died in 1867, leaving Hannah a widow for a second time. Hannah Letheridge lived the rest of her long life on the Purerua Peninsula, finally dying in 1907 aged 90 years. She was buried in the Russell cemetery.

Researched by Kath Hansen. Written by Eric Hansen www.1814hansenfamily.org 

What a fascinating story! Many thanks, Hilary, for sending it in. Talking of old ruins, here's a snap of some of our parishioners on the recent SVP fun walk organised by Craig to raise funds for the SVP Holiday Home at Talacre. That's John O'Sullivan, Peter Moody and Trish Griffiths. Thank heavens the walk was only 500 yards from start to finish!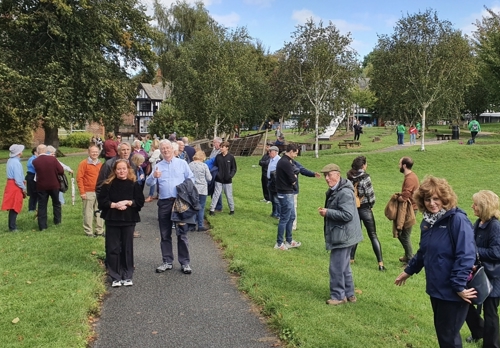 CathSoc last Sunday evening was a very enterprising quiz set by Madame Prezzie on the theme of Halloween and its true Christian Origins – the "e'en" (eve) of "All Hallows" (All Saints). Here we are sitting round the Dining Room table wrestling with some of the thornier questions: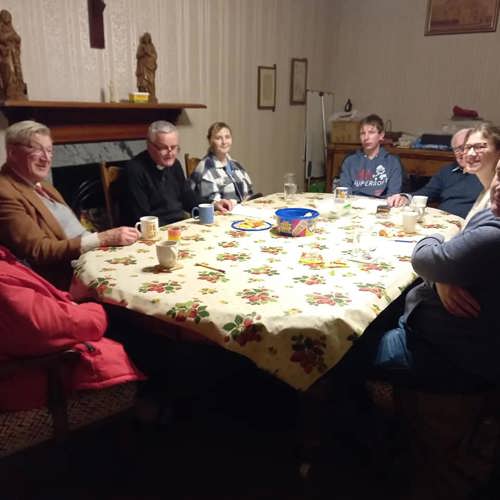 And here are some of the Question Cards we were given ten minutes to read before the torture began!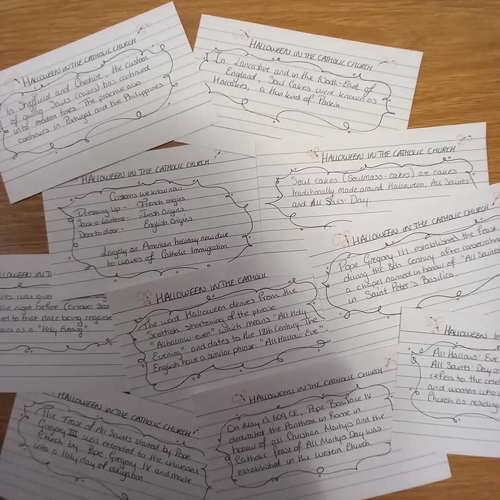 The following day, it was so good to be back in the University Chapel for our customary Monday Lunchtime Mass, something that has just not been possible for the best part of two years: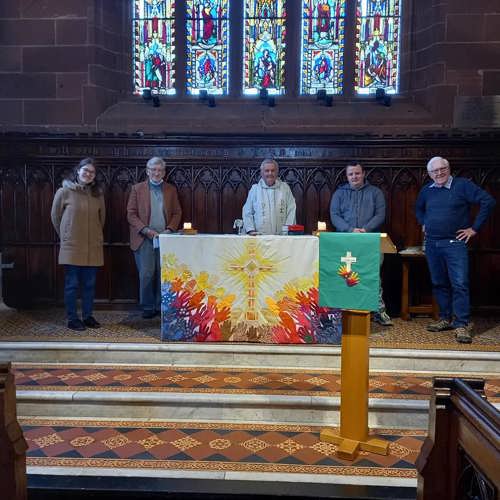 Tuesday was All Souls, with the joy of celebrating four Masses, the usual three (7.30 am, 12.15 pm and 7.30 pm) plus a Requiem for Pat MacDonald at 10.00 am. It was a busy old day, as 6.30 pm saw the first session for Group One of our First Holy Communion Parish Group, the youngsters who don't go to Catholic schools. So many of them this year, thanks to lockdowns, that we're having to run two parallel groups, one last Tuesday, one this coming Tuesday. Huge thanks to Louise and her team for taking on double the usual workload.

Saturday morning, today, was an early start out to Berwyn for the Prison Mass, but not before we'd all proof-read the second edition of our Holy Souls Book. An enormous amount of effort and labour goes into this book to make sure it's right, and I know how much you all appreciate it. A new edition appears each Sunday, incorporating names submitted over the last week, which is why the whole book needs careful checking every Saturday morning, so that it can be printed off, made into a book, and placed on the Altar ready for the Saturday Evening 6.00 pm Mass.

Saturday afternoon, now, and we've just finished clearing up after Jessica and Jack's wedding. Jack and all the super Dyas family were parishioners in my last Parish, St Luke's up in Bebington. He was seven when I first met him, in 1997, and the loveliest of little boys. Thrilled to be contacted by him two years ago, someone I'd like you to meet, could you possibly do the honours, FP…

I certainly could! Equally thrilled to find out he's turned into the loveliest of young men – not every nice little boy becomes a nice big boy, I don't have to tell you!! – and marrying an equally lovely girl, Jessica.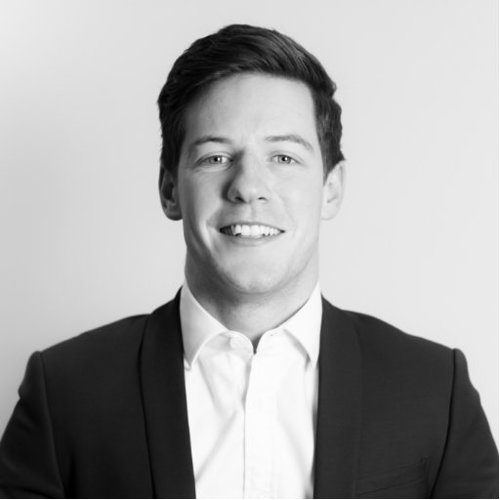 Have a happy marriage, both, and God's blessings on you.

And may God bless all of YOU, as well!

Fr Paul
---
Saturday 30th October 2021

As promised on the Newsletter, here's the fantastic Eulogy that Peter and Christine wrote for their mum, Pauline Hackett. Grateful thanks to them both for permission to reproduce it here.

"On behalf of Dad and the family I would like to say how much we really appreciate everyone who has come here today to celebrate the amazing life of our mum Pauline Hackett aka POG. Thanks for all the lovely cards and messages; it has really given us a lot of comfort at this sad time. I guess a saying that comes to mind when describing mum is if you want something doing give it to a busy person. I think this sums mum up nicely. She never stopped.
So let's start at the beginning. Mum was born in Broad Green Hospital Liverpool on 20th October 1940, so happy birthday for the other day, mum. She was the daughter of Michael and Doris O'Grady and sister to Jim, Tony, Gerard and Michael and she was also very close to her cousin Trisha. I suspect being the only girl in a family of four boys had its moments for mum and was probably one of the reasons she was such as determined individual growing up with four brothers. Mum grew up in Childwall and attended Our Lady of the Annunciation school. Mum told me a story once that after she had lost her two front teeth after falling off her bike, she had to ask for a bus fare which was a sixpenny single to Cecil Street. She said try saying that when you've no front teeth.
Mum grew up in Liverpool and would go into town with her good friend Ann and it was on one these nights out that she met a young man by the name of Bill. The rest is history as they say, they got married at Christ the King on 26th September 1964 and had just celebrated their 57th wedding anniversary. We all settled in Hazel Grove, Stockport in the mid 70's and its lovely to see some of mum's and dad's friends from Hazel Grove here today. In 1979 we moved to Chester, and I think it was definitely a case of Stockport's loss was Chester's gain as mum became involved in many aspects of voluntary work in around the Chester area.
Mum enjoyed sport and she loved her tennis. I know she was delighted when Andy Murry won his first Wimbledon title in 2013. On one occasion mum and Anne even booked a coach trip to go down the SW19, but after waiting an hour for the coach and on a closer inspection of the itinerary it became apparent that they were a day late, (I think Ann got the blame) as Mum was far to organised to make such a mistake. Mum was a devoted Liverpool fan and followed them from the 60's when she and Dad would go to Anfield to watch the Reds. They would usually go in the Kop with mum standing on her crash helmet to get a better view. Her favourite player in the 60's, and I am sure you will not be surprised, was Ian St John, the Saint. Three of her favourite games, although there were many, were the 1965 cup final when the Saint scored the winner, the 74 final with Keegan getting a brace and of course who can the forget the 2005 champions league final? I remember watching that game with mum and rumour has it she said a little prayer at half time as we were 3-0 down. I remember Dad commenting to mum once that while Fergie may not be everyone's cup of tea you had to respect him as a Manager. Mum shouts me in the front room, have you heard this rubbish your dad's talking? Mum had just cooked one her legendary honey roast hams, so I agreed with her 100%. She didn't talk to 3 dad for 3 days and I got an extra slice of ham. Result. So there you have it POG loved tennis & The Reds. Didn't like Fergie.
Sunday 3rd June 2018 was a very special day for mum, our family and the parish of St Werburgh's, for it was on this day that Fr Paul presented mum with the Bene Merenti medal and scroll awarded to her by Pope Francis. I would like to thank Margaret and Mike Hart for nominating mum for this award. The award is for members of the laity and clergy for exceptional service to the Roman Catholic Church. This most deserved award recognises mum's lifetime of service not only with St Werburgh's parish but through her incredible work with the St Vincent de Paul Society for whom mum served as District President of the Chester Conference for over 40 years, a role she took very seriously, and she was totally committed to.
Whether it was arranging the housebound Mass, travelling round Chester normally on her bike giving out Holy Communion, taking people to the SVP caravan in Talacre or providing support for families in need in Chester, mum never questioned or judged. She just provided help where she could. 40 years is a long time and mum's dedication and commitment should be commended. In the end it was, with this special award. I would also mention dad at this point who supported mum totally in all her charitable works over the years.
Well mum, you were a special person, and I am sure I speak on behalf of all the people you helped over the years when I say thank you for all you did.
Mum was not one for weddings. In her words, "I could give or take a wedding, but I love a good funeral". Looking at everyone here today, she would have been delighted. The last few years have been tinged with sadness, and sometimes anger, whilst mum has been poorly. But as we all know, mum lived a very busy, active and happy life prior to this, and it's this part of mum's life we want to remember. We feel very lucky that we were able to be with mum in her last week, to sit with her and share all the fabulous memories we had. Throughout that week the five of us were all bobbing in and out, just like at Fraser Court. Kate and the boys, Anna and the girls and Teresa to name a few. Baby Lando would also come down for a daily visit and lie on the bed with his great grandma. Mum was not going to go anywhere quietly and definitely waited for the restrictions to ease so we could all be there with her. There was complete chaos going on in that room some days, no different to how it would have been at home, and we know she would have been loving every minute, lying there quietly, taking it all in.

Those are our memories of home with mum, a house full of people, five kids plus all of our friends, no one was ever turned away, no matter what time of day or night it was. She even performed her own version of feeding of the 5,000 every Sunday, managing to make six rashers of bacon make enough bacon butties for anyone that wanted one, as long as you had been to church… I'm just going to quote one of the messages that have come through to us about our mum from one of the many friends that came and went at Fraser Court. 'Pog/ Pauline/your mum was a mother figure to us all at some point in time. The dinner table was never empty, everyone was welcome, and no one had an empty belly. I've been telling my wife of all the stories we used to get up to and how your mum had the super ability to turn a blind eye. How on earth she put up with us all is a mystery in itself. Your mum could only ever see the good in us all. Fraser Court will always hold a special place in my heart, it's where I grew up. She was a special lady, loved by everyone'.

As we all know mum spent her life giving to everyone, and for a lot of people the only way they knew mum. But prior to having us five, mum had studied hard to gain her qualifications as a medical laboratory technologist and specialised in bacteriology, where she then worked at Broad Green hospital with her good friend Anne. There were many stories mum used to sit and tell us about her time there, and the pranks they got up to. Mum happily gave this up though to dedicate her life to her family and church and basically anyone that needed her. When we moved to Chester in 1979, mum was offered a job at the Nuffield hospital in the labs. She turned it down because, in her words, "I have far too much voluntary work to do and want to concentrate on this". As you can imagine dad was delighted, two mortgages, five kids and a wife to support. However, to quote the dedication in mum's benevolent award, 'her devoted husband Bill supported her in all her charitable work'. Mum didn't care what the house looked like or what material things she had. All that mattered was that those around her were happy, felt loved and were well fed. Then she was happy. Mum was a fantastic seamstress and there would always be a project of some kind happening on the living room floor. How mum managed to do what she did with five of us tip toeing across the floor avoiding the pins scattered everywhere is beyond me. However, they weren't always avoided, and on one occasion mum would have to spend yet another afternoon in the Countess Hospital as John needed one surgically removing from his toe!! However, it could have been worse, he could have been wearing the Mr Tickle Costume that she was making for him at the time.

The curtains throughout the house were all made by mum, my first going-out dress, better than anything I could have bought. Anne's skirt for her first interview at Barclays, literally made the night before when Anne realised she couldn't wear her dungarees. One-year, belted duffle coats were all the fashion and before we knew it, pattern and material had been bought and a coat made for me, Anne and of course one for Michelle. How lucky we were to have such a talented mum.

I don't know who here today has faith, but mum's faith came into its own when we had to find her a nursing home in March of last year. Grosvenor Garden NH came to our rescue and someone was looking down on us that year. For those of you who don't know, mum had taken Holy Communion and said prayers at Grosvenor Garden (the old Crawford's Walk) every Thursday for the past thirty plus years. In April 2020, it became her home, and she was treated like a princess from the moment she arrived. We can't thank everyone at Grosvenor Garden enough. All of our family are so grateful to all the staff there. From the early days of supporting us as a family with their invaluable advice and guidance, to moving heaven and earth to ensure that mum could have a place with them, through to the last few months, where they ensured that mum was surrounded by love and could see out her days in such a peaceful and dignified way.

Mum, you were the most special person to so many people, an amazing wife to our lovely dad, your Bill. Our lovely mum, a loving and such thoughtful grandma and she would have been the most amazing great grandma to Lando. Thank you, mum, for giving me the family we have, especially for my four siblings, who in the tough times we have had, have all pulled through. You taught them well mum and we love you for everything. God bless."

Thank you, Peter and Christine, for writing such a beautiful Eulogy and for your willingness to share it with the wider parish and friends.

With the lifting of some travel restrictions, Werbies have been spreading their wings a little. Here's Brian and Kim Burns in their beloved Lourdes to celebrate their 36th Wedding Anniversary, attending Mass in the Basilica Crypt and lighting a candle for all of us Werbies back home. Thanks, Brian and Kim - and many congratulations on 36 years and never a cross word!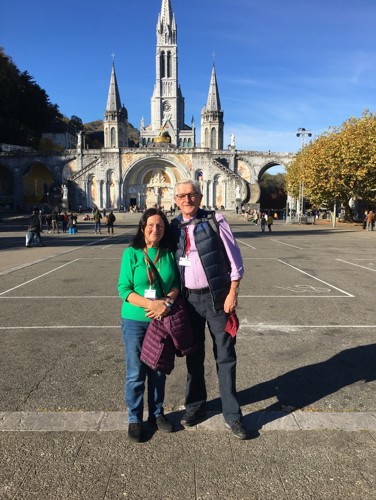 They're not the only ones making it down to the Pyrenees: Paul Woodbury, Anne Spencer's nephew, sent us this lovely picture and message: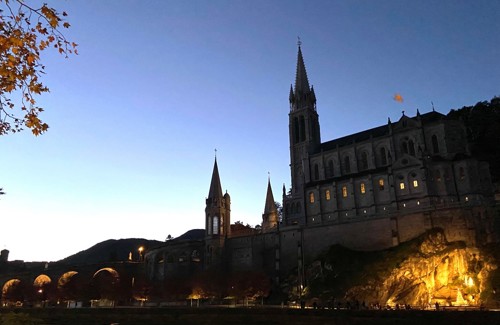 Good morning, Fr. Paul

Another business trip to northern Spain and I was lucky enough to shoot across the Pyrenees for a night in Lourdes last night.

It's 8.00 am here and this is the magnificent sunrise over the Basilica and Holy Shrine.

Best regards

Paul

Business trip? Pyrenees? Pur-leeeeeeeze, Paul! Do we look stupid?

Last Sunday evening was a super CathSoc Balloon Debate Night, seven Superheroes in the Balloon. It's rapidly losing height over the ocean, so clearly someone has to be chucked overboard. Each of us had to make out a case for it's not being me: Captain Tom Moore, the Pope, the first King of Portugal, King Albert of the Belgians, Thor, Spiderman, and Jerry of Tom and Jerry fame. Thor went first, followed by Captain Tom. Still losing height, it had to be King Albert, bless him. That left Spiderman, Jerry, the first King of Portugal and the Pope. Finally, it was just the Pope and Spiderman. Two undeniable Super-heroes, but one of them had to go… being a good CathSoc, it was three votes for the Pope to leave and four for Spiderman, so Papa Francisco lives to fight another day! And who was FP's Super-hero, do I hear you ask? It was no less than…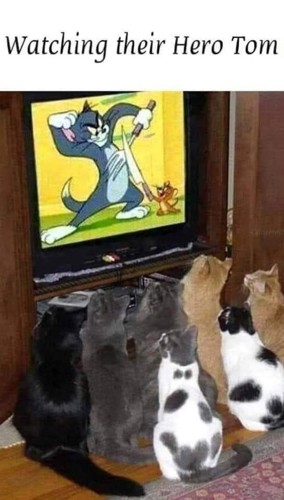 May God bless you all, two-footed and four-footed Werbies alike,

Fr Paul
---
Saturday 23rd October 2021
Great joy last Saturday lunchtime to baptise Liam, the third child of Michael and Hiromi Teague, and third grandchild for the Chief Coroner and his long-suffering wife, Helen. Michael and Hiromi have made the Herculean transition from life in Tokyo to that of Chester, the two elder children (Sean and Mila) now well-settled into St Werburgh's and St Columba's Primary School. We've been waiting for Liam's Baptism for some little while now, in common with so many other children, so additionally good finally to welcome him into the Church. He looks to be just as much a personality as his elder brother and sister! I could chat to Sean about trains all day.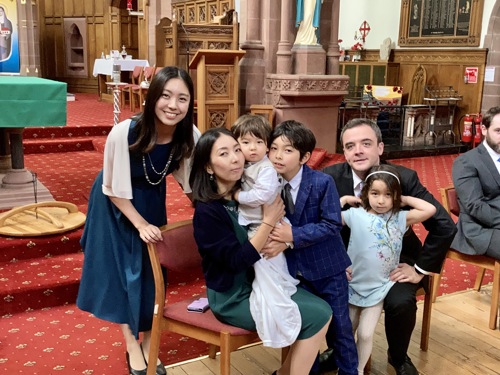 Lovely catch up in the evening with Graham and Anna Shaw, my honorary Bro and Sis-in-Law, who left Christ Church in Newton six weeks ago to begin their new life back home in Surrey. They too have three children, roughly the same ages as the Teagues, and have had the challenge of settling them into local schools. Thank heavens, all going well. Staying with Graham's mum and dad in Godalming for the time being but have their eyes on a great house in the centre of Guildford. As long as it has a guest room for FP! This weekend was just solid sorting of the house in Black Diamond Park, chucking, out, chucking out and more chucking out, ready for the removal men to descend in about a month's time. They are both on great form, and it was a total pleasure and relief to me to see how well the transition from one world to the other had gone. Well done, Bro!
Numbers last Sunday at Mass continued the steady and welcome upward trend: 48 on Saturday evening, 130 at 9.00 am, 143 at 10.45 and 78 on Sunday Evening. Totals over the last four weeks now look like this:
25/26 September 369
2/3 October 372
9/10 October 380
16/17 October 399
Sunday evening was CathSoc's ever popular Shared Table Supper, welcoming Wrinklies old and new to join the Students. Everyone has to bring a dish, the only stipulation being that it has to be home-made and can't be bought from the shops. I always love pulling out the Dining Room table to its full extent, seating twenty in total, hoping whoever bought or made that incredible table in 1875 would be pleased it was still be used to the full. Here it is, waiting for the hordes to descend: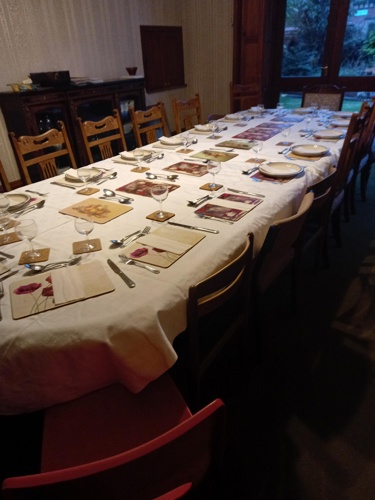 It looks smashing, doesn't it? And here it with said hordes in mid-mouthful: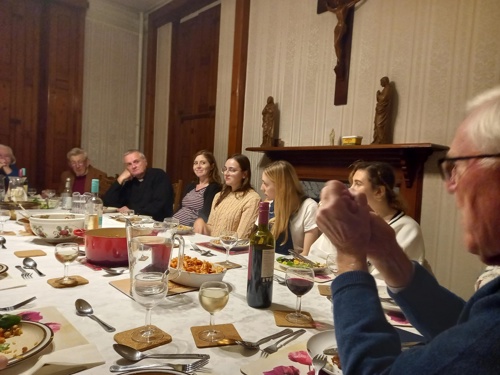 I'll do the Caption Competition before you lot do! What's FP saying? "If someone doesn't pass that bottle of red wine down here fairly quickly…" You can read him like a book, can't you? And this next one is surely "I'm still waiting…"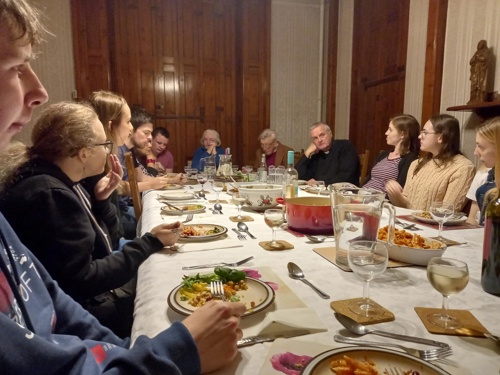 Talking of Japan and the Teagues, really good to hear from our old friend Lionel Dumont in the week, out there working for Airbus but still missing the Werbies:
I am fine and still in Japan. We have just had a state of emergency lifted and was able to attend Mass today and extremely delighted for it. Really difficult for the industry at the moment but I am thankful for God's graces and that I have a job. Hopefully it will start to pick up soon. I am not sure what God's plan are for me next and I will keep you posted.

Please take care and love from our family to you and all at St Werburgh's.

Lots of love,

Lionel
I know he'd love to hear from any Werbies that remember him. The email address is lajdumont@hotmail.com
Monday evening saw me back up in my old parish, St Luke's Bebington, to join the celebrations to mark their Parish Priest, Canon Paschal Byrne's Retirement, at the amazing age of 84. It was lovely seeing so many old parishioners again. St Luke's really is a remarkable Parish, its strength rather than its weakness being that it doesn't have a church, and so needs to build community with the bricks and mortar that really matter – friendship and teamwork. And they're building materials that will never decay or be demolished.
With Paschal's retirement, St Luke's will now be looked after by Fr Bernard Forshaw from St John's New Ferry. And here we all are, at the end of a lovely evening in the Lever Club in Port Sunlight: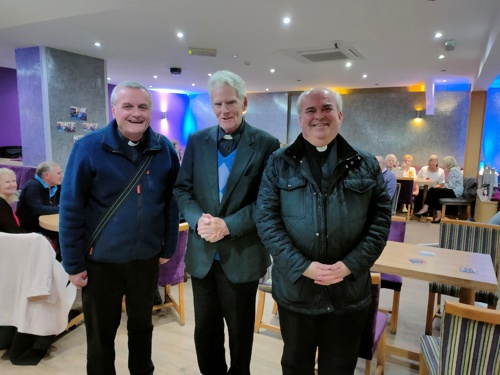 Those trademark Pringle sweaters!!
Tuesday I was over in St Helen's for the Requiem Mass of Georgina, Joan Turner's sister, at St Mary Immaculate, the original Catholic Church in St Helen's.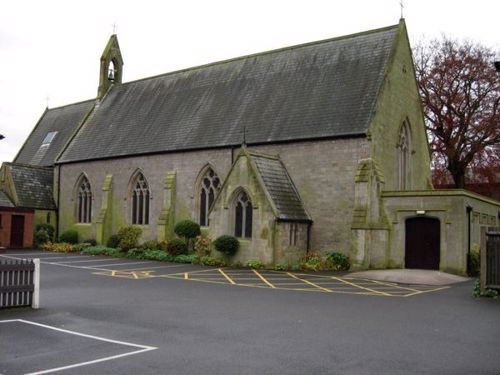 This is from the Parish Website:
A Catholic mission was established in 1674 and the first chapel built in 1752. The present church was built in 1844-5 from designs by Weightman & Hadfield. It stands on land which formerly belonged to the Orrells, a Catholic colliery-owning family, whose red brick house, known as Blackbrook House, still stands a short way from the church. In the mid-nineteenth century the house became a convent for the Sisters of Mercy, who built the Blackbrook House Industrial School attached to the former mansion. The school building was built in 1903-4 from designs by Pugin & Pugin.
If it looks 1840-ish from the outside it's absolutely that period when you go inside: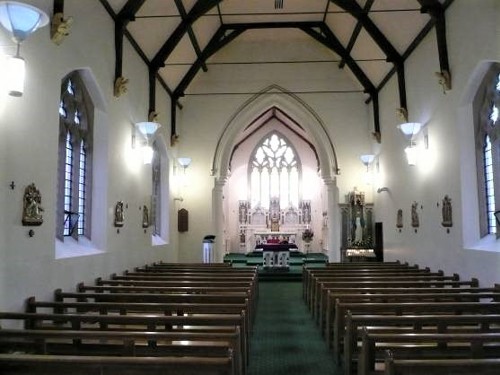 The Parish Priest, Fr Dooley, couldn't have made me more welcome, and celebrated a beautiful Mass for Georgina. I asked him afterwards how long he'd been there: 31 years was the answer! "The Archbishop thinks I'm dead!" he joked. When's retirement? "Who knows? I'm 79 now…" He looked a good ten years younger. After the interment, he was off to play his first game of squash for eighteen months. Canon Paschal at 84, Fr Dooley at 79 – good on you, both!
Deanery Conference on Thursday saw us gathered in the back sitting room, which is remarkably spacious when the table is placed in the middle and the chairs gathered round the sides. Here's the Agenda: I'll send you the Minutes when they're written up.
Ellesmere Port and Chester Deanery: Deanery Conference
Thursday 21st October 2021: 10.30 am: St Werburgh's
AGENDA
1. Opening Prayer
2. Welcomes and Apologies
3. Meet the Deanery:
Ellesmere Port and Hooton: Frs Edmund and Humphrey; Deacon Paul
St Clare's Chester: Fr Emeka
St Francis, Chester: Bros Jinson and Piotr; Deacon Peter
St Columba's and St Teresa's Chester: Frs James and William; Deacons Lawrence and Tom
Spiritans: Frs Jude and Chima
St Werburgh's Chester: Frs Neill and Paul
4. Deanery Conferences – Our Expectations
5. Bishop's Items:
Keeping Sunday Holy
Imminent Threat to the Sanctity of Human Life
Journeying Together – 2023 International Synod
The Care of Creation – Cop26
Caring Safely for others
6. Hospital Rota
7. Our High Schools
8. Fr Edmund's Induction – Wednesday 8th December, 7.00 pm
9. Our Social Life Together as a Deanery
10. Advent and Christmas – Shared Events?
11. Any Other Business
12. Lunch
Good old Harker's Arms down on the Canal did us a superb lunch, and then, for me, it was straight into the High School to continue working with the Upper Sixth on their University Applications, the clock ticking down to the 15th December deadline for sending them in.
And so to today, Friday, and a wonderful celebration of Pauline Hackett's extraordinary life and faith. The packed church said it all. Amazingly, and thanks to the family, Bill was able to join us, which made the occasion perfect. We also welcomed an old friend of Pauline's, Fr Paul Standish. Paul and Pauline worked closely together here in St Werburgh's twenty years ago and have remained fast friends ever since. Pauline was like that. She was a worker first and last and if you could work with her, you had a friend for life. Celia worked with her every Thursday morning, for example, on those incredible Holy Communion rounds and then Elizabeth took over and fitted into Celia's shoes so beautifully naturally.
Two of Pauline and Bill's five children, Peter and Christine delivered an excellent Eulogy, which I'm hoping to be able to share with all of you who weren't able to be with us today. Jean Aslet has lent me a wonderful wallet of photos of Pauline and so many of you from thirty years ago. Expect to see a number of them on this Blog and in the Photo of the Week slot on the Newsletter in the weeks ahead!
Finally, many thanks to Tilly from Tilston for sending in this Prayer which she noticed on the Jesuit Website:
Prayer for a New Normal

The World as we knew it is gone, and for what feels like such a long time we have experienced so much hardship during this Pandemic. As we prepare to walk into the future we pray for the "new normal" to come. May our hearts be unified in You more than ever. May the tender moments of seeing someone again in person be all the more rich and treasured. May the reunions, interactions, and moments ahead be held in such intentionality and may we turn to You in sincere gratitude. Help us to come out of this Pandemic better, not bitter. Help us to become more considerate of others, more mindful of how we can help one another, and how we can serve You and Your children well. We thank You that no matter how dark the night may get, there is the hope of the dawn to come.
Amen to that!
May God bless you all,
Fr Paul
---
Saturday 16th October 2021

I need to settle into this new routine, and a meeting with the Tekkies in the week helped to fix for all of us that Saturday Morning would be the ideal time for sending the new Weekly Blog over to them, to do whatever magic it is that uploads it onto the website.

Picking up from last week's drivel, I left you all with bated breath and panting hearts [shome mishtake shurely? Ed] at Saturday lunchtime. Two Baptisms then, the Flannagans at 12.00 noon and the Collins' at 1.00 pm. A moment of panic when I saw our old friends from Rowton Mass, Tony and Leslie Collins, sitting there, large as life, at 11.45. I haven't made a mistake, have I, and got the times wrong? Fortunately, no: they were friends of the Flannagan family, and wanted to sit through their Baptism first before their own an hour later. Fine, great to see you – the only snag being that I have just one set of Baptism jokes, as they were about to discover…

Saturday afternoon was a very pleasant catch-up with Jack and Jessica, marrying here on 4th November. Jack was seven when I first met him in 1997 when I arrived at St Luke's Bebington. He was a lovely little boy, with his two younger sisters and smashing mum and dad, all pillars of the Parish. I don't know whether to be surprised or just delighted that twenty-four years later, he has grown into a lovely young man, with an equally super young lady in his life. I'm thrilled skinny to be marrying them both here, their home now down in Crystal Palace in South London. It's the bride's prerogative, of course, to choose where and how to marry, but delighted they want to come back to Cheshire to tie the knot, and that they asked yours truly to do the bizz.

Numbers last Sunday continue to show that steady increase I was hoping for. Three weeks ago, it was 369, then 372 a fortnight ago, and up to 380 last week. Another couple of Baptisms at 1.00 and 1.30 pm, and then a chance to settle down with a sandwich and Elizabeth Gaskell's North and South, a powerful novel which first appeared in Charles Dickens's periodical Household Words, in weekly parts, September 1854 to January 1855. Its immediate predecessor was Dickens's own Hard Times, both novels set in the industrial north and focusing on labour relations in the cotton industry.

Talking of slave labour conditions in the industrial north, time on Tuesday to let our two Tekkies out of their basement for a short celebration of all at they've done for us in the last twenty months. I don't begin to understand what's involved in uploading the blog every day. I volunteered last Christmas to do it myself if it could be explained to me in words of one syllable. Their reaction was strongly worded: "You leave the blessed thing alone! If you start trying to do it yourself, you'll gum up the entire works. Pain as it is for us to have to do it every day, we'd rather do it ourselves, qualified tekkies, highly trained experts, than have some half-witted priesty-person interfering." OK. Fine, sorry I asked. But not sorry. Know where I'm not wanted.

So, Tekkie One (Brian McMahon) and Tekkie Two (Pete Penson), a thousand thanks to you both for looking after the blog every day for the past twenty months. It's meant not just the work but actually being there every tea-time to press the buttons, click the mouse, do whatever it is you do to bring to my adoring public this cascade of golden prose. [Shurely 'Usual load of old rubbish'? Ed]

Here's a lovely photo from the Year Seven Welcome Mass at the Catholic High School last Friday: three generations of Kenyons! John is our excellent Club Steward, as you all know: on the other side, his son Niall, and between them, Niall's son Finlay. As well as starting all his High School lessons, Finlay is also a dab hand, I gather, at pulling pints and mixing cocktails. It's never too early to learn!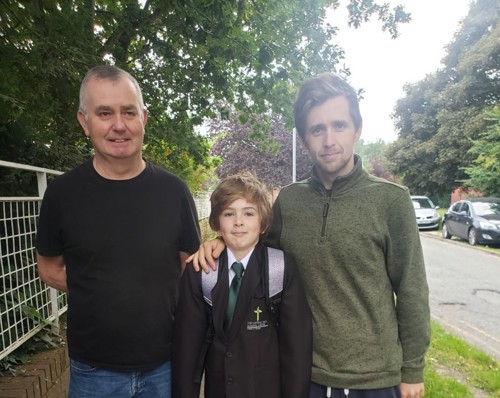 Great to hear from our dear friend Lionel Dumont in the week, out in Japan but still missing Chester:


Dear Fr. Paul,

I hope you are doing well and keeping safe. It has been some time since I last wrote and I apologise for the delay.

How are you keeping? I have read that Masses are back and restrictions are slowly being lifted which must mean some normalcy returning. Will you need to take a booster shot? I am all fully vaccinated now so a positive on that front.

I am fine and still in Japan. We have just had a state of emergency lifted and was able to attend Mass today and extremely delighted for it. Really difficult for the industry at the moment but I am thankful for God's graces and that I have a job. Hopefully it will start to pick up soon. I am not sure what God's plan are for me next and I will keep you posted.

Please take care and love from our family to you and all at St Werburgh's.

Lots of love,
Lionel


Booster shot? Moi? How very dare he – I'm nowhere near old enough…

And great to hear that Ed Black completed his London Marathon last weekend, with his proud parents Simon and Consilia to watch him over the finishing line. His time was 3:48:23. (Three days, forty-eight hours and twenty-three minutes? – fantastic!) And a total of £2,800 raised. Well done, Ed!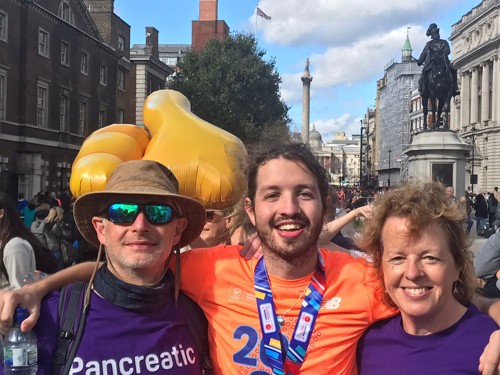 Finally, our own John O'Sullivan has done another excellent edition of the SVP Prisons Newsletter, and here it is:

https://cdandpltd.co.uk/wwp-news/SVP-WWP-Newsheet-Autumn2021.pdf

May God bless you all,

Fr Paul

---
Sunday 10th October 2021
And so the Blog goes weekly - and not a moment too soon, judging by how these days are filling up. I will always have some affection for the days of Lockdown, March 2020 to July 2021, for the space they gave for writing blogs, reading books, going on dreamy walks along the riverbank or round the racecourse. But there's no mistaking that those days are well and truly over.
Total numbers last Sunday were slightly up on the week before, 372 against 369. The Chester Marathon (Triathlon? Doodathlon? Who knows?) certainly impacted the 10.45 numbers, and the weary runners were still dragging their poor bodies past the church when the two Baptisms were under way at 1.00 pm and 1.30 pm. Arielle at 1.00 was the first child of Ian and Gemma, married here four years ago; and Maxwell at 1.30 was another grandchild for the eternally youthful Trudy Jones from Waverton. So good to see husband Bob there, looking good after his recent medical treatment. Well done, Bob!
10.45 Mass witnessed the Reception into the Church of Shaun Hingston, the young man from Saltney who's been coming for weekly instruction since February. A joy to welcome him into the Werbies Family, with his mother brother and great-grandmother: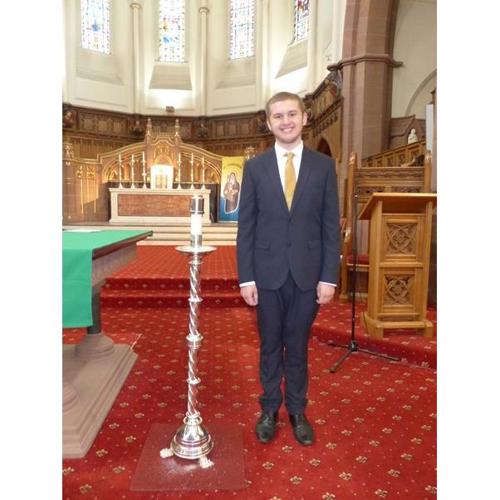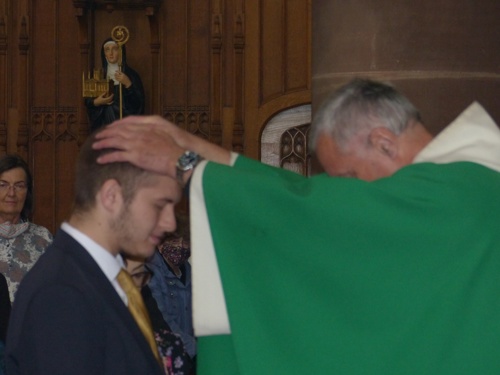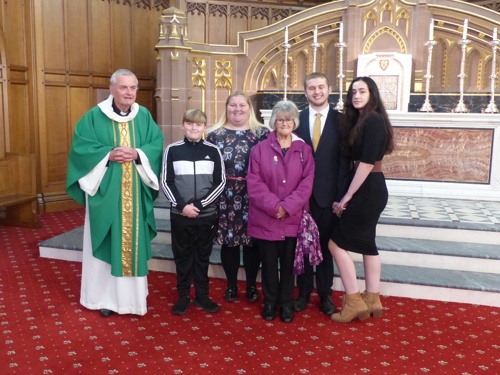 2.30 pm when I eventually lock up, a sandwich and a mug of coffee, and there isn't a lot of time before thinking about opening up for the 6.00 pm Mass. Followed, as always in Term Time, by CathSoc. This was our second session, and a "Meet the Wrinklies" evening, greeting our old friends, David, Jane, Geoff and Jill, Eileen not able to be with us – and welcoming new Wrinklies, Lal, Bernice, Paul and Natasha. Lal needs no introduction, and great to have her on board, having both her children either through University or still there. Nor does Bernice need any intro. But here's a quiz question and a half. I myself wouldn't have had a clue: what subject did Lal read at University?
Paul and Natasha met at Liverpool University CathSoc and married four years ago. Delighted to hear on Sunday that they are now expecting their first child. Congratulations, both! And when Junior appears, he or she will be the youngest Wrinklie by a factor of at least 82 years… That's Natasha on the far left: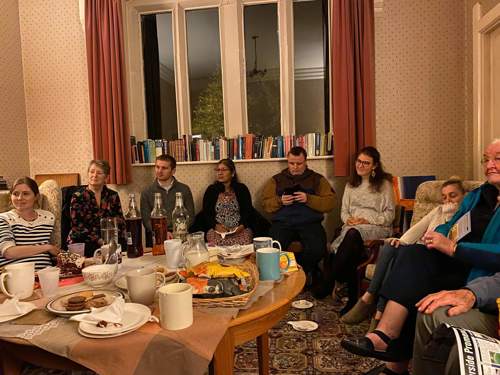 David and Jane, in the photo below, met at London University Catholic Chaplaincy in 1955!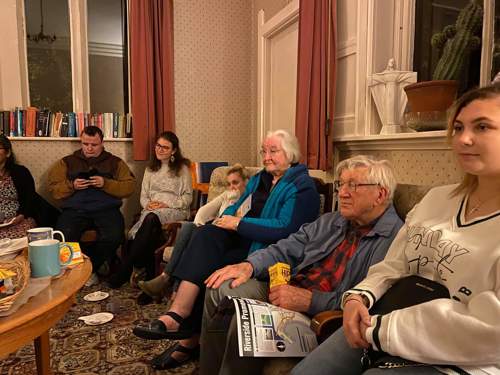 Here's a profile shot of Madame Prezzie, with a pensive Geoff next door, then the two Pauls – could be brothers? – and Bernice. Thanks one and all for your support for our Students here in Chester.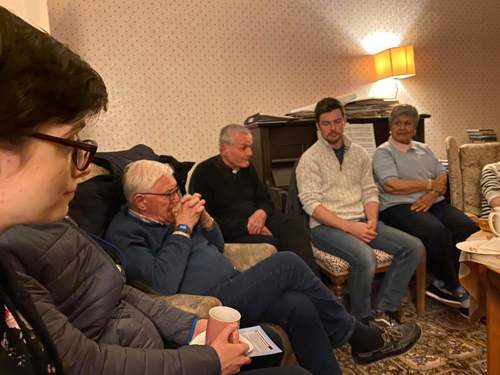 Monday morning was Taskforce as usual, then into Abbey Gate College for another session with their two Oxbridge hopefuls, a mathematician and a musician, before heading off to St Francis to join all the Friars for lunch for their Feast Day, St Francis of Assisi. Very sorry to hear news that Fr Adrian had had a fall and broken his hip, now in the Countess, awaiting surgery. We all send him our warmest best wishes for a speedy recovery. Bros Jinson, Michael, Piotr and Jim allowed me to join them for an excellent lunch, cooked by Bro Michael, before heading into the High School for a meeting with the School Chaplain.
Tuesday was Peter Thornton's Requiem Mass, Mary being joined by other members of their family and many, many Chester friends of Peter and Mary. Lots of non-Catholics – you could tell by how well the hymns were sung. Zoom lesson with Bro Edmund from Ampleforth afterwards and time to get ready with Louise for the First Holy Communion Launch Meeting. We had to cap numbers at 20, and we're sorry for those who contacted us after the deadline, but with such high numbers we regrettably had to ask them to think about next year instead. It will mean two groups, which is double the work for Louise and her team, for which we are all extremely grateful. A splendid group of parents gathered for the Launch at 6.30 pm, the majority of whom had already had children through the programme. It was a case of greeting a lot of old friends as well as a few new ones. Welcome, one and all!
Wednesday was Giuseppe Labella's Funeral, many of you remembering Giuseppe and Anna from their time running Mamma Mia restaurant here in Chester and then Labella's out in Kelsall. A full afternoon in our High School, meeting a young student who moved here from overseas, and missing out on her First Confession as a result, even though she made her First Holy Communion when she arrived here. No problems in fixing that one up! Then good sessions with the Year 11 and Year 12 Oxbridge potentials, and a chance to work with our Year 13 mathematician on his Personal Statement, all Oxbridge applications due in by 15th October.
Thursday morning saw me up in Our Lady's Birkenhead for Tom Farrell's Requiem Mass. This was the Pro-Cathedral of the Diocese for some years. A very beautiful church, it is right in the North End, the Docks area of the town, and was almost destroyed in the bombing of the last war, the Parish Priest, Canon Tallon, and Housekeeper killed in one particularly deadly air raid: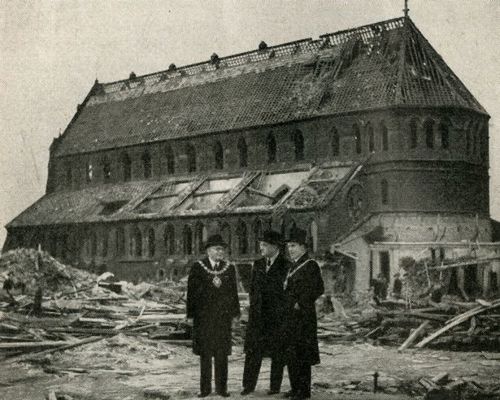 That same night, Wallasey Town Hall took a direct hit: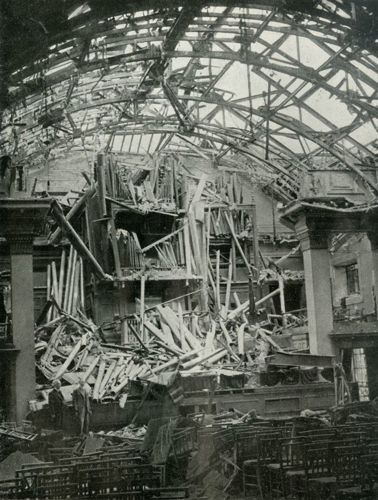 In case you're wondering that's the Organ totally destroyed. Cue our Thursday evening meeting, the re-Launch of the Choir, and an amazing twenty-two turning up, some new faces, some old, some positively ancient. It was a chance for our new Choir Leader, Tom Rozario to outline his ideas, and for everyone to contribute theirs, as we take the Choir forward into the next exciting chapter of its history. Here's Olive from Orford modelling her suggestion for the new Choir Vestments: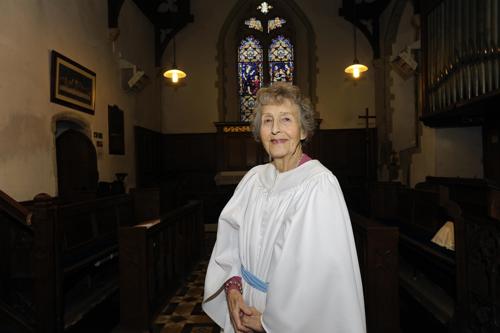 Friday morning was the Year Seven Welcome Mass at the High School, parishioners invited for the first time. Good to be over there with them all, and praying for these eleven-year-olds, that they'll have a much more normal education than has been possible any time in the last twenty months.
Straight from the High School to Reg, our 93-year-old potential convert, for Conversation II. Last week it was "In what sense is the Catholic Church the Church Christ founded, and in what sense is it not?" Today, "What does the Catholic Church mean by Authority, Tradition and Magisterium?" I gave Reg the big Catechism of the Catholic Church as a reference tool; blow me, he's read up to page 150 already!
Saturday morning was Berwyn Mass, and great to welcome two of our younger SVP members, Craig and Teresa, to join us. Chatting to Craig afterwards, he shared all my initial impressions, that these prisoners are quite different from what one might imagine, so much younger, so much nicer and more approachable, so much easier to engage in conversation, both during the Mass when we go round and ask everyone for their individual prayers and in the tea and coffee session afterwards.
Mind you, dressed in his tee-shirt and jeans, looking so young himself, and with the requisite amount of designer stubble, I had to remind Craig to make sure they let him out afterwards…
Next Blog: Saturday 16th October!
May God bless you all,
Fr Paul