New display panel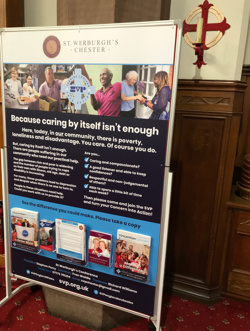 Please, join us
St Werburgh's SVP Conference are always on the look out for new Members and supporters.  This week the Conference unveiled a new display panel, located in the body of the Church (pictured), which is intended to promote its work, create some interest and (hopefully) to attract some new Members.
 The panel asks:
Are you:
Considerate and compassionate?
A good listener and able to keep confidences?
Respectful and non-judgemental of others?
Able to spare a little bit of time each week?
If you think this is you then why not consider joining us in our work?
 For further information about the St Werburgh's SVP Conference please call Stephen Perry, President, on telephone 07775  781204 or email us on svpchester@gmail.com
We'd love to hear from you!
20 October 2018