SVP Guests Enjoy Afternoon Tea at the Catholic High School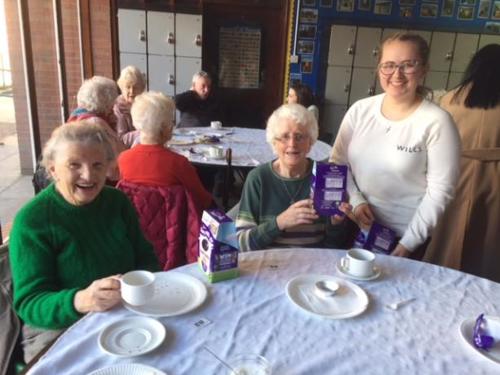 Elderly and house bound guests of the SVP enjoyed a very warm welcome and an entertaining afternoon at the Catholic High School on Wednesday 7th March.
Although the recent cold weather had made it difficult for all of our guests to attend, those that were able to make it had an excellent time.
As always the CHS were very generous with their provision of tea and cakes, which were all the more enjoyable in the company of many young students who kindly gave up their time to sit and chat with the SVP guests.
After tea Bingo provided further excitement, followed by a raffle with generous prizes for everyone. The generosity of the CHS team extended even further as everyone present was given an Easter egg to take home and enjoy over the holiday period.
The afternoon finished with some excellent musical entertainment provided by the CHS Chaplain Anthony Hunt and the Headmaster John Murray, singing well known songs that everyone was able to recognise and join in.