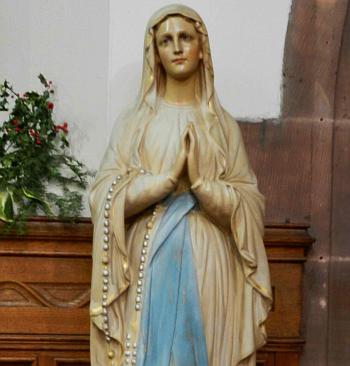 Our Lady of the Rosary
While the statue of Mary with Child on the sanctuary pillar emphasises her earthly role as mother and protector of Jesus, this statue of Our Lady attests to her more mystical roles as Queen of Heaven and Mother of the Church. Nevertheless, it is a gentle image: Mary is modestly clothed in ethereal blue, and she carries a set of rosary beads.
Salve Regina
Hail, holy Queen, Mother of mercy.
Hail, our life, our sweetness, and our hope!
To thee do we cry, poor banished children of Eve;
To thee do we send up our sighs,
mourning and weeping in this vale of tears.
Turn then, most gracious advocate,
thine eyes of mercy toward us.
And after this our exile show unto us
the blessed fruit of thy womb, Jesus.
O clement, O loving, O sweet Virgin Mary.

V. Pray for us, O holy Mother of God.
R. That we may be made worthy of the promises of Christ.
AMEN