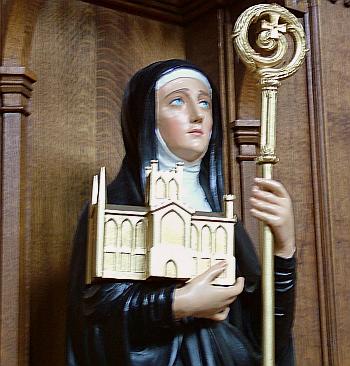 St Werburgh
Saint Werburgh is patron of the City of Chester and the parish church of St Werburgh in the city centre. She was an Anglo-Saxon princess, born ca 650 AD, who became a nun at the convent founded by her great aunt, St Etheldreda. From there she conducted an active Christian mission, founding monastic houses and nunneries and exercising authority over them as Abbess. She was renowned for her good and holy life and stories of many spiritual healings and miracles are associated with her. The most famous legend relates to the story of a goose that St Werburgh restored to life. In the Middle Ages, the badge of a basket of geese was adopted as proof of having taken a pilgrimage to the Shrine of St Werburgh. St Werburgh died ca 699 AD and was buried at Hanbury in Staffordshire.
The Translation of St Werburgh's Relics to Chester
At the end of the ninth century, St Werburgh's relics were brought from Hanbury to Chester for safety from the Danes. The relics were placed in a church on the site of the present Cathedral, and the church was named in her honour, where it became a great place of pilgrimage. Today, you can see St Werburgh's shrine, which dates from ca 1340, in the Lady Chapel of Chester Cathedral.
Prayer at the Shrine of St Werburgh
Lord, Your servant Werburgh turned her back on wealth, privilege and power and entered into a closer union with You.
Help me to reject all the false gods of self-interest, affluence and personal power to serve you and my fellow human beings.
Lord, Werburgh grew in holiness and became a shining light for Your presence and grace.
Help me through prayer to grow in Your knowledge and love, that I too may shine in the world to Your glory.
Lord, Werburgh was close to You in Your creation. Help me to respect and reverence all that You have made and to work in harmony with Your creative will.
Lord, Werburgh became a beacon of hope, of healing, and of renewal to your people who still come to honour her example at her shrine.
May I find this day wholeness of mind, body and spirit and a new resolution to serve You by bringing Your love to others.
This I ask in the name of our Lord, Jesus Christ.
AMEN