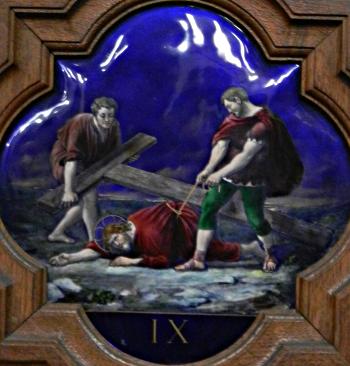 Stations of the Cross. IX: Jesus falls the third time
For the third and final time Jesus falls under the weight of the Cross. Now his journey is almost at an end. Constantly knocked down by the physical abuse he has suffered and by the weariness of body and spirit, and yet raised again by his own fortitude, determination and the compassionate help of others, Jesus now approaches Calvary itself, the place where he will meet his father, the place where he will atone for all the sins of mankind.
The artist shows Jesus prostrate under the overwhelming weight of the Cross. Two of the guards struggle to help him to his feet. One takes the full weight of the Cross - and finds it difficult to move it aside to free the fallen Lord. The other tugs frantically at Jesus's garments. Jesus himself lies exhausted, arms limp along the ground, barely able to summon any strength to regain his footing.
---