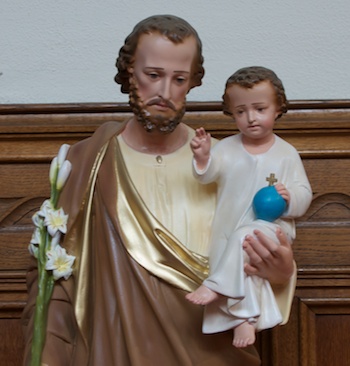 St Joseph and the Child Jesus
This statue of St Joseph was presented by the children and staff of the Parish Primary School in honour of Canon Joseph Chambers, Parish Priest from 1902 until 1924. It is inscribed to his memory as Manager of the School during those years.
Like the other statue of St Joseph flanking the sanctuary, this depicts the earthly father of Jesus as an artisan craftsman, garbed in the working dress of his time. But here the emphasis is on Joseph as father. He holds the infant Jesus on his left arm. The child holds an orb in token of his kingly nature, but extends a hand of blessing towards the world. Joseph's eyes are lowered, perhaps as a sign of humility and respect for the child born to save the world. But we may also read in his eyes and weary face the care and effort he has expended in providing a secure home for the Child, and his continuing sense of love and responsibility towards the family he has helped to protect and nurture.
The Feast Day celebrated in honour of Joseph as the husband of Mary is March 19th.
O St Joseph whose protection is so great, so strong,
so prompt before the Throne of God,
I place in you all my interests and desires.
O St Joseph do assist me by your powerful intercession
and obtain for me from your Divine Son
all spiritual blessings through Jesus Christ, Our Lord;
so that having engaged here below your Heavenly power
I may offer my Thanksgiving and Homage
to the most Loving of Fathers.
O St Joseph, I never weary contemplating you
and Jesus asleep in your arms.
I dare not approach while He reposes near your heart.
Press him in my name and kiss His fine Head for me,
and ask Him to return the Kiss when I draw my dying breath.
St Joseph, Patron of departing souls,
pray for us.
AMEN