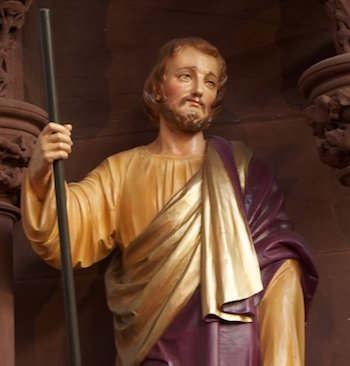 St Joseph the Carpenter
St Joseph, the husband of Mary and earthly father of Jesus, looks out from the left-hand column flanking the Church sanctuary. In this position he complements the statue of St Mary with the Child Jesus, the two groups of figures together constituting the Holy Family, and occupying this central position in the layout of the Church.
While Joseph's role as father is emphasised in a companion statue in the right aisle, here he is portrayed as a working man, traditionally a carpenter. In this role he is depicted as St Joseph the Worker, patron saint of all who labour, and his Feast Day is celebrated on May 1st.
In these dual roles of worker and father, we can see in his life many echoes from our own time of the anxieties, cares and duties that go with raising a family. A man of honour, he seeks first to separate quietly from Mary to spare her from scandal when he learns of her pregnancy. But he accepts the call from God to take her as his wife, understanding the mystical nature of the child that Mary will bear as the Saviour of the World. Required by decree to travel to Bethlehem to be registered in the census, he must seek emergency - and undignified - accommodation, in the form of a stable in which Mary gives birth. He learns soon after of the mortal danger from Herod, who plans to slay the recently born to eliminate the one who, according to prophecy, threatens to overthrow him. Joseph must lead his family into exile, to make some sort of living in Egypt until the threat has passed. When Jesus goes missing in Jerusalem at the age of twelve, both parents are filled with concern until he is found, safe and in vigorous discussion with the temple elders.
The Gospels do not speak of Joseph during Jesus's ministry and death, from which tradition concludes that he had died by that time. For this reason, he is also seen as a patron of the dying.