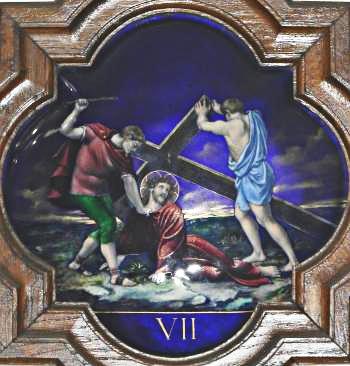 Stations of the Cross. VII: Jesus falls the second time
Despite the help of Simon of Cyrene and Veronica's supportive and tender ministrations, the exhausted Jesus falls again, at this half-way mark on his sorrowful road to Calvary.
Now the sky is even deeper in foreboding colour. Two of the guard are engaged in hauling Jesus back to his feet. One continues to wield the whip, convinced that the pain of torture will overcome the pain of weariness and the dead weight of the Cross. The other participant supports the fallen arm of the Cross - is he taking the weight to give Jesus a chance to regain his footing, or is he simply making it easier for his colleague to strike with the whip?
---
Oh Lord, as you struggle to your feet and fall again, you show us all how we must be prepared for pain upon pain, discomfort upon discomfort, unfairness upon unfairness. Help me to struggle to my feet again when I have been brought low, time and again.

Dear God, give me the gift of perseverence, so that I can keep going when everything seems to be against me.
---