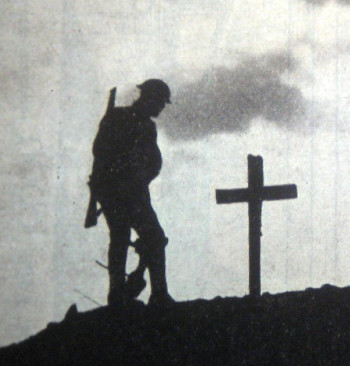 Edward James Airth
Pte 1st/5th Btn Durham Light Infantry 91498
Died: 27-05-1918 age 19
Edward James, the son of William Airth and his wife Margaret nee McAndrew was born on 17 February 1899 and baptised on 19 March 1899 at St Werburgh's. He was also confirmed there in 1909. His father William, who had been born near Bala, North Wales, was apprenticed to a baker in Watergate Street, Chester. His mother Margaret had been born at Holt, Denbighshire but often visited the house of her grandparents, who lived at Parry's Entry, Foregate Street, Chester. William eventually became a master baker and after his marriage to Margaret in Chester, in 1884 the Airth family lived first at 13 Railway Terrace in Chester, and later at 42 Water Tower View, Hoole.
Edward had four elder sisters, Mary Elizabeth, Margaret Ethel, Isobel Kathleen and May Victoria Sullivan. He also had three younger sisters, Edith Ann, Josephine and Dorothy.  His three brothers, one called Robert and two called William did not survive childhood. Robert and the first William died in infancy and the second William died in 1916 age 12. All the siblings were baptised at St Werburgh's and attended St Werburgh's Schools.
By September 1915 Edward was registered as an Assistant Postman in Chester - 188347. This was regarded at that time as a good job, being secure and with promotion prospects. Such jobs were difficult to procure and required a good reference both from school and from another well respected citizen. Edward would have been regarded by others as being fortunate.
Nevertheless Edward enlisted first with the Cheshire Regiment at Chester, on 15 January 1917, at the age of 17 years 11 months. He was placed on the Army Reserves List. On 23 March 1917 he was posted to the Glamorgan Yeomanry Cyclists. On 13 April 1918 he was sent with the British Expeditionary Force to France. Here he was transferred to the Welsh Regiment at Etaples and then on 19 April 1918 he was finally transferred to the Durham Light Infantry. On 27 May 918 he was reported missing presumed dead and later confirmed as such.
Edward's name is listed on the Soissons Memorial, Aisne, France.
It is also listed on the memorials in the Town Hall, Post Office, and St Werburgh's Church, Chester.
Edwards's medals consisted of the British War Medal and the Allied Victory Medal.
Edward's parents (Margaret died 1933 and William 1946) and three young brothers are buried in Overleigh Cemetery, Chester. Some descendants of Edward's sisters still live in the Chester area and some still attend St Werburgh's as their parish church.