Parish Boundaries and Neighbouring Parishes
St Werburgh's is one of the two city centre Catholic Parishes, along with St Francis in Grosvenor Street, which is near the Castle, Law Courts and Race Course end of town.
To the north, the dividing line between St Werburgh's and St Columba's is the railway line, running from the Brook Lane roundabout with Liverpool Road up to the large roundabout where Hoole Road joins the outer Ring Road and the approach road onto the M53, by the Double Tree Hilton Hotel.
To the east, St Werburgh's Parish extends out to Christleton, Waverton and Rowton, and we have our Saturday Evening 6.00 pm Mass at the Rowton Methodist Chapel on Moor Lane, just off the A41, 1.8 miles from the Sainsbury's Roundabout.
To the west, we border St Francis along Northgate, Frodsham Street, St John Street, the ancient Old Dee Bridge over the river, and then along Hartington Street: all to the east is St Werburgh's and to the west, St Francis.
To the south, we stretch right down into rural Cheshire.
In other words, we are a classic "cheese wedge" parish, with the church right up in the top corner, and then spreading out further and further as we head away from the church and the city centre and out into the country.
From Autumn 2012 onwards, Tattenhall and Farndon (previously both Mass Centres served from Malpas) reverted to being part of St Werburgh's Parish, where Malpas itself became part of St George's Whitchurch
---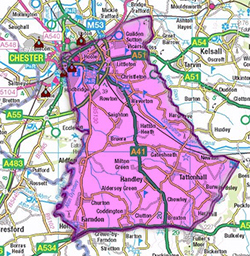 Click here for large image

---