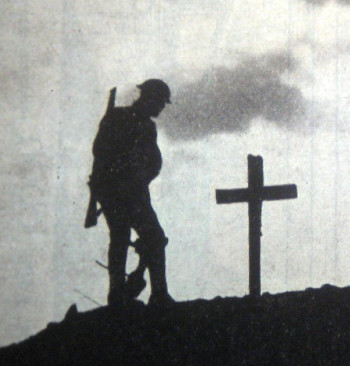 George Henry Anderson
Sapper Royal Field Artillery, (T) 1254, Royal Engineers WR/193308
Died: 17-12-1918 age 22
George was born on 5 August 1896, the son of George Cornelius Anderson and his wife Emma nee Pritchard, who had both been born in Chester. George was the eldest of their four children, one of whom, Albert Edward, had died as a child. George Cornelius had been baptised at St Werburgh's as had all his siblings. In the 1901 census George lives with his parents at 19 Charles Street, Hoole, and in 1911 the parents are living at 5 Thomas Street, with two of George Cornelius' brothers, Christopher and Albert, who are unmarried. George Cornelius was employed as a stationary engine driver, in Chester. None of their three children, including George, were at home.
George's enlistment papers have not survived and so we have no details of his army service. His medal roll card shows that he did not serve abroad before 1915. It also indicates that he was transferred to the Railway Operating Division of the Royal Engineers. George died on 17 December 1918 and was buried in the Military Cemetery at Kantara, Egypt. He was entitled to receive the British War Medal and the Allied Victory Medal.
In the early part of the First World War, Kantara was an important point in the defence of Suez against Turkish attacks and marked the starting point of the new railway east towards Sinai and Palestine, begun in January 1916. Kantara developed into a major base and hospital centre and the cemetery was begun in February 1916 for burials from the various hospitals, continuing in use until late 1920. After the Armistice, the cemetery was more than doubled in size when graves were brought in from other cemeteries and desert battlefields, notably those at Rumani, Qatia, El Arish and Rafa.