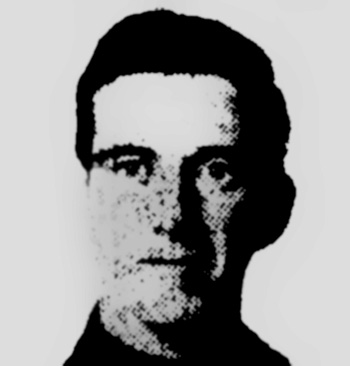 George Bartlett
Sgt 8th Btn B Company, King's Own Royal Lancaster Regiment 25629
Died: 08-04-1917 age 21
His parents, George and Margaret nee Broderick, were married at St Werburgh's on 22 June 1889. George had been born in Nottingham and was working as a railway worker. Margaret had been born in Ireland.
George was one of the middle children of the family who were brought up at 2 Reservoir Terrace, Boughton. He was born on 26 March 1896 and baptised on 26 April at St Werburgh's. He was later confirmed there, together with his brother Thomas, in 1905. His elder siblings Joseph, Thomas, Mary and John, and younger sister Annie were all baptised there. Sadly John died age one year and was buried from St Werburgh's, in June 1895. Together with his siblings, George later attended the St Werburgh's Schools. On leaving school George obtained an apprenticeship with a cabinet maker. His elder brother Thomas had gained a pupil teacher scholarship in 1905. Thomas later received Certified Teacher status and shortly afterwards enlisted, age 21. George too enlisted in 1914, age 18. In 1916, he married Edith Jane Williams in Shropshire. George served with the Expeditionary Force in France and Flanders from August 1916.
Unfortunately George's army records have not survived but certain information is known. George was killed by the bursting of a shell during the Battle of Arras (8 April 1917). His last minutes are described by his elder brother Pte Thomas Bartlett, in the De Ruvigny Roll of Honour.
"At about 6.10pm on Easter Sunday, George and his company were assembling to go into the trenches. While they were assembling, a German shell exploded in the cellar (where they had been billeted), killing and wounding several of George's companions. He immediately left the assembly and went down ... to help the wounded. He rescued one man and carried him up into the open streets. While he was carrying him a second shell burst in the street. It killed poor George instantly. The wounded man, however, received no additional injury."
Sgt George Bartlett was reported killed in action in the May 1917 issue of St Werburgh's Parish Magazine and a longer description of the circumstances was printed in the Chester Chronicle of 19 and 26 May 1917.
George was buried in Grave P. 27 at Faubourg d'Amiens Cemetery, Arras, France, Catholic rites being performed. His name is also recorded on the WW1 Memorials in the Town Hall and St Werburgh's Church, Chester.
He was entitled to receive the Allied Victory Medal and British War Medal.