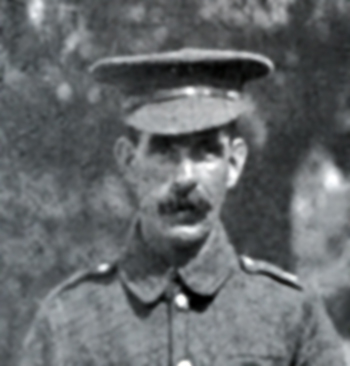 Hugh Beatty
Pte 1/5th Btn Cheshire Regiment 3502
Died: 21-09-1916 age 39
Hugh was the son of James and Mary Beatty nee McAndrew, of Chester, who were married at the old Catholic Chapel in Queen Street, Chester, on 20 October 1869. Hugh was born in Chester on 16 November and baptised at St Werburgh's on 26th November 1876. He was later confirmed there in 1887.
Hugh was brought up in the Boughton area of Chester, with his eleven siblings. The Beatty family were one of the most loyal and active families in the parish of St Werburgh's. As time went on different members of the family and their spouses took an active part in all parish activities, organisations and societies. The family lived originally at 43 Parry's Entry, Foregate, but by 1901 had moved to 29 Victor Street.
When Hugh left school he became a bricklayer and worked for John Mayers and Son of Canal Side, Chester. He was also a well-known local amateur footballer. Hugh married Ada Baxter in Prestwich, Lancashire, in September 1902 and they lived in Steam Mill Street and later at 26 Canal Side, Boughton. The couple had six children. The eldest Mary Ann was born in 1903 but sadly died in 1904. All the children were baptised at St Werburgh's.
Hugh's four-figure number denotes that he is likely to have completed a short service with the Army before the start of the Great War and wa sthen possibly assigned to the Reserves. He would then have been recalled, or volunteered, at the outbreak of war.
Hugh痴 enlistment papers have not survived, so little detail is known of his military service. However, we can deduce that he was involved in the gruelling action on the River Somme, France, in the autumn of 1916. His date of death indicates that he was probably part of D company, which was completing work on building strong points to Gropi trench, one of the first line fire trenches. They had come under heavy enemy fire throughout their work. Having completed the work, the men were forming up when a large shell burst in the midst of the platoon. Hugh was probably one of the six who died. Seven more were wounded, of which three died later.
Pte Hugh Beatty was reported as dead in the November 1916 issue of St Werburgh's Parish Magazine. Ada Beatty nee Baxter brought up her family in Chester and many of their descendants still live in Chester and the North-West.
Hugh was one of three brothers killed whilst on active service during WW1. Because of this tragic loss, his mother, Mary, was chosen to participate in the ceremony to unveil the War Memorial on the green of Chester Cathedral, on 24 May 1922. Mrs J. Sheriff Roberts, who had similarly lost three sons, also participated in this unveiling ceremony. Mary Beatty died a year later age 72. She apparently never reconciled herself to the fact that another son, James, who had also died in 1916, whilst doing munitions related work, never got the official recognition which came to his three brothers. Their father, James, died a few months after his wife in December 1923.
Hugh's name is listed on the Memorial at Thiepval - Pier and Face 3C and 4A. It is also recorded, together with those of his two brothers, on the WW1 Memorials in the Town Hall and St Werburgh's Church, Chester. He was entitled to the British War Medal and Allied Victory Medal.