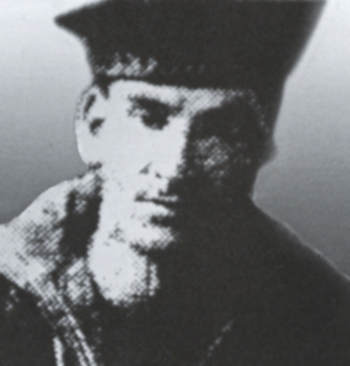 Peter Beatty
Leading Seaman SS 970 R.N.
Died: 23-07-1917 age 30
Peter was the son of James and Mary Beatty nee McAndrew of Chester, who were married at the old Catholic Chapel in Queen Street, Chester, on 20 October 1869. Peter was born on 25 July 1886 and baptised on 8 August 1886 at St Werburgh's Church, Chester. He was also later confirmed there in 1899.
Peter was brought up in the Boughton area of Chester, with his eleven siblings. The Beatty family were one of the most loyal and active families in the parish of St Werburgh's. As time passed most members of the family and their spouses took an active part in all parish activities, organisations and societies.
The family lived originally at 43 Parry's Entry, Foregate, but by 1901 had moved to 29 Victor Street. Peter left school at the age of 14 and worked as a gardener in Chester, probably at Dickson's Seeds in Newton-by-Chester. However, on 6 June 1905 he signed up for a period of 5 and 7 in the Royal Navy. This meant 5 years before the mast followed by 7 years in the Reserves. He spent 5 years service on 9 different ships before being transferred to the Royal Fleet Reserve at Devonport on 19 June 1910.
As a reservist Peter would have lived at home in Chester but done annual training with other Royal Fleet Reservists. So, in the 1911 census Peter is found living with his parents, four unmarried brothers and one unmarried sister, in the Beatty family home at 17 Victor Street. He is working as an hydraulic fitter. By 1913, when Peter acted as best man at the wedding of his younger brother John, the Beatty family had moved to 6 Beaconsfield Street. Peter's relatively untroubled life lasted until 13 July 1914, when he was called to serve on HMS Drake. In a period of leave he married 'the girl he left behind him', Alice McCleary, at St Werburgh's on 29 March 1915. The following year their daughter, Alice Mary, was born and was also baptised at St Werburgh's.
From 8 April to 6 December 1915 Peter served aboard HMS Excellent and from 17 December 1915 to 1 December 1916 he served aboard HMS President III. This was a land-based naval facility. On 2 December 1916 Peter was with a detachment from HMS President which was sent to SS Baysarua. This ship was anchored peacefully in New Orleans harbour when Peter fell overboard, caught his head on harbour masonry and drowned in a tragic accident, on 23 July 1917. Peter Beatty R.N. was recorded as having died at sea, in the October 1917 issue of St Werburgh's Parish Magazine. His effects were forwarded to his wife Alice who was then living at 27 Fosbrook Street, Chester. Alice Beatty nee McCleary brought up her child in Chester and Alice Mary Beatty later became a pupil at St Werburgh's School.
Peter was one of three brothers killed whilst on active service during WW1. Because of this tragic loss, his mother, Mary, was chosen to participate in the ceremony to unveil the War Memorial on the green of Chester Cathedral, on 24 May 1922. Mrs J. Sheriff Roberts, who had similarly lost three sons, also participated in this unveiling ceremony. Mary Beatty died a year later age 72. She apparently never reconciled herself to the fact that another son, James, who had died in 1916, whilst doing munitions related word, never got the official recognition which came to his three brothers. Their father, James, died a few months after his wife in December 1923.
Peter Beatty is buried in Greenwood Cemetery, New Orleans, USA and his name is listed on a Special Memorial there. It can also be found, together with those of his two brothers, on the WW1 Memorials in the Town Hall and in St Werburgh's Church, Chester. Peter was eligible for the Navy Star, British War Medal and Allied Victory Medal.