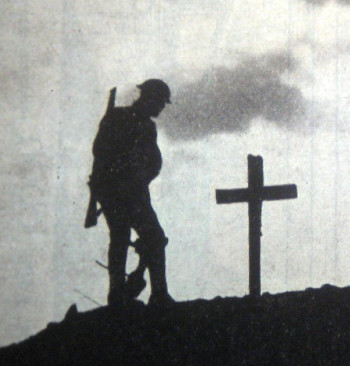 Walter Bird
Pte 12th Btn Cheshire Regiment 15307, Labour Corps 533783
Died: 12-06-1923 age 46
Walter was the son of Walter and Ann Bird nee King who had been married in the old Catholic Chapel on Queen Street on 11 February 1867. He was one of eleven siblings, Mary Ann, Thomas, Margaret, James, Ellen, Walter, William, Henry, Richard, John and George. Walter was born on 9 May 1877 and baptised on 27 May 1877 at St Werburgh's, as were all his siblings. The family grew up at 32 Boughton. Walter Snr was a miller's timekeeper and in the 1891 census Walter Jnr had just left school, age 13, and was working as a shop boy. In 1896, Walter Snr, who had latterly been working as an innkeeper in Foregate Street, Chester, died. His wife Ann died in 1908. Both are buried in Overleigh Cemetery, Chester.
On 26 May 1900 Walter married Elizabeth Hall at St Werburgh's. The couple lived at 18 Pitt Street, Newtown, and by 1911 they had four children, Walter, Nellie, Margaret and Henry. Two other children had sadly died. Also living with them were two of Walter's unmarried brothers, William and John. All three men were working as engineers on the railways. Two more children, William and George, were born to Walter and Elizabeth, in 1912 and 1914. William certainly attended St Werburgh's Schools and it is likely that his siblings also did.
In 1914 Walter enlisted with the Cheshire Regiment, at Chester. He enlisted for three years general service on 2 September (age according to enlistment papers of 34 years and 10 months). He had previously been working as a foundry labourer in Chester. On 6 September 1915 he embarked for France and on 28 October he was incorporated in the Mediterranean Expeditionary Force. Little of note is mentioned on his army papers except to state that Walter was transferred to the Labour Corps on 23rd March 1918. He was with the 22nd Company of the Labour Corps in Salonika from 7 November 1918 to 3 March 1919. On 4 March 1919 he was sent home.
On 9 March 1919 Walter was granted leave for 28 days, then was transferred to Class Z on 16 April 1919. He was discharged on 31 July 1919 at Nottingham. In January 1920 Walter's last child Richard was born in Chester and baptised at St Werburgh's.
Walter was given a disability award for malaria which amounted to 30% disablement.
From 17 April 1919 to 2 September 1919 he had 8 shillings and 3 pence per week plus bonus. From 3 September 1919 to 8 January 1920 he had 12 shillings per week. From 9 January 1920 to 11 January 1921 he had 12 shillings per week.
In addition he was allowed 6 shillings per week for 4 dependant children from 17 April 1919 to 2 September 1919. From 3 September 1919 to 11 January 1921 he was allowed 10 shillings and nine pence for a wife and 4 dependant children.
Walter spent the last few years of his life in hospital and died on 12 June 1923 at Prince Albert Convalescent Home, Hume Parade, Worthing. His body was brought to Chester for burial in Overleigh Cemetery on 18 June 1923. Walter was eligible to receive 1914-15 Star, the British War Medal and the Allied Victory Medal.