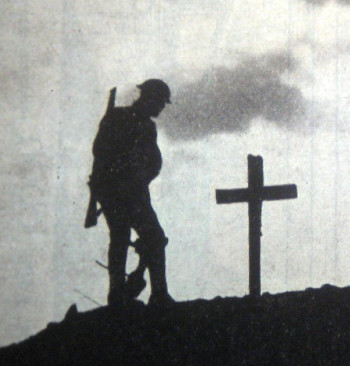 William Joseph Bird
Pte 1st Btn Cheshire Regiment 49669
Died: 02-09-1918 age 38
William was the son of Walter and Ann Bird nee King, who had been married in the old Catholic Chapel in Queen Street, Chester, on 11 February 1867. William was one of eleven siblings, Mary Ann, Thomas, Margaret, James, Ellen, Walter, William, Henry, Richard, John and George. William was born on 9 March 1880 and baptised on 11 April 1880 at St Werburgh's, as were all his siblings. The family grew up at 32, Boughton. Walter Snr worked as a miller's timekeeper. William was confirmed at St Werburgh's in 1895. In 1896 Walter Snr died and was buried in Overleigh Cemetery, Chester. Walter Snr had latterly been working as an innkeeper in Foregate, Chester. In 1908 his wife Anne died and was also buried in Overleigh Cemetery.
On 26 May 1900 William's brother Walter married Elizabeth Hall at St Werburgh's. The couple lived at 18 Pitt Street, Newtown, and by 1911 they had four children, Walter, Nellie, Margaret and Henry. Two children had sadly died. Also stated as living with them, in the 1911 census were brothers William and John. All three men were working as engineers on the railways.
William Bird enlisted with the Cheshire Regiment, at Chester on 22 March 1916. After initial training he left Southampton for France on 7 September and disembarked on 8 September at Rouen, joining the Infantry Base Depot there. On 16 September 1916 he was posted to the 13th Btn Cheshire Regiment in the field and was given a new number.
On 21 October 1916 after being exposed to mustard gas, William was also wounded in action and the next day was admitted to the 15th Canadian Field Ambulance with a severe wound to the neck. On 24 October he was admitted to the 4th General Hospital in Boulogne. It was decided that William needed to be evacuated to England and so he was taken to 'St. Dennis' for transport to England. After arriving here, he was conveyed to the General Hospital in Sheffield on 18 November. He remained there until 25 May 1917.
On 21 June 1917 William rejoined the 1st Btn Cheshires in the field. In early October 1917 William was again affected during a gas attack and also had a severe wound to the buttock. He was treated in a local hospital, which he left on 13 October 1917. He did not rejoin the regiment until 24 October and so was disciplined for failing to return to duty as quickly as he should have done - 21 days at half pay. On 24 April 1918 William was again treated for the effects of gas and wounds and was treated in the hospital at Boulogne. He rejoined the regiment on 1 June 1918. He had a haemorrhage later that year and went into a diabetic coma in the General Hospital, Boulogne, where he died on 2 September 1918.
William was buried in Terlincthun Cemetery, Wimille, on the northern outskirts of Boulogne. He was entitled to the British War Medal and the Allied Victory Medal.