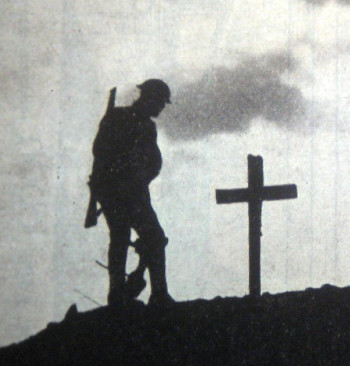 Arthur Bradley
Sgt 1st 5th Btn Cheshire Regiment, 354 and 240022
Died: 15-10-1918 age 28
Arthur was one of eight children born to William and Annie Bradley nee Jackson, who were married on 19 January 1874 at the Catholic Chapel, Queen Street, Chester in 1874. William was a coach smith who had been born in Glasgow and Annie was a Chester girl. They brought up their family in Chester, living first at 32 Water Tower View and later at 7 Beaconsfield Street. Arthur was born on 11 October 1890 and baptised on 30 November 1890 at St Werburgh's, as were all his siblings.
Albert's elder sister, Agnes, became a tailoress, his second sister, Sarah, became a photographer and a third sister, Elizabeth, was a theatre clerk. Arthur also had a younger sister, Edith Mary.
Arthur and his younger brother Percy were the two youngest of the family and both followed their elder brothers James and William in working at the nearby railway yards. Strangely, of the four Bradley sons, only Percy is mentioned as having enlisted, in the February 1915 edition of St Werburgh's Parish Magazine.
Arthur's army papers have not survived, but we know from his medal roll card that he first went to France on 14 February 1915, so he must have enlisted at least in 1914. He survived some of the most arduous parts of the conflict and was in Chester on leave in February 1918. On 27 February he married Margaret Hughes at St Werburgh's and later returned to France. Arthur was wounded, died on 15 October 1918 and was buried in Grave IV. G. I. Bucquoy Road Cemetery, Ficheux.
Arthur's name is listed on the Chester Town Hall Memorial. He was entitled to receive the 1914-15 Star, the British War Medal and the Allied Victory Medal.p>